Five Ten's Guide Tennie is widely considered to be the first approach shoe ever made, and over 30 years later, it's still a crowd favorite. The combination of durable materials, lightweight design, and a high degree of stability on rock make it one of the top all-around approach shoes money can buy. With an update for late 2017, the new model is now more comfortable, breathable, and lightweight. I wore the new Guide Tennie both on standard cragging days at Smith Rock and down in Patagonia on long approaches to windy spires. Below I break down the Guide Tennie's climbing performance, hiking comfort, durability, weight, fit and sizing, and more. To see how it stacks up to the competition, see our article on the best approach shoes.

Performance
Climbing
Thanks to the beveled toe design, stiff midsole, and premium climbing rubber sole, the Five Ten Guide Tennie is one of my favorite approach shoes for climbing on technical rock. Many models contain a layer of foam between the sole and the upper, but the Guide Tennie merges the rubber rand and sole into a streamlined beveled toe. This allows the shoe to perch on small edges with nearly the precision of a climbing slipper, and the stiff midsole transfers the power of the entire foot to where the toe meets the rock.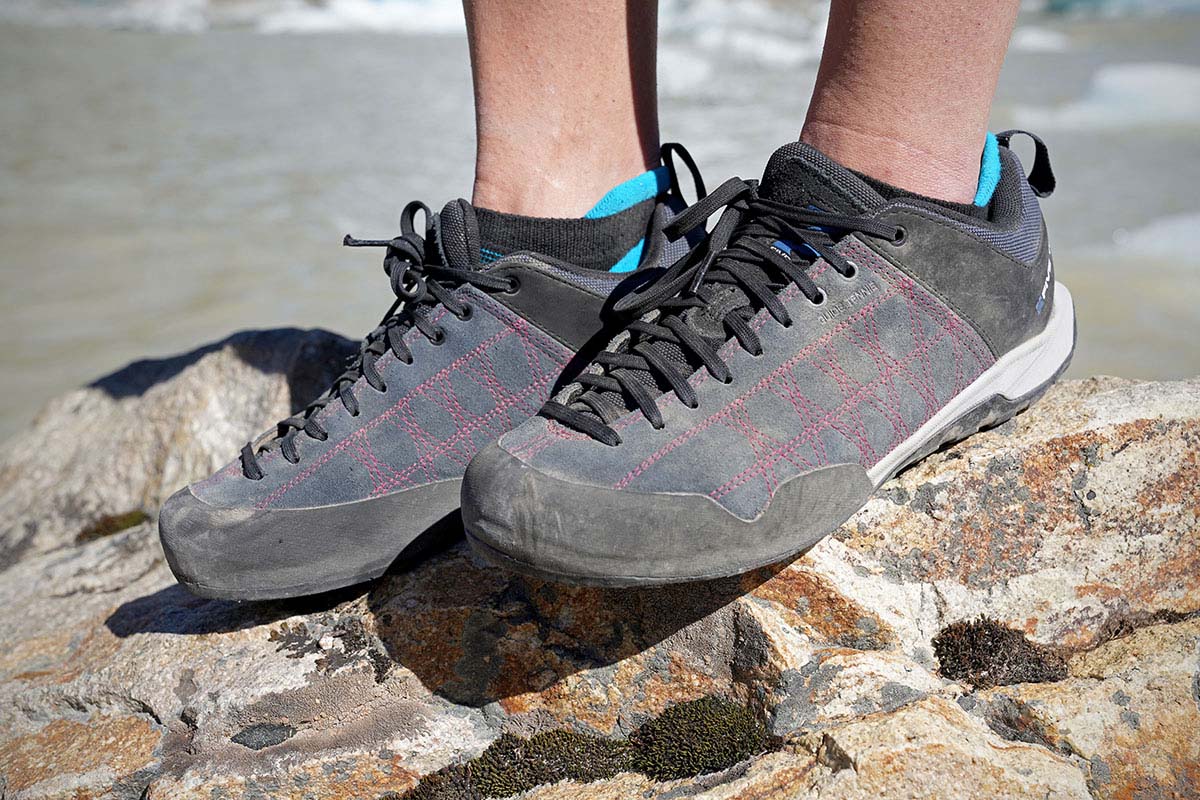 Additionally, Five Ten uses the same Stealth C4 rubber as their dedicated climbing shoes, making for a noticeably sticky sole. The shoe provided great traction while boulder hopping along moraines in Patagonia, smearing up steep slab, and edging on low-fifth-class terrain. Moreover, with this high-performance rubber covering even more area around the toe box than before, the Guide Tennie was sticky and durable in cracks too.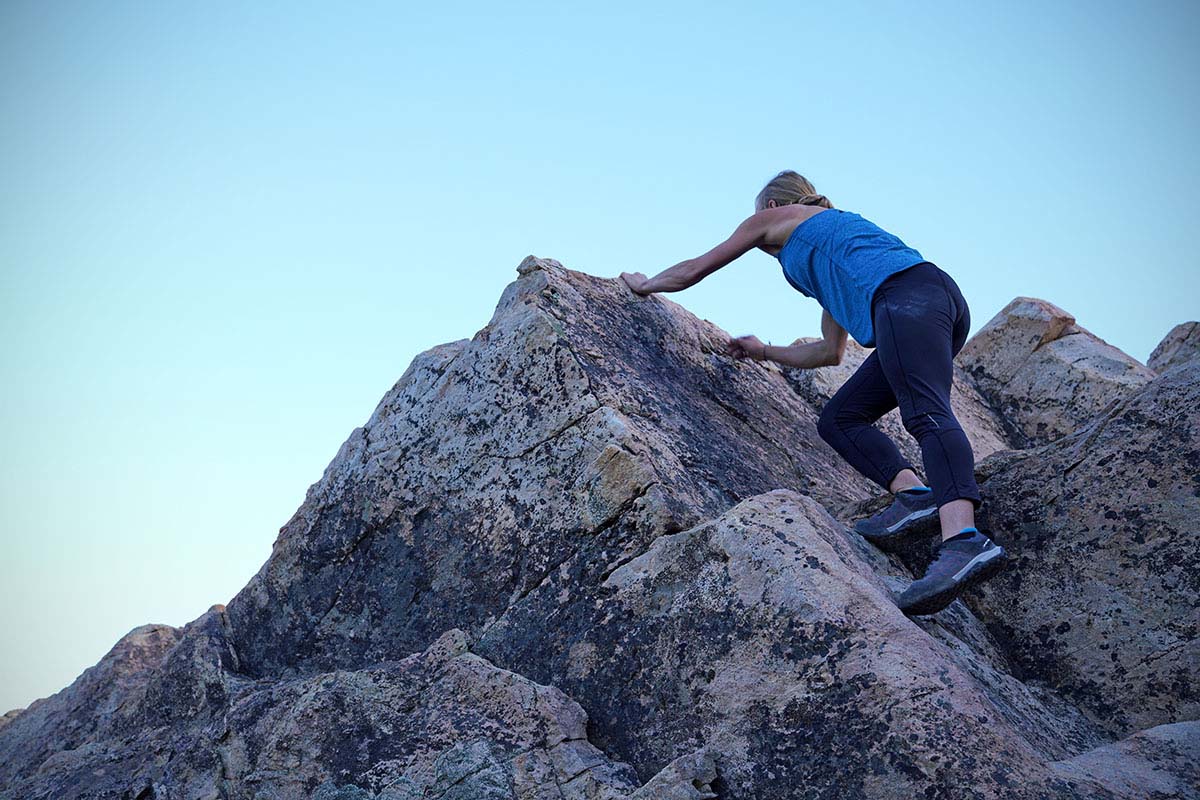 Out of the box, the sole of the Guide Tennie is overly thick and stiff, making for less sensitivity underfoot than I'd like. Though Stealth rubber provides class-leading traction on rock, it took me a few weeks to get over the feeling that I had bricks on my feet. And the newest model feels even stiffer than before, with extra cushioning around the ankle giving it a bulkier, clunkier feel. That said, after the break-in period, the Guide Tennie is both comfortable and responsive underfoot, retaining its climbing ability much more than a shoe without a beveled toe like the La Sportiva Boulder X or a mesh shoe like the La Sportiva TX3.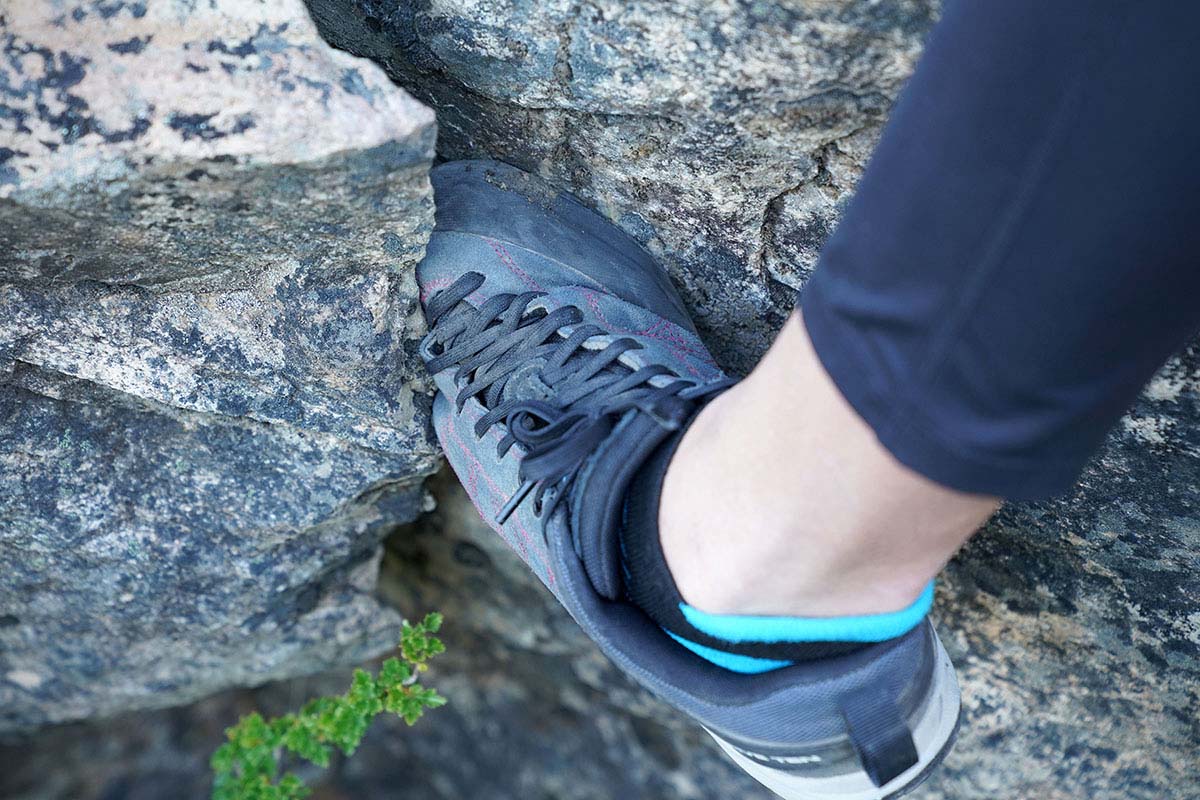 Hiking
The Guide Tennie isn't my favorite shoe for hiking, but the new model comes with a few improvements for the trail. Not only is the updated model lighter, it also sports extra padding around the ankle for comfort and a synthetic tongue and collar for more breathability. Even with the improvements, there's no denying that the Guide Tennie is rigid and uncomfortable out of the box. The same stiffness that provides such a secure platform for climbing detracts from comfort and flexibility while hiking. Therefore, I highly recommend breaking the Guide Tennie in before a long approach—these shoes are notorious for giving blisters to new users.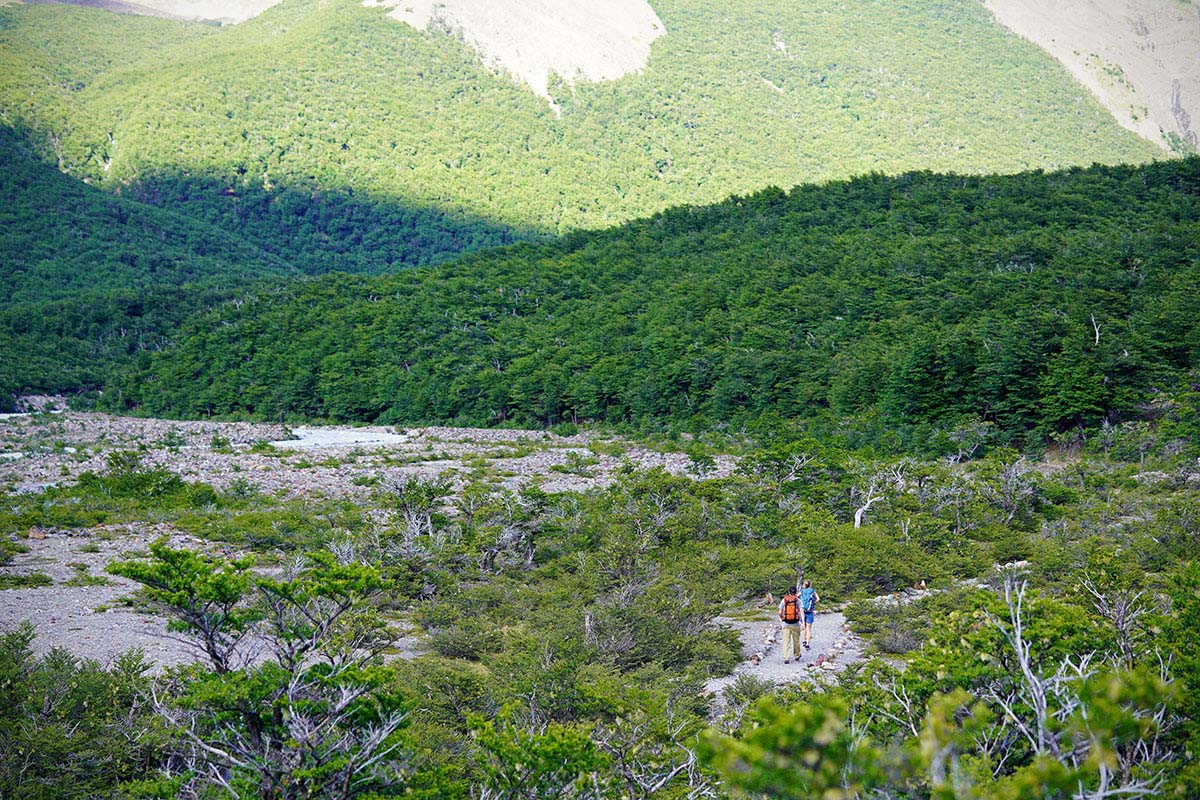 As mentioned above, the sole of the Guide Tennie is covered with Five Ten's proprietary Stealth C4 rubber. After break-in, I enjoyed a high level of security underfoot during third and fourth-class scrambles and approaches over boulder fields. However, the "Dotty" pattern of the rubber does not excel on wet terrain like slippery leaves, ice, or switching from snow to rock. For east coast climbers or those frequenting mountain environments, I recommend opting for a shoe with sharper tread.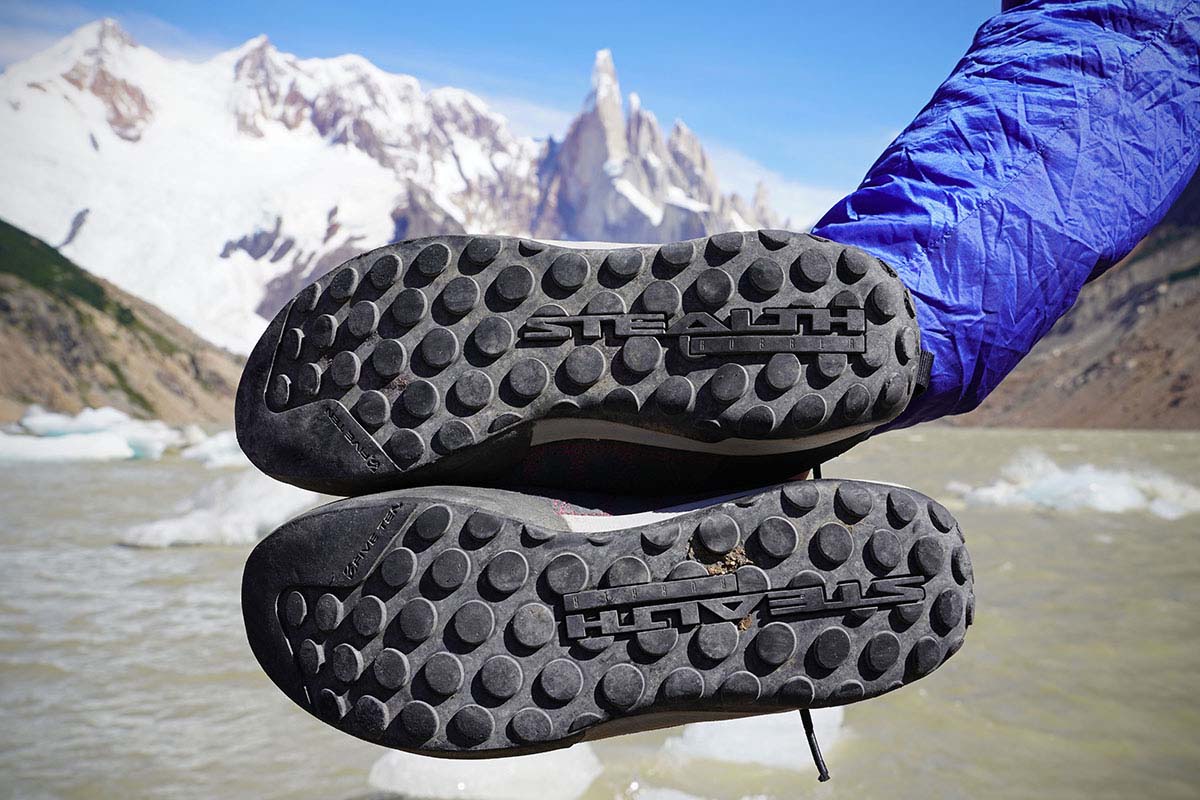 Durability and Construction
With a thick suede upper and burly sole, the Guide Tennie is one of the most durable approach shoes I've worn. Not only can the suede take a beating, but a rubber rand extends around the entire toe box, protecting this high-impact area from abrasion. I've worn the La Sportiva Boulder X (also leather) as well, and noticed that the Guide Tennie holds its shape better and stretches much less when wet. Moreover, it resists abrasions markedly better than a mesh shoe like La Sportiva's TX3 or a canvas shoe like the Evolv Cruzer Psyche.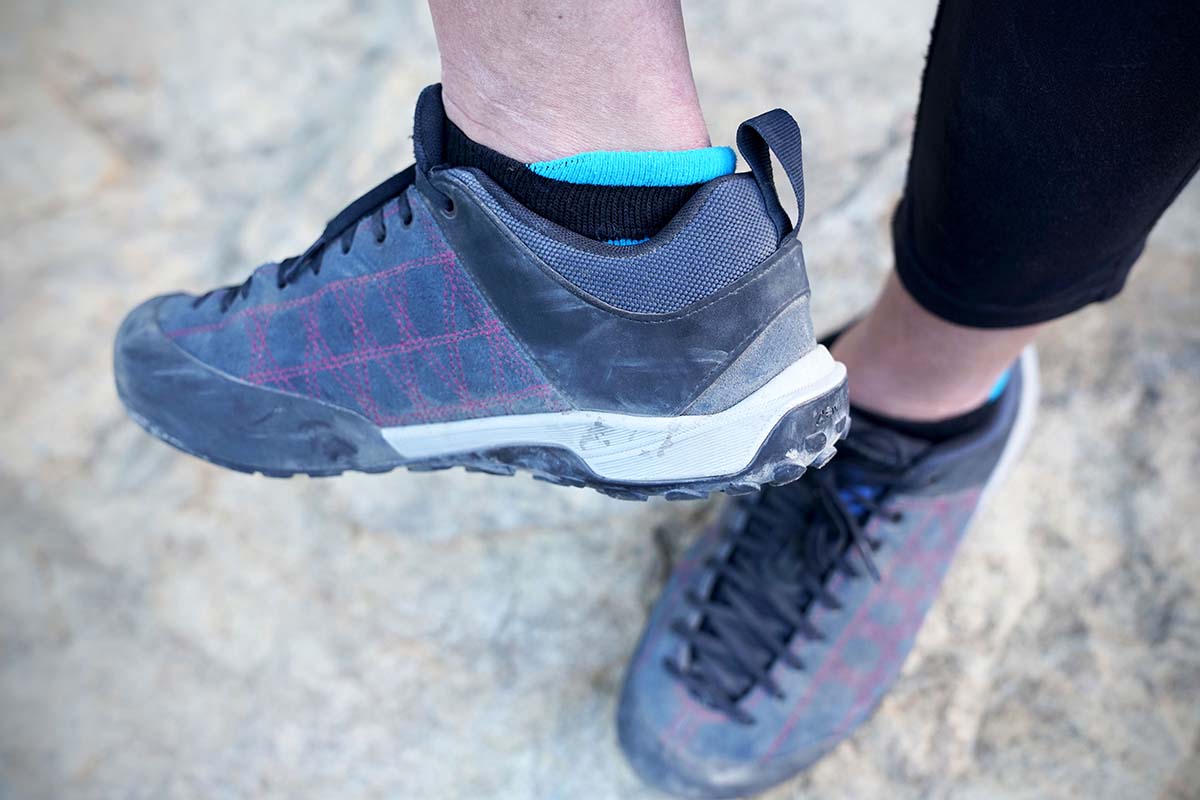 Waterproofing
The Five Ten Guide Tennie has a substantial, mostly suede upper that provides high levels of water resistance. It isn't fully waterproof like a Gore-Tex design, but I have worn these shoes through miles of wet snow and maintained dry feet. That said, I'd wager a bet that at some point the resistant properties of the suede will be compromised—whether through excessively wet conditions or general wear and tear—and the upper will become heavy when laden with water. To enhance or maintain the waterproofing, you can apply Nikwax products or Sno-Seal (although take care as this will affect breathability).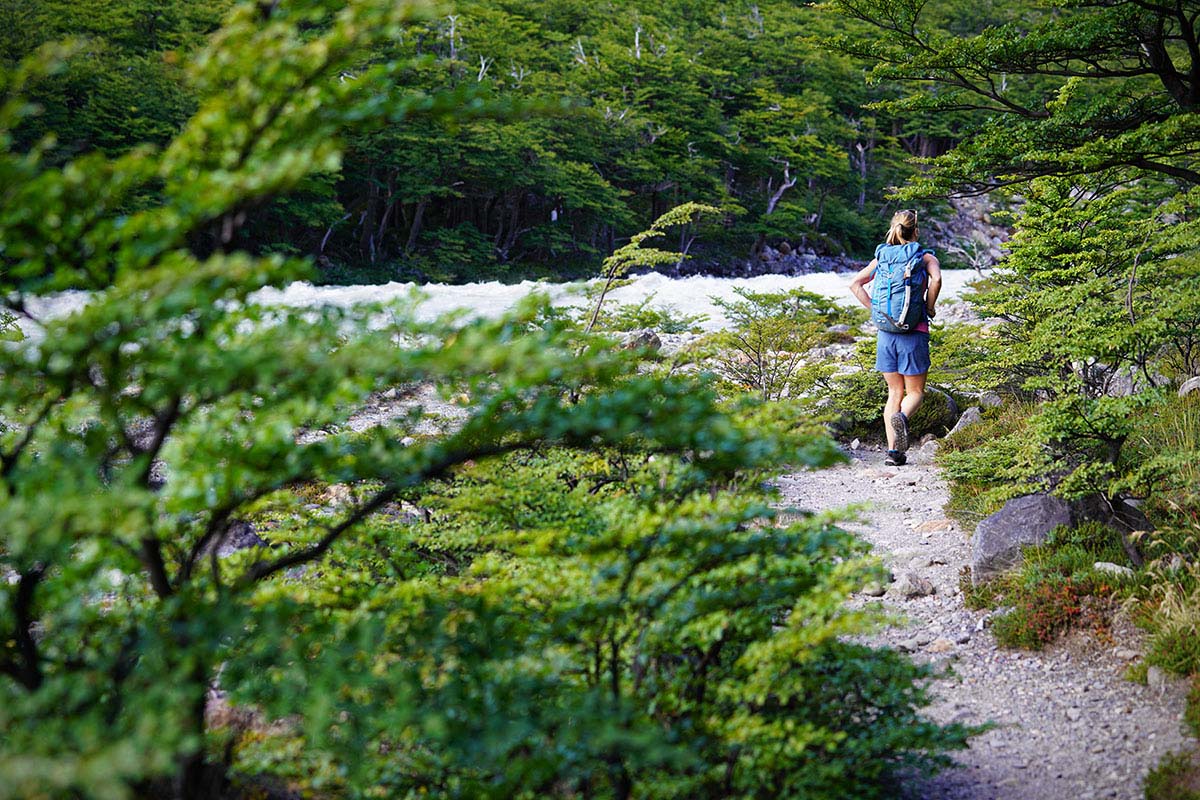 Weight
At 1 pound 6.6 ounces per pair for the women's model, the latest version of the Guide Tennie falls about midpack in terms of weight. For a mostly-suede shoe with a burly sole, that's no small feat. My take is that for their weight, the Guide Tennies offer a superb combination of climbing performance and durability. For comparison sake, they are more than 2 ounces heavier than the all-around La Sportiva TX3 and a notable 6 ounces lighter than the popular La Sportiva Boulder X. The Guide Tennies are not my first choice for toting up a climb on my harness (check out a shoe the La Sportiva TX2 for that), but in a pinch, they'll definitely do the job without weighing you down too much.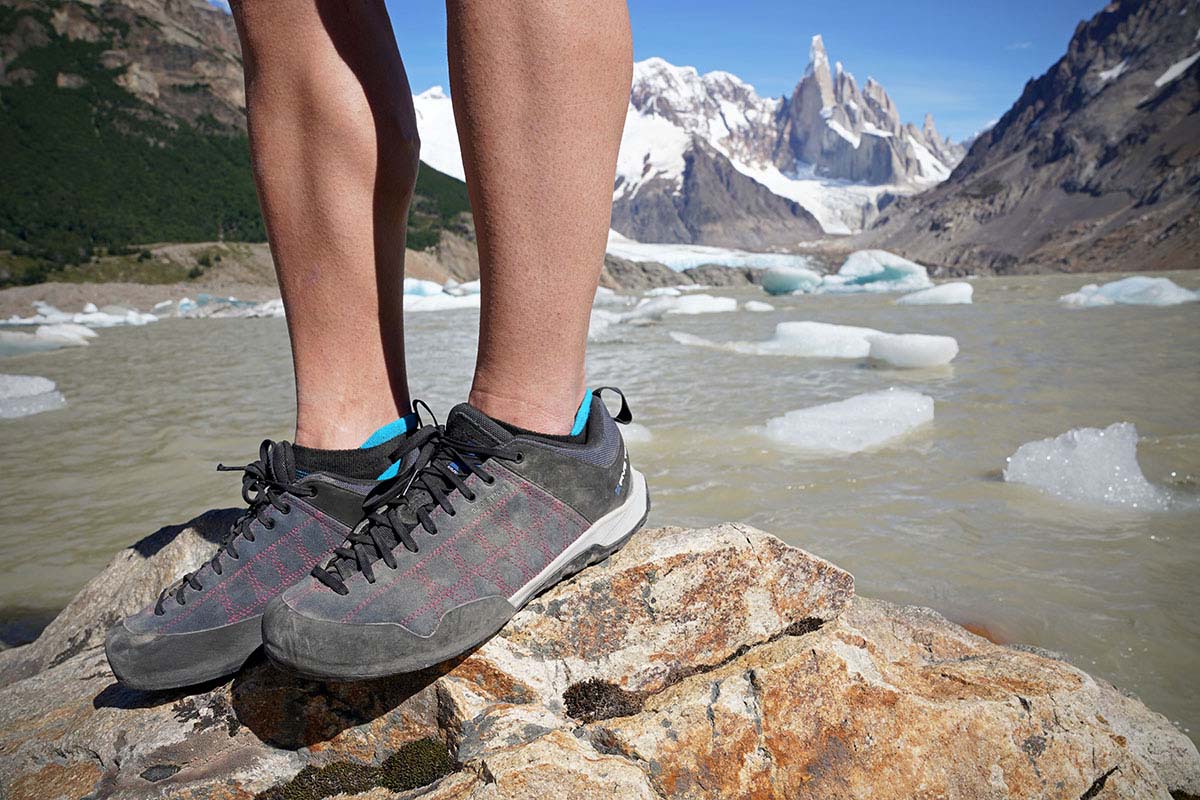 Fit and Sizing
Five Ten sizes are all over the place, and I found that the Guide Tennie fits larger than stated. I recommend sizing down a half size, especially if you are purchasing the shoe to wear while climbing technical rock. Additionally, the leather stretches slightly, making the toe box roomier with wear. And these shoes accommodated my wide feet very well. A final note on fit: the flat laces on the new Guide Tennies have proven to be secure and hold very well all day.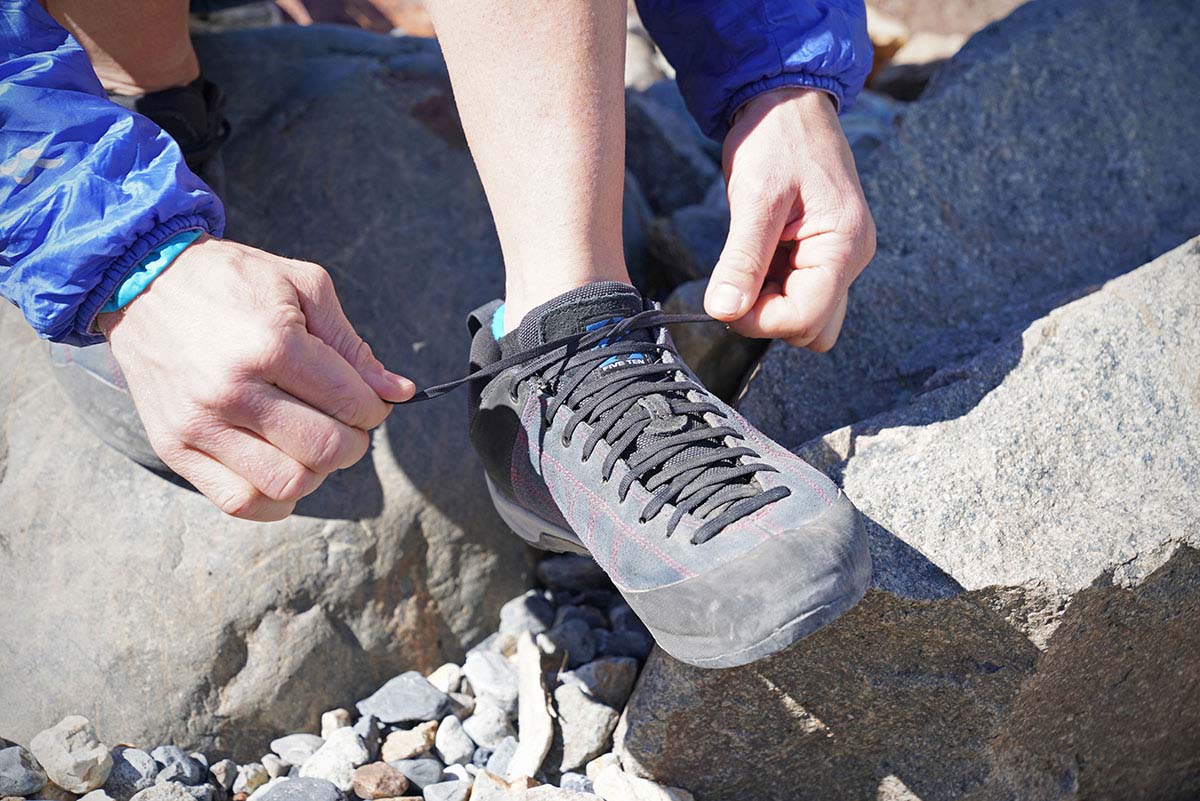 Men's Version
For this review, we tested the women's Five Ten Guide Tennie. The shoe is also made in a men's version, which weighs slightly more (1 pound 10.4 ounces for a pair) and comes in different colorways, but with the same design overall. We haven't worn the men's version yet, but it's safe to assume that it's designed to accomodate a slightly higher volume foot than the women's model and will offer similar climbing performance and durability.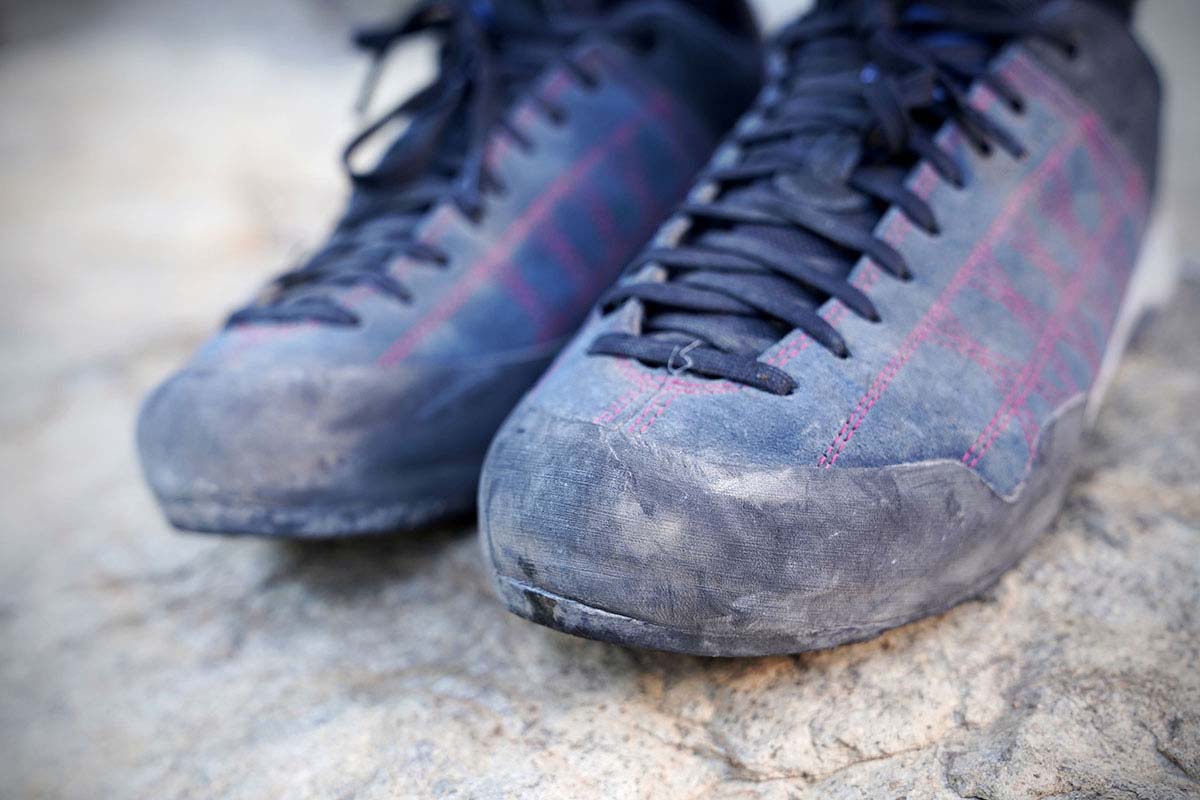 What We Like
The sticky rubber on the sole and around the toes makes the Guide Tennie as close to a climbing slipper as an approach shoe can be.
Lightweight considering how durable they are on the trail.
The newest version of the shoe has flat laces that hold extremely well.
Both the men's and women's versions come in a nice array of colors.

What We Don't
These shoes have a considerable break-in period.
Even after the break-in period, the soles are still stiff and clunky and can detract from sensitivity between rock and foot.
The dotted sole rubber is great on dry rock but does not perform well while hiking on wet and slippery terrain.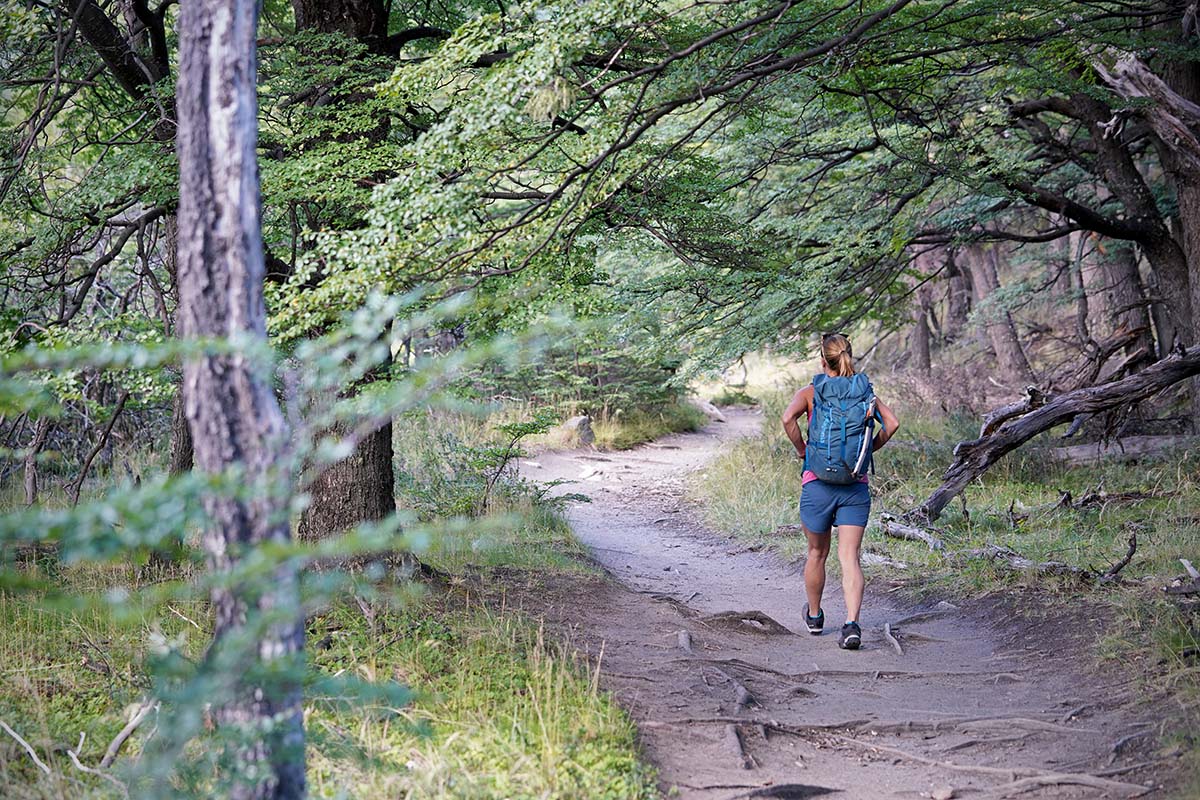 Comparison Table

The Competition
Different models of approach shoes certainly are made with different climbers in mind. Some, like the lightweight La Sportiva TX3, are designed mostly for summer hiking and low-fifth-class terrain (for more information, see our in-depth TX3 review). Others are intended to handle well in snow and offer ankle support or added cushioning (we found the Salewa Firetail 3 GTX falls into this category). Finally, some are designed to climb well, without sacrificing comfort and support while hiking. This latter class is full of big-time sellers like the La Sportiva Boulder X, Scarpa Crux, and Scarpa Gecko. Among this group, the Guide Tennie is currently the standout leader. The sticky rubber, durable construction, and lightweight comfort give it a best-in-class mix of climbing and trail performance.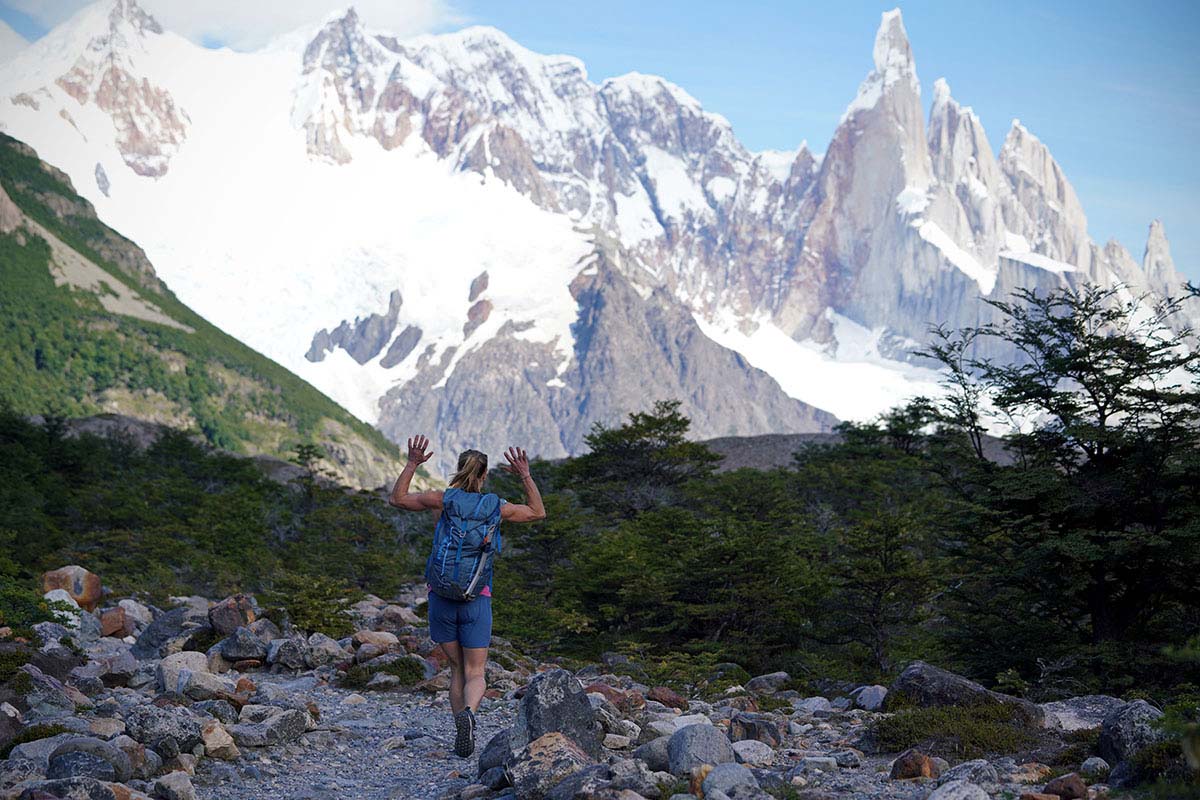 If you're thinking about buying gear that we've reviewed on Switchback Travel, you can help support us in the process. Just click on any of the seller links above, and if you make a purchase, we receive a small percentage of the transaction. The cost of the product is the same to you but this helps us continue to test and write about outdoor gear. Thanks and we appreciate your support!
Depending on the seller, most products ship free in the United States on orders of $50 or more. International shipping availability and rates vary by seller. The pricing information on this page is updated hourly but we are not responsible for inaccuracies.
Learn More About Outdoor Gear