Arc'teryx broke into the approach shoe market with their Acrux series, which featured a unique sock-like liner and appealed to the needs of weight-conscious alpine climbers. The Konseal line (which includes the FL, AR, and LT models) builds off the now-discontinued Acrux with a more traditional design that's capable both on and off the trail. We took the Konseal FL backpacking in Patagonia, where we wore the shoe on everything from high-mileage days to off-trail scrambles, and below we outline our experiences. To see how it stacks up to the competition, see our articles on the best approach shoes and best hiking shoes.
Editor's note: We tested the original Konseal FL for this review, and Arc'teryx has since released the updated Konseal FL 2. The latest model has a slightly higher listed weight (1 lb. 5.8 oz. per pair for the men's model), costs $10 less, and boasts a redesigned upper, retooled lug pattern, and new insole.
 
---
Table of Contents
---

Performance
Hiking 
The Arc'teryx Konseal FL is a stiff, streamlined approach shoe designed to provide comfort and stability on the trail and precision on technical rock. In practice, the shoe seems to balance these conflicting demands rather well, but not without minor compromises. As we've come to expect in an approach shoe, the Konseal FL is stiffer than a hiking shoe or trail runner and lacks the cushioning underfoot that many hikers might be used to. In addition, you get a fairly narrow fit that doesn't allow the forefoot much room to breathe or swell (more on this in "Fit and Sizing" below). On the other hand, the same features that detract from flex and cushion (a plastic midsole with raised sidewalls and firm EVA foam) do lend extra stability and protection, particularly on rocky, cross-country terrain. In the end, we wouldn't recommend the Konseal FL as a dedicated hiker, but it's a great match for off-trail scrambling and climbers who prioritize performance on rock over comfort on the trail.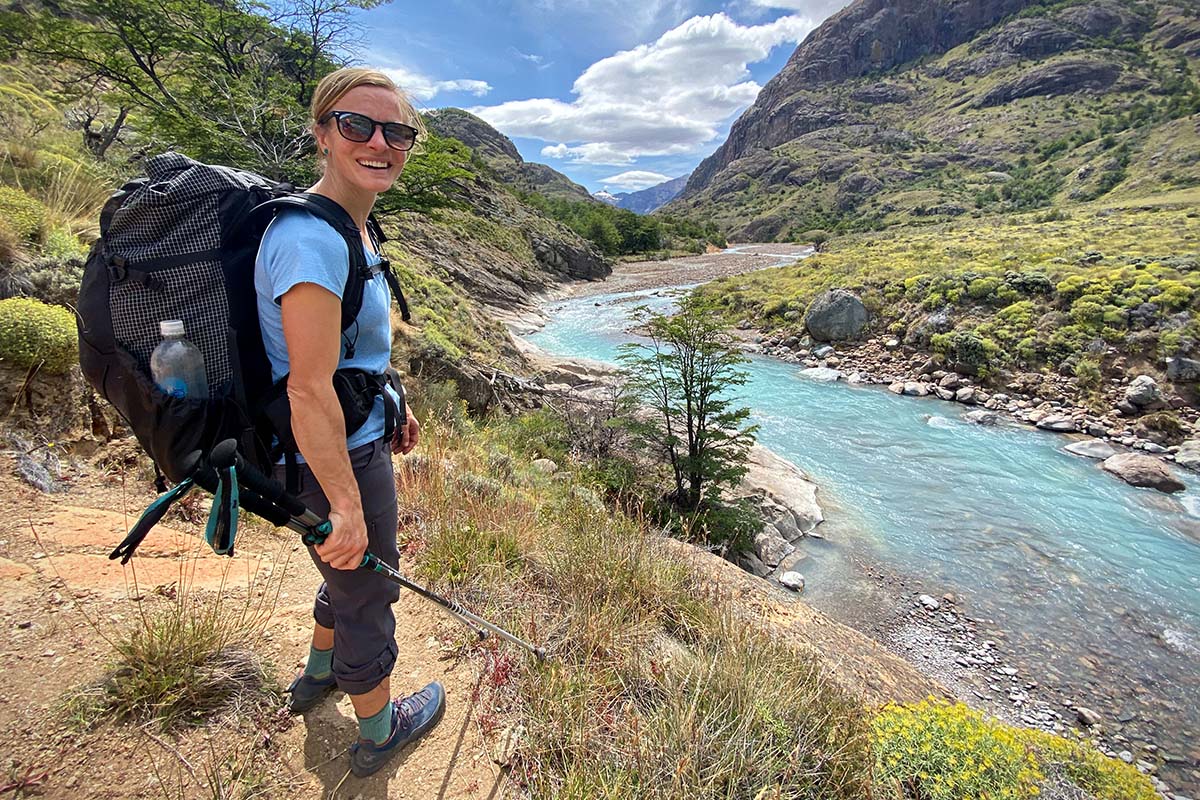 To truly put the shoes' hiking abilities to the test, I wore them on a 40-mile backpacking trip through Chile's Parque Patagonia. With a minimal break-in period, the Konseal FL felt surprisingly sprightly and comfortable. The one-piece upper did form a pesky crease on top of my toes with each step, but it softened over time. Further, the shoe was exceptionally stable, with a close-to-the-ground feel and snug fit. I appreciated how the one-piece polyester mesh upper kept most trail debris at bay, and the generous toe cap and raised sidewalls protected my feet from bumps and toe stubs along the way. However, while the Konseal FL weathered a few high-mileage days without issue, on the fourth and final day, my feet began to protest. My swollen toes had very little room to expand in the narrow toe box, and the stiff midsole felt board-like underfoot. That said, it's important to note that many of my hiking partners (all of whom were wearing softer and more flexible hiking shoes) experienced similar issues that day, which makes me think it was due more to the heavy mileage than the Konseal's construction.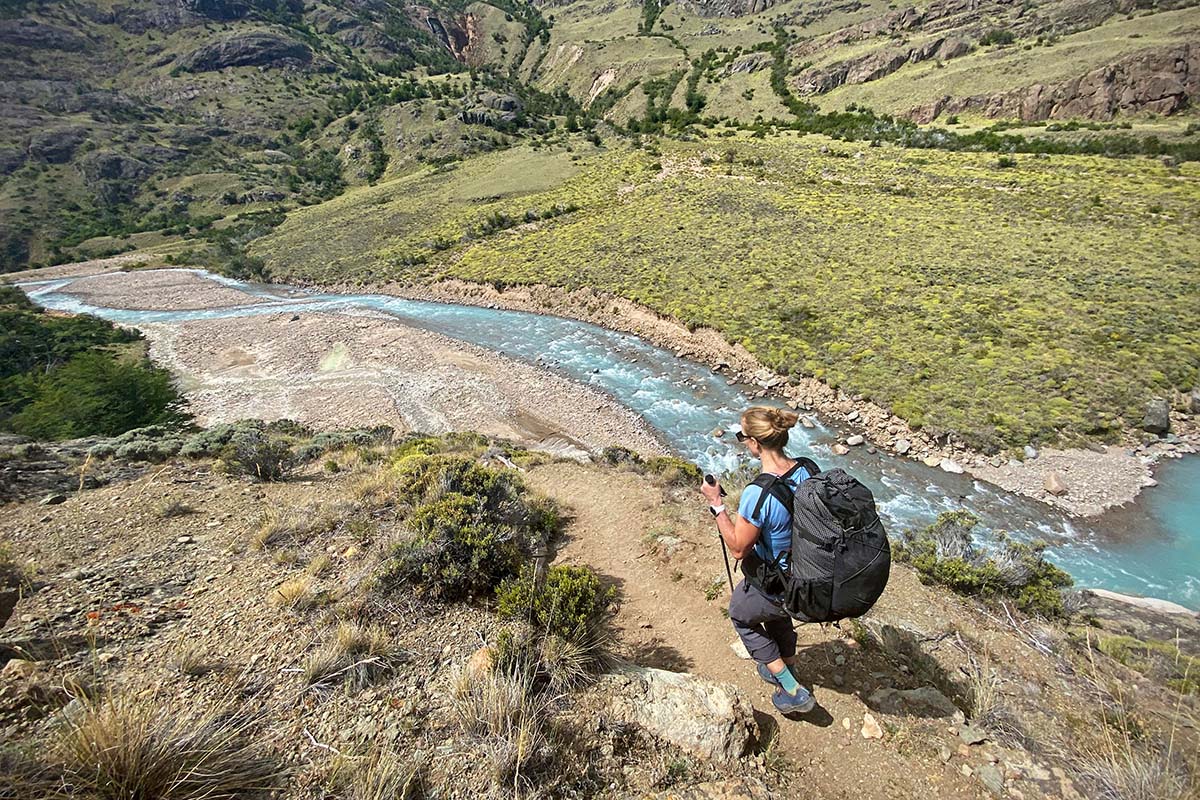 Scrambling 
The Konseal FL might not look like your standard approach shoe, but it incorporates all the necessary features to perform well on rock. To start, the stiff and snug-fitting build and to-the-toe lacing mean the shoe rides close to my foot (like a climbing slipper), giving me more control than I'd get from a roomier or more flexible trail runner or hiking shoe. In other words, when I'm on tricky terrain, my feet stay in place rather than moving around within the shoe. This fit, along with the chiseled edge and wraparound rubber rand—more precise than the edge found on La Sportiva's popular TX4—means the Konseal FL can perch on small features with ease. Finally, the Vibram Megagrip sole is one of my favorite blends for traction on rock, and the smooth climbing zone at the top of the foot clearly states the shoe's intentions (more in "Traction" below).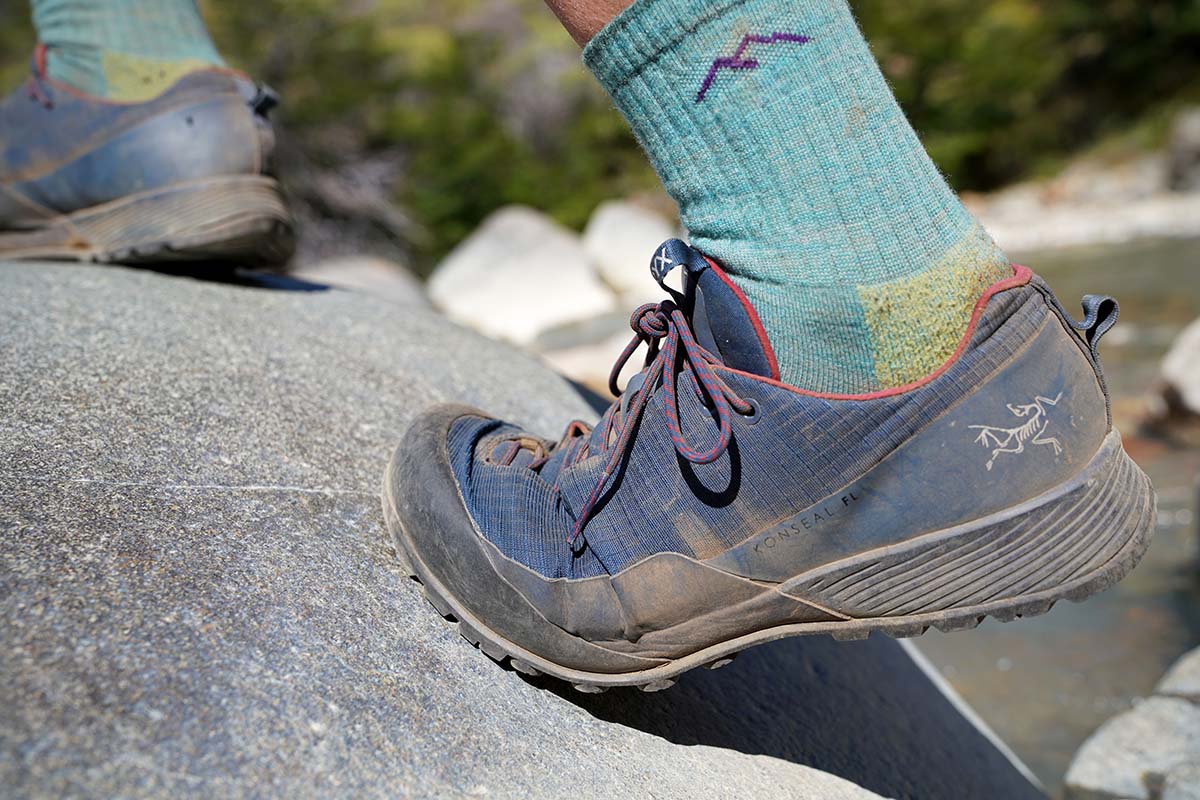 For crack climbing, the Konseal offers surprisingly good durability and protection for a non-leather shoe. The one-piece knit upper is thick, burly, and shows no signs of wear after considerable use. Additionally, Arc'teryx added raised midsole perimeter sidewalls around the base of the shoe, which means the Konseal FL sports an extra layer of material for added assurance. The lacing system is also designed with inset grommets, hiding the part of the laces most vulnerable to abrasion when you're shoving your feet in cracks. And finally, the Konseal FL's low weight is a big advantage when it comes to climbing, allowing it to feel more like an extension of the body than something weighing you down.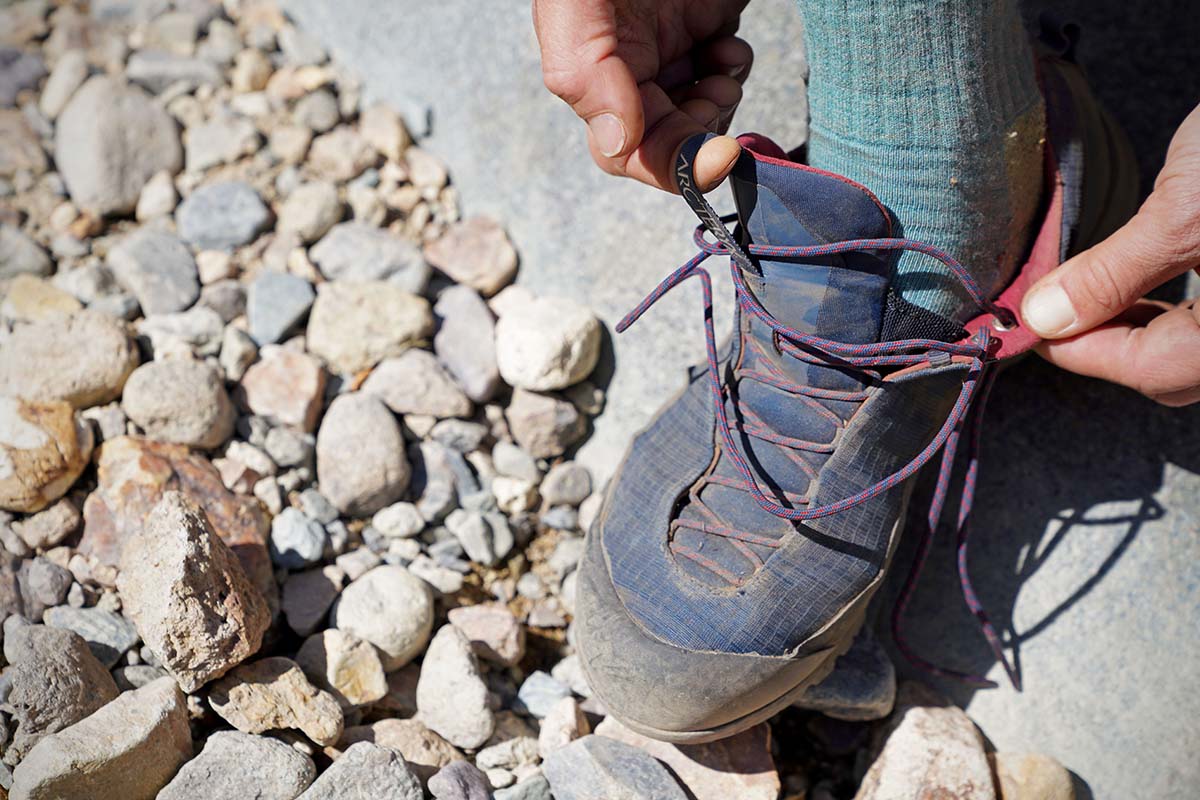 Weight
At only 1 pound 5.2 ounces for the pair (our men's size 7 shoes clocked in at 1 pound 5 ounces even), the Konseal FL is extremely lightweight for such a capable approach shoe. Arc'teryx kept weight down through the use of a one-piece upper, synthetic materials rather than leather, and a streamlined build (as we mentioned above, don't expect a roomy ride with the Konseal). For reference, most competing models tip the scales noticeably heavier, including the La Sportiva TX4 (1 lb. 10 oz.) and TX3 (1 lb. 9 oz.), Five Ten Guide Tennie (1 lb. 10.4 oz.), and Scarpa Gecko (1 lb. 11 oz.). In short, if you're looking for great hiking and climbing capabilities at a minimal weight, the Konseal FL delivers. Shoes like the La Sportiva TX2 (1 lb. 3.6 oz.) and Evolv Cruzer Psyche (1 lb. 4 oz.) shave off a few ounces, but those models lack the overall durability, protection, and performance of the Arc'teryx.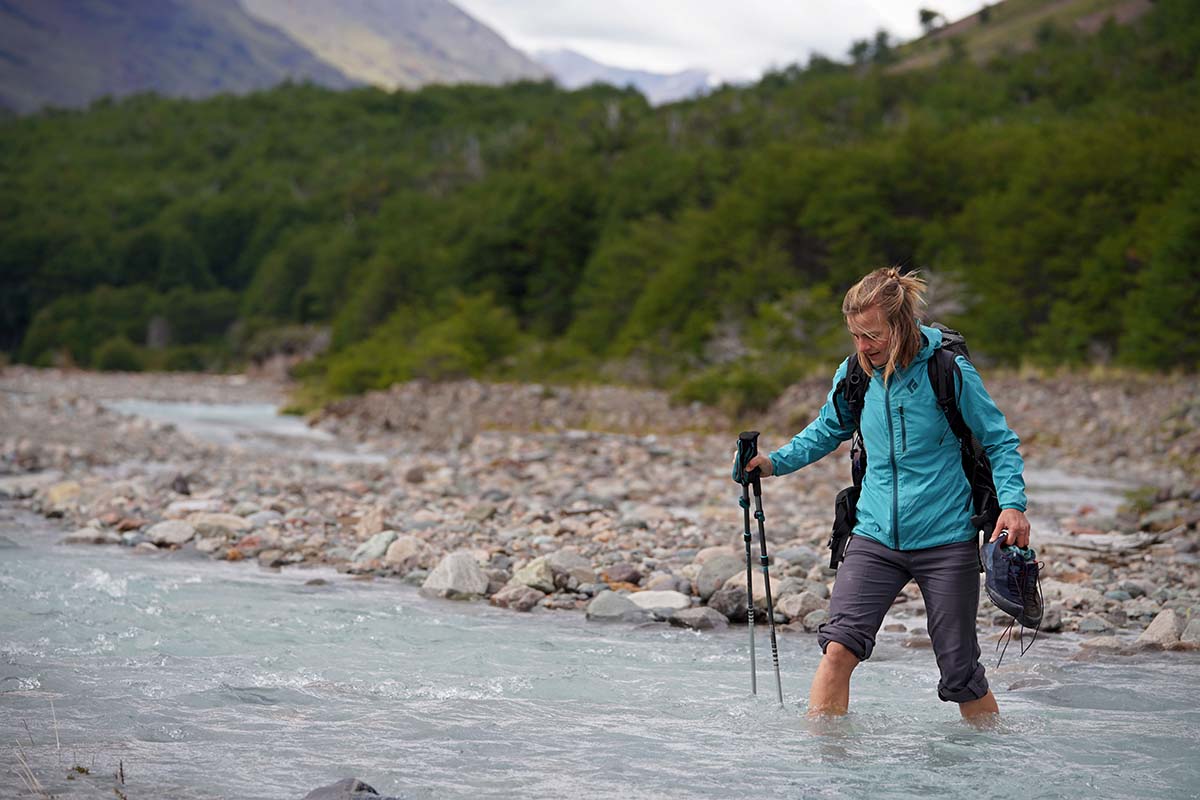 Traction
Most approach shoes prioritize traction on rock, and the Konseal FL is no exception. With a sticky Vibram Megagrip outsole, shallow lugs, rounded tread on the forefoot, and climbing zone at the toe, the Konseal is purpose-built for technical approaches. In practice, I found it incredibly capable while ascending talus and boulder hopping—on par with climbing-savvy approach shoes like the Five Ten Guide Tennie and La Sportiva TX4. That said, the shoe also holds its own on wet surfaces and dirt thanks to a sharper tread pattern and squared edge on the heel (the Guide Tennie, by comparison, falls notably short on wet ground). On our trek in Patagonia, I hiked through wet riverbeds, on hardpacked dirt and sticky mud, and across boulder fields and came away very impressed by the Konseal FL's level of security.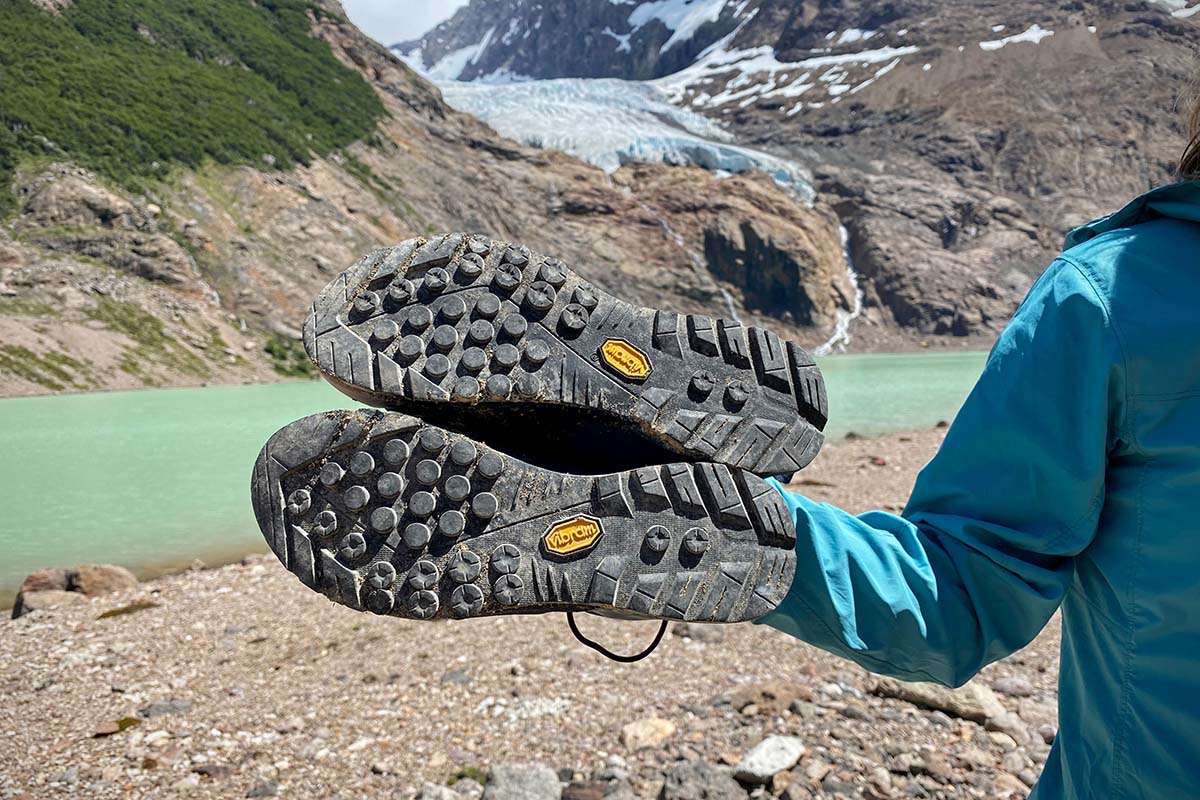 Waterproofing and Breathability
The Konseal FL is not a waterproof shoe, but it's also not trying to be. Whereas you get some natural water resistance with leather (in a shoe like the La Sportiva TX4), the Konseal's polyester mesh upper offers very little protection against moisture. This permeability does have its benefits: the Konseal FL is a great breather, doesn't grow heavy with water, and dries out quickly when wet. During our trek in Patagonia, we faced a number of river crossings, and most of the time I kept my shoes on for traction and convenience. Despite being soaked through, the shoes consistently dried out after just a few hours of hiking on dry trail. Arc'teryx does offer a Gore-Tex version of the Konseal FL, but we wouldn't recommend it for the majority of climbers (who largely venture out in dry conditions). Even if your feet do get wet, we think that the weight, cost savings, and boost in breathability of the non-waterproof model are well worth the tradeoffs. For more on the topic, see our article: Do You Need Waterproof Hiking Shoes?

Build Quality and Durability
We've come to count on Arc'teryx for thoughtfully designed and well-built products, and the Konseal FL carries the torch. Every detail of the shoe exudes quality, from the one-piece upper to features including the generous toe cap and raised sidewalls. After over a dozen days of use including a few 15-mile outings carrying a 30-pound load, the shoes have softened up nicely and worn in well without showing any signs of wear. And we've been particularly impressed with the abrasion resistance of the polyester mesh upper, which strikes us as being just as capable and long-lasting as leather (without the downside of growing heavy with moisture and stretching out of shape over time). All told, the Konseal FL is yet another high-quality build from Arc'teryx and one of the most durable approach shoes we've tested to date.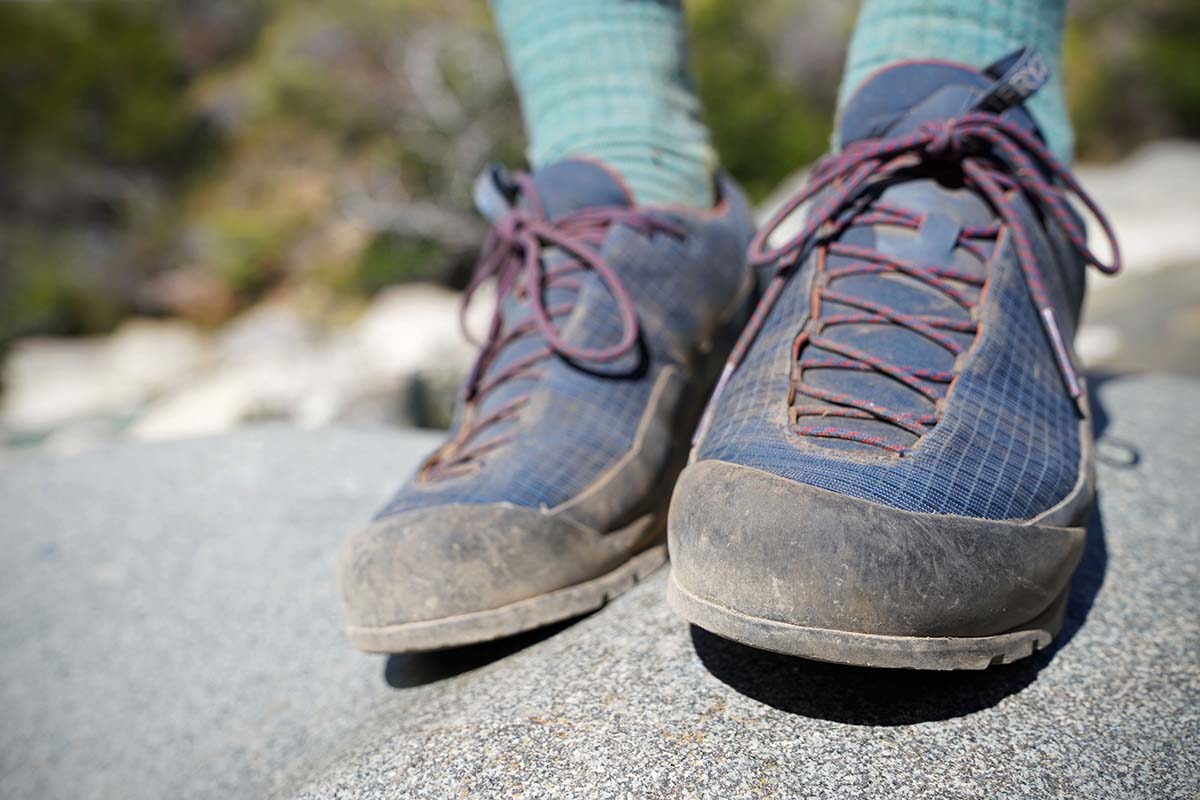 Fit and Sizing
As we've found with almost all Arc'teryx footwear, the Konseal FL runs on the narrow side. After my experience barely fitting into the old Acrux SL, I opted for the men's model of the Konseal FL (the last on Arc'teryx's men's shoes is slightly wider), and the size 7 fit true to size (I'm a women's size 8.5). In the end, the shoe fit my wide foot far better than other Arc'teryx shoes I've tried, and it softened nicely throughout use. That said, keep in mind that the polyester upper won't stretch or mold to your feet like leather. For some, this might mean a bit less comfort overall, but the tradeoff is that the Konseal holds its shape when wet. And one final note on fit: we don't recommend the Konseal FL for cragging when you'll want to be taking your shoe off and on throughout the day. It's a bit of a tight squeeze to get the shoe on each time due to the small ankle opening, attached tongue, and lack of stretch.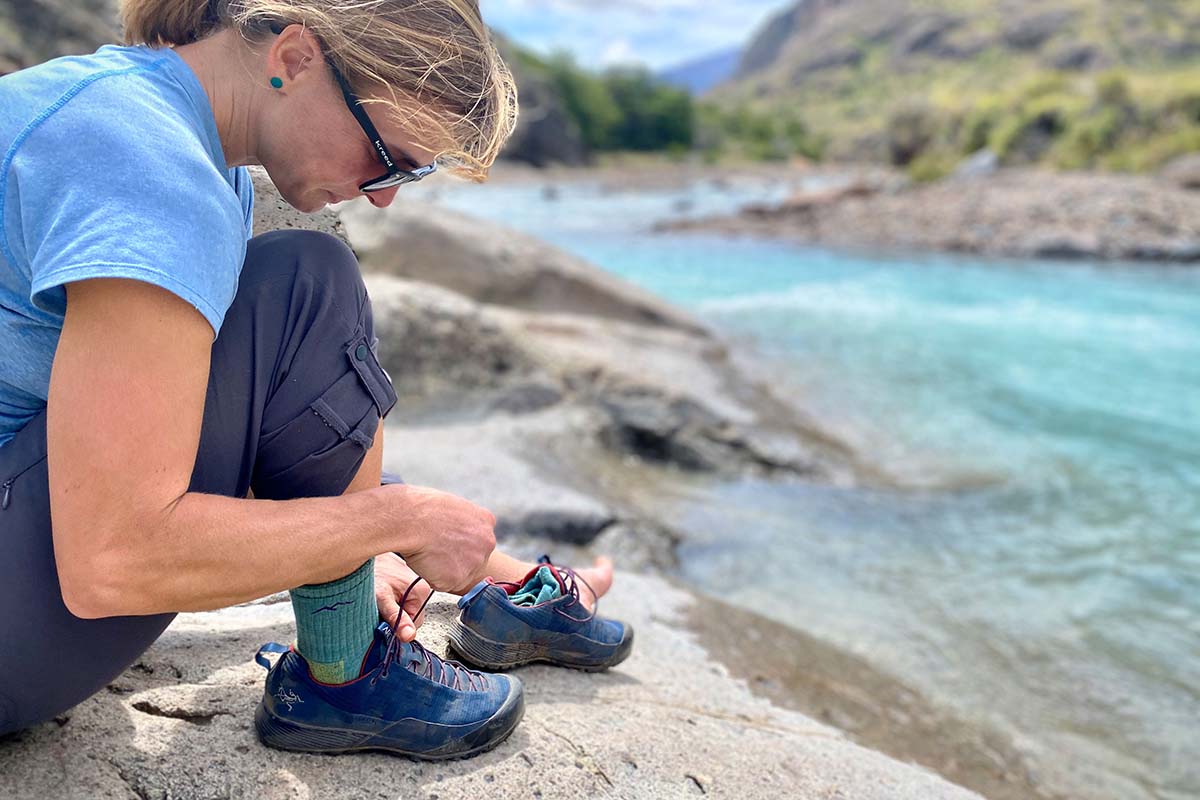 Other Versions of the Arc'teryx Konseal
We tested the men's Arc'teryx Konseal FL for this review, and Arc'teryx also makes the shoe in a women's version for the same price. The women's Konseal FL is lighter at 1 pound 2.4 ounces and comes in different colorways (two at the time of publishing). The Konseal FL is also offered in a Gore-Tex version for both men and women, which is more expensive at $185 and slightly heavier (1 lb. 8.6 oz. for the men's and 1 lb. 4.8 oz. for the women's). And to round out the collection, Arc'teryx sells the Konseal in a burlier AR ("all round") and more minimalist LT ("lightweight") options for both men and women.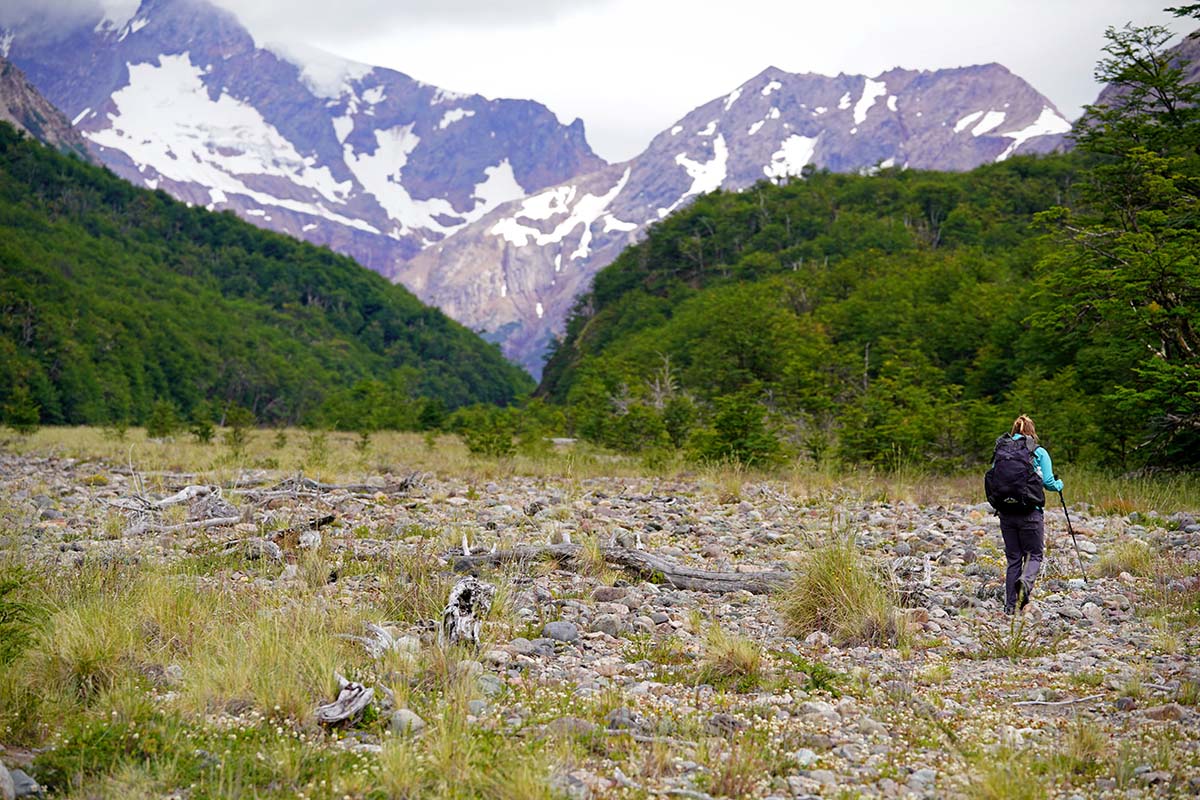 What We Like
A well-rounded, versatile approach shoe that performs well for both hiking and scrambling.
Impressively durable for a synthetic shoe, with a robust one-piece upper, wraparound rubber rand, generous toe cap, and hidden grommets.
Grippy over a wide variety of terrain, from technical rock and hardpacked trail to wet leaves, mud, and snow.
Lightweight build doesn't sacrifice durability or protection.
 
What We Don't
Fit is decidedly on the narrow side (those with wide feet might struggle to get a good fit).
Too stiff and streamlined to be considered a dedicated hiking shoe.
Polyester upper doesn't offer as much of a close fit or water resistance as leather.
At $155, the Konseal FL is expensive for an approach shoe.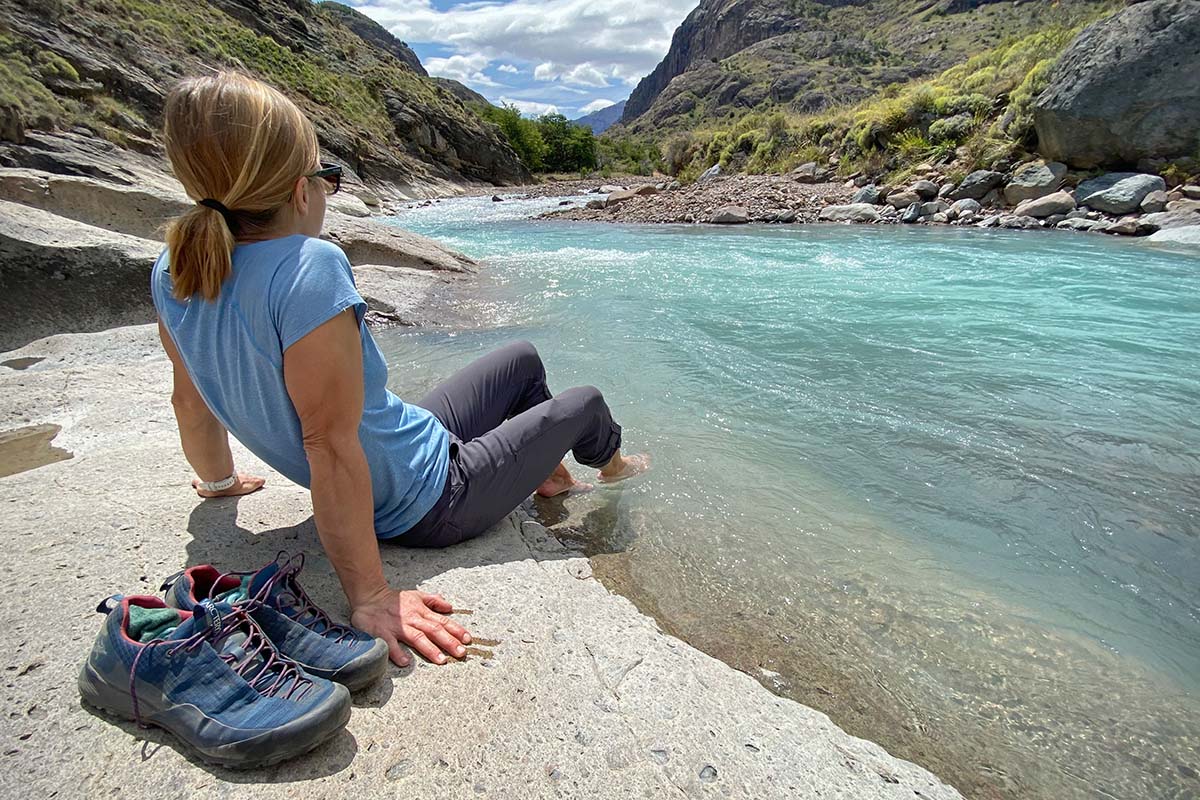 Comparison Table

The Competition
Arc'teryx is known for their attention to quality and detail, but there are a number of other approach shoes that similarly balance hiking and climbing performance. Our favorite this year is the La Sportiva TX4. At 1 pound 10 ounces, the TX4 is considerably heavier than the Konseal FL, but it tacks on a durable leather upper and roomier build for added comfort on the trail. We also appreciate the great fit and water resistance that leather offers, although it does grow heavy and can stretch out of shape when wet. For summer approaches, La Sportiva also makes the TX3, which shares the same design as the TX4 but with a mesh upper (not as durable as the Konseal's mesh upper). For us, the decision ultimately comes down to fit: those with wide feet will likely prefer the TX4, while narrow-footed hikers and climbers will be better off with the Arc'teryx. For more, see our in-depth La Sportiva TX4 review.
Five Ten's Guide Tennie is credited with being the first approach shoe ever made, and it's been a mainstay for climbers ever since. Like the TX4, it's significantly heavier than the Konseal FL at 1 pound 10.4 ounces and also features a beefy leather upper for great durability, fit, and protection. But the Guide Tennie's true calling card is its outsole, which is noticeably stiff and features a dotty tread pattern throughout the length of the shoe. With no sharp tread on the heel, the Guide Tennie suffers on wet terrain like soggy leaves, mud, and snow, but it's one of the best performers on rock. At $120, fair-weather climbers facing short approaches or considerable scrambling will love the Guide Tennie, but we don't recommend it for long approaches over varied terrain. For these conditions, the Konseal FL offers much better grip at a lower weight.
We'd be remiss not to mention the Konseal FL's tougher cousin, the Konseal AR. At 1 pound 15 ounces for the pair, the AR trades the weight-savings of the FL for a burlier build that can handle significant abuse in mountain environments. The AR features a similar sole (Vibram Megagrip with an identical tread pattern) but swaps out the FL's upper for breathable suede that conforms to the foot and offers better abrasion resistance. Climbers headed to the alpine can even treat the AR's leather with Nikwax or a similar waterproofing product for full protection against moisture (note: this will impact breathability). Priced at $185, the Konseal AR doesn't come cheap, but it's a favorite among guides and alpine climbers looking for a comfortable but capable shoe for walking in the mountains (for more, see our Konseal AR review). For those staying in the lowlands or who prioritize climbing performance over hiking comfort, we'd stick with the FL.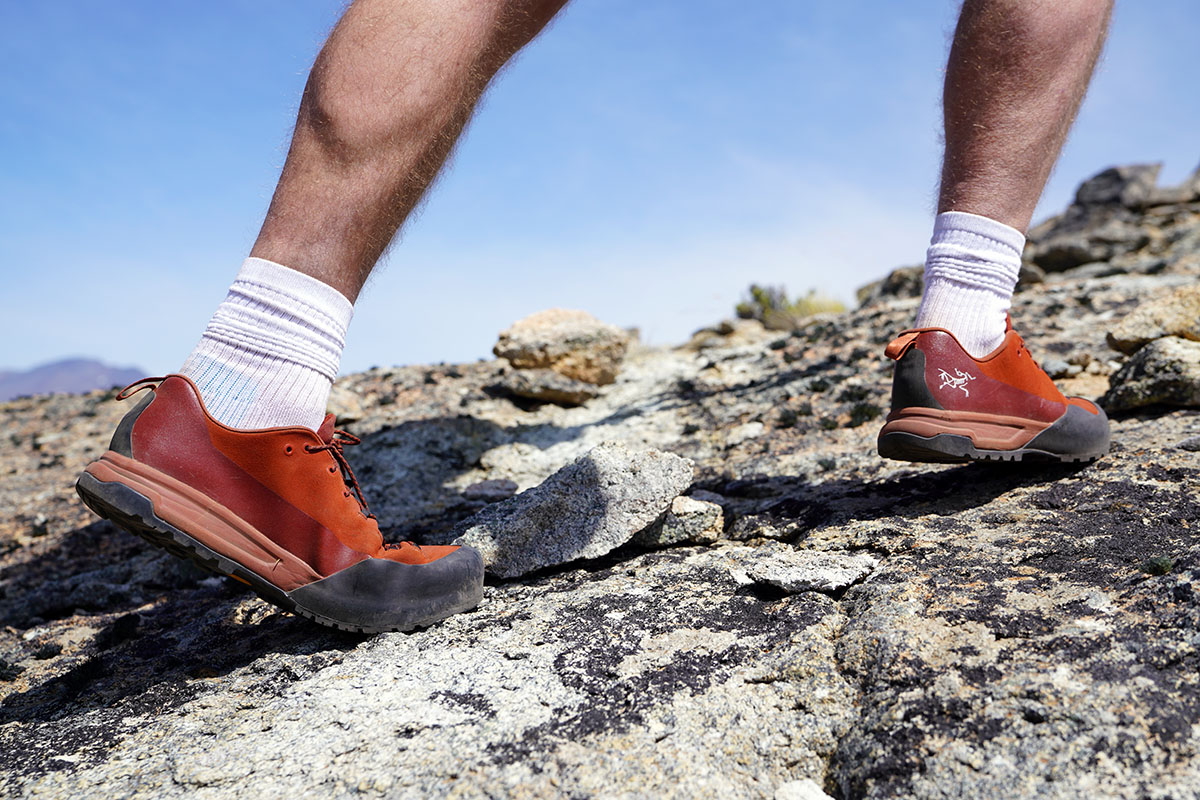 Another option within the same Konseal family is Arc'teryx's Konseal LT. The LT, which is short for "lightweight," is the lightest and cheapest option in the collection at 1 pound 3 ounces per pair and $135, respectively. However, in cutting weight, Arc'teryx used less durable materials throughout, including a thinner upper and less capable outsole. In other words, the FL is the more hardwearing option and the better pick for mixed hiking and scrambling use, while the LT gets the edge for cragging with its fold-down heel. A final decision between the two shoes will come down to expected terrain and climbing objectives.
Finally, Black Diamond is a relative newcomer to the approach shoe market, and their Mission LT is built for fast-and-light approaches on technical terrain. With a one-piece, breathable knit upper and lightweight 1-pound-6-ounce build, the Mission LT is equally as trail-worthy for summer approaches and rocky scrambling. Like the Konseal, the Mission LT wouldn't be our first choice for cragging, as its sock-like liner makes it onerous to put on and take off. We do find that the BD shoe accommodates wide feet better than the Arc'teryx, although the Konseal offers more abrasion resistance with its ripstop mesh upper. All in all, the Mission LT an intriguing alternative to have on your radar, but the Konseal is the more proven design.
If you're thinking about buying gear that we've reviewed on Switchback Travel, you can help support us in the process. Just click on any of the seller links above, and if you make a purchase, we receive a small percentage of the transaction. The cost of the product is the same to you but this helps us continue to test and write about outdoor gear. Thanks and we appreciate your support!
Depending on the seller, most products ship free in the United States on orders of $50 or more. International shipping availability and rates vary by seller. The pricing information on this page is updated hourly but we are not responsible for inaccuracies.
Learn More About Climbing