La Sportiva Ultra Raptor II
Price: $165
Weight: 1 lb. 7.7 oz. (women's size 8.5)
Waterproof: No (GTX available)
What we like: A versatile, mountain-ready shoe with excellent protection, grip, and stability in a lightweight package.
What we don't: Too stiff and clunky to be a dedicated running shoe for daily training on hard-packed dirt and easy trails.
See the Women's La Sportiva Ultra Raptor II  See the Men's La Sportiva Ultra Raptor II
The Ultra Raptor has long been a staple in La Sportiva's lineup, spoken of with reverence by trail runners and hikers alike. While the jury might be out on whether this is a hiking shoe or a running shoe, one thing is certain: It's in its element on mountainous terrain. Updated in the spring of 2022, the II features slight improvements to fit and durability and is now offered in a greater range of sizes (including the addition of a wide version). But much of the winning formula remains, and no matter your sport, the Ultra Raptor II is a great shoe to have on your radar if you commonly travel above treeline. Below we break down the La Sportiva's overall performance. To see how it stacks up to the competition, see our articles on the best hiking shoes, the best women's hiking shoes, and the best trail running shoes.
 
---
Table of Contents
---

Performance
Comfort
If you're headed into the mountains on foot, you won't get too far without a comfortable shoe. The La Sportiva Ultra Raptor II delivers, with a nice balance of stiffness and stability where you need it and plush mesh and cushioning everywhere else. Unlike leather, the synthetic build requires very little break-in period: I took the new II straight out of the box for a 17-mile overnight hike and experienced no hot spots or rubbing. What's more, with a relatively low weight (1 lb. 7.7 oz. for my women's size 8.5), the shoes felt nimble while hiking, and a large assortment of sizes (including half sizes and a wide version) makes it easy to nail a good fit no matter your foot shape.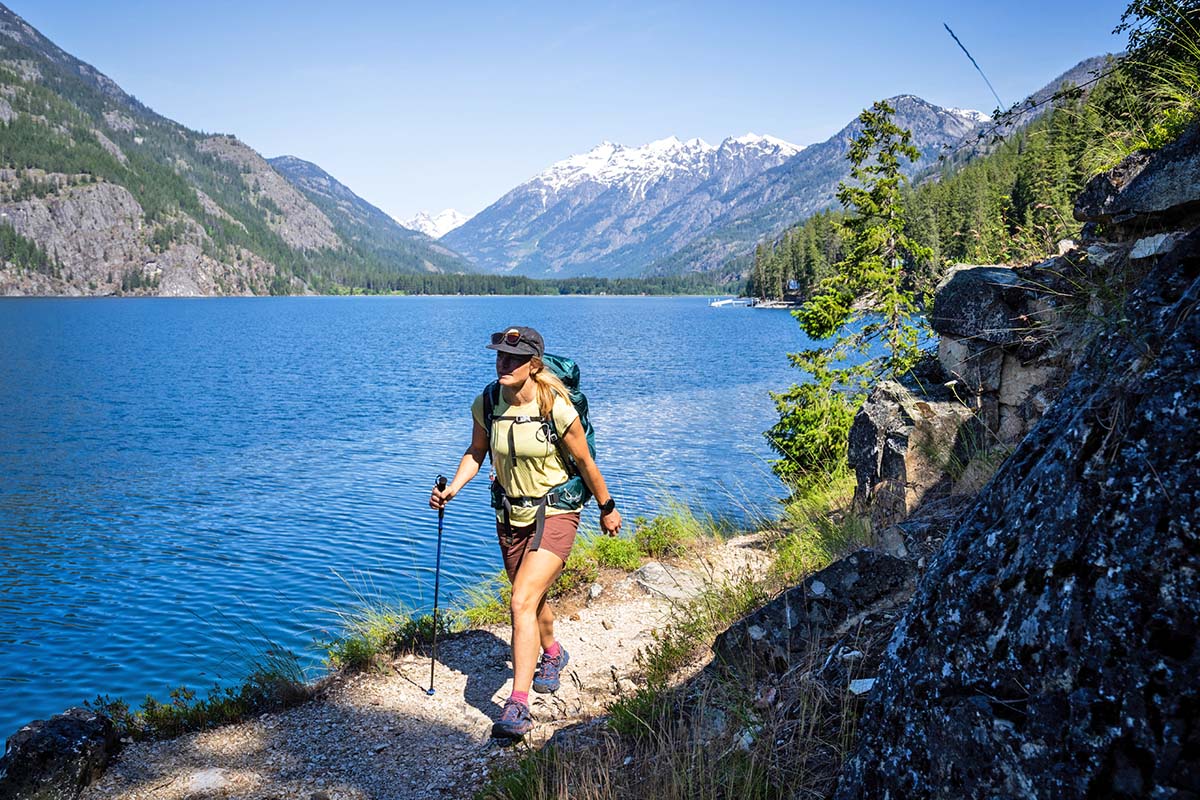 A few other features add to the Ultra Raptor II's comfort: First off, a sock-like liner hugs the foot and reduces movement (you can almost get away with not tying the laces) yet is still surprisingly easy to get on and off. Second, the non-Gore-Tex version features an "Endurance" platform that offers greater cushioning at the front of the shoe, resulting in better all-day comfort and a reduced, 9-millimeter heel-to-toe drop that keeps the foot closer to the ground. This is designed specifically with trail runners in mind, making the non-GTX shoe our top recommendation for those traveling at speed (on the other hand, the GTX version has a 12-millimeter drop and feels more akin to a hiking boot or shoe). I have a weak ankle that has a tendency to roll, and the planted feel of the Ultra Raptor was immediately apparent to me.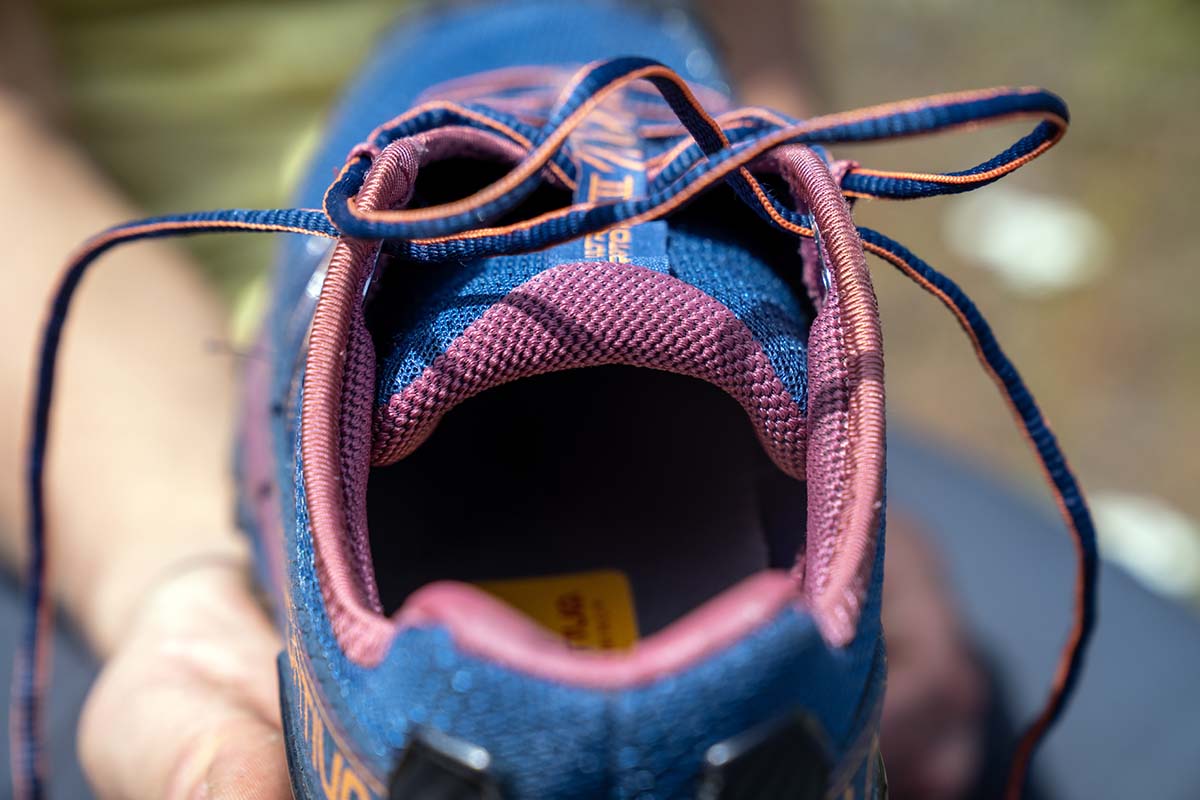 Weight
Because trail running shoes are generally a bit lighter than hiking shoes, looking at the Ultra Raptor II's weight can give us some good insights on its design and intentions. Although La Sportiva lists the women's Ultra Raptor II at 1 pound 4.8 ounces, our women's size 8.5 checks in at 1 pound 7.7 ounces, which is fairly heavy for a trail running shoe. In comparison, La Sportiva's cushioned Jackal and technically savvy Bushido II (both shoes in their mountain running lineup) tip the scales at 1 pound 2.3 ounces and 1 pound 1.6 ounces, respectively. In the end, the Ultra Raptor II's weight is more representative of a hiking shoe, resulting in a particularly clunky feel for runners moving quickly on easy trails. But if your version of running looks like slower-paced miles on talus, through boulder fields, and across snow, the extra ounces of stability, protection, and traction will be well worth it.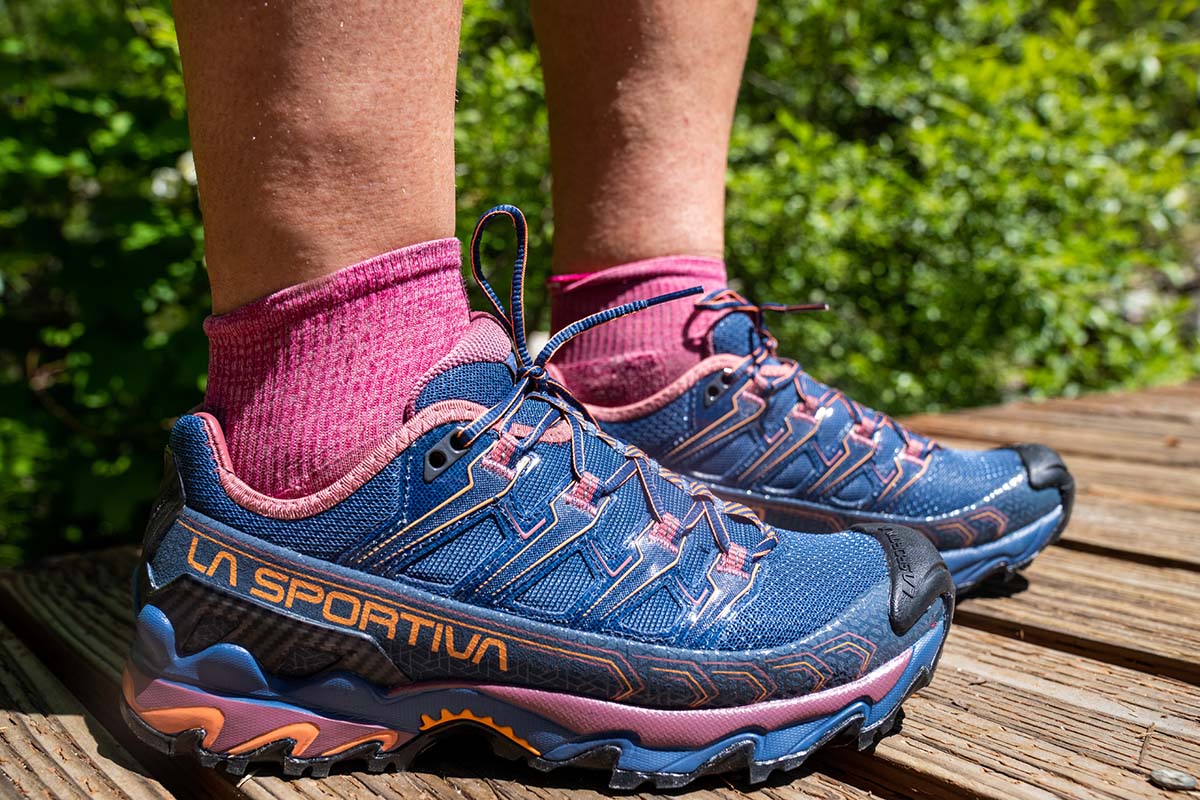 Traction
The Ultra Raptor II's grippy outsole is one of its main selling points, offering excellent traction on a variety of terrain, including rock, scree, mud, hard-packed dirt, and more. You get soft and sticky FriXion XF 2.0 rubber—otherwise known as Sportiva's "white" blend and their grippiest rubber outsole (rock climbing shoes excluded)—patterned in a series of 4.5-millimeter oval lugs. This lug pattern provides a nice middle ground between shoes like the La Sportiva TX4 (which uses circular lugs for high traction on rock) and the La Sportiva Cyklon, which features sharper lugs for better performance on soft terrain. Finally, as we see on most La Sportiva shoes, the Ultra Raptor II features an Impact Brake System at the heel, which both absorbs impact and improves grip while traveling downhill.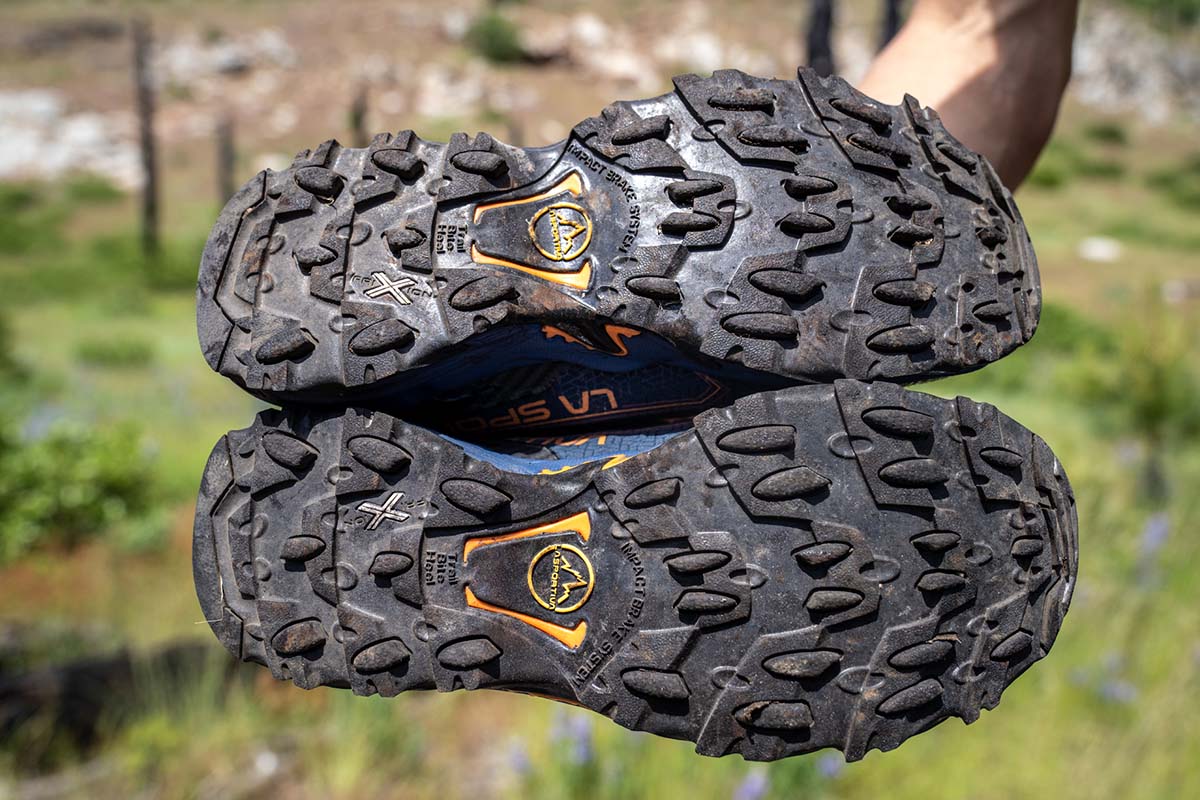 All told, if you're looking for a shoe that places a premium on traction, the Ultra Raptor II should be near the top of your list (one of our testers, who's owned over 10 pairs of the Ultra Raptor throughout the years, loves to say, "It's called FriX-ON rubber, not FriX-OFF"). In my opinion, it's equally as capable on technical rock as the La Sportiva TX4 approach shoe, yet much more adept on soft terrain like mud, snow, and moss. For long approaches and adventure runs that start below treeline and head deep into the high country, it simply doesn't get much better.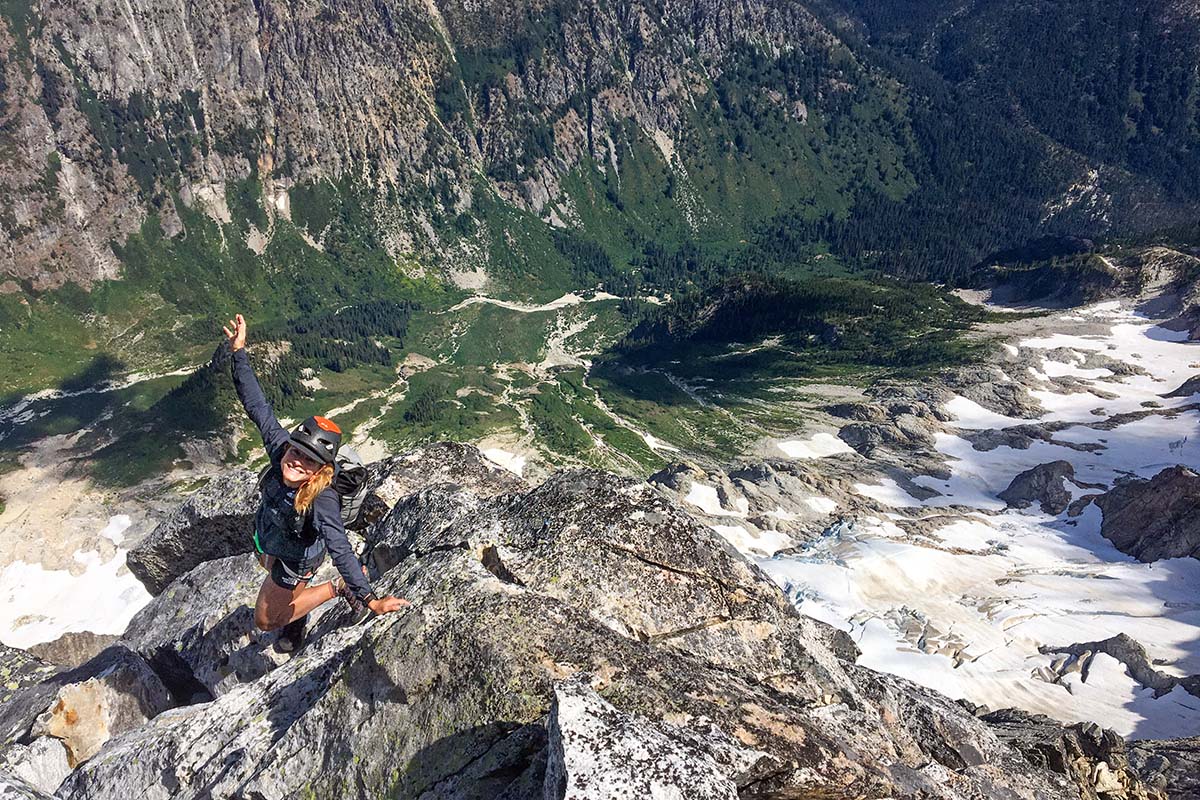 Stability and Support
The La Sportiva Ultra Raptor II excels in terms of stability and support—after all, this shoe is meant to keep you well balanced on off-camber mountain terrain. A number of attributes contribute to the shoe's stability, including a snug, sock-like fit, compression-molded EVA insoles—soft enough to absorb impact and cushion your feet, yet stiff enough to provide ample structure—and a TPU heel counter that securely holds the heel. I have a weak ankle that tends to roll, but the Ultra Raptor II provided a noticeably planted feel. On the other hand, I tested it alongside the La Sportiva Jackal (which features a narrower platform and softer cushioning) and suffered a number of painful ankle rolls on similar terrain.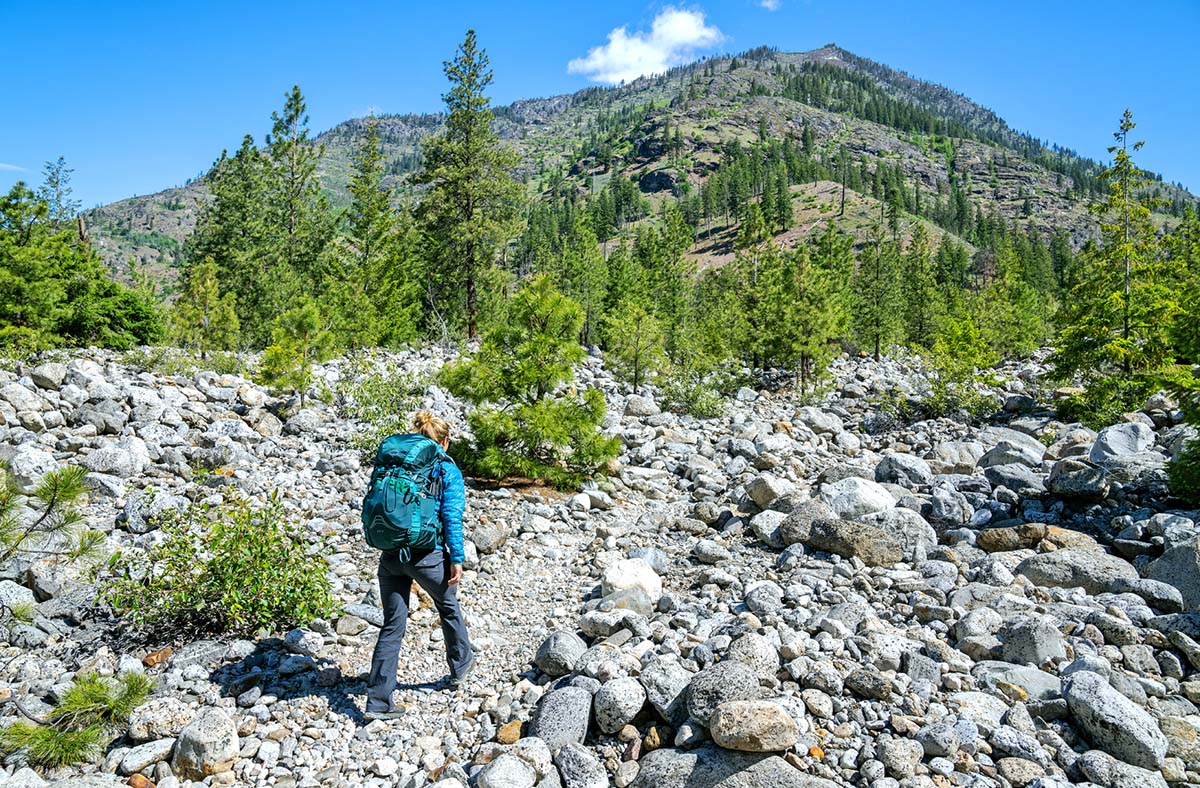 A high amount of stability is ideal for hiking or approaching climbs in the mountains, but it comes with a fair share of downsides for running. Compared to most trail running shoes, the Ultra Raptor II has a decidedly clunky feel and features a much stiffer midsole and outsole. Some runners swear by it, and it's hard to argue with the shoe's track record, but my opinion is that it's far from a daily driver—unless you're consistently logging low-tempo runs in the mountains. Anecdotally, one of our testers wore the Ultra Raptor for a month of training on hard-packed trail—up to 60 miles a week—and began to feel a great deal of Achilles pain. When he switched to Hokas, the issue was almost immediately alleviated. In the end, the Ultra Raptor is an excellent shoe for technical mountain running and hiking, but there are better options for easy trails.

Protection
Along with traction and support, protection is yet another one of the Ultra Raptor II strong suits. This is immediately apparent just by looking at the shoe, which features a massive rubber bumper at the toe, a large TPU heel counter, mudguards on each side, and a considerable amount of TPU overlays across the upper. And while you can't see it, a full-length rock guard protects the bottom of the foot from sharp objects. In the end, the Ultra Raptor II is head and shoulders above most trail running shoes in terms of protection (more akin to a hiking shoe), which is one of the reasons why it excels so much in mountainous terrain.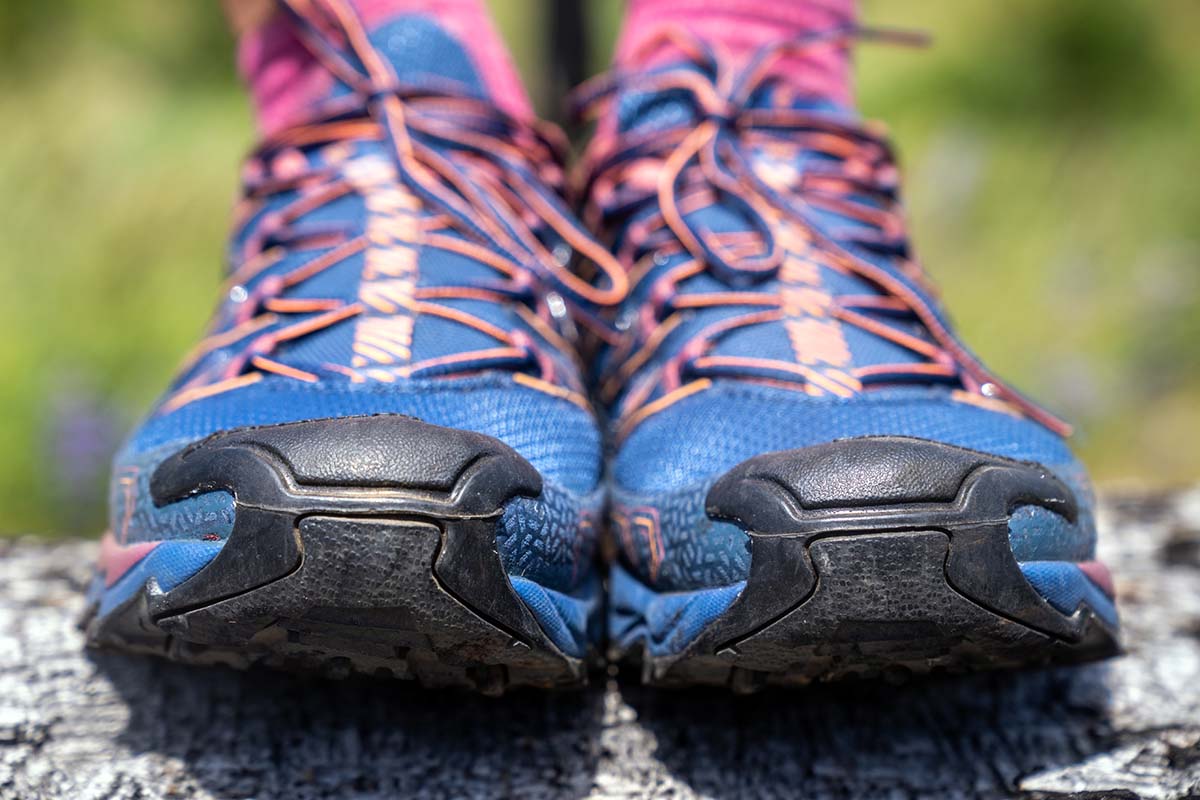 Waterproofing and Breathability
I tested the non-waterproof version of the Ultra Raptor II, which features a porous mesh upper that ventilates well and drains quickly after a dousing. You get a lot more breathability with mesh compared to more solid synthetic or leather uppers, and the good news is that sizable mudguards and a tight weave keep most debris out while allowing air and moisture to pass. For warm-weather jaunts when wet feet won't pose any risks, I strongly recommend the non-GTX Ultra Raptor II over the GTX version (for more, see our article Do You Need Waterproof Hiking Shoes?). On the other hand, the Ultra Raptor II GTX will be a better choice for shoulder-season hiking or those who place a priority on waterproofing over breathability.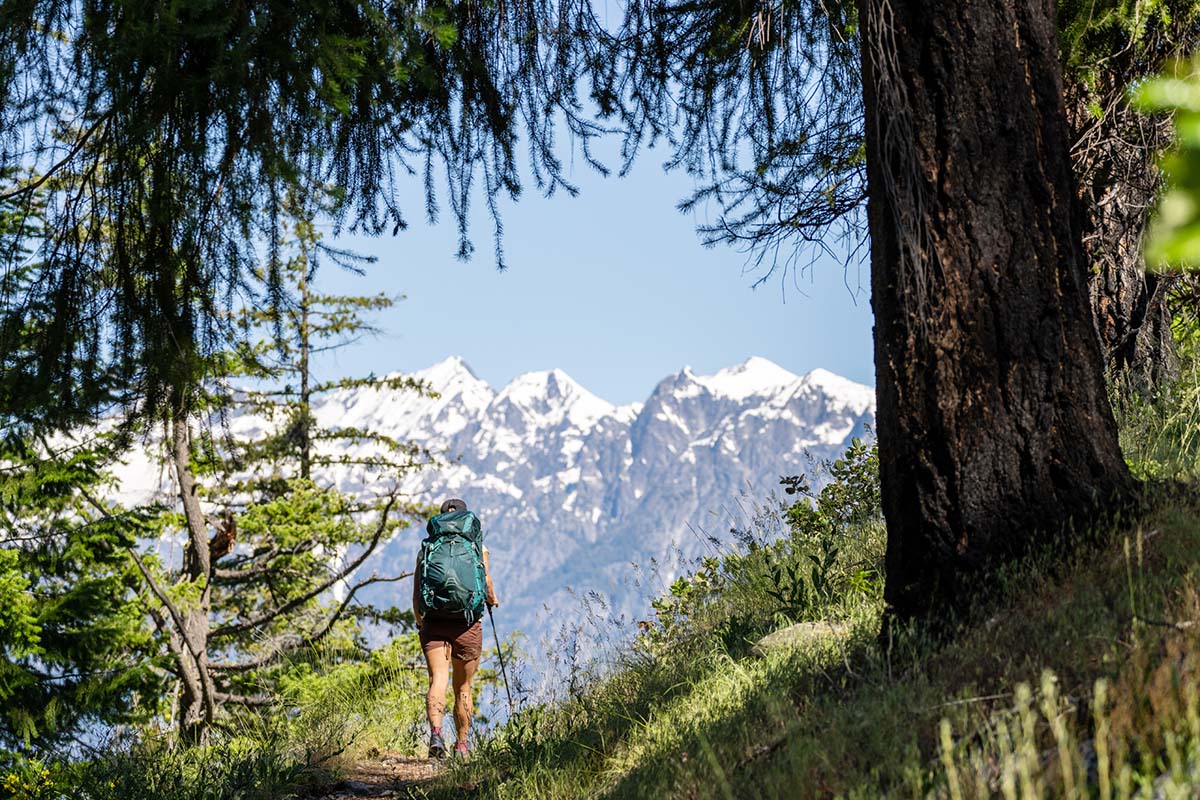 Build Quality and Durability
An Italian shoemaker through and through, La Sportiva is known for their high-quality craftsmanship and durable construction. The Ultra Raptor is no exception, with a premium build quality that is known to withstand hundreds of miles of trail abuse. Compared to other synthetic running and hiking shoes, it offers exceptional durability thanks to the generous TPU overlays and beefy rubber components. 
However, there is a reason that Ultra Raptor fans end up having to purchase pair after pair—and it's not just the fact that they log a lot of miles. This shoe does have an expiry date: The mesh is known to wear down over time (particularly next to the toe cap), and the FriXion XF 2.0 rubber compound isn't as durable as other (less grippy) blends. After seven months of heavy mountain use, our pair has suffered a broken lace, formed a 1 x 2-inch hole near the pinky toe, and the worn outsole has begun to slip on smooth rock. You can get a bit more life out of a leather shoe like the La Sportiva TX4, but the Ultra Raptor II is extremely competitive when held up against other synthetic hiking and running shoes.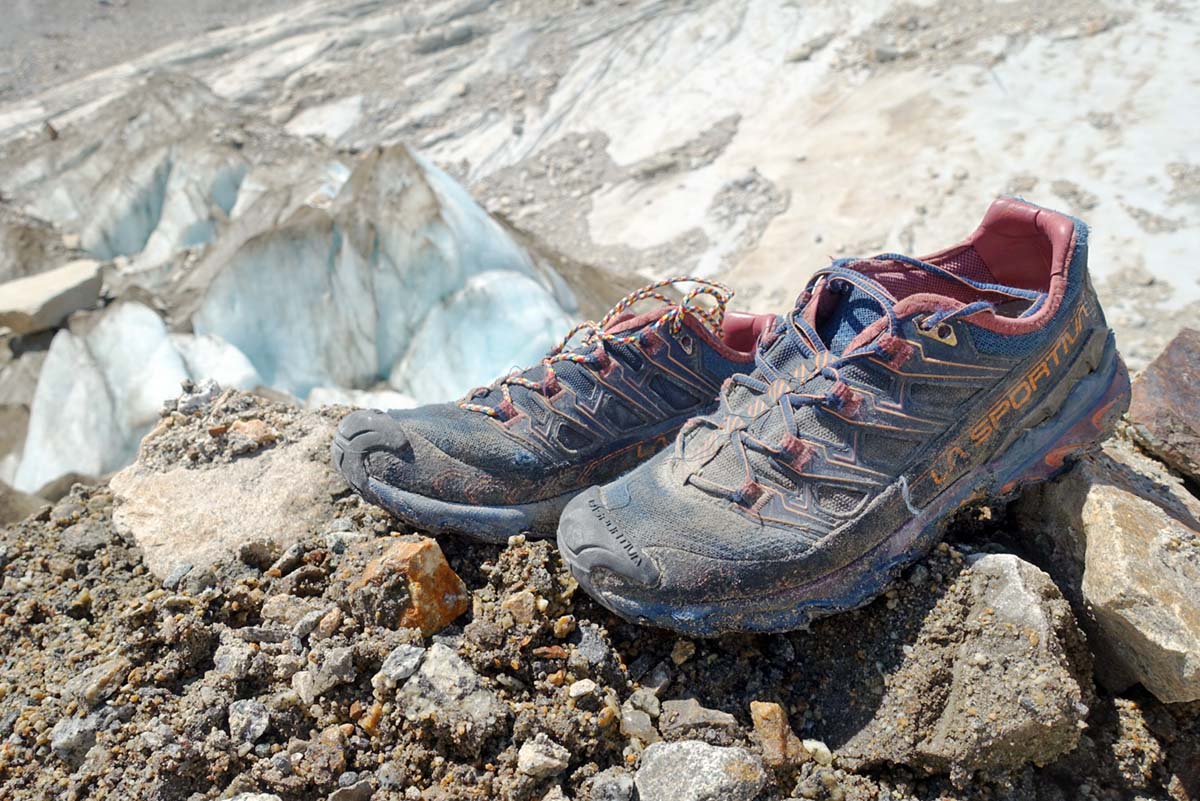 Fit and Sizing
I tested the Ultra Raptor II in a women's 8.5 (EU 40), my standard size in most shoes. As is the case with many La Sportiva models, the shoe was a bit snug around the forefoot and not as long as I had hoped (despite being one of their most high-volume designs). Surprisingly, it still ended up being very comfortable on the trail, despite warm temperatures and swelling feet. That said, most users will want to consider sizing up a half size. 
One of the biggest changes in the Ultra Raptor II is the addition of more sizes. Women's shoes are available in half sizes from EU 36 to 43, while the men's version comes in half sizes from EU 38 to 49.5. What's more, both the Ultra Raptor II and Ultra Raptor II GTX are available in wide sizes, which feature 5 millimeters of additional height in the toe box and a 10-millimeter-greater toe-box circumference from side to side. Unfortunately, however, La Sportiva only offers the wide versions in the black unisex version, which lacks the appeal of the colorful women's model I tested.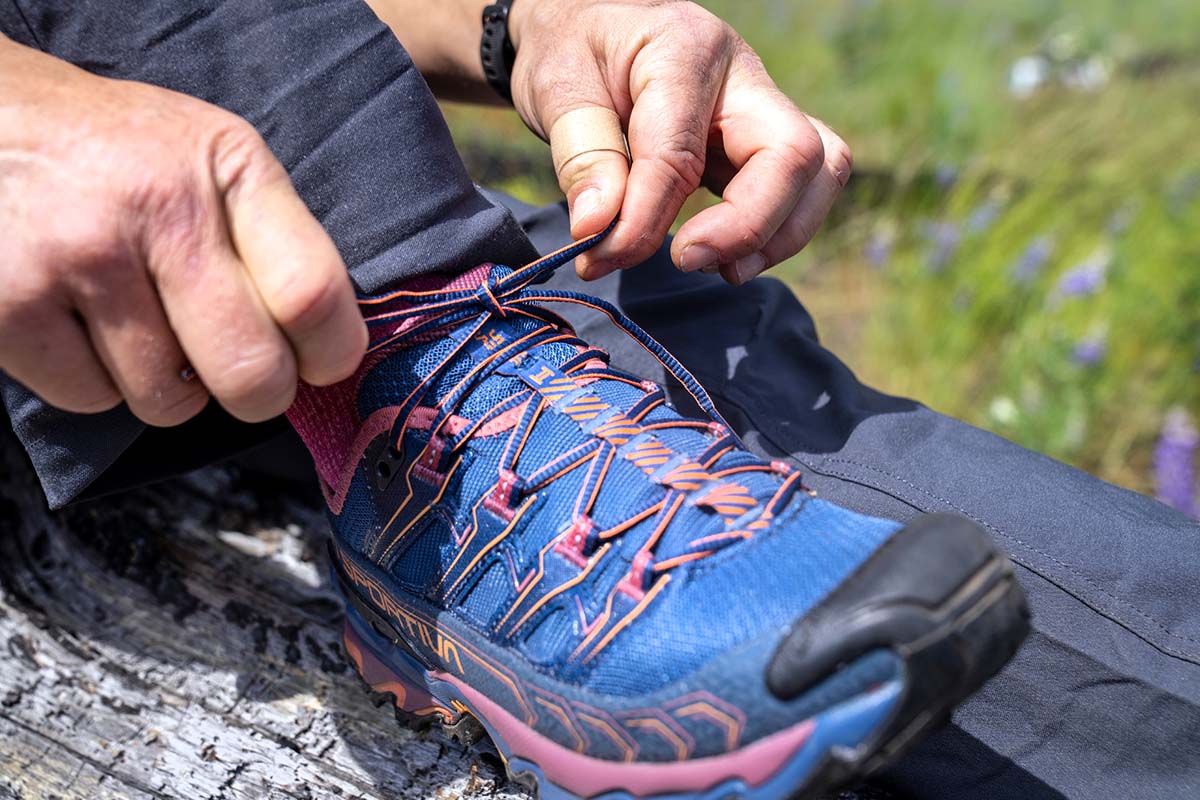 Other Versions of the La Sportiva Ultra Raptor II
For this review, I tested the standard Ultra Raptor II, but the shoe also comes in both men's and women's versions of a Gore-Tex design, a leather Gore-Tex design, and two mid-height Gore-Tex models (one leather and one synthetic). The Ultra Raptor II GTX retails for $195, features a waterproof membrane, and has a much larger heel-to-toe drop at 12 millimeters (vs. the standard version's 9mm), resulting in a feel more akin to a hiking shoe than a trail runner. The Ultra Raptor II Leather GTX ($179) features a durable Nubuck leather upper and is a great choice for those looking for a waterproof leather hiking shoe. Finally, the Ultra Raptor II Mid GTX ($209) and II Mid Leather GTX ($219) are lightweight boots for hikers in need of some extra ankle support. In the end, the Ultra Raptor II reviewed here stands out as the only trail running shoe of the bunch, while the other options are dedicated hiking designs.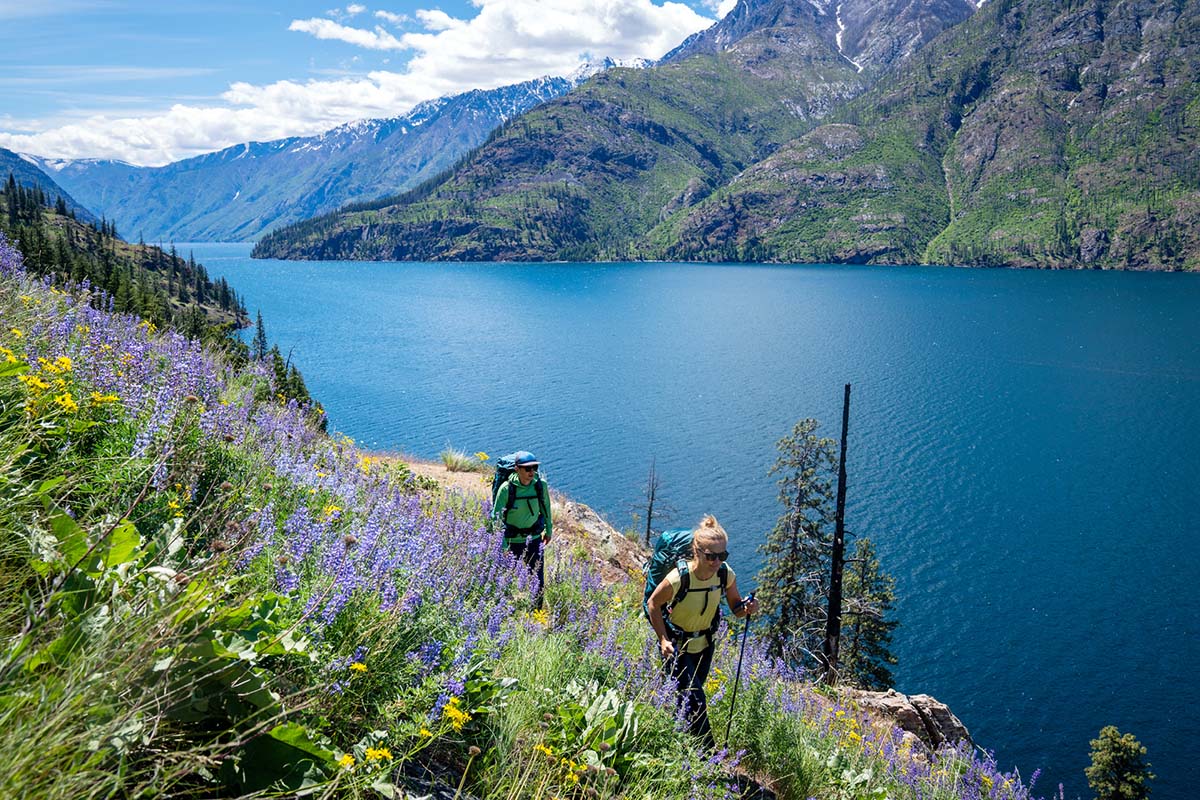 What We Like
Completely at home on mountain terrain, whether you're hiking, mountain running, or approaching a climb.
Porous mesh build is very breathable and quick-drying yet woven tightly enough to keep out most trail debris.
Protection is top-notch with a full-length rock plate, generous heel counter and toe bumper, and large TPU overlays throughout the upper.
The FriXion rubber outsole with oval lugs finds a nice middle ground between a circular-lugged approach shoe and a sharper-lugged trail running shoe and excels on everything from mud and wet leaves to smooth rock and talus.
Now available in a wide version (unisex), which adds a considerable amount of room in the toe box.

What We Don't
Too stiff and clunky to be a dedicated running shoe for daily training on hard-packed dirt and easy trails.
While fairly durable for a synthetic shoe, the Ultra Raptor II won't hold up as well as leather designs.
Wide sizes are only available in an all-black unisex design.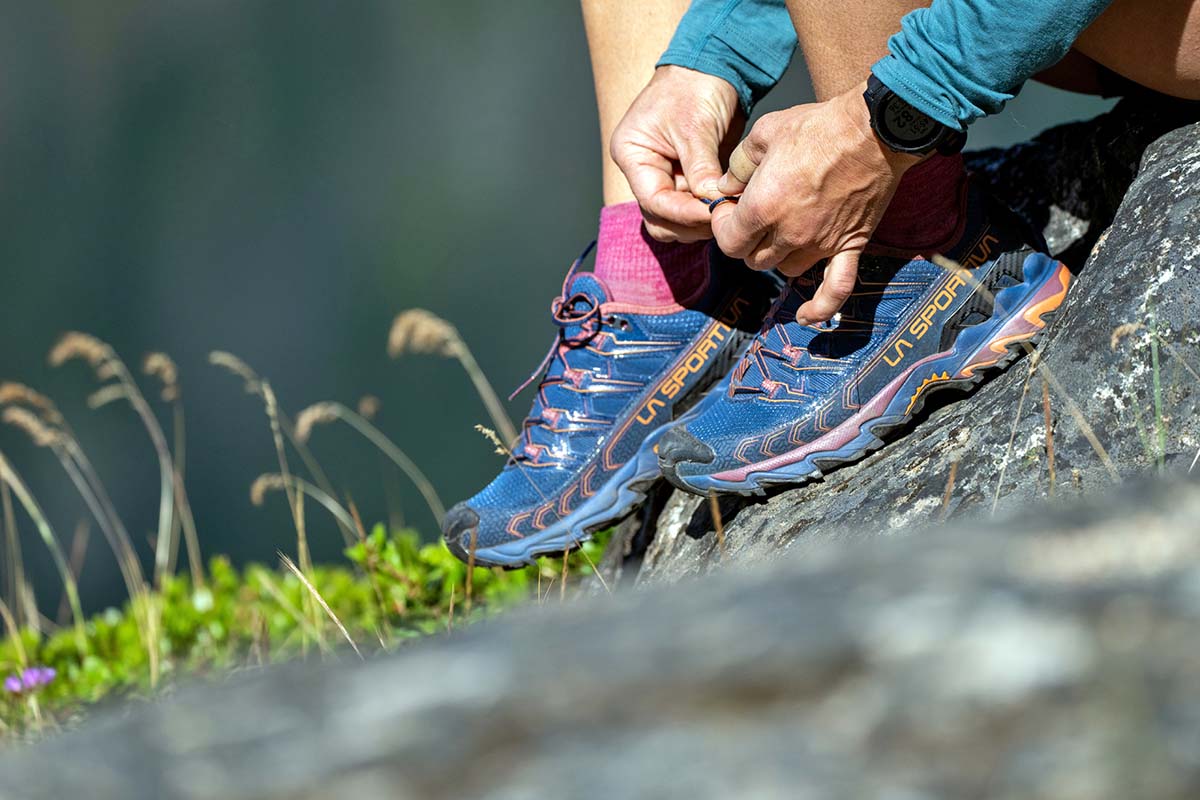 Comparison Table

The Competition
No company does mountain running footwear quite like La Sportiva, and the Ultra Raptor II is just one option of many in their very deep lineup. The Bushido II ($155) is another popular choice, with similar intentions in a very different design. You get noticeably less cushion underfoot (19mm at the heel vs. the Ultra Raptor II's 28mm), a snugger, lower-volume fit, and less protection with a half-length rock plate, smaller toe bumper, and fewer upper reinforcements. As a result, the Bushido II trail running shoe is noticeably lighter than the Ultra Raptor II (1 lb. 1.6 oz. for the women's version) and offers a more planted and stable feel, which many runners will appreciate. On the other hand, you get a lot more protection and all-day comfort with the Ultra Raptor. We recommend the Bushido II for shorter mountain jaunts and those who value a responsive ride, while the Ultra Raptor is the more versatile shoe for hiking and all-day escapades in the alpine.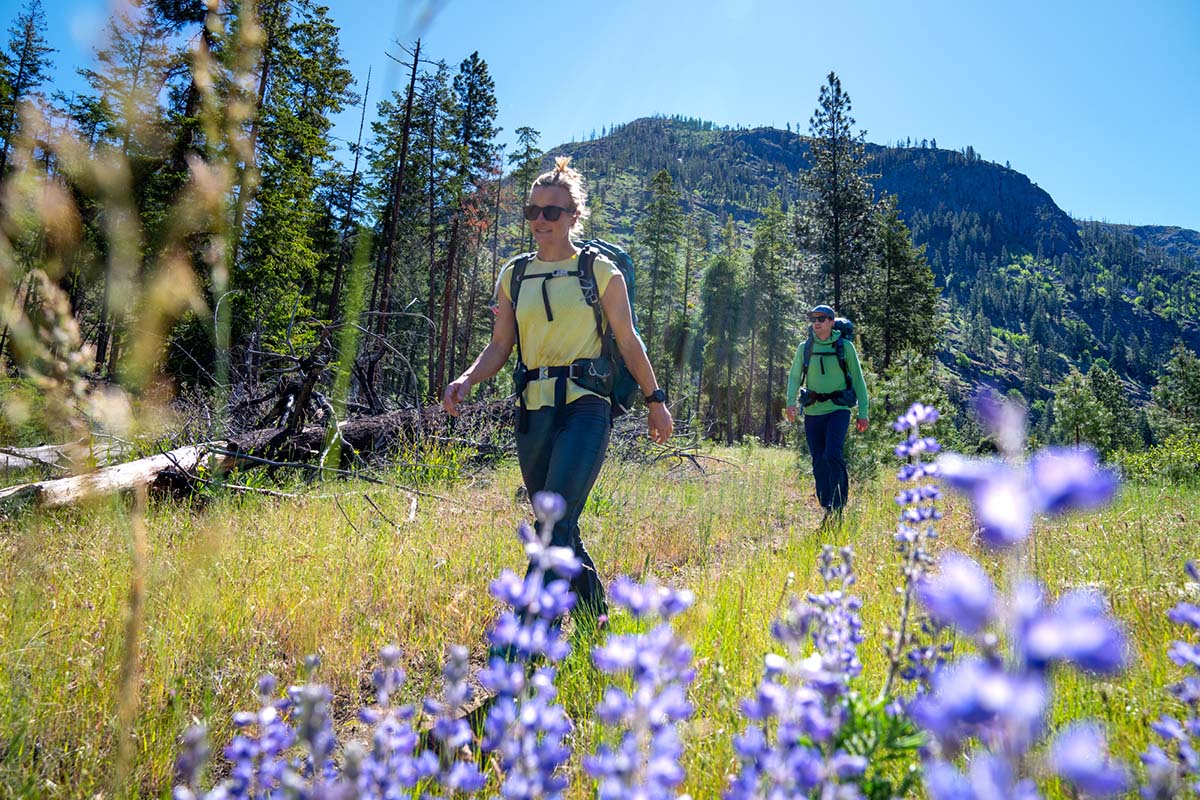 If the Ultra Raptor tips a bit toward the hiking shoe end of the spectrum, the Akasha II is its counterpart on the trail running side. Checking in at 1 pound 2.3 ounces for the women's version, the Akasha II is lighter, more flexible, and uses softer cushioning—great for trail and mountain running alike. Its FriXion XT 2.0 outsole is slightly less grippy than the Ultra Raptor's FriXion XF 2.0 but offers a boost in durability, and the sharper lugs prioritize traction on wet terrain more than on rock (that said, in our experience, the Akasha II excels on both). The Akasha II also has a higher-volume toe box, which is a nice feature for high-mileage days when feet tend to swell, although we also recommend sizing up a half size. For $10 more, it's a bit less of an all-rounder than the Ultra Raptor II (we wouldn't choose it as a hiking shoe), but for those in the market for a highly capable yet lightweight and cushioned mountain running shoe, the Akasha II is a solid choice.
Moving outside of La Sportiva's lineup, the Scarpa Rush similarly combines features from both trail running and hiking shoe designs. Like the Ultra Raptor II, you get great stability by way of a rigid TPU heel frame and EVA midsole, and the sticky rubber and firm midsole result in great traction in technical, rocky terrain. However, protection falls a bit short with a more streamlined toe bumper and no rock plate, and the Rush has much less of a refined feel, with a bulky tongue that sticks out and chunky rubber at the heel. We much prefer the Ultra Raptor II for both mountain running and hiking (and it's $6 cheaper), but the Rush is nevertheless a comfortable hiking shoe that can handle the odd section of running (for more, see our in-depth Rush review here).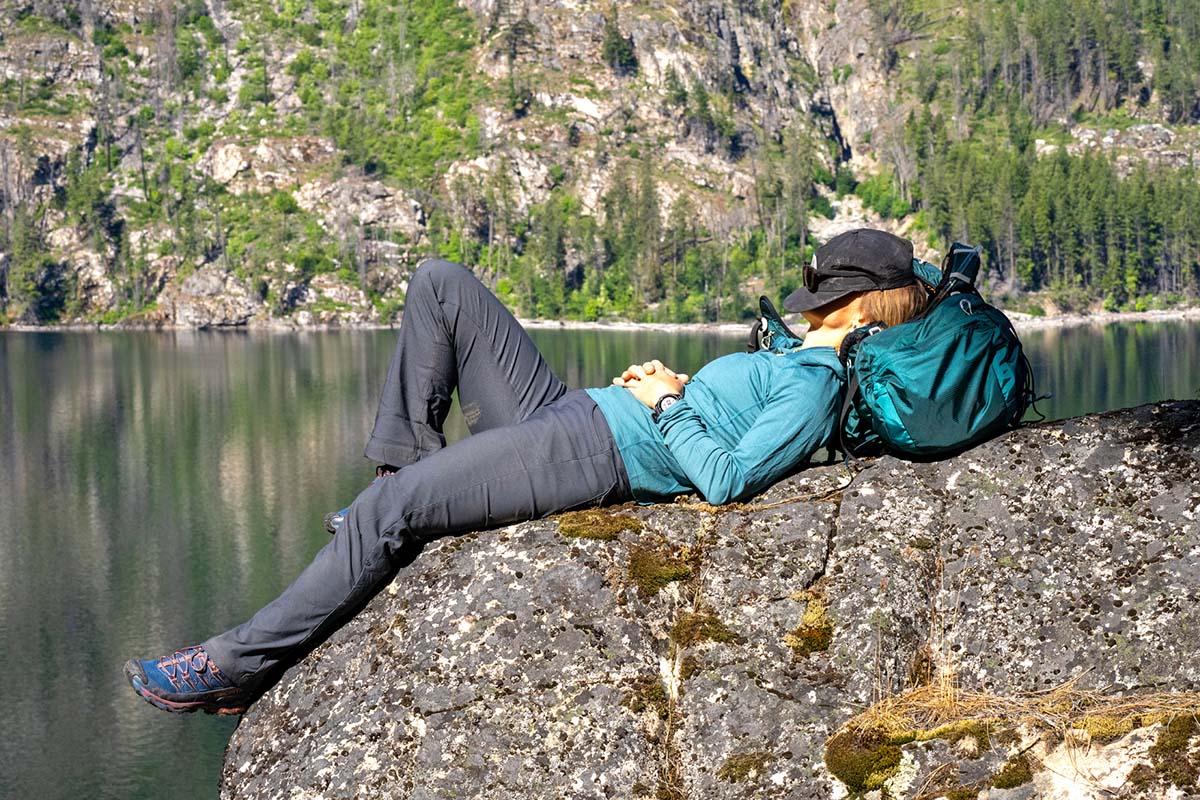 The Ultra Raptor II offers incredible traction, protection, and stability for cross-country travel in the mountains, but the reality is that most hikers stick to the trail. If you like to stay on the beaten path, a popular hiking shoe like the Salomon X Ultra 4 might be a better choice. For just $140, the X Ultra 4 is all most hikers need, with an airy mesh upper, decent protection around the foot, and durable Contagrip rubber. It also features Salomon's Quicklace system, which snugs up the shoe quickly and eliminates the hassle of laces coming untied. Of course, the X Ultra 4 can't match the mountain prowess of the Ultra Raptor—it lacks the same sock-like fit, forgoes a rock plate, and the sole offers less grip on rock—and we've found the heel cup much too stiff for running. But if you're looking for a dedicated hiking shoe, the Salomon is a comfortable and affordable option that has stood the test of time.
Moving back to a more mountain-ready design, the Arc'teryx Aerios FL 2 GTX is built for fast-and-light hiking on technical trails. Even more so than the Ultra Raptor, it merges the agility and light weight (1 lb. 4 oz.) of a trail runner with the stability and traction of a hiking shoe, with features like a TPU shank and Vibram Megagrip outsole. It also tacks on a Gore-Tex membrane, which provides helpful water protection for mountain environments (keep in mind, the Ultra Raptor is also available in a GTX version). But in our experience, Arc'teryx doesn't nail the equation quite like La Sportiva: We've found the Aerios FL's rigid heel and narrow toe box significantly less comfortable and more difficult to break in, and the shoe offers a bit less protection overall. But for premium waterproof protection in a very capable yet lightweight hiking shoe, the Aerios FL is certainly worth considering.
If you're thinking about buying gear that we've reviewed on Switchback Travel, you can help support us in the process. Just click on any of the seller links above, and if you make a purchase, we receive a small percentage of the transaction. The cost of the product is the same to you but this helps us continue to test and write about outdoor gear. Thanks and we appreciate your support!
Depending on the seller, most products ship free in the United States on orders of $50 or more. International shipping availability and rates vary by seller. The pricing information on this page is updated hourly but we are not responsible for inaccuracies.
Read More From Switchback Travel