La Sportiva Trango Tech GTX
Price: $269
Weight: 2 lbs. 7.6 oz. (women's size 40)
Crampon compatibility: Semi-automatic
What we like: Great all-around performance on trail, rock, and snow.
What we don't: Lightweight build makes sacrifices in durability and stability over technical terrain.
See the Women's Trango Tech GTX  See the Men's Trango Tech GTX
Designed for long, demanding missions in the mountains, La Sportiva's Trango Tech GTX effectively bridges the gap between a hiking and mountaineering boot. We took the hybrid (both the men's and women's versions) on an expedition into the Alaska Range, using it as our do-all boot for steep snow travel, glacier and moraine crossings, and cross-country hiking. In the end, despite its streamlined and lightweight build, the Trango Tech thoroughly impressed us with its remarkable stability and on-trail performance. Below we break down our experiences with the Trango Tech. To see how it stacks up to the competition, see our articles on the best mountaineering boots and best approach shoes.
 
---
Table of Contents
---

Performance
Best Uses
Blurring the line between hiking and mountaineering boot, the La Sportiva Trango Tech GTX is designed for long days in the mountains that start below treeline, travel over snow, and end high on rock summits. For many climbers and alpine scramblers, it's a niche piece that fills a previously gaping hole in footwear options. I've often griped about my approach shoes not being burly or supportive enough to kick steps in snow or securely fit a crampon, and similarly bemoaned my mountaineering boots for being too stiff and bulky to hike or climb rock. The Trango Tech effectively bridges that gap, making it ideal for all-in-one missions that involve long approaches, snow travel, and rock climbing.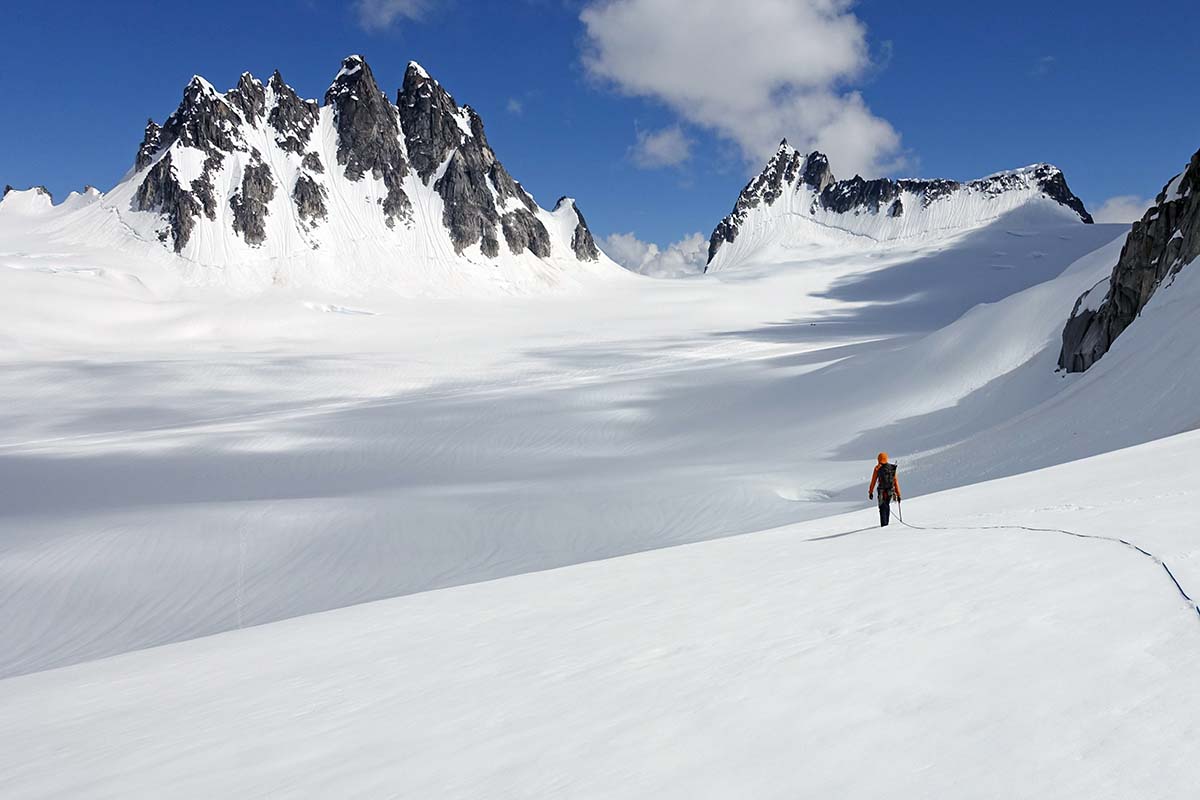 The Trango Tech GTX is stiffer and more protective than the average hiker but more low-profile and responsive than a burly mountaineering boot. The inner Gore-Tex membrane and gaiter-like cuff provide solid waterproofing for snow travel while still maintaining ample breathability and flexibility for long days on the trail. Further, the Vibram Cube outsole is an effective mix of durable and sticky. And finally, the heel welt is compatible with semi-automatic crampons. For me, this combination makes the Trango Tech perfect for summer alpine objectives—think the Bugaboos, North Cascades, or early season in the Tetons or Sierra. When you need a boot firm enough to kick steps and accommodate a semi-automatic crampon but also light and comfortable enough to hike below treeline or even climb sections of low-5th-class terrain, the Trango Tech is up to the task.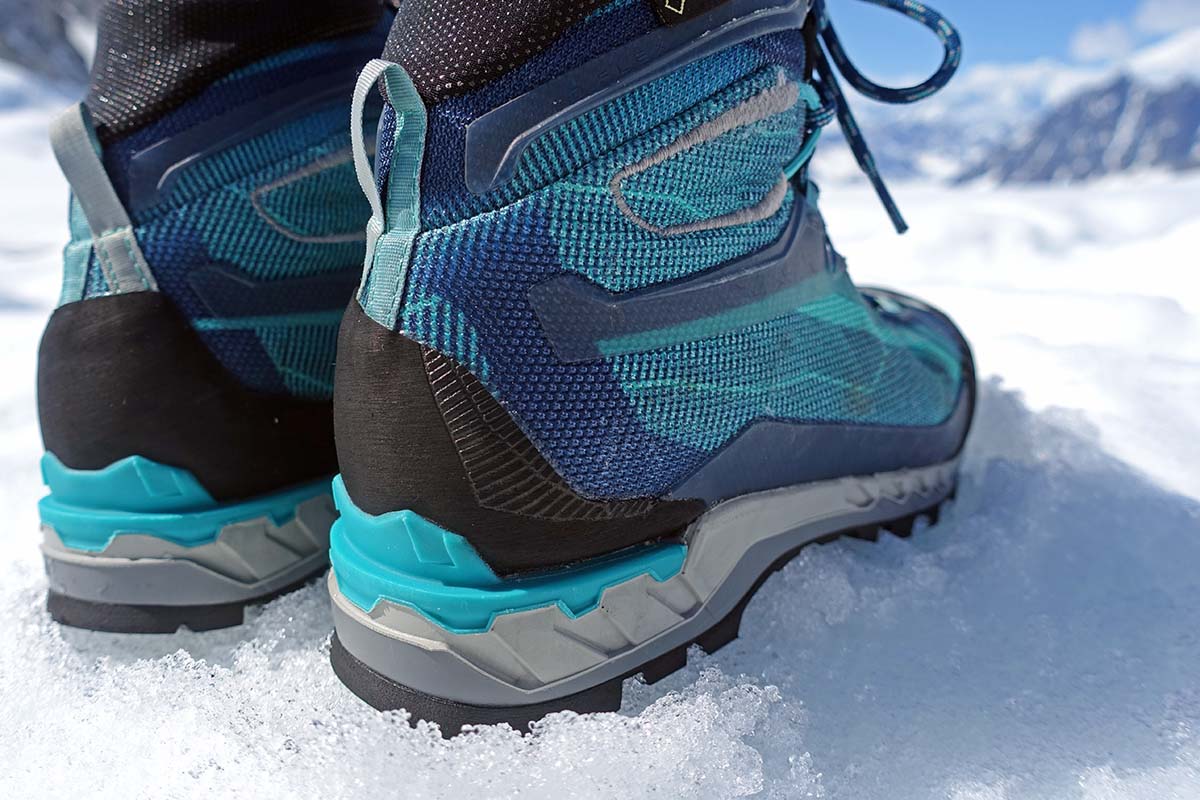 Weight
At a listed 2 pounds 2.8 ounces for a women's pair (my size 40s clocked in slightly heavier at 2 pounds 7.6 ounces), the Trango Tech GTX is impressively light for a boot that can handle steep snow and even ice. Put simply, the ability to shave ounces off of your kit is essential when you have to carry your boots while climbing (think up-and-over routes or those with snow travel high up). While rock climbing in the Alaska Range, I often toted the Trango Tech on my climbing harness and barely noticed the bulk or weight. In my opinion, this lack of heft is well worth the tradeoffs in stability and durability (more on this below).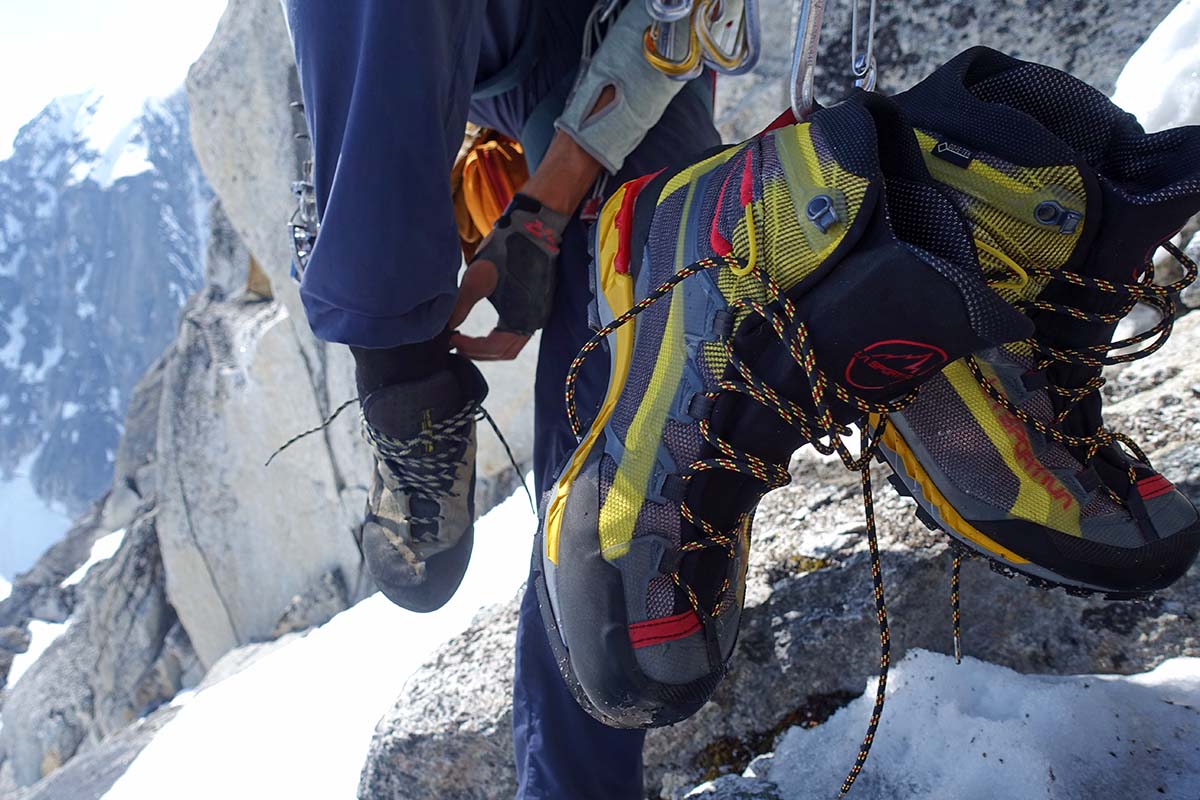 Compared to other boots in La Sportiva's extensive mountain-ready lineup, the Trango Tech GTX predictably falls between dedicated hiking and mountaineering boots. For reference, the TX4 approach shoe weighs 1 pound 4.8 ounces per pair, while the Trango Cube GTX (lightweight mountaineering boot) is 2 pounds 12 ounces. Outside of La Sportiva offerings, the Trango Tech GTX is one of the lightest hybrids on the market. For example, the Scarpa Zodiac Tech GTX—which has a similarly low-profile and waterproof build with a heel welt—comes in slightly heavier at 2 pounds 5.4 ounces. All told, the Trango Tech is a class leader in terms of performance for its weight.

Traction
In keeping with the boot's hybrid nature, the Trango Tech's Vibram Cube sole nicely blends hiking and climbing performance. The "climbing zone" at the forefoot is a smooth patch of rubber built for traction on rock, while the square lugs and heel brake help with grip on soft surfaces, including mud and snow. This versatile build means that you get ample hold on a range of surfaces, but it also means the shoe won't excel in any one area. In other words, an approach shoe will offer better traction on rock, while a dedicated mountaineering or hiking boot will be more solid on soft and wet ground. That said, for those who travel in varied mountain environments, the slight sacrifice in performance is well worth it.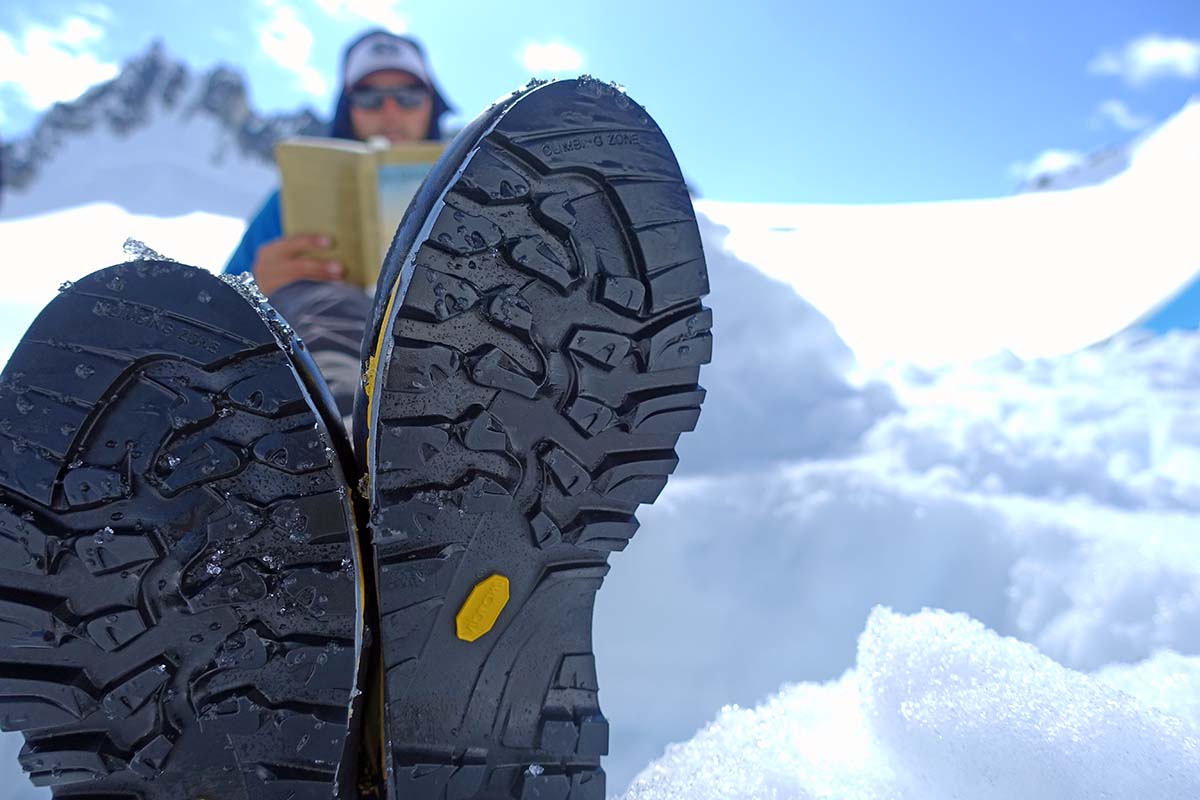 While navigating a glacier and bushwacking through wet forest, my partner and I both found that the Trango Tech offered far more bite on snow and muddy terrain than an approach shoe like La Sportiva's TX4 (which features smooth, dotted tread for increased traction on rock). On rock, I was able to climb up to about 5.4 in the Tech, but not without some practice. This wasn't an issue with grip, but rather the stiffer and bulkier build—relative to a dedicated climbing or approach shoe—which made it difficult to feel the rock underfoot. That said, the Trango Tech nevertheless is a much better climber than other lightweight mountaineering models like the Trango Cube or Scarpa's Charmoz.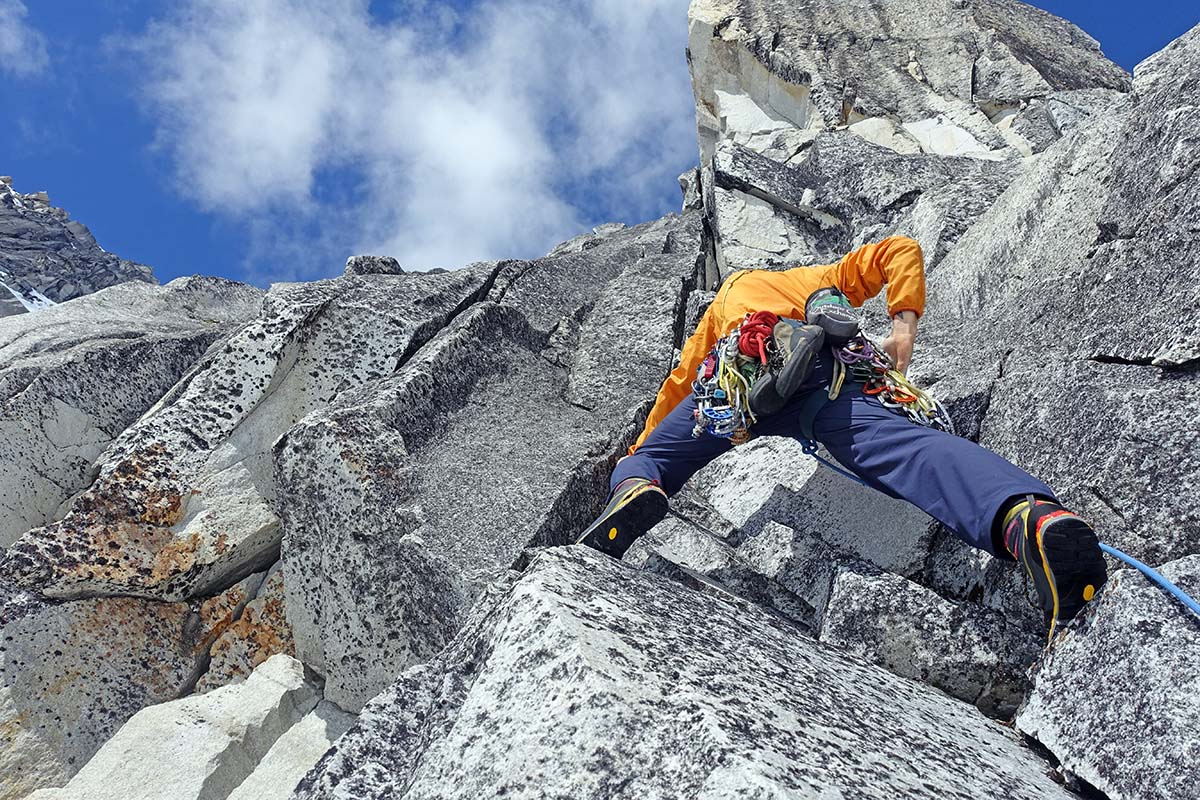 Stability and Support
The La Sportiva Trango Tech's hybrid design is especially apparent when it comes to support and stability. With a stiffer sole and upper than a hiking boot, the Trango Tech is notably more supportive on snow and uneven terrain—the bump in stability was especially noticeable when loaded down with an overnight pack. That said, the Trango Tech isn't as rigid as a true mountaineering boot—even when compared to lightweight designs—and is particularly less supportive in snow. If you need a boot that's burly enough to kick steps in hard snow (and protect your toes at the same time), you'll likely want to opt for a beefier, heavier model like La Sportiva's own Nepal Evo GTX. However, as an agile yet protective hiker that can accommodate a semi-automatic crampon, the Trango Tech is nevertheless impressive.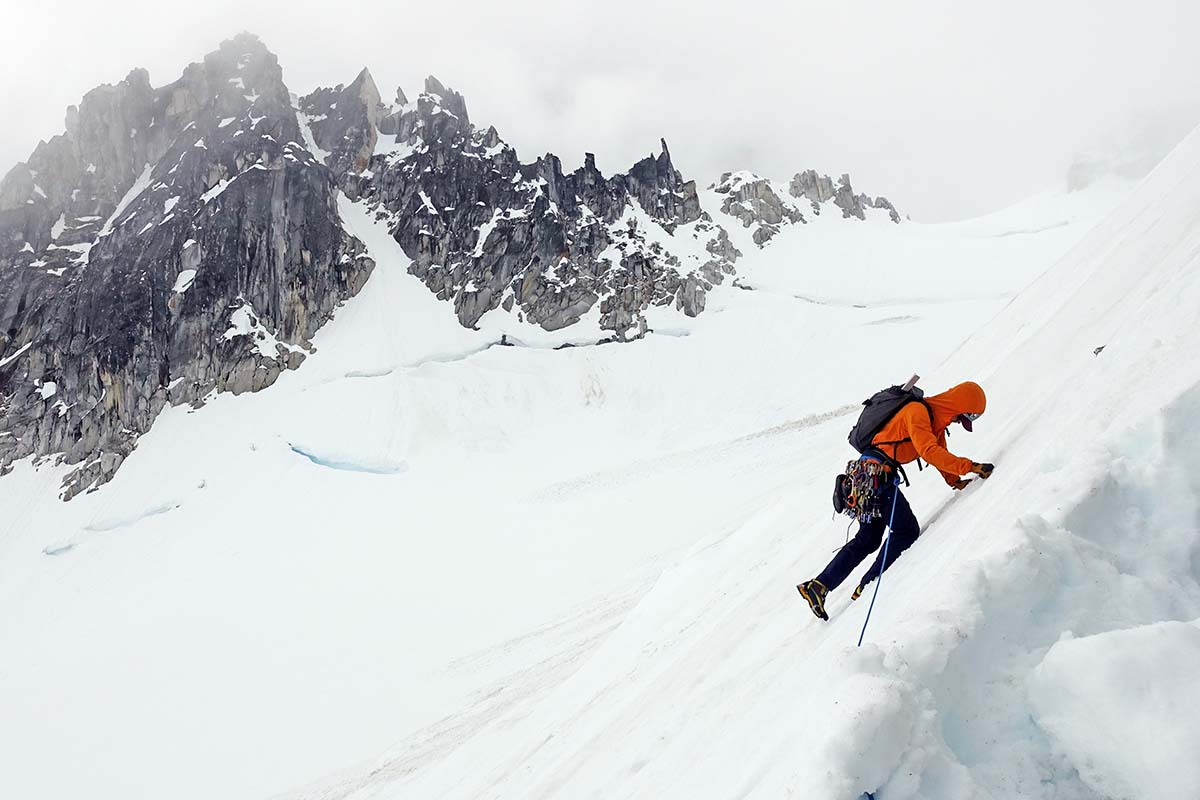 When discussing the stability of a mountaineering boot, it's important to look at how it pairs with a crampon. In this case, the Trango Tech has a heel welt, meaning it's compatible with semi-automatic crampons. Paired with my Petzl Irvis crampons, I felt confident on steep, hard snow. That said, the boot does have quite a bit of give in the midfoot—which is exacerbated when it gets saturated with moisture (more on this below). While this causes the Trango Tech to feel slightly insecure in a crampon, it's far more stable than an approach shoe paired with a strap-on crampon. All in all, for routes where snow is present but not the main event, the Trango Tech provides ample support. But for consistently snow-covered objectives like Mount Shasta or the glacial ice along Mount Baker's North Ridge, we'd recommend a burlier boot.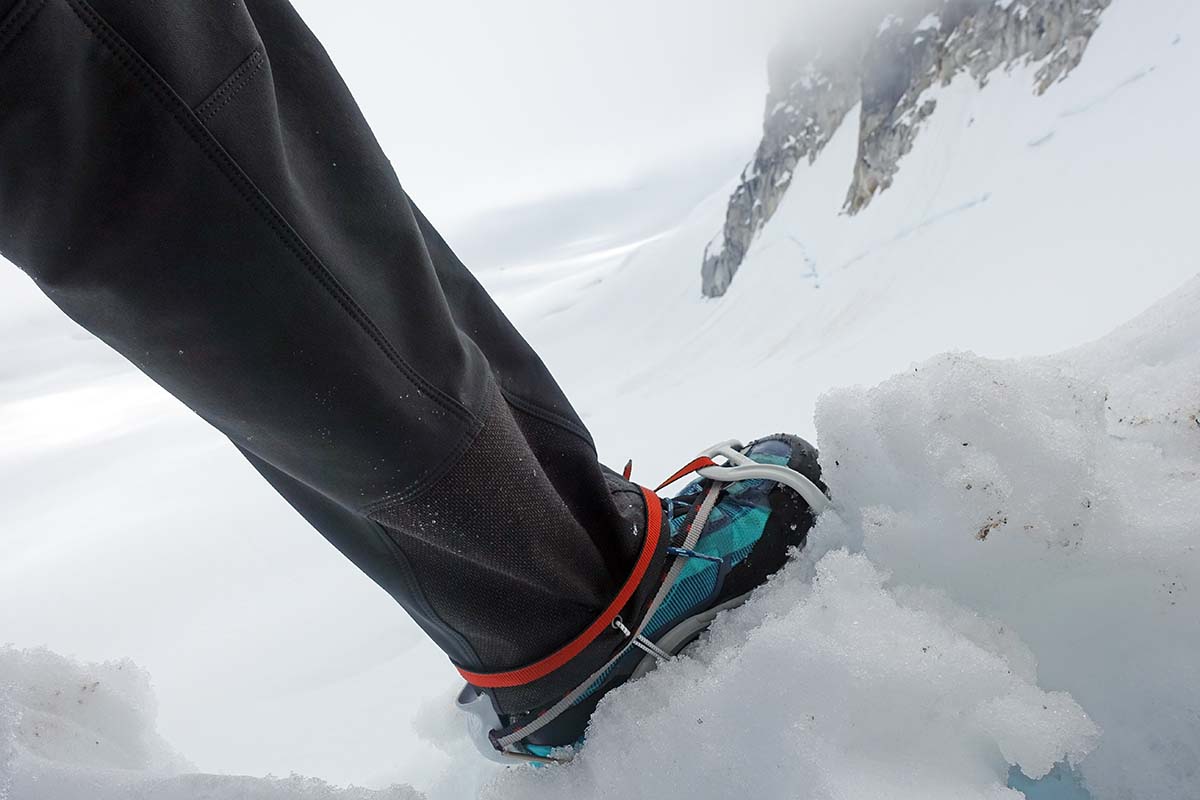 Waterproofing
The La Sportiva Trango Tech GTX features a waterproof upper and Gore-Tex lining, plus a mid-height design and stretchy gaiter designed to keep snow out. In theory, these features point to full waterproof protection, but in practice, our reviews are mixed. We'll start with the bad news: our feet were consistently wet while wearing the boots in the Alaska Range. But here's the fine print: we were traveling on a glacier mid-summer in full sun. On every step (when we weren't wearing snowshoes), the boot sunk into wet snow—akin to walking through a shallow river for hours on end. Many times, the snow was so soft that it flooded over our ankles and through the boot's gaiter. And unfortunately, traveling below snowline offered little relief. Here, we faced soggy tundra and exceptionally wet bushwacking. In the end, the boots made a valiant effort each day, keeping our feet dry for a few hours before growing soaked. However, we're not sure any level of waterproofing could have succeeded against the thawing Alaska Range.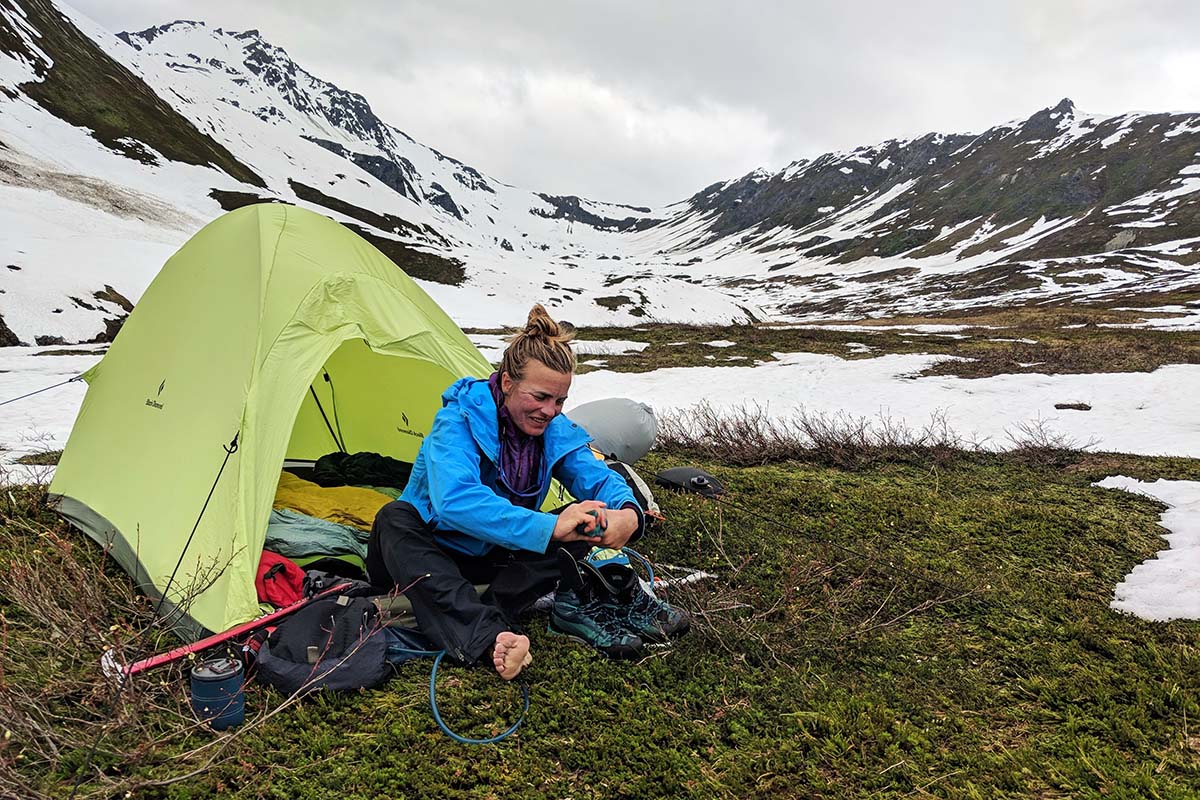 Breathability
Waterproof, synthetic shoes typically aren't great breathers—especially for summertime activities—but the Trango Tech outperformed most other mountaineering boots we've tested. All told, no shoe will ever be completely waterproof and breathable, but we like the level of compromise in the Trango Tech—especially given we'll be using it for varied (read: mostly dry) terrain rather than simply snow (for more, see our article: Do You Need Waterproof Hiking Shoes?). And given the boot's low profile, we found that it dries out surprisingly quickly.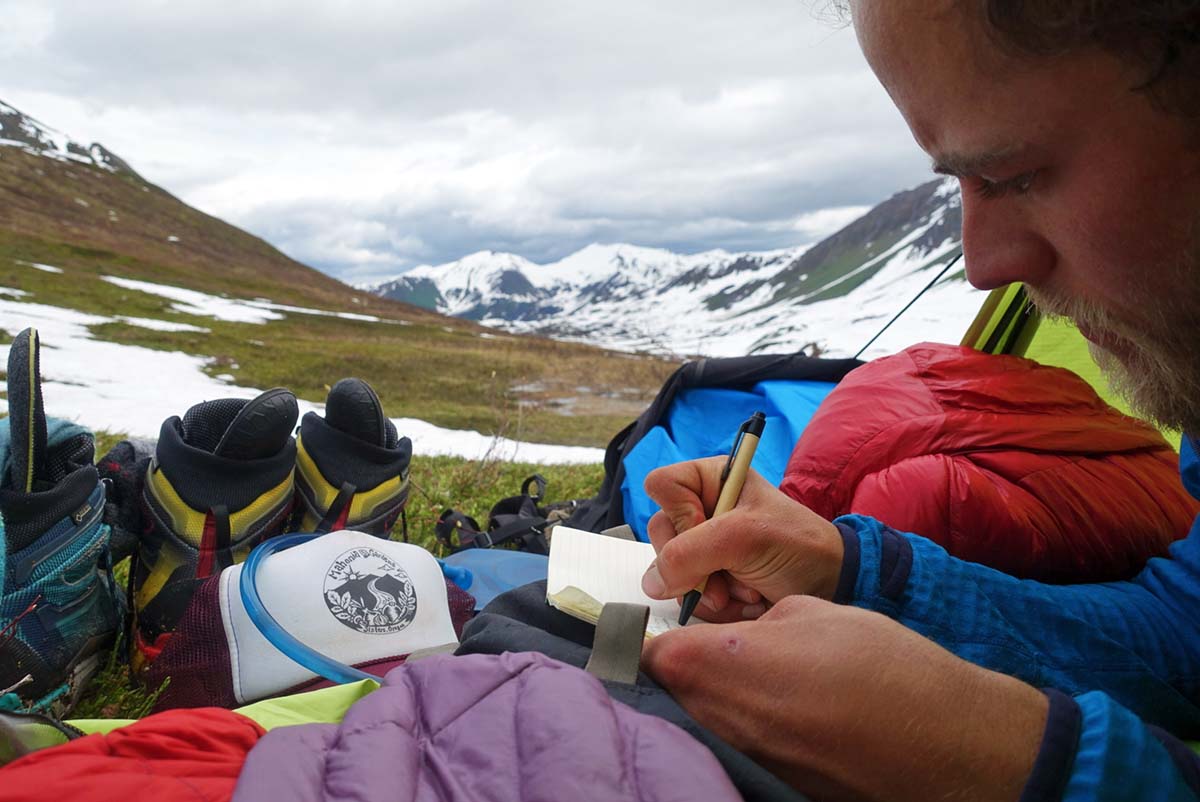 Warmth
We don't usually discuss warmth in our hiking boot reviews, but given the Trango Tech's hybrid design, it's worth a mention here. In fact, when determining what footwear we would bring to the Alaska Range, warmth was one of the biggest points of consideration—especially given that we would be camping and traveling on a glacier for a week. In short, because of its streamlined design, the Trango Tech offers less insulation both in the upper and underfoot than other lightweight mountaineering boots like the Trango Cube. Put simply, it's not built for cold conditions. However, I found that the Trango Tech provided adequate warmth for traveling in and living on snow in summer temperatures and experienced only a few instances of truly cold feet. For extended winter or shoulder-season snow travel, I would instead opt for a more insulated boot like La Sportiva's Nepal Evo GTX.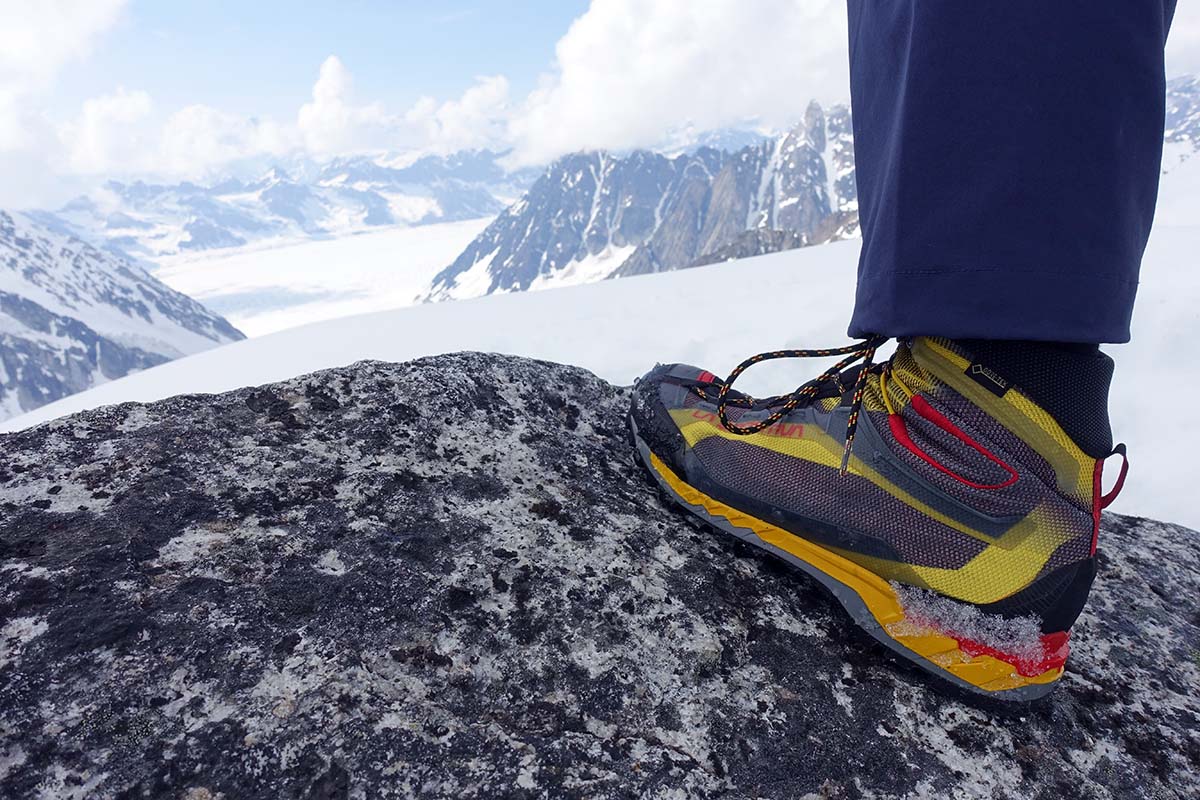 Build Quality and Durability
As we've come to expect from La Sportiva, the Trango Tech is an extremely well-made and nicely constructed boot with high attention to detail. However, with such a lightweight design, you can expect a much shorter lifespan if you're using the boots to their full potential. In other words, the minimalist build will pack out and abrade much more quickly than a beefier leather model. After 10 days of heavy use, our pair showed notable fraying where the upper came into contact with a crampon and snowshoe. All that said, the sole weathered the expedition with minimal wear, and even after heavy abuse, the boot has maintained its relatively stiff feel and close fit.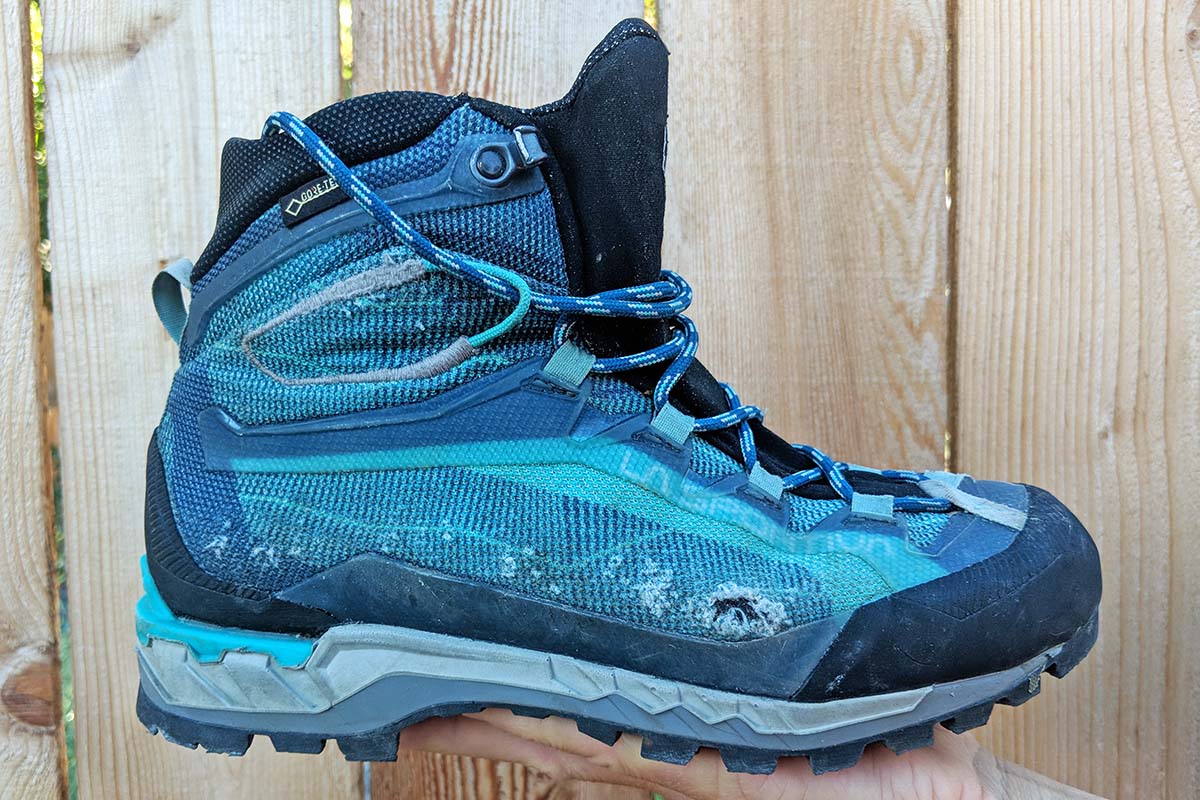 Fit and Sizing
I usually wear a women's European size 40 (U.S. size 8.5) and found that the La Sportiva Trango Tech GTX fit true to size. Thanks to its relatively flexible build, the boot was comfortable right out of the box and I experienced no discomfort or hotspots during the break-in period. My feet are definitely on the wide side, but the roomy toe box and to-the-toe lacing worked well for me. However, the shoe should be able to accommodate a wide range of foot shapes given its lacing. Whether you want comfort on the trail or precision on the rock, it's easy to dial in fit.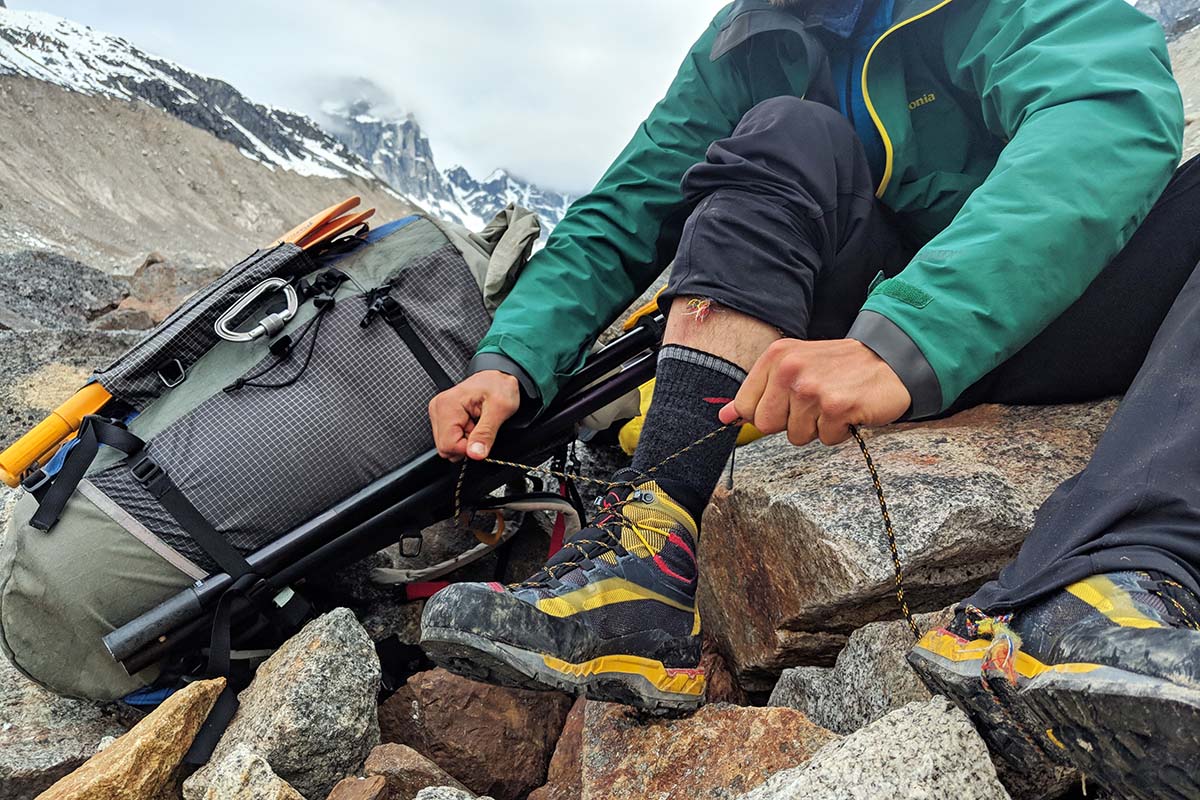 Other Versions of the La Sportiva Trango Tech GTX
For this review, we tested the women's Trango Tech GTX, and the boot also comes in a men's-specific version (which my partner also wore in the Alaska Range). The men's Trango Tech GTX has an identical design to the boot reviewed here, albeit at a heavier weight (2 lbs. 11.6 oz.) and in a black and yellow colorway. The men's shoe is available in European half sizes from 38 to 48. Rounding out the collection, La Sportiva also sells a leather version of the Trango Tech for both men and women, which retails for $249 and checks in at 2 pounds 4.6 ounces for the women's version.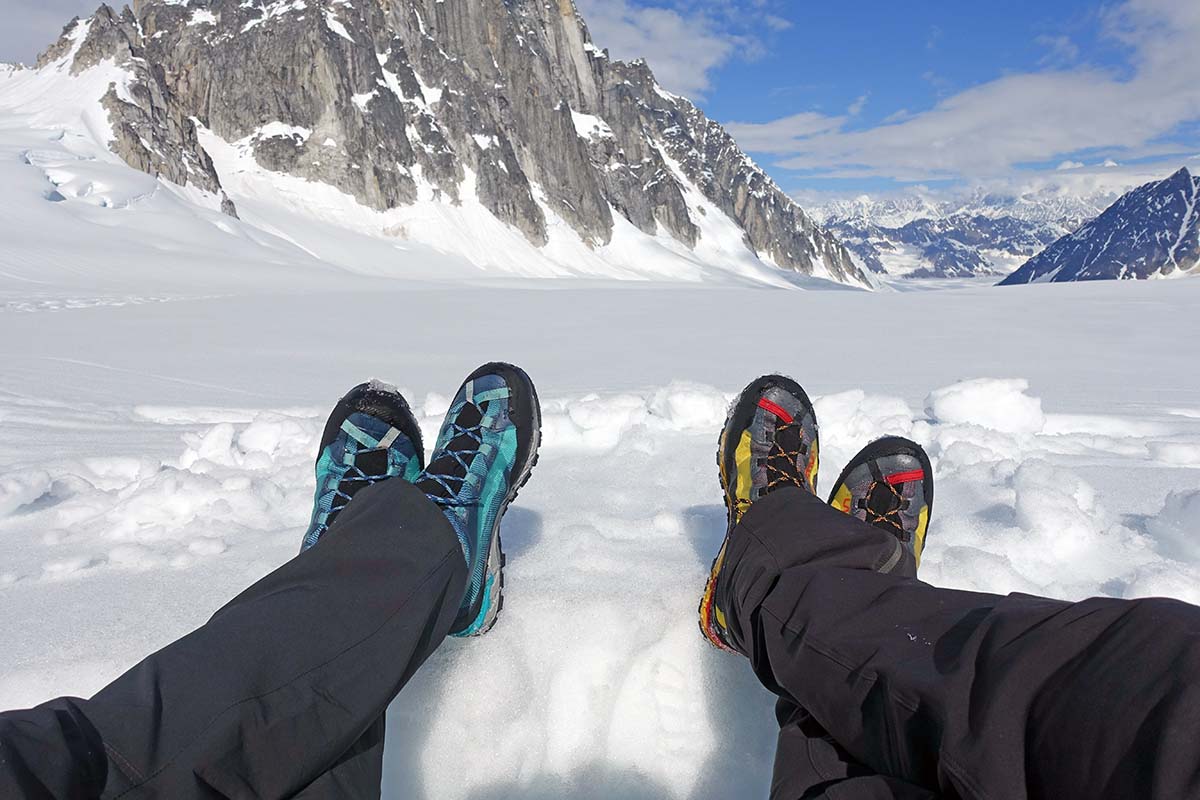 What We Like
Great all-around performance: the Trango Tech is lightweight and responsive for trail and rock, yet supportive and stiff enough for technical snow.
Heel welt allows you to pair the boot with a semi-automatic crampon.
Lightweight build is ideal for when you have to carry your boots up a climb.

What We Don't
Lightweight design translates to a drop in durability (expect a fairly short lifespan).
Waterproofing fell a bit short during sustained snow travel—but to be fair, we tested the boot in extremely trying and consistently wet conditions.
For technical ice travel, we recommend a burlier boot with a toe welt.


Comparison Table

The Competition
As we outlined above, the La Sportiva Trango Tech GTX bridges the gap between hiking and mountaineering nicely. In the same category, the Scarpa Zodiac Tech GTX has similar intentions as an all-day mountain boot with a competitively lightweight build (2.6 ounces heavier per pair than the La Sportiva boot). Like the Trango Tech, the Zodiac Tech GTX features a waterproof Gore-Tex membrane, heel welt, to-the-toe lacing, and a hybrid sole made to handle both technical rock and soft, wet terrain. The most significant difference between the two is their choice of materials: the Zodiac has a suede upper, while the Trango uses synthetic. The Scarpa's use of leather translates to a $31 bump in cost, but for many it's well worth the added durability and more precise fit.
For a step up in performance from the Trango Tech, the Scarpa Charmoz HD is our favorite 3-season design this year. With the Charmoz, you get many of the same features of the Trango Tech—including a heel welt, waterproof synthetic upper, and a climbing zone on the sole—but in a slightly warmer, burlier build. At 2 pounds 12 ounces per pair, the Charmoz HD is more durable and offers added stability and power while kicking in steps, but you pay the price in comfort, climbability, and agility on the trail. We may be slightly biased toward minimalist footwear, but in our opinion, the Trango Tech effectively replaces a light mountaineering boot like the Charmoz. If you truly need more boot, we recommend upgrading to a model like the La Sportiva Nepal Evo, which features both toe and heel welts and winter-ready insulation.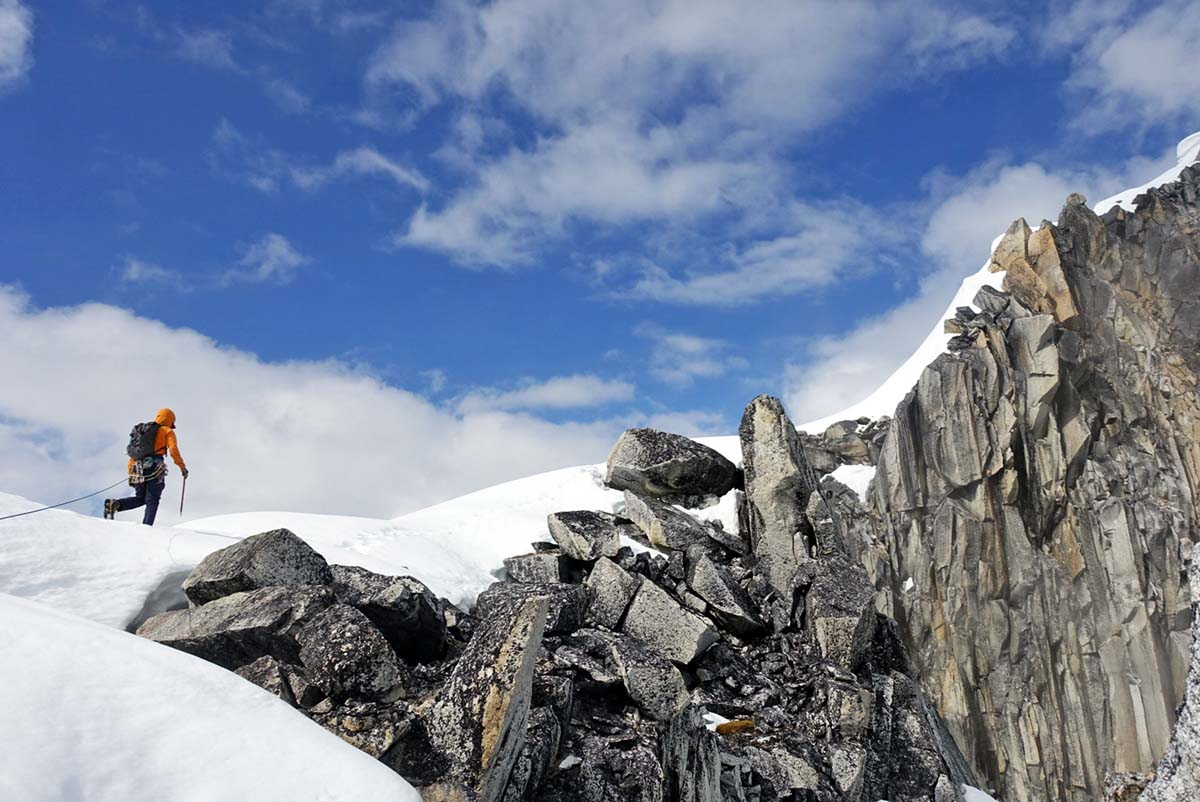 Moving up the performance ladder even farther, Lowa's Alpine Expert GTX is a versatile option that lands in between our lightweight mountaineering and 4-season technical alpine categories. To start, the Lowa is impressively light for its intentions at 3 pounds 3.4 ounces, features automatic crampon compatibility, has excellent stiffness for climbing steep ice, boasts a hardwearing leather upper that can withstand significant abuse, and uses 400-gram PrimaLoft synthetic insulation. To be clear, you can get more warmth and stiffness in a true 4-season option like Sportiva's own Nepal Cube, and the Trango Tech is the more comfortable choice for longer, less technical approaches. But the Lowa strikes an excellent middle ground and is the more versatile all-rounder for objectives that involve a mix of trail, rock, snow, and steep ice.
If you plan to do more backpacking than mountaineering, a dedicated hiker like the Salomon Quest 4D 3 GTX is a nice option. We put the boot to the test on the Huemul Circuit in Patagonia, where we traveled across glacier and loose moraine with heavy overnight packs. In short, it quickly impressed us with its performance-oriented fit, solid overall durability, and excellent support on rugged terrain. However, the Quest 4D 3 is heavier than the Trango Tech at 2 pounds 8.6 ounces, the absence of a heel welt means you don't get semi-automatic crampon compatibility, and the lack of a climbing zone on the sole translates to less traction on rock. All told, for most hiking and backpacking, the Salomon Quest is plenty of boot for $39 cheaper than the La Sportiva. But when your hike turns technical, the Trango Tech GTX is a much more capable companion.
Last but not least is La Sportiva's own Trango Cube GTX, which has been a popular choice for low-altitude mountaineering for years. Similar to the Scarpa Charmoz HD, the Cube essentially is a beefed-up hiking boot with a heel welt that offers semi-automatic crampon compatibility, a climbing zone at the toe for traction on rock, and all-in weight of 2 pounds 8.3 ounces per pair. However, unlike the Charmoz, the Trango Cube offers premium Gore-Tex waterproofing and a removable tongue helps the boot dry quicker should it soak through. But in the end, we keep coming back to value: the Trango Cube is a considerable investment at $399, and you can get many of the same performance benefits in the lighter and more agile Trango Tech (and upgrade to a 4-season boot for truly technical endeavors).
If you're thinking about buying gear that we've reviewed on Switchback Travel, you can help support us in the process. Just click on any of the seller links above, and if you make a purchase, we receive a small percentage of the transaction. The cost of the product is the same to you but this helps us continue to test and write about outdoor gear. Thanks and we appreciate your support!
Depending on the seller, most products ship free in the United States on orders of $50 or more. International shipping availability and rates vary by seller. The pricing information on this page is updated hourly but we are not responsible for inaccuracies.
Read More From Switchback Travel