Salomon's Quest 4D boot has headlined their backpacking lineup for years. Updated for 2018, they fine-tuned the design with a new outsole and reworked platform that offers a little more flexibility and cushioning. I put the boot to the test while backpacking the rugged Huemul Circuit in Patagonia, and found it to be the perfect tool for the job. The new Quest is solidly made, provides fantastic support and protection for challenging trails, and retains the aggressive stance and nimble feel of previous generations. Below we break down the Quest's comfort, weight, traction, stability, waterproofing, durability, fit, and more. To see how the Quest 4D 3 stacks up, see our article on the best hiking boots.
 
Performance
Comfort
When putting on the Quest 4D 3 GTX, it's immediately apparent that this is a serious boot. The high collar and solid lacing system hold your foot and ankle snugly in place, but generous padding around the ankle and along the boot's tongue make it very comfortable. It's stiff enough that I wouldn't recommend taking it for a long trek straight out the box, but with only a few short hikes under my belt before starting the Huemul Circuit, it had loosened up enough to be fitting like a glove.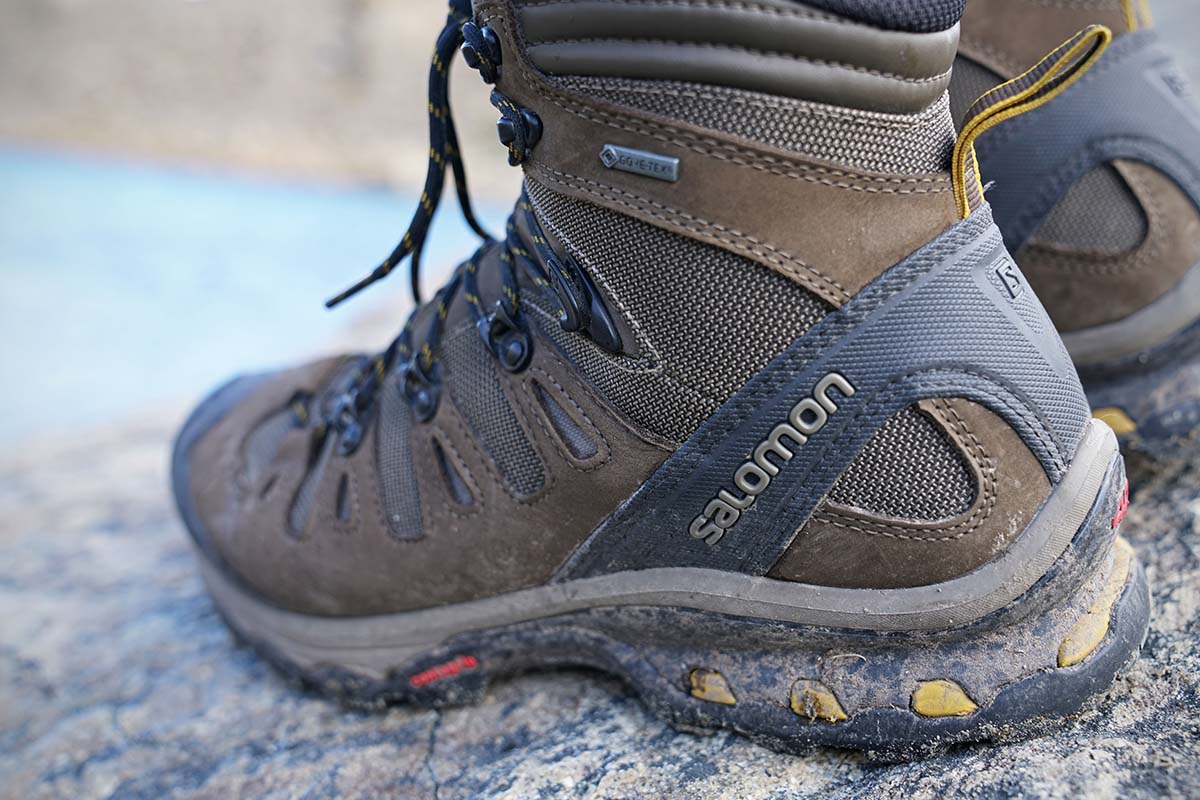 One of my few complaints with the old Quest 4D 2 was that the moderately thin construction underfoot would leave me with sore feet after long days on rocky trails when carrying a heavy pack. But after a strenuous 4-day trek in the 4D 3 in precisely that situation, I'm confident in saying the new boot does a better job isolating your feet from the ground. It's difficult to pinpoint the source of the improvement—the forefoot is a little more flexible than the old boot taking some of the sting out of each step, and the outsole's rubber compound also has more "give"—but Salomon seems to have turned this old nitpick into a non-issue.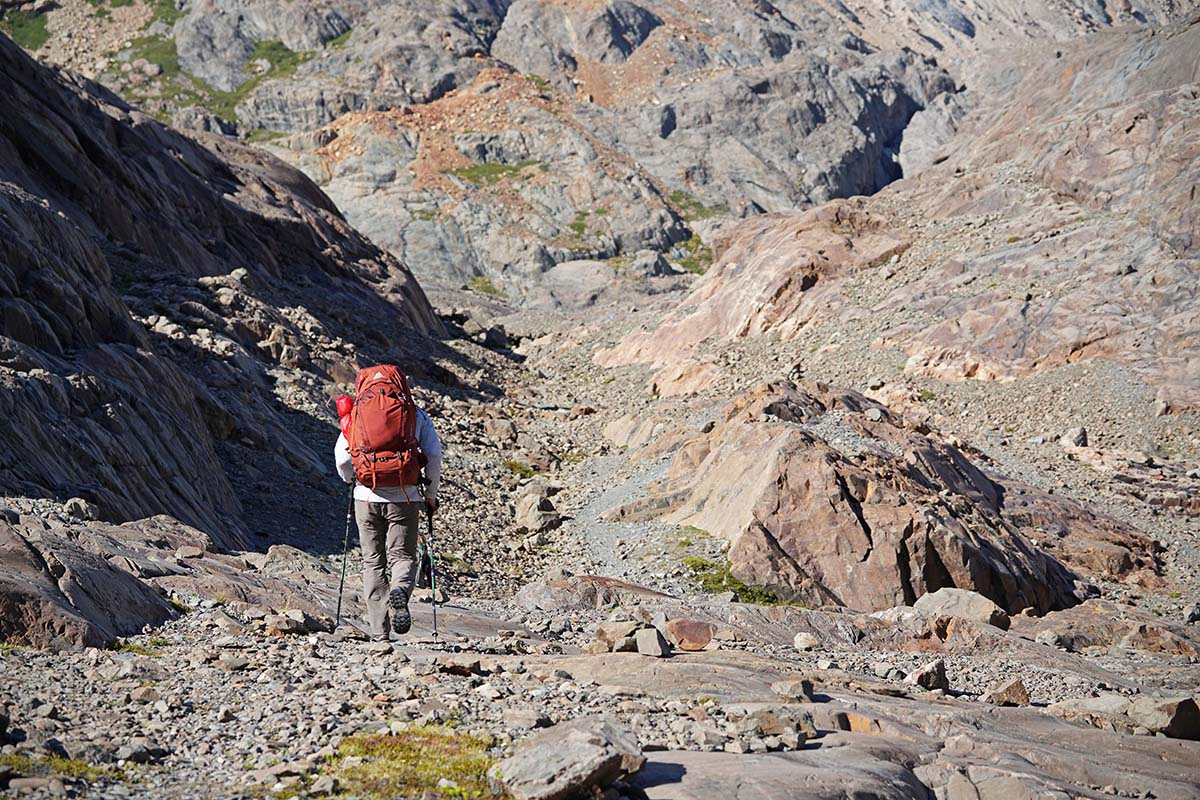 Weight
At 2 pounds 13.8 ounces for a pair of men's size 9s, the Salomon Quest 4D 3 is almost exactly the same weight as the previous model (this bucks the trend in hiking footwear of always going lighter). And even within the sturdy backpacking-ready category, the Quest falls a little on the heavy side. Competitors like the Lowa Renegade Mid GTX (2 pounds 10 ounces), Scarpa Zodiac Plus GTX (2 pounds 6.4 ounces), and Arc'teryx Bora2 Mid GTX (2 pounds 12 ounces) all undercut the Salomon. But I think the weight is well spent with a tall ankle height, burly protection, and class-leading support and comfort. If you're in the market for a lighter and more flexible boot, we recommend the Salomon X Ultra 3 Mid (my men's 9 weighs 2 pounds 1 ounce). But for demanding trails, the Quest is worth the additional ounces.


Traction
Visually, the Quest 4D 3 and its predecessor are very similar when upright, but flip them over and you see that Salomon completely redesigned the outsole. The old wave-like look and stiff rubber compound has been replaced with better spacing to avoid caking up in mud, along with a softer Contagrip rubber. Having worn the older Quest 4D 2s extensively over the last few years, I didn't have major complaints with the traction, but the new 3s do seem to have a little more bite on steep sections, and especially on wet surfaces (likely due to the more pliable rubber). The Huemul Circuit is about as demanding and varied as it gets, and I can't remember one misstep across rock-covered glaciers, up steep passes with hairy and loose descents, and numerous creek crossings (at least the ones shallow enough to keep my boots on). And importantly with this new tread design, the lugs have not shown any signs of excessive wear.


Stability and Support
One of the main reasons to upgrade to the Quest over a lightweight hiking boot or shoe is its stable feel. The collar sits higher over the ankle than a standard mid-height boot like the Merrell Moab 2 or Keen Targhee III, but it's the solid support that sets it apart. The semi-stiff structure does a great job holding your feet in place without feeling restrictive like a mountaineering boot, and time and again I was impressed with how easy it was to trust my footing when carrying a heavy load on loose, rocky ground. In short, the Quest may be overkill on a casual, short mileage weekend trip, but it was the ideal pairing for the technical terrain we were hiking in Patagonia.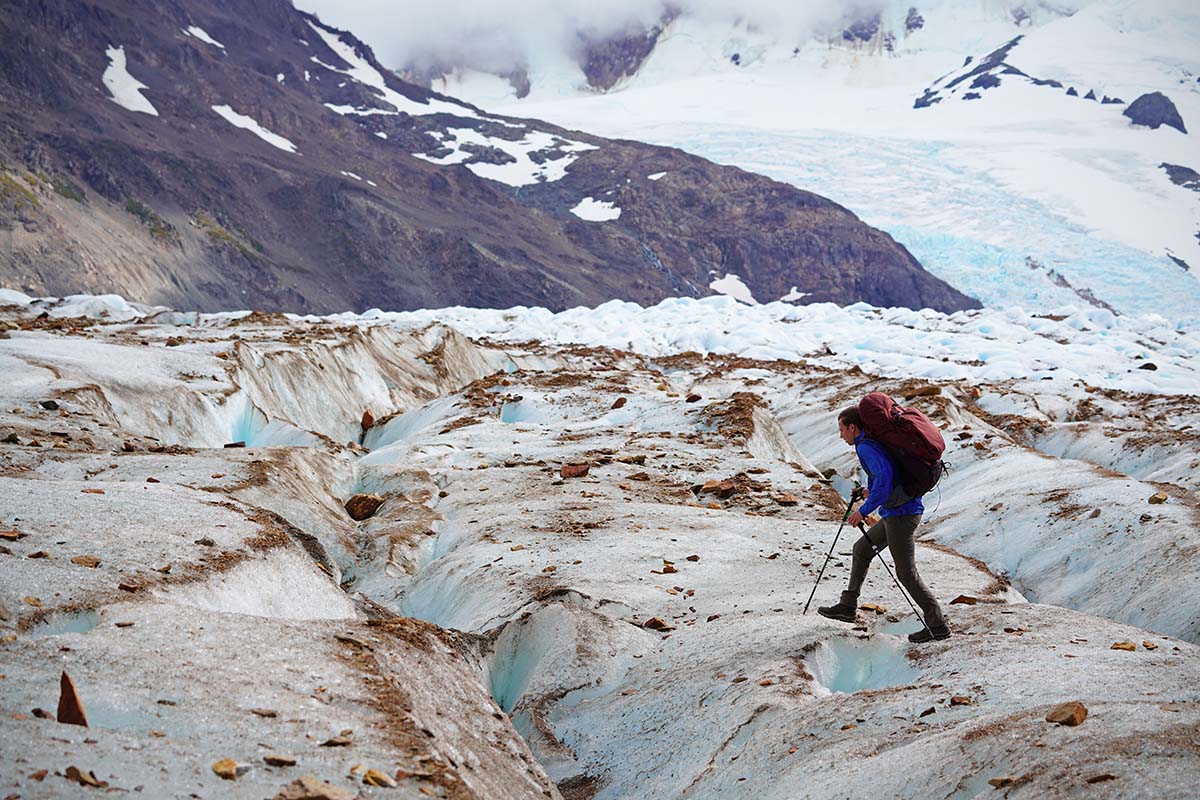 The excellent lacing system, which has been a signature feature of the Quest line dating back to the original, plays a big role in its performance on rough trails. I especially appreciated the set of hooks at the bend in the ankle, which allowed me to lock in my heels on long climbs. Interestingly, Salomon did away with the two sets of locking hooks at the top of the boot (the openings are now a little wider so the laces don't pop into place), but I haven't experienced any issues with the laces slipping or loosening throughout very long days of hiking.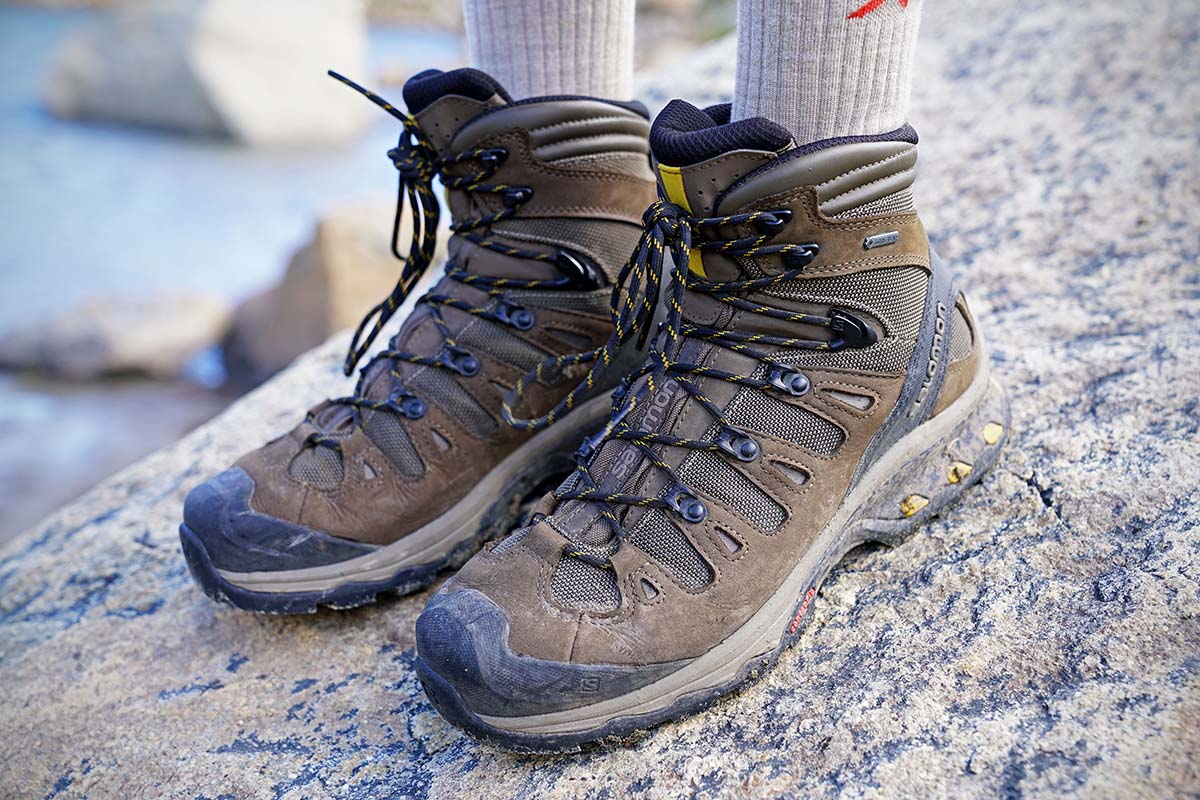 Waterproofing
I started my test of the Quest 4D 3 in the middle of winter in the Pacific Northwest, so I gave the Gore-Tex membrane a thorough workout right off the bat. The subsequent trip to Patagonia involved intermittent rain and more creek (and sometimes river) crossings than I could count, so I have a good grasp on the quality of the design. Outside of a fairly significant misstep when crossing a marshy section off trail, which allowed water over the top of the boot, my feet remained completely dry.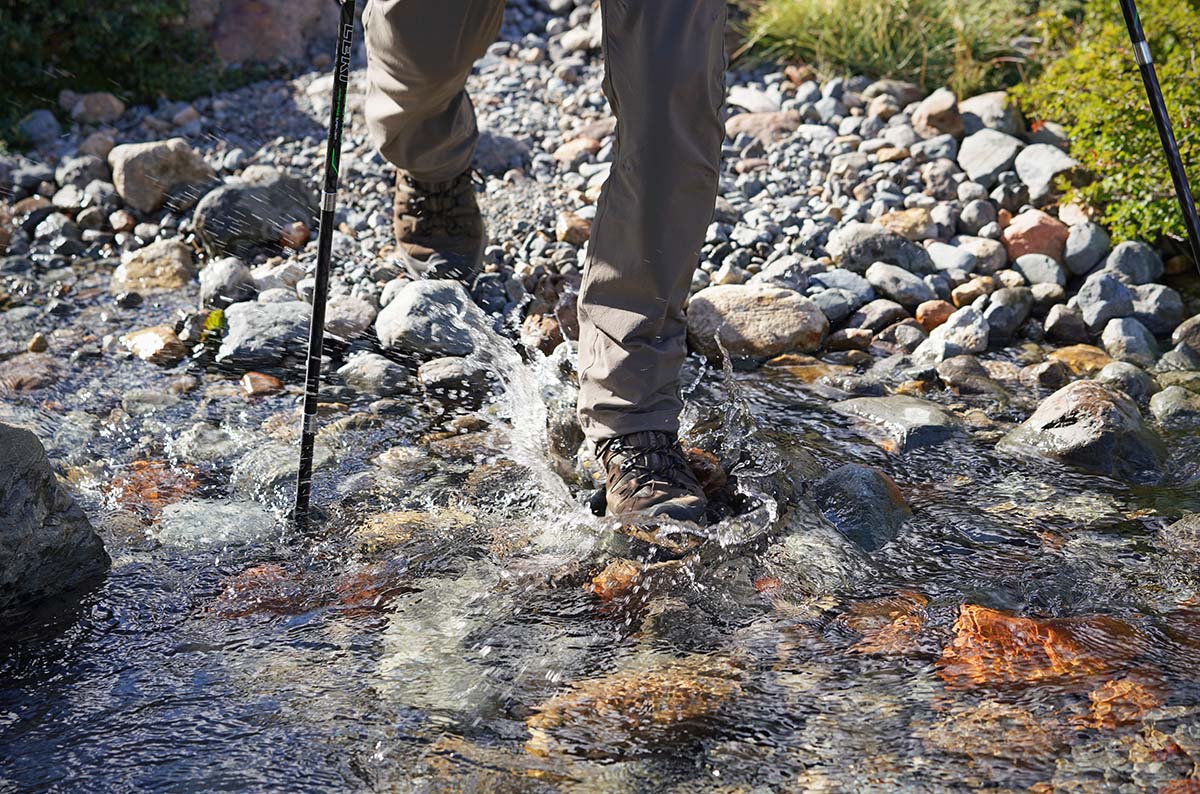 Breathability
I haven't had the boots in hot weather yet—our Austral Summer backpacking trip was pretty mild overall—but I haven't had any issues with breathability. From my experience backpacking in Utah with the old Quest 4D 2 and summer trips with a large number of Gore-Tex boots, I'm not expecting any miracles in the heat. Even a premium membrane won't keep you totally cool, but with a pair of quality hiking socks and the Quest's quick-drying upper material (my boots dried completely overnight after the marsh experience), I'd expect them to be a decent ventilator for a waterproof design. And in winter, the membrane has provided a nice boost in warmth, which has kept me comfortable while snowshoeing and hiking down into the mid 20s Fahrenheit.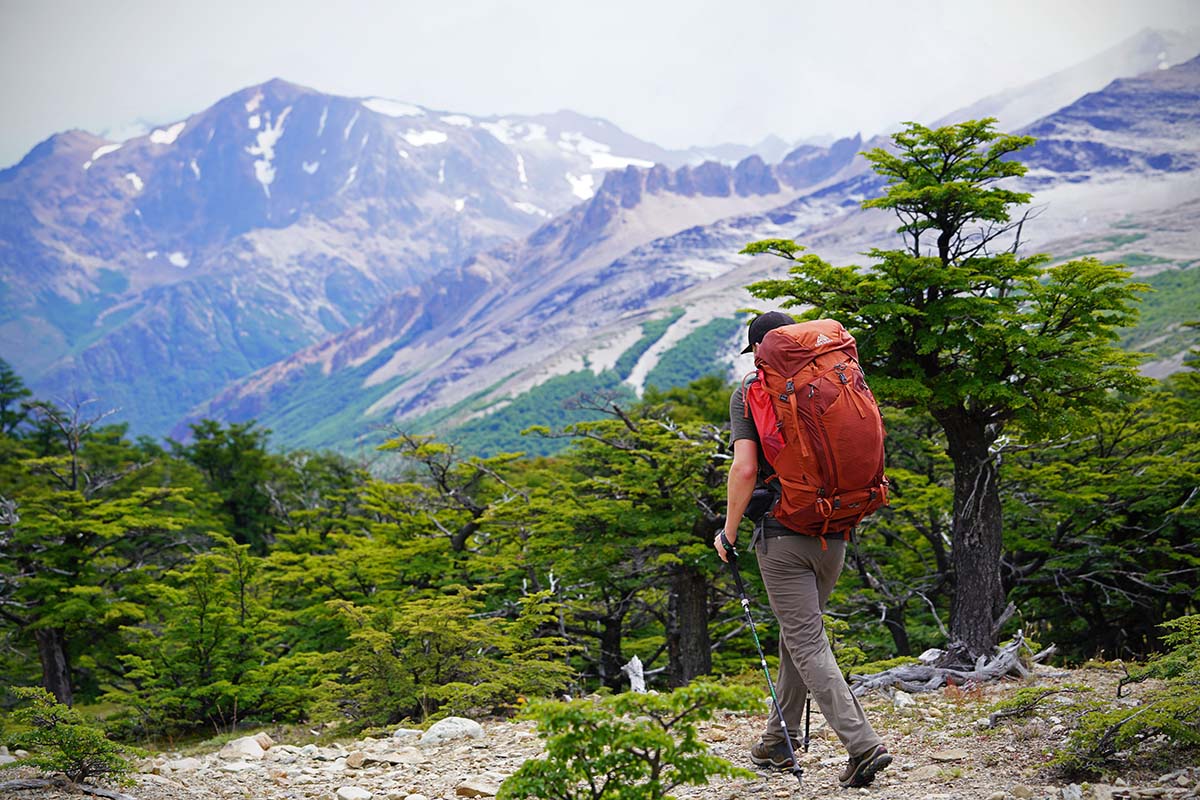 Toe and Ankle Protection
With a tall ankle height and burly toe and heel rubber, the Quest isn't lacking in foot protection. The boot sits about an inch above my ankle, and with plenty of padding all around, I felt confident even over technical sections on the trail. Compared to the previous version, Salomon did trim down the rubber toe cap along the sides just a little, but it still covers all of my toes and I've had no painful impacts. Unless you need approach shoe levels of protection and grip for scrambling and climbing rocks, the Quest provides plenty of security for off-trail and technical use.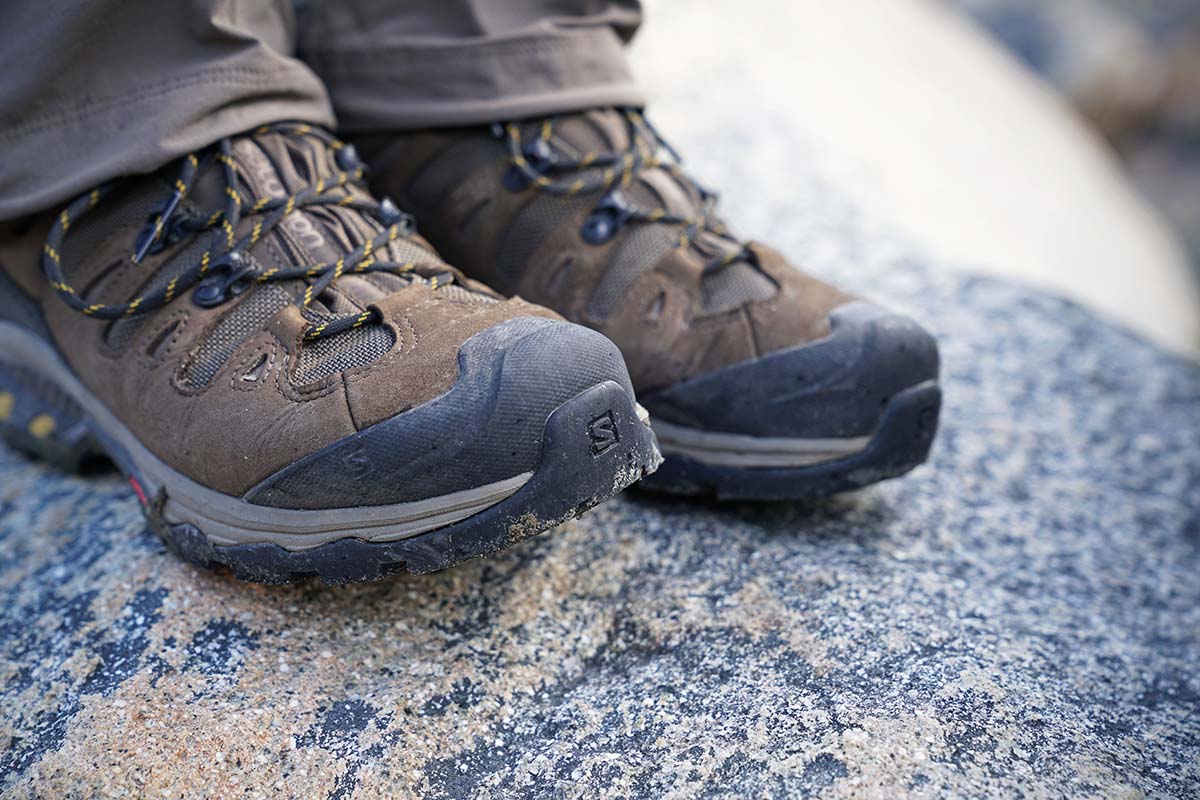 Durability
The boot's rugged look and feel has been backed up with solid durability thus far. There is plenty of evidence of bumps and scrapes from hitting rocks and branches, but the toe cap and leather/textile upper aren't worse for wear. The same goes for the lacing system: a few eyelets have had the paint scraped off from contact with trail debris, but they're still solidly in place and the laces are like new. On the underside, the new sole has a few lugs that show evidence of the unforgiving terrain, but they're small and there are no chunks of rubber missing or signs of premature breakdown.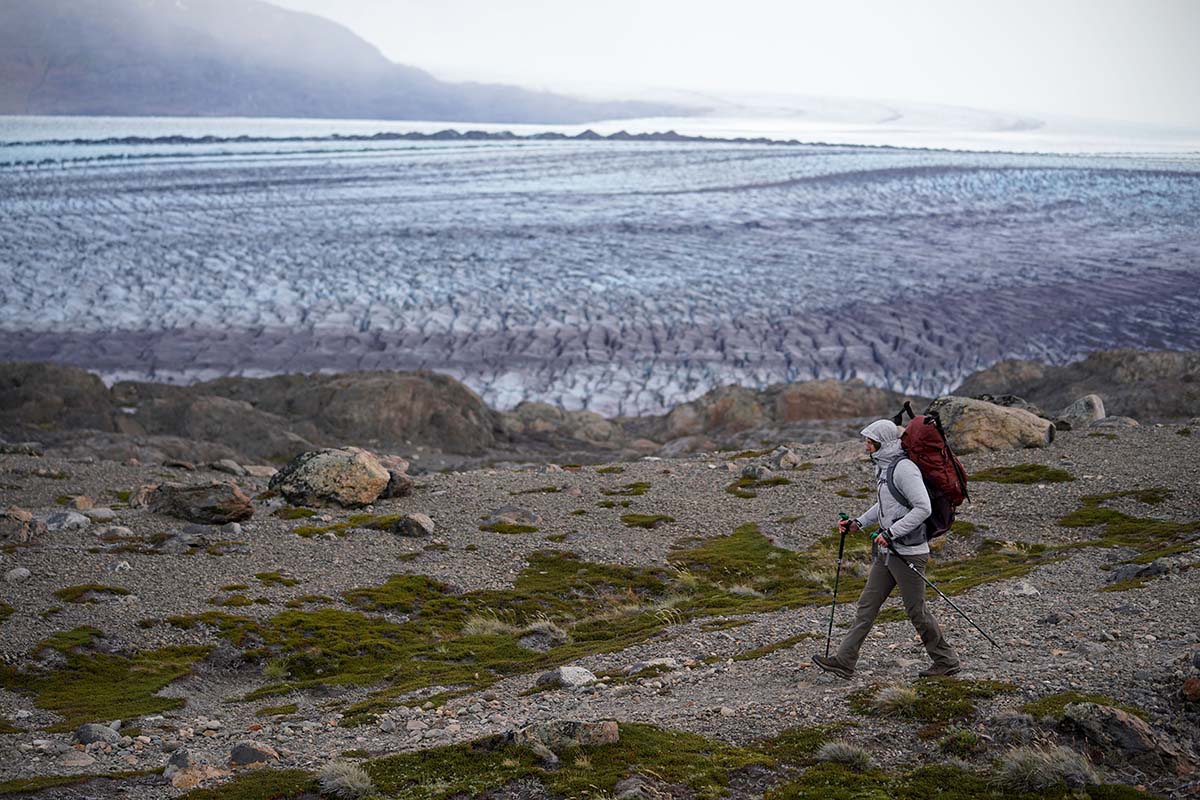 Fit and Sizing
If you've worn the previous version of the Quests, there are no surprises with the new 4D 3 (they even have the same removable Ortholite insoles). I ordered my typical men's 9 and it fit very true to size. The length was excellent with enough room to avoid jamming my toes on the relentlessly long descents on the trek, and the snug heel and secure lacing system kept my feet solidly in place. The toe box has an average width (wider than Salomon's lightweight X Ultra 3), which gives your feet enough space to swell up throughout the day, but it's not too wide to impact stability. Unfortunately for those with hard-to-fit feet, Salomon does not offer narrow or wide sizes of the Quest like Lowa does with their Renegade GTX Mids.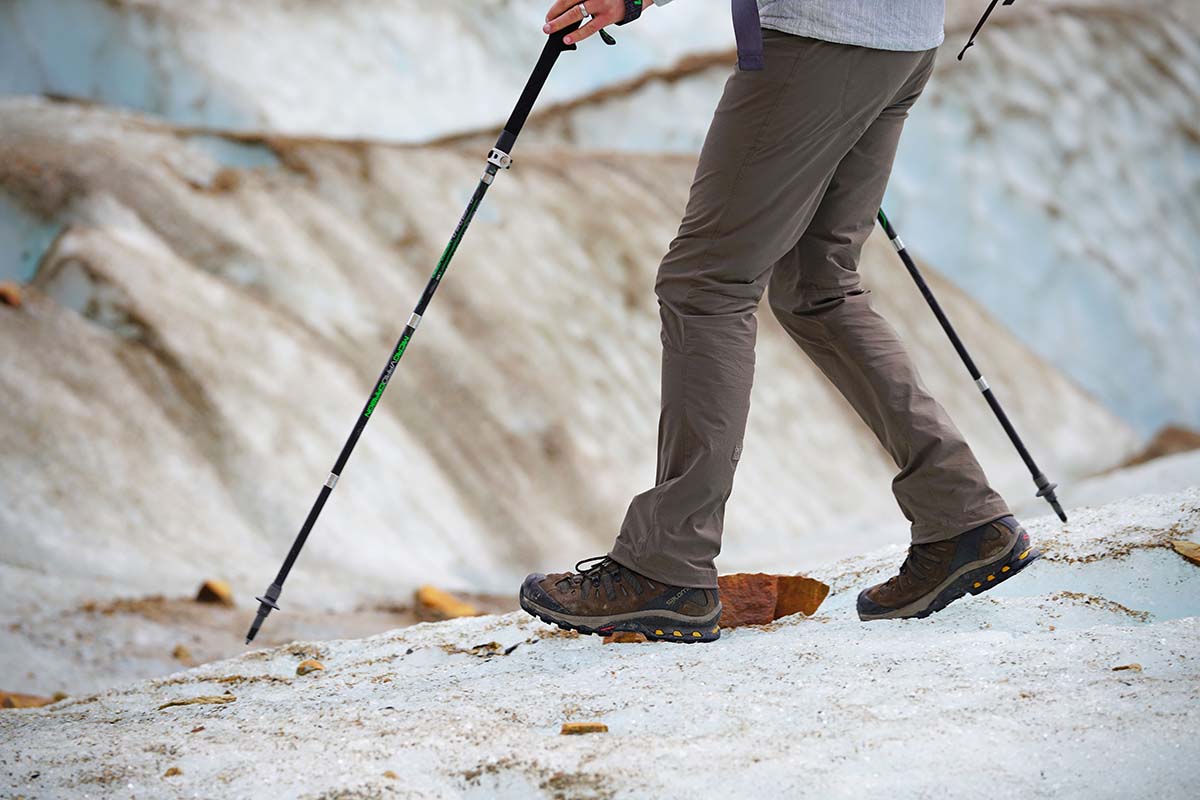 What We Like
Fantastic support and comfort for carrying a fully loaded pack over rugged terrain.
New tread design grips well on anything from loose dirt to wet and muddy trails.
Performance fit and excellent lacing system locks your feet in place on long climbs and descents.
The boot is holding up very well despite rough use.

What We Don't
The Quest is overkill on easy trails—there are lighter and more flexible boots and shoes made for those uses.
Only offered in a Gore-Tex version, so it will run warm in hot climates.
Not made in wide or narrow sizes.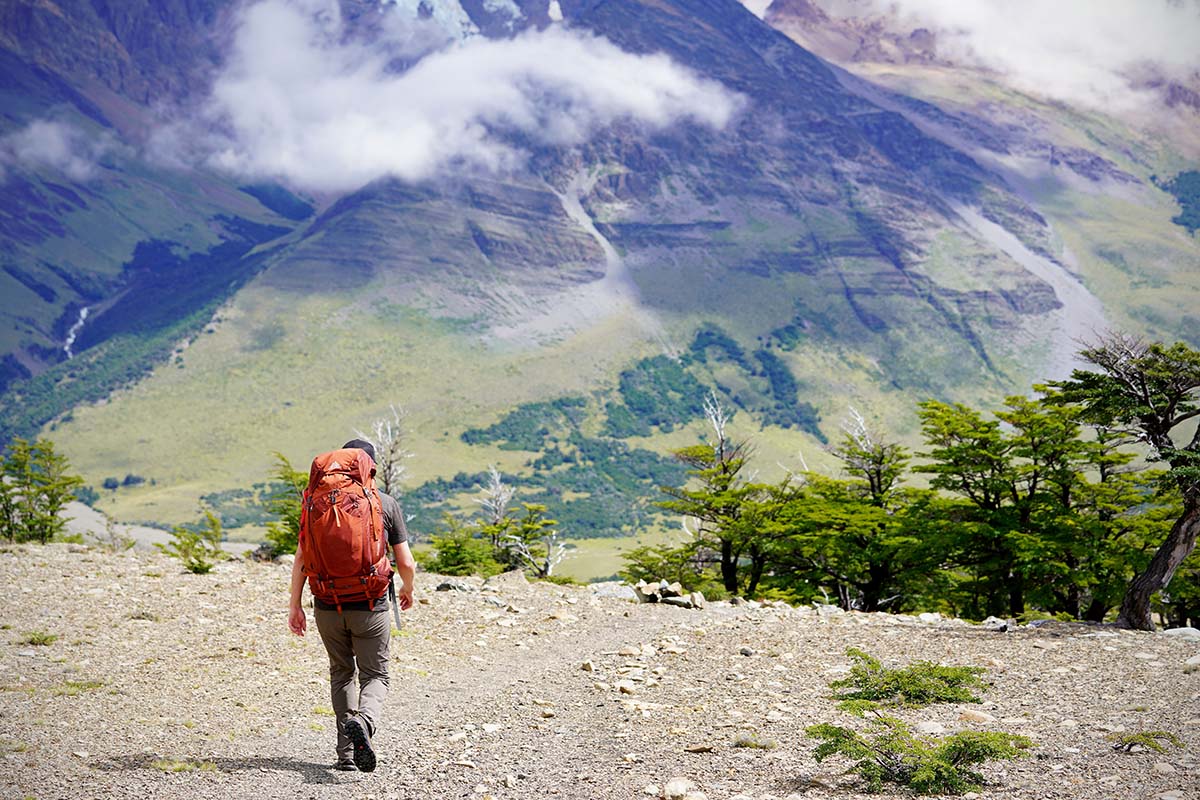 Comparison Table

The Competition
The Quest has been at the top of our hiking boot roundup for years, and we don't expect that to change now that we've had a good look at the new 3. But it's certainly not alone in the very competitive midweight market, and one of its long-time rivals is the Lowa Renegade GTX Mid. These two boots are proven options for challenging day hikes and long backpacking trips, but the Lowa gets the edge in weight by about 4 ounces for the pair and is offered in a very wide range of sizes and widths. But if the Salomon's fit you, we think the Quest is the slightly better option: its lacing system is more secure, we love the aggressive running shoe-like stance, and its tougher build offers more protection and durability.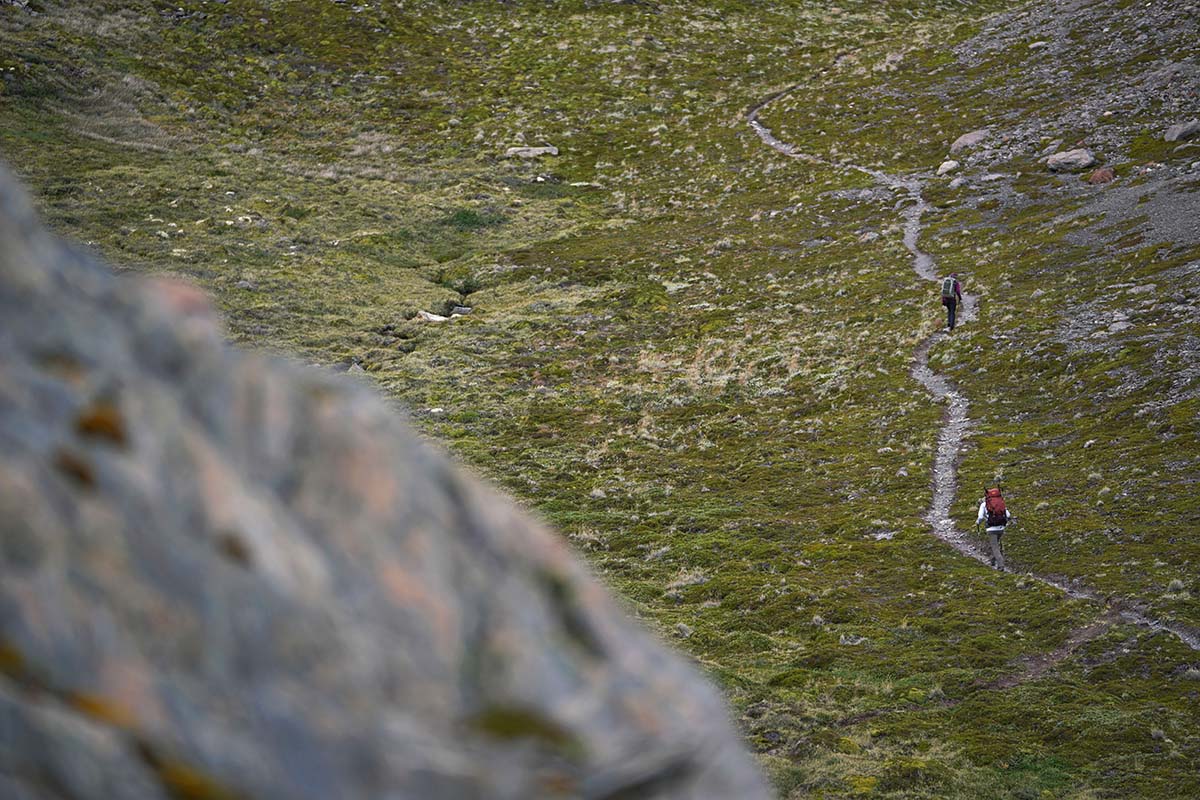 There is a growing selection of lightweight technical boots on the market, and two of our current favorites are the Scarpa Zodiac Plus GTX and La Sportiva Trango TRK GTX. These boots look and perform a lot like trimmed-down mountaineering designs: they're stiff, grip well, and provide excellent support and security for off-trail use. Compared with the Quest, they're lighter by about 7 ounces, but have a little less all-around prowess due to their rigid feel. If you'll be off trail a lot or need something for light mountaineering, both are solid options, but the Scarpa and La Sportiva are more specialized and thus less appealing than the Quest for most backpackers.
Within Salomon's lineup, a lightweight alternative to the Quest 4D 3 GTX is the X Ultra 3 Mid GTX. This boot also was recently updated, and it's currently one of our top picks for fast and light travel. There's sufficient protection for on-trail use, but its flexible and very nimble feel makes it easy to put on serious mileage (for more information, see our in-depth X Ultra 3 review). The X Ultra, however, is more limited on serious backpacking trips like the Huemul Circuit. The Quest's sturdier build, taller ankle height, more secure lacing system, and added protection underfoot are all valuable additions for steep and rough trails. I am a big fan of the new X Ultra, but it doesn't come close to matching the ruggedness and all-around performance of the Quest 4D 3.
If you're thinking about buying gear that we've reviewed on Switchback Travel, you can help support us in the process. Just click on any of the seller links above, and if you make a purchase, we receive a small percentage of the transaction. The cost of the product is the same to you but this helps us continue to test and write about outdoor gear. Thanks and we appreciate your support!
Depending on the seller, most products ship free in the United States on orders of $50 or more. International shipping availability and rates vary by seller. The pricing information on this page is updated hourly but we are not responsible for inaccuracies.
Learn More About Outdoor Gear