Arc'teryx's Norvan SL Insulated Hoody is billed as their lightest insulated waterproof layer. Purpose-built for trail running in cold weather, we put the Norvan to the test during a wet and soggy season in British Columbia. In the end, despite its niche intentions and high price tag, we found the jacket to be a good match for everything from use as an emergency layer to a midlayer for backcountry skiing, rain shell for biking, and more. Below we break down the Norvan SL's weather protection, warmth, breathability, weight and packability, durability, fit and sizing, and more. To see how it stacks up to the competition, see our article on the best rain jackets.

Performance
Weather Protection
Arc'teryx's Norvan SL Insulated Hoody is designed for high-output use in cold and wet conditions, and it delivers on its waterproofing promises. The big news here is the jacket's Gore-Tex with Shakedry construction. In sum, premium waterproof jackets typically have three layers: an outer face, an inner lining, and a membrane in between that provides the water protection. With Gore-Tex with Shakedry, there is no external layer. Instead, the inner layer and a single laminate membrane provide the outer barrier. By eliminating the external face textile, weight is reduced and breathability is increased (at least in theory).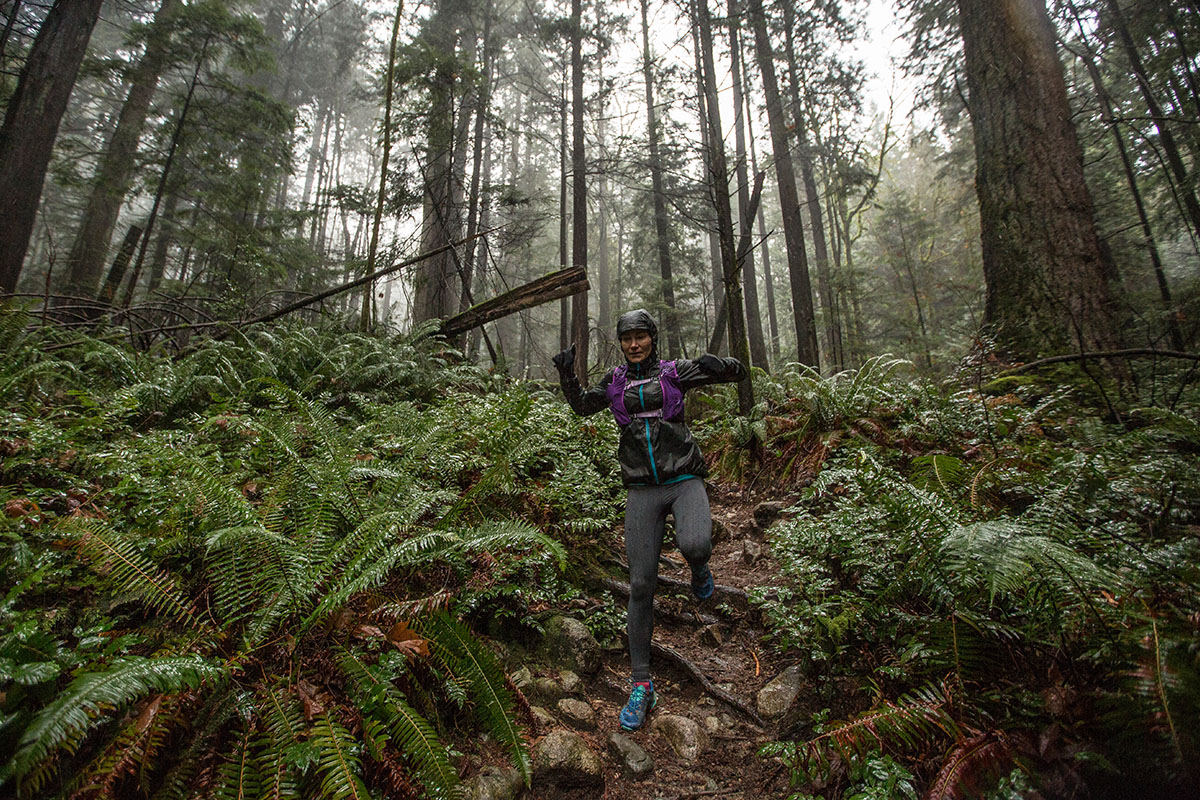 Because there is no external face textile, there is no fabric to "wet out" or soak up water. Instead, throughout testing, water simply beaded and rolled off the jacket. Furthermore, the sealed zipper has not let me down, and the hood's slight bill is stiff enough to deflect water from my eyes. That said, I've noticed that a steady stream does tend to pour off in sustained rain—when I cinch the hood's drawcord, it pulls the bill back and reduces its effectiveness. But all other experiences have been positive, including with the jacket's wind protection. In fact, on a hike up Squamish's popular Chief formation, I was thankful to have the Norvan SL: it provided just enough insulation while walking in the shade and effectively sealed out the wind when I reached the summit.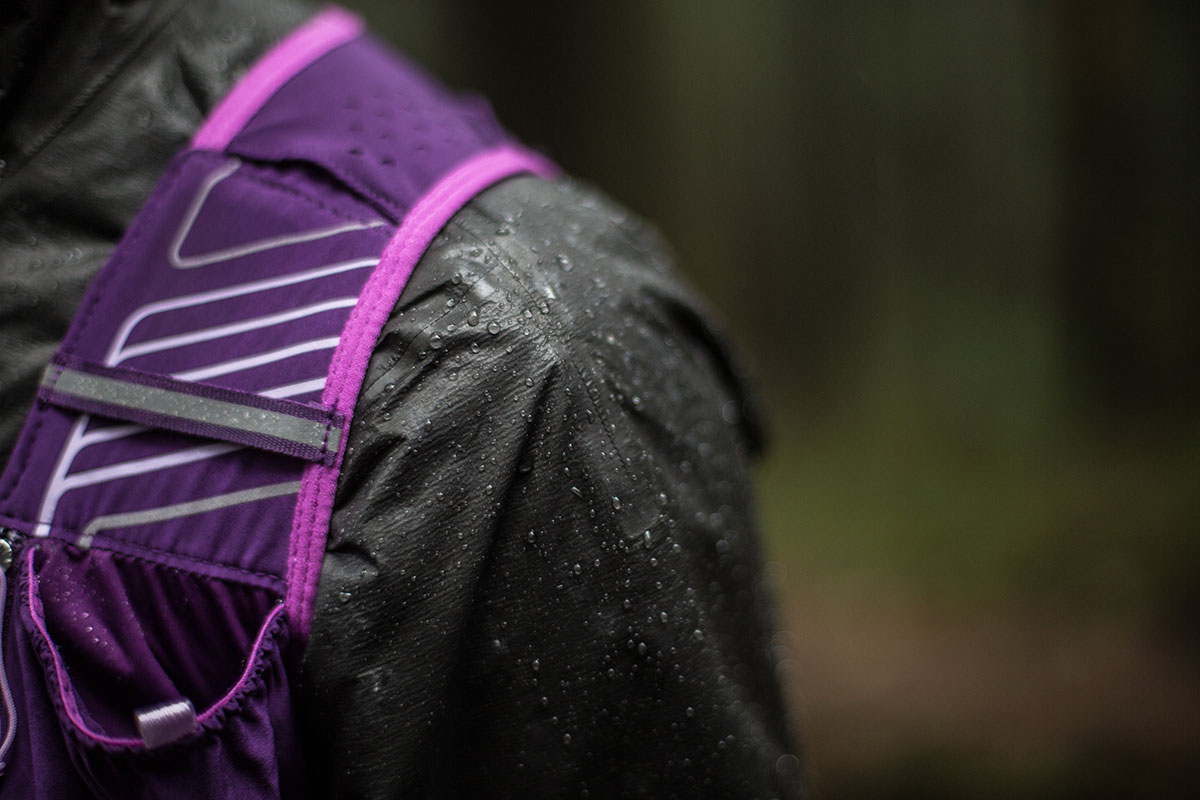 Warmth
The Norvan SL Insulated Hoody stands apart from most of the competition with a light dose of insulation (40g Coreloft Compact) for running in colder temperatures. I should note that I'm very particular when it comes to choosing my running clothing—I hate overheating and tend to grow warm quickly when working hard. In practice, the Norvan SL has proven to be a great match for temperatures up to around 40 degrees Fahrenheit with just a light baselayer underneath. However, if it's sunny, I've found the jacket runs a little hotter given its black face fabric. In these conditions, it's comfortable to around freezing. And because of its trim, performance-oriented fit, I've also worn the Norvan SL as a midlayer for an extra dose of warmth when backcountry skiing.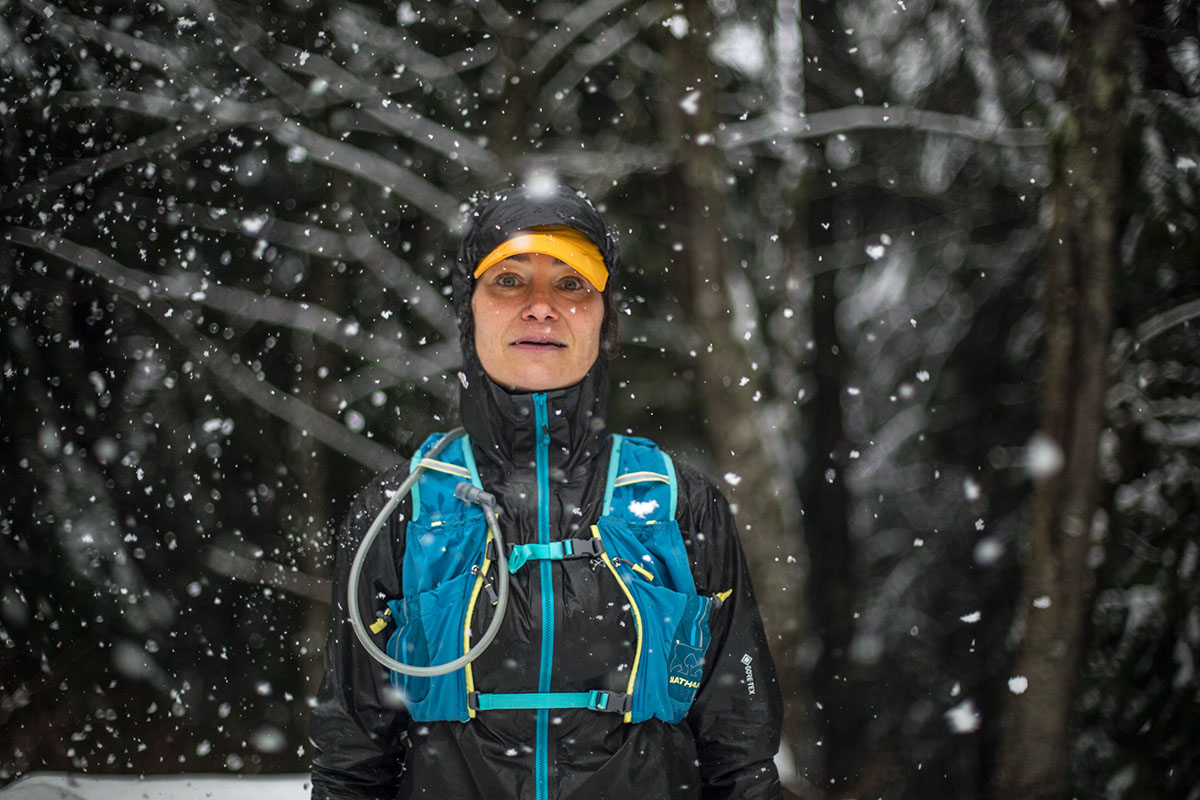 Breathability
As I mentioned above, I quickly get warm and sweaty when I run, so breathability tends to be a big issue for me. Though I've only worn it in colder conditions, I've had no issues with clamminess in the Norvan SL, which is truly high praise, especially considering the insulated 2-layer build. The jacket especially impressed me on a long bike ride in the northern Cascades, which featured extended climbs and fast descents. Despite the temperature hovering around freezing with intermittent rain and harsh wind—normally a recipe for sweating—I was able to stay comfortable for the entire 3-hour ride. Though I certainly warmed up on the ascents, I never became overly hot, and the lining felt dry to the touch when we arrived home. I've had similar experiences while running: I've kept the jacket on while working hard, only unzipping it slightly during climbs to dump excess heat. All in all, the Dope Permeair 20 liner has done its job at regulating my body temperature, and as an added bonus, it's exceptionally comfortable against the skin.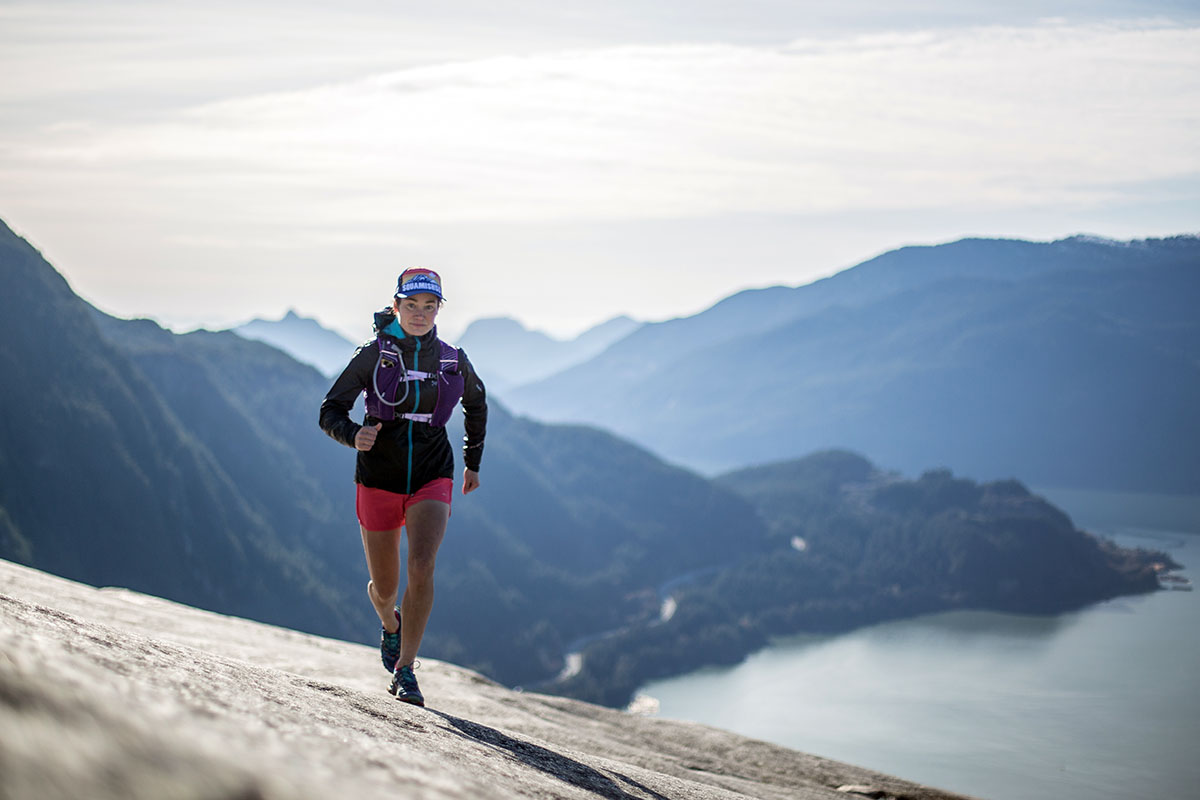 Weight and Packability
The Norvan SL Insulated Hoody's feathery build is arguably its most impressive feature. Put simply, the warmth-to-weight ratio of this jacket is remarkable. My women's small clocks in at 8.3 ounces (the listed weight is 8.6 oz.) and compresses down to the size of a grapefruit. And unlike the standard, uninsulated Norvan SL Hoody, the version tested here comes with a stuff sack that's attached to the interior chest pocket to prevent misplacement (it can be removed). It also features a loop that can be attached to a carabiner and toted on a harness, although keep in mind the stuff sack itself isn't waterproof. Even if I'm bringing a midlayer (when backcountry skiing, for example), I still throw the Norvan SL in my pack because it weighs almost nothing, packs down impressively small, and can provide an extra dose of warmth if needed.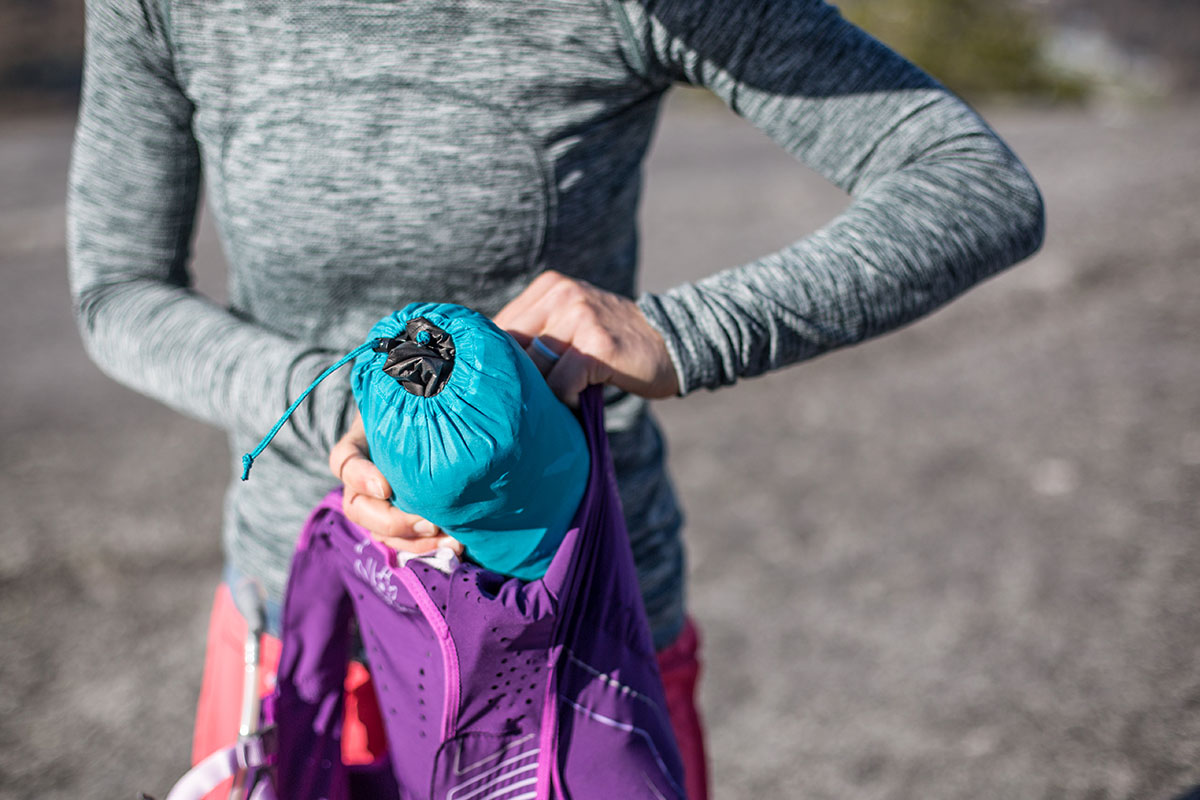 Build Quality and Durability
Arc'teryx rarely misses the mark when it comes to quality, and the Norvan SL Insulated Hoody is no exception. My original, uninsulated Norvan SL that I tested and reviewed a few years ago is still in great condition, and the insulated version is faring just as well so far. All zippers, stitching, and other details are holding up well with no issues or signs of wear. But perhaps most impressively, the finish on my original Norvan SL is still intact, with no delamination or abrasion despite years of trail runs while wearing a hydration pack. Since the insulated version uses the same face fabric, I'm hopeful that it will hold up similarly. And as an added bonus, the Norvan SL is easy to launder with the rest of your clothes in the washing machine.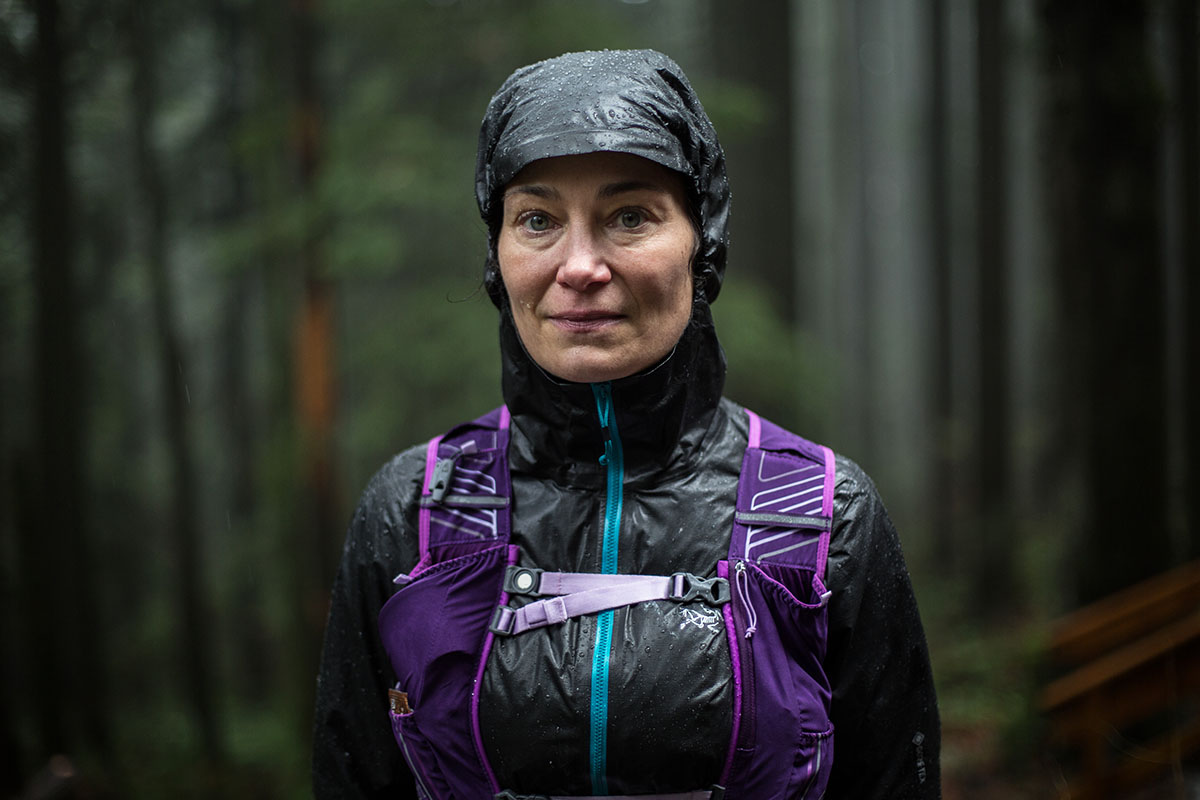 All that said, the lack of a face fabric means extra care needs to be taken to avoid damaging the waterproof membrane. Arc'teryx even goes as far as recommending not wearing a backpack when using the jacket. Like I touched on above, the SL has exceeded expectations from a durability standpoint, but there are clear limitations in the design that hurt its versatility for activities where you'll be hauling a heavy load—and putting extra pressure on the shoulders of the jacket—like backpacking, climbing, and skiing.

Features
The Norvan SL is a minimalist rain jacket that forgoes many of the bells and whistles of its heavier competition. In terms of storage, it features a single interior pocket large enough to stow a plus-sized smartphone, although heavier items do tend to bounce around a lot, so I use it instead for tissues or dog bags. As I touched on above, this internal pocket also doubles as the jacket's stuff sack. And finally, the hood has a single adjuster at the back and can be rolled and secured with a snap. I do wish the bottom hem had a drawcord adjustment, but the simple elastic secures it in place nicely.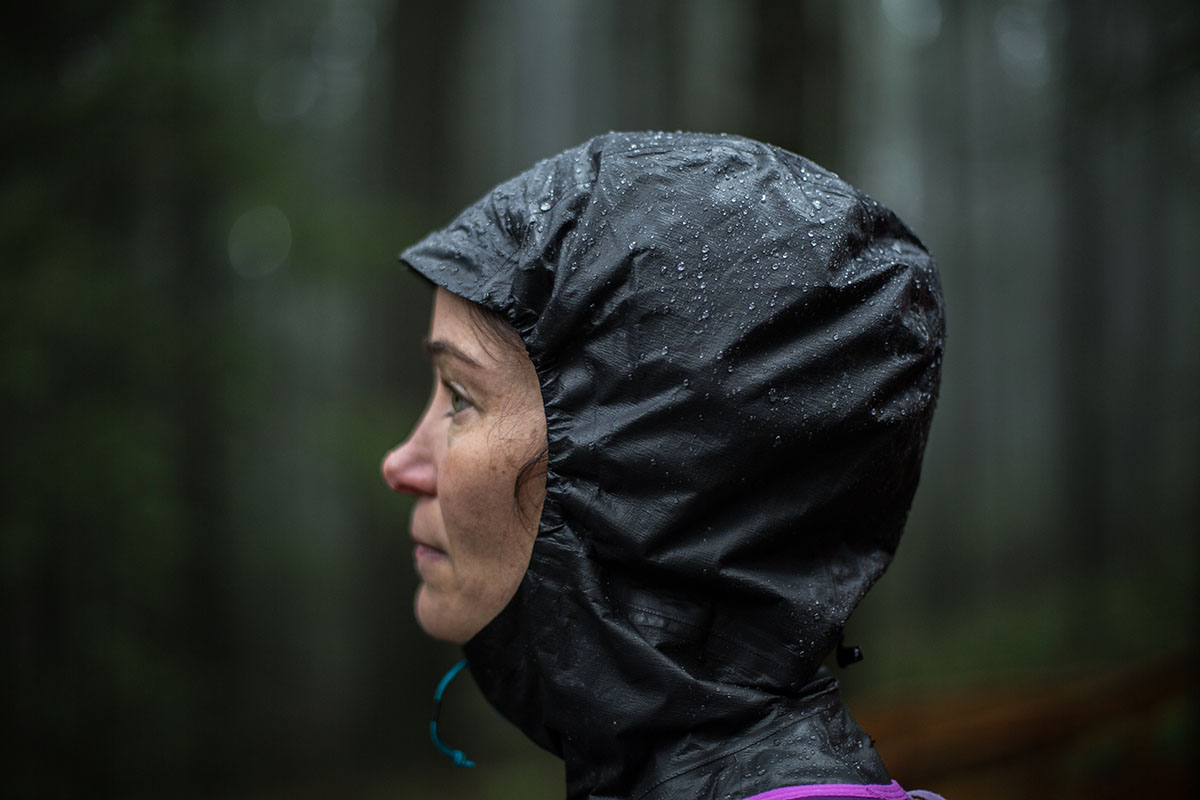 Fit and Sizing
Arc'teryx describes the jacket's fit as "trim," and I agree with that designation. My uninsulated Norvan SL is an extra small and a bit too short on me, so I sized up to a small in the Norvan SL Insulated Hoody. It's a little baggy—the elasticized hem at the bottom doesn't sit snugly on my hips—but the length is perfect for me. In use, I've had no issues with restricted mobility or the jacket riding up, even when reaching forward while riding my bike. Further, the arms fall just where they should at my wrists, and the elastic cuffs are low-profile enough to fit under thick gloves or over liners.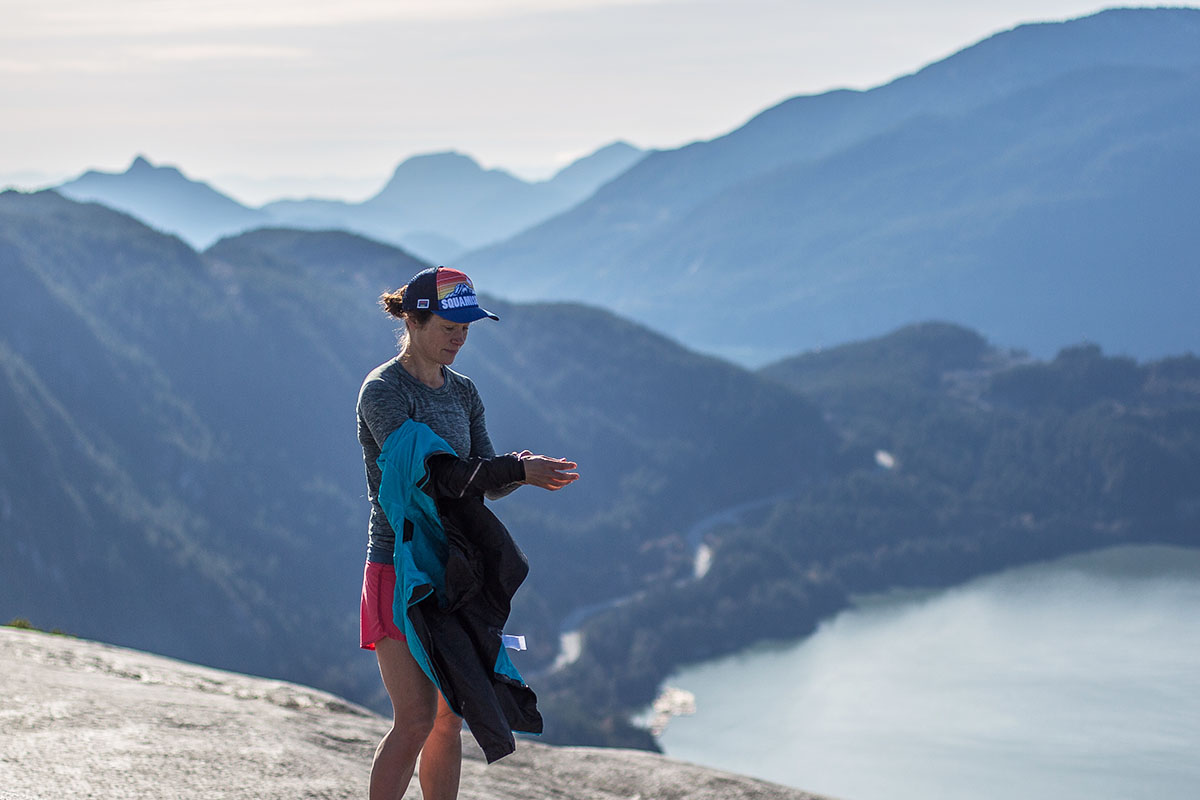 Other Versions of the Arc'teryx Norvan
We put the women's Norvan SL Insulated Hoody through its paces for this review, and Arc'teryx also makes the jacket in a men's version for the same price. The men's Norvan SL Insulated Hoody is slightly heavier at 9.5 ounces but otherwise sports an identical build and feature set to the women's (although the men's hoody is available with a red zipper rather than blue). The Norvan collection also includes an uninsulated SL Hoody, which costs $325 and weighs a remarkably light 3.9 ounces. Like the version tested here, it features a trim fit and uses Gore-Tex with Shakedry waterproofing but forgoes the interior pocket and Coreloft Compact insulation. And to round out the running-focused Norvan lineup, Arc'teryx offers trail-running shoes and hydration vests.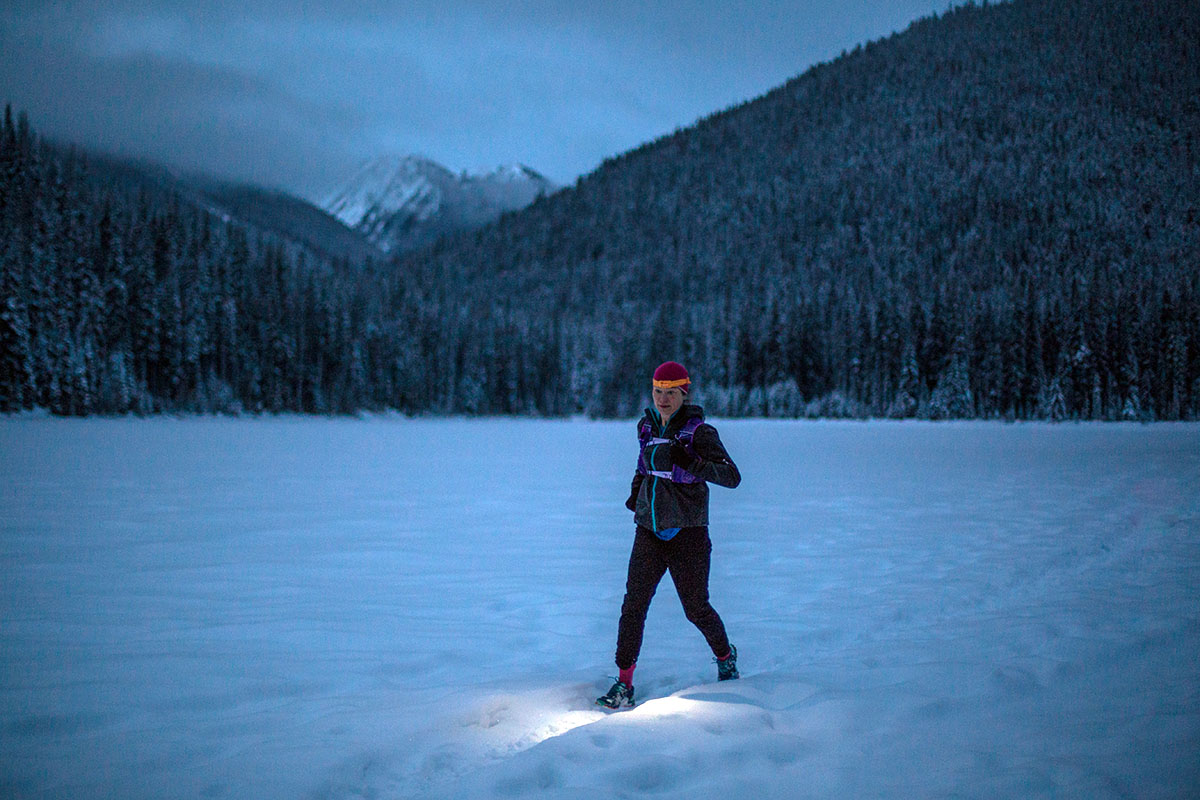 What We Like
Excellent wet-weather performance and with just enough added insulation for high-output activities in cold weather.
Exceptionally light and packable, making it a great piece to bring along on almost any winter adventure. 
Surprisingly good breathability for an insulated, 2-layer design.

What We Don't
Too warm for running even in moderate temperatures.
Very pricey at $399.
Even though I've had no durability issues, the lack of a face fabric means the exposed membrane needs to be treated with care (including not wearing a heavy pack).
Water tends to pour off of the hood's bill.


Comparison Table

The Competition
Arc'teryx's Norvan SL Insulated Hoody is a niche rain jacket designed for high-output activities in cold weather. As we touched on above, the jacket is also available in an uninsulated version for $74 less. Again, the standard Norvan SL is lighter at 3.9 ounces, but it lacks the Coreloft Compact insulation and doesn't have any pockets. All other features remain the same, including the Gore-Tex with Shakedry waterproofing, elasticized hem, and trim fit. All in all, the insulated version is great for those who get out regularly in the cold, but the uninsulated Norvan has wider appeal and costs less. And if you need added warmth in the winter months, you can simply throw a light midlayer underneath.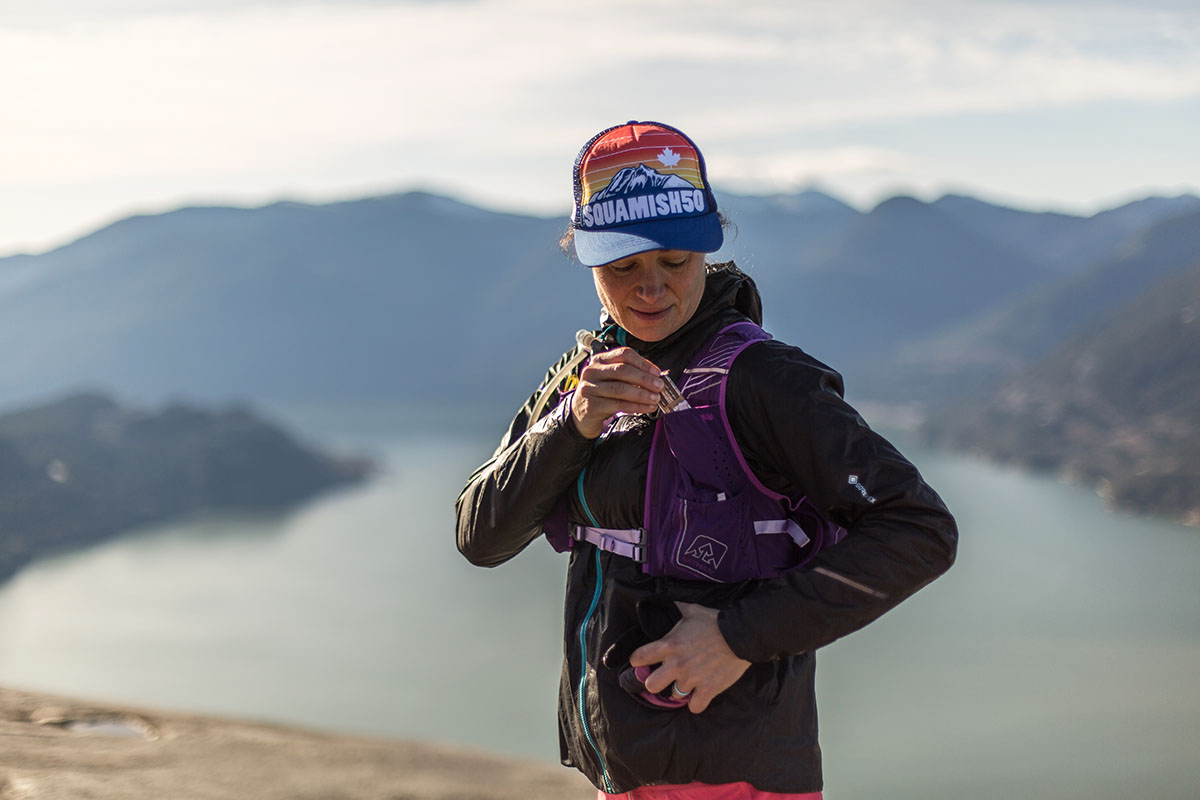 Arc'teryx offers another intriguing alternative to the Norvan SL Insulated Hoody in the Gaea Jacket. Despite being similarly designed for trail running in cold weather, the Gaea isn't waterproof like the Norvan. Instead, it features a water- and wind-resistant nylon shell that should slough off light rain but will wet out in sustained rain or snow. Rather than Coreloft, the Gaea uses synthetic Octa Loft insulation in the front and shoulders, is much more feature-rich with two hand pockets and two rear stash pockets (although it foregoes a hood), weighs an ounce more at 9.3 ounces, and costs a significant $200 less at $199. Unless you need the full waterproofing of the Norvan, the Gaea is a similar performer for cold-weather running, cross-country skiing, and snowshoeing, and it's far and away the better overall value.
A final option to consider is the Salomon S/Lab MotionFit 360. Stacked up against the Norvan SL, the MotionFit shares the same trail-running intentions, is similarly pricey at $375, and features a trim, performance-focused fit for active use. The Salomon also tacks on technical extras like a stowable build that stays around the waist when not in use and extra material at the back of the jacket to accommodate a hydration pack. Like the Arc'teryx, the Salomon also uses Gore-Tex's Shakedry technology described above, eliminating the need for an external face fabric. However, while the MotionFit undercuts the Norvan SL in weight by around half at 4.7 ounces, it's uninsulated and forgoes pockets. As with the standard Norvan above, the Salomon is a good match for running in mild conditions, but the Norvan SL Insulated Hoody gets the edge for true winter use.
If you're thinking about buying gear that we've reviewed on Switchback Travel, you can help support us in the process. Just click on any of the seller links above, and if you make a purchase, we receive a small percentage of the transaction. The cost of the product is the same to you but this helps us continue to test and write about outdoor gear. Thanks and we appreciate your support!
Depending on the seller, most products ship free in the United States on orders of $50 or more. International shipping availability and rates vary by seller. The pricing information on this page is updated hourly but we are not responsible for inaccuracies.
Read More From Switchback Travel