Salomon X Ultra Winter CS WP 2
Price: $180
Weight: 2 lbs. 7.4 oz. (men's size 9)
Insulation: 200g Thinsulate
What we like: Light, reasonably nimble, and not overly insulated for active use.
What we don't: Fairly narrow fit (we recommend going up half a size).
See the Men's Salomon X Ultra Winter CS WP 2
Sharing its name and basic design with the popular X Ultra hiking model, the Salomon X Ultra Winter CS WP 2 stands out in the winter boot market for its light and athletic feel. To put it to the test, we wore the boot on late fall hikes in the North Cascades and throughout a winter in central Washington. The verdict: the narrow fit may limit its appeal for some (going up a half size is advisable), but the Salomon is our favorite winter model for moderate conditions and when hiking and snowshoeing. Below we break down the X Ultra Winter's performance. To see how it stacks up, see our article on the best winter boots.
 
---
Table of Contents
---

Performance
Warmth
Packing 200-gram Thinsulate insulation, the Salomon X Ultra Winter CS WP 2 provides sufficient warmth for mixed active and around-town use in less-than-extreme conditions. Combined with light and midweight socks, the boot has kept me comfortable while hiking and snowshoeing in temperatures down to around 10 degrees Fahrenheit (this was the temperate at the trailhead, so it likely dipped below on my hike). And it's proven to be plenty warm for shoveling driveways, wearing around town, and before and after skiing in temps as cold as the mid teens.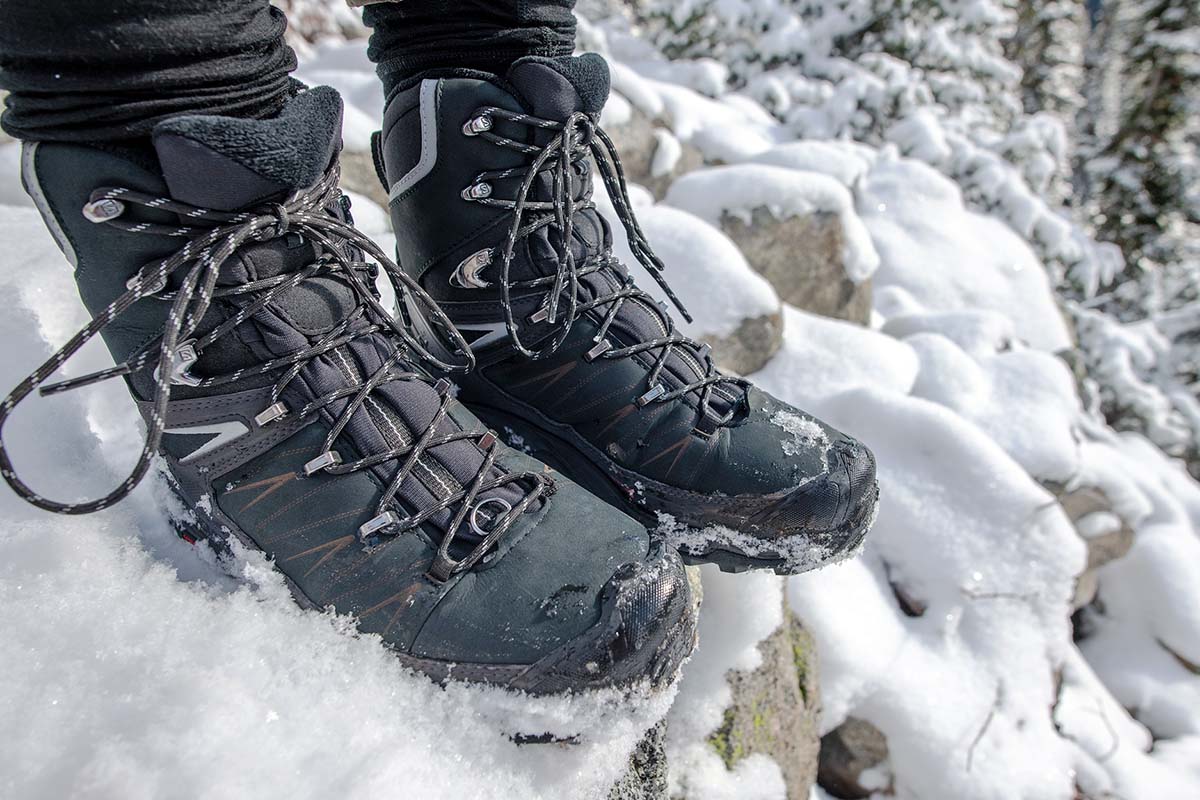 To be clear, this is not a boot built for inactive use in 0-degree weather. 200g fill is on the lightweight end of the spectrum, and the 7-inch shaft height means you're only getting protection a couple inches above your ankles. Stepping up to a more serious option like the 400g Oboz Bridger 10" or Salomon's own Toundra Pro is a good idea if you live in an area that sees days in the negatives. What the X Ultra Winter's moderate warmth gets you, however, is a boot that isn't as prone to overheating in mild conditions. I wore the boots hiking on sunny days with temps hovering in the mid 30s, and while I was warm by the end, my feet weren't sweaty or overly hot.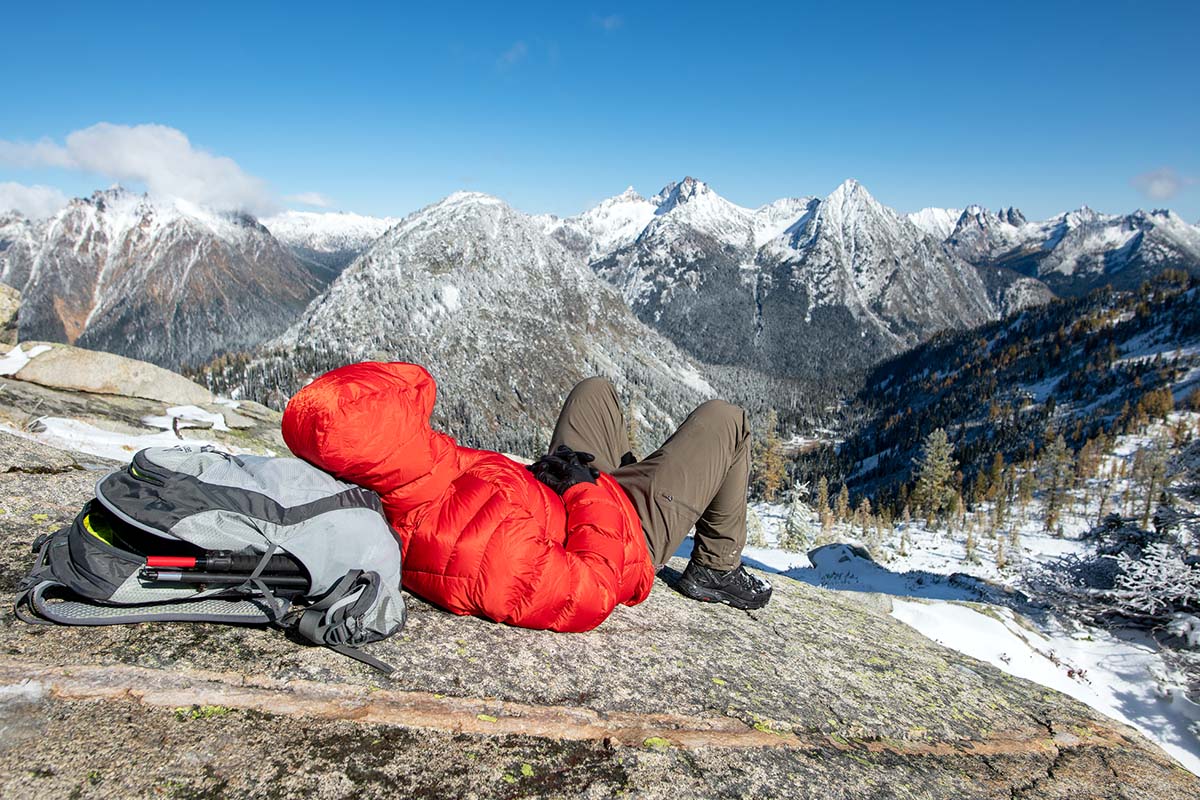 Waterproofing
From wet snow to slushy puddles and deep powder, winter boots need solid water resistance. Salomon has nicely equipped the X Ultra Winter with a full-grain leather upper that sheds moisture extremely well thanks to its PU coating. In addition, an in-house ClimaSalomon liner (hence the "CS") helps keep the interior dry should moisture seep through the upper. I've subjected the boot to a range of conditions and had zero leaks or signs of failure, and the upper has impressed me with its ability to resist soaking up water (an issue we've experienced with other leather builds like the Oboz Bridger 8" Insulated and Keen Targhee High). The boot can't be submerged in deep water as the tongue separates from the upper at the top of the ankle, but it's pretty good at keeping snow out right up to the top of the collar. If you'll be heading out in deep snow or wet conditions, we recommend adding gaiters (the X Ultra Winter is fully gaiter-ready with a small metal hook at the base of the lacing system that attaches easily).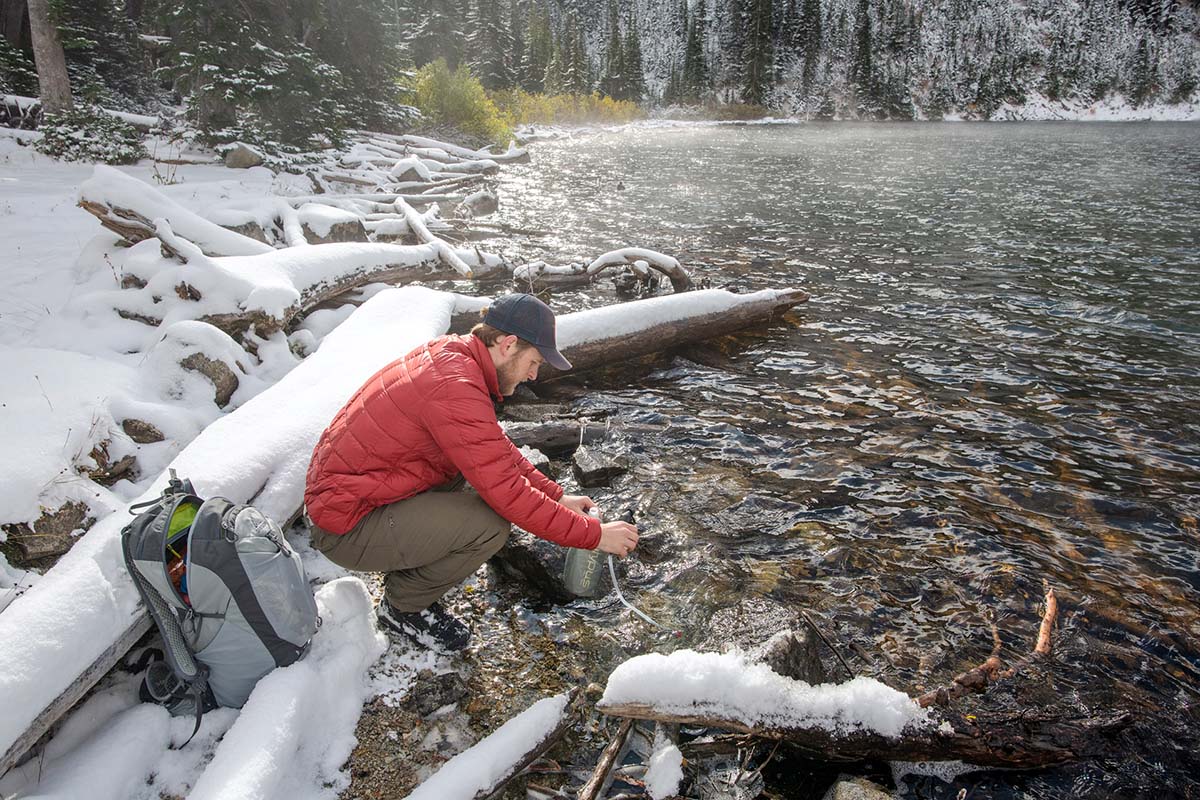 Traction
With a tread pattern shared with its hiking boot counterpart but adapted for cold-weather performance, the X Ultra Winter provides excellent traction across a variety of terrain. We found that the substantial lugs bite nicely into hardpack snow, even on steeper slopes, and are pretty trustworthy over small patches of crust and ice. And the winter-specific rubber seemed to do its job—its performance remained unchanged on even the coldest days (this is one significant benefit to a winter boot, as standard rubber on a hiking model will harden in the cold and become slippery). It can't match the all-out grip on ice that you get from dedicated rubber tech like Columbia's Michelin tread or Vibram's Arctic Grip, but no rubber technology is ideal for very icy conditions. On days when it was particularly slick, I simply threw on a pair of microspikes.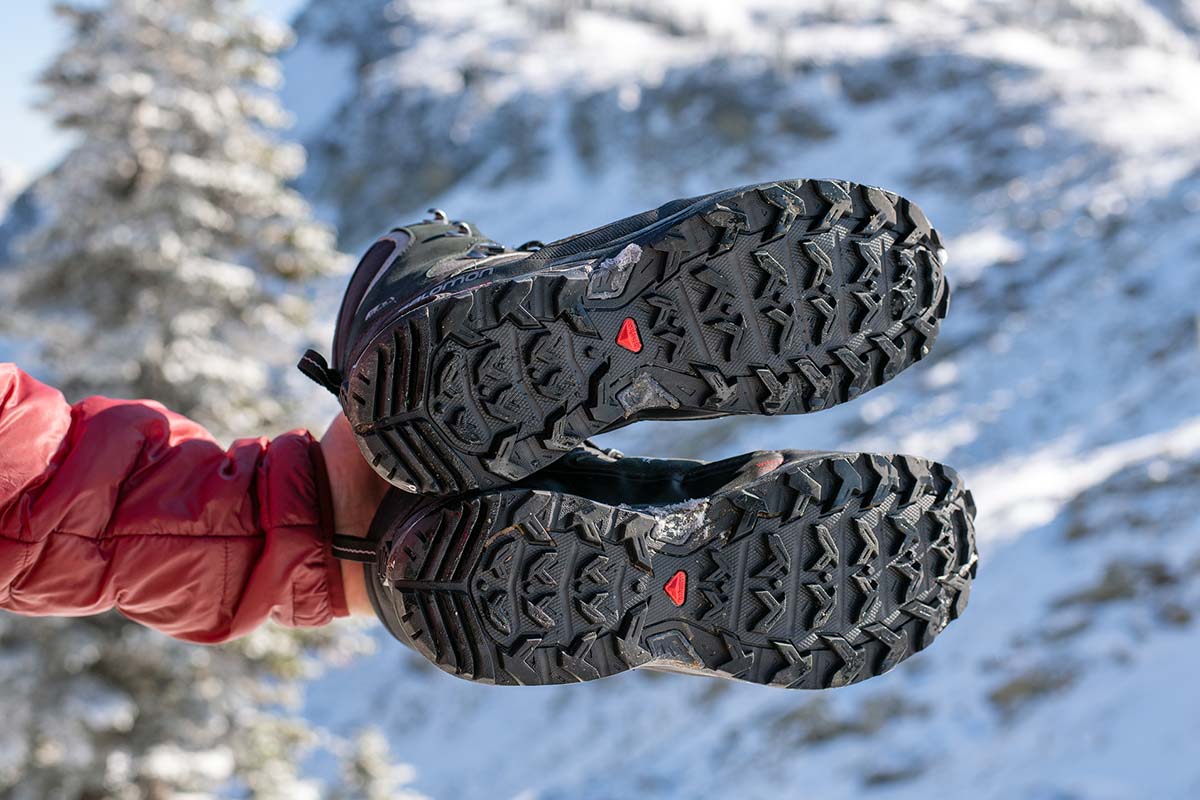 Comfort
Many winter boots feel heavy and sloppy for active use, but Salomon has managed to retain most of its hiking shoe DNA in the X Ultra Winter CS WP 2. The locking eyelets—we particularly like the set right at the bend of the ankle that secures the heel—and cushioned collar hug your foot really nicely, and the boot feels surprisingly light and nimble while snowshoeing or walking. All-around comfort is also excellent, from the soft-touch fleece lining to the cushioning underfoot that is plenty thick to isolate you from cold ground and hard impacts. Our only comfort-related concern has to do with the X Ultra Winter's narrow fit (detailed below in "Fit and Sizing"), but otherwise, we have nothing to complain about here. At $180, you're certainly paying a bit of a premium for a boot with only 200g synthetic, but you're also getting your money's worth from a comfort perspective.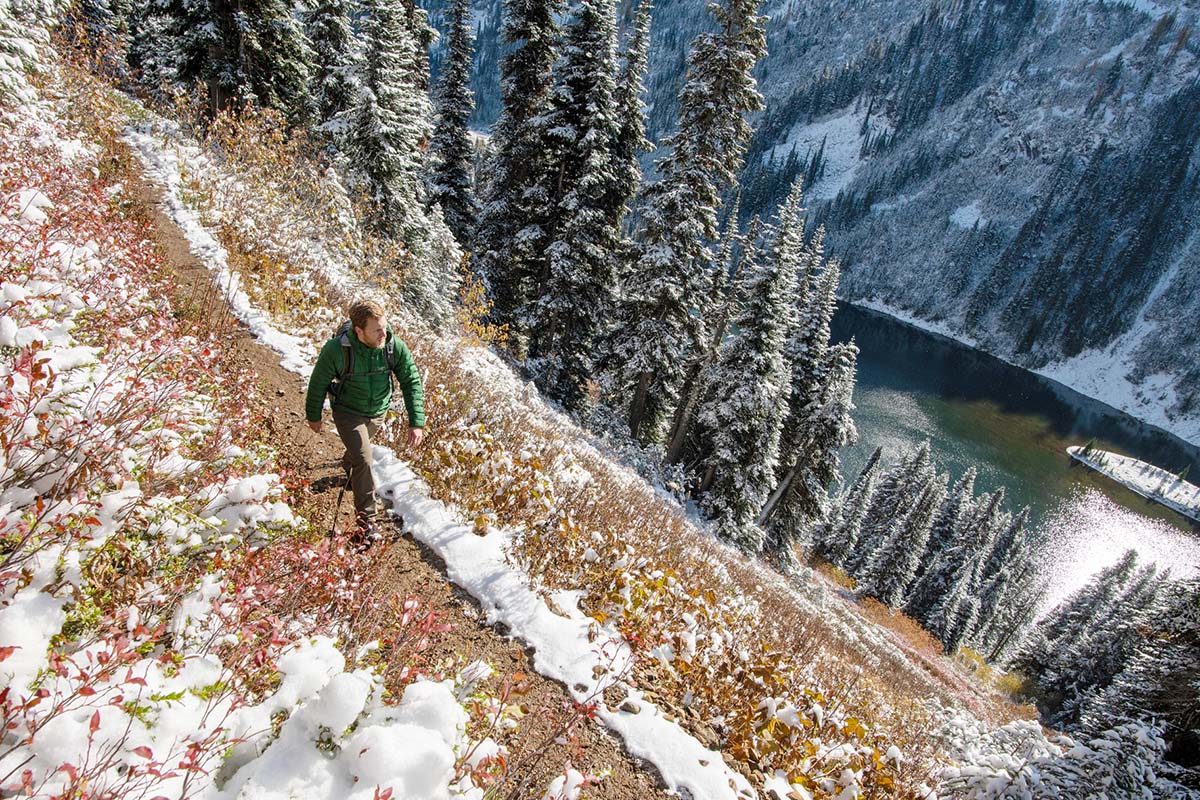 Boot Height: Protection and Support
We use the length of a boot's shaft to measure height—calculated from the footbed to the top of the collar—and the X Ultra Winter measures at a respectable 7 inches. This puts it about 1.5 inches taller than its standard-height counterpart (the X Ultra Mid Winter CS WP) and close to average for a winter hiker. For reference, the boot is about a half-inch higher than the Oboz Bridger 8" (the "8" refers to its total height) and looks nearly identical to my Columbia Bugaboot Plus IV (reviewed here), which is listed at 6.7 inches.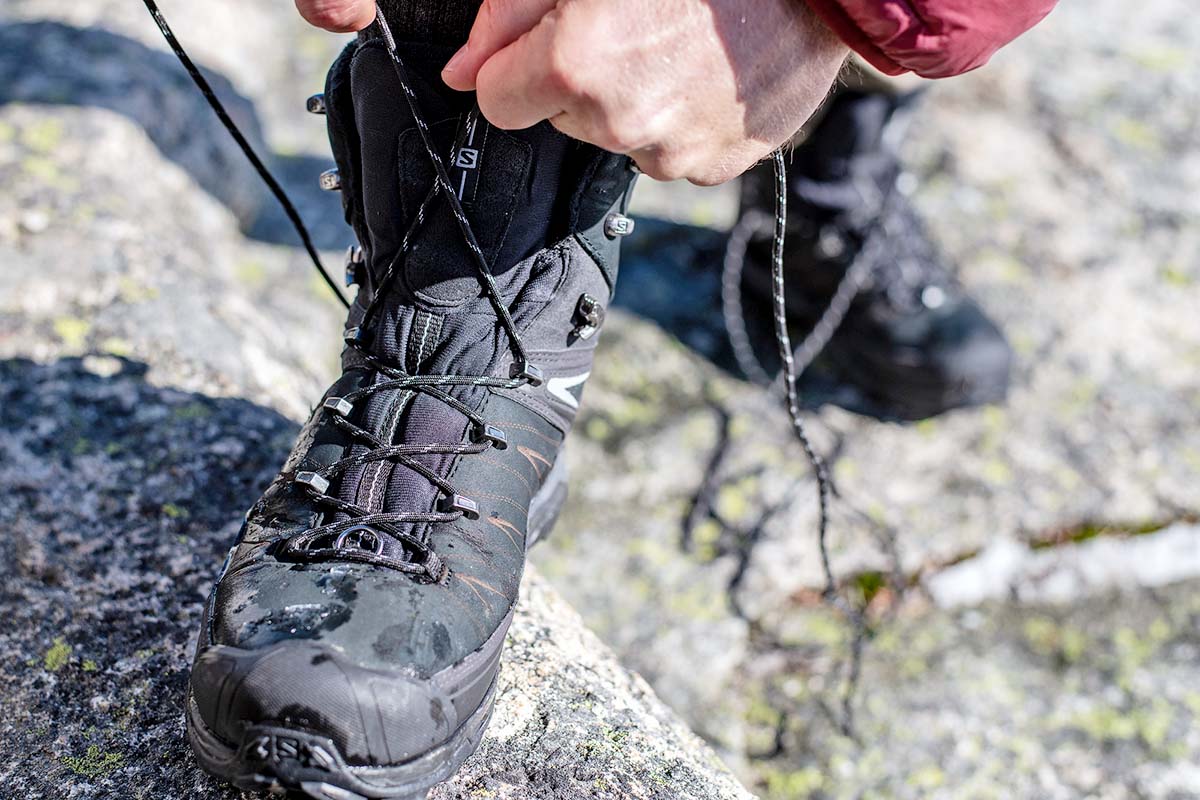 In use, the height was ideal for my needs: sitting a few inches above the ankle, the boot helps keep you protected from wet snow and was plenty supportive while carrying packs ranging from 10 pounds to over 20. That said, it still sits low enough and retains ample flexibility to be fully comfortable while hiking quickly or snowshoeing. Some will certainly want more coverage and protection—if that's the case, consider the 10" Bridger (about 8.5 in.) or more traditional pac boots like the Sorel Caribou (9.25 in.) or Kamik Nationplus (9.5 in.). But for mixed everyday and backcountry use in moderate winter conditions, the X Ultra Winter hits a nice sweet spot.

Weight
With a weight of 2 pounds 7.4 ounces for my men's size 9 (just under its 2 lb. 8.2 oz. advertised weight), the Salomon X Ultra Winter would be considered light even among summer hiking designs. For context, that's close to the popular, uninsulated Lowa Renegade GTX Mid (2 lbs. 7 oz.). In fact, the Salomon's feathery weight, combined with the moderate flexibility around the ankle/underfoot and grippy lugs, gives the boot an athletic feel that very few models can match. For reference, it undercuts competitors like the Oboz Bridger 8" Insulated (3 lbs. 1.2 oz.) and Danner Arctic 600 Side-Zip (2 lbs. 13 oz.). But more than just its weight, the X Ultra Winter has a better on-trail feel that isn't overly stiff—it doesn't feel like you're lugging around an insulated, winter-ready boot, which is why we've ranked it our top cold-weather hiker.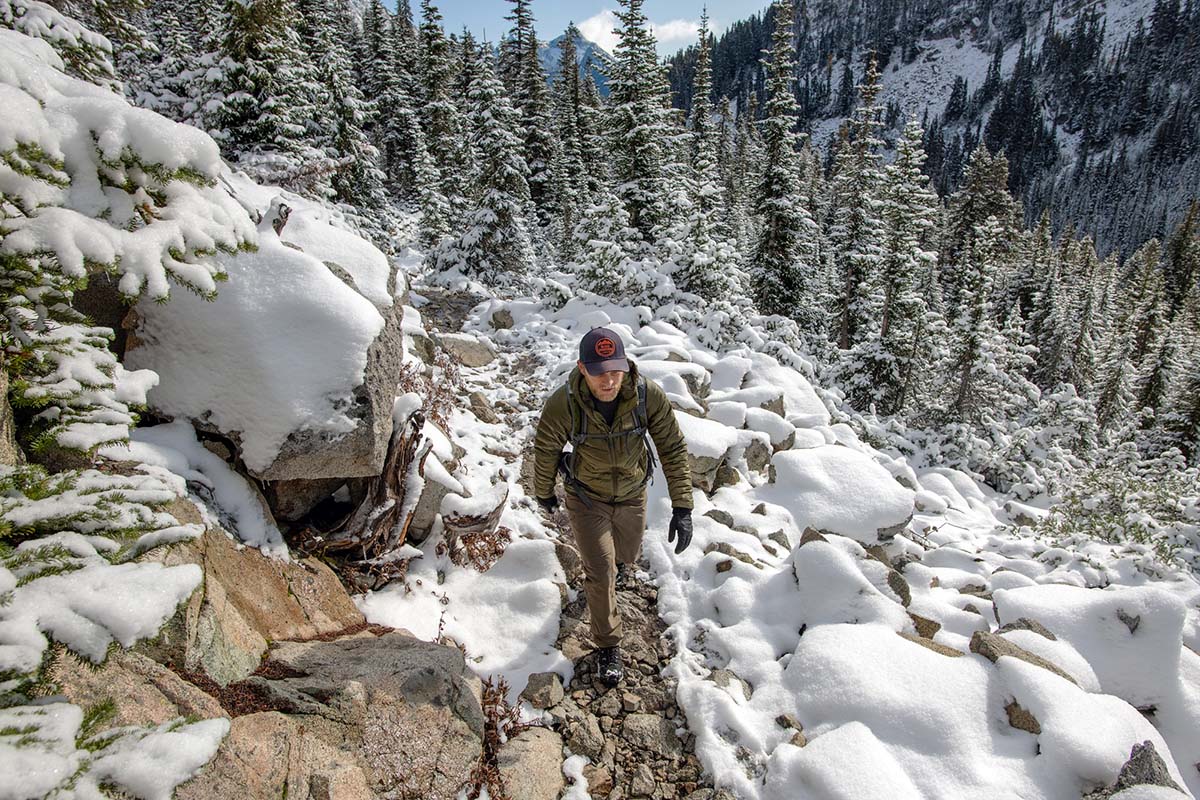 Construction and Durability
Salomon is a leader in the hiking footwear market, so it comes as little surprise that the X Ultra Winter CS WP 2 is a high-quality and hardwearing boot. The entire build exudes quality, from the plush cushioning to the burly exterior and locking metal eyelets at the top of the lacing system. After a full winter of use, everything is holding up extremely well. We've had a few experiences with Salomon footwear recently where the focus on trimming weight has resulted in some durability issues (specifically their OUTline hiking shoe and boot), but the X Ultra is a decidedly robust and capable design.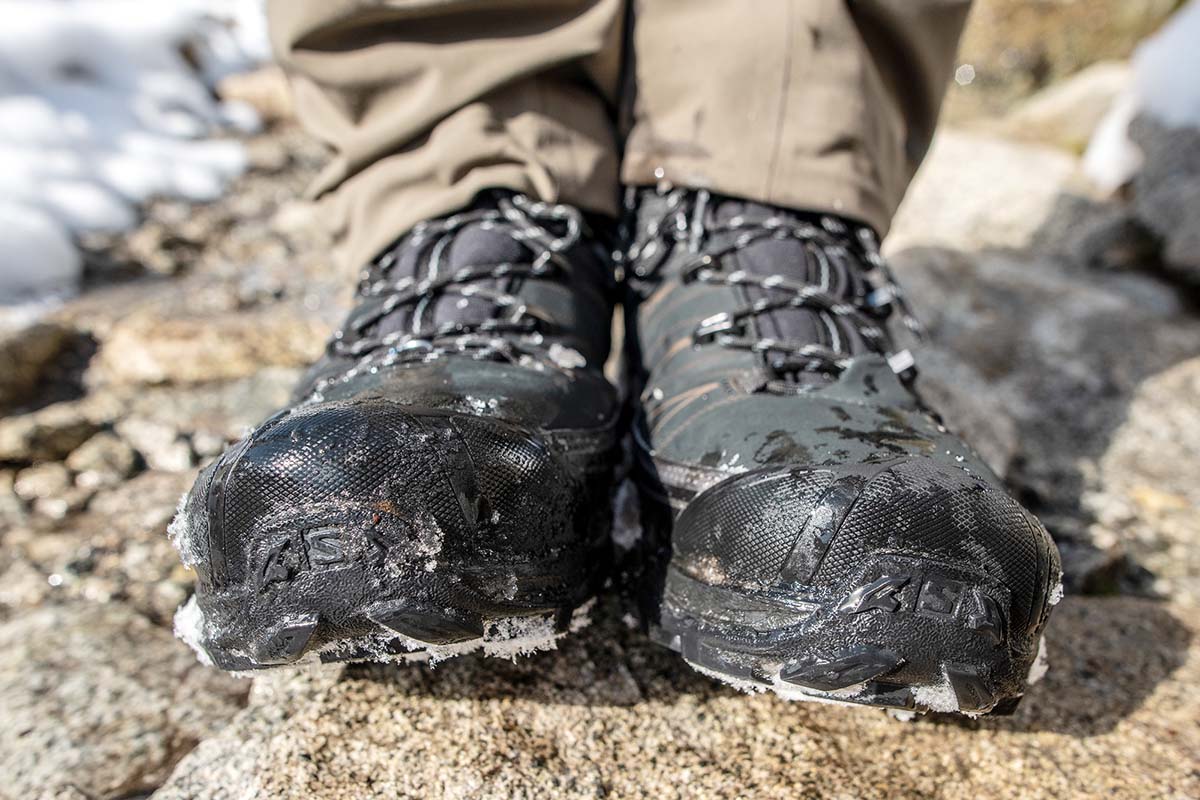 Fit and Sizing
Simply put, the most limiting feature of the X Ultra Winter is its moderately narrow fit. I ordered my standard men's 9, and worn with some lightly cushioned hiking socks, the boot felt snug throughout and was particularly tight around my pinkie toe. With more use, I did find that the interior packed out slightly, but the low-volume fit was still apparent. Lengthwise, however, the boot was as expected. The good news is that I didn't experience any comfort-related issues as a result, but those with wider feet (mine are a bit narrow in the heel and average elsewhere) will likely need to look elsewhere. Alternatively, you could go up a half size (definitely do so if you plan to wear thicker socks that are midweight or heavier).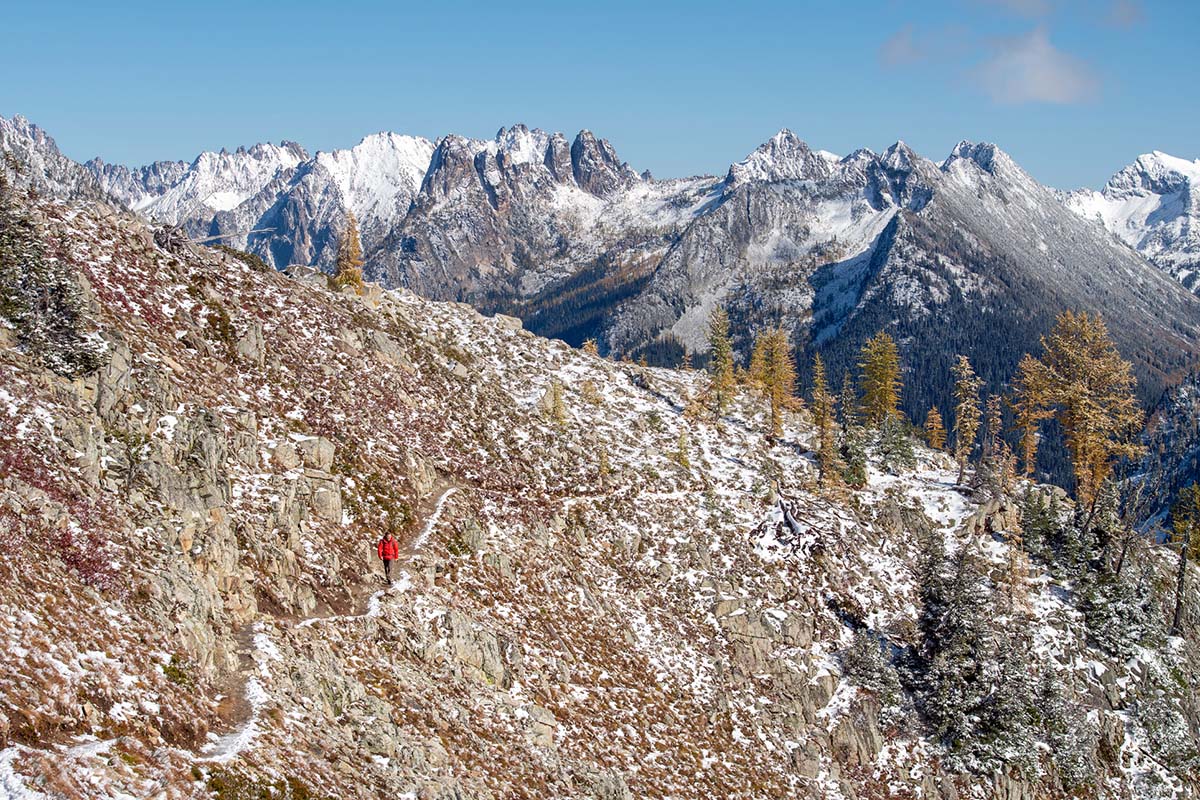 Other Versions of the Salomon X Ultra Winter CS WP
Unfortunately, the "2" version of the X Ultra CS WP reviewed here is not currently made in a women's-specific fit. That said, Salomon does offer the standard X Ultra Mid Winter CS WP in both men's and women's models. Key differences include a lower boot height (it's about 1.5 inches shorter than the version we tested) and cheaper $165 price tag. However, the boots share most other major features including the highly water-resistant upper, ClimaSalomon liner, soft and cushioned interior, and reliable traction.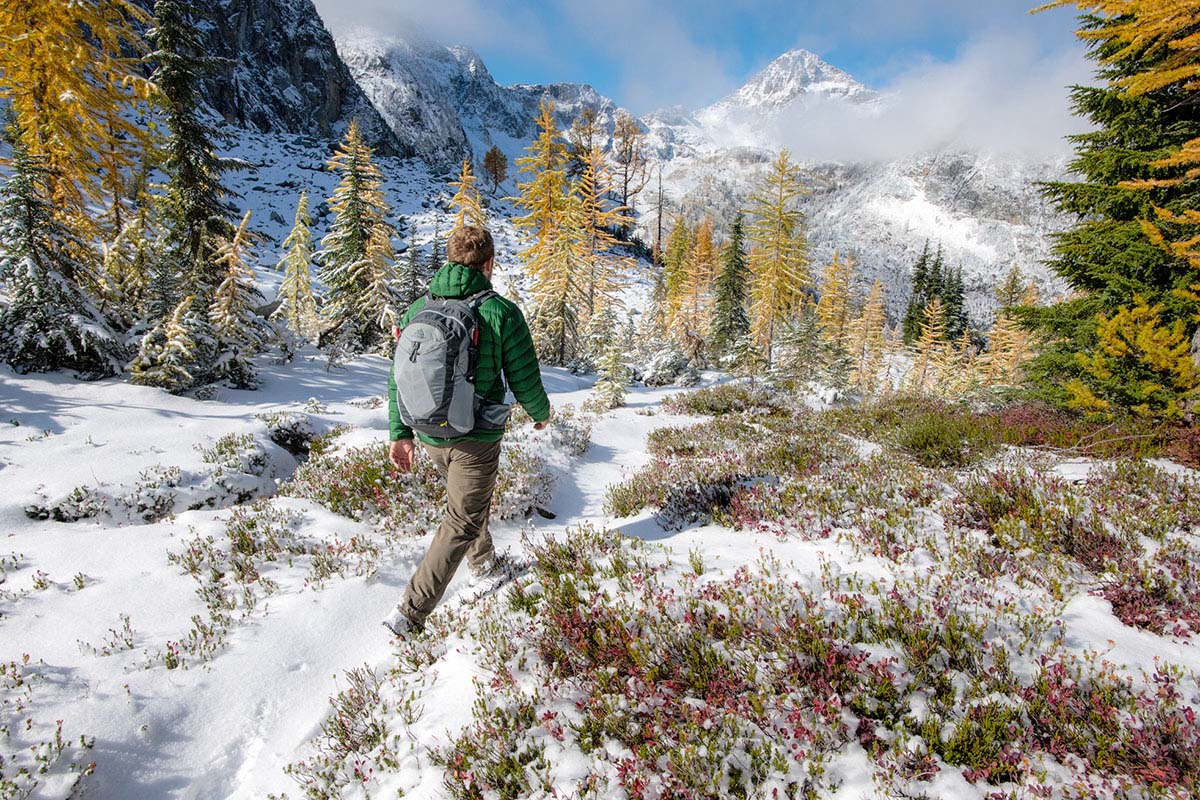 What We Like
Feathery weight and moderately flexible build give the boot an athletic feel that not many winter hikers can match.
Many winter boots feel heavy and sloppy for active use, but the X Ultra Winter performs just like its hiking boot counterpart, the X Ultra 3 Mid.
Doesn't soak up moisture as readily as other leather boots.
 
What We Don't
Fairly narrow fit—we recommend sizing up a half size to accommodate midweight or heavier socks.
200-gram insulation only offers moderate warmth compared to much of the competition (although this is great for mild winter days).
Some will want more coverage and protection than the 7-inch shaft height provides.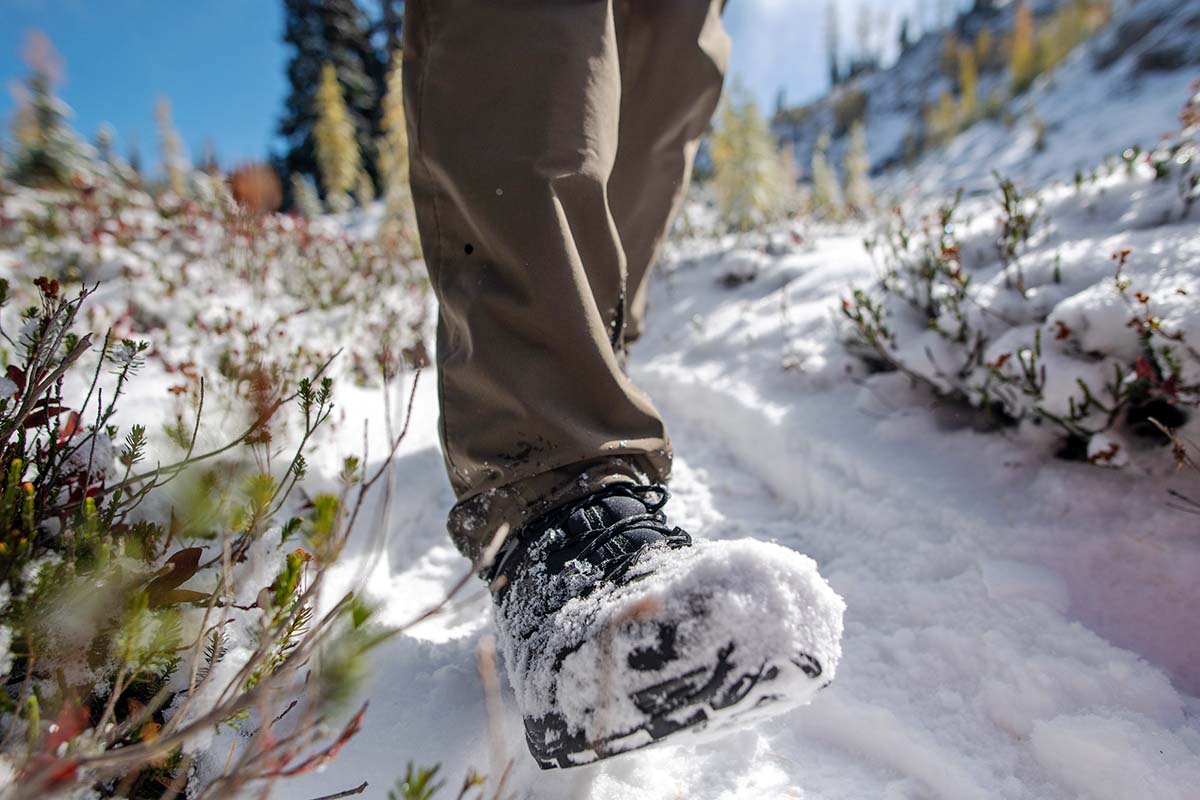 Comparison Table

The Competition
Salomon's X Ultra Winter CS WP 2 takes our top-rated hiking boot, the X Ultra 3 Mid, and gives it a winter-ready upgrade while retaining the nimble, trail-ready feel and overall performance. Among competitors, one of the better designs we've tried is Oboz's Bridger. The Bridger is made in both 8- and 10-inch versions, and the the 8" is closest to the X Ultra in warmth (200g Thinsulate), price ($185), and weight (3 lbs. 1.2 oz.). Compared with the Salomon, the Oboz is considerably stiffer out of the box, although it softened up enough over time to be comfortable while snowshoeing. Fit-wise, the Oboz has a roomier toe box, while the Salomon runs a bit narrower (as mentioned above, sizing up is worth it if you're on the fence). But the Salomon is the better all-around performer: its tread grips better on steep terrain and feels nimbler underfoot. If you like a traditional, sturdy boot, the Bridger 8" Insulated is a solid option, but we prefer the more athletic and slightly taller Salomon.
Merrell is another big player in the hiking world, and they make an intriguing, budget-friendly option in their Thermo Chill. Both boots use 200-gram synthetic insulation, have comfortable interiors, and feature lightweight and moderately flexible builds that give them an athletic feel (for reference, the Merrell checks in at 2 lbs. 8 oz.). That said, we found the Merrell to be lacking in stability and support compared to the Salomon, and it also falls short in the traction department with its lower-profile tread. All in all, we consider the Merrell a viable alternative for around-town and light hiking use, but the Salomon is the more capable option for covering long distances.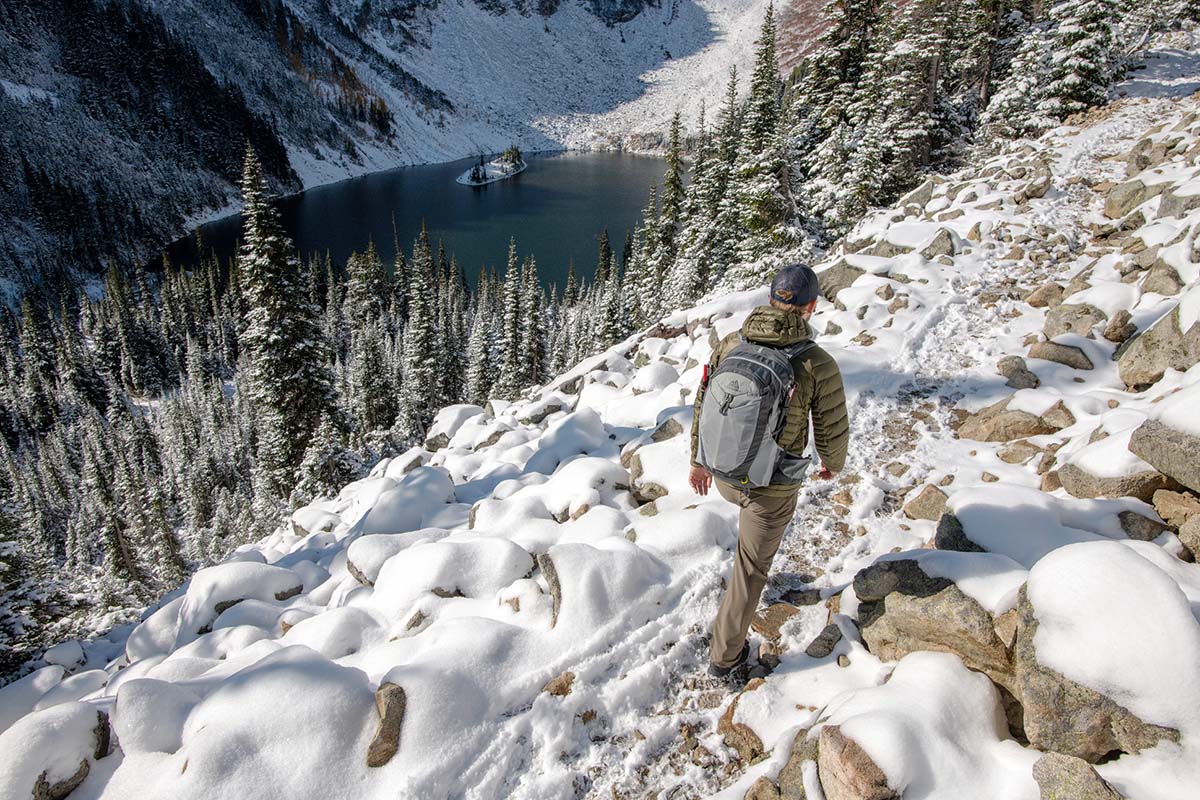 Columbia's Bugaboot Plus IV is another alternative that trends a little more towards everyday use. The Columbia also features 200-gram fill, although with a reflective liner and burly rubber surrounding the feet, we've found it offers a small step up in warmth. Height-wise, the two are very similar, but the Bugaboot does win out in protection with its rubber build. Both are high-quality designs, but we give the Columbia the advantage as the superior all-rounder. It's heavier and doesn't flex as easily for fast hiking, but the added protection and $30-cheaper price tag give it the edge for us.
Vasque's Snowburban was one of the early hiking-inspired boots to hit the mainstream. How do the two compare? Most notably, the Snowburban II includes more substantial 400-gram Thinsulate and sits about an inch higher on the leg, which means it's built to handle temperatures down to into the single digits (provided you're active and wearing proper socks). The downside of all that warmth is it runs hotter on mild days and can be overkill for a lot of hiking adventures—here, the X Ultra Winter gets the clear edge. A final decision will likely come down to how much warmth you need, but we think the X Ultra has wider appeal.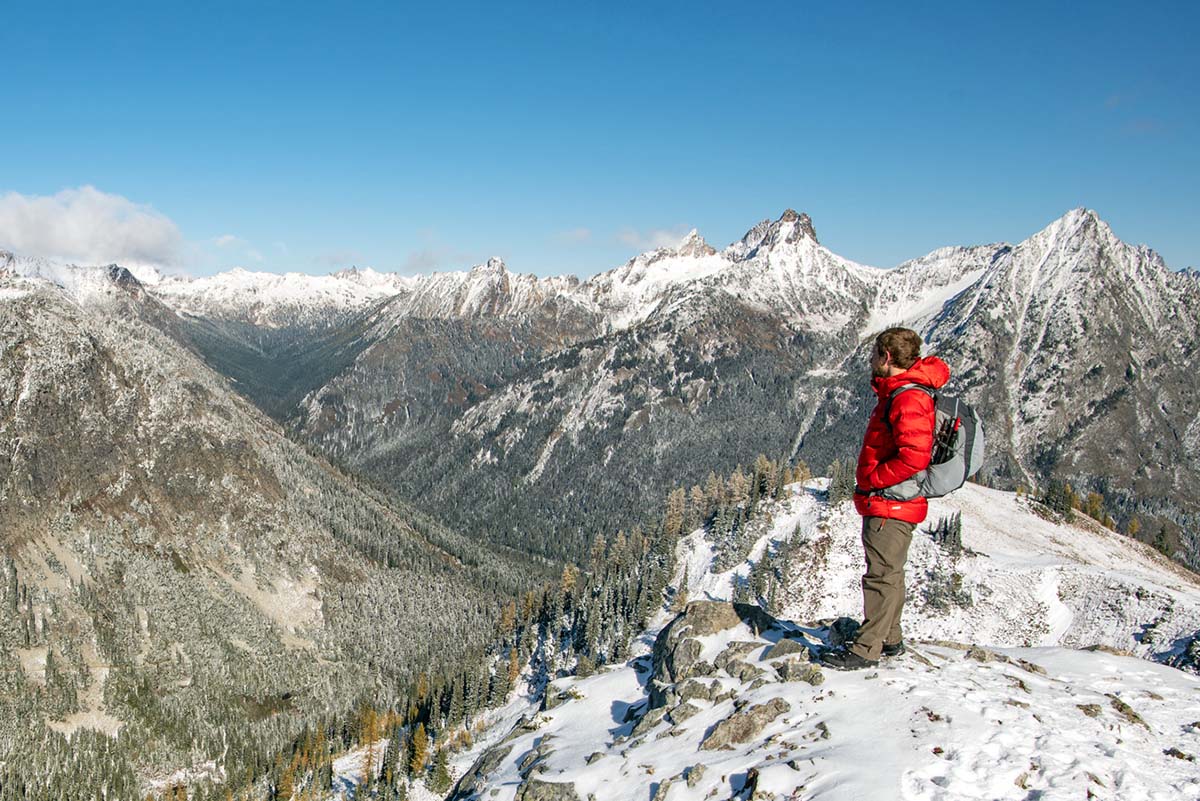 A final option to consider is Danner's Arctic 600 Side-Zip. As the name indicates, this boot sports zippers along the instep to ease the on and off process. In addition, the Arctic is very well-made with a classy leather upper, Vibram's premium Arctic Grip outsole (better for gripping on ice than Salomon's rubber), and high-end features like wool along the collar. Added up, there's a lot to like about the Danner, but we find it hard to justify the extra $40 compared with the Salomon. The X Ultra Winter matches it in just about every way, including warmth and flexibility, which is why it edges out the Danner in our winter boot round-up. 
If you're thinking about buying gear that we've reviewed on Switchback Travel, you can help support us in the process. Just click on any of the seller links above, and if you make a purchase, we receive a small percentage of the transaction. The cost of the product is the same to you but this helps us continue to test and write about outdoor gear. Thanks and we appreciate your support!
Depending on the seller, most products ship free in the United States on orders of $50 or more. International shipping availability and rates vary by seller. The pricing information on this page is updated hourly but we are not responsible for inaccuracies.
Read More From Switchback Travel