It's not often that we come across a truly capable all-rounder in the winter boot category, but Columbia's Bugaboot Plus IV Omni-Heat is a real standout. After putting the Bugaboot through a full season of hiking, snowshoeing, and everyday use in central Washington, we came to appreciate the boot's versatility and capability in a wide range of conditions. It's not the tallest, warmest, or most protective option on the market, but the Bugaboot hits that just-right balance that most winter users need. Below we break down our experiences with the Bugaboot. To see how it stacks up to the competition, see our article on the best winter boots. 
 
---
Table of Contents
---

Performance
Warmth
With 200-gram synthetic fill, the Columbia Bugaboot Plus IV Omni-Heat falls on the lightly insulated end of the winter boot spectrum, but it completely exceeded our expectations. The substantial, waterproof build effectively seals out cold, and Columbia's proprietary Omni-Heat reflective lining along the interior gives it a modest boost in warmth. In fact, the Bugaboot is notably warmer than most other 200-gram boots we've tested, including The North Face's Chilkat. Central Washington doesn't experience brutally cold snaps as often as the Midwest or areas on the East Coast, but I've yet to feel cold wearing the Bugaboot.
With a pair of heavyweight socks, I was comfortable hiking on very snowy forest service roads with temperatures down to around 10 degrees Fahrenheit. During lower-output activities like walking around the neighborhood or sledding with my family, my feet stayed warm in temps ranging from 15 to 30 degrees. And arguably just as importantly, the Bugaboot isn't overly insulated, so I haven't overheated on short trips snowshoeing or extended stretches shoveling snow into the high 20s (although I do throw on thinner socks for these activities). Those looking for maximum warmth should consider a taller boot with more insulation like Oboz's Bridger 10" Insulated, which has 400-gram synthetic insulation and adds nearly 2 inches of protection. However, we think the Bugaboot hits a sweet spot for most wintertime use.

Waterproofing
The Columbia Bugaboot scores high marks in waterproofing. For starters, the boot is seam-sealed, and its tough upper—which includes a mix of nylon and leather up top and wraparound rubber along the base and toe box—effectively blocks out moisture. I've put the Bugaboot through everything from knee-deep powder (paired with gaiters and snow pants) to wet, melting snow on warmer days and have had no issues with snow creeping in. While hiking, I've even stepped through a few ice-covered puddles that gave way under my weight and submerged the boot to ankle-height. Impressively, water never made its way in.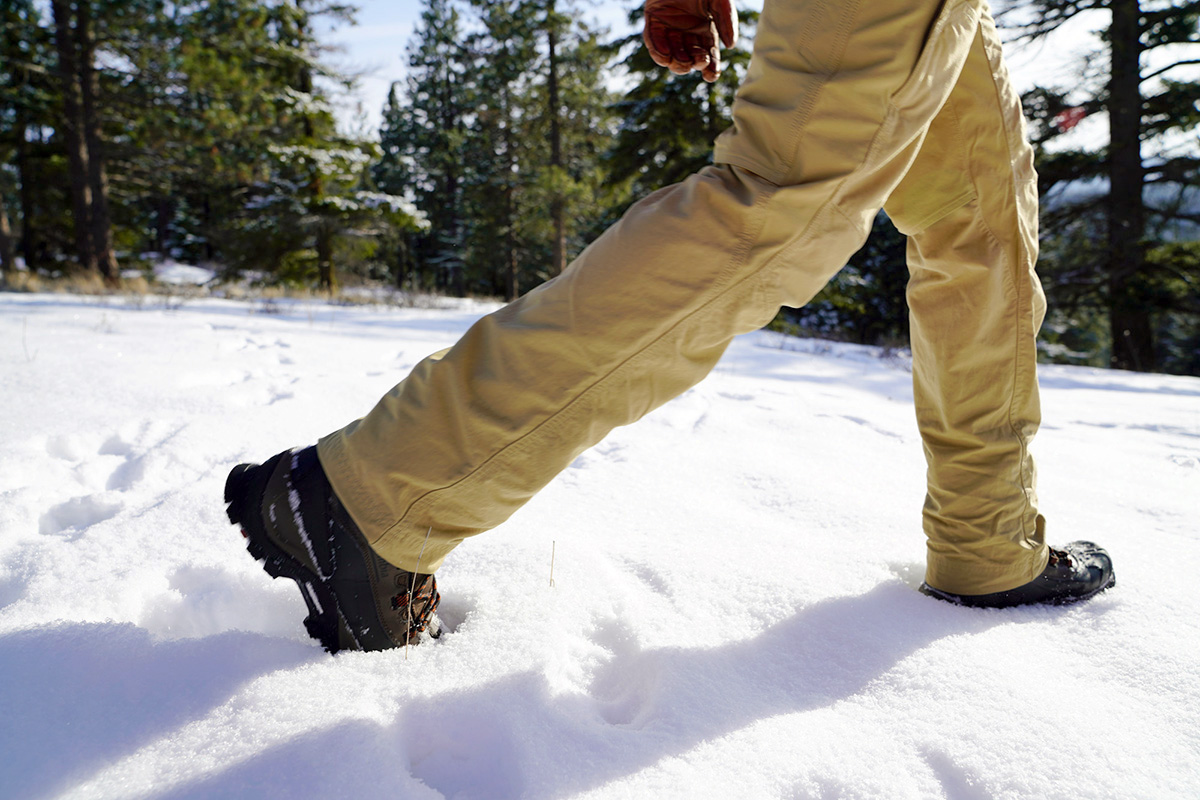 The Bugaboot's shaft height and tongue design also have a big impact on protection. First and foremost, the boot is only 6.7 inches tall (measured from the bottom of the foot to the collar), meaning less material for sealing out cold and moisture than you get with options like the aforementioned 8.5-inch Oboz Bridger or 8-inch Salomon Toundra Pro. Further, the tongue opens about an inch below the collar, so you don't get full waterproofing up to the top (I haven't done so, but I suspect the boot will allow moisture in if you step in anything much deeper than ankle-height). But if you need that much protection, we recommend pairing the boot with a gaiter anyways, and the Bugaboot has a ring along the toe for easy attachment.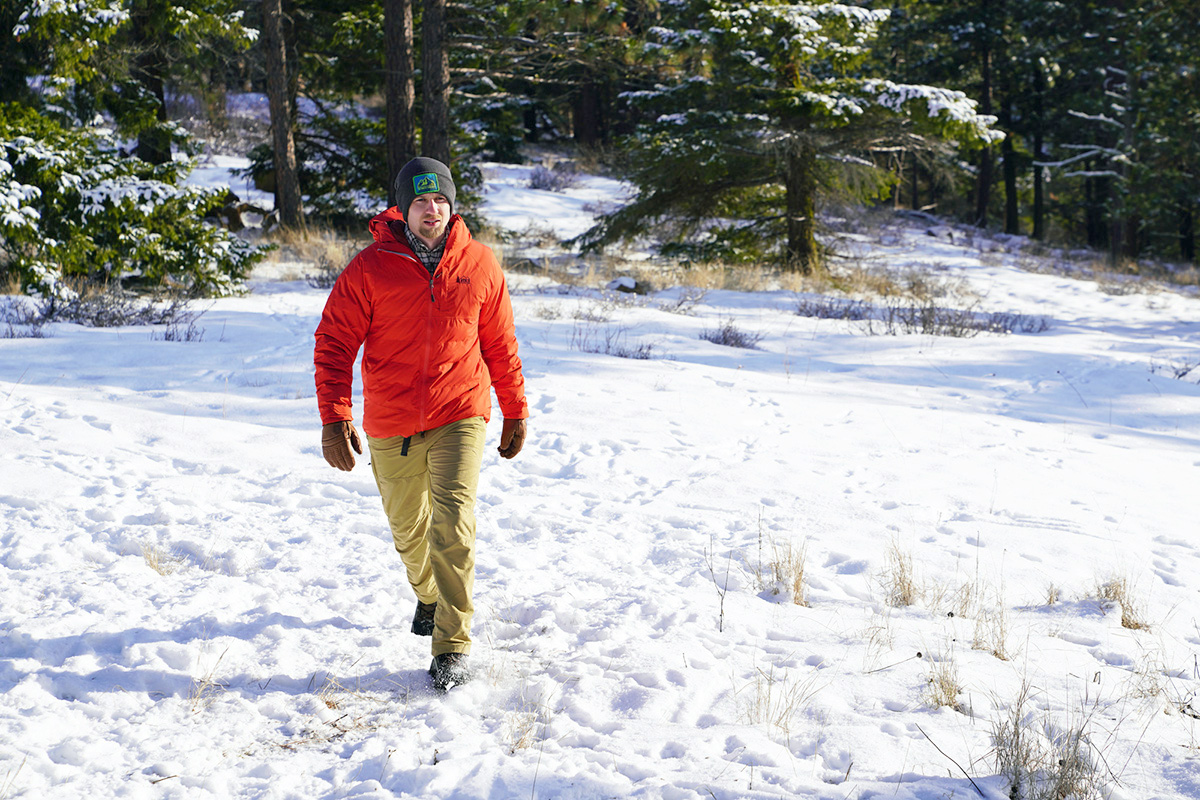 Traction
The Columbia Bugaboot's Michelin tread provided truly impressive and reliable grip across a variety of conditions and surfaces. From hiking on snow-covered forest service roads to strolling around town, I had almost no issues. The lugs are nicely spaced to avoid snow buildup and hold well on steep hills, and the Michelin rubber compound is fairly soft, so it continues to bite in very cold temperatures (standard rubber that you get with hiking boots tends to get hard and loses grip in the cold). Siping along the lugs—similar to what you see on winter snow tires—also helps boost traction. All told, the Bugaboot is the grippiest winter boot I've worn to date.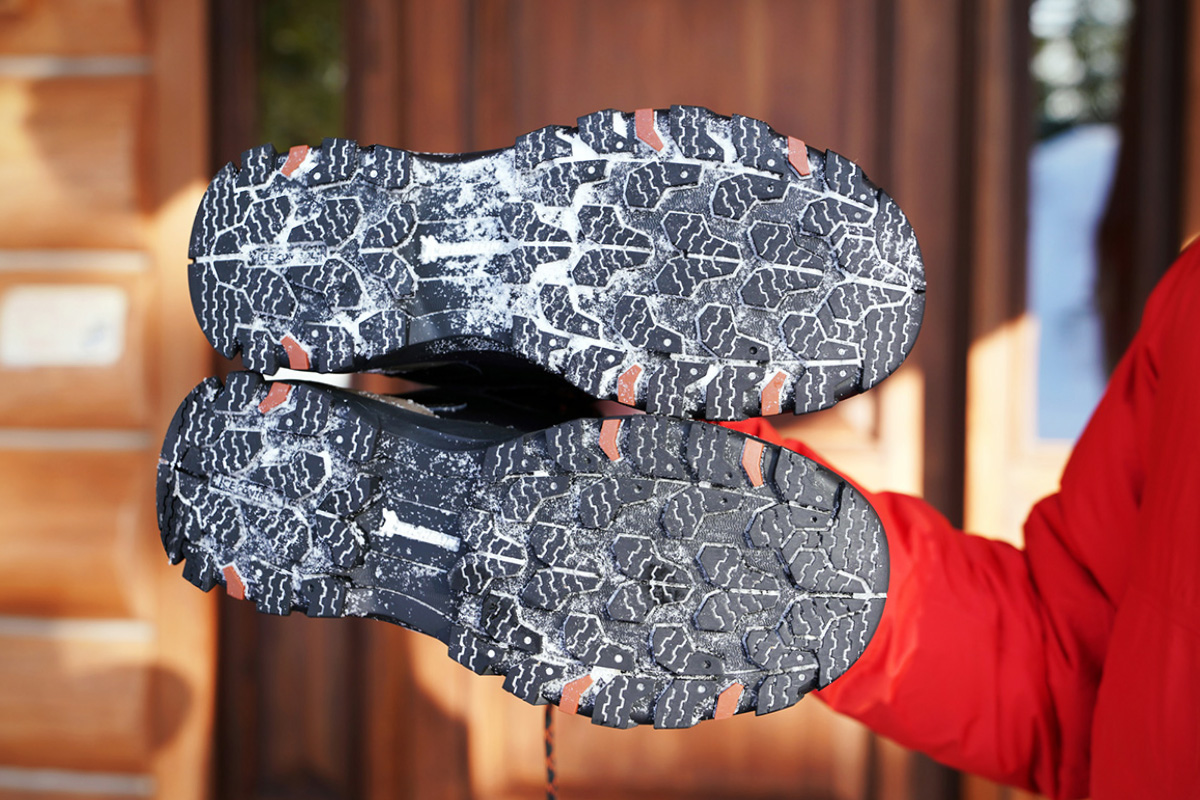 I did notice some slippage on pure ice and hardpacked snow, but that was to be expected. Winter traction devices are always a good idea in these conditions, but I found that if I shortened my stride to maximize tread contact with the ground, grip took a notable leap. If I took longer strides when hiking quickly, I still experienced some slipping on steep sections. However, being intentional with how I was walking really gave a nice uptick in performance.

Comfort
Compared to Columbia's past-generation Bugaboot III, I was happily surprised by the IV's big upgrade in comfort. First, the boot is noticeably less stiff out of the box, especially around the collar, and the entire shoe has a softer and more premium feel. And despite the exposed and plasticky-looking Omni-Heat liner covering most of the interior, the inside of the boot proved to be supple and fairly plush. In addition, the cushioning around the ankles makes the boot comfortable even when laced tightly, and I didn't experience any pressure points when snugged down (something I did experience with the "3"). Overall, comfort is perfectly suitable at this price range. You can get a plusher design in a boot like the Oboz Bridger 8" Insulated, but you'll pay an extra $35 for it.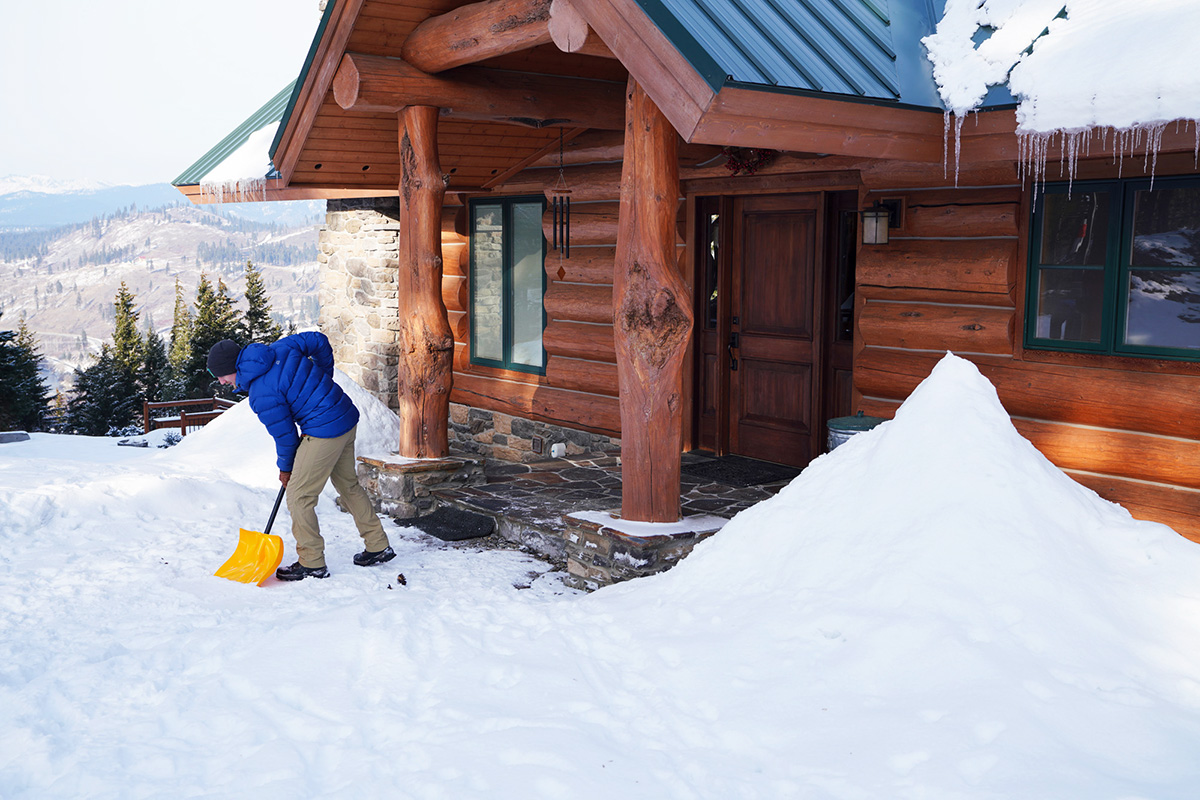 Boot Height: Protection and Support
The Columbia Bugaboot has a shaft height of 6.7 inches, which sits a couple inches above the ankle. Compared to other winter boots, the Bugaboot lands between a true hiking design like the Salomon Quest Winter GTX (6 in.) and more traditional, bulkier build like the Sorel Conquest (8.5 in.) or Caribou (9.25 in.). As mentioned above, those looking for maximum warmth and protection will likely prefer a taller boot, but the Bugaboot is a nice middle ground that transitions well from activities like shoveling and trudging through deep snow to fast walking and even ambitious day hikes and snowshoe trips (the lower height and good lateral support help here). In fact, there was even enough flex in the design that I could (carefully) drive with it while using a manual transmission.

Weight
At 3 pounds 0.4 ounces for my men's size 9 (the listed weight is a bit heavier at 3 lbs. 1.5 oz.), the Bugaboot is on the lightweight end of the winter boot spectrum. For comparison, it's significantly lighter and nimbler than more traditional boots like the Sorel Caribou (4 lbs. 10 oz.) and Sorel Conquest (4 lbs. 6 oz.). Direct competitors weigh about the same, including the similarly built TNF Chilkat IV (3 lbs. 1.4 oz.) and Oboz Bridger 8" Insulated (3 lbs. 1.2 oz.). In the end, the Bugaboot was a great match for half-day winter hikes, all-day wear, and even short snowshoeing trips. Those hoping to cover ground quickly might prefer a sprightlier and more hiking-focused option like the Salomon Quest Winter (2 lbs. 6.8 oz.), but this comes with a sacrifice in warmth. For an insulated, winter-ready design, I found the Bugaboot's weight to be perfectly reasonable.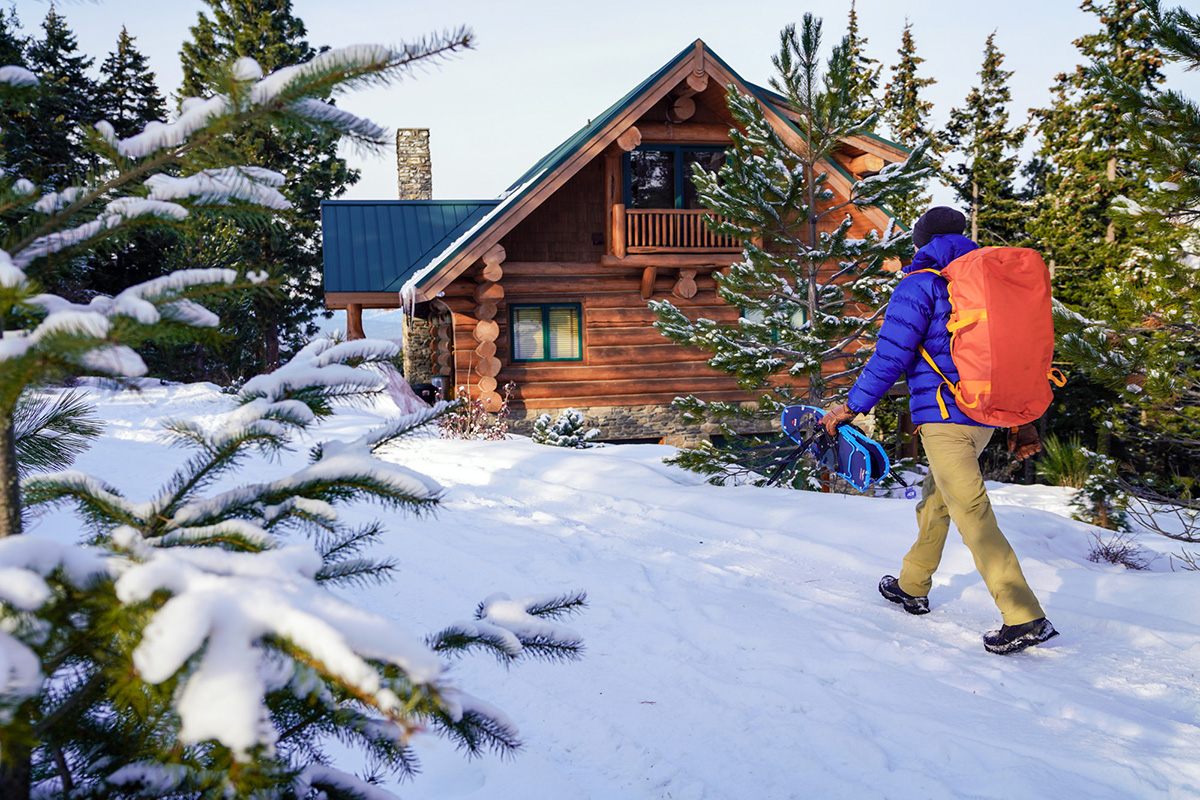 Construction and Durability
Columbia has built a reputation around providing affordably priced gear, and that has often come at the sacrifice of quality and durability. However, I've been very pleased with the Bugaboot's overall construction. First, the premium Michelin outsole is well worth the $150 price tag and hasn't shown any signs of wear thus far despite frequent use—I wore the boots more than 50 times last year, sometimes for extended stretches on long hikes and while working outside. Additionally, fit and finish is good with consistent stitching that hasn't frayed, the interior still looks reasonably new, and the lacing system has caused no issues and held up well. Finally, the Bugaboot's leather, nylon, and rubber all have a nice, quality feel to them. The Bugaboot does have a decidedly more technical and hiking-focused look with less urban appeal than many other boots on the market, but we personally like the versatility. For the price and construction, the Columbia Bugaboot is a great all-around value.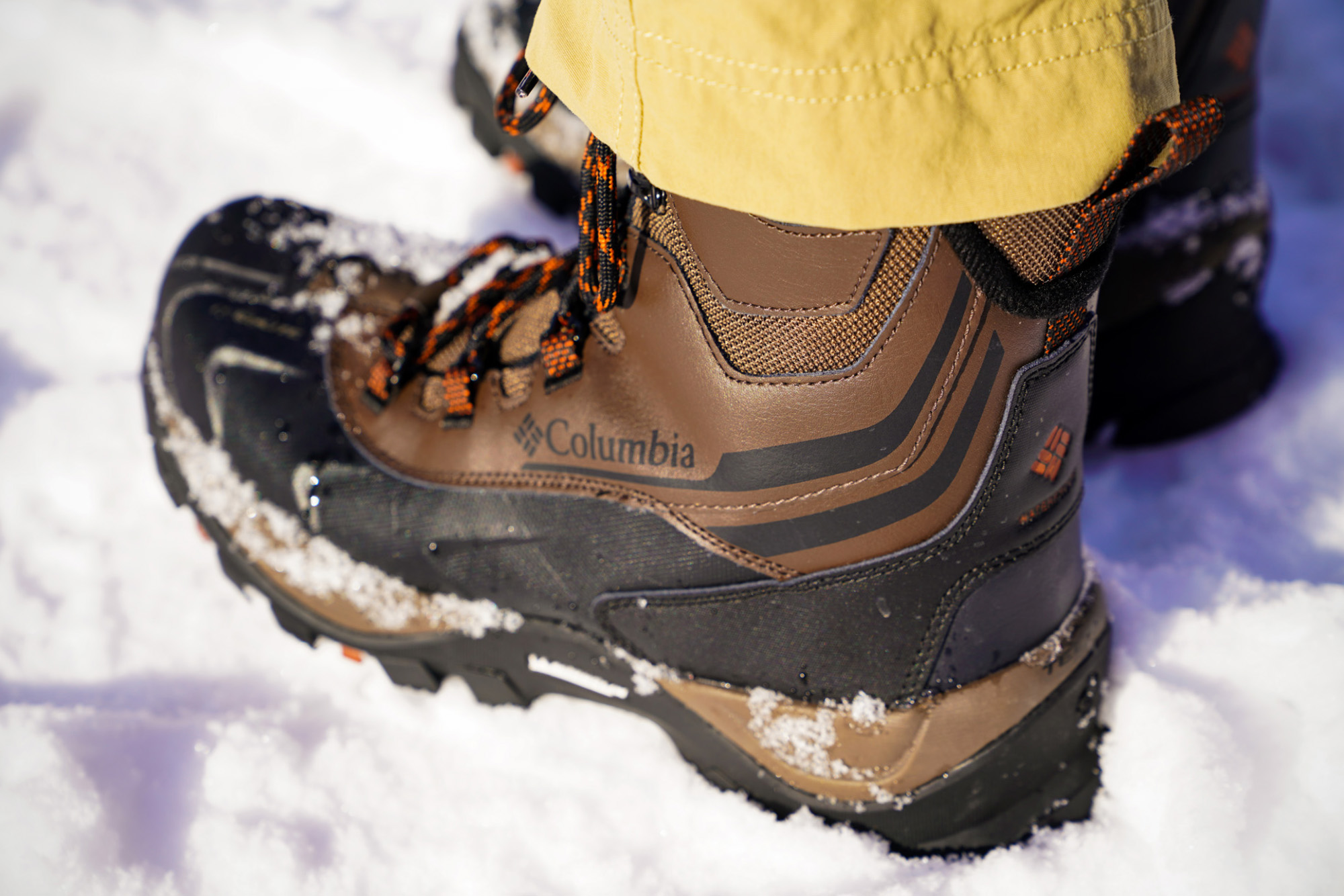 Sizing and Fit
I purchased my regular men's size 9 in the Columbia Bugaboot and found the fit to be ideal. For reference, my feet are fairly average—albeit a little narrow in the heel—and I was able to comfortably wear a wide range of socks depending on the temperature outside. Thinner-cushioned socks (like the Darn Tough Micro Crew Cushion) were a little roomy, but snugging the laces worked well and prevented heel slippage. Alternatively, heavy expedition-weight socks filled up the interior, but they weren't too tight or restrictive and didn't cause any discomfort or reduce circulation. All that said, it's worth noting that the Bugaboot has a fairly flat insole, so those with higher arches may need to swap it out for a more supportive one.

Other Versions of the Columbia Bugaboot
We put the Bugaboot Plus IV Omni-Heat through its paces for this review, and Columbia makes the boot in a number of different models. Other boots in the lineup include the prior-generation Bugaboot III ($115), as well as dedicated kids' and wide versions of the model tested here. All are also offered in women's-specific variations, which are slightly lighter than their men's counterparts and offered in different colorways (prices remain the same across the board).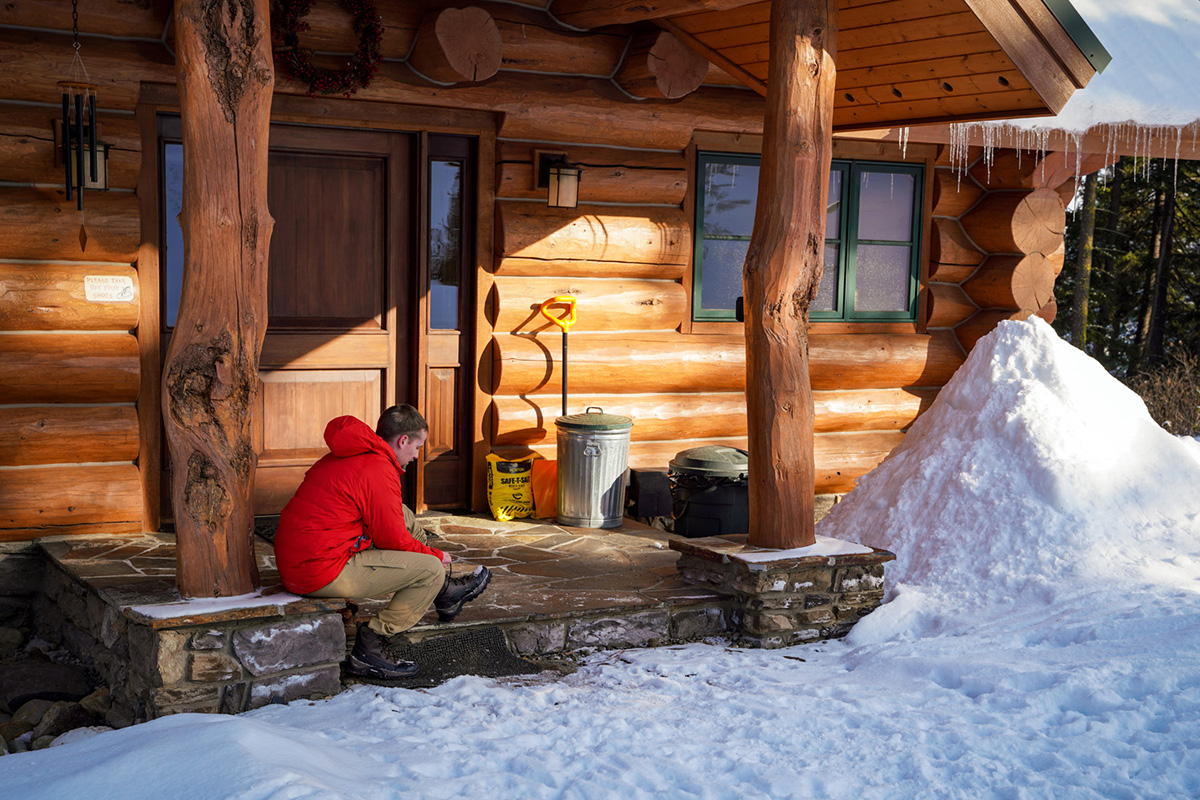 What We Like
The Bugaboot Plus IV provides a great mix of warmth and protection for most wintertime use.
Michelin outsole is the real deal and grips very well in slippery conditions.
Comfortable interior and reasonably lightweight build make it excel at everything from short hikes to day-long, around-town wear.
Notable improvements in comfort over the past-generation Bugaboot III.

What We Don't
With 200-gram synthetic insulation, it's far from the warmest boot on the market (it's warmer than most 200-gram competitors, though).
Flat insole isn't a great match for those with high arches.
Some might not like the more technical, hiking-oriented look.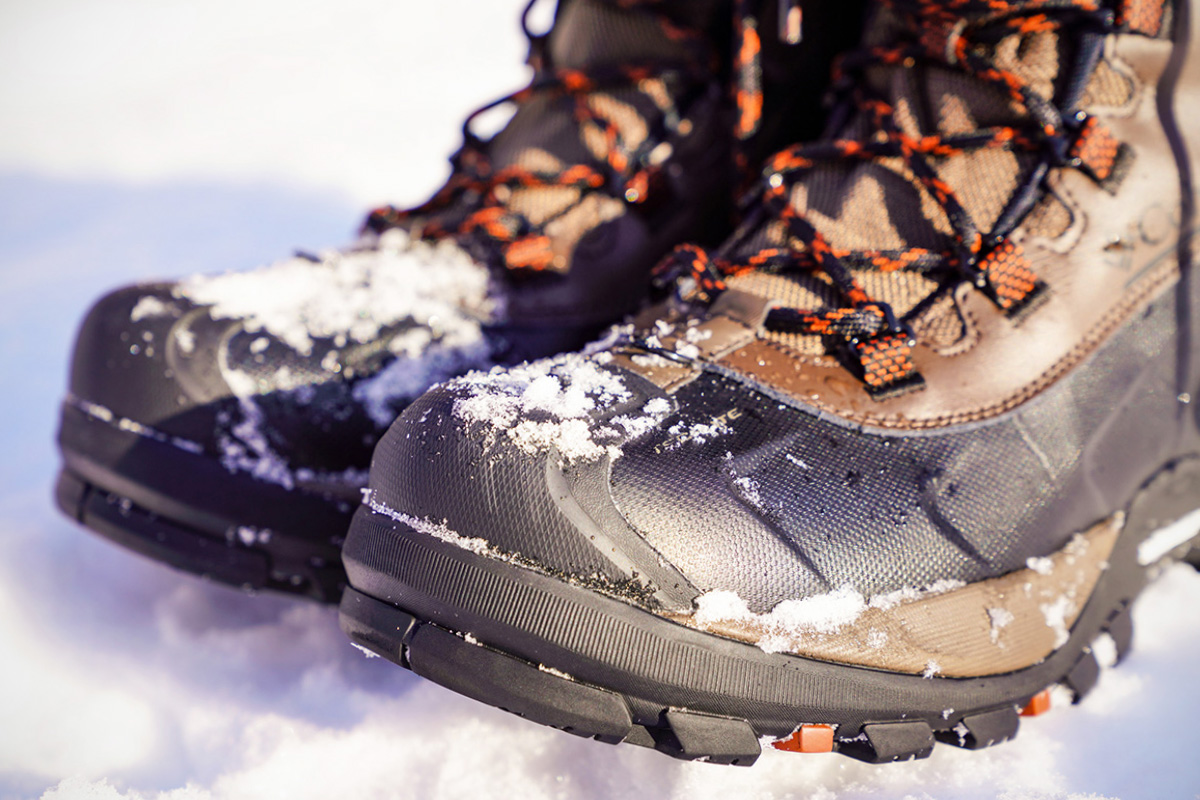 Comparison Table

The Competition
The Columbia Bugaboot Plus IV Omni-Heat is a true all-rounder in the winter boot market, able to handle both short hikes and all-day use with ease. In this category, we also like Merrell's hiking-boot-inspired Thermo Chill. With the Merrell, you get similar warmth from the 200-gram synthetic insulation, a comfortable interior—much better than expected for the price—and an easy-to-use lacing system that tightens evenly with just a single pull. The Thermo Chill is also slightly more flexible than the Bugaboot, which is nice for hiking and driving and broke in a little quicker for us. However, the Merrell's traction falls noticeably short in slippery conditions, with relatively low-profile tread and a lack of bite compared to the Bugaboot. In the end, we consider it a solid around-town option and viable for light winter hiking, but the Columbia is the more capable all-rounder. 
If you're looking for a casual boot with less of a performance slant, The North Face's Chilkat IV is one of our favorites. The Chilkat is cheaper than the Bugaboot at $115 and less protective and warm with a 6.25-inch-tall shaft height. And despite the similar weight (3 lbs. 1.4 oz.), we found that the TNF boot felt fairly heavy and bulky underfoot, which limits its appeal for all-day use and long hikes. In the end, a final decision should come down to your intended use. If you plan to add hiking or snowshoeing into the mix or put a premium on traction, we recommend spending up for the more capable Bugaboot.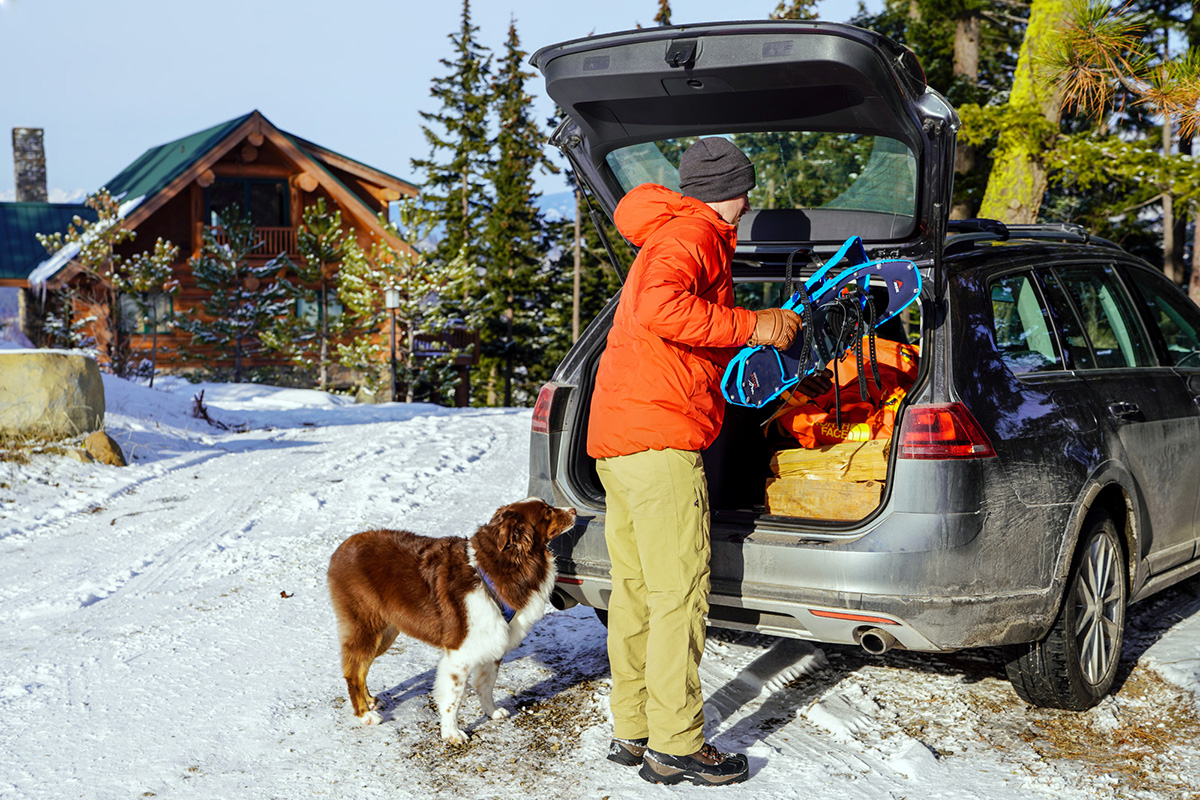 Moving up in performance, Oboz's Bridger 8" Insulated is a decidedly more hiking-focused design. Compared to the Bugaboot, the Bridger is similar in weight (3 lbs. 1.2 oz.), warmth (200g synthetic fill), and protection (the 8" in the name refers to total height, which puts it at about the same as the Bugaboot). As we touched on above, the Bridger offers a slight bump in comfort, but it's pricier at $185 and provides a bit less traction in icy conditions. All in all, the Oboz is a better snowshoeing design—it has a more athletic feel despite the extra support—but the Bugaboot isn't too far behind. In the end, we give the edge to the more well-rounded and grippier Columbia.
Another popular winter hiker to consider is Keen's Targhee High Lace. Stacked up against the Bugaboot, the Targhee is lighter at 2 pounds 8 ounces, offers a little less insulation with its slightly lower collar and 200-gram fill, and is the better-looking design with a smooth leather construction. The downside of all that leather, however, is that the boot is prone to wetting out in slushy snow (reapplying a water treatment will help this to a degree). Plus, the Keen can't compete with the Columbia's traction in slippery and steep terrain. All told, the Targhee is a great boot that doesn't have the techy look of the Bugaboot, which could be a deciding factor for some. However, the clincher for us is price: at $170, it's hard to justify the bump in cost given that the Bugaboot offers better performance for $20 less.
Finally, if budget is a top consideration, it's simply hard to beat Kamik's $90 NationPlus. But as expected, the low price tag comes with a few compromises. First and foremost, the NationPlus features a separate, removable liner, which makes it more of a pain to take on and off and also limits the boot's hiking appeal (there's a little extra room between the two pieces, which isn't ideal for performance use). The NationPlus is also heavier at 3 pounds 9.6 ounces, and the cheaper materials won't stand up to long-term abuse. But in this price range, it's important to be realistic, and the NationPlus is nevertheless a nice, warm option for everyday tasks and short walks. However, if you'll be hiking or snowshoeing, we suggest upgrading to the better-built Bugaboot.
If you're thinking about buying gear that we've reviewed on Switchback Travel, you can help support us in the process. Just click on any of the seller links above, and if you make a purchase, we receive a small percentage of the transaction. The cost of the product is the same to you but this helps us continue to test and write about outdoor gear. Thanks and we appreciate your support!
Depending on the seller, most products ship free in the United States on orders of $50 or more. International shipping availability and rates vary by seller. The pricing information on this page is updated hourly but we are not responsible for inaccuracies.
Read More From Switchback Travel