Sorel Joan of Arctic
Price: $210
Weight: 3 lbs. 14 oz. (women's size 8.5)
Insulation: 6mm felt
What we like: Stylish looks, great waterproofing, and high-quality construction. 
What we don't: Lacking in warmth and comfort.
See the Women's Sorel Joan of Arctic
Sorel's Joan of Arctic is the quintessential women's winter boot. With a suede upper, faux-fur cuff, rubber shell, and herringbone sole, it's both extremely popular and easy to pick out in a crowd. But does the Joan of Arctic match function with fashion? After testing the boot during a particularly cold and snowy winter in Bend, Oregon, it worked fine for everyday use but has limitations for anything more than walking around town. To see how the Sorel Joan of Arctic stacks up, see our article on the best women's winter boots. 
 
---
Table of Contents
---

Performance
Warmth 
The Sorel Joan of Arctic has a waterproof suede upper and removable inner boot. On paper, the 6-millimeter felt liner and generous supply of fur along the cuff look incredibly warm. But in practice, the boot falls short. In temperatures below freezing, we consistently experienced cold feet. Even compared to other casual winter boots (we went for a snowy walk with the Sorel on one foot and The North Face Shellista on the other), the Joan of Arctic is limited in terms of insulation. It's worth noting that Sorel lists a -25-degree Fahrenheit temperature rating here, although we rarely find these ratings to be accurate. Not only do most manufacturers tend to be generous, your foot's warmth depends as heavily on external factors (your circulation and how hot or cold you run, sock choice, level of activity, etc.) as it does on the boot's insulating abilities. The bottom line: the Joan of Arctic should be fine for everyday use in moderate winter conditions, but it's not built for extended jaunts in frigid weather. 
Among casual winter boots, the Joan of Arctic does stand apart with its removable liner, allowing you to dry the boot out quickly at the end of the day. However, it's important not to confuse this removable liner with added warmth—nothing about it aids in increasing the insulating abilities of the boot. In fact, this design actually can allow more air (read: cold air) to come between the liner and the upper than an integrated design. Furthermore, the removable liner directly abuts the boot's midsole with no foam insole to help insulate the foot from the ground (Sorel advertises the Joan of Arctic as having a 2.5-mm bonded felt frost plug in the midsole, but we couldn't feel any discernible barrier). As a result, we experienced a noticeable loss of heat through the bottoms of our feet while standing or walking on snow.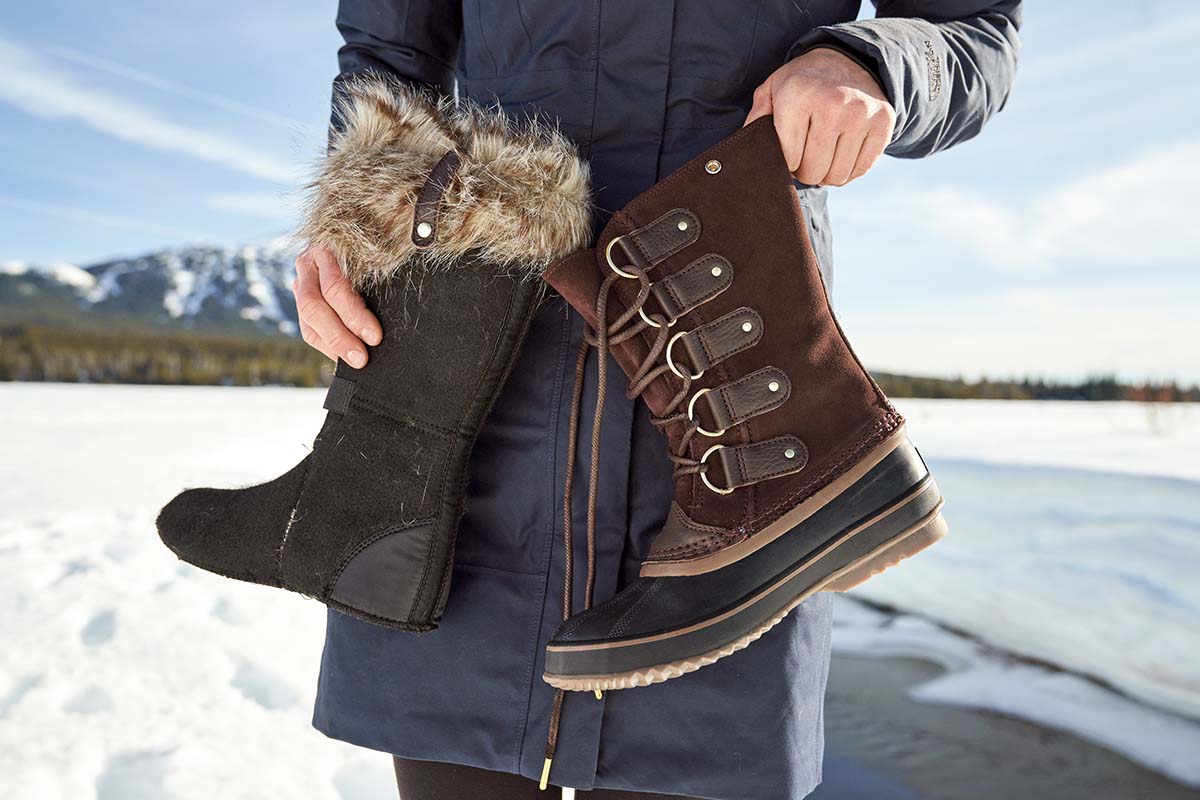 One positive design feature with the Joan of Arctic, however, is its generous 12-inch-tall build. It goes without saying that all else being equal, a taller boot will be a warmer boot. We definitely appreciated the mid-calf coverage of the Sorel, which offered noticeably more insulation up the leg than a shorter boot like the UGG Adirondack III.
 
Waterproofing
In terms of waterproofing, the Sorel Joan of Arctic is a mixed bag. On one hand, its height and design combine for a boot that offers a large amount of coverage. The leather and suede upper is fully waterproof and features taped seams, and the rubber outsole and shell deftly keep out moisture. Furthermore, the tongue is gusseted right up to the top of the lacing, meaning that there is no means for water to enter the boot unless it comes in through the top. Add all of these factors together, and the Joan of Arctic provides a great deal of assurance that your feet will stay dry, even when wading through deep puddles and wet snow.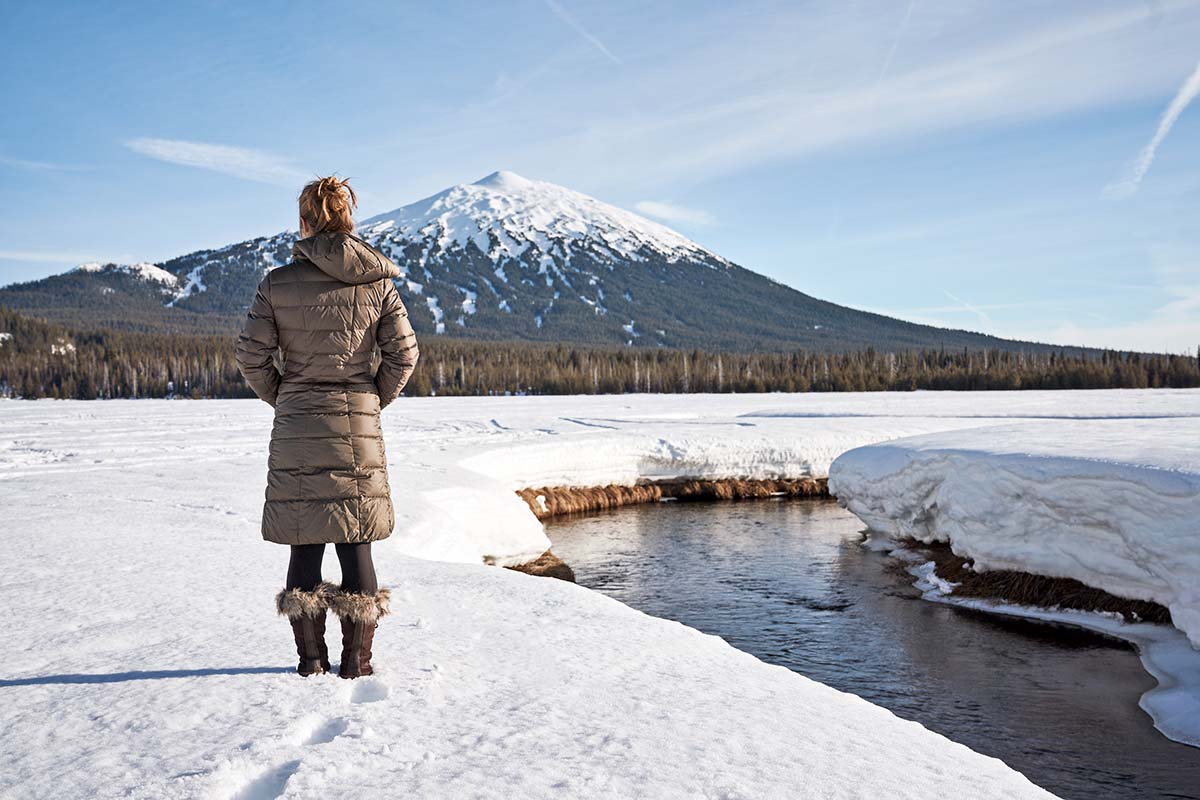 On the other hand, this boot is not our first choice for particularly wet weather or deep snow—it simply has too many bells and whistles to make it a great severe-weather option. In these conditions, our boot of choice would sluff off moisture, fit under a snow pant leg or a gaiter, and be streamlined enough to get us from point A to point B quickly and comfortably. In short, for severe weather or the backcountry, we prefer function over form. With the Joan of Arctic, we found that the suede build, thick laces, and excessive fur cuff grow heavy with moisture or snow, and the clunky build does not fit under pants or a gaiter. When choosing which winter boot to wear while shoveling two feet of snow off our roof, it was a simple choice: the more streamlined and simple TNF Shellista won out, hands down.
 
Traction
On everything from ice and hard-packed snow to rock, we found that the Joan of Arctic provided middle-of-the-pack (average) traction. The herringbone outsole offered good stability for all the terrain we found ourselves on while wearing the boot for its intended uses, although we wouldn't want to test its performance on pure ice or steep or rugged ground (a lugged outsole like a hiking boot would provide much better assurance on this sort of terrain). Overall, the Sorel performed on par with the The North Face Shellista II in terms of traction, but does not measure up to the bite we experienced from the deeper and sharper lugs of the UGG Adirondack.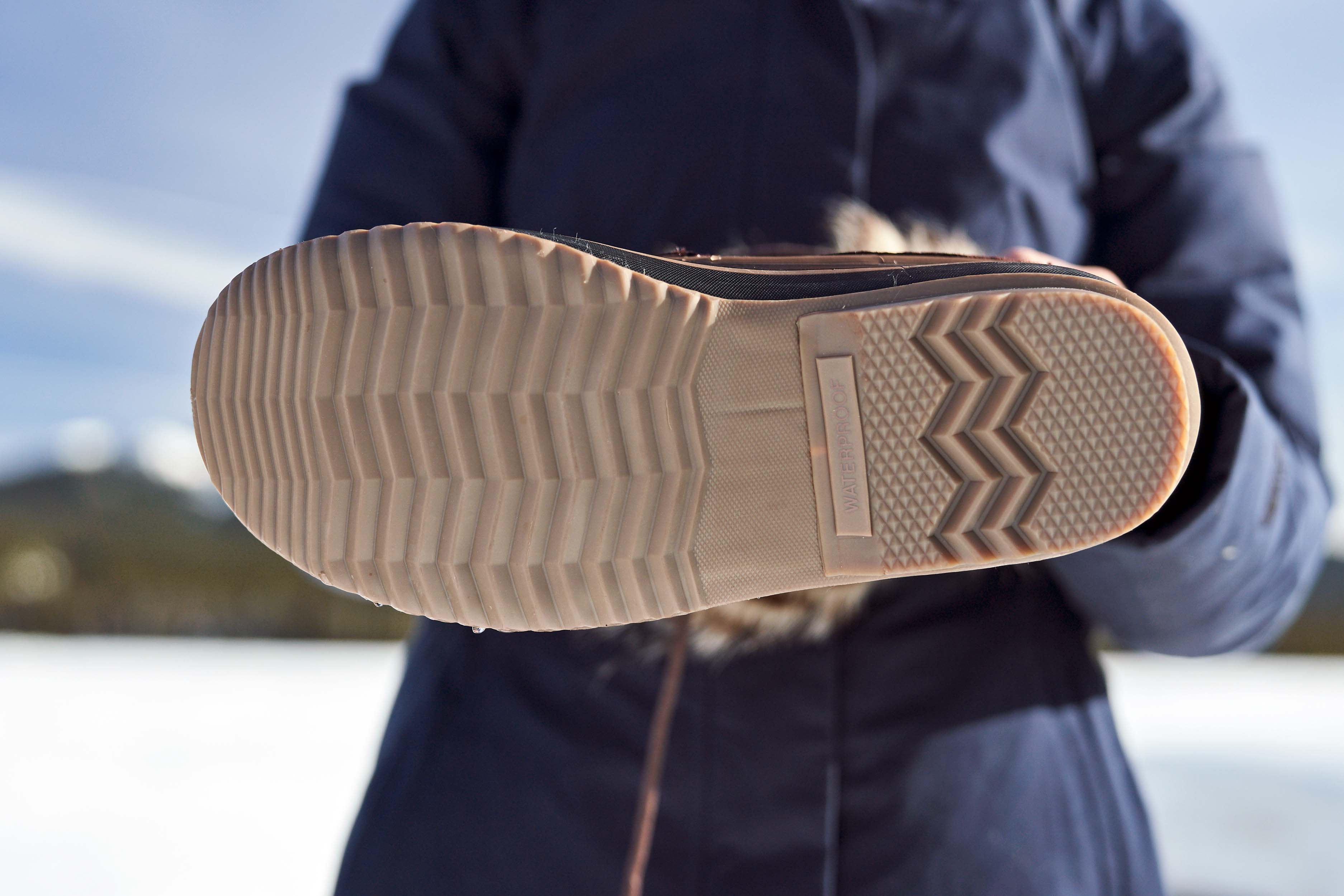 Comfort 
With its tall height, felt liner, faux-fur cuff, and cushioned midsole, Sorel's Joan of Arctic appears to offer plush levels of comfort. In practice, however, it didn't quite live up to expectations. As covered below in our "fit" section, although the liner fit snuggly, the rest of the boot felt a bit off while doing anything more than casual walking. Throughout a winter of wearing the Joan of Arctic, we dealt with slippage at the heel, pressure points along the toebox, and bunching of excess fabric at the top of the ankle. The boot's fit was so roomy that we maxed out the lacing, and even when we cinched it as far as it could go, it still felt insecure. Unfortunately, this loose fit seems to be a common theme with the Joan of Arctic, and boots with removable liners in general. Again, this may not be an issue for everyday use, but the boot's performance chops are limited.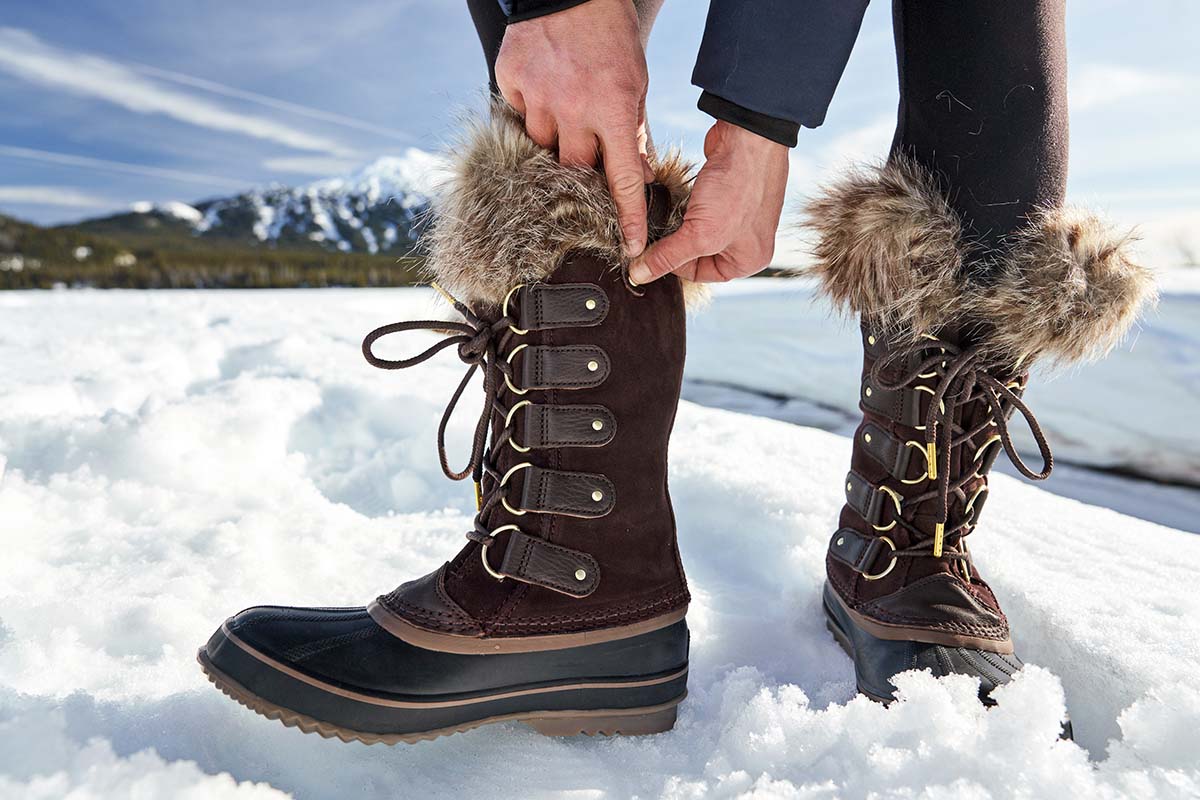 Boot Height: Protection and Support
With a 12-inch shaft height, the Sorel Joan of Arctic is the tallest winter boot we've reviewed. A boot of this height offers far more coverage up the calf, meaning you get that much more warmth and weather protection in deep snow, puddles, and frigid temperatures. As we mentioned above, the Joan of Arctic is waterproof up to the top of the lacing, which is significantly more than a boot like the The North Face Shellista II. Furthermore, the fur cuff is effective in keeping snow from entering in from the top of the boot. That said, given the mass of the fur cuff, the boot does not offer much versatility in the event that you do need to layer extra protection overtop. Finally, in terms of maneuverability, the suede upper has plenty of give to it, making the boot manageable for driving a car or riding a bike—although don't expect much support.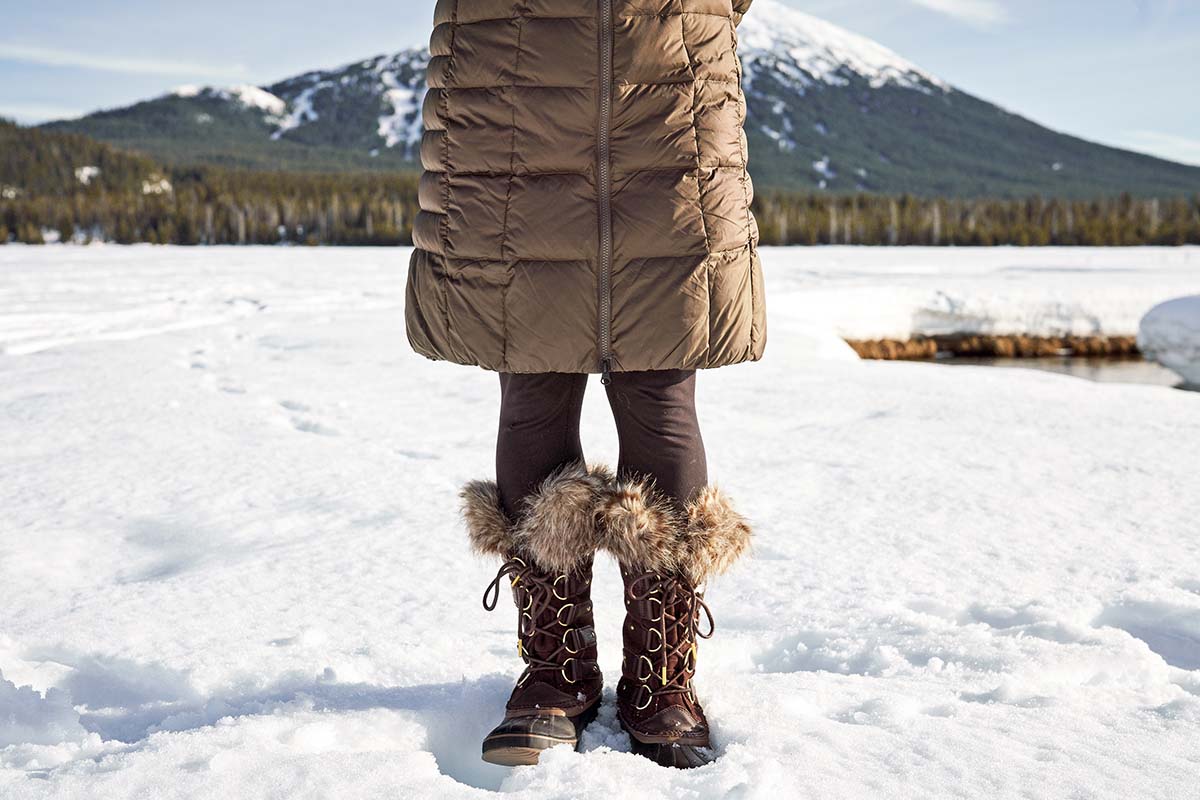 Weight
On our scale, the Joan of Arctic clocks in at 1 pound 15 ounces per boot (3 pounds 14 ounces per pair), making it one of the heaviest boots on the market. Furthermore, because it's designed with a removable liner, the actual footprint of the boot is much larger than other models of similar size. As a result, the Joan of Arctic feels rather clunky and burdensome. Of all the boots we tested, it would be our last choice to take on a hike. In addition, we found the Joan of Arctic to be a chore to get on and off—even when we loosened all the laces, it still demanded a good deal of pushing and pulling. The leather loops that connect the liner to the shell are tempting to be used as pull-tabs, but they quickly come unsnapped (and some users have reported that they break over time if put under such stress).

Construction and Durability 
Build quality is a clear strongpoint of the Joan of Arctic. The boot combines a premium suede upper with a recycled felt liner and rubber base for a classy winter boot. The detail in design is apparent: sleek leather tabs connect the liner to the upper, metal eyelets and pins are used tastefully, and leather pieces are placed across the suede in a well-thought-out design. The rubber base and herringbone outsole is as classic as winter boots come, and Sorel does it to a T. In sum, the Joan of Arctic is a high-quality boot that is made to stand the test of time. The only component that we worry about durability-wise is the liner, but Sorel does offer replacement liners for purchase for $40.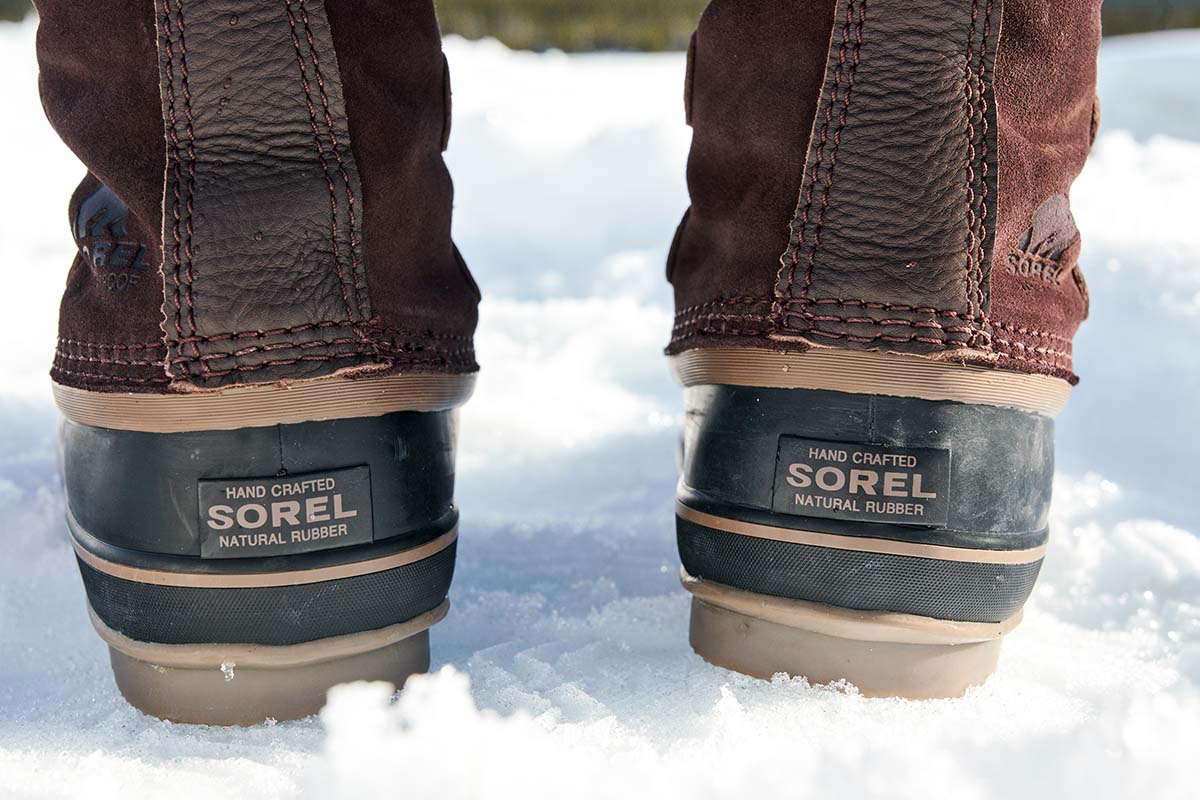 Style 
If you think we've been somewhat hard on the Joan of Arctic so far, now comes its reprieve. Of all reasons to buy this boot, style is one of the most obvious. Along with premium materials and weatherproofing, you get the look of a traditional winter boot with the added flair of a suede upper, metal eyelets, and faux-fur cuff. Keep in mind that while the Joan of Arctic layers well over leggings or skinny jeans, it lacks the versatility to be worn underneath snow pants or gaiters. Furthermore, it does come in a rather oversized package—boots with removable liners inherently have larger profiles, and the Joan of Arctic is no exception. For a boot with similar classic style and leather upper, L.L. Bean's shearling-lined boot has a more streamlined, elegant feel.
 
Fit and Sizing
Fit is one of the areas where the Joan of Arctic suffers most: it feels a bit sloppy, clunky, and unsupportive. When we first tried on the Joan of Arctic, our initial impression was that we had ordered the wrong size. We wear a standard 8.5, and the 8.5 Sorel felt very loose. However, we removed the liner and tried it on separately, and found that it fit true to size, albeit with a rather shapeless fit. Unlike the TNF Shellista, which cradles our heel with extra padding in the liner, the Joan of Arctic feels loose, even though the liner's footbed is our accurate foot size.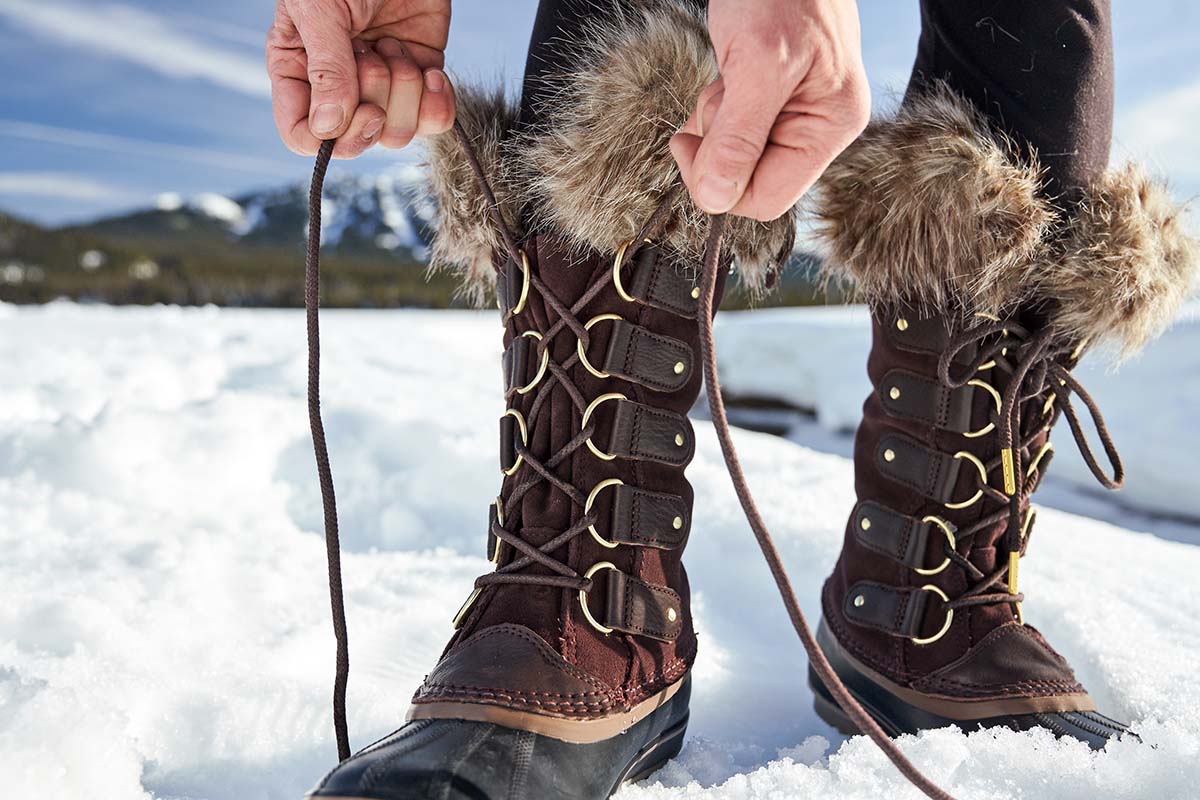 And that's just the liner—once the liner is back in the shell (a feat that takes a healthy amount of effort), it feels as though it's swimming in some areas and under pressure in others. This was especially apparent for us in the ankles, where a lack of shape and an excess of materials made for discomfort and a noticeable lack of support. Overall, it's common for casual boots with a removable liner to inherently fit a bit looser, but we wish that Sorel had mitigated this by designing the liner to be more form-fitting and supportive.
 
Other Versions of the Joan of Arctic
For this review, we tested Sorel's standard Joan of Arctic boot, which retails for $210. Sorel's Joan of Arctic lineup includes a diverse selection of boots, including the Wedge collection, which feature 3-inch heels and sleek city style, and the more casual Explorer Joan and Joan Uptown boots. And although fairly distinct in design, the Sorel Caribou is a nice men's alternative to the Joan of Arctic, featuring a 9.25-inch shaft height, waterproof nubuck leather upper, and similar removable felt liner. The Caribou retails for $170 and comes in three colorways and a few variations (including a wool model) at the time of publishing.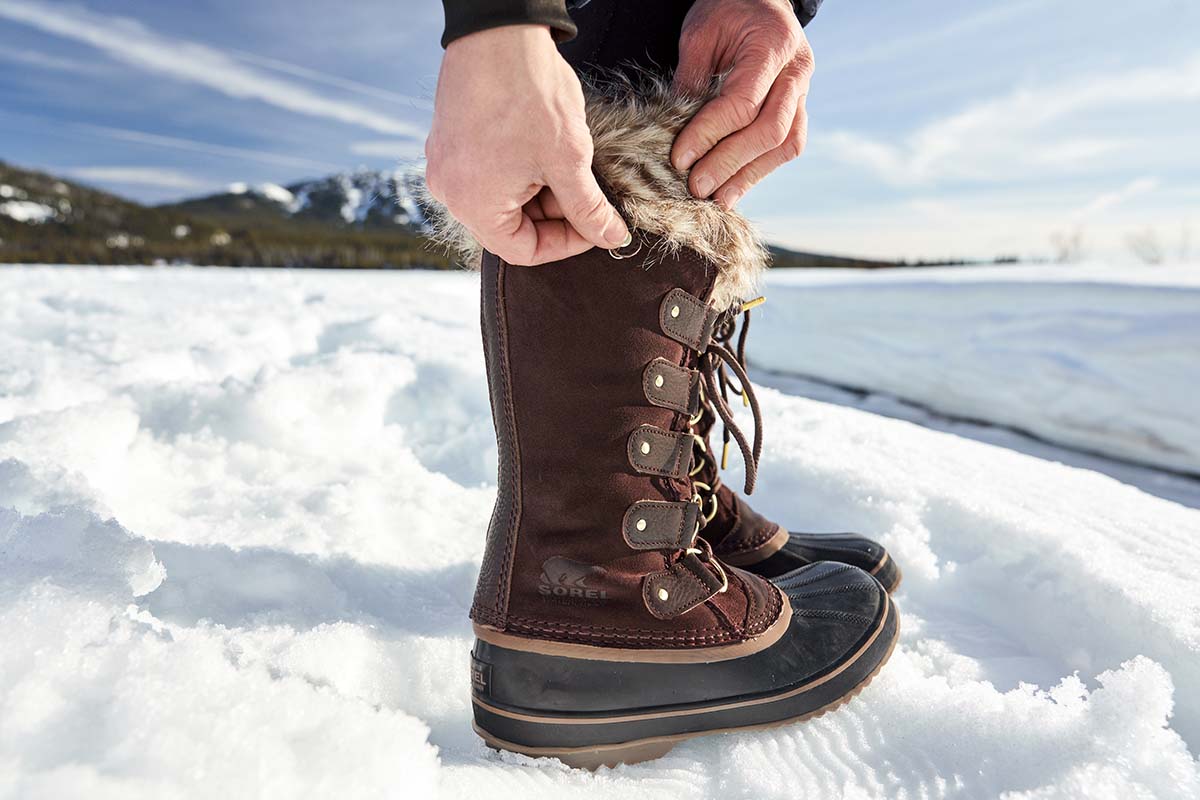 What We Like
Premium materials and high-quality construction make this an extremely well-built and durable winter boot.
With a suede upper, metal eyelets, faux-fur cuff, and high attention to detail overall, this boot scores high in terms of style points.
Great at keeping moisture out. The tall height, waterproof build, and fully gusseted tongue provide serious protection up to your mid-calf.
 
What We Don't
Thin felt liner and uninsulated shell mean that warmth is limited.
Heavy build can be clunky and cumbersome for anything more than short walks around town.
This boot is the least comfortable of all the models we tested, with pressure points, bunching of fabric, slippage, and a noticeably heavy feel. 
The oversized faux-fur cuff makes it challenging to layer underneath snow pants or gaiters.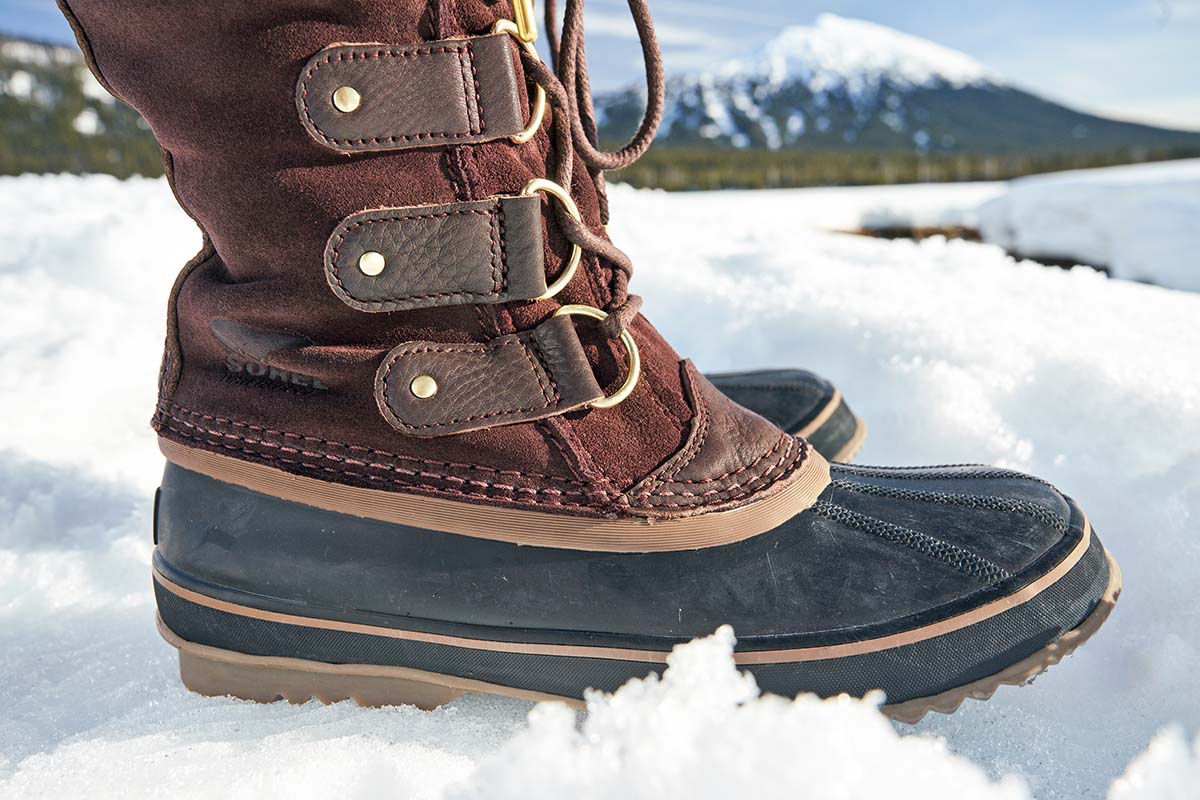 Comparison Table

The Competition
The Sorel Joan of Arctic is one of the most popular and iconic casual winter boots on the market, but there are a number of other viable options. One of our favorites is The North Face's Shellista II, which retails for $140 (a significant $70 less than the Sorel). In comparison, it has a lower height (8.5 in. instead of 12 in.) but is more streamlined in terms of design and fit and therefore better for longer walks and light performance use. As expected with the lower height, weight also goes down considerably to 2 pounds 4 ounces per pair, which makes it more comfortable and less cumbersome for all-day wear. Unless you need the added coverage and protection of the Joan of Arctic, we think the Shellista is the more well-rounded and approachable winter design.
We've mentioned the UGG Adirondack III a number of times above in this review, which offers an impressive combination of style and performance. It features a suede and leather upper and wool lining, providing full waterproofing and warmth that exceeds that of the Joan of Arctic. Furthermore, the deep and sharp lugs on the UGG offer noticeably more traction than the Sorel, making it capable of tackling steeper or more rugged terrain. With a shorter shaft height (7 inches) and a mostly open tongue, you don't get the same amount of waterproofing, but you do have the option of wearing the UGG with a gaiter or snow pant. We especially love the versatility of the Adirondack, with an upper that can fold down into a playful, wool cuff. Last but not least, it's a remarkably comfortable, streamlined boot that does not weigh heavy on your foot like the Joan of Arctic. At $250, you're paying more for less coverage, but it's an attractive option nevertheless.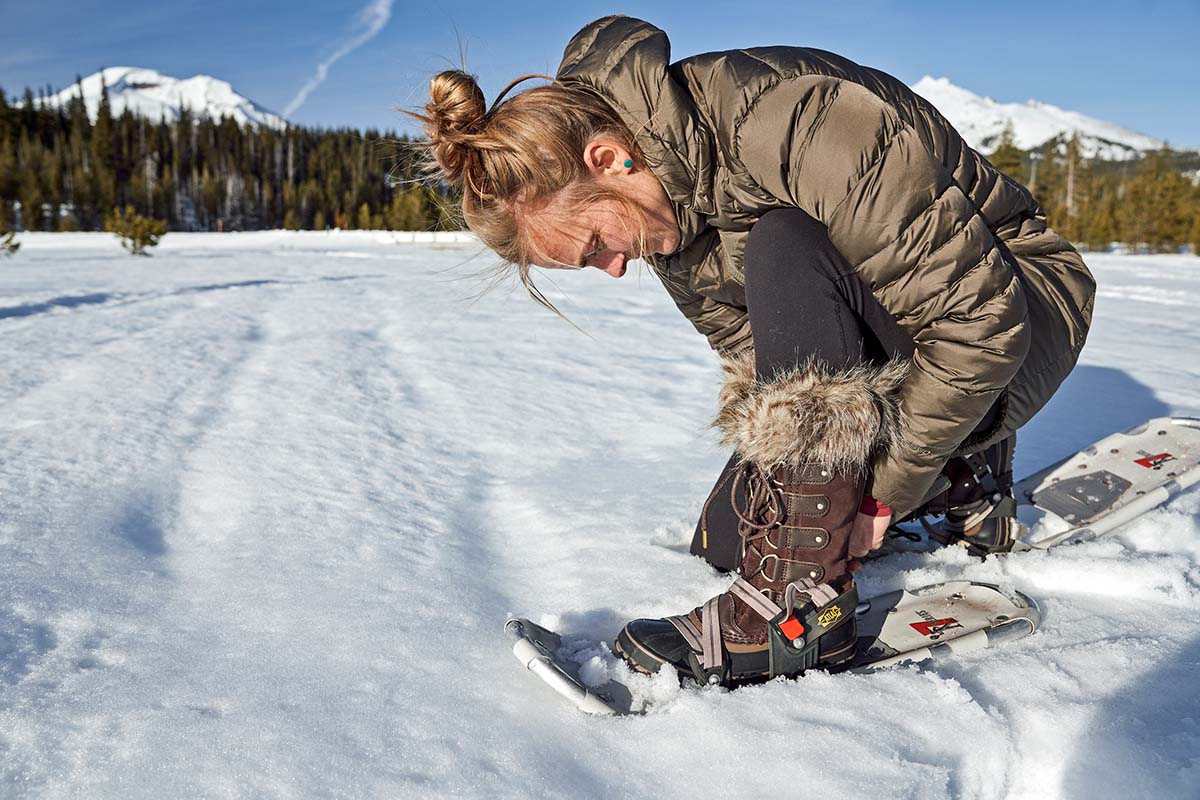 If you love the like of the Joan of Arctic but don't want to fork over $210, the budget-oriented Kingshow Globalwin bears a very strong resemblance to the Sorel. It features the same tall profile, faux-fur cuff, and metal eyelets, but can be found on Amazon for as little as $40, depending on current sale prices. You'll give up a lot in terms of performance: the Globalwin is not waterproof, has less impressive tread, and its microfiber lining does not measure up to the Sorel in terms of warmth (in fact, Kingshow gives it a temperature rating of 27 degrees Fahrenheit). Furthermore, the boot lacks the attention to detail and high-quality design of the Sorel. But all that said, for a cheap winter boot for kicking around town, the Kingshow Globalwin can get the job done.
Last by not least, within Sorel's own lineup, the Tofino II is a 10.25-inch, waterproof canvas boot with a faux-fur collar. With 100-gram insulation, it's not as warm as the Joan of Arctic, but at a weight of 1 pound 4.5 ounces per boot, does offer a more streamlined design that doesn't burden your feet quite like its larger sibling. At $170, the Tofino II is a great choice for light duty in snow and slushy puddles, but the Joan of Arctic fares a bit better in more challenging conditions.
If you're thinking about buying gear that we've reviewed on Switchback Travel, you can help support us in the process. Just click on any of the seller links above, and if you make a purchase, we receive a small percentage of the transaction. The cost of the product is the same to you but this helps us continue to test and write about outdoor gear. Thanks and we appreciate your support!
Depending on the seller, most products ship free in the United States on orders of $50 or more. International shipping availability and rates vary by seller. The pricing information on this page is updated hourly but we are not responsible for inaccuracies.
Read More From Switchback Travel