Marmot Montreal Down Coat
Price: $285
Fill: 7.1 oz. of 700-fill down
Weight: 2 lbs. 2.2 oz.
What we like: Excellent comfort and warmth for a casual piece.
What we don't: Baffled design sacrifices some weather protection; thigh-length cut lacks coverage for truly cold conditions.
See the Marmot Montreal Down Coat
Many women's winter jacket models come and go, but Marmot's Montreal has been a powerhouse for years. For less than $300, you get quality down fill, a fleece-lined interior, fur-rimmed hood, and clean styling, making it ubiquitous across a wide range of cold-weather climates and one of our go-to choices each winter. To see how the Montreal stacks up against the competition, check out our articles on the best winter jackets and best women's winter jackets.
 
---
Table of Contents
---

Performance
Warmth
The Marmot Montreal Coat is a midweight down parka designed to provide true winter warmth. It's packed with 7.1 ounces of medium-quality 700-fill-power down, which offers good loft and warmth relative to its weight. In addition, the fleece collar, torso, and cuffs are soft and cozy while sealing out the cold, and the fur-lined hood can be cinched down around your head for protection against wild chill and cold gusts. We've worn the Montreal for everything from chilly winter days in Oregon and Colorado to frigid northern Wisconsin, and it always seems to get the job done.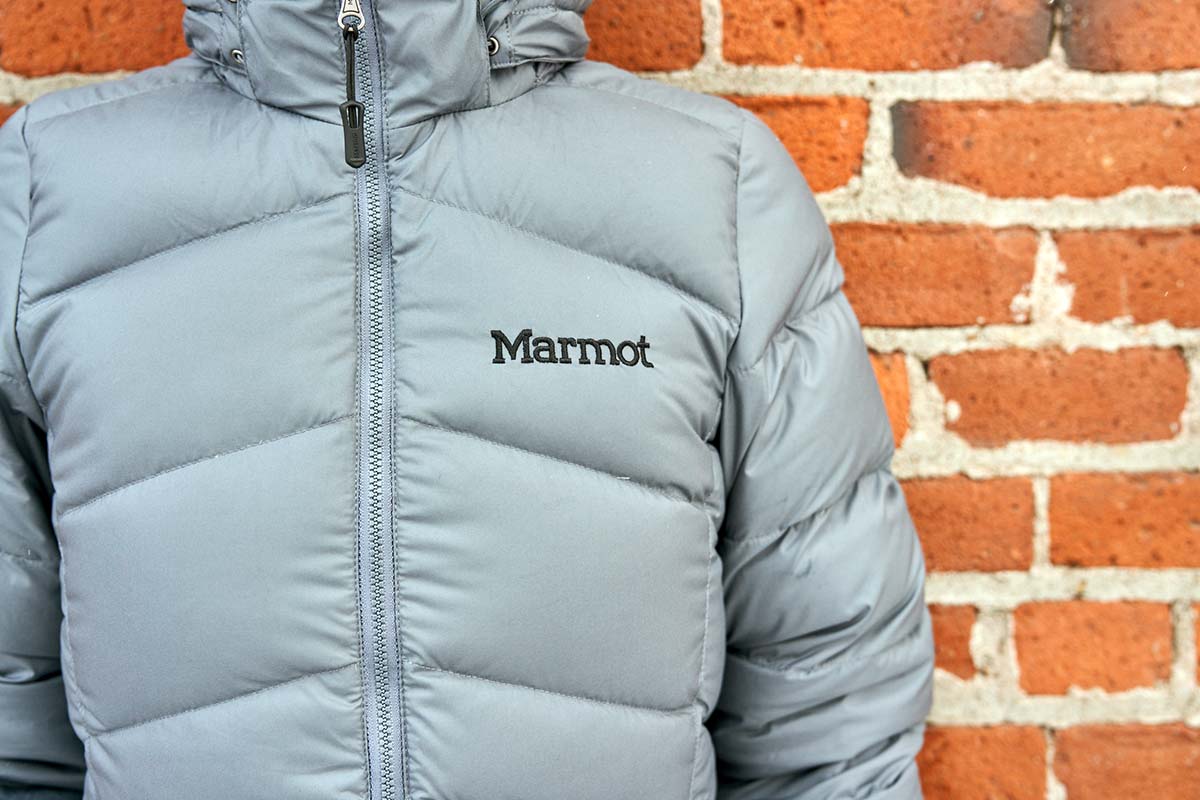 Comparing warmth among winter jackets gets a bit tricky as there are many factors at play, including fill weight, fill power, and the length of the jacket. A higher fill power denotes loftier (read: warmer) down, so you'll technically need less of it to achieve the same warmth as a lower fill power. Thus, a jacket like Patagonia's Down With It Parka (8.3 oz. of 600-fill) provides around the same level of warmth as the Montreal, whereas Rab's Deep Cover Parka (12 oz. of 650-fill down) is packed with much more insulation and built for deep winter. And although The North Face doesn't provide fill weights, in our experience the Montreal is notably warmer than their Arctic and Metropolis parkas. In the end, Marmot's popular Montreal falls about middle of the pack and is a fine jacket for all but the coldest winter environments.
A final consideration in the warmth department is the length of your winter jacket or parka. Thigh- or knee-length models are great for trapping extra warmth in your mid-section and legs and can be a true game-changer on the coldest of days. But at just 33 inches down the center back—compared to the more standard 37 to 38 inches for many women's winter parkas—the Montreal comes up a bit short (no pun intended), extending just past the butt. At an outdoor concert on a sub-freezing evening in Bend, our torso and head were warm but we certainly wished for a little more coverage over the legs (it is worth mentioning that we forgot our gloves that same night, and were able to keep our hands toasty in the Montreal's fleece-lined and insulated pockets). All in all, the Marmot's cozy lining and fur-brimmed hood are big bonuses in terms of warmth, making it one of our favorite winter jackets. But if extra leg insulation is a high priority for you, we'd instead recommend going with Marmot's 39-inch Montreaux or the 40-inch Patagonia Down With It Parka.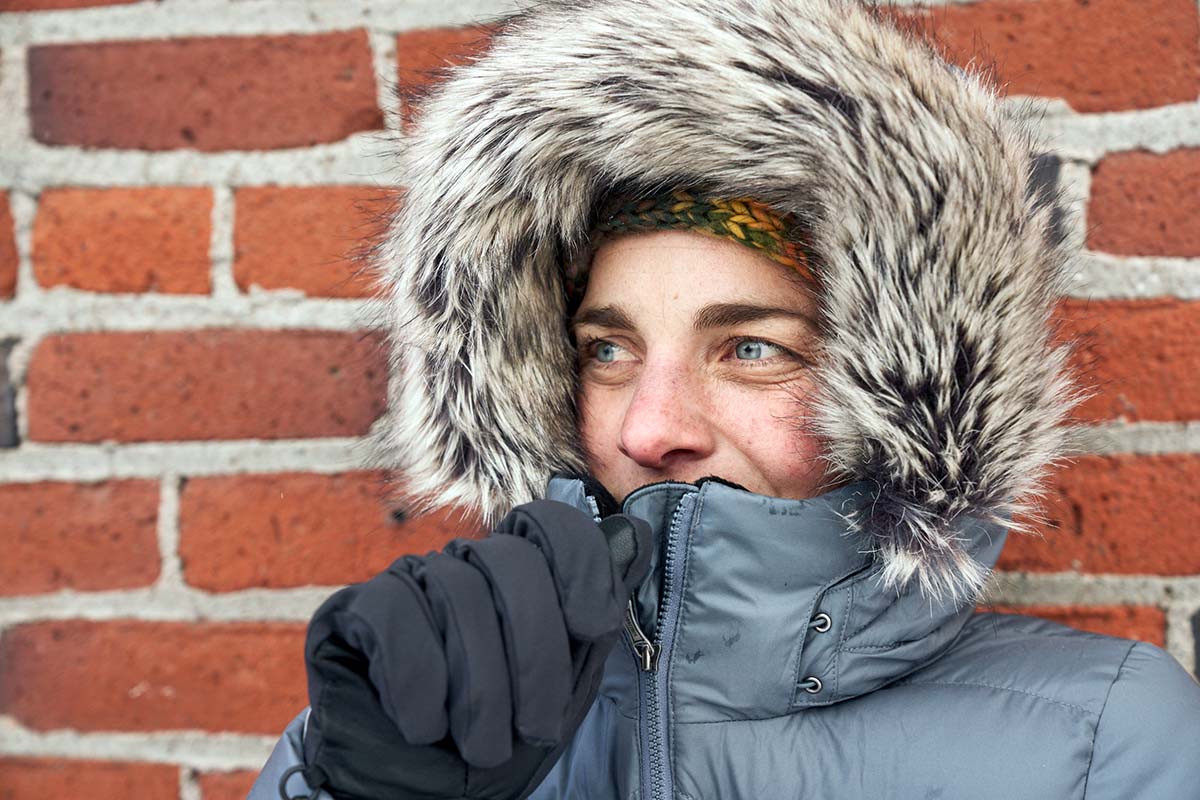 Water and Wind Protection 
Down jackets like the Marmot Montreal are in their element in cold and dry climates—think winter in Denver or Boston, or dry days in Portland. We generally don't recommend such a jacket for wet or windy conditions: the Montreal features baffled construction (read: a lot of small holes in the face fabric that wind and water can penetrate), does not have a waterproof membrane, and most importantly, down fill is known to lose its loft (and thus warmth) when wet. However, a few features set the Montreal apart as a more weather-resistant jacket than its appearance would suggest.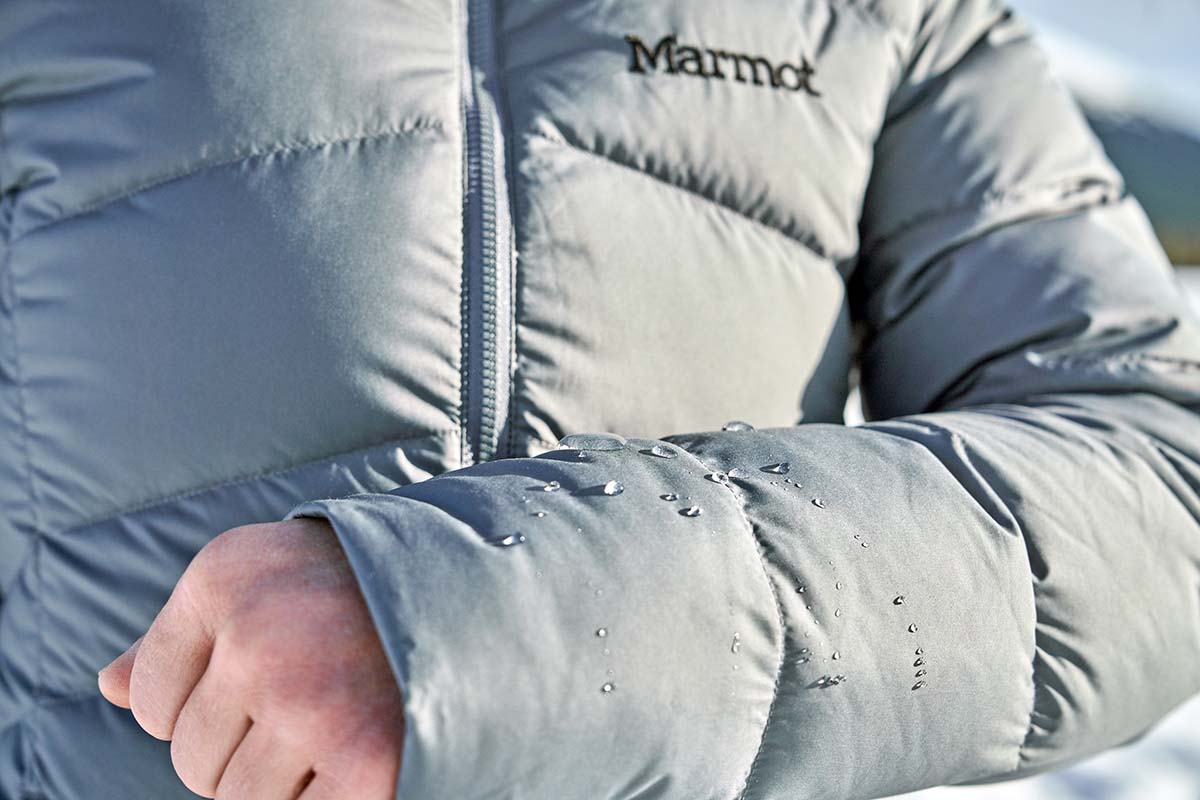 First, the face fabric of the Marmot is treated with a durable water repellent (DWR) finish. In our tests, this treatment proved effective: water quickly beaded and rolled off of the sleeves, and did not threaten to penetrate the outer layer (keep in mind that the DWR was still fresh on our new Montreal, although it's always possible to restore a DWR coating through washing or reapplication). Second, the Montreal is stuffed with down that's been treated with Marmot's Down Defender technology. The feathers can resist moisture a claimed 10 times longer than untreated down, and if they do get wet, they will maintain more loft and dry faster than untreated down. No matter what sort of winter weather you find yourself in, hydrophobic down provides an extra dose of assurance. And in terms of wind protection, the Montreal is designed with a plush fleece liner throughout the torso and a thin synthetic liner in the hood and around the hips and legs for added defense against gusts.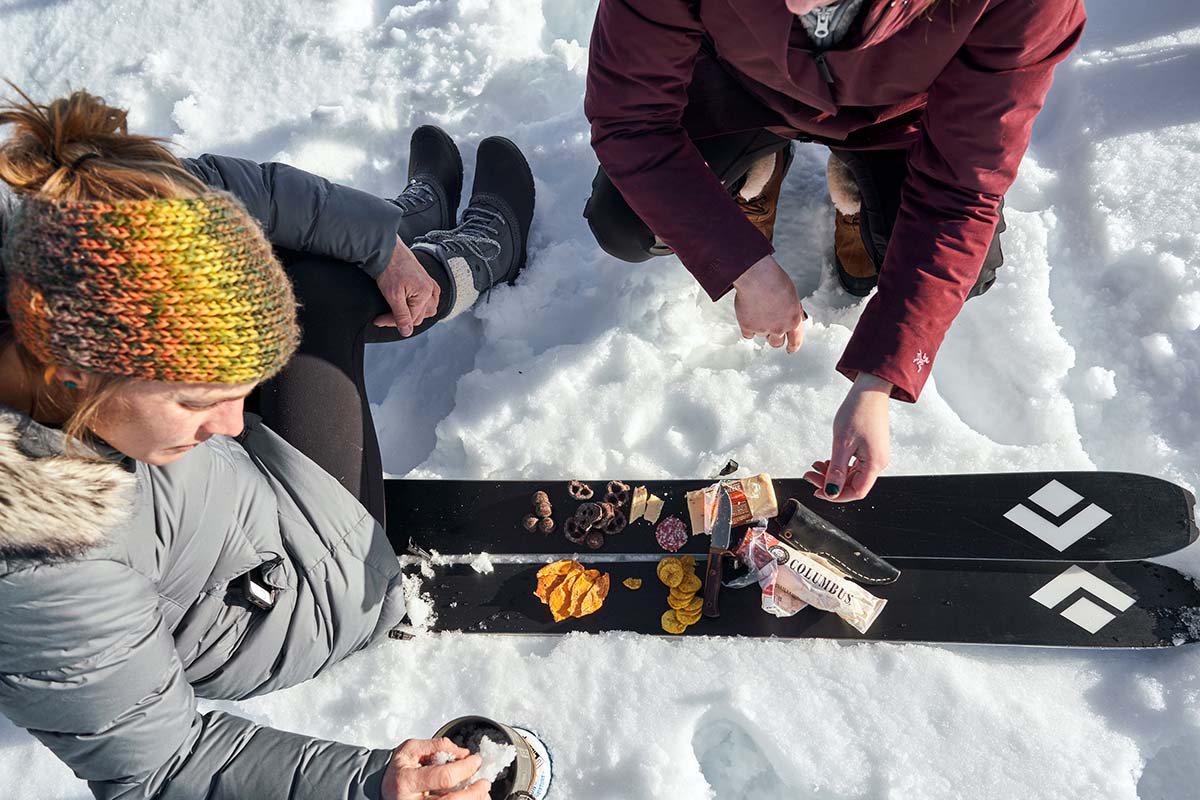 We like Marmot's impressive additions to the Montreal, but still wouldn't trust the jacket in a full-on rainstorm—it simply isn't the tool for the job. But for snow showers—even wet snow showers—and dodging puddles while riding a bike around town, it offers better wet-weather performance than comparable baffled jackets (the Metropolis and Down With It Parkas mentioned above are similarly designed with a DWR finish but do not feature hydrophobic down). For true wet-weather protection, The North Face Arctic and Arc'teryx Patera Parka both are made with a waterproof, 2-layer shell and are seam-sealed for added protection against moisture. Furthermore, although the Montreal holds up quite well in the wind, the baffle-free design of the Arctic and Patera parkas mean they'll fare even better. Keep in mind that in wet conditions, you can add a waterproof parka overtop. 
 
Features
Hood
The Marmot Montreal features a fur-lined hood that provides ample coverage for blocking out wind and cold while adding a high degree of comfort. The hood is removable via a zipper along the back and Velcro on the sides, and the strip of fur also can be zipped off for a more streamlined, simpler look. We found the zippers to be thin but smooth in operation—with no clumsy snaps, this is an easier hood to add and remove than most. However, the hood adjustment was one of the most cumbersome of all the jackets we tested. You'll have to dig along the sides to find the pull cord—a difficult task with winter gloves on—and then pull softly so as not to loosen the Velcro attachment. Once past the initial challenge, the pull cord does its job of tightening the hood around your face, which is great for truly sealing in warmth. All in all, the Montreal hood was one of our favorite designs, but we'd love to see improvement in the adjustment system.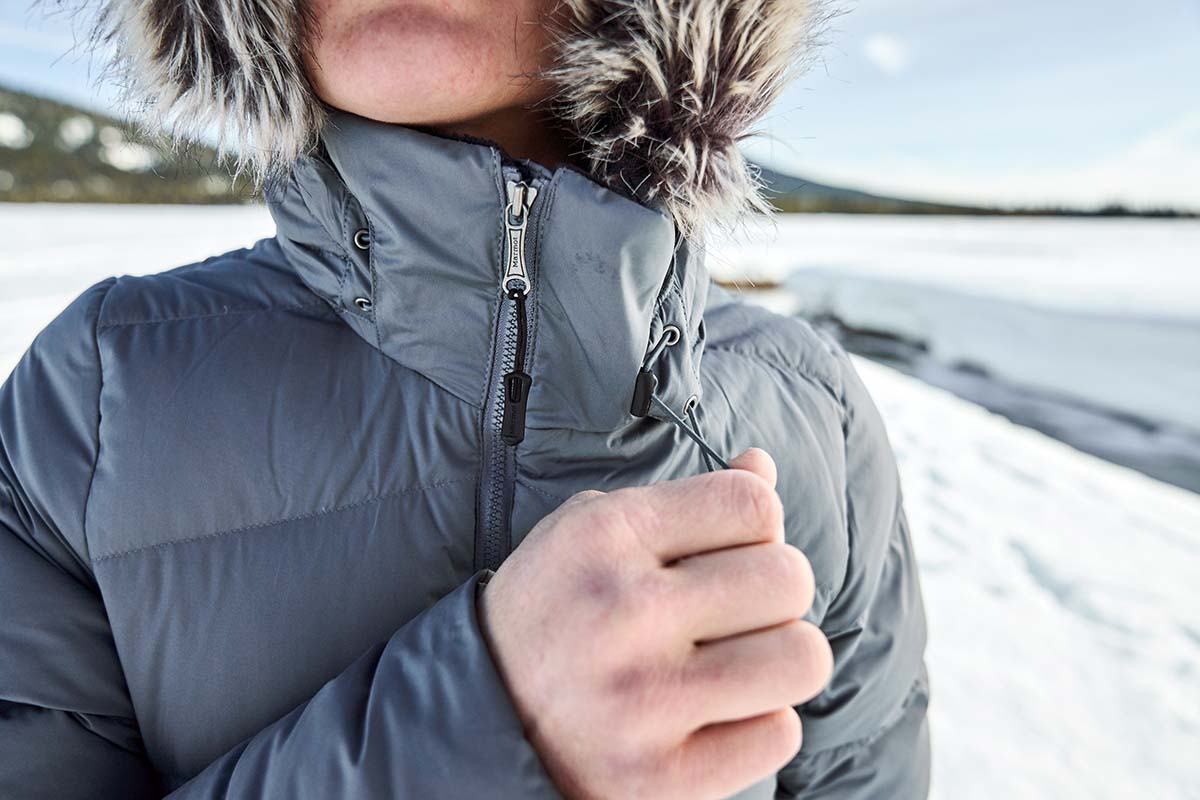 Cuffs
Cuffs are an important feature for trapping warmth, and the Montreal's are well-suited for the task. From the outside, you get a sleek look that follows the design of the rest of the jacket, and the down baffles extend over the wrist for full coverage and warmth. On the inside, a micro-fleece lining provides a great next-to-skin feel and serve to keep warm air in and cold air out. They're loose enough for you to easily pull the jacket on and off, but relatively streamlined and secure once on. These cuffs are similar to those of the Arc'teryx Patera and The North Face Arctic parkas, although we think the Arc'teryx really nails it with its more sleek stretch-knit fabric. Compared to the The North Face's Metropolis and Patagonia's Down With It jackets, the Marmot's cuffs are much more comfortable, protective, and heat-trapping.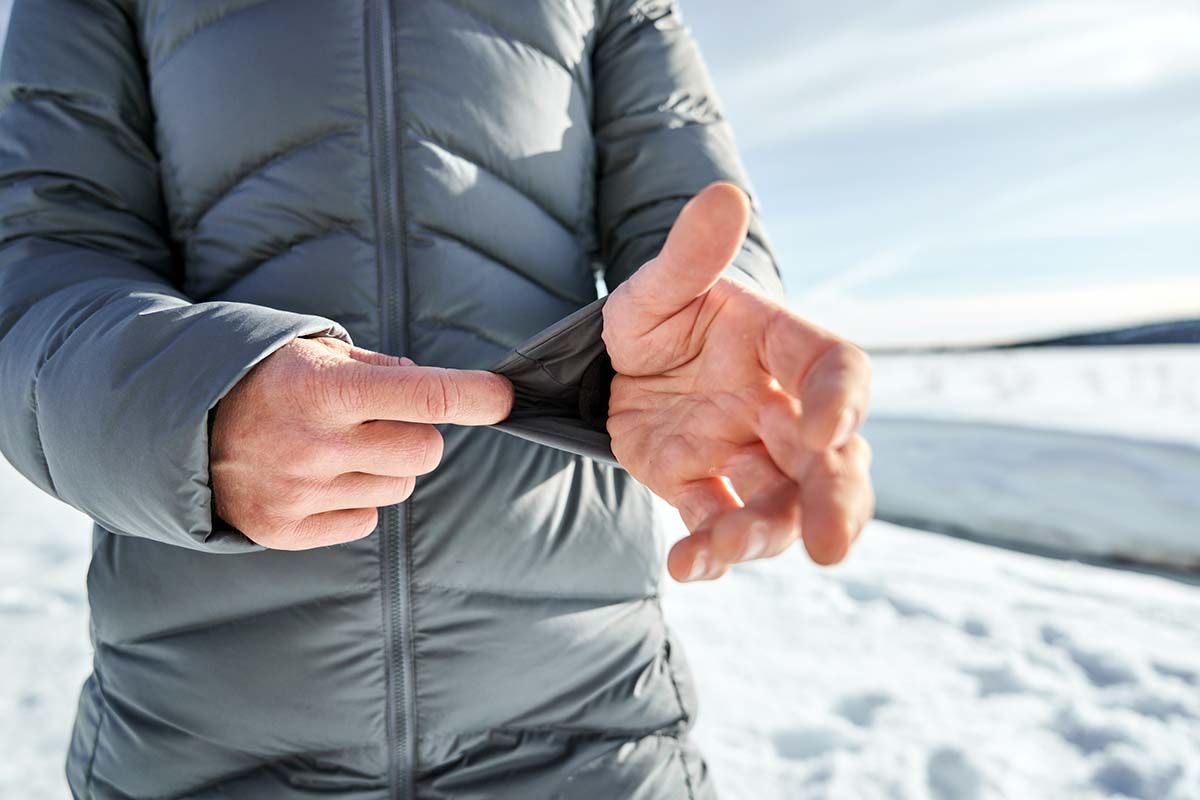 Pockets
The Montreal comes with two fleece-lined external handwarmer pockets with zip closures, and two inside chest pockets (one zip, and the other open as a drop pocket). The two external zip pockets are pretty standard on most women's winter parkas, but we like these in particular for their wide opening that fits a gloved hand, generous pull tab (also great for gloves), and fleece liner. The internal zip pocket also has a well-sized zipper pull. And while the inside chest drop pocket is rather deep and a nice addition, we usually find ourselves opting for the added security of the zip pocket on the other side.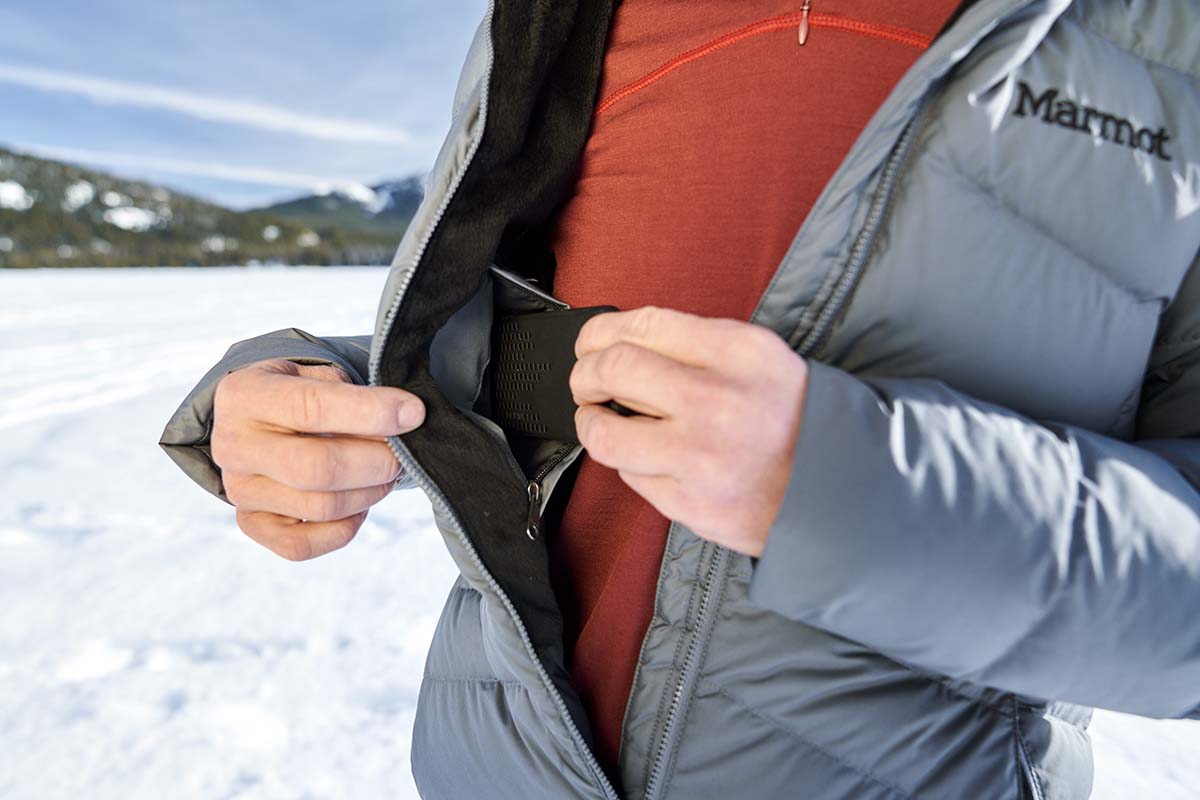 Length
Parka lengths are measured via the center back panel from neck to hem, and here is where the Montreal falls short. Measuring 33 inches down the center back, the jacket is thigh-length while most comparable jackets are considered to be knee-length. In fact, the Marmot fell just below our butt and had a tendency to ride up when walking or riding a bike. For comparison sake, The North Face's Arctic and Metropolis parkas have a back length of 35.75 and 38.38 inches respectively, and the Patagonia Down With It measures 40 inches. With less length, you get less insulation over the legs as well as less coverage when sitting or bending over. It's all a matter of preference, and the majority of the time we like the length of the Montreal for its greater freedom of movement. But for truly cold temperatures, we'd take the added coverage of one of the winter jackets mentioned above.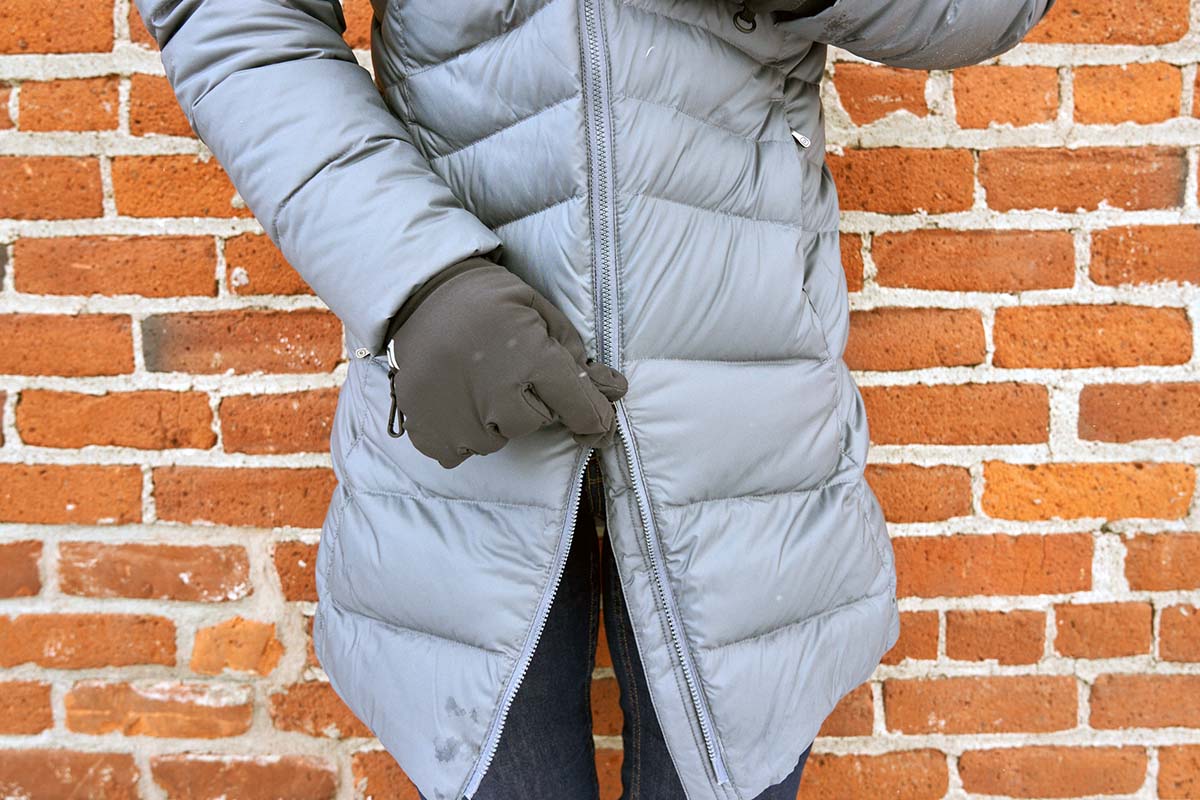 Construction and Durability
Over the years, we've come to trust Marmot for its well-designed and constructed products that stand the test of time. And speaking of standing the test of time, the Montreal Coat has been around for over a decade with few changes, and that says a lot. The quality of our coat is impeccable: the seams and baffling all have held up over a winter of heavy use, the two-way zipper operates smoothly, and the feathers and fur do not shed. Furthermore, we've been impressed with how plush the fleece lining has stayed throughout time. However, the face fabric is thin and lacks durability compared to the more robust Down With It—while standing beside a small outdoor bonfire, two tiny sparks quickly put holes in the front of our jacket. Aside from this episode (fire and jackets rarely get along), the Montreal is a well-built jacket that is made to last. As further proof, the spouse of one of our other editors has had an older version of the Montreal for eight winters and counting and it still looks great.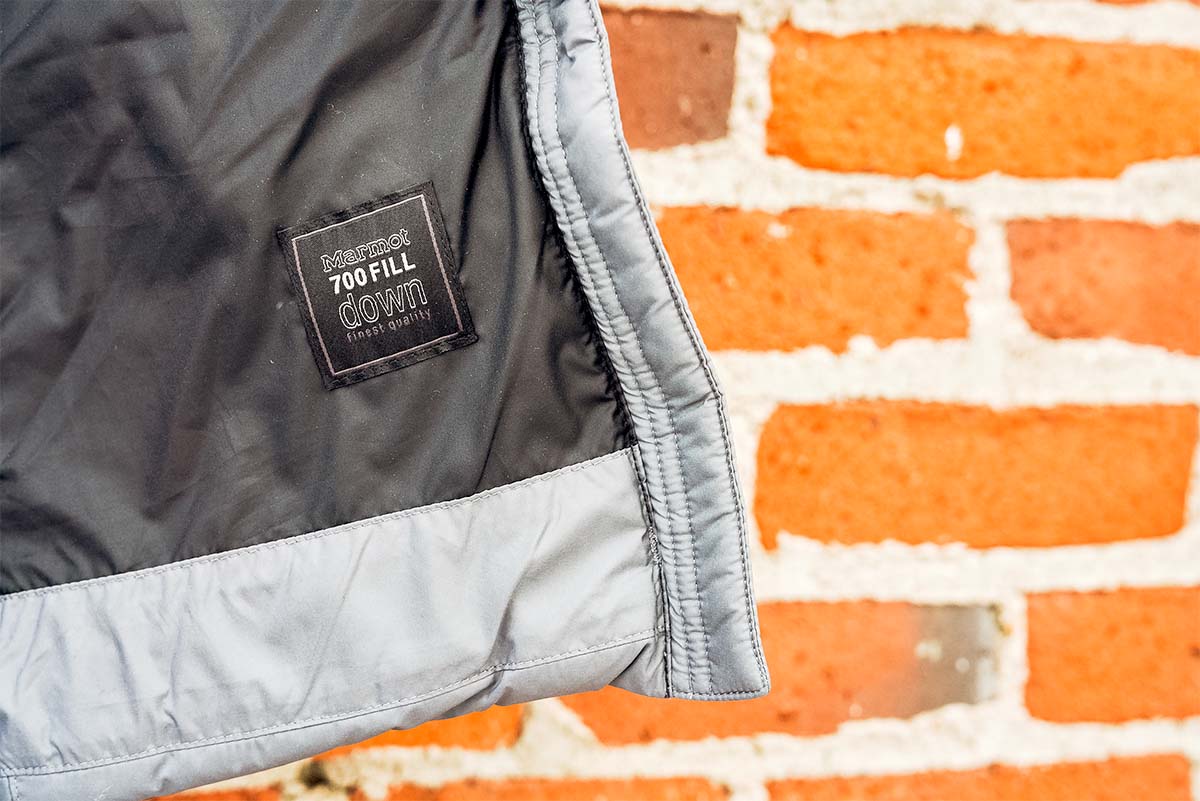 Weight and Packability 
Weight isn't often a primary consideration with winter parkas, but the Montreal is strong in this regard. With thin face fabric and highly packable down, the 2-pound-2.2-ounce Montreal is relatively lightweight and can stuff down to about the size of a bread loaf. This makes it an easy piece to take to-go, whether you're traveling to a colder climate or headed to the mountains for the weekend. Wearing the Montreal, we noted none of the heaviness on our shoulders that we experienced with the stiffer and heavier Arctic and Patera parkas. On the other hand, standard down parkas like The North Face's Metropolis III (1 lb. 11.5 oz.) and Patagonia's Down With It (2 lbs. 5.8 oz.) have a similarly lightweight feel.

Fit and Sizing
The Marmot Montreal is a thigh-length parka available in a range of sizes from XS to XXL. Like many comparable models, it's designed to follow the contours of a woman's body, narrowing at the waist and flaring out around the hips. Furthermore, the Montreal is trim-fitting, meaning that you don't get too much room for bulky layering underneath. If you live in an especially cold climate or like to wear thick sweaters, it's worth considering going up a size. In addition, many people report feeling like the Montreal runs small, and I concur. I generally wear a size small and found that the small Montreal fit me on the tighter side. I would strongly consider opting for a medium next time for more freedom of movement and versatility.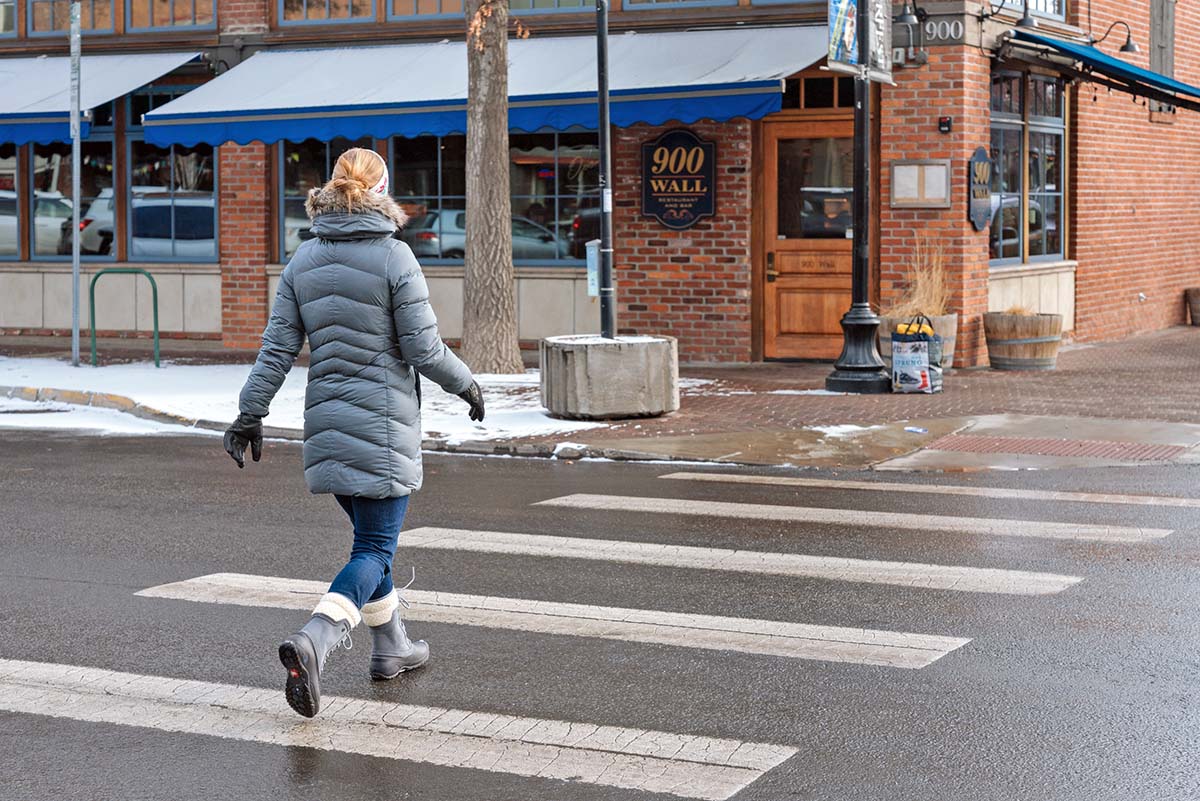 What We Like
Excellent combination of warmth, comfort, and build quality. 
Fleece-lined torso, cuffs, and pockets and a fur-lined hood make the Marmot an exceptionally cozy jacket.
DWR treatment, hydrophobic down, and an interior liner provide good protection in damp and windy conditions.
Thigh-length hem allows for more freedom of movement than longer parkas.
 
What We Don't
Performance will be compromised during extended exposure to moisture. The Montreal is not as weather-protective as a baffle-free jacket with a waterproof membrane.
Thigh-length cut is good for some, but many competing jackets offer a few inches of additional coverage. 
Hood adjustment takes some time to learn.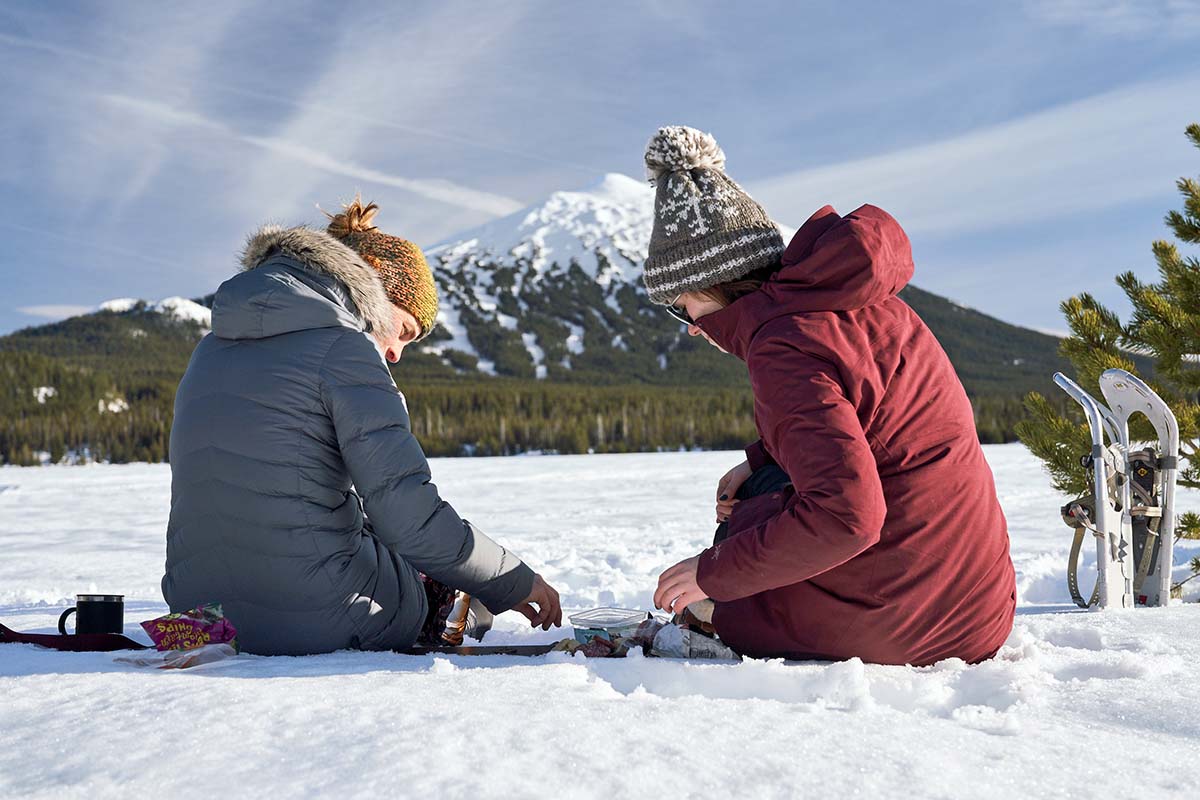 Comparison Table​

The Competition
We've touched on the qualities of a few comparable winter jackets above, including the Patagonia Down With It Parka. The Down With It ($299) is Patagonia's answer to the Montreal ($285) and comes with a similar set of specs: 8.3 ounces of 600-fill-power down, a DWR-treated polyester shell, a removable hood, and two fleece-lined handwarmer pockets. However, the Down With It is made with more of a performance bent, with no fur on the hood, a more robust two-way front zipper with snap closure overtop for extra wind protection, a thicker face fabric, and a 7-inch-longer hem than the Marmot. It's also packed with untreated down reclaimed from other products, compared with the Marmot's hydrophobic feathers. Overall, with the Patagonia you get a bit more warmth, a few less frills, and the knowledge that you're supporting the use of recycled materials—but you'll have to decide if it's worth giving up for the Marmot's water-resistant down.
If you like the clean look of the Montreal but prefer the coverage of a knee-length jacket, The North Face's Metropolis III Parka is a nice option. Like the Down With It, the Metropolis is similar to the Montreal in many ways: it has a trim fit, removable hood, zip handwarmer pockets, DWR finish, and comes in at a comparable $299. But the TNF is far lighter at just 1 lb. 11.5 ounces, forgoes the fleece lining, and is packed with 550-fill-power down—all of which adds up to make it noticeably less warm. But the Metropolis is significantly longer than the Marmot with a drop-tail hem that measures 38.375 inches. For a stylish jacket that wears well in the city, the Metropolis is a great choice, but we'd recommend it only for areas with mild (above freezing) winter weather.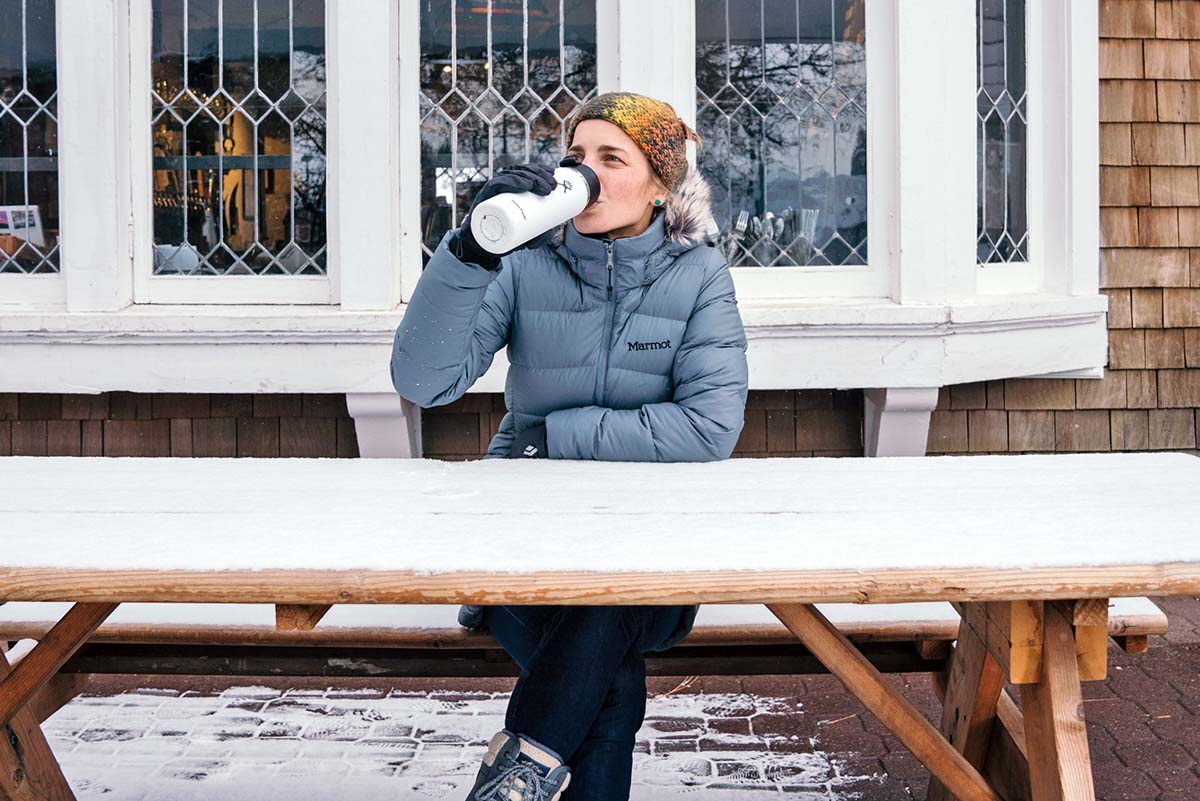 For those who endure winters in damp and cold climates, there's no substitute for the protection of Gore-Tex or a similar waterproof membrane. Hydrophobic down is designed to handle a light rain shower or wet snow, but the Montreal would quickly lose the full power of its insulating abilities in a downpour—DWR finish is simply no match for real precipitation. Instead, you'll want to look for a jacket with a 2-layer water waterproof shell, like The North Face's Arctic Parka ($299). You will lose a bit of warmth with the Arctic's 550-fill down, but it still will provide ample insulation for the above-freezing temperatures that accompany rain. Further, with a fur-brimmed hood and feminine fit, the TNF is a great choice if you don't want to give up the style points of the Montreal.
Another noteworthy option for wet winters is Arc'teryx's newly redesigned Patera Parka. The Patera combines a waterproof 2-layer Gore-Tex shell (higher quality than the Arctic's 2-L DryVent) with 750-fill down and synthetic Coreloft insulation in moisture-prone areas. The result is a jacket that's both warm and waterproof, perfect for those rainy winter days that hover just above freezing. One of our favorite features of the Patera is the 2-way zipper, which starts roughly 8 inches above the hem and offers the coverage of a longer jacket (the Patera is 37 in.) alongside the mobility of a shorter design like the Montreal. In the end, it's tough to beat the premium materials and high-quality construction of Arc'teryx, but you'll pay for it: at $649, the Patera is twice the cost of any other jacket mentioned here. 
If you're thinking about buying gear that we've reviewed on Switchback Travel, you can help support us in the process. Just click on any of the seller links above, and if you make a purchase, we receive a small percentage of the transaction. The cost of the product is the same to you but this helps us continue to test and write about outdoor gear. Thanks and we appreciate your support!
Depending on the seller, most products ship free in the United States on orders of $50 or more. International shipping availability and rates vary by seller. The pricing information on this page is updated hourly but we are not responsible for inaccuracies.
Read More From Switchback Travel