Price: $140
Weight: 2 lbs. 12 oz.
Insulation: 200g Heatseeker
What we like: Impressive performance and good looks at a reasonable price.  
What we don't: Traction could be better and the boot can be hard to put on. 
See The North Face Shellista II Mid
The Shellista II Mid is a time-tested offering from The North Face and has been around long enough to see thoughtful improvements in materials and design. We wore this classic winter boot during a particularly snowy winter in Bend, Oregon, putting it to the test in cold weather and deep snow. Overall, for a boot that retails for a very reasonable $140, we were impressed with how much performance and attention to detail is packed into its design. To see how the Shellista II Mid measures up to the competition, see our article on the best winter boots.
 
---
Table of Contents
---

Performance
Warmth 
The North Face Shellista II Mid is a casual, winter-ready women's boot, made with a combination of nubuck leather and rubber in the upper and lined with synthetic insulation. We wore the Shellista hiking, running errands around town, and shoveling snow in temperatures as low as 15 degrees Fahrenheit, and our feet stayed comfortable and warm the majority of the time. Similar to wool, PrimaLoft Silver Eco synthetic insulation has a great warmth-to-weight ratio and is capable of retaining its loft and insulating abilities even when wet—a nice feature when it comes to winter footwear. Underfoot, a half-inch foam insole serves as the barrier between the uninsulated outsole and the foot. We were surprised when we first saw this—compared to the UGG Adirondack III (which features a 3-layer foam midsole lined with wool insulation), we thought the Shellista would be disappointing in terms of warmth. But in the end, we were impressed with its insulating capabilities.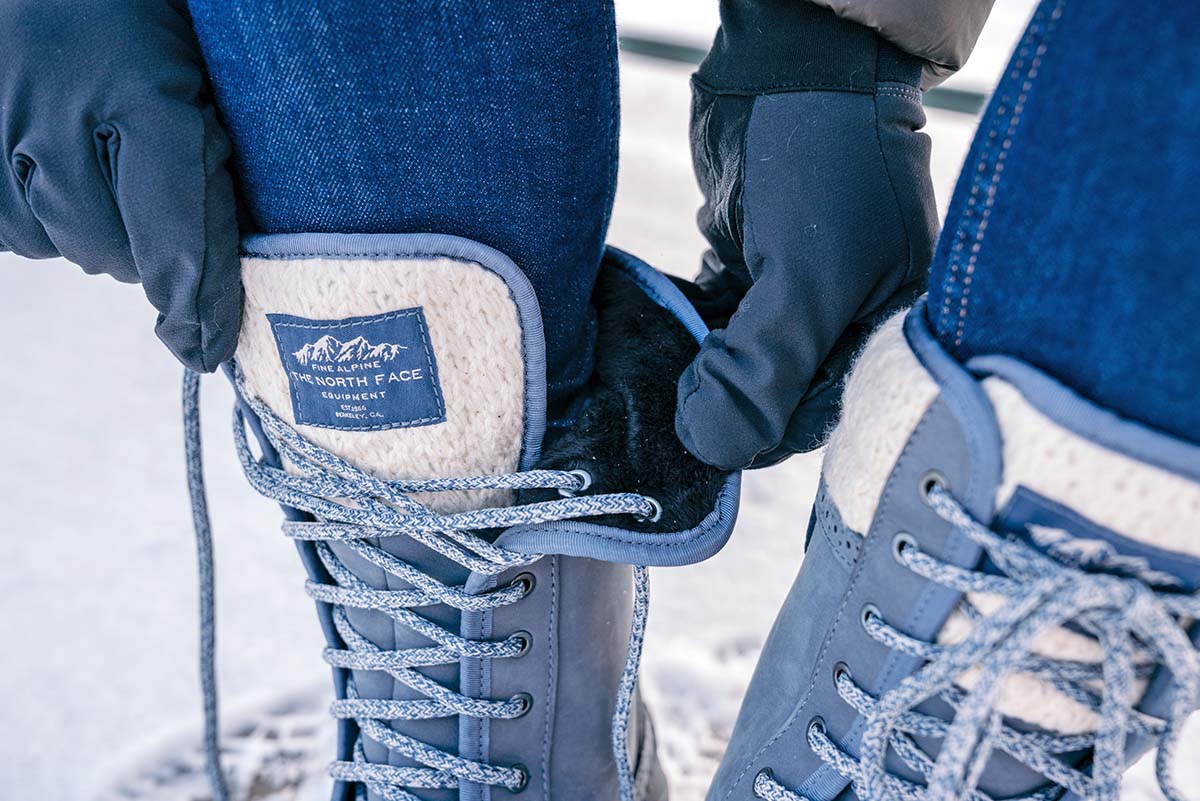 Unlike the UGG Adirondack, The North Face does not provide a temperature rating for the Shellista, which we actually appreciate. Temperature ratings tend to be misleading as myriad factors contribute to your feet staying warm, including your circulation, level of exertion, sock choice, and fit. To see how the Shellista compared to the UGG Adirondack III (with a -32˚C temperature rating), we went on a long winter walk in over a foot of fresh snow with the UGG on one foot and The North Face on the other. In the end, both boots kept our feet on the slightly cool end of comfortable in 15-degree Fahrenheit temperatures. Even after standing with each boot immersed in a foot of powder, the result was the same: in terms of warmth, the Shellista and the Adirondack are fairly equal. 
 
Traction
Trustworthy traction in winter conditions is a challenging task, and the Shellista falls middle-of-the-pack in terms of grip on ice and snow. The outsole is made of The North Face's Winter Grip rubber, and for most applications—such as walking on hard-packed snow or crossing icy roads—it was more than sufficient. We even wore the Shellista while shoveling our roof after a heavy snowfall, and although we experienced minor slipping, we were impressed overall with the boot's hold on icy shingles. For comparison sake, we did find that the deeper and sharper lugs on the UGG Adirondack offer slightly more bite on slippery terrain than the Shellista's more shallow, snowflake-shaped tread. And when tested in conjunction, the herringbone tread of Sorel's Joan of Arctic provided very similar traction.

Comfort 
With a fleece-lined interior, plush cushioning at the ankle, and a lightweight, 1-pound 6-ounce build, the Shellista excels in terms of comfort. Further, we found that the cushioned rubber underfoot added a soft spring to our step. That said, the half-rubber upper on top of the foot does detract a bit from maneuverability, giving the Shellista more of the feel of a galosh than a snug-fitting, supple leather boot. And we did notice some bunching in the midfoot—right where the ankle flexes—which was more pesky than uncomfortable. Even if we tightened the laces all the way, there was still an excess of material on the boot. Unfortunately, this seems to be par for the course for most winter boots we've worn, and on the bright side, allows you space to tuck leg warmers or pants into your boots.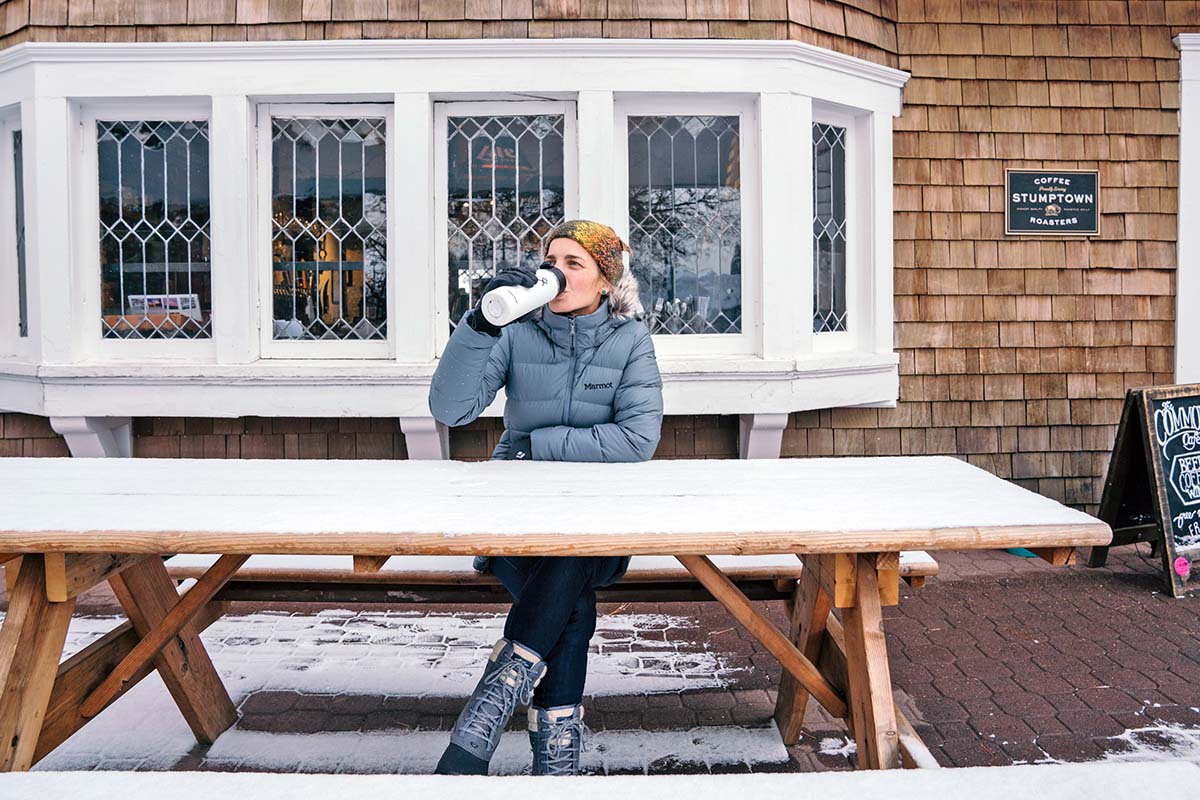 With a 8.5-inch shaft height, The North Face Shellista II Mid provides more warmth and cozy comfort to your calf than a shorter boot like the UGG Adirondack III at 7 inches, while still allowing freedom of movement and breathability. But due to this height, putting on and taking off the Shellista can be an involved process. To make it worse, the boot doesn't have a pull tab on its rear, and its soft leather and rubber build has a tendency to lose shape when pulling it on. Unless you want to battle with the boot, you'll need to loosen the laces all the way to the top of the foot. Unfortunately, loosening the laces means that you'll have to tighten them all too, one by one, as the Shellista does not have an easy, one-pull lacing system. 
 
Waterproofing
Made with a combination of rubber and nubuck leather, the Shellista II Mid is a waterproof boot that is ready to handle wet snow, puddles, and even rain showers. Take note, however, that the boot only is waterproof up to about the sixth grommet, or where the knit topper begins. Here, the tongue transitions from being gusseted to open, allowing water to easily penetrate the slits. We wouldn't want to puddle-hop in the Shellista in water much deeper than a half-foot, but we were able to stand in boot-deep powder for over five minutes without any moisture penetrating through.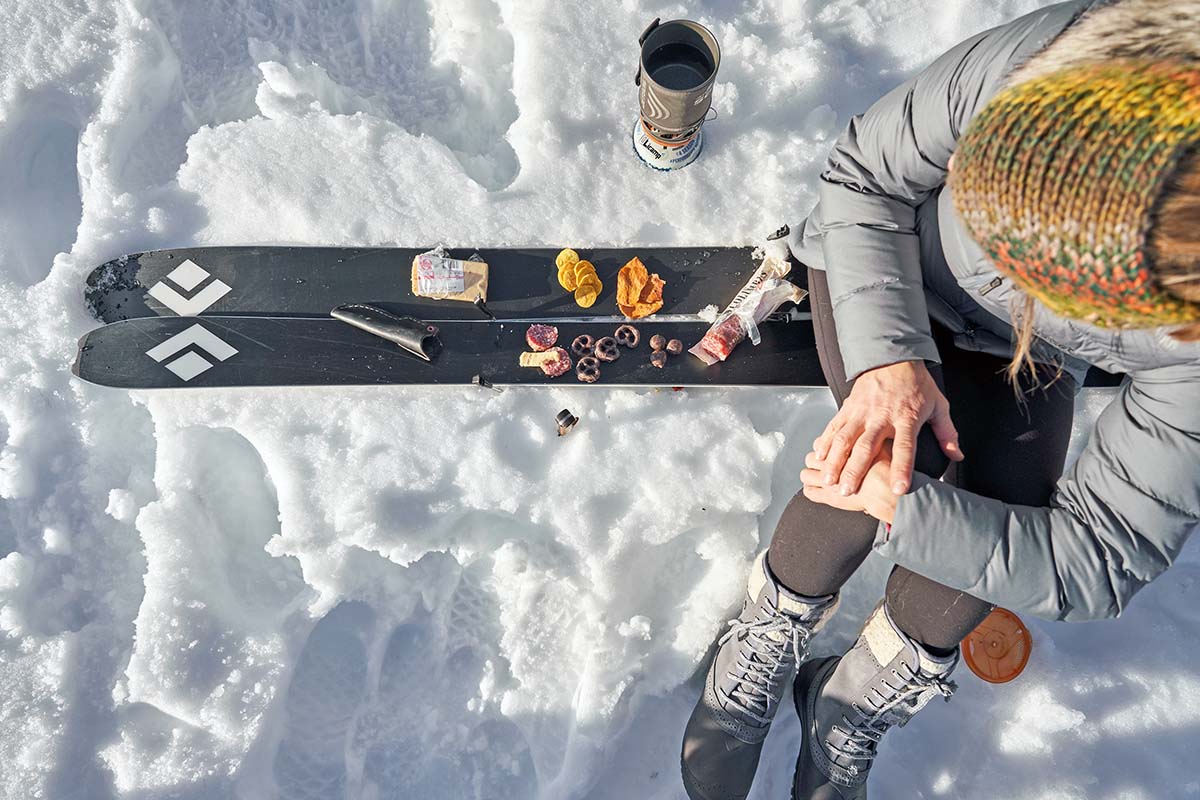 Boot Height: Protection and Support
The North Face's Shellista II Mid has a shaft height of 8.5 inches, placing it about mid-calf. As we mentioned above, it is waterproof up to the knit topper, or about four inches from the top. Given its height, the Shellista provides slightly more coverage than the UGG Adirondack III, and noticeably less than the 12-inch Sorel Joan of Arctic. And its leather upper has plenty of give to it, making it easy to wear for tasks like riding a bike or driving a car. We like the circumference of the design too, as it layers well over a pair of leggings or skinny jeans, but also is streamlined enough to be worn under a flared jean or snow pant. After a particularly dramatic snowfall in town, we stood in over two feet of snow for a few hours while shoveling our roof, and the combination of Shellista and snow pant effectively kept our feet and legs both warm and dry.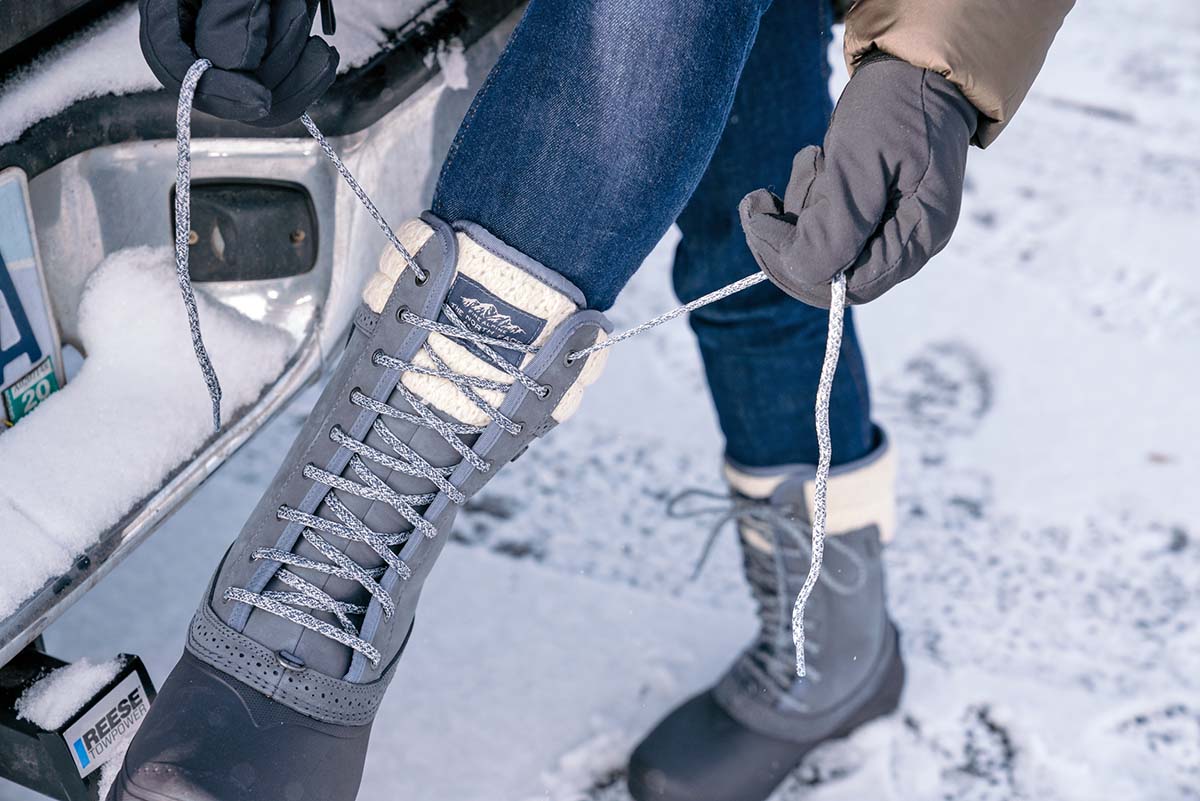 Weight
On our scale, the Shellista clocks in at 1 pound 6 ounces per boot (2 lbs. 12 oz. for the pair), which is decently light and leaves you feeling like you don't have a clunky block on your foot. We've found it easy to hike in, mile after mile, and even capable of a light jog without too much issue (other than the bunching at the ankle, which we addressed in the comfort section above). Overall, we're impressed with the amount of warmth that the Shellista is able to provide without the bulk or weight of a thicker liner.

Construction and Durability 
The North Face's Shellista II Mid is a wintery take on your traditional rubber boot. The outsole and lower half of the upper is fully rubber, joining with a nubuck leather shaft just below the ankle. Here, the meeting of two very distinct materials feels flawless, and is adorned with a detailed piece of nubuck. Inside, you get continuous PrimaLoft Silver Eco, with padding at the ankle for both comfort and fit. Furthermore, the Shellista is covered in small details that really give it a premium feel: dotted designs in both the rubber and the leather tie the boot together, and the plush oversized-knit cuff is an eye-catching addition. What's more, The North Face has gone so far as to give the tread a snowflake pattern.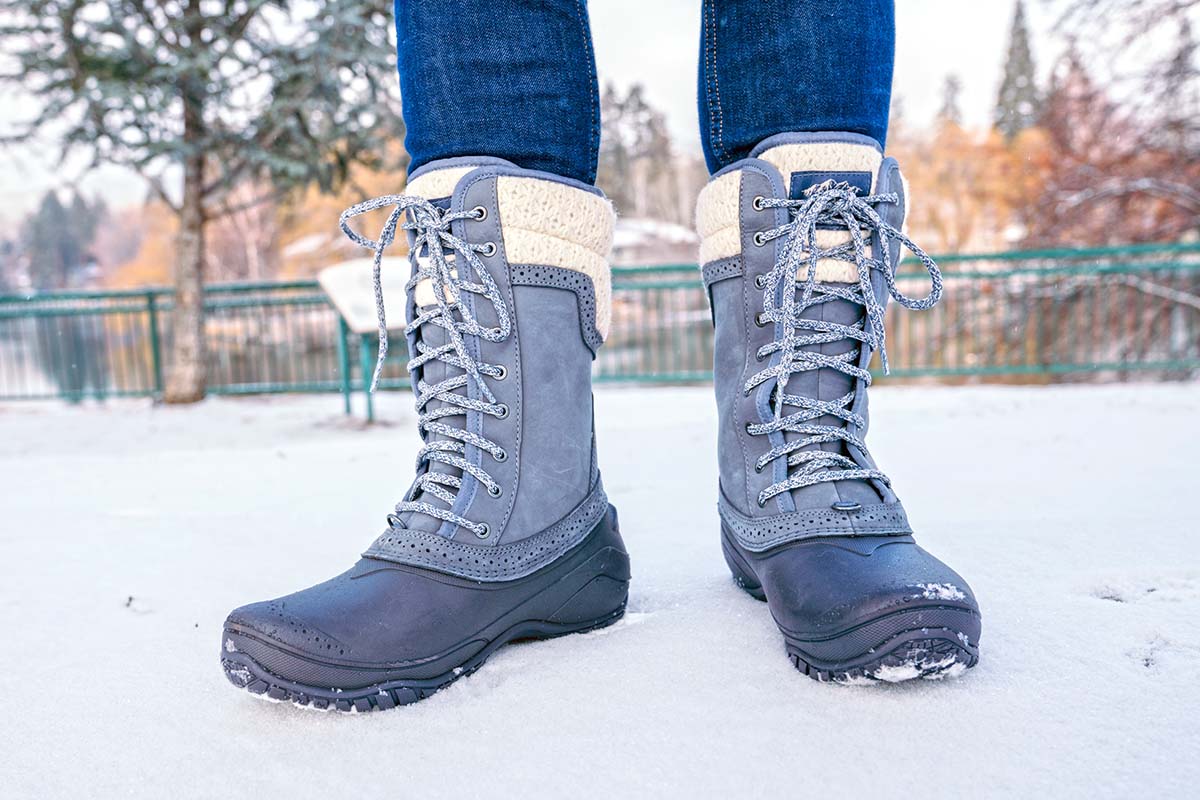 The North Face's choice of materials with the Shellista means it stays at a reasonable price point without sacrificing too much in the way of performance. PrimaLoft insulation has a tendency to bunch over time, meaning the liner of the boot might not be as durable as, say, the wool interior of UGG's Adirondack III. Furthermore, we find leather to be a far comfier, cozier material in the footbed, but rubber gives you waterproof assurance at a low cost. We're still wearing a pair of these boots that we bought over five years ago, and aside from some packing out in the liner, they still are as warm and waterproof as ever. For the price, the Shellista is a durable, well-constructed boot that stands the test of time. 

Style 
The North Face's Shellista II Mid is an eye-catching winter boot that comes in a wide varieties of colorways. An oversized-knit cuff and the small details in the rand and leather add style and feminine touches to a boot that can handle snow, ice, and cold. The Shellista's mid-calf height and relatively streamlined build (no fur-lined cuff) allow you to either layer it over pants or under snow pants or gaiters, giving it top-notch versatility. We do have one small nitpick: we find that the boot's smooth rubber outsole and half-upper does subtract a bit from its urban prowess, lending more of the feel of a clunky rainboot than a stylish city slicker.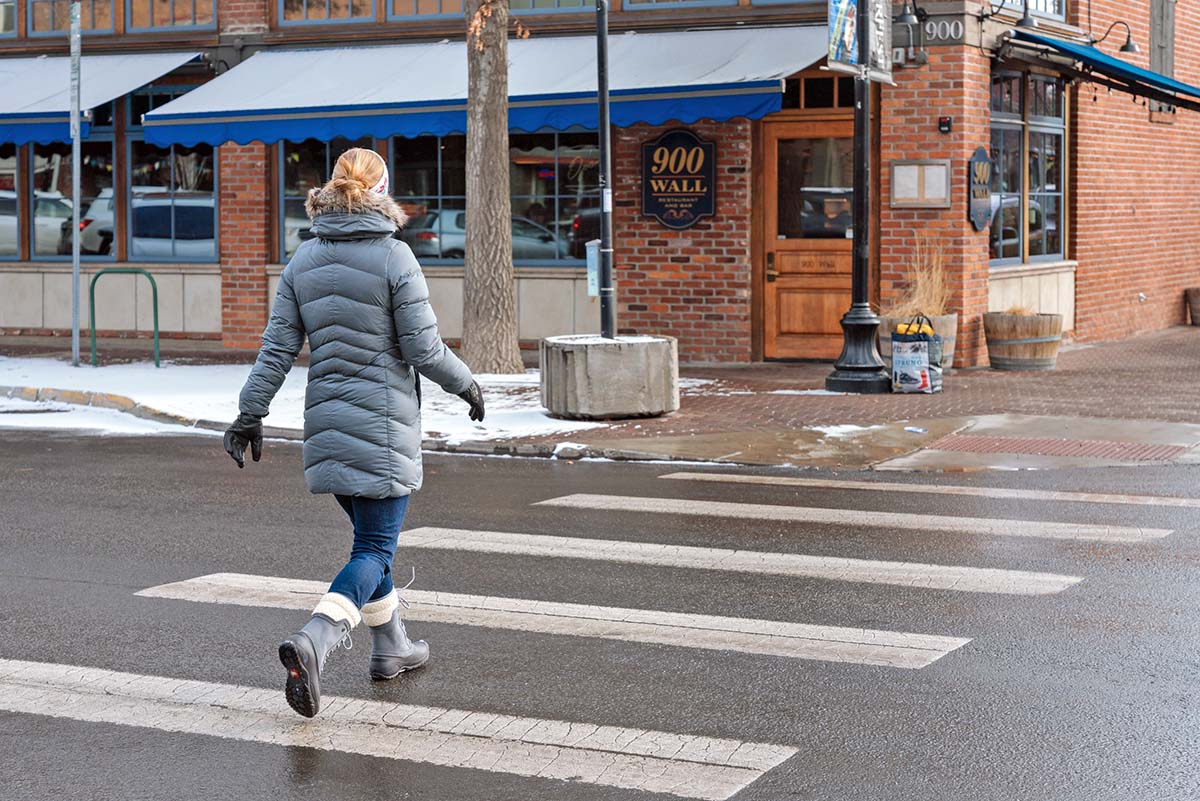 Fit and Sizing
We tested the Shellista II Mid in a women's 8.5, and found its fit to be rather true to size. If anything, you might want to size up to accommodate thick socks. The extra padding in the ankles is a welcome feature, and effectively keeps the foot snug and in place. As we mentioned above, we did experience a bunching of excess material where the boot bends at the ankle, which seems fairly typical in terms of the other winter boots that we tested. This extra room allows the option of layering the boot over leg warmers or pant legs, but we found it more annoying than functional.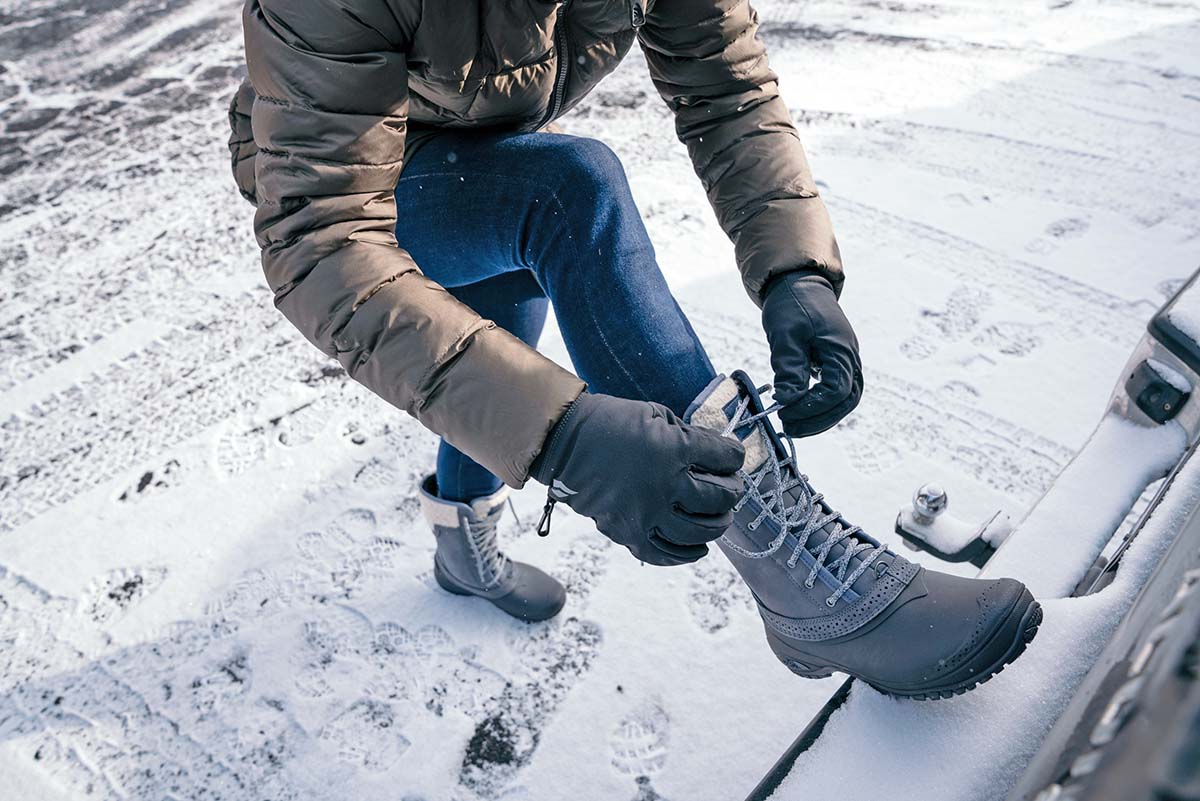 Other Versions of the Shellista
For this review, we tested the Women's Shellista II Mid boots, which have a shaft height of 8.5 inches. The North Face also offers the Shellista IV Tall ($160), with a shaft height of 14 inches. The Tall forgoes the knit cuff of the II Mid for a stylish leather and wool detail, and it comes in two colorways at the time of publishing. The North Face also offers the Shellista III Mid, which features pull tabs on the sides (one of our big gripes with the II) and swaps out the II's knit accents for wool. The new version does weigh slightly less at 2 pounds 10 ounces for the pair and is the same price at $140. Finally, the III also comes in a "Shorty" version for $120, and the II is available in a "Roll-Down" model for $130.


What We Like
A nice mix of performance and style. You get the waterproofing and durability of a rubber boot, but with insulation, a partial-leather upper, and some nice design features.
The padding at the ankle gives a cozy feel and keeps your foot snug in the footbed.
At $140, the Shellista II Mid is a functional boot at a very reasonable price point.
 
What We Don't
Rubber and synthetic insulation are not as high quality of materials as the UGG Adirondack III's leather and wool.
The Shellista can be arduous to get on and off with no tabs, and the laces do not have an easy one-handed pull either. 
Excess material around the top of the foot and lower calf results in bunching, resulting in a slightly clunky, galosh-like feel.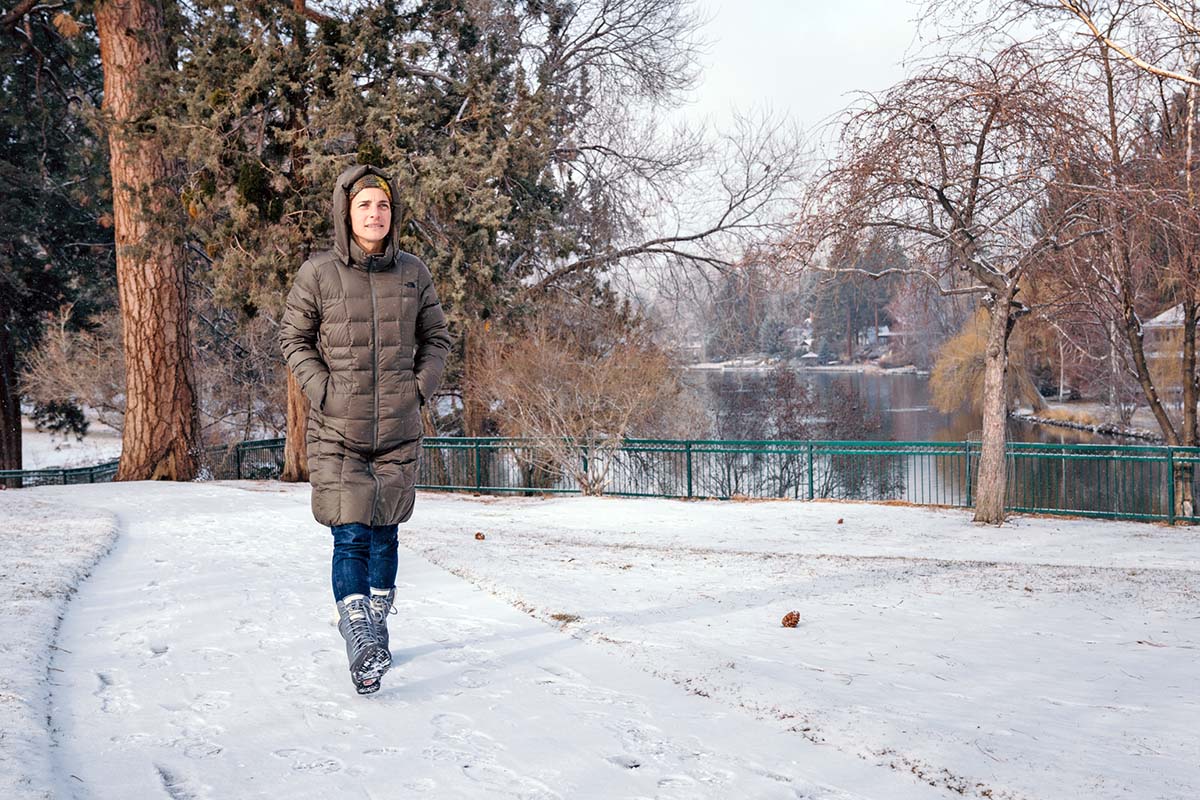 Comparison Table

The Competition
When it comes to selecting a women's winter boot, there's no shortage of options. One particularly versatile model is the UGG Adirondack III, which is designed with a cuff that can be worn in two configurations and a relatively low 7-inch shaft that is great for high-exertion activities. With a focus on premium materials—including a full leather upper and wool-insulated liner—the Adirondack uses higher quality materials, fits better, is lighter, and more durable. That said, in our testing we found that the Shellista and the Adirondack braved snow and cold temperatures very similarly. In fact, we were hard pressed to discern a difference after a day of walking with the UGG on one foot and the TNF on the other. If you're willing to pay the steep $250 price tag, UGG's Adirondack is hard to beat, but the Shellista offers similar performance for a whopping $110 less.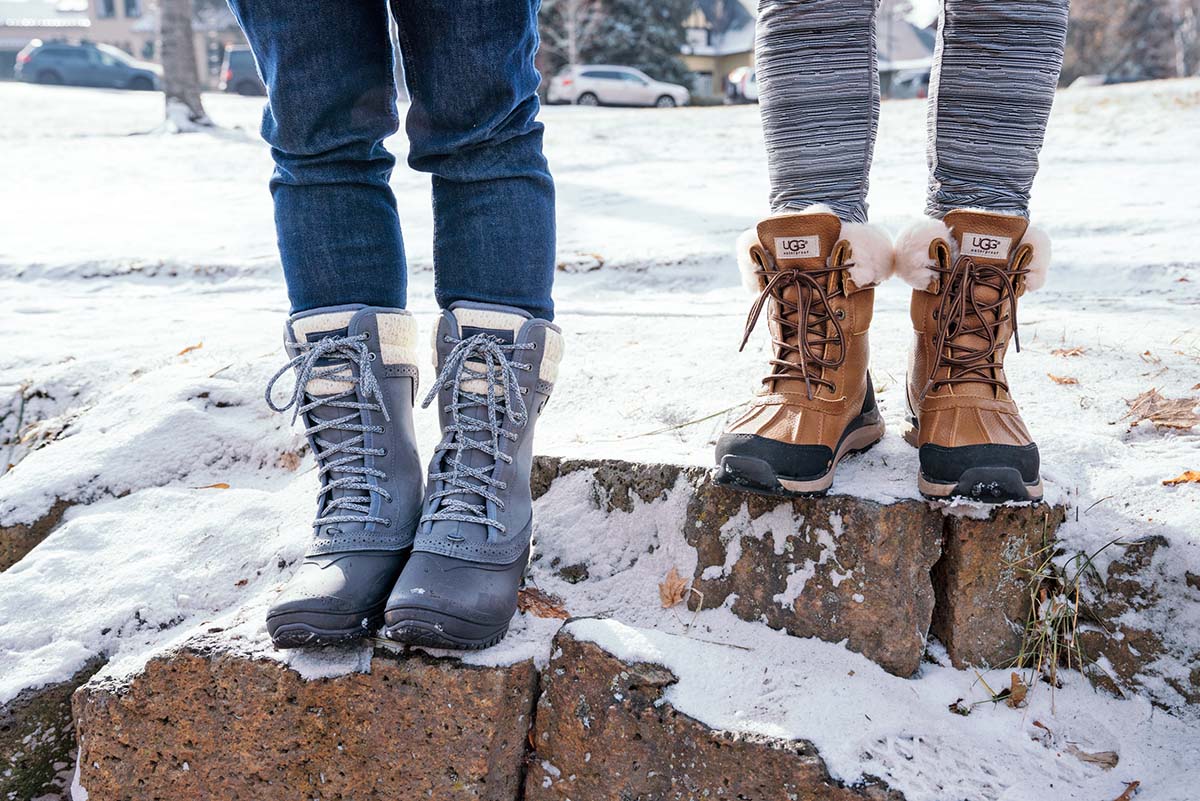 If you're on the hunt for something more flashy, Sorel's Joan of Arctic offers a heavy dose of style. It combines a tall, 12-inch shaft height with oversized metallic grommets, a suede upper, and a generous faux-fur cuff for a quintessential-looking winter boot. Waterproof almost up to its brim, the Joan of Arctic is a great choice if you're constantly battling deep snow and want your boot to do the work. That said, it's too bulky for most snow pants or gaiters to layer overtop. We found that the Sorel offers similar levels of traction to the Shellista, but its warmth and comfort comes up short, plus it's nearly 2-pound weight (per boot) makes it too clunky and cumbersome for hikes of any length.
For those on a shoestring budget, the Kamik Momentum is another good choice, clocking in at only $90 for the pair. It comes with a similar 200g of insulation, a rubber sole and 8-inch shaft, and a nylon upper. You'll give up the leather and some of the classy design features of the Shellista, but the Momentum's fur-brimmed cuff and variety of colorways offer a style of their own. And we especially love that the Momentum offers a one-pull lacing system with bungee cinch—no need to tie knots with cold hands or tighten laces individually. But while Kamik advertises the Momentum as having a waterproof upper, we've heard reports of it quickly allowing moisture to enter. If you spend your winter in especially dry climates and don't deal with wet snow or puddles, the Momentum is a nice budget option. But for most purposes, we'd stick with the Shellista.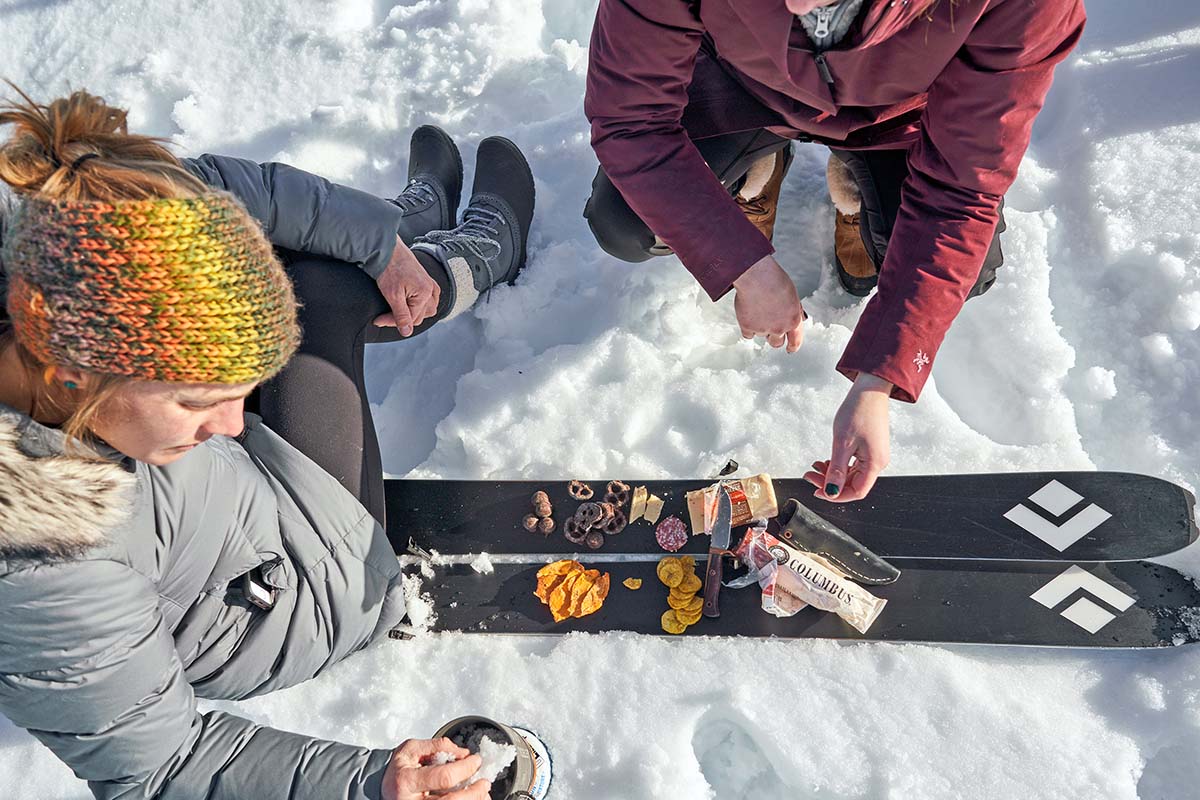 And finally, if you're interested in the Shellista II, it's likely that the Shellista III Mid has caught your eye as well. We haven't been able to track down concrete information from The North Face, but the III seems to be a variation—rather than a replacement—to the II, as both are available through a number of retailers at the time of publishing. The III comes in three colorways (the II is currently only available in one), adds pull tabs to the cuff, and swaps out the II's knit accents with wool. Aside from these minor differences, the two boots are very similar in terms of technical details: you get an identical 8.5-inch shaft height, matching outsole and waterproof upper, and competitive weights (the II is 2 oz. heavier for the pair). 
If you're thinking about buying gear that we've reviewed on Switchback Travel, you can help support us in the process. Just click on any of the seller links above, and if you make a purchase, we receive a small percentage of the transaction. The cost of the product is the same to you but this helps us continue to test and write about outdoor gear. Thanks and we appreciate your support!
Depending on the seller, most products ship free in the United States on orders of $50 or more. International shipping availability and rates vary by seller. The pricing information on this page is updated hourly but we are not responsible for inaccuracies.
Read More From Switchback Travel