Mountain Hardwear Super/DS Stretchdown Hooded
Price: $275
Weight: 15 oz. (women's medium) 
Fill: 3.5 oz. of 700-fill down
What we like: Good looks; Stretchdown fabric is comfortable, tough, and offers great mobility. 
What we don't: Heavy and not as warm as most performance-focused down jackets.
See the Women's Super/DS Stretchdown  See the Men's Super/DS Stretchdown
Down jackets have a reputation for being restrictive and fragile, but Mountain Hardwear's Super/DS Stretchdown bucks that trend. By combining soft, stretchy fabric and welded seams, they've created a design that fits great and moves extremely well with your body. We recently took the women's hooded jacket to Patagonia, where it faced a cold and windy austral summer. In the end, we found that the Stretchdown excels in both comfort and mobility but makes a number of performance-related sacrifices that limit its technical appeal. Below we break down the Super/DS Stretchdown's performance. To see how it measures up to the competition, see our articles on the best down jackets and best women's down jackets.
 
---
Table of Contents
---

Performance
Warmth
Packing 3.5 ounces of 700-fill-power goose down (for the women's medium), the Mountain Hardwear Super/DS Stretchdown offers only modest warmth compared to other down jackets in its weight class. For comparison, the uber-popular Patagonia Down Sweater Hoody has 3.5 ounces of higher-quality 800-fill down, and the Rab Microlight Alpine is stuffed with 5.1 ounces of 700-fill. The Super/DS's welded seams do help the jacket trap heat more efficiently than standard baffles (there are fewer stitch holes for cold air to enter), but the jacket simply doesn't have much insulation. Further, 700-fill down is middle-of-the-road in terms of warmth (premium down jackets have fill powers of 800 or more), which contributes to its somewhat disappointing level of protection from the cold.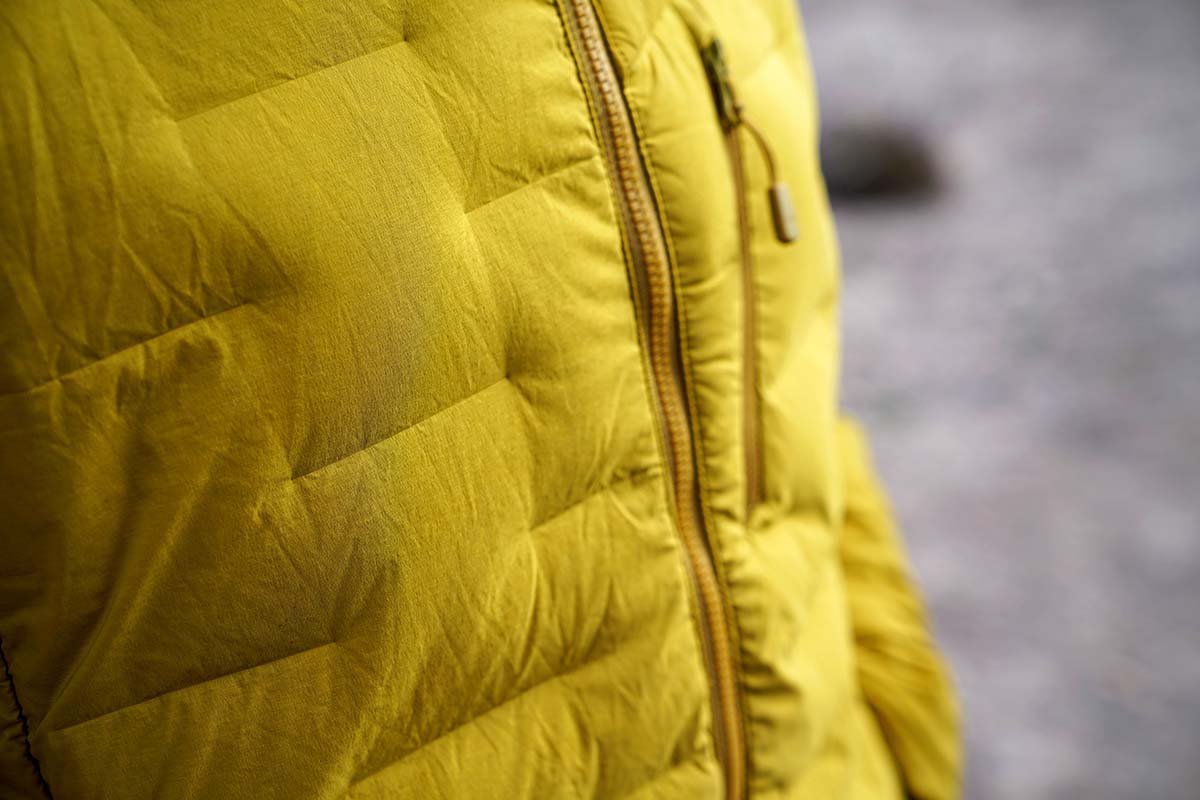 All that said, the Stretchdown has still earned a top spot in our quiver for daily use. While it doesn't compare to more performance-oriented jackets, it does provide sufficient warmth for walking and biking around town in freezing temperatures. Further, it's designed with helpful heat-trapping features like a substantial collar and hood, thin draft tube behind the front zipper, and an adjustable hem. All in all, if all-out warmth isn't your top priority, the Super/DS Stretchdown offers a unique mix of insulation, comfort, and durability (more on this below) that excels in casual settings better than most of the down competition.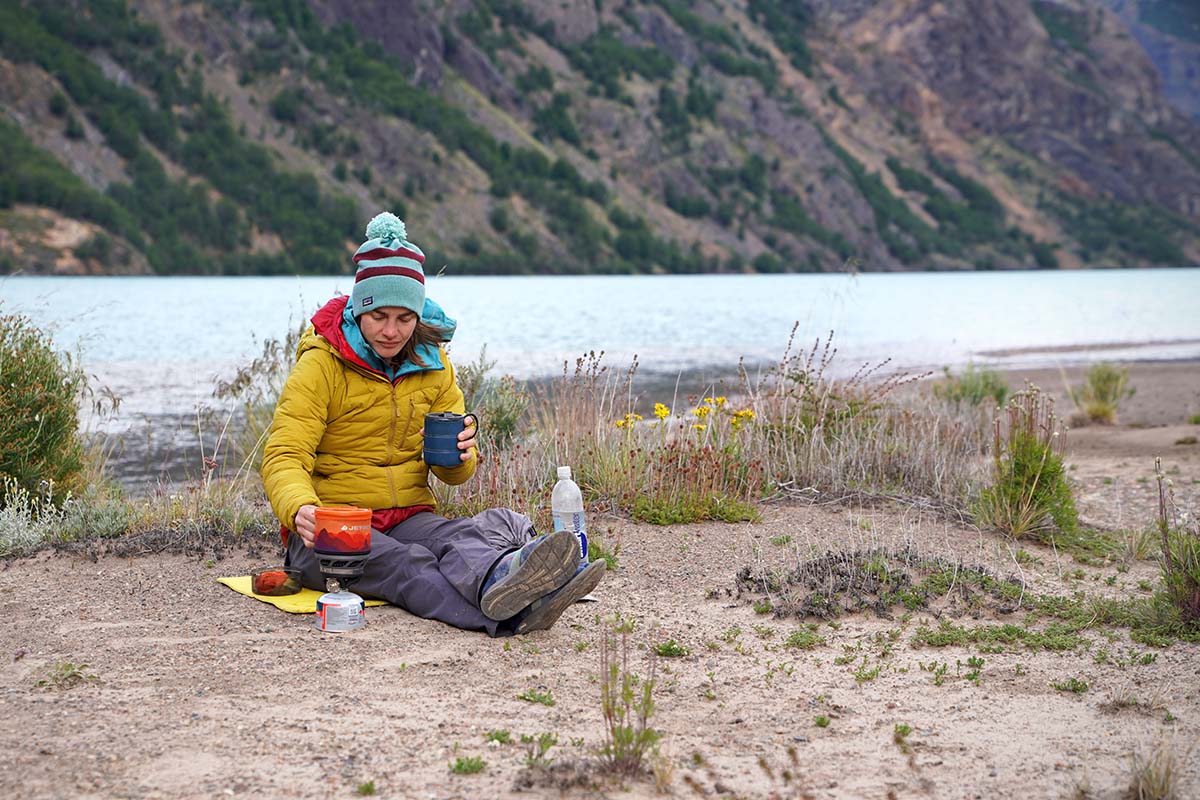 Comfort, Stretch, and Styling
On first glance, it's easy to see that the Mountain Hardwear Super/DS Stretchdown Hooded isn't your standard down jacket. Rather than the slippery nylon and stitched baffles common in this market, the Stretchdown uses a robust stretch-woven fabric (85 percent nylon and 15 percent elastane) and welded baffles in a maze-like pattern that keep the down in place. The result is a down insulation piece that is both stretchy and durable, which is no easy feat. Mountain Hardwear also nailed the styling with thoughtfully placed logos rather than loud branding, and we really like their current color options, which wear equally well at the brewery as they do on the trail. In fact, we've received more compliments about the curb appeal of our jacket than perhaps any other we've worn.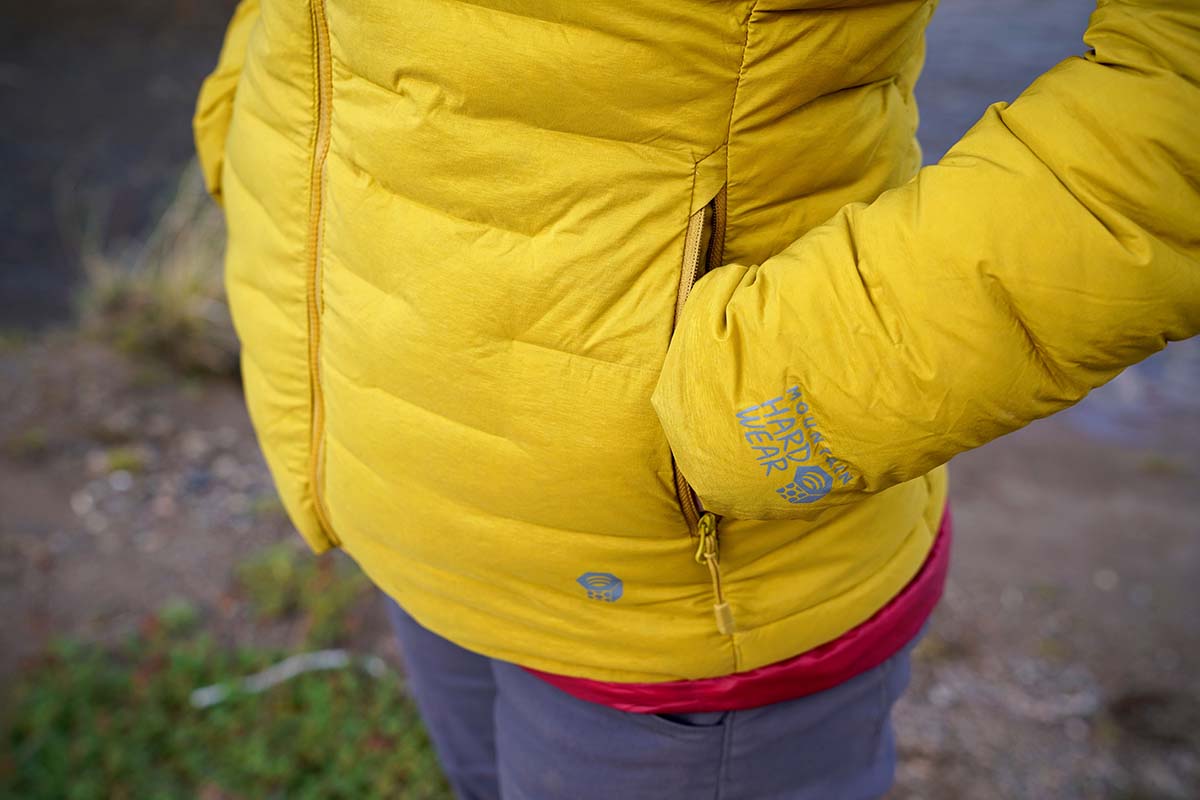 However, while the Stretchdown fabric provides great mobility across the shoulders and chest, it has much less vertical stretch (lengthwise rather than widthwise). As a result, the jacket offers great range of motion for side-to-side movement but isn't as effective when reaching or bending over. You still get significantly more mobility than with other down jackets, which makes the Stretchdown a nice match for activities like skiing, climbing, or hiking. During our time in Patagonia, I found the Super/DS Stretchdown particularly nice to wear while setting up camp and cooking meals, as it isn't as restrictive or bulky as standard down jackets.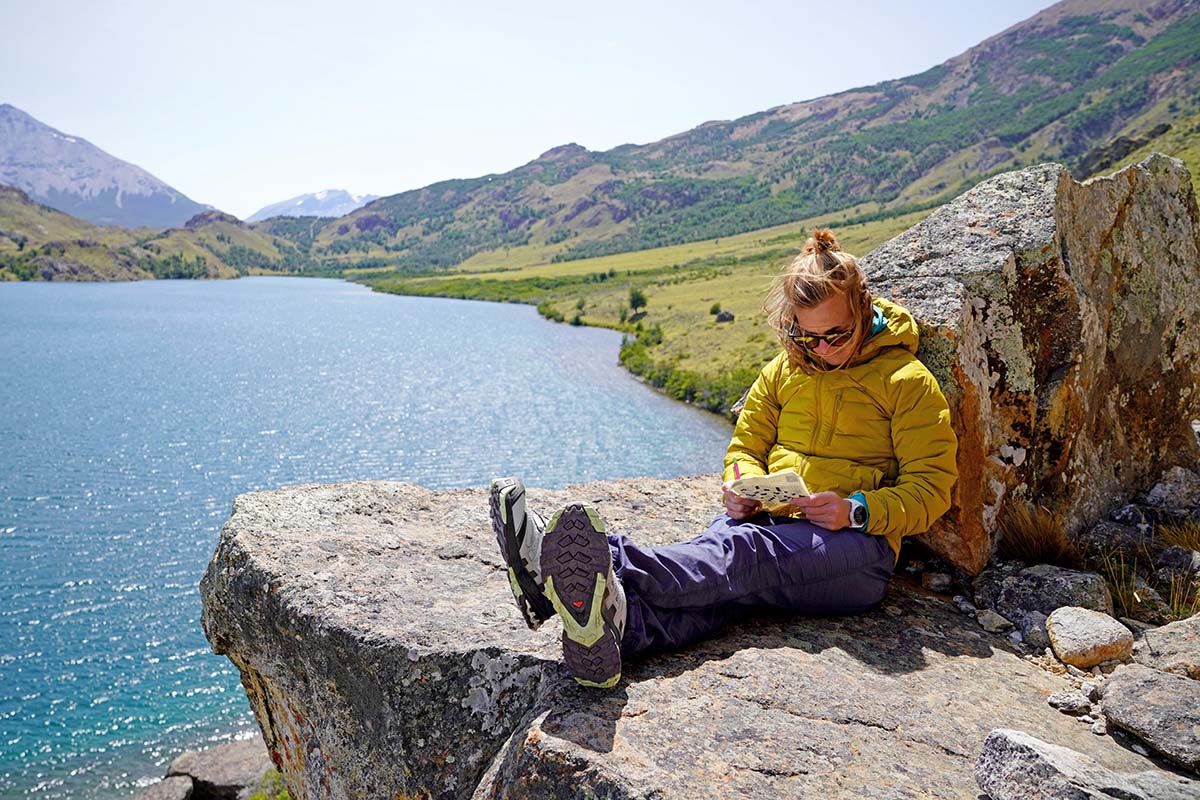 Water and Wind Resistance
The previous iteration of Mountain Hardwear's Stretchdown jacket had DWR-coated fabric and hydrophobic down, but the newer version reviewed here foregoes all water-resistant measures for a jacket that's decidedly more casual than performance-focused. By nature, stretchy material has larger holes and is more permeable, so the Stretchdown absorbs water more readily than other down jackets I've tested. As a result, I would not feel comfortable wearing it in anything more than a light drizzle. Instead, I'd opt for a more weather-ready synthetic jacket or a down piece like the Arc'teryx Cerium LT, which has a DWR and utilizes strategically placed synthetic insulation in areas most prone to accumulating moisture: the shoulders, underarms, cuffs, and collar.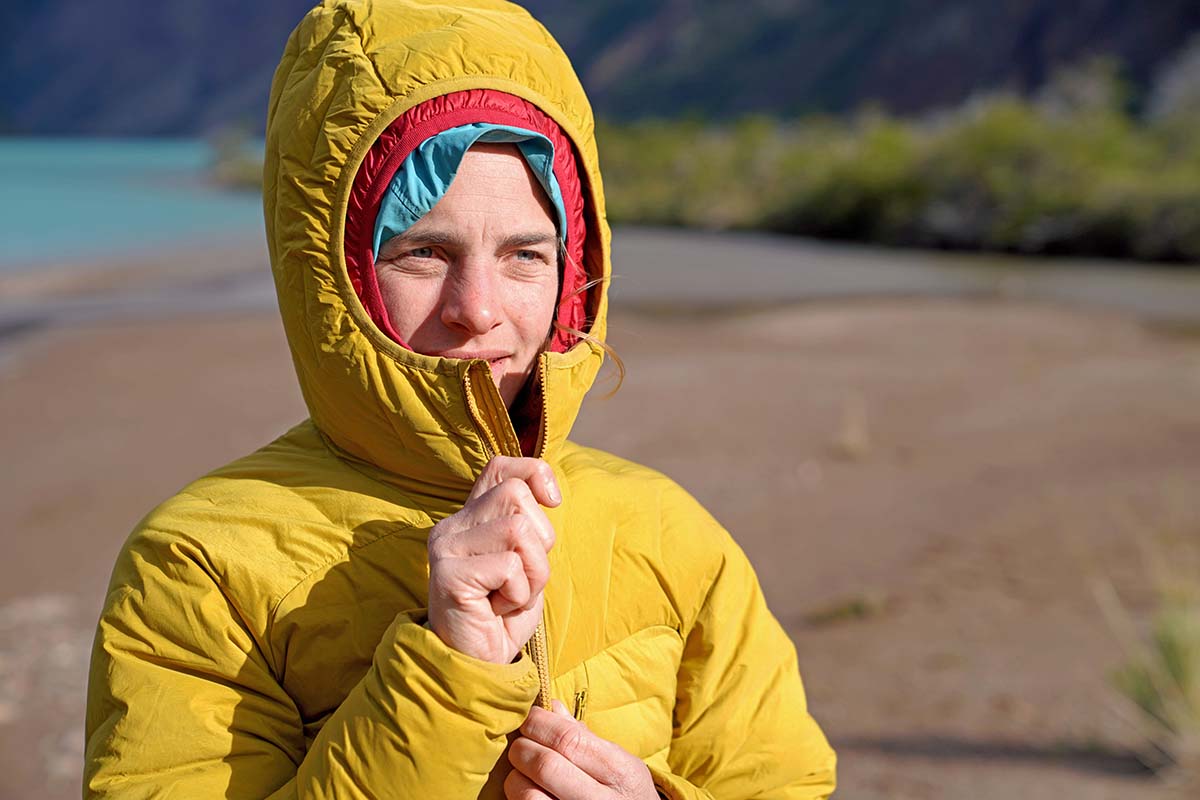 In terms of wind resistance, welded seams do (in theory) offer a better barrier against gusts than stitched seams. However, the noticeably thin layer of down in the Super/DS Stretchdown means that more wind still gets through than with loftier down jackets. Further, the welded points themselves lack insulation, creating cold spots throughout the core. A synthetic jacket with no baffling at all (such as the highly wind-resistant Rab Xenon) will provide much better protection. In fact, while backpacking in Patagonia, I often found myself layering my synthetic Xenon over (or under) the Stretchdown when the wind picked up.
 
Weight and Packability
At 15 ounces for a women's medium, the Super/DS Stretchdown Hooded falls decidedly on the heavy end of the down jacket spectrum. Popular competitors like the Patagonia Down Sweater and Outdoor Research Transcendent both undercut it easily in weight (at 13.1 and 14 oz. respectively). And in terms of packability, the Stretchdown is rather bulky. For reference, a more premium—and much warmer—down jacket like the Arc'teryx Cerium LT (9.9 oz.) packs down into a sub-1-liter stuff sack, while the Super/DS Stretchdown takes up nearly twice the space (and doesn't include a stuff sack or pocket). Because of this, the Stretchdown simply wouldn't be our first choice for highly technical pursuits or when we expect to keep our jacket in our pack most of the time.

Build Quality and Durability
In short, the Mountain Hardwear Super/DS Stretchdown exudes quality. Throughout the past few years, we've watched Mountain Hardwear improve their standard with well-made, thoughtfully designed products, and the Super/DS is case in point. In fact, it's a notable improvement even from their previous Stretchdown Hooded jacket, which we found to be ill-fitting and bulky. By comparison, the Super/DS Stretchdown reviewed here is well-designed and tastefully constructed, from the durable, stretchy design and fashion-first fit to the toned-down branding and stylish colorways.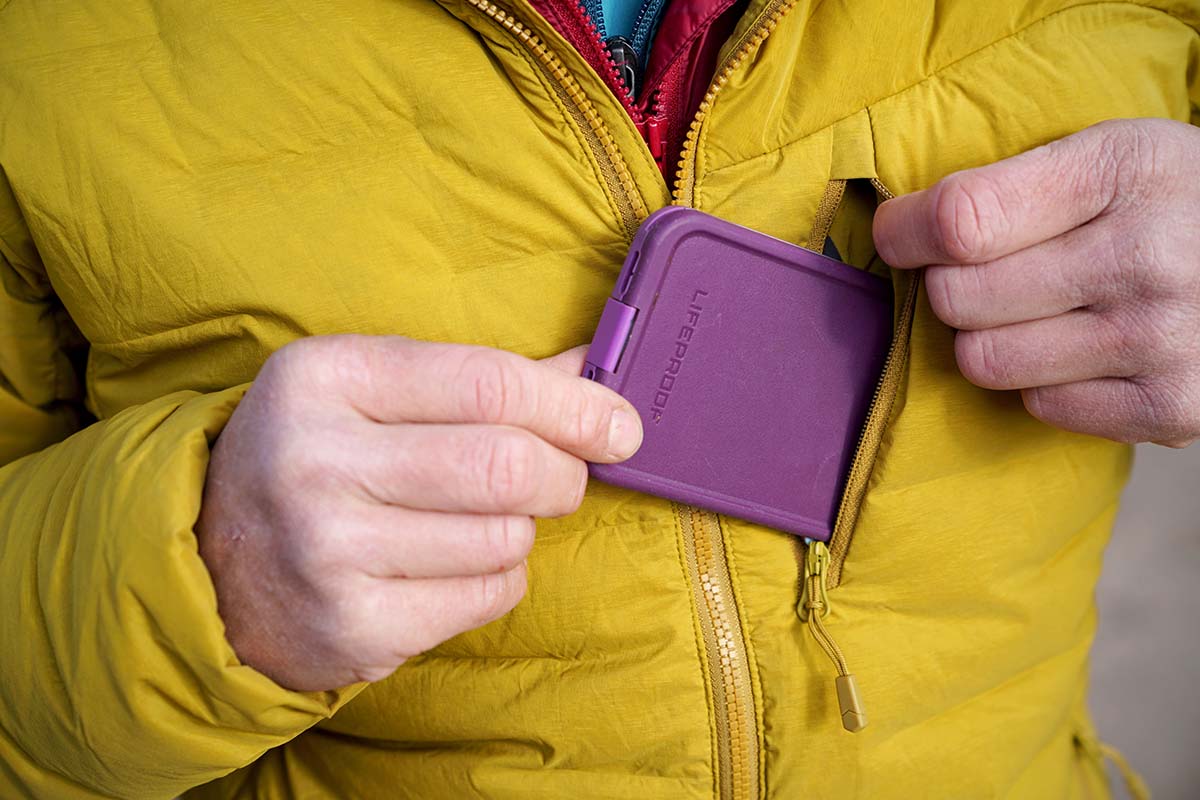 The Stretchdown fabric has also proven to be incredibly hardwearing, especially when compared to the all-nylon makeup of most of its competition. Not only is it stretchy—meaning it will give under pressure when other fabric might just rip—but the external fabric is robust, more like a softshell jacket than stretchless nylon. Further, the lack of stitched baffles (there's stitching only between the key seams) gives the jacket an extra boost of durability, minimizing the chances of ripped seams and leaked down. More than in any other down layer I've worn, I feel confident scraping up against rock and prickly bushes in the Stretchdown.

Features: Hood and Pockets
For casual and light outdoor use, the Super/DS Stretchdown's feature set lines up nicely. The hood is non-adjustable and does not fit over a helmet (it does work fine with a beanie or ball cap). Although a light band of elastic around the face keeps it from blowing off in the wind, it's not nearly as secure as a hood with a rear cinch, and on more than one occasion we found ourselves wishing we could tighten it. And it's a minor gripe, but the Super/DS has a rather cone-like appearance, which could be downplayed with an adjustment.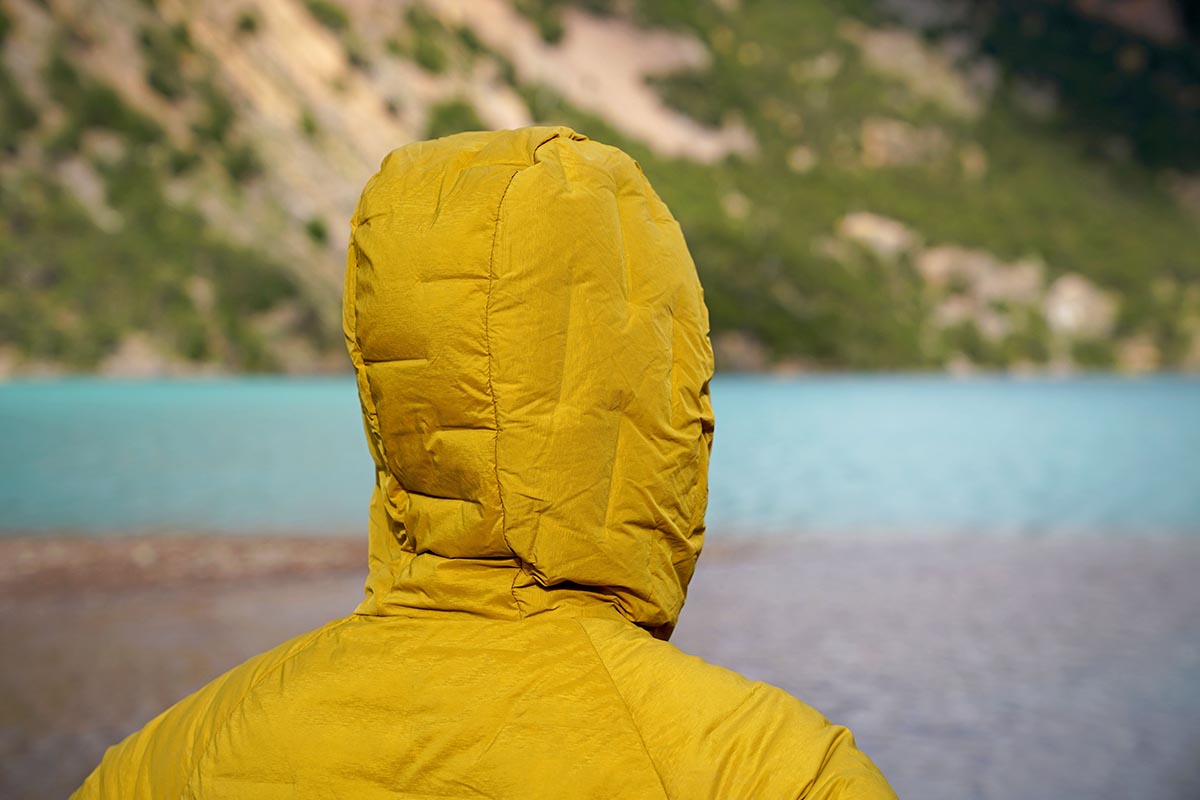 In terms of storage, the jacket is well-appointed: you get one large inner "stuff-it" pocket, two standard hand pockets, and a roomy chest pocket with headphone port. It's worth noting neither hand pocket doubles as a stuff sack and they sit too low to be harness- or hipbelt-compatible, but they do their job keeping bare skin warm and protected from the cold. In the end, issues like hood size and pocket location make it less functional as a technical layer. But for uses like belaying, walking around town, or sitting around a campfire, the Stretchdown is plenty capable.
 
Fit and Sizing
I consistently wear a women's size small, and the Super/DS Stretchdown has a streamlined cut that fits true to size. I've found the jacket layers well over everything from a thin baselayer to a thick midlayer (the extra "give" in the fabric helps here), and it fits under my waterproof shells with ease. Importantly, unlike the previous version of the jacket, the Super/DS reviewed here does not have a boxy fit, and the hem rides just below my hips (I had issues in the past with the jacket slipping above my harness).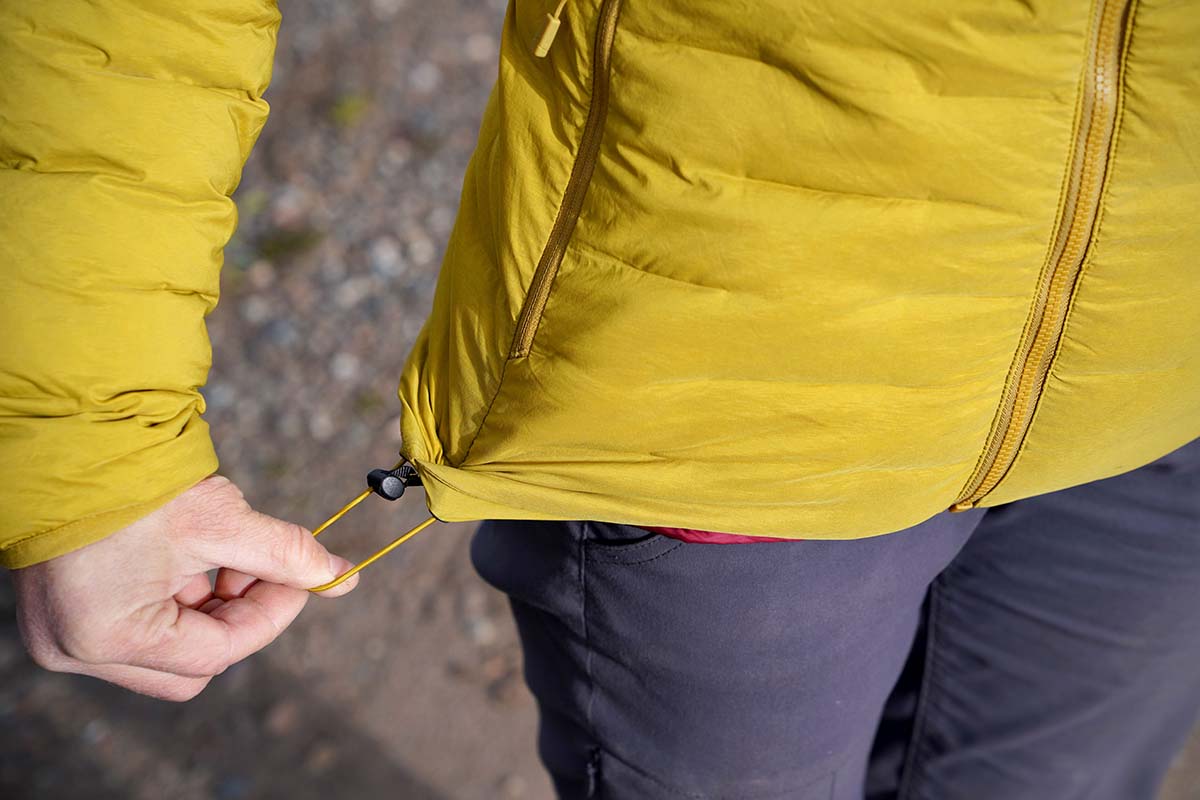 Sustainability: RDS-Certified Down
The Mountain Hardwear Super/DS Stretchdown is made with Responsible Down Standard (RDS) certified down, which ensures that plumage comes from birds that were treated humanely (not live-plucked or force-fed). Further, the jacket's welded seams cut down on added material (thread) and eliminate the need for glue that's often used to seal seams. However, we're a bit surprised that the Stretchdown doesn't use recycled fabrics. In 2020, many down pieces are now being made with 100-percent-recycled materials—including Mountain Hardwear's own Ghost Whisperer/2 and Patagonia's Down Sweater. 

Other Versions of the Super/DS Stretchdown
We tested the women's Super/DS Stretchdown Hooded jacket, and Mountain Hardwear also makes it in a men's version for the same price ($275). The men's jacket weighs slightly more at 1 pound 1 ounce for a size medium, which is stuffed with 4.56 ounces of 700-fill down. It also comes in varying colorways but has a nearly identical design overall. Additionally, Mountain Hardwear's same Super/DS design is featured in the harness-compatible Climb Down Hoody which features a longer cut, higher handwarmer pockets, and synthetic insulation in the lower body and underarms for improved mobility and fit underneath a harness. Finally, Mountain Hardwear offers the Super/DS Stretchdown in a non-hooded men's jacket, a women's-specific parka-length design, and a Hybrid Hoody with strategically mapped down insulation for both men and women.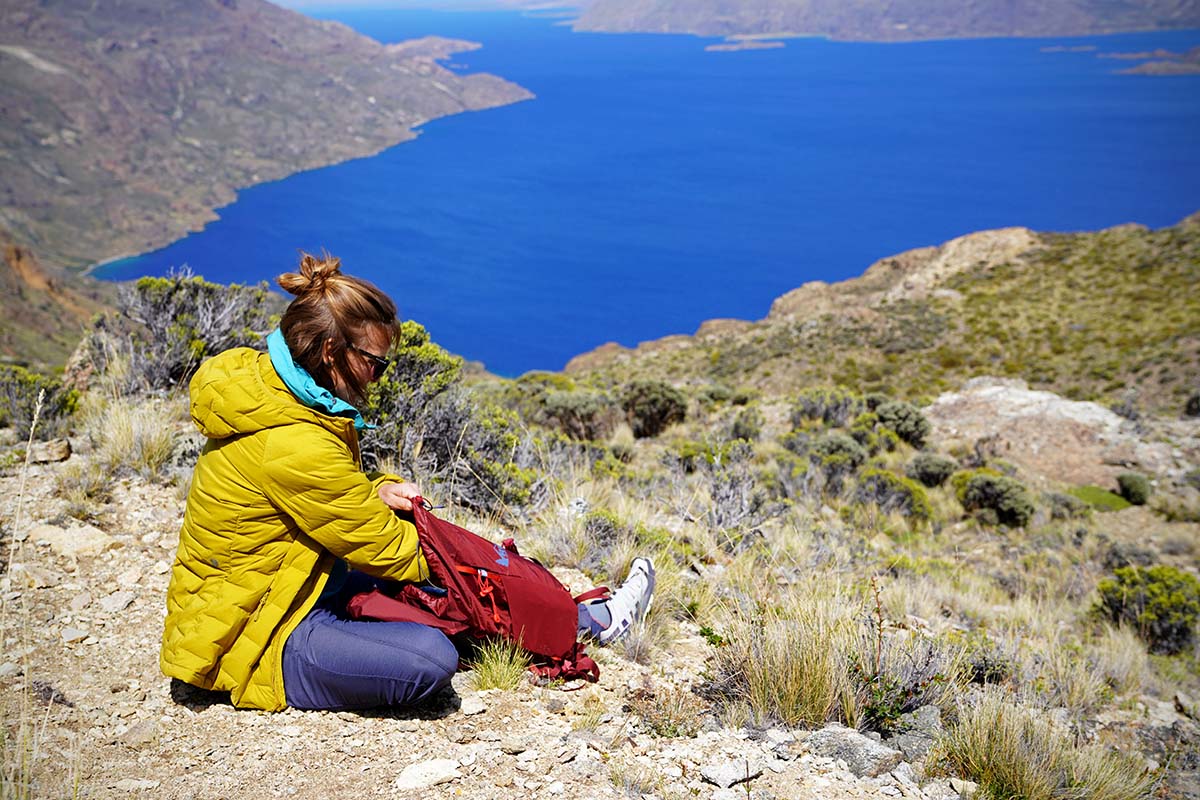 What We Like
Soft matte fabric, subtle colorways, and lack of branding make the Super/DS Stretchdown a stylish and comfortable casual piece.
Unique stretchy design and minimal insulation allow for excellent mobility.
Thick, stretch-woven fabric means the Super/DS Stretchdown is more durable than most down jackets.

What We Don't
Lags behind its competitors in warmth, weight and packability, and weather protection.
Despite being billed as an active layer, the Stretchdown is decidedly on the casual end of the spectrum (it lacks breathability, weatherproofing, and technical features).
$275 is pricey for such a casual piece.


Comparison Table

The Competition
As we touched on above, the Mountain Hardwear Super/DS Stretchdown Hooded is billed as a technical piece but functions much better in the casual/everyday realm. The leading design in this down jacket category is Patagonia's ubiquitous Down Sweater Hoody, which is priced at a comparable $279 ($4 more than the Mountain Hardwear). The Patagonia lacks the stretchy exterior shell fabric and isn't quite as durable as the Stretchdown, but it's noticeably warmer with 3.5 ounces of 800-fill down (for a women's medium) and is now made with 100-percent-recycled nylon. All things considered, we think the Patagonia is the better overall value, and it works well for everything from downhill skiing to casual use.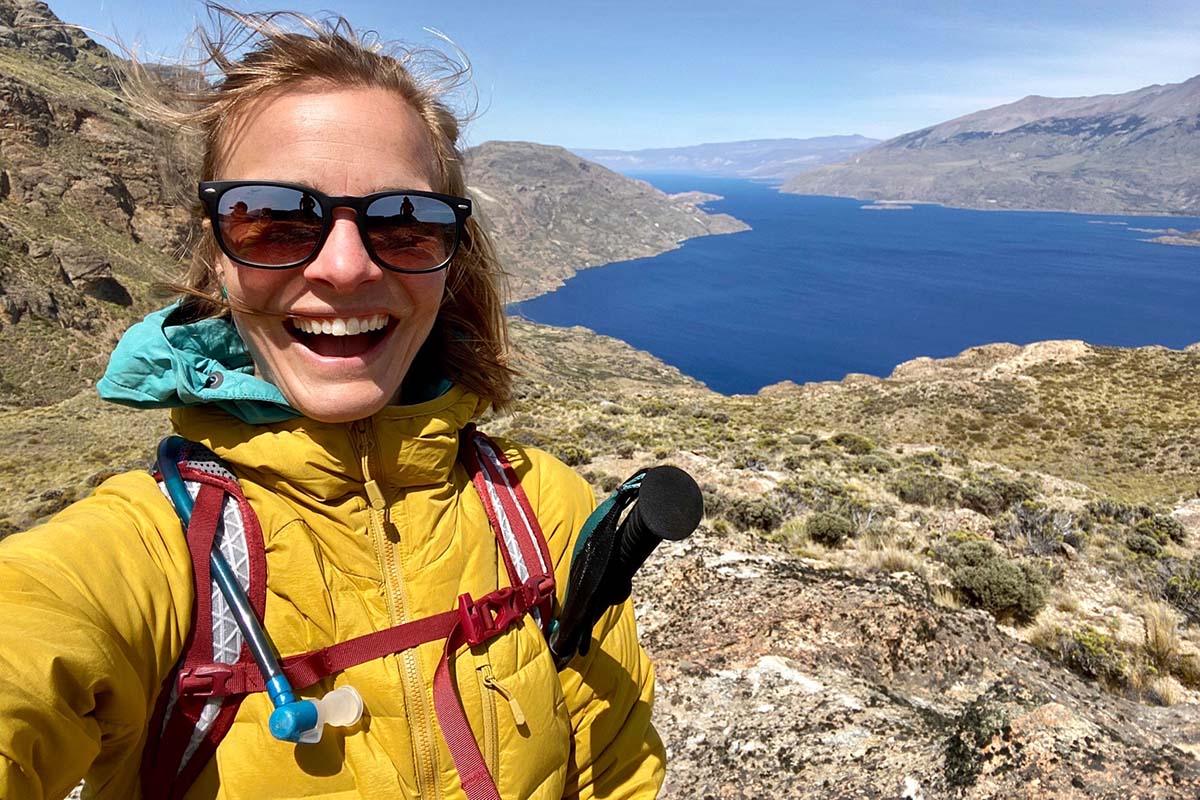 Another popular option to consider is Arc'teryx's Cerium LT Hoody. The Cerium is more of a premium performance piece than both the Mountain Hardwear and Patagonia, but it's one of our favorite down jackets on the market for its mix of good looks and technical chops. Compared to the Super/DS, you get higher-fill-power down (850), better packability, more technical features including a trim fit for layering and a DWR coating to repel light moisture, and a unique build that combines down fill with synthetic insulation in areas most prone to getting wet. And unlike the Super/DS, the Cerium LT is incredibly packable. All in all, if you're looking for a down jacket that transitions nicely between backcountry and everyday use, the Cerium remains a top pick in 2020 (but it will cost you a whopping $379). 
If you're drawn to the casual appeal of the Super/DS Stretchdown, the Arc'teryx Thorium AR Hoody is another great jacket to consider. One way to think of the Thorium AR is as a souped-up version of the Cerium LT mentioned above. You still get the classic down puffy look, but durable (30D) shell fabric and a roomier fit make the Thorium a better option for daily use. Like the Cerium LT, the Thorium AR comes with a DWR finish and synthetic insulation in moisture-prone areas, resulting in a jacket that's noticeably more weather-ready than the Mountain Hardwear. Your decision might come down to a matter of appearance (the two jackets have very different styles), but all told the Thorium AR ($325) makes a better all-around jacket for both performance and casual use.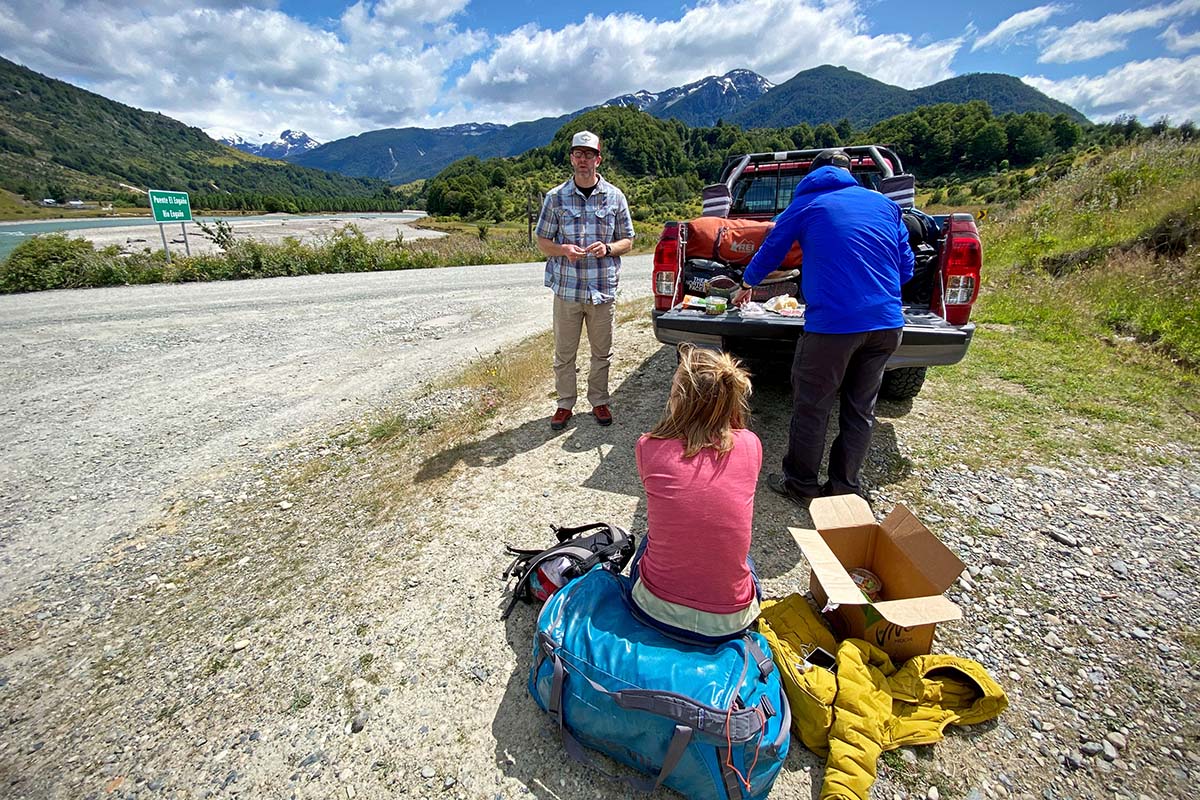 For around the same price as the Super/DS Stretchdown, Rab's Microlight Alpine has been one of our top-rated down jackets for years. For starters, you get a warmer build with 5.1 ounces of 700-fill-power down, a similar weight of 14.6 ounces, and a more weather-ready Pertex Quantum shell and hydrophobic down that do a great job of repelling wind and moisture. We also love the wire-brimmed hood, which resembles a hardshell and nicely protects your face from falling water and snow. A final decision will come down to your priorities: the Stretchdown wins out in style, comfort, and mobility, but the Rab is a well-rounded backcountry piece and gets the clear edge in protection.  
Finally, for those who prioritize mobility and want a real active insulation layer, a synthetic jacket is the way to go. One of our favorites in this category is Patagonia's popular Nano-Air Hoody, which isn't as warm as the Super/DS Stretchdown but offers better range of movement and breathability. And perhaps the biggest advantage of all: synthetic insulation continues to insulate when wet. For activities like climbing, skiing (both downhill and backcountry), and cold-weather hiking, the Nano-Air is a do-it-all layer that we love having in our quiver. For another option in the same category, the Ventrix Hoodie from The North Face looks a bit techier but has has similar stretch and performance as the Patagonia for $79 less.  
If you're thinking about buying gear that we've reviewed on Switchback Travel, you can help support us in the process. Just click on any of the seller links above, and if you make a purchase, we receive a small percentage of the transaction. The cost of the product is the same to you but this helps us continue to test and write about outdoor gear. Thanks and we appreciate your support!
Depending on the seller, most products ship free in the United States on orders of $50 or more. International shipping availability and rates vary by seller. The pricing information on this page is updated hourly but we are not responsible for inaccuracies.
Read More From Switchback Travel