Patagonia Calcite Jacket
Price: $299
Weight: 13.1 ounces (women's medium)
Waterproofing: 2.5L Gore-Tex Paclite Plus 
What we like: Excellent weather protection and more durable than most rain jackets.
What we don't: Not as breathable as other options; relatively heavy. 
See the Women's Patagonia Calcite  See the Men's Patagonia Calcite
Patagonia's rain wear lineup runs the gamut from the everyday-friendly Torrentshell to the Triolet hardshell that offers a winter-ready level of protection and breathability. The Calcite Jacket lands squarely in the middle: At 13.1 ounces and featuring a 2.5-layer Gore-Tex Paclite Plus construction, it's an impressively capable barrier against the elements. We brought the Calcite to the bottom of the Grand Canyon and on ski adventures in Colorado, where it faced conditions ranging from heavy rain to soft spring corn, and it proved to be a solid all-around shell. Below are our thoughts on the Calcite. To see how it stacks up to the competition, see our articles on the best rain jackets and best women's rain jackets.
 
---
Table of Contents
---

Performance
Weather Protection
With a 2.5-layer Gore-Tex Paclite Plus construction and durable water repellant (DWR) finish, the Patagonia Calcite Jacket is built to withstand conditions ranging from summer rain to serious winter storms. We encountered rain multiple times during our four-day backpacking trip through the Grand Canyon on the challenging Escalante Route. During the first storm, the Calcite kept me dry and comfortable in light precipitation. However, as the rain picked up and continued for hours, I did notice that the jacket began to dampen and appear wet on the outside along the sleeves. After further inspection, I realized this was just the DWR coating—the jacket still kept all water out and the interior remained dry. Throughout the rest of its testing, including more heavy rain in the Grand Canyon along with Colorado ski adventures, the Calcite effectively sealed out moisture and wind, keeping me warm and dry.
In addition to the Gore-Tex construction and DWR coating, the jacket also features a highly adjustable, helmet-compatible hood, a coating along the front zipper to repel moisture, and cuff and hem adjustments to seal out weather. The hood was especially helpful during wet weather: It was easy to cinch tight using a single-pull toggle at the back, and the generous front collar extended almost up to my nose, leaving very little of my face exposed to the elements. The hem and cuff adjustments were equally intuitive: The hem has a drawcord at each side to seal the jacket around your waist and the cuffs use a simple Velcro strip to tighten and loosen. All in all, the Calcite has offered ample protection in everything from heavy rain to light snow, and I'll confidently throw it in my pack on days when the forecast is questionable.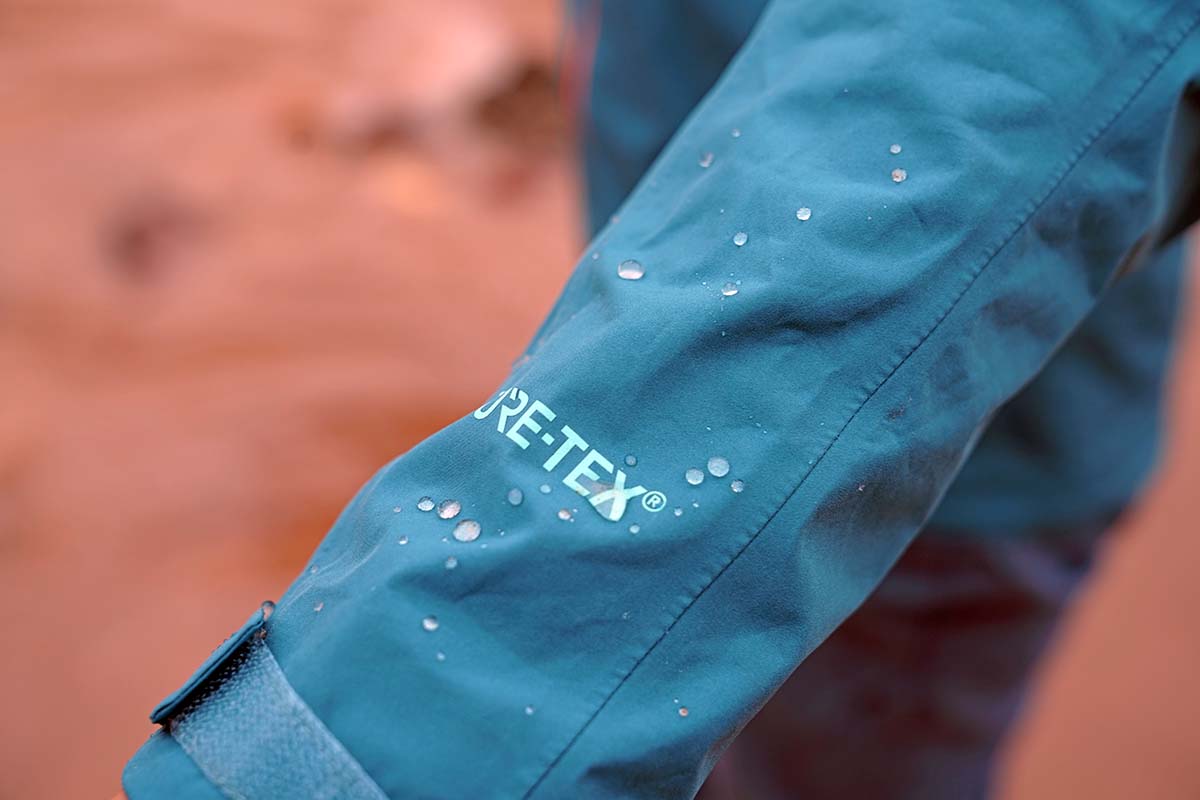 Breathability
As is the case with most rain jackets, the Calcite fell short when it came to breathability. Its thick, 75-denier fabric doesn't easily let air come and go, and 2.5-layer Gore-Tex is inherently less moisture-wicking than a 3-layer design. The Grand Canyon was predictably warm, and even during a chilling rain storm while hiking out along the South Rim, I quickly overheated and the inside of the jacket grew noticeably clammy. I've since taken the Calcite resort and backcountry skiing on warm spring days, and the result was the same: I grew hot rather quickly and struggled to get enough airflow, even when cruising downhill. However, as the wind picked up when I was stopped on a lift, I was glad to have the thick Calcite to take the brunt of it.
All that said, the Patagonia Calcite does include pit zips—a feature that many weight-conscious rain jackets lack—to dump heat more quickly. Simultaneously opening the pit zips and front zipper kept me reasonably comfortable in cooler morning temperatures. However, as we have found with some other Patagonia shells, the pit zips were difficult to open and close, and I haven't yet been able to adjust them without using both hands (and a lot of force).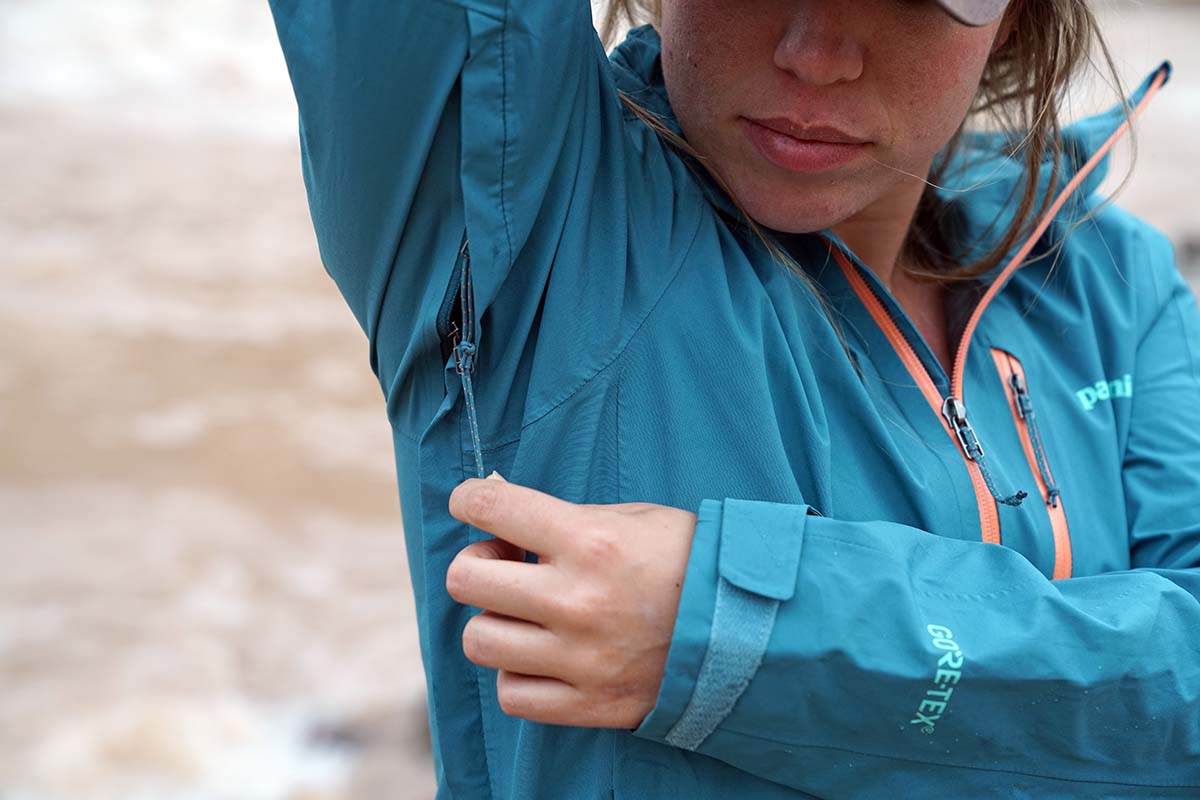 Weight and Packability
At 13.1 ounces for a women's medium, the Calcite is not a lightweight or minimalist rain shell. For that, we turn to jackets like the Black Diamond StormLine Stretch (9.5 oz.) and Patagonia's own Storm10 (7.4 oz.). Instead, the Calcite is on par with similarly appointed and durable jackets like the Black Diamond Liquid Point (12.3 oz.), Marmot Minimalist (13.6 oz.), and Outdoor Research Aspire II (11.7 oz.), making it competitive among fully featured models. As far as packability goes, the Calcite doesn't stuff into any of its pockets, nor does it have a helpful carabiner loop for harness carry, but it does fit nicely into its own hood. I had no issues finding room in my full pack for the bundled-up jacket. 
 
Build Quality and Durability
The Calcite is an impressively hardwearing jacket that has resisted tears while backpacking and backcountry skiing—not always an easy feat. I tend to be rough on my gear: During its first month in my possession, the Calcite got stuffed haphazardly into packs with sharp microspikes and ski equipment, brushed against rocks and plants along the Grand Canyon's Escalante Route, and worn while navigating tight trees at Colorado's Arapahoe Basin Ski Area. It has come out unscathed after every adventure, which I credit mostly to its tough 75-denier face fabric (most rain jackets are thinner). As I mentioned above, the only issue I've noticed was the DWR finish wetting out in sustained rain, but that's a relatively small complaint for an otherwise protective and durable jacket.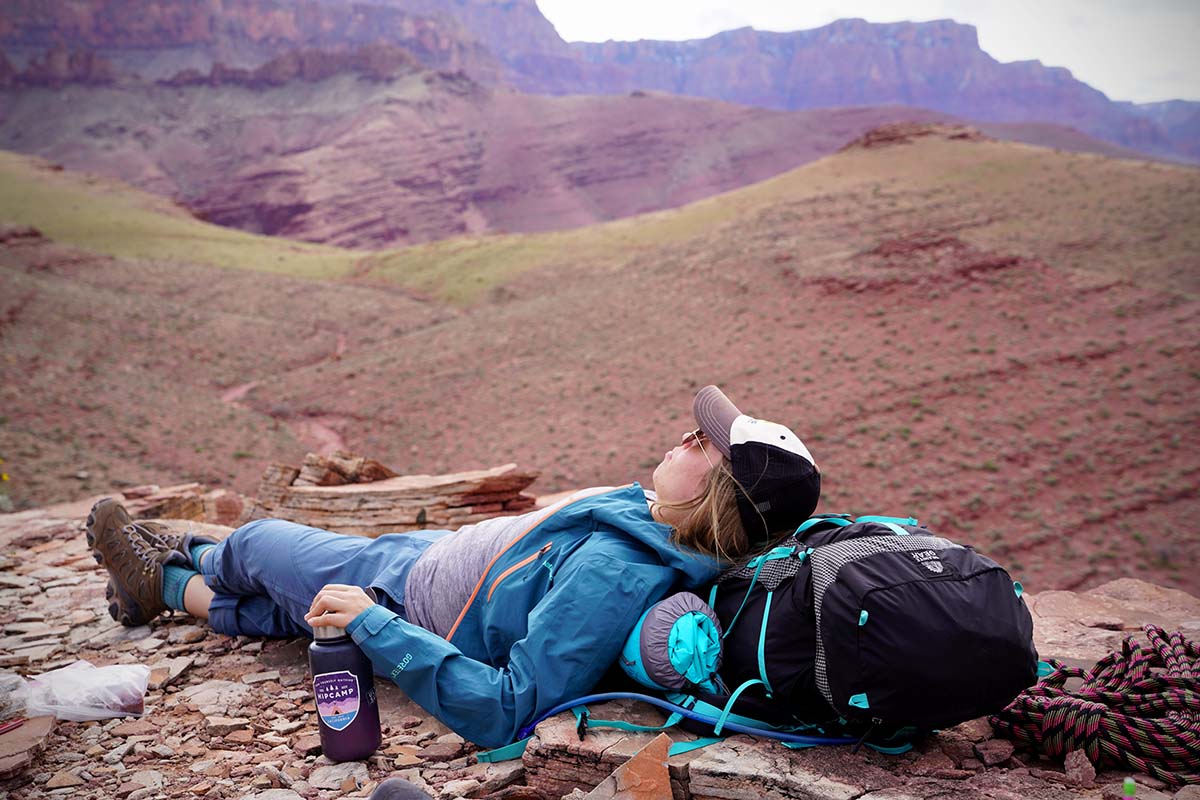 Features: Hood, Hem, Cuffs, and Pockets
The Patagonia Calcite's full-coverage, helmet-compatible hood is one of my favorite features on the jacket. I was easily able to squeeze a climbing helmet and larger ski helmet under the large hood, which makes the Calcite a great multi-sport jacket. The hood also has a laminated visor, which effectively prevented rain from dripping onto my face during storms. As far as adjustability goes, the Calcite's hood has one single-pull toggle at the back of the head (it does take two hands to adjust) and two at the base of the neck—as I mentioned above, these all were easy to cinch. Lastly, the hood's generous collar, which extends to about my nose, provided ample protection in wet conditions.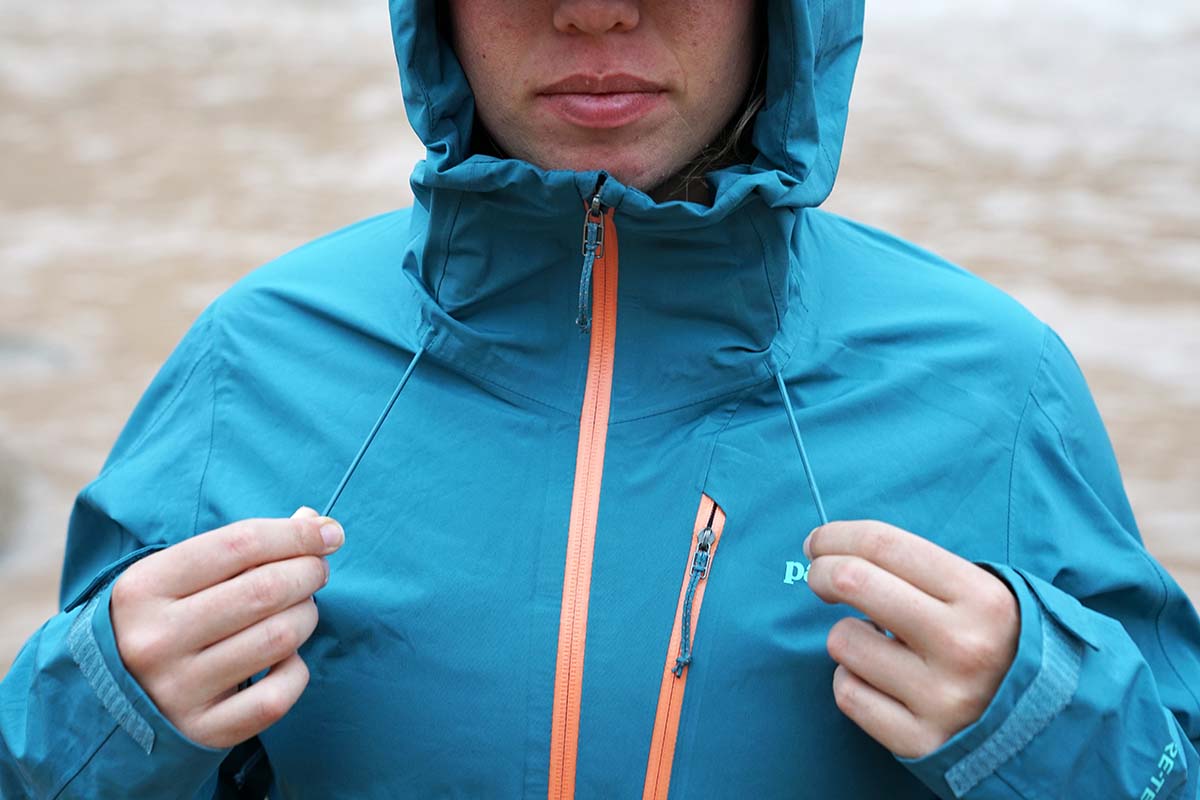 The jacket's hem, cuffs, and pockets offer similar attention to detail. Starting at the waist, the hem is adjustable via two pull cords (one at each side of the waist), which were fairly intuitive and easy to tailor on the trail. The cuffs can be tightened or loosened using a Velcro strip along the wrist, which secured them out of the way while I was hiking and even allowed me to fit ski gloves underneath when I left them loose. And in terms of storage, the Calcite features three pockets: two handwarmer pockets and an exterior left chest pocket. I liked the exterior pocket: It's generously sized, easily fits my plus-sized smartphone, and protected my valuables even in wet weather. My only gripe is that the handwarmer pockets aren't hipbelt- or harness-compatible. Whether using my 60-liter backpacking pack or my 22-liter ski pack, the pockets landed right underneath the hipbelt.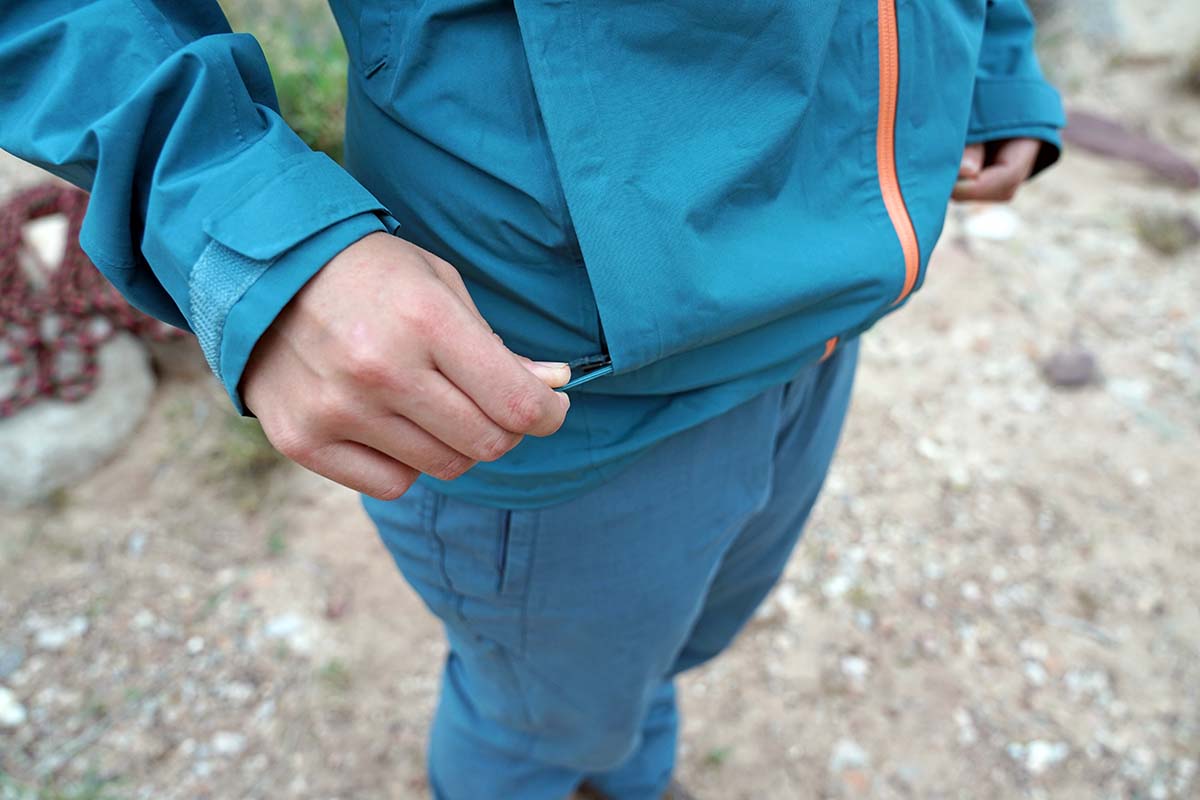 Comfort
The Patagonia Calcite scores high on the comfort scale, with a textured backer that's smooth even against bare skin. I wore the jacket with just a tank top underneath in the Grand Canyon and barely even noticed it was there—high praise for a rain shell. As I touched on above, the jacket did grow clammy when I overheated, but opening the pit zips helped a good amount. All in all, next-to-skin comfort isn't typically a strong suit of rain jackets—especially those with a 2.5-layer build—and the Calcite definitely falls near the top of the pack.

Fit and Sizing
I typically wear a medium in Patagonia outerwear, and the Calcite fit true to size. The jacket is billed as "regular" fit, meaning it can be layered over a down jacket or similar midlayer. On cool nights at camp in the Grand Canyon, I wore my Rab Microlite Alpine Jacket underneath the Calcite and found the combination still allowed for ample freedom of movement when setting up camp, taking off my boots, and sitting around the stove. Back home in Colorado, I took the Calcite backcountry skiing with only a baselayer underneath and didn't notice much of a difference. The fit and mobility are superb and there didn't seem to be any areas of noticeable tightness or roominess no matter which layers I choose.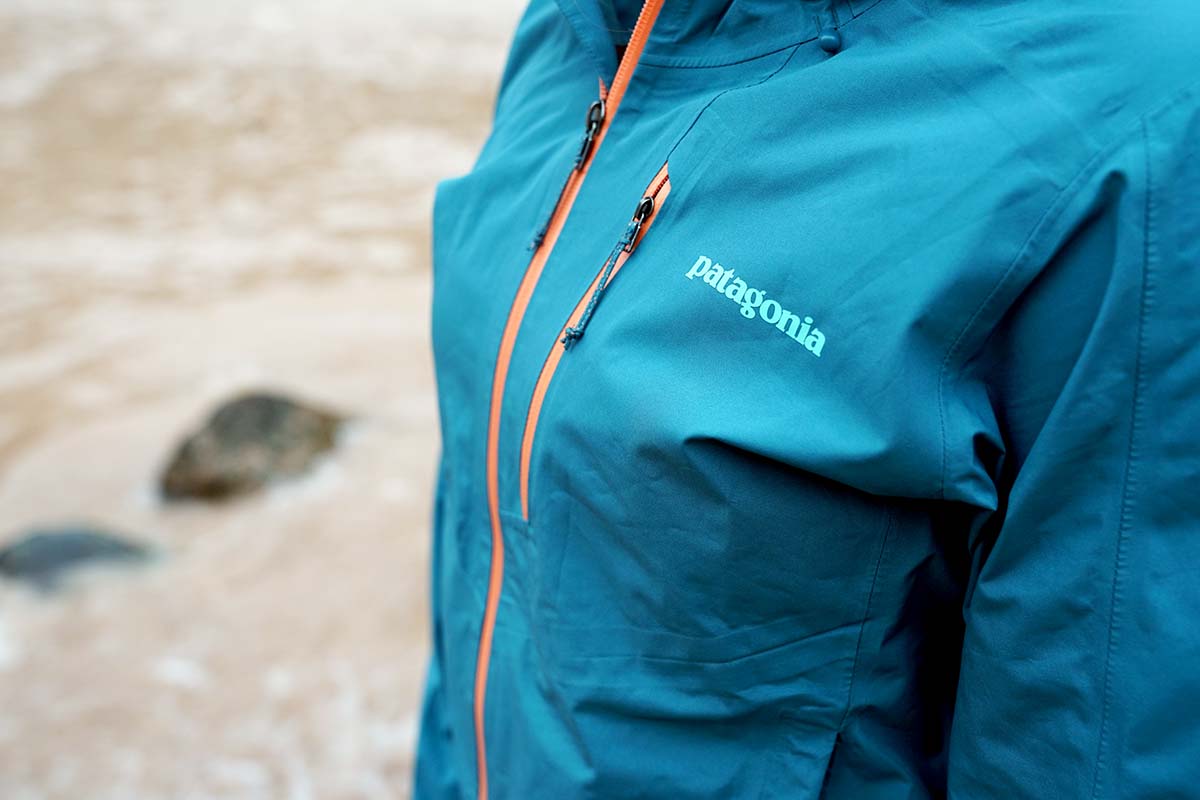 Sustainability
Like many of Patagonia's jackets, the Calcite embodies the brand's ever-growing focus on sustainability. On this jacket, the face fabric is 100-percent-recycled polyester, and the Calcite has been sewn in a Fair Trade Certified factory, meaning that Patagonia put extra money into the jacket's production to ensure that workers have a safe working environment and are compensated fairly. In the end, Patagonia products don't come cheap, but we think the added transparency and sustainability initiatives help justify the cost.

Men's Version of the Patagonia Calcite
For this review, we took the women's Calcite Jacket into the Grand Canyon and beyond. Patagonia also makes the jacket in a men's version for the same price, which comes in slightly heavier at 14.5 ounces but otherwise features the same 2.5-layer Gore-Tex Paclite Plus construction, pocket layout, and overall design. Like the women's model, the men's Calcite Jacket also comes in a wide array of color options.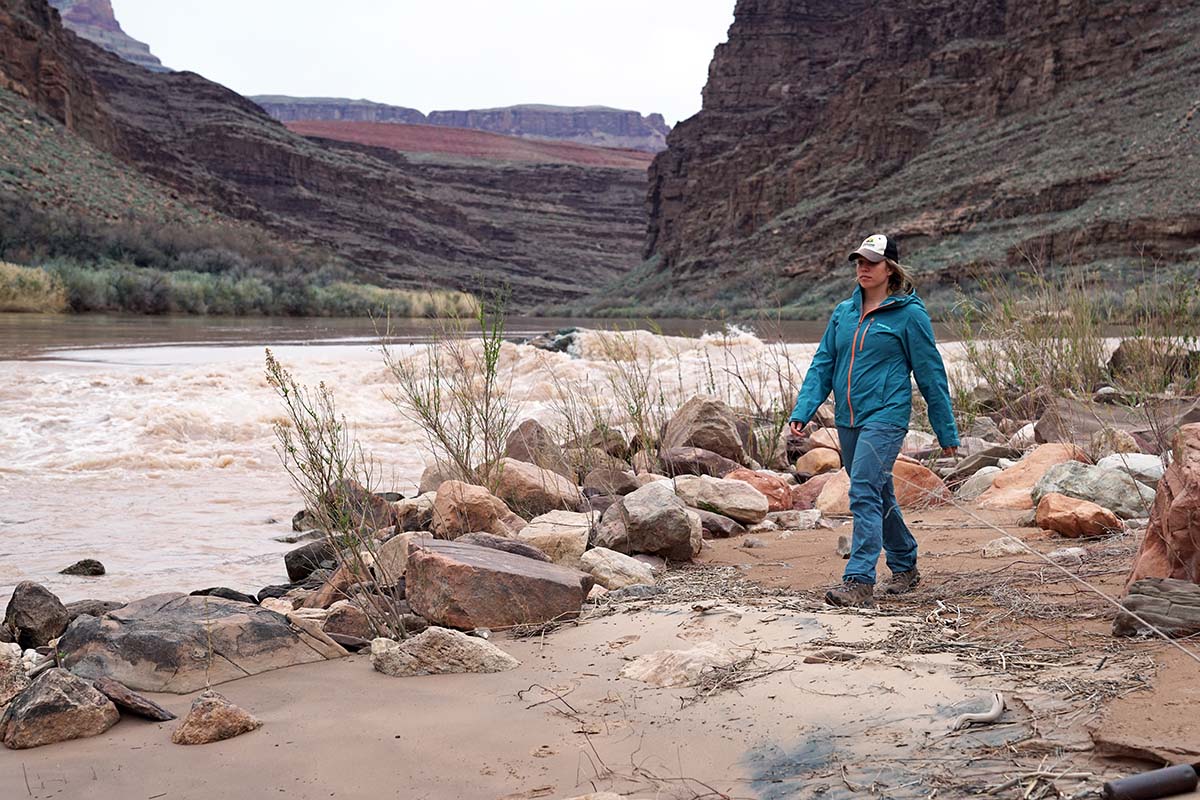 What We Like
The 2.5-layer Gore-Tex Paclite Plus construction provides excellent weather protection overall.
With a 75D shell, this jacket is very durable and impressively resistant to tears and snags.
Helmet-compatible hood offers full coverage and the adjustments are intuitive and very functional.
The Calcite's feature set and tough build make it a viable multi-sport option for climbing and skiing in moderate conditions.
 
What We Don't
As is the case with many rain jackets, the Calcite isn't a great breather and I overheated quickly even in mild temperatures (and despite the jacket's pit zips).
At 13.1 ounces, the Calcite is decently heavy.
Pit zips require two hands for adjustment.
Handwarmer pockets land right underneath a pack's hipbelt.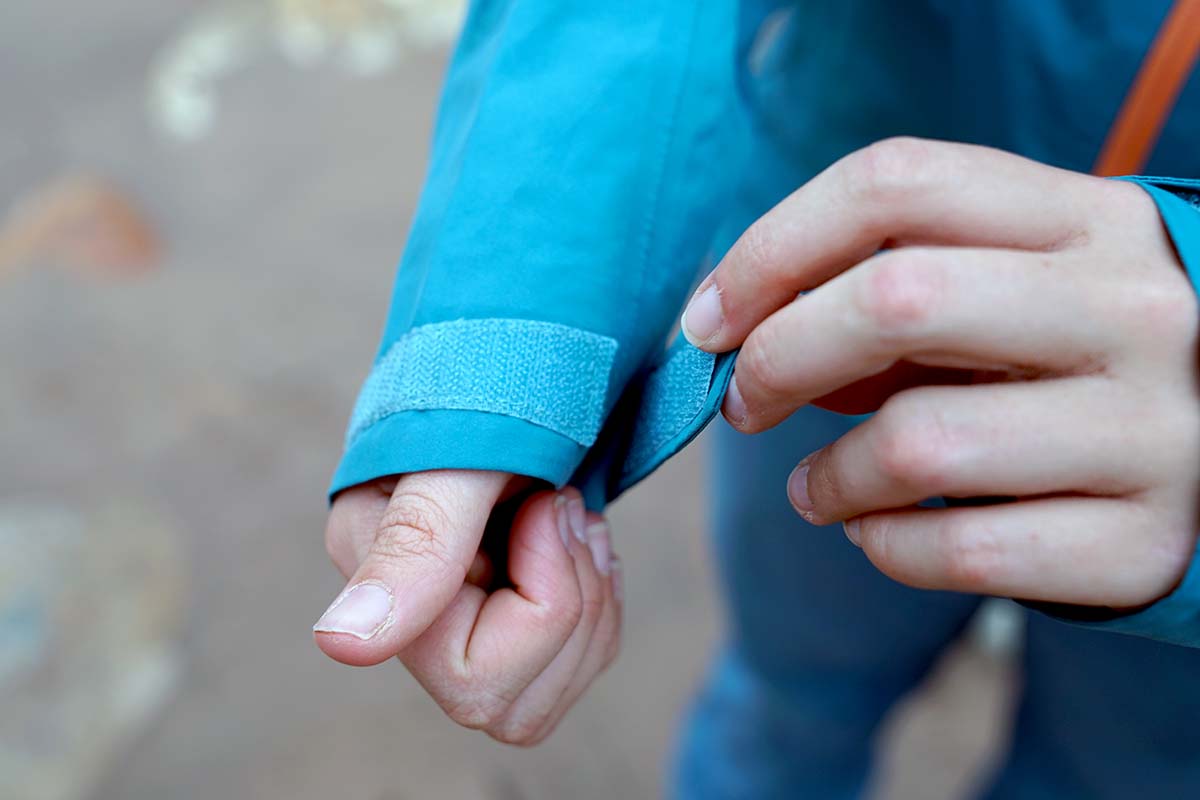 Comparison Table

The Competition
The Patagonia Calcite joins a crowded field of rain jackets that aim to balance weather protection, features, and weight. Its closest competitor is Black Diamond's Liquid Point, and the two share a lot in common, including 2.5-layer Gore-Tex Paclite builds, 75-denier face fabrics, similar weights, and helmet-compatible hoods. The Patagonia includes a chest pocket, but the BD is cheaper by $40 and has a little more of a hardshell feel with upgrades like water-resistant zippers on the arm vents and a slightly nicer face fabric. In our opinion, both jackets fall in a difficult middle ground: They're too heavy for serious backpacking and fairly expensive but don't have the breathability and bombproof protection of an alpine shell. But if their feature sets line up with your needs, the Liquid Point's small technical upgrades give it the edge for us.
A standout in this category is the Marmot Minimalist: It's impressively versatile and retains many of the features we love about the Calcite but comes in at a significant $100 cheaper. The Minimalist is slightly heavier at 13.6 ounces, but has a similar 2.5-layer Gore-Tex Paclite construction and includes features like pit zips and an adjustable hem and hood (note: The Marmot's hood is not helmet-compatible). Both jackets have a nice, wear-anywhere style that works well both for hiking and around-town use. The women's Minimalist lacks a chest pocket (the men's jacket does include it, however) and the front zipper isn't water-resistant, but these are small gripes for an otherwise great all-around piece. And at $199, we think the Marmot is the better value.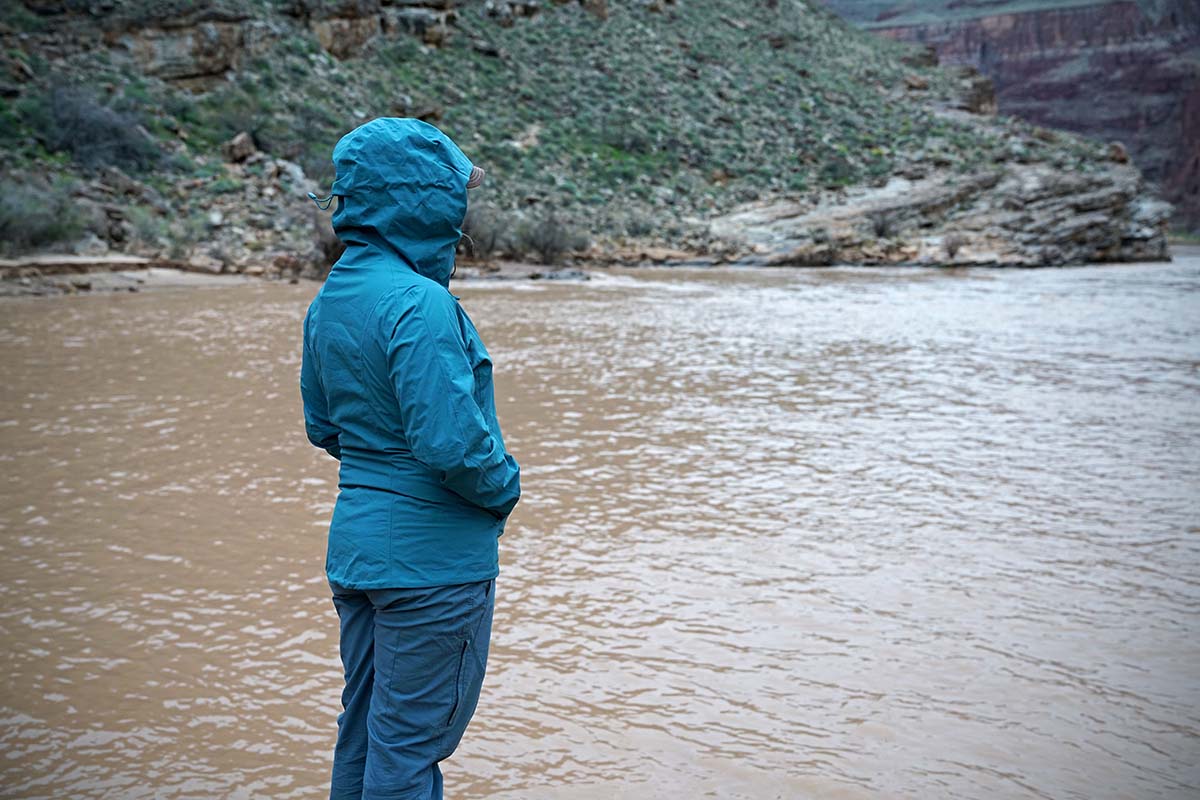 Another do-it-all rain jacket is Outdoor Research's Aspire II (and men's Foray). Like the Minimalist and Calcite, it features Gore-Tex Paclite but comes in a little lighter (11.7 oz.). The Aspire also has a 2-layer build rather than the Minimalist and Calcite's 2.5-layer constructions, but adds breathability with a unique venting system: Rather than standard pit zips, OR extended the vents from the bicep all the way down to the hem, which creates a poncho-like style when fully unzipped. In practice, we found this TorsoFlo design offered significantly better airflow than traditional pit zips, which makes the Aspire a solid multi-sport jacket for activities from backpacking to backcountry skiing (although its hood isn't helmet-compatible). And the clincher for us: It manages to do all this while undercutting the Calcite by $74.
Two final options to consider come from within Patagonia's own lineup: the Torrentshell 3L Jacket and minimalist Storm10. Rather than Gore-Tex, both jackets utilize 3-layer H2No (Patagonia's proprietary waterproofing fabric) constructions, which give them the upper hand in value. The Storm10 is the lightest and most packable of the bunch at a scant 7.4 ounces, which makes it great for fast-and-light mountain endeavors (the harness-friendly pockets and slim fit help), but it forgoes pit zips and has a thin 20-denier construction. On the flip side, the Torrentshell is the better all-rounder at a reasonable 12.5 ounces and $149 (0.6 oz. and $150 less than the Calcite). It lacks a helmet-compatible hood and has a thinner construction (50D vs. 75D) but wins out in around-town appeal and versatility. In the end, a final decision among the three will come down to your objectives and how you prioritize weight, features, and styling.
If you're thinking about buying gear that we've reviewed on Switchback Travel, you can help support us in the process. Just click on any of the seller links above, and if you make a purchase, we receive a small percentage of the transaction. The cost of the product is the same to you but this helps us continue to test and write about outdoor gear. Thanks and we appreciate your support!
Depending on the seller, most products ship free in the United States on orders of $50 or more. International shipping availability and rates vary by seller. The pricing information on this page is updated hourly but we are not responsible for inaccuracies.
Read More From Switchback Travel