Arc'teryx Squamish Hoody
Price: $159
Weight: 4.9 oz. (men's)
Materials: 100% stretch nylon
What we like: Great all-around performance in a lightweight and compressible package.
What we don't: Not a class leader in breathability or weight (but it's not far behind in either).
See the Men's Arc'teryx Squamish  See the Women's Arc'teryx Squamish
Squamish, B.C. is home to world-class climbing, hiking, and mountain biking, so it comes as little surprise that Arc'teryx's namesake windbreaker is a great match for active adventures. We took the Squamish Hoody from its roots in the great north all the way to Patagonia, where we faced winds so strong that we had to physically lie down to avoid getting knocked over. In the end, the Squamish checked all the boxes: it's incredibly wind-resistant, allows great freedom of movement, and provides just enough protection for most mild alpine pursuits. Below we break down the Squamish Hoody's overall performance. To see how it stacks up to the competition, see our article on the best windbreaker jackets.
 
---
Table of Contents
---

Performance
Wind Resistance
As the name implies, a windbreaker's main job is to cut harsh gusts, and the Arc'teryx Squamish Hoody is one of the most capable jackets we've tested in this regard. Using a 30-denier stretch nylon build, the Squamish is incredibly wind-resistant given its thin, lightweight construction. The jacket's first major test came during our trek in Chile's Cerro Castillo region over a high mountain pass. The wind was so intense and sustained that we had to lie down to avoid getting blown over. However, despite the forceful gusts, the Squamish did a tremendous job protecting me from the elements. Further, I left it on even after we descended down into much milder conditions, which speaks volumes about its overall comfort and versatility.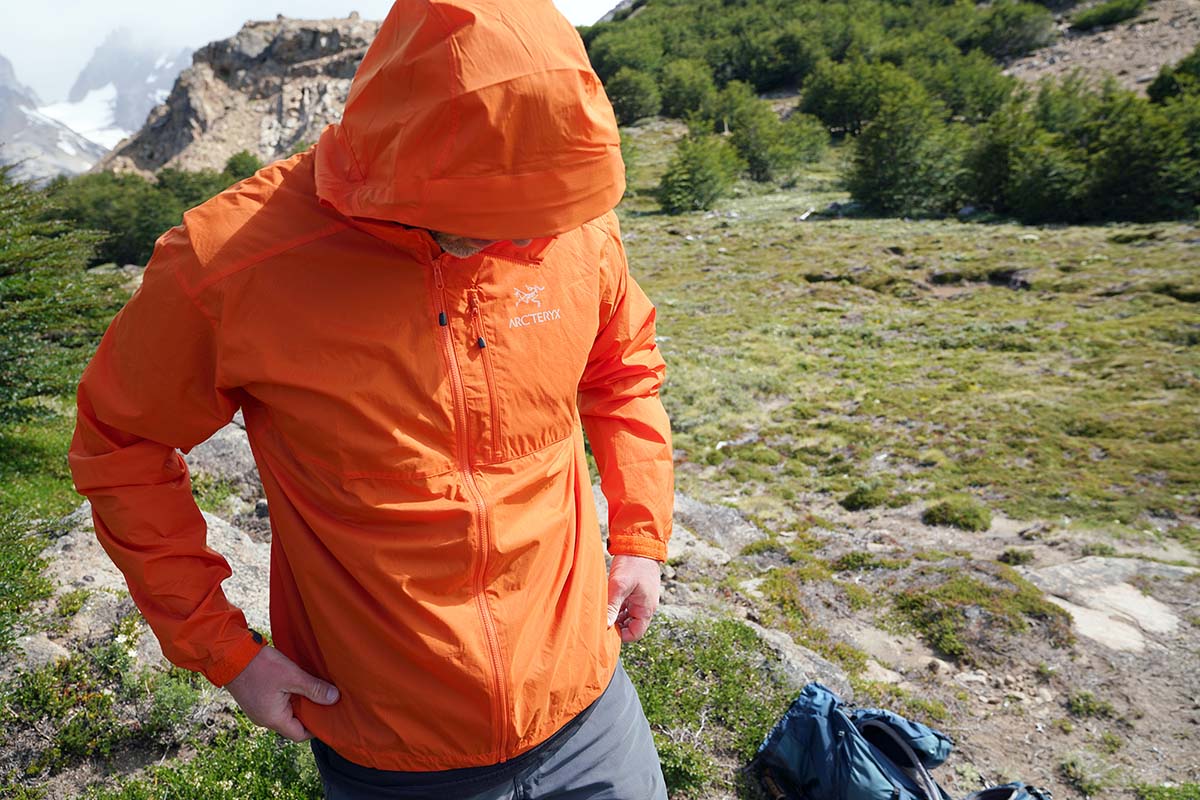 Water Resistance
Put simply, the Squamish Hoody was built for wind, not rain. In other words, it won't be mistaken for a fully waterproof rain jacket or hardshell. That said, you do get a bit of water resistance thanks to a durable water repellent (DWR) finish, which allows water to bead up and roll off the face fabric rather than soaking in. I wore the Squamish in a wide range of conditions from bright sun to overcast days and even full-on rainstorms. In practice, the jacket was able to handle most of what Mother Nature had in store, but when the weather really took a turn, I swapped it out for a dedicated rain shell for better protection. All in all, the Squamish provides an effective barrier against light precipitation, but it's no match for sustained or heavy moisture.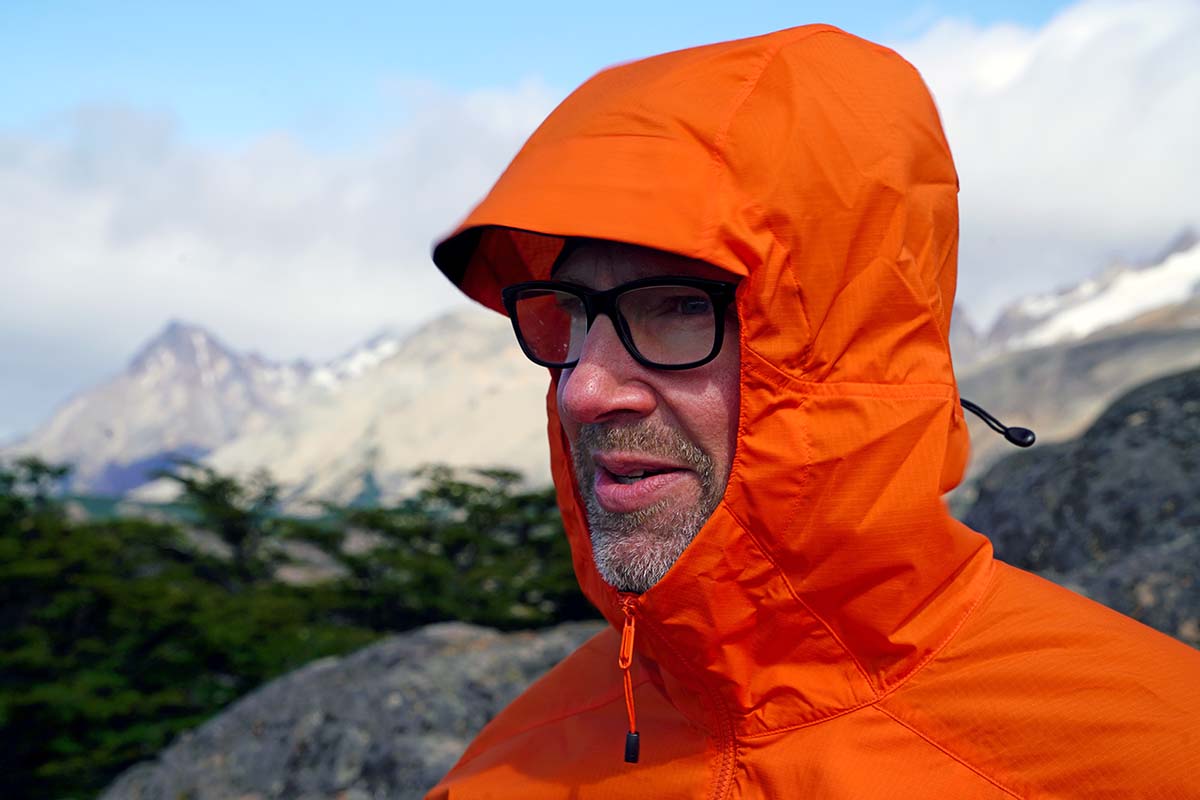 Breathability
Among windbreaker jackets, the Arc'teryx Squamish Hoody is one of the most breathable designs, making it a great choice for active use in a variety of environments. When hiking and backpacking, the jacket effectively let heat and moisture escape without issue. Even under heavy activity and exertion, it rarely felt swampy inside. We should note for comparison's sake that we brought along a number of wind jackets on our trip to Chile, including the Patagonia Houdini and Houdini Air. In use, we found the Arc'teryx to be slightly less breathable than the lighter and thinner Houdini Air but far superior to the standard Houdini. To be sure, we'd opt for a model like the Houdini Air or Arc'teryx's thinner Incendo Hoody for running, but the Squamish's overall breathability nicely matches its alpine intentions.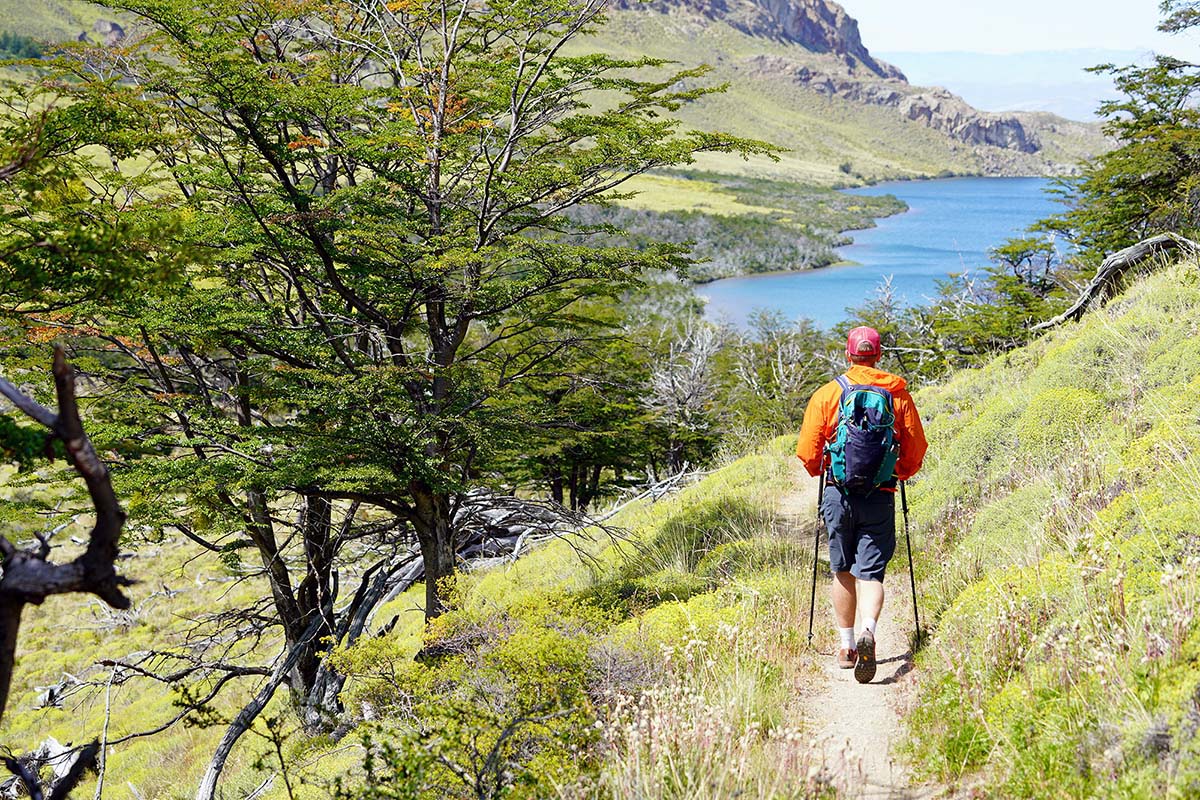 Weight and Packability
At 4.9 ounces, the Squamish is at the lightweight end of the windbreaker spectrum. Among the alpine- and hiking-focused competition, the Squamish is notably lighter than the Black Diamond Alpine Start (7.4 oz.), although it's less wind- and water-resistant (both are excellent breathers). Our favorite model, the Patagonia Houdini Air, undercuts the Squamish slightly at 4.1 ounces, but its thinner build translates to a bit less durability around sharp rocks and protection against strong gusts. All in all, the Squamish hits a nice middle ground: it's not as breathable as the Patagonia and is less protective than the BD, but it's a great all-around performer at a very reasonable weight. Finally, in terms of packability, the jacket stuffs into its own chest pocket for easy storage in a pack and features a cord loop for toting from a harness.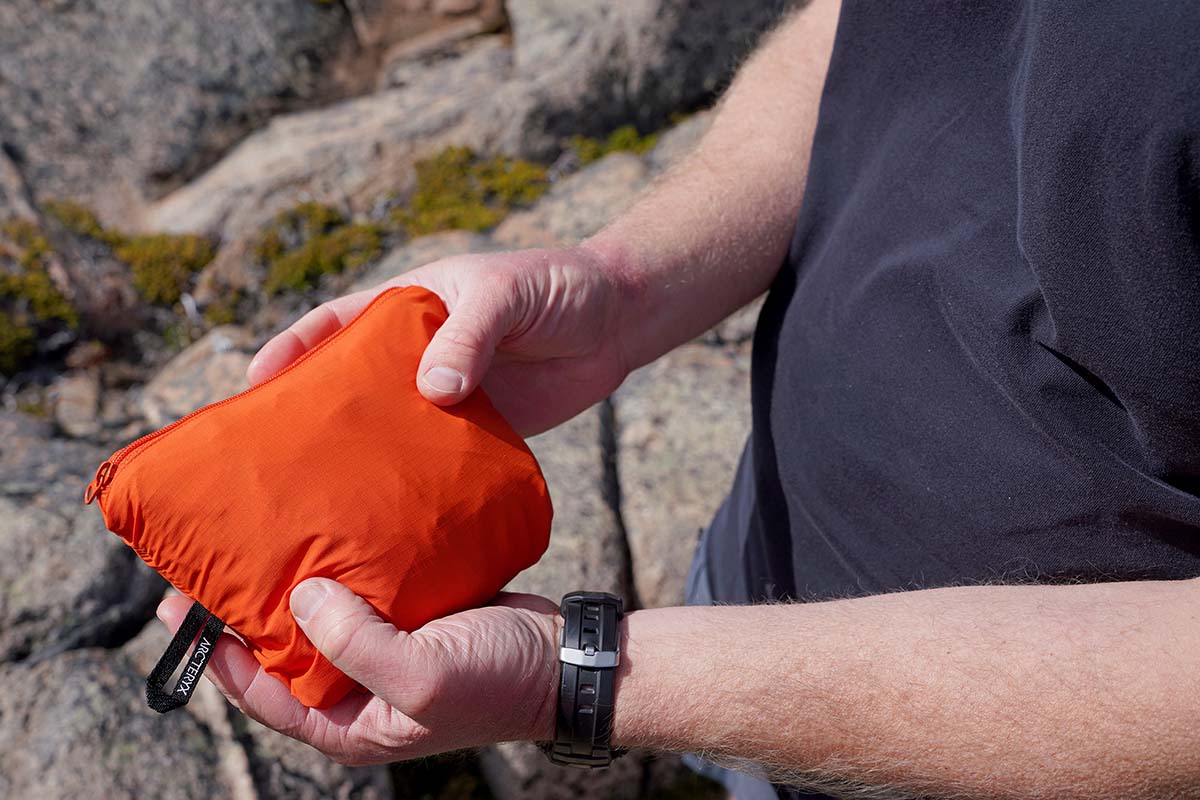 Build Quality and Durability
I was initially concerned that the Squamish's thin, 30-denier fabric wouldn't hold up to regular use and abuse, but those worries disappeared after a 50-plus-mile backpacking trip in Parque Patagonia. On one occasion, we accidentally went off-piste and found ourselves plowing through dense brush riddled with thorns and other sharp plants. However, the Squamish Hoody emerged completely unscathed. This is largely due to the stretch in the nylon: rather than tearing or snagging, the fabric is much more likely to "give" under pressure. And an added bonus: unlike jackets with no stretch, this makes the Squamish a great option for rock climbing and other activities that require added range of motion. 

Features
Despite the lightweight and packable build, the Arc'teryx Squamish Hoody comes well-appointed. First, it includes Arc'teryx's legendary StormHood with soft brim, which fits nicely over a climbing or biking helmet and has a one-handed adjustment to effectively snug down. Storage is fairly minimal with a single chest pocket that doubles as a stuff sack, but hand pockets would add a good amount of weight. And although we tested the previous version, we should note that Arc'teryx has replaced the Velcro cuffs with simple elastic and added a dual hem adjustment in their most recent update (this is a nice improvement from the lopsided fit of a one-sided hem adjustment). All in all, it feels like Arc'teryx included all the necessary features without going overboard.

Fit and Sizing
Despite its "trim" designation, I found that the Arc'teryx Squamish Hoody ran a little larger than expected. It fit nicely over a midweight baselayer, but felt overly roomy when paired with just a light t-shirt underneath. That said, it's worth noting that Arc'teryx recently addressed the jacket's fit with an updated silhouette, which gives it a more athletic cut. And as I touched on above, the Squamish has a noticeable amount of stretch in the build, making it one of the best options for activities like climbing that require a high level of freedom of movement. In fact, our climbing editor used the Patagonia Houdini for years as her go-to wind jacket for multi-pitch climbing, but once she discovered the Squamish, she never looked back.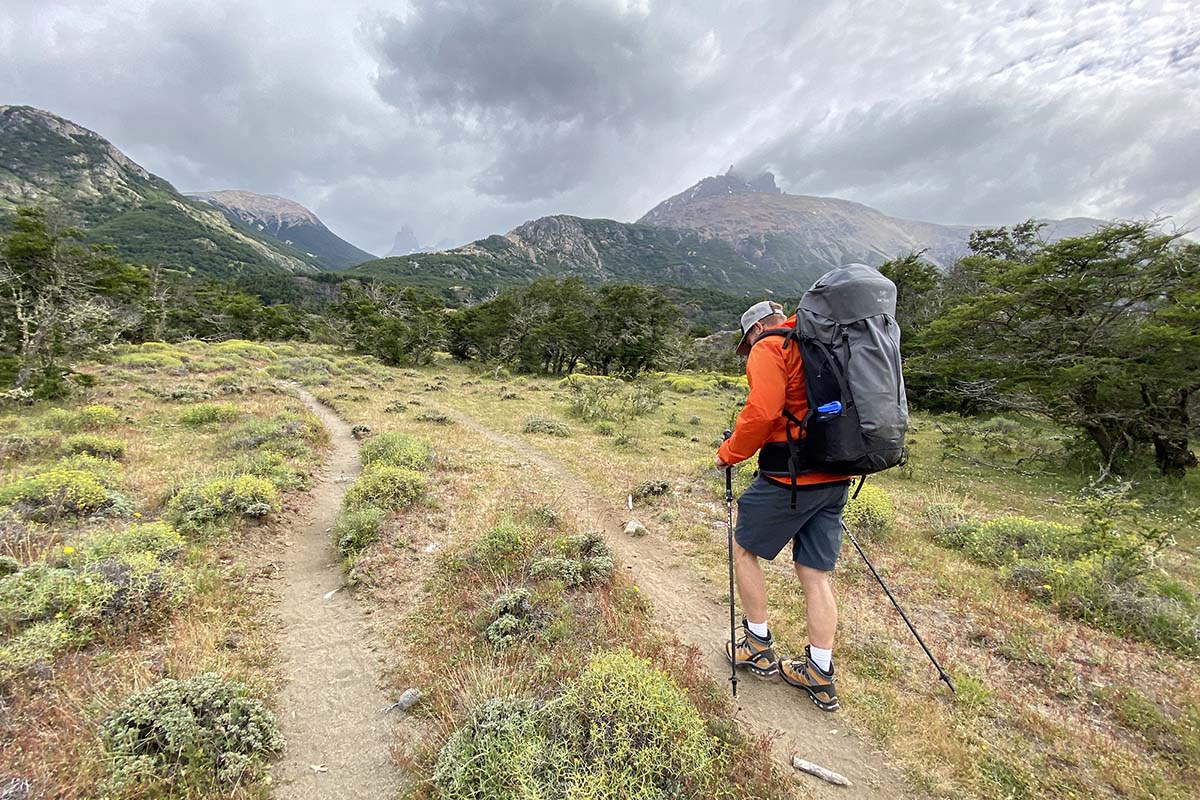 Other Versions of the Arc'teryx Squamish Hoody
We brought the 2019 version of the Squamish Hoody to Patagonia for testing, and the revised jacket (linked throughout this article) was released shortly after our trip for spring 2020. Noteworthy changes to the updated Squamish include a lighter weight, elastic cuffs rather than Velcro, a dual-adjustment hem, and a more athletic fit (this is good news, as we found the previous version to be slightly baggy). Arc'teryx also makes the Squamish in a women's version for the same price of $159 (which also received a recent update). Compared to the men's model, the women's Squamish Hoody is slightly lighter at 4.4 ounces and comes in different colorways, but otherwise the two jackets are identical in features and overall construction.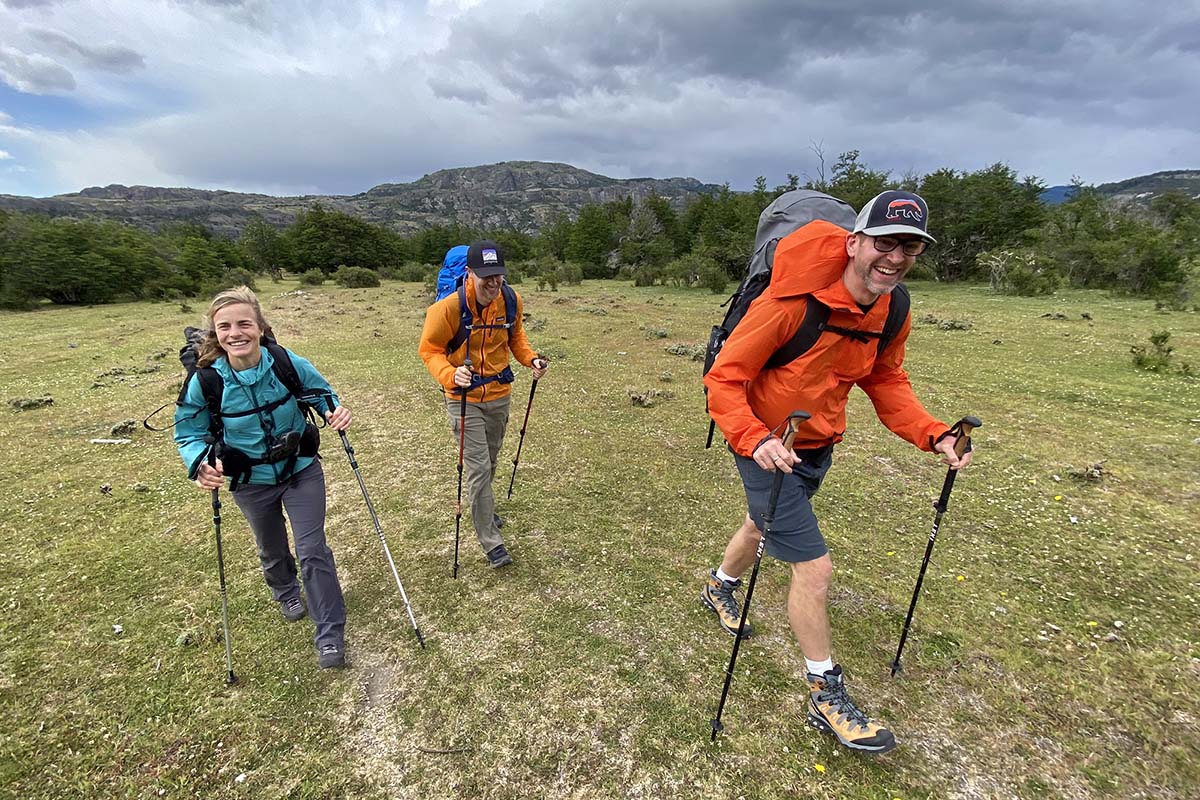 What We Like
Great all-around performance: the Squamish is wind-resistant, breathable, and highly mobile with stretch in the fabric.
Very lightweight and packable, which makes it easy to stuff in a pack or tote off a harness on multi-pitch climbs.
Functional feature set, including a well-fitting and adjustable hood that fits over most helmets, dual hem adjustments, and a chest pocket.

What We Don't
Less breathable than the Patagonia Houdini Air and less protective than the Black Diamond Alpine Start.
At $159, the Squamish is on the pricier end of the windbreaker spectrum (although you get what you pay for with Arc'teryx's top-notch quality).
DWR coating gets overwhelmed in anything more than light precipitation. We recommend bringing along a fully waterproof shell for sustained or heavy rain.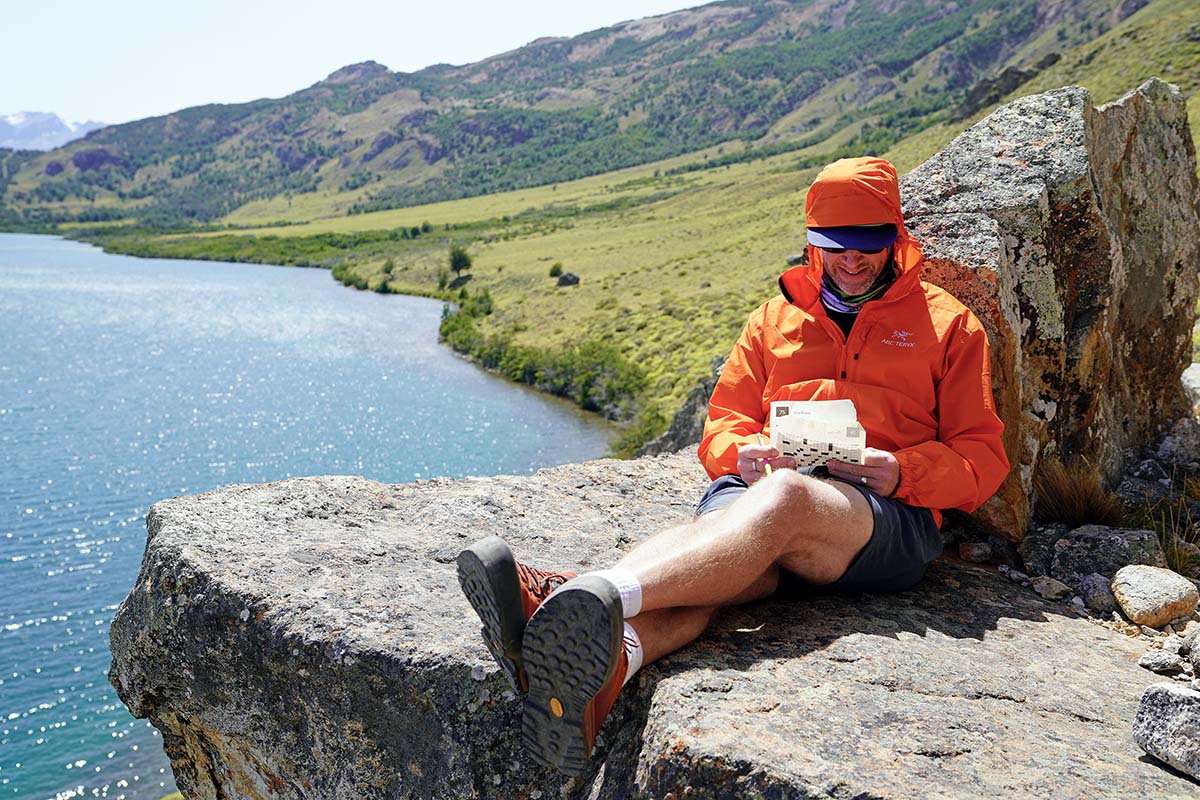 Comparison Table

The Competition
The Arc'teryx Squamish Hoody is one of our favorite windbreakers for its excellent combination of wind resistance, breathability, and durability. However, our top-rated pick this year is Patagonia's Houdini Air. Stacked up against the Squamish, the Houdini Air is slightly lighter at 4.1 ounces, more packable, and features a nylon shell and air-permeable double-weave liner, which translates to a bit more breathability (we love this jacket for hiking, running, mountain biking, and other high-output activities). While both jackets have some built-in stretch, the Squamish's stretch nylon makes it noticeably more mobile. Both are capable options for alpine and hiking use, but we give the Patagonia the overall edge for its similar performance at a lower weight.
For a step up in protection, Black Diamond's Alpine Start Hoody is well worth a look. The BD is considerably heavier than the Squamish at 7.4 ounces, but its thicker, softshell-like build makes it the better pick for true mountain weather. In fact, the Alpine Start (reviewed here) has kept us dry in everything from all-day drizzles to blowing snow, so much so that we've begun to think of it as a trimmed down rain jacket. The BD is also highly mobile with 7 percent elastane in the build (significantly stretchier than the Squamish), and it's breathable enough that we've kept it on even during high-intensity runs. If weight and packability aren't major concerns, we think the Alpine Start wins out in almost every category.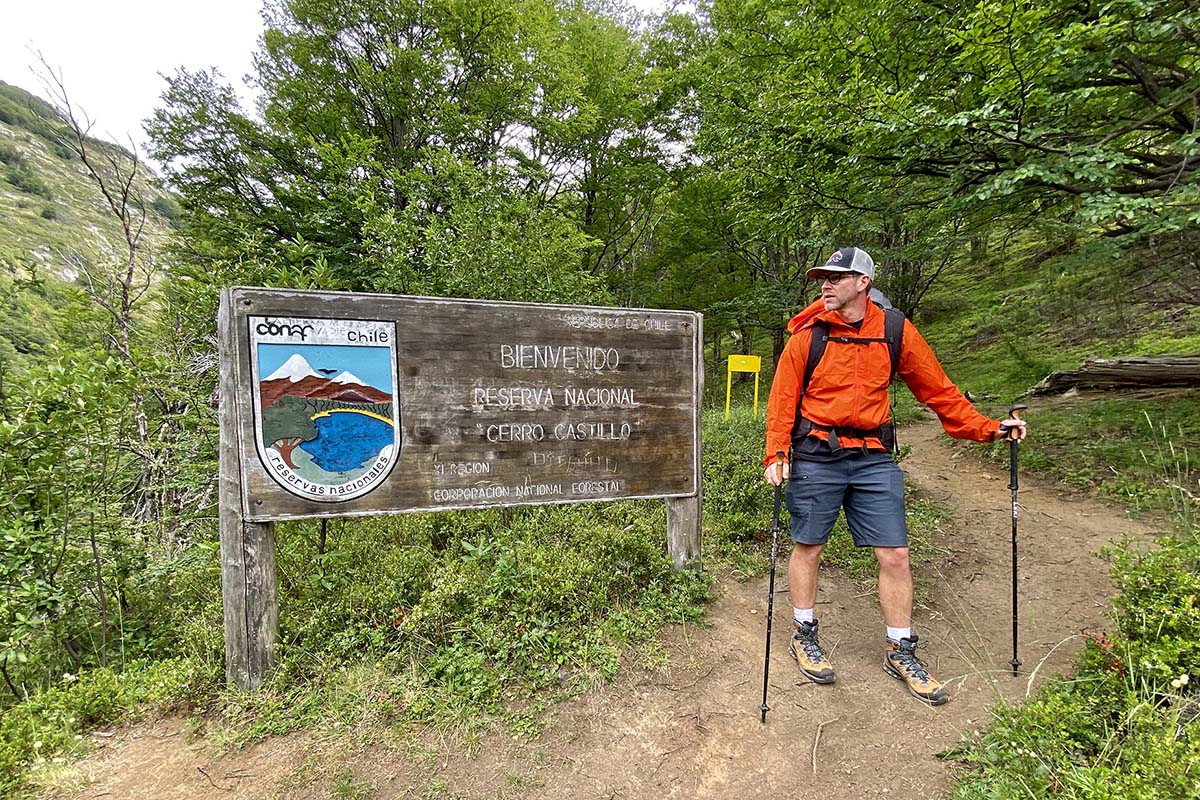 Mountain Hardwear's Kor Preshell Hoody is another alpine-focused wind shell to consider. Like the Squamish, the Kor Preshell has a noticeable amount of stretch in its construction, clocks in at 4.9 ounces (identical to the Arc'teryx), and its Pertex Quantum Air build is exceptionally windproof and water-resistant. Impressively, the Kor includes two zip hand pockets in addition to an internal dump pocket, but the jacket uses a thinner 20-denier fabric to cut weight, which results in less weather protection and overall durability. All in all, we think the Squamish's construction is a bit more functional, which is why we rank it higher in our article on the best windbreaker jackets.
For hikers and casual users who don't anticipate needing the Squamish's technical features, Arc'teryx offers a less performance-focused alternative in their Nodin Jacket. The Nodin is slightly heavier and more expensive than the Squamish at 5.5 ounces and $199 respectively, but you get features like a snug-fitting and stowable hood and ample storage with two zippered hand pockets (one of which doubles as a stuff sack) and one internal stash pocket. However, unless you value the added storage, we prefer to save with the lighter and slightly more durable Squamish (the Nodin is 20D), and the helmet compatibility will likely be the deciding factor for many climbers.
Last but not least, we'd be remiss not to include Patagonia's standard Houdini. For $99 ($60 less than the Squamish), the Houdini is plenty of jacket for most climbers, hikers, and mountain bikers with great overall wind protection, moderate water resistance, and a lightweight, 3.7-ounce build. It's not as breathable or durable as the Squamish (you can see through the Patagonia's fabric), and we prefer the aforementioned Houdini Air for its increased ventilation and comfort. But when weight is a top priority or you don't anticipate working hard, the Houdini is a capable choice at a very reasonable price.
If you're thinking about buying gear that we've reviewed on Switchback Travel, you can help support us in the process. Just click on any of the seller links above, and if you make a purchase, we receive a small percentage of the transaction. The cost of the product is the same to you but this helps us continue to test and write about outdoor gear. Thanks and we appreciate your support!
Depending on the seller, most products ship free in the United States on orders of $50 or more. International shipping availability and rates vary by seller. The pricing information on this page is updated hourly but we are not responsible for inaccuracies.
Read More From Switchback Travel