Patagonia's Houdini jacket is a standard bearer and in many ways defines the ultralight windbreaker category. We tested this longtime favorite in high winds while backpacking and hiking in Patagonia and during late winter/early spring hikes and mountain bike rides in central Washington state. The verdict: despite newer and more breathable designs being available, the Houdini still offers a standout combination of weight, wind resistance, and price. Below we break down the Houdini's overall performance. To see how it stacks up to the competition, see our article on the best windbreaker jackets.
 
---
Table of Contents
---

Performance
Wind Protection
Weighing seemingly nothing, the Patagonia Houdini impresses me each and every time I pull it out of my pack. The moment I zip up, the shell immediately shuts out wind and provides a noticeable boost in warmth. In fact, it offers ideal wind protection for late winter and early spring mountain bike rides. I do run warm and the Houdini isn't particularly breathable (more on this below), so I store it in my pack for the climb. But the second I stop, I throw it on and wear it for the entire descent. In practice, it's been a perfect match on everything from cold and clear days with temperatures in the high 30s Fahrenheit to blustery rides along ridgelines with temps hovering in the mid 40s. And on our trip to Patagonia, I found myself keeping the Houdini close and wearing it daily. It cut the wind nicely when we stopped for lunch while backpacking, and I hiked in it if the weather was cool or the wind was particularly rough.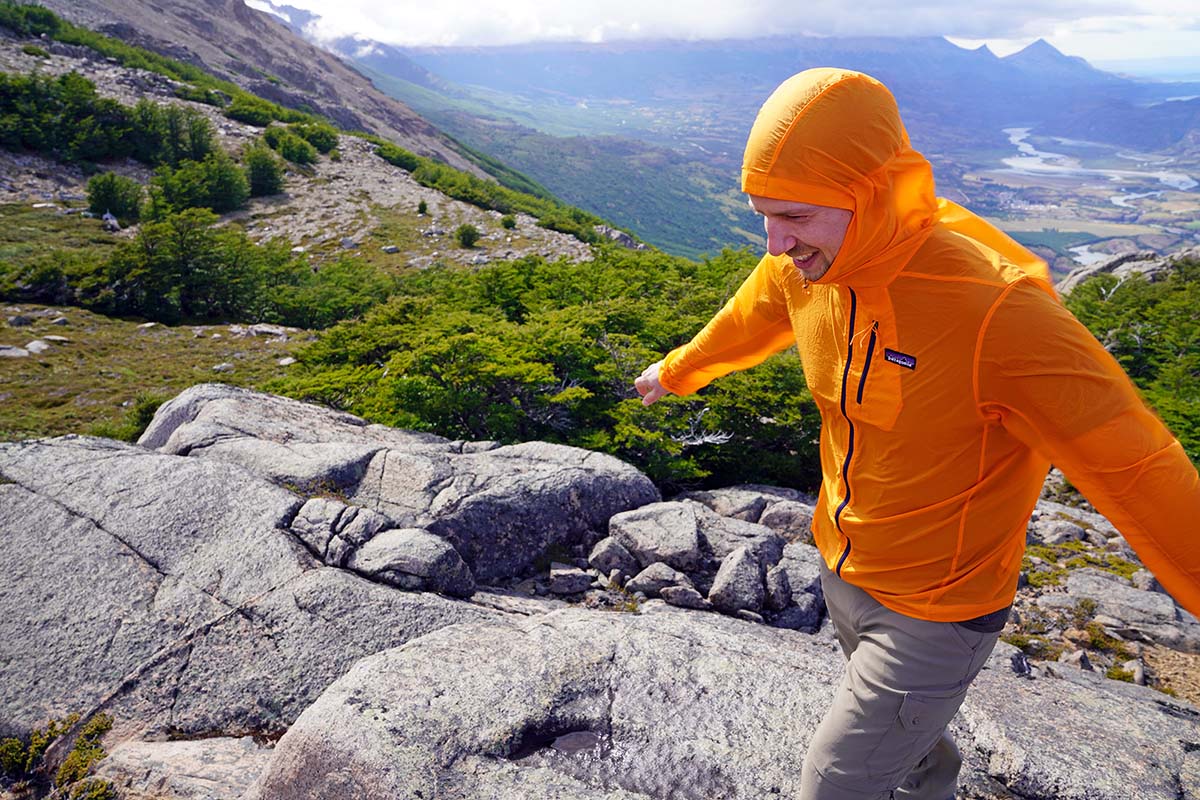 Considering its weight, Patagonia nailed all the right features. You can cinch the hem to block out wind at the waist, the half-elastic cuffs seal nicely around the wrists, and a single adjustment at the hood allows you to tighten it down effectively. Finally, the slight drop hem at the back is a nice touch for a little extra coverage. All in all, the amount of versatility you get for the weight is truly remarkable.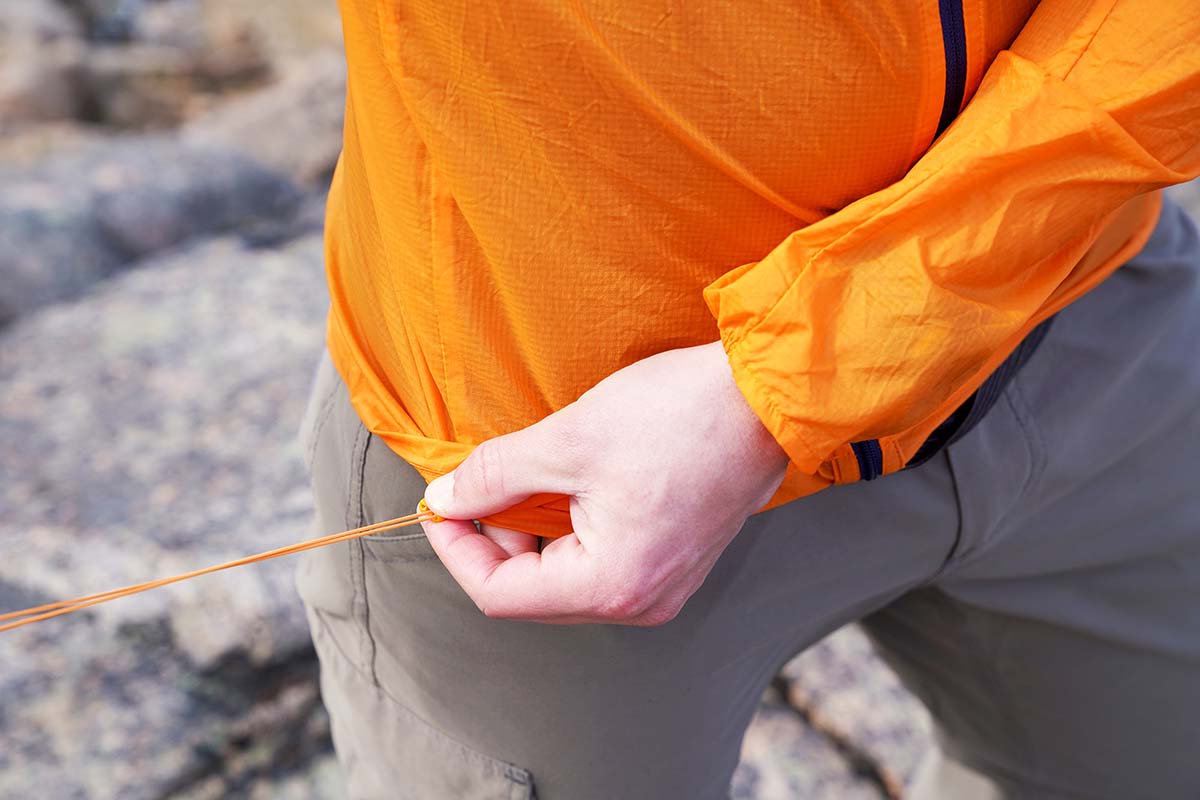 Water Resistance
In terms of water and snow protection, the Houdini's durable water repellent (DWR) coating can shed light moisture, but its face fabric starts absorbing water fairly quickly. To be fair, windbreakers aren't waterproof by nature, and the main goal is blocking wind. The good news is that the Houdini is so thin that it dries fairly quickly, but if sustained rain or snow is in the forecast, it shouldn't take the place of a dedicated rain jacket or hardshell. Whenever rain picked up on our backpacking trip, I swapped the Houdini out for a rain shell.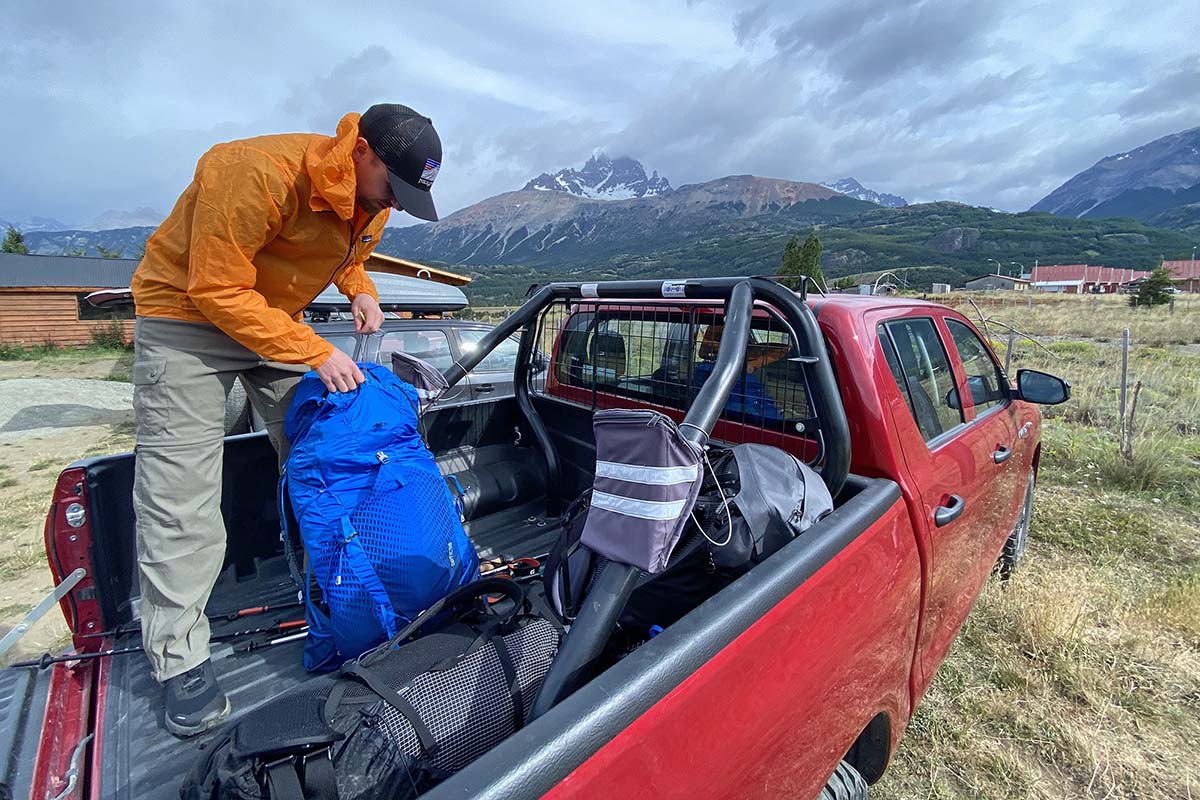 Breathability
The Houdini's full ripstop nylon construction excels at protection but comes up short in breathability. As I touched on above, I admittedly run warm, but I've consistently overheated in the jacket whenever the conditions are mild. While hiking, I wore it on overcast and cool days, but if the sun came out or the trail was particularly steep, I'd start sweating. This would lead to a clammy and slippery feeling along the interior of the jacket. If breathability is a priority, I recommend Patagonia's Houdini Air, which we also had along on our trip and far exceeded the standard Houdini in temperature regulation.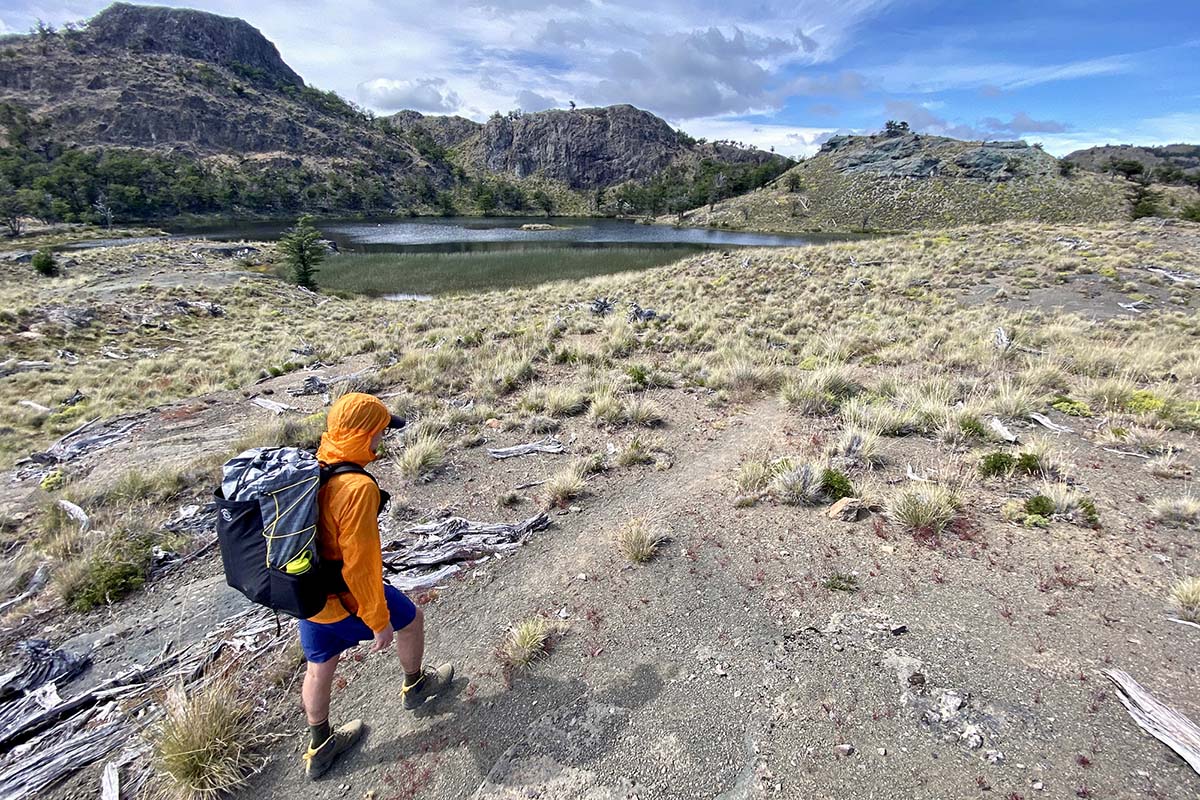 To be clear, the Houdini still offers adequate breathability and can do the trick for certain high-output activities. For example, the jacket was a nice match for running on particularly cold days (with temperatures well below freezing), and the extra warmth it provided was appreciated. Plus, it still easily outperforms full-on waterproof rain shells—I had the Outdoor Research Helium on our South America trip, and it was a far worse breather. But some of the newer options in the windbreaker market like the Houdini Air or Black Diamond's Alpine Start are better performers. And a final knock on the Houdini is that it doesn't do well with odor prevention—you'll likely find yourself washing it more often than some of the pricier alternatives, including the Houdini Air.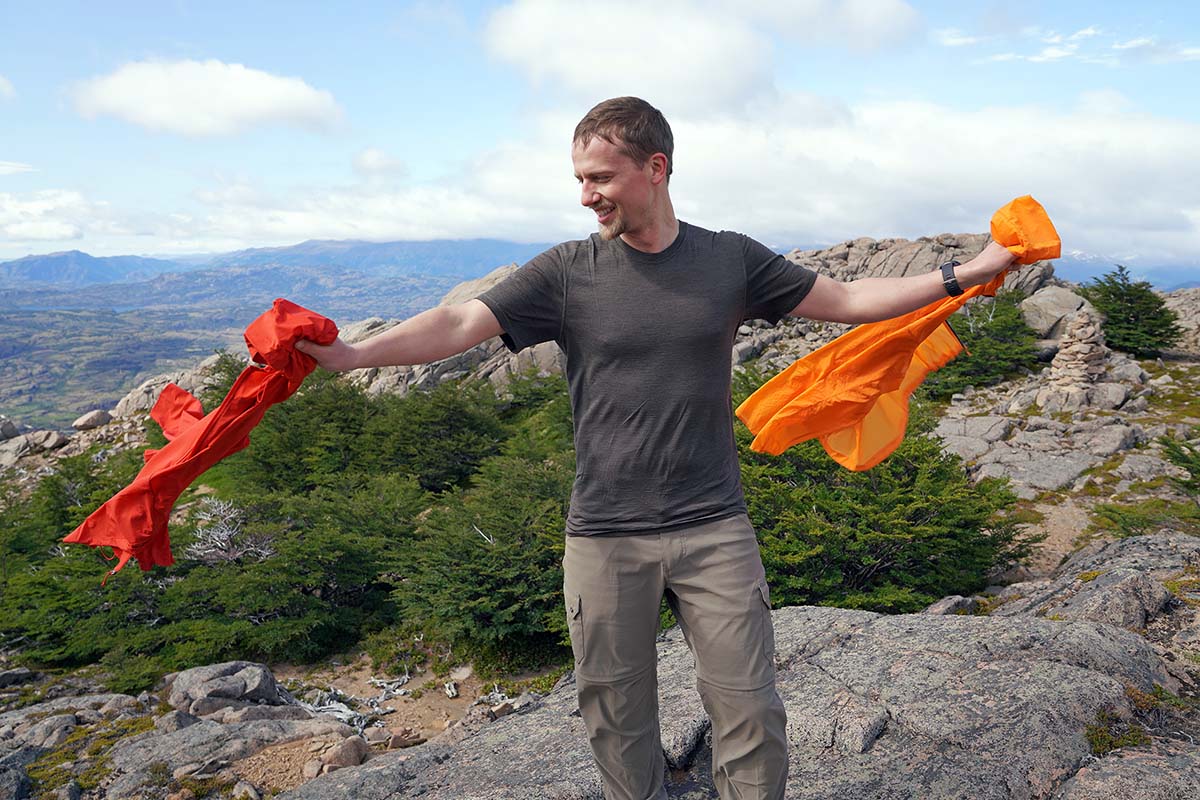 Weight and Packability
My men's medium barely registered on my scale at 3.6 ounces (0.1 oz. less than its listed weight). This puts the Houdini squarely in ultralight territory, and it truly feels like nothing in hand or when I wear it (the semi-translucent appearance also backs this up). For comparison, it stacks up very favorably in the windbreaker market: Popular alternatives like the Arc'teryx Squamish Hoody (4.9 oz.), Cotopaxi Teca Half-Zip (5.8 oz. in a men's medium), Rab Vital Hooded Jacket (4.6 oz.), and even Patagonia's own Houdini Air (4.1) all weigh more. Simply put, if weight and protection are your top priorities, the Houdini is hard to beat.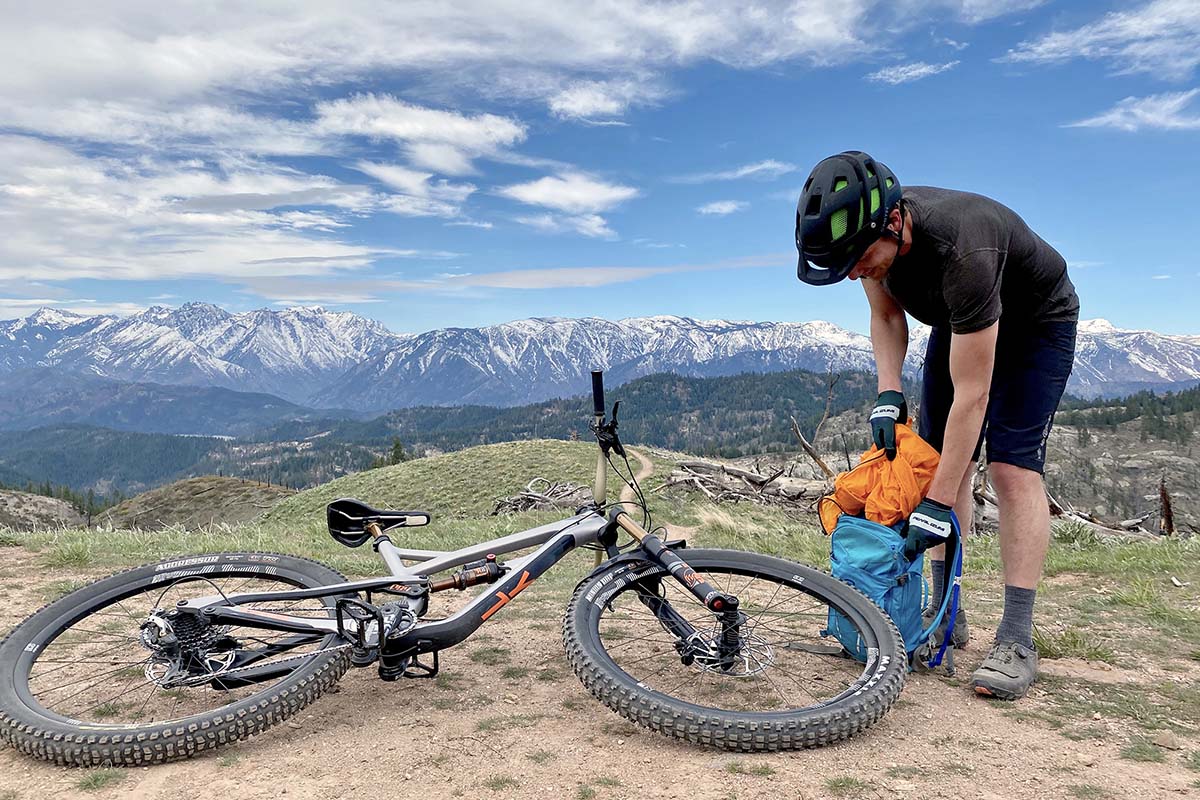 Predictably, packability is a similar story. The jacket stuffs into its own chest pocket and is small enough to easily be gripped in one hand. You can then hang it on a climbing harness with the carabiner loop or throw it into the smallest nook in a pack or running vest. Within its price range, it's a class leader, and it even matches up well with pricier options like the Squamish ($160) and Houdini Air ($179).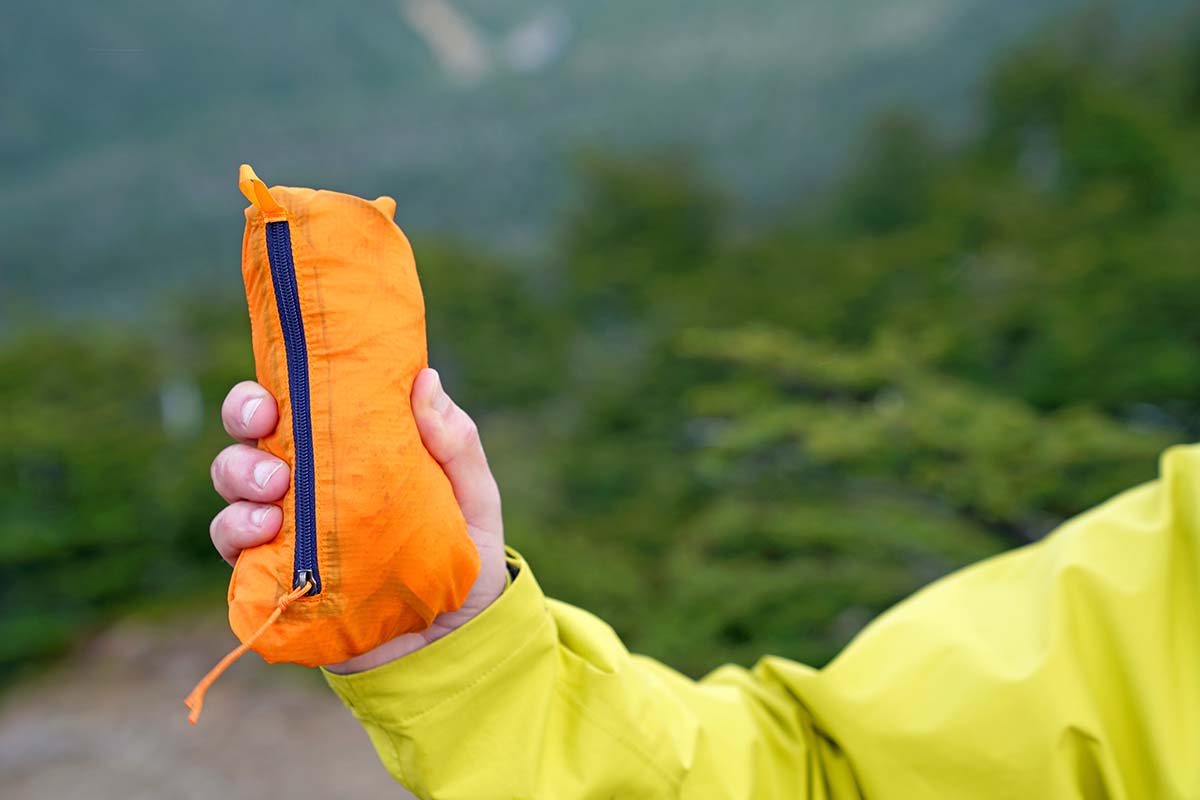 Comfort
Along with breathability, comfort is a key area where the Patagonia Houdini shows its age. Rather than the polyester mix and mechanical stretch of its premium Houdini Air cousin, the Houdini's standard nylon isn't particularly comfortable. The jacket's barely-there weight certainly helps in this department, but its fabric doesn't have any "give," which can be a problem for activities like climbing that require a great deal of mobility. That said, I haven't had any issues with pinch points or tightness while mountain biking, but that largely comes down to the near-perfect fit (more on this in "Fit and Sizing" below). And as I touched on above, the slippery interior doesn't wick away moisture and lacks the premium, soft feel of upgraded options.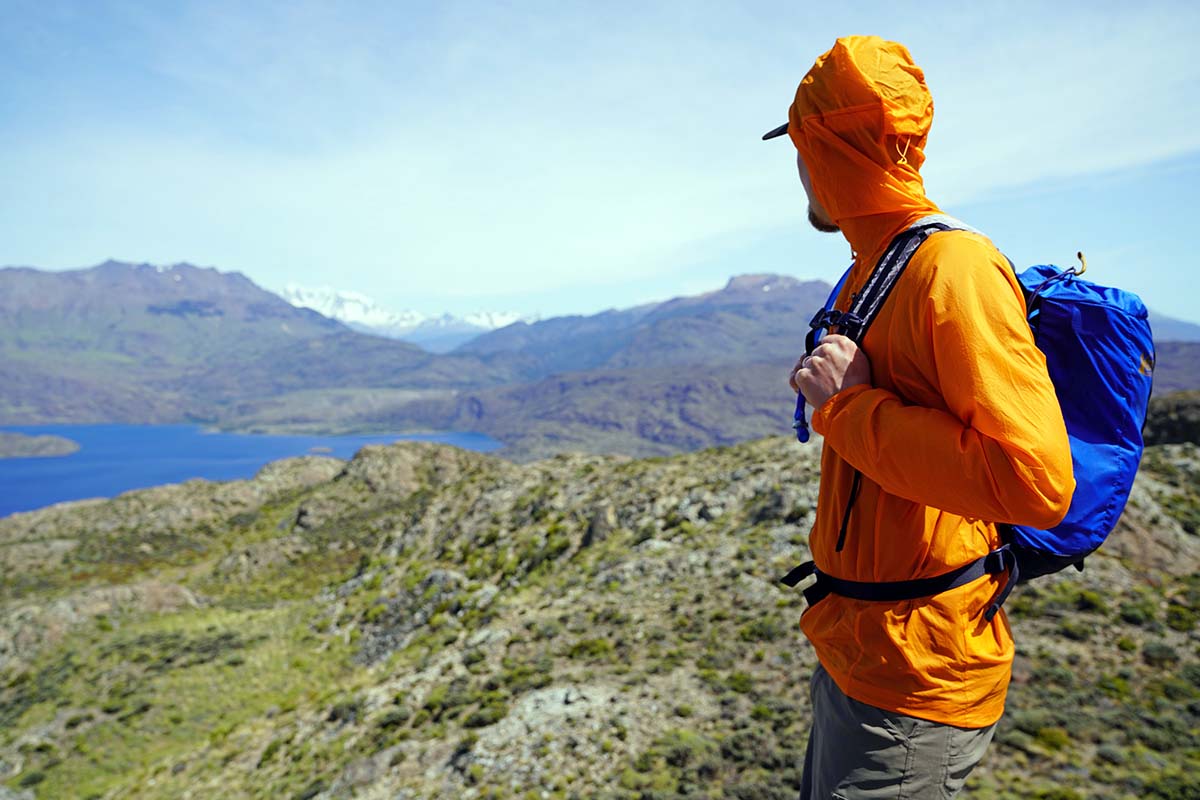 Features: Hood and Pockets
The Houdini is a great example of thoughtful, minimalist design. Patagonia nailed the basics like simple but effective adjustments at the hem and hood and a single chest pocket for storing small items. I don't use the chest pocket all that often, but it's just big enough to stow a bar or package of Clif Bloks (a personal favorite of mine). Further, the hood is on the small side, and it doesn't seem like it would fit over a helmet of any kind (a minimalist climbing helmet like the Petzl Sirocco may be one exception). When cinched down, it fits snugly around the face. And one positive of its compact shape is that it can be rolled easily into the collar for when you don't need the added protection. I often do this for biking, and the hood has stayed in place with no buffeting or blowing around.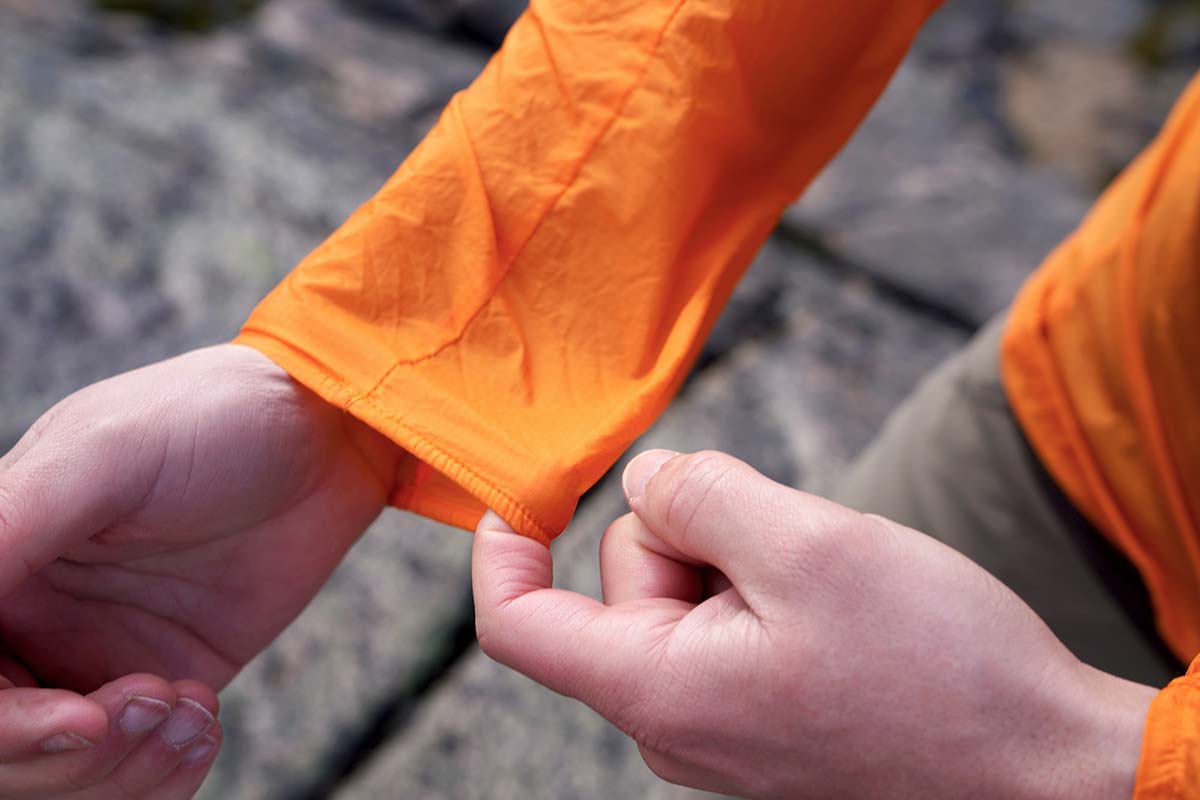 Build Quality and Durability
Thin, ultralight products rarely excel in durability, but the Houdini Jacket is a notable exception. Despite being made with 1.2-ounce nylon that is thin enough to be partially see-through, its ripstop design gives it a nice boost in tear resistance. One of our editors has climbed extensively in a prior version of the jacket and never put a hole in the fabric (a noteworthy accomplishment as she's hard on gear). For me, the jacket is holding up perfectly after a few months of use. Patagonia consistently makes a quality product, and this holds true even with a minimalist piece like the Houdini—just don't expect any miracles around sharp equipment, rough rock, or if you take a spill while biking.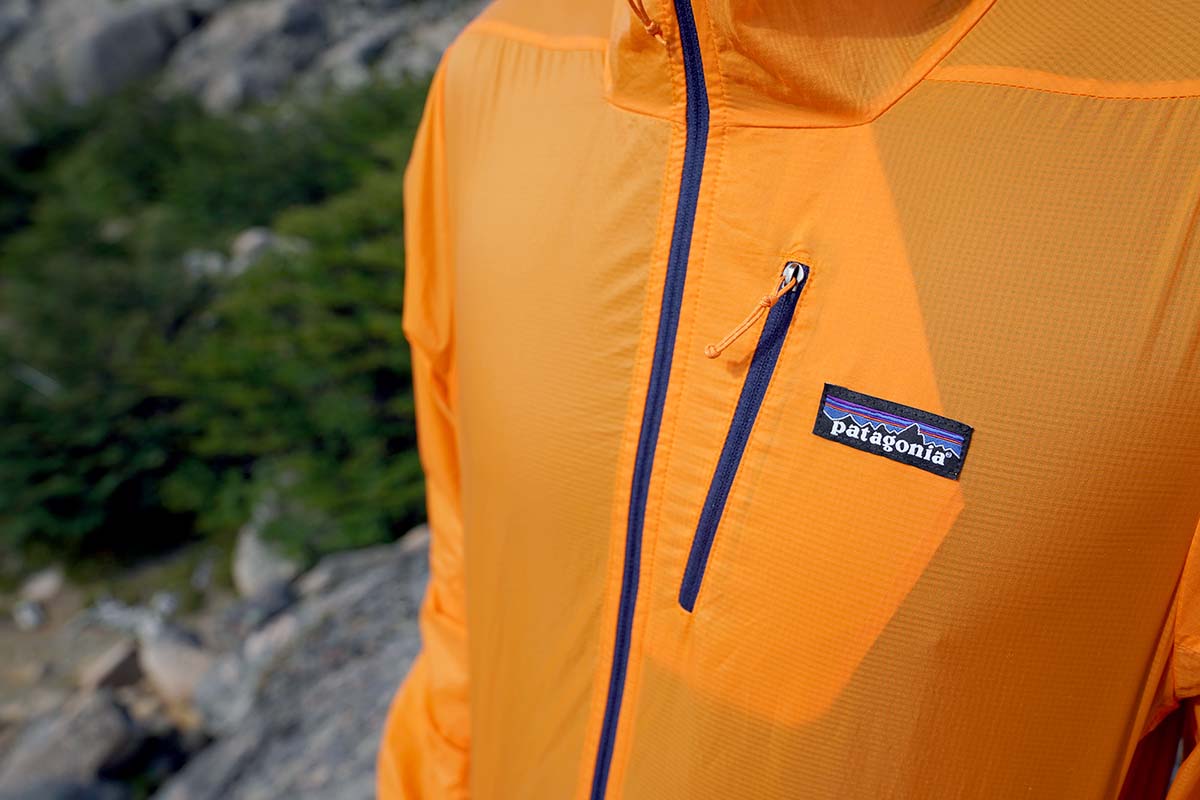 Fit and Sizing
Patagonia jackets often run a little big on me, but I love the "slim" fit of the Houdini. At 5'9 and 155 pounds, I opted for the medium size, and the cut has been ideal for wearing over a t-shirt or single long-sleeve baselayer. In heavy wind, there isn't much extra fabric to buffet or flap around, which has been particularly nice while biking. This narrower fit does mean that you can't layer extensively underneath, but considering its minimalist build and intended 3-season use, this is a reasonable compromise. If I'm going to add a layer, I'll typically put it over the Houdini rather than wearing a midlayer underneath.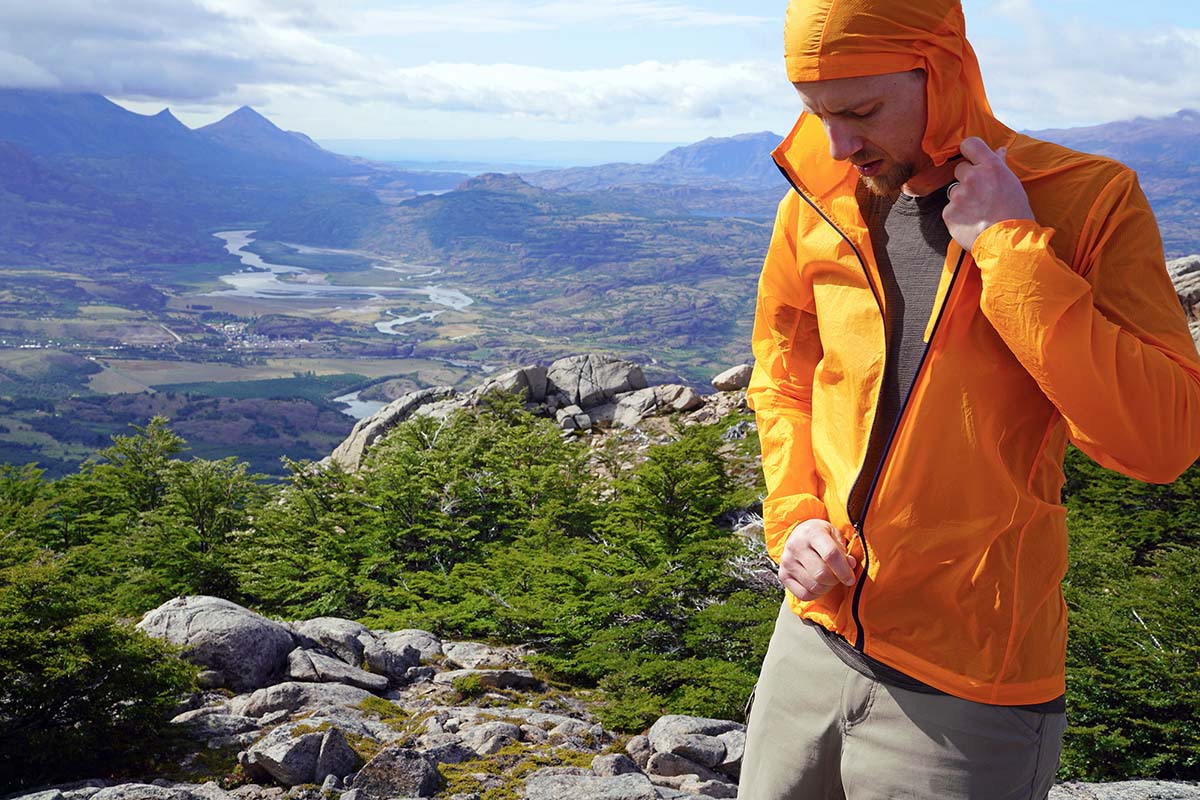 Sustainability
Patagonia is a leader in sustainable practices, and that focus comes across clearly with the Houdini. For starters, the jacket uses a 100% recycled nylon face fabric. It's also Fair Trade Certified, meaning Patagonia took extra measures to ensure the health and safety of workers during production. Finally, the jacket now boasts the brand's PFC-free DWR coating, which forgoes the use of harmful perfluorocarbons that have been linked to many environmental and health concerns. Taken together, it's another admirable effort from the brand and a nice reflection of where the industry is headed.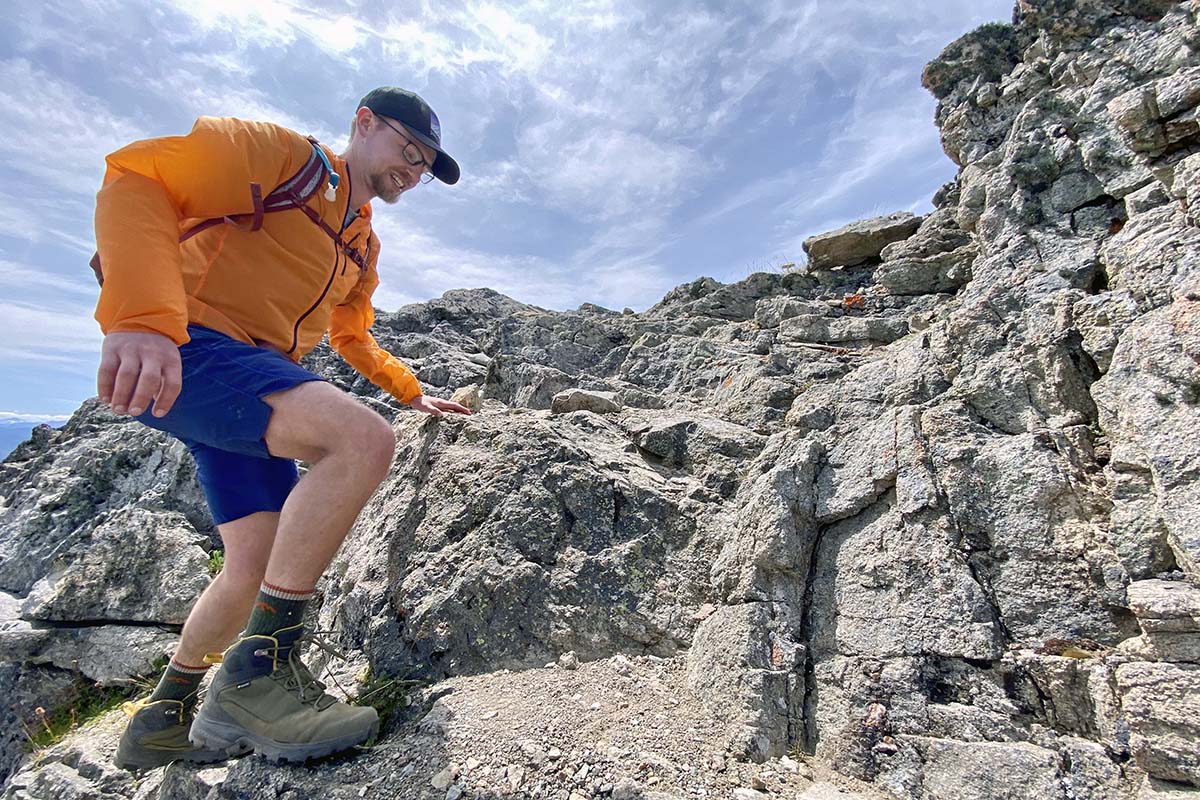 Other Versions of the Patagonia Houdini
We tested the men's version of the Patagonia Houdini for this review, and the jacket is also available in a women's version. The women's Houdini also retails for $109 and includes an identical feature set and construction to its men's counterpart, but it's lighter at 3.4 ounces and comes in different colorways (both come in six options at the time of publishing). As we've mentioned throughout this review, the Houdini collection also includes the premium Houdini Air, which is a bit heavier at 4.1 ounces and $70 pricier at $179. As we outline below, however, the Air is the much better pick for active pursuits. Rounding out the lineup is a men's-specific Houdini Snap-T Pullover, which retails for $109, checks in at 4 ounces, and features a kangaroo-style front pocket with a hidden zippered pocket inside that doubles as the stuff sack.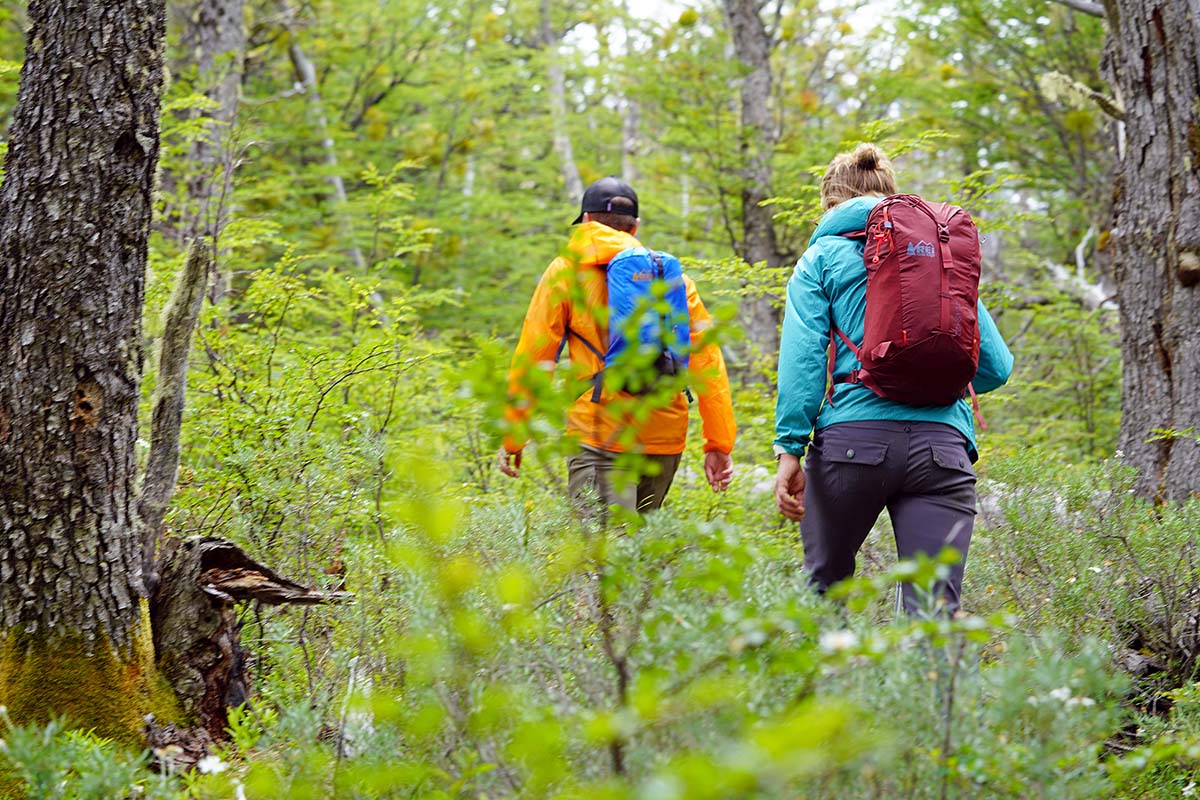 What We Like
The Houdini is a very capable wind blocker in an ultralight and affordable package.
Features are minimalist but thoughtful, including hem and hood adjustments and a single chest pocket for stowing smaller items. 
Despite having fabric that's so thin it's see-through, the jacket is surprisingly durable.
Recycled nylon, PFC-free DWR finish, and Fair Trade Certification give the Houdini a competitive edge in the sustainability department.

What We Don't
Ripstop nylon construction falls short in breathability. 
Lack of stretch makes the Houdini less comfortable than much of its more premium competition.
Has a tendency to hold onto odor, which warrants fairly frequent washing.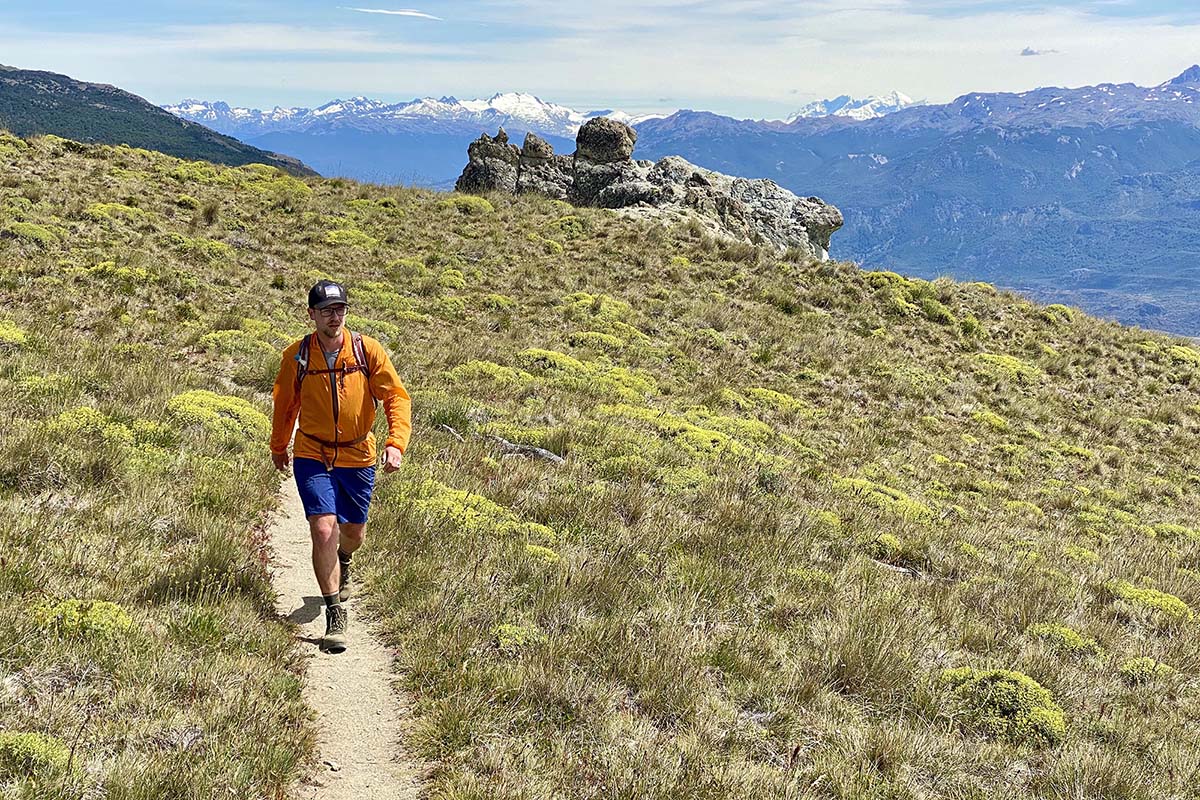 Comparison Table

The Competition
Patagonia's Houdini stands out for its impressive combination of wind protection, weight, and price. As we touched on above, the Houdini Air is a more premium in-house alternative to consider. The two jackets are fairly similar in weight and packability (the Houdini Air is 4.1 oz.) but differ substantially in comfort. The Air has a far softer interior that wicks moisture nicely, breathes much better for active use, and even has a little "give" in the construction for better mobility. The Houdini is a bit better of a wind blocker and a much better value at $109 (vs. $179 for the Air), but it otherwise comes up short. If you want a windbreaker jacket for active use, we prefer the pricier Houdini Air.
One of the Houdini's closest competitors is Black Diamond's Distance Wind Shell. The two jackets both use full-nylon constructions, weigh around the same (the BD clocks in at 3.4 oz.), and include minimalist feature sets with a single chest pocket and simple adjustments at the hem and hood. Like the Patagonia, the BD also includes a PFC-free DWR coating, has a slim fit, and is sturdy in the wind (although neither excel in breathability). The only discernible difference is the hood: While the Patagonia's is on the small side and can only fit a low-profile helmet, the Distance's is a little larger and designed to be climbing helmet-compatible. In the end, you truly can't go wrong with either, and a final decision will likely come down to preferences on brand, helmet compatibility, and price (the Patagonia is $31 cheaper).
At only $80, Cotopaxi's Teca Half-Zip is an even more affordable and stylish alternative to the Houdini. Sporting the brand's signature vibrant panels and a 100% polyester build, the Teca is a clear step down in performance from the Houdini but has a lot of appeal for casual hikes and around-town wear. We also love the large kangaroo pocket and internal phone pocket that doubles as a stuff sack. The Cotopaxi is slightly heavier than the Houdini at 5.8 ounces (in a men's medium) and falls well short in terms of breathability, but the playful styling and low price tag are undeniably appealing for those looking for more of a daily piece.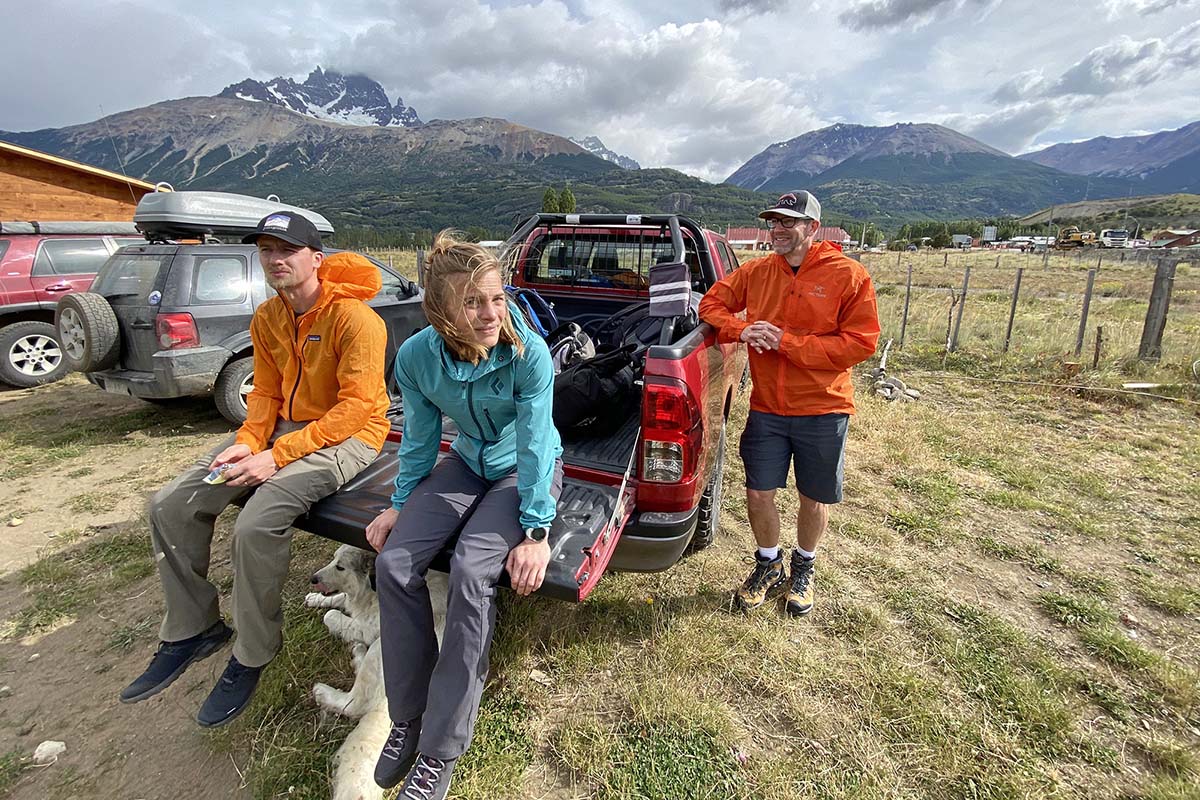 Splitting the difference between the Cotopaxi Teca and Patagonia Houdini is REI Co-op's $100 Flash Jacket. Like the Houdini, the Flash uses a 100% nylon construction and includes hem and hood adjustments. The REI also tacks on hand pockets in addition to the chest pocket, which are nice for daily wear but don't have much utility from a performance standpoint (they won't be accessible under a harness or hipbelt). The Flash is also a little heavier at 4.3 ounces and has a noticeably roomier fit, which allows for ample layering underneath but will feel bulky when climbing or hauling a pack. In the end, the Flash is a viable alternative for more casual activities like hiking, biking, and around-town use, but the Houdini is the more mountain-ready design.
A final option is a longtime favorite: Arc'teryx's Squamish Hoody. For another $51, you get a noticeable increase in comfort (thanks to the mechanical stretch in the build) and breathability. It's a bit heavier and bulkier than the Houdini at 4.9 ounces, but it's a better active piece for anything from hiking to climbing (and its hood can fit over most climbing helmets). This added versatility is what makes it worth the extra investment, in our opinion. But if your priorities are weight, packability, and wind protection, you can save a lot with the Houdini.
If you're thinking about buying gear that we've reviewed on Switchback Travel, you can help support us in the process. Just click on any of the seller links above, and if you make a purchase, we receive a small percentage of the transaction. The cost of the product is the same to you but this helps us continue to test and write about outdoor gear. Thanks and we appreciate your support!
Depending on the seller, most products ship free in the United States on orders of $50 or more. International shipping availability and rates vary by seller. The pricing information on this page is updated hourly but we are not responsible for inaccuracies.
Read More From Switchback Travel