Hoka One One Clifton 6
Price: $130
Weight per pair: 16 oz. (women's size 8.5)
Cushioning: Moderate/maximum
Drop: 5mm
What we like: Very comfortable, durable, and versatile.
What we don't: A little lacking in responsiveness for short-distance races.
See the Women's Hoka Clifton 6  See the Men's Hoka Clifton 6 
For spring 2019, Hoka One One has revamped their popular Clifton road runner. Notable changes for the sixth iteration include a lighter build and redesigned upper and tread pattern. Thankfully, with more than 100 miles on the shoe, we've found it retains all that we loved about past versions: great comfort, ample cushioning, and solid durability. The extra padding does translate to less responsiveness compared to some of its competitors, but it's a great match for everyday training and long distances. Below we break down the Clifton 6's cushioning and comfort, responsiveness, weight, durability, fit and sizing, and more. To see how it stacks up, see our article on the best running shoes. 

Performance
Cushioning and Comfort
Featuring Hoka One One's signature thick midsole in a light and nimble design, the Clifton 6 road runner is impressively comfortable out of the box. I was a big fan of the outgoing "5" and the latest version has stuck to a similar script. The shoe's tall stack height (27mm heel/22mm forefoot) is ideal for pavement use and has provided excellent shock absorption on training and recovery runs ranging from 5 to 15 miles. Hoka did make some tweaks to the flexible upper with a trimmed-down overlay, which encourages breathability and helps reduce weight. I've worn the Clifton throughout our unusually warm spring in the Pacific Northwest and have appreciated the boost in ventilation—I've been able to actually feel air flowing through the mesh toe box.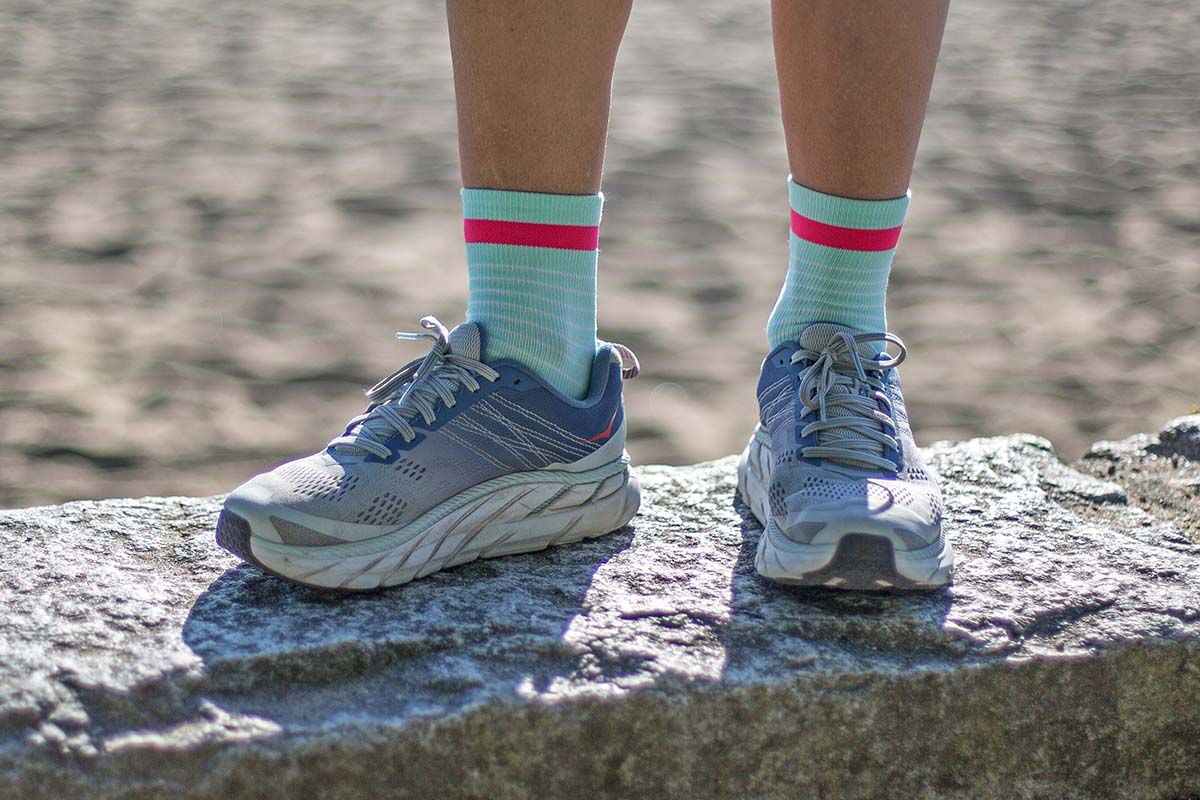 The only comfort-related nitpick I've had is a pressure point at the inner edge of the midsole. On my first run, I wore very thin socks and noticed that this area at the midfoot felt quite rigid and sharp, digging into my foot and creating a pressure line along my inner arch. Wearing thicker socks reduced the problem significantly, and the area softened after around 30 miles of running. It's no longer noticeable, but it did take around 100 miles to completely go away. Based on my experience, those with low or dropped arches (or significant pronation) should be on the lookout for this issue.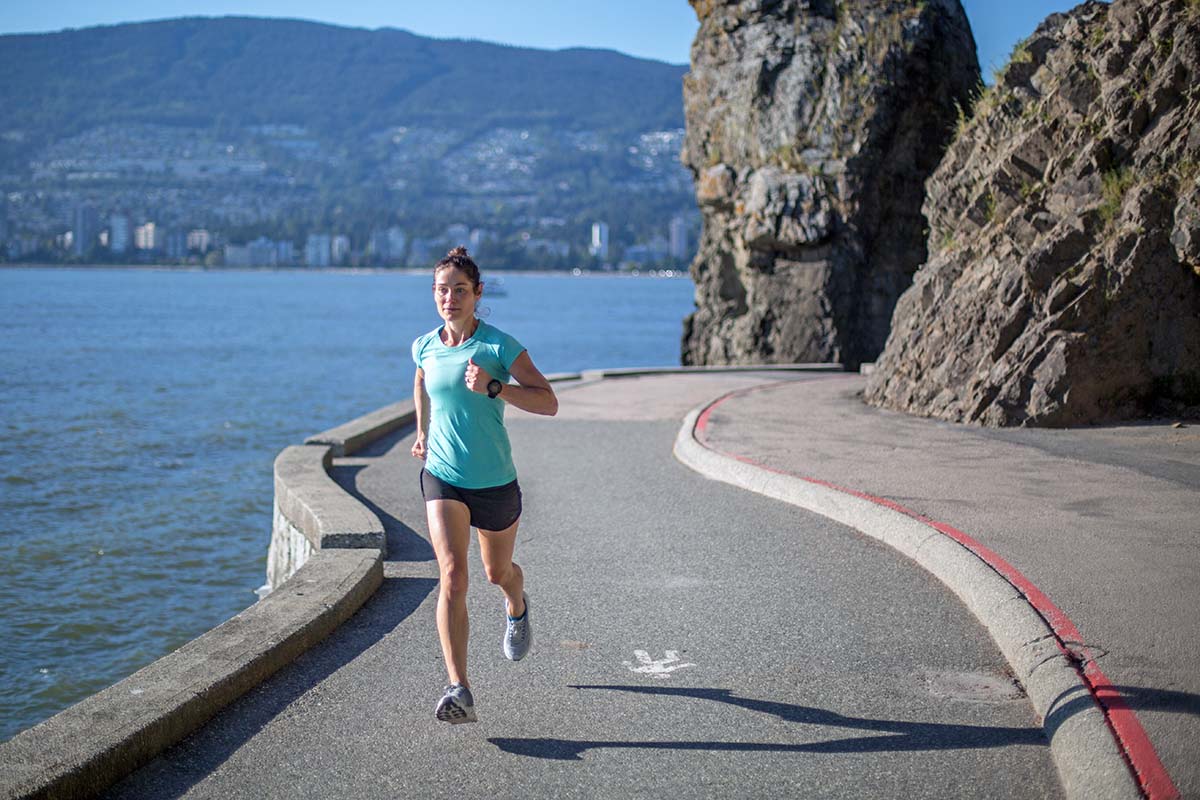 Responsiveness
Like the outgoing Clifton 5, the newest version won't be mistaken for a highly responsive racing flat. That said, the rockered sole, lightweight build, and overall sprightly feel make it a fine match for long distances at a faster cadence. To be clear, it isn't sluggish—a complaint I had with Altra's Torin—and I would consider the shoe a viable option for races at a half marathon or longer (although I'd choose a firmer design if I was aiming for a personal best). All told, the thick midsole does absorb some energy, so the Clifton isn't ideal for interval training or short-distance speed work, but the tradeoff in comfort for my everyday needs is well worth it.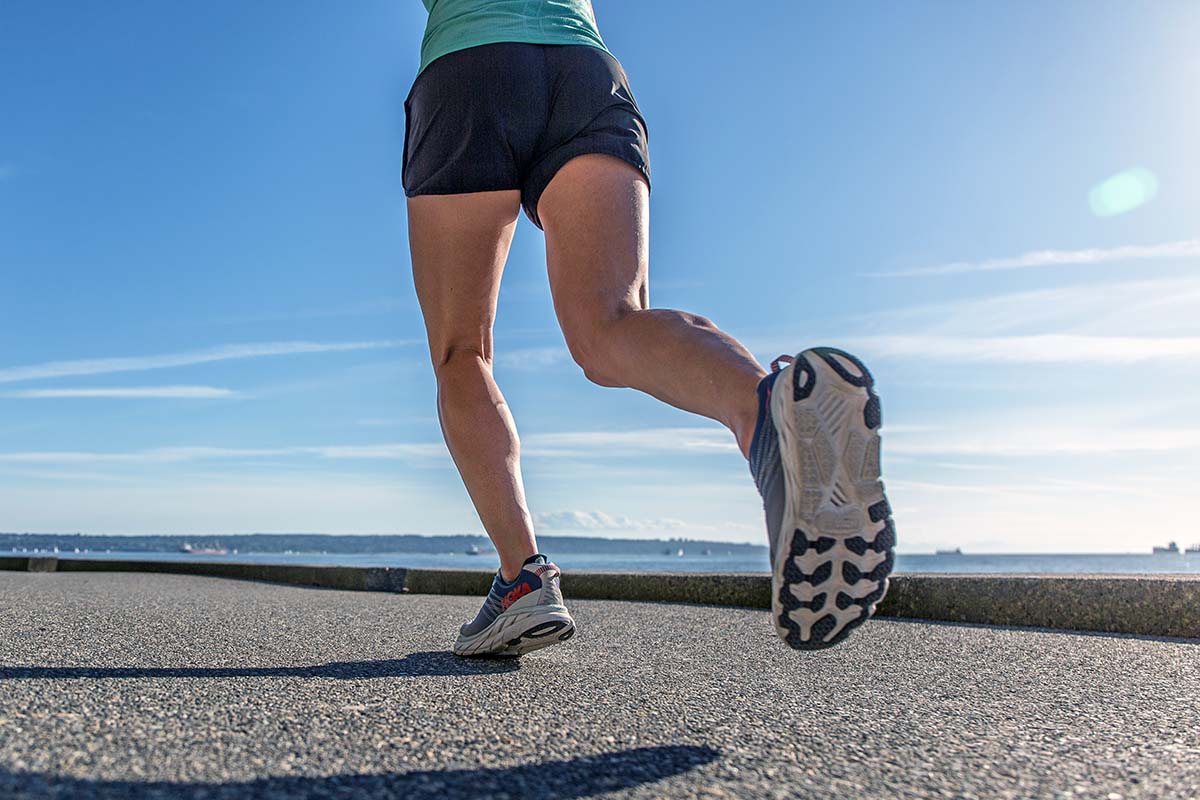 Weight
I love light shoes for long runs and the Hoka One One Clifton 6 delivers at a listed 14.8 ounces for the pair (my women's 8.5 is a bit heavier at 16 ounces). This undercuts my current collection, which includes the Saucony Guide ISO 2 (18 ounces) and Altra Torin (17 ounces), without compromising comfort or performance. Further, the weight stacks up favorably among popular trainers like the Asics Gel-Cumulus 21 (17 oz.), Brooks Ghost 12 (18.6 oz.), and Nike Air Zoom Pegasus 36 (16.5 oz.). I consider this fairly remarkable given the thick midsole, reliable foot hold, and solid durability the shoe has displayed thus far (more on this below).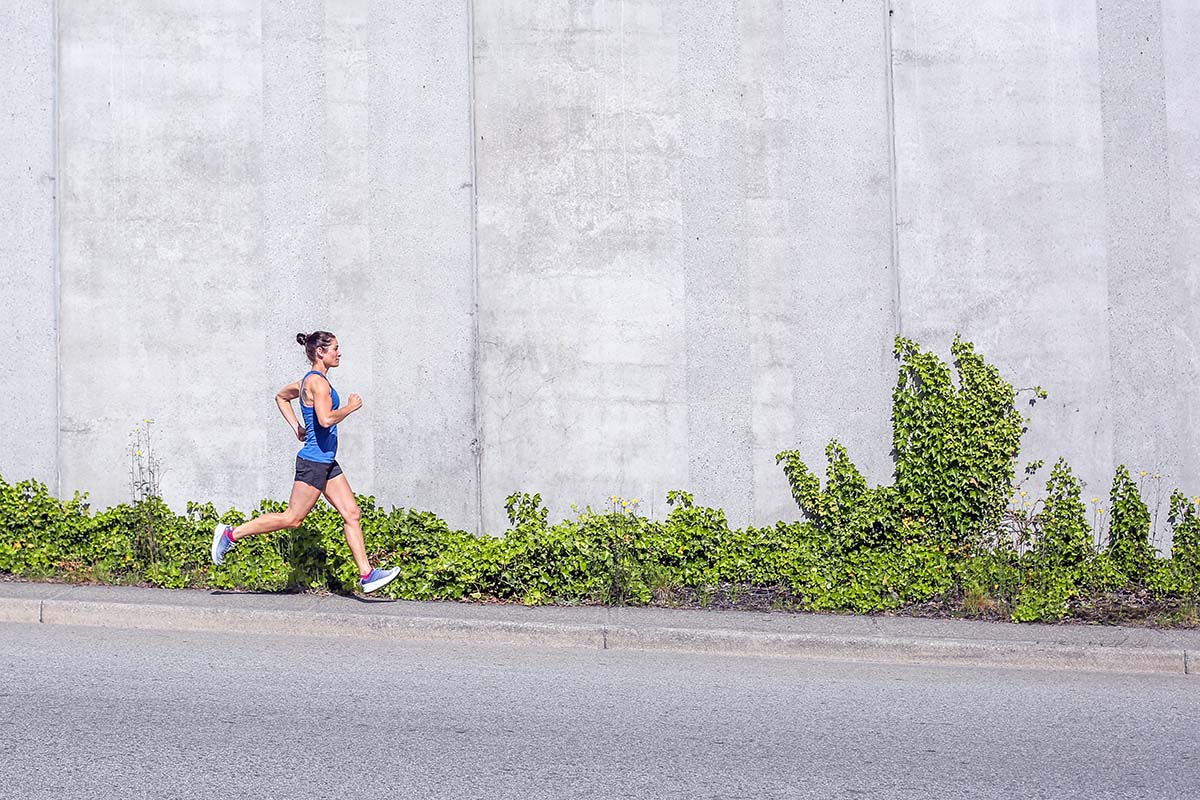 Durability
The Clifton 5 was one of the few pairs of running shoes that I've owned that didn't suffer significant breakdown, and the 6 is holding up equally well. I was initially worried that the thin overlay on the toe box would peel away, but there are no signs of wear yet. Similarly, the stitching hasn't frayed, the tread looks like new, and the flex points aren't deteriorating. Cutting weight typically comes with sacrifices in durability, but I'm at a point in the test where I can confidently say the Clifton 6 is built to withstand regular long-distance use.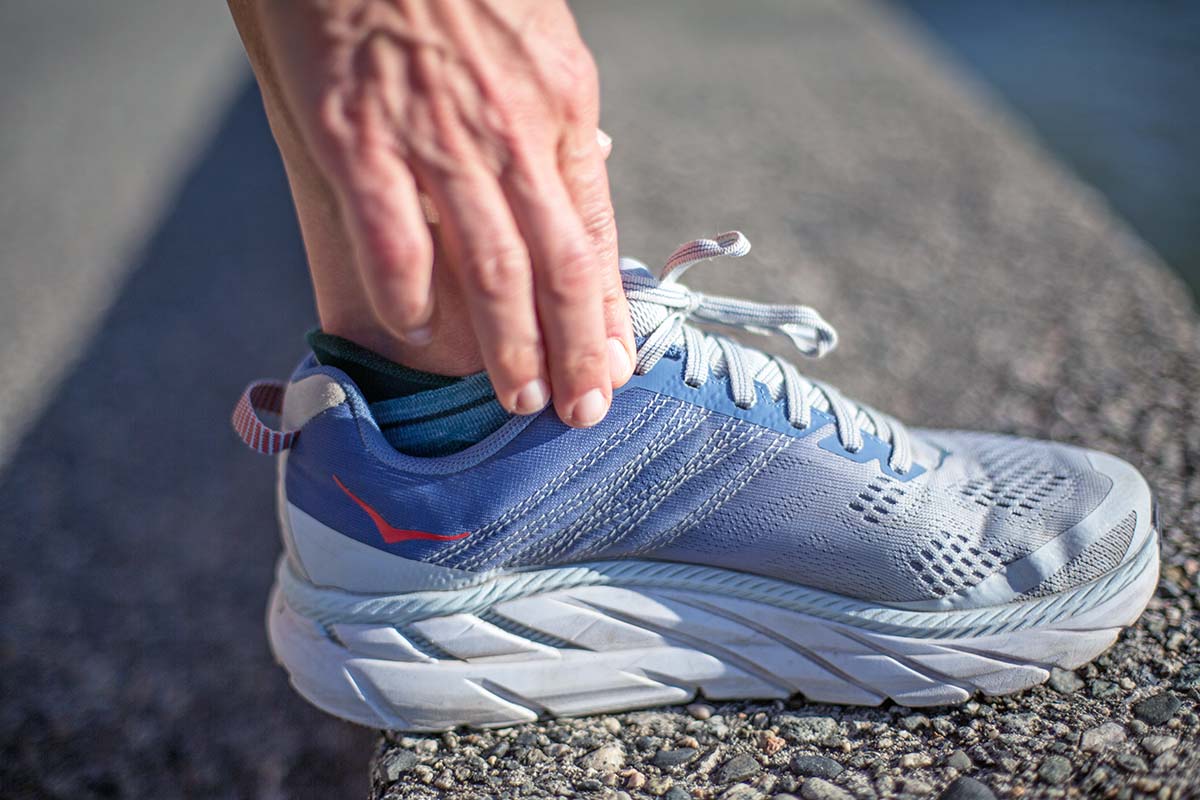 Stability and Support
With a neutral design, flexible upper, and thick midsole, my biggest concern with the Clifton (both the 5 and 6) was that it would lend itself to rolled ankles. But the good news is that I haven't had any stability issues on road, gravel, or even cobblestone paths. Another important note: the Clifton has a rockered sole (Hoka calls this its "early stage Meta-Rocker"), which is pretty unique in the running shoe world and designed to promote a smoother ride. I didn't have any trouble adjusting to this personally, but friends have noted that it took some getting used to when they switched to Hoka shoes.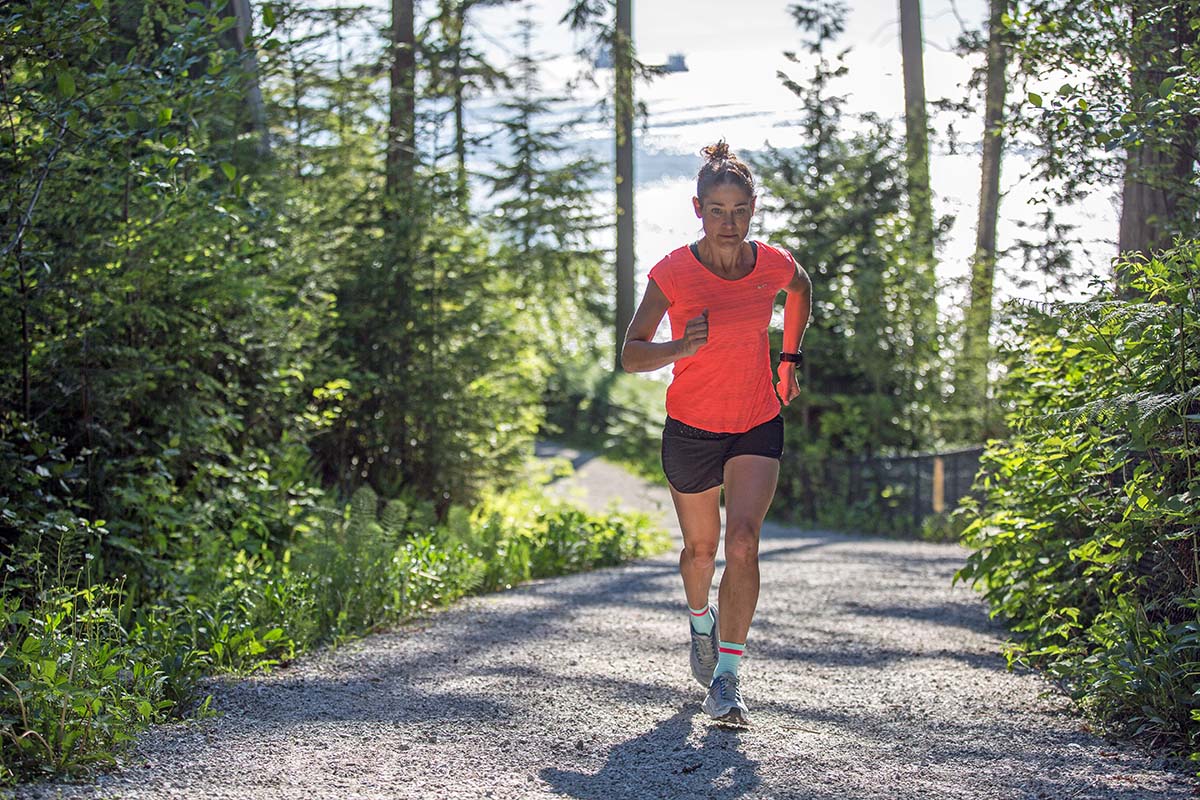 Fit and Sizing
I consistently wear a women's size 8.5, and the Clifton 6 fits true to size. The length is perfect for me: my toes don't hit the toe box and my nails have not been damaged despite my love for running downhill as fast as I can (my favorite go-to move). Further, the shoe effectively locks my heel and foot in place, preventing any front-to-back sliding or side-to-side movement. All things considered, the Clifton 6 fits my foot extremely well with no areas of concern. Hoka also offers both the men's and women's Clifton 6 in wide versions for those with higher-volume feet.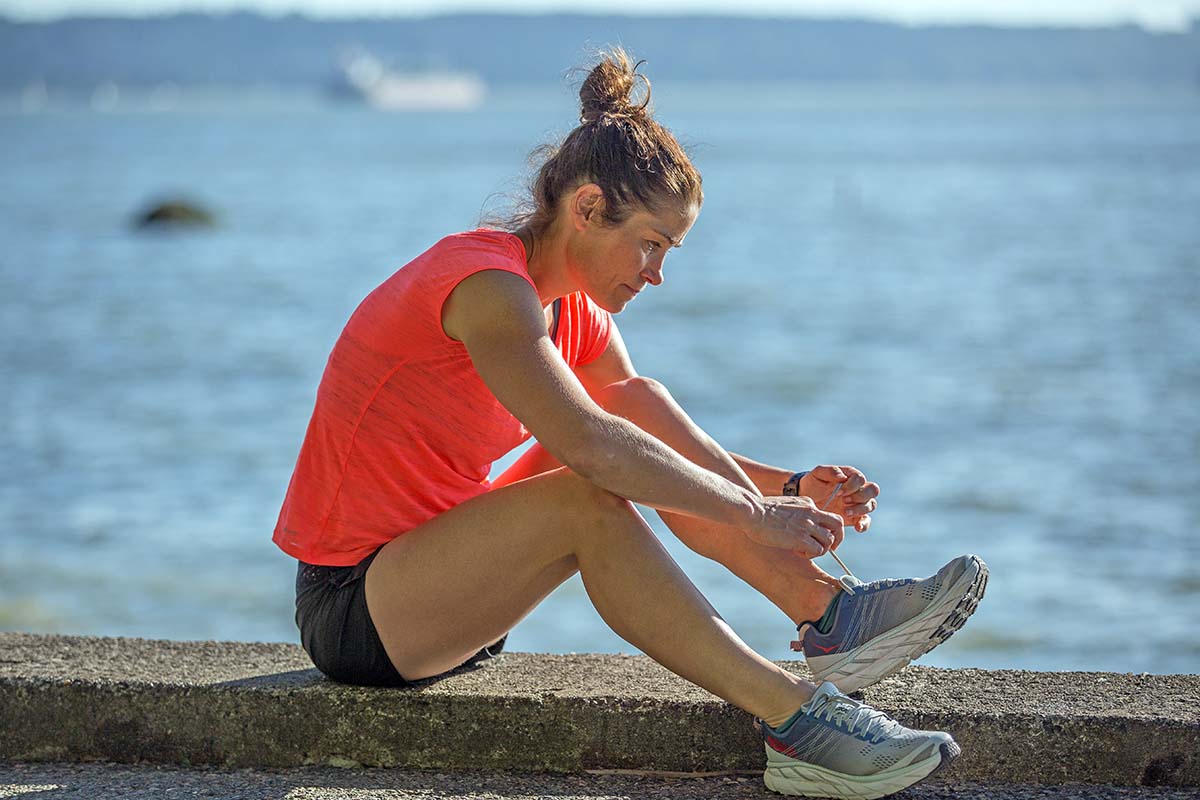 Clifton 6 vs. Clifton 5
As we touched on above, Hoka made notable changes to the Clifton 6 that are worth calling out for those familiar with the previous model. For starters, they did away with the thin strips of TPU that provided structure to the Clifton 5. Instead, they have stitching at the midfoot and a very thin overlay at the tip of the toebox and bottom edges of the heel cup. Additionally, the Clifton 6 has better venting at the toe box and shaves off about half an ounce in weight per pair on average (mine has an even wider spread at 16 oz. for the "6" vs 17.5 oz. for the "5"). Finally, Hoka altered the colorways and re-mapped the rubber tread (although I didn't notice a difference in terms of grip or longevity). Overall, the two models feel very similar, but Hoka's updates to the new Clifton are all well-executed.

Men's Version of the Hoka One One Clifton 6
We tested the women's Clifton 6, but Hoka also makes the same shoe in a men's version. The men's Clifton 6 is slightly heavier at 18 ounces per pair and comes in different colorways, but otherwise sports an identical build to the women's model. This includes the redesigned tread pattern, thick EVA midsole, and rockered shape. Notably, Hoka also offers the older Clifton 5 with a knit upper, but the new Clifton 6 is currently only available in the one mesh-heavy variation (men's and women's).

What We Like
The Clifton 6 is comfortable, well-cushioned, and lightweight—great for long-distance or recovery runs.
Despite a thin overlay, the latest model has held up just as well as its predecessor thus far.
Fit is ideal: the shoe locks my foot in place without being too snug or roomy in any area.
Flat eyelets prevent laces from untying or shifting around.
 
What We Don't
Pressure point at the inner midfoot took time to break in (30 miles to soften up and around 100 miles until it completely disappeared).
Not a highly responsive shoe. It's not sluggish but the Clifton isn't a good match for short-distance races or interval workouts.
Tall stack height isn't for everyone.


Comparison Table

The Competition 
Hoka's Clifton series hits the sweet spot in the running shoe market, balancing weight, comfort, and performance. Unsurprisingly, there are a wide range of competitors including Nike's popular Pegasus. Now in its 36th iteration, the shoe includes a bouncy Zoom Air midsole, flexible mesh upper, and 10-millimeter drop. Both the Clifton and Pegasus excel for everyday training, recovery days, and extended runs, although the Hoka gets the edge in weight by about two ounces for the pair. Further, the Nike has a fairly narrow midfoot shape, which can be a problem for those with high-volume feet. The Hoka's more accommodating fit and neutral feel give it the slight edge for us, but both are solid options.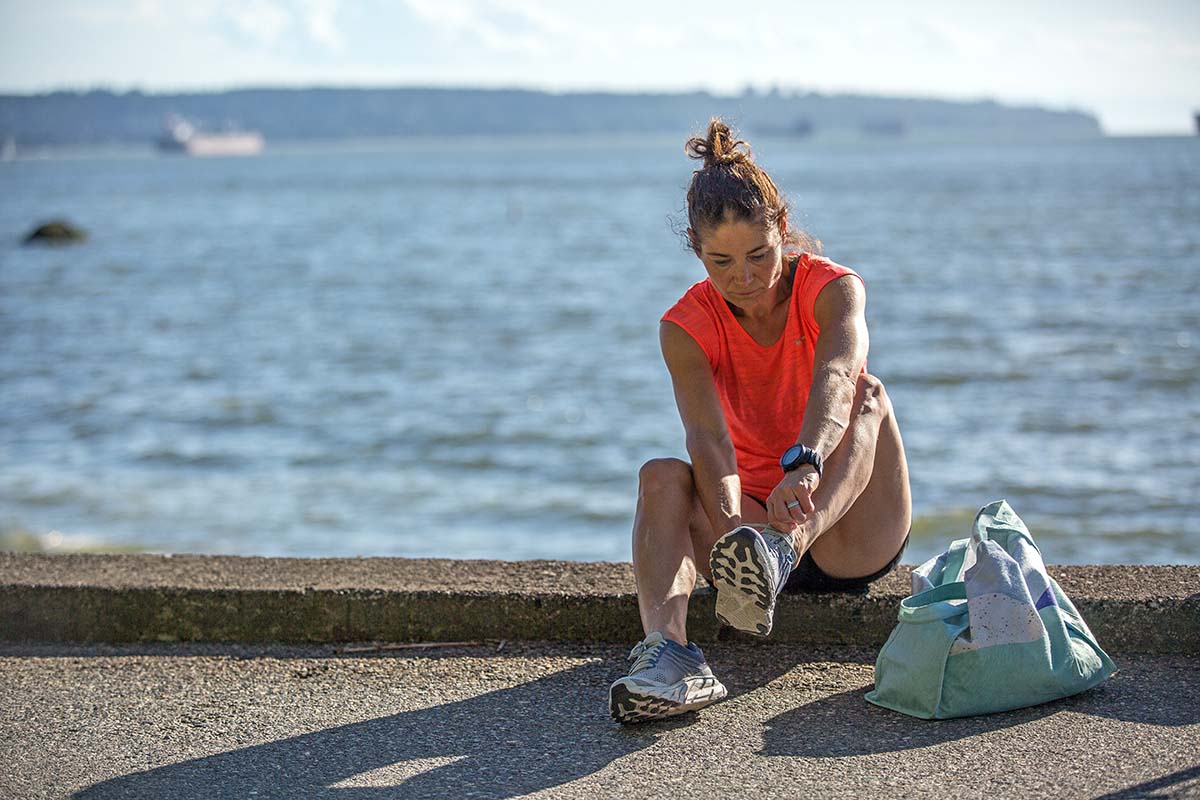 Founded in the same year as Hoka One One, Altra has also managed to break through in the very competitive running shoe world. The Torin 4 is their core model, and we recently tested the knit and mesh versions of the shoe. Like all Altra designs, the Torin has a zero-drop shape and a generous footbox to allow for natural foot splaying. Weight is fairly similar between the models, but the Hoka's lighter upper breathes far better than the knit Altra (the standard mesh version of the Torin does better in the heat). We also found the Hoka has superior energy return, and the midsole of one of our Altra's started breaking down prematurely after around 60 miles. As such, we prefer the Clifton 6 in most cases.
Another shoe to consider is Brooks' Ghost 12. This well-rounded design features a light and airy upper, great energy transfer from its moderately thick midsole, and a traditional 12-millimeter drop. Despite weighing a few ounces more than the Hoka, the Brooks' superior responsiveness makes it a viable option for middle distances races (10K to half marathon). That said, we were surprised by the wide fit around the collar, which led to some heel slippage on longer climbs and general instability when planting and turning. If the Ghost fits you well, it's a great option, but the Hoka's superior foot hold was the difference maker for us.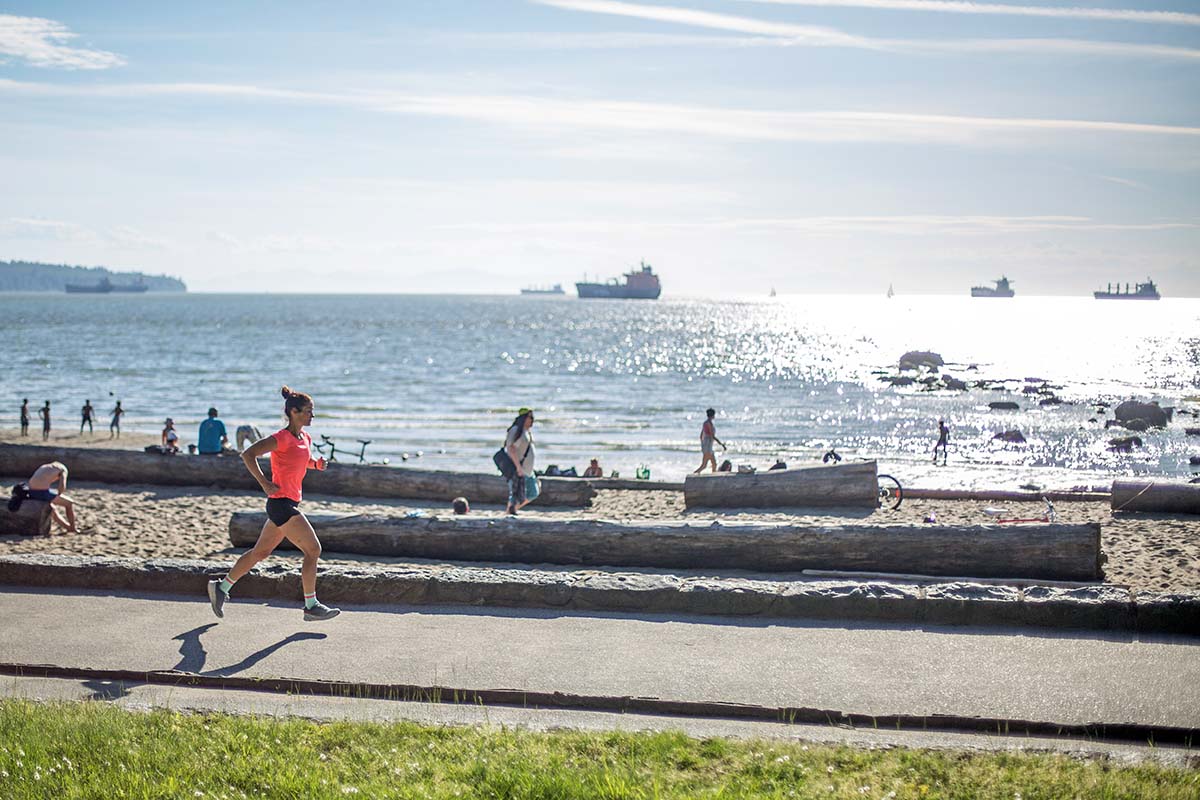 A final alternative is Hoka One One's own Bondi 6. This model offers a step up in cushioning compared with the Clifton (it's Hoka's thickest road shoe) but suffers a notable weight penalty. The Bondi comes in at more than an ounce extra per shoe and its very substantial midsole has a negative impact on responsiveness (it's quite sluggish in comparison to the Clifton). As a result, the Bondi is best for those that put cushioning and comfort above all else in their trainers, while the Clifton hits a better middle ground of weight and performance.
If you're thinking about buying gear that we've reviewed on Switchback Travel, you can help support us in the process. Just click on any of the seller links above, and if you make a purchase, we receive a small percentage of the transaction. The cost of the product is the same to you but this helps us continue to test and write about outdoor gear. Thanks and we appreciate your support!
Depending on the seller, most products ship free in the United States on orders of $50 or more. International shipping availability and rates vary by seller. The pricing information on this page is updated hourly but we are not responsible for inaccuracies.
Read More From Switchback Travel