La Sportiva TXS GTX
Price: $179
Weight: 2 lbs. 8 oz. (men's size 44.5)
Waterproof: Yes (Gore-Tex)
What we like: Highly protective, supportive, and durable for backpacking over technical terrain.
What we don't: Pretty unforgiving underfoot, which detracts from long-distance comfort.
See the Men's La Sportiva TXS GTX  See the Women's La Sportiva TXS GTX
La Sportiva's TX series is a standout in the approach shoe world, and the latest TXS GTX builds on that concept in a mid-height, backpacking-ready design. Throughout a spring of testing, including a wet and rowdy backpacking trip along Vancouver Island's Juan de Fuca Trail, the boot proved to be highly protective, stable, and capable of shuttling a heavy load over rugged terrain. It does have a fairly harsh and unforgiving feel—not the best option for comfort-seekers or hikers used to cushy padding—but the technical feature set and stiff build are a good match for navigating tricky trails with a pack. Below we break down the La Sportiva's overall performance. To see how it stacks up to the competition, see our article on the best hiking boots.
 
---
Table of Contents
---

Performance
Comfort
While the La Sportiva TXS GTX fit nicely out of the box with a snug, sock-like feel, comfort dropped considerably as the miles added up over challenging terrain. The culprit is the minimalist padding underfoot, which includes both the midsole as well as the boot's 4-millimeter OrthoLite insole. The insole in particular jumped out as a weak point: it's pretty thin, surprisingly firm, and shock absorption degraded as the miles added up and the foam compressed. I wouldn't go so far as to say the boot is uncomfortable, per se, but it didn't provide the cushion and buffer necessary for carrying a heavy load over longer distances. In all fairness, I wore the boots for three long, arduous days on pretty rugged and varied terrain, but given the TXS' technical intentions, I was disappointed by the harsh and fairly unforgiving feel.
It's not all bad news, however. The differentiated lacing system with hooks at the top half and loops at the bottom allows for effective and precise tensioning, providing a nice custom fit from the collar down to just above the protective rubber rand (similar to an approach shoe). I prefer to double-back my laces at the middle between the lower loops and upper hooks to allow for a slightly looser lower half and tight cuff, and I was able to easily accomplish this with the TXS. Additionally, similar to La Sportiva's more technical Trango collection, the TXS GTX's insole and tongue are connected like a large sock with very few internal seams, which allowed the boot to mold to my foot. I did experience a pressure point just under the first lace loop, closest to my big toe, but that disappeared after just a few outings. And I also found the tongue to be nicely padded, preventing the upper eyelets from digging into my foot even when the boots were cinched very snugly.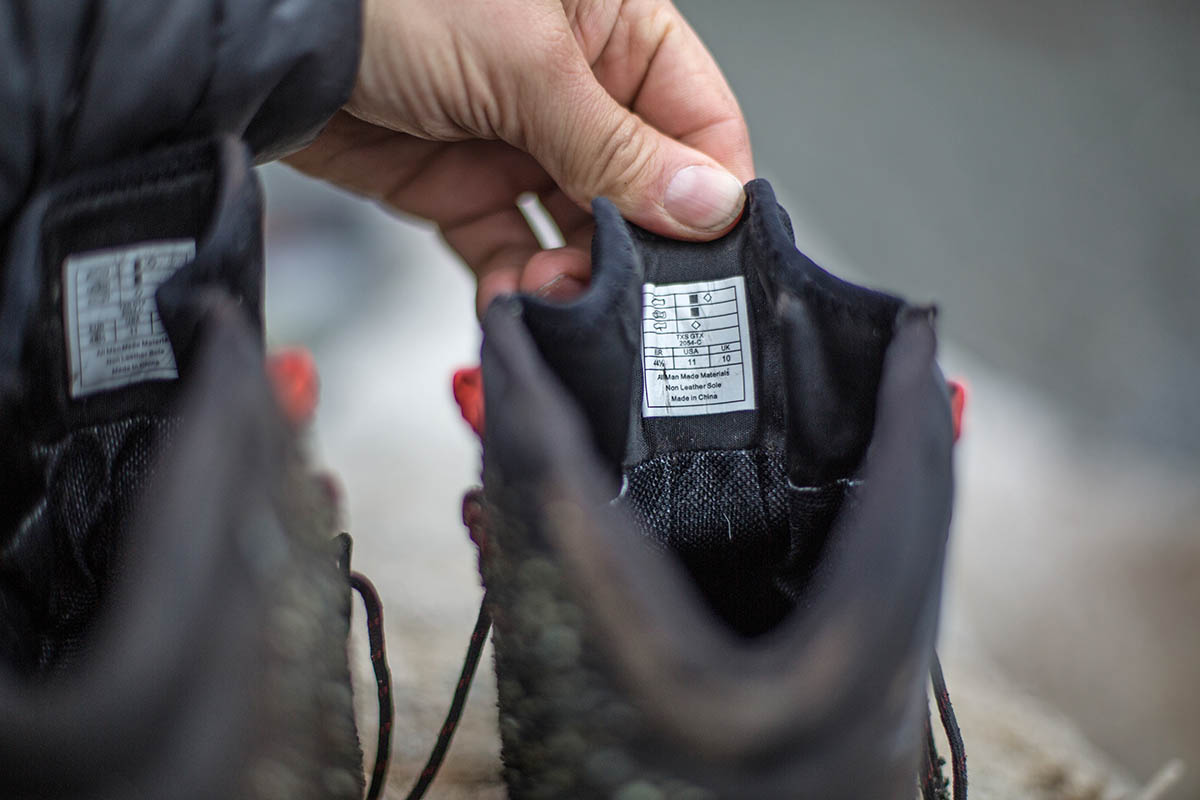 Weight 
My pair of men's size 44.5s clocked in at 2 pounds 8 ounces on my scale (listed weight is 2 lbs. 3.6 oz.), toeing the line between our light- and midweight hiking boot categories. For reference, similar mountain-focused designs like the Arc'teryx Acrux TR GTX (2 lbs. 6.8 oz.), Scarpa Zodiac Plus GTX (2 lbs. 6.4 oz.), and Asolo Falcon GV (2 lbs. 2.6 oz.) weigh around the same. Within La Sportiva's own lineup, the beefed-up and more mountaineering-ready Trango Tech Leather GTX is heavier at 2 pounds 13 ounces, while the slightly less technical Pyramid GTX checks in lighter at 2 pounds 1.6 ounces. And the TX4 Mid GTX is the lightest of the bunch at 2 pounds 0.4 ounces, although that boot is less of a hiker and more of a scrambler. All in all, although far from the most feathery boot on the market, the TXS' heft strikes me as perfectly reasonable given its intentions, and I've never once felt weighted down on the trail, whether on a two-hour day hike or multi-night backpack.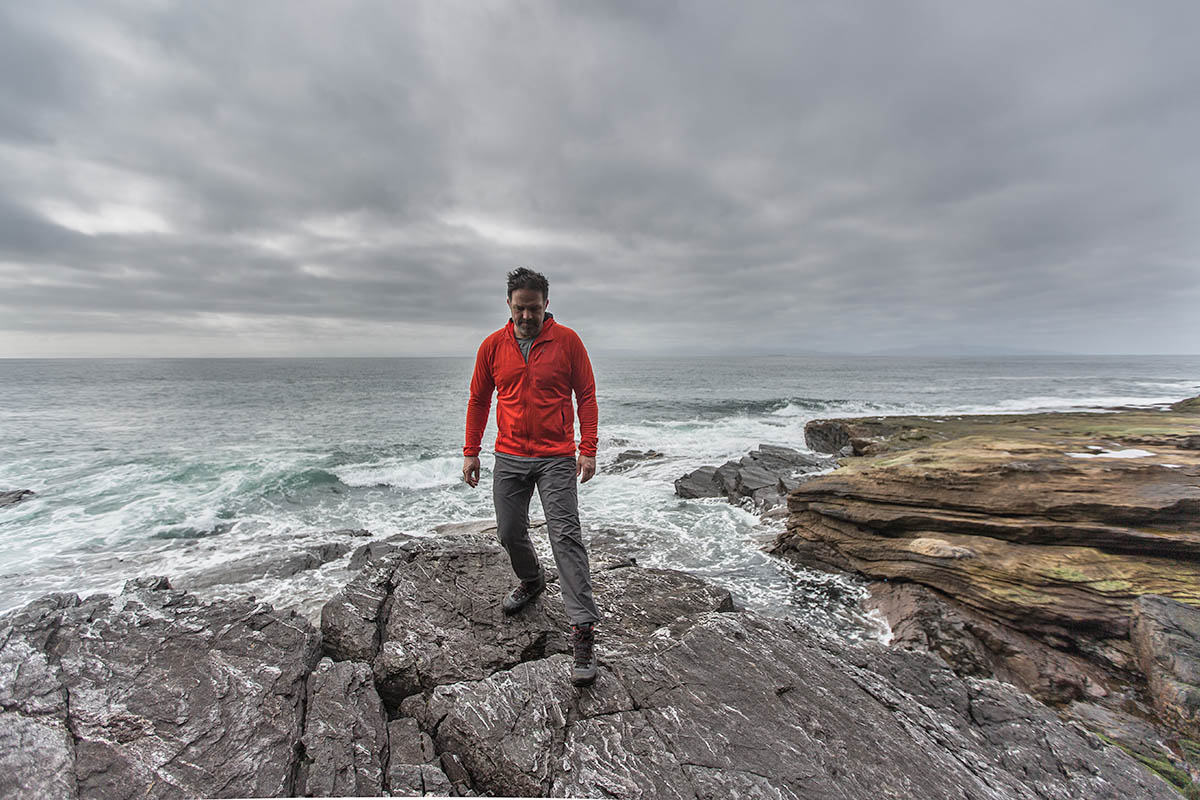 Traction
La Sportiva is a rock climbing specialist, and that expertise comes across clearly with the TXS GTX's traction. All told, the Vibram Megagrip outsole with Impact Brake System and multi-directional lugs provided exceptional bite across all the surfaces we encountered along the Juan de Fuca Trail, including miles of peanut butter-like mud, wet and snotty boardwalks covered in layers of moss, and exposed beach rocks during low tide. Outside of a couple slips on the slimy moss (I'm confident that any boot would have faltered here), the TXS held its own, isolating my feet from the unruly ground while still maintaining enough flex to contour around the rounded, wet rocks. The boot is decidedly overkill on smooth and well-maintained paths, but traction shouldn't be a limiting factor unless you're scaling technical rock. Here, we would prefer a dedicated approach shoe or one of La Sportiva's Trango models with a smooth climbing zone at the forefoot for edging and smearing.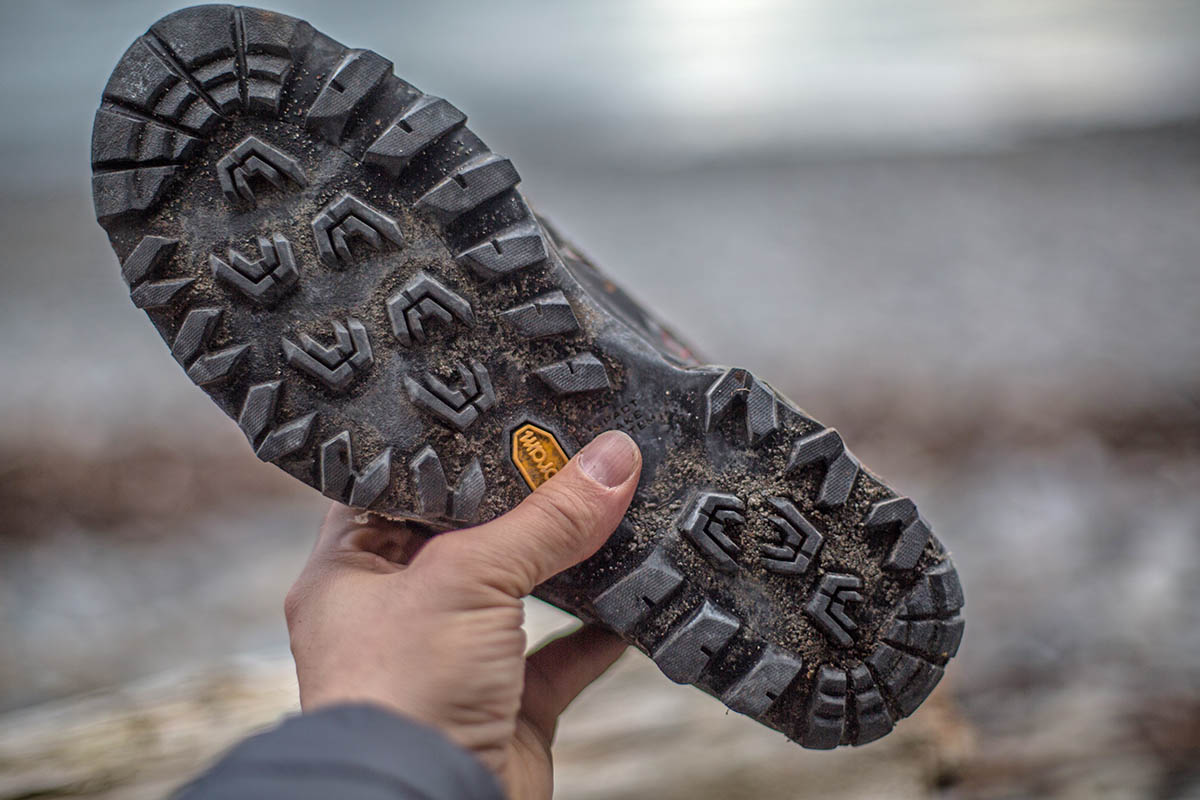 Stability and Support
As I touched on above, the TXS combines performance characteristics from both hiking boots and approach shoes, and that hybrid nature is readily apparent when it comes to support and stability. The injection-molded EVA midsole is reinforced with stiffeners, promoting confident and precise foot placements, the hinged 3D Flex system (shared with the Trango series) allows the ankle to flex while navigating steep terrain, and the burly upper provides enough lateral stability to prevent unwanted movement. To be sure, the TXS lacks the stiffness of a true mountaineering boot (particularly at the cuff), but it nevertheless provides ample support and structure for multi-day backpacking missions with a medium to heavy pack. I did experience one mild ankle roll in the boots while shuttling around 40 pounds, but again, the terrain was pretty gnarly.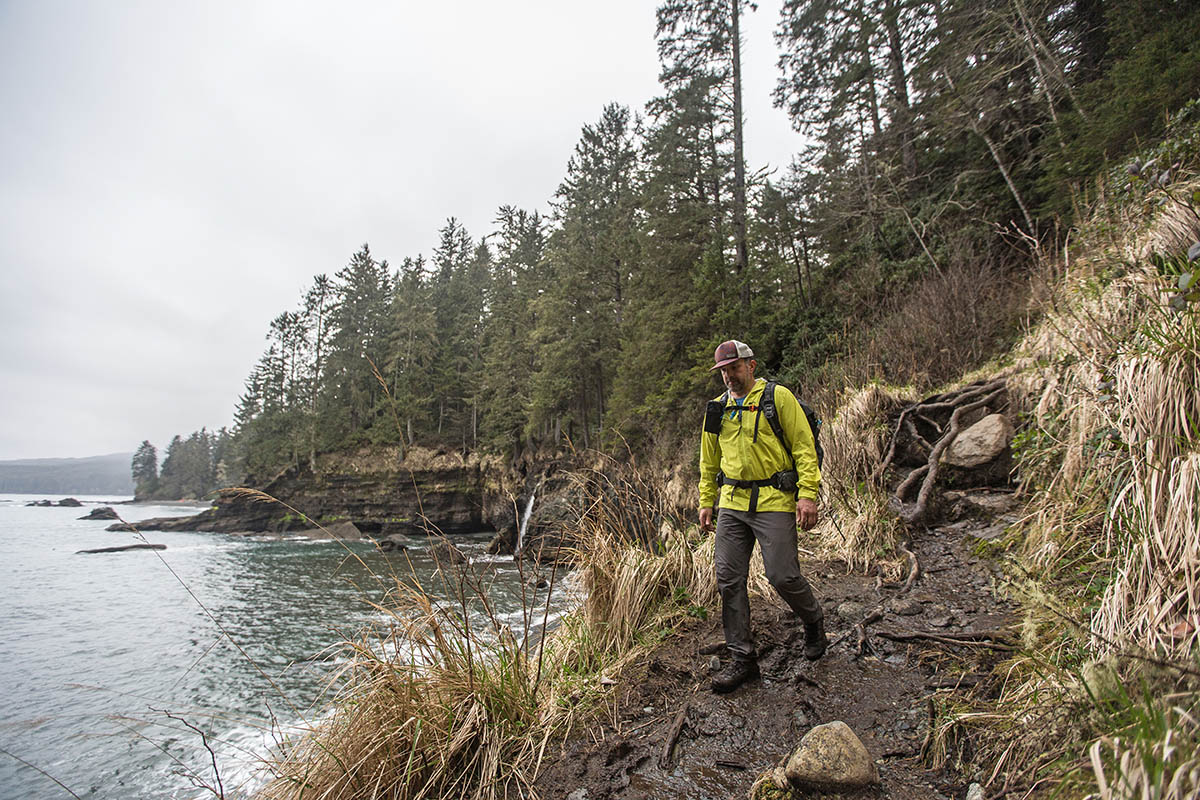 Waterproofing and Breathability
With a proven Gore-Tex liner and tightly woven mesh upper, the La Sportiva TXS GTX was a stalwart on the wet and muddy trails we encountered on our backpacking trip. I truly put this boot through the wringer, exposing it to countless rainy days (the West Coast of Vancouver Island is notorious for being one of the wettest spots in North America), miles of coastal beach, and innumerable stream crossings, but the boots deftly shrugged it all off. At one point, after miles of navigating wet, boot-depth mud and puddles, I gave up trying to walk around them and simply began marching straight through. Even then, my feet remained dry and comfortable. And as an added bonus, the boot comes with hooks at the back and sides to secure gaiters should you plan to be crossing higher creeks or streams (or snow).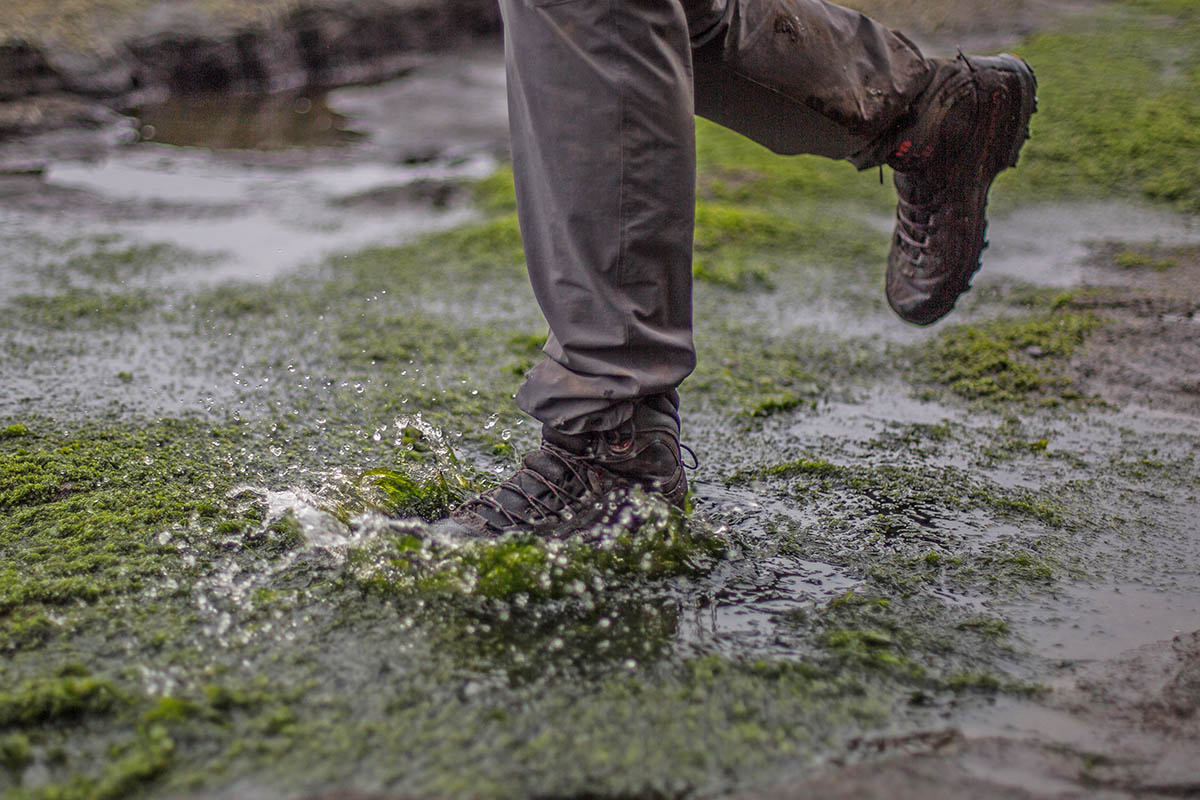 One common downside to excellent waterproofing is a drop in breathability, but I didn't experience any overheating or sweating in the TXS. Even while hiking in the humid conditions along the coast for miles on end, my hiking socks emerged impressively dry at the end of each day. To be clear, however, it was still spring weather and temperatures weren't too extreme, and the boot will likely feel warm in full-on summer weather. But this is true of all Gore-Tex-equipped footwear, and for those who need the protection, the TXS seems to achieve the waterproof-yet-still-breathable balance quite well.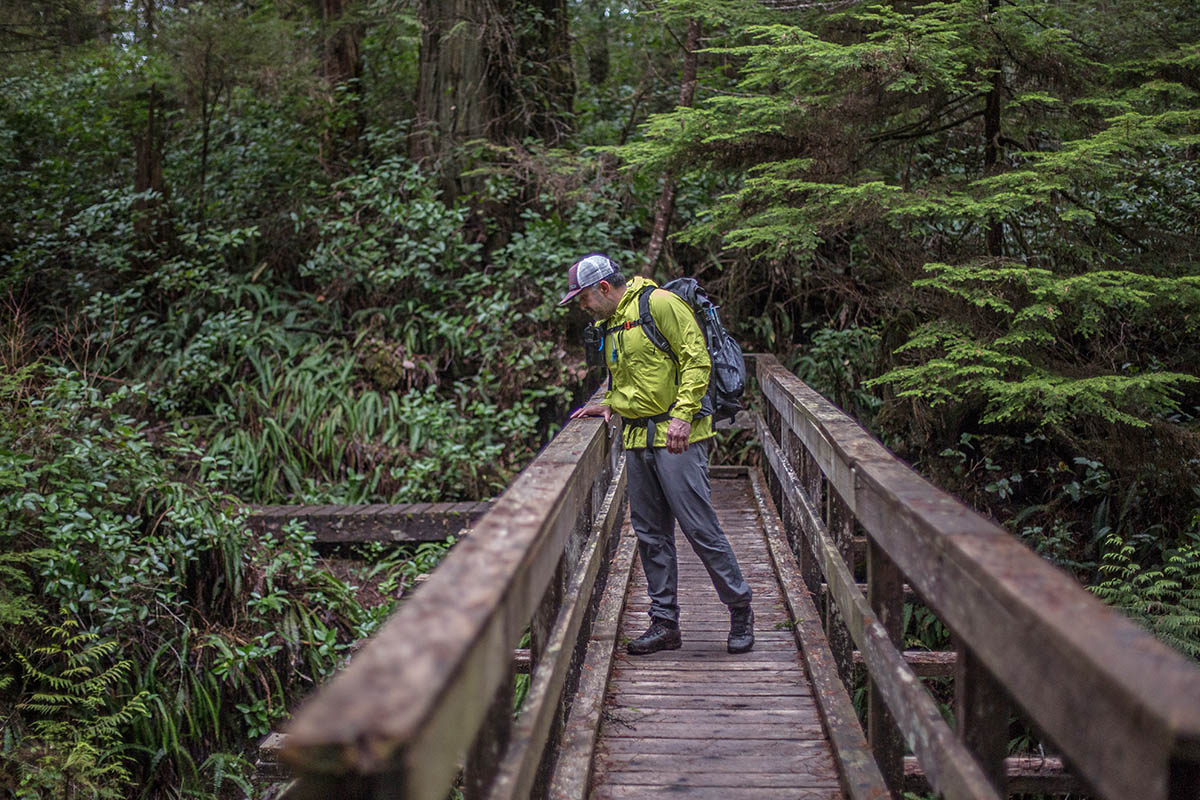 Toe and Ankle Protection
As with traction, protection is another area where the TXS GTX stands out. The tall, abrasion-resistant cuff and integrated tongue do a great job at sealing out debris and defending against scrapes and scratches at the ankle and lower shin, the rand wraps around the toe and heel to isolate your feet from jagged rocks and roots, and the burly toe cap nicely guards against harsh impacts and stubs to the front of the foot. By comparison, Arc'teryx's similarly intentioned Acrux TR GTX has a collar that dips fairly low and a tongue that tends to flare out, which allowed pebbles and grit to enter from the top, and my wife experienced similar issues while testing Salomon's Cross Hike Mid GTX. But with the TXS, I was easily able to snug the boot up to the very top without having to worry about ankle rolls or trail debris accumulating inside.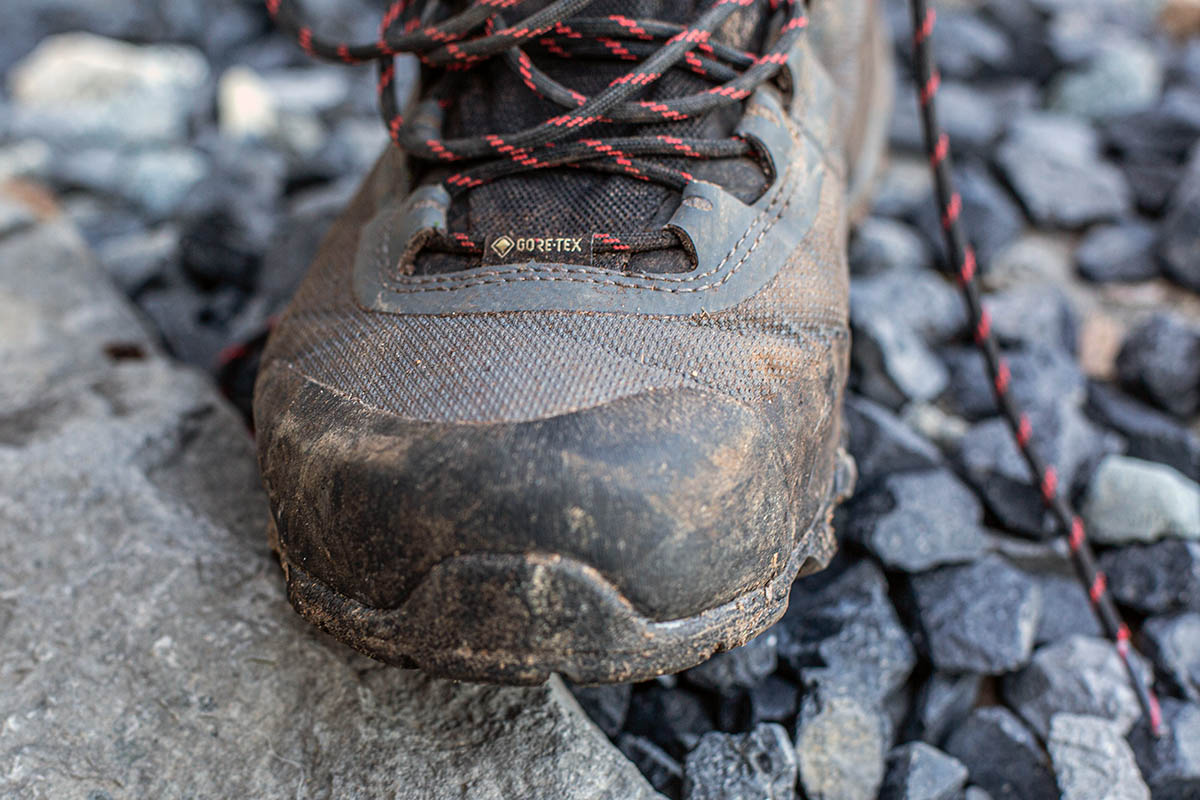 Build Quality and Durability
La Sportiva is no stranger to harsh and demanding mountain environments that test the limits of footwear, and the TXS is a testament to their craftsmanship. The boot's upper is made of a highly abrasion-resistant mesh, which has held up to months of scraping and rubbing against mud, sand, water, and granite with very few signs of wear to date. Further, the Vibram rubber toe rands and caps are in great shape despite several encounters with sharp, jagged rocks. In fact, outside of minor cosmetic scuffs, the boots look pretty much like new, with no snags or tears along the stitching, no frayed laces, and no cracking or concerning deterioration along the outsole. It all adds up to an incredibly hardwearing hiking boot that should stand up to many seasons of use and abuse.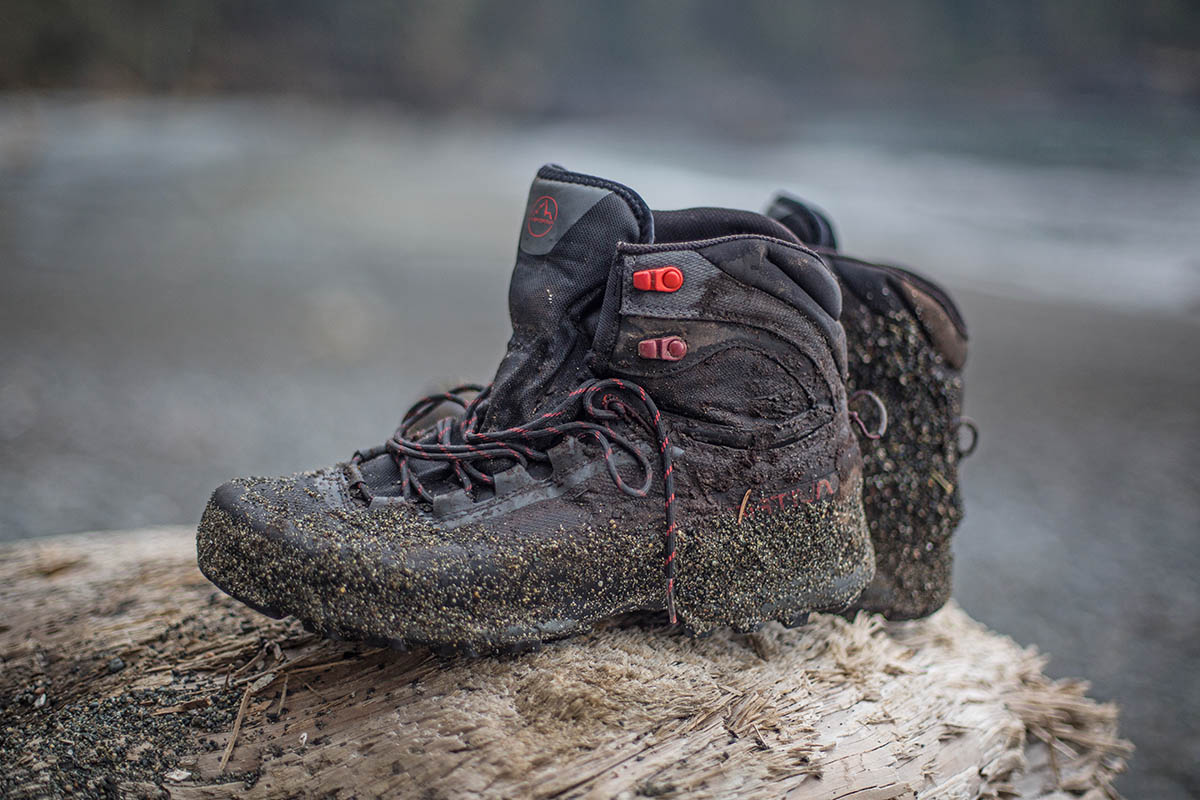 Fit and Sizing
La Sportiva uses European sizing, and I ordered a 44.5 in the TXS. For reference, this lines up with La Sportiva's size conversion chart, as I typically wear a U.S. men's 11. Lengthwise, I have just enough room to avoid bashing my toes against the front of the boot while descending, and the sock-like interior provides a snug and comfortable fit that—while a little narrow—has never felt restrictive. As always, it's best to try the boots on before you buy, but the TXS strikes me as a design that should work at your standard size.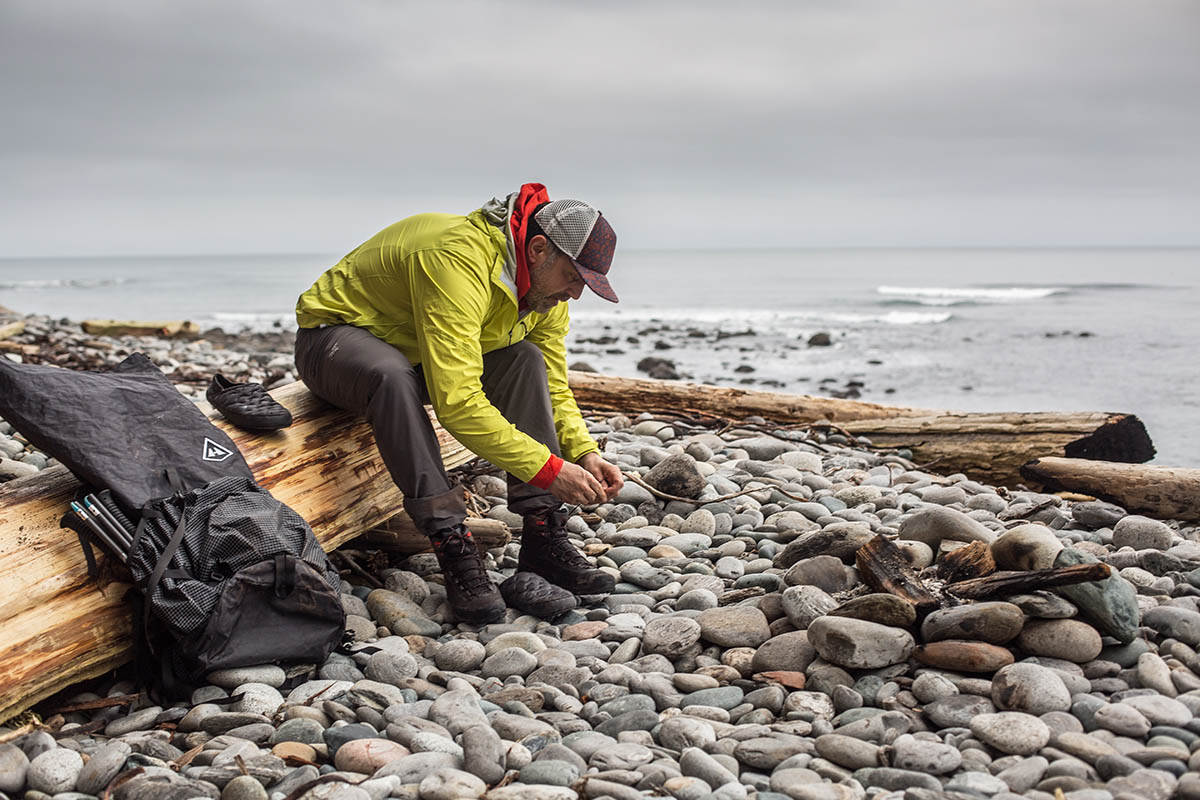 Women's Version of the La Sportiva TXS
We brought the men's TXS GTX on our backpacking trip along the Juan de Fuca Trail, and La Sportiva also makes the design in a women's model. The women's TXS GTX costs the same as its men's counterpart at $179 and retains an identical feature set and construction including an abrasion-resistant mesh upper, tacky Vibram Megagrip outsole, and waterproof Gore-Tex lining. The only notable differences are in weight and colorways, with the women's boots checking in a little lighter at 1 pound 13.6 ounces per pair and sporting a slightly brighter and more vibrant design (the men's boot uses darker grays and reds).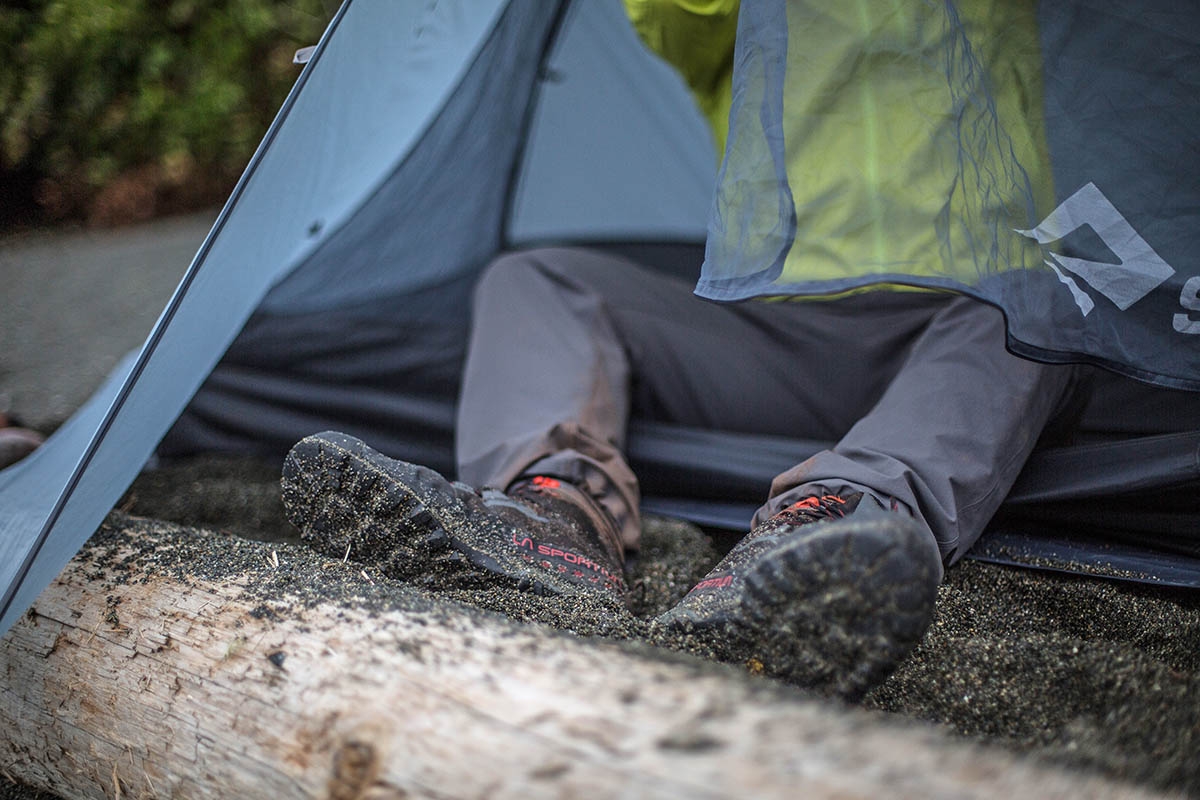 What We Like
Top-notch protection, traction, and waterproofing: the TXS offers great all-around coverage, can confidently navigate tricky terrain, and effectively seals out water and mud.
Lacing system allows for precise and effective tensioning and covers nearly the full length of the foot (similar to an approach shoe).
Gore-Tex Extended Comfort lining nicely protects against moisture while remaining decently breathable (for a waterproof boot, that is).
Excellent build quality, including a highly abrasion-resistant mesh upper, well-integrated tongue and insole, and durable rubber at the outsole, rand, and toe.
At $179, the TXS is considerably cheaper than most boots in its class.

What We Don't
Underfoot padding is relatively thin, which gives the boot a fairly stiff and unforgiving feel over long distances.
Overkill on easy and maintained trails—for this type of terrain, we recommend going with a lighter and more flexible design.
You can go lighter in this category with an option like Asolo's Falcon GV, which is also the more comfortable boot.


Comparison Table
The Competition 
La Sportiva's TXS GTX effectively merges performance benefits from the approach shoe and hiking boot worlds, making it a nice choice for covering challenging terrain with a pack. In this category, Asolo's Falcon GV is another one of our favorite designs. Stacked up against the TXS, the Falcon is lighter at 2 pounds 2.6 ounces per pair but manages to retain impressive technical chops. In fact, we wore the boot to Patagonia and crossed scree fields, glaciers, and steep rocky passes without issue. The Asolo also wins out in comfort with a midsole that's stiff but still decently padded for covering serious mileage. It's around $60 pricier than the TXS and a little less supportive and protective, but we consider the boost in all-day comfort worth those tradeoffs.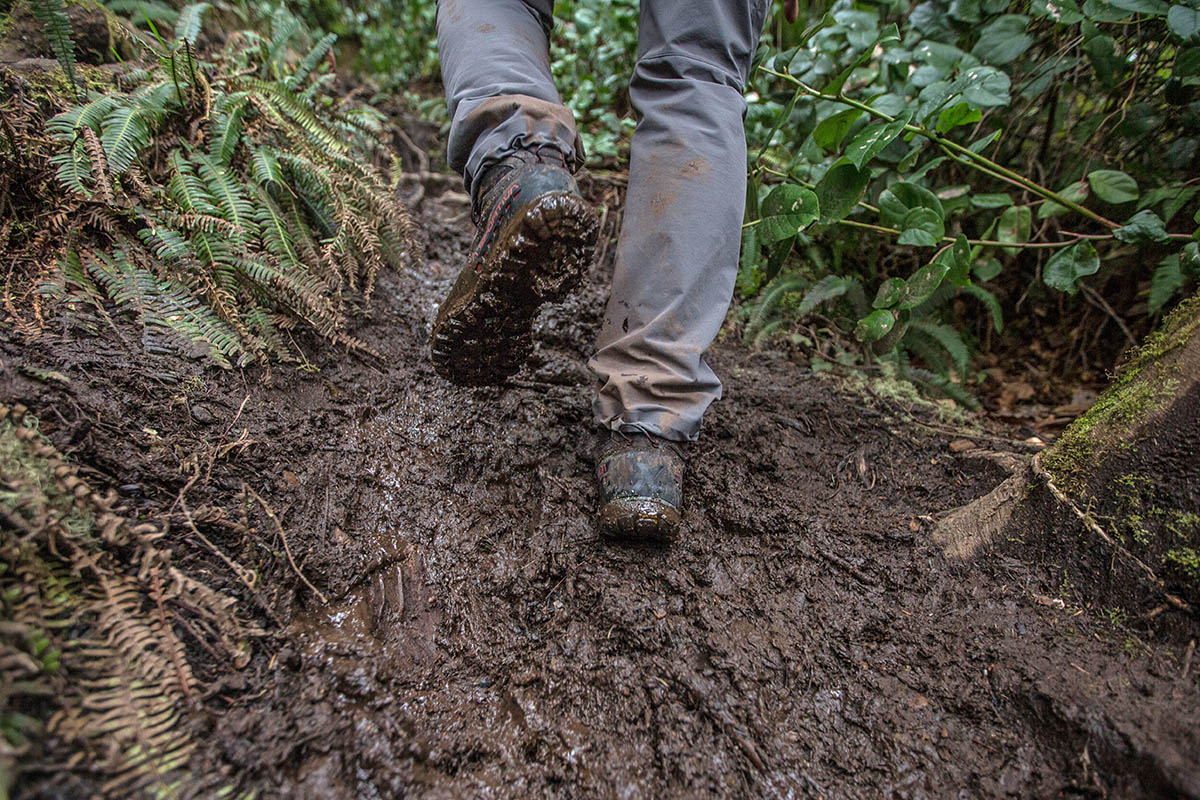 Like La Sportiva, Scarpa is another climbing specialist with a quality lineup of mountain-ready footwear, and the Zodiac Plus GTX is their TXS equivalent. Both designs boast approach shoe-like lacing systems and traction, excellent toughness and stability, and high-quality constructions with technical feature sets. In parsing out the differences, the Scarpa is a little stiffer, heavier at 2 pounds 6.4 ounces per pair, and has more forgiving cushioning underfoot. The downsides are that the suede upper material shows wear more readily and the Scarpa comes in $90 pricier than the TXS. Both are very capable and tough designs, but we think the Scarpa balances its priorities (particularly when it comes to cushioning) better than the TXS (for more, see our in-depth Zodiac Plus review). 
Next up is Arc'teryx's Acrux TR GTX, which is a similarly intentioned boot that I tested a couple years ago. Like the TXS, the Acrux is relatively light (2 lbs. 6.8 oz.) but still capable of tackling tricky terrain with a loaded pack. However, as I touched on above, the low collar height and gaping tongue allowed trail debris to enter at the top of the boot, and the lack of arch and midsole support led to soreness over full days of hiking. The TXS wasn't a standout in this realm either, but its underfoot support still exceeded that of the Arc'teryx. And the final clincher for us is price: at $250, the Acrux costs $61 more than the TXS without any notable performance benefits.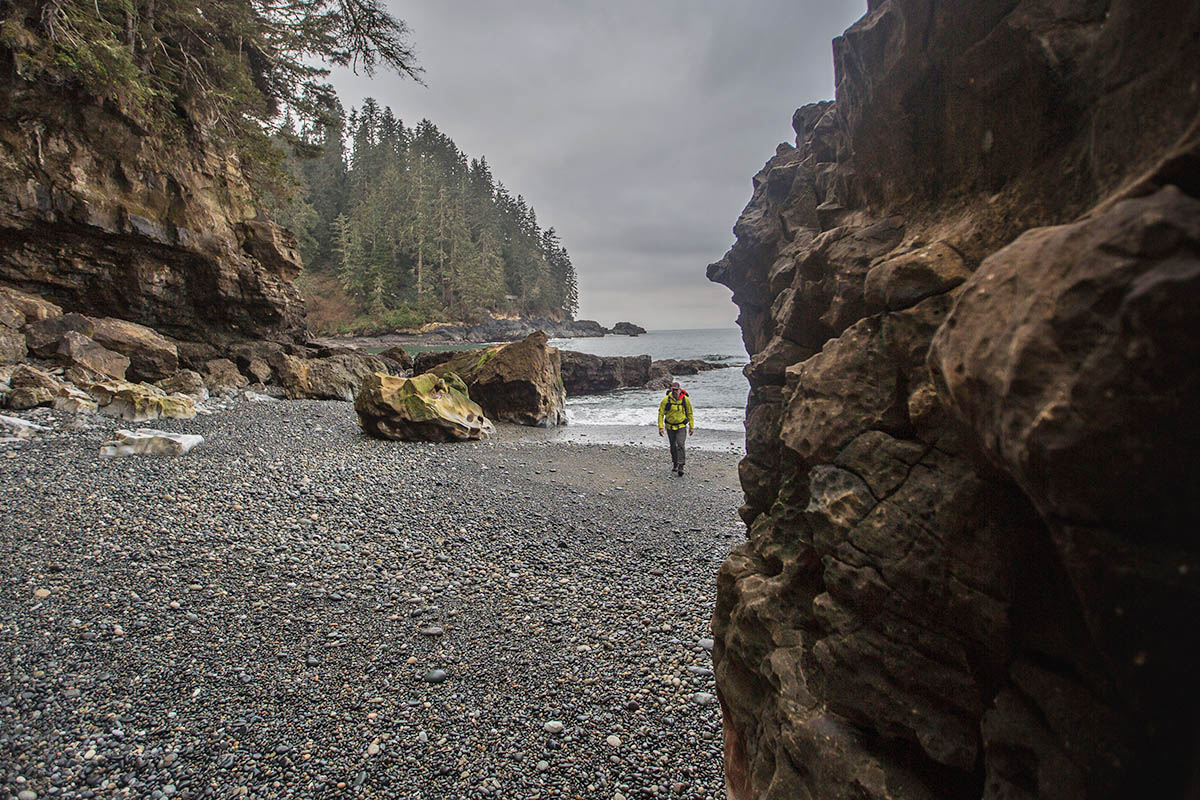 Two final competitors come from within La Sportiva's own lineup: their Trango Tech Leather GTX and Pyramid GTX. The Trango Tech is the slightly beefed-up and more technical alternative, combining features from their mountaineering and backpacking collections. For $70 more than the TXS, the Trango adds a quality and hardwearing nubuck leather upper, semi-automatic crampon compatibility, a smooth patch of rubber at the forefoot for edging on vertical rock, and extra stiffness for more demanding alpine use. Weight jumps by nearly 10 ounces per pair, but that's a fairly reasonable tradeoff for uses like all-day mountain guiding, mountaineering objectives that involve both hiking and climbing, and technical pursuits at higher altitudes. For mixed on- and off-trail use at lower elevations, the more flexible and lighter-weight TXS would be our preferred choice. And for an even lighter (but less versatile and supportive) scrambling specialist, see the TX4 Mid GTX.
Last but not least is La Sportiva's Pyramid GTX. While the Trango Tech slots in as the more performance-focused alternative to the TXS, the Pyramid is the lighter and more streamlined design. At 2 pounds 1.6 ounces, it undercuts the TXS by 2 ounces per pair, boasts a perforated leather upper and Gore-Tex Surround waterproofing that allow a good amount of airflow without sacrificing protection, and still retains impressive toughness. The TXS includes more technical features in the form of a more customizable lacing system, higher cuff, and beefier rubber rand, but the Pyramid is softer and more flexible for uses like lightweight backpacking and hiking. And a final consideration to factor into your decision is fit: while the TXS has a fairly accommodating shape, the Pyramid runs decidedly narrow.
If you're thinking about buying gear that we've reviewed on Switchback Travel, you can help support us in the process. Just click on any of the seller links above, and if you make a purchase, we receive a small percentage of the transaction. The cost of the product is the same to you but this helps us continue to test and write about outdoor gear. Thanks and we appreciate your support!
Depending on the seller, most products ship free in the United States on orders of $50 or more. International shipping availability and rates vary by seller. The pricing information on this page is updated hourly but we are not responsible for inaccuracies.
Read More From Switchback Travel