Arc'teryx is a relatively small-time player in the world of hiking footwear, but they've recently assembled a solid lineup of quality designs. The Acrux TR GTX slots in as their mid-height model designed for tackling technical terrain with a heavy pack. We put the boot to the test in Colorado's rugged San Juan Mountains and were impressed by its light weight and hardwearing build. However, we felt the Acrux's cushioning and arch support weren't sufficient for rough off-trail use. Below we break down our experiences with the Acrux TR. To see how it stacks up to the competition, see our article on the best hiking boots.
 
---
Table of Contents
---

Performance
Comfort
In terms of trail comfort, we came away with mixed feelings with the Arc'teryx Acrux TR GTX. The good news: the boot's inaugural outing was a steep, 3,000-foot jaunt up to 12,500 feet to acclimatize in preparation for our bikepacking trip through Colorado's San Juan Mountains. By the end of the hike, I had experienced no hotspots or blisters, which is always a win with new shoes. However, I do have a couple of comfort-related gripes with the Acrux, and the most glaring is the lack of arch and midsole support. I have fairly high arches, and the 3D-molded OrthoLite insole feels quite flat and has caused aching in my feet over long distances. Replacing the removable insole is a good start (especially for extended trips), but the lack of cushioning is nevertheless a weak point. The padding around the upper and tongue do an adequate job of protecting my ankle, but a little more wouldn't hurt, and especially if you're used to generous padding in your boots.
The other notable issue is the Acrux's height. Compared to most other mid-height boots, the Acrux's collar dips fairly low, which allows trail debris to enter much more readily. In fact, I actually had to take the Acrux off relatively often to dump out pebbles and grit. Additionally, the tongue has a tendency to flare out rather than sit flush against the laces, which makes it easier for debris to accumulate between the tongue and shin. If you're wearing shorts or cinched hiking pants, this can be a frequent nuisance.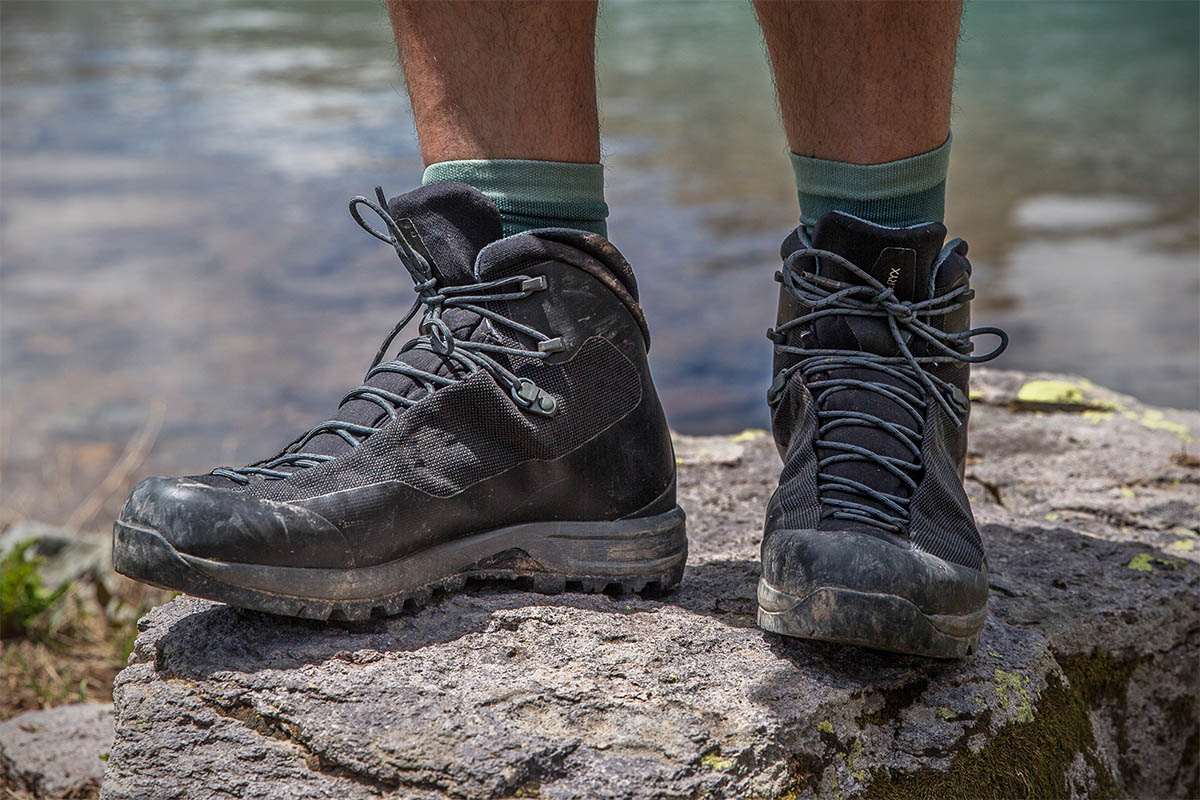 Weight
At 2 pounds 10.4 ounces for a pair of men's size 10.5 (the listed weight is 2 lbs. 6.8 oz.), the Acrux TR is no featherweight, but it's still reasonably light given its technical intentions. The weight—or lack thereof—was immediately noticeable when I tried the boots on and became even more pronounced after my first long outing of over 7 hours of hiking. And stacked up against similar models designed for tackling challenging terrain, the Acrux is very competitive. For example, the Salomon Quest 4D 3 GTX (2 lbs. 13.2 oz.) clocks in quite a bit heavier, while the Scarpa Zodiac Plus GTX and Lowa Renegade GTX Mid weigh around the same at 2 pounds 6.4 ounces and 2 pounds 7 ounces respectively. As I touched on above, Arc'teryx sacrificed cushioning and trimmed down the upper to shave weight, but it did translate to a nimble feel.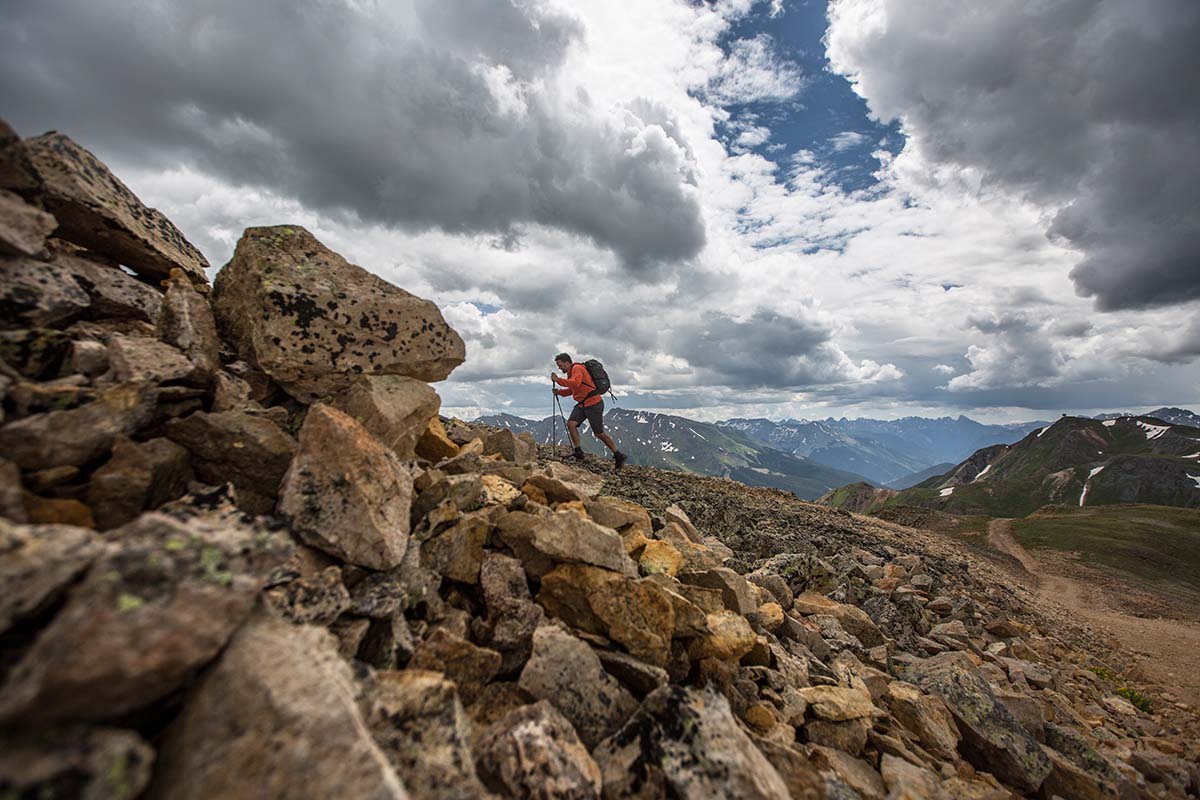 Traction
Traction is a clear strong suit of the Arc'teryx Acrux TR GTX. The shoe's Vibram Megagrip outsole is extremely durable and has excelled on a variety of terrain including wet, rooty rainforest floors in the Pacific Northwest, dry shale rock beds in the Red Mountains of Colorado's San Juans, and loose, granular scree in the northern Cascades. The biggest test of the shoe's sole, however, came while ascending Mount Sneffels, a Fourteener just north of Telluride, Colorado. Here, we crossed numerous rivers by shimmying across slippery, wet logs. Though I'd happily ride across on a mountain bike, I tend to lack confidence when walking on narrow platforms, and the river slime only made it even more harrowing. However, I was quickly impressed by the Acrux TR's grip—I was able to cross the rivers without losing my footing once. The deep lugs do tend to accumulate mud and clay around the front of the shoe, but this hasn't affected the boots' traction.

Stability and Support
For the weight, the Arc'teryx Acrux TR offers better support than expected. The TPU chassis at the midfoot and forefoot of the boot are very torsionally rigid, which allows for solid foot planting and just a bit of flex when sidestepping. However, while clambering up Red Mountain #3, the terrain was loose and jagged, and I found myself wishing for slightly more support through the upper ankle and top two eyelets. If the collar didn't drop so dramatically at the back, I think the Acrux would feel significantly more stable. That said, I've had no issues with rolling ankles or losing my footing, even while scrambling up steep and loose slopes. And perhaps most importantly, the Acrux has had no problem shuttling a 50-plus-pound backpacking pack (camera equipment isn't light) through technical terrain while both ascending and descending—not an easy feat for any boot.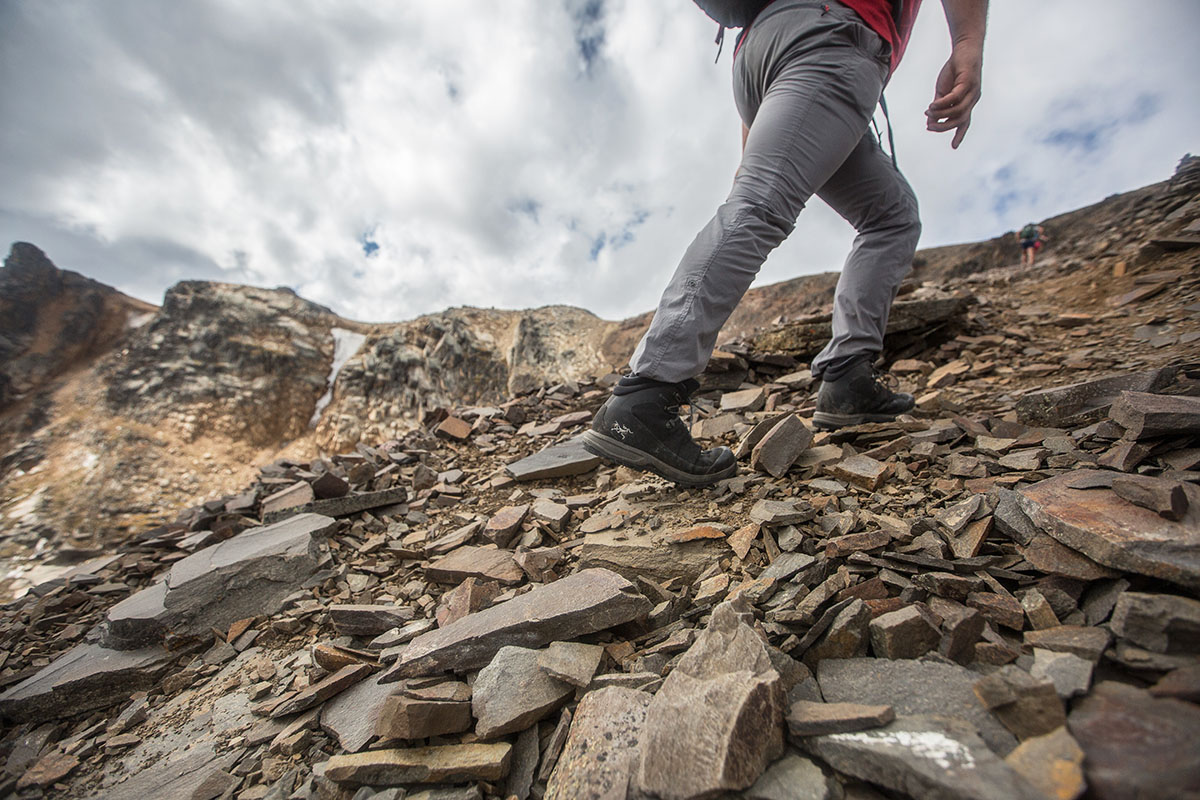 Waterproofing
The Acrux TR's Gore-Tex membrane has lived up to its reputation. I've worn the boot in multiple rainstorms, hiked through wet meadows, and crossed numerous streams with no leakage or wetting out to date. However, the downside to Gore-Tex is that it tends to trap moisture, and I've had a few missteps in the boots that resulted in a long drying time. The Acrux's sock-like liner only compounds the issue, making it difficult to open the boot up and allow air to flow (this is true for all boots with an integrated liner). But there are always trade-offs to weigh, and the Acrux performs extremely well in the wet.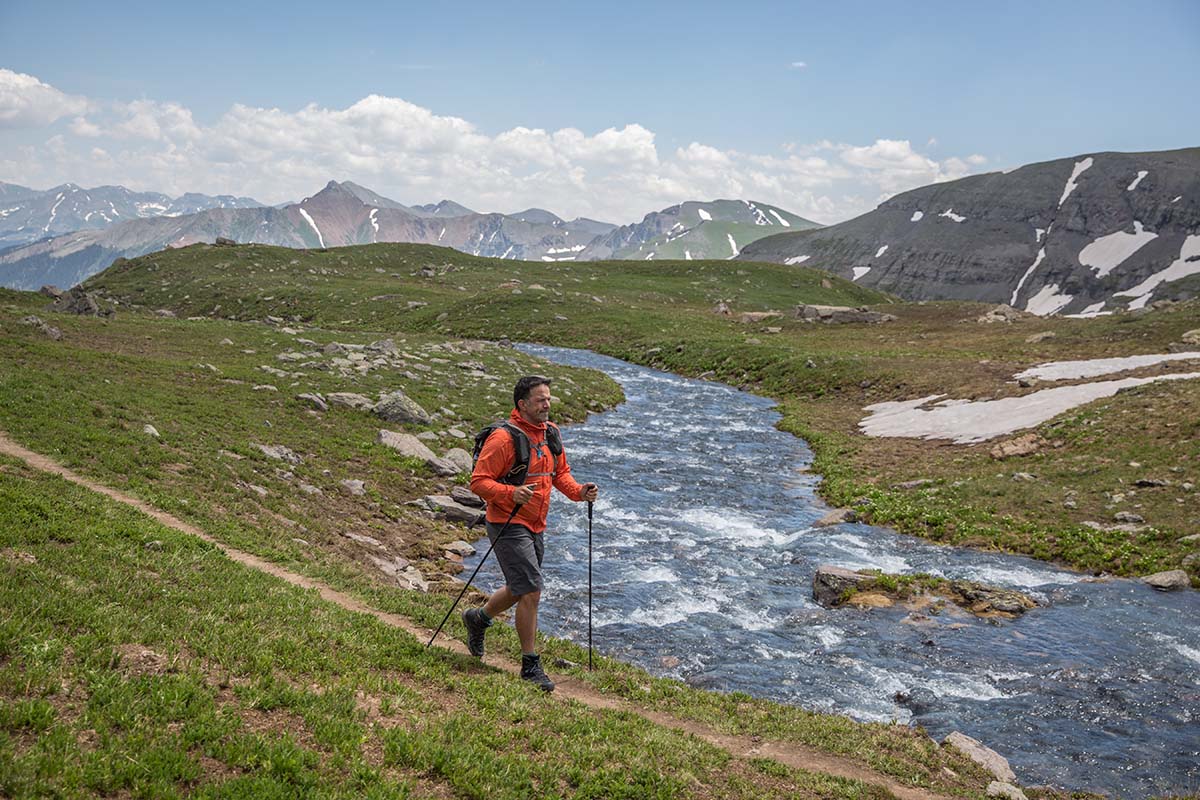 Breathability
For a Gore-Tex design, the Arc'teryx Acrux TR GTX is a good overall breather. I wore the boots on many hikes outside of Durango, Colorado, where temperatures creeped into the high 90s Fahrenheit. To my surprise (and relief), my feet didn't swell much or overheat, nor did I have issues with the boots growing overly sweaty or clammy. Unfortunately, Arc'teryx doesn't make a non-waterproof version of the Acrux TR for those who hike in particularly dry climates, but the Gore-Tex version vents well enough for most uses.

Build Quality and Durability
Arc'teryx is known for their quality craftsmanship, and the Acrux TR GTX is exactly what we've come to expect from the North Vancouver brand. For starters, the thin, synthetic SuperFabric upper has proven to be extremely hardwearing and abrasion-resistant. The boots have been pressed, pushed, dragged, and thrown up against sharp, jagged shale and have yet to show any real signs of wear. The exterior edges of the midsole have taken a beating and are beginning to show slight cosmetic damage, but the cushioning doesn't feel any more packed out than when the boots were brand new. Further, none of the seams or stitching are starting to fray, the lugs are all intact and not overly worn, and the molded rubber toe cap offers great all-around protection for my toes—it even allowed me to toe-jam while scrambling steep walls. Finally, although a small feature, the laces hold tension remarkably well and are far more rigid than most others I've used.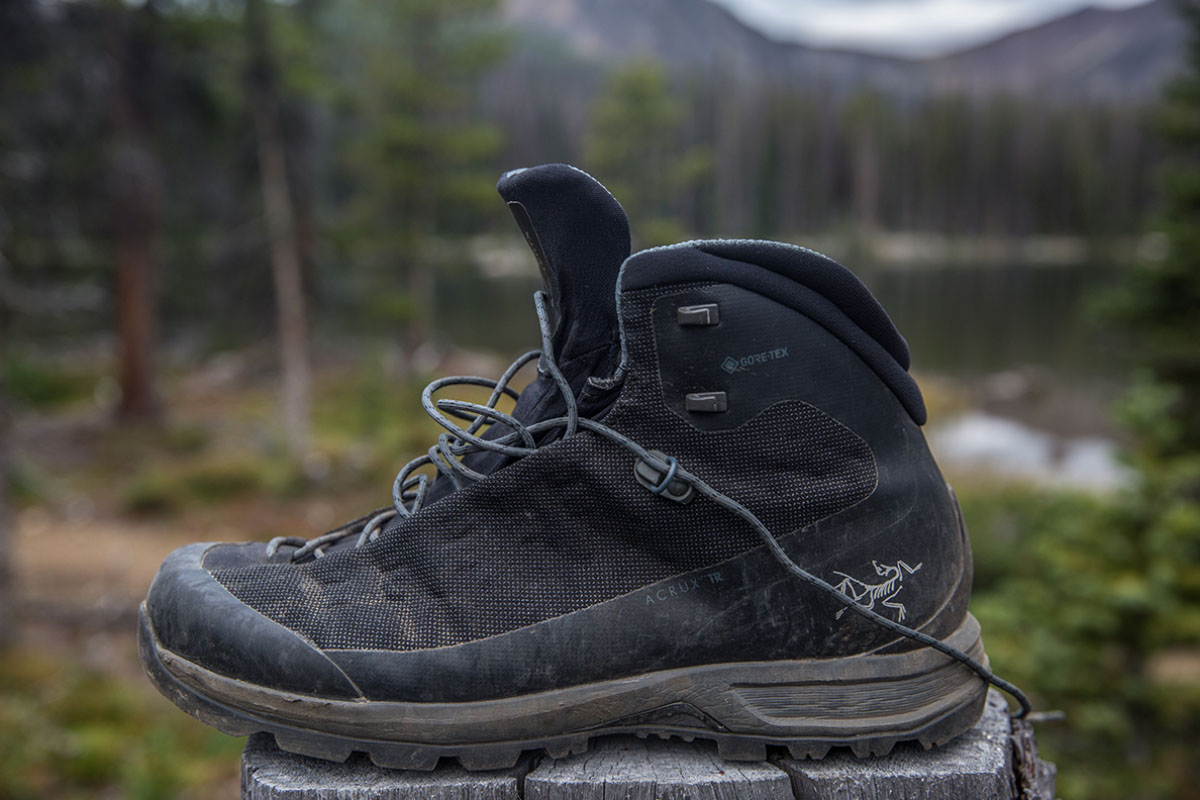 Fit and Sizing
I initially thought that the Arc'teryx Acrux TR GTX looked narrow and long, but it ended up fitting true to size (for reference, I wear a 10.5 in most footwear, including the Acrux). All in all, the fit is great: the heel pocket is nice and snug without applying any unwanted pressure, and the length allowed me to comfortably descend without the fear of losing toenails. If I had to categorize the Acrux, I would say it's a relatively narrow fit with just enough room in the toe box and vamp for my fairly wide feet. Additionally, the to-the-toe lacing system (similar to an approach shoe) allows for good tensioning, and the locking D rings are very effective for customizing tightness between the upper and lower laces. These also prevent the boot from loosening completely if the laces come untied.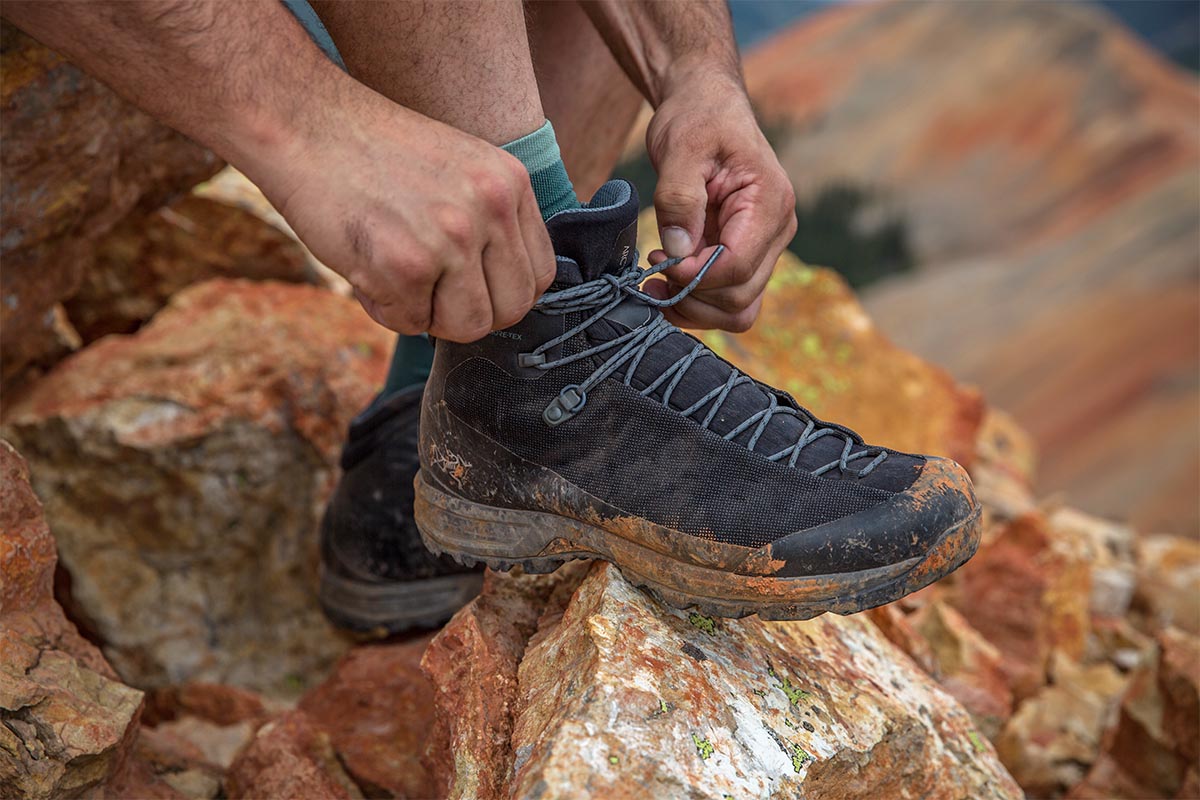 Women's Version of the Arc'teryx Acrux TR GTX
We brought the men's Acrux TR GTX into Colorado's San Juan Mountains for testing, but Arc'teryx also makes the boot in a women's-specific version for the same price ($250). Like the men's, the women's Acrux is only available in a single black colorway, although the light blue laces add a pop of color. The women's shoe is also considerably lighter at 2 pounds 1.2 ounces per pair (the men's clocks in at 2 lbs. 6.8 oz.). Apart from these differences, the two boots are identical in overall construction, feature sets, and design. As we touched on above, Arc'teryx doesn't make the boot in a non-waterproof version, but we found the Gore-Tex membrane to be sufficiently breathable for most conditions.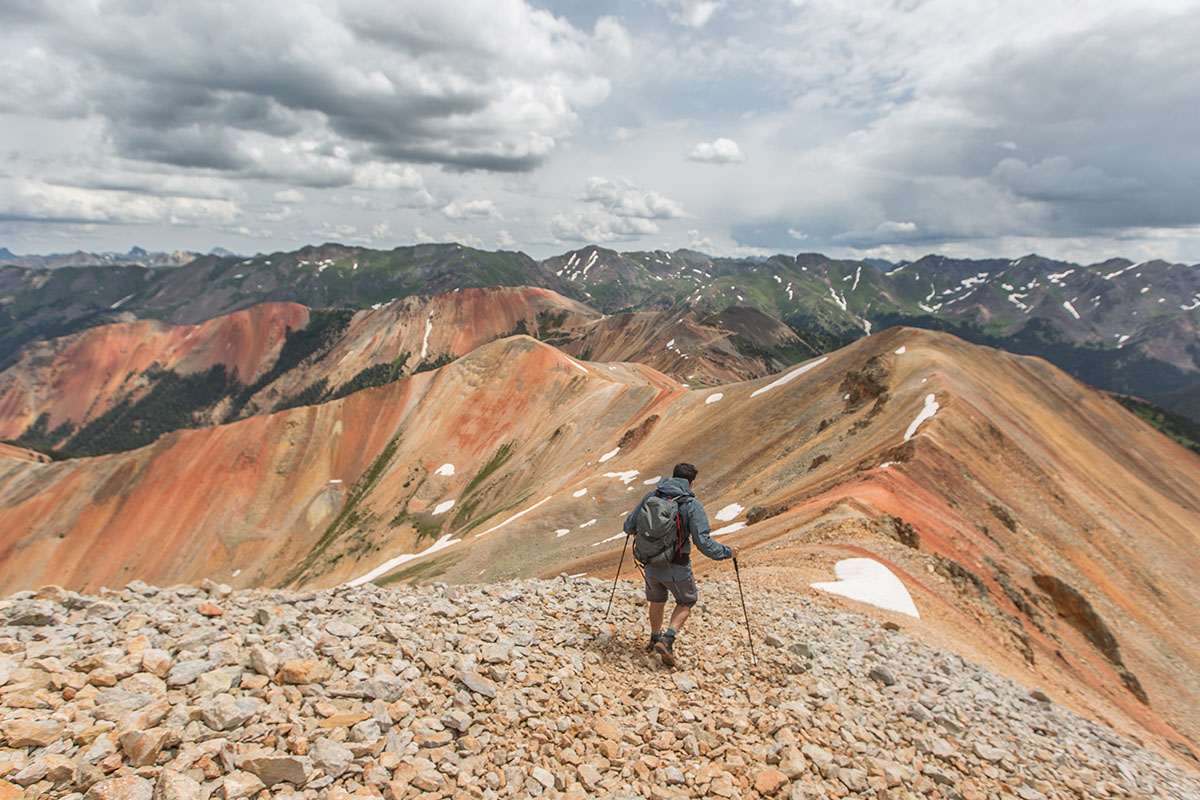 What We Like
Lightweight yet capable of tackling technical terrain and heavy loads.
Typical Arc'teryx build quality: the Acrux TR GTX is hardwearing and built to last.
Effective lacing system and a solid all-around fit (we've found some Arc'teryx footwear runs narrow but not in this case). 

What We Don't
Lack of arch and midsole support can lead to soreness over full days of hiking (we recommend replacing the insole at minimum).
Low collar height allows trail debris to sneak in easily.
Only offered in a single colorway and not sold in a non-waterproof version.


Comparison Table
The Competition
Arc'teryx's Acrux TR GTX joins an ever-growing field of midweight hiking boots built to tackle challenging terrain. Another design with similar intentions is Salomon's Quest 4D 3 GTX. Compared to the Acrux, the Quest is 6.4 ounces heavier per pair at 2 pounds 13.2 ounces, has a taller collar that effectively seals out trail debris, and is more comfortable over long distances with substantial padding underfoot. That said, the boot is fairly stiff and overkill for those looking to move fast and light on mostly maintained trails. But if you're someone who prefers a little more support and protection, the Salomon could be a viable alternative to the Acrux (provided you're willing to accept the weight penalty). Salomon also makes the lighter Quest Prime GTX, which sacrifices some support and stability for a 5.2-ounce weight savings compared to the 4D 3.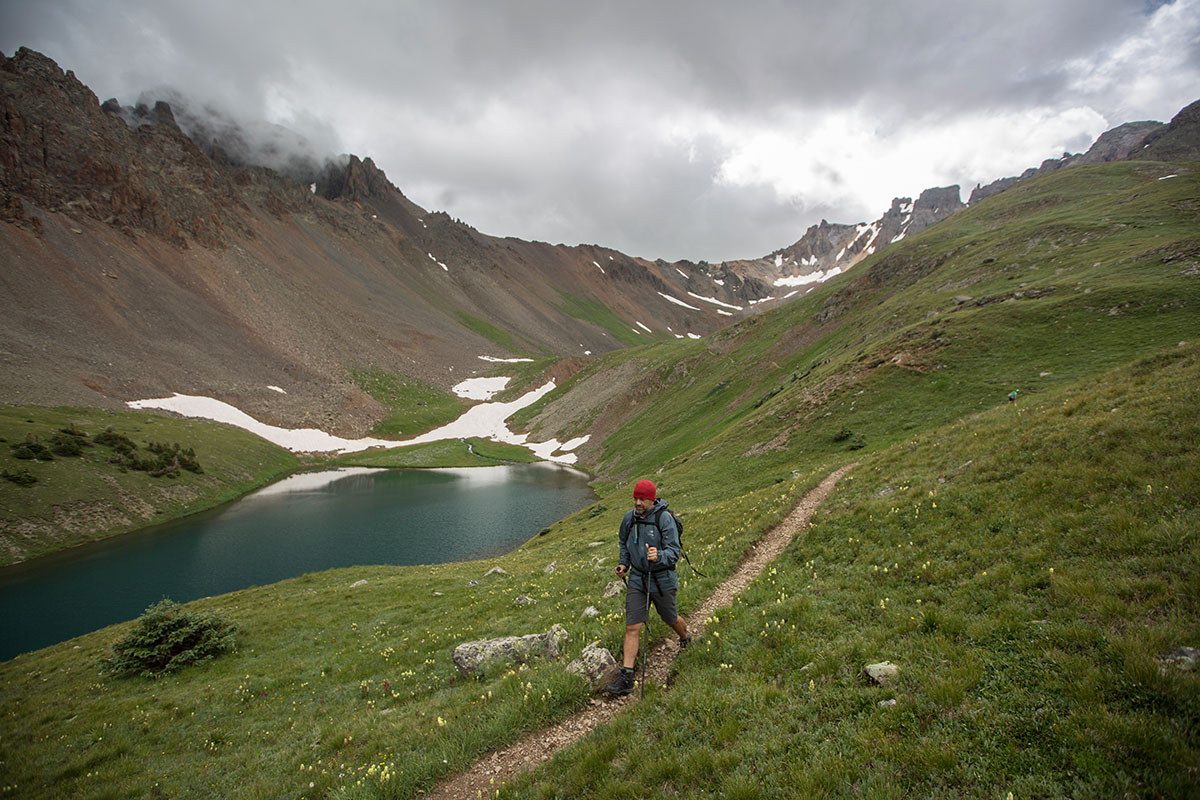 Another similar design to consider is Scarpa's Zodiac Plus GTX. Like the Acrux, the Zodiac impressed us with its light-but-tough personality that excelled on high-mileage days with a heavy load. The two are nearly identical in weight (the Zodiac weighs 0.4 ounces less per pair), but—like the Salomon above—the Scarpa is fairly heavy and stiff for moderate or maintained trails. However, the real clincher for us is comfort: the Scarpa was immediately comfortable out of the box and provided ample cushioning underfoot on rocky and rooty trails. The boost in support and comfort give the Zodiac the edge as the more well-rounded design, but both are solid options in the midweight hiking boot category.
In the same midweight category as the designs above, we also like Salewa's Mountain Trainer Mid GTX. The Salewa essentially is a mix between an approach shoe and alpine boot, with a protective wraparound rand at the lower section, to-the-toe lacing system for dialing in fit, a supportive construction, and proven Gore-Tex waterproofing. Stacked up against the Acrux, the Mountain Trainer is heavier at 2 pounds 15.2 ounces per pair, which can feel weighty and stiff on well-maintained trails, although the tradeoff is that it's impressively stable while scrambling over rocks off trail. And the waterproof leather build does run a bit warm, although neither boot is ideal for those who hike in particularly dry climates. In the end, we give the slight nod to the Salewa for its better protection and coverage, but the Arc'teryx is the more nimble and agile pick.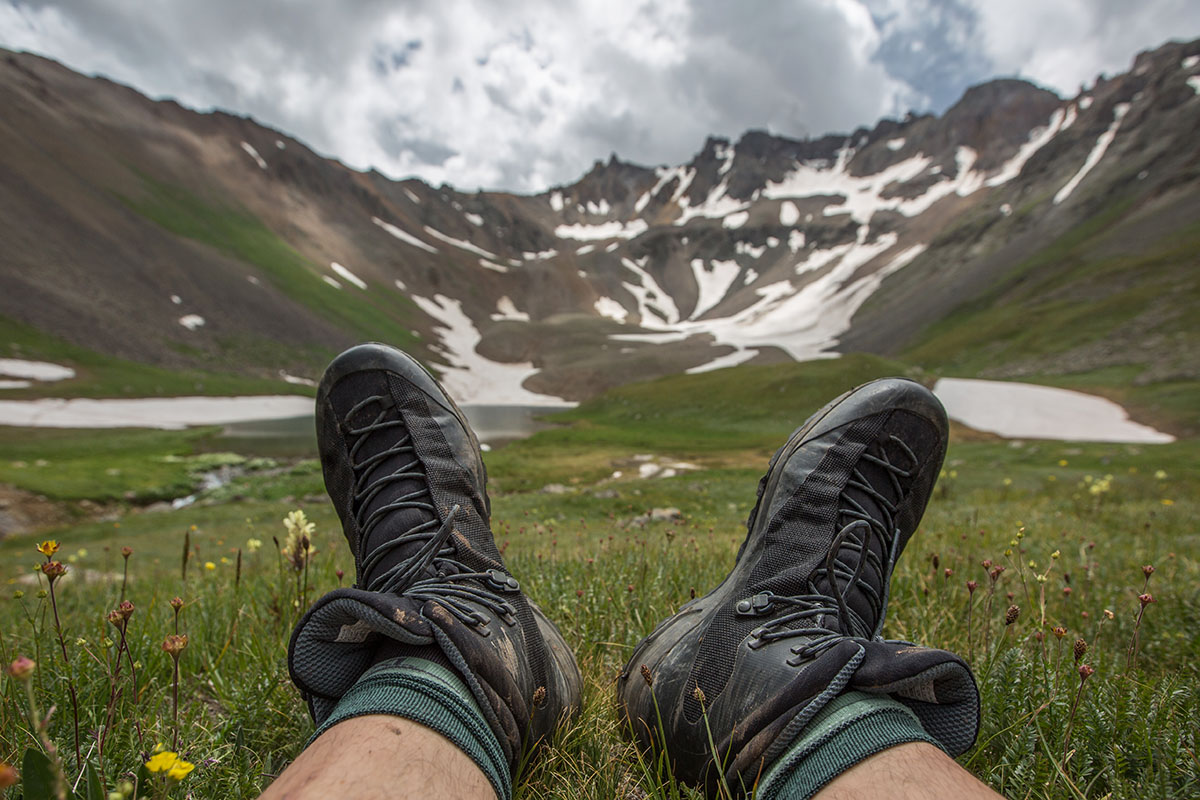 For a more traditional pick, Lowa's Renegade GTX Mid is worth a look. Unlike the more modern Acrux TR, the leather Renegade offers ample isolation and underfoot protection from rocks and other obstacles with a shock-absorbing polyurethane midsole. But what's most impressive is that Lowa managed to pack in this added support without incurring a weight penalty (the Renegade GTX clocks in at 2 lbs. 7 oz., or just 0.2 oz. heavier than the Acrux TR). That said, we did have some durability concerns during testing, including a separation developing between the toe rubber and leather upper after just two months of use (it's worth noting the separation didn't get worse over time). But in the end, the Lowa's balance of weight and support is hard to match, which gives it the upper hand. And for those with harder-to-fit feet, the Renegade is available in a wide variety of sizes, including both narrow and wide widths.
A final option is Asolo's Falcon GV. Like the Arc'teryx boot, the Falcon is a sleek and modern design that shaves both weight and support compared to more traditional hiking models. Throughout testing, we found the Falcon to be extremely well-built, comfortable, and capable of handling technical terrain. The Falcon's greatest weakness is its lack of stability and support (it's noticeably softer than the Acrux), although it did provide ample cushioning for a demanding multi-day backpacking trip along Patagonia's rugged Huemul Circuit. It's a tough call between two quality lightweight designs, but we give the slight nod to the Falcon for its better cushioning during long days on the trail.
If you're thinking about buying gear that we've reviewed on Switchback Travel, you can help support us in the process. Just click on any of the seller links above, and if you make a purchase, we receive a small percentage of the transaction. The cost of the product is the same to you but this helps us continue to test and write about outdoor gear. Thanks and we appreciate your support!
Depending on the seller, most products ship free in the United States on orders of $50 or more. International shipping availability and rates vary by seller. The pricing information on this page is updated hourly but we are not responsible for inaccuracies.
Read More From Switchback Travel