Salewa MTN Trainer Mid GTX
Price: $250
Weight: 3 lbs. 3.2 oz. (men's size 44)
Waterproof: Yes (Gore-Tex)
What we like: Approach shoe-like feel with excellent comfort, stability, and traction for navigating tricky terrain with a full pack.
What we don't: Heavy and overbuilt for hiking on well-maintained trails.
See the Men's MTN Trainer Mid GTX  See the Women's MTN Trainer Mid GTX
Germany-based Salewa is renowned for their technical alpine boots, and that expertise comes across clearly in the hiking-focused MTN Trainer Mid GTX. I put the boots through a thorough round of testing in Canada and Patagonia, including multiple high-milage days covering tricky terrain with a fully loaded pack. All told, they've lived up to their billing: While decidedly hefty and overbuilt for short outings on easy trails, the MTN Trainer's combination of comfort, stability, and approach shoe-like protection and grip are a great match for demanding objectives like above-treeline hiking or scrambling with a heavy pack. Below I outline my experiences with the MTN Trainer Mid GTX. To see how it stacks up to the competition, see our article on the best hiking boots.
 
---
Table of Contents
---

Performance
Comfort
With an alpine-focused build and approach shoe-like feel, the Salewa MTN Trainer Mid GTX offers a highly sought-after combination of comfort and stability for long days with a heavy pack. In fact, I consider it one of the most balanced boots I've worn to date. The OrthoLite footbed and Bilight TPU midsole are well-cushioned without feeling overly harsh or flat, while the 3F system adds a noticeable boost in support at the heel, sole, and instep. Specifically, the lacing hook at the midfoot is attached to a small cord connecting it to the heel, effectively locking the ankle and heel in place when laced tightly. In testing, it promoted a noticeably foot-hugging feel while allowing for great fit customization. Further, the low-cut Flex Collar offers excellent range of motion when ascending or descending steep pitches while still providing enough support to confidently navigate technical terrain. Finally, the sock-like upper and one-piece tongue and ankle create a snug fit from top to bottom with ample padding to maximize all-day comfort.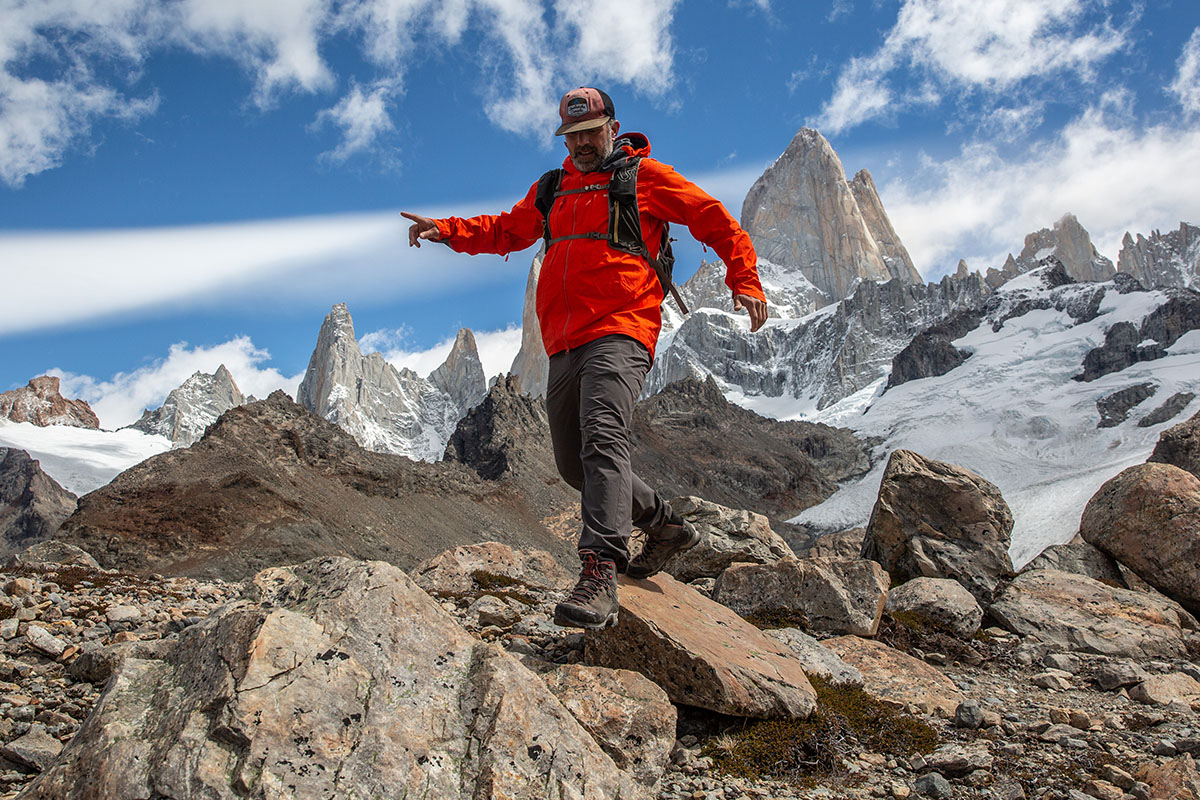 Another hallmark of the design is the approach shoe-like lacing system, which is highly customizable and extends from the upper ankle all the way down to the toes. There are no locking eyelets on the boot, which I prefer for keeping my forefoot loose while cinching down the upper (and something you get with Salomon's popular Quest 4 GTX), but I've been able to find a viable workaround by double-threading the laces through one of the lower eyelets. For reference, my wide feet are susceptible to hotspots and blisters, but I've been able to avoid those pitfalls by backing off the lacing at the forefoot and toes. Added up, the MTN Trainer Mid GTX is one of the most comfortable and capable boots I've found for shuttling a heavy load over longer distances and tricky terrain.

Weight
At 3 pounds 3.2 ounces for my pair of men's size 44s (they're listed at 3 lbs. 1.4 oz.), the MTN Trainer is a decidedly hefty boot, but it felt much lighter on the trail that its weight would suggest. By comparison, the Scarpa Zodiac Tech GTX (2 lbs. 11.7 oz.) that I recently tested in Nepal felt noticeably clunkier and more cumbersome. I wore the MTN Trainer while adventuring in Patagonia on hikes of 12+ miles with a loaded pack, and I can't recall a moment when I thought about the heft underfoot. Even after submerging them in a river and gaining some water weight, they still didn't feel overly bulky. To be clear, the MTN Trainer wouldn't be my first choice for day hikes on well-maintained trails, but the added stiffness and durability are worth the penalty when covering technical ground with a heavy pack.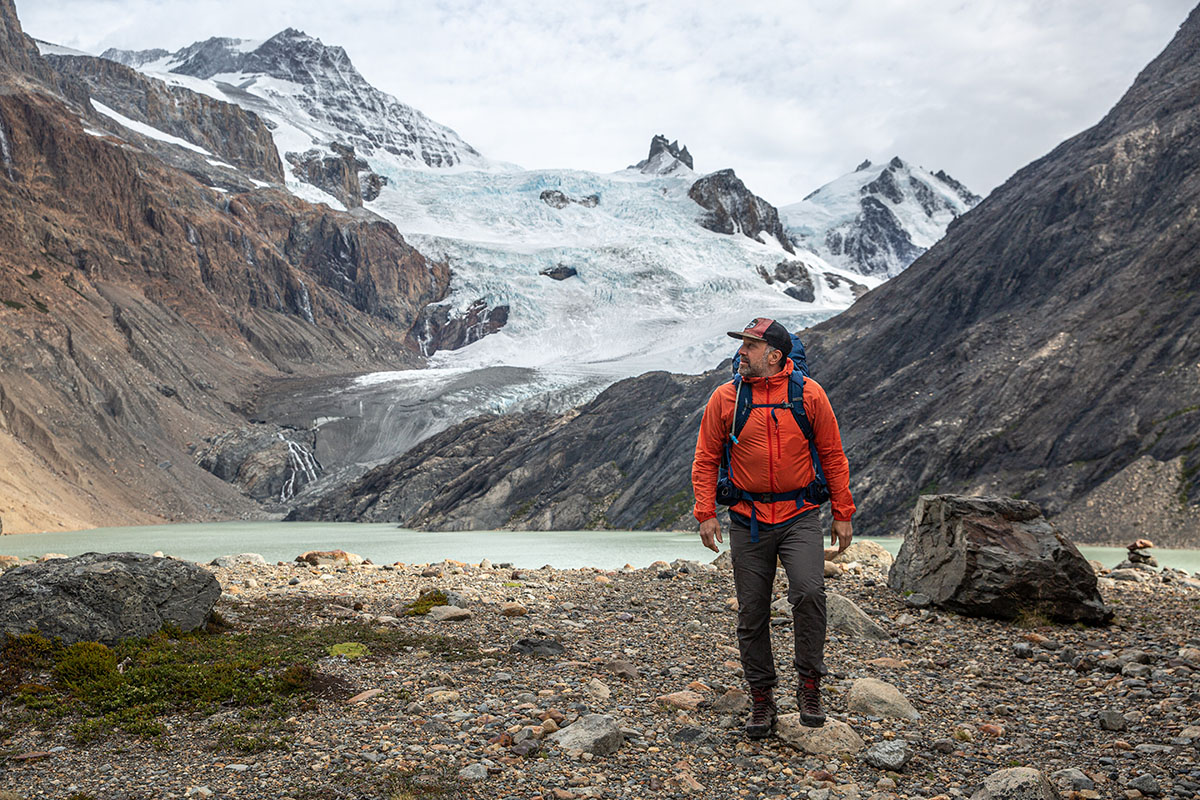 Traction
Given its technical intentions, it's no surprise that the Salewa MTN Trainer Mid GTX is a seriously grippy boot, even on tricky terrain. The Vibram WTC sole and aggressive tread pattern with deep-multi-directional lugs have provided ample bite on everything from loose, marble-sized gravel to wet rocks in river crossings and sheer slabs in the alpine. I did experience a little slippage on one of my first outings in the boots while hiking over slimy rocks on Vancouver Island, but that may have been an anomaly, because they've been nothing but confidence-inspiring since (even on similar terrain).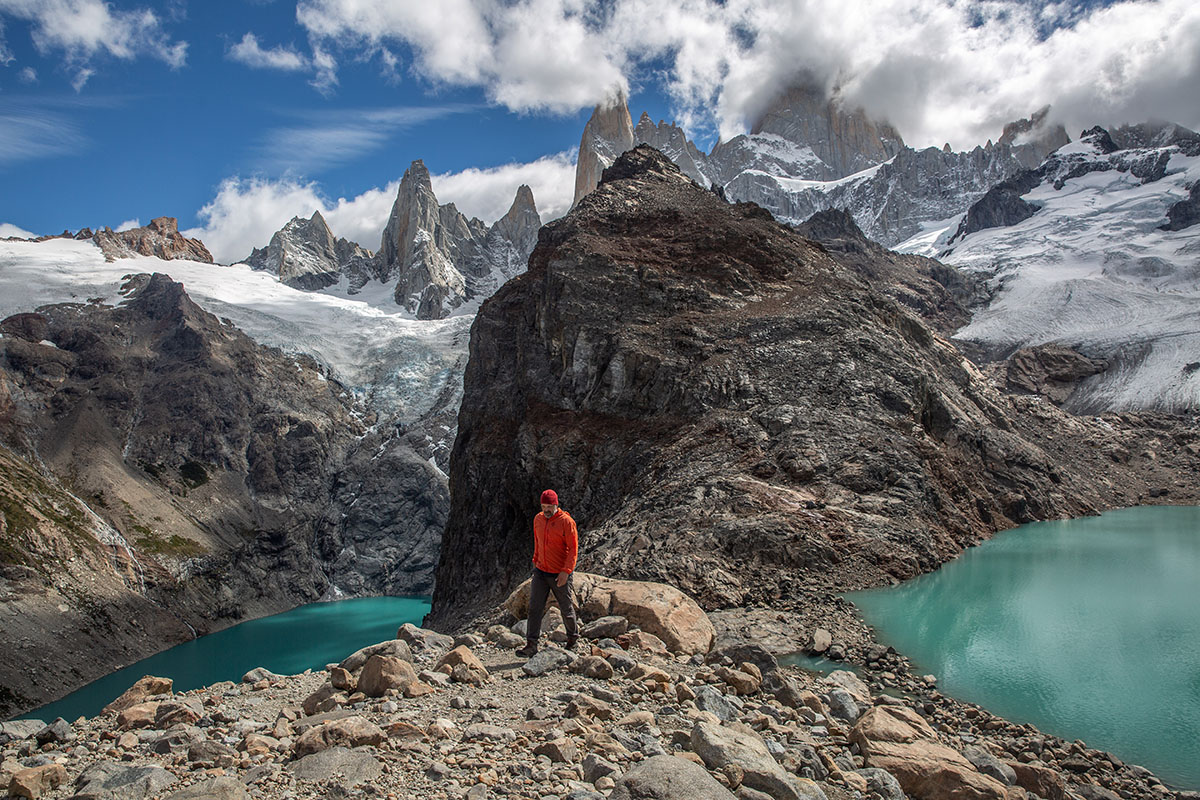 The front of the boot also features an approach shoe-like rubber toe cap, and combined with the great flexibility at the ankle, I've been able to cram and twist the MTN Trainer into corners and firmly press up against granite slabs without issue. This was especially helpful in Patagonia, where wind gusts often swept through the valley and pushed me off-course, leaving me to negotiate a new landing spot for my next step. Despite constantly being forced slightly off the trail or halfway up a rock that I intended to clear, the MTN Trainer never faltered.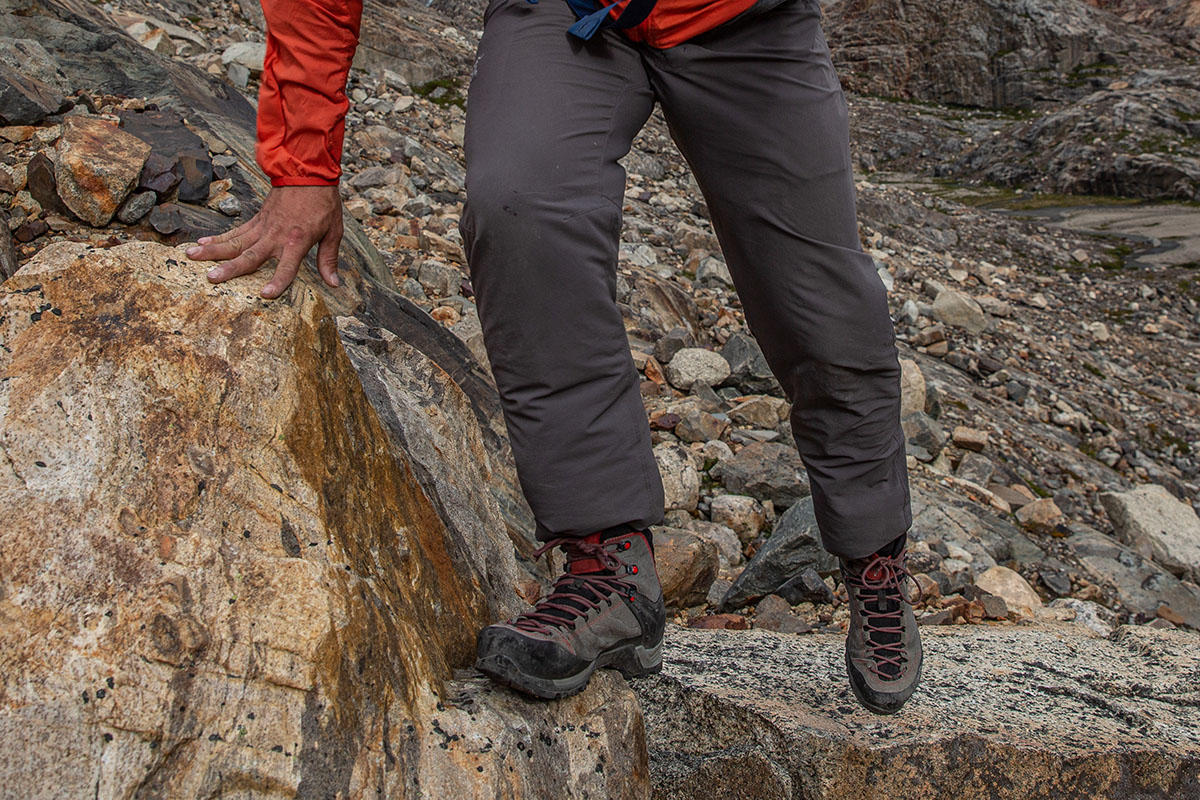 Stability and Support
I expected to sacrifice some stability and support with the Salewa MTN Trainer Mid GTX's highly comfortable build, but that hasn't been the case at all. Though not as stable as my more mountaineering-focused Scarpa Zodiac Tech, the MTN Trainer has proven to be very adept in typical alpine environments that required boulder-hopping with a loaded pack. I've suffered zero ankle rolls or balance issues on off-camber sections of trail, and the aforementioned 3F system has done its job of increasing support at the instep, sole, and heel while still allowing great range of motion. The boots were noticeably overkill while hiking on flat, gentle trails in Patagonia's Río Elétrico Valley (they felt pretty stiff and overbuilt for the terrain), but that was to be expected given their more technical intentions.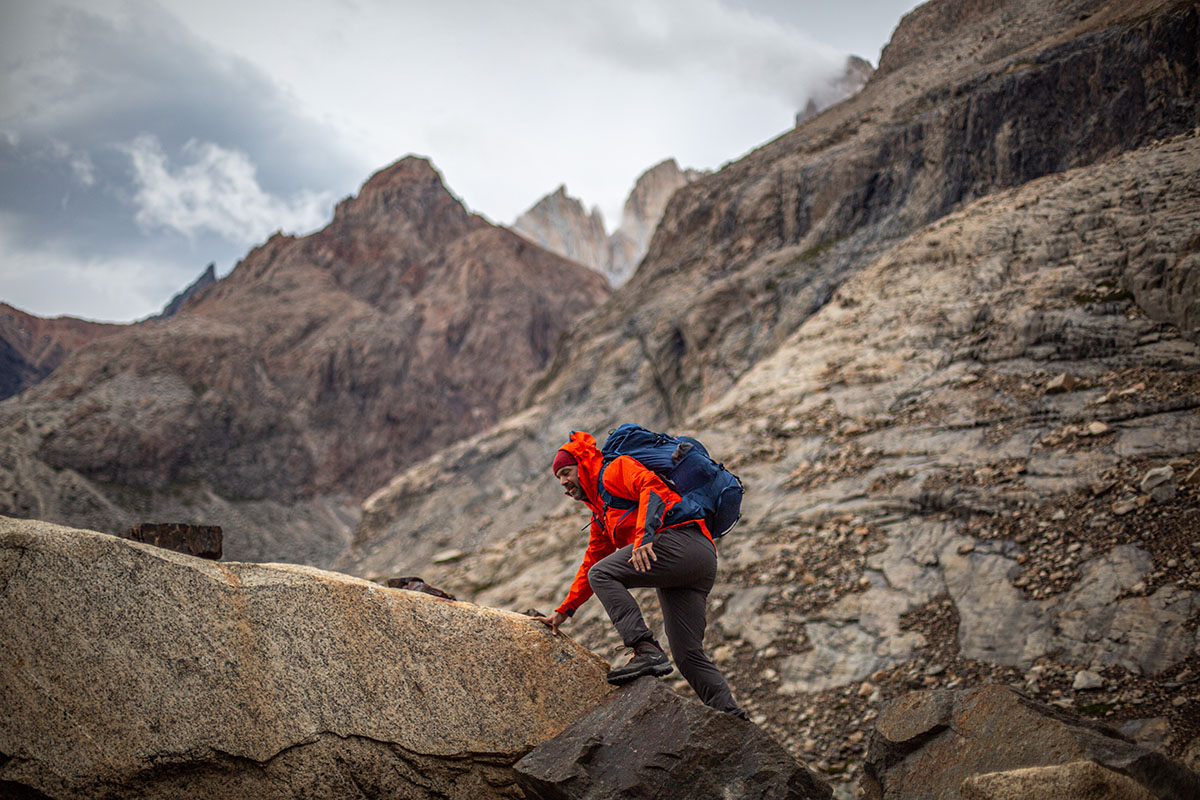 Waterproofing and Breathability
Hiking boots designed with Gore-Tex waterproofing rarely let us down, and the Salewa MTN Trainer Mid GTX is no exception. I exposed the boots to numerous water crossings on our recent trip to Patagonia, including wading and rock-hopping through glacier-fed rivers, and I never once had to tiptoe around these obstacles. I did experience some debris and water droplets seeping over the top of the boot and found myself missing the taller elastic cuff on my Scarpa Zodiac Tech GTX in particularly deep waters, but the MTN Trainer nevertheless is a very capable and protective design overall.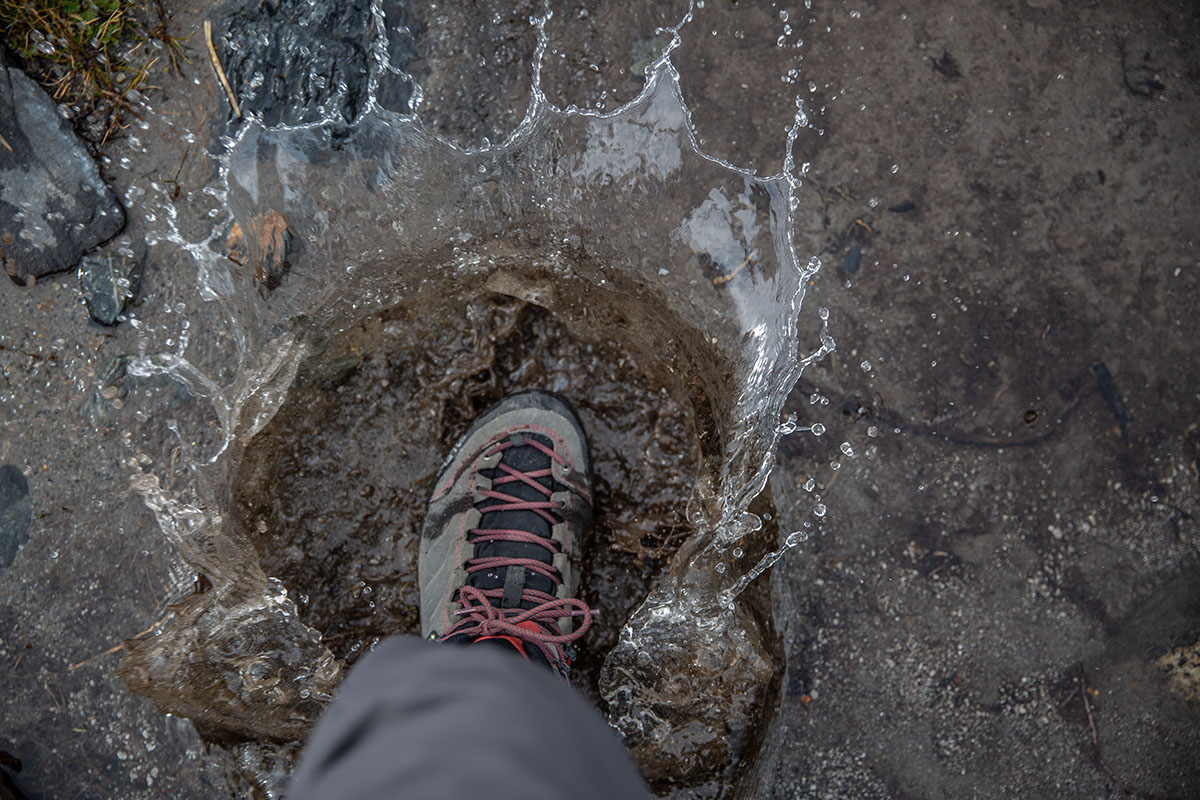 In terms of breathability, the MTN Trainer promoted decent airflow given its waterproof construction. My feet never grew overly warm or sweaty while hiking in temperatures that reached into the mid 70s Fahrenheit in Patagonia, and the Gore-Tex liner added a much-needed boost in warmth when hiking in snowy and slushy conditions back home in B.C. Combined with a good midweight wool hiking sock, I've never had to worry about cold feet.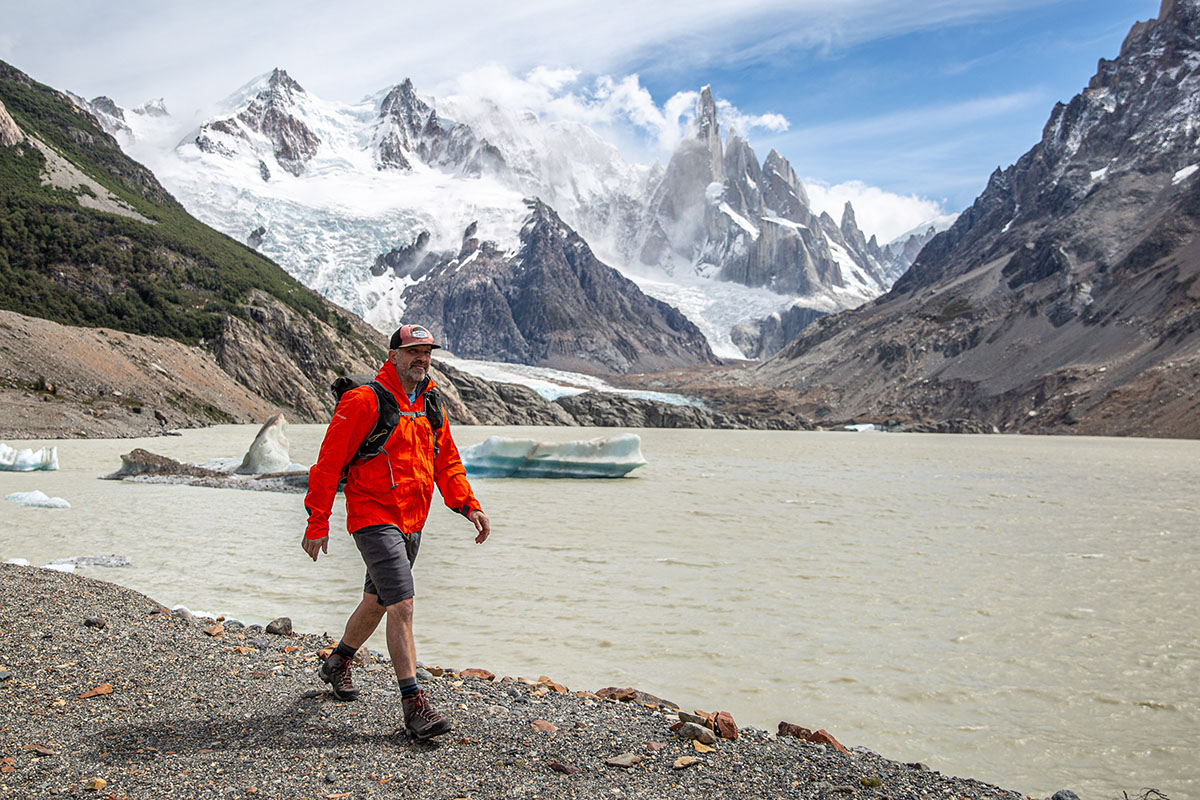 Protection
Along with the lacing system, the MTN Trainer's protection is similarly reminiscent of an approach shoe. First and foremost, the boot features a thick rubber rand that wraps around the entire foot, providing 360-degree coverage against direct hits from obstacles like rocks and roots. For reference, I stubbed my toes numerous times during testing but never once felt the impact inside the boots. The heel is a similar story, with burly reinforcements along the back that don't detract from range of motion. My only complaint (and it's a small one) is that I wish Salewa added a little more protection at the inside of each ankle to better protect against rock strikes, but this would likely add even more weight to the already-heavy (and still very protective) design.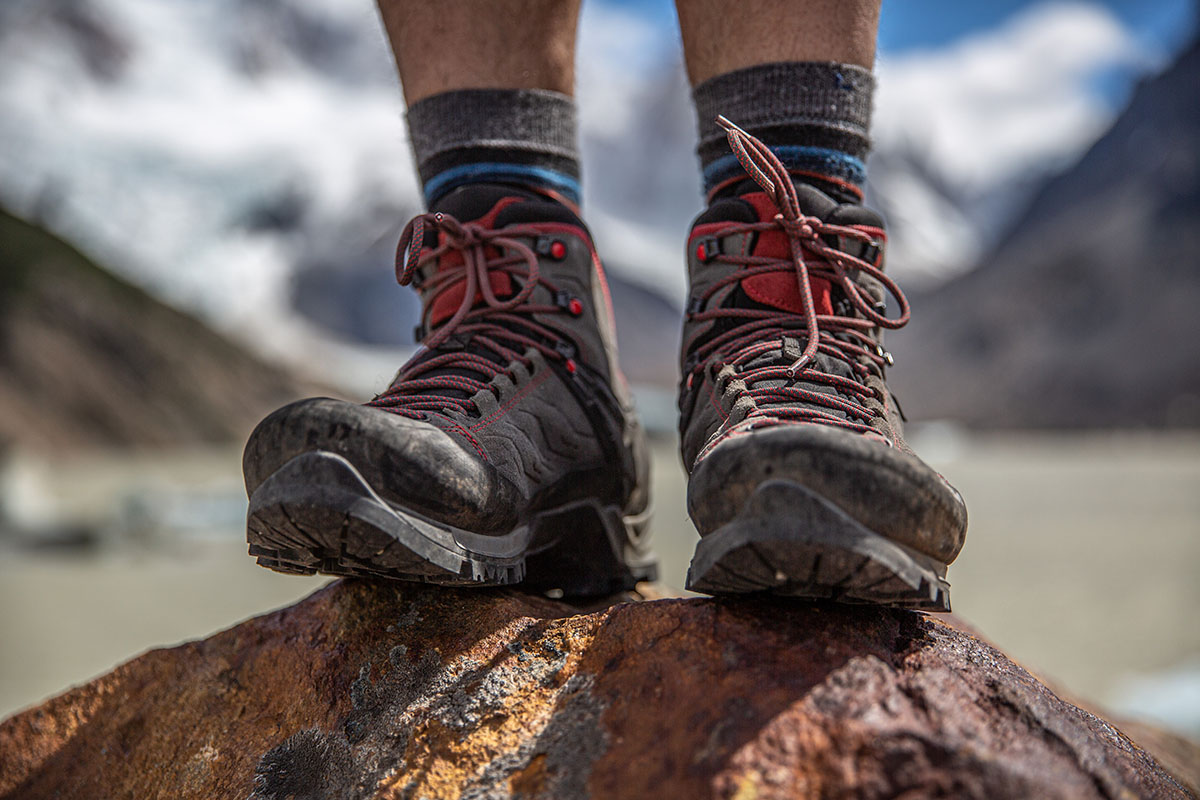 Build Quality and Durability
I hadn't had any experience with Salewa boots before this test, but I've been impressed by the MTN Trainer Mid GTX's premium and hardwearing construction. The boot clearly showcases the brand's climbing and mountaineering focus and has held up well to typical alpine abuse: The wraparound rubber rand at the front is thick and has deftly fended off hits from rocks and roots, the metal eyelets and laces are holding up well, and even the thin cord that connects the heel to the midfoot is intact. There is some minimal wear along the tread, as well as a practically imperceptible tear near the rand and a little discoloration along the sides of the suede upper where I tend to rub my feet together. But these are purely cosmetic, and I have virtually no concerns about the boots' long-term durability.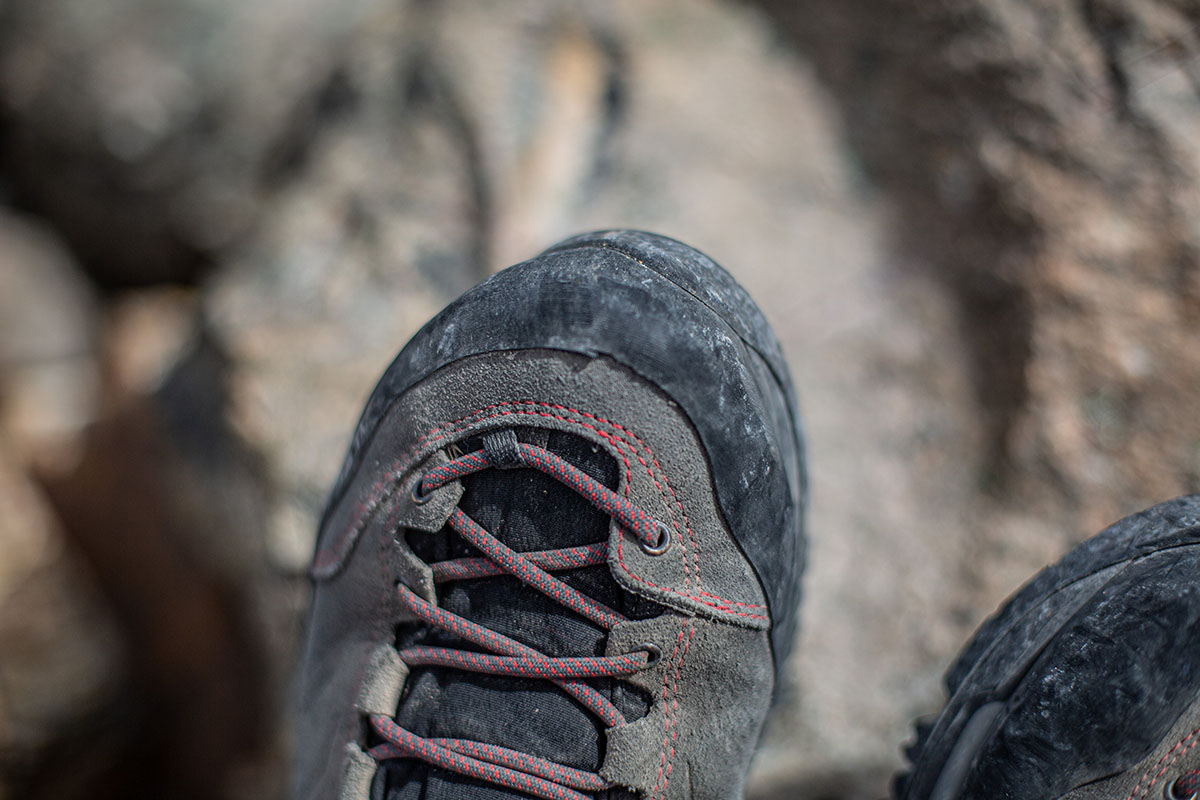 Fit and Sizing
I typically opt for a 44.5 in boots that use European sizing, but that size ended up being too long for my foot in the Salewa MTN Trainer Mid GTX. However, by sizing down to a 44, I was able to get a good all-around fit. My feet are pretty finicky and prone to issues like hotspots and rubbing, but the MTN Trainer's wide toe box easily accommodated my foot's higher-volume shape with just enough room to comfortably navigate steep descents (for reference, I paired them with lightweight wool socks). I did experience my baby toe rubbing on the inside of one of the boots, but this was after sustaining a blister while testing another shoe and thankfully didn't get worse. Finally, as I touched on previously, the laces run all the way from the toe to the top of the ankle and make it easy to really fine-tune the fit.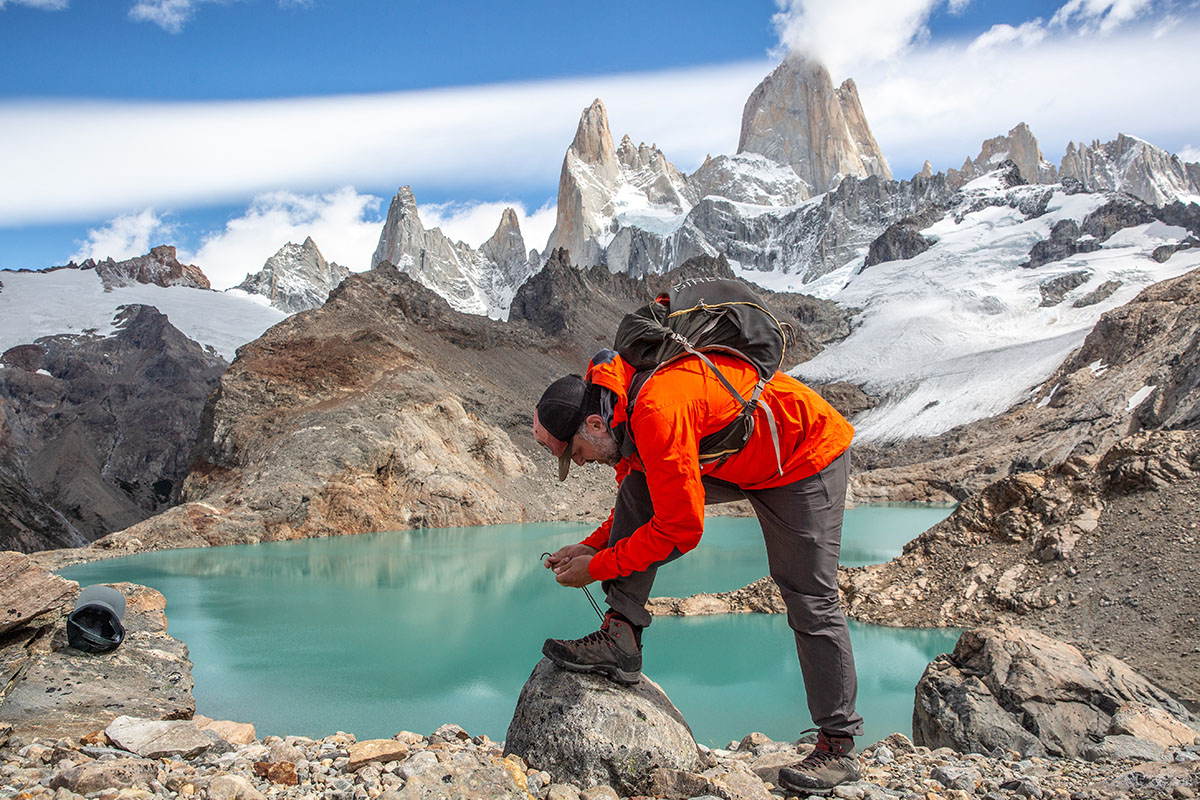 Other Versions of the Salewa MTN Trainer
I tested the men's MTN Trainer Mid GTX for this review, and Salewa also sells the boot in a women's version for the same price. The women's MTN Trainer Mid GTX is lighter at 2 pounds 8.2 ounces and sold in different colorway options, but the overall construction and feature set are otherwise identical. Within the larger MTN Trainer collection, Salewa also offers options ranging from low-top waterproof offerings to "Lite" variations that trade some of the standard boot's durability for a thinner and lighter-weight construction. And for winter hiking, the MTN Trainer 2 Winter GTX tacks on four-layer insulation, Vibram's Arctic Grip compound, and a wool collar and stretch gaiter at the top for added performance and warmth in the cold.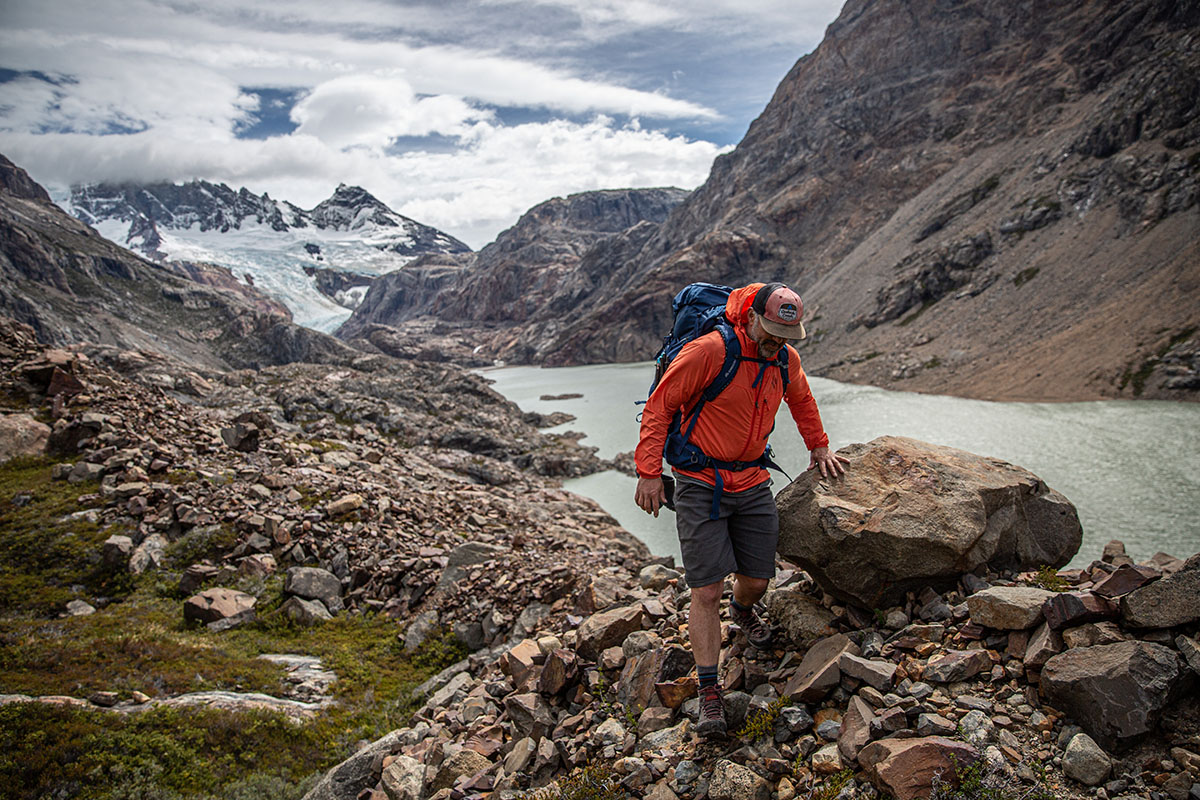 What We Like
Standout comfort with a functional mix of stiffness and flexibility for navigating tricky and uneven terrain with a full pack.
Great stability, support, and protection for demanding (and often abrasive) alpine objectives.
Approach shoe-like lacing system makes it very easy to customize fit.
Premium build quality and excellent durability, from the proven Gore-Tex lining to the thick rubber toe rand.

What We Don't
Decidedly heavy at over 3 pounds, although the boots felt much lighter underfoot than their weight would suggest.
Overall protection is excellent, but I wish Salewa had beefed up the inside of the ankles to fend off rock strikes. 
The boots run a little long, and I ended up having to go down by a half-size to get a good all-around fit.


Comparison Table

The Competition
Salewa put together a seriously capable and alpine-ready design with their MTN Trainer Mid GTX, but there are several other options to consider for covering technical terrain with a heavy pack. Our top-rated option in this category for this season is Salomon's Quest 4 GTX, which checks in noticeably lighter than the MTN Trainer at 2 pounds 14.2 ounces. But despite the drop in weight, performance still lines up well: The Quest has a great performance fit, aggressive stance, and well-executed lacing system that makes it very easy to dial in fit and lock things down. Like the MTN Trainer, the Salomon is also comfortable out of the box with a nice balance of padding and underfoot protection. You do forego the approach shoe-like rand of the Salewa, but overall coverage has been excellent, even on rough and demanding objectives. All told, given the similar performance at a lighter weight, we consider the Quest to be the more competitive all-around design.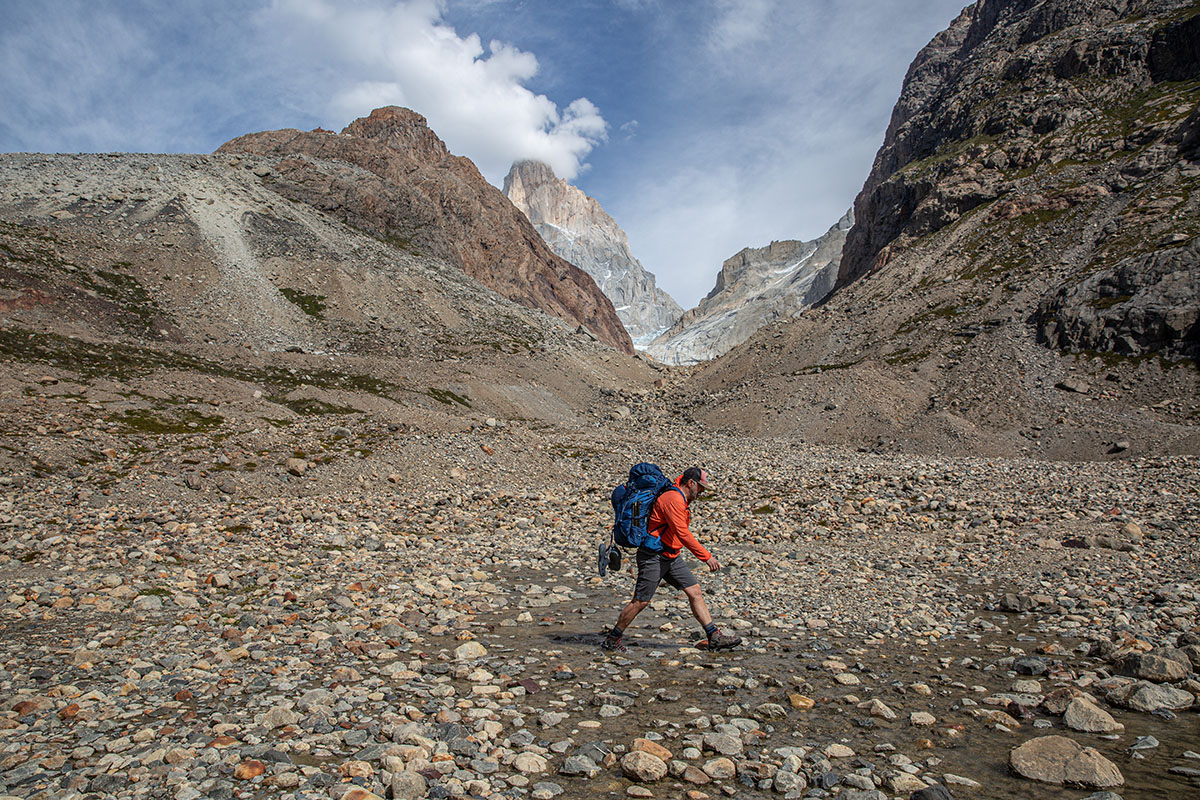 Next up is Scarpa's Zodiac Plus GTX, which shares the approach shoe-like traction and alpine-ready toughness of the MTN Trainer. In parsing out the differences, the Zodiac is the more stable option and can even cross over for light mountaineering objectives, but the tradeoff is a slightly stiffer and firmer feel underfoot. The Scarpa does get the edge in weight at 2 pounds 6.4 ounces, but it's the less protective option and lacks the 360-degree rubber rand on the MTN Trainer. For an even more capable design, you can step up to their Zodiac Tech GTX, which adds a TPU insert at the heel and shank for navigating more technical ice and snow (for more on that model, see our Zodiac Tech review). Regardless of which model you choose, all are seriously adept and alpine-ready boots, and a final decision will likely come down to your objectives and preference on weight versus protection. 
Another boot built for demanding mountain pursuits is La Sportiva's TXS GTX. We've tested many options in their TX approach shoe lineup over the years, and the TXS retains the great comfort, protection, and grip that we love in a mid-height hiking design. In testing the boot, I came away highly impressed by the levels of protection and grip, and the lacing system is similar to the MTN Trainer's with laces that extend all the way from the toe to the upper ankle. The biggest difference is comfort: While the MTN Trainer felt comfortable right away with ample padding for covering serious ground, the TXS is noticeably thinner underfoot and felt pretty stiff and unforgiving on longer objectives. But at $179 and 2 pounds 3.6 ounces, it's both lighter and considerably cheaper, which may be the deciding factors for many.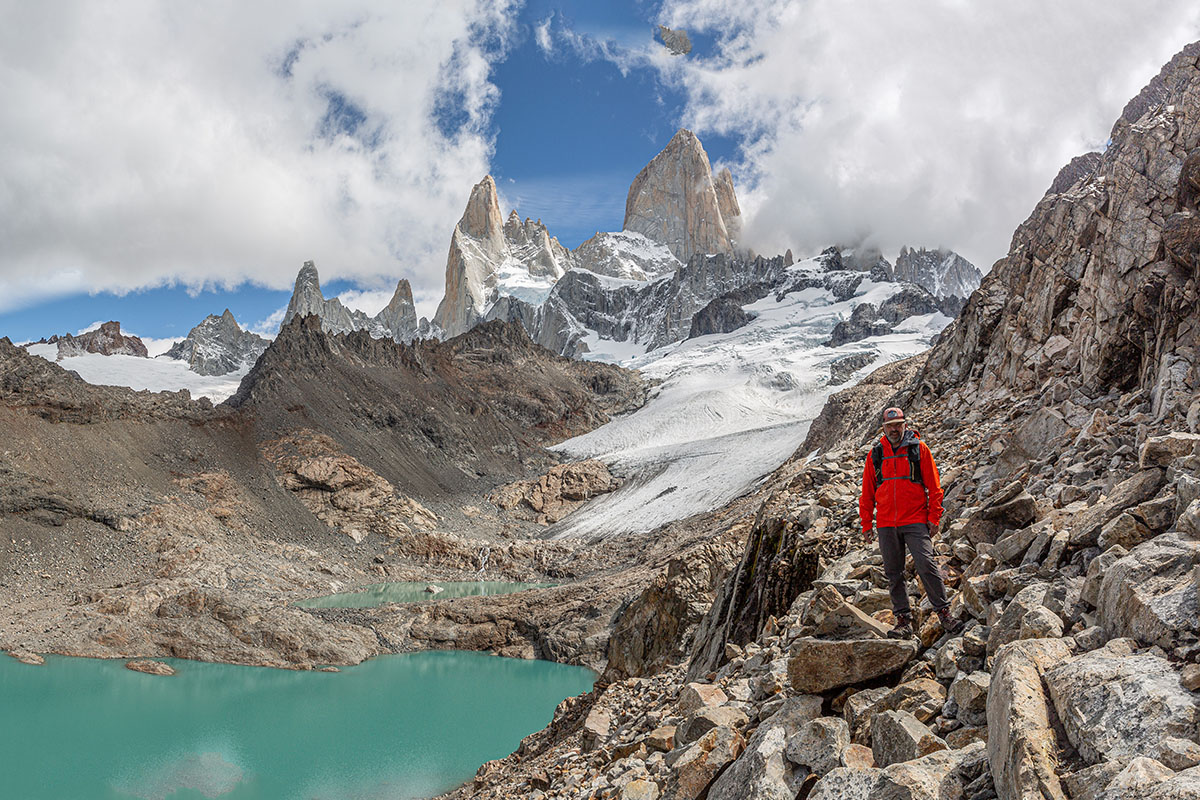 A final alternative to have on your radar is Zamberlan's Vioz GTX. Right away, we'll note that the Vioz heavyweight leather hiker, which has its place for long slogs with a serious load (or even light mountaineering) but comes with sacrifices in responsiveness and agility. For reference, the Zamberlan is similarly hefty at 3 pounds 2.4 ounces, but the hardwearing leather construction, soft interior, and decidedly stiff structure are bomber on rough terrain. That said, unless you prioritize long-term durability and top-notch stability above all else, the MTN Trainer is the more approachable and modern option for most serious backpackers for $75 less.
If you're thinking about buying gear that we've reviewed on Switchback Travel, you can help support us in the process. Just click on any of the seller links above, and if you make a purchase, we receive a small percentage of the transaction. The cost of the product is the same to you but this helps us continue to test and write about outdoor gear. Thanks and we appreciate your support!
Depending on the seller, most products ship free in the United States on orders of $50 or more. International shipping availability and rates vary by seller. The pricing information on this page is updated hourly but we are not responsible for inaccuracies.
Read More From Switchback Travel