Topo Athletic Trailventure 2 WP
Price: $180
Weight: 1 lb. 12.6 oz. (women's size 8.5)
Waterproof: Yes (eVent)
What we like: Comfortable and light without the usual sacrifices in support or protection. 
What we don't: Our feet slid around in the boots on steep descents, leading to toe bang against the stiff toe box.
See the Women's Trailventure 2 WP  See the Men's Trailventure 2 WP
Trail running-inspired hiking boots have exploded in popularity of late, combining the all-day comfort of running shoes with the ankle coverage of traditional hiking designs. Topo Athletic throws their hat into the ring with the Trailventure 2 WP, which offers improvements in fit, structure, and protection over the first-generation model. We put the women's boot through a summer of testing in British Columbia, including multi-day backpacks in Strathcona Provincial Park and the Canadian Rockies. The verdict: The Trailventure 2 is comfortable and nimble with great support and stability for such a light design, although we did have issues with security on steep descents. Below I break down my experiences with the Trailventure 2 WP. To see how it stacks up to the competition, see our articles on the best hiking boots and best women's hiking boots.
 
---
Table of Contents
---

Performance
Comfort
Trail runner-like hiking boots are often lauded for their great all-around comfort and cushioning, and Topo Athetlic's Trailventure 2 WP follows suit with a well-padded and foot-hugging feel out of the box. Like many of these designs, the Trailventure's toe box is on the wider side to accommodate foot swelling (and was a nice match for my bunion) but never felt sloppy or ungainly on the trail. Cushioning is excellent, too: Topo increased stack height by 3 millimeters with the latest model (33mm at the forefoot and 28mm at the heel), promoting a very cushy and energetic feel. Combined with the rockered heel, the Trailventure 2 allows for a comfortable and natural gait, and I never felt pain from jagged rocks or pebbles underfoot even while carrying a heavy pack.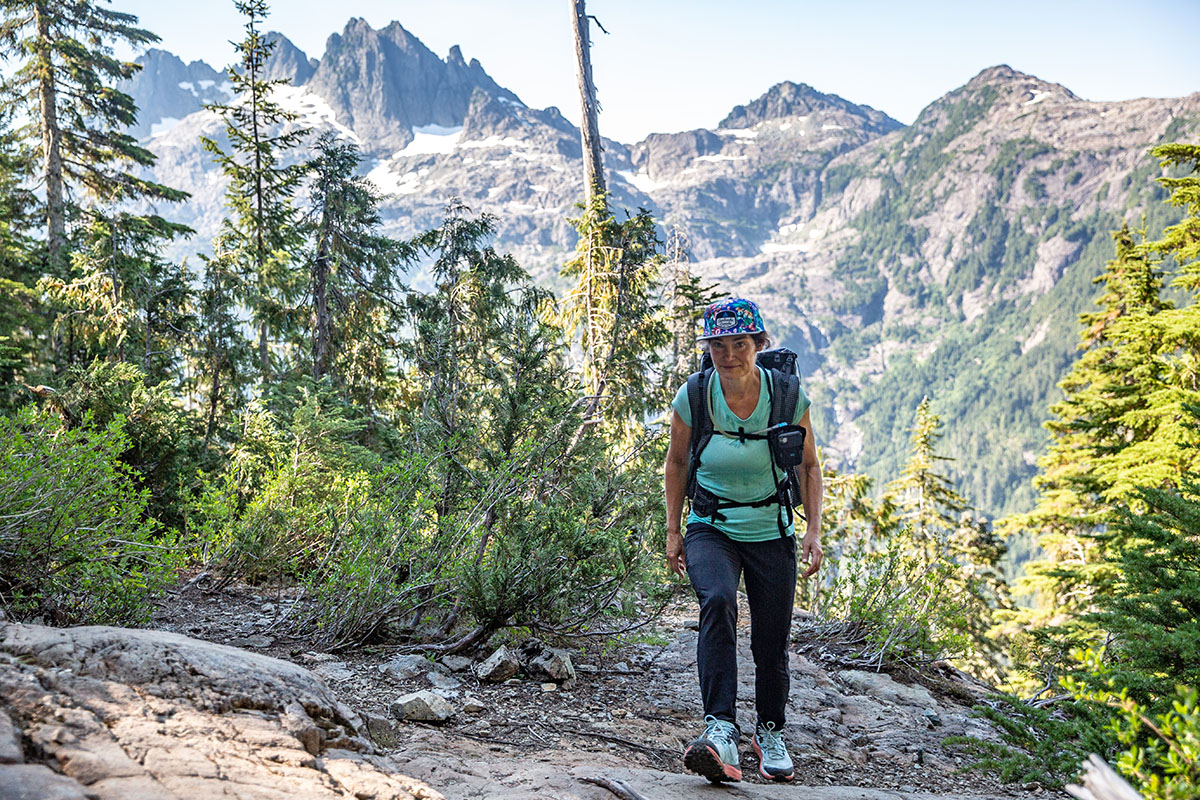 Despite its comfort-first build, the Trailventure 2 doesn't sacrifice much in the way of support. The ankle padding is particularly substantial, and the lower cut around the back helps maximize range of motion on steep descents. I did experience a pressure point at the outside of one ankle on the boots' inaugural outing that I wasn't able to fix by adjusting the laces, but it went away completely after a short break-in period. The waterproof model that I tested also includes a rock plate for additional protection underfoot (the non-waterproof version does not) while still maintaining enough flexibility for covering ground quickly. My only complaint has to do with security on the downhill: While I've had no problems on steep ascents, the boots don't lock my feet down well enough to stop them from sliding forward, leading to frequent toe bang when descending. It's a big enough issue to keep the Trailventure from being my go-to hiking boot, but everyone's foot is different (we always advise trying on before you buy).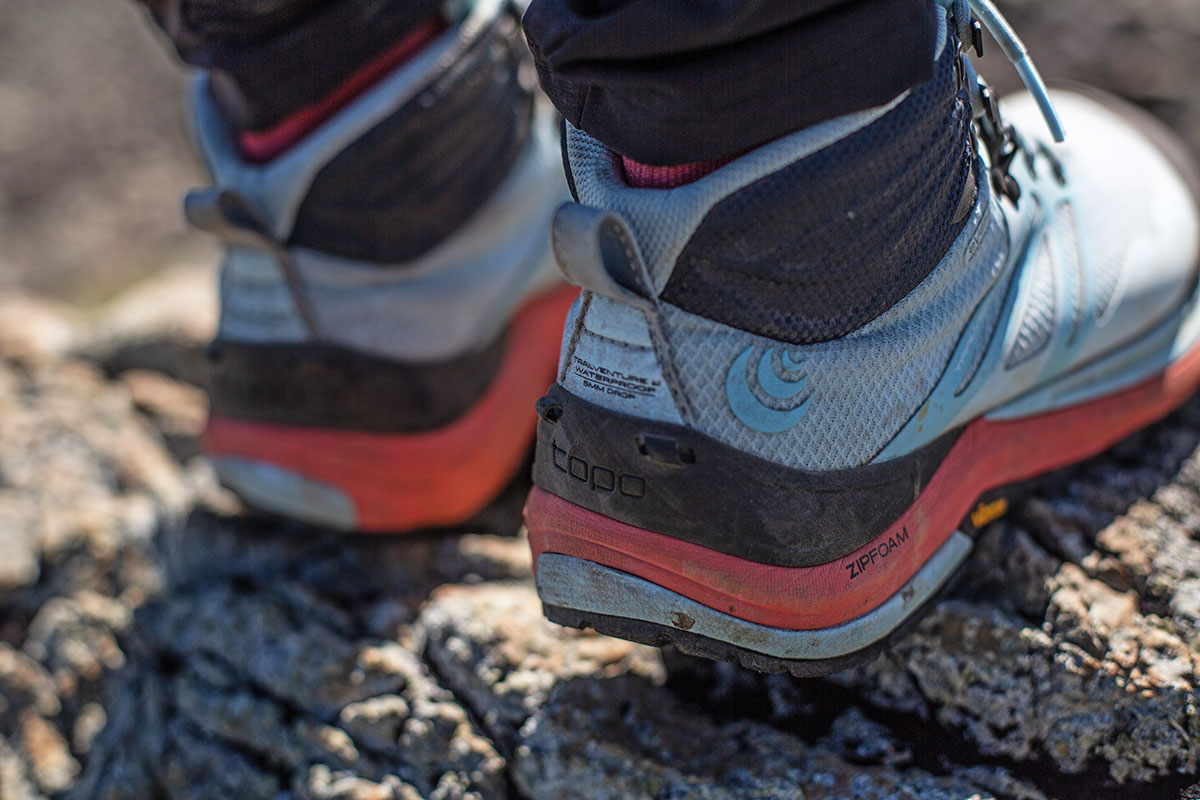 Weight
At 1 pound 12.6 ounces for my women's pair in a size 8.5 (they're listed at 1 lb. 10.2 oz.), the Topo Athletic Trailventure 2 WP is impressively light with a very nimble and agile feel to match—it's much more reminiscent of a trail runner than a burly hiking boot. For reference, it's competitive with other leading running-inspired designs like Salomon's X Ultra 4 Mid GTX (1 lb. 10.1 oz.) and Hoka's Anacapa Mid GTX (1 lb. 12 oz.) while undercutting more traditional boots like Lowa's Renegade GTX Mid (1 lb. 15 oz.) and Salomon's Quest 4 GTX (2 lbs. 5.7 oz.). You can go lighter with Altra's Lone Peak ALL-WTHR Mid (1 lb. 8 oz.), but that boot offers less stability and protection than the Trailventure 2. The non-waterproof version also shaves a little weight at 1 pound 7.4 ounces per pair, but it lacks the waterproof model's rock plate and uses a slightly downgraded Vibram outsole. All told, the Trailventure 2 WP strikes a really nice balance: It's supportive and protective but still light enough to go unnoticed on long days with a full pack.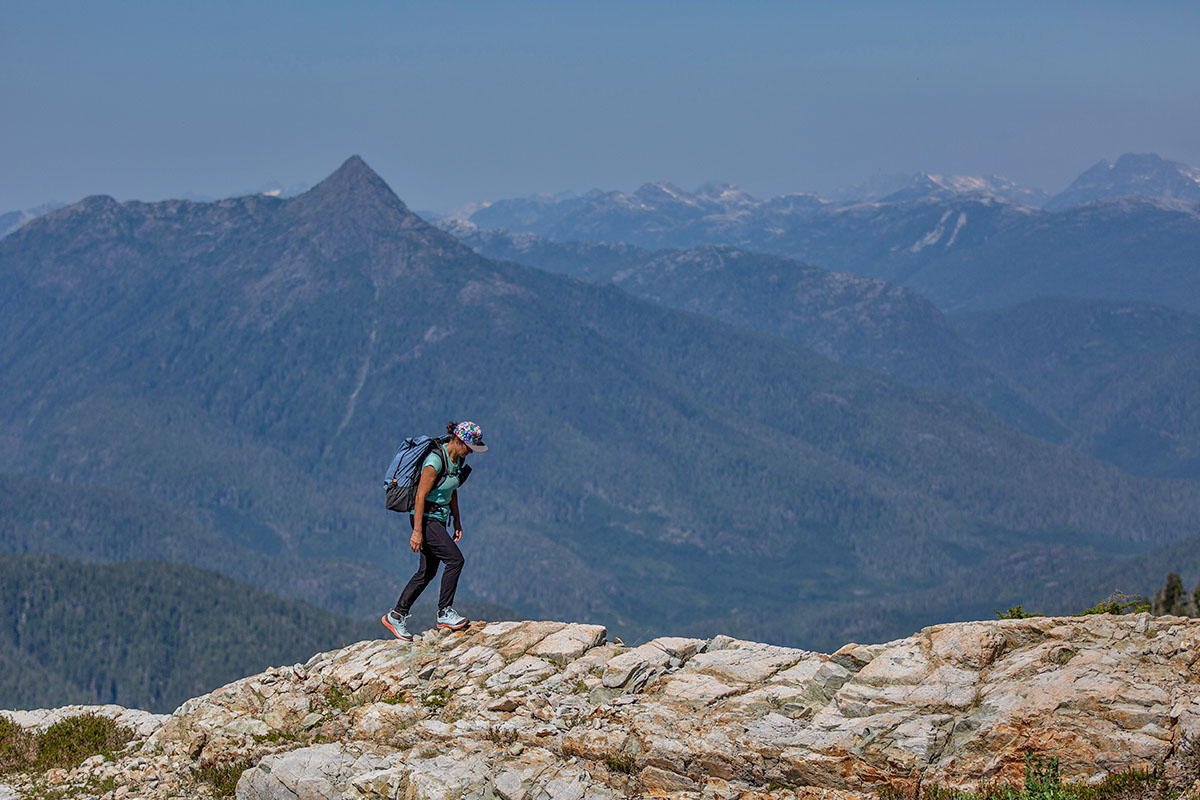 Traction
Vibram's Megagrip compound offers best-in-class traction, and as expected, the Topo Trailventure 2 WP has provided reliable and consistent grip throughout testing (note: The non-waterproof version uses Vibram's XS Trek EVO design). One of my first outings with the boots was on the 5040 Peak Trail in British Columbia, which involved a steep and highly technical ascent rife with mud, roots, and rock slabs. Once in the alpine, the terrain shifted to boulders, scree, and slushy snow, providing the perfect testing conditions to really evaluate grip. Subsequent hikes in the Canadian Rockies offered a similar variety of terrain, from wet and muddy to dry and loose. The result: The Trailventure 2 didn't falter once, even over trickier ground like marble-sized pebbles, wet rocks, and slick layers of pine needles. The widely spaced lugs also did a good job at preventing snow or mud from accumulating underfoot. Added up, it's a very trustworthy and confidence-inspiring design.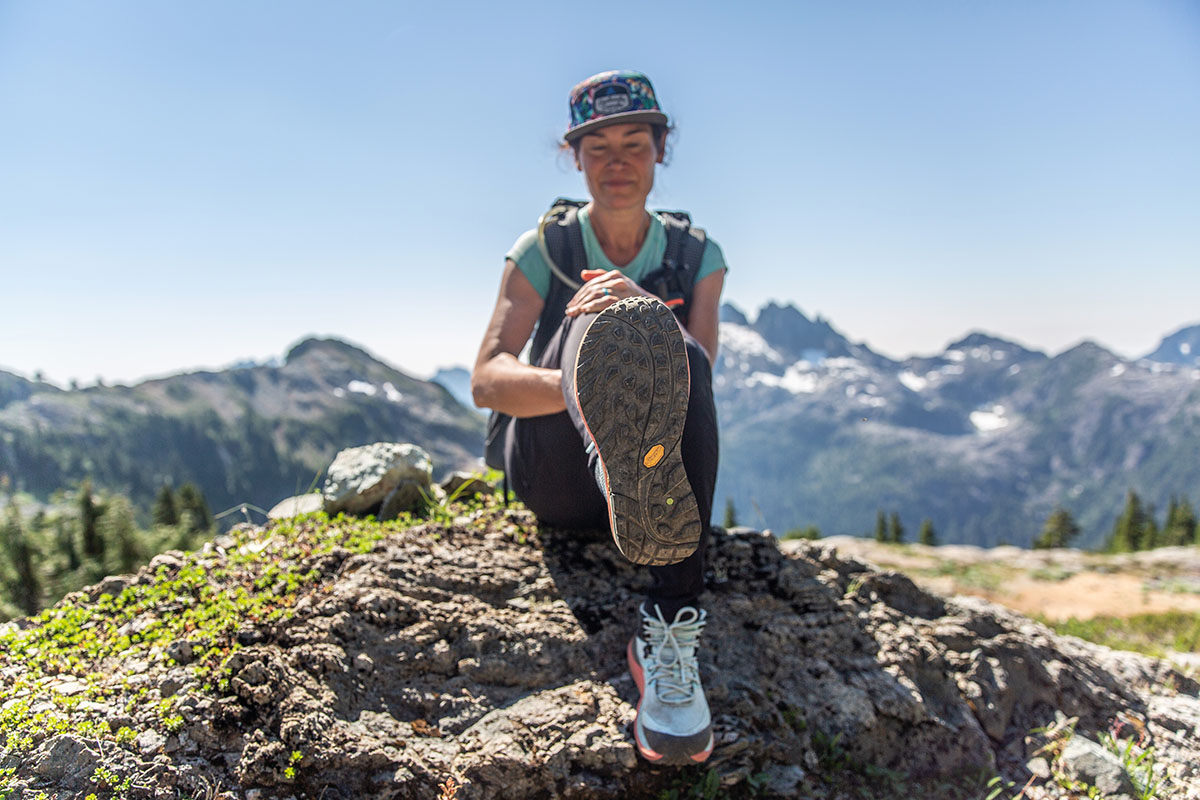 Waterproofing and Breathability
Most modern hiking boots use Gore-Tex for waterproofing, but the Trailventure 2's eVent membrane has done an admirable job of sealing out moisture. For reference, I've been caught in downpours and wandered through streams, dewy wildflower patches, and slushy snow with no issues to date. For added protection and coverage, the boots are also compatible with Topo's Performance Gaiter ($30) via a hook-and-loop closure that allows for easy attachment and removal. Without gaiters, however, you'll want to be careful not to submerge the boots during water crossings—the eVent membrane extends to just below the top two lacing eyelets, leaving a small part of the collar exposed.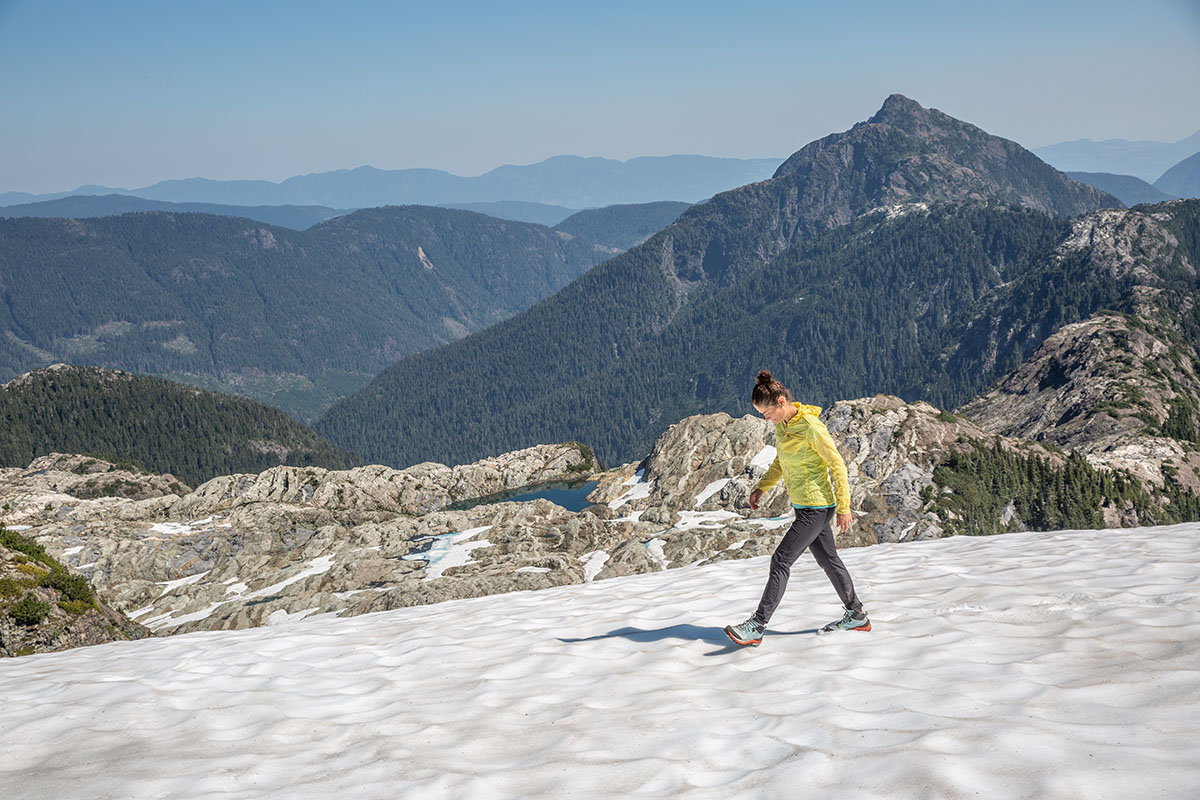 One tradeoff with the Trailventure 2's waterproof construction is a slight drop in breathability, but the boots are perfectly serviceable for typical shoulder-season conditions. I tested the boots during a particularly hot summer with temperatures frequently reaching into the mid to high 80s Fahrenheit without overheating, but I did notice a lack of airflow compared to mesh-heavy, non-waterproof designs. If you expect to do most of your hiking in warm, dry climates, it may be worth saving $20 with the non-waterproof version of the Trailventure 2 (although again, you don't get a rock plate or Vibram Megagrip outsole).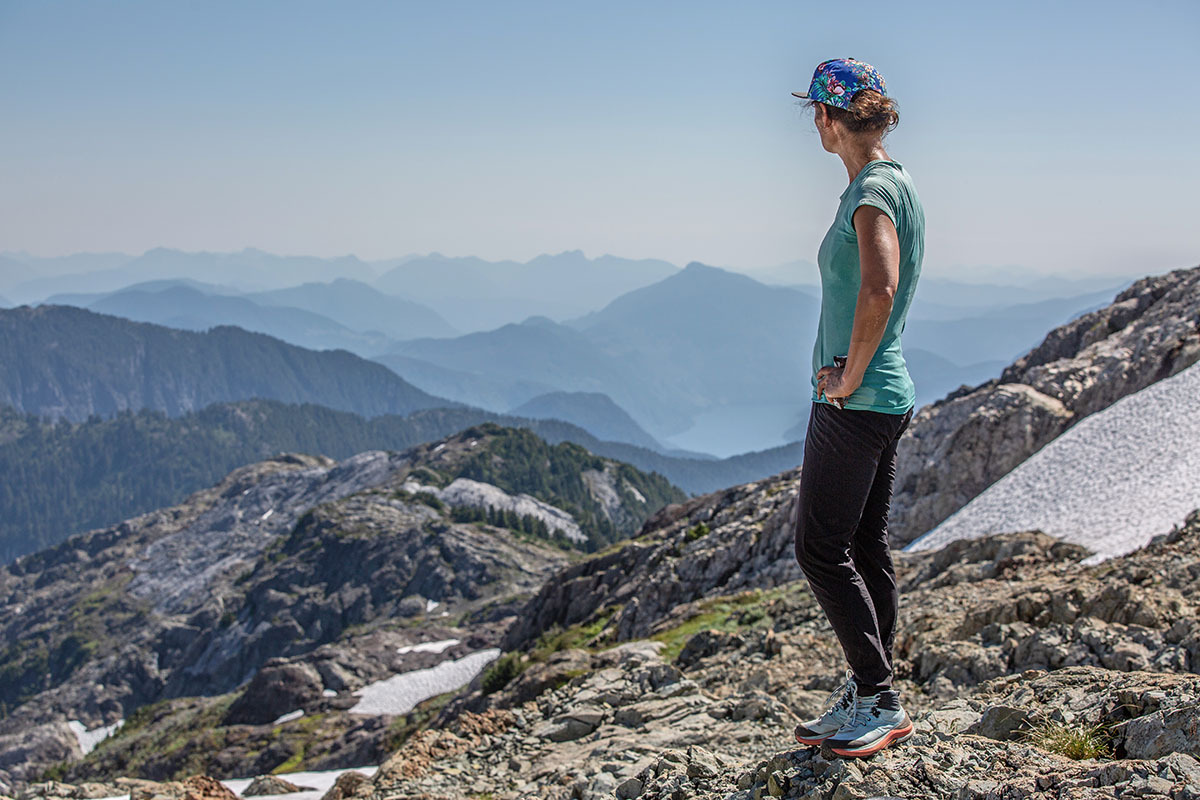 Stability and Support
For such a comfortable and agile boot, the Topo Athletic Trailventure 2 manages to pack in an impressive amount of stability and support. Starting at the collar, the latest model offers a boost in padding compared to the first-generation Trailventure, effectively locking the ankle in place. The collar is also tapered—higher at the front and lower at the back—to maximize range of motion without detracting from overall security, and Topo added an additional eyelet at the top of the collar for better fit customization. The rest of the design is equally supportive: The ZipFoam midsole is cushy but firm enough to transfer energy, the TPU heel counter gives some added structure underfoot, and the overlays at the midfoot add a nice boost in security without creating any pressure points. All in all, the Trailventure has been nimble and precise even on steep and off-camber slopes, and I've suffered no ankle rolls or instability even while carrying a heavy pack.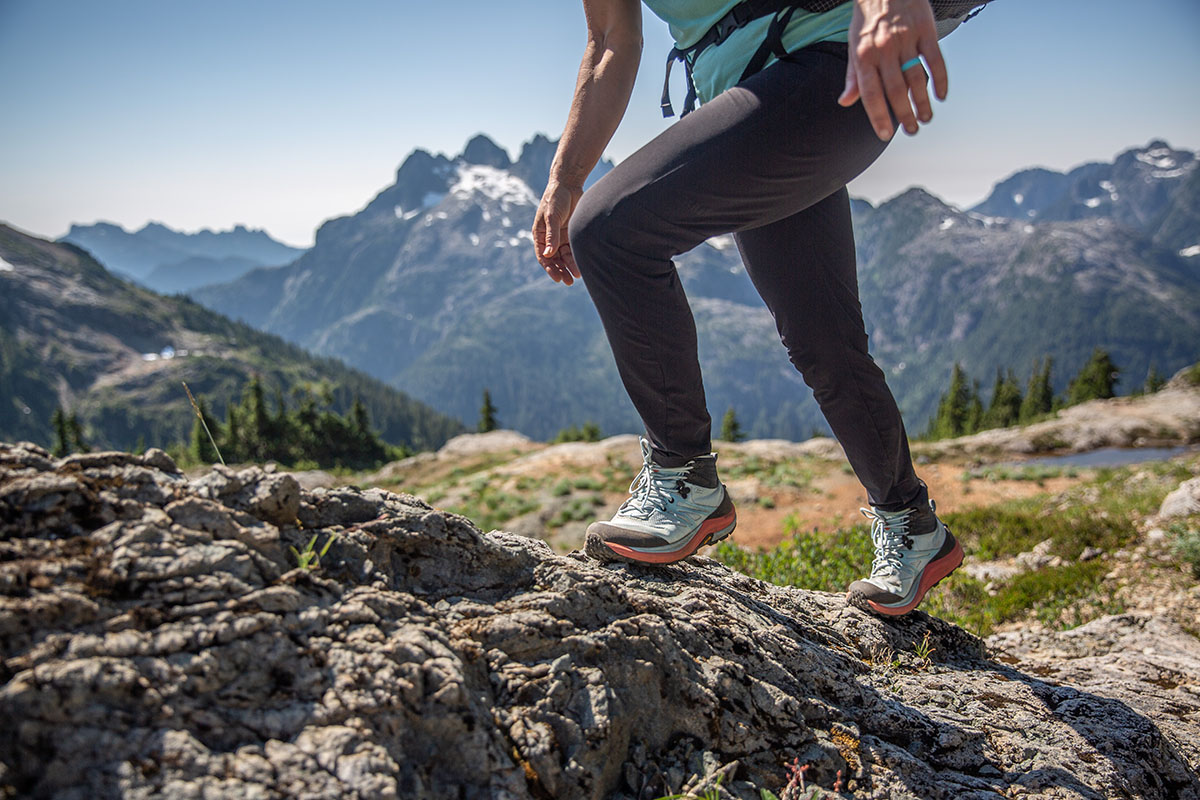 Build Quality and Durability
Lightweight hiking boots often sacrifice some durability to keep weight low, but the Topo Athletic Trailventure 2 WP has proven to be more hardwearing than expected during testing. Protection is one clear highlight: The boots have thick overlays along the front and sides with a beefy rand at the front for fending off direct hits to rocks and other trail obstacles. It's worth mentioning that my footwork typically gets less precise as the miles add up, and the boots have prevented stubbed toes on more than one occasion. All of the other components are holding up equally well: There's no fraying along the upper or stitching, the cushioning feels like new and hasn't started to pack out, and the lugs are in great shape with no noticeable deterioration. To be clear, the Trailventure 2 still is a fairly minimalist design and won't hold up forever, but I have no immediate concerns from a longevity standpoint (and I'll follow up here if I encounter any issues).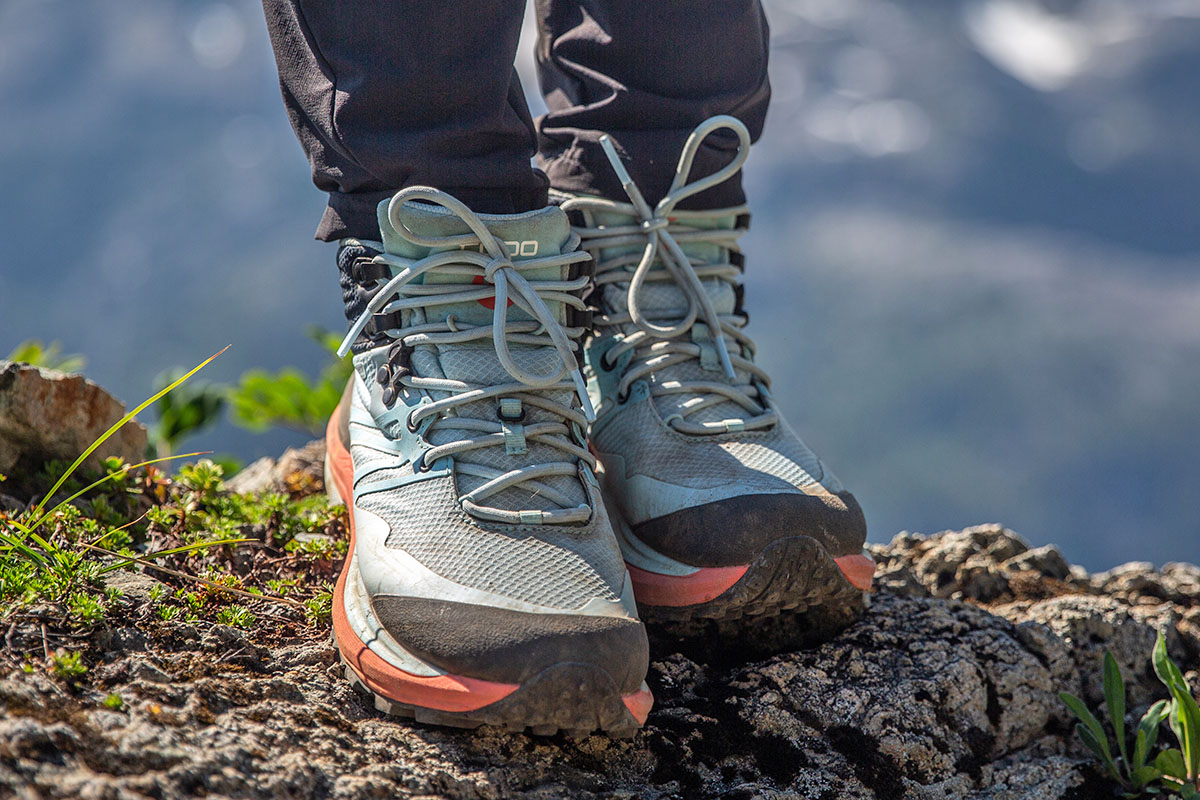 Fit and Sizing
I ordered my usual women's 8.5 in the Topo Athletic Trailventure 2 WP and found overall fit to be pretty good. That said, as I touched on above, I did have issues with my toes hitting the front of the boots when descending. I haven't lost any toenails yet, but I think I'd prefer a little more room at the front for avoiding toe bang against the stiff toe box (if I were to buy another pair, I'd go up by 1/2 size). Apart from that, I have little to complain about: The boots are snug and supportive with the foot-hugging feel that I love, and there's enough room at the front to accommodate swelling after long days on the trail. In any case, it's always best to try shoes on before purchasing to ensure a good all-around fit.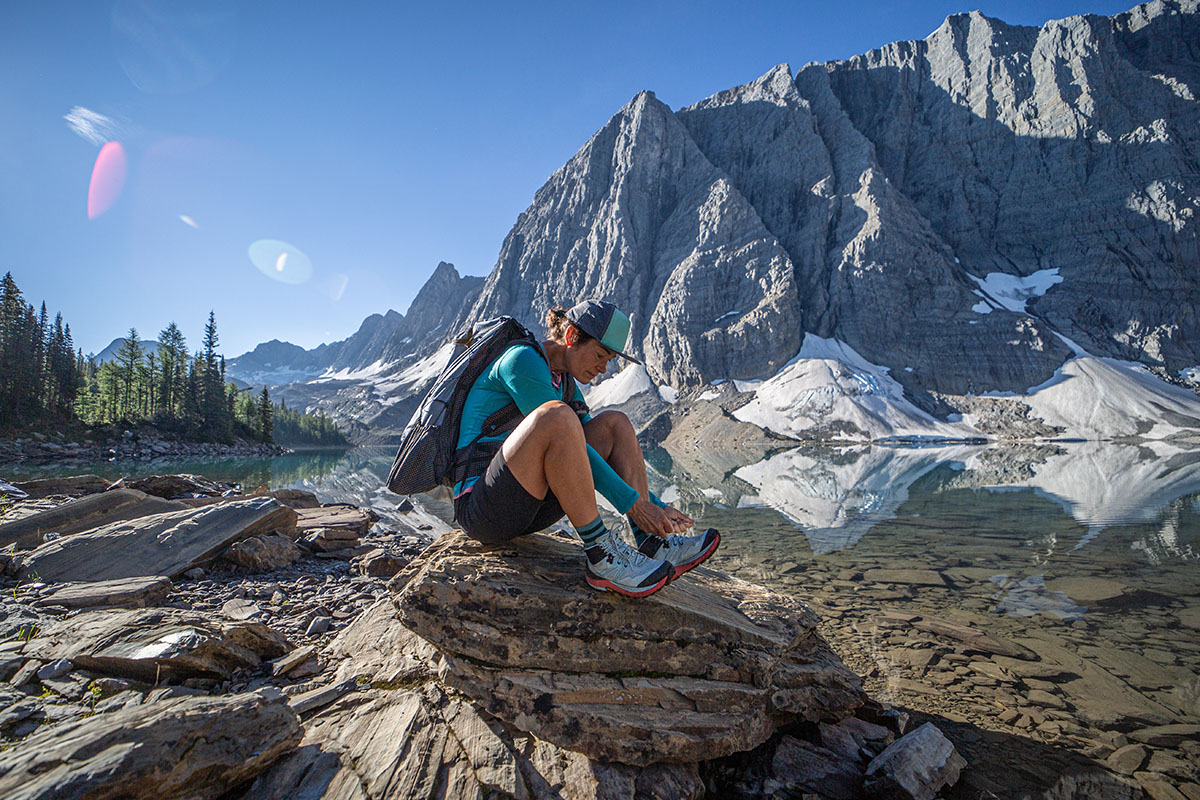 Other Versions of the Topo Athletic Trailventure
I tested the women's Trailventure 2 WP boots for this review, and they also come in a men's model for the same price. Apart from being offered in different colorways, the men's Trailventure 2 WP is heavier at 1 pound 15.8 ounces per pair but has an otherwise identical overall construction and feature set. If you prefer a non-waterproof design for the added breathability, Topo also offers the standard Trailventure 2 for $160, which is a little lighter than the waterproof version at 1 pound 7.4 ounces for the women's model. However, as we mentioned above, the non-waterproof Trailventure doesn't include a rock plate and uses a downgraded Vibram XS Trek EVO outsole.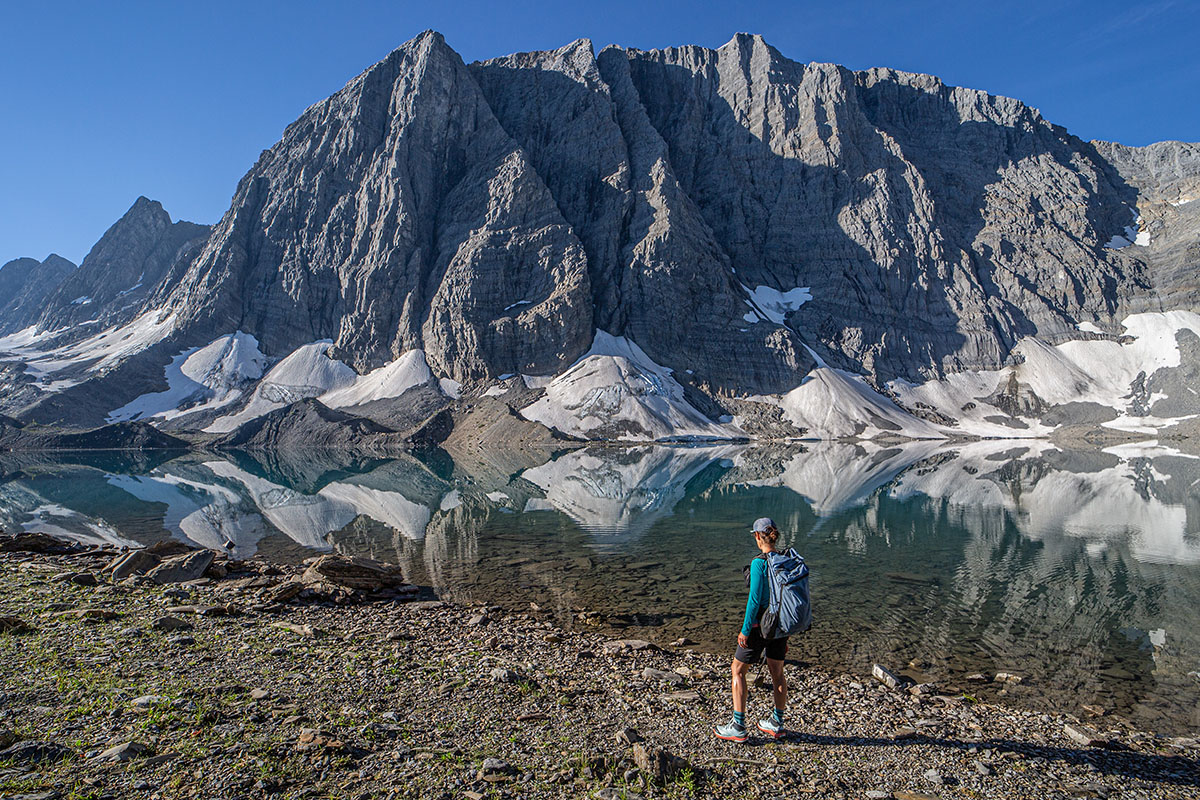 What We Like
Lightweight and nimble with a comfort-first fit.
Vibram Megagrip outsole provides reliable and consistent traction on a wide variety of surfaces.
Better support and stability than expected for such a light and well-padded design.
Roomy toe box allows for natural foot swelling after long days on the trail.
Gaiter compatibility adds versatility for water crossings and sealing out debris.

What We Don't
My foot slid around in the boots on steep descents, causing my toes to smash against the stiff toe box (sizing up would have likely helped). 
eVent membrane extends to just below the top two lacing eyelets, leaving the upper portion of the collar exposed to moisture during water crossings.
Thick padding around the ankle led to a pressure point on my first outing, but this went away after a short break-in period.
You can get better breathability with a more mesh-heavy, non-waterproof boot.


Comparison Table

The Competition
Lightweight hiking boots are now a dime a dozen, but Topo Athletic's Trailventure 2 WP stands out for its effective combination of all-day comfort, support, and underfoot protection. Another popular trail runner-inspired design is Hoka's Anacapa Mid GTX, which uses the brand's signature springy midsole and rockered shape that promotes a smooth stride. The Anacapa is a little heavier at 1 pound 12 ounces per pair, but the beefed-up leather build adds a nice boost in durability compared to the Topo's synthetic design, and the Gore-Tex liner is a small upgrade in waterproofing and breathability. Our biggest gripe has to do with traction: The Hoka's Vibram Megagrip outsole does well on hardpacked trails, but the large sections of blown rubber in the middle detract from grip on uneven and rocky slopes. All in all, both boots nicely balance agility and support, and a final decision will come down to preferences on cushy comfort (the Hoka wins out) versus all-out grip (the Trailventure gets the edge).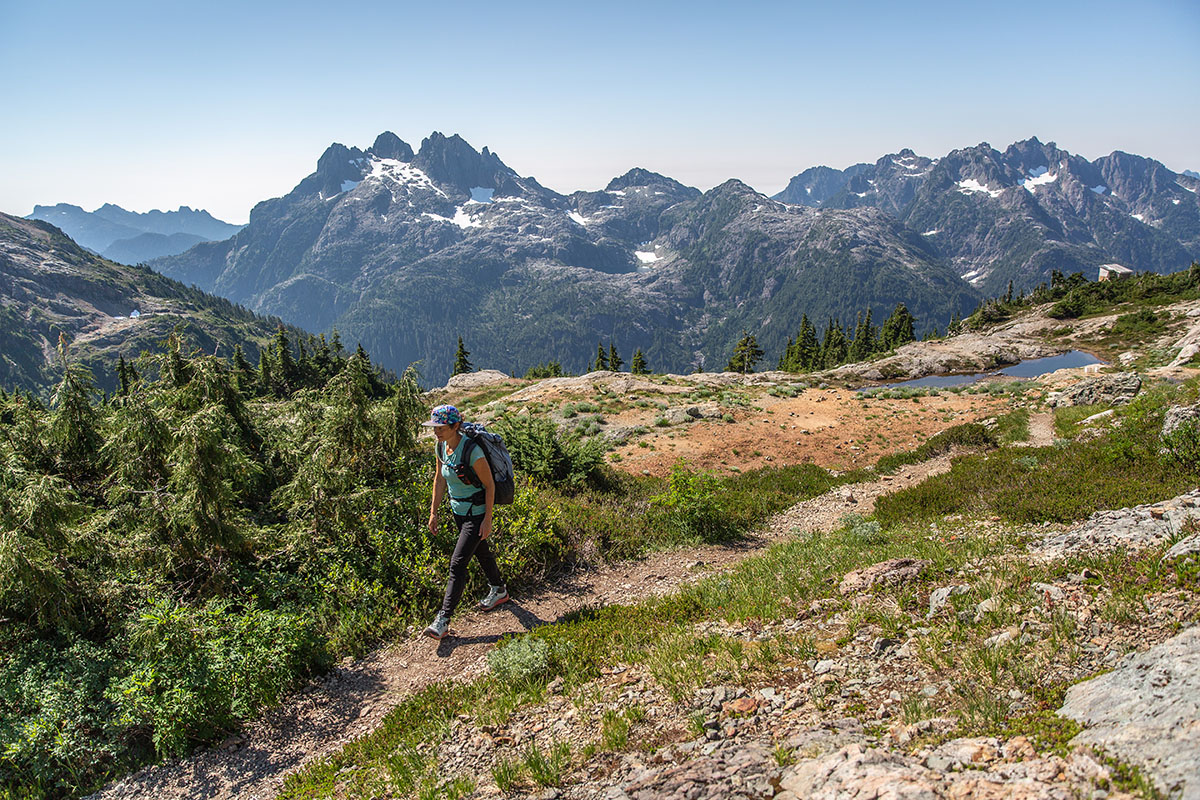 Like Topo Athletic and Hoka, Altra is another well-respected running brand, and their competitor to the Trailventure 2 is the Lone Peak ALL-WTHR Mid. In this case, Altra took their flagship Lone Peak trail runner and added ankle height while retaining the shoe's trademark wide toe box, generous cushioning, and zero-drop design. Like the Topo, the Altra is comfortable out of the box, includes an eVent waterproof membrane for sealing out moisture, and offers good support and stability with a TPU heel and padded but energetic midsole. It's also lighter than the Trailventure by a couple ounces, although the tradeoff is less protection and durability. Specifically, the Altra was sloppy and hard to trust on rocky terrain with a less capable outsole and minimal coverage at the front, and the thin and airy upper is more prone to tears and premature wear. In the end, the Lone Peak is a viable and capable alternative for those who stick to the trail, but the Trailventure 2 is the better match for more aggressive and varied terrain.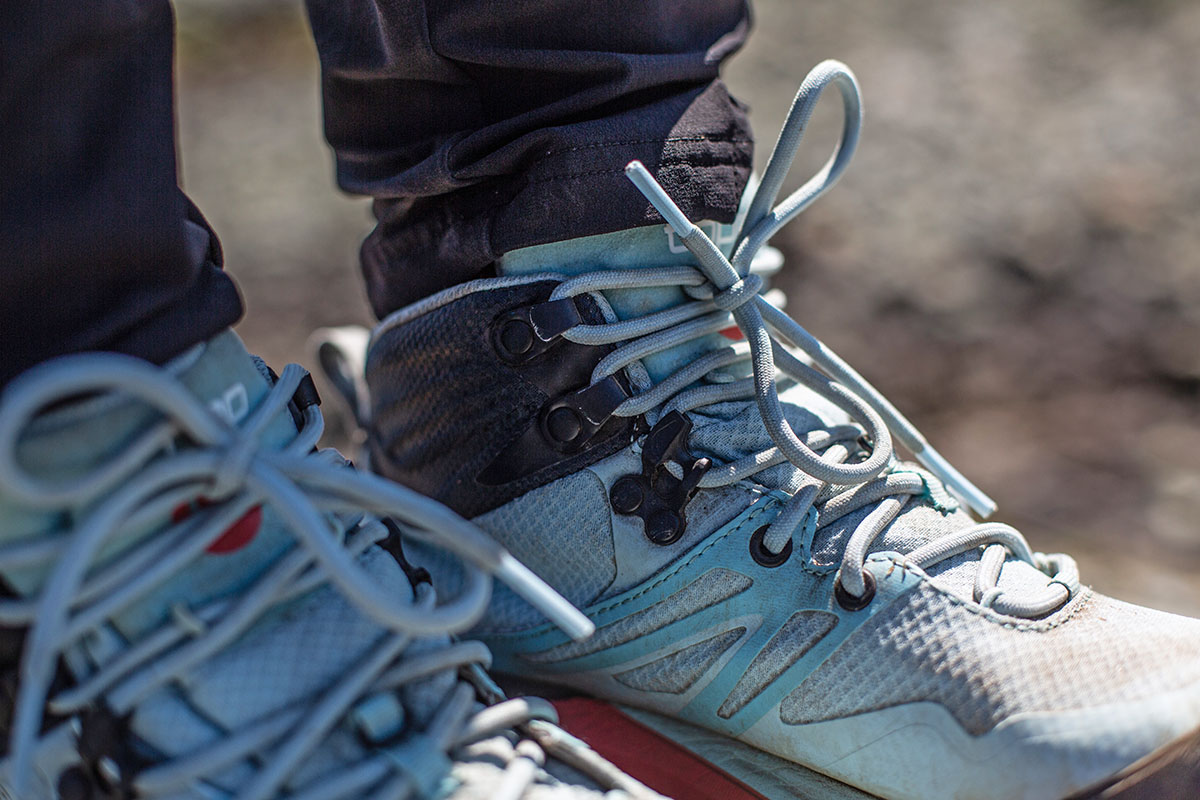 Another trail runner-inspired design we like this season is Salomon's new Outpulse Mid GTX, which is both cheaper and lighter than the Trailventure 2 at $160 and 1 pound 7.1 ounces. While noticeably less padded than the Topo, the Salomon is similarly athletic and nimble while retaining surprisingly good stability with a firm TPU midfoot shank and reverse-camber shape that promotes a very natural stride. You also get Salomon's capable Contagrip outsole and an upgraded Gore-Tex membrane for waterproofing. However, support and durability fall a little short of the Trailventure: The Outpulse's single locking eyelet makes it hard to get a secure fit around the ankle, and the knit-like upper strikes us as more prone to tearing and snagging (although we haven't had any issues to date). All in all, some will prefer the Outpulse's firmer build and lighter weight, but the Trailventure wins out in comfort, stability, and overall build quality.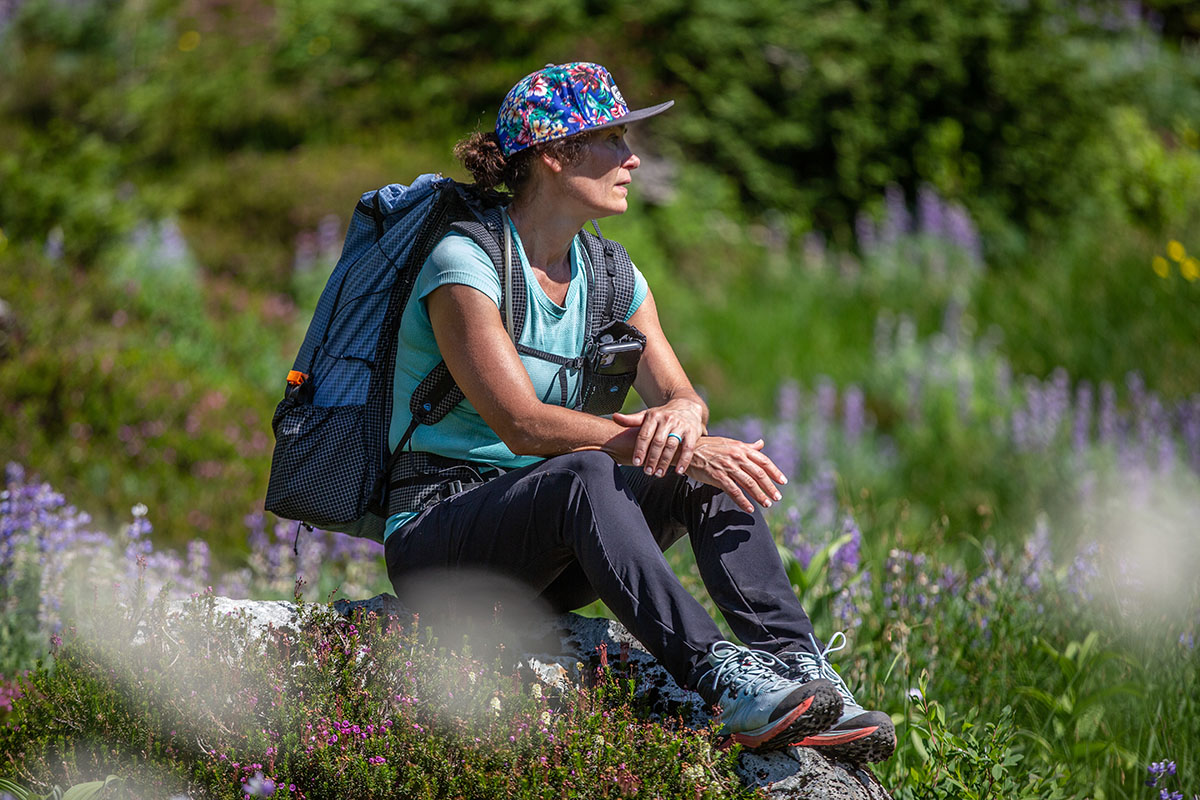 Last but not least is a more mountain-ready alternative to consider: La Sportiva's Ultra Raptor II Mid GTX. Like the Lone Peak above, this boot takes the brand's well-loved Ultra Raptor trail runner and adds a tall collar and waterproof membrane for increased coverage and protection. For just $19 more than the Trailventure 2, the Ultra Raptor II is similarly light (1 lb. 11.8 oz.), uses a proven Gore-Tex liner, and offers great protection with a generous toe cap, TPU heel, and rigid shank for improved stability underfoot. We also like the Frixion XF 2.0 outsole, which is stiff and grips well on most surfaces. The Trailventure 2 offers a more cushioned and sprightly feel on well-established trails, but the Ultra Raptor is similarly light and the better choice for fast-and-light mountain objectives that involve technical terrain.
If you're thinking about buying gear that we've reviewed on Switchback Travel, you can help support us in the process. Just click on any of the seller links above, and if you make a purchase, we receive a small percentage of the transaction. The cost of the product is the same to you but this helps us continue to test and write about outdoor gear. Thanks and we appreciate your support!
Depending on the seller, most products ship free in the United States on orders of $50 or more. International shipping availability and rates vary by seller. The pricing information on this page is updated hourly but we are not responsible for inaccuracies.
Read More From Switchback Travel