It's the early '20s (2020s, that is), and van life has never been more ubiquitous. Everyone from climbing dirtbags and festival-goers to digital nomads and your father-in-law is living in a van, and you've probably thought about it too. But vans are a diverse breed, and your quality of life can vary depending on what you drive. Here, our senior editor—who lived out of a 1995 GMC Safari for years—grills our duo of Canadian freelancers about their choice of van: a 2019 Mercedes-Benz Sprinter 2500 4×4. Will there be unity among van dwellers? Read on to find out. 
 
---
Table of Contents
---

Van Choice and Size
Jenny Abegg: From one van dweller to another, I gotta ask. Why did you two decide to join the much-loathed but oft-envied ranks of Sprinter vans on the road?
Brian & Sasha: Truth be told, we loved our two Delicas, and never thought we'd upgrade to a Sprinter van. When our friends bought their Sprinter in 2017, we scoffed at the size and extravagance. But after camping with them several times throughout the winter season, we were won over to the idea. On one fateful night, six of us huddled in their oversized van, we finally understood the allure. We knew we'd have a year off work and relished the idea of having ample space for two and a dog through both summer and winter, as well as the ability to carry bikes, skis, a canoe, recovery gear, and so on.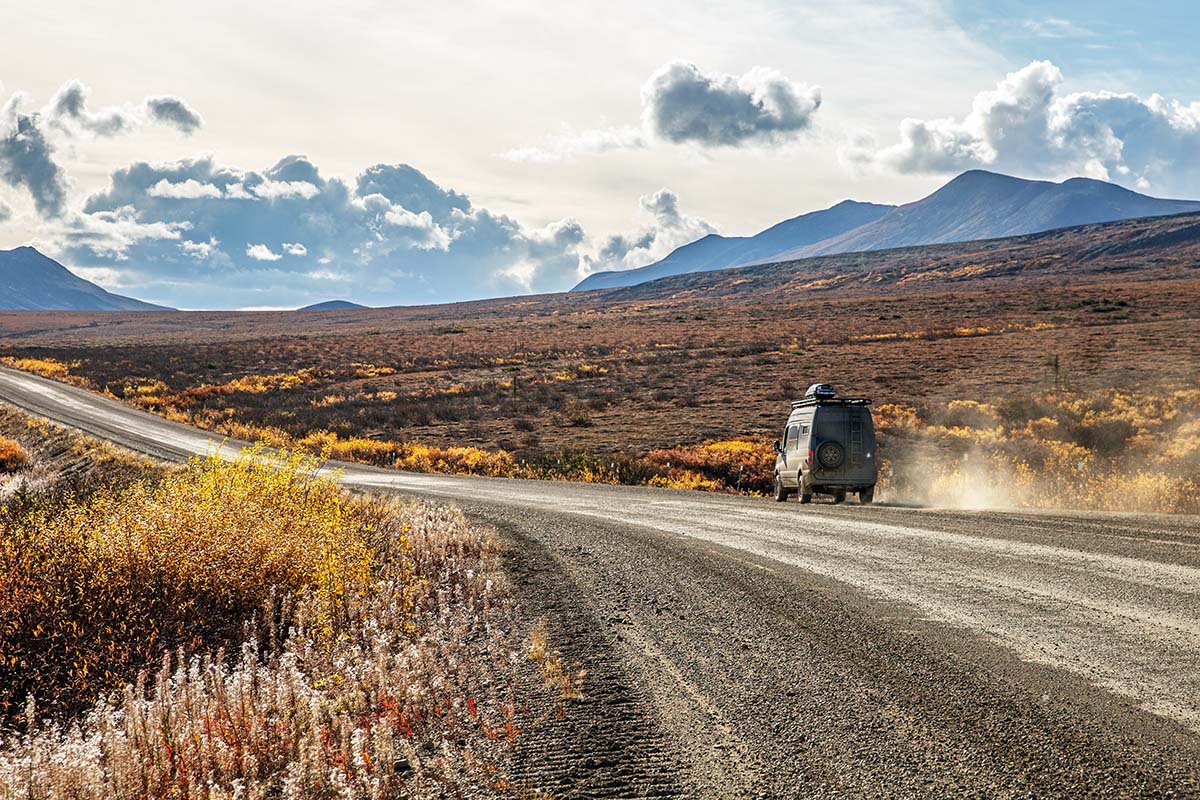 JA: Why not a Ford Transit or a Ram Promaster? Or, ahem, why not a GMC Safari?
B&S: The quick answer is that none of these vans were available in 4WD in 2018 (there is now an AWD Transit, which has its merits). It's worth noting that the fear of high Mercedes repair costs did enter our minds, but we're happy to report that it hasn't been an issue. Other than regular maintenance (oil changes every 30,000 km) and new brakes, we've had no mechanical issues to date.
JA: It was nearly impossible to find a used 4WD Sprinter in 2018, so you purchased your van new. And when you buy a new van, there are a lot of decisions to be made. What were your main considerations? 
B&S: 144 vs. 170-inch wheelbase: We opted for the 144-inch rather than 170. For at least a year, the van would be our only vehicle, and the idea of running errands in a 170 seemed a bit crazy. We'd also read up on the longer wheelbase and realized it might not be ideal for more technical off-road adventures with deep drainage ruts and tight corners.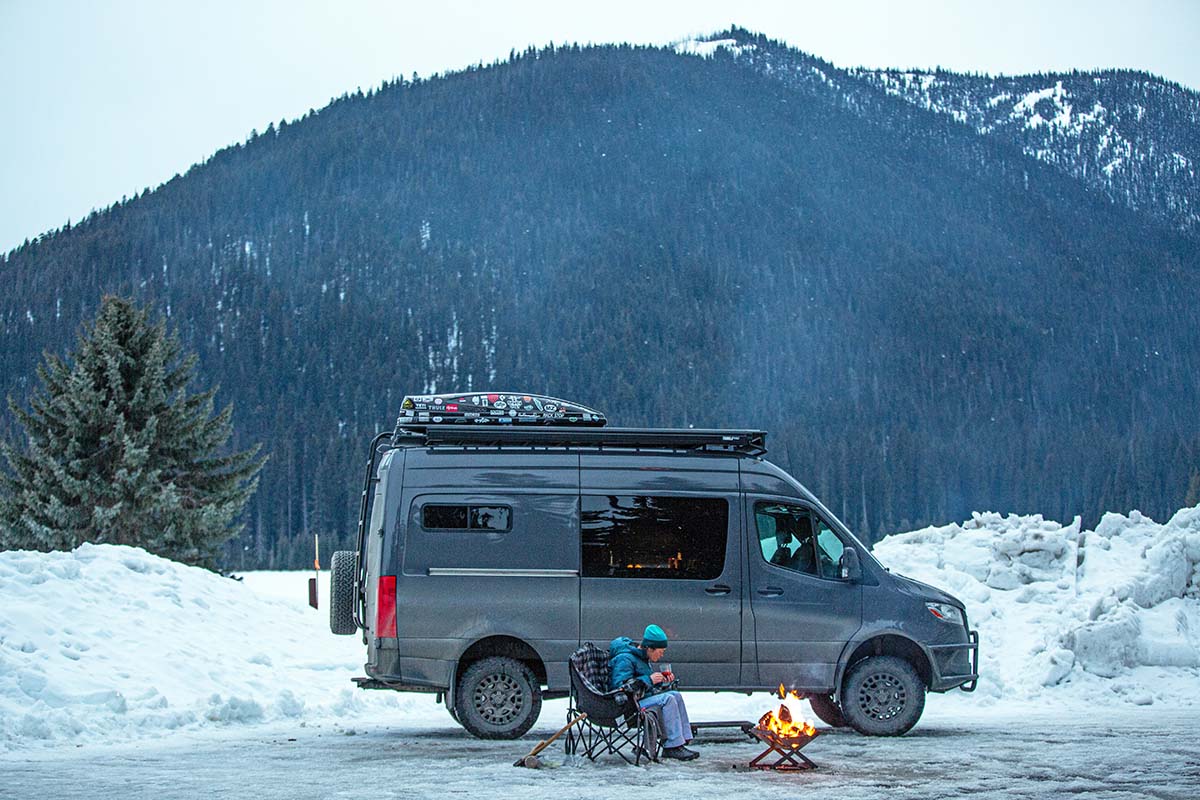 Crew vs. cargo: We wanted to have the option of secondary seating for friends and family, so we went with the crew van, which offered a three-seat bench in the back that is easily removed. We had the seat cut down to two seats to accommodate the kitchen cabinets. The seat is nice to have when we need it, but these times have been few and far between. It also leaves permanent tracks on the floor, which we cover with a rug. 
2WD vs. 4WD: As we frequent the backcountry in both the summer and winter, we've found that having a reliable 4x4 vehicle is the safest way to travel. A friend of ours has an older 2WD Sprinter and has mentioned that it can get a little squirrely hitting the ski hills when roads are not optimal. In addition to awesome traction on all sorts of terrain, the 4WD version has ample clearance, which is great for getting over ruts, drainage ditches, obstacles, etc.
 
High vs. low roof: When we ordered Rhino, the Sprinter came in two heights—low and high. After spending years crouching in our Delica and laying on the bed to wriggle into ski bibs, we easily opted for the 6'3" height of the high roof (with the factory roof liner). This allows us to not only stand up and walk around, but provides plenty of room for shelving along the length of the driver's side of the van.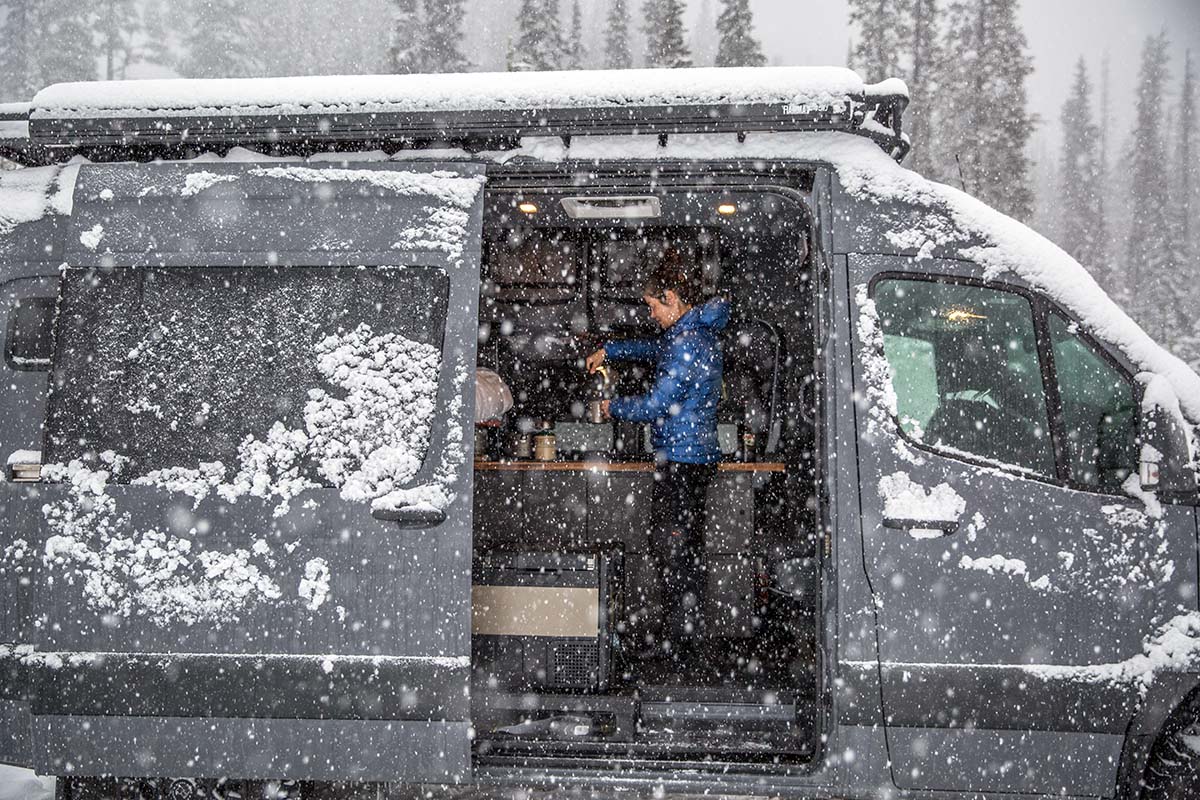 Swivel (and heated) seats: Our crew package included both driver and passenger swivel seats. This was a must as the two front seats (facing backwards) are our main seating when we're hanging out in the van. We'd learned from friends that ordering swivel seats from the factory as opposed to installing them after-market was the best option (the aftermarket seats add height). We also opted for heated seats—we spend a lot of time skiing in the winter and having warm seats is a nice option when you're cold and wet.
JA: Sounds like you named your van Rhino? Why's that? 
B&S: The model we selected was grey, and its angular, oversized shape reminded us of a rhinoceros. Thus, Rhino.
JA: Ha! Awesome. My van was named Ol' Blue for similar reasons. She's old, and she's blue.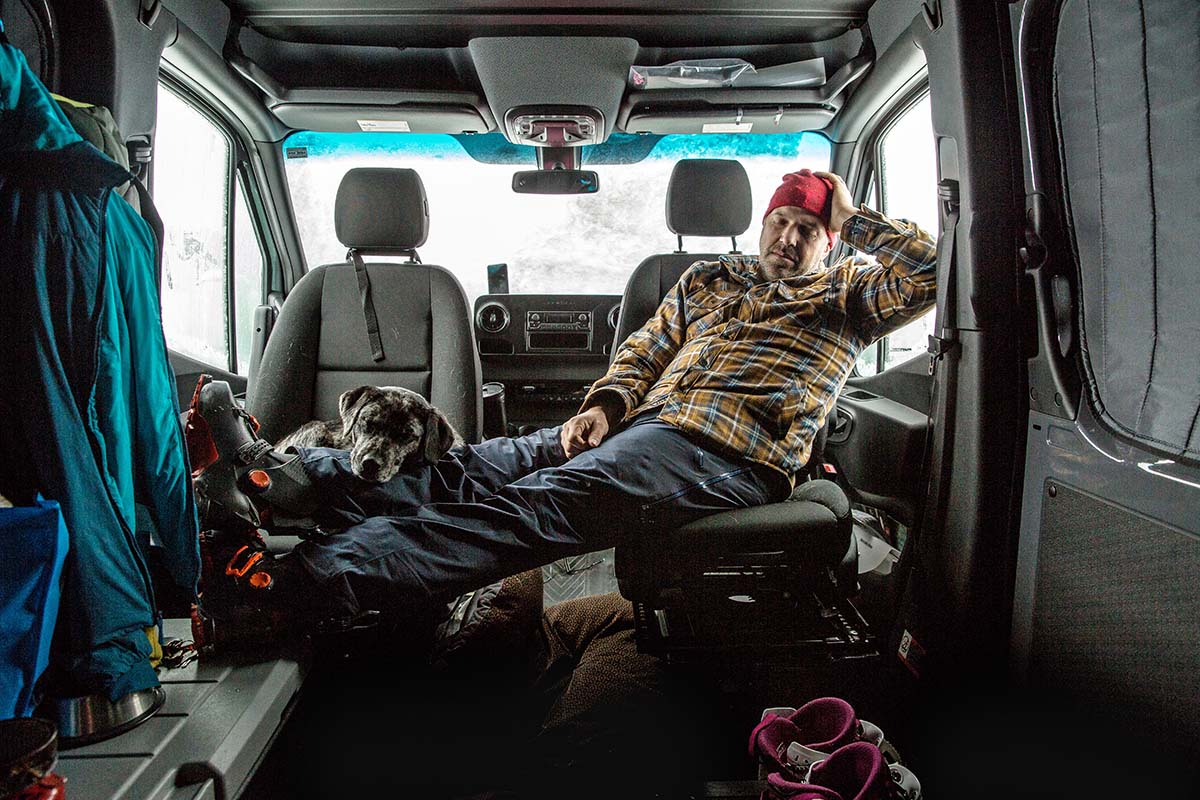 Interior Upgrades
JA: After you bought your van, you waited—what—a year? Rhino arrived in November 2019, not long before your planned sabbatical. But at that point, it was empty. How'd you make it livable?
B&S: What did we not do?! We'll start with what we did to upgrade the van body.
Insulation: We used Rhino for a good year prior to insulating the walls, as we wanted to see how it reacted to each season without. We eventually insulated our van with 3M Thinsulate, which helped deaden some outside noise, maintained the heat in the winter and cooler temps in the summer, and helped preserve our battery in the colder months (more on this in electrical).
Fabric panels: Once we decided to add insulation, we had to add wall panels to clean it up. We purchased all the materials (plywood, finishing material, foam, and glue), jumped on YouTube for instructions, and built and installed the walls in a few days. It really cleaned the van up and helped with soundproofing and insulating.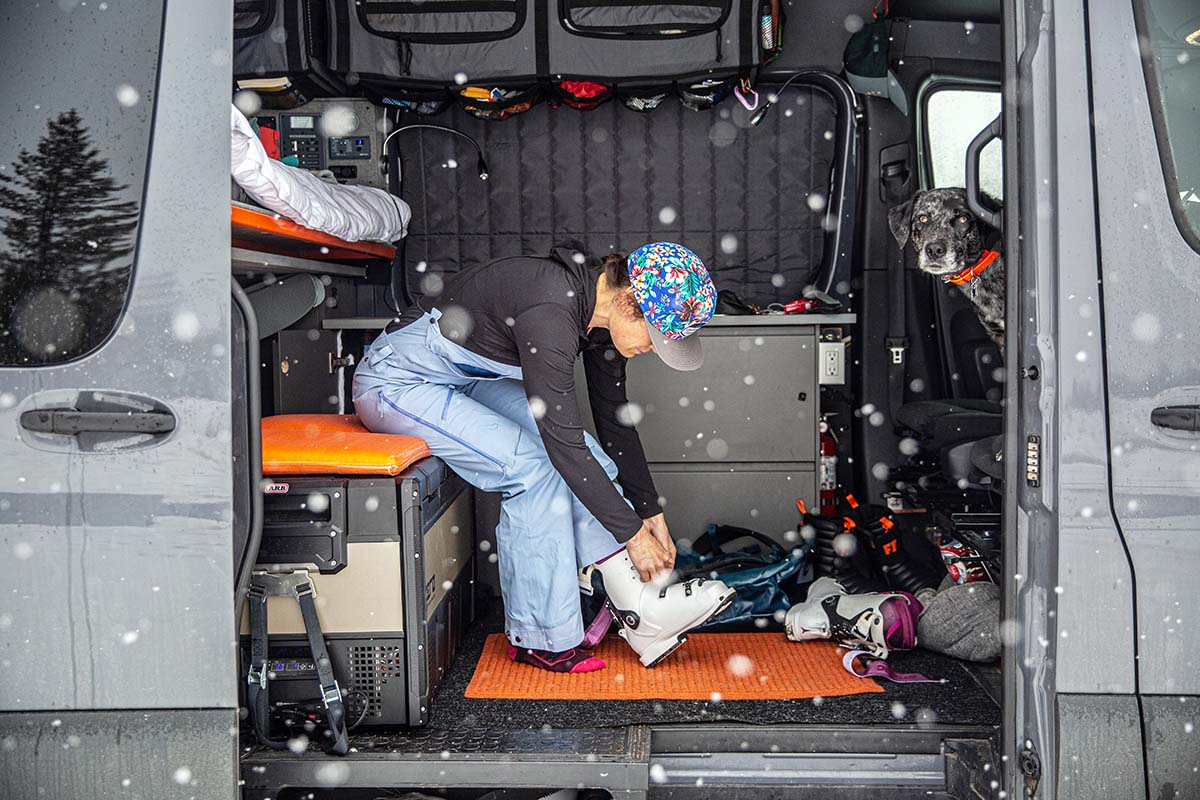 Windows: The passenger windows on the crew Sprinter cannot be opened. We replaced the driver's side passenger window with a CR Laurence T-Vent Drivers Side Rear Quarter Panel Window, and the rear side windows with the CR Laurence Back Passenger Side Universal Non-Contoured Half Slider. They're great for airflow, particularly when paired with the fan.
Window trim: To clean up the wall trim and insulation peeking through, we bought Flatline Van Co CRL Pill Window Trim for the windows. Although a purely cosmetic purchase, the trim really increases the aesthetics.
Rubber floor: The stock floor on the crew van wasn't bad, but we found it to be a bit slippery when wet. We wanted something that could clean easily as well as look good, so we installed a 7' x 20" roll of black rubber coin flooring. We removed the stock floor and used it as a stencil so the rubber would fit perfectly.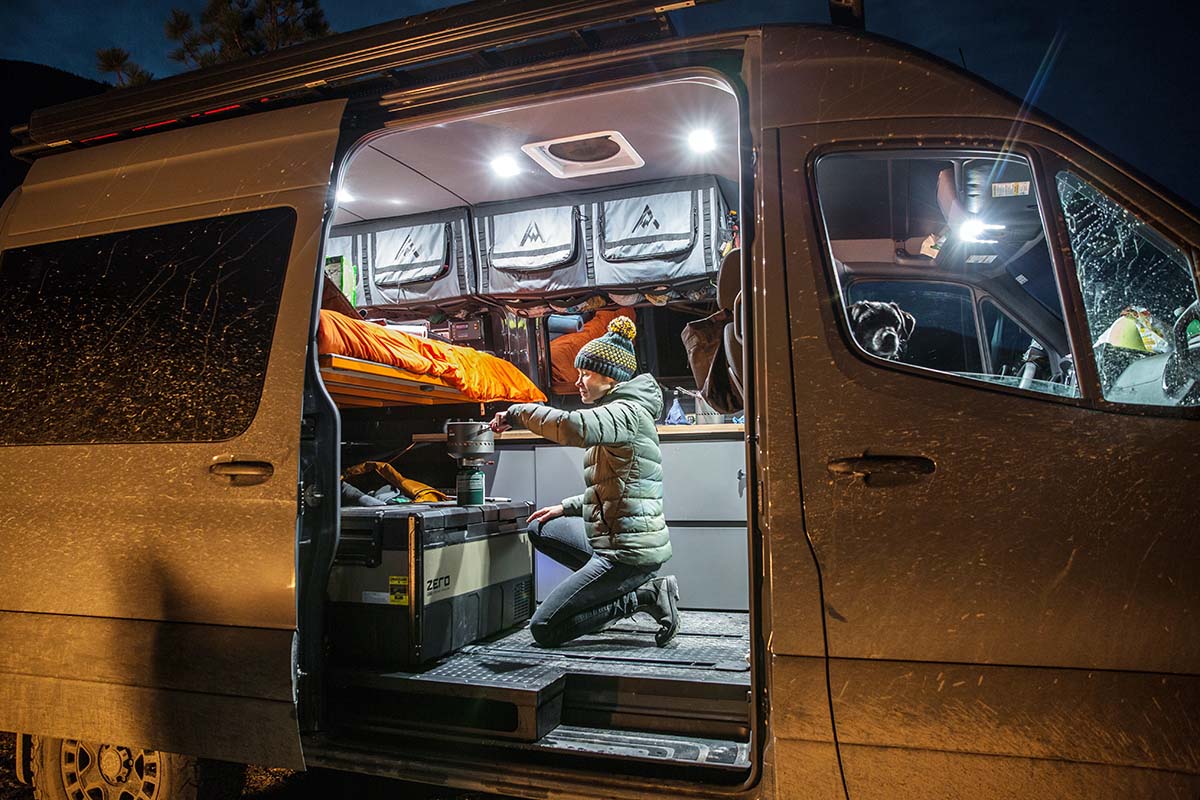 Step extension: A small but very impactful addition to the floor space is our Interior Step Extension from Ferndale, Wash.-based Shuksan Vans, used to maximize the interior floor space of the van. This aluminum frame fills in 28" x 8.5" of the sliding doorstep, providing more room for our ARB fridge and eliminating the awkward stumbles between the step and sliding door while walking around inside the van. 
Ceiling fan: The Maxxair Maxxfan Deluxe ceiling fan is a pretty standard addition to Sprinter vans, and we've been happy with its performance. There are several speeds, and the direction of airflow can be selected. We typically have it set to blow air out, so that we generate a breeze coming in through our windows.
Diesel heater: Heating in the van is a must, as it makes backcountry ski trips in the dead of winter a lot more comfortable, and allows us to safely leave our dog Otis alone for a few hours at a time. We went with the Espar Airtronic D2 Diesel Heater, which comes with a built-in thermostat.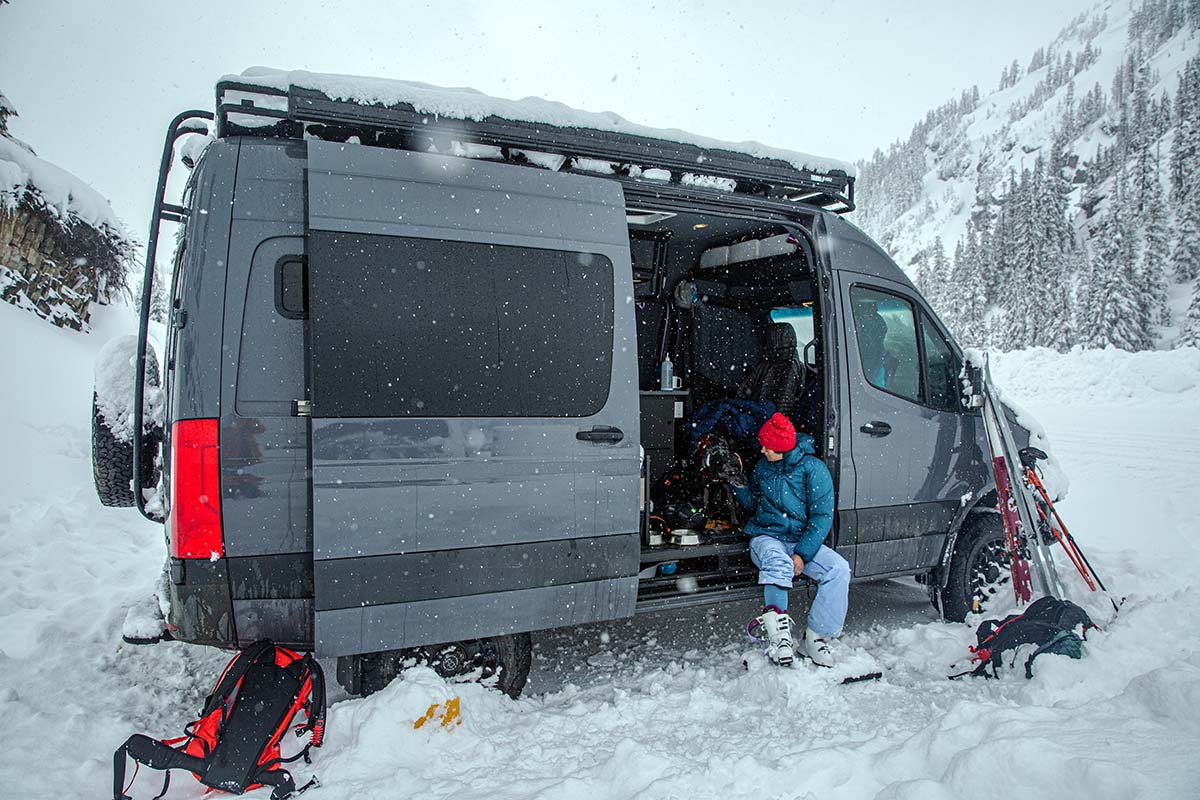 Interior Build: Bed and Kitchen
JA: Wow, sounds nice! I cut out Reflectix window coverings for my Safari and called it good, but your upgrades are next level. So once you had the structure in place, tell me about how you put together your living areas?
B&S: So much thought went into the design of our interior. We knew we'd be spending long days and nights in Rhino, meaning we wanted a good deal of kitchen space, livable space, and a plush, comfortable bed. 
Bed: We started with the bed. We wanted it to be high enough to accommodate bikes underneath, but low enough to provide some headroom. There are quite a few options (including designs that can be raised and lowered, etc.) but we kept it simple with the 3-panel garage bed similar to that of Flatline Vans Sprinter Bed System. The three-panel design allows us to take the 65" x 72" bed out if needed, or we can easily slide the first panel onto the other two panels, giving us 24" of additional space. We also installed a countertop just underneath that panel to give us more counter space for cooking. 
Mattress: Because we knew we'd be spending significant time in Rhino, we wanted to ensure we had a very comfortable bed. We ended up purchasing a foam mattress from a local BC chain—The Foam Shop—which specializes in foam and offers custom cutting and fitting. We had 3-inch memory foam placed over a high-density foam, cut in numerous panels and upholstered to ensure that dismantling the mattress would be as easy as dismantling the bed. Three years in and we love our bed—it's comfortable, large enough to fit two adults and a 50-pound dog, and easy to move if need be. 
Stovetop: Knowing we'd be on the road for extended periods of time, we wanted a quality cooktop to make home-cooked meals. Dometic has a proven record with propane-operated camp cooktops and sinks so we opted for their Drop-In Cooktop with the glass cover. When closed we have extra countertop space.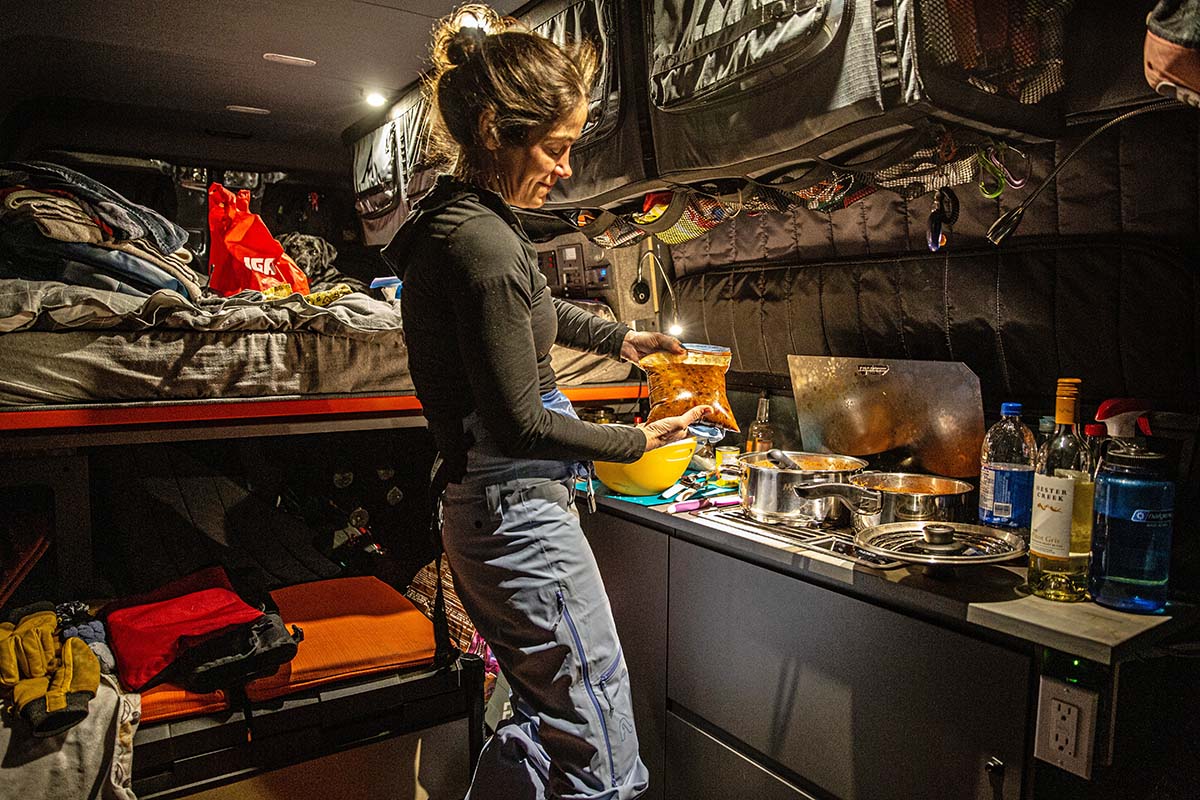 Sink and faucet: Much like the cooktop, we chose a Dometic sink with the ability to add hot water to the faucet (which we haven't yet done). The sink also comes with a glass cover to optimize counter space when it's not in use. We installed a Shurflo water pump to direct water from our tank to the faucet.
Fridge/freezer: Sasha insists on having copious amounts of fresh vegetables, so it was important that we have a large fridge (and freezer for frozen veggies). We chose to go with a large top-entry fridge so we could use it as secondary seating as well as a step to get into our bed. We chose the ARB Zero Fridge Freezer, and the 101-quart size offers a ton of space and serves as a step to get in and out of our bed as well as extra seating. The freezer works so well, we can easily make ice—which greatly enhances our cocktail hours! 
Countertop and cabinets: We wanted a kitchen setup that was very functional, durable, and low-cost. Ikea cabinets fit the bill, providing plenty of storage, and we topped it off with a countertop from Home Depot.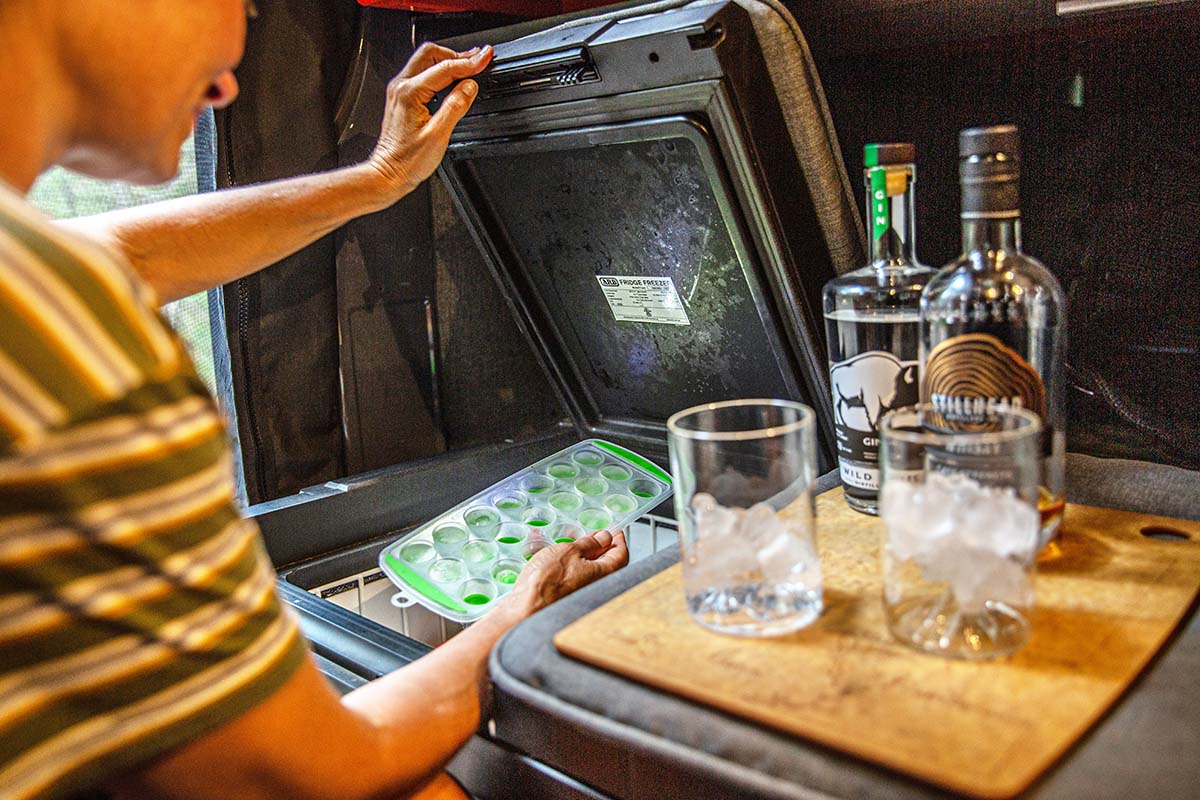 Storage and Organization
JA: What I would have given for a kitchen like that—not having proper food storage was one of the main reasons I grew weary of van life. Fresh vegetables? Hard to believe. Ice for cocktails? Heavenly. You touched on your kitchen organization, but what about everything else? Gear, food, clothing, etc?
B&S: #vanlife rarely shows the chaos of random gear, dirty dishes, and drying clothing everywhere, but living in a van is like playing a game of Tetris. There probably is no perfect way to organize a van, but a key is to have as much storage as possible. 
Cockpit shelving: We have a size-small RB Components Headliner Shelf above the cockpit, where we store pantry items in three Ikea drawer storage units (the lip of the shelf keeps the drawers from falling out while driving).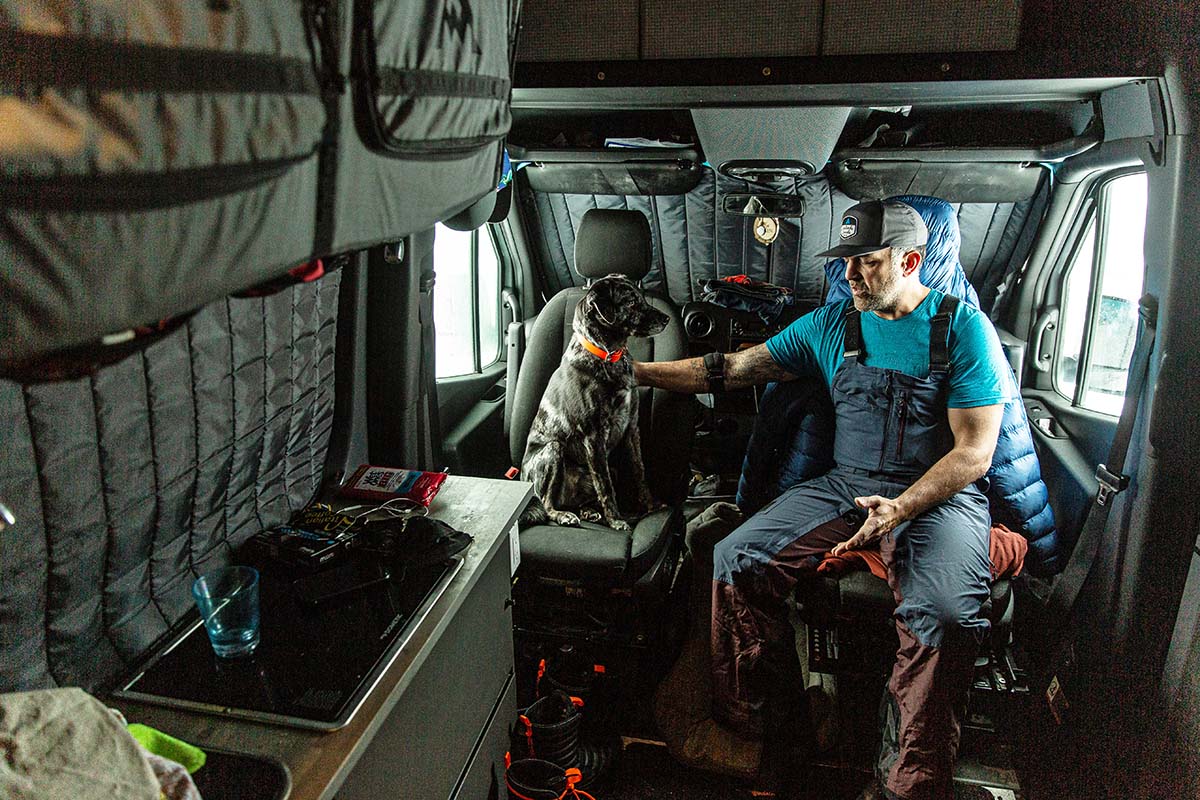 Cabin storage: We installed two 47-inch-long Adventure Wagon Mule Bags, giving us a whopping 350L of upper storage from behind the driver's seat to the rear door. This is by far the best upper storage on the market in our opinion: Mule Bags are spacious, easy to install, and made of ripstop water resistant nylon. We often store our clothes in the rear bag (they're separated with two entrances so we each have our own mini-closet), and items we access on a regular basis in the front bag (toiletries, cooking supplies, snacks, dog food, first aid kit, etc.). 
Rear slider tray: We initially had two 20-inch trays that could be pulled out separate from one another, but after adding a second water tank we lost a few inches of width. We replaced the two trays with one Shuksan 40" x 60" Slide-out Tray. This tray's length can handle an XL bike, 185-centimeter skis on an angle, and no shortage of bins. We also have 38 inches of height in the "garage." 
Rear door storage: For our rear door storage we went with the medium and large-sized Bunker Bags from TOURIG. The larger bags sit on the lower portion of the door and hold our water hose, bike tools, blankets, and more. The upper bags are accessed from our bed and are great for storing headlamps, phones, a small speaker, etc.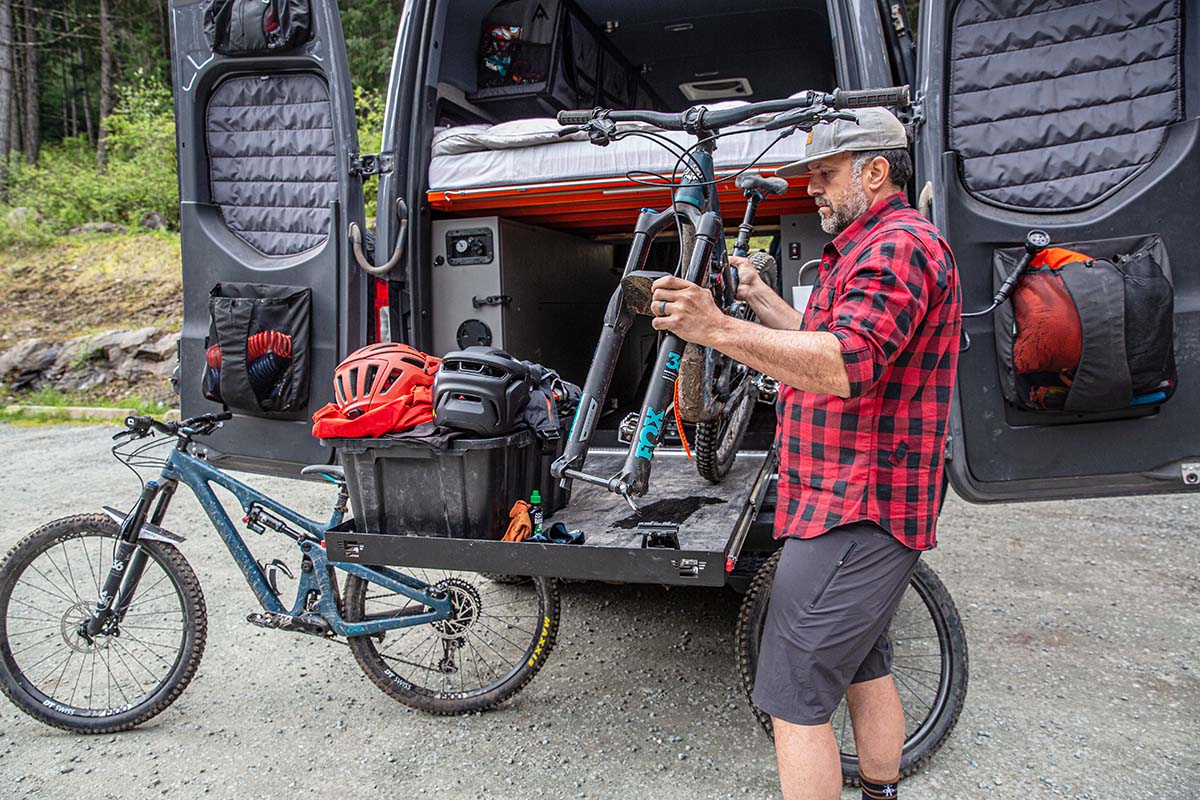 Water tanks: NWConversions sells various sizes of water tanks for both the wheel wells as well as the undermount spare tire space. We opted for a 24-gallon water tank on each side of the van, which sit nicely over the wheel wells to optimize space. The driver's side tank goes to our kitchen sink and the passenger side to our shower, which is accessed via the rear passenger door.

Accessories
JA: Okay, wow. I had an old cardboard box that I stored my food in and a few shelves for clothes. For over a year, my backdoor handle was broken and I had to access all my gear from the front. This sounds much more functional. Did you add anything else to further increase your quality of life?
B&S: We sure did! Some of these accessories go along way towards making road life sustainable.
Window covers: Our Strawfoot window covers are THE BEST and probably our favorite accessory in the van. They weren't cheap, but they're well constructed, insulated, easily attach via magnets, and are custom-fit to all of our windows. We often awaken at 9am thinking it's still dark out, and it is nice to have instant privacy. 
Bug screen: Our Bug Wall bug screen is a necessity for summer road trips. It is a well-designed mesh wall that covers the doorway when open. We chose the magnetic entrance (zipper also available), and zippers along each side make it easy to roll up when not in use. The Bug Wall is easy to install and just as easy to take out for the winter.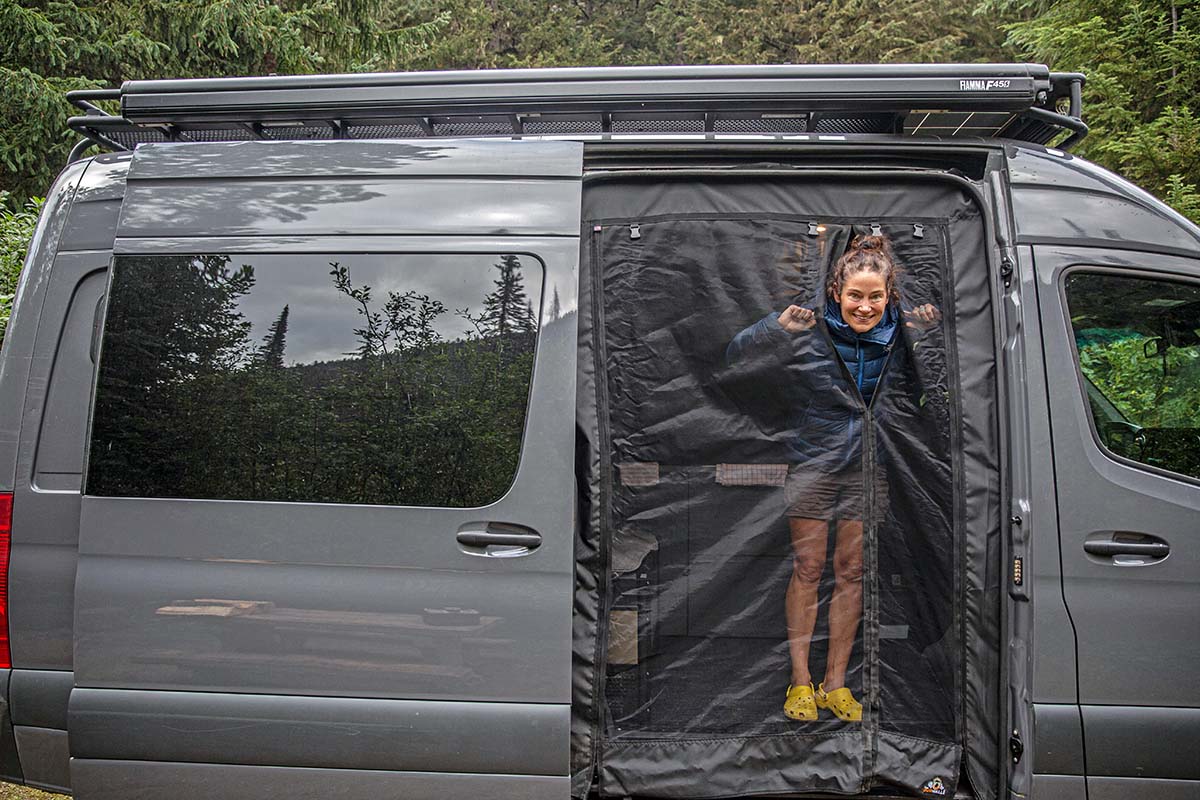 Hot shower: The hot water propane shower was a late addition to the van as we added it right before our year off. Because we already had propane hooked up, we opted for the Camplux Pro 1.58 GPM Portable Tankless Water Heater with Shurflo water pump. The heater is located inside the rear passenger door and runs off one of our 24-gallon water tanks. In addition to showering, we often use the hot water for doing dishes.
Toilet: We've never used our Thetford Porta Potti toilet, but it gives us peace of mind to know it's there in case of an emergency.
BBQ: Not all meals can be cooked in a pot or frying pan—especially a good old fashioned steak. The Dickinson Sea-B-Que Small portable marine BBQ has been great for grilling meat, veggies, and even browning naan while in the backcountry. It is durable, compact, and lightweight, so storage isn't an issue.
Air compressor: We often air-down our tires when traveling off-road for lengthy periods. I initially purchased a 12V air compressor from our local hardware store, which was painfully slow. This led us to invest in the ARB Twin Onboard Air Compressor. Constant access to quick air is super handy when airing down and back up as it only takes minutes to do all four tires (we use the Maxtrax Indeflate gauge, which makes inflating and deflating easy). As avid cyclists, it's also nice to have the air for our bikes, particularly when we need high pressure to seal a tubeless tire.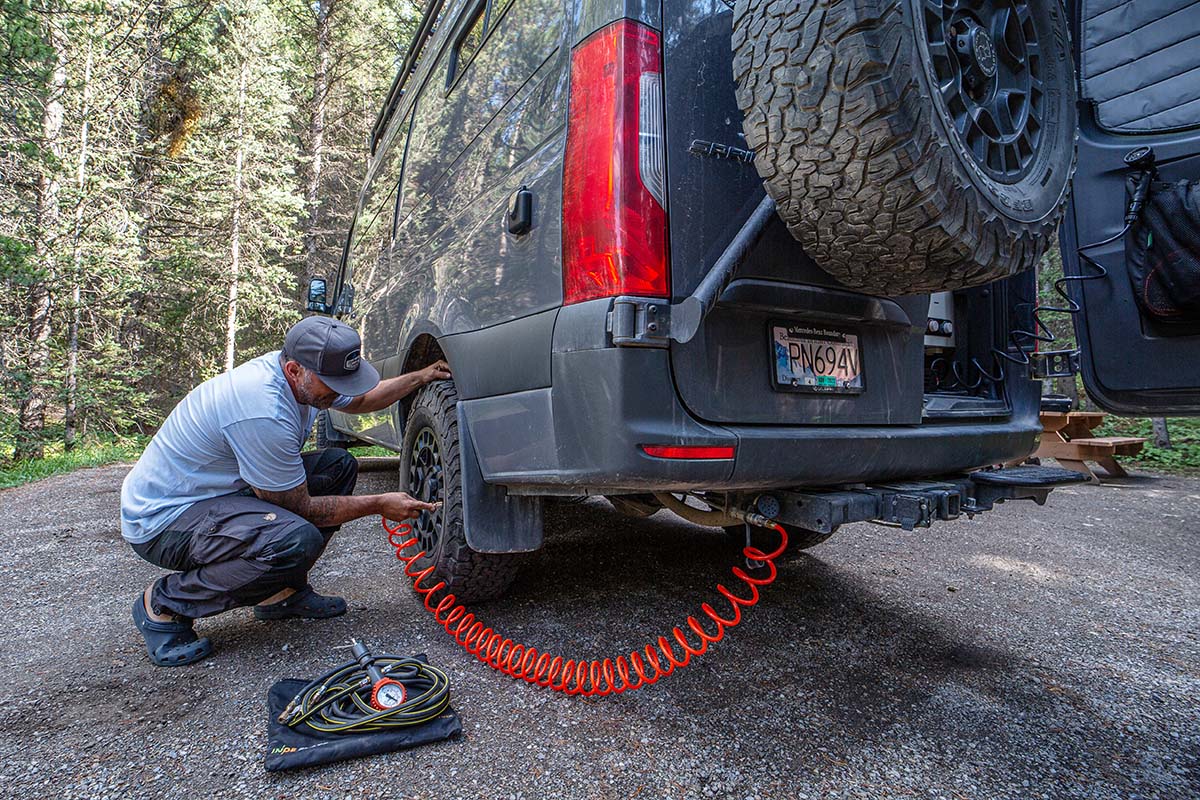 Grey water tank: If you have a sink, it's a good idea to have grey water storage, too. The Shuksan 20 Gallon Gray Water Tank and Tray attaches to our kitchen sink, underneath the passenger side window. The tray holds the tank in place and protects it from rock strikes. The drain is operated by a ball valve located on a monitor inside the van.

Electrical
JA: Ol' Blue has a USB charger plugged into the cigarette lighter, which I was able to use with the engine off. Not once have I drained the battery—it's a truly amazing piece of technology. What'd you use for power in Rhino?
B&S: When you're charging a diesel heater, fridge, ceiling fan, reading lights, ceiling lights, water pumps, USB charging ports, and DC outlets, you need a bit more than a cigarette lighter. We used a solar-powered system, which we'll detail below.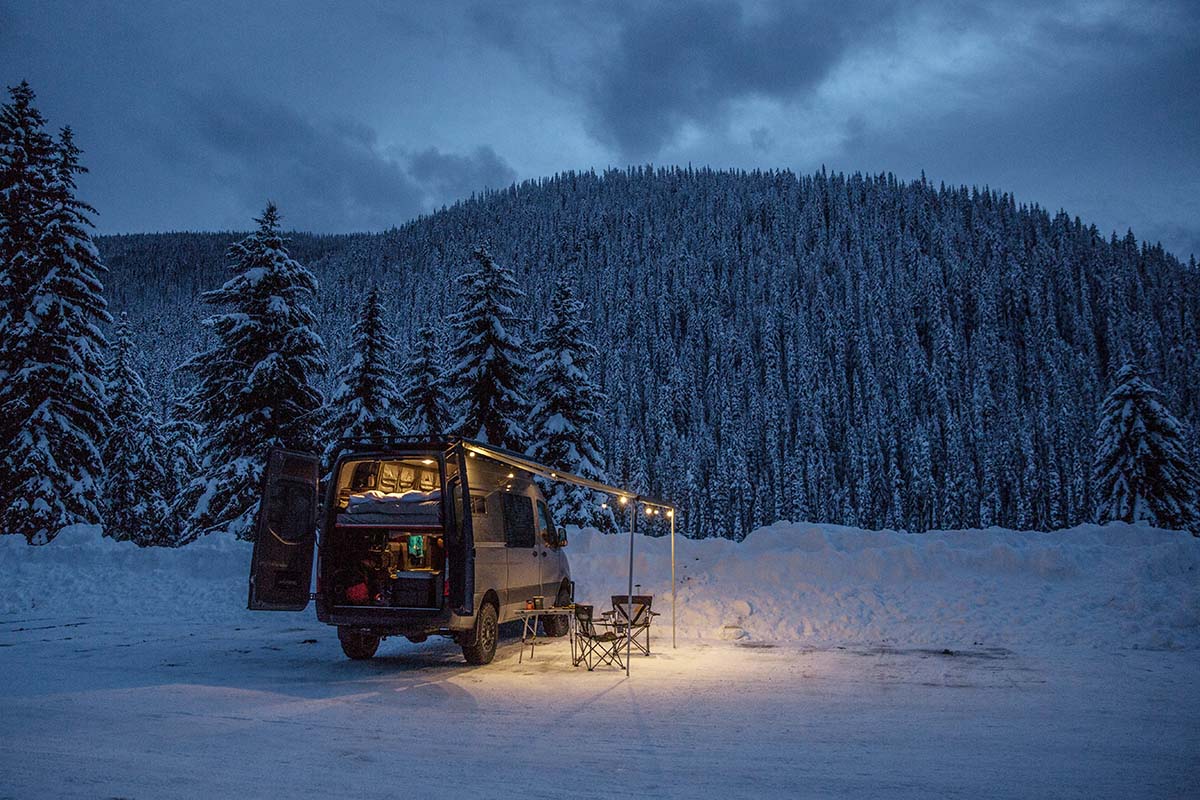 Solar-powered system: We outfitted Rhino with a Victron 12/2000W Inverter/Charger and accessories, a LiFePO4 12V Lithium 250 Amp Solar Battery and a Go Power 190W Rooftop Solar Panel. This system allows us the luxuries of toast in the morning while sipping espresso from our Nespresso machine, setting our diesel heater to a desired temperature, and having ice from our freezer to sip evening cocktails. We lug a blender around with the plan of making blended drinks, but have yet to host a margarita party! 
The downside of relying on solar is cloudy days, which we have a lot of during winter in the PNW. No sun means no solar, and if the van isn't moving regularly, it'll only last 4 to 5 days with the fridge, heater, fan, etc. running. We have also noticed our lithium batteries don't handle below freezing temperatures well and—if we were to purchase again—would get lithium with a self-heating function. We've added insulation around our batteries and end up leaving the heater running in the winter to keep them from failing.
Portable solar panel: We have a small Go Power DuraLite 100-Watt Solar Kit for days when the sun isn't hitting our rooftop panel directly or when we want to park in the shade on a hot summer day. A 40-foot cable allows us to stretch out the solar panel to find sun from underneath the shade of a large tree or cozy mountainside nook. It doesn't have the power capabilities of our 190W rooftop panel but it will keep the van charged when sitting idle.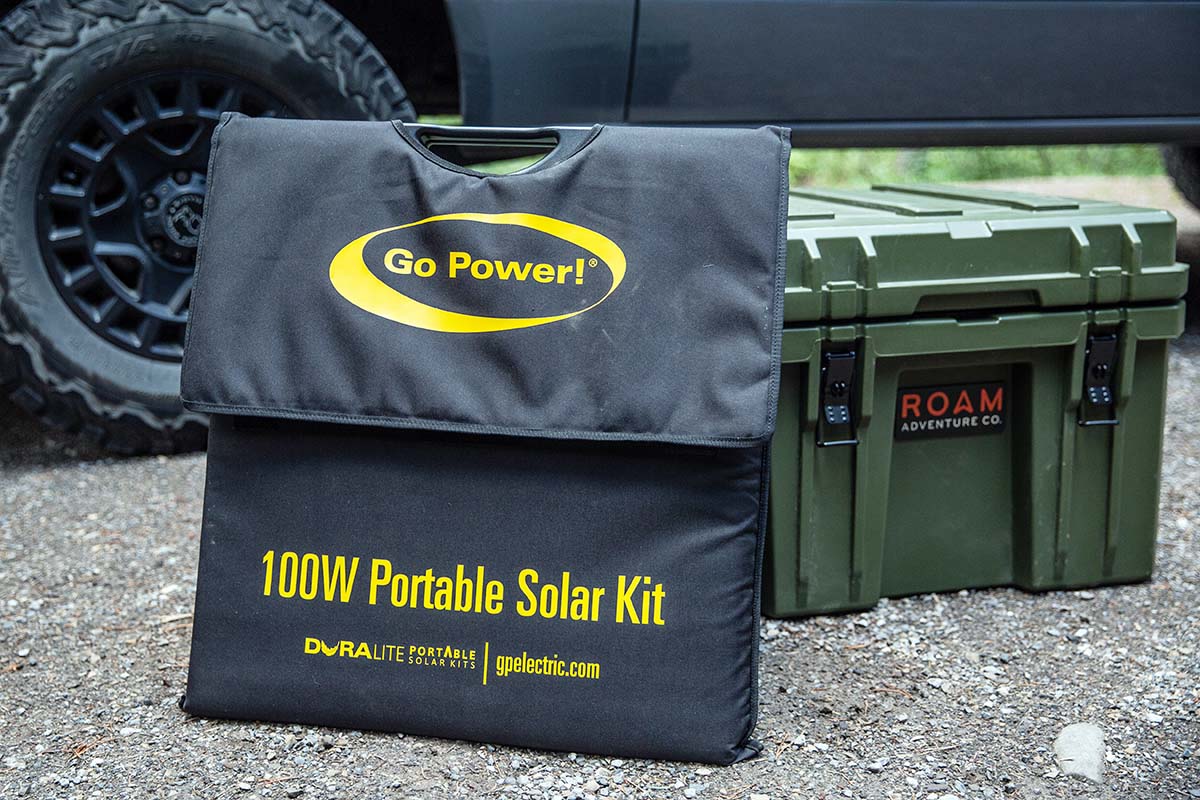 Exterior Additions
JA: I always dreamed of having a roof rack on Ol' Blue, but the roof is so rusty it seems like it might cave in. Did you add any sort of exterior storage or accessories to Rhino?
B&S: Rooftop platform: A rooftop platform is a must provides room for additional storage, a home for our solar panel and canoe, and is also a great place to hang out and take in the stars. We opted for the Stoked Yukon Rack. The roof rack is also home to our Night Rider Double Row Light Bar, which makes finding backcountry campsites in the dark a lot easier.
Brush guard: To guard against dings and dents, we added the Stoked Brush Guard to Rhino's front.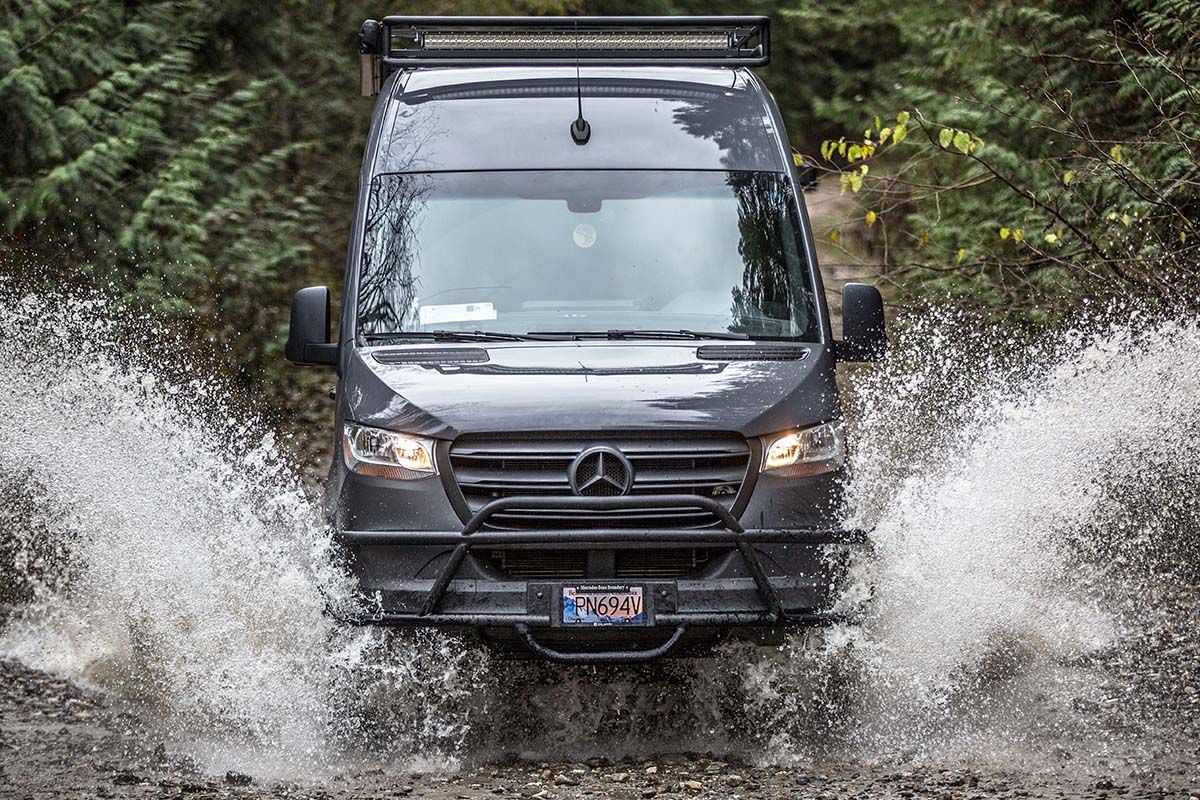 Ladder: In order to access the roof, we needed a ladder. We ended up with the Stoked Moab Rear Ladder, which has a cleaner look than a side ladder, keeps the van profile sleeker, and provides better access to where most spare gear is stored. But after a few years with Rhino, we wish we had opted for a side ladder: The rear ladder takes up precious space on our back door where we could have installed storage options like Owl Vans' Expedition Box or Sherpa Cargo Carrier. Either of these items would provide more accessible storage on the back door, and likely result in a better weight balance for the van.
Tire carrier: The Sprinter's design stores the spare tire underneath the van between the rear wheels. I've never been a fan of this placement for an off-road vehicle—I sure as heck don't want to be crawling under the van to remove a 50-pound spare on unstable, off-camber terrain. So, we added the Agile Offroad Rear Door Tire Carrier on the rear driver's-side door. On bigger trips that require a lot of off-road driving, we fit a second spare underneath the van using the Agile Offroad Oversized Spare Tire Basket (which we needed because we'd upgraded to 17" wheels).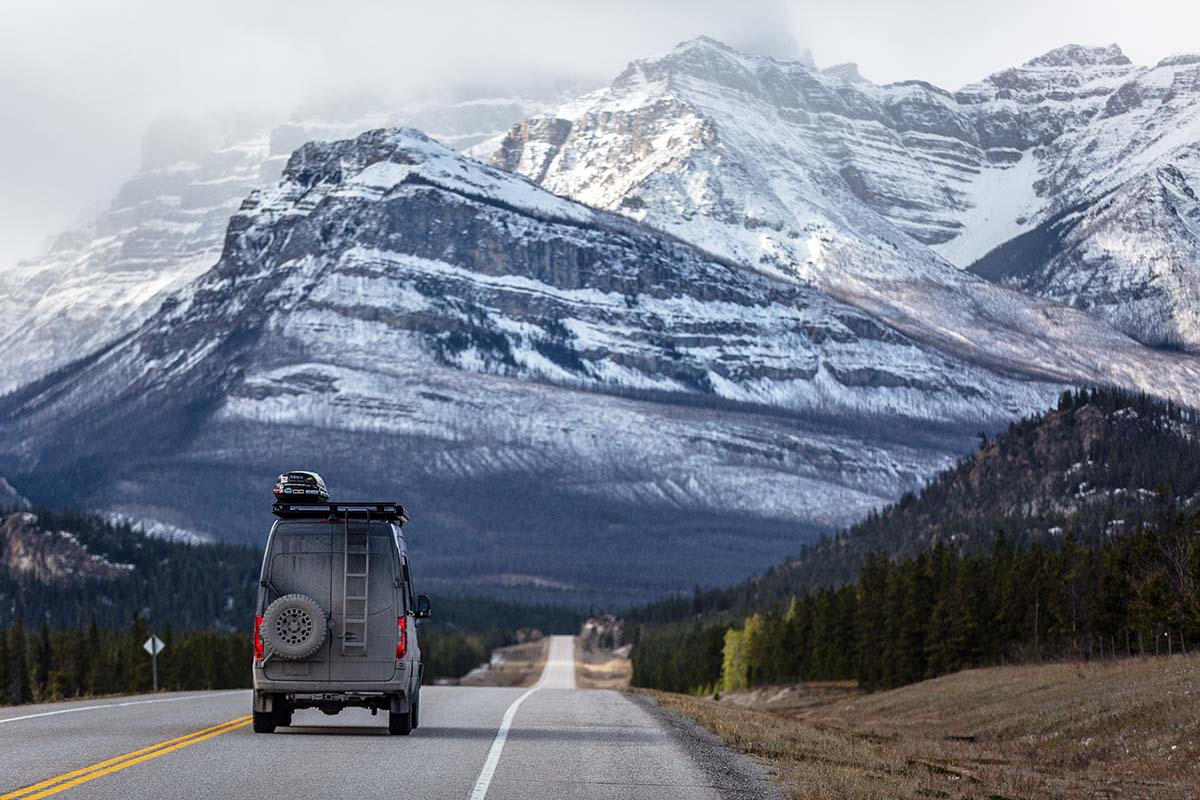 Awning: We had a small ARB awning on our Delica and we used it every time we camped. Even with all the extra space we gained with the Sprinter, we knew we wanted an awning. The Fiama 45S Awning is high-quality, easy to install, and a breeze to use. We do have to be careful in the wintertime: Snow buildup could cause it to collapse, and it does not roll back tightly when covered in frost. During cold spells, we use a Voile strap to hold the rolled awning tight.
Crossbars: In order to fasten a rooftop cargo box, we needed cross bars that would attach to our roof deck. We opted for the Shuksan Sprinter Rectangular High Roof Crossbars, which sit above the fan, solar panel, and edges of the roofrack. In addition to a cargo box, these securely hold a canoe to the roof without issue.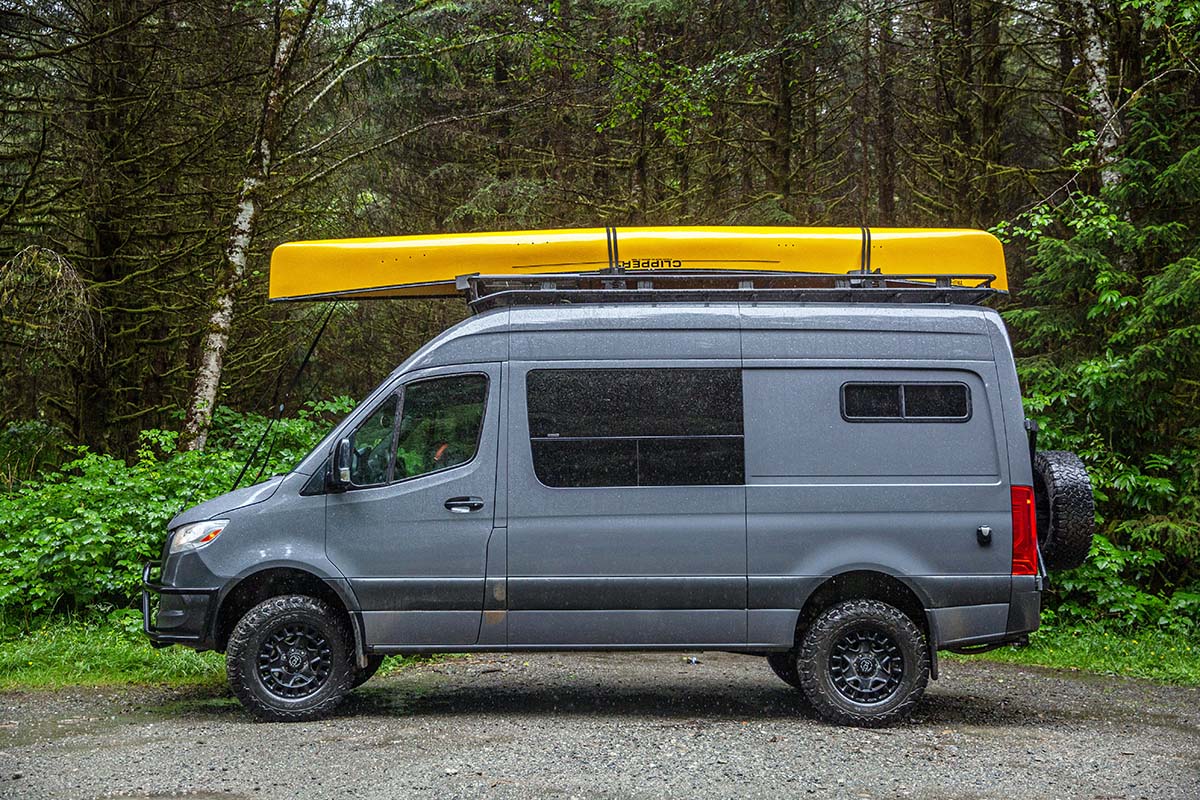 Performance Upgrades
JA: I'm sure that adding all of the aforementioned items really weighs your van down. Have you noticed that Rhino drives differently with the extra load? Have you made any changes to help with that?
B&S: Wheels: Rhino came with stock 16-inch rims and low-profile tires, so he looked a bit like a roller skate. We upgraded to larger, more proportioned rims and tires—the 17" Black Rhino York Wheels with the all-terrain BFGoodrich KO2s (275/70/17). The standard front fender could not accommodate the larger wheel size, so we first had to install the Agile Offroad No-Rub Front Fender.  For those interested in doing the same, it is important to check the bolt pattern and offset before ordering new rims. It's also good to be aware that the speedometer/odometer are set for 16-inch rims, so your mileage and speed will be a bit off with larger tires. This means we're actually speeding when our speedometer matches the speed limit!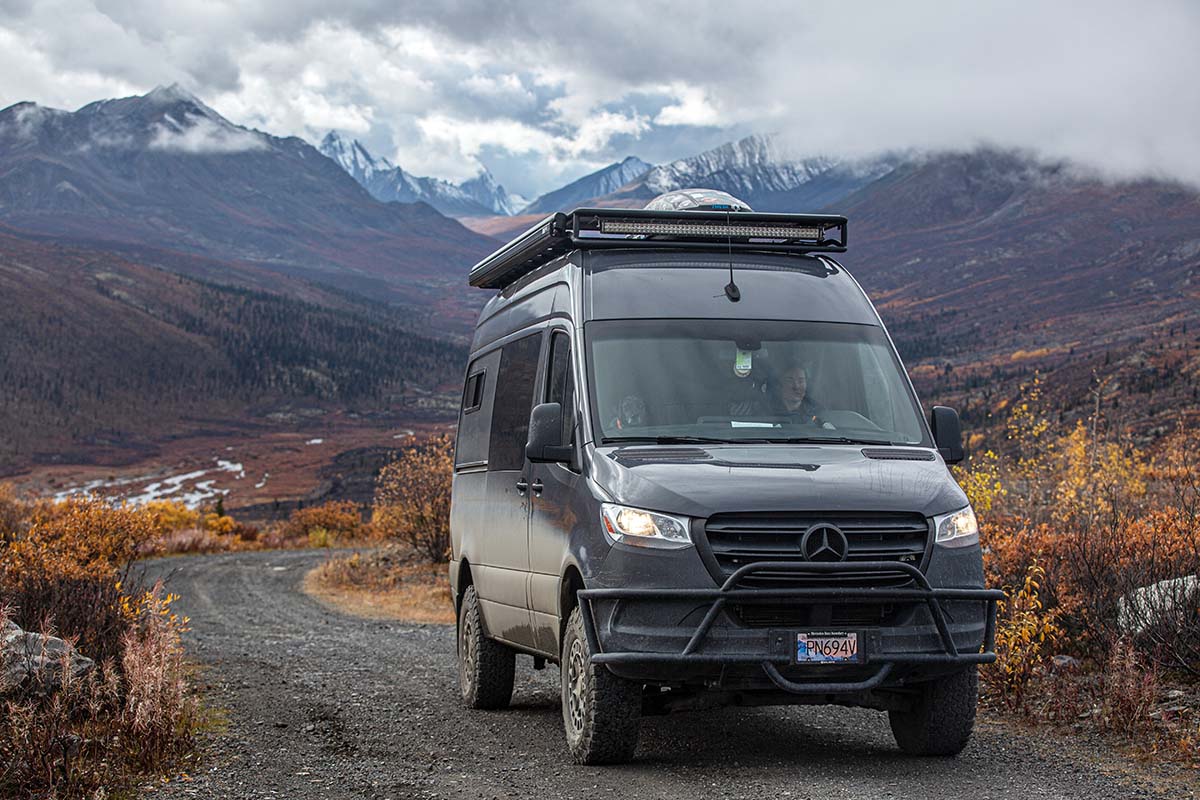 Brakes: The additional weight (and constantly driving in the mountains) has caused early wear on Rhino's front brakes. We added Agile Sprinter 2500 Big Brake Upgrade to help reduce the wear and spread out the load.
Suspension: It's no surprise that adding significant weight to a vehicle can alter the way it rides both on the highway and offroad. As our build grew, we noticed the ride started to become a little harsh, particularly on dirt roads. We updated the rear shocks to Falcon 2.1 Monotube as well as added some beef with new leafs from Van Compass. I've since added the Van Compass Baja Bracket, which takes some of the load off the single shock bolt and disperses it throughout the bracket and two additional bolts. In addition to the Baja mount we've also installed the light/mid Van Compass Stage 2.3 kit, with fully adjustable Falcon Piggyback Reservoir 3.3 Fast Adjust Shocks to accommodate our 8400-pound van. This upgrade should give us the ability to adjust our suspension quickly and easily by choosing one of three modes—soft, medium, and firm—to navigate everything from techy, overgrown service roads to hours of endless highway driving.
JA: Parked at our campsite in Castle Valley, Utah, Rhino's towering frame dwarfs Ol' Blue. I'm surely one to root for the underdog, but when Sasha emerges from the van with cold margaritas in hand, I feel my resolve slipping. Ol' Blue has been a faithful companion to me for almost 10 years, but she's never served up ice cubes on a hot day or been a cozy place to hang out après ski. There are a lot of ways to do #vanlife—from crusty van-down-by-the-river to luxury RV—and there are a lot of reasons people do it: to live outside, to climb, run, surf, ski (etc.) as much as possible, to gain a new community, to get a change of perspective, to explore new areas, to avoid paying rent. And Brian and Sasha undeniably have their style on lockdown. As their year on the road comes to an end and they return to domestic life and day jobs at WorkSafeBC, we know Rhino won't be long forgotten. Come the weekend, and they'll be ready to hit the open road again.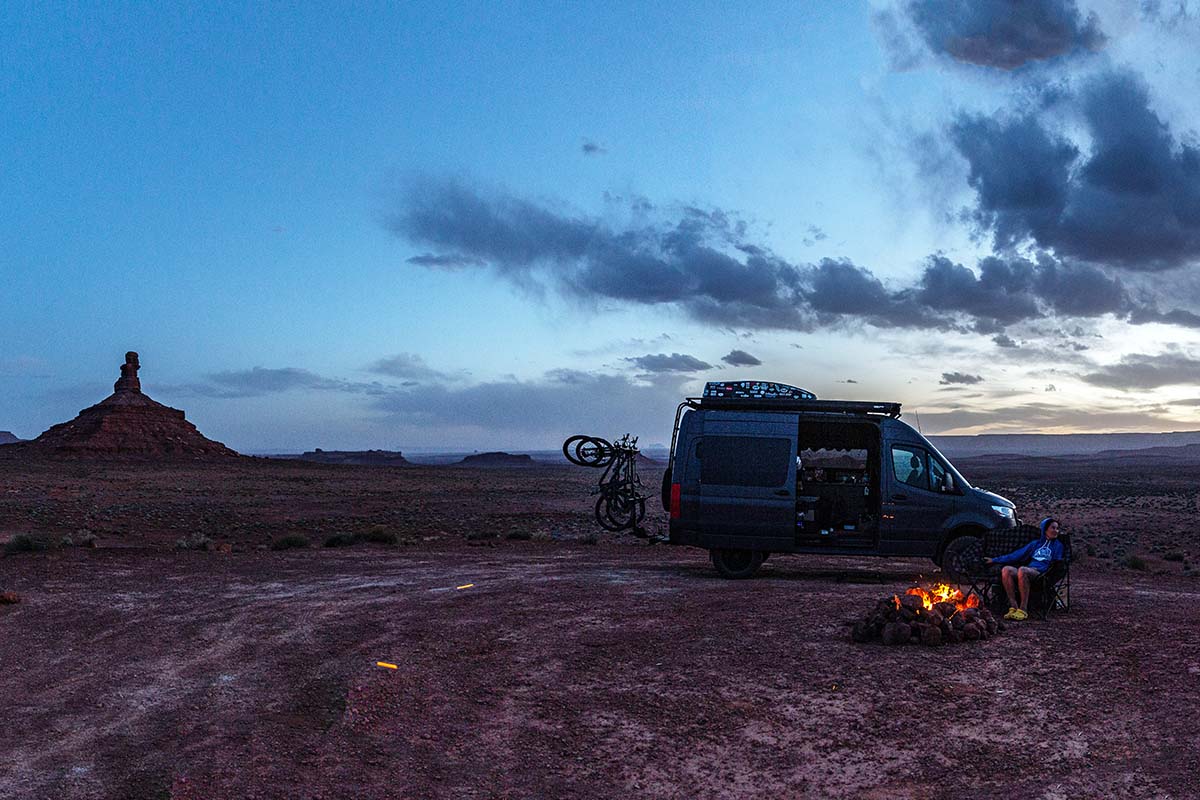 What We Like
4WD capabilities are far better than we thought they'd be. Rhino has been on some solid adventures and hasn't tipped over yet.
General maintenance is every 25-30,000 kilometers, and has been minimal.
Spacious living area—we don't regret choosing the 144-inch wheelbase, and are pleased that we went with the high roof, swivel seats, and retractable bed.
No shortage of storage options, including an overhead cockpit shelf, kitchen cabinets, storage bags, and rear slider tray.
Espresso, blender drinks, heat, and a hot shower are pretty darn nice amenities to have in the backcountry.
 
What We Don't
Expensive to buy and build out.
No separate bathroom.
Power in the winter can be limited when the vehicle isn't being driven daily and solar and shore power isn't available.
We'd opt for the cargo (rather than crew) package next time, as we haven't found much use for the included seat. 
We'd prefer a side ladder to leave more room at the rear for storage.
Read More From Switchback Travel