Shopping for camping gear is no small feat, whether you're a first-time camper or a seasoned veteran. But once you set up your tent, lay out your sleeping bag, and settle in by the campfire, the effort is well worth it. After researching and testing for over a decade, we've compiled our top-ranked camping essentials all in one place, so you can spend less time comparing and more time enjoying the great outdoors. Here are our top picks for the 2023 season. For more detailed guides to each category, check out our assortment of camping gear reviews.
 
---
Our Team's Camping Gear Picks
---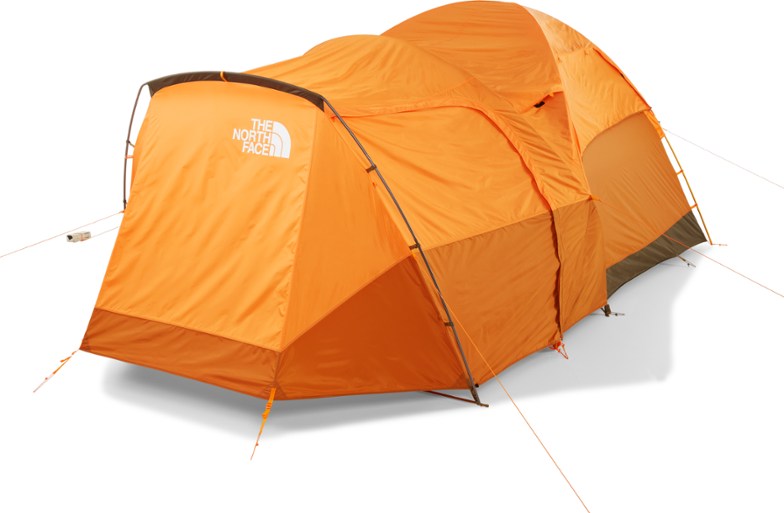 What we like: Open interior and massive vestibule at a good price.
What we don't: Time-consuming to set up, partial-coverage rainfly, and mesh door is draft-prone.
No piece of gear is as vital for a successful camping trip than a quality camping tent, which serves as your main refuge from the elements. The North Face's Wawona 6 gets our top billing for 2023, with a spacious, tunnel-like interior that sleeps up to six, a massive front vestibule that doubles as a covered seating area, and hybrid double-wall construction that vents well and isn't prone to condensation buildup. The Wawona comes in both four- and six-person varieties, but we love the six-person even for smaller families (it's great for hanging out in inclement weather), and the 80-inch peak height means that most won't have to hunch over when inside. At $500 for the larger version, the TNF is a great value and even more affordable than some camping tents from budget-focused REI Co-op, including their $549 Base Camp 6 and $599 Wonderland 6.
But as with most pieces of gear, we have our gripes with the Wawona. First, it's considerably time-consuming and tedious to set up. The vestibule in particular must be guyed out tightly to stay upright, and the unique pole structure takes some time to get taut and secure. Second, the rainfly doesn't cover the lower portion of the tent (not ideal in blowing rain), and the all-mesh door can lead to heat loss and drafts (for a more weather-worthy option, check out REI's Base Camp 6 mentioned above). But no tent is perfect, and the Wawona's breathable build, expansive interior and vestibule, and reasonable price make it a market standout.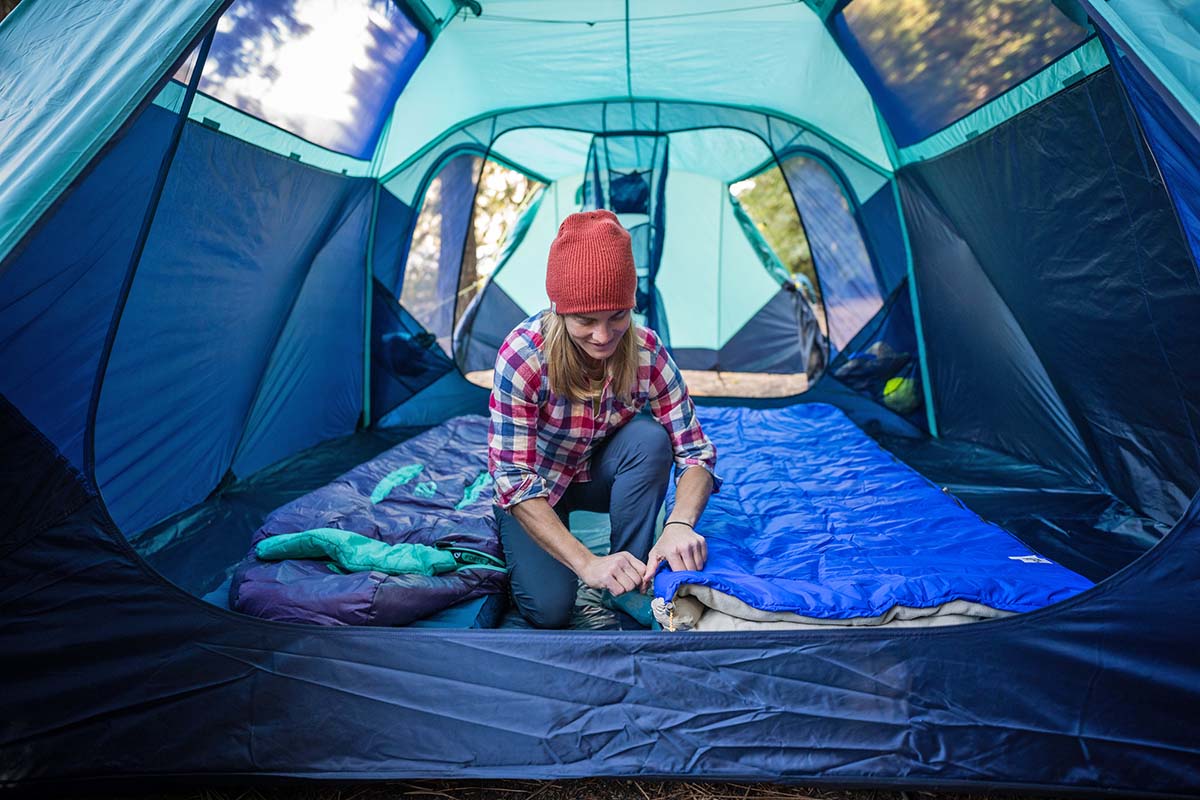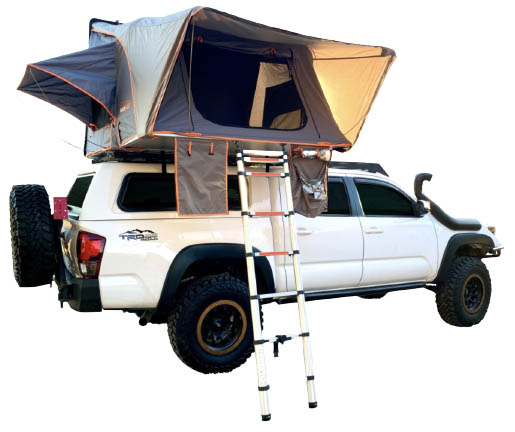 What we like: Extra-spacious fold-out design, premium quality, quick setup. 
What we don't: Overkill for solo travelers and most couples.
The rootftop tent market has exploded as of late, and Colorado-based Roofnest has set itself apart with a number of premium designs. While many companies (like Thule, for example) specialize in softshell tents, Roofnest offers three styles of hardshells, which we prefer for their durability, ease of setup, and superior weather protection. Their Condor is an intriguing hybrid and our current favorite: Unlike most hardshell options that are set up by simply popping the top, the Condor features a fold-out design that effectively doubles the size of the footprint. The end result is a sleeping area for four (larger than a king-size bed), alongside all of the features we love in a hardshell design.
Roofnest wasn't the originator of the fold-out hardshell—that was iKamper with their Skycamp—but their take on the concept offers similar quality at a better price. For $500 less than the Skycamp 3.0, the Condor tacks on a few additional inches of headroom, has a slightly larger floor area (47.8 sq. ft. vs. 44.3 sq. ft.), and features a significantly shorter footprint (easier to maneuver on and off). But if you're a solo traveler or couple, the king-size bed of these premium hybrids might feel over the top, and you can save by opting for a pop-up or clamshell style like the Roofnest Sparrow or Falcon instead. True budget shoppers will want to look at softshell tents, and our favorite is the Thule Approach ($2,800). But for the best combination of durability, ease of setup, interior space, and value, the Condor XL is our favorite rooftop tent of the year.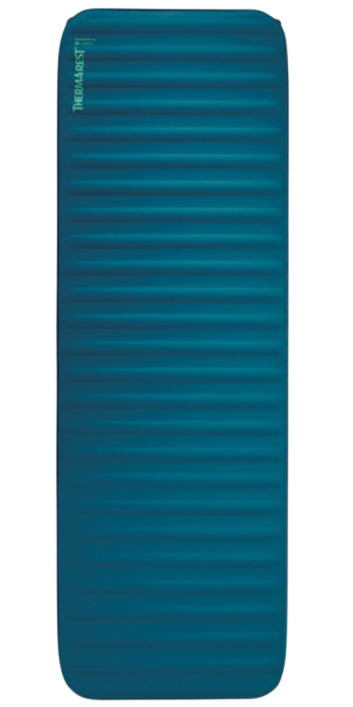 What we like: A lofty combination of foam and air; soft yet durable fabric.
What we don't: Expensive; bulky packed size isn't great for those with limited storage or transport space.
Good sleep on a camping trip is not overrated—and it often comes down to a quality camping mattress. But what makes one more comfortable than another? There are a wide variety of constructions to choose from, but we've come to prefer the combination of self-inflating design with a soft foam core. The Therm-a-Rest MondoKing 3D nails the formula, with 4.25 inches of loft, vertical sidewalls that allow you to spread out to the very edge without being at risk of falling off, soft yet durable fabric, and inner foam that's both supportive and plush. And the most recent MondoKing 3D comes with dedicated inflate/deflate valves, making it quicker and easier to set up and take down. 
Our main gripe about the MondoKing 3D is its large packed size, which measures over two feet long by almost a foot wide. For those with limited storage space or small vehicles, bulky gear can add up quickly. You can streamline considerably with a design like the Nemo Roamer, which packs down to almost half the size; however, you'll pay $10 more for the Roamer's added compressibility, and it's not quite as warm or thick as the Therm-A-Rest (surprisingly, it's also heavier). Either one might seem cost-prohibitive to the occasional camper (Sea to Summit's $89 Camp SI Sleeping Mat is our top budget pick), but for comfort-focused folks who get out often and don't want to scrimp on sleep, the MondoKing 3D is our favorite all-around design.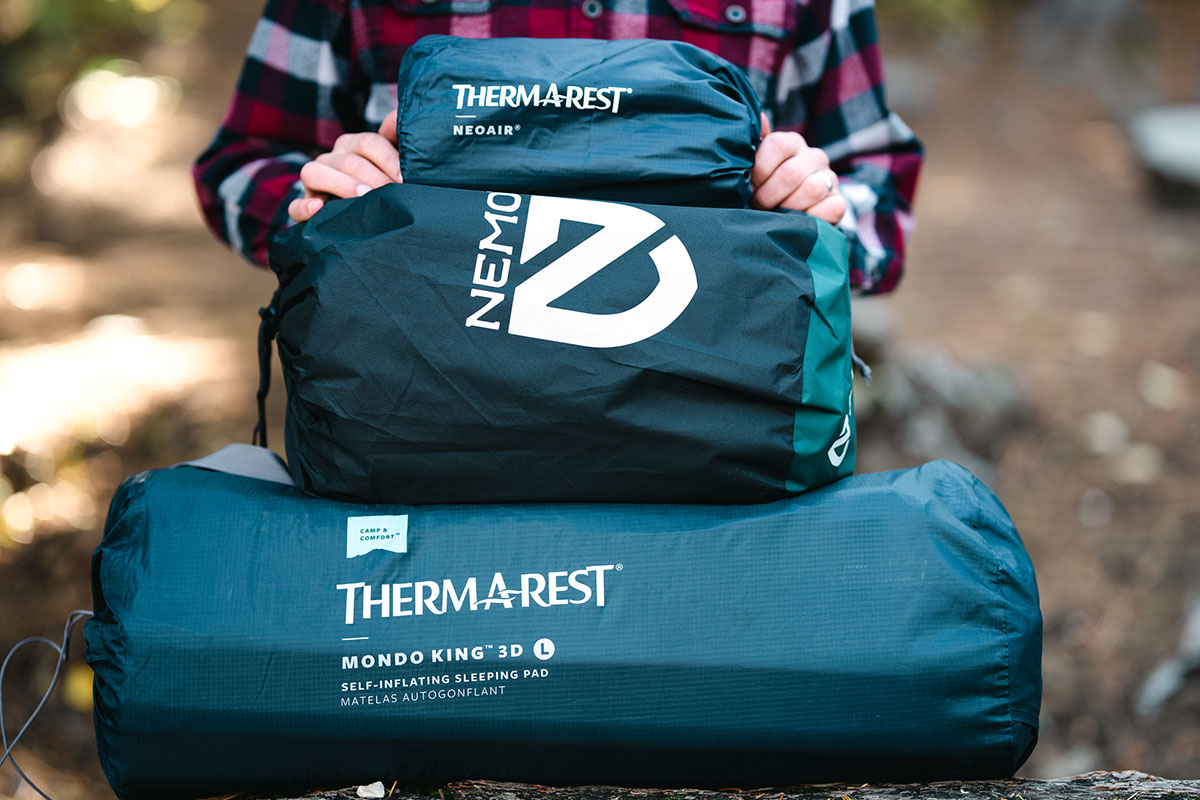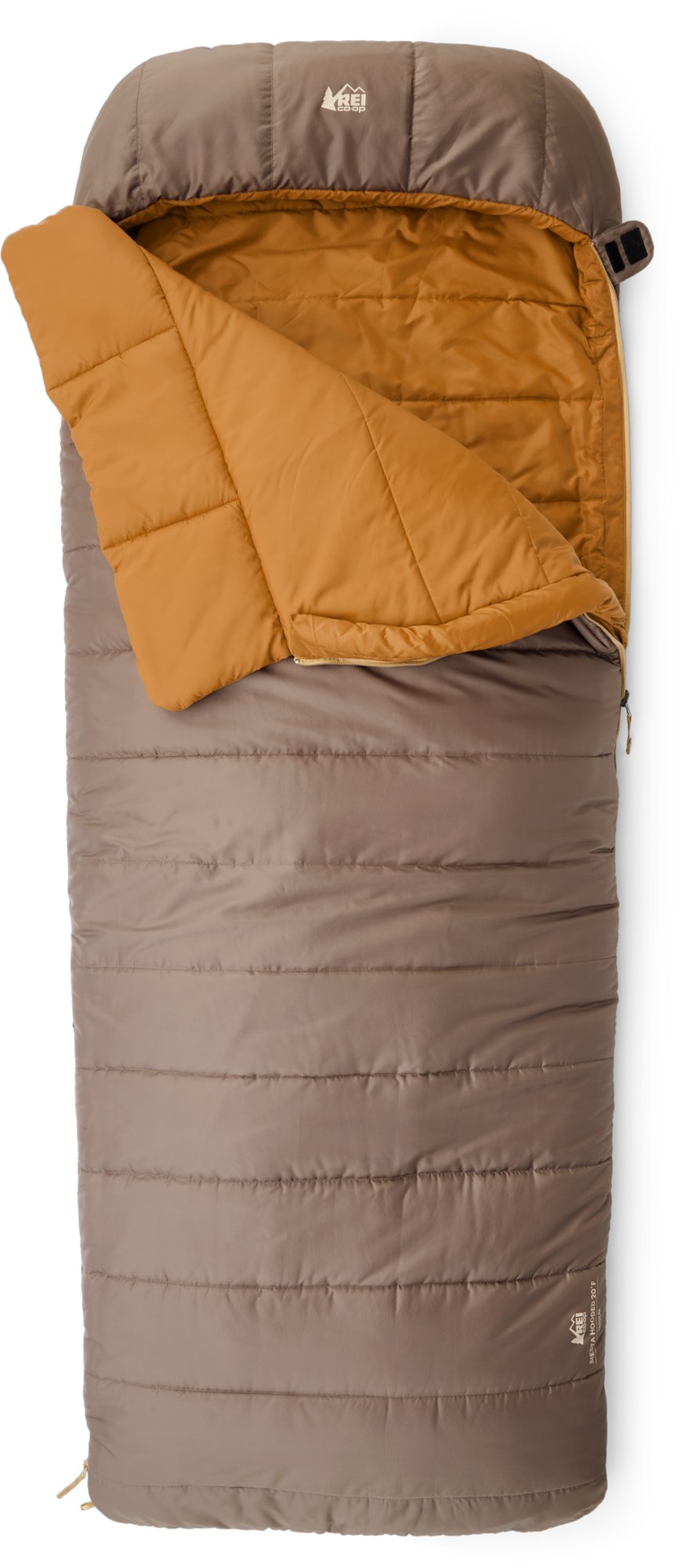 What we like: Solid comfort, warmth, and build quality for the price.
What we don't: Heavier and less compressible than mummy bags.
Our top pick for the best camping sleeping bag of 2023 goes to REI Co-op's Siesta Hooded 20, which checks all the boxes for most recreational campers in a well-built and affordable package. The three-season-friendly temperature rating of 20 degrees will keep you cozy down to around freezing (with a recommended 10-degree buffer added in), and the roomy rectangular shape is comfortable and not restrictive (bonus: It comes with a hood, which isn't always the case with rectangular models). The bag also boasts a handy zipper system for airing things or transforming the bag into a quilt in warm weather (you can also connect two single bags to form a double), as well as an interior stash pocket to stow smaller items you'd like to keep close by at night. At $139, the Siesta Hooded 20 is a great value from a brand we trust.
But there are a few downsides to keep in mind with the Siesta Hooded 20's design. While most campers will appreciate the spaciousness of a rectangular bag, it does translate to reduced warmth, as there's simply more air inside for your body to keep warm. In other words, a mummy bag is a far more efficient style, although the Siesta does come with a draft collar and cinch cord for helping seal in heat (plus the aforementioned hood). Second, the synthetic insulation lacks the premium loft, warmth-to-weight ratio, and packability of down. The flip side is a much lower price tag, along with a more durable design that can handle being thrown around (you don't have to worry about feathers escaping) and the odd bit of moisture. For most campers, a bag like the Siesta Hooded is a great combination of features and value, and it also comes in a two-person Double version for $239.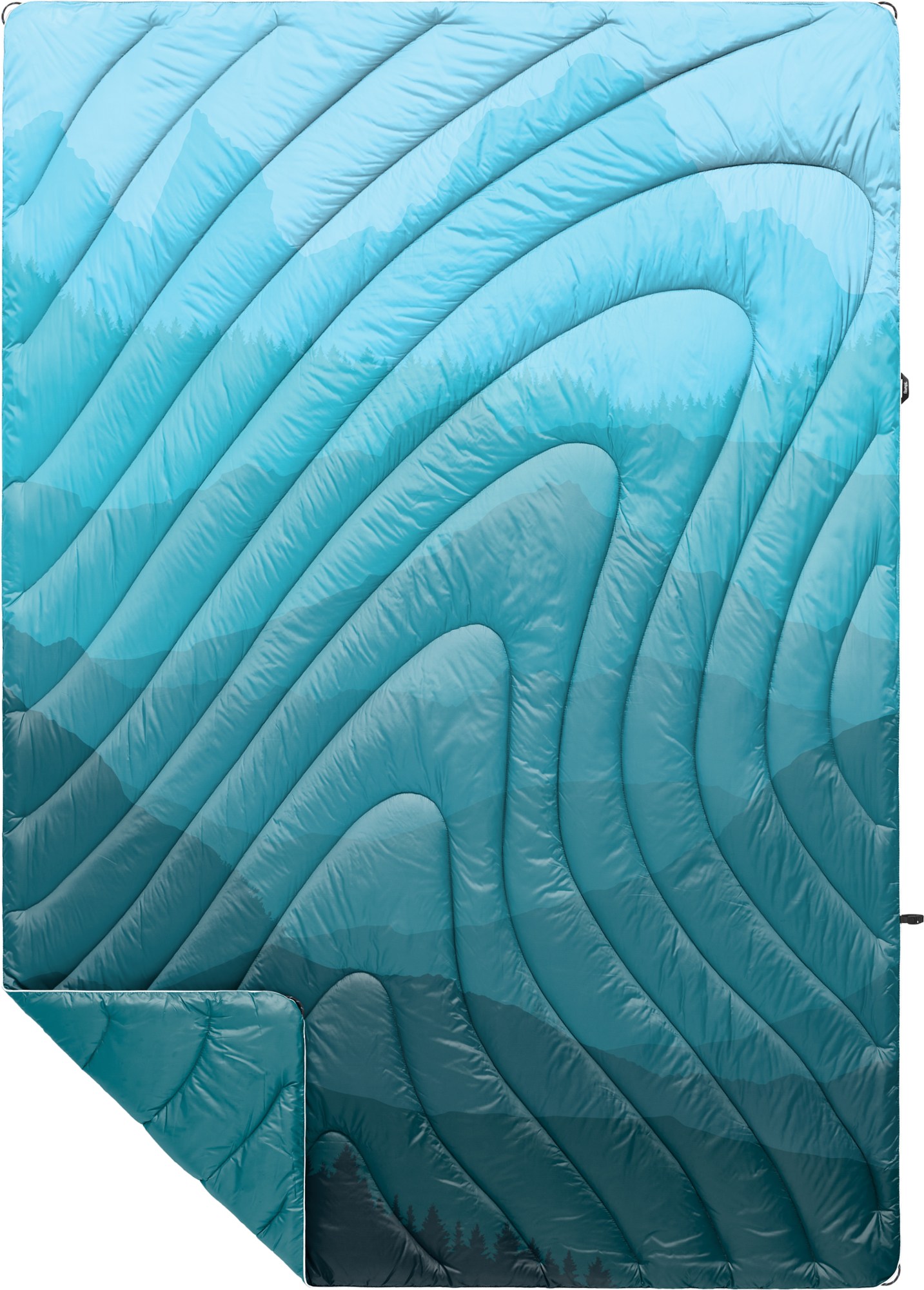 What we like: An iconic camping blanket that's durable, cozy, and comes in a variety of fun patterns and colorways.
What we don't: Not as warm and packable as a down blanket.
What do we look for in a great camping blanket? Warmth, durability, and value, for starters. Our top pick, the Original Puffy from Rumpl, hits all three—plus more. Rumpl is a relatively new brand, but they've helped define the modern camping blanket as we know it. Their flagship model, the Original Puffy, combines thick three-season-ready synthetic insulation with a reasonably hardwearing 30-denier shell and a durable water-repellent (DWR) finish to shed light moisture. A great selection of patterns and colorways adds to the blanket's appeal, and it also sports thoughtful features like the "Cape Clip" to secure the blanket around your shoulders and corner loops for anchoring it down in the wind. 
One additional consideration when shopping for a camp blanket is size. We appreciate the Rumpl's 75-inch by 52-inch dimensions, but you can go even larger with a design like Kammock's Mountain Blanket (84 x 50 in.), which is around $40 pricier than the Rumpl but considerably warmer with a thick fleece build. You can also step up to a two-person blanket like the Therm-a-Rest Argo ($125), which measures 72 by 78 inches. And if you're looking for a better warmth-to-weight ratio, it's worth considering a down-insulated blanket like the Rumpl Down Puffy Blanket or Kelty Galactic Down—just keep in mind that down is overall less hardwearing than synthetic (you'll want to keep it in your tent for the most part) and significantly pricier to boot. Ultimately, we prefer the versatility and affordability of a synthetic blanket like the Original Puffy.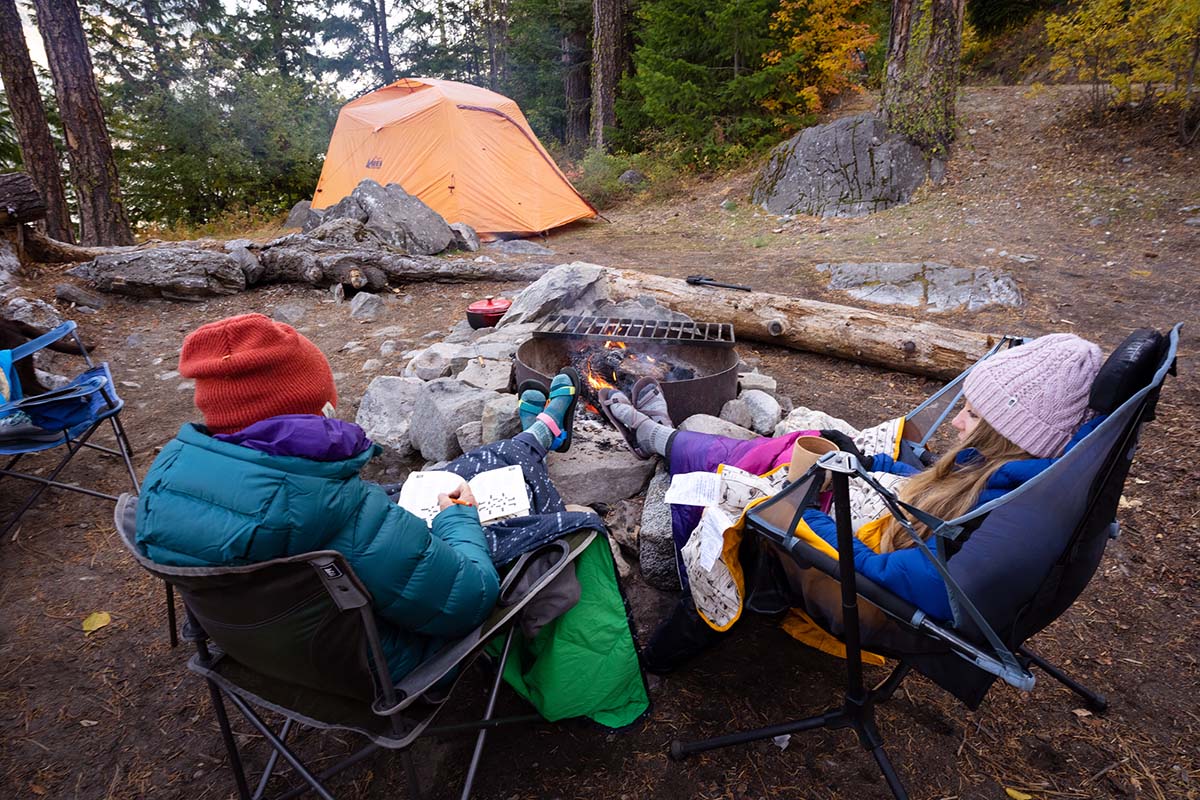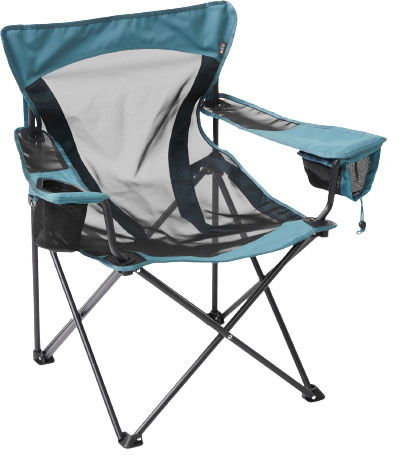 What we like: A sturdy, well-rounded design at an excellent price.
What we don't: Not the cushiest or most supportive option.
Personal preference weighs heavily for many camping chair shoppers—some prioritize cushy comfort while others prefer a lighter and more packable setup. Our top pick, the REI Co-op Skyward, achieves a great balance of these qualities at a reasonable price. Its strong steel frame inspires confidence, while X-shaped webbing in the seat and backpanel helps distribute weight evenly. And despite its sturdy build, the chair features a lot of mesh, allowing it to breathe well in warm weather and dry super quickly. Once you're sitting, cup holders and drop-down pockets at the armrests provide convenient places to stow drinks or small items like keys or a phone. For just $60, you'd be hard-pressed to find a better value than the Skyward.
It's worth noting that the Skyward replaced REI's popular Camp X for 2023, and the biggest change was an increase in ground-to-seat height (from 10.5 to 14 in.). This translates to a much more natural seating position and less effort required to get in and out of the chair. Those with taller and broader builds can step up to a more supportive option like the Alps Mountaineering King Kong or Coleman Oversized Quad Chair with Cooler, which have higher backpanels and larger seats. However, those chairs sit noticeably higher off the ground at around 18 inches—they're downright throne-like—and are much bulkier when folded down. In our opinion, the Skyward strikes a much healthier balance of size and weight for most campers, and the mesh-heavy build is a boon in hot summer conditions (the Alps and Coleman both have solid backs).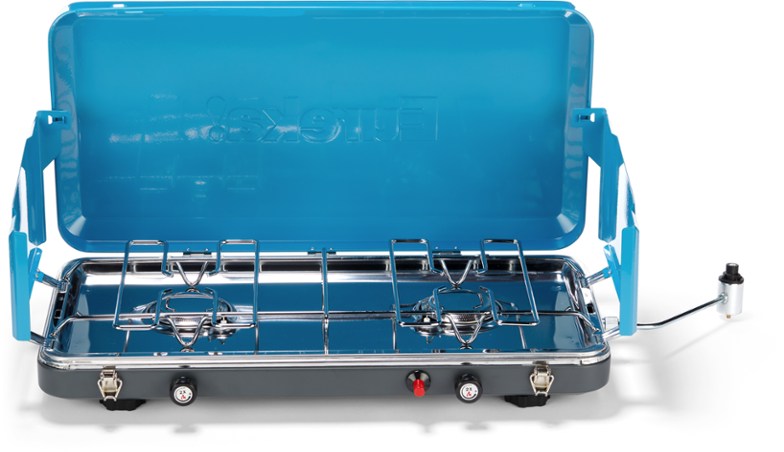 What we like: Large cooking area and all the features we look for in a quality design.
What we don't: Not the cheapest or most powerful option available.
High-quality stove options for the camp chef abound in 2023. Our favorite, the Eureka Ignite Plus, combines reliable output and good simmer control on a wide, 23-inch cooking surface that can accommodate bigger pots and pans. The two 10,000-BTU burners are plenty powerful for most campers, and the fine-tuned control is crucial for more involved meals. In addition, the Ignite's side shields do a good job of fending off light winds, the push-button ignition keeps your hands safe from large bursts of flame, and the locking lid and manageable 12-pound weight make for easy transport. The combination of these features, plus a reasonable price tag, push the Eureka Ignite Plus ahead of the competition.
However, the Eureka Ignite Plus isn't the most affordable or streamlined camp stove on the market, nor is it the most powerful. For $30 more, Camp Chef's Everest 2X boasts double the output per burner (20,000 BTUs each), which is overkill for most but makes sense for those who get out a lot and like to cook intricate, diverse meals. On the flip side, infrequent campers who only camp a couple times a year can save considerably with a budget design like Coleman's Classic Propane ($75 MSRP and often found on sale), although you can expect a sizable drop in flame control and overall quality. Finally, those wanting to make an all-in-one purchase for both backpacking and camping should check out MSR's WindBurner Stove Combo System ($300), which is relatively lightweight and portable and comes ready with a 2.5-liter pot and 8-inch skillet.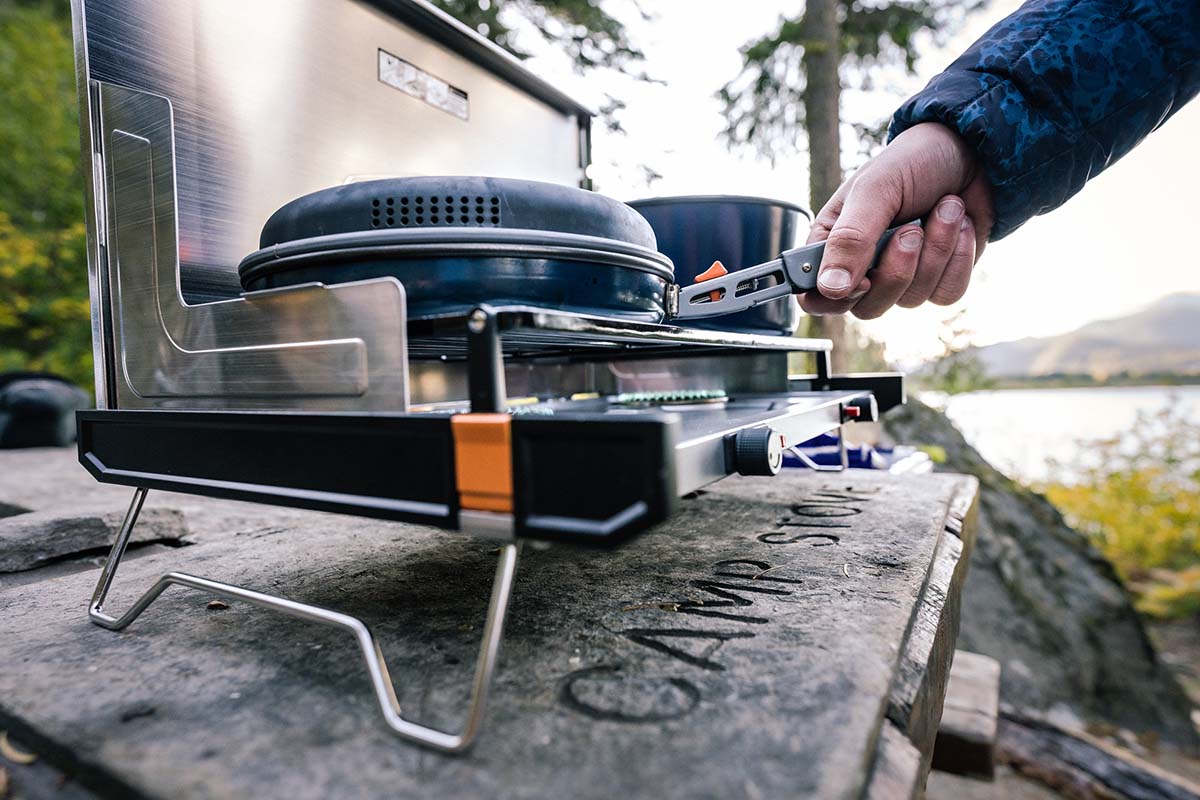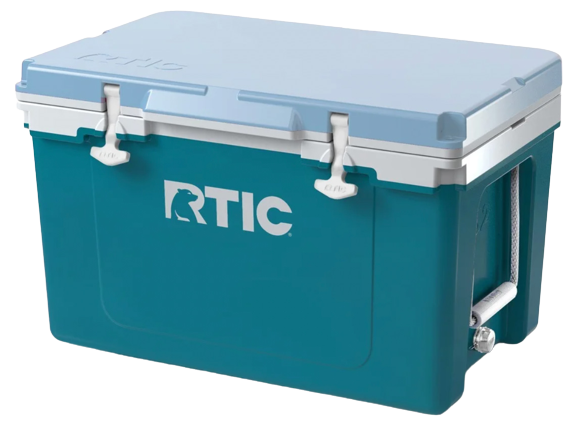 What we like: Competitive ice retention and low weight for much cheaper than the competition.
What we don't: Only sold online; a bit less premium than high-end designs from brands like Yeti.
A quick look at the cooler market in 2023 begs the question: How much does a camper really need to spend to get decent ice retention and capacity? For the ideal balance of quality and affordability, the RTIC 52 Ultra-Light fits the bill better than the rest. At 21 pounds, it's lighter than most hard-sided coolers of comparable size and quality, and undercuts nearly all of them in price at $200. And while most coolers in this size range check in at 45 or 65 quarts, the RTIC provides a versatile 52 quarts of storage, which is plenty for two people for a long weekend while still fitting easily in a car trunk. It's also important to note that RTIC sells direct to consumers through their website (and often at a discount), keeping the RTIC surprisingly affordable for its quality.
The downside to RTIC's direct-to-consumer model is that you can't check out their coolers in person at your local retailer. The RTIC also falls a bit short in ice retention compared to more premium designs like the Yeti Tundra and Roadie, though not as much as might be expected given its lower price (the similarly sized Yeti Tundra 65 costs $175 more). In addition, the Ultra-Light is a bit less durable compared to the Tundra and other high-end options. But in the end, the RTIC's low weight, solid performance, and reasonable price make it our favorite hard-sided cooler of the year.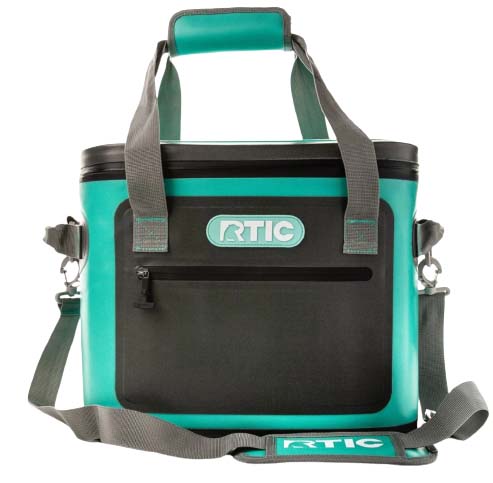 What we like: A well-built and durable soft cooler at a great price.
What we don't: Difficult to open and fairly basic feature set.
Hard-sided coolers like the RTIC 52 Ultra-Light above are great for extended camping trips, but soft-sided models offer a few benefits for short outings like day trips, tailgating, or picking up perishables at the grocery store or farmer's market. Namely, they're generally cheaper, considerably lighter, and much easier to tote around. RTIC's own Soft Pack Cooler 30 Can fits the bill nicely, combining respectable insulating capabilities and functional features in a reasonably priced, 2-pound package. On the outside, you get a noticeably thick and heavy-duty nylon shell that provides good structure, while 2 inches of closed-cell foam on the inside insulate well enough for day adventures or weekend road trips. And a final perk: The Soft Pack Cooler floats, making it a great option for activities like rafting and other water sports. 
All that said, we do have a couple of gripes about the RTIC's design. Like many soft coolers, the Soft Pack takes considerable effort (and two hands) to open, although the zipper is robust, highly leak-resistant, and good at sealing in cold. The organization layout is also pretty basic, including just a single pocket at the front, which limits the cooler's utility for picnics and instances when you're carrying smaller, non-perishable items. If you're willing to stretch the budget, Yeti's $300 Hopper Flip 18 tacks on a handy external attachment system for securing accessories like their Rambler Bottle Sling or SideKick Dry Gear Case (sold separately). But these are relatively minor downsides, in our opinion, and do little to detract from an otherwise impressively well-rounded and well-built cooler.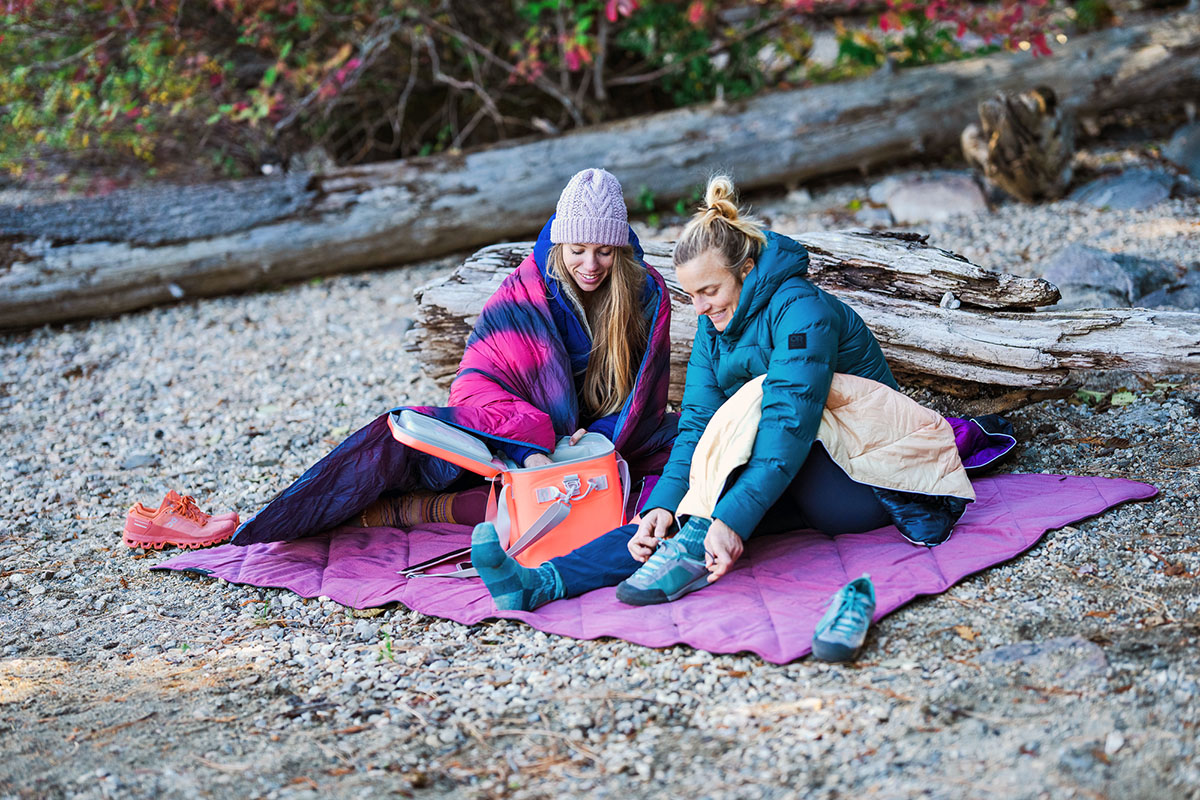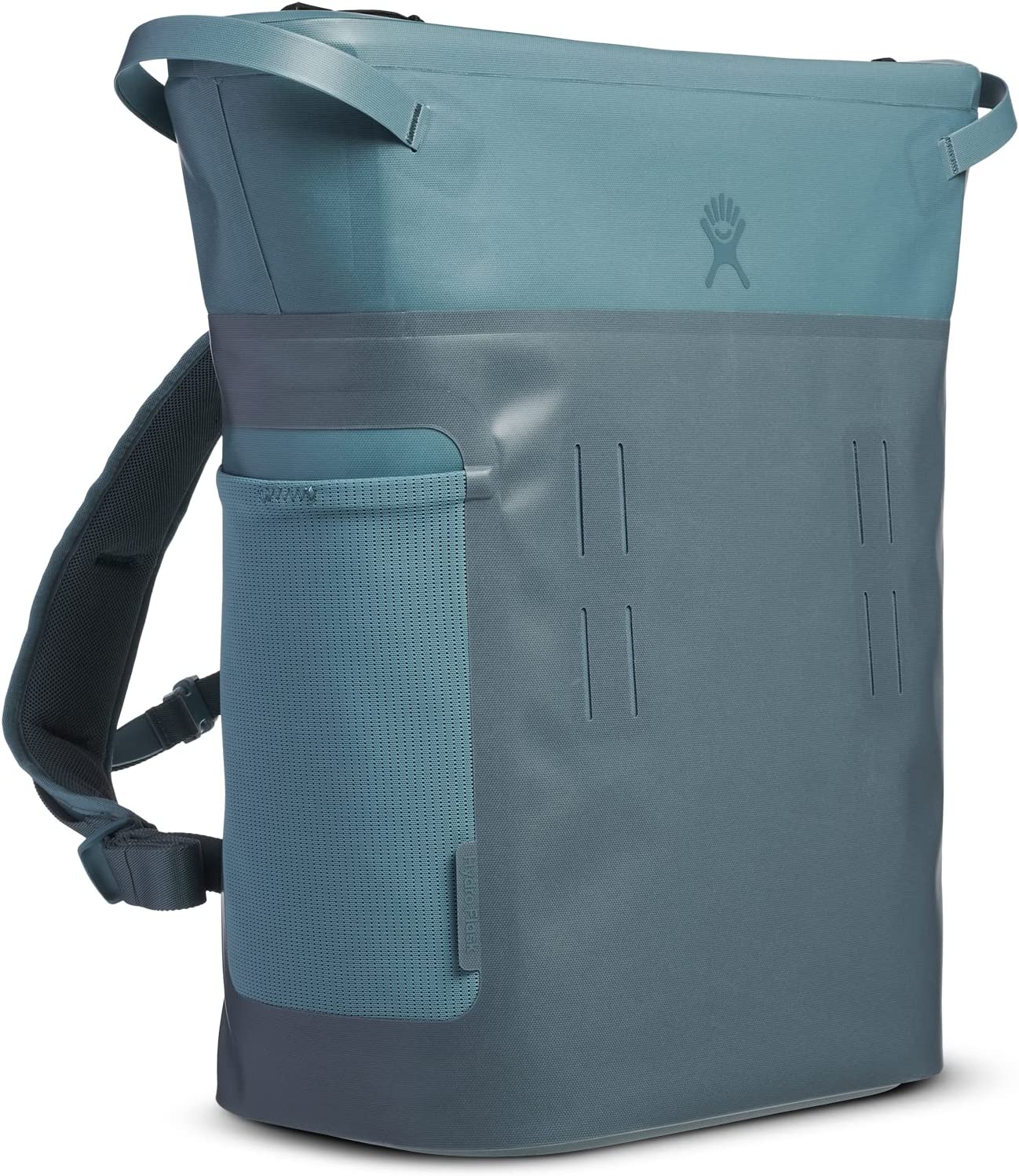 What we like: Competitive insulating performance and features in a sleek package.
What we don't: No zippered storage and small opening; those looking for the utmost in cold retention might want to upgrade.
Soft-sided coolers are easier to tote around than hard-sided models, but nothing beats a backpack cooler when it comes to portability. In addition to being considerably lighter than hard coolers, many backpack-style designs borrow heavily from hiking daypacks with padded suspension systems and exterior storage for stashing small extras. Hydro Flask's 20 L Day Escape checks both of those boxes with nicely cushioned shoulder straps and a practical storage layout that includes a stretchy mesh water bottle pocket and lash points at the front for attaching accessories like the brand's Dry Storage Bags (sold separately). Other highlights include a thick exterior that stands up well to rough use, a smooth-operating main zipper that requires minimal force to open, and competitive insulating performance in this category—all wrapped up in a sleek and good-looking package.
The Hydro Flask 20 L Day Escape is rated to keep ice frozen for up to 36 hours, which is more than many competitors. That said, those looking for the utmost in cold retention can step up to designs like Engel's Roll Top High Performance or CamelBak's ChillBak Pack 30, both of which boast 72 hours of claimed ice retention. Those models are considerably heavier and far more rigid than the Hydro Flask (read: they don't pack down well for storage), but the boost in insulation may be worth that tradeoff for some. Final nitpicks with the Day Escape include a lack of zippered storage and a fairly narrow opening that makes it difficult to stuff bulkier items like egg cartons through the top. But no backpack cooler is perfect, and the Hydro Flask puts it all together—including good all-around performance and practical features—in a thoughtful and streamlined package.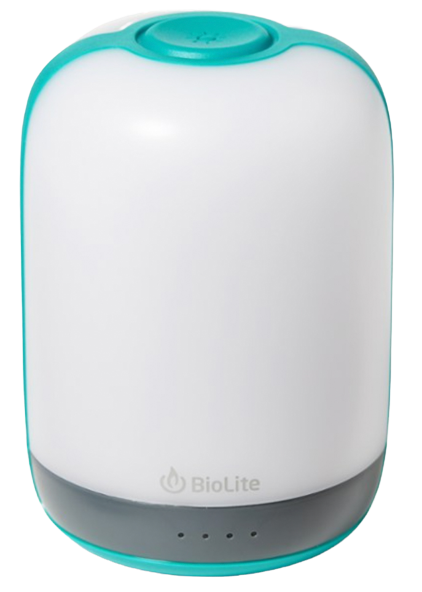 What we like: A bright light with a long battery life and great aesthetic.
What we don't: Expensive, somewhat bulky, and could be a little more user-friendly.
You may be familiar with the BioLite brand through their line of inventive wood-burning stoves—but they also make well-executed camping lanterns, including our top pick AlpenGlow 500. What makes the AlpenGlow 500 stand apart? Its 500-lumen max output is bright enough to serve as the sole light in camp, while an integrated USB port expands its role past simple lantern, doubling as a charger for phones or tablets. A built-in loop makes the AlpenGlow 500 easy to hang from your tent ceiling or tree branch, its sleek, modern styling is attractive, and several light modes make it a fun camp addition (you can choose between warm or cool white as well as a colorful "fireworks" function).
Price, weight, and bulk are where the BioLite AlpenGlow 500 comes up short. While other models collapse or fold up for storage, the AlpenGlow does not, plus it's fairly heavy and costs a bit more than the competition. Our dream camping lantern would also feature a solar panel for charging (for a solar-powered option, check out the Luminaid PackLite Max), but the AlpenGlow's battery life is still impressive at 200 hours on low and five on high. And while we've occasionally struggled to find the exact setting we're looking for—cycling through the modes requires a combination of button-pushing and shaking the lantern—it's not a deal breaker. Overall, we still prefer the AlpenGlow 500's combination of features, brightness and quality over the rest. And if you're looking for a more traditional fuel-powered lantern, check out the Coleman Powerhouse.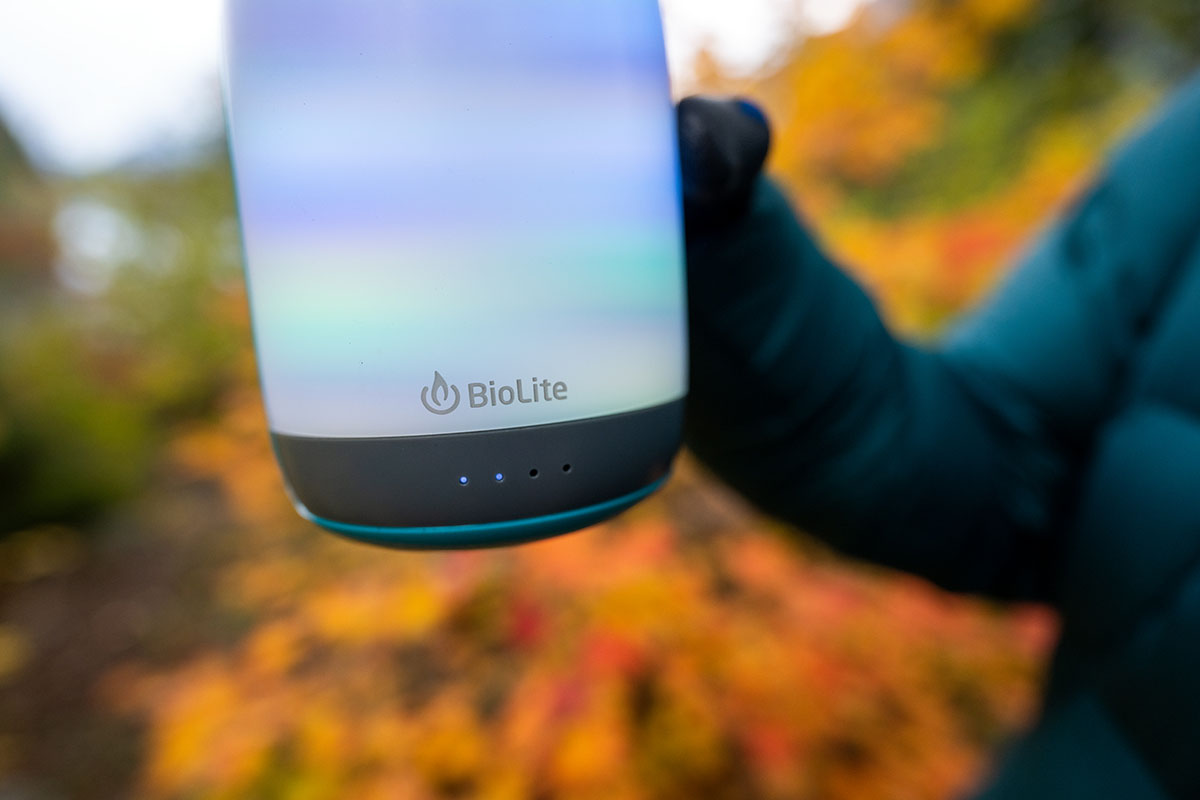 What we like: Rechargeable but also AAA-compatible; bright and lightweight.
What we don't: Pricey; it's also worth looking at Black Diamond's updated headlamps.
Is it just us, or does dealing with AAA batteries feel like it should be a thing of the past? Thankfully, many headlamp manufacturers are moving forward with USB-rechargeable models. Petzl, long known for their headlamp innovations, makes our favorite design in the Actik Core. With 600 lumens (at max output), a long battery life, and consistent brightness throughout its burn time (some headlamps tend to peter out), the Actik Core is a top performer. And our favorite feature is the Petzl's versatility with both the rechargeable Core battery pack and AAA batteries, which is a great backup option for long stints in the field (you can also charge the Core with a solar panel or portable power bank). Mix in a scant 3.1-ounce weight and an easy-to-use interface, and the Actik Core stands out as a highly competitive and versatile option.
Petzl and Black Diamond go head-to-head in the headlamp market, and a few of our favorites from BD's collection are the rechargeable Storm 500-R ($75), wallet-friendly Astro 300 ($20), and running-focused Sprinter 500 ($80). These headlamps are very well executed (especially compared to past versions from BD), and the standard models (no "R") feature Dual-Fuel technology, meaning that—like the Petzl—they can be powered by both AAAs and Black Diamond's battery pack (purchased separately for $20). If you're looking for a budget headlamp that can get the job done for camp chores and as an emergency lamp, the Astro is our top recommendation, and with an IPX4 water rating, it's just as stormproof as the premium Actik Core.

What we like: The best all-around combination of quality, features, and ease of use.
What we don't: Relatively pricey and not available in smaller sizes.
In the rooftop cargo box category, there's no shortage of options that vary greatly in terms of price, size, and quality of construction. Our top pick, the Thule Motion XT, combines high-end features and finishes, comes in four sizes that accommodate skis of varying lengths, and slides into a nice price point for the level of quality at $900. Among the roof boxes we've tested, it's the easiest to install and operate (it should work on most vehicles and crossbar sets), and we especially love the latch and lock, which operate as two separate mechanisms (great for longevity) and offer a high degree of security. The cherry on top is the Thule's superior wind resistance: The nose design is sleek and includes an extra-solid base with generous overlap that resists gaping. Added up, the Motion XT is a strong all-around performer, whether you're a long-term roadtripper or a weekend warrior. 
When selecting a rooftop cargo box, one of the first things to think about are dimensions, especially if you're toting skis, a cooler, or other bulky items. And while it's tempting to opt for a more budget-oriented model than the Motion XT, it's our opinion that this is a category where quality really matters. If you're consistently using your cargo box, it's worth the few extra hundred dollars to get stiff construction, long-lasting and secure handle and lock mechanisms, and smooth-operating mounts. You can drop down to Thule's Pulse ($600), for example, but the combined handle and lock puts a lot more strain on the lock, resulting in an issue with broken keys. In the end, the Thule Motion XT offers top-notch quality for a reasonable cost, and it's also worth considering Yakima's SkyBox NX 16, which will save you around $150.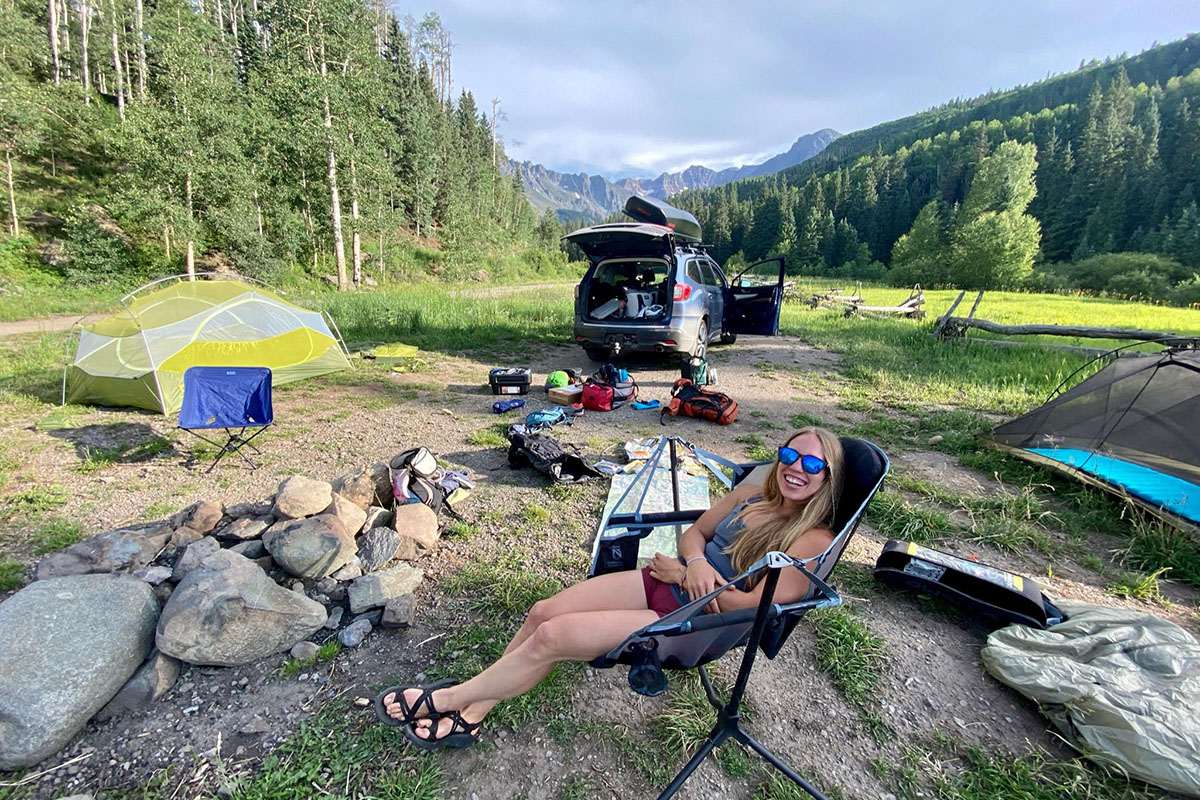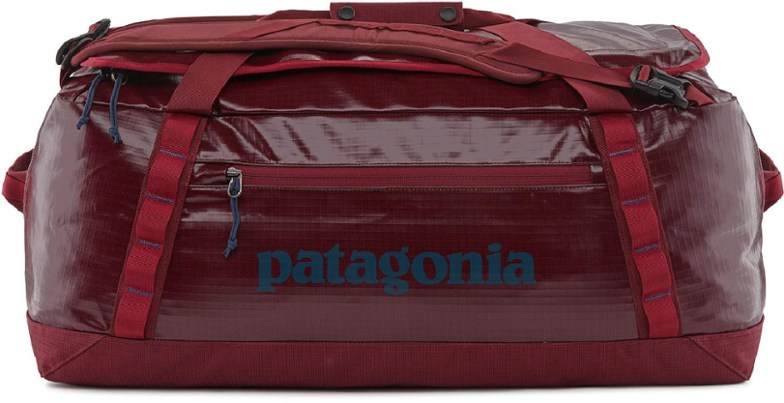 What we like: Durable, comfortable as a backpack, with a large main opening.
What we don't: A bit pricey; some may prefer more structure.
You can pack for a camping trip in all sorts of ways—a backpack works, as does a Rubbermaid or a suitcase. But our favorite way to tote our camping gear is in duffel bags, thanks to their durability, easy access, and multiple carry options. Patagonia's Black Hole lineup is our favorite: These duffels certainly get "cool" points, but that's not all that nudges the 55-liter version into our top spot. What really shines is the Black Hole's tough construction (900D ripstop nylon), moisture-shedding DWR finish, and premium build quality. The Patagonia also stands apart with its carrying comfort and features, including a wide U-shaped opening and backpack straps, which we've found to be more comfortable and functional than most. Plus, starting in 2022, all Black Hole Duffels are made with 100% recycled materials. It's no wonder these duffels are often out of stock, though waitlists are available for patient shoppers. 
Our one small gripe is that the Black Hole doesn't boast a lot of structure—only the base is lightly padded—which is something to keep in mind when packing anything fragile or if you need to live out of your duffel for extended periods of time. It also rings up at the pricier end of the spectrum, especially for a duffel without wheels (which you won't need—or want—for most camping scenarios). But for the durability, comfort, and reliability it offers, we think the Black Hole is worth it—and it's also worth checking out designs like the The North Face Base Camp, Black Diamond Stonehauler, and Mountain Hardwear Expedition. In terms of size, we've found that duffels in the 55- to 90-liter range are by far the most functional for a range of uses.

How We Select Our Top Picks
A few different factors go into the selection of our picks above. First is our own experience with the products—we've tested every piece of gear mentioned above, along with their direct competitors. We'd like to think our opinions are fairly honed, as they're a reflection of over a decade worth of using and comparing gear (you can read more about our process here). A second factor is our definition of "overall." Our picks above aren't necessarily the best of the best (the price tags would look a lot higher if they were), but—in our opinion—they offer the best balance of quality, features, and price for most campers. In other words, value is one of our highest priorities, and we're pretty big fans of choosing function over luxury. In the end, the list above serves to summarize what we view as the best all-around kit for most campers, but we understand that every individual is looking for something a bit different. For a more comprehensive take on each category—including the "best of the best"—take a look at the dedicated round-up linked in each product description.
Back to Our Top Camping Gear Picks  See Our Camping Gear Reviews
Learn More About Camping Gear