Altra Olympus 5 Hike Low GTX 
Price: $200
Weight: 1 lb. 10 oz. (women's 8.5)
Waterproof: Yes (Gore-tex)
What we like: Great cushion and accommodating fit for long days out; impressive traction.
What we don't: Roomy fit and round laces compromise stability, especially on off-camber terrain.
See the Women's Altra Olympus 5 Hike  See the Men's Altra Olympus 5 Hike
Popular among runners and hikers alike, Altra's collection of zero-drop shoes are known for offering both an accommodating fit and a high level of trail performance. Building off the success of their plushest trail running shoe, the Olympus 5 Hike Low GTX is specifically tuned for hikers and backpackers, including a leather upper and waterproof/breathable Gore-Tex membrane. We tested the shoe during a 40-plus-mile hike in Washington's Cascade Range, and came away with mixed reviews: The Olympus 5 Hike offered great protection and traction and overall decent levels of comfort, but fell short in terms of fit and durability. Below we break down our experience with Altra's newest hiking shoe. To see how it stacks up, check out our articles on the best women's hiking shoes and the best hiking shoes.
 
---
Table of Contents
---

Performance
Comfort
Altra's shoes are known for delivering high levels of comfort for a wide range of foot sizes, and the Olympus 5 Hike Low GTX is no exception. Out of the box, the shoe accommodated my wide foot and offered comfort throughout our three-day hike, with no hotspots or pesky pressure points to speak of. What's more, the 33-millimeter stack height resulted in a plush underfoot feel and great protection from sharp rocks and roots. After three days of hiking with a 30-plus-pound pack, my feet were no worse for the wear.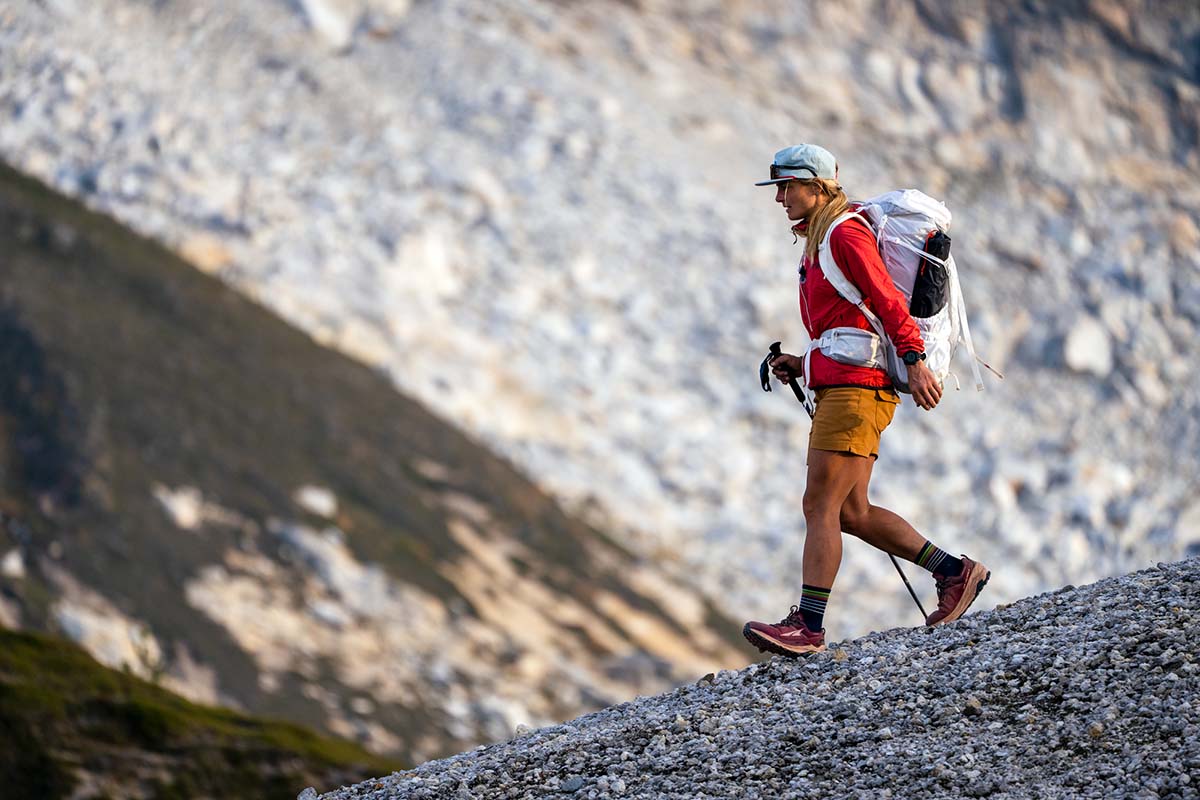 But despite the praise, I did experience a bit of foot pain while hiking in the Olympus 5 Hike. The toe box was so spacious that my feet had to work hard to stabilize themselves within the shoe, resulting in fatigue on technical and uneven trails in particular. To make matters worse, the laces refused to stay tight, so at times my midfoot and heel were also swimming. This would have posed little issue if we had stuck to easy, smooth trails, but it was readily apparent on off-camber terrain. Unless you have particularly high volume feet (I consider my feet wide, and the shoe still felt overly roomy), this is certainly a matter worth considering.

Weight
The Altra Olympus 5 Hike Low GTX checks in at 1 pound 10 ounces for the women's size 8.5, which places it on the heavy end of the spectrum for a hiking shoe. For comparison's sake, the popular Hoka Speedgoat (1 lb. 1 oz.) will feel much lighter underfoot, and even a hiking shoe like the Merrell Moab Speed weighs 5.5 ounces less for the pair. If you're familiar with the standard Olympus 5, expect the Hike to feel quite a bit heavier (to a tune of 2.8 oz. per shoe), namely due to the addition of a leather upper and Gore-Tex membrane. For the majority of hikers and backpackers, this shouldn't be an issue—although it's not as nimble as the running shoes I'm used to, I never had the sensation that the Altra was weighing me down. On the other hand, those who plan to cover 20-plus miles in a day might want to consider a lighter design.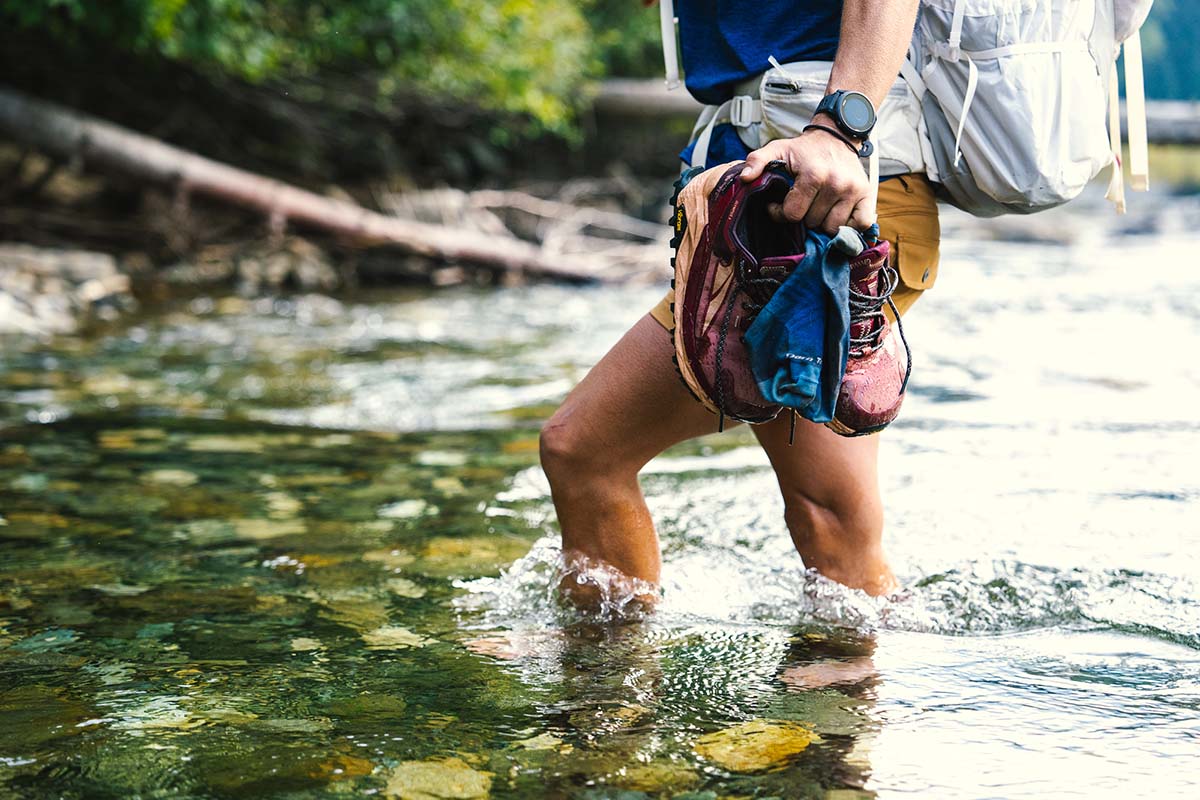 Traction
The Olympus 5 Hike features a Vibram Megagrip outsole with patches of blown rubber (namely under the midfoot) to help drop weight. When I first received the shoe, I was nervous to see the blown rubber, as I generally prefer a full rubber outsole for secure traction on techy trails. But in practice, the Olympus 5 Hike offered surprisingly good grip on everything from hard packed dirt to boulders, scree, mud, and snow. Importantly, they performed much better on rock than Altra's Lone Peak ALL WTHR Mid (which I tested last year), thanks to their stiffer sole and grippier Megagrip rubber (the Lone Peak uses Altra's DuraTread).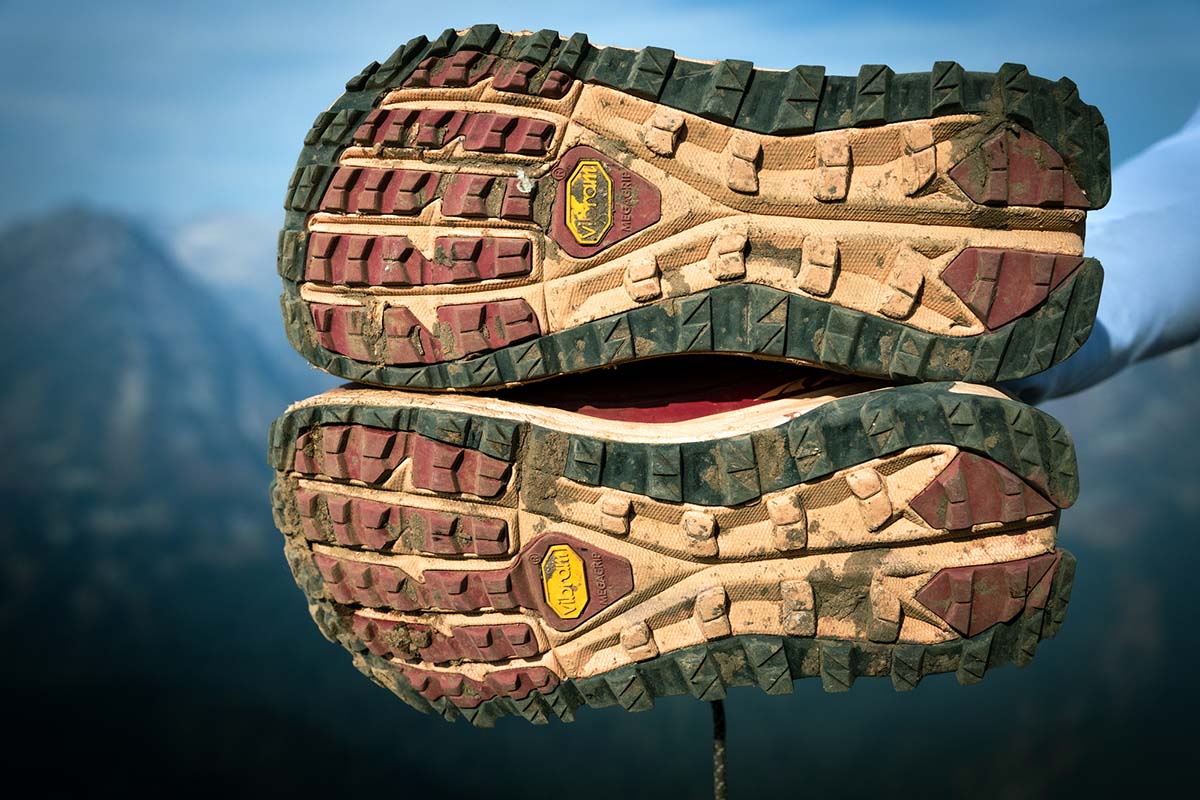 Stability and Support
With Altra's widest "Original FootShape" platform, relatively stiff midsole, and zero-drop design that allows the foot to lie in its natural position, the Olympus 5 Hike offers a stable foundation for most feet. I have one ankle in particular that's prone to rolling, and it didn't give in once over the course of 43 miles with a 30-pound pack. But despite the shoe's inherent stability, my feet were not particularly stable within them. I struggled to achieve a snug lock at the ankle due to the bulky round laces that wanted to slip over time, and my feet swam in the roomy toe box. As a result, my feet had to work hard to stabilize themselves within the shoe, especially on off-camber terrain. If your feet aren't particularly wide or high volume, do take care, as a loose fit will have a negative impact on stability.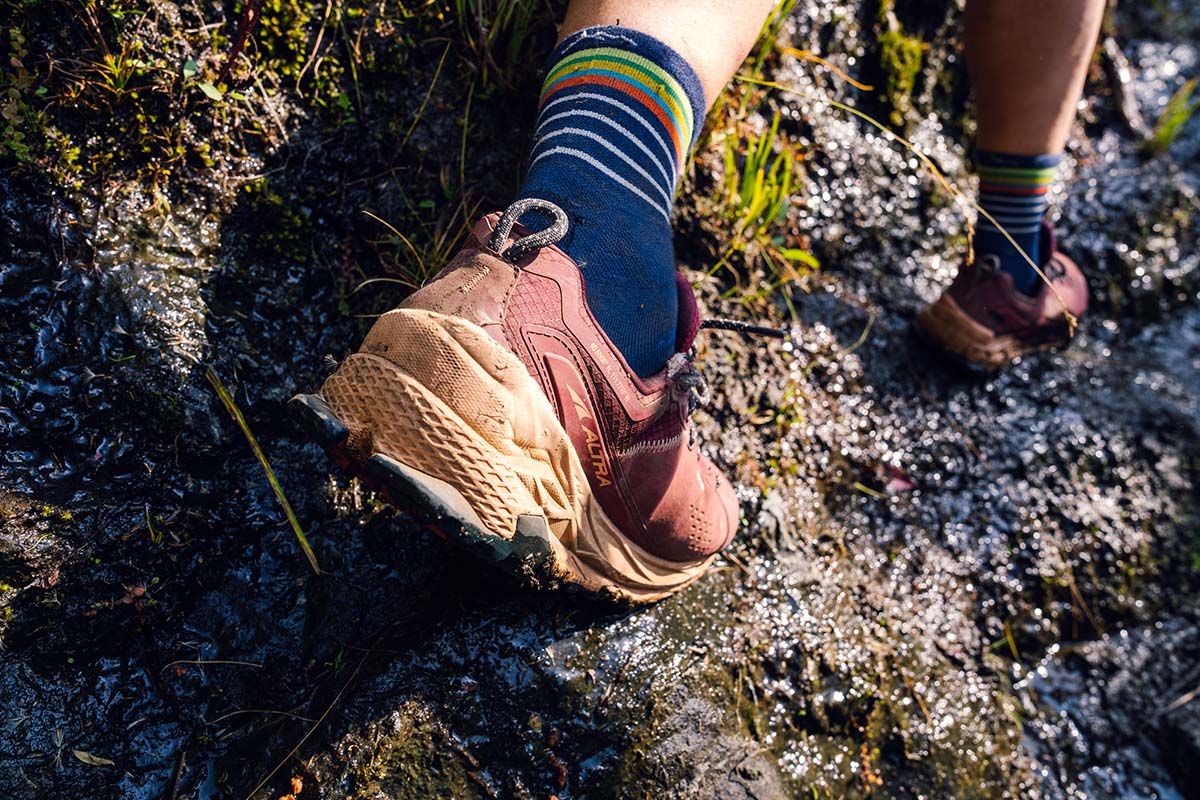 Protection
With a relatively thick suede upper, the Olympus 5 Hike offers a massive boost in protection compared to its running shoe counterpart (the standard Olympus 5). The shoe also features a generous rubber toe cap and solid heel cup, along with 33 millimeters of cushioning underfoot. Thanks to these features, I was able to confidently hike through boulder and talus fields without worrying about stubbing or nicking my feet on various obstacles. All told, I found the Olympus 5 Hike to offer greater amounts of protection than most hiking shoes I've worn, great for rugged trails and those who want a little extra isolation from the elements.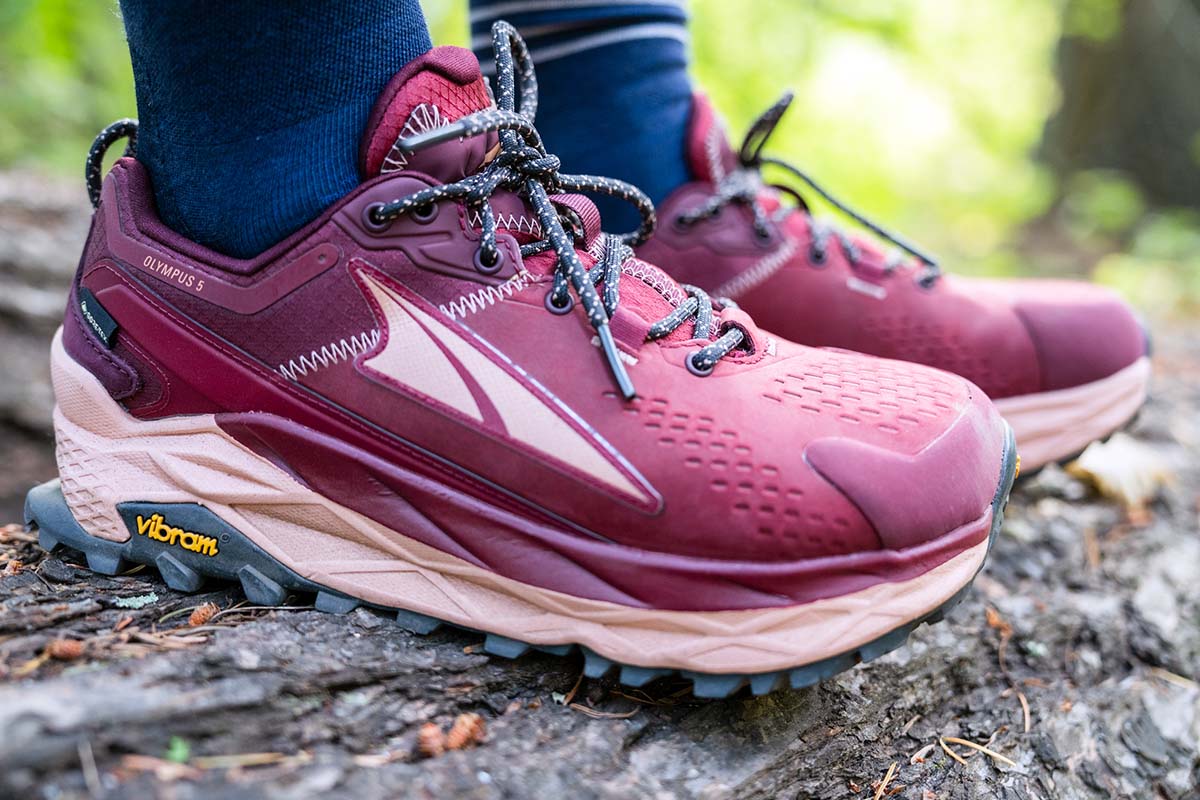 Waterproofing
The Olympus 5 Hike features a waterproof Gore-Tex membrane, along with a naturally water-resistant suede leather upper. It also includes a gusseted tongue, which extends the waterproofing most of the way up the laces. I found this combination to work impressively well—even after immersing the shoes in a shallow stream for 30 seconds, my feet remained completely dry. Perhaps more impressively, the upper absorbed little to no water; instead, it beaded up and rolled off the smooth and impenetrable leather.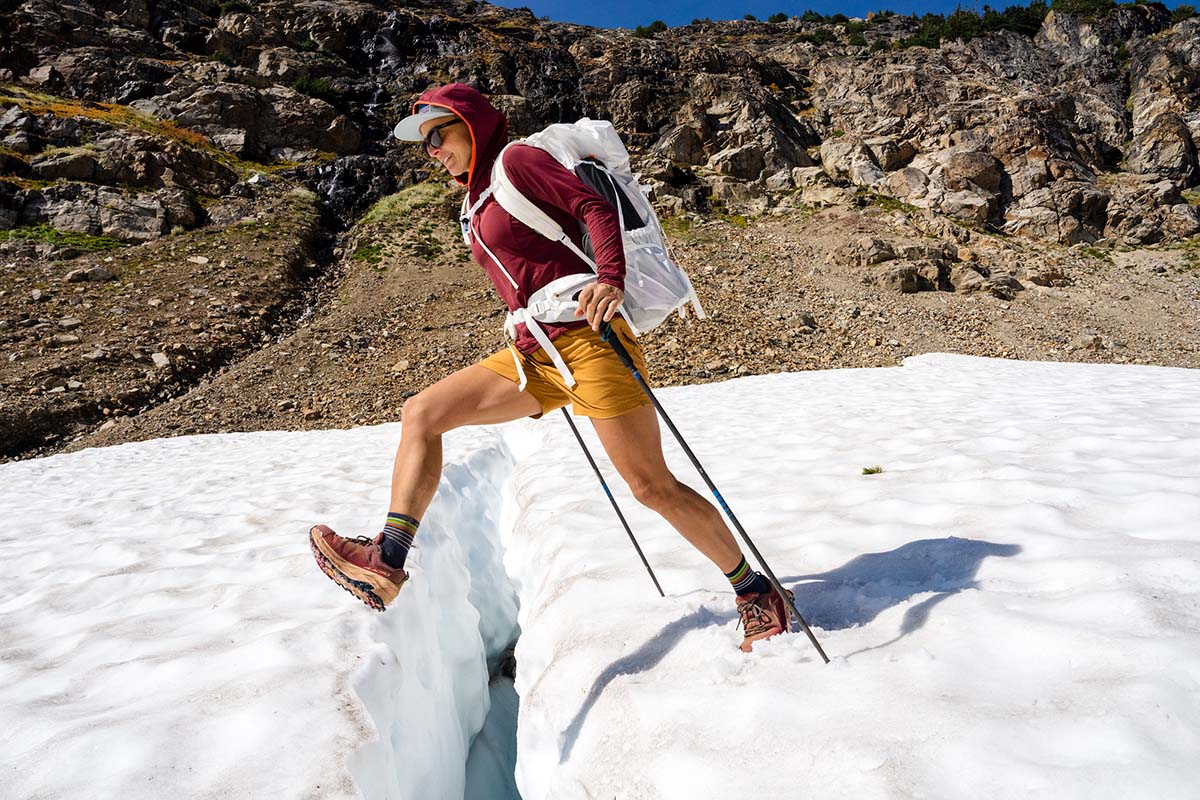 I did, however, notice a few other vulnerabilities throughout my time on the trail. At one point, moisture entered the shoe somewhere near the base (my best guess was it penetrated the blown rubber). This was only an issue once, and the amount of moisture was very negligible. On a deeper creek crossing, water came through near the top of the tongue. It's for this reason that I'm not a big fan of the low-top/waterproof combination in general: Water can easily enter at the low collar, and once it's in the shoe, it has no way to drain (by contrast, a mesh shoe drains and dries quickly or a high collar keeps the moisture out in the first place). It doesn't help that—unlike most of Altra's designs—the Olympus 5 Hike lacks a gaiter attachment, as a gaiter could help to cover this gap. For a non-waterproof shoe, you can step down to the standard Olympus 5 trail runner; for a mid-height waterproof version, check out the Olympus 5 Hike Mid GTX ($220).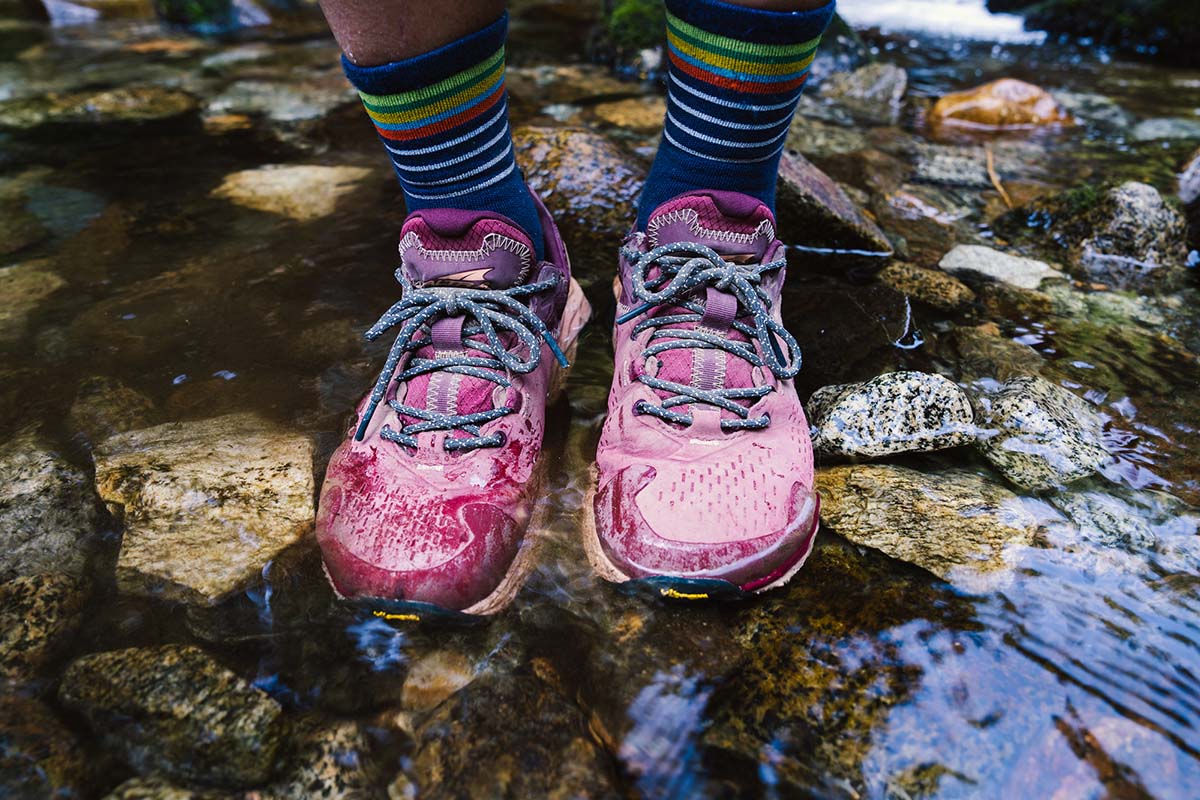 Breathability
The addition of a waterproof membrane causes breathability to suffer, and the Olympus 5 Hike also inhibits airflow with a thick suede leather upper. That said, despite hiking in relatively warm temperatures, I didn't notice much moisture buildup throughout our 14- to 16-mile days, and my hiking socks were just slightly damp when I took off my shoes each evening. But take this with a grain of salt, as I don't often suffer from overly sweaty feet. If this is an issue for you, we highly recommend sticking with a non-waterproof design for hiking or backpacking in mild-to-hot conditions. Not only do non-waterproof shoes breathe better, but, as mentioned above, they also drain and dry much more quickly than waterproof designs. Waterproof uppers have a time and place—we generally like them for winter hiking and mid-height boots—but they're overkill for summery conditions.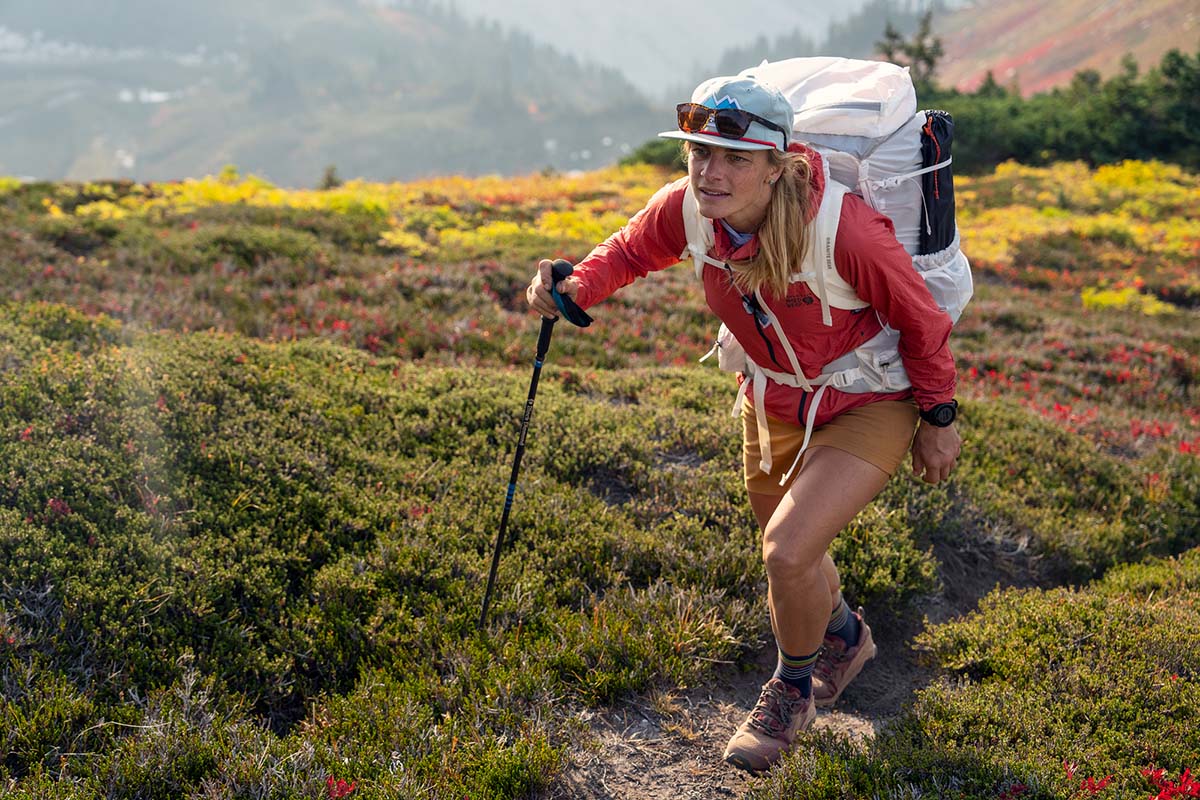 Build Quality and Durability
With a relatively thick suede upper, the Altra Olympus 5 Hike Low GTX offers a big bump in durability compared to mesh or synthetic designs. I confidently hiked through boulder and talus fields without worrying about nicking the shoes along the way, and they emerged from our 43-mile hike in fairly good shape. I will note that the blown rubber at the sole did receive some sizable scuffs, and the upper of my left shoe has worn away around the top eyelet. We've had mixed reviews with Altra shoes in the past (the Lone Peak tends to wear out fairly quickly), but with its leather upper, the Olympus 5 Hike goes a long way toward changing that trend.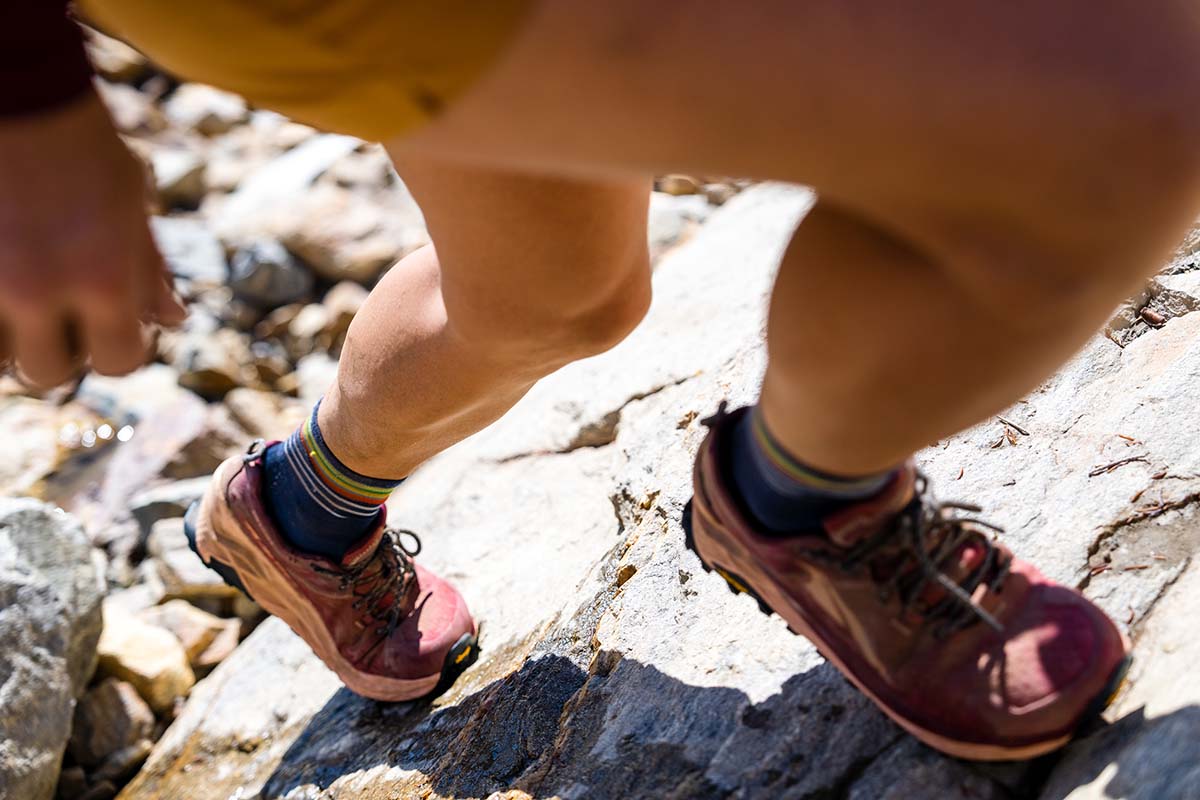 In terms of build quality, the Altra offers a great fit and finish, and high-end materials from brands like Vibram and Gore-Tex help justify its $200 price tag. The shoe certainly has a polarizing appearance—with 33 millimeters of stack height and a wide, zero-drop platform, it almost has the feel of a boat—but Altra has done a great job with the coloring and accents, from the multi-colored outsole to the nice tab of cordelette at the heel. My main gripe has to do with the laces: They're far too thick and round (I prefer flat laces), which makes it really difficult to get a lock at the ankle. They also had a tendency to loosen over time, even when I used the runners' lacing technique and double knots.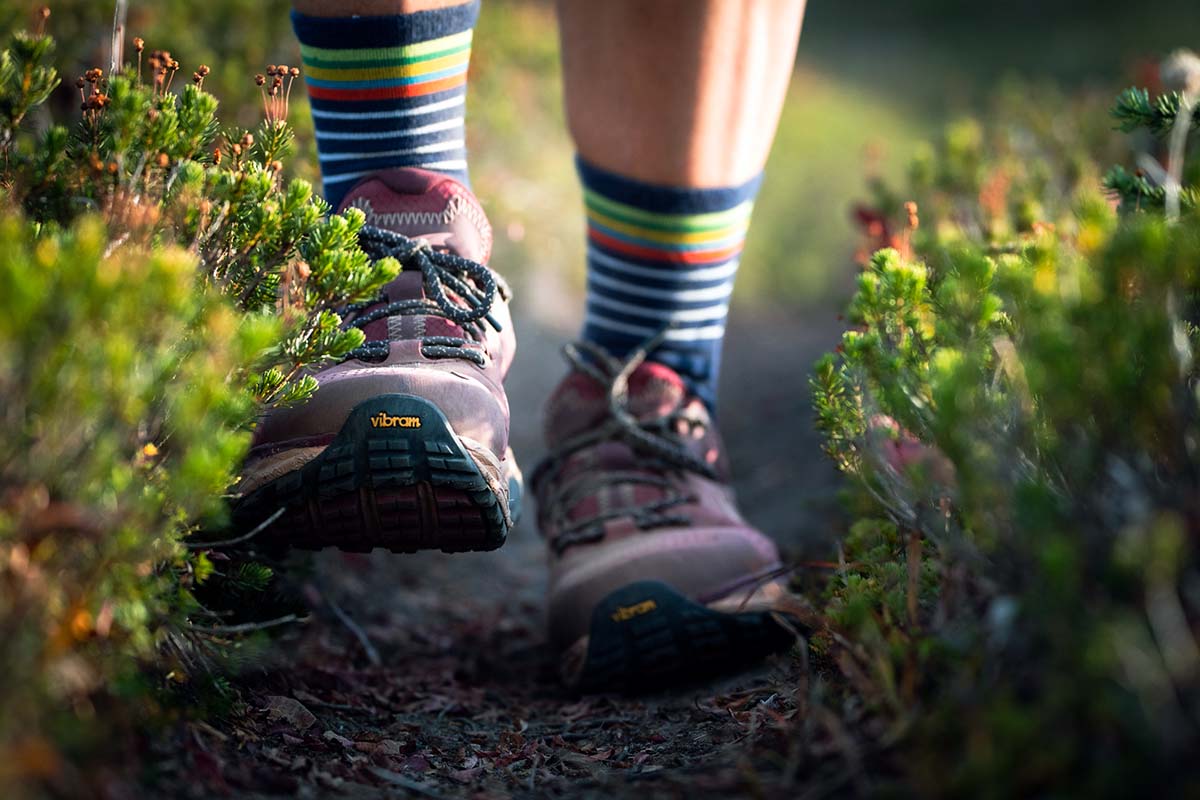 Fit and Sizing
The fit of the Olympus 5 Hike Low GTX proved to be my biggest gripe with the shoe, which isn't a surprise. Altra's wide, zero-drop designs can be polarizing, especially their "Original FootShape" last that we see in the Olympus. My feet are on the wide side, but they still had too much room to move around; at one point, I even wondered if a foot could rotate a full 90 degrees within the shoe. Compared to a shoe with a nice, snug fit, my feet ended up doing a lot of work to stabilize themselves, especially on technical terrain. Getting a firm cinch at the ankle did help—I ended up using the runners' lacing technique—but inevitably the thick, round laces would loosen over time.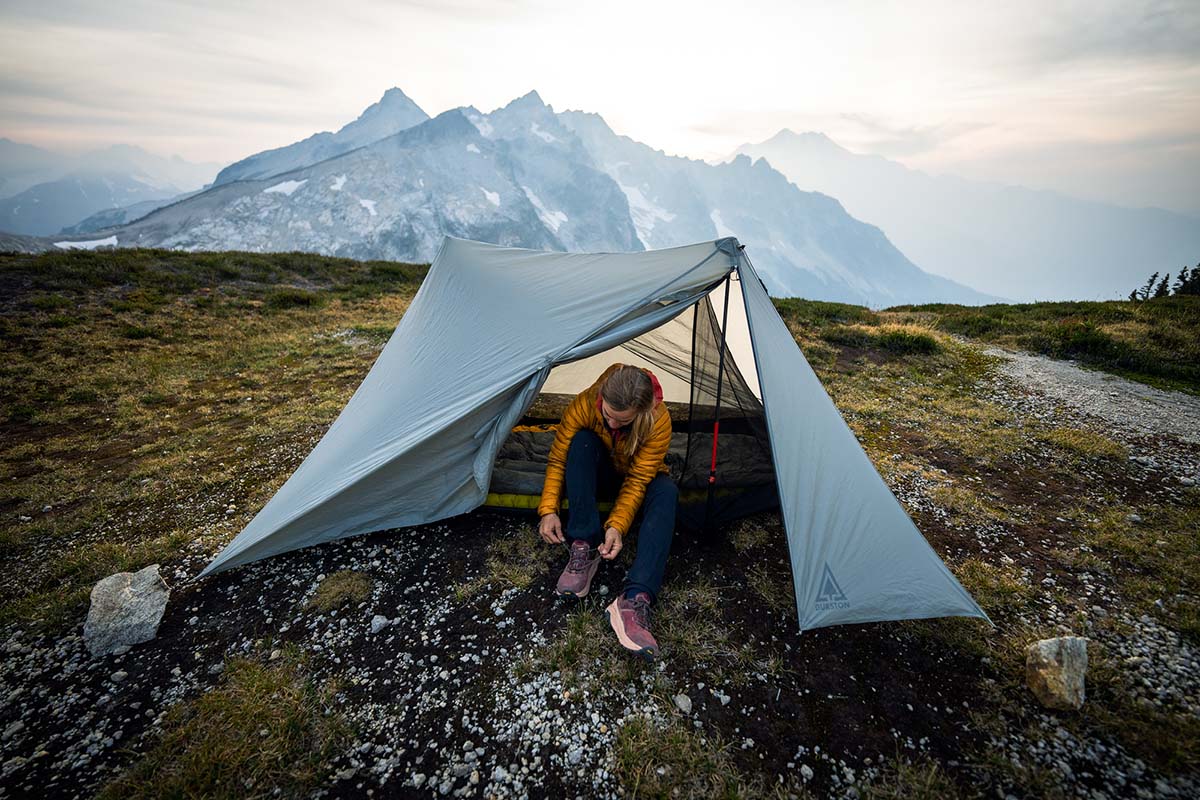 As a result, I would not recommend the Olympus 5 Hike Low GTX for particularly rugged trails, unless it fits you quite snugly (a roomy fit is less of an issue on easy terrain). On the other hand, Altra's shoes have been known to be a saving grace for those with particularly wide feet (or bunions), and we do recommend trying the Olympus 5 Hike if other hiking shoes haven't worked for you. Keep in mind that this model in particular is known to run small compared to others in Altra's collection, and most will want to size up a half size.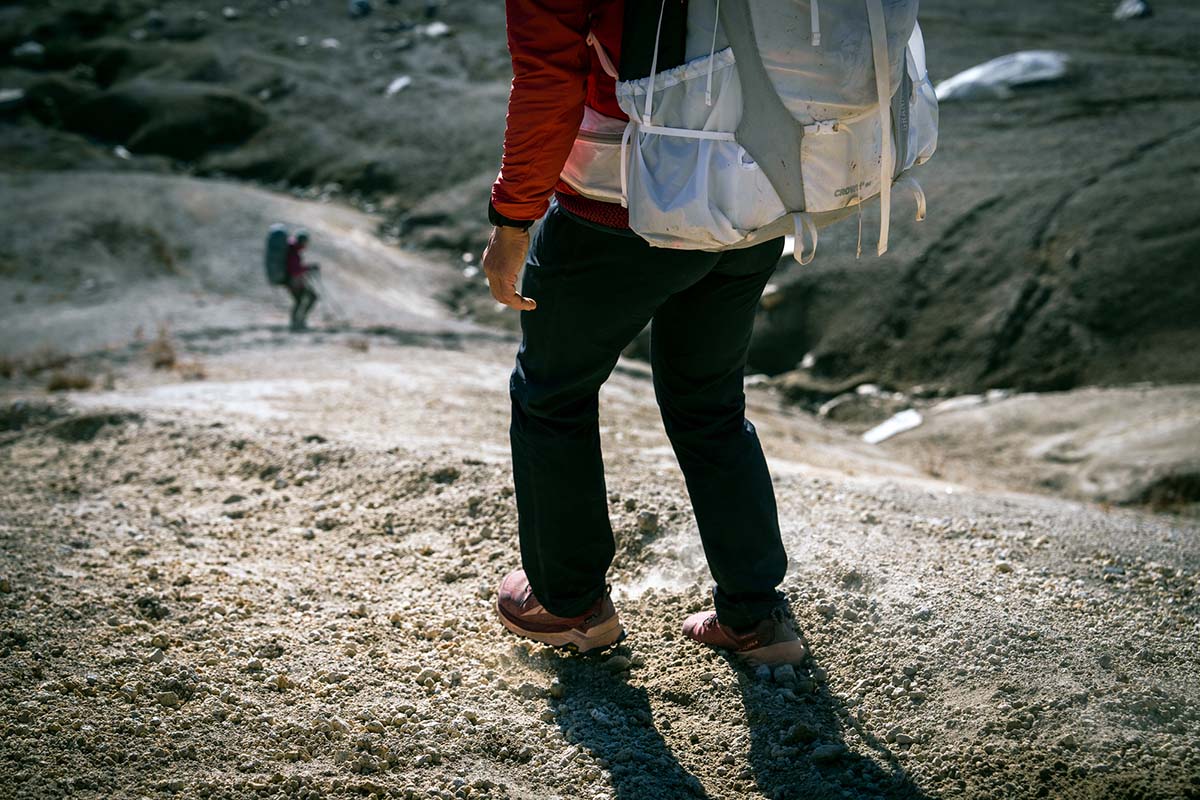 Other Versions of the Altra Olympus
For this review, we tested the women's Altra Olympus 5 Hike Low GTX, but the shoe also comes in a men's version and a mid-height version for both men and women. The men's Olympus 5 Hike Low GTX comes in two distinct colorways, checks in at 2 pounds 1.4 ounces for the pair, and also retails for $200. The mid-height version of the shoe is similar in terms of materials and features, but tacks on a plush collar, ups the price to $220, and weighs 1 pound 14 ounces for the women's version. Finally, all of the Hike models are spin-offs of the standard Olympus 5, Altra's plushest running shoe. This design drops a lot of weight with a mesh upper and no waterproof membrane (the women's version is 1 lb. 4.8 oz.), is cheaper at $180, and comes in five different colorways.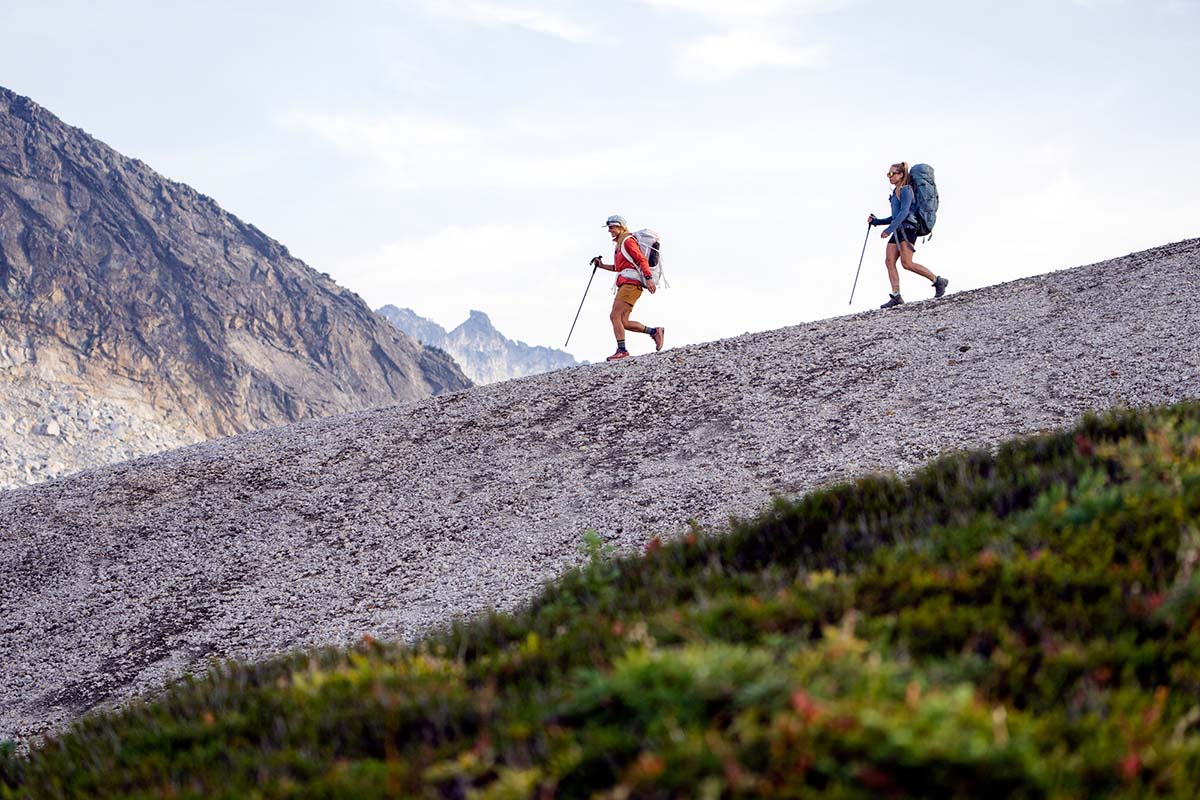 What We Like
A comfortable, durable, and protective hiking shoe with a nice dose of cushioning for long days out.
The accommodating fit will be a breath of fresh air for those with wide or particularly finicky feet.
Great traction on everything from rocks and roots to mud and snow, thanks to the Vibram Megagrip outsole.
Gore-tex membrane and suede upper delivers reliable waterproofing.

What We Don't
The particularly wide toe box won't be a great pairing for those with narrow feet (it was roomy on my wide feet).
Given the squirrely fit, they lack stability on technical terrain; on the other hand, the wide platform offers a nice foundation on easy trails.
For summer hiking, we generally prefer a non-waterproof shoe that breathes, drains, and dries out well.
Some might find the 33 millimeters of cushioning and wide platform to be a fairly polarizing look.
Thick and round laces don't stay tight.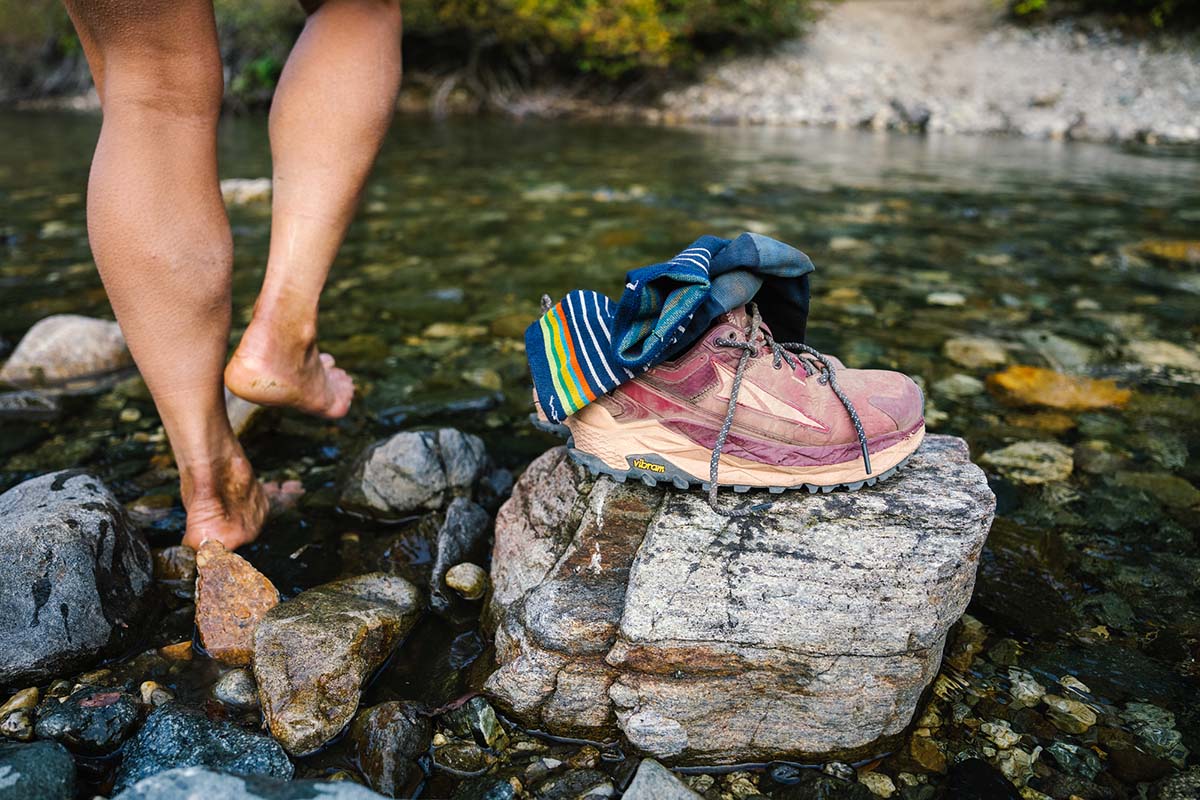 Comparison Table

The Competition
The world of hiking footwear has never been more diverse: Hit the trail, and you'll see folks wearing everything from trail runners and max-cushioned hikers (like the Olympus 5 Hike) to burly leather boots. Among the options, the Hoka Anacapa Low GTX is one of the Altra's main competitors. This shoe features a similar design, with a waterproof leather upper, Vibram Megagrip sole (also with patches of blown rubber), and maximum cushioning. But with a 6-millimeter drop and narrower toe box, the Hoka will likely be a better choice for those seeking a more "normal" shoe experience. It also doesn't hurt that it's $30 cheaper, a few ounces lighter, and uses laces that actually stay tied (in our experience). If you like the looks of the Olympus 5 Hike but don't need the Altra fit and look, put the Hoka Anacapa Low at the top of your list.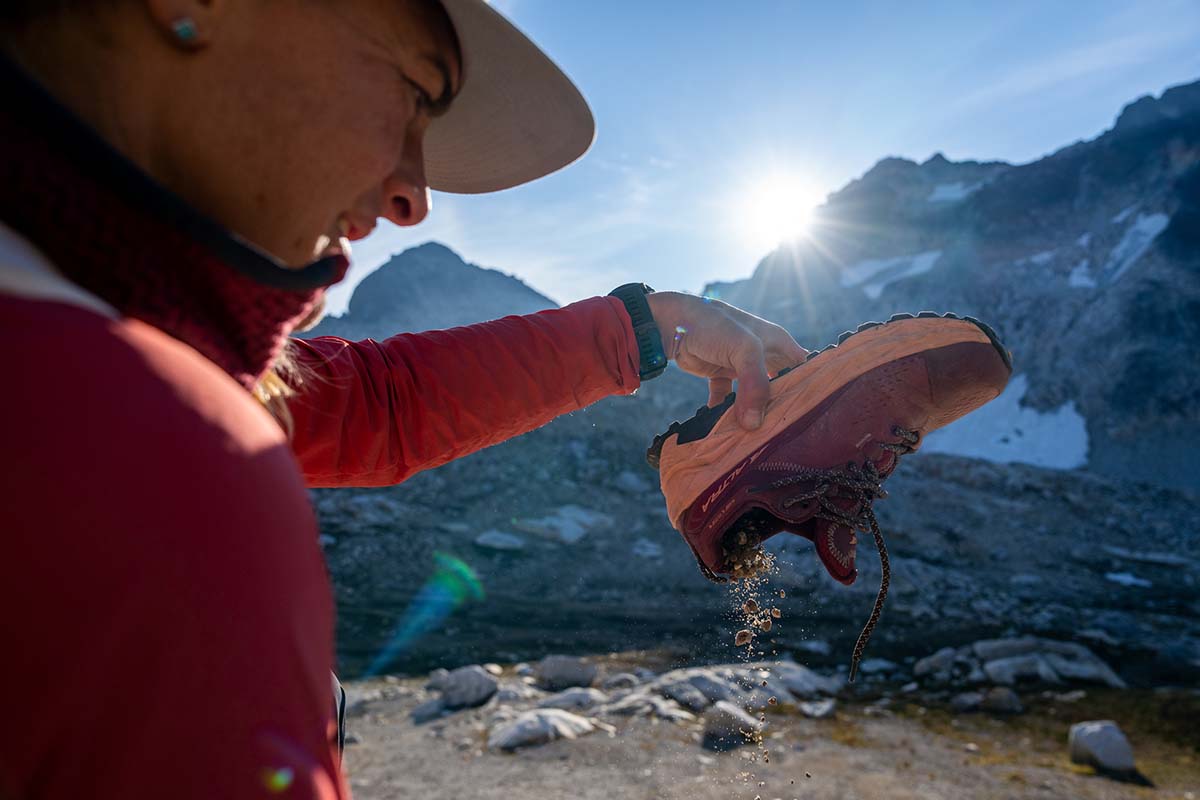 Before the Olympus 5 Hike came onto the scene, the Lone Peak ALL WTHR Low was the primary hiking shoe in Altra's lineup. For $170, the Lone Peak features a waterproof eVent upper and checks in significantly lighter than the low-top Olympus Hike (1 lb. 4.8 oz. for the pair). But after wearing both shoes (we tested the mid-height version of the Lone Peak ALL WTHR), we can confidently say that the Olympus is the better design—its Vibram Megagrip offers a much better hold on rock than the Lone Peak's slippery DuraTread rubber, and the leather upper provides a more stable, protective, and durable feel (after just a few days out, our Lone Peak's rubber toe cap started to separate). It's true that the Lone Peak will save you $30, but chances are you'll have to retire the shoes dozens of miles before the Olympus loses steam.
If you like the maximum cushion of shoes like the Olympus 5 Hike and Hoka Anacapa, it's also worth looking at the Hoka Speedgoat. We see the Hoka Speedgoat on the trail more than almost any other shoe (worn by trail runners and hikers alike), and it's achieved legendary status for good reason. Its lightweight (1 lb. 1 oz.) design will keep you nimble and quick on high-mileage days, the engineered mesh is breathable and comfortable, and traction is excellent with a large dose of Vibram Megagrip rubber (similar to the Olympus). For warm summer days, we'd definitely reach for the Speedgoat over a waterproof leather shoe like the Olympus 5 Hike. But on the other hand, the Speedgoat can't match the Altra in terms of durability and protection. Your final decision will come down to a matter of priorities: Those traveling fast and light will appreciate the airy Hoka (which will also save you $45), while those who want more of a burly hiker will appreciate the leather Altra.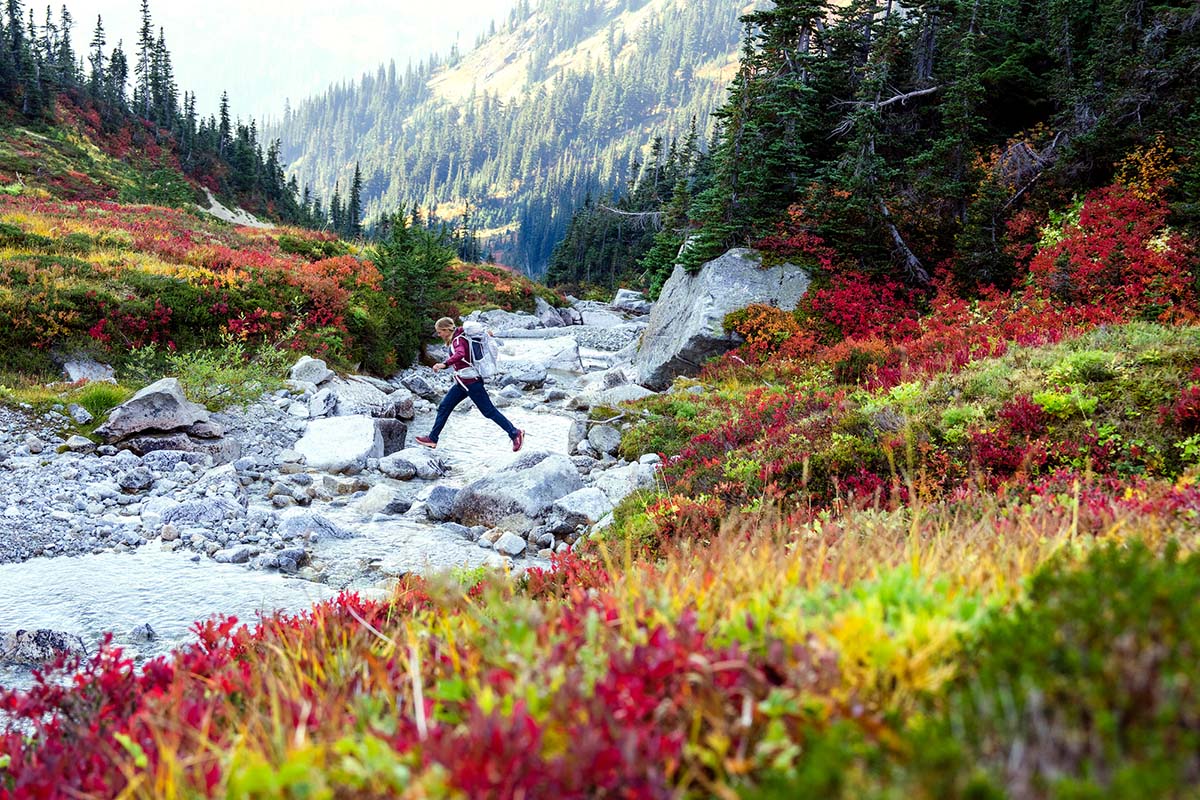 For those in the market for a fairly standard hiking shoe with few frills (i.e. no zero-drop footbed, no max cushioning, no waterproofing), the Merrell Moab Speed is a great place to start. This shoe has won its way into our hearts with its comfortable and accommodating fit, recycled mesh upper, sticky Vibram outsole, and reasonable $130 price tag. And despite the shoe's trail runner appearance, you also get a healthy amount of protection and support by way of generous toe and heel caps and a fairly stiff midsole. For those looking for a great all-rounder for day hikes and casual overnights, it's a reliable choice. On the other hand, the Merrell doesn't offer the maximum cushioning we see in designs like the Olympus 5 Hike (some hikers find this preserves their feet on long days), it's less durable, provides no waterproof protection, and does not feature a particularly roomy toe box for those with extra-wide feet or bunions. 
Last but not least, we'd be remiss not to compare the Olympus 5 Hike Low GTX to the original Olympus 5. Altra's plushest trail runner, the Olympus 5 is a popular choice among zero-drop fans who want that extra dose of cushioning for long days out. Compared to the Hike version, the original Olympus features an engineered mesh upper and no waterproof membrane, which drops the price and weight to $180 and 1 pound 4.8 ounces, respectively. Both shoes feature the same Vibram Megagrip sole, 33 millimeters of cushion, and are shaped around Altra's Original FootShape last. If you like the idea of a protective and durable hiking shoe, the Olympus 5 Hike Low GTX is a great choice, but warm-weather hikers can get almost all the perks of the design with the mesh Olympus 5. And a final note: The Hike version runs small, so most will want to go up a half size from the standard Olympus.
If you're thinking about buying gear that we've reviewed on Switchback Travel, you can help support us in the process. Just click on any of the seller links above, and if you make a purchase, we receive a small percentage of the transaction. The cost of the product is the same to you but this helps us continue to test and write about outdoor gear. Thanks and we appreciate your support!
Depending on the seller, most products ship free in the United States on orders of $50 or more. International shipping availability and rates vary by seller. The pricing information on this page is updated hourly but we are not responsible for inaccuracies.
Read More From Switchback Travel