Scarpa Rush TRK GTX
Price: $239
Weight: 2 lbs. 5.2 oz. (women's size 40.5)
Waterproof: Yes (Gore-Tex)
What we like: Impressively light for the levels of protection, support, and durability.
What we don't: Overbuilt for day hikes on well-maintained trails; roomy toe box may cause issues for some.
See the Women's Rush TRK GTX  See the Men's Rush TRK GTX
Scarpa's Rush is their do-it-all trail shoe, and the Rush TRK GTX adds a bump in support and protection for high-mileage backpacking objectives over varied terrain. I took the women's version to Peru's Cordilleras Blanca and Huayhuash, where I wore them for 23 straight days—10 of which were with a loaded pack—on everything from boulders and steep scree slopes to peanut butter-like mud. In short, I came away highly impressed by the Rush's balance of weight, protection, and support for covering technical ground with a full load, although the roomy toe box did cause some comfort-related issues on descents. Below I break down my experiences with the Rush TRK GTX. To see how it stacks up to the competition, see our articles on the best hiking boots and best women's hiking boots.
 
---
Table of Contents
---

Performance
Comfort
Leather backpacking boots are often stiff and take a while to break in, but the Scarpa Rush TRK GTX was comfortable right out of the box. The first thing I noticed was the spacious toe box, which easily accommodated my wider feet and offered plenty of room to wiggle my toes. I initially wondered if I would be better off with a smaller size but ultimately ended up liking the more generous fit (although I strongly advise narrow-footed hikers to try them on before hitting the trail). Despite the roominess at the front, I experienced no issues with slippage or unwanted movement inside the boots once they were laced up. To help with support, the tongue and collar are nicely padded with soft molded foam, and the Interactive Kinetic System (IKS) in the outsole provides excellent shock absorption (particularly under the back half of the foot and heel). Even on remarkably steep descents in Peru—including one of around 3,000 feet in less than 2 miles—I suffered no pressure points or toenail damage, both of which came as a welcome surprise to me.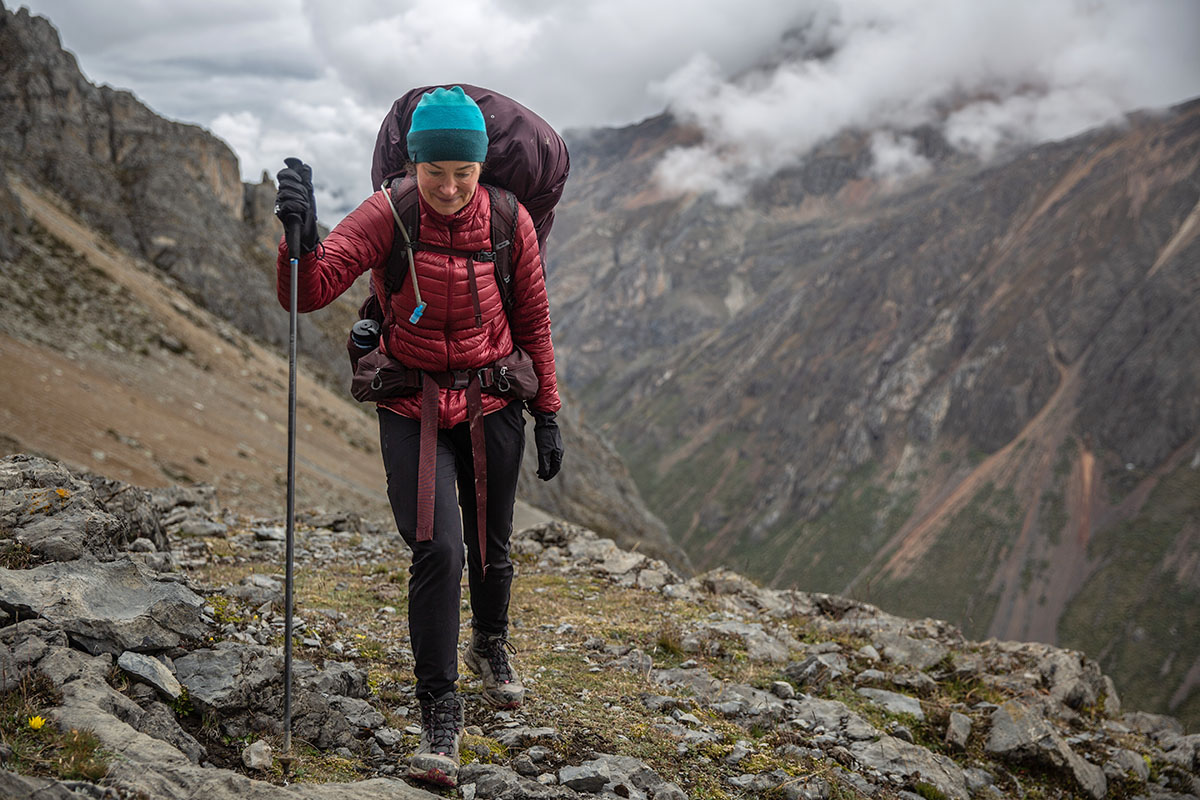 All that said, after around two weeks of daily wear, I started to notice a wrinkle in the forefoot of one boot that pressed into the joint above my big toe. This was only noticeable on particularly steep descents, but unfortunately, the Huayhuash was rife with these. To alleviate the issue, I ended up having to side-step to reduce the pressure on the medial side of my left foot. But to be fair, the problem is only with one boot, and I'm hopeful that the upper will continue to soften over time (I admittedly gave the boots very little time to break in).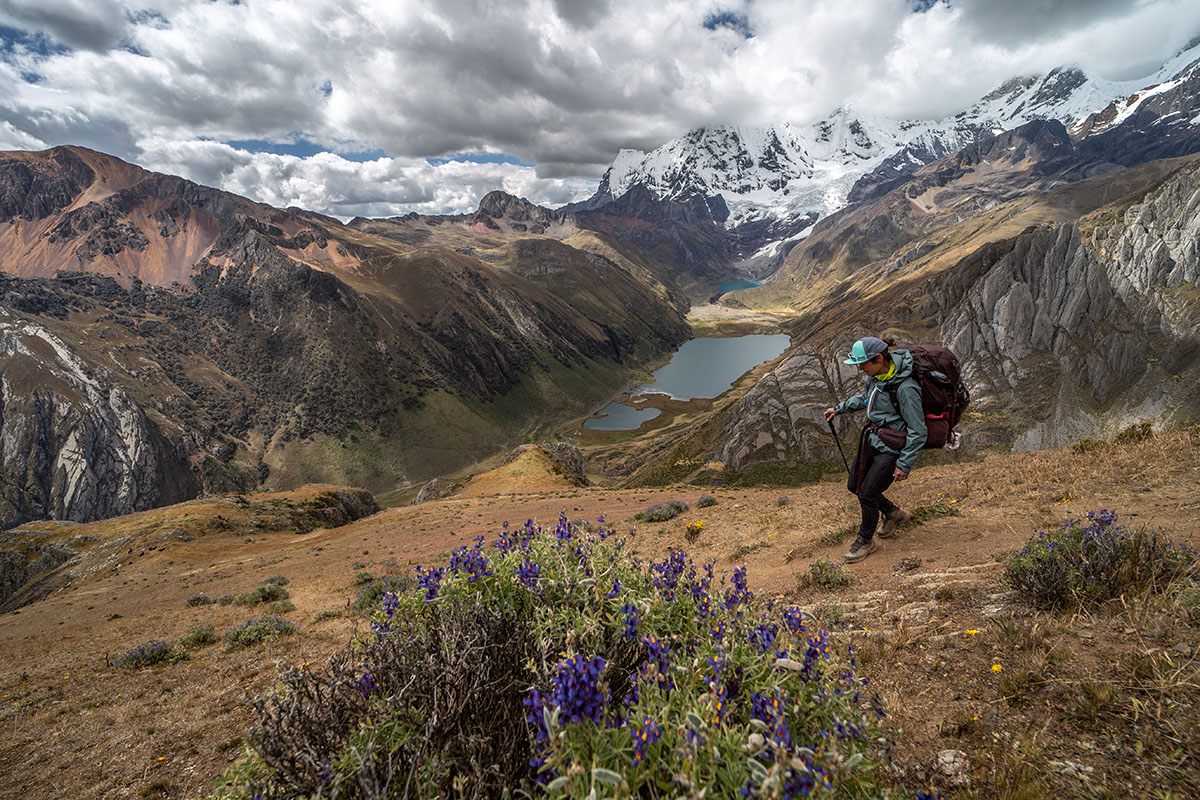 Weight
Despite their burly appearance, the Rush TRK GTX boots checked in at a reasonable 2 pounds 5.2 ounces for my women's pair in a size 40.5 (they're listed at 2 lbs. 0.8 oz.). For reference, this stacks up competitively to other leading backpacking designs including Salomon's Quest 4 GTX (2 lbs. 5.7 oz.) and Scarpa's Zodiac Plus GTX (2 lbs. 0.1 oz.) with a noticeably nimbler feel than my LOWA Renegade GTX Mid boots (1 lb. 15 oz.). You can certainly go lighter with a trail runner-inspired design like Salomon's X Ultra 4 Mid GTX (1 lb. 10.1 oz.) or Hoka's Anacapa Mid GTX (1 lb. 12 oz.), but both of those boots are noticeably more flexible and less supportive for navigating technical terrain with a full pack.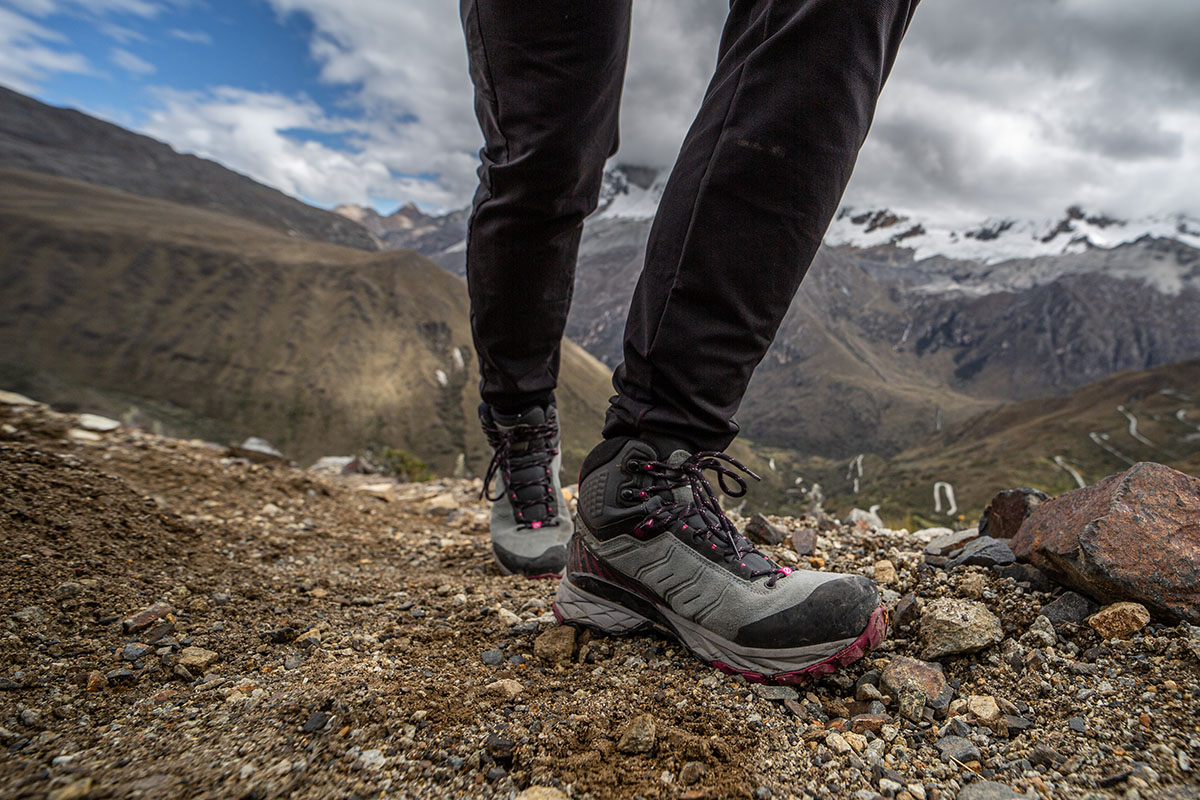 I should mention that I initially purchased the Rush TRK GTX to only wear with a loaded backpack in Peru, but I ended up also bringing the boots on a 10-day supported trek where I only had to carry a light daypack. I expected them to be overkill and packed my trail runners (the La Sportiva Bushido II) as a backup but only ended up swapping them out on two short day hikes. In other words, the Rush TRK felt light and agile underfoot even without the weight of a heavy pack. Day hikers that stick to well-maintained trails may find them a little excessive, but I personally feel that Scarpa did an excellent job balancing weight and technical performance.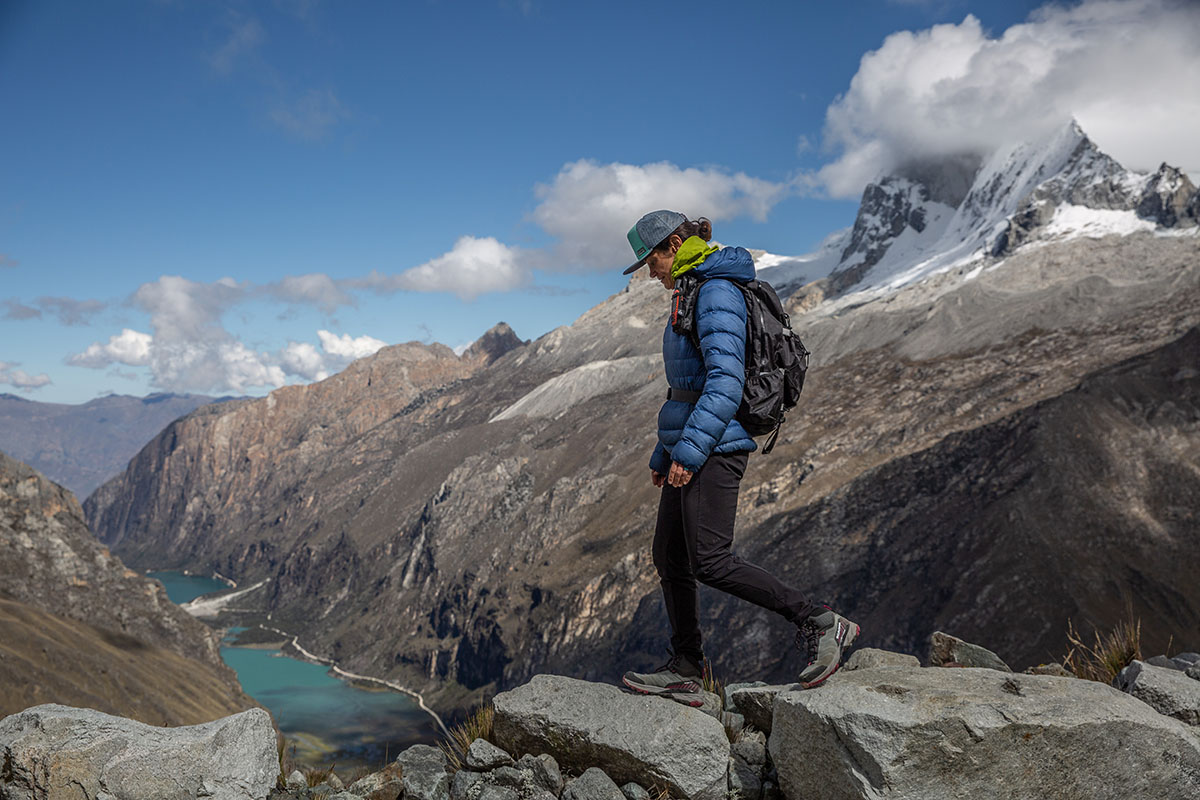 Traction
Scarpa is a climbing and mountaineering company first, so it comes as little surprise that they've got traction dialed in. It's worth noting that many high-end competitors (including Scarpa's similarly mountain-ready Zodiac Plus GTX) use proven Vibram rubber, but in this case, Scarpa opted for an in-house design with their SuperGum compound. Thankfully, the Rush was still a very trustworthy companion: The deep and aggressive lugs were confidence-inspiring on everything from wet rocks to thick mud, gravel, and even sand. Much of our time in Peru was spent on off-camber and slippery trails, but the Rush didn't falter once. All told, it's a clear highlight of the design and only adds to the boot's technical prowess.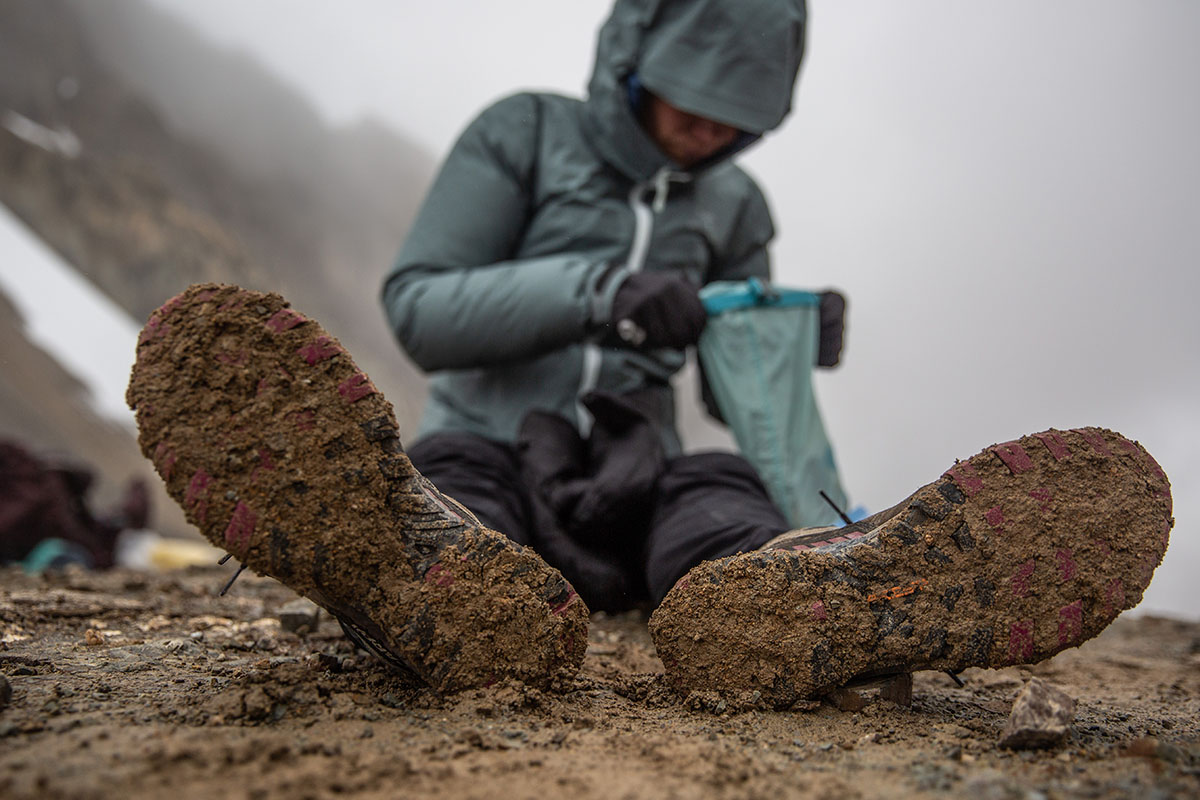 Stability and Support
The Cordillera Huayhuash is notorious for its unrelenting and challenging terrain, but the Scarpa Rush TRK GTX handled the steep and often off-camber slopes with relative ease. For reference, I hiked parts of the circuit twice during our trip and opted for the more involved variation on my second attempt, often scrambling along the "alpine route" with a lighter pack. In both cases, the Rush TRK performed admirably. Rear-foot stability was particularly impressive thanks to the boot's Dynamic Stabilizer Torsion (DST) frame, which is a rigid plastic that wraps around the heel at both sides and effectively prevented ankle rolls. The rest of the design has an equally supportive and foot-hugging feel, from the molded foam around the ankle to the trusty lacing system that makes it easy to snug things down.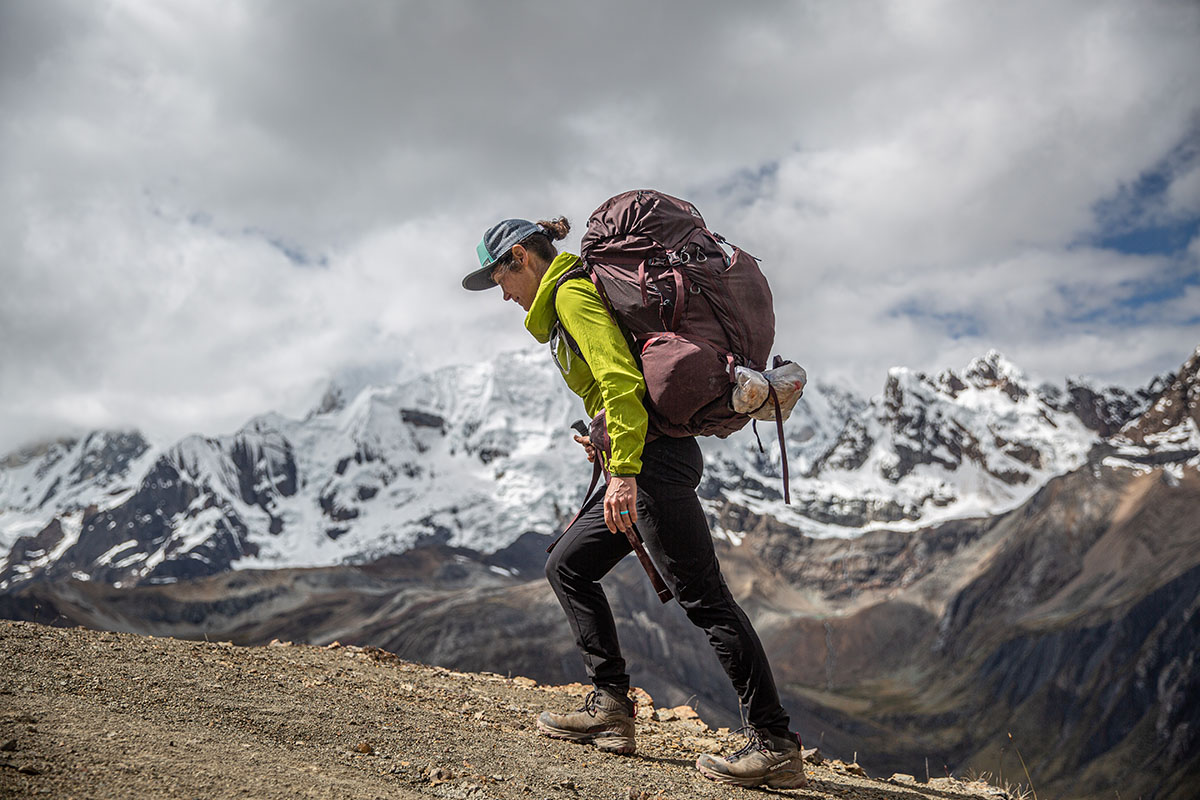 Waterproofing and Breathability
Gore-Tex is the gold standard when it comes to waterproofing, and the Rush TRK GTX predictably sealed out moisture when crossing streams, bogs, snow patches, and frosty fields in Peru. I even opted to keep the boots on at a few of our campsites that were situated close to bogs since I knew they would keep my feet dry and comfortable. As with all waterproof footwear, you'll want to be aware of water levels before crossing, but the Rush's tall collar and solid lacing system created an effective seal for me.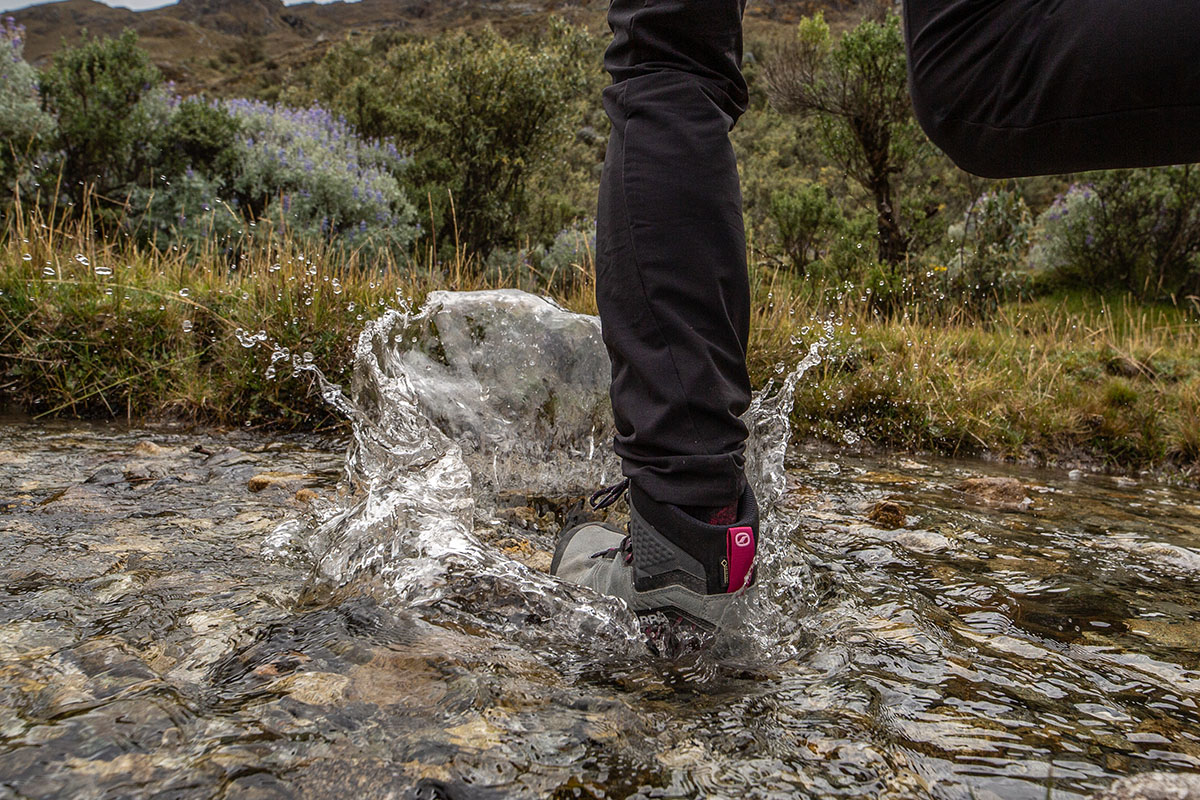 In terms of breathability, Gore-Tex footwear can't match non-waterproof designs, but I did find the Rush TRK GTX to be a solid performer. I'm not prone to running too warm, but I was still surprised that my feet didn't overheat in the boots, even as mid-day temperatures reached into the low 80s Fahrenheit in Peru. I was equally surprised that I didn't grow overly cold on chilly mornings at camp that dipped into the mid-teens. As someone with notoriously poor circulation in my fingers and toes, I came away impressed by the boots' temperature-regulating abilities: They allow a decent amount of hot air out in fair weather but still provide enough insulation to stay comfortable when the mercury drops.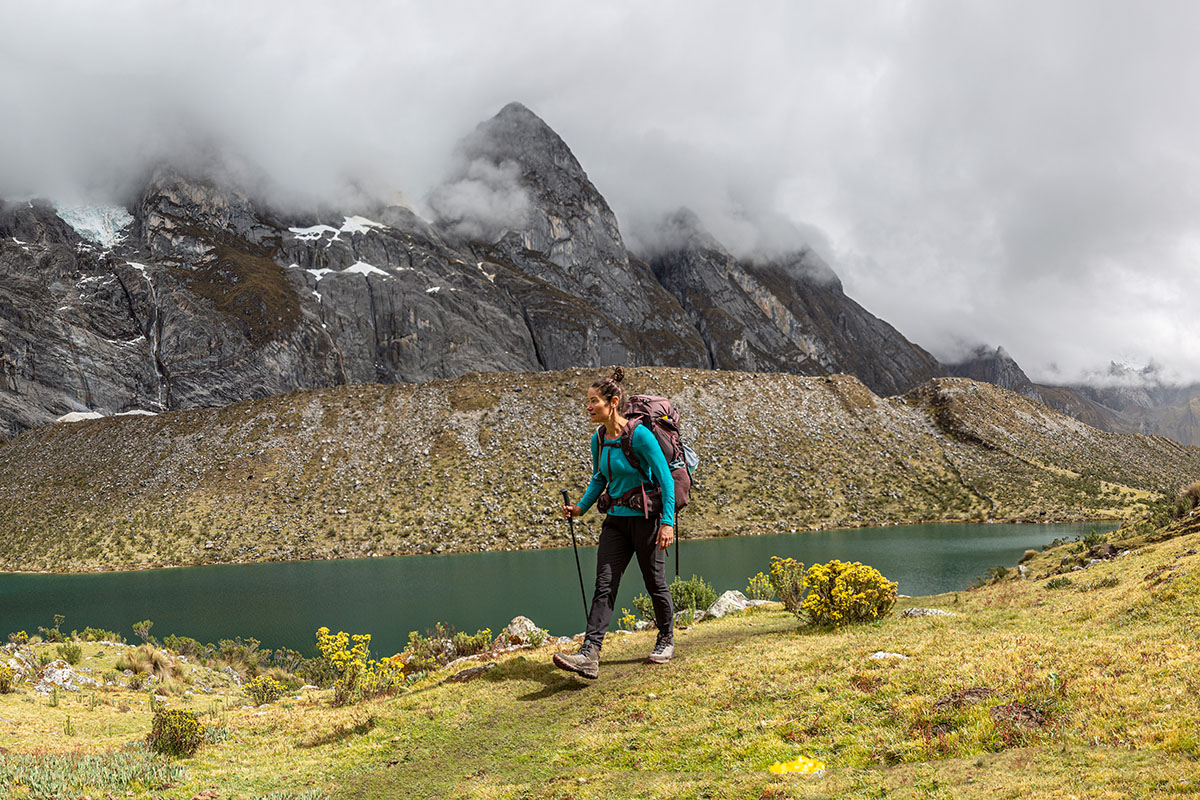 Build Quality and Durability
Out of the box, it was immediately clear that the Rush TRK GTX is a premium and well-built hiking boot. Everything has a hardwearing and high-end feel, from the suede leather and synthetic upper to the molded foam around the ankle and thick rubber outsole. And importantly, the boots have held up impressively well to my testing with only minor cosmetic wear after weeks of consistent use on aggressive and unforgiving terrain. The approach shoe-like rubber toe cap has done an excellent job at softening the blow from direct hits to rocks, and the sides are similarly protective and confidence-inspiring on technical ground. In addition, the laces and eyelets are holding up well, and the cushioning is in good shape with no signs of packing out.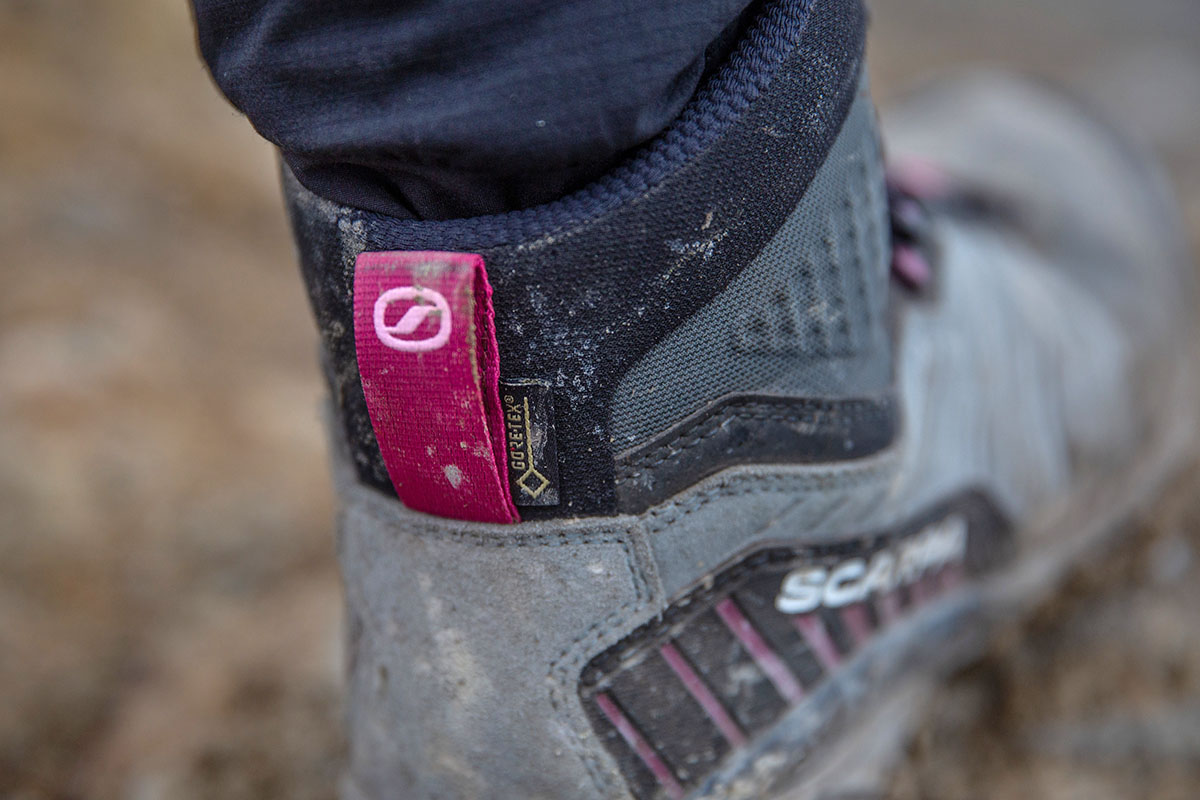 As I mentioned, my boots are showing some light cosmetic wear: The suede upper has been caked with dust and mud, the lugs have started to diminish, and there are a few visible nicks and scrapes. But this was expected considering what I put them through and importantly hasn't had an impact on overall performance. It's too soon to accurately evaluate the Rush TRK's long-term durability, but given my initial experiences, I expect the boots to have a long and healthy lifespan.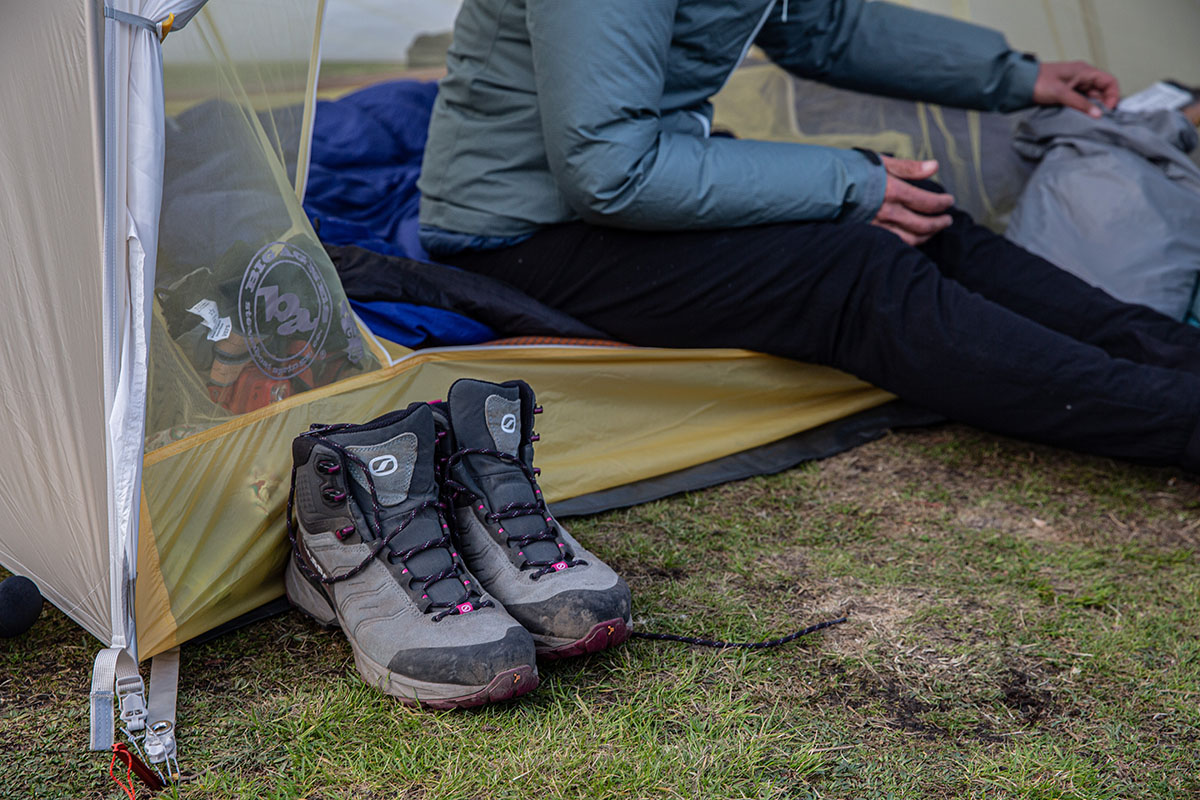 Fit and Sizing
I opted for a size 40.5 in the women's Rush TRK GTX, which falls between an 8.5 and 9 in U.S. sizing (I typically wear an 8.5). As I mentioned above, the toe box is noticeably roomy and offered ample space for my wider-than-average feet to move around comfortably without feeling crammed. I initially worried that this would lead to slippage on steep ascents and descents, but the lacing system and sturdy heel cup effectively locked my foot in place. Finally, although the Rush TRK doesn't technically have a locking eyelet, the hook at the midfoot (where the boot flexes) grabs the laces well enough that you can customize tension at the forefoot and ankle depending on how snug or loose you prefer each area.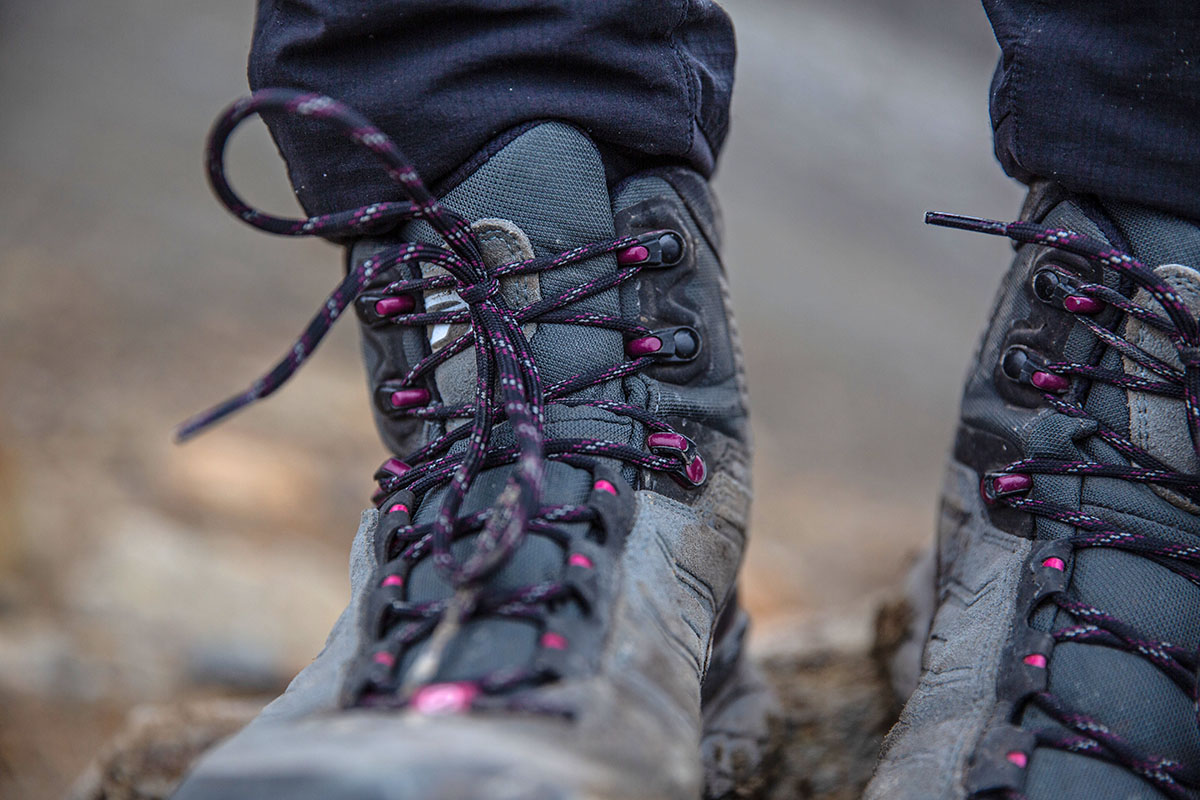 Men's Version of the Scarpa Rush TRK GTX
I tested the women's Rush TRK GTX for this review, and Scarpa also sells a men's model that shares a nearly identical design and feature set. Like the women's version, the men's Rush TRK GTX retails for $239 and boasts a Gore-Tex Extended Comfort membrane for waterproofing along with a leather and synthetic upper, SuperGum rubber at the outsole, and molded foam around the ankle. The only notable differences are weight and colorways: The men's boots are a little heavier at 2 pounds 7.2 ounces per pair with the choice between black or gray with lime green accents (the women's are only sold in a single grey colorway with maroon details).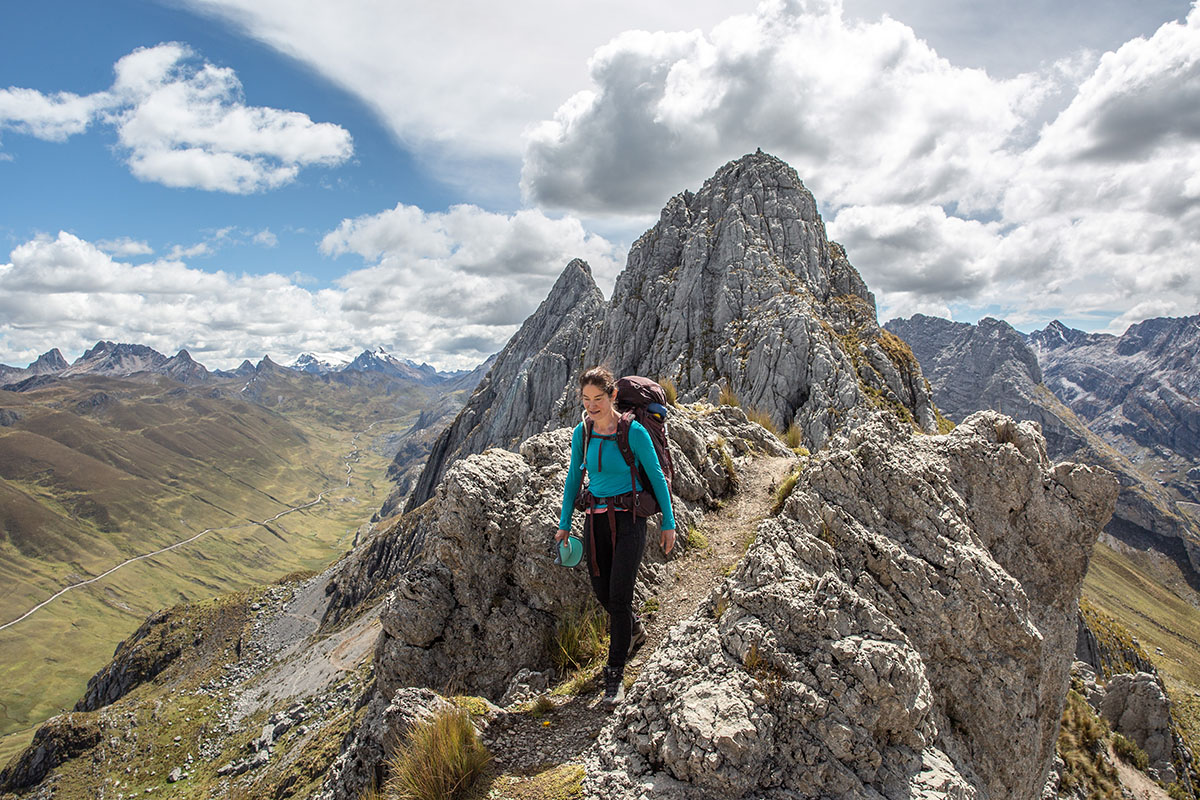 What We Like
At just over 2 pounds, the Rush is reasonably light but offers ample support and protection for covering technical terrain with a full pack.
Deep lugs and thick rubber outsole provide great traction over a wide variety of surfaces, from soft mud and snow to steep scree and boulder fields.
Gore-Tex Extended Comfort membrane effectively balances waterproofing and breathability, and the tall collar does a nice job sealing out moisture.
All of the materials have a high-end feel and have held up impressively well throughout testing, from the hardwearing suede and synthetic upper to the trusty lacing system. 

What We Don't
I experienced a wrinkle at the forefoot of one boot that pressed into my big toe and caused issues on steep descents, which I attribute to the lack of break-in period.
Roomy toe box may cause issues for narrow-footed hikers.
A little heavy and overkill on well-maintained trails.
Only offered in a single colorway (the men's version comes in two options).


Comparison Table

The Competition
Scarpa is no stranger to mountain footwear, and the Rush TRK GTX stands out in the hiking boot market for its excellent support and protection at a competitively low weight. For $40 less, they also offer the Rush Mid GTX, which is a small step down in technical abilities from the TRK but still a highly capable backpacking design. Both boots share the same waterproofing tech, Dynamic Stabilizer Torsion frame for rear-foot stability, and in-house SuperGum rubber compound for traction. The standard Rush gets the edge in weight at 1 pound 10.2 ounces per pair for the women's version, although the shorter cuff, synthetic upper, and streamlined Sock-Fit construction detract from the boot's stability on truly aggressive and off-camber terrain. In the end, these weight-saving measures may be appealing for those who prioritize lightness and agility, but the upgraded TRK is our preferred choice for truly demanding mountain objectives.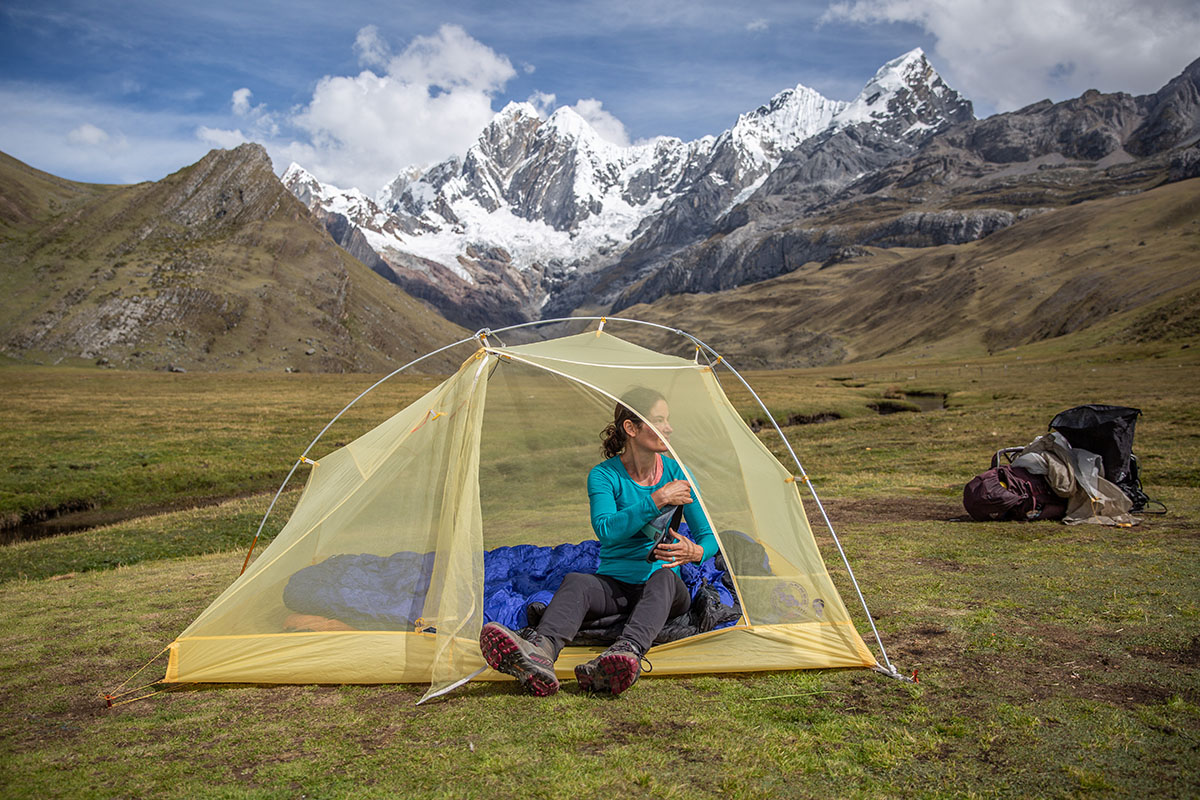 Another in-house alternative to consider is Scarpa's Zodiac Plus GTX, which I subjected to similar testing on a previous trip to Peru's Cordillera Huayhuash. Like the Rush, the Zodiac is lightweight (2 lbs. 0.1 oz.) while offering impressive stability and coverage for navigating technical ground with a full pack. In parsing out the differences, the Zodiac is noticeably stiffer with the addition of PU in the midsole, which translates to a small step down in all-day comfort but adds a boost in durability and underfoot protection. The Zodiac is also pricier by $60, although you do get an upgraded Vibram outsole that provides standout traction. In the end, both are capable mountain-ready designs, but the cheaper Rush will get the job done on all but the most aggressive mountain missions.
Our top-rated women's hiking boot this year is LOWA's flagship Renegade GTX Mid. As expected from the burly leather design, the Renegade offers a hardwearing and stable construction that translate to great support and protection on technical trails. Comfort is another highlight: The Renegade nicely balances cushioning and impact protection and comes in wide, narrow, and regular widths to accommodate most foot shapes (again, the Rush's wide toe box won't work for some). The LOWA does fall a little short of the Scarpa in breathability and durability and doesn't feel particularly light or nimble despite its similar 2-pound-2-ounce weight. But overall performance lines up similarly, and many backpackers will love the combination of all-day comfort and support in a less technical-looking package.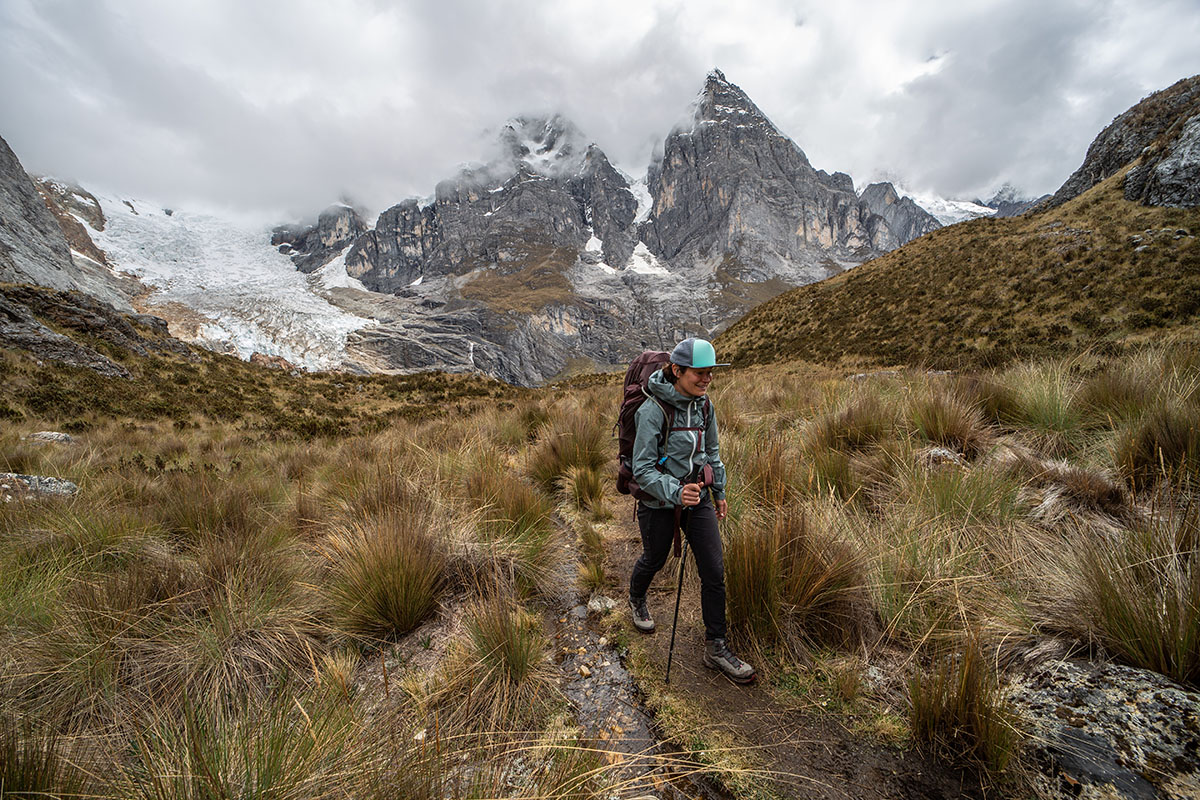 Next up is Salomon's venerable Quest 4 GTX, which is another boot that's designed to provide serious stability and protection on technical terrain with a heavy pack. Highlights include excellent all-day comfort with generous foam padding, deep and aggressive lugs that bite well on a wide variety of terrain, and a solid chassis that offers great protection both underfoot and at the heel. We also love the lacing system, which boasts locking eyelets that secure the heel in place and allow you to customize the fit at the forefoot and ankle. The Quest is a little heavier than the Rush TRK at 2 pounds 5.7 ounces but offers similar technical capabilities for around $20 less, which will be enough to sway many.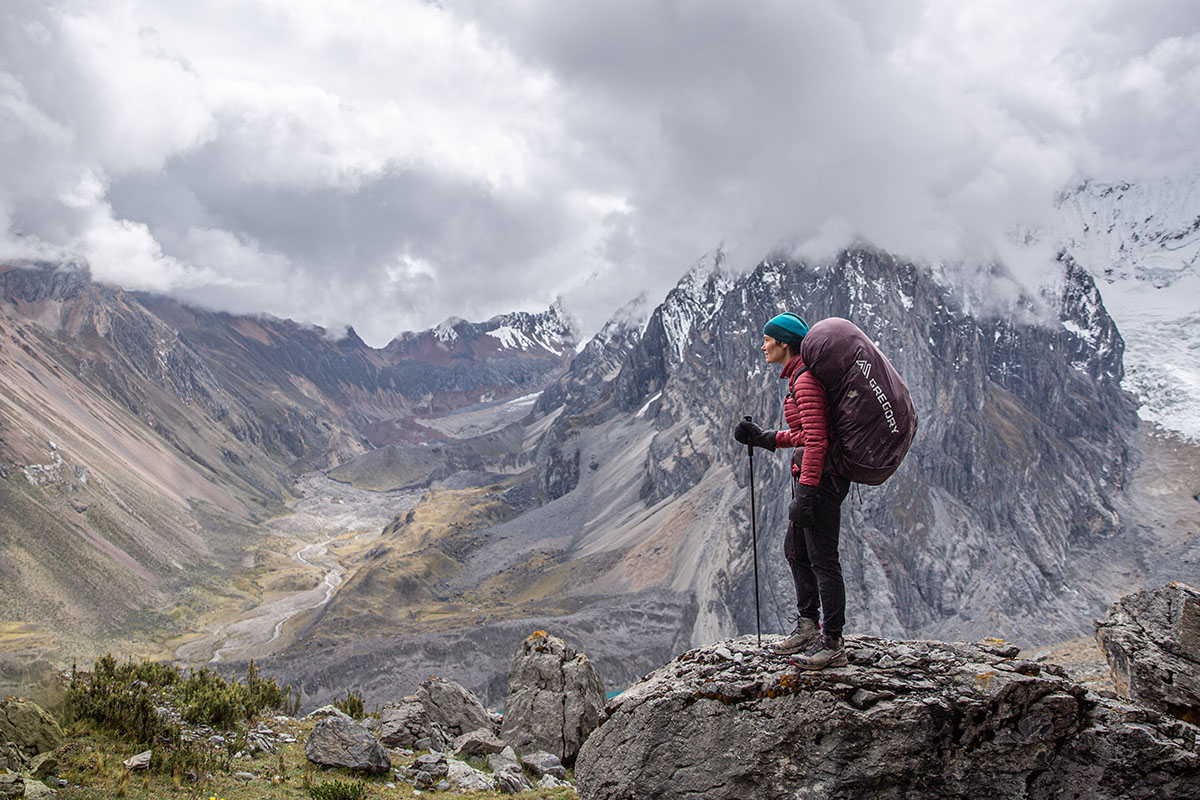 A final mountain-ready design to have on your radar is La Sportiva's Ultra Raptor II Mid GTX, which is a slightly nimbler and quicker alternative to the Rush TRK GTX. Inspired by the brand's popular Ultra Raptor trail runner, the mid-height variation is competitively light at 1 pound 11.8 ounces (5 oz. less than the Rush TRK) while retaining key technical features including a Gore-Tex membrane and grippy FriXion outsole (although the wider lug spacing did cause some slippage in thick mud during testing). Protection is also good thanks to the generous toe cap and TPU heel, and the rigid shank adds a nice dose of stability on steep terrain. The biggest concession is durability: The Rush TRK's mixed leather and synthetic upper will hold up better to rough use and abrasion compared to the Ultra Raptor II's mesh-heavy, all-synthetic design. That said, it's an undeniably well-made boot, has similar appeal for backpacking over rugged terrain, and will save you $40 over the Rush.
If you're thinking about buying gear that we've reviewed on Switchback Travel, you can help support us in the process. Just click on any of the seller links above, and if you make a purchase, we receive a small percentage of the transaction. The cost of the product is the same to you but this helps us continue to test and write about outdoor gear. Thanks and we appreciate your support!
Depending on the seller, most products ship free in the United States on orders of $50 or more. International shipping availability and rates vary by seller. The pricing information on this page is updated hourly but we are not responsible for inaccuracies.
Read More From Switchback Travel