Adidas has really leaned into their Terrex outdoor collection of late, with a rapidly growing line of mountain-ready apparel and footwear. The Terrex Free Hiker 2 lands in a popular new segment of hiking shoes: It's not a full-on boot, but you get over-the-ankle protection and a bit of extra support in a lightweight and fast-moving package. We tested the Free Hiker 2 in southern Patagonia and found its casual styling belies its surprisingly capable design. Durability suffers a bit with the exposed foam midsole, but the Adidas' sock-like fit and strong on- and off-trail performance won us over. Below we break down our experience with the Free Hiker 2. To see how it stacks up to the competition, see our articles on the best hiking shoes and best hiking boots.
 
---
Table of Contents
---

Performance
Comfort
With its sneaker-like looks and high price tag, I came into this test of the Adidas Terrex Free Hiker 2 GTX a bit skeptical. But partway into my first hike with the shoe, I was already a fan. The Free Hiker has an excellent, performance fit that's snug in the heel—it feels glove-like when you slip it on—and there's a just-right amount of cushioning in the collar and tongue. The lacing system is another highlight: It tightens evenly around the foot, and I had no issues with it loosening throughout the day. I took the Free Hiker straight from the box onto a challenging day hike in southern Patagonia and suffered no repercussions. It required essentially zero break-in, and there's a great balance of stiffness and flexibility for moving quickly on the trail and boulder hopping.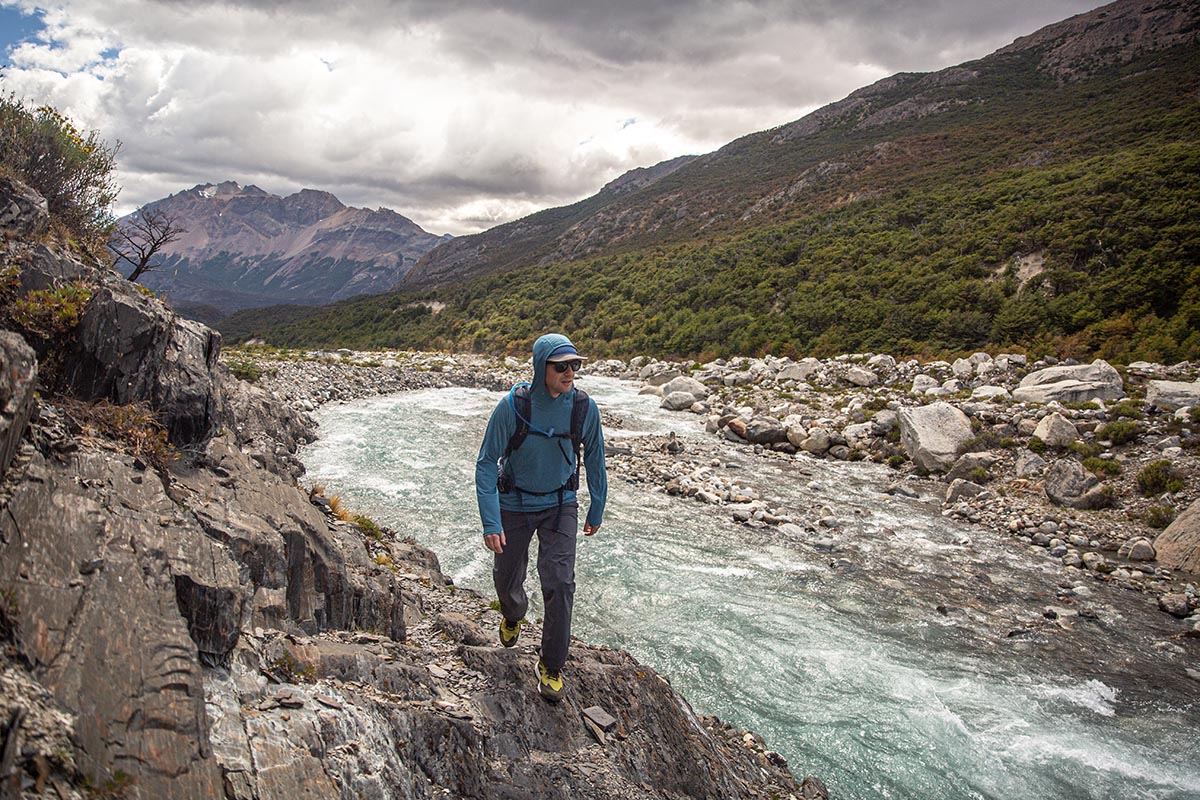 One takeaway I kept coming back to during the Free Hiker 2 test is that it feels wholly modern. Clearly inspired by trail running shoes, the Adidas is lightweight, agile, and pretty soft underfoot. But there's a noticeable dose of support, and the top-of-the-ankle height provided a little extra waterproofing for creek crossings and protection for scrambling rocky slopes. And that thick Boost midsole—the exposed foam along the side is hard to miss—helps limit foot fatigue as miles add up. For day hiking and light backpacking, I think it's a compelling and well-rounded design.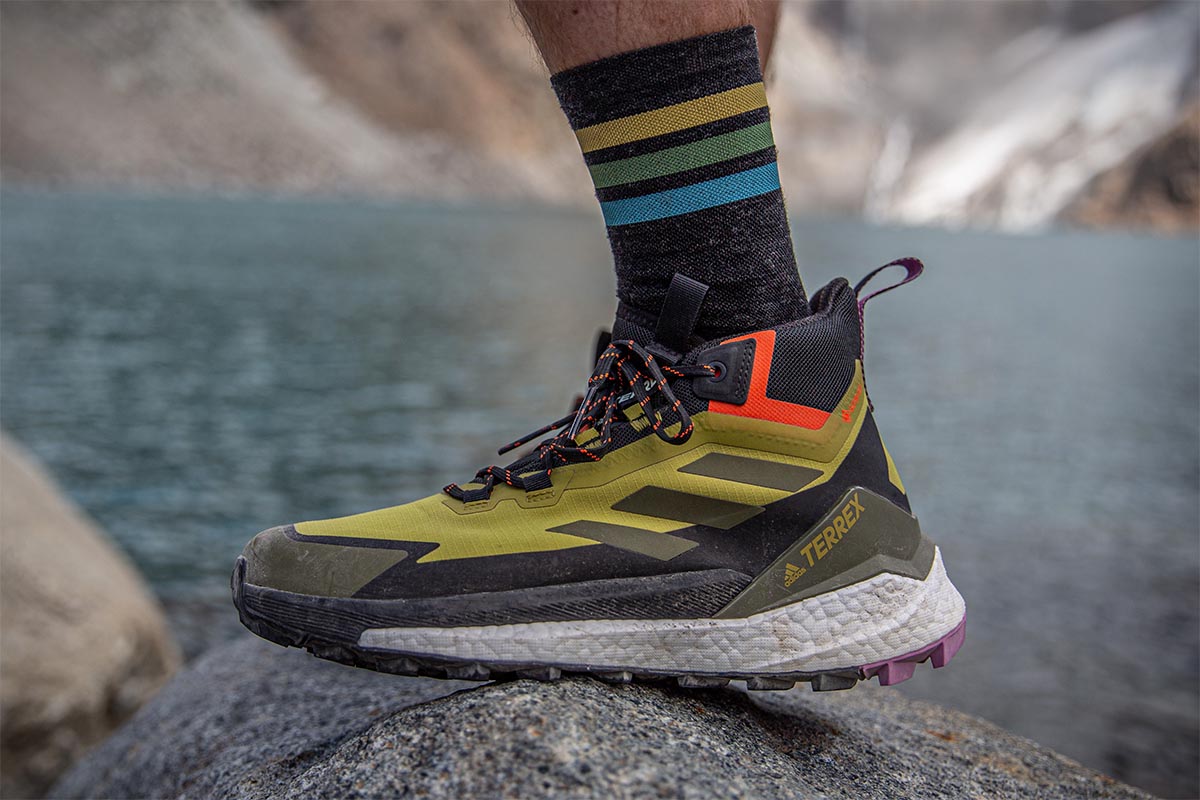 Weight
The Terrex Free Hiker 2 has a tweener height that's hard to define—"mid-height shoe" is as close as we got—but its 2-pound-0.7-ounce weight for my men's size 9 puts it in the lightweight boot category. Alternatives like the HOKA Anacapa Mid GTX (2 lbs.), La Sportiva Ultra Raptor II Mid GTX (2 lbs. 1.2 oz.), and Salomon X Ultra 4 Mid (1 lb. 14 oz.) are all roughly the same weight. If you're looking for fast and light, there are plenty of feathery, low-top trail runners that can save you a half pound or more. And the same goes for boots that are equipped for heavy hauling—expect to add about a half pound and up for a taller height and greater protection and support. But landing in the middle is a sweet spot in the market, and Free Hiker's weight was never a complaint for me.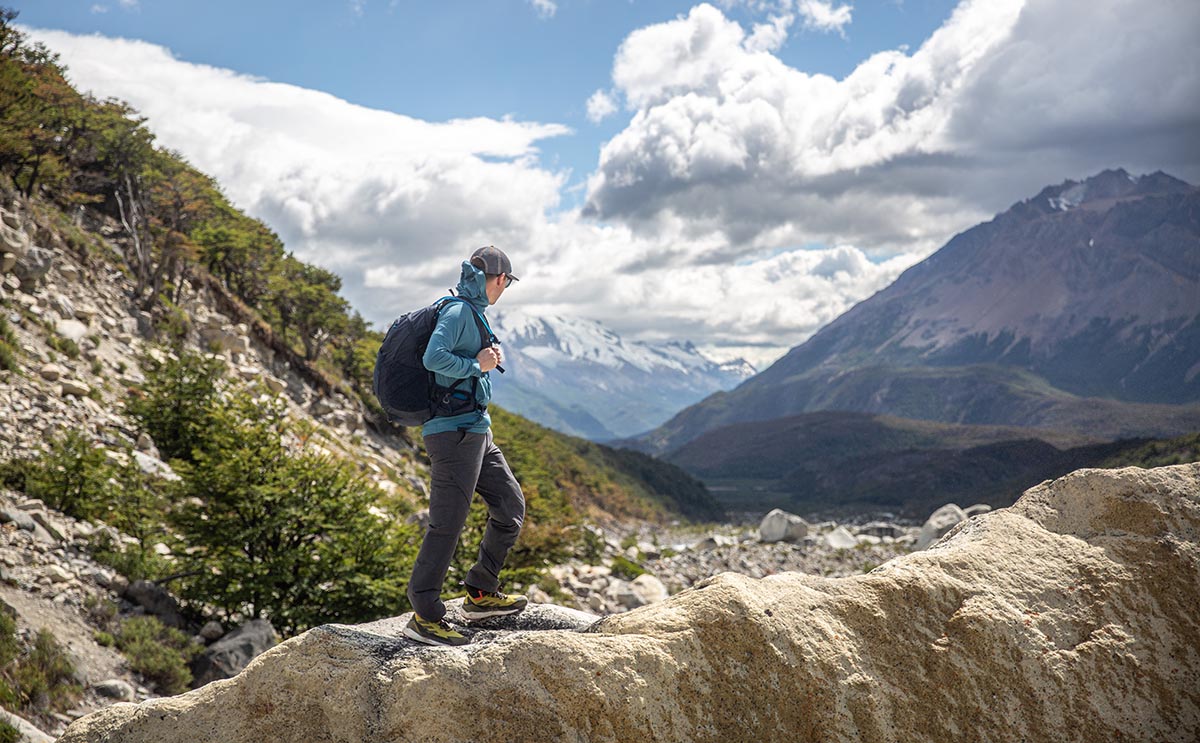 Traction
Adidas partnered with Continental for their outsoles years ago—bucking the Vibram trend of most brands—and we have yet to be disappointed. The tacky rubber on the Free Hiker provided excellent grip on rock—both dry and wet—and the lugs are plenty aggressive for biting into dirt and mud on steep climbs and descents. Even for off-trail use and over hard-to-trust terrain, the grip was reliable and secure. We know some folks that use the Terrex Free Hiker as an approach shoe to the mountains outside of El Chaltén (the region where we did this test), and we agree that the shoe's well-rounded grip is a great match in this zone.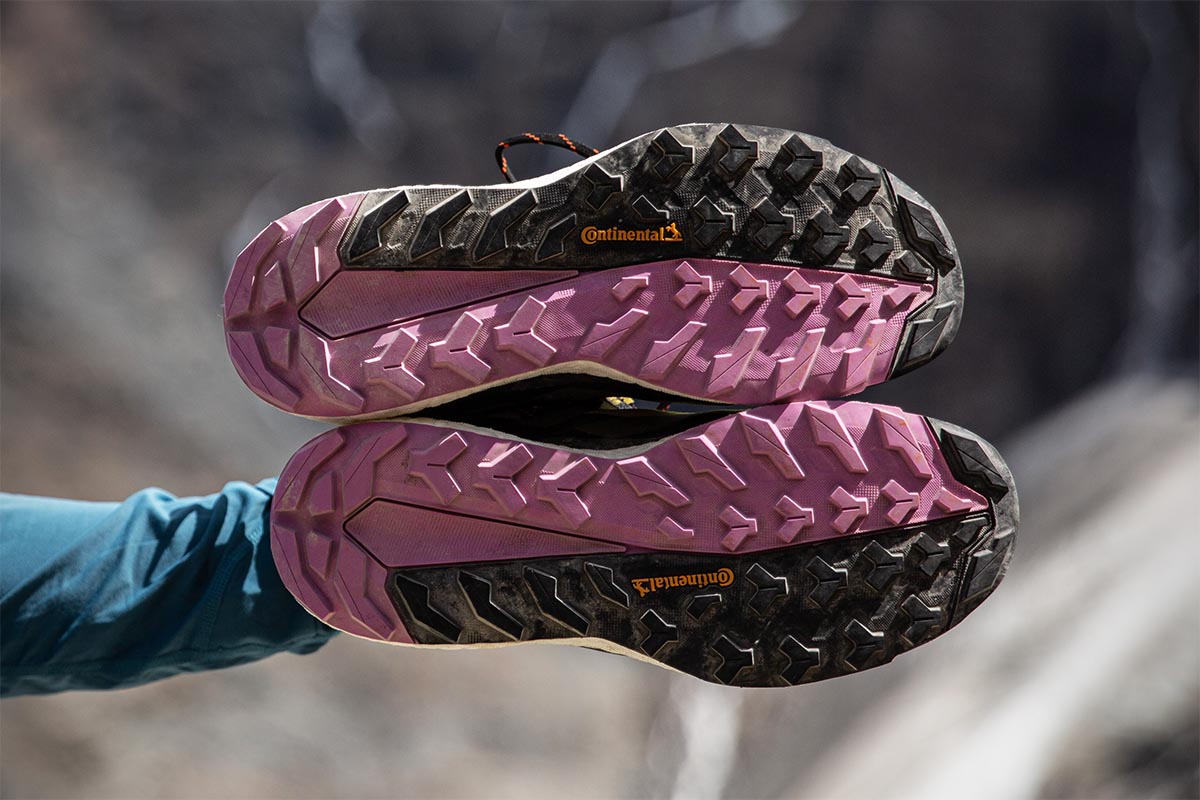 Waterproofing and Breathability
For this test, we opted for the Gore-Tex Free Hiker, which comes with a higher collar than the non-waterproof variation (the non-waterproof shoe has a knit cuff instead that hugs the ankle). The raised height proved to be a nice match for the numerous creek crossings on our day hikes, where the liner did its job at keeping moisture out. Additionally, the boot's synthetic upper effectively shed moisture, and I had no issues with water absorbing into the fabric (a common problem with leather uppers). It's worth noting the shoe's gusseted tongue separates at just about the base of the ankle, so you need to be mindful of the depth of the water before splashing through. But in terms of waterproofing, the Free Hiker GTX was completely sufficient.
Unsurprisingly, adding a waterproof layer impacted breathability, and I wound up with warm feet by the end of each of our hikes. The extra insulation is nice in the cold—a plus for wearing on a backpacking trip in the morning and evening—but there are undeniable drawbacks for those who run warm (myself included) and when working hard. And as with all waterproof footwear, you'll want to do your best to not allow water to come in over the collar and into the shoe. The liner is slow to dry, even with the Free Hiker's relatively thin upper material. In the end, the Gore-Tex model was a nice match for this trip, but the non-waterproof Free Hiker 2 would be better in most summertime conditions. 

Stability and Support
Like its ankle height, the Terrex Free Hiker's level of stability and support lands in an in-between place. Underfoot, there's a decently solid base that wasn't prone to rolling over even while traversing boulder fields, and Adidas reinforced the sides of the shoe with some light EVA "frames." That said, there was a clear focus on making it feel fast and trail runner-esque with the soft midsole and plenty of flex under the forefoot. The net result should make a lot of folks happy: It's a fast-moving shoe that doesn't feel overbuilt on an average hiking trail, but there's still enough support for off-trail use and hauling an overnight load.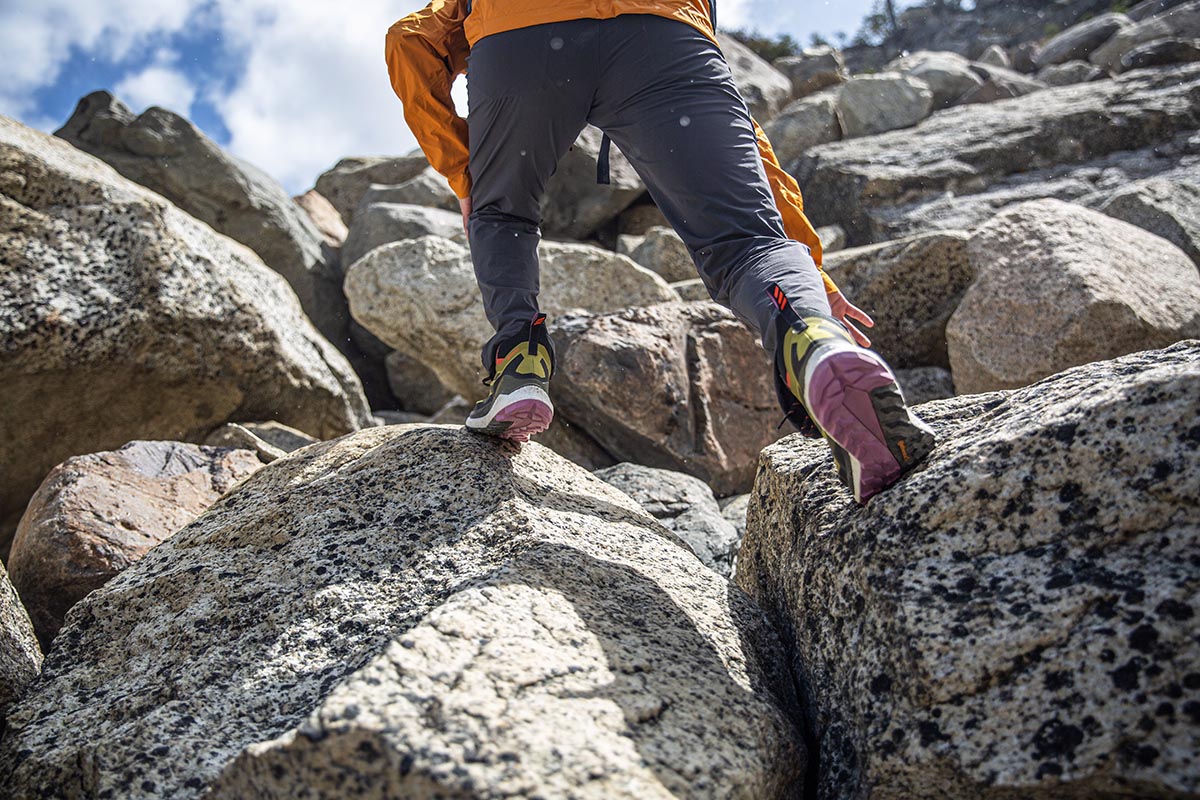 Build Quality and Durability
For build quality and durability, the Adidas Free Hiker was a bit of a mixed bag, particularly when you factor in its steep $230 price tag. On one hand, the materials are clearly premium: The upper is a light and sleek synthetic with a ripstop patterning, and you get high-end cushioning and materials throughout. Plus, there's a nice amount of foot protection with the molded toe cap and raised EVA frames along the sides of the foot. Importantly, most of the design is holding up well, including the laces, mesh collar, fabric loops, and rubber outsole, which is wearing evenly and as expected.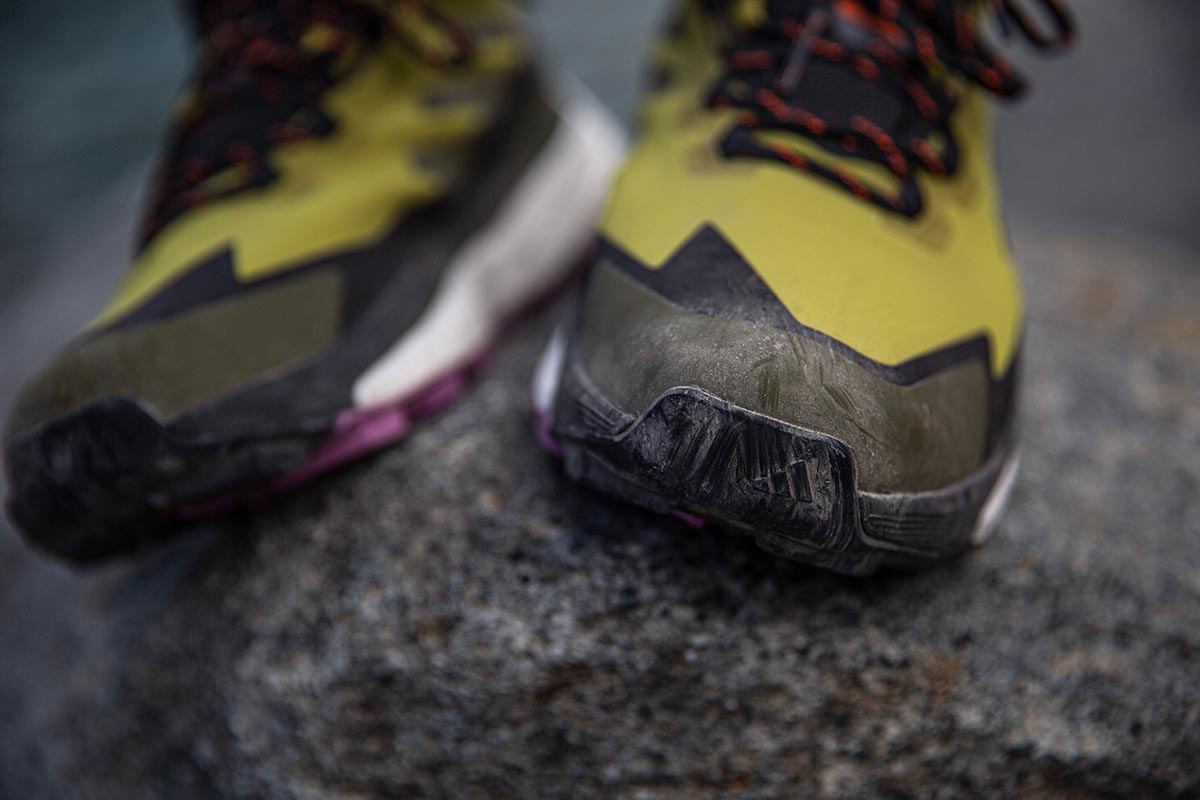 But the rocky and difficult terrain of southern Patagonia did reveal one weakness: the exposed Boost midsole. The soft foam is left unprotected on both sides of the shoe, and it almost immediately started showing signs of wear. There are small slices and chunks of foam missing currently, and I expect that to continue throughout its lifespan. If you plan to primarily stick to well-maintained trails, this likely won't be a dealbreaker, but we'd love to see Adidas do a better job reinforcing this space in a future update.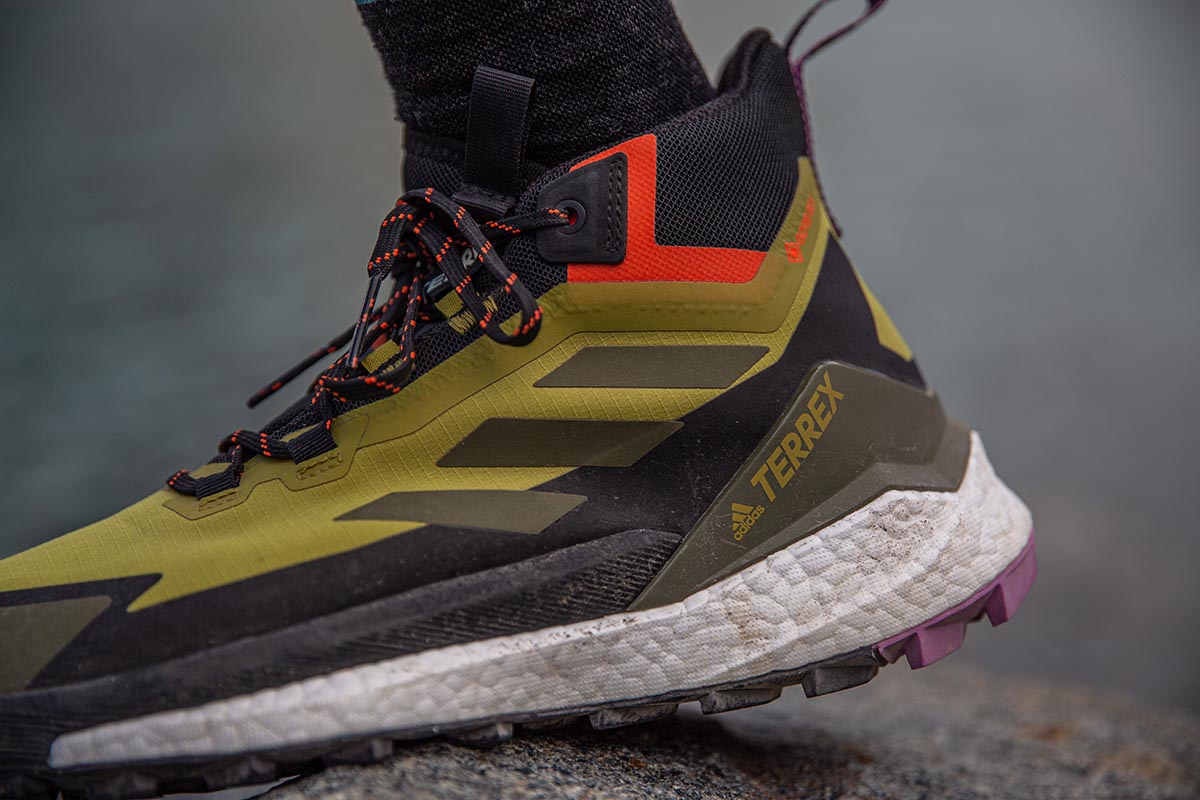 Fit and Sizing
I touched on this above, but the fit of the Terrex Free Hiker was a highlight of the design. Sliding your feet in—there are loops at the tongue and back of the collar to help—and there's an immediate glove-like feel. I ordered my standard men's size 9 with the shoe and found it fit true to size. The heel and midfoot is snug—great for my somewhat narrow heel—and it was easy to tune the fit with the great lacing system. I also found there was enough space in the toe box to avoid any rubbing or discomfort, but it wasn't overly wide to negatively impact foot feel and support in challenging terrain. I'd love to see Adidas offer dedicated wide sizes to give it broader appeal, but the standard fit should work for a lot of folks.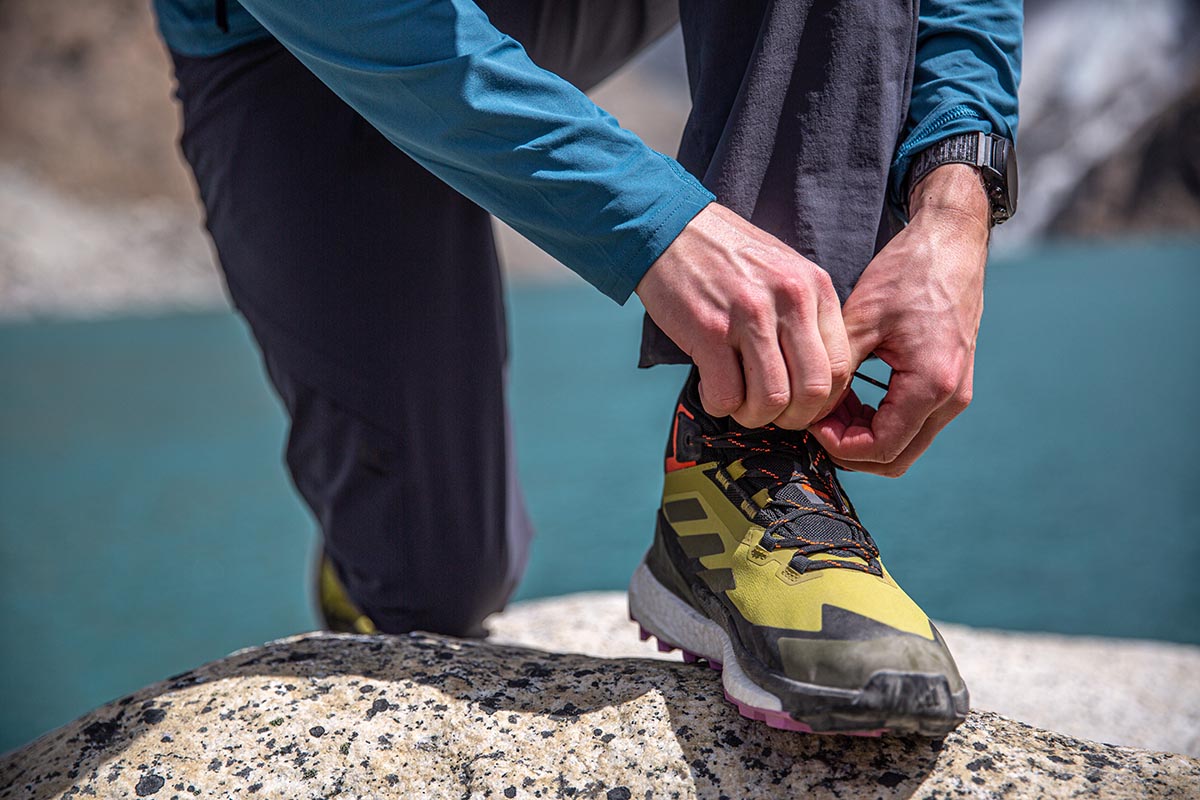 Sustainability
We've seen a significant recent movement in the outdoor market towards more sustainable practices. As a brand, Adidas has pledged to replace virgin polyester with recycled polyester "wherever possible" by 2024—though that's a fairly vague goal—and to make sure nine out of 10 of their articles contain a sustainable material by 2025. They're also experimenting with circular product design in a small line available only to members of their adiclub. For the Free Hiker 2, Adidas states that the upper is made with a minimum of 50% recycled content. And if you opt for the non-waterproof Free Hiker, the yarn in that shoe's upper contains at least 50% Parley Ocean Plastic (repurposed plastic ocean waste).
 
Other Versions of the Adidas Free Hiker 2
For this test, I took the Adidas Terrex Free Hiker 2 GTX to southern Patagonia. Additional Free Hiker options include a non-waterproof version that replaces the traditional collar of the GTX shoe with a stretchy and form-fitting knit fabric. Weight drops a couple ounces, and as does price at $200. Additionally, there are women's versions of both Free Hiker shoes that have identical constructions and prices but in smaller sizes and with different colorways.

What We Like
Excellent glove-like fit that's snug in the heel, easy to adjust with the secure lacing system, and inspires confidence on challenging terrain.
Continental rubber and balanced lug design grip well on rock, dirt, mud, and in the wet.
Soft yet responsive cushioning and relatively low weight give the shoe an athletic and fast-moving feel.
At-the-ankle height and reinforced sides offer decent ankle protection and support for off-trail use.

What We Don't
Exposed foam midsole started to show wear early in the test and currently has multiple slices and small chunks of foam missing.
Expensive at $230 MSRP. Most of the Free Hiker's competitors cost $200 or less.
For those who want a true hiking boot, this isn't it. The ankle height, level of support, and protection all fall short in the lightweight category.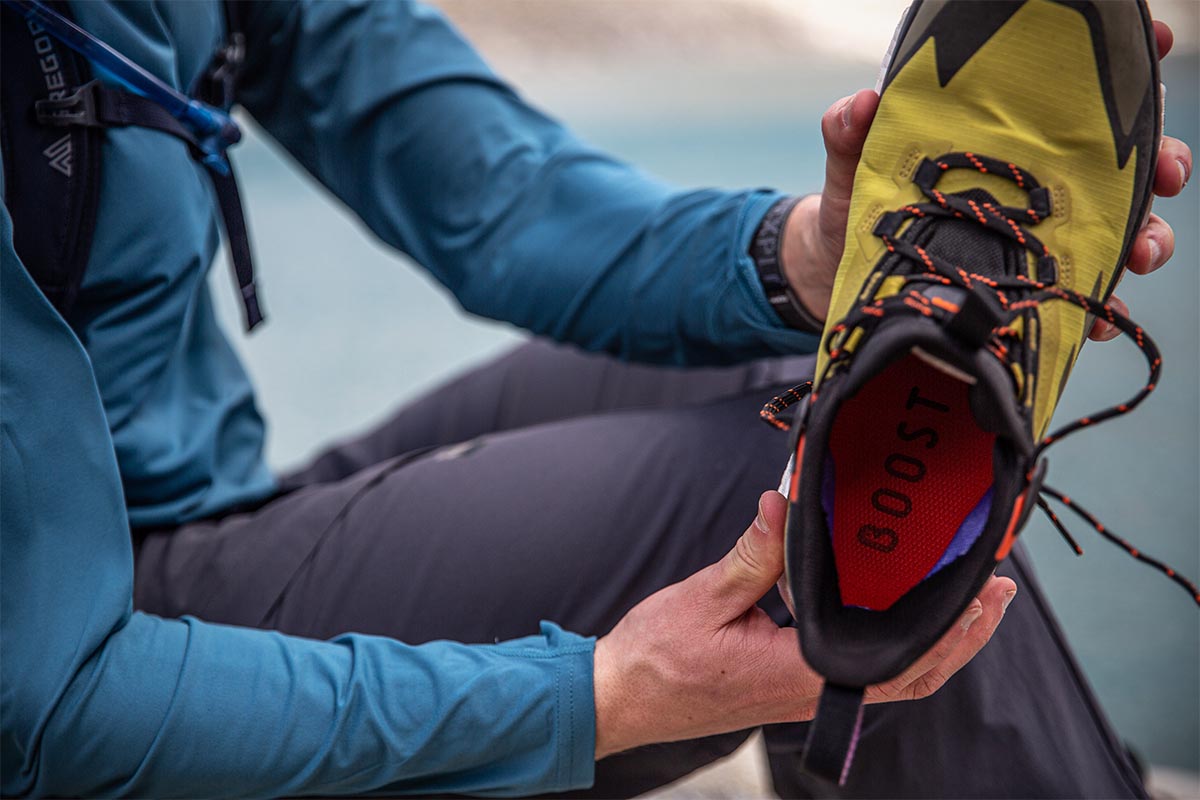 Comparison Table

The Competition
With a great mix of comfort and trail performance, the Adidas Free Hiker 2 GTX is a solid offering in the hiking footwear market. One of our current favorite over-the-ankle designs is HOKA's Anacapa Mid GTX, which brings HOKA's signature thick midsole to the hiking space. In comparing the two, the HOKA feels a little more boot-like with a taller ankle height and corresponding bump in overall stability. Both are cushioned yet light and feel quick on the trail, although the HOKA's super thick midsole and wide base make it feel a bit more ungainly than the Adidas. In deciding between the two, it's hard to ignore the HOKA's $45 price advantage. For designs that offer similar comfort and performance, that's enough for us to give the Anacapa the edge.
Another lightweight and cushioned boot to consider is Altra's Lone Peak ALLWTHR. Based on their popular trail runner, the mid-height boot includes an eVent waterproof liner, over-the-ankle cushioning and protection, and the brand's signature zero-drop shape. The wide fit—particularly in the toe box—is also part of the design, which can be a make-it-or-break-it feature. On the one hand, it's great for those who like or need the extra space, but it does give the boot a sloppy feel over technical and more challenging terrain. If you'll spend much time off trail or prefer a little more precision in your boot, the Free Hiker is the better option.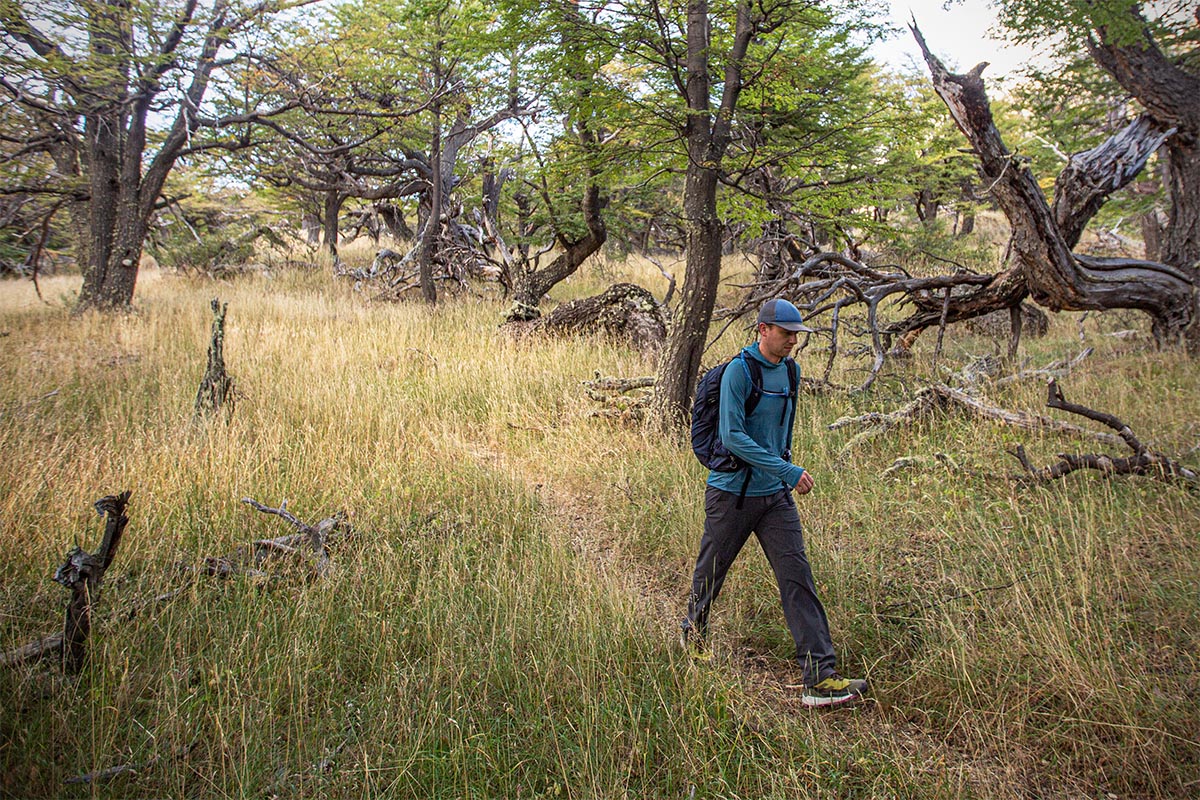 A lightweight boot comparison wouldn't be complete without Salomon's X Ultra 4 Mid GTX, which is easily one of the best sellers year after year. The Salomon is the lighter of the two (our men's 9 weighs only 1 lb. 11.5 oz.), has similarly well-rounded traction and waterproofing, and saves you a good chunk of change at $175. Spending up to the Adidas nets you quite a bit of extra cushioning underfoot—the Salomon is relatively thin by comparison—but otherwise, we struggle to make the case for upgrading. For most day hiking and overnight backpacking adventures, the Salomon is a proven choice and standout value (for more, see our X Ultra 4 Mid review).
A final boot to consider is from within Adidas' own line: the Terrex Swift R3 Mid GTX. Both Terrex boots are light (roughly 2 lbs. for a pair) and feature Continental outsoles, Gore-Tex liners, and at-the-ankle heights. But they differ in feel: Whereas the pricier Free Hiker has a thick Boost midsole that's soft and trail runner-like, the R3 has a stiffer and firmer base that's reminiscent of an approach shoe. If you prefer a plush setup, the Free Hiker is the clear winner, but the R3 impressed us with its mountain-ready construction at a good value ($180). In the end, they're two distinct products that have a lot of appeal for done-in-a-day adventures.
If you're thinking about buying gear that we've reviewed on Switchback Travel, you can help support us in the process. Just click on any of the seller links above, and if you make a purchase, we receive a small percentage of the transaction. The cost of the product is the same to you but this helps us continue to test and write about outdoor gear. Thanks and we appreciate your support!
Depending on the seller, most products ship free in the United States on orders of $50 or more. International shipping availability and rates vary by seller. The pricing information on this page is updated hourly but we are not responsible for inaccuracies.
Read More About Outdoor Gear