Salewa is well known in the mountaineering world for their technical alpine boots, and I was very impressed by the performance of their burly Mountain Trainers on a recent trip to Patagonia. On a subsequent journey to Peru, however, I wanted to lighten things up and opted for the more streamlined Mountain Trainer Lite Mid GTX. All in all, the Lite offered a much nimbler feel while retaining great comfort and stability for navigating tricky terrain, but Salewa did make some noticeable concessions in terms of protection and coverage. Below I break down my experiences with the Salewa Mountain Trainer Lite Mid GTX. To see how it stacks up to the competition, see our article on the best hiking boots.
 
---
Table of Contents
---

Performance
Comfort
Unlike many mountain-ready boots that are stiff and fairly rigid out of the box, the Salewa Mountain Trainer Lite Mid GTX was highly comfortable from day one. For reference, it felt noticeably softer and suppler than its heavier sibling, the standard Mountain Trainer Mid (Note: That boot has since been updated to the "2," but the outgoing model I tested is still widely available at the time of publishing). In fact, I'd go so far as to say that the Mountain Trainer Lite is the most comfortable alpine-focused boot I've worn to date, which is saying a lot. I'll note that the boots did feel slightly loose and roomy when I first put them on, which I was concerned would lead to unwanted movement on steep ascents and descents. But thankfully, these concerns were quickly put to rest once I hit the trail, and I was continually impressed by the levels of comfort and support.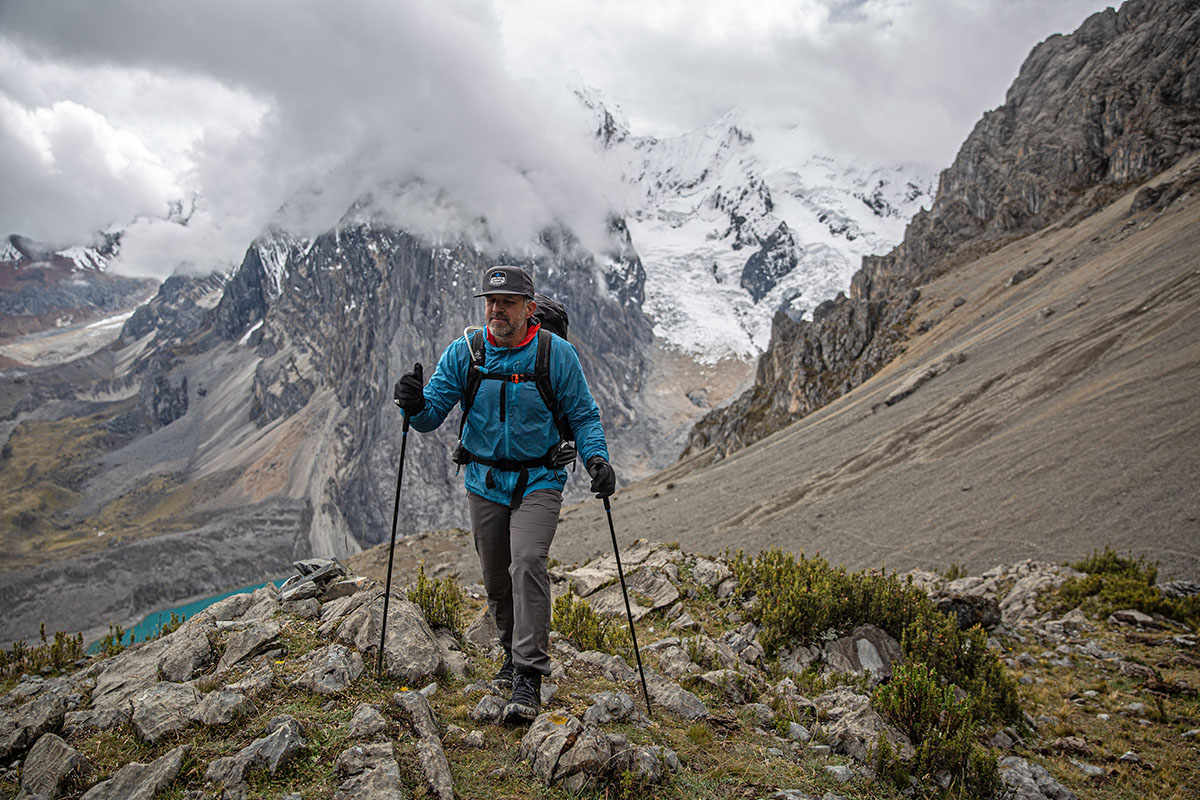 As far as highlights go, the Mountain Trainer's footbed and EVA midsole are nicely cushioned and didn't feel harsh or flat under a heavy load, and the 3F system does a great job locking in the heel. The tall stack height (40mm at the heel and 25mm at the forefoot) did take some getting used to—the forward tilt was noticeable during my first few weeks on the trail—but I didn't suffer any stability-related issues and enjoyed the isolation from the rough ground below. The upper and tongue are also quite comfortable and soft, and the one-piece design effectively minimizes potential rubbing and pressure points. Further, the relatively low-cut collar allowed ample range of motion on steep slopes, and the climbing-inspired POMOCA sole and TPU coating along the upper offered a nice balance of flexibility and lateral stability to navigate mountainous terrain with a full backpacking pack. Finally, unlike many other mountain-ready designs I've tested, the Mountain Trainer has great arch support—it's truly a boot you can put on and forget about.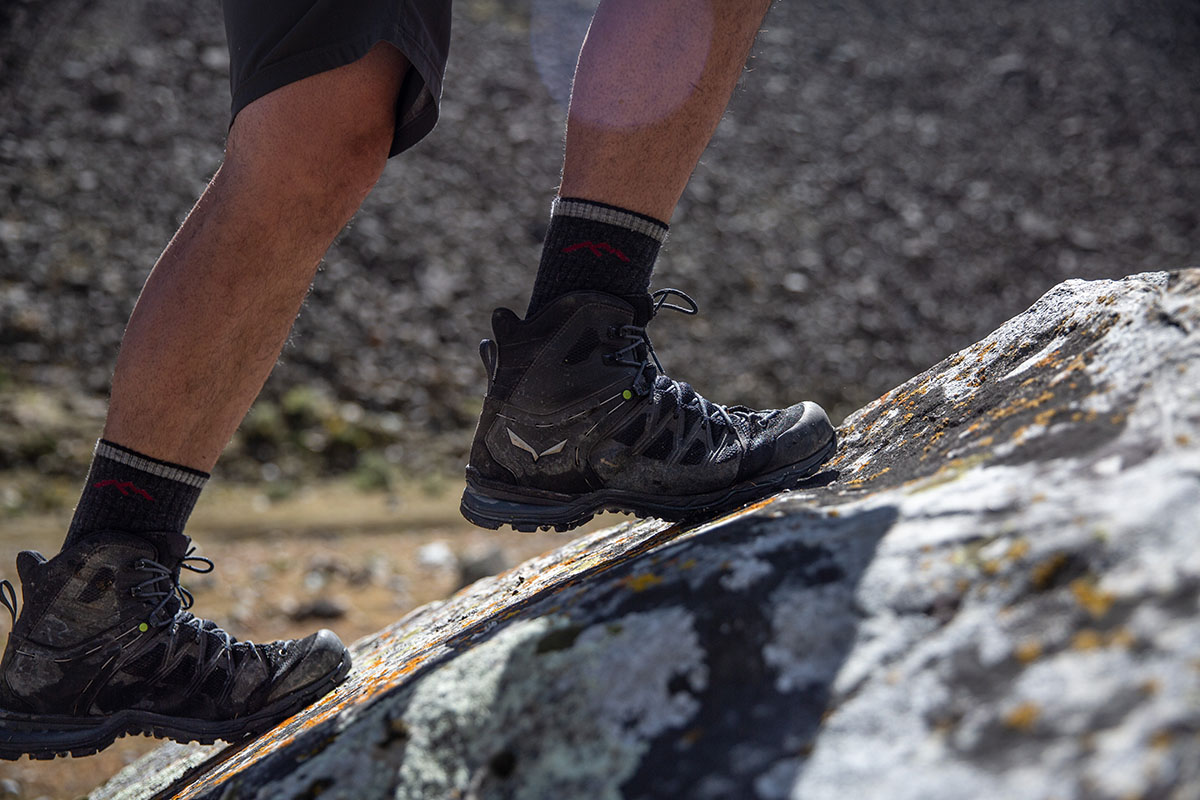 A final comfort-related hallmark is Mountain Trainer Lite's well-executed lacing system: The hook at the midfoot boasts a thin cord that connects it to the heel, which effectively locks down the ankle and back of the foot when cinched tight and promotes a very snug and customizable fit. Like the standard Mountain Trainer, the Lite variation does not include a locking eyelet, which I prefer for keeping my forefoot loose while tightening down the upper, but I've been able to find a viable (albeit slightly less secure) workaround by double-threading the laces through one of the lower eyelets. And on the bright side, the approach shoe-like laces extend almost all the way to the toes and allowed me to keep my forefoot and toes looser to accommodate my wider feet.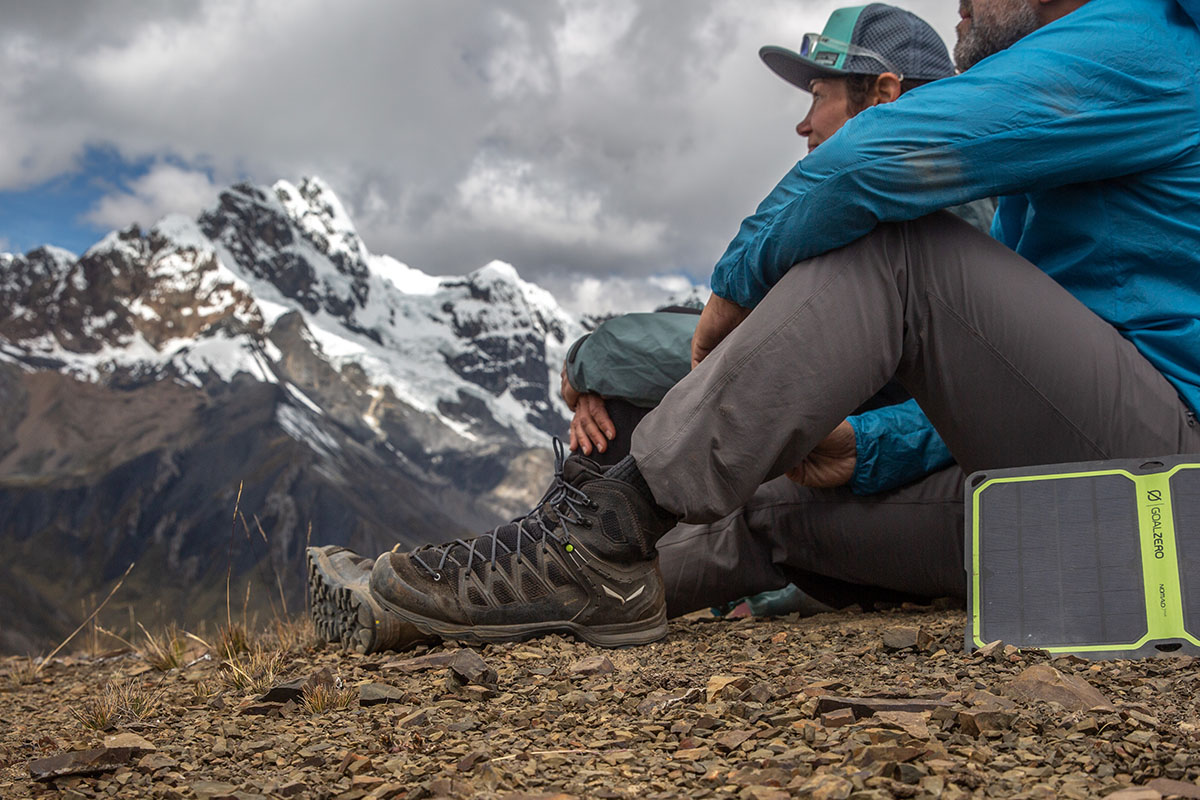 Weight
At 2 pounds 13.9 ounces for my pair of men's size 44.5 boots (they're listed at 2 lbs. 7.9 oz.), the Salewa Mountain Trainer Lite Mid certainly is no featherweight, but I consider the weight perfectly reasonable for the levels of support and stability. For reference, it's considerably lighter and sprightlier than the standard Mountain Trainer Mid GTX (3 lbs. 1.4 oz.) that I recently tested in Patagonia and even felt nimbler than the Scarpa Zodiac Tech GTX (2 lbs. 11.7 oz.) that I brought to Nepal's Everest region. Even after submerging the boots in a river and gaining some water weight while hiking in Peru, they didn't feel overly bulky or cumbersome underfoot, and the same held true on smooth trails and prolonged sections of flat ground. The only time I noticed any true heft was when the soles caked up in sticky clay for a portion of our trip (I outline this experience more below), but otherwise, I often forgot about the boots entirely.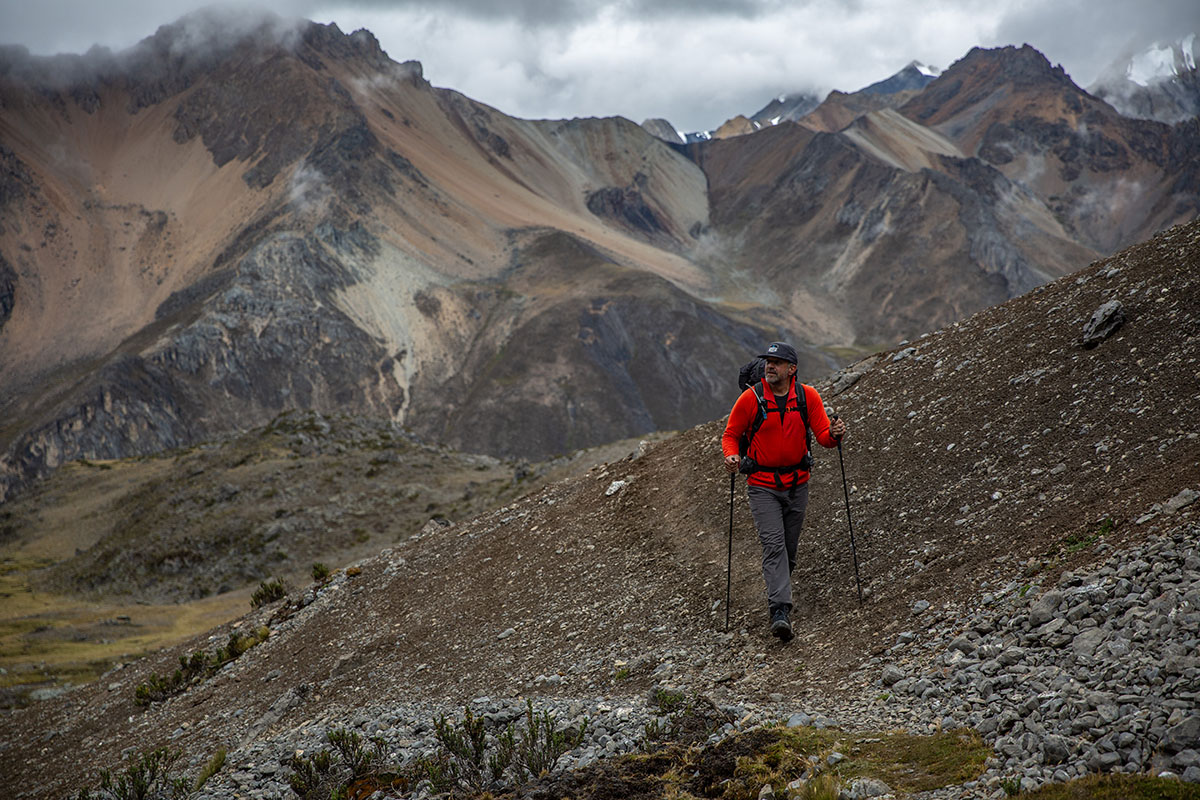 Traction
Salewa is a mountaineering company first and foremost, and the Mountain Trainer Lite Mid features a climbing-inspired POMOCA outsole and deep, aggressive lugs. Similar to my experience with the burlier Mountain Trainer, the Lite model didn't feel entirely solid on wet rocks during my first few hikes on Vancouver Island, but traction improved considerably as I continued to break the boots in. By the end of our trip to Peru, the Mountain Trainer Lite had proven itself over everything from loose, steep gravel to muddy bogs and slippery rocks. It even performed well on a wet and exposed grassy trail that I had slipped on during a previous trip to Peru, which made for a far more enjoyable ascent.
The only problem to note is that the soles were quick to cake up in thick mud and clay, although my wife's Scarpa Rush TRK GTX boots suffered a similar fate, so this isn't a big knock on Salewa. Apart from that experience, I was overall very impressed by the outsole's consistency and confidence-inspiring feel.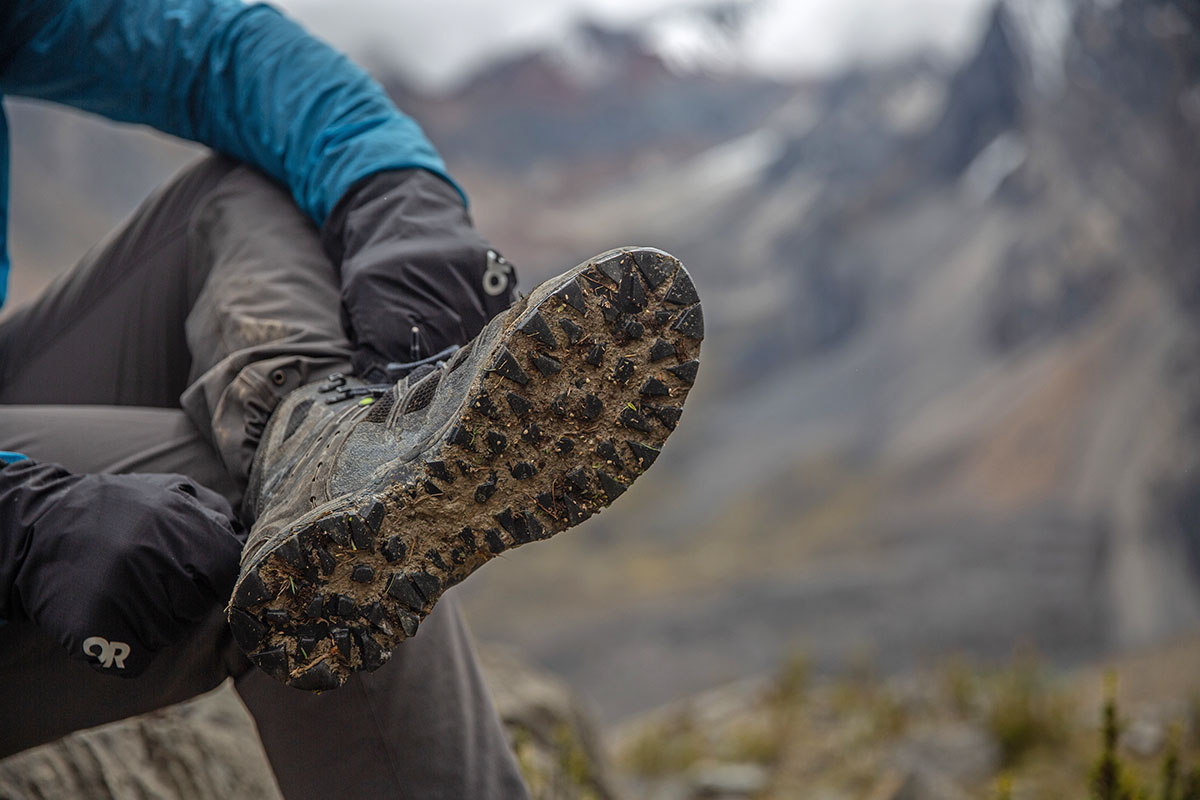 Stability and Support
I've been very impressed by the Mountain Trainer Lite Mid's levels of stability and support, especially considering its reasonable weight and fairly streamlined build. Though slightly less stable than the more mountaineering-focused Mountain Trainer Mid and Scarpa Zodiac Tech, the Mountain Trainer Lite was a great match for alpine conditions and boulder hopping with a loaded pack containing 9 days' worth of heavy backpacking gear and camera equipment. The 3F system I mentioned above is a big help here: It connects the instep with the sole and heel to boost support and keep the foot in place while retaining enough flexibility to confidently navigate tricky terrain. For reference, I suffered no ankle rolls or balance issues on off-camber sections of trail and trusted the boots to keep me secure on the frequently technical slopes that we encountered in Peru.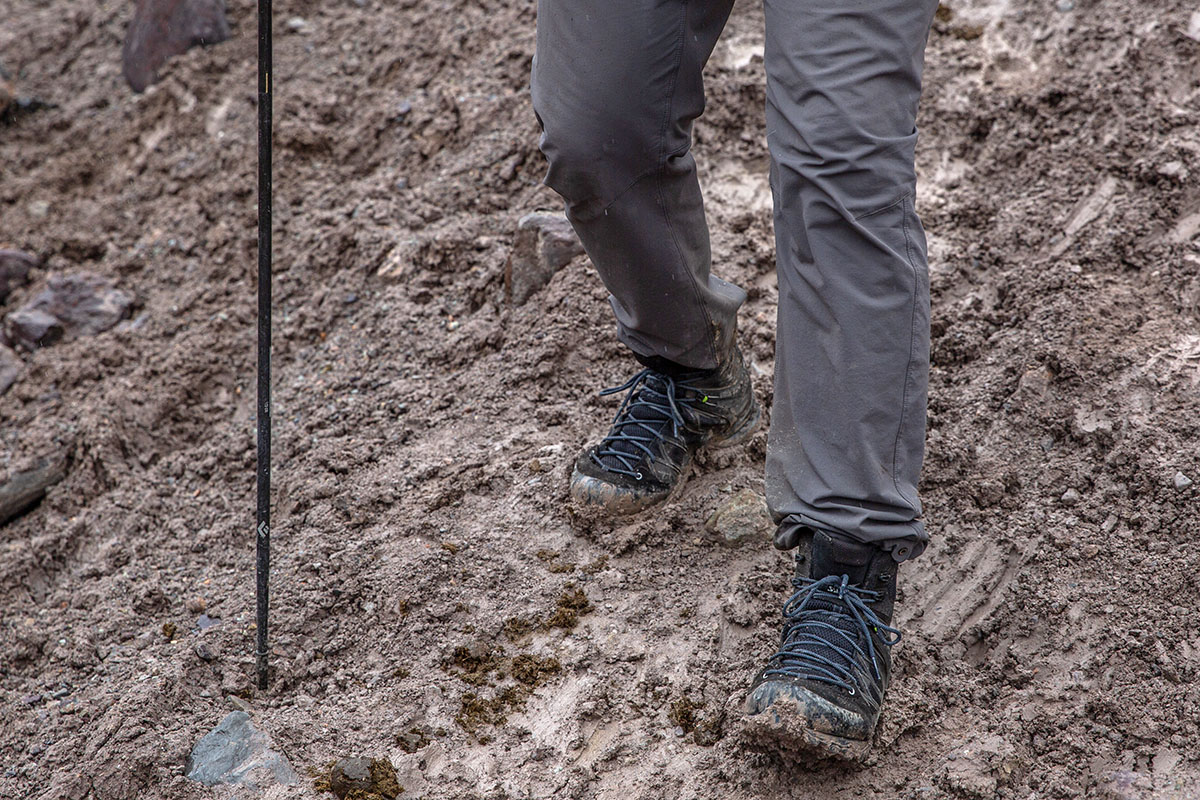 Waterproofing and Breathability
As expected from a Gore-Tex-equipped boot, the Salewa Mountain Trainer Lite Mid GTX kept my feet comfortable and dry during shallow river crossings, while hiking in rain, and when trudging through deep mud, clay, and manure in Peru. I also subjected the boots to rock hopping through glacier-fed rivers and boggy lakes and confidently plodded through smaller streams without issue. My only complaint is that the collar is on the lower side and allowed water, snow, and debris to seep over the top on a couple occasions. In these cases, I found myself wishing for the taller elastic cuff on my Scarpa Zodiac Tech (it rides about 1.5 in. higher), which did an excellent job of sealing out the elements. But in the end, I consider this a reasonable tradeoff for reducing weight—and you can always add a pair of gaiters or bring a backup pair of shoes if you plan to encounter deep water crossings.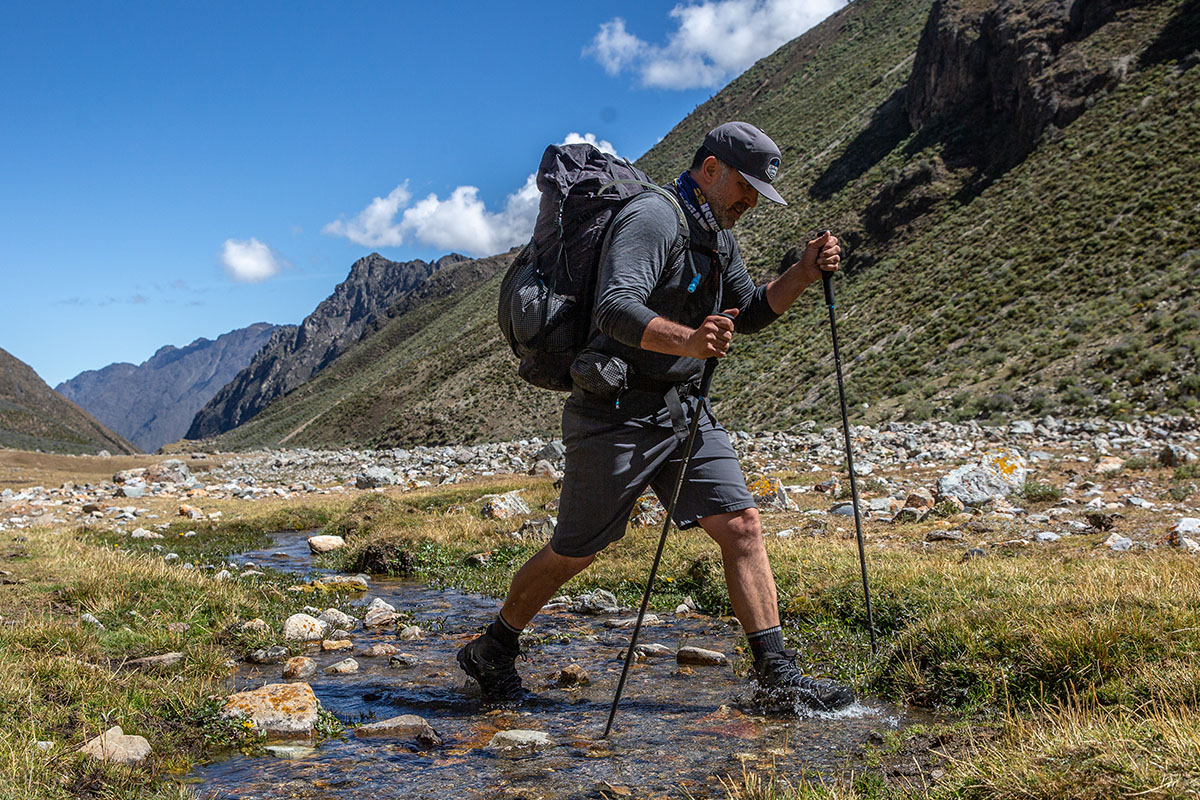 Another benefit to the Mountain Trainer Lite's waterproof construction was that it added some much-needed warmth on cold, frosty mornings in Peru before the sun emerged over the peaks. It was also helpful back home in British Columbia, where my feet stayed warm and dry in snow and slush. Paired with midweight wool hiking socks, I haven't had to worry about cold feet. And importantly, the synthetic upper and tongue are still breathable enough that I haven't had any issues with overheating or sweatiness in warmer conditions. As with all waterproof footwear, you shouldn't expect any miracles in true summertime heat at lower elevations, but the Mountain Trainer Lite has done a good job of handling typical alpine conditions.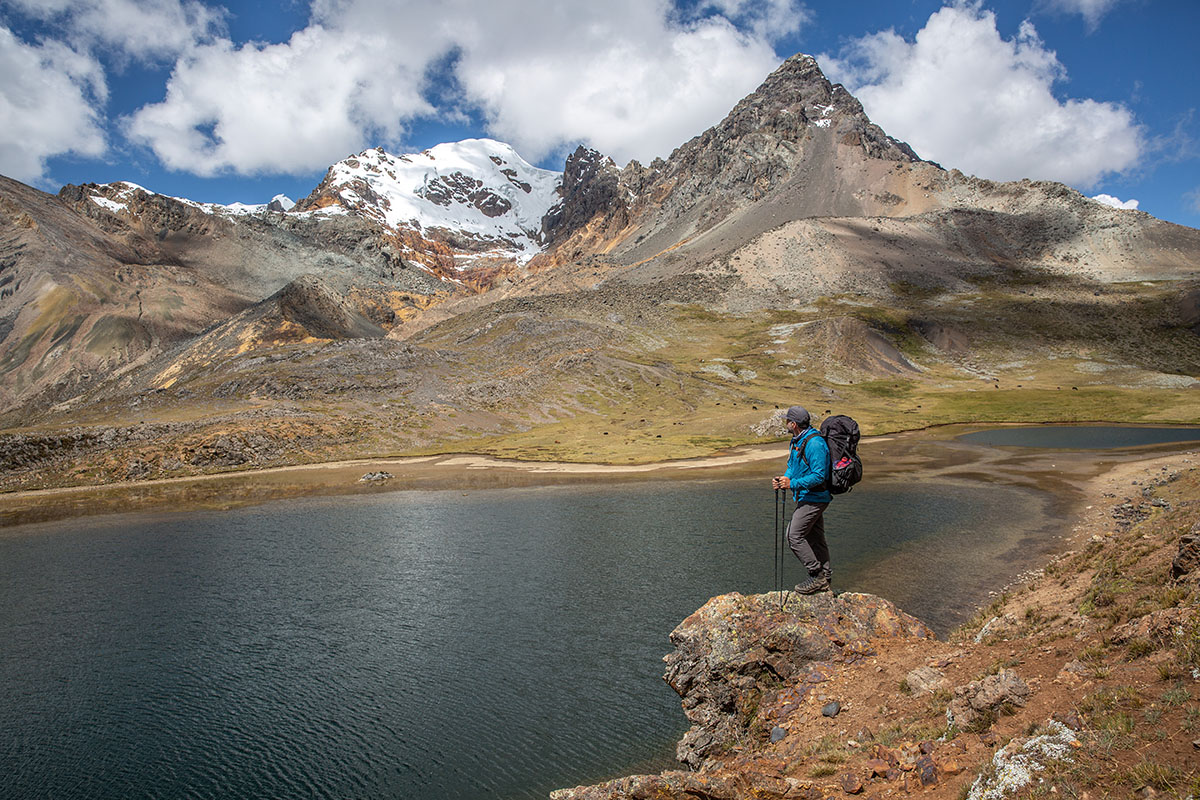 Protection
True to its alpine intentions, the Mountain Trainer Lite Mid GTX's protection is reminiscent of an approach shoe with a rubber toe cap that extends over the forefoot, but it's not the most comprehensive design. For reference, the rand on the standard Mountain Trainer wraps around the entire foot, providing 360-degree coverage against direct hits from obstacles like rocks and roots. The Mountain Trainer Lite's is much smaller and thinner by comparison, and medial foot protection (around the inside of the ankle) is also pretty minimal. This led to some rock strikes on steeper and more aggressive inclines, and I personally would have traded a little more weight for added protection in these areas. But this is entirely a matter of personal preference, and most sure-footed hikers likely won't have any issues.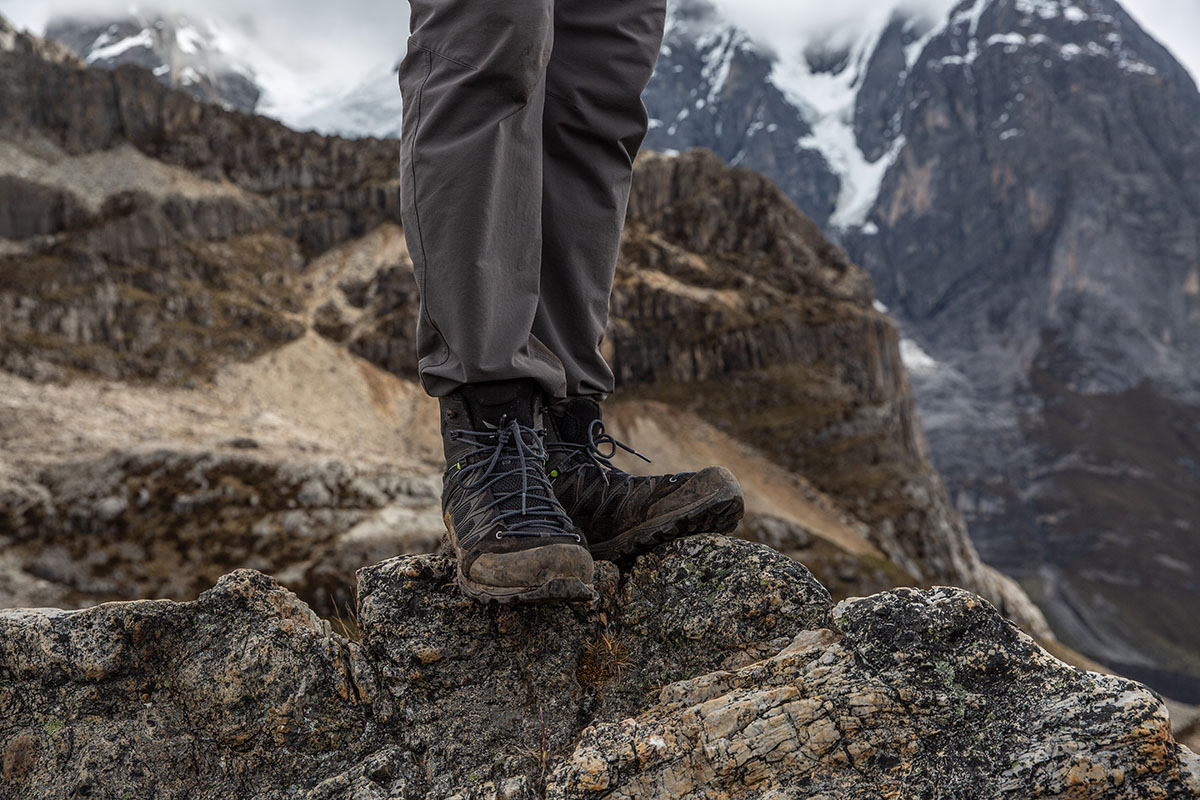 Build Quality and Durability
I was very impressed when testing the standard Mountain Trainer Mid, and the Lite version shares a similarly premium and hardwearing construction. The boots are clearly built to handle the rigors of unforgiving alpine terrain and showing only minimal wear after extensive abuse in the mountains of B.C. and Peru. Apart from minor deterioration along the outsole and tiny needles intertwined in the synthetic upper, everything is holding up well: The TPU coating has proven to be very abrasion-resistant, the eyelets and laces are intact with no fraying, the toe rand is free of scratches, and the EVA midsole has maintained its soft, cushioned feel with no noticeable packing out. Even the thin cord connecting the midfoot to the heel is in good shape—it's clear that Salewa put some thought into this by beefing up the inner heel counter and outer heel bumper to minimize potential snags.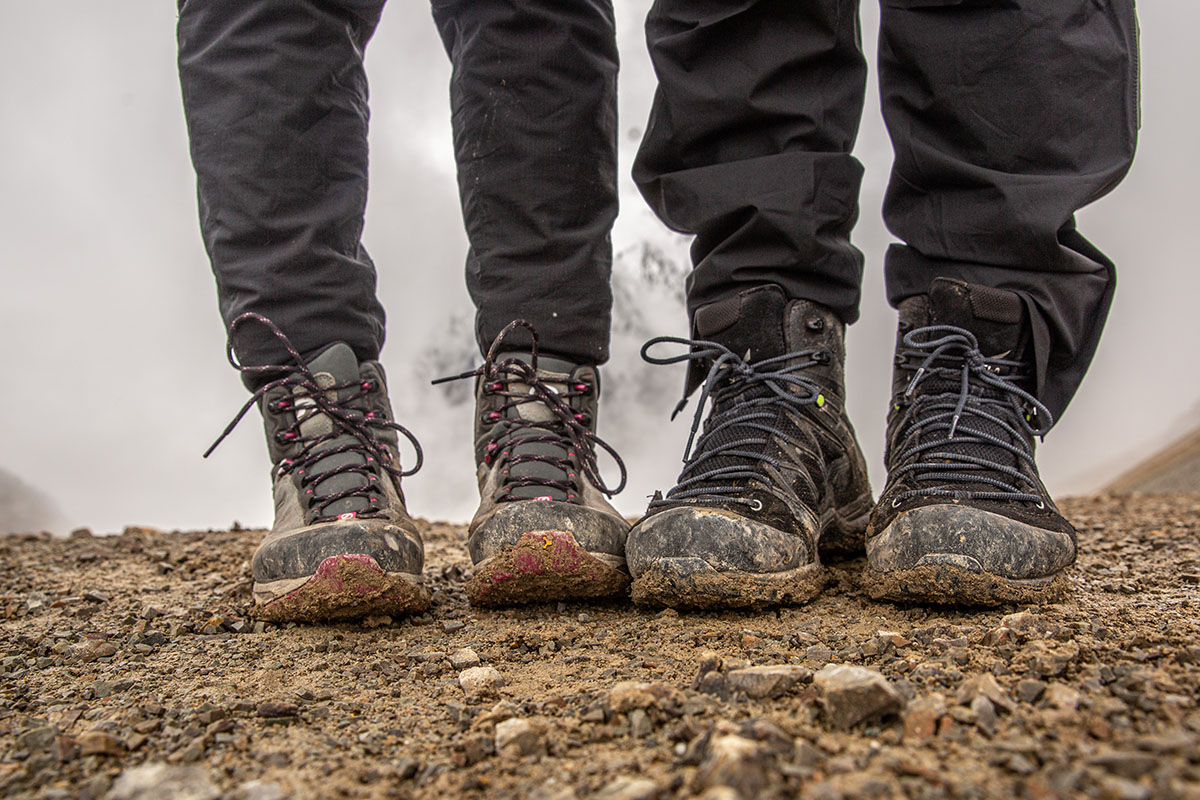 However, like many other designs that aim to trim weight, the Salewa Mountain Trainer Lite compromises a little on durability and coverage with the smaller and thinner toe cap, which doesn't extend to the midfoot and led to some rock strikes on particularly off-camber trails. As I mentioned above, I'm admittedly less weight-conscious than many hikers and backpackers, so I would have preferred added protection and stability over shaving ounces. And a final (albeit smaller) gripe is that the boot's lower eyelet tends to bend upward, which could allow small pebbles and other debris to sneak in while hiking over looser surfaces like gravel or sand. I haven't had any problems yet, but it's a noticeable gap that may cause issues on certain types of terrain.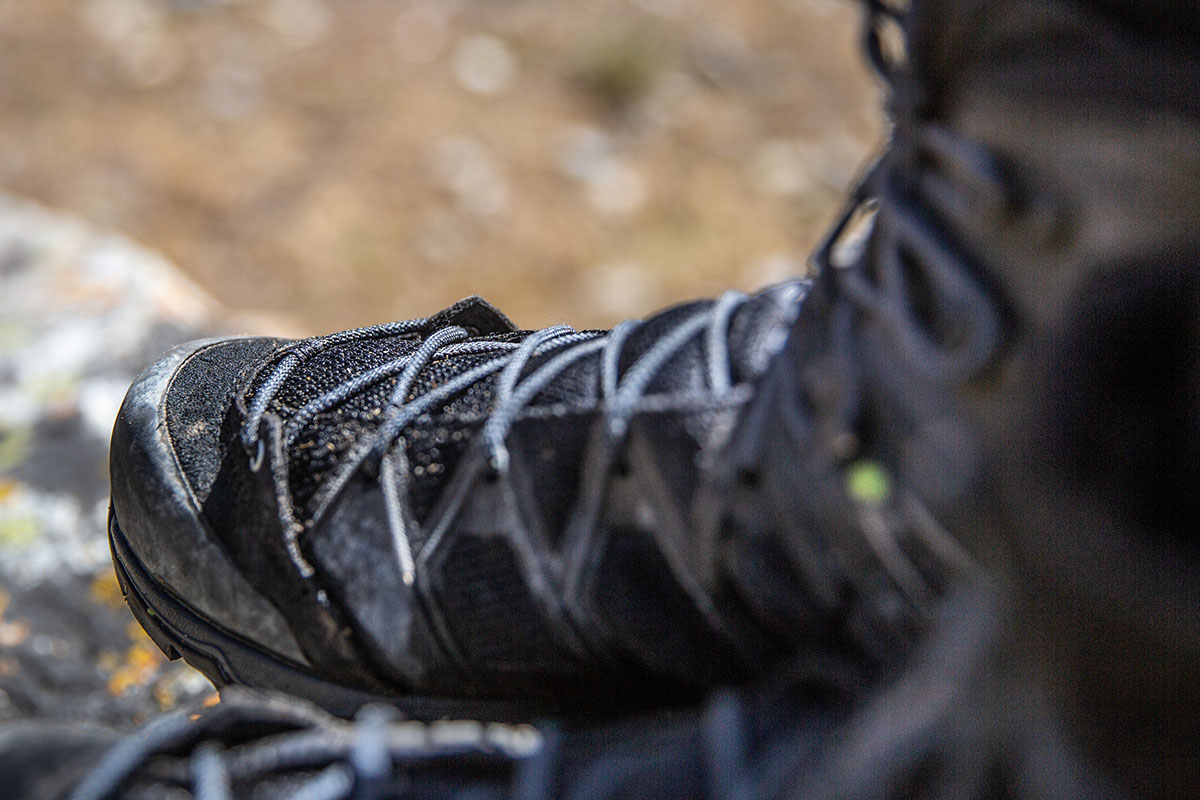 Fit and Sizing
Salewa's sizing has been a bit tricky for me to pin down: I recently needed to size down from my standard 44.5 to a 44 in the standard Mountain Trainer Mid, but a 44.5 worked in the Lite variation tested here. It's worth noting that I have relatively finicky feet and often suffer from hotspots and rubbing, but the boot's wide toe box easily accommodated my higher-volume feet and caused no issues during break-in. As I covered above, the to-the-toe lacing system also helped considerably by allowing me to reduce tension at the toes and customize the all-around fit. I did experience one minor pressure point above my big toe where the eyelet is positioned, but this was during a relentlessly steep section of the Cordillera Huayhuash with a loaded 70-liter pack. Once the terrain leveled out, the feeling quickly disappeared and hasn't returned since.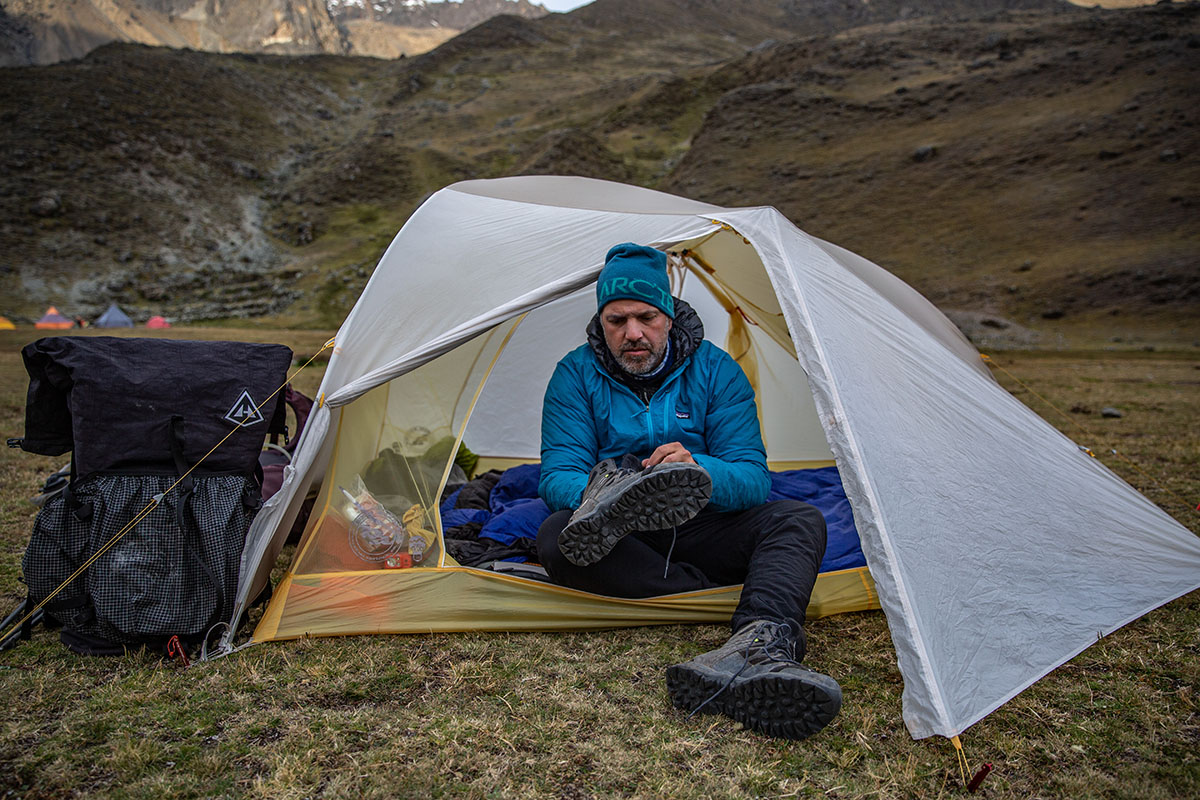 Other Versions of the Salewa Mountain Trainer Lite
I tested the men's Mountain Trainer Lite Mid GTX for this review, and Salewa also sells the boot in a women's version for the same $200 price. The women's Mountain Trainer Lite Mid GTX is lighter at 2 pounds 0.8 ounces and sold in different colorway options, but the overall construction and feature set are otherwise identical. For those who don't need the ankle coverage, there are also low-top options with or without waterproofing, which are sold in both men's and women's versions and retail for $160 and $140, respectively.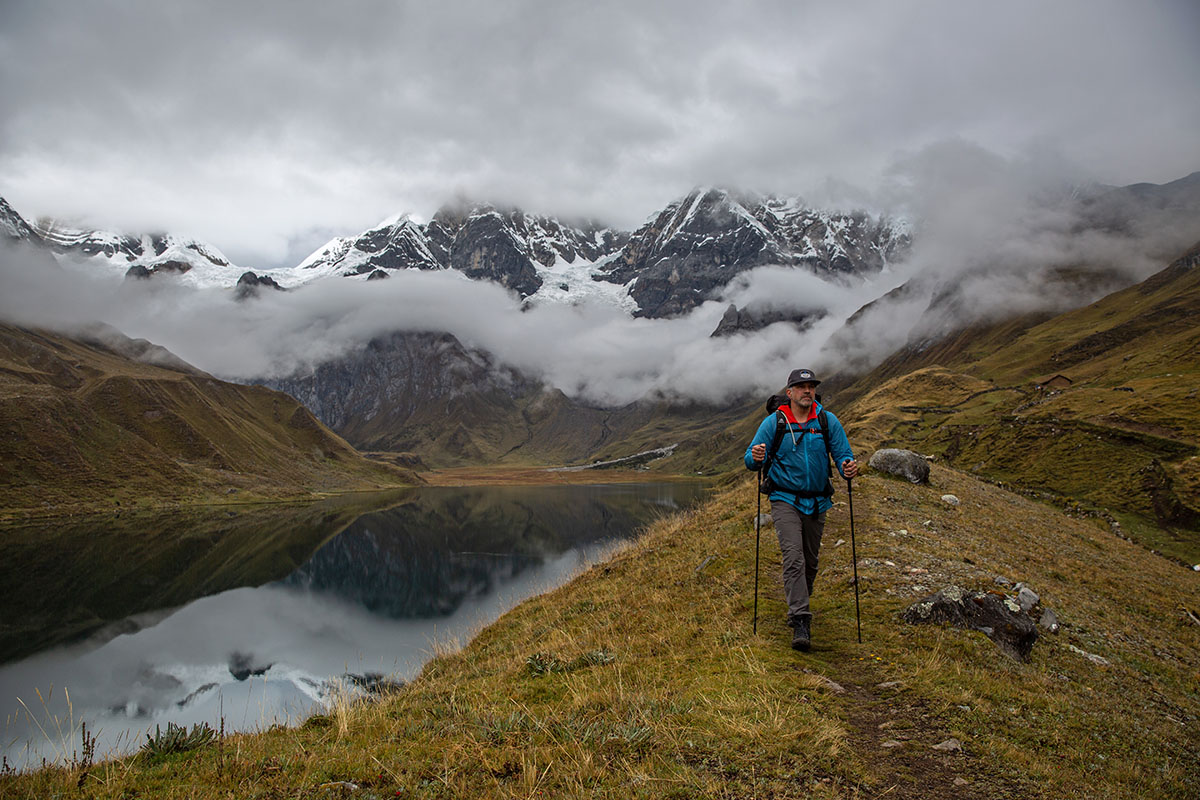 What We Like
Unlike many alpine-ready boots, the Mountain Trainer Lite is highly comfortable out of the box with little to no break-in period required.
Lighter than most competitors while maintaining solid stability and durability for covering technical terrain with a heavy pack.
Gore-Tex membrane provides top-notch waterproofing and added some much-needed warmth on cold, frosty mornings.
Approach shoe-like lacing system allows for great fit customization and provides a secure hold on steep slopes.
Build quality is excellent, and my boots are showing only minor wear after extensive testing.

What We Don't
Tall stack height takes some getting used to and lacks the precision and close trail feel of low-slung designs.
Salewa compromised a little on protection to keep weight down, including a lower collar, smaller toe rand, and minimal protection at the midfoot.
Deep lugs tend to cake up in thick mud and other soft surfaces.
Lower collar can allow water, snow, and debris to creep in over top.


Comparison Table

The Competition
The Mountain Trainer Lite stands out among other alpine-ready hiking boots for its great all-day comfort and stability at a reasonable weight. That said, it's not the most protective design, and you can get better coverage and support with the standard Mountain Trainer Mid GTX. As we outlined above, that boot offers more comprehensive coverage with a 360-degree rand and taller collar for sealing out moisture and debris. You also get a more durable suede upper, upgraded Vibram rubber, and TPU midsole for added stiffness. Finally, the standard model has a lower stack height (31mm at the heel and 18mm at the forefoot) that promotes a closer and more connected feel, although weight jumps to 3 pounds 1.4 ounces. In the end, both are fully capable for demanding mountain missions, and a final decision will come down to preferences on weight, comfort, and protection. Note: A newer Mountain Trainer 2 has been released, but the outgoing model is still widely available and offers similar performance for $20 less.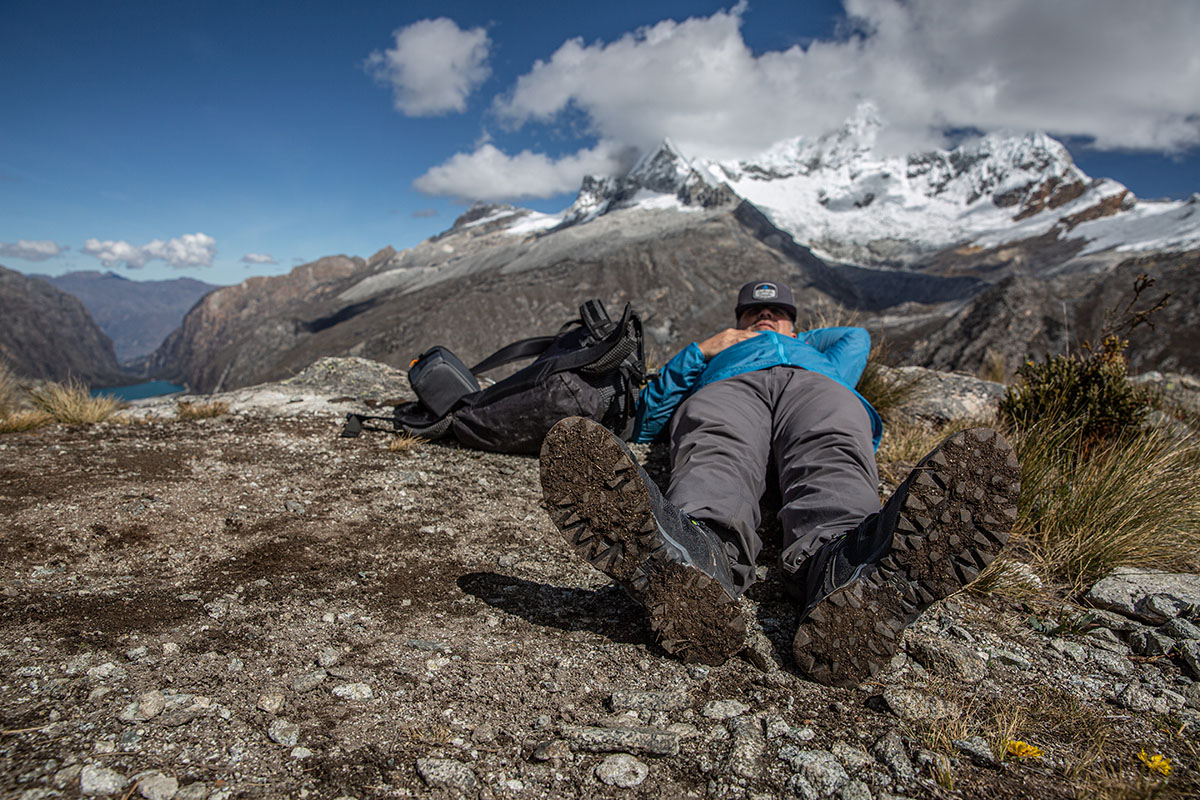 Scarpa is another mountaineering brand with a quality lineup of rugged boots, and their competitor the Mountain Trainer Lite is the Zodiac Plus GTX. Right away, we'll note that the Scarpa is considerably pricier than the Salewa at $299, but the added investment does come with some notable benefits. Namely, the Zodiac is a little lighter at 2 pounds 6.4 ounces per pair but manages to pack in even better traction, stability, and toughness. In fact, the Scarpa can even cross over for light mountaineering objectives, although it's noticeably stiffer and firmer underfoot than the well-cushioned and softer Salewa. To be clear, both are adept and alpine-ready boots, but the Zodiac wins out as the more capable option in this weight class—especially on truly harsh alpine terrain (for more, see our Zodiac Plus review).
Although less alpine-focused than the designs above, Salomon's Quest 4 GTX is a popular option for backpacking over rough terrain with a heavy pack. In terms of similarities, the Quest is comfortable out of the box with an effective mix of padding and underfoot protection, and the well-executed lacing system makes it very easy to dial in fit. You do forego the Salewa's approach shoe-like toe rand, but we've found overall coverage to be more than sufficient, even on rough and demanding objectives. Finally, the Quest is heavier at 2 pounds 14.2 ounces and pricier at $230, but many backpackers will find the well-rounded and hardwearing build worth the added investment. If you spent most of your time in the alpine and are looking to keep weight to a minimum, however, the Mountain Trainer Lite is a more purpose-built alternative.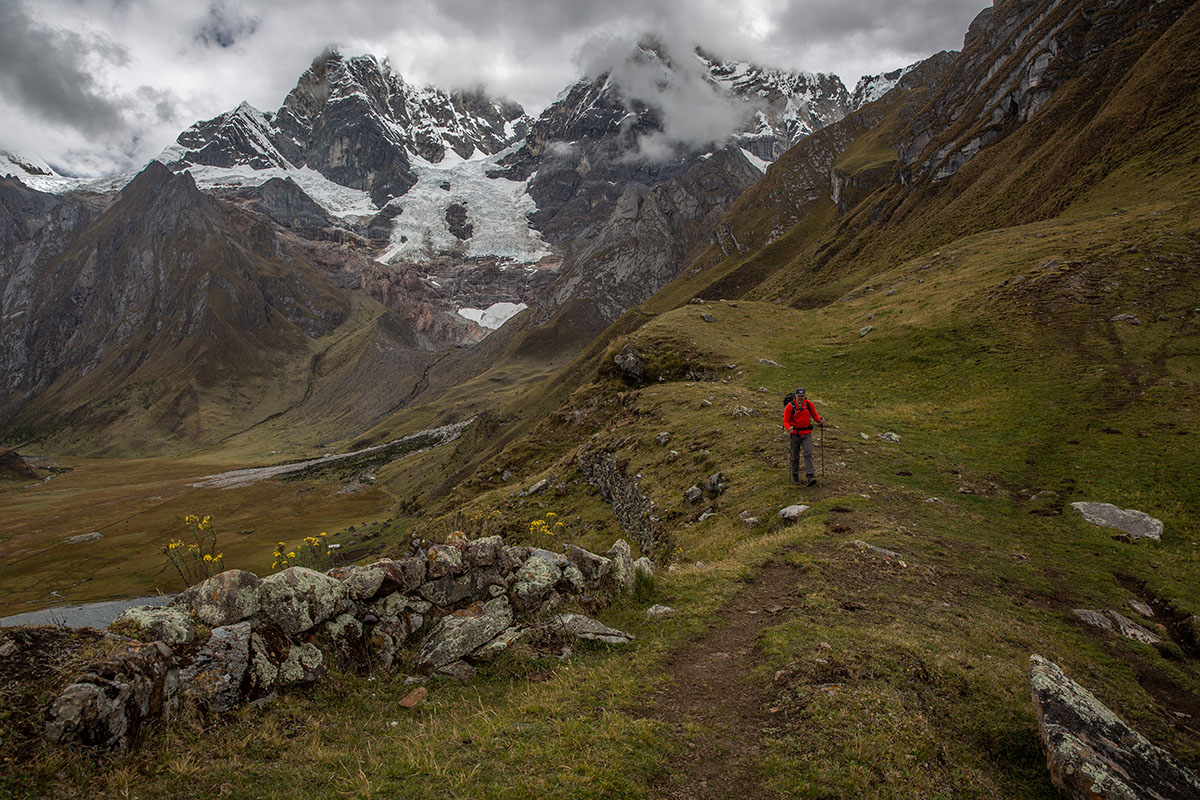 Last but not least is Asolo's Falcon GV, which shares similar intentions as the Mountain Trainer Lite: lightweight but still capable for alpine use. Despite checking in around 5 ounces lighter than the Salewa, the Falcon has proven to be a great performer over technical terrain. Like the Mountain Trainer, it was very comfortable out of the box with little to no break-in period required, and build quality is a clear highlight with tough materials and premium features including Gore-Tex waterproofing and grippy Vibram outsole. However, Asolo did make some concessions to keep weight low: The Falcon's laces are thin and require cinching tightly to achieve enough support to navigate technical terrain with a pack, and the shallower lugs are prone to wearing down more quickly (although you can resole the boots). In the end, the weight savings are undeniably enticing, but the Mountain Trainer Lite offers similar performance for a significant $60 less, which will be enough to sway many.
If you're thinking about buying gear that we've reviewed on Switchback Travel, you can help support us in the process. Just click on any of the seller links above, and if you make a purchase, we receive a small percentage of the transaction. The cost of the product is the same to you but this helps us continue to test and write about outdoor gear. Thanks and we appreciate your support!
Depending on the seller, most products ship free in the United States on orders of $50 or more. International shipping availability and rates vary by seller. The pricing information on this page is updated hourly but we are not responsible for inaccuracies.
Read More From Switchback Travel