Nothing is more satisfying or adrenaline-inducing than slaying fresh powder in the heart of the backcountry, but you'll need the right gear to accomplish your ski objectives. Our detailed backcountry skiing checklist below covers everything from critical touring equipment (skis, boots, bindings, etc.) to recommended clothing, avalanche safety gear, and extras you won't want to forget. For more information on each product category, many of the headings link to our detailed product round-ups, which are the result of years of testing and opinions. For all of our product recommendations in one place, see our ski gear reviews. 
Backcountry Ski Equipment
Backcountry Ski Clothing
Avalanche Safety Gear
Additional Items

❒ Backcountry skis

❒ Backcountry ski boots

❒ Ski bindings

❒ Ski poles

❒ Climbing skins

❒ Sunglasses or goggles

❒ Ski helmet

❒ Ski backpack

❒ Hardshell or ski jacket

❒ Ski pants or bibs

❒ Ski gloves and liners

❒ Baselayers

❒ Midlayer

❒ Down jacket

❒ Ski socks

❒ Hat

❒ Beacon

❒ Probe

❒ Shovel

❒ Navigation

❒ First aid and repair kits

❒ Headlamp

❒ Snacks

❒ Water bottle(s)

❒ Camera

❒ Communication devices

❒ Sunscreen

❒ Lip balm

❒ Disposable hand warmers

❒ Whistle

❒ Ski crampons

❒ Boot crampons and ice axe

❒ Inclinometer

❒ Compass

❒ Snow study kit

❒ Emergency shelter/blanket

❒ Balaclava or neck gaiter

❒ Knife or multi-tool

Backcountry Ski Equipment
Whether you're ascending a freshly cut skin track or blowing down the mountain through deep powder, you'll need a good pair of planks on your feet. In general, skinnier and lighter designs will be more efficient on the uphill, while fatter and heavier models offer better stability and float on the descent. Our favorite backcountry ski for the 2022-2023 season is the Blizzard Zero G 105, which balances low weight for an enjoyable climb with good power and stability on the downhill.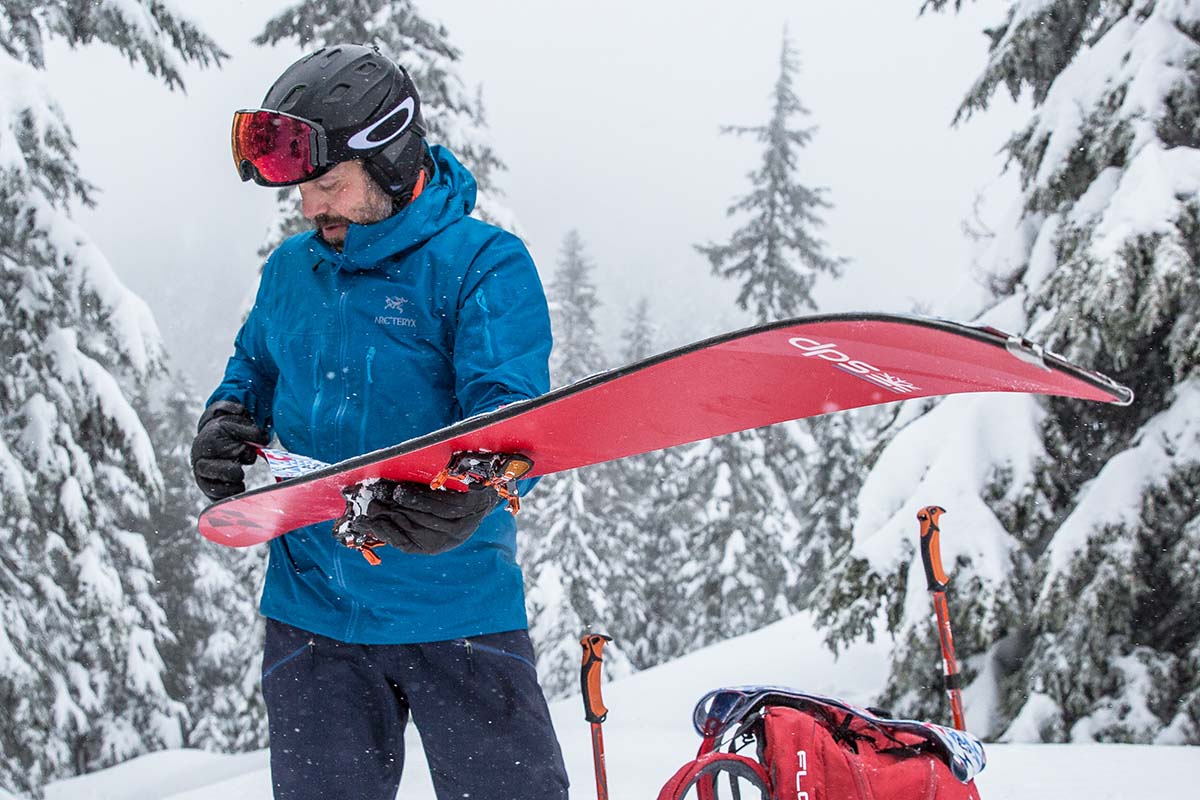 Boots arguably are the most important piece of ski gear you'll own, and choosing the right pair is crucial for all-day warmth and comfort. Similar to skis, the right backcountry boot should be dictated by skiing style, terrain preference, and fit (dialing in fit is super important for boots). Ski mountaineering enthusiasts should look for something with a substantial cuff rotation and low weight, while more downhill-focused skiers will want a stiffer build and sturdier design. Our top overall AT (alpine touring) boot this year is the Scarpa Maestrale RS (and women's Gea RS), which offers an impressive combination of uphill and downhill performance. 
 
Regardless of the skis you choose, you'll need touring-specific bindings to match. Alpine touring bindings, also called "tech" bindings, feature a toe piece with two pins that lock into tech-compatible ski boots and a releasable heel, both of which increase mobility and efficiency on the uphill. Salomon's MTN Pure is our top overall pick for the season with a great combination of uphill and downhill performance in a lightweight design. On the other hand, skiers who split their time between the resort and backcountry should check out their more versatile S/Lab Shift MNC 13, which offers a full range of boot compatibility and provides sizable benefits in performance and security for frequent inbounds use.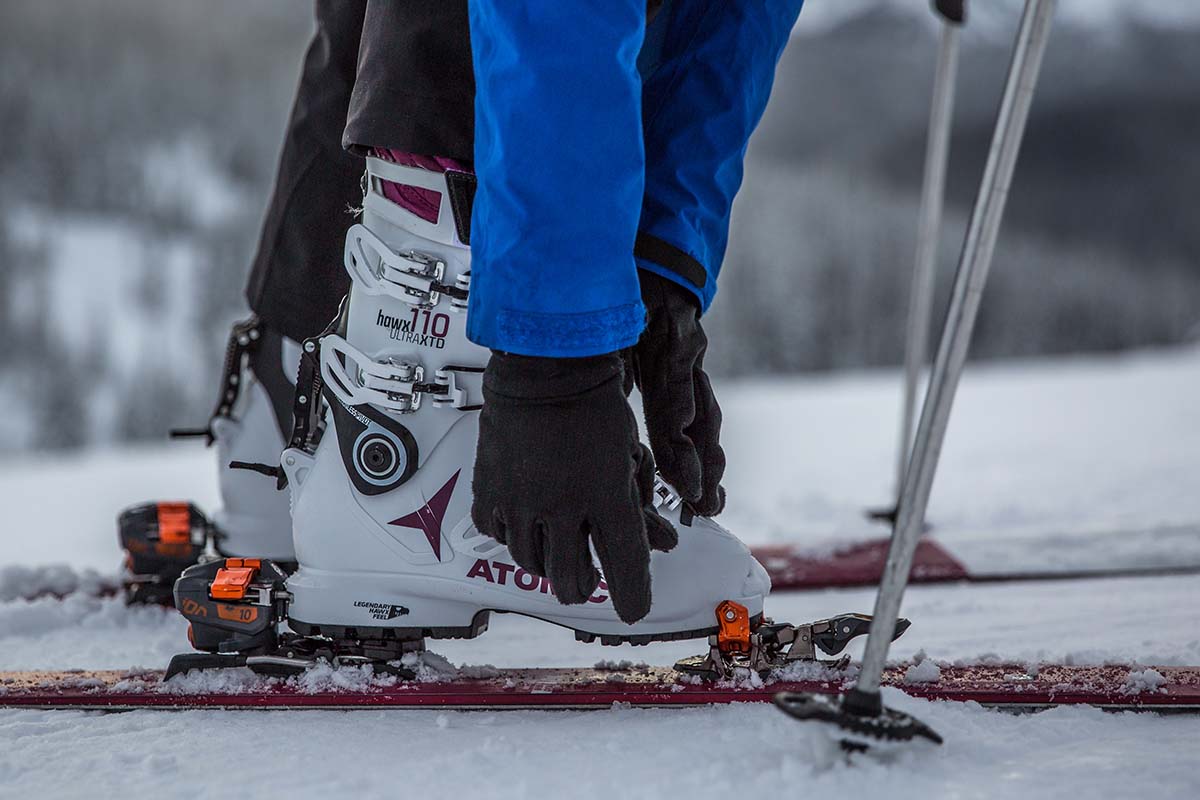 Ski poles help you balance on downhill turns, and even more importantly in the backcountry, they assist in powering up steep hills while skinning. Many backcountry-goers prefer adjustable poles that shorten or lengthen while side-hilling or bootpacking. Our top touring pick this year is the Black Diamond Razor Carbon Pro, a lightweight yet durable option with a strong and easy-to-use adjustment system. We're also big fans of the budget-friendly BCA Scepter Aluminum, a feature-packed adjustable pole that's proven its durability over several seasons. 
 
Climbing skins attach to the bottom of your skis, allowing you to move uphill without sliding back down the slope. Here's how it works: Glue on the backside of the skin attaches to the base of the ski, while the snow-side provides one-way friction. Generally, nylon skins have more traction and thus are better for climbing, while mohair provides superior glide (we like the Pomoca Climb Pro S-Glide for their great combination of the two). Keep in mind that skins need to be custom cut to match the width and length of your skis (only exposing the edges at the waist), although nowadays, some can be purchased pre-cut for specific skis (Black Crows, Dynafit, DPS, and others offer this). However, with a little patience, cutting skins can be a fun DIY project—each pair comes with a set of directions and tools. Alternatively, a ski shop technician can cut them quickly and easily.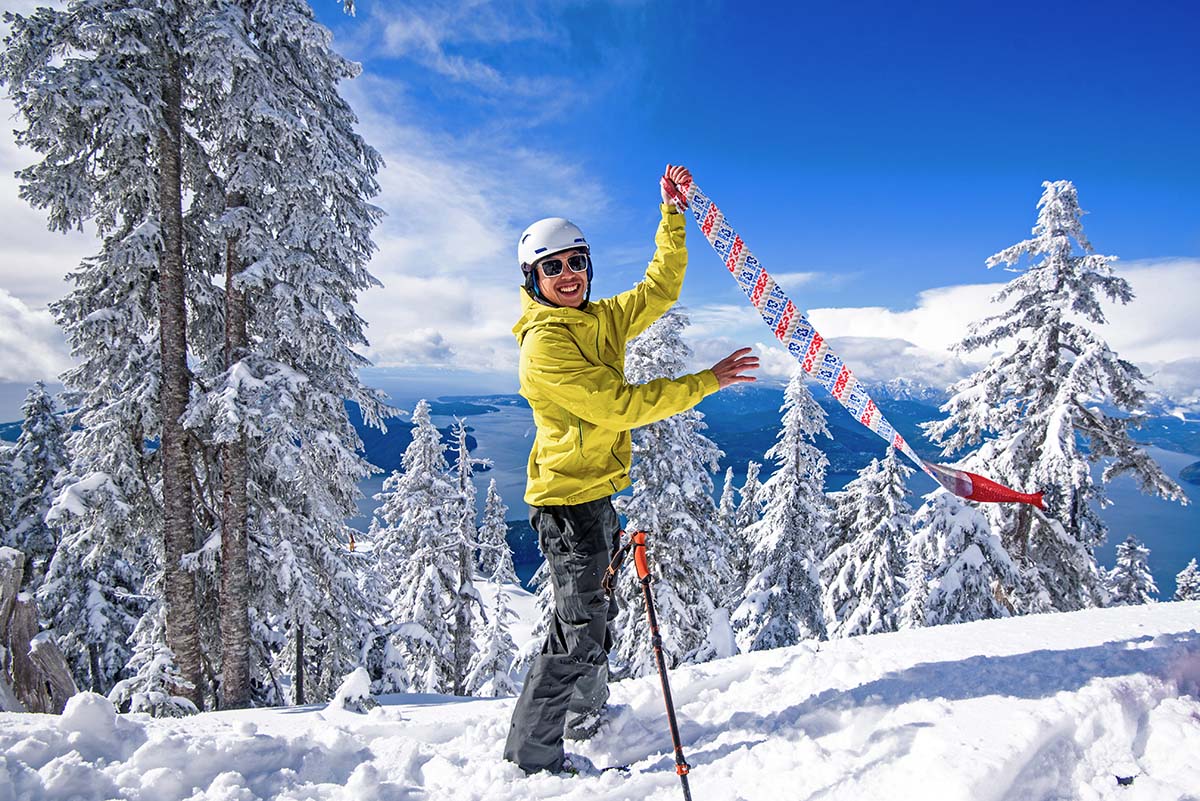 Because the surface of the snow is one giant light reflector, eye protection is essential for skiing on both sunny and cloudy days. A quality pair of sunglasses or glacier glasses can prevent snow blindness, discomfort from squinting, and even wind burn. Sunglasses and glacier glasses also won't fog up like goggles on the skin track, and they work well for skiing down (Julbo and Smith both offer lots of great options). Alternatively carrying a pair of goggles in your pack is a good call on very cold days, during heavy precipitation, or in deep powder. For those times, we recommend a quality pair like the Smith I/O Mag ChromaPop, which have interchangeable lenses, great ventilation, and a very comfortable fit. Of course, they'll come in handy for days at the resort, too.
 
Wearing a ski helmet used to be less common in the backcountry, but there's no reason not to these days, especially for the downhills. Fortunately, the modern market is saturated with plenty of lightweight options. Our favorite backcountry skiing helmet for 2022-2023 is the Salomon MTN Lab, which is reasonably light at 14.1 ounces, offers solid ventilation, and is rated for climbing and biking, too.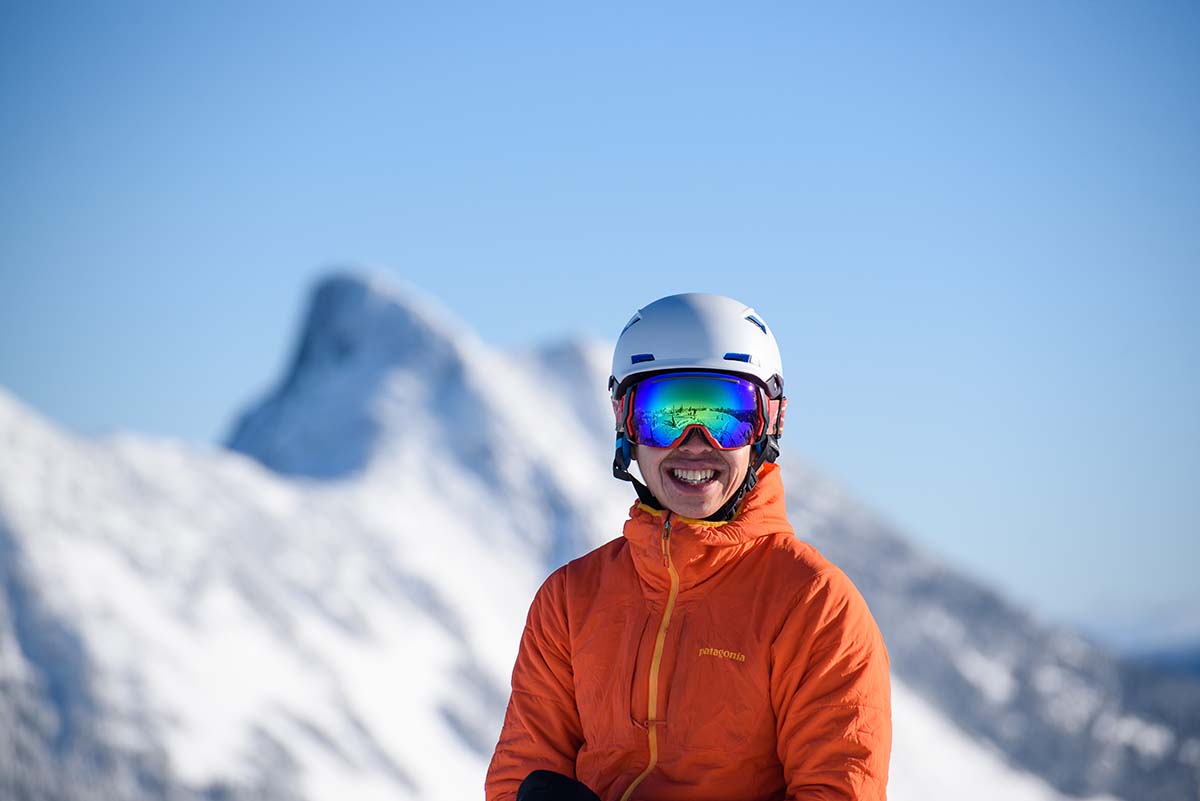 Backcountry skiing requires some serious gear, and you'll need a good pack to house it all. A ski backpack should feel secure and balanced on your back with compression straps for cinching down a load. Additionally, backcountry packs are designed a separate tool compartment for organizing avalanche equipment (including dedicated pockets for a probe and shovel), which is important for finding your gear quickly during an emergency. For day tours, a pack size of 25 to 35 liters should be adequate, and we love the Black Diamond Dawn Patrol 32 in particular.
Backpacks with built-in avalanche airbags are becoming more mainstream and can increase your chance of survival if you get caught in a slide. Similar to the way a parachute deploys while skydiving, avy airbags are stowed inside the pack with an accessible deployment trigger. When pulled, the airbag will either inflate from an electric fan (these models are more expensive but can be easily recharged and deployed multiple times per charge) or compressed air cartridge (these can only be used once before requiring a refill). Once inflated, an airbag increases your surface area to help you stay on top of avalanche debris and protect your head and neck from trauma on the way down. Black Diamond's JetForce Pro is our favorite electric design of the year, but going with a canister airbag like the Ortovox Ascent Avabag will save you almost $600.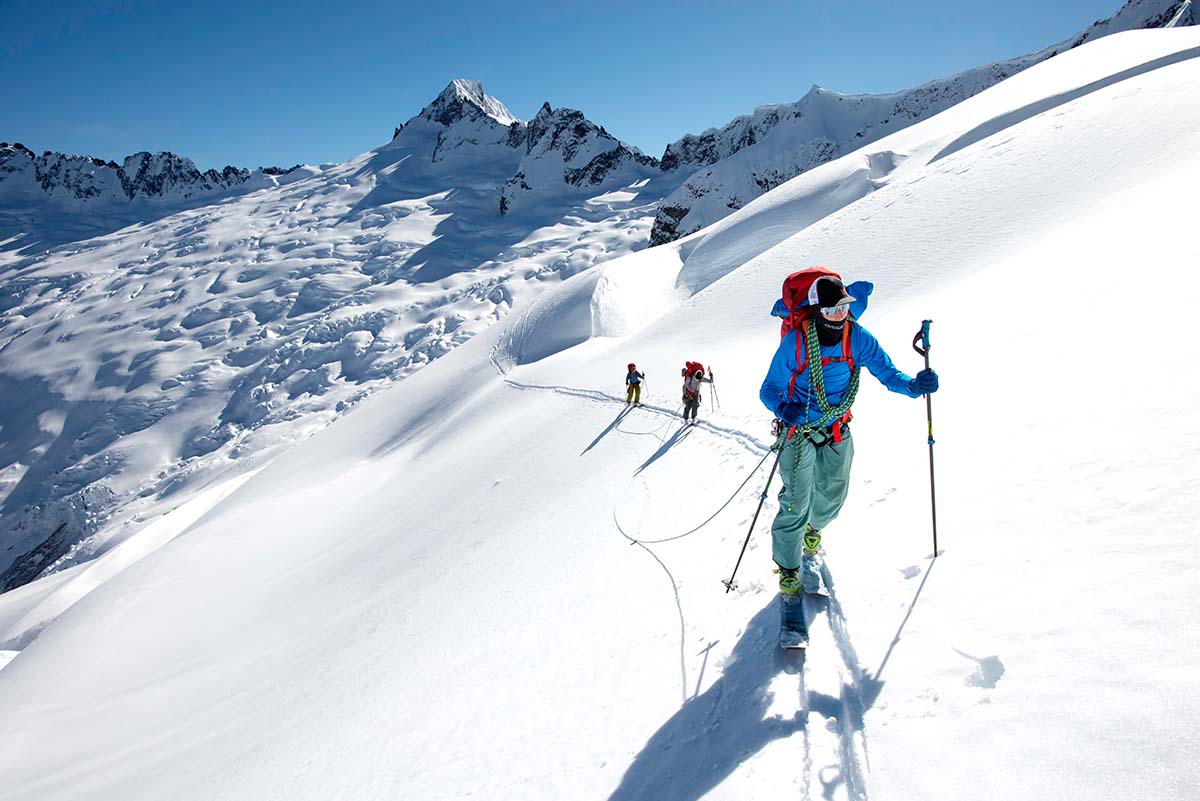 Backcountry Ski Clothing
The ideal ski jacket largely depends on the temperature, conditions (wind and precipitation), and activity level for that day (serious skiers often have a quiver). In general, backcountry ski jackets are lighter and more streamlined than their resort-specific counterparts and include both hardshell and softshell options. The Outdoor Research Skytour offers impressive performance at a reasonable price, acting like a breathable softshell but with reliable waterproof protection. Alternatively, the Arc'teryx Sabre (and women's Sentinel) is our top-ranked ski jacket for those who mix in a lot of days at the resort. And keep in mind that many alpine-centric hardshells also make great crossover ski jackets, like the Arc'teryx Beta AR (the downside is that you miss out on some ski-specific features like a powder skirt and longer hem).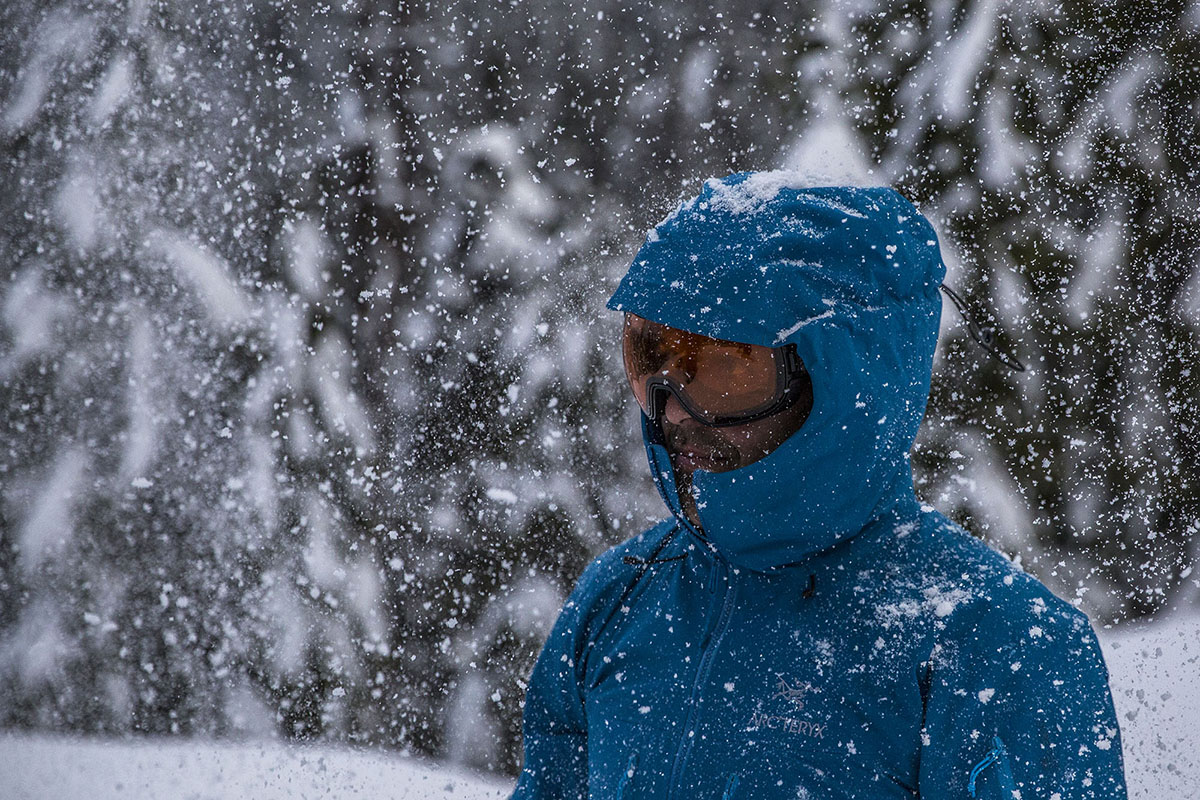 Most resort skiers wear waterproof, insulated ski pants to trap warmth while sitting on the chairlift, but in the backcountry, this type of pant quickly leads to overheating on the skin track. Instead, our favorite pants for touring are non-insulated waterproof hardshells with zippered vents that allow you to dump excess heat on the go or softshell pants with a water-resistant coating. One of our favorite designs is the Outdoor Research Skyward II, which is made with the same AscentShell fabric as the Skytour Jacket mentioned above that breathes, moves, and stretches like a softshell while offering reliable protection in harsh conditions. Bibs have also become an increasingly popular pick for backcountry skiing thanks to their extra storage and high-waist protection (not to mention, we really love the style). In this category, the Outdoor Research Skytour AscentShell and Helly Hansen Odin Mountain 3L Shell are two of our top choices.
Other considerations for pants or bibs include a dedicated pocket for an avalanche beacon with a zippered closure and internal clip or lanyard and wide or expandable leg openings that can accommodate ski boots in walk mode. Ladies will also want to look out for bibs with a panel at the back or side that can easily unzip or open to make bathroom breaks quick and easy. Fortunately, these are all fairly standard features in most modern ski bib and pant designs.
Your resort glove might double as your downhill glove, but keep in mind that it should be fully waterproof since you won't have the luxury of stepping inside the lodge to regain feeling in your fingers. For the coldest and snowiest of days, we prefer an ultra-protective design with a gauntlet (the Hestra Army Leather Heli 3-Finger and Black Diamond Guide Gloves are our favorites). For spring skiing and bluebird conditions, you can get by with a more affordable and streamlined option like the Flylow Gear Ridge Glove.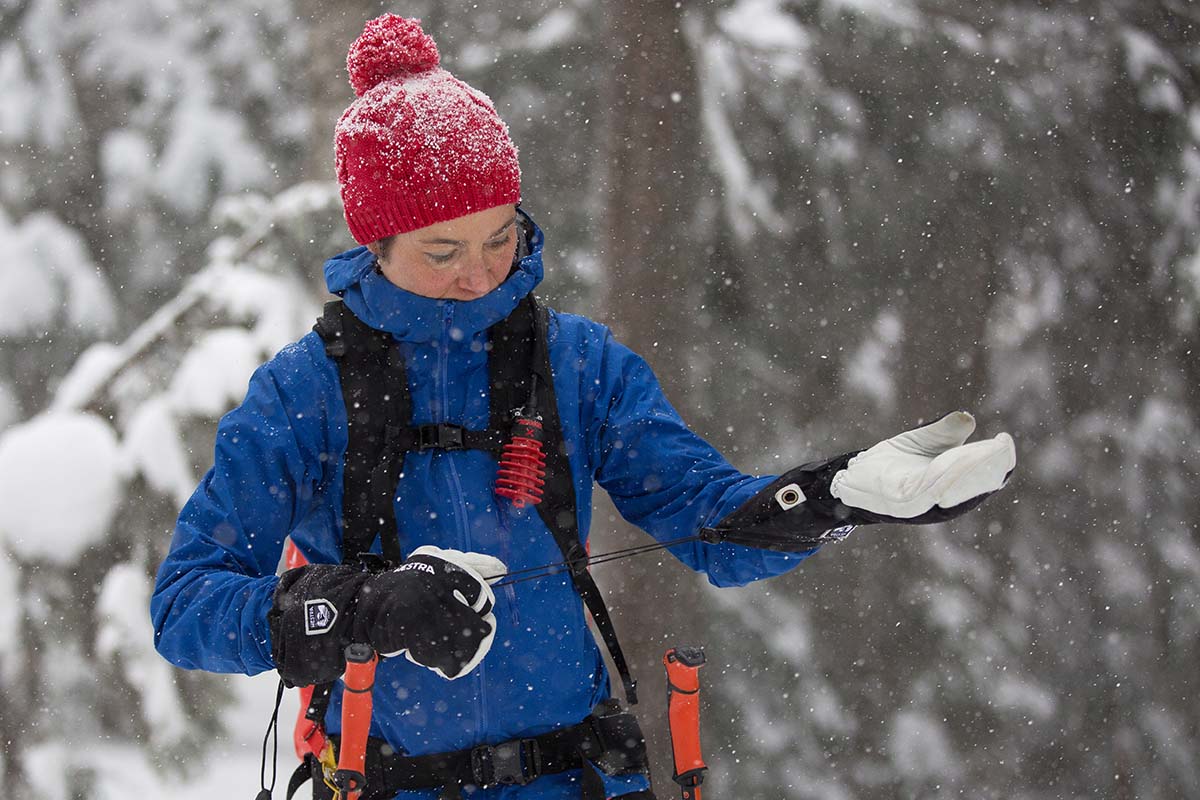 That said, we recommend carrying two or three pairs of gloves in the backcountry. When you're building up a sweat breaking trail or fiddling with your ski boot buckles, it can be nice to have a lighter, breathable, and more dextrous liner glove like Outdoor Research's Protective Essential. Finally, it's always a good idea to keep a backup pair of warm gloves or mitts in your pack in case of emergency. They take up a small amount of space and can add a big increase to your safety margin if you're stuck waiting for rescue or spending an unexpected night out in an emergency shelter.
Your next-to-skin layer is designed to both insulate and wick moisture when you sweat. Most baselayers are made of odor-resistant merino wool, durable polyester, or a wool/synthetic blend that aims to achieve the best of both. When temperatures drop into the teens and below, we typically opt for midweight baselayers both on top and bottom, and the Smartwool Classic Thermal and Patagonia Capilene are two of our favorite collections in this category. On warmer days, we stick with something lighter, like the Smartwool Classic All-Season or Outdoor Research's Alpine Onset Merino Crew. Ortovox also makes a great selection of wool baselayers (we especially love their Rock'N'Wool models), and Patagonia's Capilene Air series is made with a wool blend that's cozy, breathable, and stretchy.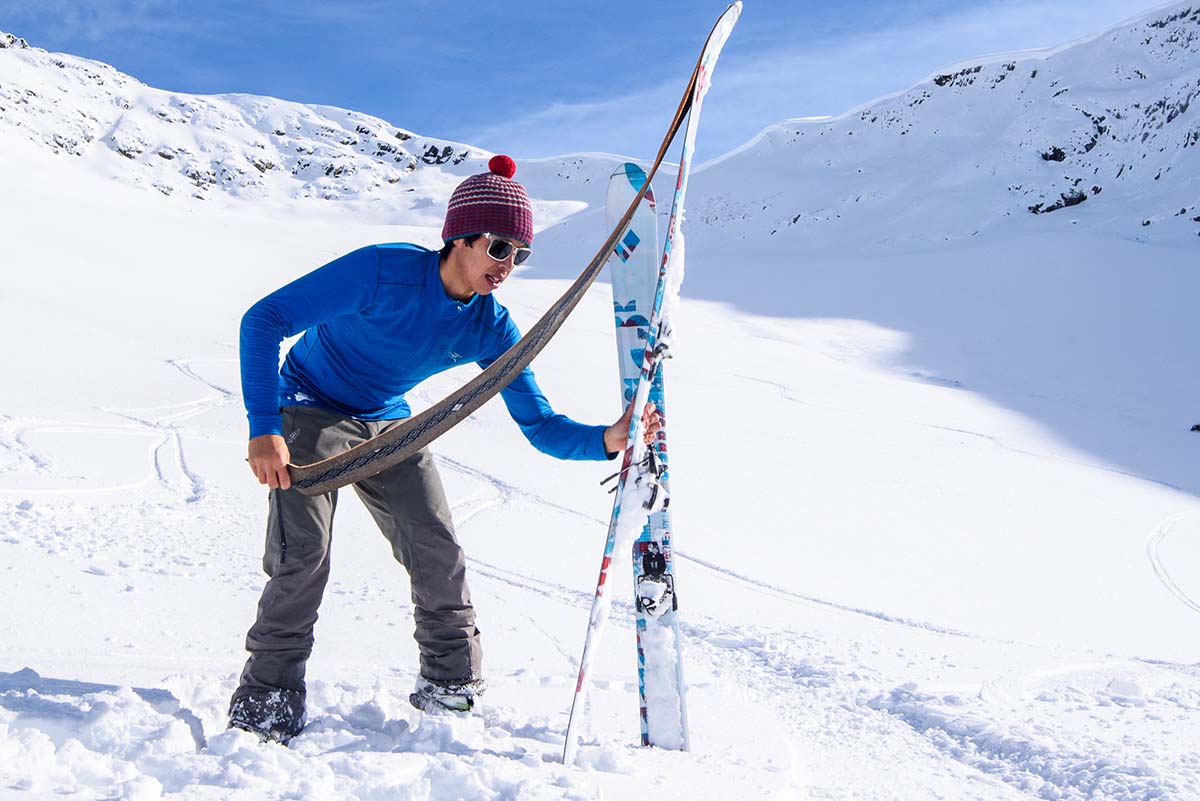 In the standard three-layer ski clothing system (shell, midlayer, and baselayer), the midlayer is the key insulator and traps warmth close to your body. Midlayers generally are worn even during high-exertion activities like skinning, so along with their insulating powers, it's important that they are breathable and resistant to elements like wind, snow, and sleet. Synthetic jackets like the popular Patagonia Nano-Air and Arc'teryx Atom LT are two leading midlayer options for the backcountry, and we prefer this type of jacket over down for active use. 
 
During transitions or snack breaks, you'll want to try your best to retain the heat you generated from skinning uphill. The best way to do this is to throw on a mid-to-heavyweight down jacket, which wins out in warmth and weight compared to a synthetic insulated jacket. The Patagonia Down Sweater is super versatile, warm, and lightweight, making it one of our favorite all-around designs for a wide range of outdoor activities. While a thicker option (like Patagonia's Fitz Roy Down Hoody) will add weight and take up more space in your pack, it can also boost your safety margin in case of emergency. Ultimately, how warm you choose to go will depend on the conditions and how much time you'll be spending exposed: Day trippers may be fine with a midweight down jacket, while overnight and multi-day excursions likely will require a heavyweight parka.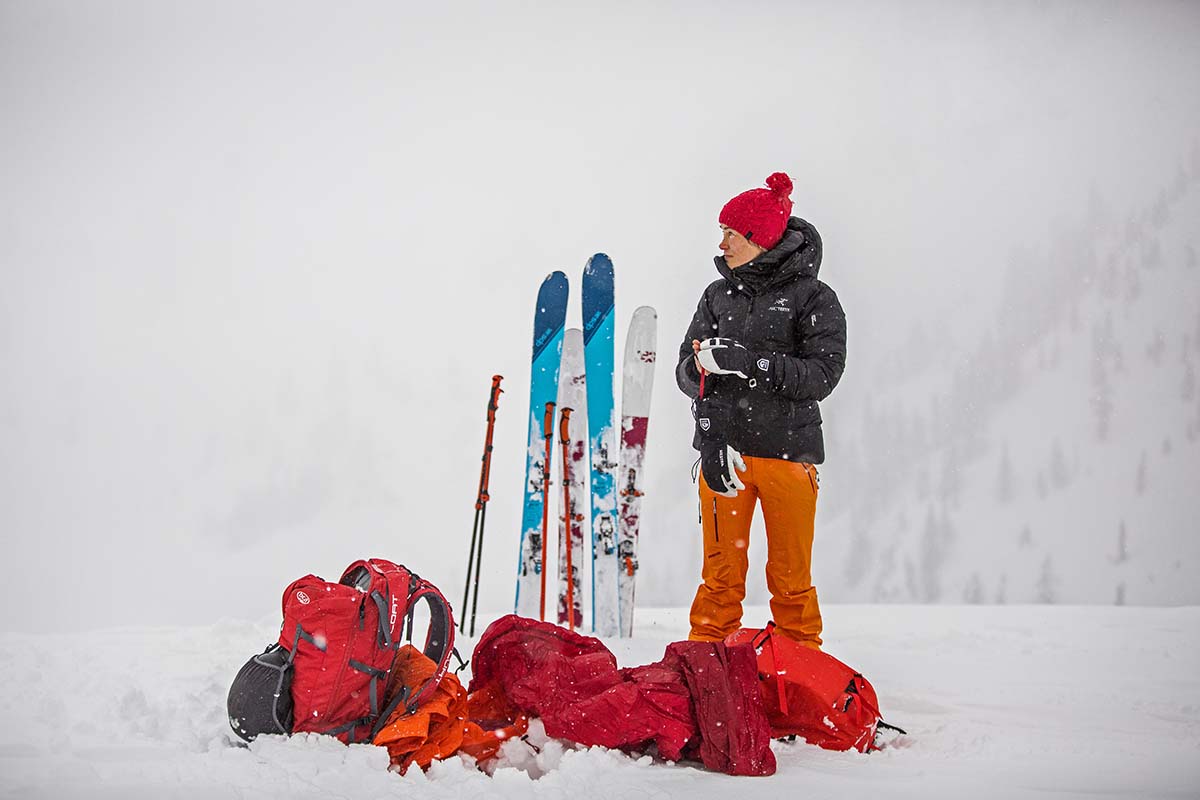 Ski socks extend up the calf higher than hiking socks and are more comfortable for wearing under ski boots. Additionally, modern ski socks are relatively thin and lightweight (the boot liner is largely responsible for warmth) and have padding in areas prone to rubbing, like the shin and toes. In terms of materials, we love a merino wool blend for its luxuriously soft feel, odor-fighting ability, and durability. Smartwool's Ski Targeted Cushion OTC and Darn Tough's OTC Lightweight are a couple of our favorites.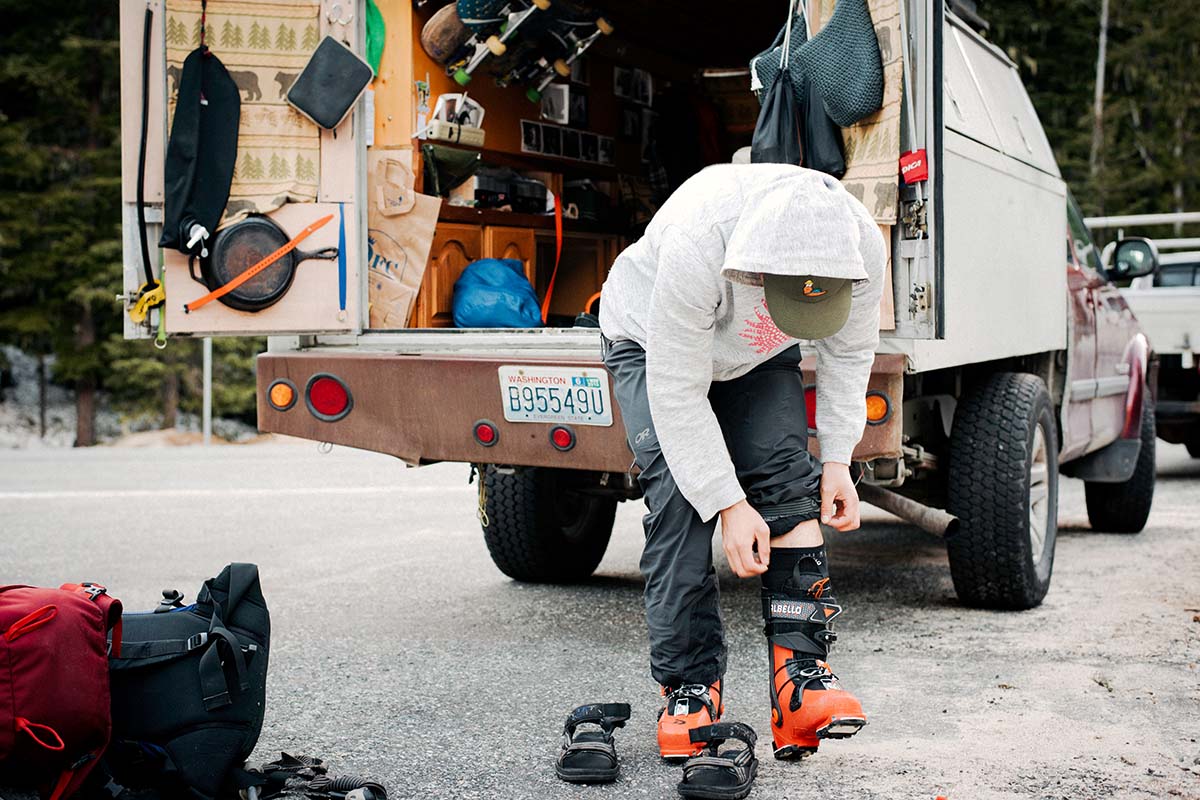 16. Hat(s)
You can lose a lot of body heat through your head quickly, so it's important to keep it covered on cold days. For backcountry skiing, we like to bring a lightweight beanie, buff, or brimmed hat for the skin track and a warmer beanie for transitions and descents. Even if you're wearing a helmet with built-in insulation on the way down, it's nice to have a cozy backup beanie in your pack just in case your first one gets sweaty. On sunny bluebird days, a brimmed cap or trucker hat is nice for added shade.

Avalanche Safety Gear
At any given ski resort, a team of professionals manages avalanche hazards by bombing and ski-cutting slopes, as well as closing terrain that cannot be controlled. In the backcountry, however, it is up to us to manage the risk. Avalanche gear and education are critical for assessing snow conditions, and in the unfortunate event that we make a bad decision or get unlucky, helping skiers get out alive. We'll jump right into the equipment required for now, but please read our important note on avalanche safety later on.
A beacon, also known as a transceiver, is a critical tool for being found or finding someone else in the event of an avalanche (avy debris can make it virtually impossible to locate buried skiers). As with all avalanche gear, it is important to regularly practice using your beacon to keep your skills sharp. The more proficient you and your partners are, the greater chance you'll have of saving a life in the event of an avalanche. There are many trustworthy beacons on the market, but our two favorites for their ease of use and reliability are the BCA Tracker3 and Mammut Barryvox S.

18. Probe
After using your avalanche beacon to identify a person's location under the snow, you'll need to use your probe to confirm their position and burial depth. Once you've used a systemic method to probe and get a strike, it's best to leave your probe in place and get out your shovel to dig. Outside of an avalanche scenario, a probe also is useful for measuring the total snow depth and the dimensions of a data pit.
Avalanche probes come in various lengths and weights. Choosing the right probe for you will depend on the average snow depth where you live or recreate. For relatively shallow snow climates like those in the Colorado Rockies, we prefer the BCA Stealth 240 Avalanche Probe. For deeper snowpacks, like those you might find in British Columbia, we like the Black Diamond QuickDraw Pro Probe 320. Regardless of which model you choose, make sure to practice deploying it and clicking it together, as some designs are slightly more intuitive than others.
 
 

19. Shovel
An avalanche shovel is the third essential piece of safety gear, both for digging out an avalanche victim and creating snow-study pits to analyze the snowpack. Additionally, on multi-day winter expeditions, your shovel will be an invaluable tool for creating snow kitchens, tent sites, and more (see our winter camping checklist for additional info and potential uses). It's important to choose a shovel that is tough enough to chop through rock-hard snow but also light and collapsible enough to fit into your ski backpack. The Black Diamond Deploy is one of our favorites for its compact design and durability, and the Backcountry Access Dozer 1T is an excellent budget choice. Other considerations include grip type, extendable handles, and additional features like a built-in snow saw.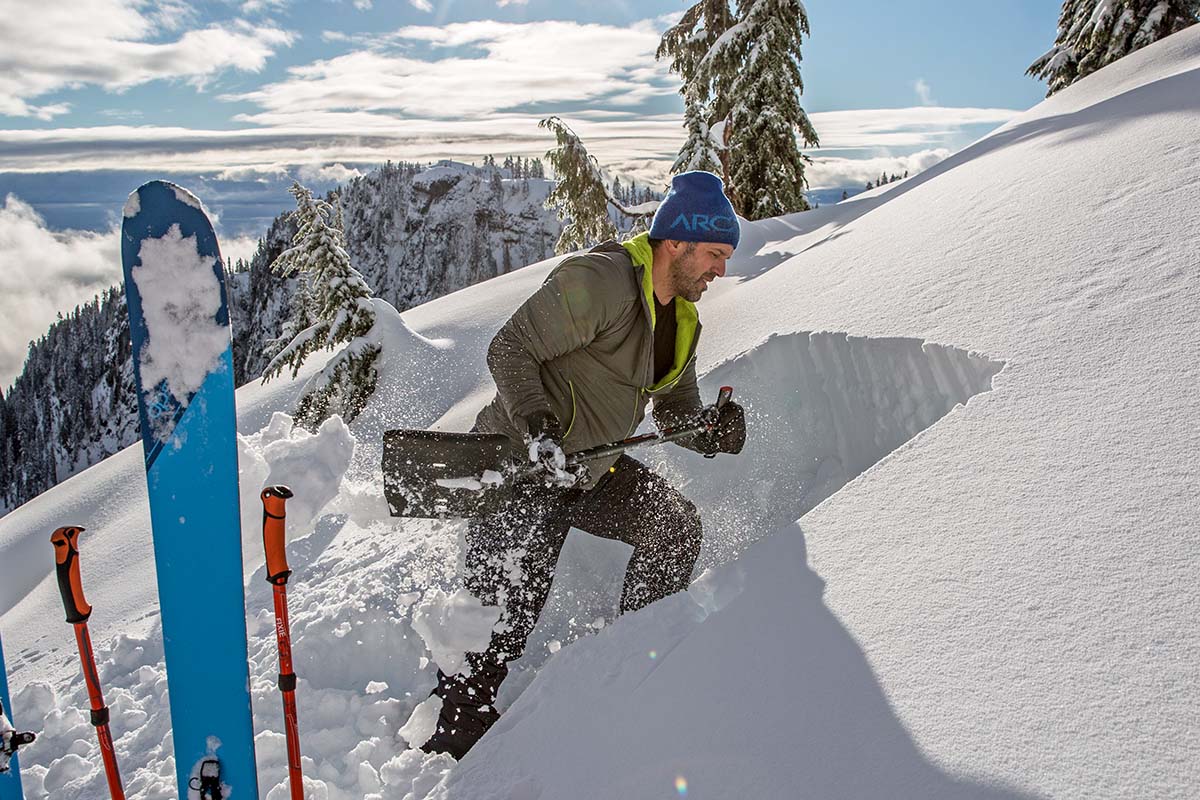 Additional Items
20. Navigation: Map, App, or GPS 
A huge part of traveling safely in wintry backcountry environments is understanding and properly analyzing the terrain. Therefore, a topographical map is always a good idea for keeping you on track and getting you back to your car safely. For day tours, we are huge fans of smartphone apps like Gaia and Topo Maps that detail almost every area in the U.S. and can track your location even without cellular service. That said, cold temperatures will kill your phone's battery quickly, so it's important to keep it close to your core (but at least 30cm away from your avalanche beacon) to maximize its longevity. You can also opt for a handheld GPS device, which is sturdier and more purpose-built for the rigors of outdoor use. And of course, there's always the classic paper map and compass, which is more time-consuming but reliable if you're familiar with backcountry navigation.

21. First Aid and Repair Kits
Like any backcountry activity, your winter touring outings will likely take you far from the trailhead, and access to medical care could be hours away. Carrying a first aid kit with basic supplies like bandages, gauze, tape, pain medicine, and other items can help prevent a minor incident from turning into something more serious. For a winter-specific first aid kit, consider including hand warmers, chapstick, and a small tube of sunscreen. Additionally, if your backcountry travels take you into remote areas, it's worth considering bringing along a rescue sled or tarp (or supplies to improvise one) and a satellite device like a Garmin InReach in case you need to call for help (we cover communication devices more below).
For non-medical issues, a ski repair kit can help you troubleshoot issues with your skins, bindings, or other equipment. Small items like spare tail clips for your skins, a powder basket for a pole, ski straps, duct tape, skin glue, fabric tape, a small length of cord, and a bit of wire collectively take up very little space and can solve most gear malfunctions. Additionally, a small hose clamp from the hardware store can hold together a broken ski pole in a pinch.
Most backcountry skiers stick to day tours, but winter days are short, and you'll need a headlamp in case your afternoon runs unexpectedly long. If it's particularly cold, consider keeping your headlamp in a pocket close to your body to keep the batteries warm. The Black Diamond Spot 400 and Petzl Actik Core top our list for their combination of brightness, low weight, and durability.
 
23. Snacks
Bring plenty. When it's cold, you tend to expend more energy than usual just to stay warm, and skinning is a much more intense workout than sitting on a chairlift. We like bars for their convenience and calorie-to-weight ratio, and never complain about carrying a hot thermos of soup or a big sandwich. At the end of the day, it's not very often that we have food left over.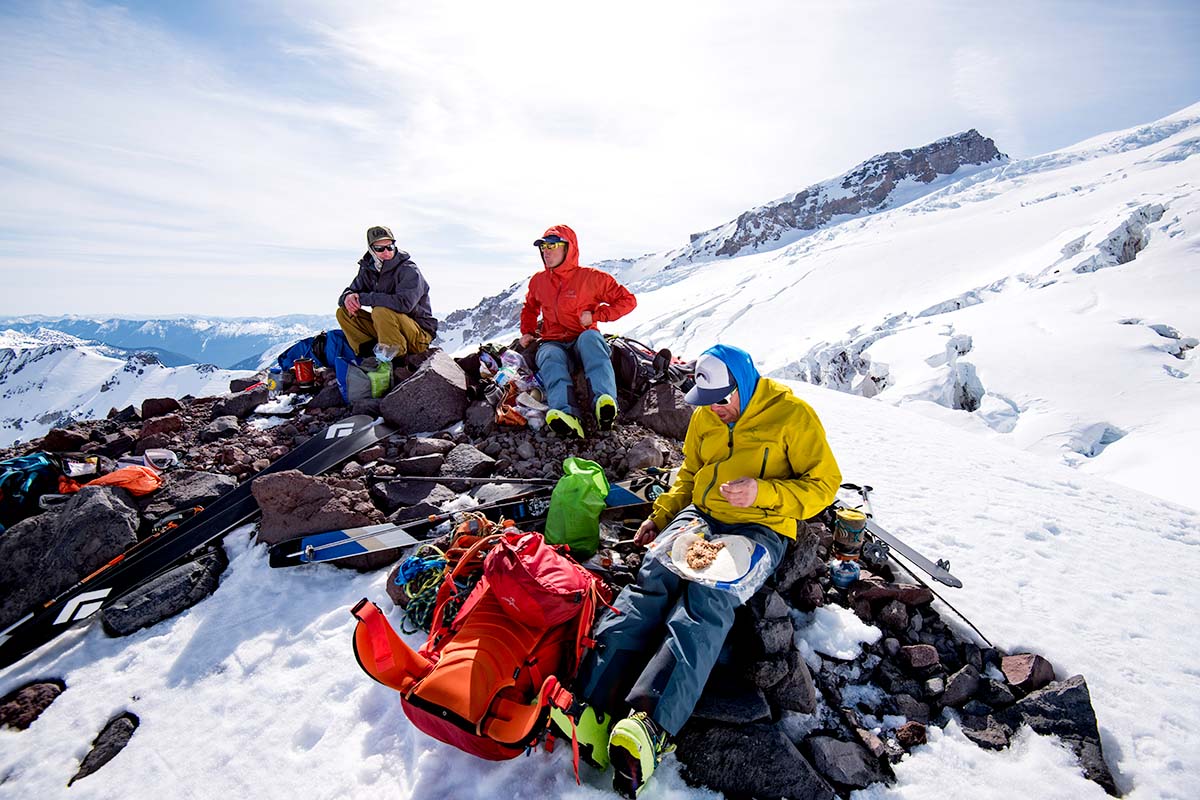 Unlike backpacking, backcountry skiers rarely have the option of refilling water from a stream or lake—water sources are likely to be frozen or buried under several feet of snow during the winter. For a full day in the mountains, two liters usually does the trick.Generally, BPA-free plastic water bottles (like those from Nalgene) are a great, lightweight choice, and the water won't freeze as long as it stays close to your body. A water bladder with a hose can be convenient for drinking on the go, but make sure the bladder and hose are insulated and specifically designed for winter use, otherwise they may freeze up. For longer stretches or those who need more water, consider bringing a lightweight backpacking stove for melting snow. 
 
Winter is a special time to be outdoors: Snow-covered landscapes are beautiful, and the lighting can be downright magical. We get asked about cameras all the time, and there is no simple answer: Professional-grade cameras are heavy and expensive but also take far better photos than point-and-shoots or iPhones. For 2022-2023, the lightest and most compact option relative to image quality is a mirrorless camera, and there are plenty of high-end options like Sony's Alpha a7R IV that perform extremely well in the backcountry.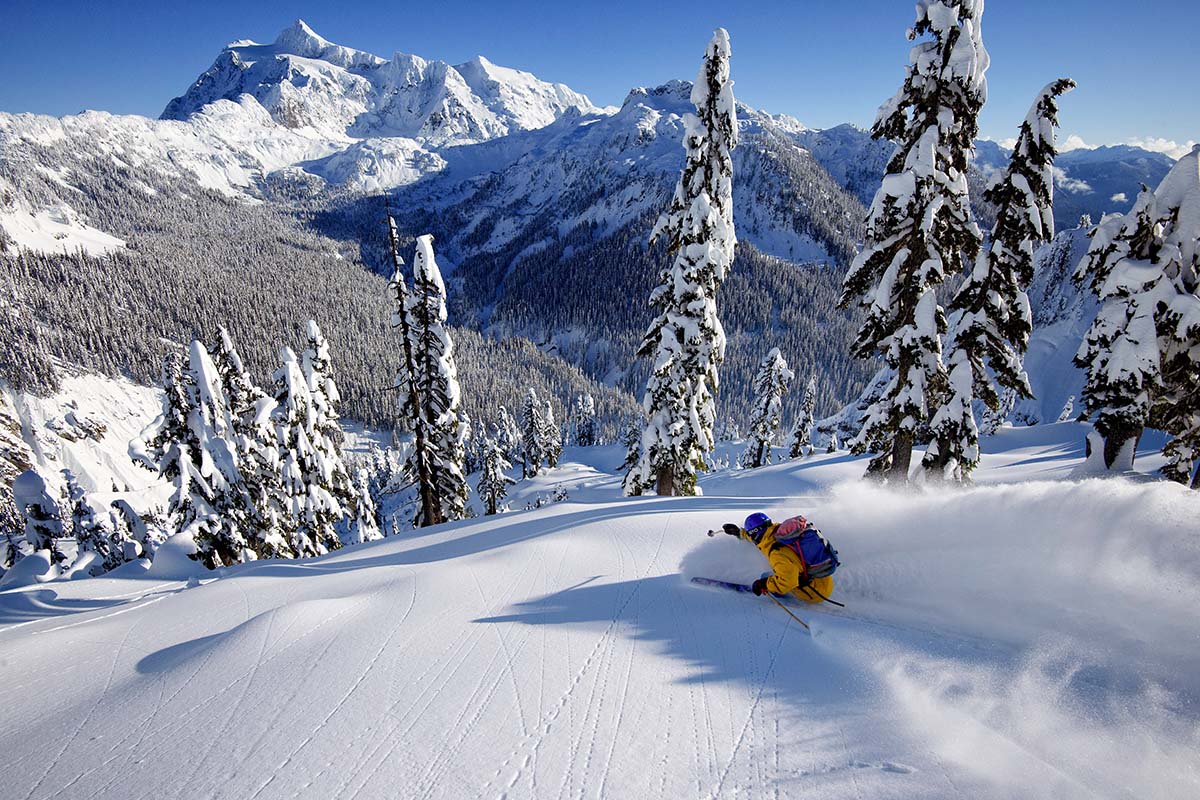 26. Communication Devices: Satellite Messenger and Two-Way Radios
Backcountry skiing can often take you out of cellular service, so planning ahead for how you'll communicate in case of a delay or emergency is important. We're big proponents of bringing along a satellite messenger (the Garmin inReach Mini 2 and Somewear Global Hotspot are two of our favorites) for emergency communications. Usually, having one or two of these in your touring group is sufficient. Additionally, two-way radios are becoming increasingly common for communicating within and between groups. For example, if you're out on a stormy day and your partner drops into a line, you may not be able to maintain visual or verbal contact after their first few turns. With a radio, they can let you know when they've reached a safe area and are able to watch your descent. Further, as more skiers take to the backcountry, using radios to communicate between groups can add to everyone's safety. We're big fans of the BCA BC Link Two-Way Radio 2.0 in particular.

Extras and Personal Items
Our list above covers the essentials (and then some), but the items below can also be important for a comfortable, fun day of ski touring. Some—like ski crampons or a snow study kit—are up to you and may be dependent on where you're headed and your goals for the day. We bring along most of these bits and pieces during our big winter outings when we're venturing miles from the trailhead. 
Sunscreen
Lip balm
Disposable hand warmers
Whistle
Ski crampons (for firm conditions)
Boot crampons and ice axe (depending on the terrain)
Inclinometer (to measure slopes)
Compass
Snow study kit (thermometer, slope meter, polycarbonate crystal card, etc.)
Emergency shelter/blanket
Balaclava or neck gaiter
Knife or multi-tool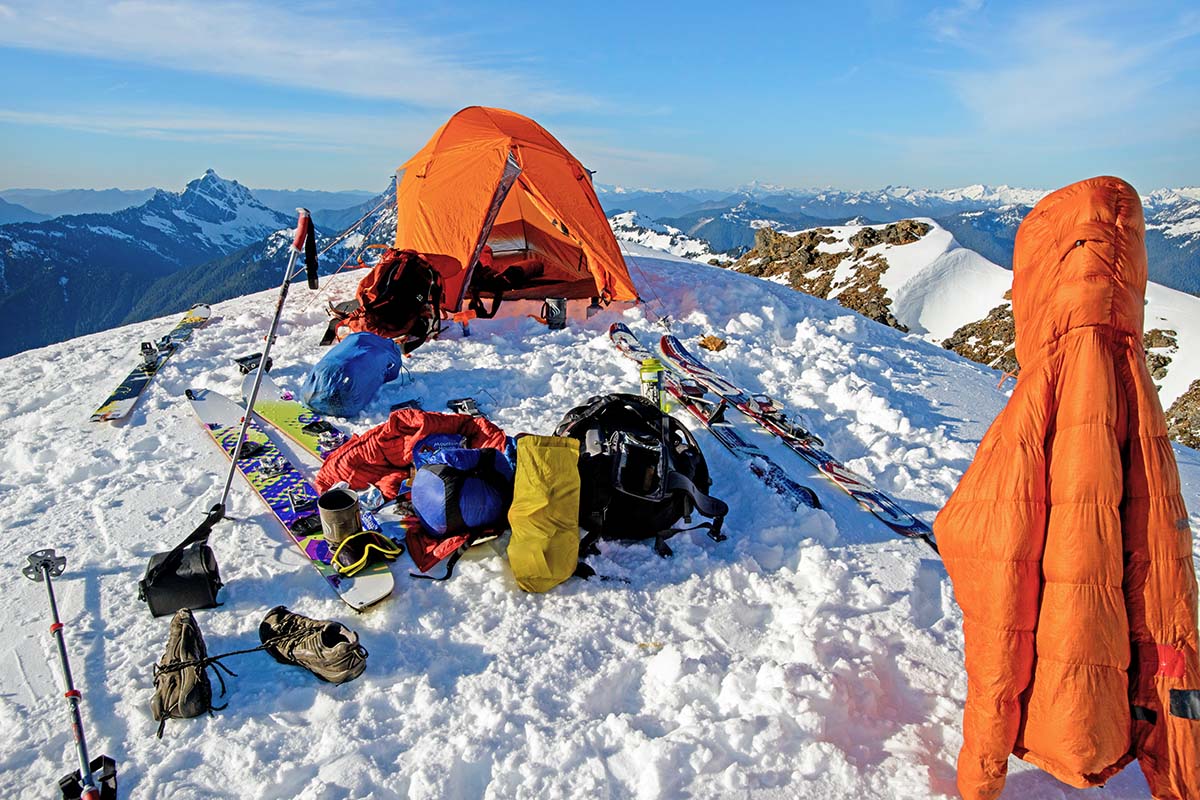 Where to Buy Backcountry Ski Gear
First and foremost, we always are in favor of buying at your local ski shop. It's a great place to meet people and get information, learn about area trails, and support local businesses. If you do decide to buy online, there are a few standout options. Evo.com is a winter sports specialist that offers an extensive selection of backcountry ski gear, has a very helpful website in terms of specs and information, and has brick-and-mortar stores in a few select locations (Seattle, Portland, Denver, Whistler, Salt Lake City, Snoqualmie Pass, and Hood River to date). Backcountry.com has perhaps the most varied collection of ski gear and offers free two-day shipping on orders of $50 of more, and Skimo Co has arguably the best selection of ski mountaineering and skimo racing gear, along with an extremely knowledgeable staff (and a retail location in Salt Lake). Finally, we do much of our outdoor gear shopping—for winter, summer, and everything in between—at REI Co-op, which has a 10% annual dividend for members and over 170 physical stores.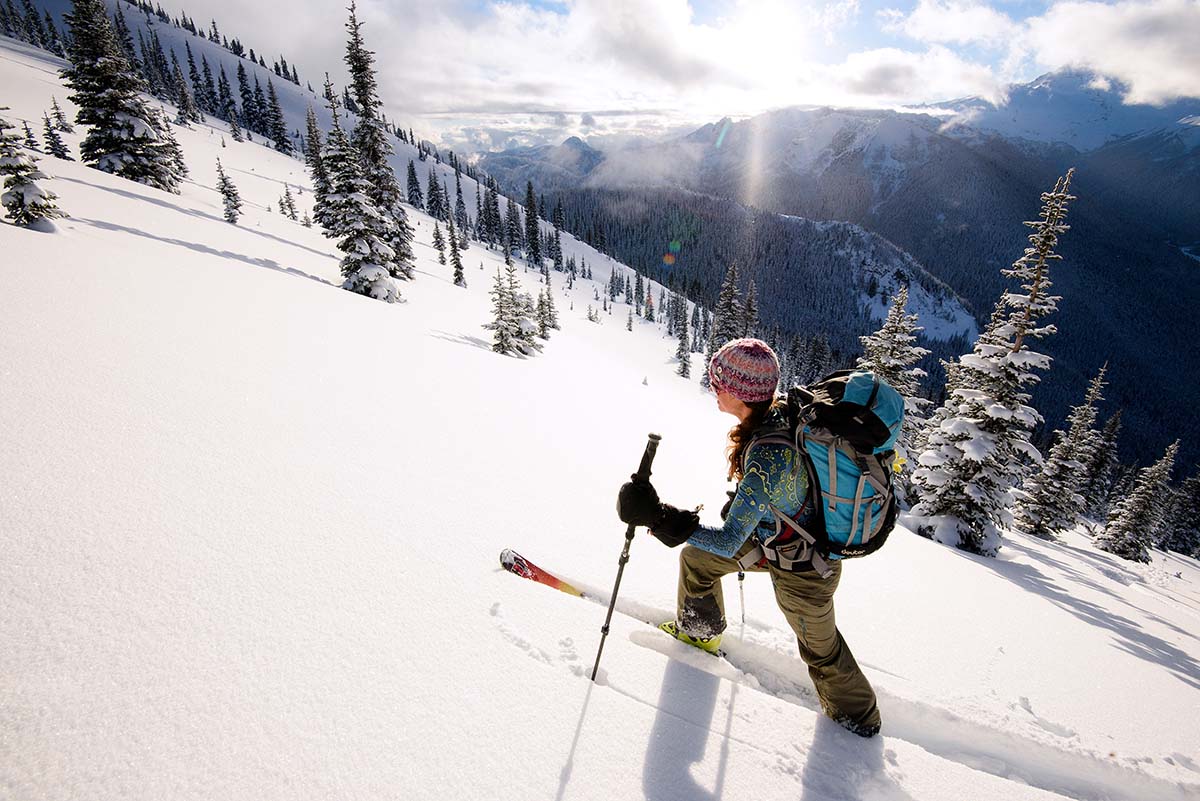 An Important Note about Avalanche Safety
Even more important than avalanche gear is training, practice, and self-awareness. Winter can be a wonderful time to recreate, but it can also be very dangerous if you don't have an understanding of current snowpack conditions and the slopes you plan to ski and traverse. Your local avalanche center (if you have one), Know Before You Go, and Backcountry Access are all great resources to get you started or to brush up on key concepts. Of course, it's critical to get out in the snow and practice with your gear—we recommend practicing your skills with your core group of ski touring partners. In addition, we strongly recommend taking an avalanche course (level 1 at the least) from a reputable organization like AIARE, which offers country-wide classes throughout the winter and early spring.
Back to Our Backcountry Skiing Checklist  See Our Ski Gear Reviews
Learn More About Ski Gear