Ski straps are fiercely tough yet lightweight bands made from UV-resistant polyurethane, with perforated holes and a buckle. They're the unsung hero that lives inside your ski pack or wrapped around your ski pole, ready at a moment's notice to step in and solve gear malfunctions and other backcountry predicaments. They come in a few lengths and widths, many colors, and have endless applications. Below, we share our favorite designs and lay out a dozen reasons (both obvious and inobvious) why the ski strap is an indispensable backcountry tool.

A Dozen Uses for a Ski Strap
1. Holding Skis Together During Transport
The most common use for ski straps is to hold skis together when they're not attached to your feet. Going to and from the garage, ski shop, car, or trailhead will be easier if your skis are bound together (many people secure their poles, too). Using a ski strap is especially helpful if your touring bindings are brakeless or in tour mode, as it will keep your skis from sliding off each other's bases. Securing your skis together with a ski strap also ensures that you always have at least one ski strap on hand.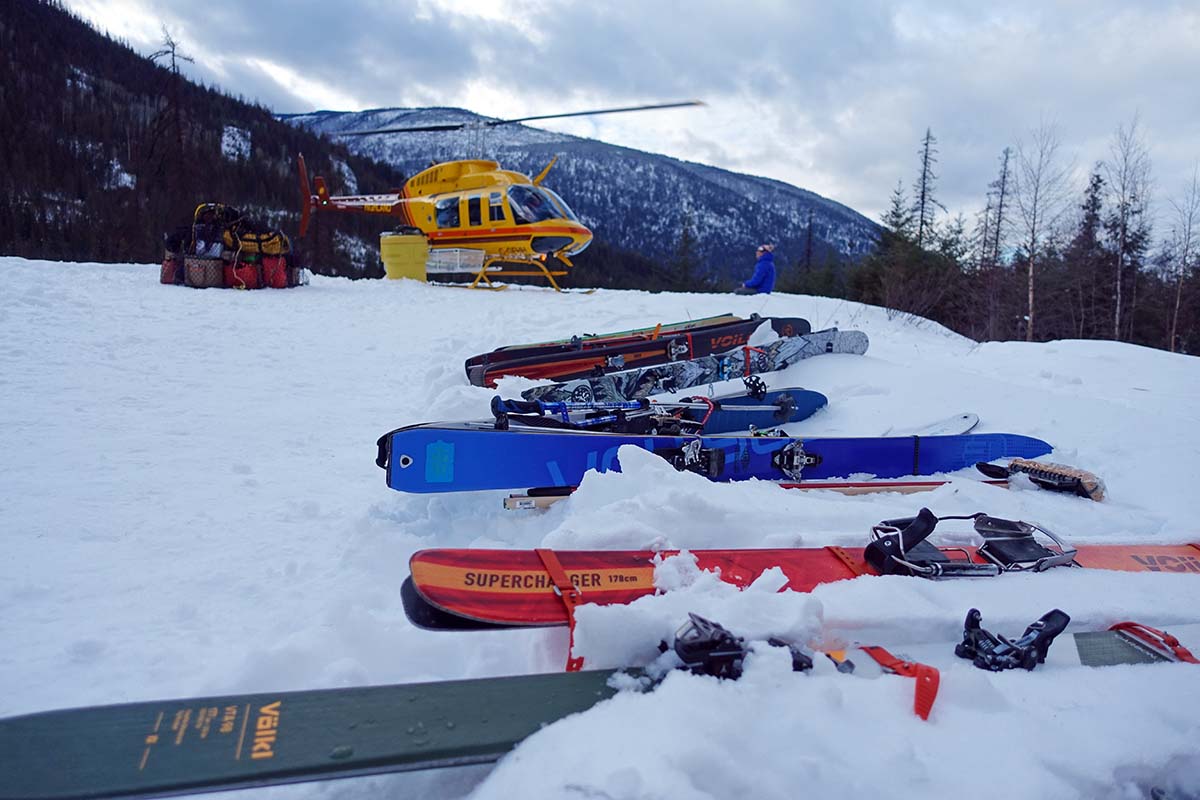 2. Attaching Skis to a Pack
When you're booting up steep slopes in the mountains, you'll need to attach your skis to your pack. There are two primary ways to do this: via A-frame carry or diagonal carry. Your ski pack may dictate which style you use, though most modern ski packs accommodate either option. Whichever method you choose, using a ski strap to hold the ski tips together will help keep them stable and balanced on your back, minimizing the chance of wobbling, shifting, or sliding down as you climb.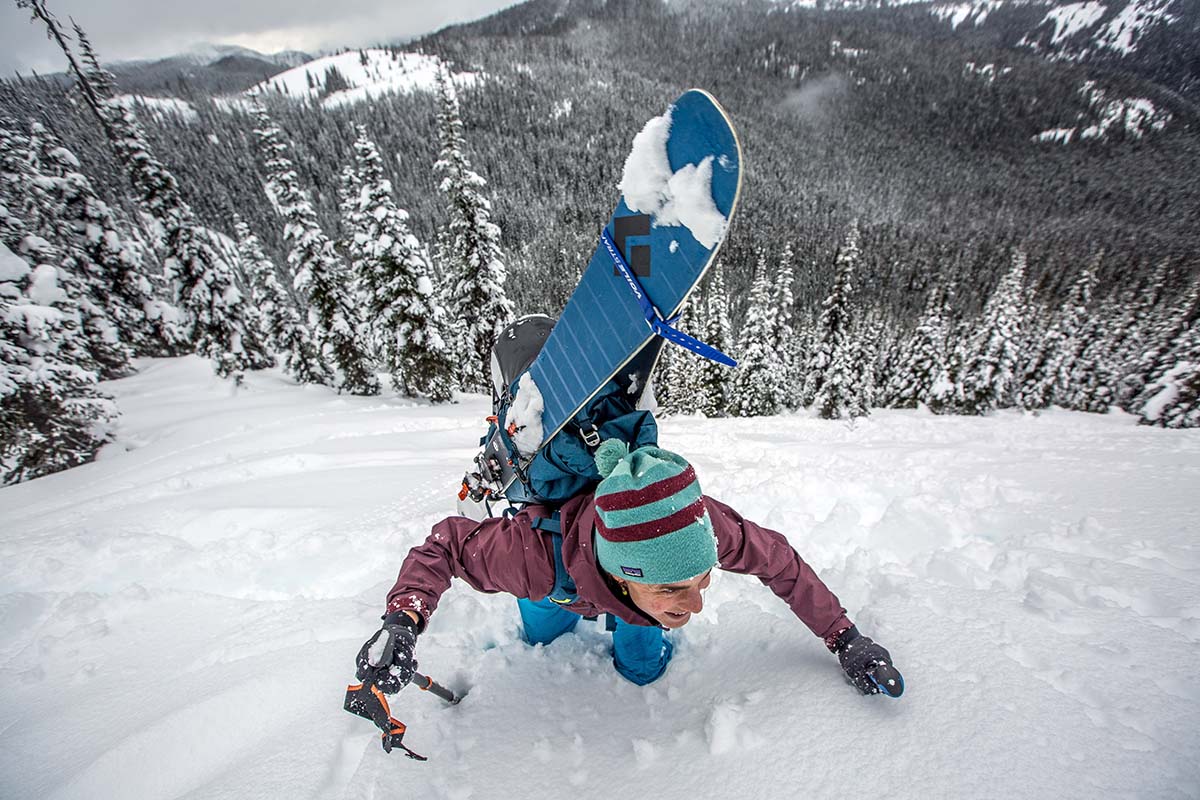 3. Securing Skis to a Snowmobile
If you're using a snowmobile to access backcountry terrain, you'll want to take along a few straps to secure your skis. Note, however, that this will only be possible if your sled has some sort of metal rack to which you can tether the skis. If it's an option, this is the most comfortable way to transport your skis, especially if you're riding more than twenty minutes or if you're in very windy conditions. Otherwise, you'll need to carry your skis on your back using your ski pack. Regardless, having a couple ski straps will come in handy. 
 
4. Mounting Skis to a Bike, Boat, or…Horse? 
What's better than earning your turns? Fully human-powering your day by accessing snow with a bike or boat takes things up a notch in both fun and adventure. Some of us have even traveled to the snow by pack horse, though we're not sure whether that actually counts as human powered—would we call it horse-powered skiing? Whatever way you choose to multi-sport, you'll want a good system for carrying your skis comfortably and efficiently to and from the snow. Ski straps let you attach your skis securely to just about any mode of transportation—though if you're on a horse, you'll also need some rope. And some carrots.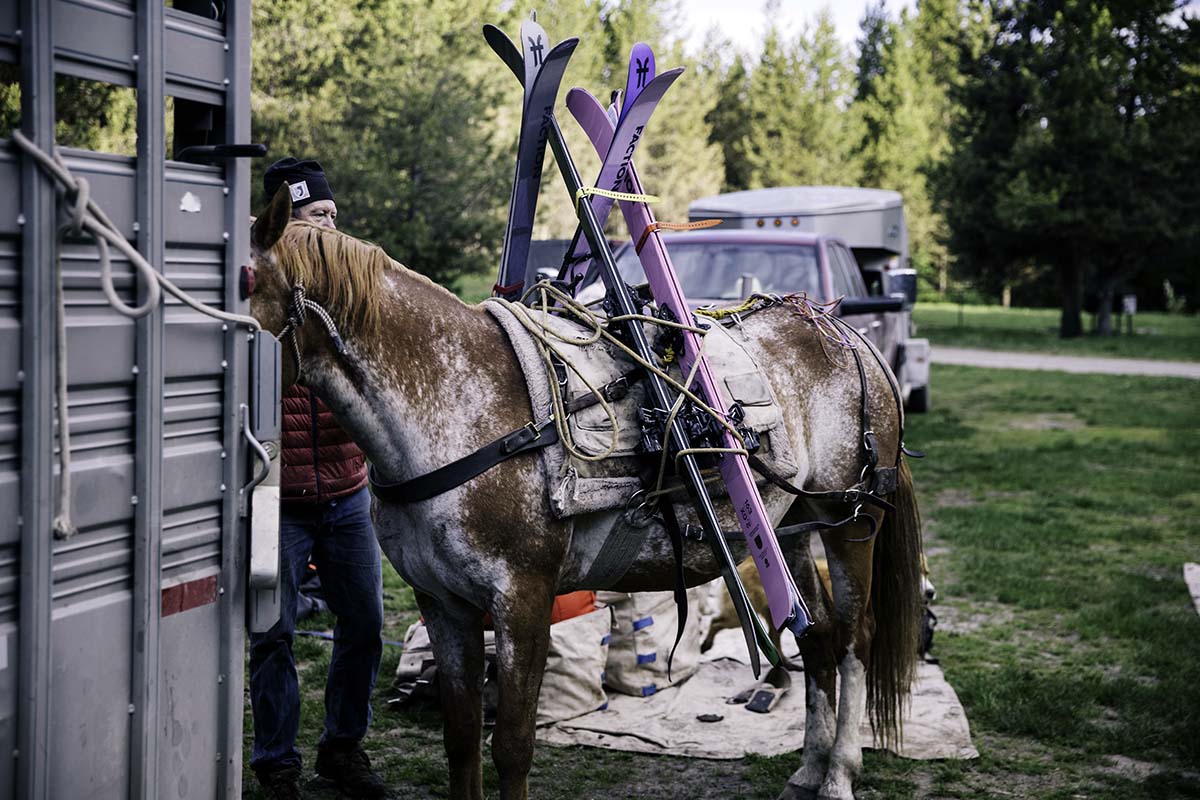 5. Attaching Skins to Skis 
Ski straps are also helpful for navigating issues with climbing skins. Skins typically fail because an attachment at the tail or tip breaks, or most commonly, the glue becomes snowy, wet, and/or cold and stops sticking to the ski bases. In any of these situations, a ski strap or two can save your day. If you encounter a broken tail or tip attachment, you can use a ski strap to hold the end of the skin in place until you have the time or equipment needed to replace the parts. If you experience glue failure, you can use ski straps to hold the skin to your ski base—the best placement we've found is underneath your foot where you get the most traction. This method may not salvage your entire day, but it could make for a smoother return to the trailhead.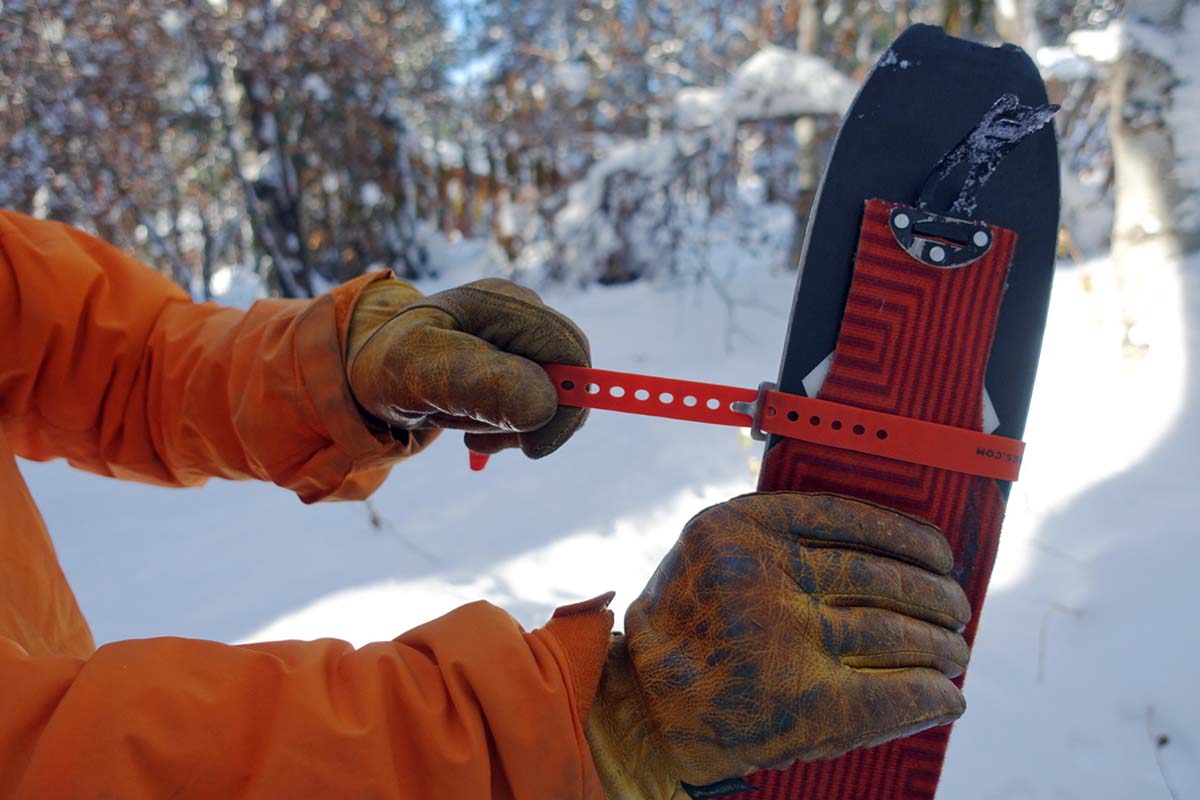 6. In the Event of a Binding Malfunction
Backcountry bindings can get iced up and stop working properly, typically resulting in an inability to secure the boot at the toe. First, it's important to take the time to knock ice out of your bindings during transitions, as this will help avoid the problem. However, if you're having trouble getting your toe piece to remain locked on your boot, you can use a ski strap or two to secure your boot to your binding's toe piece. Note that this will only work for skinning—you'll want to make sure your binding is de-iced and functioning properly before descending. 
Additionally, a couple ski straps can also help hold your heel to your ski for a descent if your heel piece breaks or is improperly adjusted for your ski boots. In such a scenario, a couple of ski straps do a surprisingly good job keeping your heel in place. Of course, you'll want to ski conservatively, but the ski-strap fix will likely work better than attempting tele turns on AT bindings.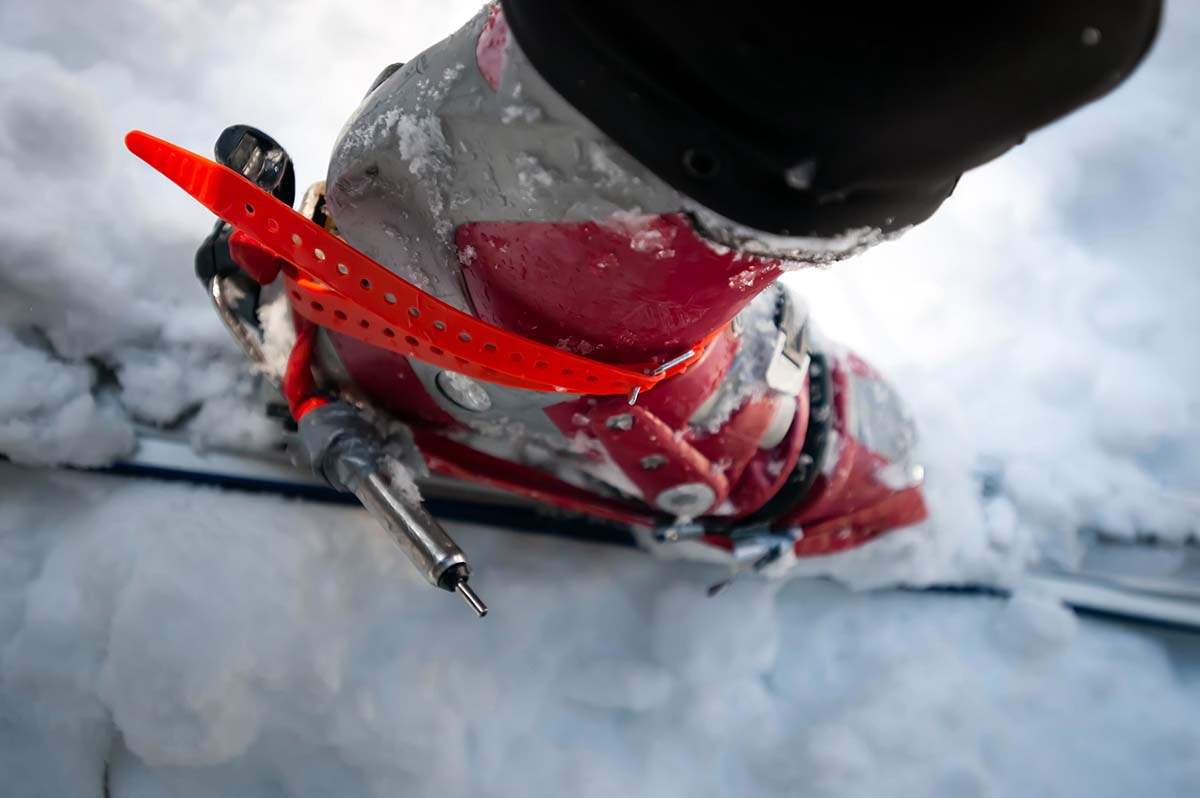 7. When a Boot Buckle Fails
Occasionally, boot buckles can fail during a ski tour. Depending on the buckle, this may or may not impact the day. Either way, you can add stiffness and security on the descent by wrapping a ski strap around your boot in the area of the broken buckle (or wherever it feels most helpful) and pulling it snug. 

8. Holding Together a Broken Pole
Breaking a ski pole is not likely, but it could be a day-ender or—at minimum—make for an awkward and challenging exit. A ski strap is not the best repair solution (a small hose clamp, for example, would be better), but it works in a pinch, holding your pole together well enough to help you stay balanced on your way back to the trailhead.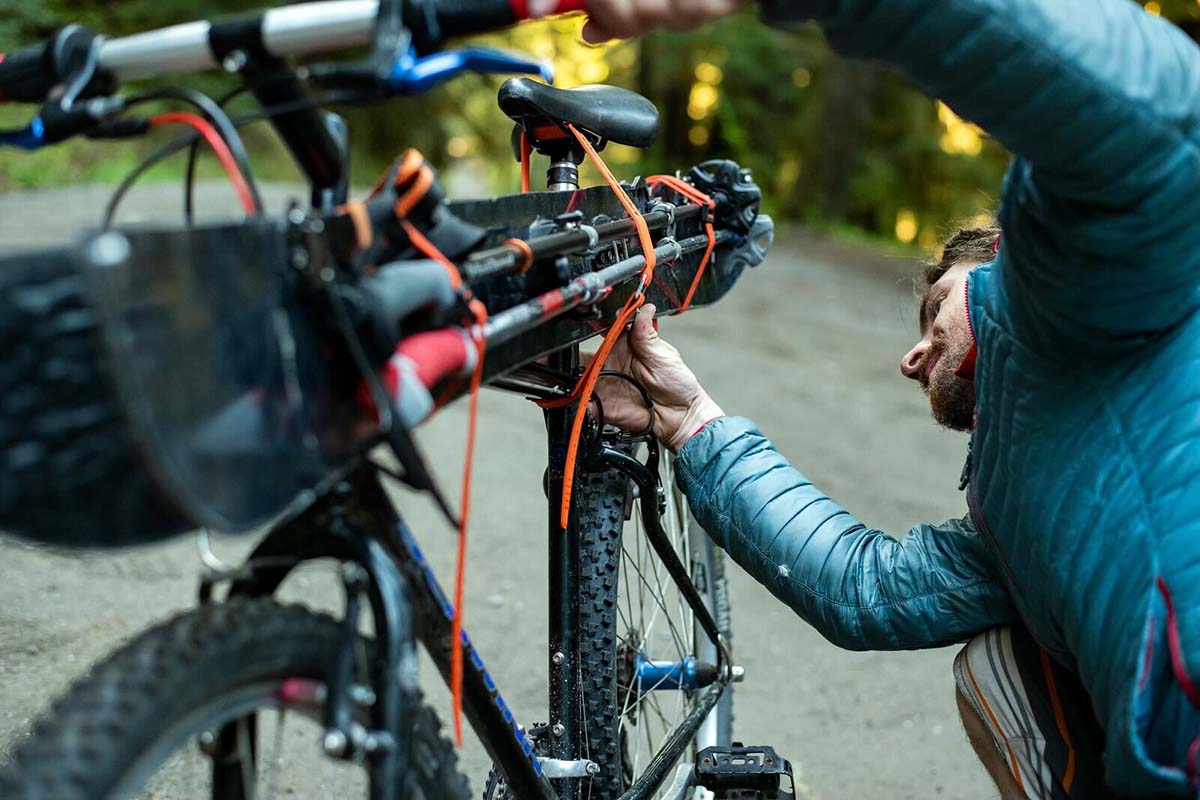 9. As Part of an Improvised Sled (for Rescue)
In the unfortunate circumstance of dealing with an injured skier who needs to be towed on a rescue sled, ski straps can really come in handy. Ideally, someone in your group will have a dedicated rescue sled for such an incident, but if you need to build an improvised sled using the injured skier's skis, pack, and other group gear, ski straps will be incredibly useful in securing different pieces together. Pro tip: It's a good idea to practice building an improvised sled with your ski partners in the warmth and comfort of your living room before having to puzzle it out in the backcountry.
 
10. Generally Holding Things Together 
We've made it clear by now that ski straps are very useful for holding things together, whether that's a pair of skis, skins and skis, or skis and your bicycle. They're also helpful in holding together things inside your ski pack, such as a tarp or rescue sled, snow study supplies, boot crampons, or other gear you want to keep organized together. Then, if you happen to need a ski strap for an emergency use, you have a number on hand.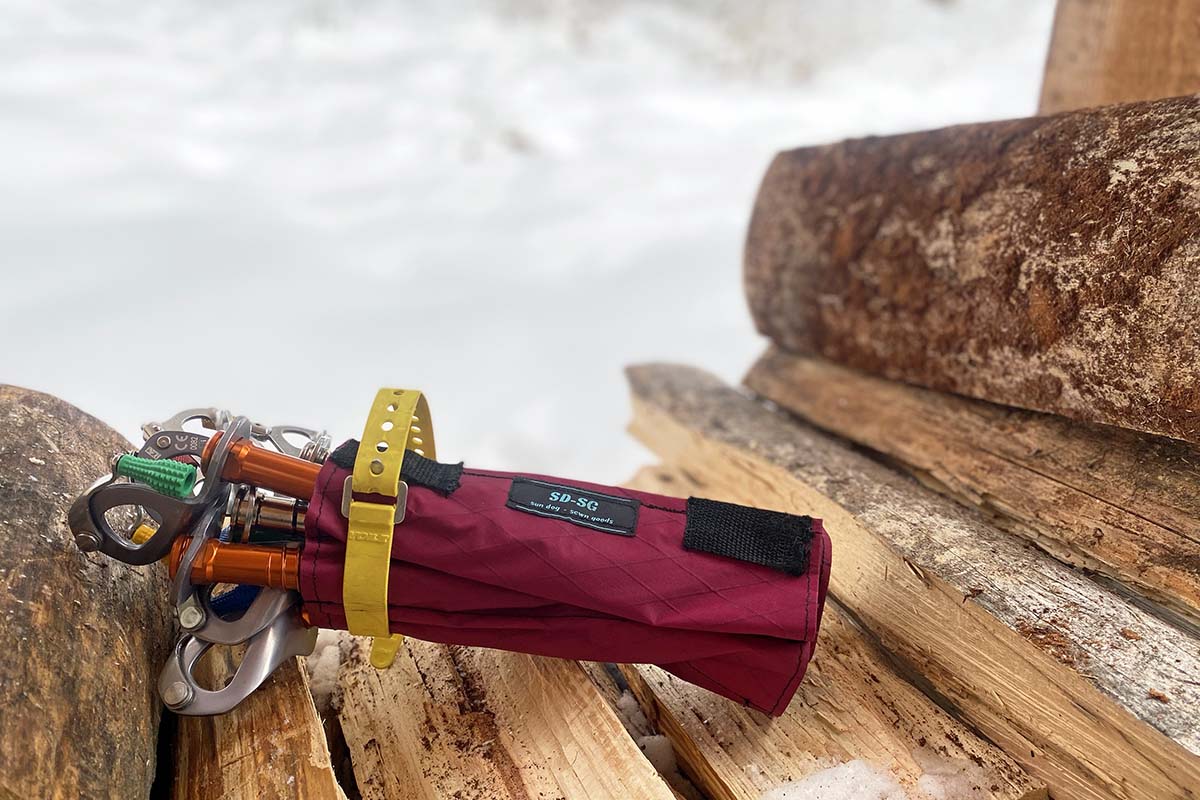 11. As a Hair Tie 
Bet you haven't thought of this one! For long-haired folk, one of the most annoying situations to find yourself in is really needing a hair tie and not having one. Whether you're sweaty or the wind is constantly whipping your hair into your face, this seemingly minor problem can sour a mood faster than the sun turns corn snow to glop. If you find yourself without a hair tie, hopefully someone else in your group has a spare. If not, your handy-dandy ski strap will totally do the trick. 

12. Troubleshooting the Mysterious Anomaly that No One Would Ever Expect 
As backcountry skiers and outdoor adventurers, we know better than to assume we've ever seen it all. Therefore, when you're eventually troubleshooting a situation you never expected to encounter, remember to keep a few ski straps at hand—and top of mind. While they certainly can't solve every problem, you never know when they might save the day.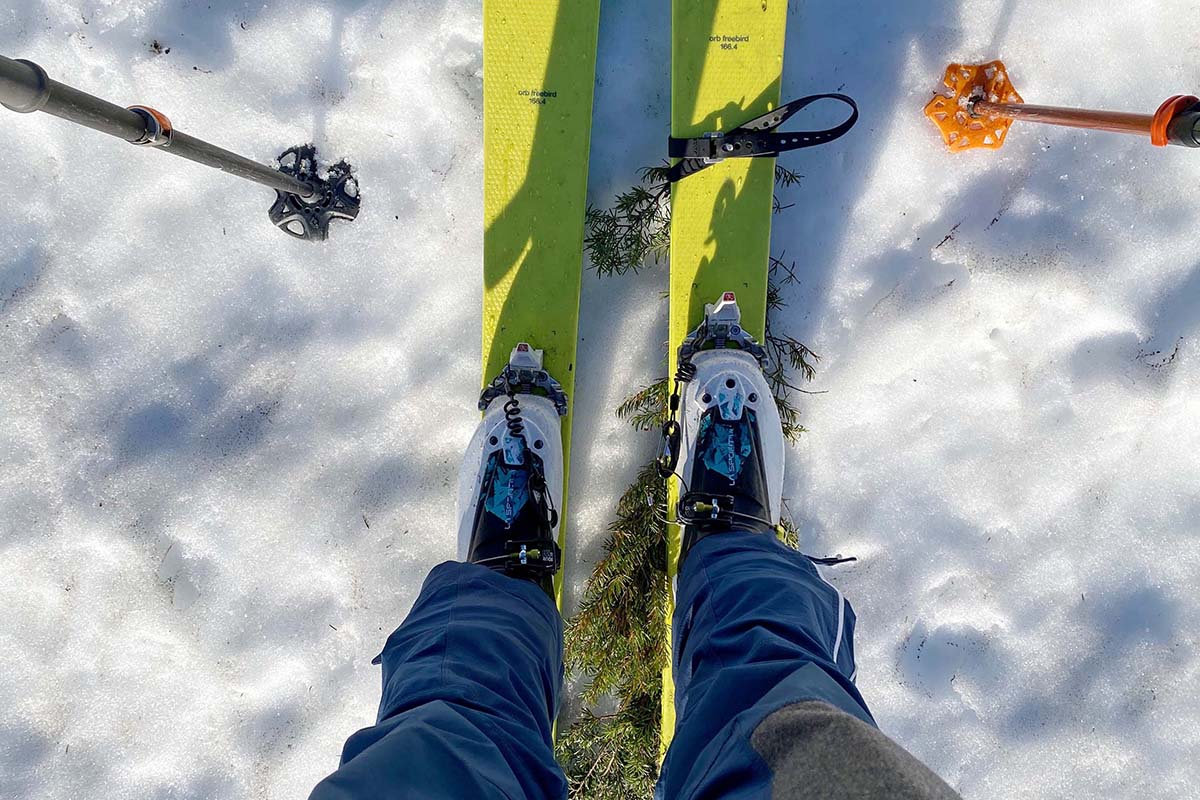 Our Favorite Ski Straps
Voile is the original maker of the traditionally bright orange ski strap, which has been around for more than three decades. Nowadays, you can find co-branded versions available from countless ski brands, ski events, and probably your local shop, too. And there are other manufacturers in the space as well: Both Black Diamond and G3 make ski straps that are fairly similar to those from Voile. All of these designs get the job done, but when given the choice, we still reach for Voile's straps for their time-tested durability. And the good news is that no ski strap will break the bank—depending on size, most models check in around $6 to $9.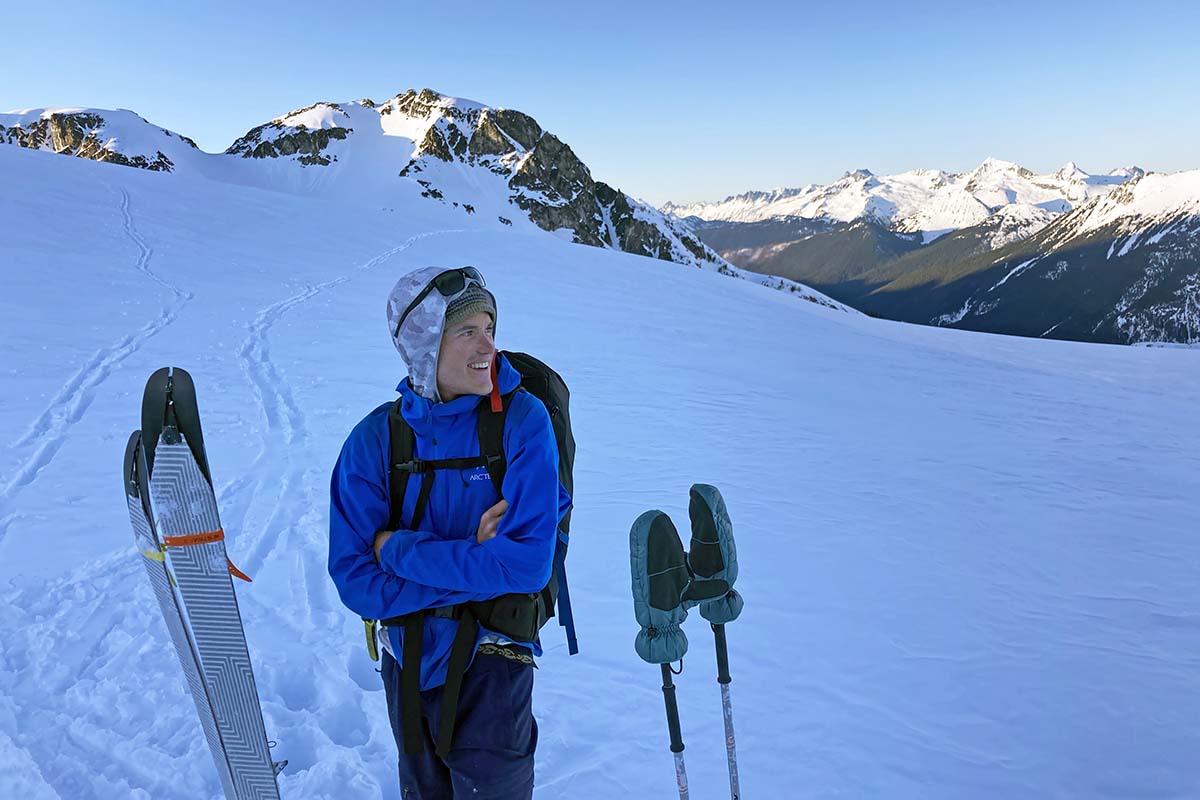 The standard ski strap measures 0.75 inches in width and 15, 20, or 25 inches in length. The 20-inch strap will fit around most ski boots, so it's a versatile option to have in your ski repair kit and the size we recommend for most applications. Voile also makes a 0.5-inch wide Nano strap, available in 6, 9, 12, and 16-inch lengths (great for ounce-counting ski mountaineers), and a durable and strong XL strap, which is about an inch wide, slightly thicker, and offered in 22- and 32-inch lengths. Finally, Voile offers its standard straps with your choice of an aluminum or nylon buckle—the nylon is non-conductive and won't scratch your gear, but we strongly prefer the metal design for its durability and slim profile.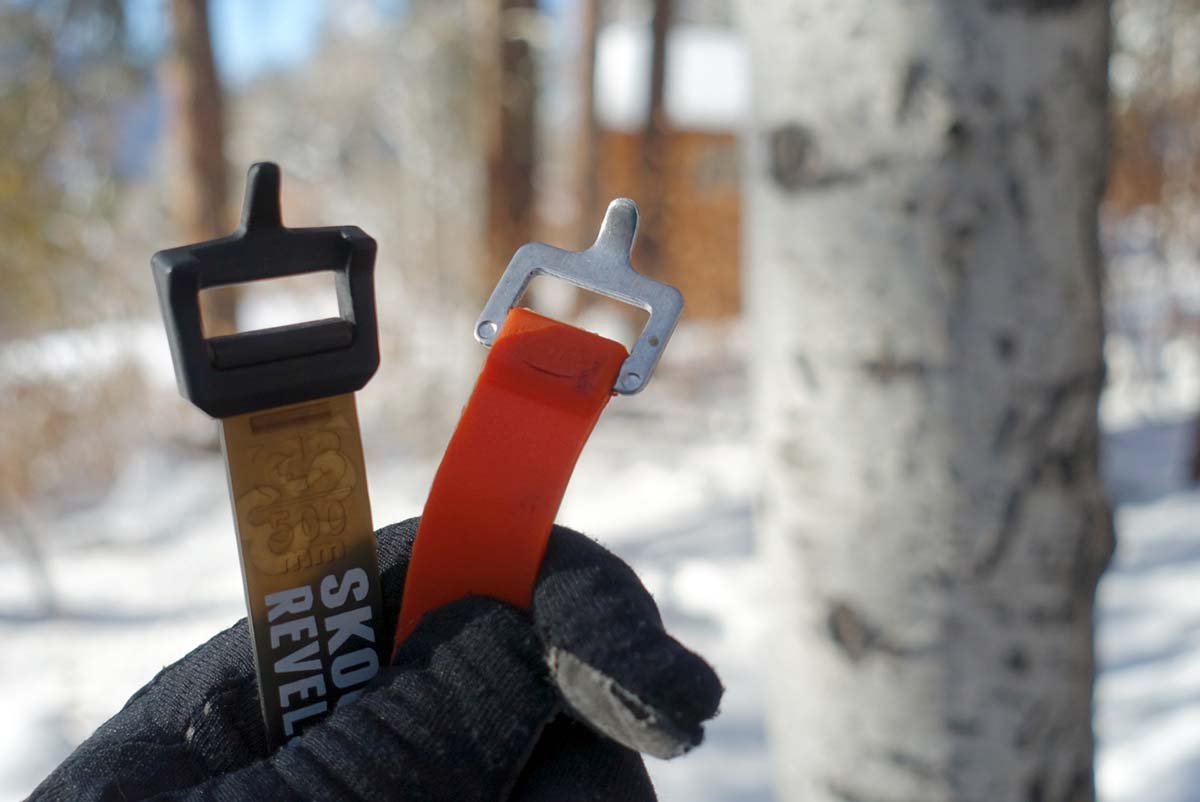 How Many Ski Straps Do You Need?
The longer you ski, the more your collection of ski straps will pile up: Like carabiners, lighters, or chapstick, they're one of those indispensable pieces of gear you'll want to always have on hand. But like the aforementioned items, ski straps also seem to go missing when you need them most; for this reason, we recommend keeping at least two straps in your repair kit, in addition to the strap you use to store your backcountry skis and poles together. If you're a guide or trip leader, you'll probably want a few more.
Back to Ski Strap Uses  Back to Our Favorite Ski Straps
Learn More About Ski Gear