Your pack is arguably the most important piece of gear in your backpacking kit, and a proper (or improper) fit can make or break your time spent in the backcountry. It all starts with nailing the size, which can then be adjusted and fine-tuned to hug your body. Below we outline what you need to know when sizing and fitting your backpack, including how to measure your torso length, make adjustment to the straps, and customize fit. And for all of our top picks in one place, see our article on the best backpacking packs.

1. Sizing Your Backpack
Measure Your Torso Length
To take your measurements, you'll need soft measuring tape (or string and a ruler) and a buddy. The first step is identifying two features on your body: your C7 vertebrae and your iliac crest. To find your C7, bend your head forward and feel for the first major bump at the base of your neck. For your iliac crest, put your hands on your hips and draw an imaginary line across your back from hip to hip—this is the midpoint along your iliac crest. Then, measure the distance between your C7 and the midpoint of your iliac crest. This is your torso length.
Select Your Pack Size
Your torso length is the number used to determine your pack size. This can be as easy as matching number to size on the manufacturer's sizing chart—for example, a male with a 22-inch torso length will fit a size large Osprey Atmos AG. However, where the waters get muddy is when you're between sizes—an 18-inch torso, for example, is listed as either a size small or medium. If this is the case, we recommend trying on both sizes if possible to see which feels best. It's also worth mentioning that some budget options are only available in one size (the Osprey Rook and Renn, for example), but these often come with a wide adjustment range in both the torso range and hipbelt.
Customize Your Hipbelt
Most pack sizes are based on torso lengths, meaning that you select the torso measurement but are stuck with the size of the accompanying hipbelt. Some packs, however, are made with interchangeable hipbelts, allowing you to select both a torso size and hipbelt size (the Gossamer Gear Mariposa is one example). If you have a particularly lanky or short and stout figure, this can be an easy way to hone in fit. To take your hip measurement, simply wrap a soft tape measure or piece of string around your waist at the top of your iliac crest. Again, if you're between sizes, it can be a good idea to try multiple packs on.

2. Fitting Your Backpack 
Choosing the right size is only half the battle in obtaining an optimal fit. Every body is different, but thankfully most backpacking packs come with a range of adjustments so you can effectively dial in fit. The first step—whether you're trying a backpack on at the store or fitting it at home—is to make sure it's loaded down with 15-20 pounds to simulate a realistic load. Second, make sure all straps (hipbelt, shoulder straps, load lifters) are loosened. Then, with the backpack on, start at the bottom and work your way up as follows: 
Hipbelt
Buckle the hipbelt and pull it tight, keeping the buckle at the middle of your waist. The wide sides of the hipbelt should be centered on your hip bones. You might have to pull it relatively tight, as most of your load (about 80 percent) should be on your hips rather than your shoulders.
Shoulder Straps
With most of the weight of the pack on your hips, lean slightly forward and give the shoulder straps one firm tug. You should now be able to stand up straight and feel about 20 percent of the load on your shoulders. Don't go too tight on the first pass—you can always come back and tighten these later. 
Load Lifters
Load lifters are found where the pack connects to the shoulder straps and function to pull the weight of the pack toward your body. Once you've tightened your shoulder straps, reach up and give each load lifter a tug (we like doing both at once). If your pack fits well, these will come down from your pack to meet your shoulder straps at about a 45-degree angle. You'll know if the load lifters need to be adjusted if you experience a lot of pressure on either the front (too loose) or back (too tight) of your shoulders.
Sternum Strap
Finally, buckle your sternum strap at your chest. The purpose of the sternum strap is to keep the shoulder straps from sliding off your shoulders and assist the shoulder straps and load lifters in holding the pack snugly against your torso. You want this to be taut but not tight—it should not be pulling the shoulder straps inward.

3. Customizing Fit
Once you've put your pack on and properly fit it to your body, you'll want to see if it needs further adjustment. After all, just because you bought the right size doesn't mean it will fit perfectly out of the box. Thankfully, most packs come with adjustable torso lengths and hipbelts that can be tweaked based on your specific body type. Granite Gear's Blaze 60, for instance, boasts a Velcro-based system that allows you to tweak the torso length and shorten or extend the waist belt from 26 all the way up to 42 inches. We highly recommend buying a pack with these features, especially if you're eyeing a one-size-fits-all pack or one without an interchangeable hipbelt.
Torso Adjustment
To determine whether or not you need to shorten or lengthen your torso size, put your pack on, buckle and tighten the hipbelt and shoulder straps, and see where the shoulder straps meet the backpack. Ideally, you want this point to be relatively level with your shoulders (slightly above or below is all right)—too high and the straps will pinch your neck; too low and you won't get proper weight transfer to the hipbelt. If the straps are too high, shorten your torso length. If they're too low, lengthen it.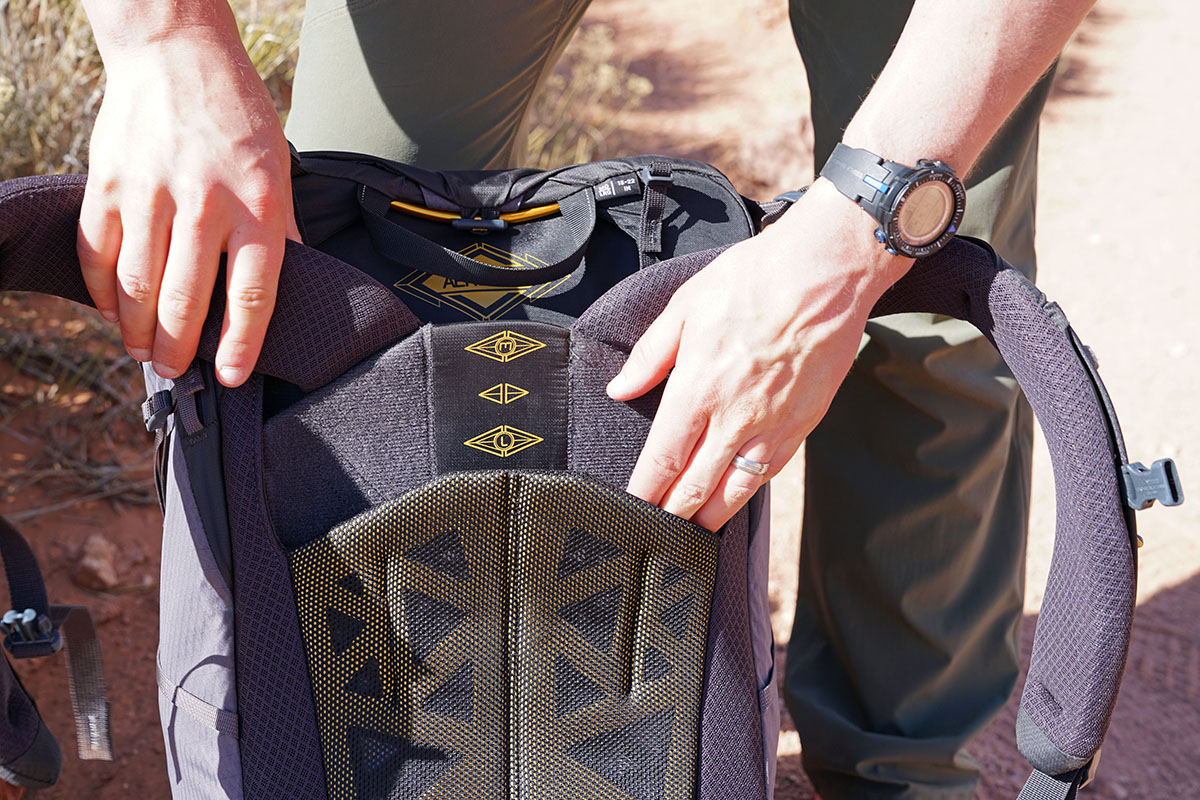 Hipbelt Adjustment
Not all packs come with hipbelt adjustments, but this feature can be handy for those with particularly lanky or stout builds. With your pack on, snug the hipbelt around your waist. You want the beefy side padding to be centered over your iliac crest and the buckle to be squarely in the middle. If you can't tighten your belt anymore, it needs to be shortened. Alternatively, if the belt is so extended that you have webbing (rather than the wide padding) touching your hip bones, it will need to be lengthened.

4. Tweaking your Pack on the Trail
If you've had your pack sized and fitted by a professional (most gear shops, including REI, offer this service), you're ready to hit the trail. But adjusting your pack's fit is never over. Your load will be balanced slightly differently each time you pack and will change even more as you eat your food throughout your trip (for more on the topic, see our article on How to Pack a Backpacking Pack). Therefore, every time you put your pack on, it's important to make sure that you adjust and fine-tune each strap mentioned above: hipbelt, shoulder straps, load lifters, sternum strap—in that order. We'll also adjust our pack many times throughout the day on the trail to move pressure around or modify our center of gravity (lower is better on uneven terrain).

5. Women's-Specific Packs
Most modern packs are available in both men's and women's versions, which differ in terms of sizing. Whereas men's packs are designed for those with broad shoulders and smaller hips, women's models are built with narrow shoulders and wider hips in mind. These packs will generally be smaller overall and concentrate weight lower on the body (women have a lower center of gravity than men). The shoulder straps and hipbelt are also shaped and padded anatomically, as well as sized more narrowly. In the end, most women will find that a women's-specific pack fits better than a men's model, but we always recommend trying before you buy. And it almost goes without saying that you should always choose the pack that offers the best all-around fit, regardless of gender designation.
See Our Top Backpacking Pack Picks  See Our Top Hiking Daypack Picks
Learn More About Backpacking