Smith I/O Mag Goggles
Price: $270-$300
Frame size: Medium
Number of lenses included: 2
What we like: Excellent field of vision, quality lenses, and comfortable fit.
What we don't: Not the fastest lens-change system available (although it's still very functional).
See the Smith I/O Mag Goggles  See the Women's Smith I/O Mag S
Smith is a leader in optics, so it comes as little surprise that their snow goggles are some of the best on the market. Within their lineup, the I/O Mag stands out as their most well-rounded design: it offers excellent optics and fit, comes with two lenses, and vents extremely well. We put the I/O Mag through over 30 days of skiing and exposed it to a wide range of conditions, from frigid winter temperatures to wet spring snow. Below we break down our experience with the Smith I/O Mag. To see how it stacks up to the competition, see our article on the best ski goggles.
 
---
Table of Contents
---

Performance
Field of Vision 
Medium-fit goggles are rarely leaders in terms of field of vision, but Smith's I/O Mag immediately stuck out as a strong performer. The relatively low-profile design nicely balances visibility with allowing plenty of space for air to flow to reduce fogging. Additionally, the goggles never gave me the tunnel-like effect that's common with older models and entry-level designs. And finally, the lens's high-quality build and spherical shape provided great, distortion-free peripheral vision both up and side-to-side. It's true that the padding and frame at the bottom were visible when looking directly down, but this never caused an issue for me. If your number-one consideration is field of vision, look to larger models like Anon's M4 and Smith's own I/O Mag XL and 4D Mag, but the difference in performance is relatively small (and the bigger size can be uncomfortable for medium faces). All told, the I/O Mag hits a nice sweet spot between a manageable size and all-around visibility. 

Clarity and Optical Quality
At the premium end of Smith's offerings, the I/O Mag Goggles come with two lenses: one for sunny conditions and one for cloudy days with low light. And in truth, they are the biggest selling point of these goggles: the ChromaPop lenses have been our favorite design since they were released a few years ago by providing a great combination of clarity and natural color depiction. Further, they also pick out details like bumps and crud incredibly well both on- and off-piste. For comparison, we've found competitors like Oakley's Prizm lenses can sometimes make objects look artificial (and certain tints, including both the Torch and Sapphire, make everything appear overly pink).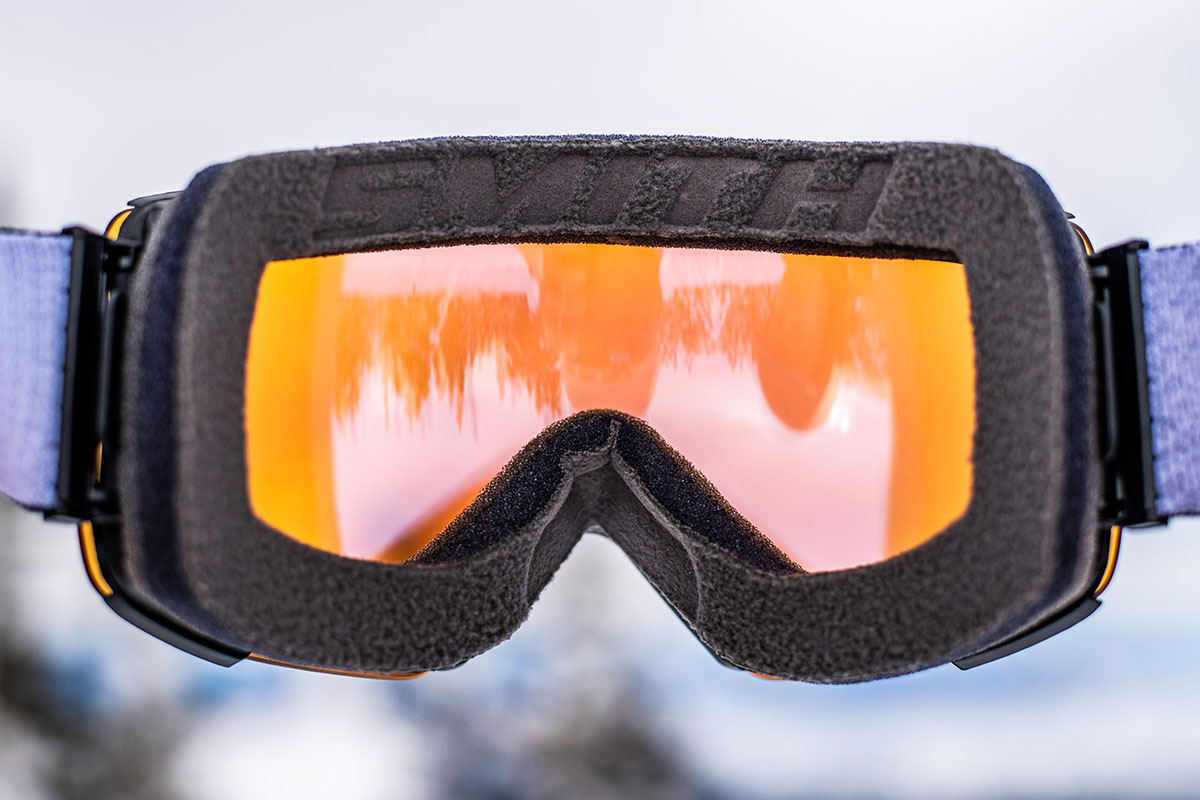 I opted for Smith's Everyday Green Mirror (23% VLT) and Rose Flash (50%) lenses and came away very impressed by both. Early in the season at my local hill, it was often bright for a few hours, but the sun dipped behind the mountains by midday. In the heart of winter, we experienced a lot of heavy snowfall, with low visibility for long stretches. And in spring, we got a lot of sun. Given the wide range of conditions, I used the Rose lens most often—the tint let in enough light for those early-season days where the sun disappeared quickly and also performed well in dull settings when snow can often look washed-out. Paired with a ski helmet with a slight brim (Smith's recently discontinued Variance), I never found myself squinting in sunlight, nor did the lens feel overly dark. Alternatively, the mirrored Everyday lens is a great pairing for resorts with more direct sun (or brighter cloudy days) and was fantastic for late-season backcountry use and inbounds spring skiing.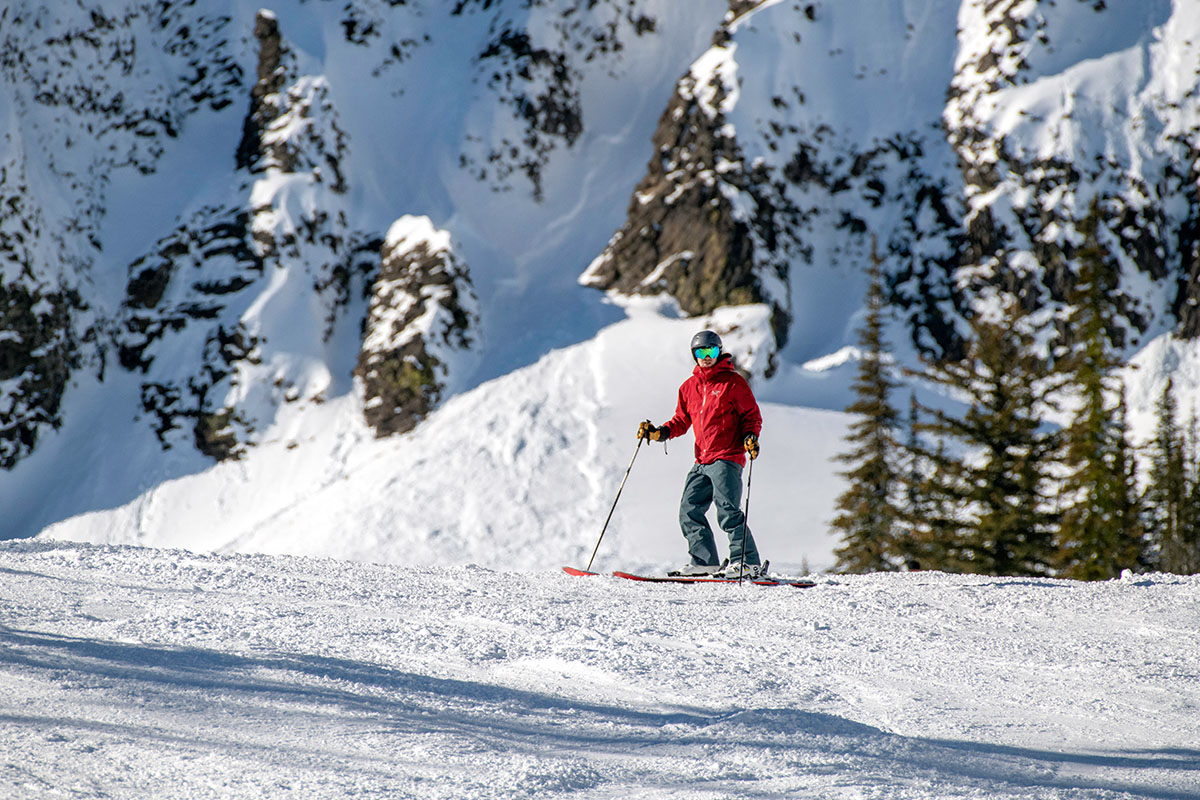 Lens-Change System
For a long time, Smith held off on releasing a true quick-change design for their lenses. Their original I/O was (and still is) painfully slow and the I/O7 was only moderately better. But now, they have a class-leader with the Mag system on the I/O Mag Goggles. To use, simply remove the goggles, push one of the side locking levers, and pull the lens away from the frame. Reinserting is just as simple—the magnets really pull it into place—although we needed to push both levers to get it fully locked. In short, the system is simple, reliable, and we never had any instances of accidentally skiing without the lenses fully secured (something we have done with both Giro and Oakley models).
All that said, the Anon M Series' lens-change system is still our preferred design. Rather than having to take your goggles off and push to release a lens, Anon's lenses can be swapped without removing the goggles—just twist the frame and pull the lens away. However, we do like the locking mechanism on the Smith goggles, which adds a little extra peace of mind (although we've never had issues with Anon lenses popping out, even during falls). In the end, both are great and fairly intuitive systems, but the Anon gets the slight edge for speed and ease of use.

Ventilation and Fog Resistance
The Smith I/O Mag's venting system is extremely effective at generating airflow from all sides. Combined with a Smith ski helmet with openings along the brim, I never had fogging issues while lapping the resort. The only hiccups were during longer sidecountry hikes when I needed to look down consistently to find my footing. And even then, the lenses cleared quickly during breaks or whenever I looked up again. It's worth noting that I've run into fogging challenges with a number of designs, including the Anon M3 MFI, which struggled on muggy days and would collect moisture in between the lenses. But this hasn't occurred with the I/O Mag, and the original anti-fog coating is still holding up too. As with all my goggles, I have done my best to minimize the amount of times I wipe the lens, which degrades the treatment.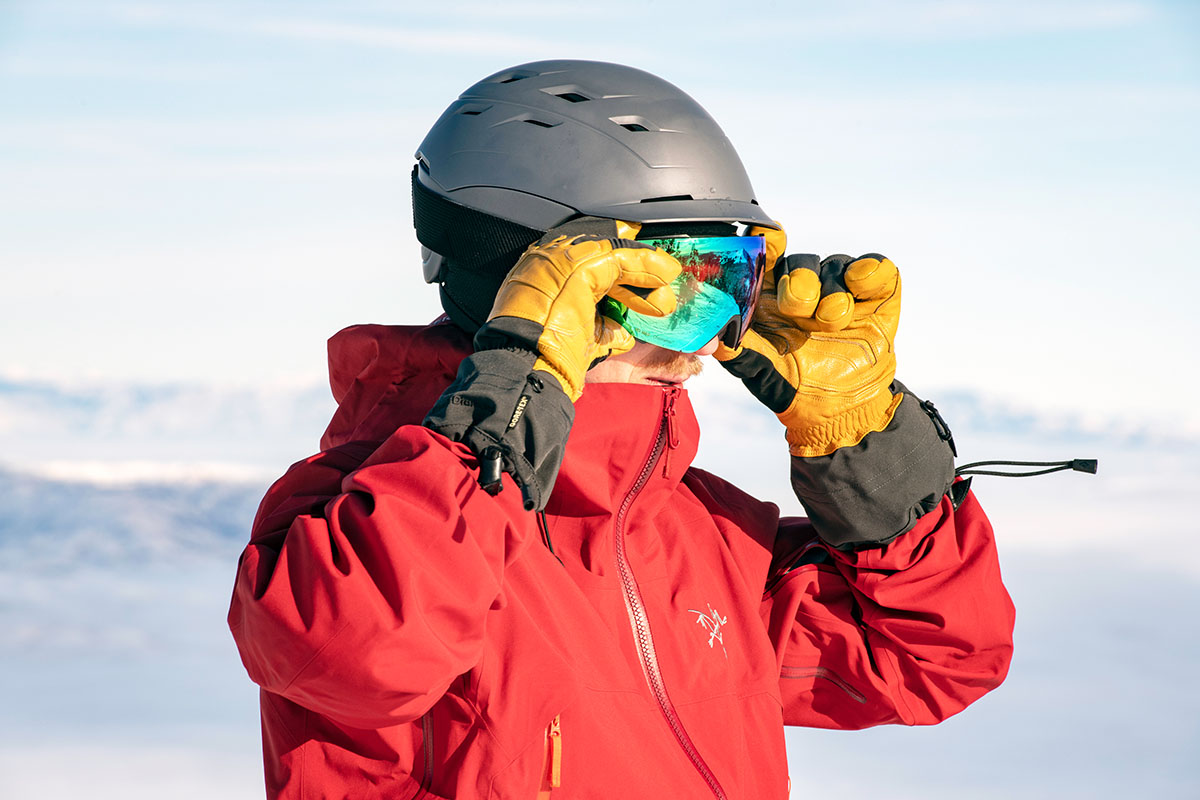 Fit and Comfort
The Smith I/O Mag scores high marks in the comfort department. The three-layer foam is very soft and notably well-made—I never once felt any discomfort, chafing, or the need to loosen the straps even after wearing the goggles all day long. Additionally, the frame is reasonably flexible and molds nicely to your face, with the ability to cinch down snugly and comfortably (the only potential issue here would be an imprint along your forehead). Size-wise, the standard I/O Mag has a medium fit, which was ideal for my face size and shape. By comparison, I typically find large-framed goggles to be too big and push down on the brim of my nose (one example is the Oakley Flight Deck). For those with smaller or bigger faces, Smith offers the I/O Mag in both small and extra-large sizes, which we cover more in-depth below.

Build Quality and Durability
As one of Smith's high-end models, the I/O Mag is impressively well-built. After more than a full season of use—which has included more than 30 ski days, half of which were at the resort—the goggles look like new. I do store them in the included soft-sided case when touring and in between ski days, but otherwise I haven't taken any special care (of note: the goggles unfortunately don't come with a more protective hard-sided case). The strap still looks fresh, the rear buckle that connects the two sides of the strap provides a solid hold, the foam is in great shape, and I couldn't find a single scratch of consequence on either lens. It's worth noting that another tester, who used the Low Bridge variation of the I/O Mag goggles a couple seasons ago, did get some scratches, although it happened on a packed gondola while skiing in Japan. In our opinion, it's worth taking a little extra care to protect the lenses, but that's common practice with all spherical designs.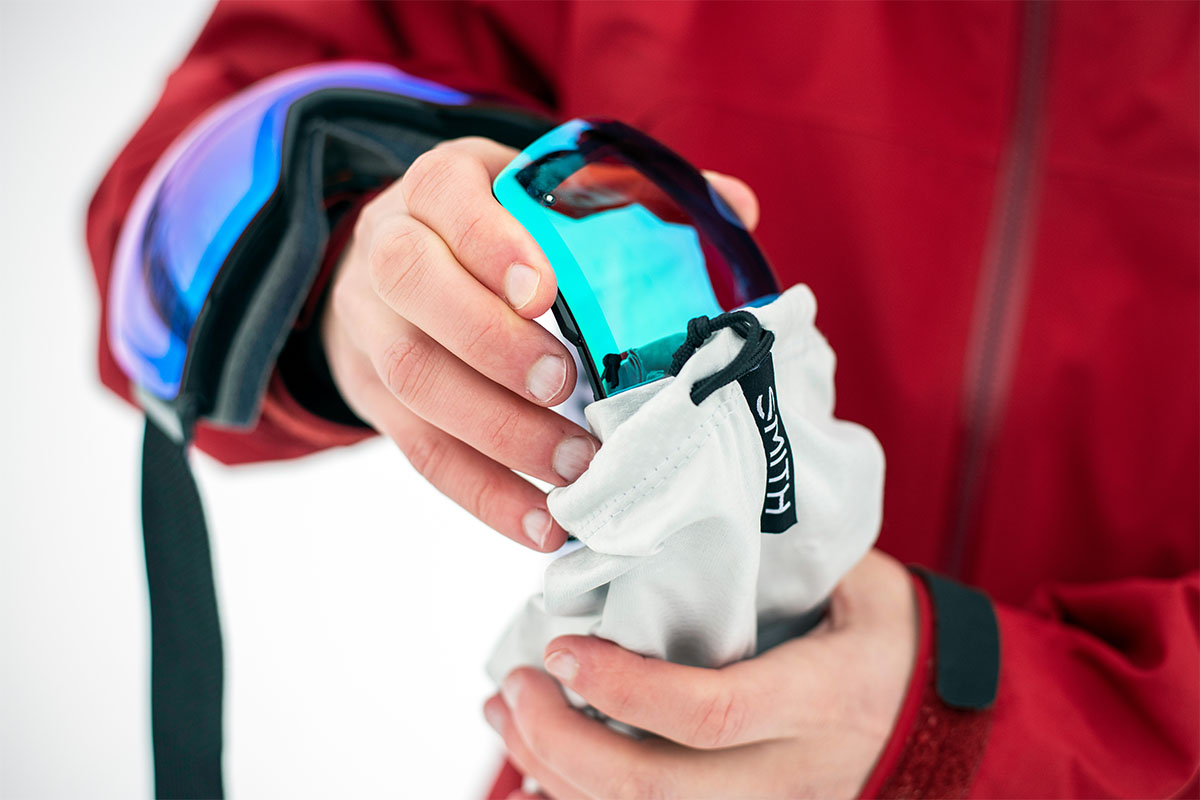 Other Versions of the Smith I/O Mag
We tested the standard medium-fit I/O Mag Goggles, and Smith offers a number of other variations in the lineup, including both small (S) and extra-large (XL) frame sizes. All of the goggles cost the same at $270-$300 depending on the lenses you choose and have a similar feature set and build. This includes the quick-change system, triple-layer foam construction, and two ChromaPop lenses. As we touched on previously, there's also a Low Bridge variation for those with smaller facial features. All in all, it's great to see the collection growing to accommodate more face shapes and sizes.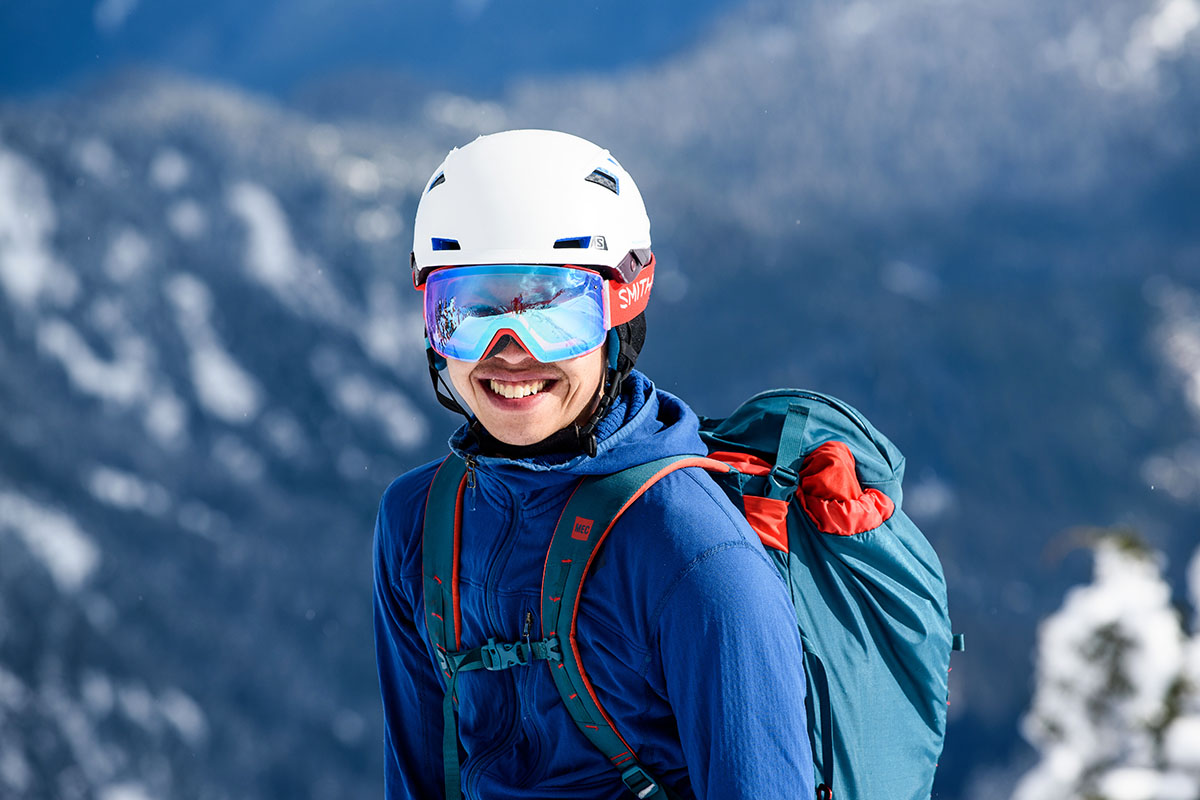 What We Like
Just about everything you could want in a medium-fit goggle: excellent field of vision, durable construction, and all-day comfort.
ChromaPop lenses are the real deal: they enhance natural colors, perform well in dull light, and have all-around great visibility in all but the worst conditions.
Excellent ventilation design allows for plenty of airflow to greatly reduce fogging issues. 
The I/O Mag line includes small (S) and extra-large (XL) variations.

What We Don't
Expensive at $270 and doesn't include a hard-sided case for storage.
Quick-change system is a big improvement over the old I/O without compromising security, but it still isn't as fast or user-friendly as Anon's M Series.
Field of vision technically isn't at the top of the class (for that, you'll have to step up to Smith's I/O Mag XL or 4D Mag).


Comparison Table
*Editor's note: OTG stands for "over the glasses" goggles, which fit over a pair of prescription glasses. 

The Competition 
The Smith I/O Mag tops our ski goggle round-up this season for its combination of superb optics, excellent ventilation, and comfortable fit. Another strong option from Smith is their 4D Mag, which features the brand's signature quality build, medium/large fit, hard-sided case, and—most notably—features a curved lens at the bottom that greatly improves visibility directly below you. Smith claims field of vision is boosted by 25 percent, and wearing the 4D back-to-back with the I/O Mag, the difference is noticeable. Further, you barely see any part of the goggle at all when looking out thanks to the big lens and large shape. However, at $320-$350 depending on the lens, it's hard to justify spending up over the I/O Mag, which performs nearly as well for around $50 less.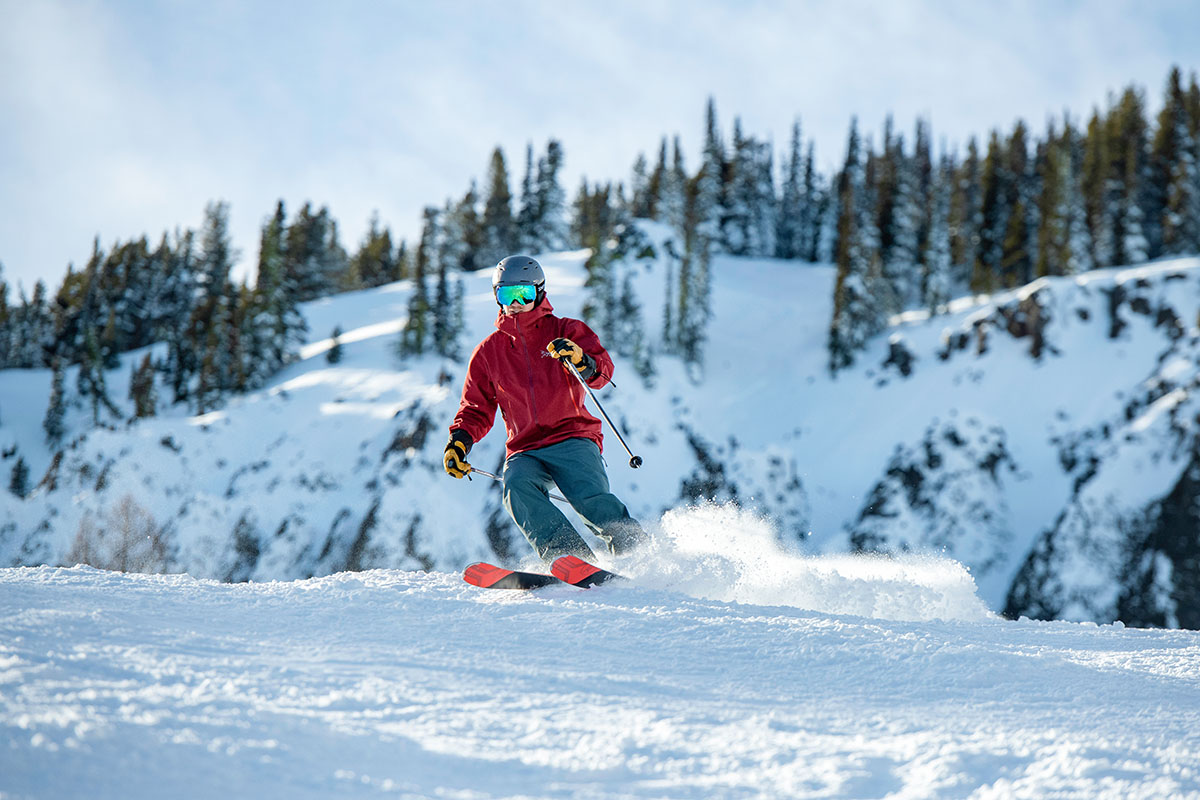 Staying within Smith's line, they released another magnetic quick-change model for last season in the Squad Mag. Sharing a name with the very popular Squad goggle, the Mag takes its sleek look and cylindrical lens and adds on the now-familiar locking magnetic system. Compared with the I/O, we found the Squad to offer a step down in field of view—its thicker frame impedes peripheral vision—but you still get strong optical quality from the two ChromaPop lenses. Our Squad Mag also showed some premature wear with the foam padding pilling after only a few days on the slopes, although that may have been an issue with a pre-production model. In the end, we prefer the lower-profile I/O, but both Mag options are strong performers.
Another one of our favorites is Anon's M3 MFI, which was replaced by the M4 as the brand's top model a couple years ago but remains a solid performer. Despite having cylindrical lenses and a thin frame, the M3's field of vision is nearly on-par with the I/O Mag, although we prefer the lens clarity of Smith's ChromaPop for pulling out small bumps and details. Additionally, the Smith is a better overall breather—we had issues with fog and moisture getting in between the dual lens of our M3. However, Anon does gets the edge in their magnetic change-out system, which can be done without having to remove the goggle from your face—just twist the corner of the lens, pull it out, and the strong magnets pull the new lens into place. And the Anon includes a face mask, which connects to the goggles for fairly seamless integration. In the end, both are great options, but we give the nod to the I/O Mag as the superior all-rounder.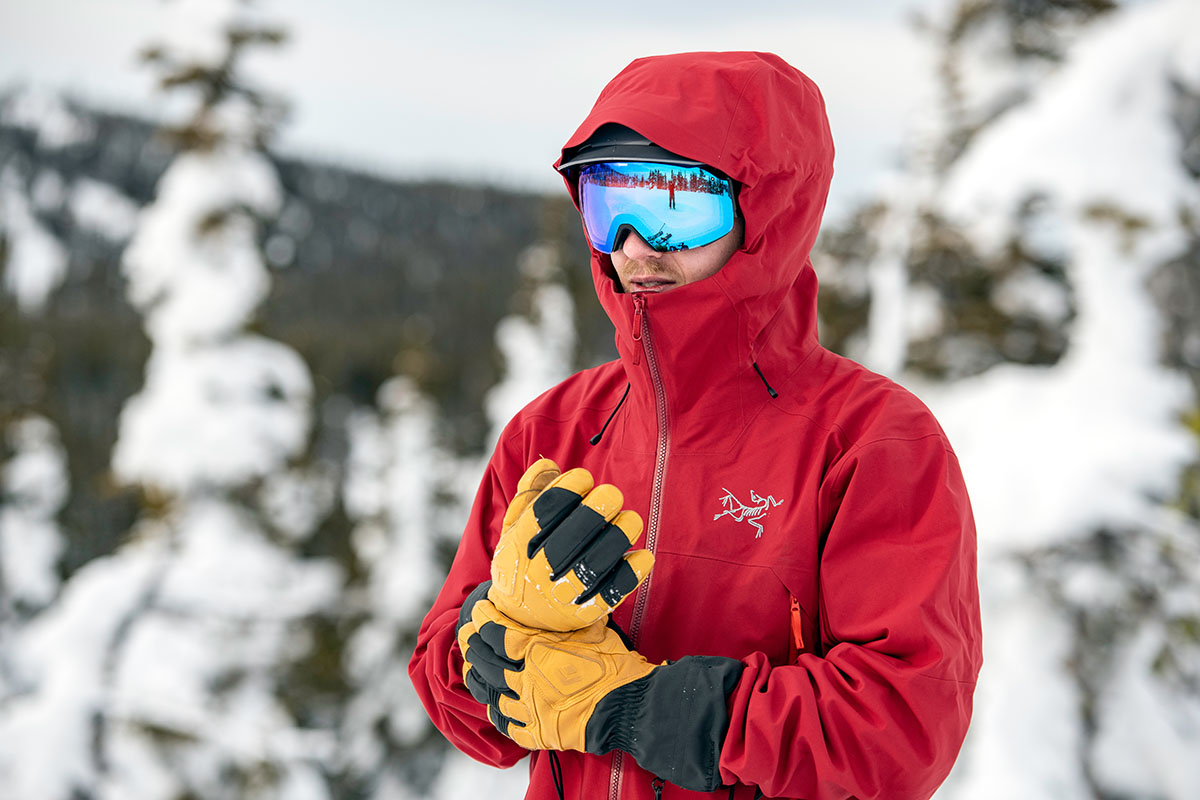 Giro is another major player in the snow goggle market, and their Contact was one of the original quick-change magnetic designs. As far as usability goes, the push button-style release is a little less intuitive than the Smith and Anon (although better than the lever on the Oakley below), but it's a cinch to snap back into place. Further, the Giro's optics are good (the goggles use Zeiss lenses) but don't have the standout clarity of Smith or Oakley lenses. And finally, build quality was also a small step down—we've had to repair stitching on our straps on a few occasions. For just $10 more, the Smith has the clear advantage. Of note: Giro recently released the Contour and Contour RS (short for "reduced size"), which have a more approachable toric shape and magnetic interchange system in a sleek, frameless design.
If you're thinking about buying gear that we've reviewed on Switchback Travel, you can help support us in the process. Just click on any of the seller links above, and if you make a purchase, we receive a small percentage of the transaction. The cost of the product is the same to you but this helps us continue to test and write about outdoor gear. Thanks and we appreciate your support!
Depending on the seller, most products ship free in the United States on orders of $50 or more. International shipping availability and rates vary by seller. The pricing information on this page is updated hourly but we are not responsible for inaccuracies.
Learn More About Ski Gear