Anon M4 Toric MFI
Price: $320
Frame size: Large
Number of lenses included: 2
What we like: Awesome optics and the best interchangeable lens system on the market.
What we don't: Expensive and the included face mask lacks structure.
See the Anon M4 Toric MFI
Burton-owned Anon only makes a handful of snow goggles, but their lineup is truly a study in quality over quantity. The M4 Toric MFI sits at the top of their offerings and is one of the most impressive goggles we've tested to date. In short, the interchangeable lens system is best-in-class, and the rest of the build—including field of view, ventilation, and overall fit—is equally up to snuff. Below we break down our experience with the Anon M4 Toric MFI. To see how it stacks up to the competition, see our article on the best ski goggles.
 
---
Table of Contents
---

Performance
Field of Vision
With a large but low-profile frame, Anon's M4 Toric MFI truly maximizes field of view. The goggle's toric lenses are meant to mimic the natural curvature of the human eye, providing the best peripheral visibility of any goggle I've tested. In addition, Anon's minimalist design (which they call "Wall-to-Wall Vision") utilizes a thin frame and foam liner to create a nearly unobstructed view. And importantly, despite the large frame, the M4 doesn't compromise a versatile fit—it works well for face sizes from small/medium to large (more in "Fit and Comfort" below).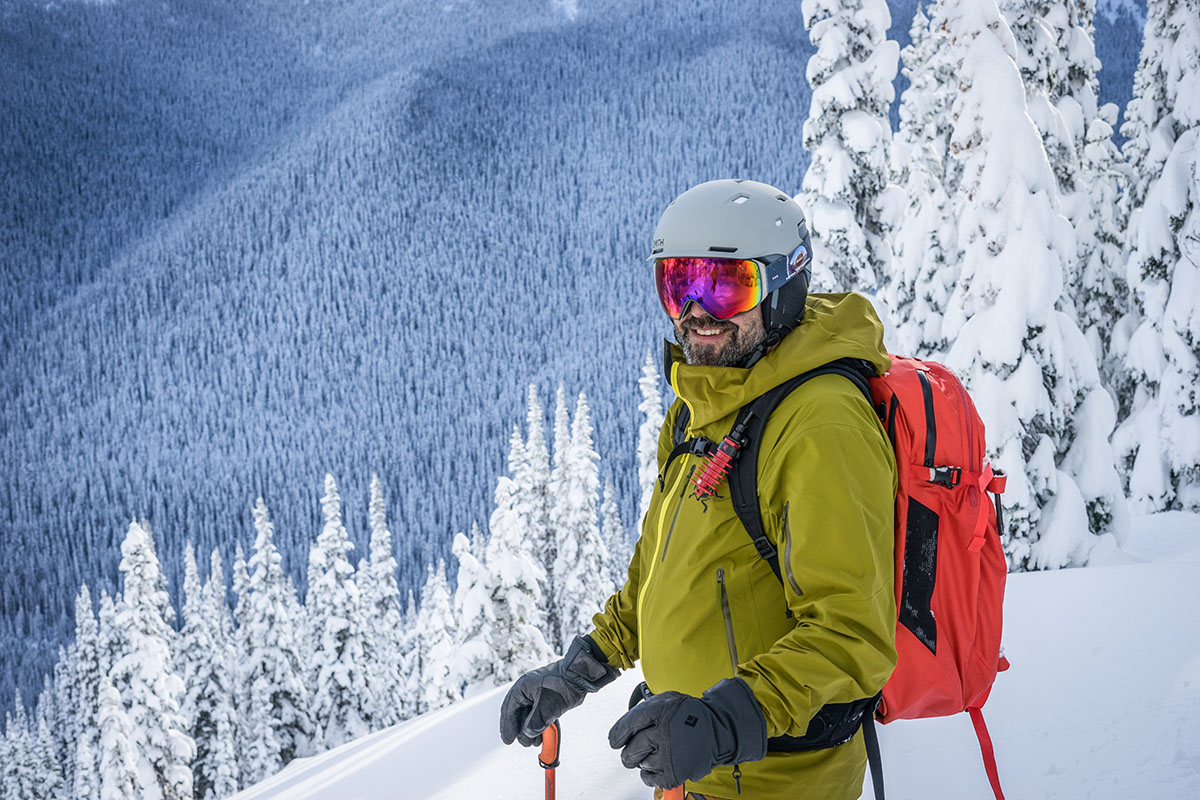 Clarity and Optical Quality
The Anon M4 comes with two toric lenses, which are curved vertically and horizontally to mimic the shape of the eye. Compared to more common spherical lenses, toric designs have a less pronounced curvature, which is good news for those who don't like the bulbous shape of spherical glass but who still want a great field of view with minimal distortion. It's also worth mentioning that the M4 comes with a hard-sided case and microfiber bag for stowing the spare lens. The carrying case is streamlined and sleek, but most importantly, it does a great job at keeping the lens safe and protected.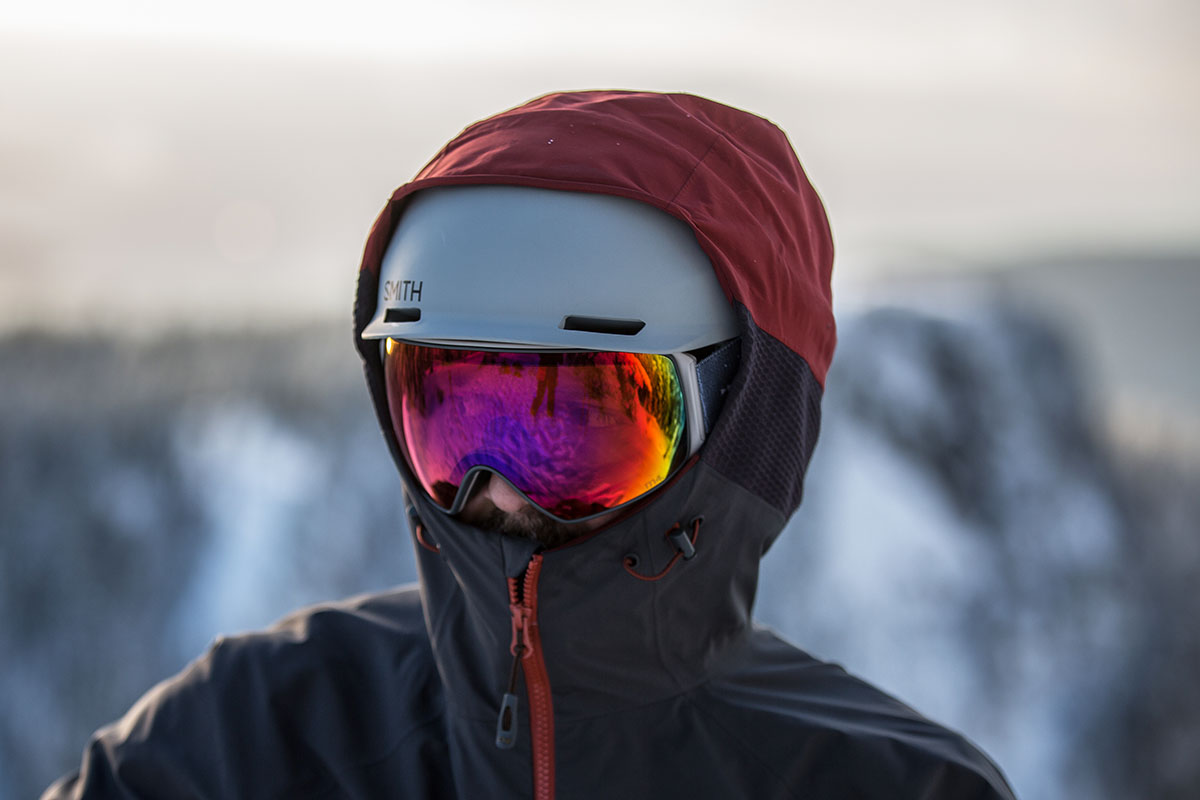 Anon's lens options have varying degrees of VLT (visual light transmission), and I opted for the Sonar Infrared (57% VLT) and Sonar Red (14% VLT). Of note: Anon has updated their offerings since testing, and the most similar pairing in their current lineup is the Perceive Cloudy Burst (59% VLT) and Perceive Sunny Red (14% VLT). In practice, the former was ideal for grey, overcast days and provided excellent contrast and terrain definition—a great match for British Columbia's often-cloudy North Coast. My backup lens, the Sonar Red, was better for bright sun when I wanted less light coming through. My only complaint is that this latter lens made everything appear slightly red, which detracted from overall contrast. But this is a relatively small complaint, and both options provided excellent visibility, depth of field, and clarity in almost all settings. The only major exception was flat whiteouts, but I have yet to find a lens that excels in these types of dull, low-visibility conditions.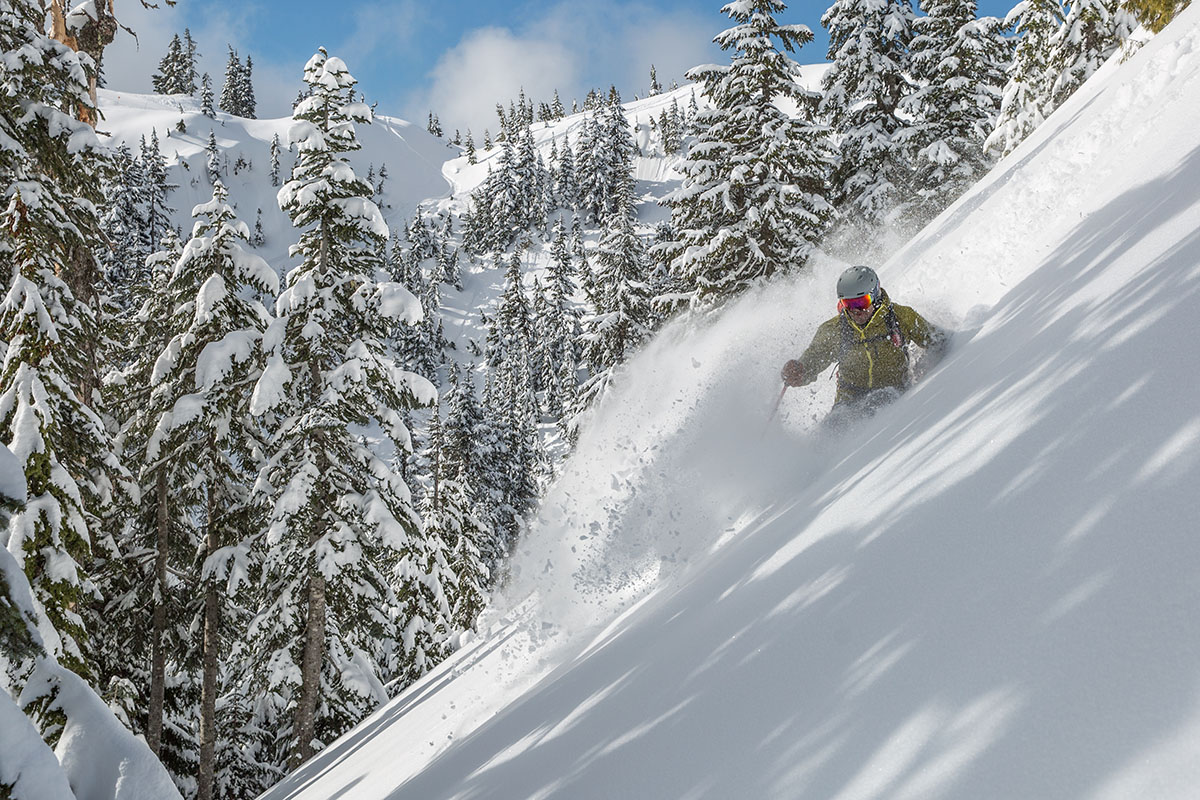 Lens-Change System
The M4's claim to fame is its Magna-Tech quick-change lens system, which is without a doubt the easiest design I've ever used. Simply hold the lens within half an inch of the frame and 14 magnets snap it into place—it's that easy. While the magnet system might sound a little concerning from a security standpoint, the lenses have held solidly in place with no issues of budging or detaching, even after several faceplants. And when it comes time to remove the lens, just give a slight twist to the frame—there are small tabs at the top and bottom on each side to prevent fingerprints on the glass—and pull it away from your face. Importantly, the lack of snaps, clips, or locking mechanisms makes it easy to swap lenses without removing the goggles from your face, even while wearing ski gloves.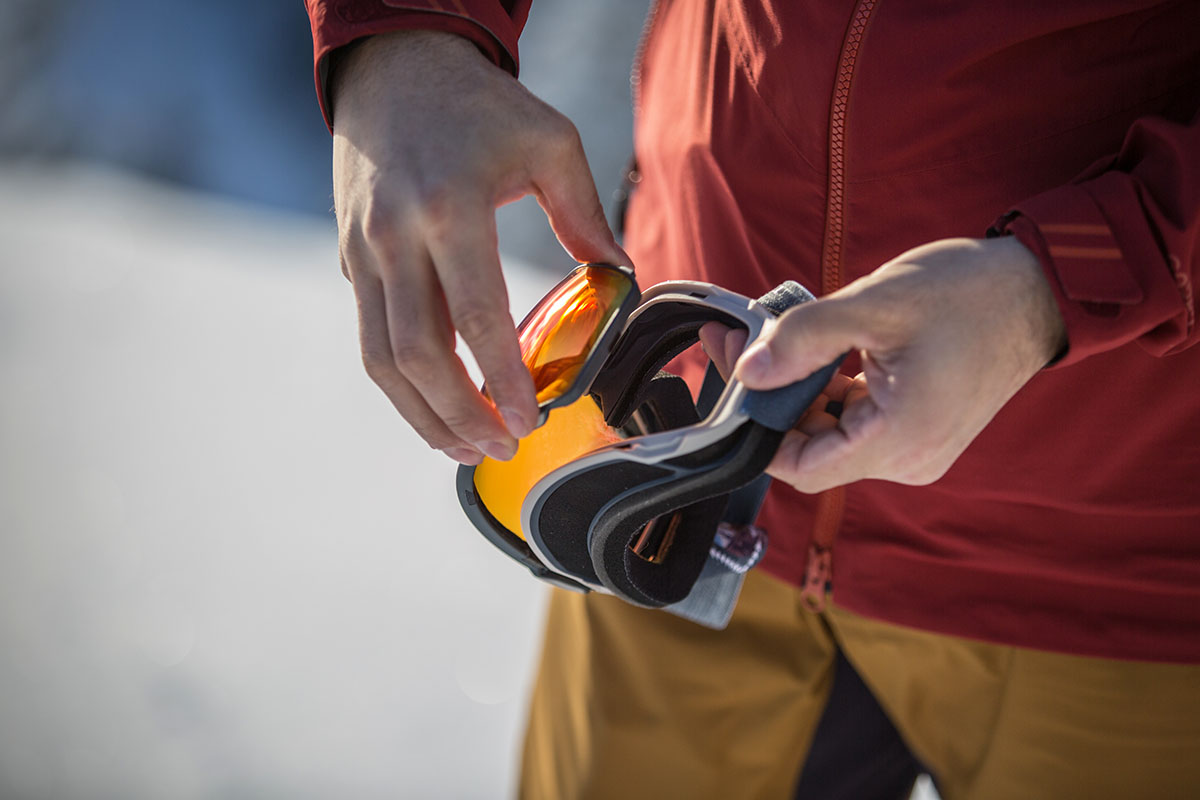 Ventilation and Fog Resistance
Put simply, the Anon M4 Toric MFI is one of the best breathers I've ever tested. Anon's full-perimeter channel venting, which consists of 16 small vents around the frame, has done impressively well at generating airflow from all sides. In addition, the Integral Clarity Technology (ICT) anti-fog treatment reduces moisture buildup on the lenses, and I almost never have to wipe the outer lens with my gloves (a common problem with other goggles). In fact, the M4 has rarely fogged up, even during heavy exertion while bootpacking. The only time I experience any blurriness is when my hood and collar are fully secured, covering the brim of the goggles and mouth and preventing my breath from escaping. But even then, fogging is very minimal and easy to manage.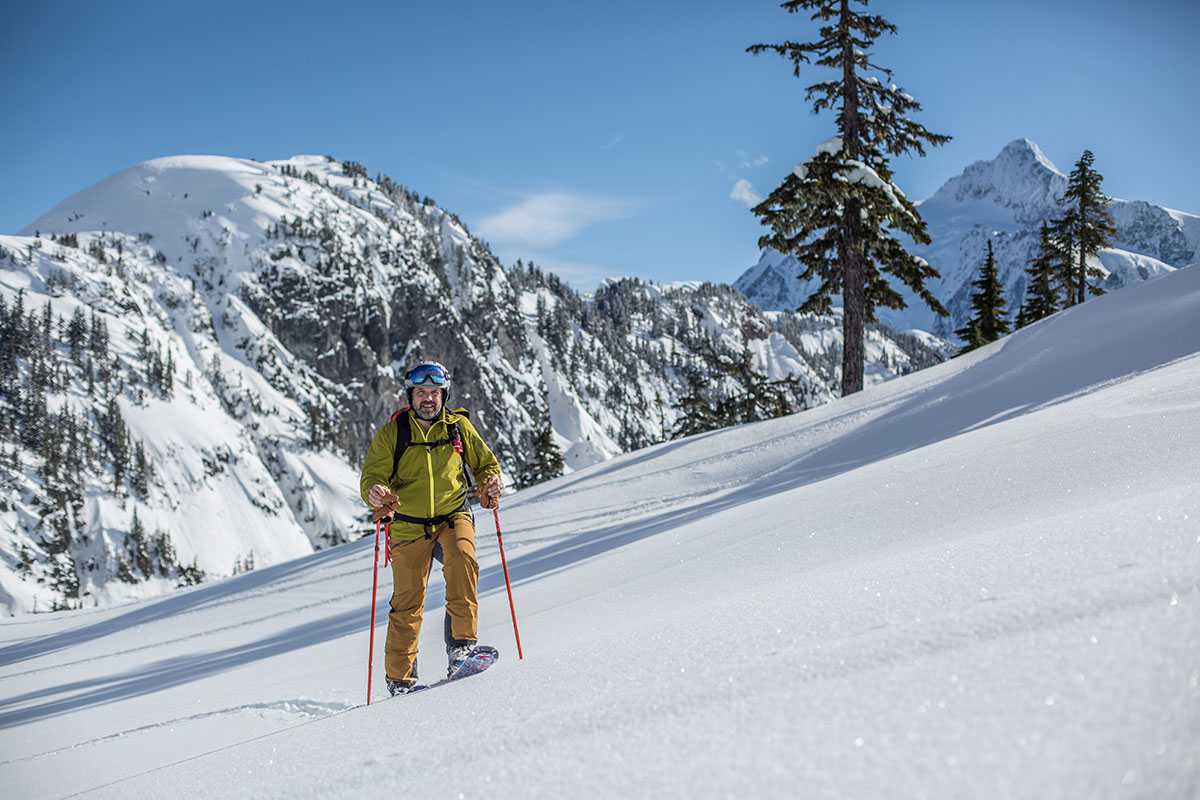 Magnetic Facemask Integration (MFI)
On the topic of ventilation, it's also important to note that the M4 Toric MFI comes with a magnetic clip-in facemask, which Anon calls Magnetic Facemask Integration (hence the "MFI"). This facemask combines with the goggle and is designed to create a barrier against face shots and bitter winds without fogging the lens. In practice, we found that the facemask did a good job overall but lacks a strong structure, meaning it can be sucked into your mouth easily when breathing heavily. I've worn it a few times, but I prefer leaving my face uncovered and instead zipping my hardshell jacket all the way up in rowdy conditions.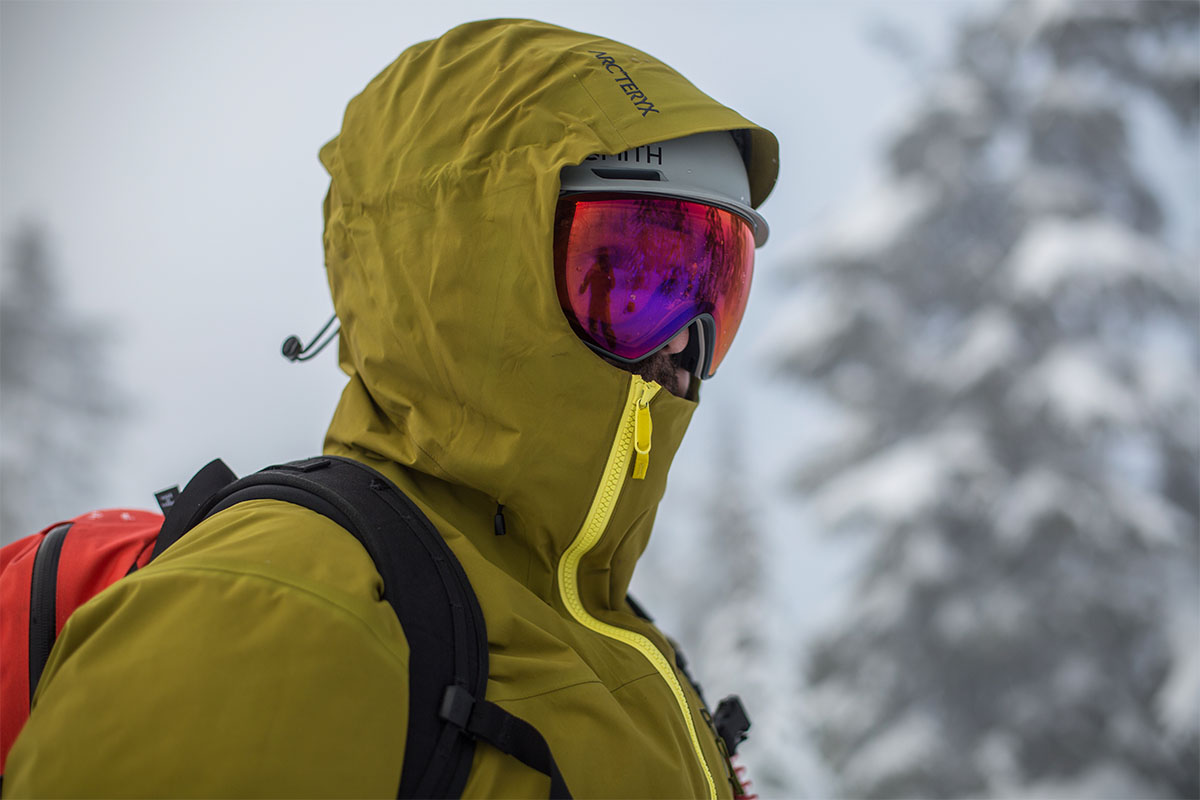 Fit and Comfort
Fit is another area where the Anon M4 Toric MFI excels. Triple-layer foam along the interior is lined with a moisture-wicking fleece that's soft against the skin and doesn't cause any rubbing, pressure points, or chafing. The foam does tend to hold in a bit of moisture, but not to the point of growing overly heavy or sodden. Further, the frame is pliable and creates a snug, comfortable fit against the face, and the silicone strap holds the goggle in place nicely (for reference, the strap fit over a variety of helmets, including both my Oakley Mod5 and Smith Quantum—the latter of which has been replaced by the Nexus). The strap can also be tightened down over just a hat. Finally, despite the M4's large frame size and wide field of view, the goggle can accommodate a wide variety of head shapes and faces—both my wife and I wore the goggles without issue despite having very different head sizes and facial features.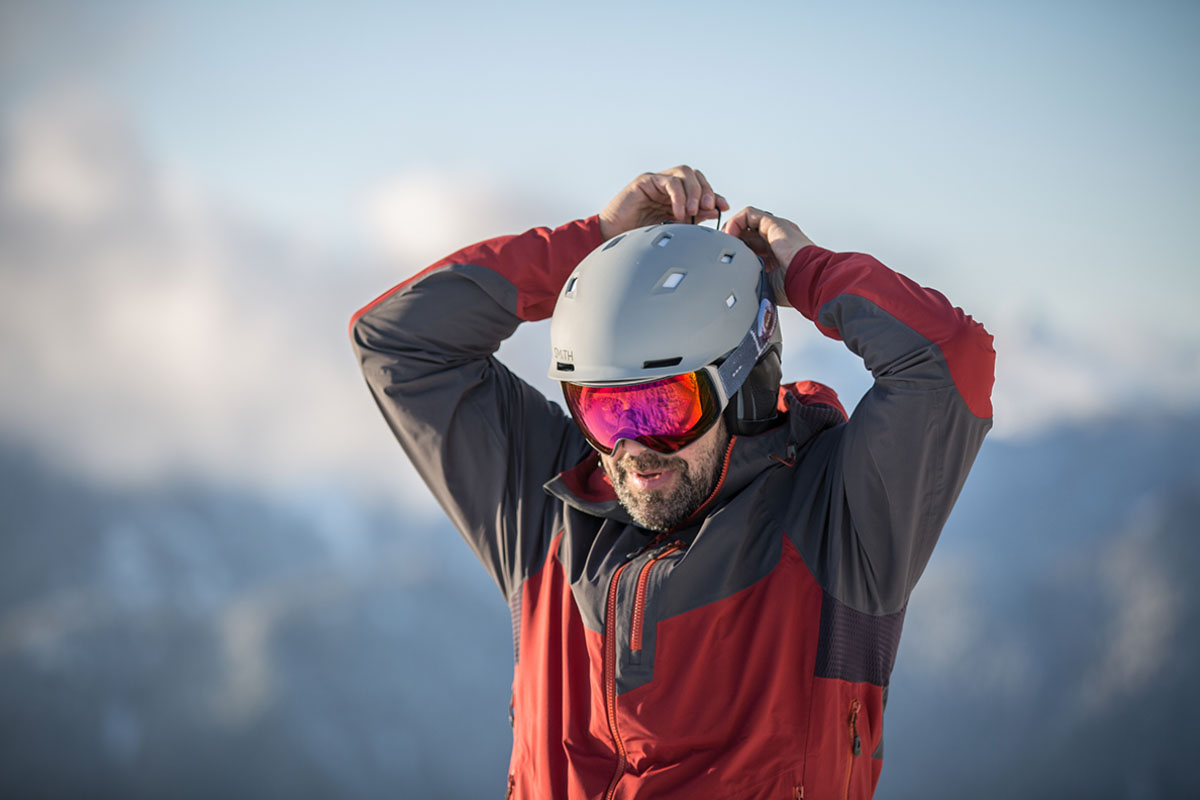 Build Quality and Durability
We expect a high degree of quality at this price point, and the Anon M4 delivers in spades. I'm not particularly diligent about stowing my goggles in their case when transitioning, so the M4 is often either stuffed haphazardly into my helmet or thrown into my ski backpack. But despite the abuse, the goggles show very little wear after four months of consistent use. There's a small scuff on one of the lenses, but this was admittedly my fault (I slid my helmet across the ground, forgetting that the goggles were still attached). Further, the magnetic lens-change system is still working flawlessly without any sign of weakening, and the strap has not lost any of its elasticity. All in all, I expect the M4 to endure many more seasons without issue.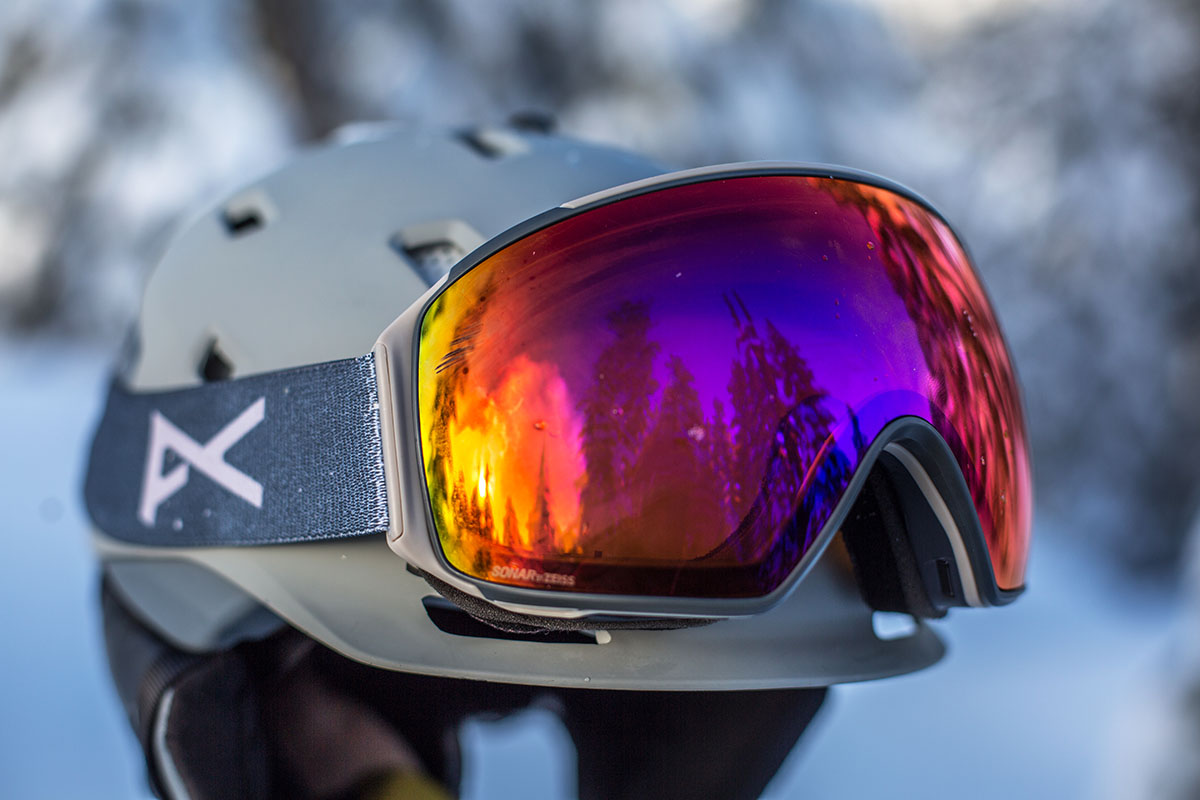 Other Versions of the Anon M4
We tested the M4 Toric MFI for this review, and Anon also makes the M4 Cylindrical MFI for the same price. The only major difference between the two models is lens shape: The cylindrical lens on the latter model curves across the face horizontally but is flat vertically (as we touched on above, toric lenses curve both ways). In terms of looks, both goggles are quite sleek, but some might prefer the toned-down styling of the cylindrical model. Importantly, the M4's frame design is built to accommodate both cylindrical and toric lenses, so you can in theory use both types on a single goggle (although this requires a hefty investment in another $100+ lens). And for those with smaller faces or features, Anon offers both the toric and cylindrical variations in "M4S" versions for the same price, along with "Low Bridge Fit" models that include additional foam at the nose for a closer fit against the face.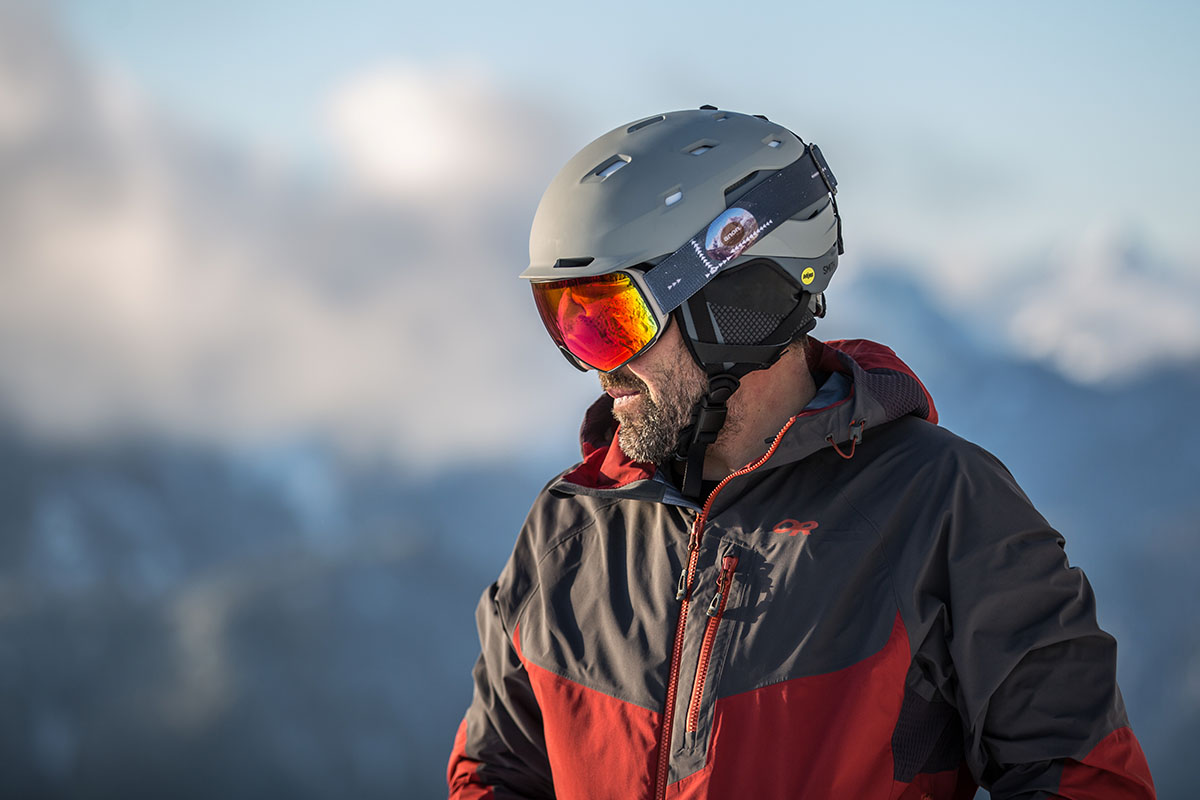 What We Like
Magnetic lens-change system is best-in-class: it's quick, easy to use, and securely holds the lens in place.
Great combination of optical quality, comfort, and hardwearing construction.
With an effective anti-fog treatment and full-perimeter venting system, the M4 is one of the best breathers we've tested.

What We Don't
Expensive at $320, although you do get a nice lens case and face mask for the price.
Lens quality is great, but we prefer the more natural color rendition with Smith's ChromaPop (but it's a close call).
Magnetic clip-in facemask lacks structure.


Comparison Table
*Editor's Note: OTG stands for "over the glasses" goggles, which fit over a pair of prescription glasses.

The Competition
Anon's M4 Toric MFI stands out for its quick and easy lens-change system and great optical quality, fog resistance, and overall fit. Smith's I/O Mag warrants similar praise, barely beating the M4 in our ski goggle round-up this year. What gives it the edge? Throughout testing, we found that the Smith has a superb field of view, effective ventilation system, and excellent optics with Smith's ChromaPop lenses, which have a slightly more natural feel than Anon's Sonar lenses. The M4's magnetic quick-change system is quicker than Smith's lever-based design, but both are simple and reliable. It's a tough call between the two, and a final decision might come down to cost: the I/O Mag undercuts the M4 by a considerable $50. And if you like the large frame size of the M4, Smith also makes the I/O Mag in an XL version.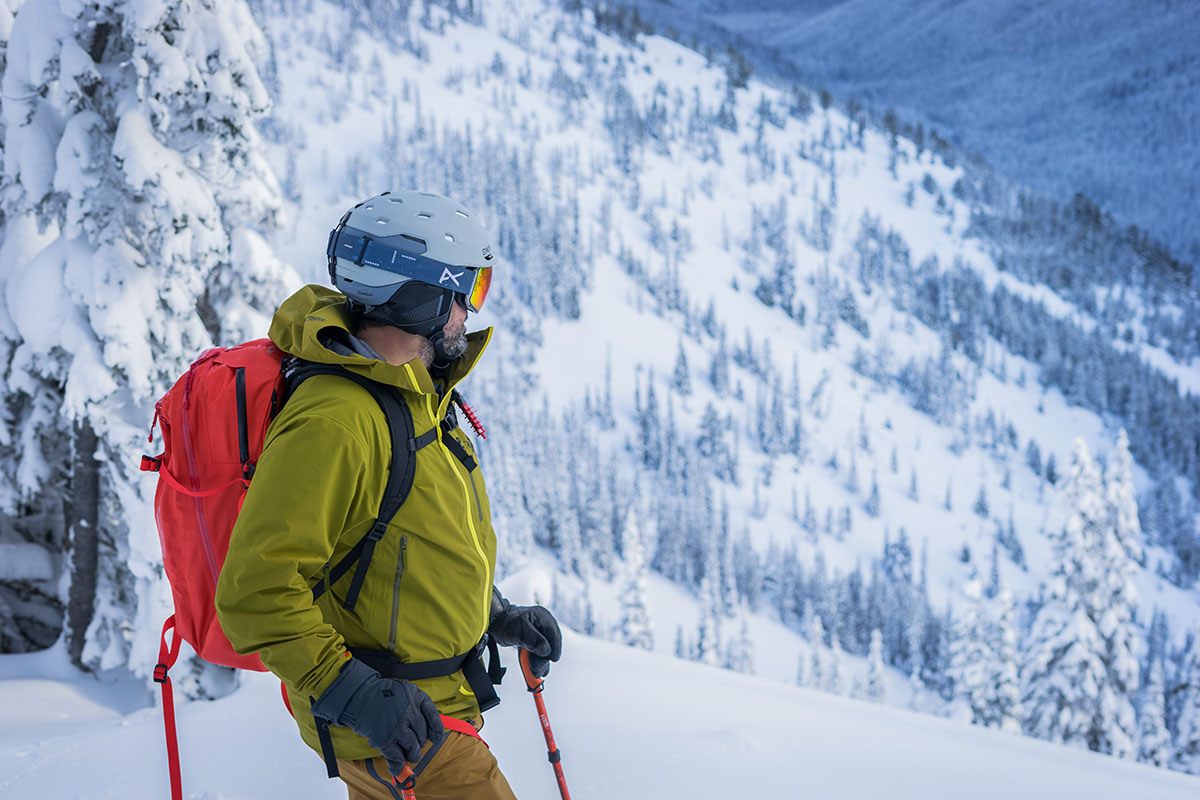 Sticking with the Smith brand, their current top-end model is the 4D Mag, which is one of only a few goggles to match the Anon in price at $320. For this big sum, you get their innovative BirdsEye tech, which features a curved section at the base of the lens that gives it unmatched visibility when looking directly down and in the bottom corners. Like the I/O Mag, its lens-change system is a little slower than the Anon but is a bit more secure thanks to its locking tabs. And while the Smith doesn't come with an included mask, we don't consider it a big loss, and you do get a hard-sided case with the 4D Mag (for more, see our in-depth 4D Mag review). In the end, both are standout models that justify their big price tags, and it really comes down to preferred style and whether or not you prioritize the 4D Mag's extra visibility.
If you like the Anon's toric shape but aren't ready to make the steep investment, Giro's Contour is a strong alternative for $50 less. Like the M4, the Giro has a large frame, comes with two toric lenses (one "all-conditions" lens and one low-light lens), fits over a pair of glasses, and has a triple-layer foam construction that's very comfortable against the face. In terms of optical quality, the Contour's Zeiss lenses do a similarly great job at enhancing contrast and pulling out small details. The Giro's quick-change system is also very easy to use with a simple tug of the lens and stacks up very well to Anon's class-leading Magna-Tech design. However, the Giro is more prone to fogging up on spring days, and the frameless style gives it an oversized look that you'll either love or hate (it does result in a slightly bigger field of vision, however). In the end, the Giro wins out in value, but the M4 is the slightly more refined toric design. 
Our favorite large-frame snow goggle this year is another Oakley model: the Flight Deck. Unlike the framed Anon M4, the Flight Deck is frameless, which maximizes field of view and peripheral vision. Combined with Oakley's Prizm technology mentioned above, the Flight Deck wins out in overall optics. However, the goggle only comes with one lens (bringing total cost to around $300 if you add a second), and the quick-change system is significantly less intuitive than Anon's magnetic design. If your top priority is visibility, the Flight Deck is hard to beat. For a more well-rounded design, go with the Anon M4.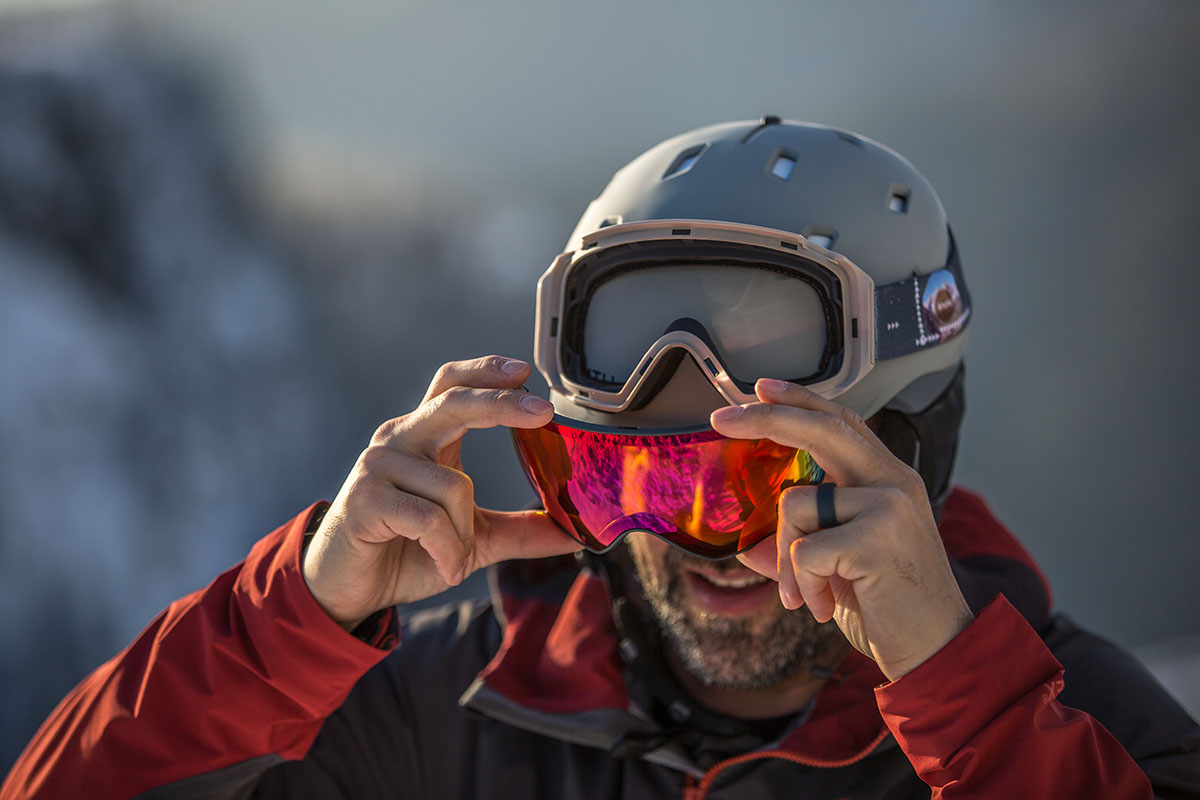 A final option to consider comes from within Anon's own "M" lineup: the M3 MFI. The M4 reviewed here replaced the M3 as the brand's top model, but the M3 remains a solid overall performer for a considerable $40 less (price does vary a little based on lens choice). Like the M4, the M3 MFI features Anon's Magna-Tech quick-change system, comes with a spare lens, and includes a magnetic facemask. That said, the older model has slightly worse field of view and uses exclusively cylindrical lenses rather than toric. All in all, we like the changes that Anon made with the newest version, but the M3 is a more wallet-friendly alternative that doesn't sacrifice much in the way of performance. Of note: Anon recently added the M5 MFI to the collection, which is very similar to the M4 but features "flat toric" lenses that are designed to increase field of vision. It also boasts a wider strap, has a semi-framed look, and costs $20 less.
If you're thinking about buying gear that we've reviewed on Switchback Travel, you can help support us in the process. Just click on any of the seller links above, and if you make a purchase, we receive a small percentage of the transaction. The cost of the product is the same to you but this helps us continue to test and write about outdoor gear. Thanks and we appreciate your support!
Depending on the seller, most products ship free in the United States on orders of $50 or more. International shipping availability and rates vary by seller. The pricing information on this page is updated hourly but we are not responsible for inaccuracies.
Learn More About Ski Gear