Arc'teryx Macai
Price: $999
Waterproofing: 3L Gore-Tex
Insulation: 2.4 oz. of 750-fill down; 60g and 100g Coreloft
What we like: Luxurious warmth; crosses over nicely between skiing and everyday use.
What we don't: Extremely expensive and runs hot in mild conditions.
See the Men's Arc'teryx Macai  See the Women's Arc'teryx Andessa
Sitting atop Arc'teryx's venerable ski lineup is the Macai, a Gore-Tex-equipped, down-insulated ski shell built for frigid conditions and serious resort use. Two of our testers put the Macai through a season-long test in Washington state and found it to be incredibly capable and versatile. While it's overkill in mild weather and is a major hit to your wallet, the Macai is supremely warm and truly luxurious on cold days, plus the design crosses over well for daily wear. Below we break down the Macai's weather protection, warmth, breathability, comfort, build quality and durability, fit and sizing, and more. To see how it stacks up to the competition, see our article on the best ski jackets.
 
Performance
Weather Protection
With a price tag approaching $1,000, we set lofty expectations for the Arc'teryx Macai, and it mostly delivered. Using a 3-layer Gore-Tex construction (the vast majority of insulated jackets stick to 2 layers), the jacket performs like a full-on hardshell that happens to be lined with cozy goose down. The premium face fabric and durable water repellent (DWR) coating effectively shed moisture, the jacket feels nearly impervious in strong winds and blowing snow (a real joy when sitting on a frozen chairlift), and the adjustable hood fits nicely over a ski helmet and snugs down securely.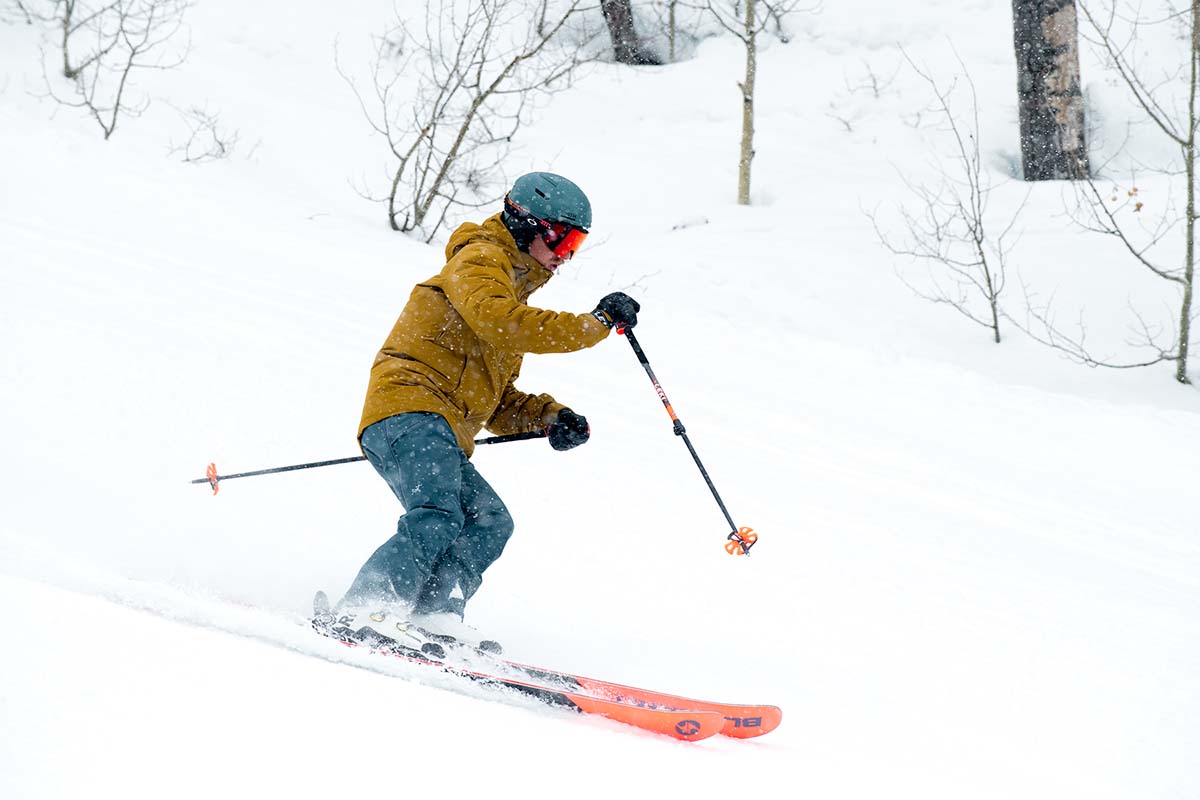 That said, Arc'teryx did make some concessions in performance to balance the Macai's casual appeal (more on this below). First, the collar is fairly short and only reached my lower lip. Moreover, this area was surprisingly snug, which made it difficult to bury my face on blustery lifts. Further, the jacket isn't particularly long with a back length of 29.75 inches (for reference, the brand's Sabre AR is 31 in., which we found to be nearly perfect)—bending down to adjust my boots brought the hem up to my pants' belt line (I'm 5'9" and had the medium size). The powder skirt does a decent job sealing around the waist and you have dual cinches at the hem, but the jacket is more vulnerable than most premium designs to moisture creeping through the bottom in a fall or deep powder. Finally, we found it difficult to get a good seal around the wrists when wearing undercuff gloves. There's no insulation at the end of the sleeves, so we had to secure the Velcro tightly to seal out cold air (this will be a non-issue with gauntlet-style gloves).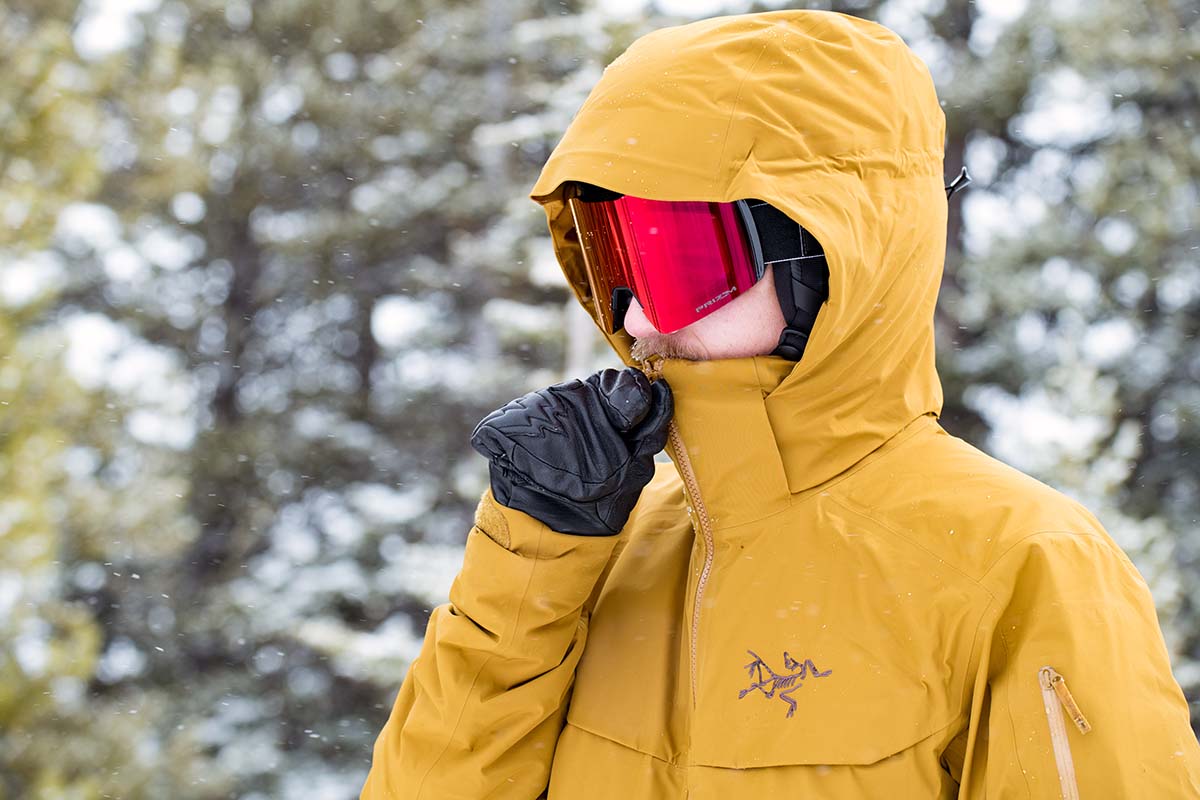 Warmth
Using a creative mix of down and synthetic insulations, the Macai is a cozy place to be on even the coldest days. Around the core and sleeves, you get 2.4 ounces of high-quality, 750-fill down (in the medium size), which maximizes warmth while limiting bulk and weight. And in areas more vulnerable to moisture—including the hood, shoulders, underarms, and hem—Arc'teryx included their well-regarded Coreloft synthetic fill. In practice, the combination was warm enough to allow me to comfortably wear only a baselayer while lapping groomers on cold days that dipped into the low teens Fahrenheit (and far lower factoring in wind chill). We didn't have any truly frigid days this past season to push the limits further, but I suspect it would've kept me comfortable close to 0 degrees without needing to add additional layers. 
The downside to all that warmth is that the jacket is overly insulated for mild temperatures and sidecountry hikes. In practice, I found myself reaching for the pit zips to partially open them on windless days with temperatures in the mid-to-high 20s. With the pit zips open, I was able to stay comfortable, and the mesh that covers the zipper openings did a nice job at keeping snow from streaming through (a common problem with opening pit zips while skiing downhill or in really gusty and snowy weather). All things considered, the Macai is hard to beat for frigid on-piste days, but unless you run very cold or only ski in frigid temperatures, you'll need a second ski shell in your quiver for mild weather.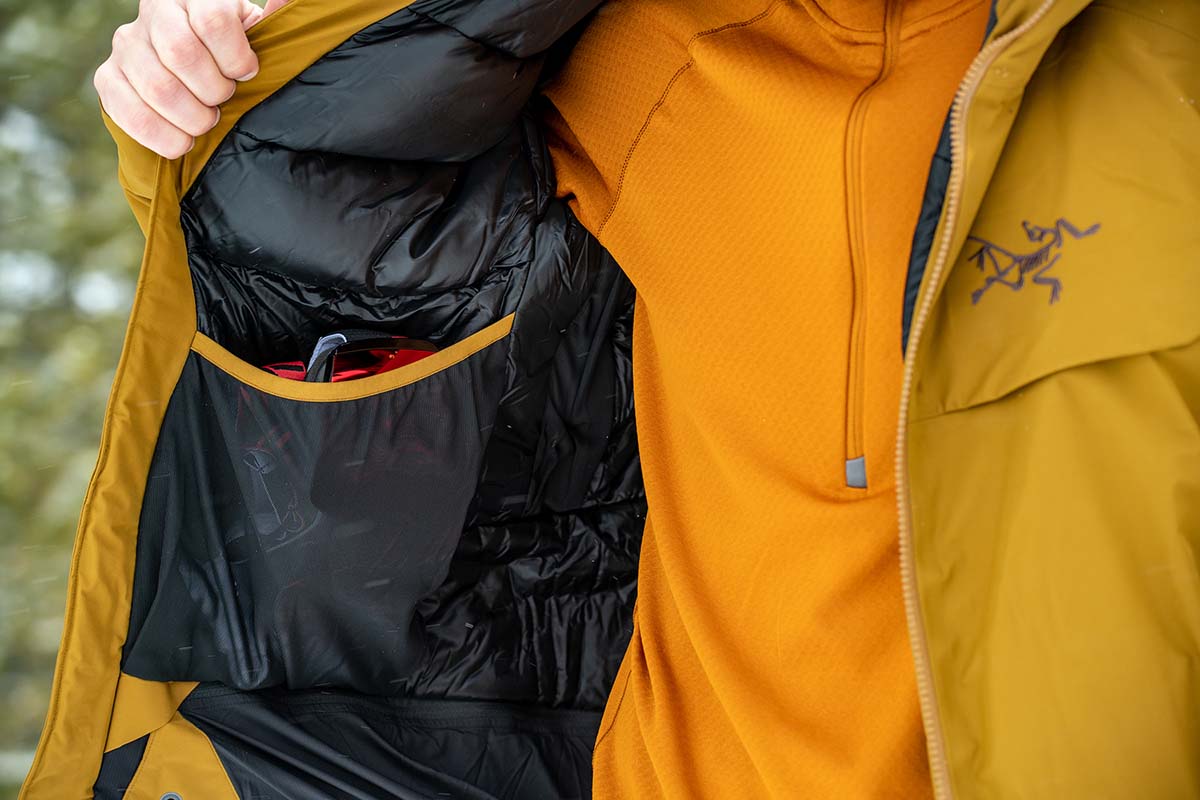 Comfort
Ski shells typically are functional pieces that prioritize protection over outright luxury, but the Arc'teryx Macai is a rare exception. Slipping it on is like putting on a premium down jacket: the soft baffles along the interior slide easily over a baselayer and have a high-end feel, and the jacket's trim fit practically hugs you in warmth. Additionally, all of the touch points are well-executed: there's a small patch of fleece at the front of the collar and the back of the neck and interior of the hand pockets have a smooth and plush lining. Finally, the well-tailored design includes nice details like gussets under the arms to enhance mobility. All told, we had zero complaints about the Macai from a comfort perspective.

Casual/Everyday Use
More than any ski shell I've tested, the Macai stuck out as a fully serviceable everyday winter jacket. To start, it looks the part with clean lines, a fairly trim fit that isn't overly bulky or long when worn over just a t-shirt, and Arc'teryx even went as far as including small fabric flaps over the hand pockets and exterior chest pocket. Moreover, the hood cinches down evenly and isn't cumbersome when only wearing a beanie or no hat at all, and both the hood and powder skirt are removable. One of the only features that gives the Macai away as a true ski shell is the sleeve pocket and its exposed zipper. In my opinion, this widespread appeal helps justify the jacket's steep price tag.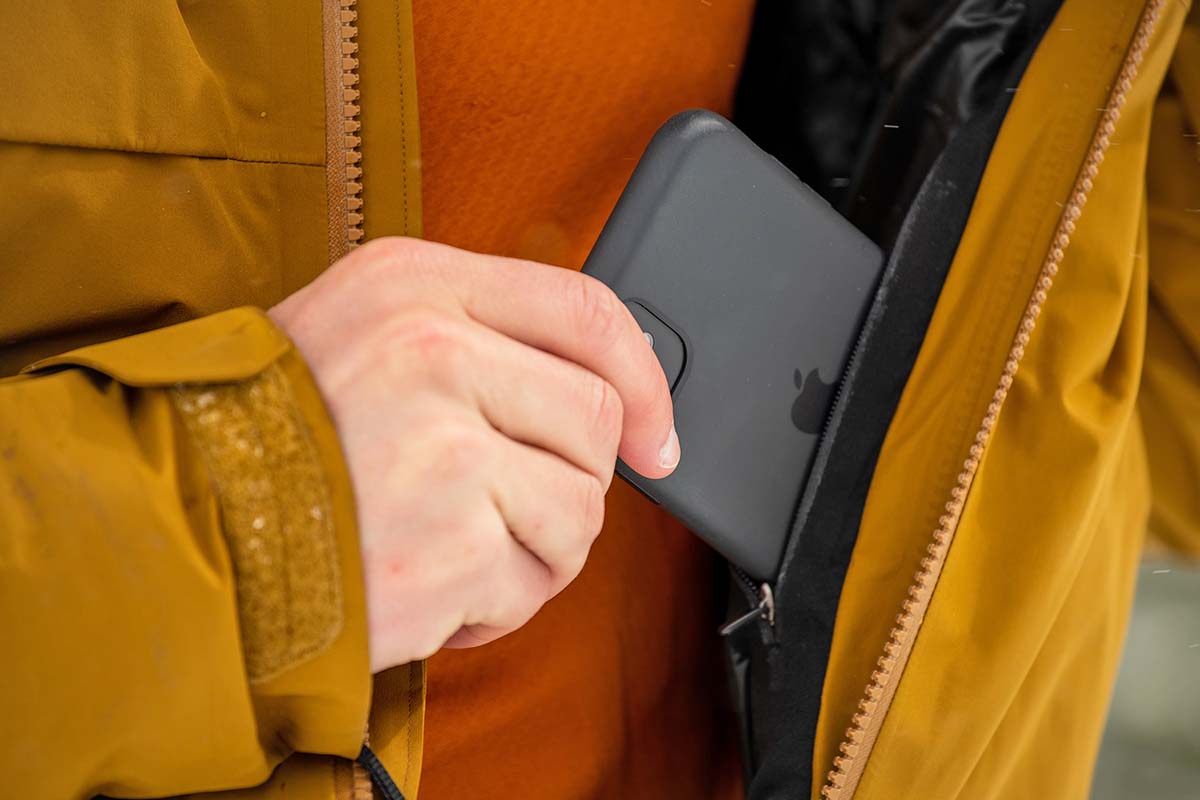 Breathability
As an insulated resort shell—and one that includes down insulation—the Macai is unsurprisingly a poor ventilator. Like we found with direct competitors like the Patagonia Primo Puff, even on short sidecountry hikes in windy conditions with temps in the mid teens (and with the pit zips open from the start), I found myself quickly needing to unzip the front of the jacket to dump heat. The pit zips do a decent job keeping you comfortable—and I relied on them more than any other jacket I used this season—but the sheer amount of insulation limits the jacket's appeal to those that stay within the ropes.

Build Quality and Durability
Sitting atop Arc'teryx's already-spendy ski shell lineup, it came as no surprise the Macai delivered from a quality standpoint. From the moment you put on the jacket, it has a special feel, from the plush and cozy interior to the sturdy and smooth zippers. We haven't had any hiccups in terms of reliability either: all the zippers and drawcords are functioning well, and after a couple wash cycles throughout the winter, the shell still looks and performs like new. Arc'teryx lists the Macai's face fabric as 40-denier, which falls on the thin end of the spectrum, but you'd never know that wearing it. The 3-layer design, along with the thick insulation underneath, gives it a burly feel. In the end, I was fully confident even skiing in trees and around sharp gear. Along with the high-end insulation, this is the kind of shell that should have a very long lifespan.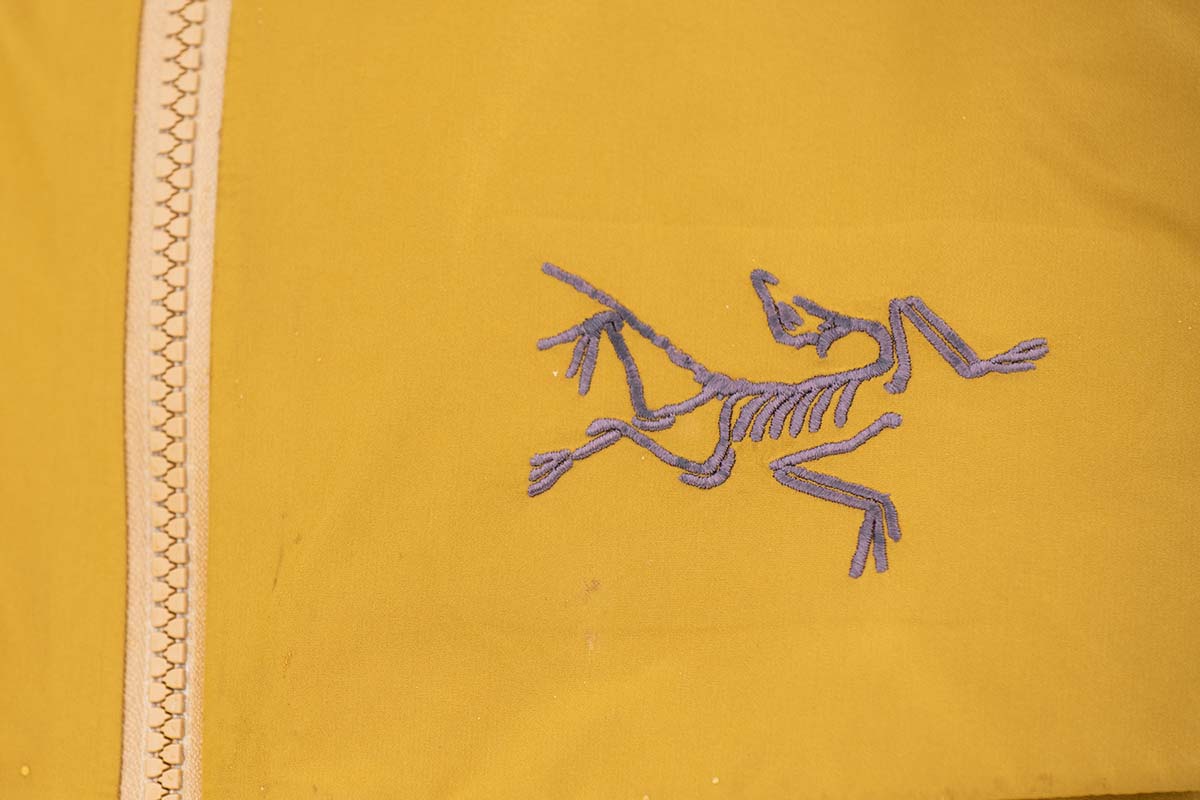 Weight
I typically avoid insulated jackets due to their bulky and somewhat sloppy feel, but the Macai bucks another trend here. The combination of its excellent fit and mobility, lofty down and synthetic insulations, and premium shell and lining materials make it feel lighter than its listed 2-pound-4-ounce weight. For reference, it's only slightly lighter than its primary competitor, Patagonia's Primo Puff (2 lbs. 6.8 oz.), but on the slopes, it felt noticeably less bulky. And the Macai stacks up competitively to most of its other competitors, including the Helly Hansen Alpha 3.0 (2 lbs. 3 oz.), Norrona Lofoten Insulated (1 lb. 14 oz.), and Patagonia Insulated Powder Bowl (2 lbs. 6.2 oz.). Clearly, this is not a jacket you'll be stuffing into a pack and bringing into the backcountry, but its weight is a non-factor and won't hold you back on full days at the resort.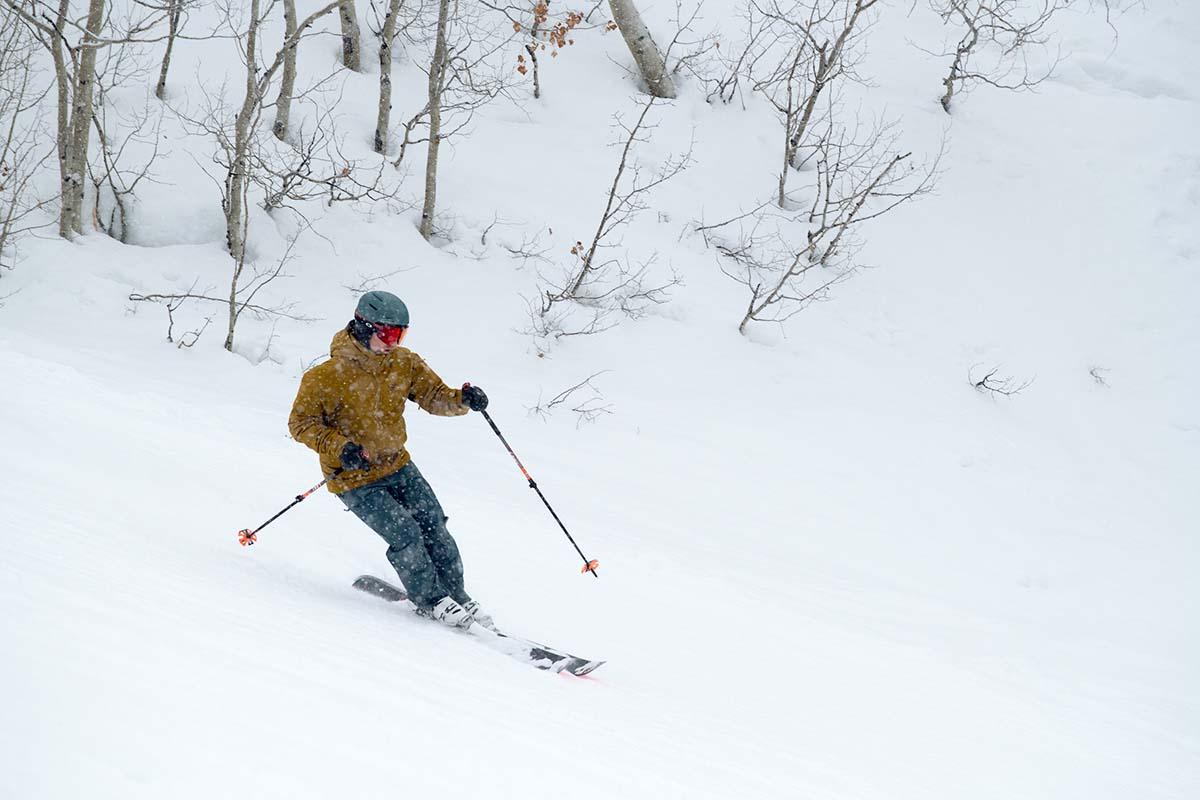 Key Features
DropHood
Taking a closer look at some of the features, the Macai uses Arc'teryx's DropHood design also found on jackets like their popular Beta AR hardshell. In this insulated application, it fit nicely over our medium-sized helmets (Smith's Level and POC's Obex) and stayed securely in place even in inclement weather. Peripheral vision was also quite good, although we did find side to side movement was a little more restricted than we've experienced in some other Arc'teryx ski shells (including the Sabre AR). The upside to the lower-profile design is that it cinches down surprisingly well for use without a ski helmet, adding to the jacket's everyday appeal. And for bluebird days or warm spring outings, the hood can be quickly removed with a series of buttons along the sides and back of the collar.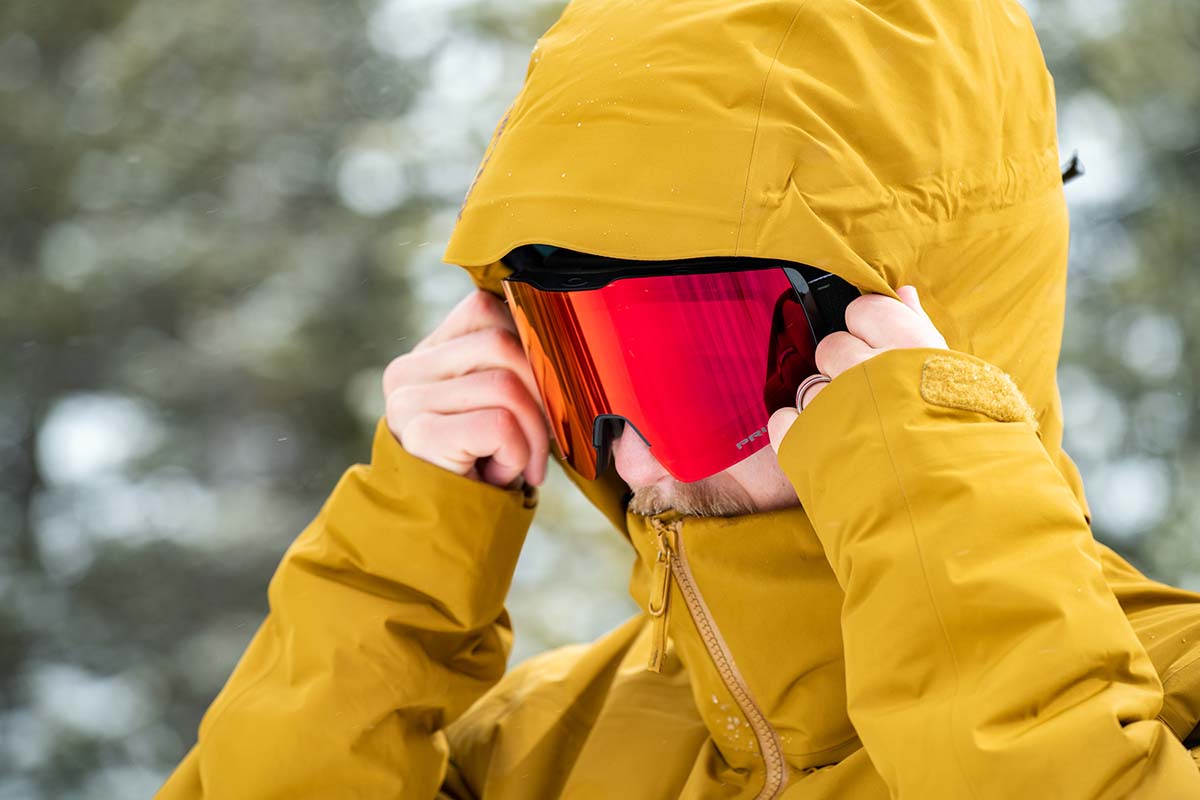 Storage: Pockets
Organization is another strong suit of the Macai's design. The jacket includes two large hand pockets, which are a nice size for gloved hands, and the right hand pocket stores a fabric goggle wipe. Hidden underneath a flap at the left side of the chest is a small zippered pocket that's just about perfect for storing a credit card or other compact items. And rounding out the exterior, you get a sleeve pocket that's positioned nicely for RFID ski passes. On the inside, there's a very large zippered pocket that easily swallows a large smartphone (I have a plus-sized iPhone 11) and a mesh dump pocket on the other side for stuffing ski gloves or goggles.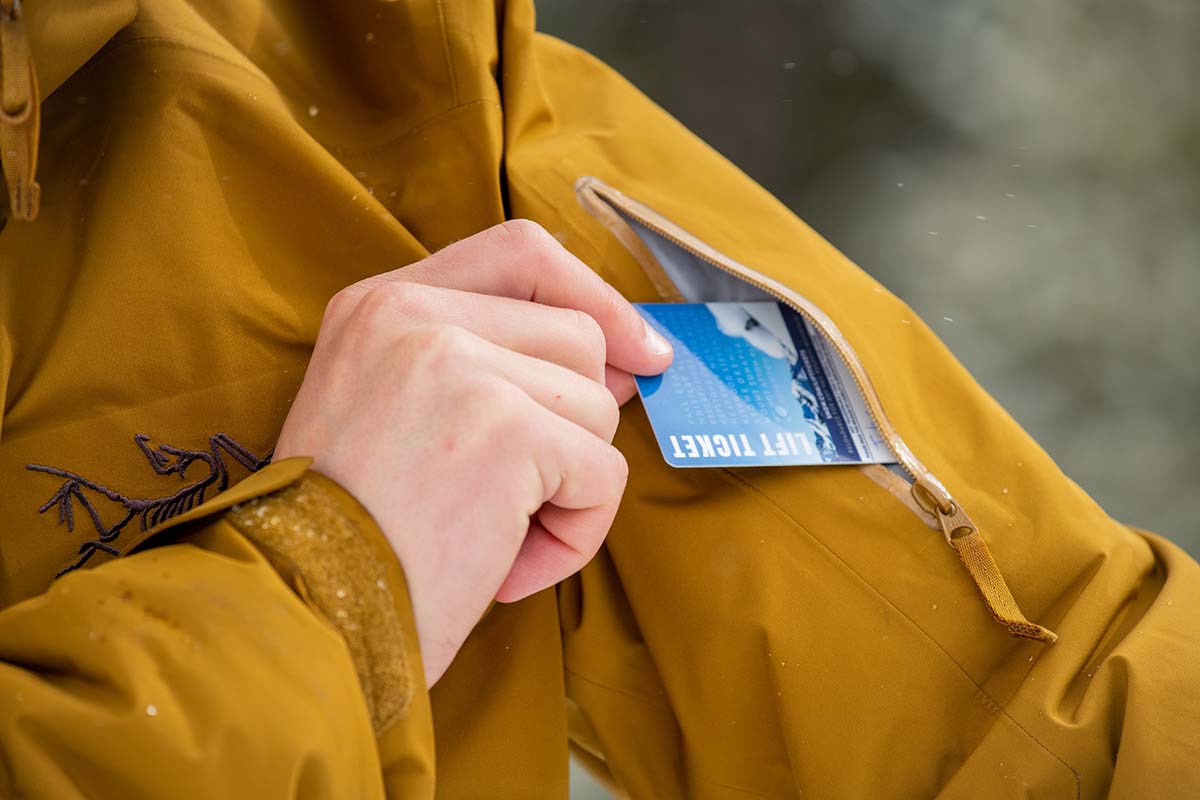 Powder Skirt
As with most ski-specific shells, the Macai includes a powder skirt to seal out snow in the event of a fall or deep powder. The skirt features a silicone-like band to keep it in place and two sets of buttons to tune the fit. Given the shorter cut of the jacket, I was inclined to use the powder skirt a fair amount to keep the cold and wet out, and it proved to be effective and stayed nicely in place. And for everyday wear or if you prefer to ride without it, the skirt can easily be zipped out and removed.

Fit and Sizing
Both of our testers (who are 6'0" and 165 lbs. and 5'9" and 155 lbs.) wore the medium size and found the fit to be spot-on. Arc'teryx lists the Macai as a "regular" cut, but we think it's more on the trim side. The jacket is moderately snug and ideal for wearing with just a baselayer underneath, and it was possible for us to fit a fairly thin midlayer like the Arc'teryx Atom SL without restricting movement as well. However, as we touched on above, the length is on the short end of the spectrum, and even our 5'9" tester would've preferred a little extra coverage. If you often find yourself in between sizes or want the option to layer generously underneath, it might be worth sizing up (this may also help address our complaint about the snug collar mentioned above). 

Arc'teryx Macai Pant and Women's-Specific Andessa
We put the Macai jacket to the test on the slopes, and Arc'teryx also makes a pant to complete your kit. The Macai Pant costs $575 and weighs 1 pound 8.7 ounces but features a trim (rather than regular) fit and uses only synthetic insulation (80g Coreloft Compact). That said, like the jacket, the pants utilize 3-layer Gore-Tex for waterproofing, and you also get functional features including two hand pockets, articulated knees, an internal waist adjuster, and burly cuffs and instep guards. And for women, Arc'teryx makes the jacket and pants in women's-specific variations called the Andessa. The Andessa Jacket costs a little less than the men's model tested here at $949 but uses only 100-gram Coreloft and goose down (the Macai mixes in 60g Coreloft), weighs more at 1 pound 15.6 ounces, and has a trim fit.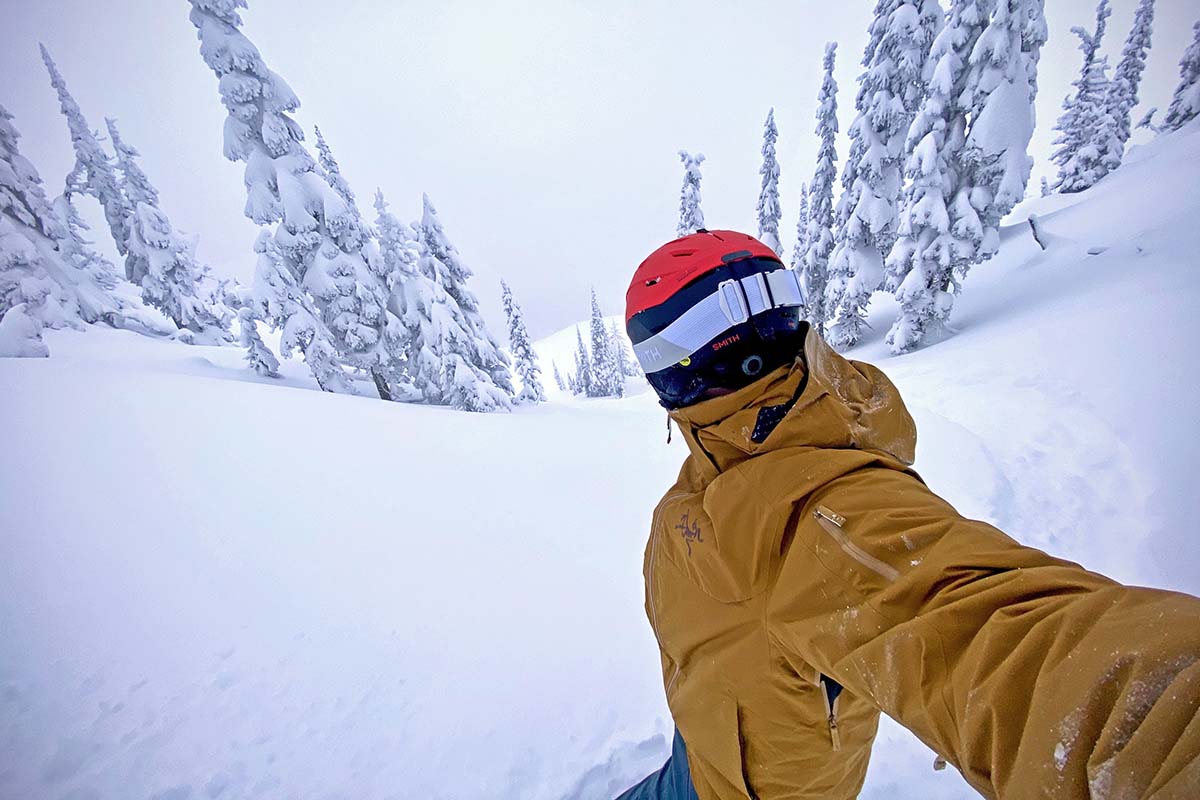 What We Like
Mix of down and synthetic insulations provides top-notch warmth for truly frigid conditions. 
Exceptional comfort, clean lines, and fairly trim fit give the Macai a good amount of casual/everyday appeal.
Feels noticeably lighter than its 2-pound-4-ounce weight.
 
What We Don't 
At $999, the Macai is one of the most expensive ski jackets on the market.
Runs too warm for mild temperatures and sidecountry hikes. 
Not the most impervious shell we've tested. The collar is fairly short, the jacket's hem isn't particularly long, and we found it tough to get a good seal at the wrists when wearing undercuff gloves.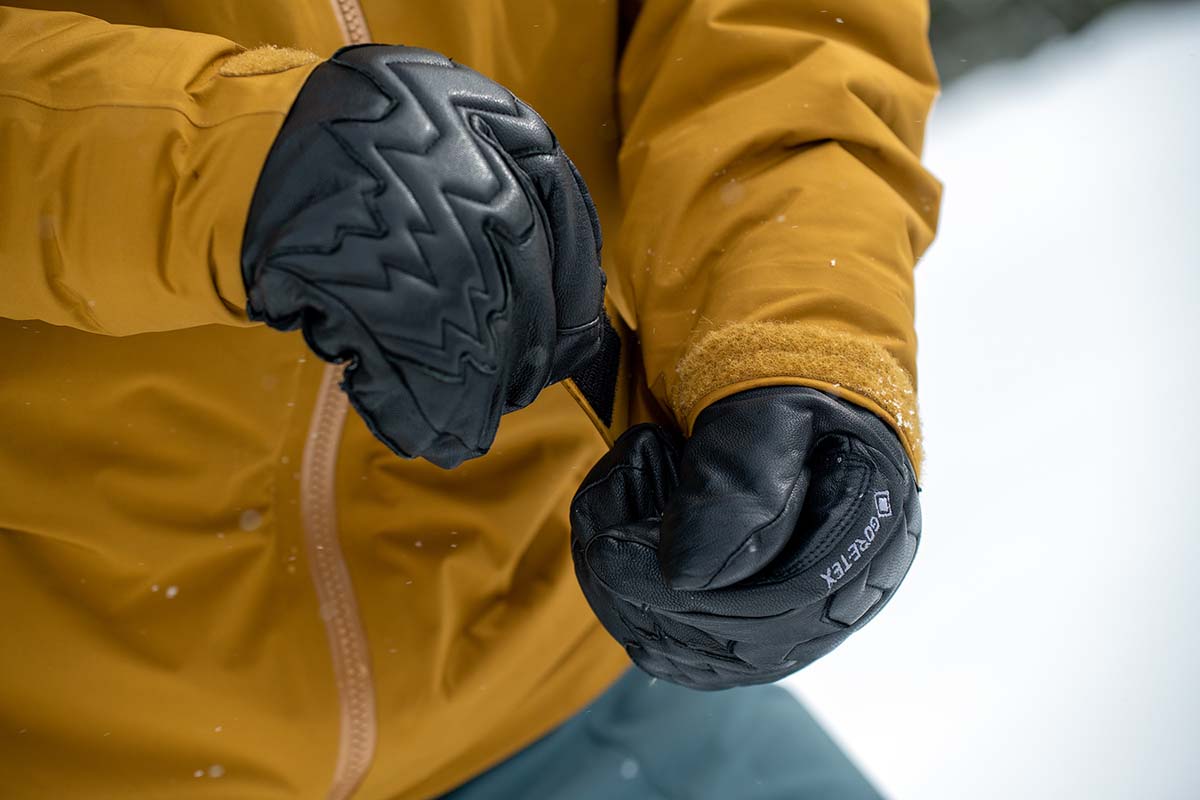 Comparison Table

The Competition
Arc'teryx's Macai is a top-notch resort piece that can effectively pull double duty for daily wear, which is no easy feat. Patagonia's Primo Puff is one of the few jackets on the market that can compete in warmth, build quality, and price ($799). The jacket uses the same PlumaFill synthetic insulation (135g and 90g) found in their Macro and Micro Puff jackets, which does an admirable job of imitating the lofty feel of down and offers similar levels of warmth as the Macai. In testing the two, where they differed most was in fit and styling. Whereas the Macai makes some concessions to cross over for around-town wear like a trimmer cut and a shorter collar, the Primo Puff is longer and a little boxier and bulkier but noticeably more protective. Both use high-quality materials, and a decision between the two should come down to whether or not you're planning to use the jacket for everyday use.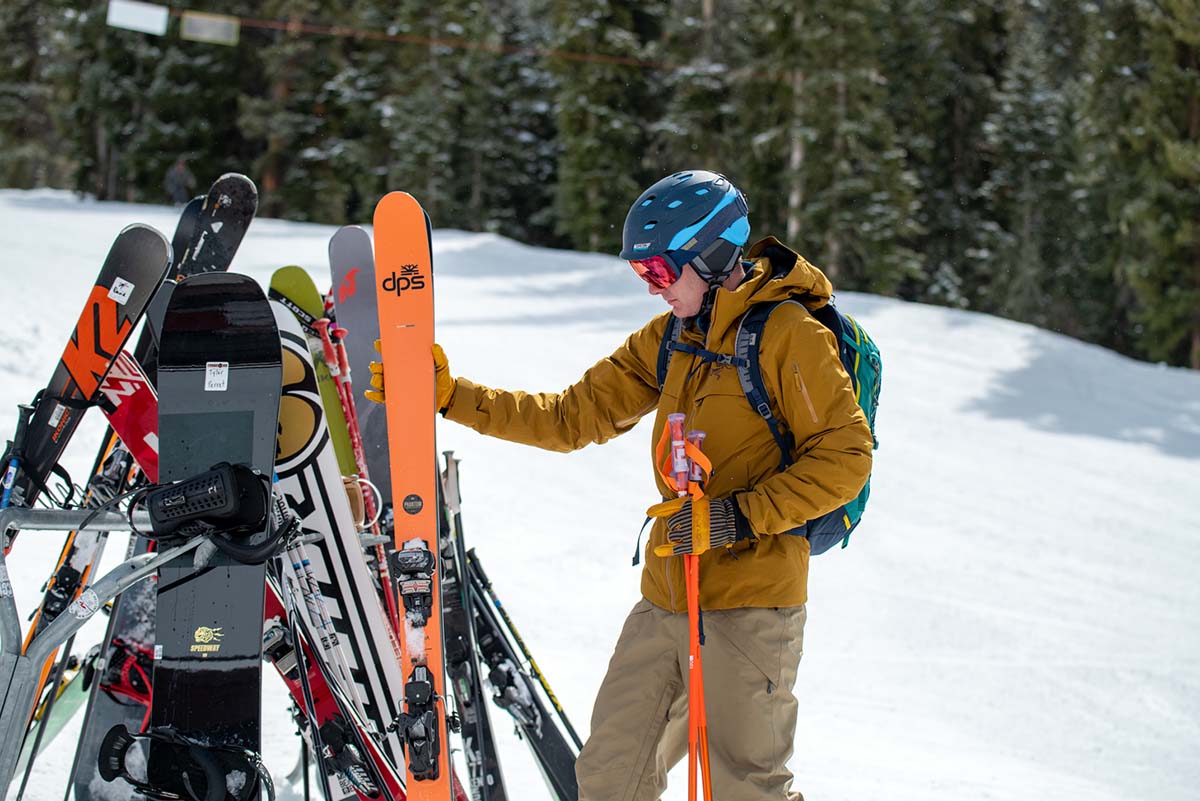 Taking a step down in price and warmth is Patagonia's Insulated Powder Bowl. At $479, it's noticeably cheaper than the Macai, but it's also not as warm due to its combination of 60- and 100-gram synthetic fill (the Macai's 750-fill goose down provides a noticeable step up in coziness). This makes it a little more versatile for season-long use, although it's still too warm for late spring days. The Powder Bowl also uses a 2-layer (rather than 3L) Gore-Tex shell that's less impervious to the elements, and the Macai gets the clear edge in everyday appeal, as the Powder Bowl's long and generous fit doesn't wear as well around town. All in all, the Macai undeniably is the more premium ski shell, but the Powder Bowl's greater adaptability to a range of conditions makes it the better one-quiver option.
Moving outside of Patagonia's lineup, Helly Hansen's Alpha 3.0 has been our top-rated insulated resort shell the past couple seasons. What we love about the design is its stretchy and extremely comfortable fit. The cut is noticeably trimmer than the Macai, but the tailoring is excellent, and the construction has plenty of give for active use. In addition, Helly Hansen nailed all the details with plenty of pockets, a highly adjustable hood, lots of color options, and quality extras like a dedicated insulated pocket for storing a phone. It's true that the Alpha 3.0's face fabric and 2-layer build can't match Gore-Tex in outright weather protection, and it's not as warm as the Macai with its PrimaLoft synthetic fill, but it's not far off in either respect and saves you over $500 in the process.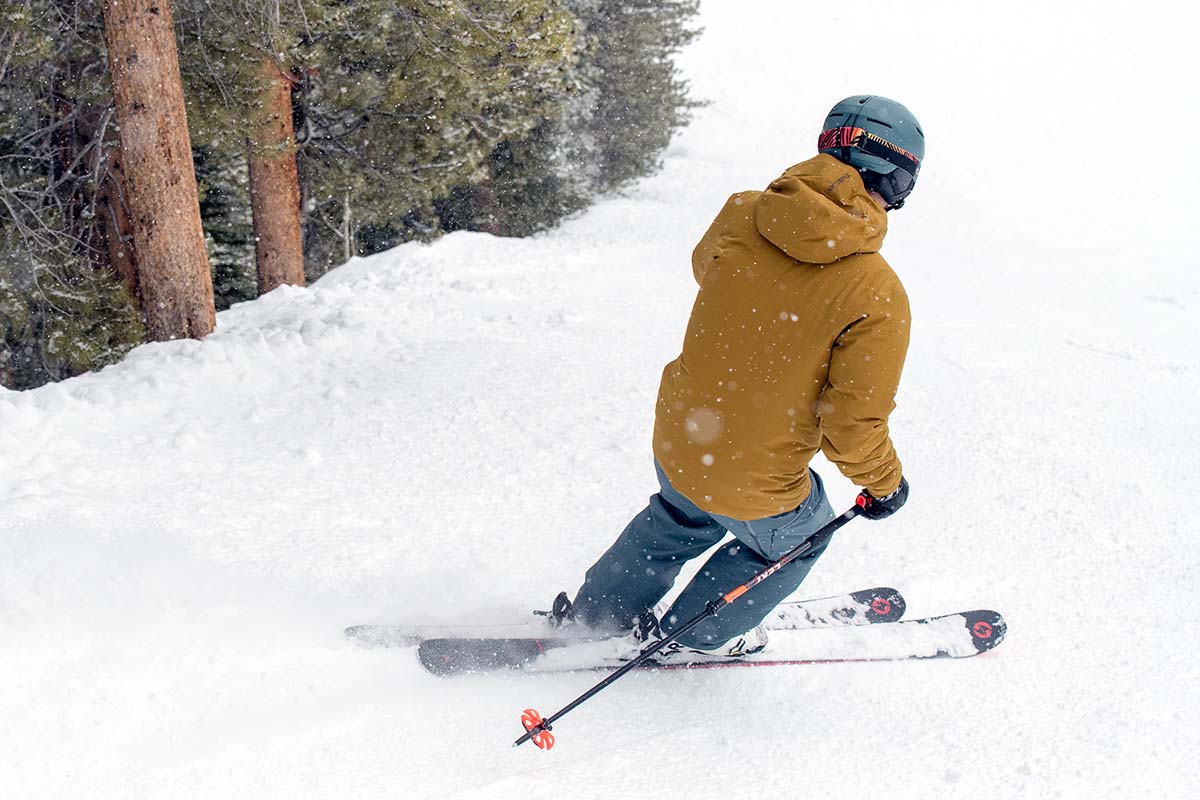 A final option to consider is Norrona's Lofoten Gore-Tex Insulated Jacket. The Lofoten has a decidedly more technical look than the Macai but offers reliable waterproofing thanks to its 2-layer Gore-Tex construction. It also includes thoughtful and functional touches like stretch hand gaiters and a goggle wipe. In addition, the jacket is more versatile for a range of temperatures with less insulation in the design—in fact, the hood and hem forego insulation altogether. Taken together, the Norrona is more tailored to active skiers that head off-piste and do some hiking, but it lacks the cozy and luxurious feel of the Macai for frigid conditions. 
If you're thinking about buying gear that we've reviewed on Switchback Travel, you can help support us in the process. Just click on any of the seller links above, and if you make a purchase, we receive a small percentage of the transaction. The cost of the product is the same to you but this helps us continue to test and write about outdoor gear. Thanks and we appreciate your support!
Depending on the seller, most products ship free in the United States on orders of $50 or more. International shipping availability and rates vary by seller. The pricing information on this page is updated hourly but we are not responsible for inaccuracies.
Learn More About Ski Gear