Outdoor Research Hemispheres' kit garnered a lot of attention at its release in 2018 due to its claimed balance of weather protection and freedom of movement. To put it to the test, we hit the skin track and resort with the Hemispheres Bib, where it encountered everything from fresh powder to heavy, wet snow typical of the Pacific Northwest. In the end, it proved just as capable in the backcountry as it was on lift-assisted terrain and impressed us with its comfort, weatherproofing ability, and stretchiness. Below we outline our experiences with the Hemispheres Bib. To see how it stacks up, see our articles on the best ski pants and best ski bibs. To complete your kit, we've also tested and reviewed the OR Hemispheres Jacket.
 
---
Table of Contents
---

Performance
Weather Protection 
Outdoor Research chose a 3-layer Gore-Tex construction for most of the Hemispheres Bib, so it's no surprise that it shrugged off even extreme conditions. Throughout testing, I exposed the bib to weather typical of Pacific Northwest winters, including multiple downpours and snow that ranged from heavy and wet to light and fluffy. The bib even spent hours slashing through knee-deep powder while yo-yoing one of my favorite stashes in southern British Columbia. Each time, I came out dry and just as comfortable as when I set out. In addition, the internal gaiters did an admirable job of sealing out snow, the fully taped seams prevented moisture from seeping through, and the water-resistant zippers effectively protected my phone, GPS device, wallet, and maps from the elements.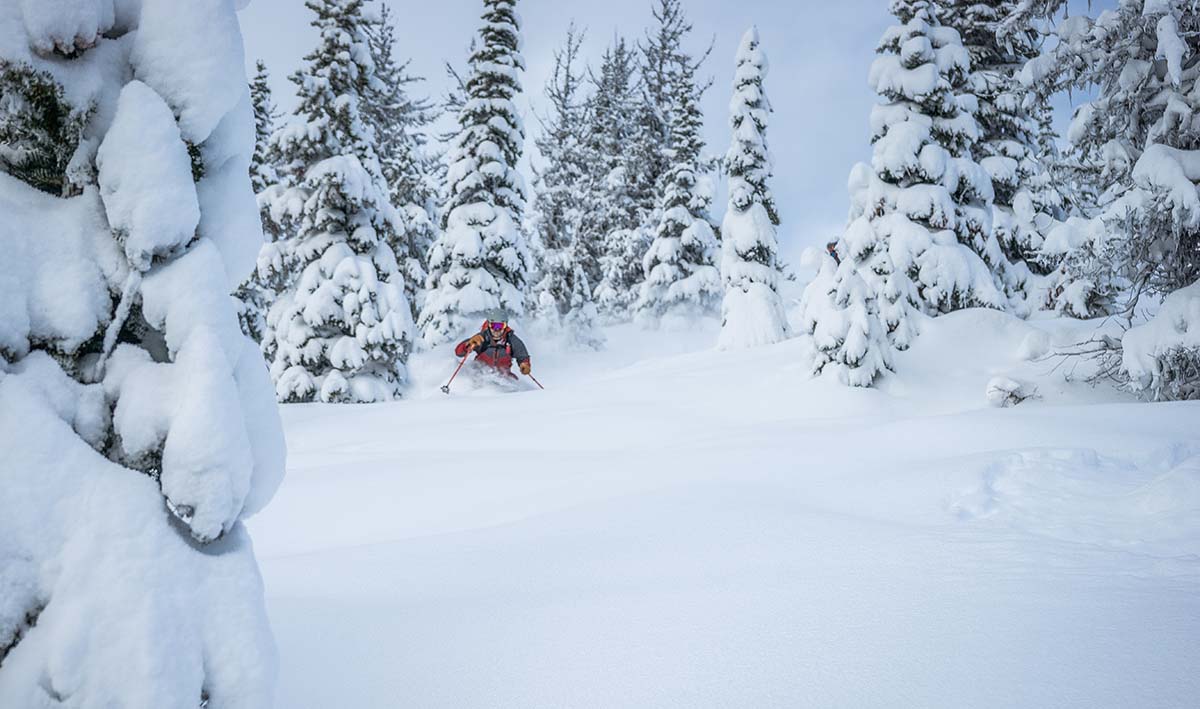 Apart from the 3-layer Gore-Tex C-Knit construction, OR also worked softer and more pliable 2-layer Gore-Tex sections into the jacket. Aptly named Gore-Tex with Stretch Technology, these areas include the waist, rear belt line, and inner thighs—places where increased range of motion is necessary while skinning and skiing. Impressively, these sections didn't sacrifice any waterproofness despite the added elasticity. This was especially noticeable when I was stuck on a stopped chairlift for 10 minutes in frigid, windy conditions. Although cold, my butt remained completely dry on the snow-covered seat.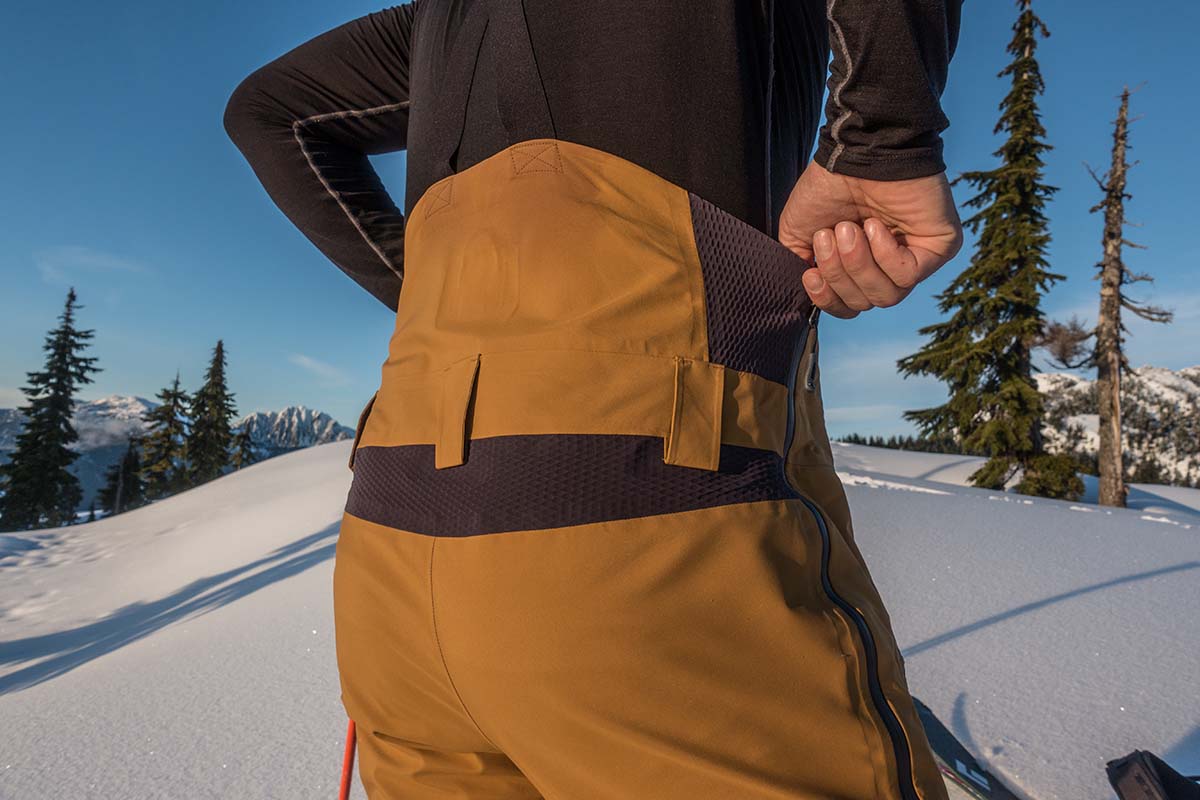 Breathability
Breathability is incredibly important in backcountry gear, and the Hemispheres Bib was able to dump heat remarkably well. This was largely due to the generously long vents that run from the top of the waist to the knee (27 inches on the right leg and 20.25 inches on the left). A small single-snap closure at the hip prevents the bib from unzipping completely while touring or skiing. In addition, the vents' two-way zippers were easy to toggle with gloves on—the rubber tab extensions were key here and proved far superior to the thin and narrow zippers on my partner's Arc'teryx Sentinel LT Bib that she often struggles with.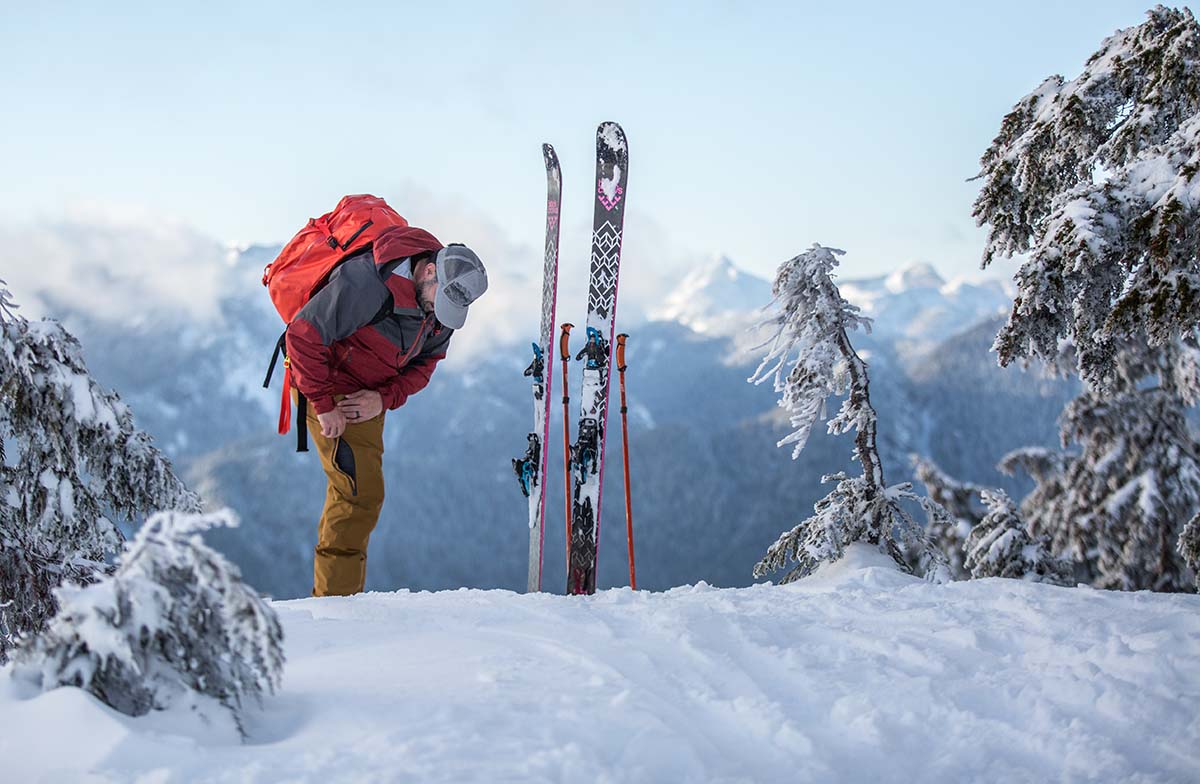 As far as fit goes, the bib runs about 2 inches above my belly button: high enough to prevent snow from creeping into my baselayer but low enough to allow my upper body to breathe without being completely encased in Gore-Tex. And on warm days, I wore the Hemispheres Bib without a jacket or shell and found that I didn't overheat despite my lower body being covered. All in all, I was very pleased with the Hemispheres' fabric and venting options.

Comfort
Regarding comfort, the hybrid Gore-Tex construction makes the Hemispheres Bib one of the most comfortable and mobile bibs I've worn to date. The Gore-Tex stretchy paneling combined with the articulated knees and gusseted crotch enabled the bib to move with my body (OR calls this "Movement-Mirroring Stretch"), and tasks like transitioning, bootpacking, digging data pits, and reaching into my roof box to retrieve gear were done without restriction. Even more impressively, the bib was comfortable enough to leave on before and after a long ski day—not something I can say for some other pants and bibs I've owned.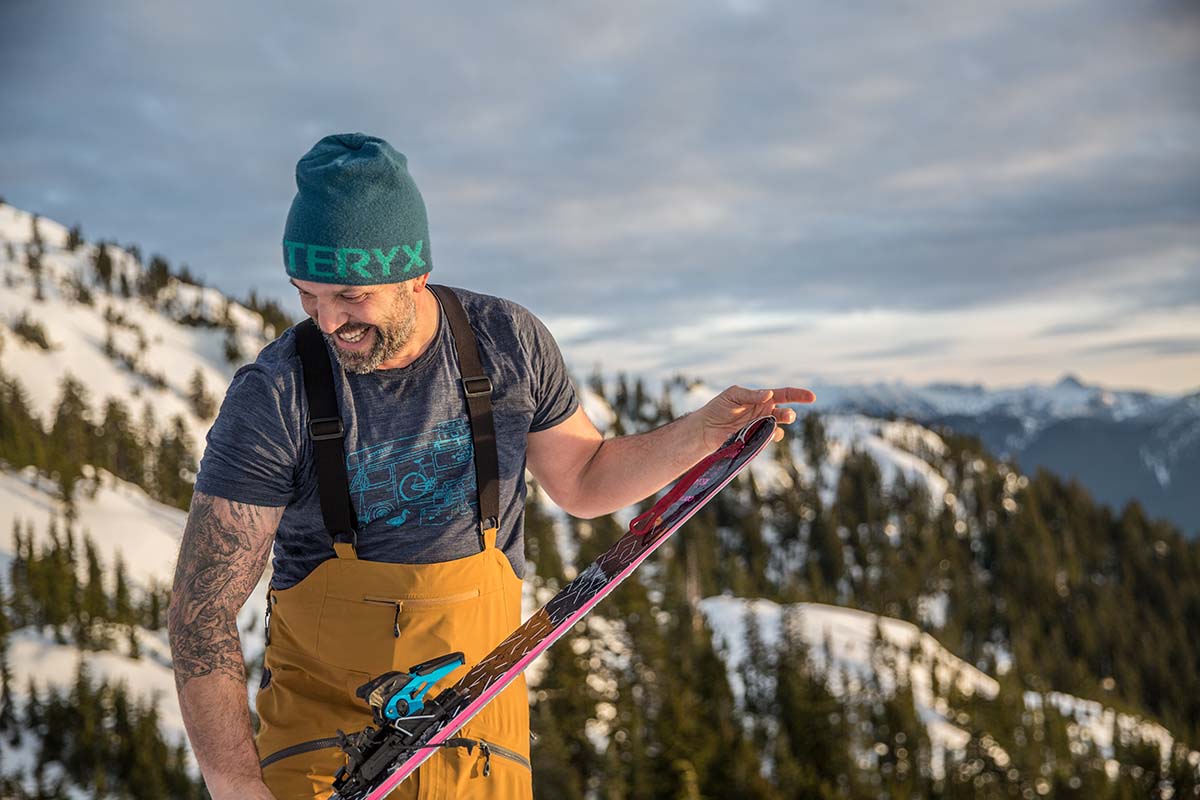 Build Quality and Durability
I expect a lot out of my gear and was initially concerned about the stretchy areas of the Hemispheres Bib like the waistline, inner thighs, and back belt line. While most of the bib is 70-denier, 3-layer Gore-Tex, these sections are thinner 50-denier, 2-layer Gore-Tex. However, after a couple of days on the skin track, I realized my concerns were unfounded. The pliable panels have not worn at all and continue to repel moisture just as well as the burlier parts of the bib. 
Throughout the remainder of the season, the Hemispheres withstood everything I threw at it. This included typical winter conditions, falls on groomers and in powder, sitting on icy chairlifts and rocky outcrops, clambering up and through trees for the perfect photo, and even lying on gravel-covered service roads while I put chains on my van. The zippers, seams, and suspenders show no signs of fraying or wear, and the bib has no scuffs, tears, or punctures. All things considered, the Hemispheres has proven itself as a hardwearing and extremely durable bib.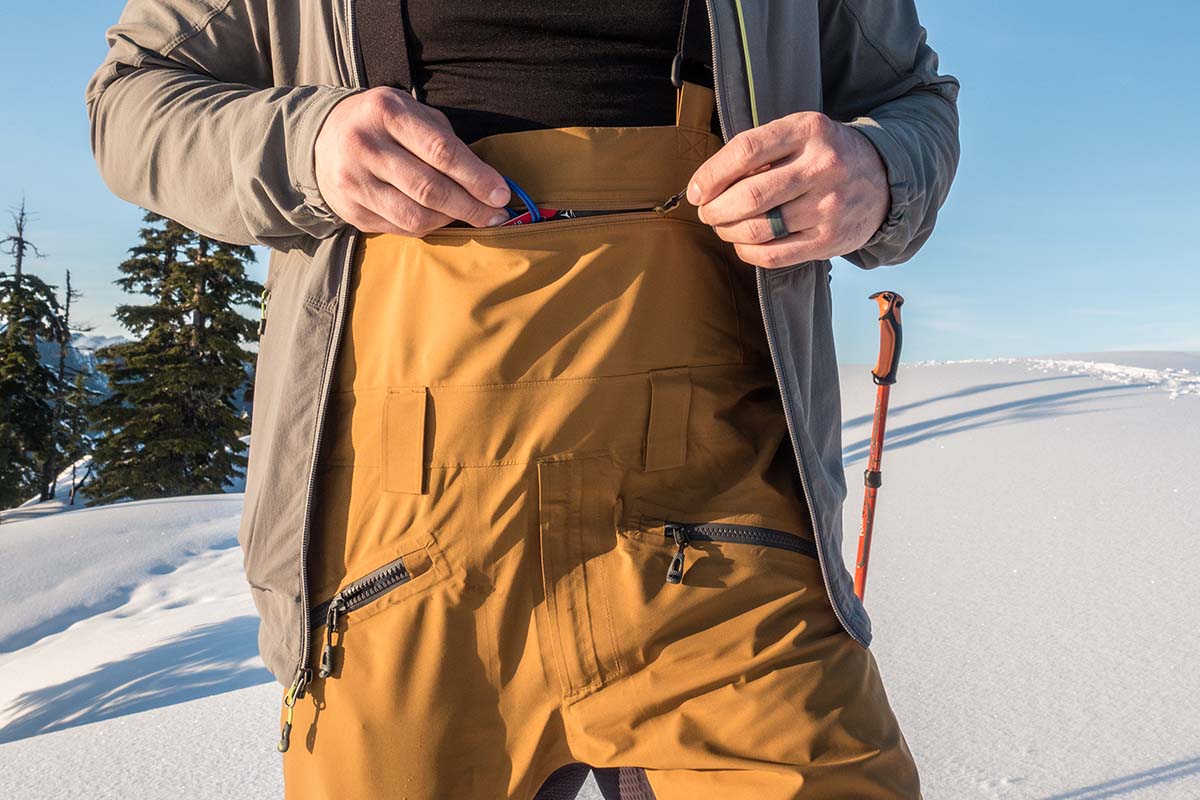 Weight
At 1 pound 5 ounces for a men's large (just slightly more than its listed 1-lb.4.8-oz. weight), the Hemispheres Bib is on par with most of its competition. For comparison, the Patagonia PowSlayer Bib and SnowDrifter Bib both come in at 1 pound 4.6 ounces, while OR's own Skytour AscentShell Bib and Flylow Gear's Baker Bib are notably heavier at 1 pound 11.1 ounces and 2 pounds 1.4 ounces respectively. It's also worth mentioning that despite the added coverage, bibs generally don't weigh significantly more than ski pants. They do run warmer, but even backcountry-oriented pants often come in at over 1 pound, including OR's 1-pound-6.9-ounce Skyward II Pant.

Key Features
Internal Gaiters
The Hemispheres Bib features internal gaiters that come equipped with a power-strap slot. You can insert your boot's power strap through these two slits, which allows you to adjust your boot's fit without pulling the gaiter above the boot. While this is a unique concept, I personally found it to be too finnicky and time-consuming to be useful. I have yet to experience snow pushing the gaiter over the upper buckles and power strap, but perhaps if this happened, I would turn to the integrated slots. In the meantime, I like the gaiters but don't plan to use the power-strap feature.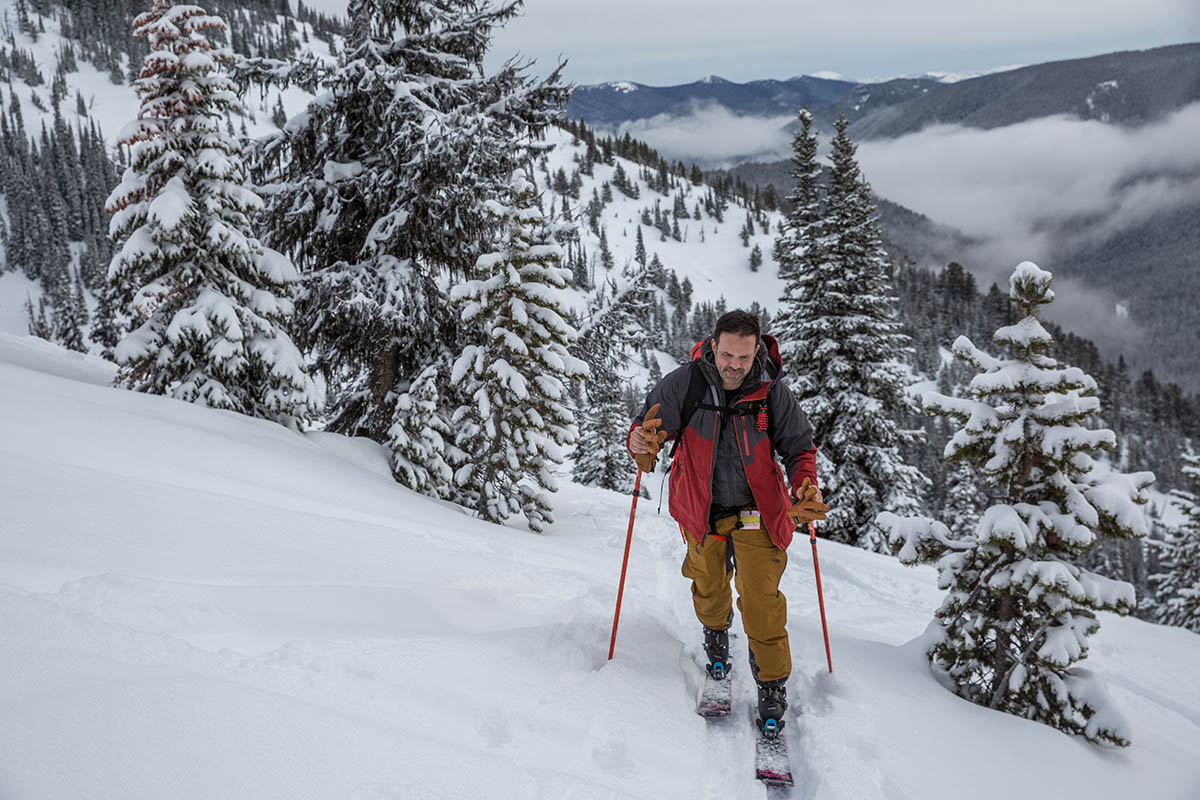 Vents
As mentioned above, the Hemispheres Bib features a vent on the outside of each thigh. I found it helpful that these were asymmetrical—the right zipper opens about 7 inches further to allow you to get out of the bib or use the bathroom without removing the suspenders. And a small snap closure on the right side prevents the bib from accidentally opening completely when the vent is unzipped. Overall, the vents and button functioned as intended and I had no trouble getting in and out of the bib or opening and closing the vents.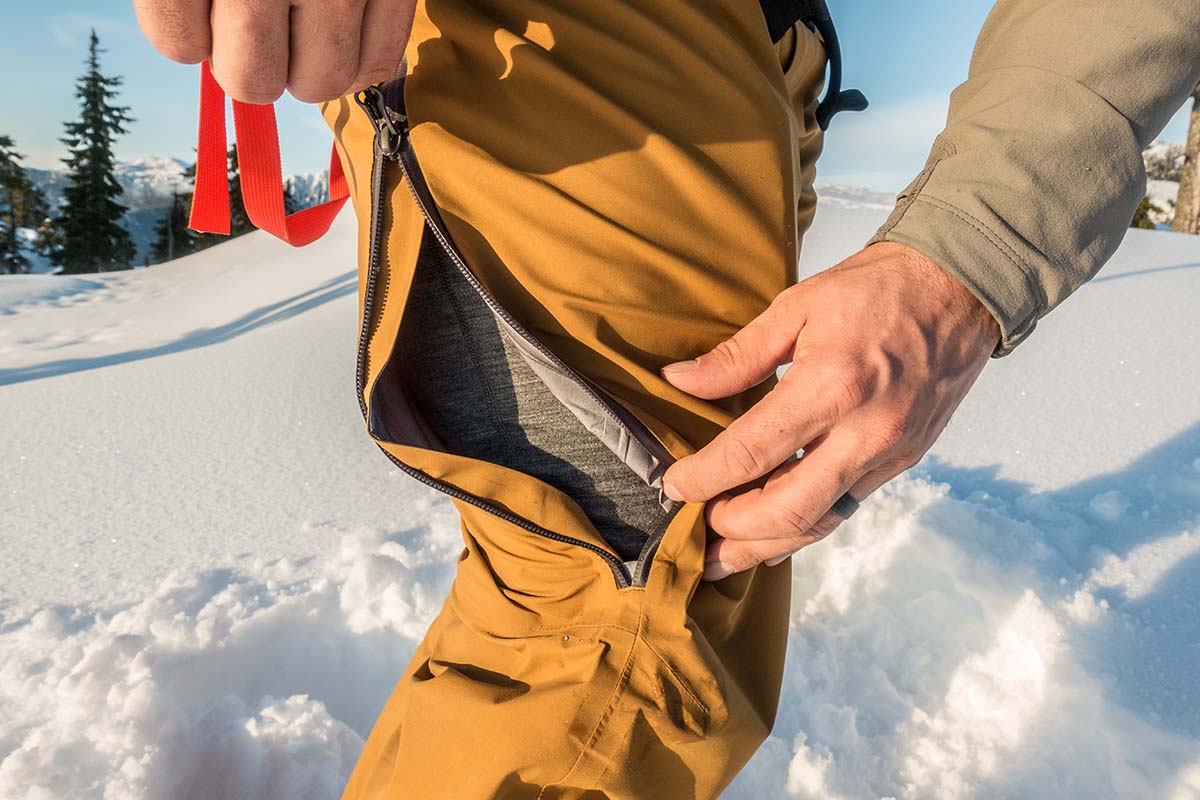 Storage: Pockets
The Hemispheres Bib features three pockets, but I felt that one or two more would have helped immensely for storage. The right hand pocket doubles as a dedicated spot for an avalanche beacon (complete with an integrated clip), which is a great way to prevent the beacon from falling out of an unzipped pocket or being ripped out by a fall or avalanche. The remaining hand pocket is big enough to store gloves or car keys, while the smaller front kangaroo-style pocket is ideal for items like a ski pass, map, or wallet. All things considered, while three was sufficient, I had myself wishing for at least one more so that items like my phone and GPS device didn't have to compete for space.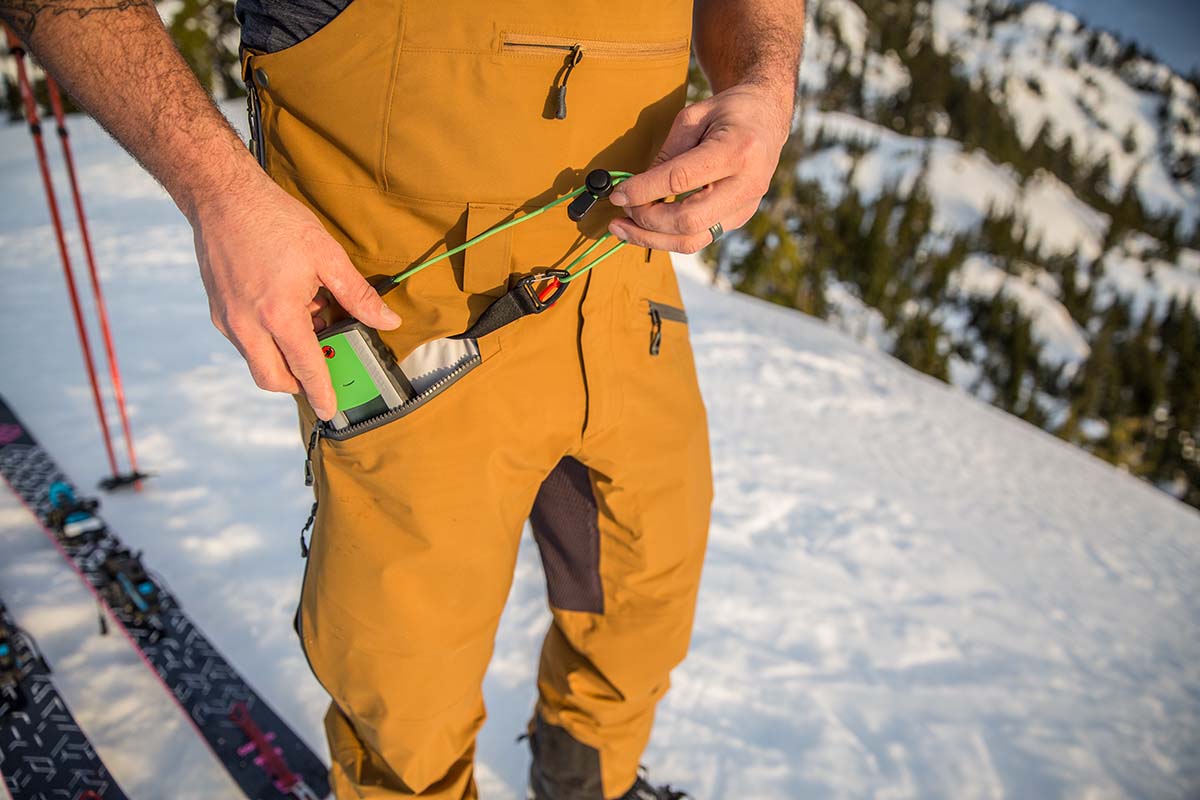 Fit and Sizing 
I wear a large in most bibs and ski pants, and the Hemispheres Bib was no different. I found that the bib fit true to size with enough room to wear anything from a thin merino wool baselayer to my significantly warmer Patagonia Nano-Air Light Pants on exceptionally cold days. In addition, the adjustable suspenders are extremely useful for customizing fit. I hate when bibs start to sag throughout the day—which usually happens when I fill my pockets with gear like a beacon, maps, gloves, etc.—but the sliding tighteners on the Hemispheres Bib effectively kept it in place. Lastly, the bib's 32.5-inch inseam was the perfect length for me (I didn't once step on the cuff while walking), and it also comes with a belt loop for those who like to tighten the waist. My only gripe is that the reinforced scuff guards were a bit narrow and often got caught on the ski/walk lever of my boots. That said, the gaiters still protected my upper boot from the elements, so this wasn't a major concern.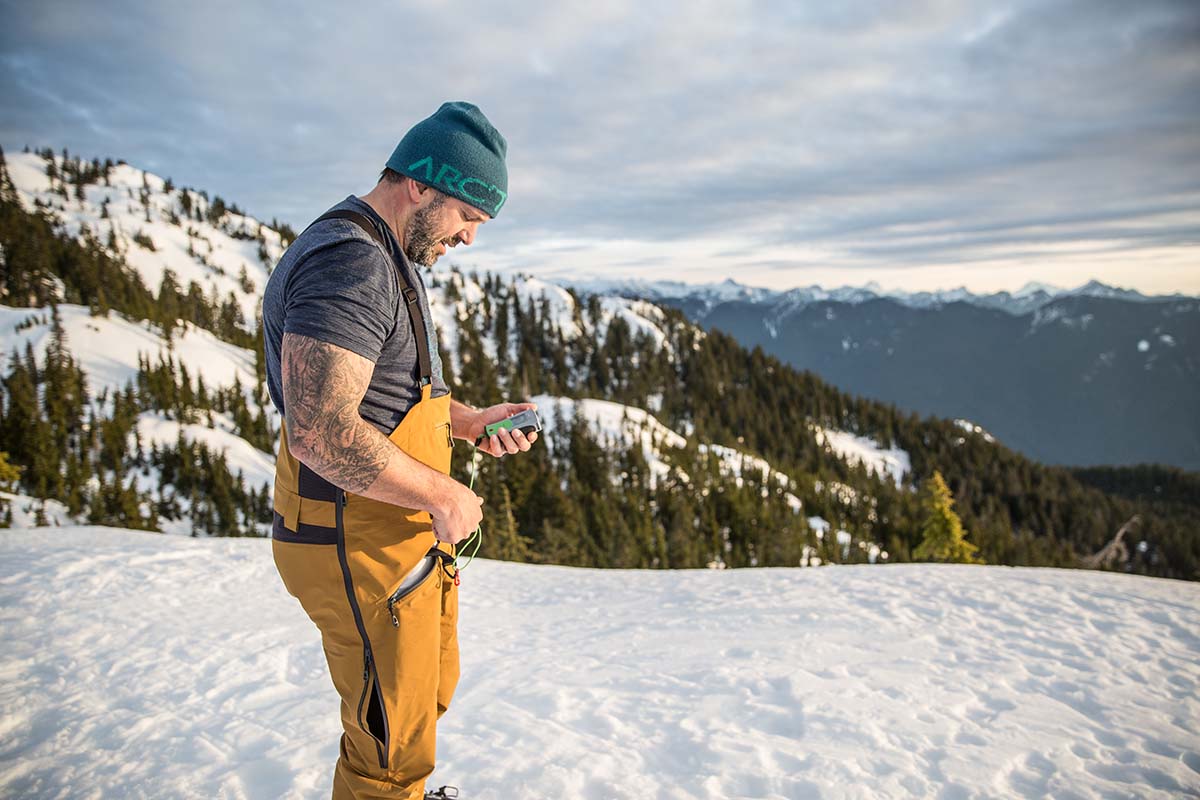 Other Versions of the Outdoor Research Hemispheres
We tested the men's Hemispheres Bib for this review, and we've also been wearing the men's Hemispheres Jacket along with the bib for multiple seasons (see our in-depth review). Together, the kit offers fantastic weather protection and mobility. Outdoor Research also makes both the bib and jacket in women's versions. The women's Hemispheres Bib rides higher on the upper body and comes in at 1 pound 4.1 ounces for a size medium but otherwise sports the same design, features, and hybrid Gore-Tex construction.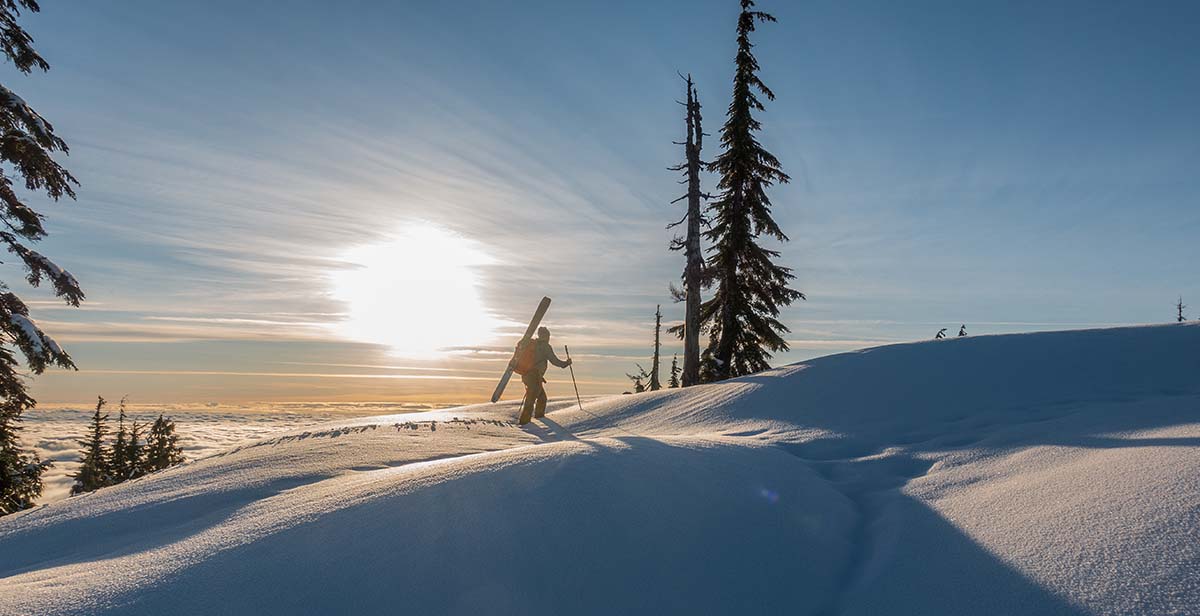 What We Like
The Hemispheres Bib has both impressive weather protection and excellent mobility.
Despite a mostly 3-layer Gore-Tex construction, the long vent along each leg effectively dumped heat, even on long and warm tours.
The most comfortable bib I've worn to date.

What We Don't
Reinforced scuff guards could be wider. They got caught on the ski/walk lever of my boot at times.
Another pocket or two for storage would be helpful.
At $599, the Hemispheres Bib is among the most expensive options on the market.
I found the power-strap slots on the internal gaiters to be time-consuming and unnecessary. In the end, I chose not to use them.

Comparison Table

The Competition
The Outdoor Research Hemispheres Bib nicely balances waterproof protection with the mobility and ventilation needed for touring, making it one of our favorite ski pants for dedicated backcountry-goers. This season, OR also released their Skytour kit, including the similarly intentioned Skytour AscentShell Bib. As its name suggests, the Skytour uses OR's in-house AscentShell waterproofing tech, which stretches like a softshell, breathes impressively well, and doesn't compromise much in the way of protection. However, the torso of the Skytour uses a water-resistant (rather than fully waterproof) softshell material, and it's around 6 ounces heavier than the Hemispheres. These downsides aside, the Skytour is an excellent value at $349 and plenty of pant for most backcountry adventurers. If you consistently get out in harsh and unpredictable conditions, it might be worth upgrading to the Hemispheres.
For mainly backcountry-goers, the Patagonia PowSlayer Bib is another good choice. With a similar feature set like integrated gaiters, scuff guards, and two-way side zips for venting, the PowSlayer shares many commonalities with the Hemispheres. However, the PowSlayer's Gore-Tex Pro construction sacrifices some comfort compared to the softer and suppler C-Knit, and I found the fit was slightly narrower in the waist which translates to less mobility. Further, the Patagonia sits lower on the stomach and back, so it doesn't provide as much protection and warmth (this can be a positive while skinning on warmer days, however). Either way, $600 is a lot to shell out for a bib, but we think Hemispheres is the more versatile choice for those who spend time both on and off piste.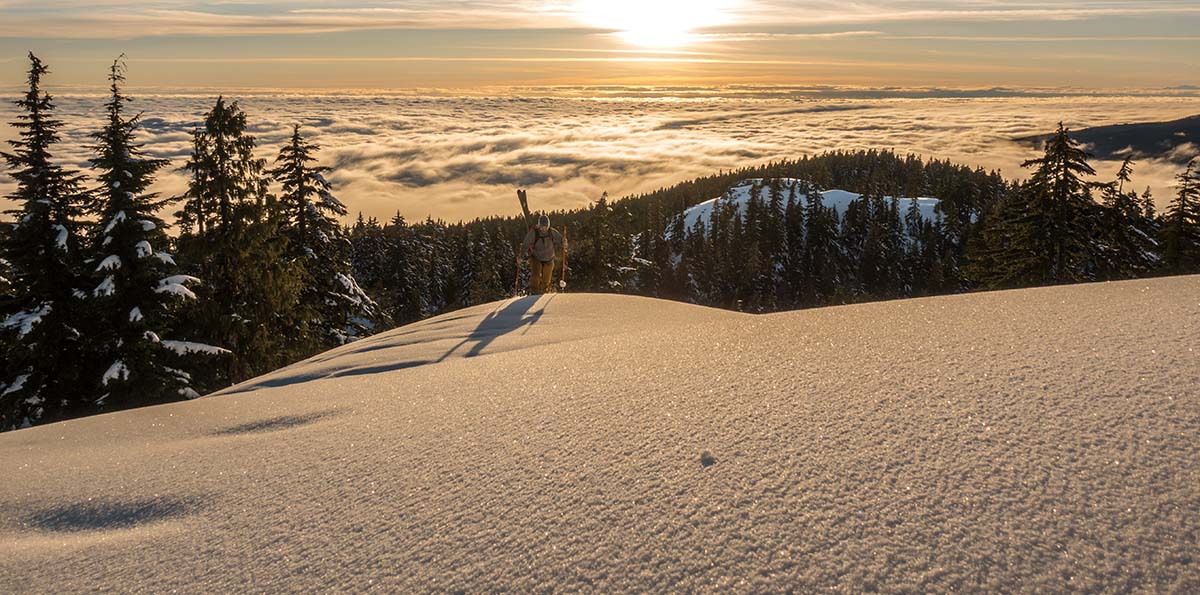 Staying within Patagonia's lineup, their SnowDrifter Bib is a step down in price from the PowSlayer at $349 but slots in as another quality touring-ready design. Like the SkyTour above, the SnowDrifter boasts a 3-layer waterproof fabric (the brand's H2No) below the belly with a stretchy softshell material covering the upper body. The result is a nice balance of protection and range of motion for steep ascents and bootpacks, and we also love the drop-seat design with two-way side zips for venting and easy on/off. Like the Hemispheres, the SnowDrifter is a little low on storage with just three total pockets, but otherwise, overall performance is excellent considering its $250-cheaper price tag. Unless you need the stalwart, batten-down-the-hatches feel of Gore-Tex, we think the SnowDrifter is the better buy for most backcountry skiers. 
The final alternative is a long-time favorite: Flylow Gear's Baker Bib. The Baker has similar waterproof performance thanks to a 3-layer construction (Flylow Gear uses their own proprietary Surface fabric) and DWR coating, is ultra-tough with reinforced panels at the cuffs and knees, and vents well with long side vents and inner-thigh openings. The Baker also offers more storage with an additional pocket at the front, right thigh, and back. That said, the Baker's 2-pound-1.4-ounce weight is no match for the lighter Hemispheres Bib, which comes in at 1 pound 4.8 ounces. You also sacrifice some mobility and breathability with the lack of stretchy panels and baggy fit, but at around $180 cheaper than the Hemispheres, the Baker is undeniably a great value for a bomber setup.
If you're thinking about buying gear that we've reviewed on Switchback Travel, you can help support us in the process. Just click on any of the seller links above, and if you make a purchase, we receive a small percentage of the transaction. The cost of the product is the same to you but this helps us continue to test and write about outdoor gear. Thanks and we appreciate your support!
Depending on the seller, most products ship free in the United States on orders of $50 or more. International shipping availability and rates vary by seller. The pricing information on this page is updated hourly but we are not responsible for inaccuracies.
Read More From Switchback Travel