Salomon is no stranger to the backcountry skiing market with an expansive line-up of touring equipment. From their ski boot collection, the S/Lab MTN is aimed at resort and backcountry skiers who want the option to do both without making major sacrifices. I was excited to put the boot through a season in the mountains of British Columbia with long days on the skin track and aggressive descents. Although its lack of forward flex was noticeable on the uphill, the S/Lab impressed me in many other ways including stability and build quality. Below I break down the S/Lab MTN's uphill performance, downhill performance, weight, features, fit and sizing, and more. To see how it stacks up, see our article on the best backcountry ski boots. 
 
Uphill Performance
Despite the Salomon S/Lab MTN's reasonable weight, streamlined two-buckle system, and 47-degree range of motion, it's not the most adept at uphill skinning or bootpacking. Initially, I was hopeful while researching the S/Lab: it has the recipe to be a well-rounded and versatile backcountry companion. But once I put it on and felt the flex, I was a bit discouraged. While the S/Lab has significant rear flex in walk mode, its forward range of motion is limited. As you begin to lean forward, it starts flexing smoothly but suddenly comes to an abrupt halt before expected. Accordingly, my shin repeatedly dug into the rigid tongue and cuff, causing issues just about every time I wore the boots on an ascent.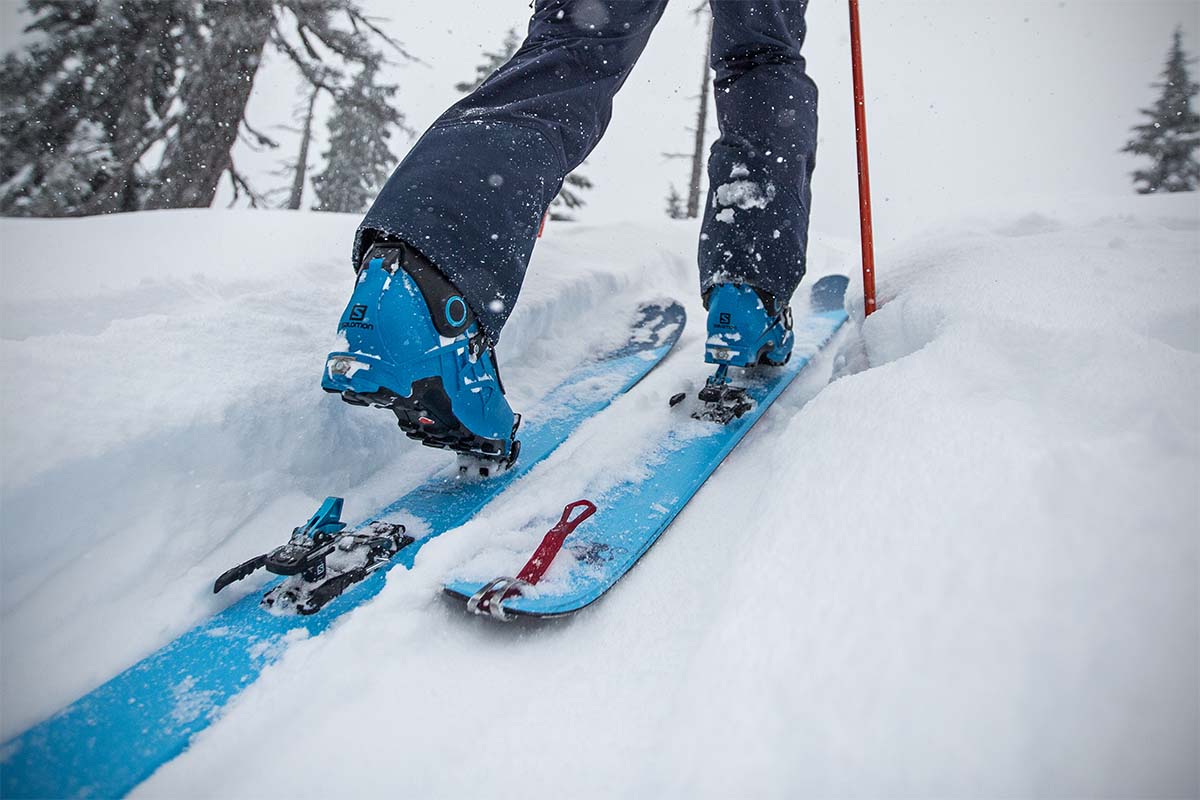 This lack of forward flex also affected the S/Lab's success on steep terrain and bootpacking sections. While skinning my local loop in British Columbia, I try to avoid using my binding's heel risers whenever possible. And while my Scarpa Maestrale RS and Arc'teryx Procline boots handle my routine nicely, the S/Lab wasn't as up to the task. Due to the limited flex, I was forced to use the steepest climbing aid on terrain that other boots handled with ease (sans risers). Unfortunately, this also was evident when bootbacking: I often found myself balancing on the toe of the boot on steeper sections instead of utilizing the entire Contagrip sole as intended. While I would consider the S/Lab to be average in the climbing category and not a poor performer, I definitely expected more from a much-hyped and expensive boot.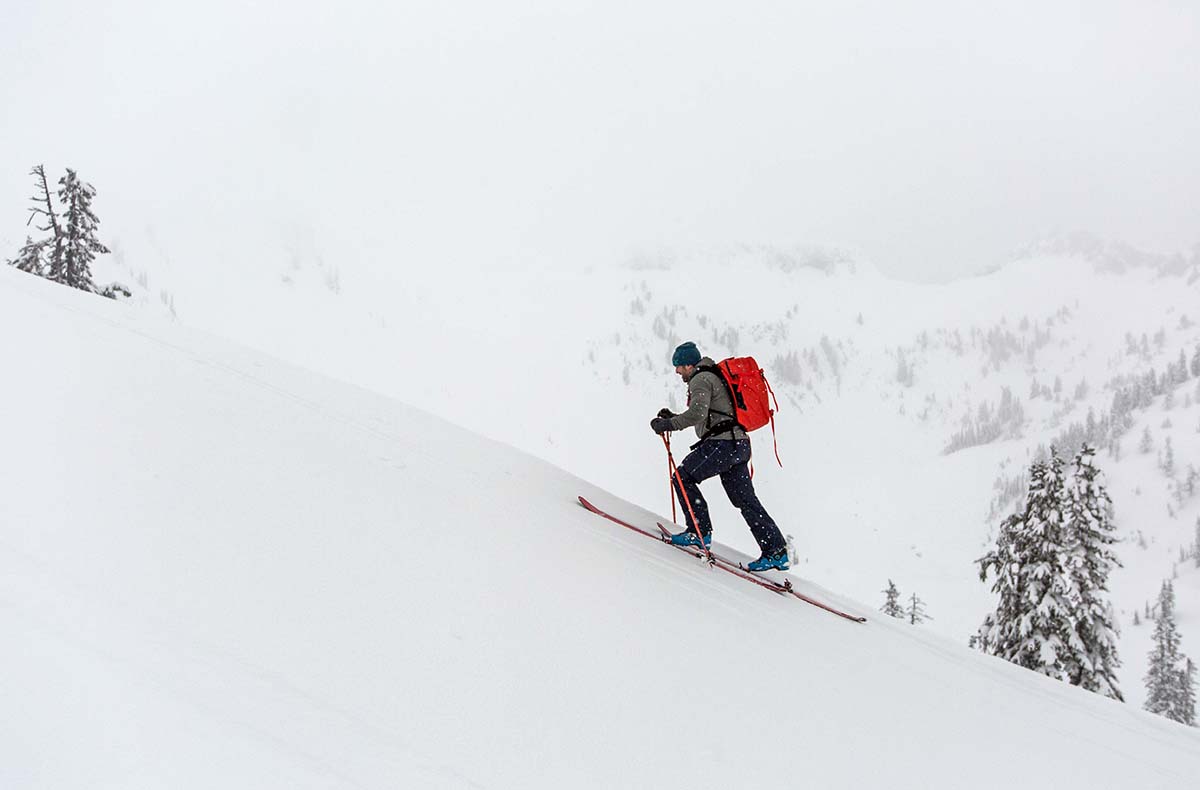 Downhill Performance
The S/Lab is made to tackle steep descents like an all-mountain boot. With a respectably stiff 120 flex rating, the S/Lab MTN compares similarly to heavy hitters like the Scarpa Maestrale RS and Atomic Hawx Ultra XTD (125 and 130 flex, respectively). However, just as in walk mode, the lack of forward flex on the S/Lab was apparent in ski mode. The boot felt harsh when driving forward, and while some traditional downhillers might like this, it felt oddly reminiscent of AT boots of year's past. But once I got used to the rigid and stiff feel, the S/Lab was more than capable of driving my powder-hounding DPS Wailer 106 Tour1 and Alchemist Lotus 124 touring skis through just about any conditions, on or off-piste.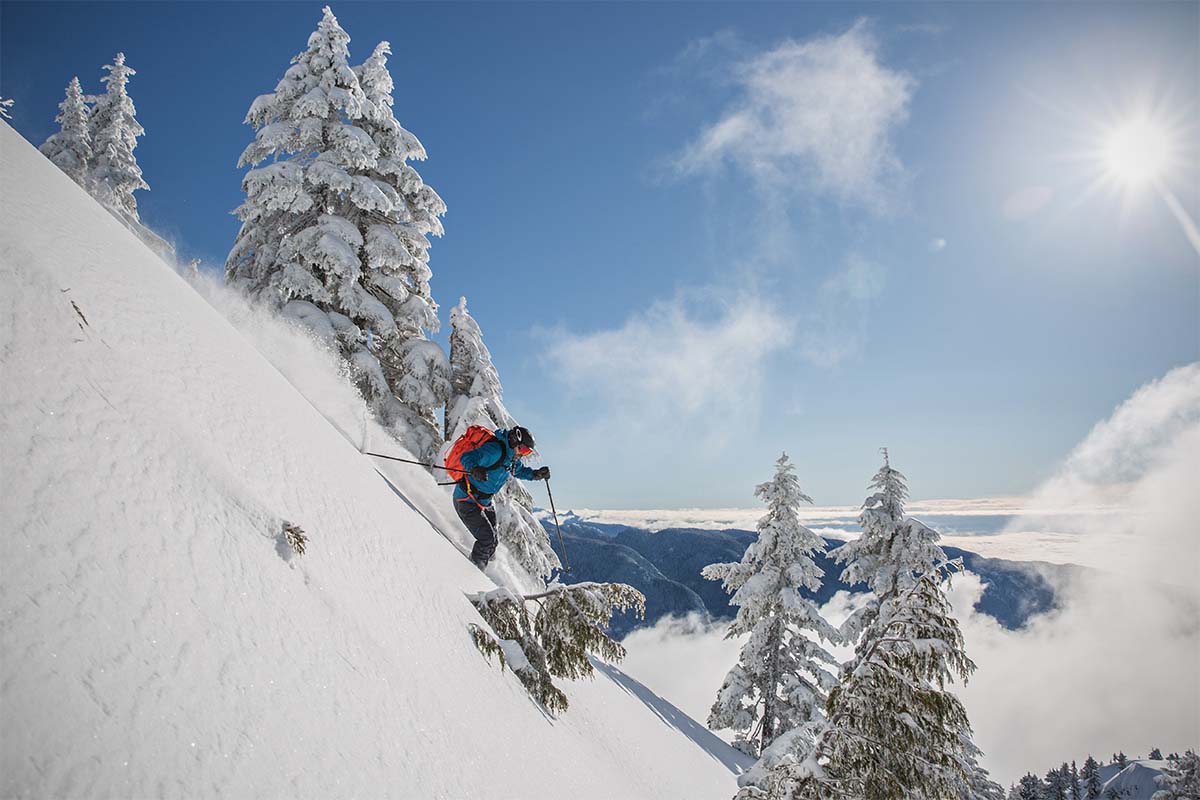 For mainly resort skiers who dabble in the backcountry or venture over to the slackcountry between groomers, the S/Lab could be a nice one-quiver boot. It's compatible with tech and most frame bindings, as well as MNC alpine bindings. And with its burly build and all-around stiffness, it won't feel like much of a change from a traditional alpine boot. But for those who spend as much time on the skin track as the downhill, the S/Lab simply isn't the best boot for the job. We think a backcountry pro like the Scarpa Maestrale RS with more flex is a much better option.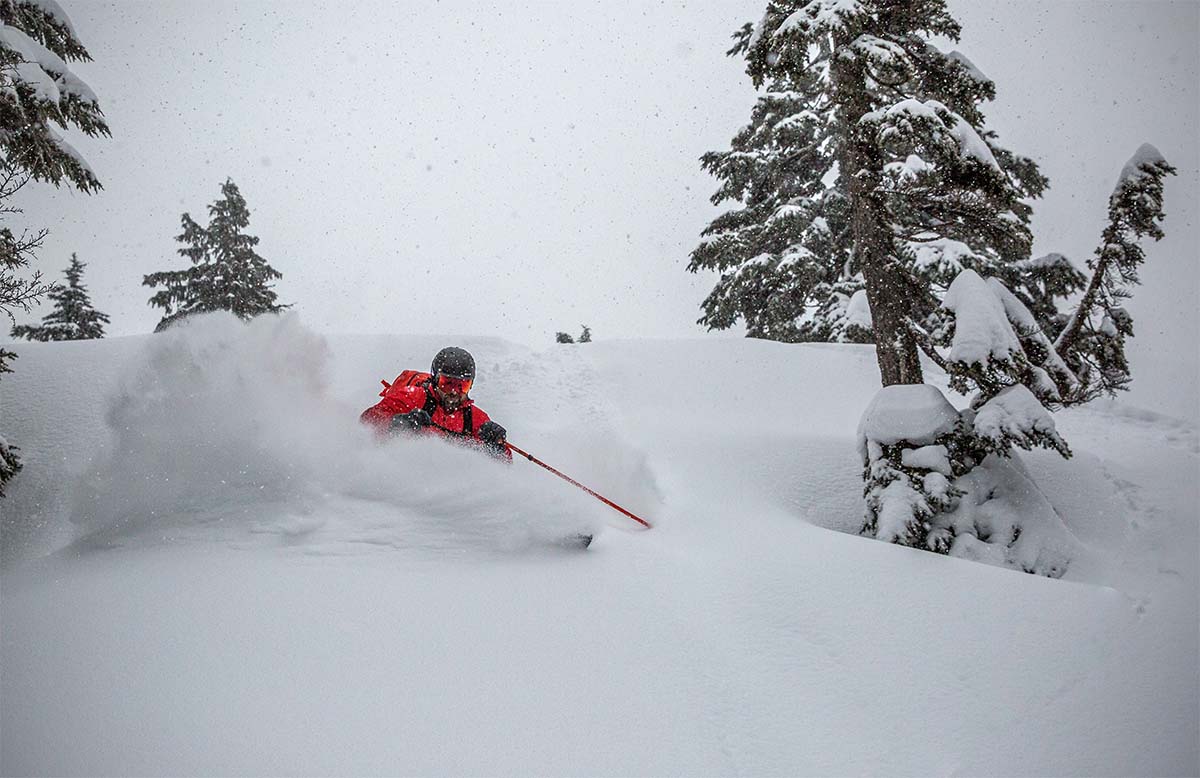 Weight
At 6 pounds 15.2 ounces for the pair, the S/Lab is a bit on the heavy side compared to rival AT boots. For example, my Scarpa Maestrale RS (6 pounds 2 ounces) and Atomic Hawx Ultra XTD (6 pounds 4 ounces) are noticeably lighter on the skin track, especially after a long day of breaking trail up thousands of feet. But Salomon did incorporate some similar weight-saving tactics. Similar to the Maestrale, the S/Lab has a Grilamid shell that reduces weight while maintaining good strength and stiffness. In addition, Salomon's Sensifit design minimizes shell materials while reinforcing areas that require extra strength (which you can actually see in the design pattern on both sides of the lower shell). Finally, a lightweight, waterproof textile material laid across the top of the forefoot replaces a typically rigid and heavier lower tongue.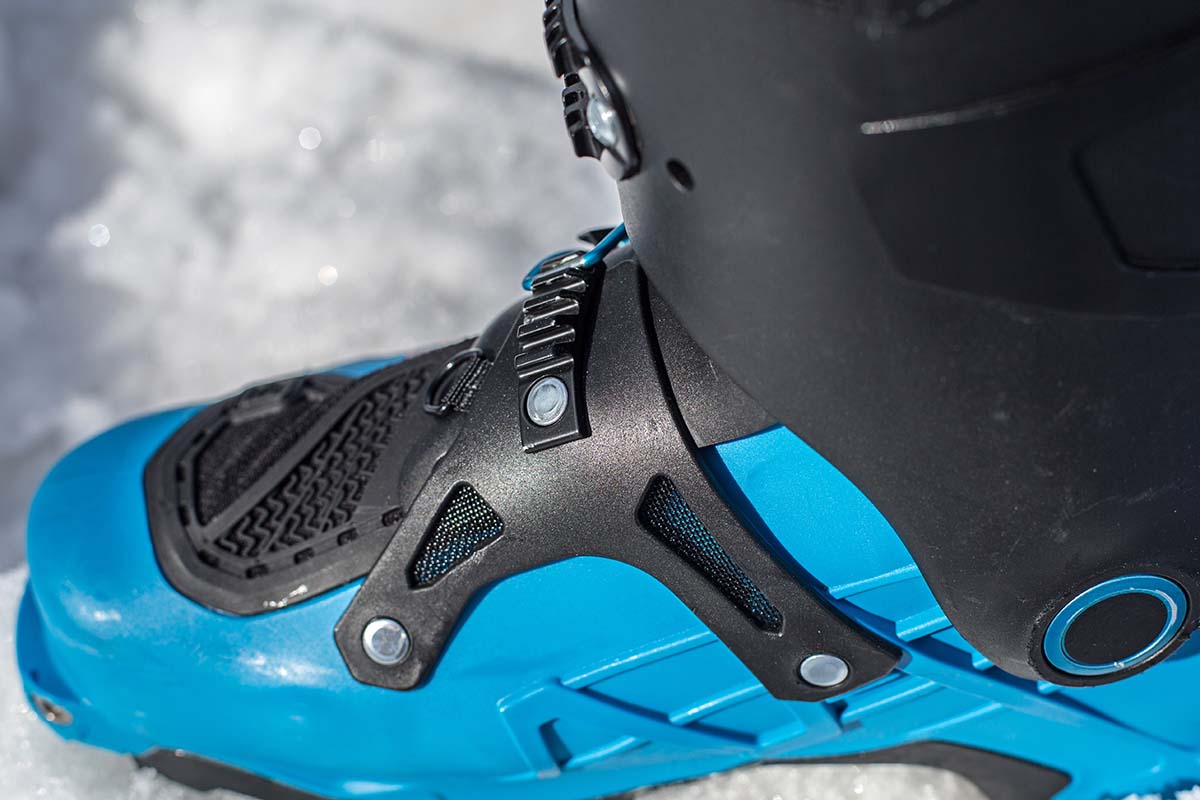 Warmth
After previously suffering cold damage to my feet in non-Intuition liners, I'm wary to try any boots without them. While I was skeptical about the heat-trapping ability of the Sensifit design and Custom Fit 3D liner, they quickly proved me wrong. Numerous days in knee-deep powder, temperatures hovering around 15 degrees Fahrenheit, and long après-ski sessions in a camp chair hiding from blistering winds expelled all of my fears. All in all, the dense liner was very impressive in holding in warmth and kept my feet toasty and dry (more about this in the "Liner" section below). 

Key Features
Closure System
The Salomon S/Lab MTN is equipped with two robust buckles and a 50-millimeter locking power strap. Although the feeding end of the power strap is a bit narrow and short (read: difficult to manipulate with gloves on), the locking end is extremely user-friendly. Unlike a typical Velcro strap, this system is easy to tighten and doesn't wear as quickly because of the locking mechanism. It also makes transitioning from ski to walk mode (and vice versa) much easier: you can release or engage the power strap and cuff buckle in pretty much one motion. Also, both the cuff and forefoot buckles are micro-adjustable, meaning the tightness can be dialed in in tiny increments. Combined, they do a remarkable job of cinching the boot down when in ski mode.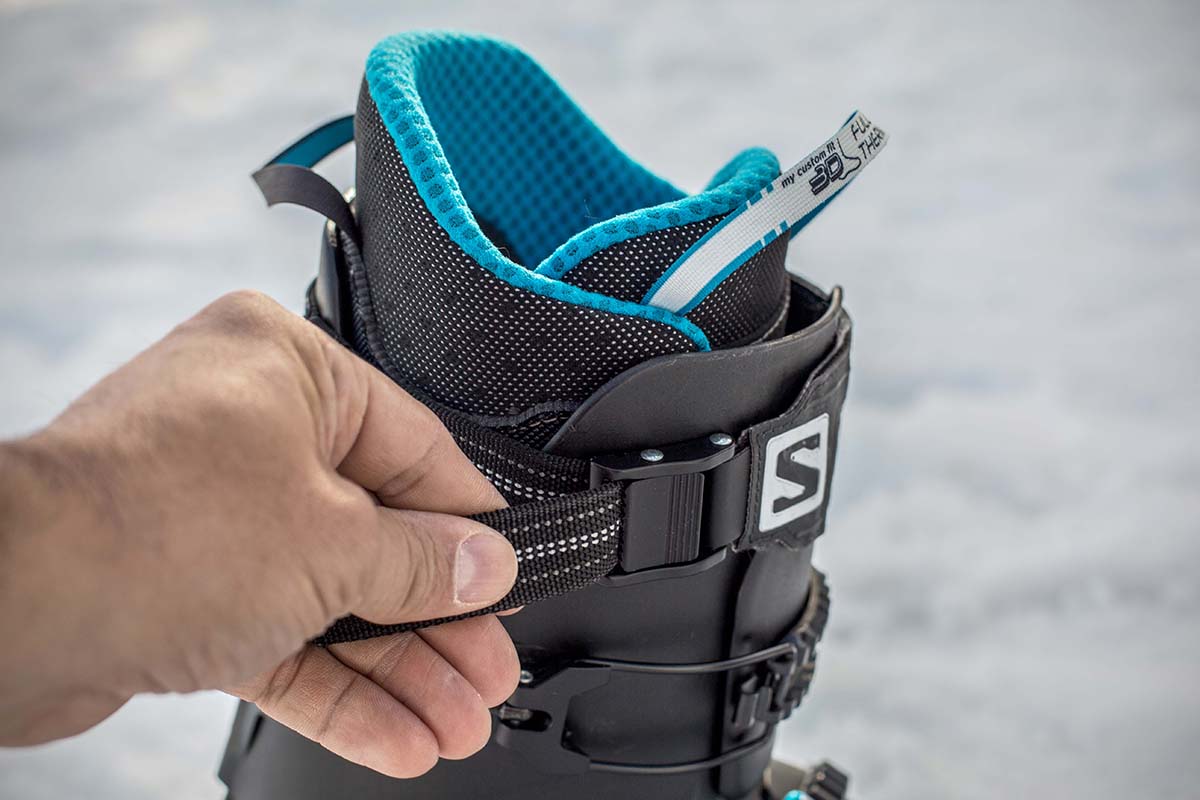 Ski/Walk Lever
Hands down, Salomon's Surelock ski/walk mechanism is one of the easiest to use on the market. The switch for transitioning from ski to walk mode can be flipped laterally (even with gloves on) to change modes—it's a simple back-and-forth toggle. Unlike many other levers I've toyed with (like that on the Scarpa Maestrale RS), the S/Lab's tab isn't prone to filling with snow and can be transitioned without pulling the bottom of my pants above to expose it, making it significantly easier in practice. And when the tab is locked into ski mode (it's a noticeable transition), there's little to no play in the cuff.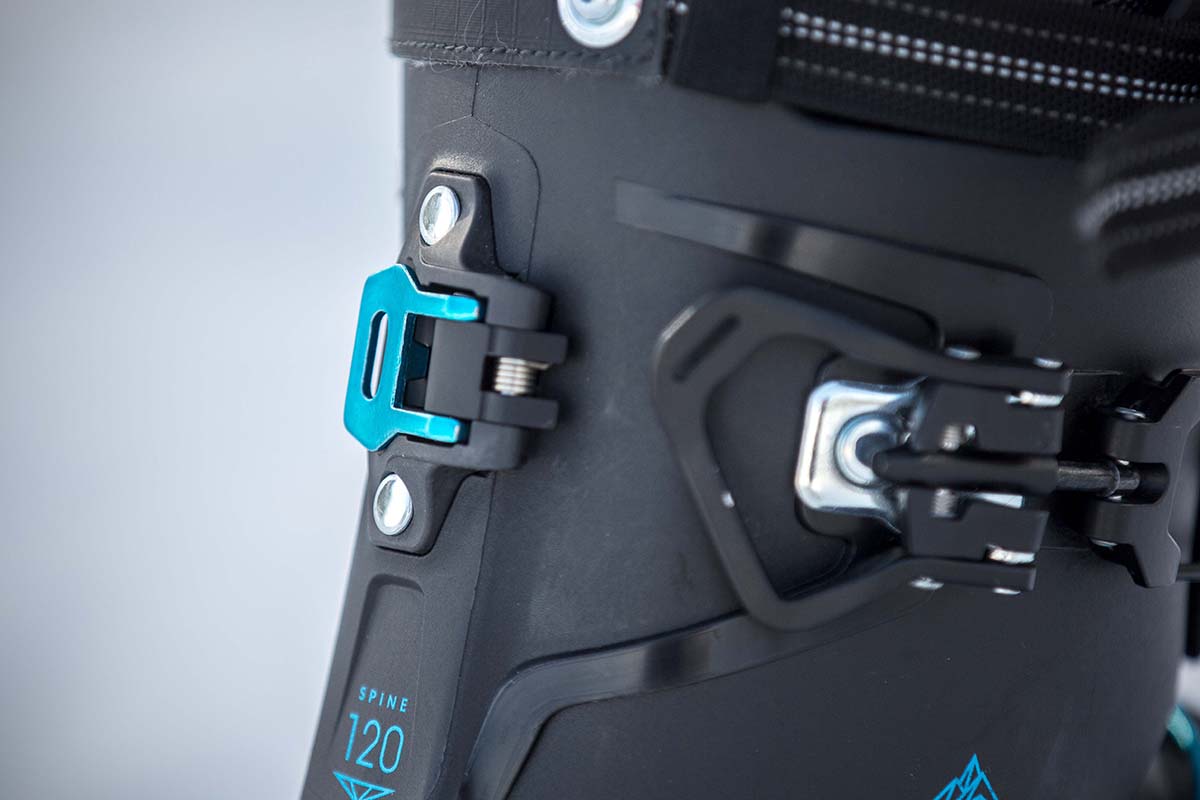 Liner
Right out of the box, the S/Lab's Custom Fit 3D Freeride Full liner conformed to my feet quite well (it also comes with a lacing system for a more customizable fit). And although the liner is thermoformable, I didn't find it necessary to get them heat-molded. That said, I've been skiing Intuition liners for years and found the Salomon liner to have a slightly less comfortable and firmer feel along with an abrasive texture. The tongue is noticeably thicker and more rigid, which I suspect contributes to the boot's discomfort when flexing forward. However, I've had no rubbing or chafing issues to date, and the denseness may actually contribute to its solid durability and resistance.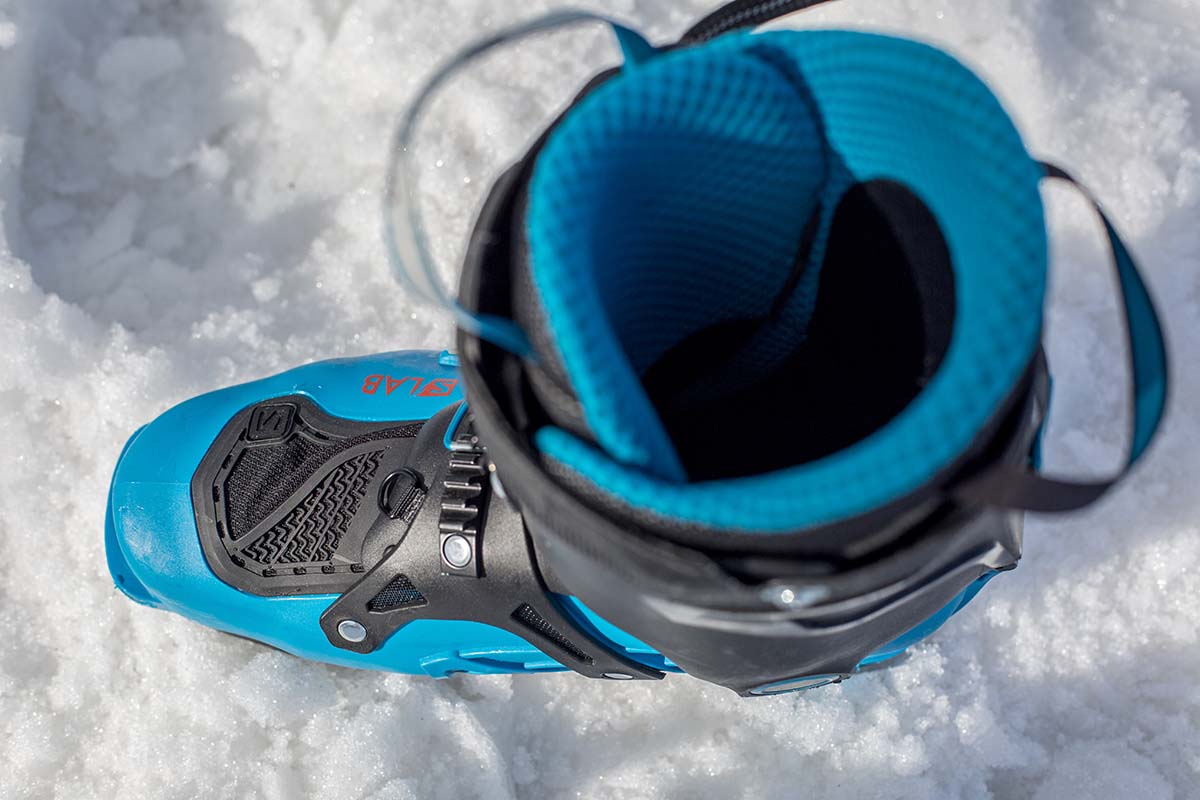 Build Quality and Durability
Like other high-end backcountry ski boots on the market, the S/Lab MTN doesn't cut any corners build-wise. Its Grilamid Plus shell, Pebax cuff, and Contagrip soles all held up to my extensive testing with ease. But it's the attention to detail that sets the S/Lab apart. For example, the 24-millimeter oversized pivot that connects the cuff and lower shell and metal-on-metal Surelock ski/walk lever are extremely practical features. The former allows the boot to assert more control over the wider base of modern skis, while the latter makes transitioning between modes super smooth.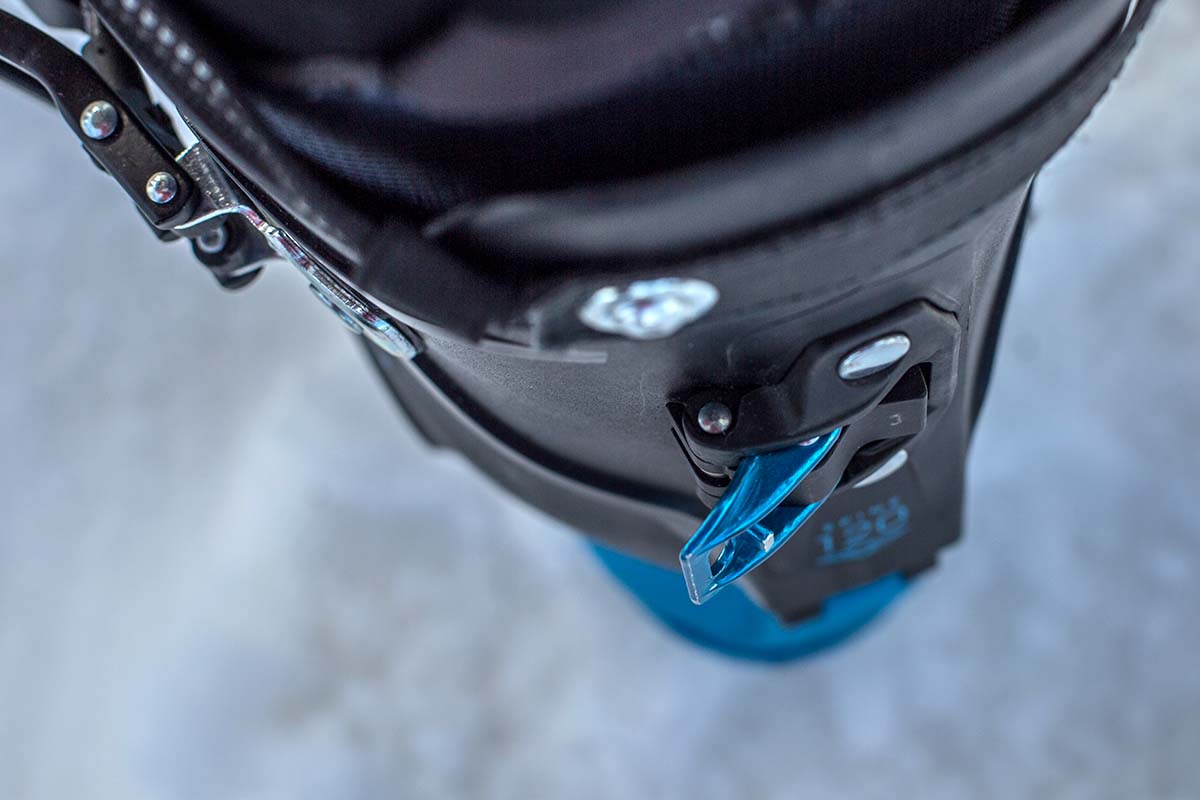 All in all, I've been pleasantly surprised at how the S/Lab has held up—I have no durability complaints other than general wear and tear. That said, I am moderately concerned about the lower tongue material, which feels more like a standard fabric than a robust shell. I wouldn't be surprised if ski edges, poles, or other sharp equipment eventually penetrates this material, but only time will tell and it hasn't happened yet.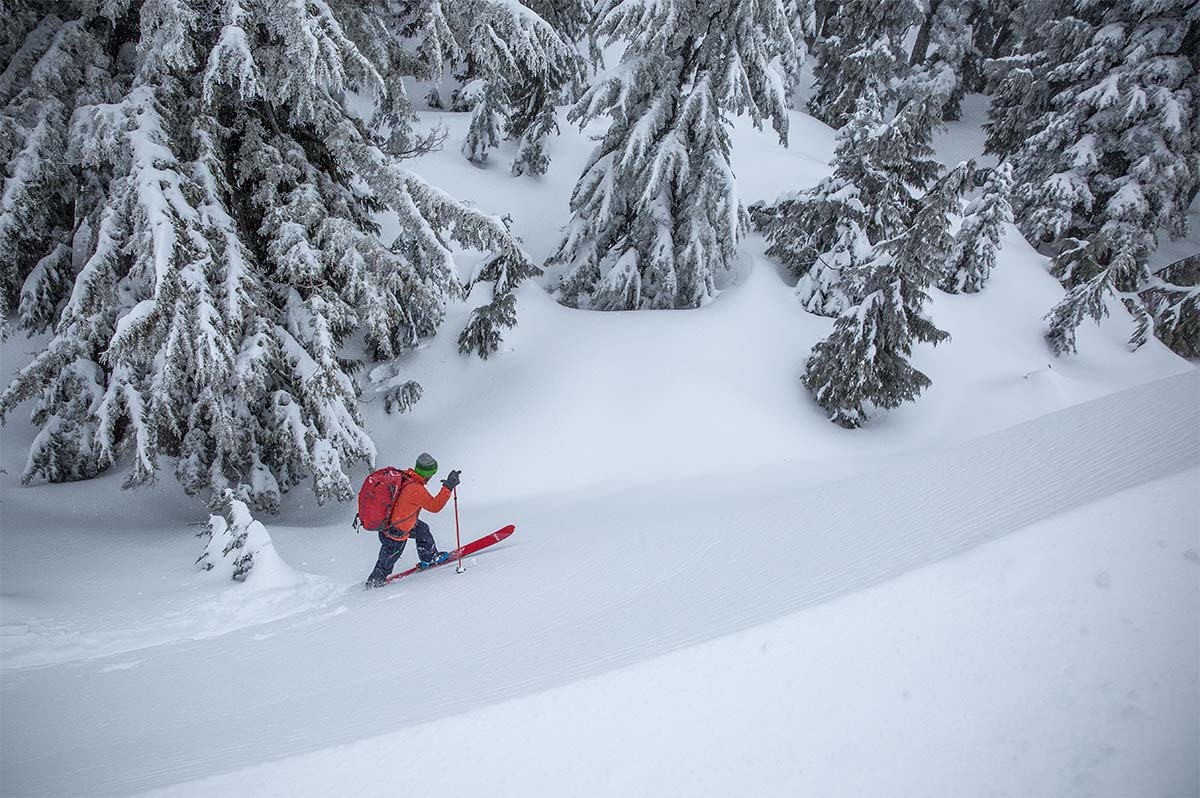 Fit and Sizing
I've had just about all of my boots punched to create extra width and the S/Lab was no exception. I generally wear a size 28, but with its narrow, low-volume 98-millimeter last, I chose a 28.5 liner for the MNT (the Salomon shell comes in a 28/28.5 with a 321-millimeter BSL—the longest I've ever owned). The liner fits quite well and I've had no heel slip or other annoyances like chafing or blistering. But as with all boots, I recommend trying the S/Lab on in-store before buying to ensure a good fit.
Once punched (a lot), there were still a few minor and tolerable pressure points. I have yet to have the liners molded, but I think most of the discomfort stems from the lack of forward flex and rigidity of the liner's tongue. That said, it might help to get the boot heat-molded or swap out for an ultra-comfortable Intuition liner.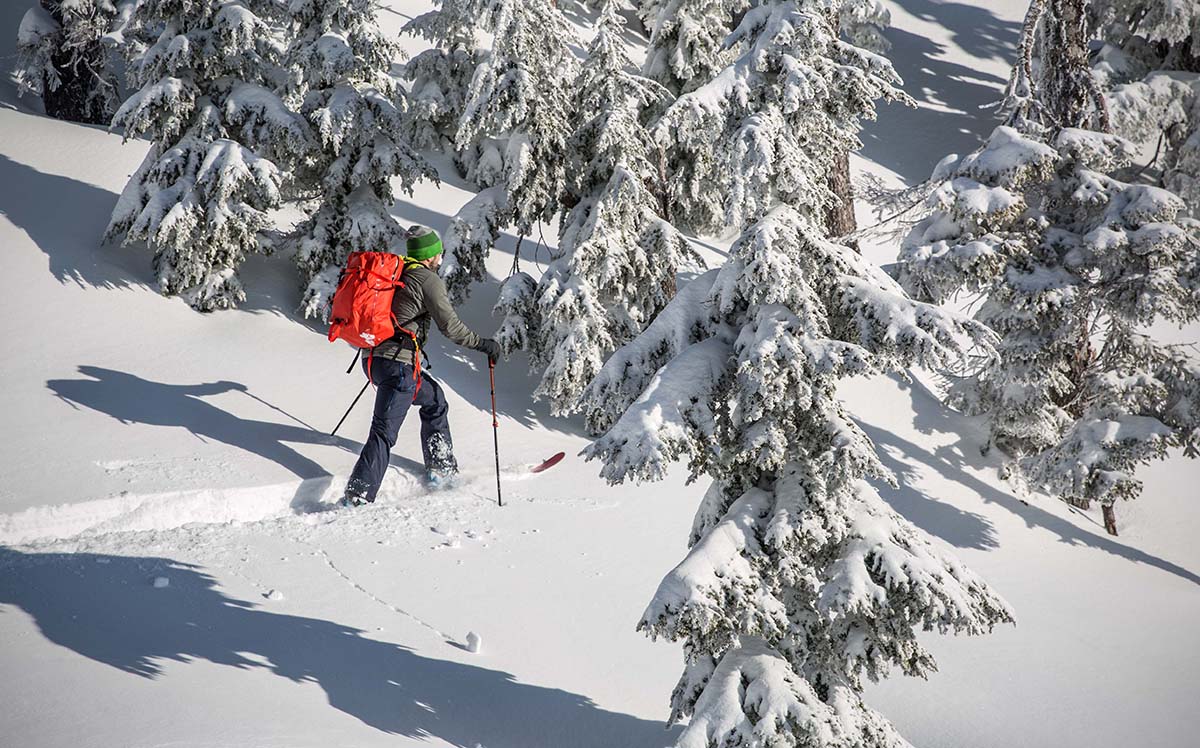 2018-2019 Updates and Other Versions
For this review, I tested the 2017-2018 model of the S/Lab. For the 2018-2019 season, Salomon tweaked the shell design and the new Custom Shell HD can now be heat molded by a ski shop in about 10 minutes. This is a welcome update for those that might otherwise struggle to get a good fit with the narrow 98-millimeter last. Salomon also changed the colorway of the S/Lab MTN, opting for a completely black shell with only a bit of blue detailing.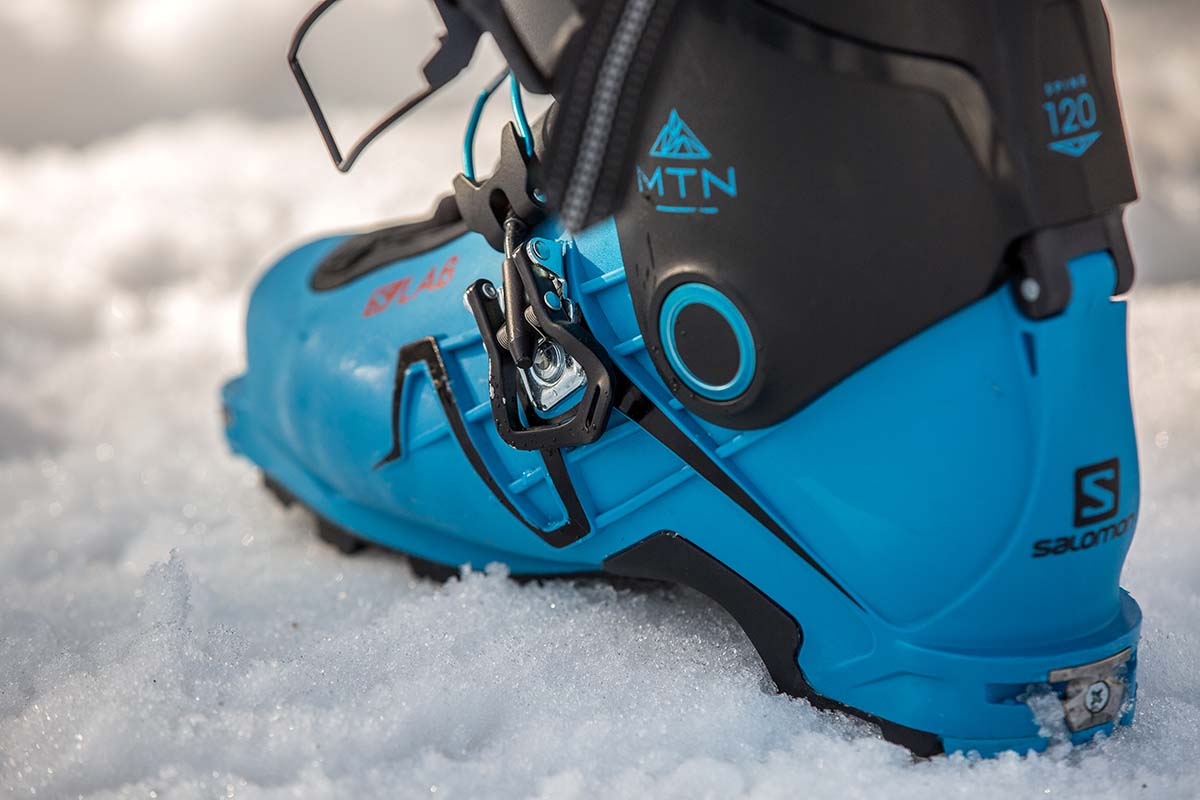 What We Like
The S/Lab MTN is stiff and powerful, giving most AT boots a run for their money on the descent.
The ski/walk lever is very well-designed: it's simple, small, and incredibly user-friendly.
The included liner is surprisingly warm and comfortable.

What We Don't
The boot is noticeably stiff and limited on the uphill. I found the forward flex to stop abruptly in walk mode, causing poor performance and discomfort on the skin track and while bootpacking.
These boots feel a bit clunky when compared to the lighter competition.
Narrow fit isn't for everyone (those with wider feet should get the boots punched).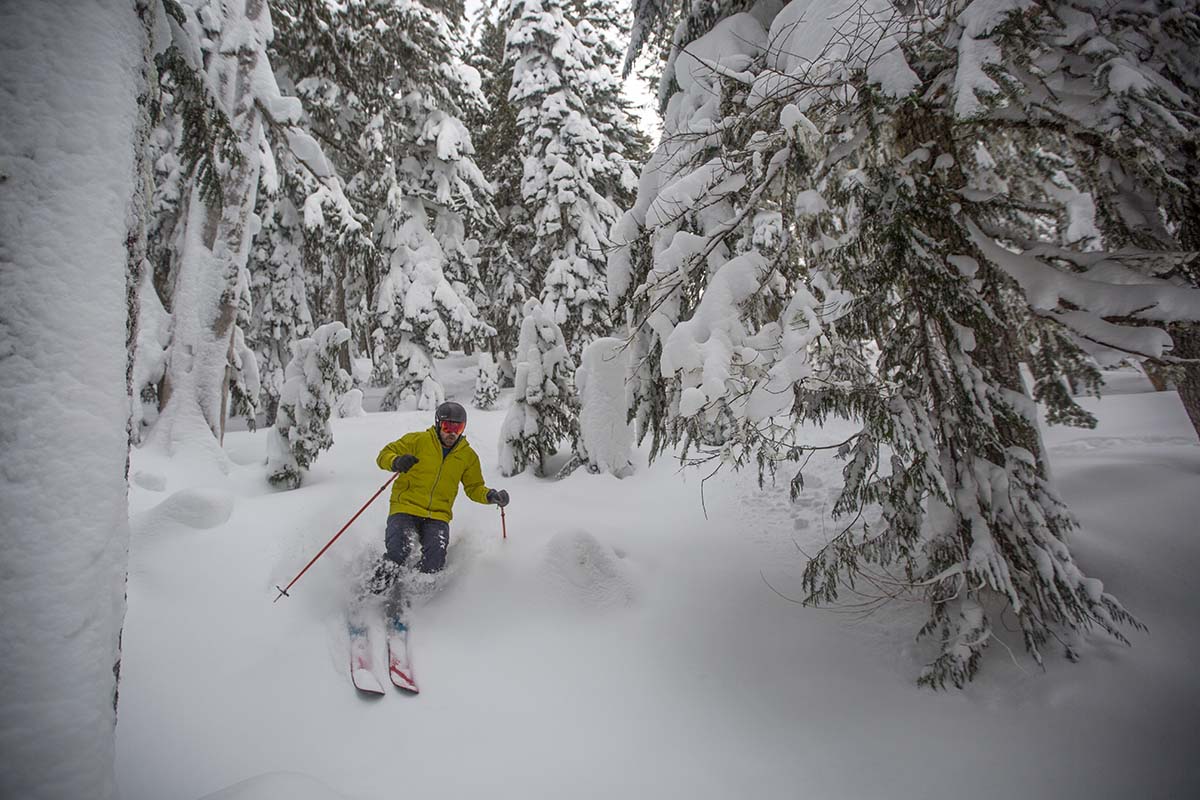 Comparison Table

The Competition
The Salomon S/Lab MTN aims to balance uphill and downhill performance, which puts it head-to-head with one of our all-time favorite boots: Scarpa's Maestrale RS. In pitting the two against one another, we can't say the Salomon put up a great fight. To be fair, the S/Lab MTN is a capable driver on downhills, offering stiffness that is reminiscent of an alpine design. But it simply can't compete in walk mode. The Maestrale is much smoother on the skin track and doesn't have the range of motion limitations of the S/Lab. Further, the Scarpa has the clear advantage in weight, saving you about 14 ounces for the pair. Those who want a powerful boot should keep the S/Lab MTN on their radar, but we think the Maestrale RS is the much better all-rounder.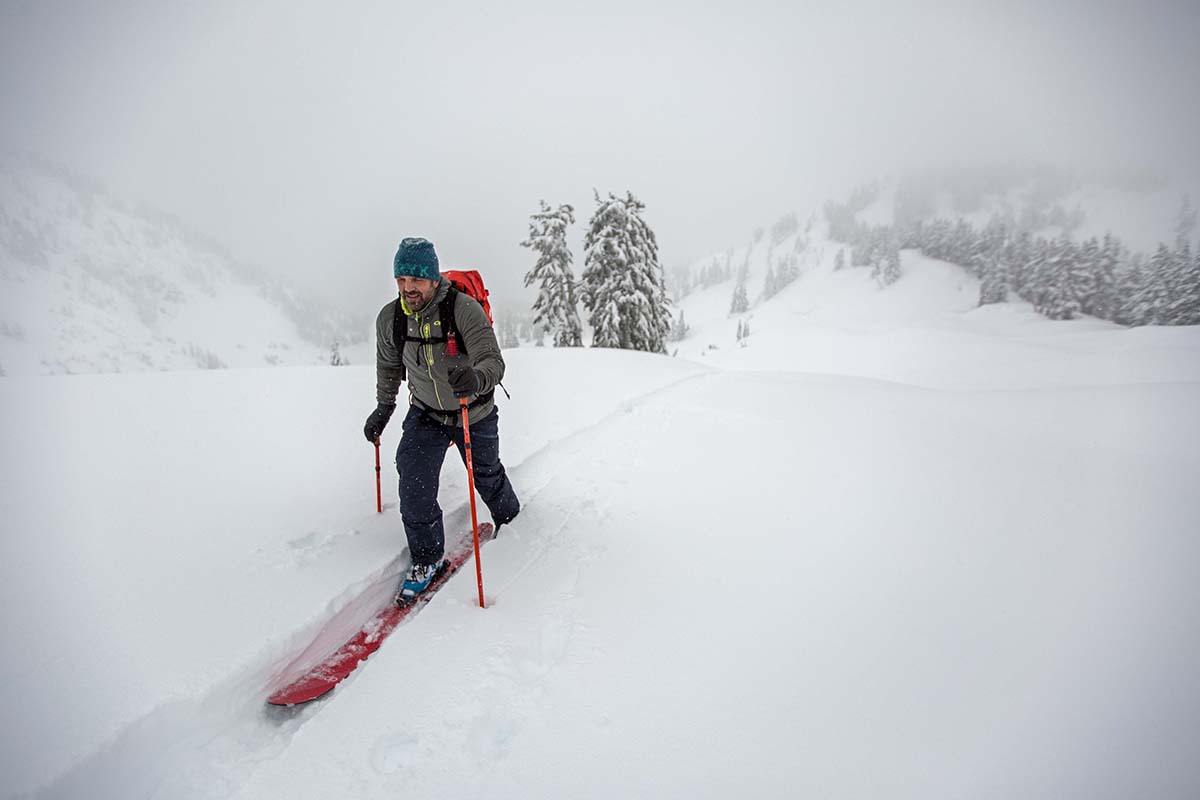 One of the biggest boot releases last season was Atomic's Hawx Ultra XTD. As with the Salomon, the Hawx retains a downhill-centric feel while trimming away weight and putting a strong emphasis on uphill comfort. In terms of flex, the top-end Hawx is listed at 130, but strong skiers likely won't be able to tell much of a difference compared to the 120-flex Salomon. But similar to the Maestrale above, the Atomic gets the edge in climb-ability. In this case, the Hawx wins out in total mobility (54 degrees vs. 47 degrees) and it doesn't suffer from the harsh impacts we experienced with the Salomon when leaning into the hill. Neither boot can compete with the Maestrale above in comfort on the skin track, but among hybrid backcountry/resort designs, we give the nod to the Atomic Hawx. 
A final boot to consider is Salomon's own MTN Explore. At first glance, the two MTN designs have a lot in common: the buckle layout with a top power strap, ski/walk lever, and new-for-2018-2019 heat-moldable shell are nearly identical. But digging deeper reveals notable differences. Starting with weight, the Explore undercuts the S/Lab by about 8 ounces for the pair, and its cuff has a lot more freedom of movement at 63 degrees vs. 47. But the S/Lab is much stiffer on the descents with a 120-flex rating compared with the Explore's 100. In the end, lighter skiers or those who like a more flexible feel will be better off with the $100 cheaper Explore, but the S/Lab MTN is the better option from Salomon for strong downhillers.
If you're thinking about buying gear that we've reviewed on Switchback Travel, you can help support us in the process. Just click on any of the seller links above, and if you make a purchase, we receive a small percentage of the transaction. The cost of the product is the same to you but this helps us continue to test and write about outdoor gear. Thanks and we appreciate your support!
Depending on the seller, most products ship free in the United States on orders of $50 or more. International shipping availability and rates vary by seller. The pricing information on this page is updated hourly but we are not responsible for inaccuracies.
Read More From Switchback Travel