Arc'teryx rarely misses the mark with quality, performance-oriented gear, and the Firebee AR is no exception. This winter parka is the whole package: it's loaded with premium down, and offers excellent weather resistance and impressive packability. From summit attempts to multi-day traverses and many long days of touring in between, it now comes on almost all of my cold-weather adventures. Below I break down the Firebee AR's warmth, weather protection, weight and packability, fit and comfort, and more. To see how it stacks up against the competition, see our articles on the best winter jackets and best down jackets. 
 
Performance
Warmth
The Arc'teryx Firebee AR Parka is impressively warm, in large part due to its 7.9 ounces of 850-fill down. In fact, it's the warmest women's-specific jacket that Arc'teryx makes (the Ceres SV has 8.5 ounces of 850-fill power down, but it isn't currently offered in a women's version). The construction certainly helps too: you get a 30-denier Gore Thermium shell for water and wind resistance (more on that below), no baffles, and minimal stitching found only along the parka's edges (the hem, zippers, cuffs, and hood). On the inside, lightweight Arato nylon encases the down, making it independent of the outer shell (essentially, it's a jacket within a jacket). All told, the Firebee AR is in a class of its own, sitting somewhere between a winter belay jacket and an expedition parka. I've long searched for a burly down layer to bring on any big winter adventure, and the Firebee hits the mark. When tightened up, I feel like I'm cozied up inside a lofty sleeping bag.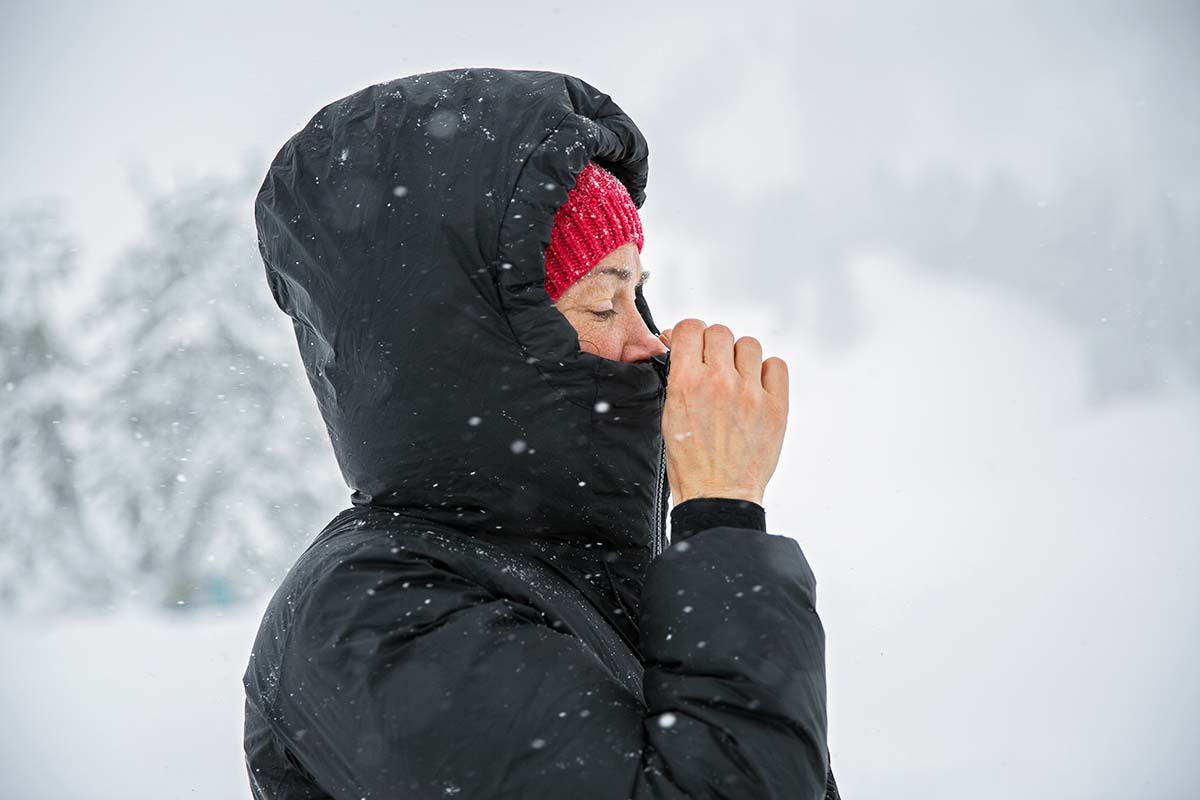 Weather Protection 
By design, down jackets are not meant to guard against heavy rain or snow, but the Firebee AR manages to provide solid protection in this regard. The windproof and water-resistant Gore Thermium exterior and fully-taped seams make the parka surprisingly adept at fending off harsh weather. I've worn the Firebee in numerous snow storms and spells of freezing rain, and each time the precipitation beaded right off with ease. Plus, the jacket's lack of seams means that you don't feel those cold gusts of wind coming through. When the hem and hood are cinched, I feel virtually no drafts whatsoever.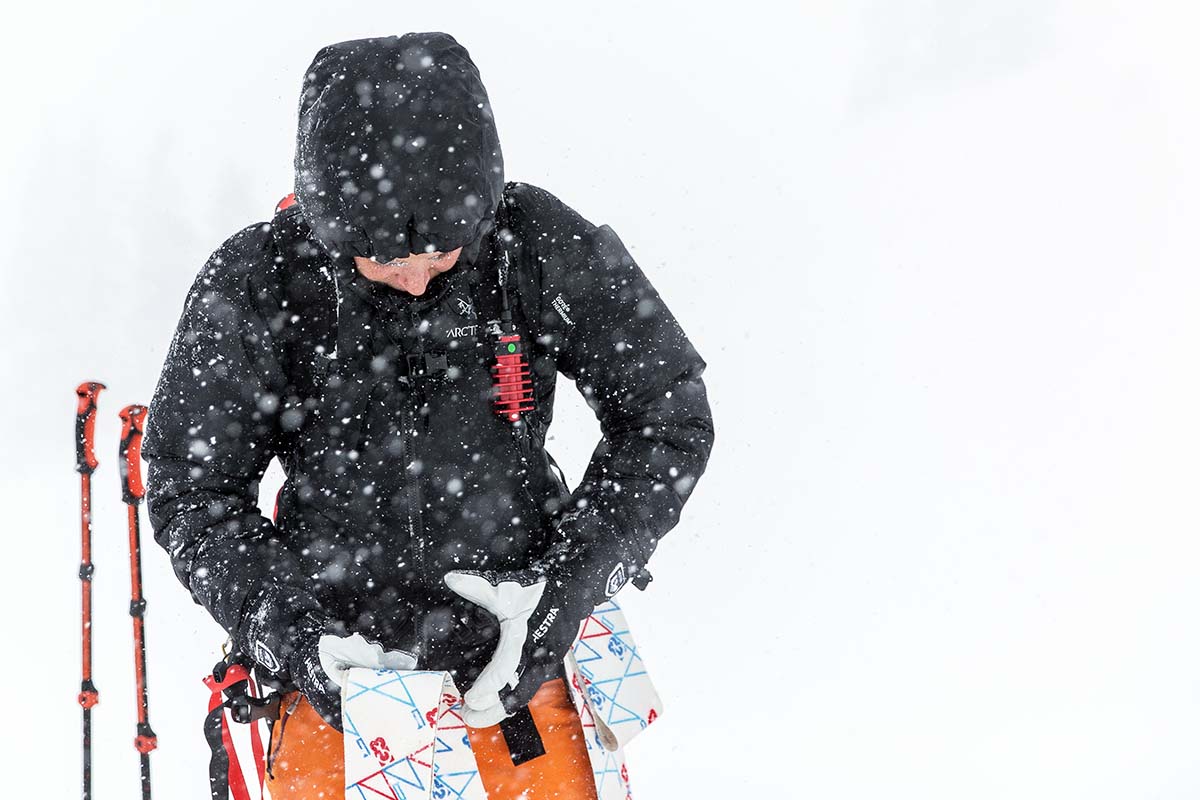 The Arc'teryx Firebee AR's true test came during a gale-force snowstorm on Vancouver Island's Mount Cain. At 3am, the wind violently ripped the canopy structure off our van, leaving me exposed to the elements as I attempted to put the pieces back together. By the time we recovered most of our gear, my face and legs were coated in ice and snow, but my jacket showed no battle scars. The pelting snow didn't wet out the material, the wind didn't penetrate, and my upper half remained warm. I accidentally left the jacket's hand pocket open during the struggle and woke up to find my iPhone drowning in a puddle of melted snow. But surprisingly, no water seeped through into the down itself—the liner was just as water-resistant as the rest of the parka (unfortunately, iPhones are not).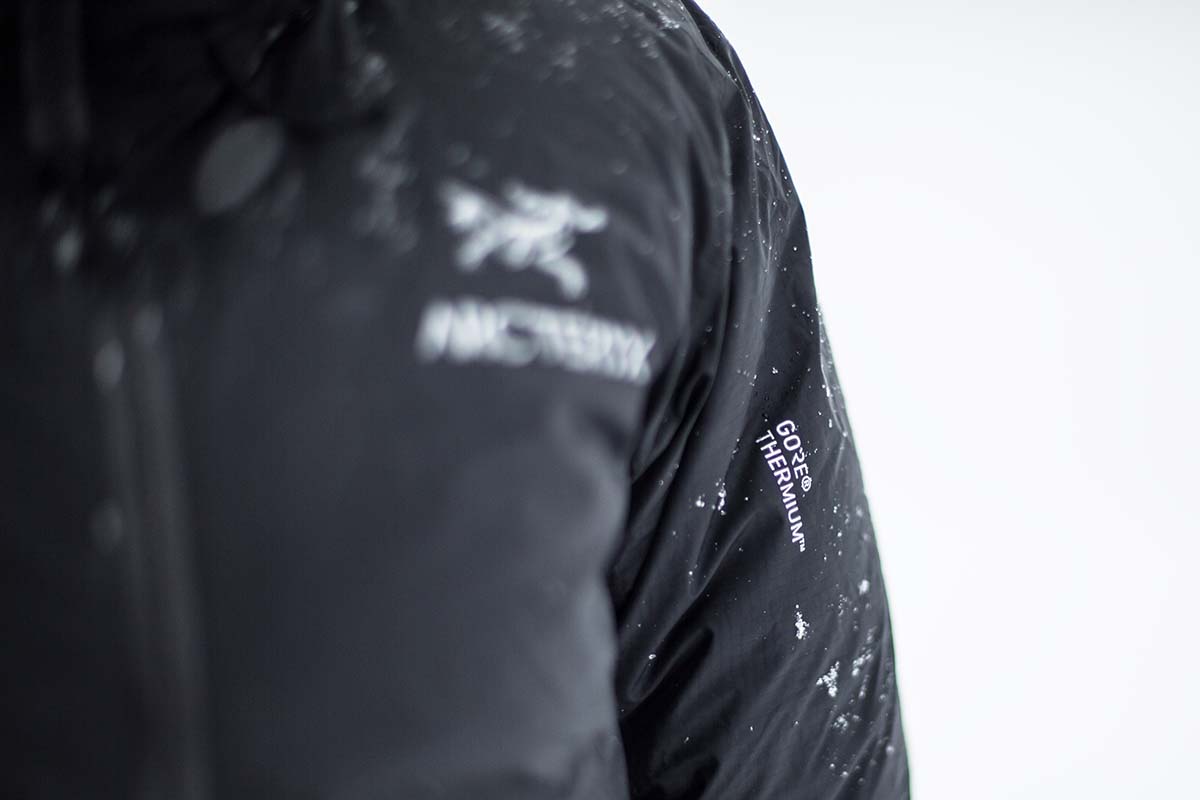 Weight and Packability
At 21.7 ounces and compressing down to the size of a large loaf of bread, the Firebee AR is remarkably lightweight and packable for its warmth. Stacked up against jackets like the Rab Neutrino Pro (18.7 ounces) and Patagonia Fitz Roy Parka (18.9 ounces), the Firebee offers a major bump in warmth and weather protection with minimal bulk. And the combination of a lightweight build and high-end down gives it excellent packability. The Firebee stuffs down roughly to the size of Arc'teryx's Cerium SV and half the size of the Ceres SV. That's no small feat given that the Firebee provides far more warmth than the Cerium (13.9 ounces, with 3.2 ounces of 850-fill down), and comes close to matching the performance of the heavier (men's) Ceres (31 ounces and 8.5 ounces of 850-fill down). It's worth noting that the Ceres does use synthetic insulation in places with Arc'teryx's signature "Down Composite Mapping," which makes it inherently less packable.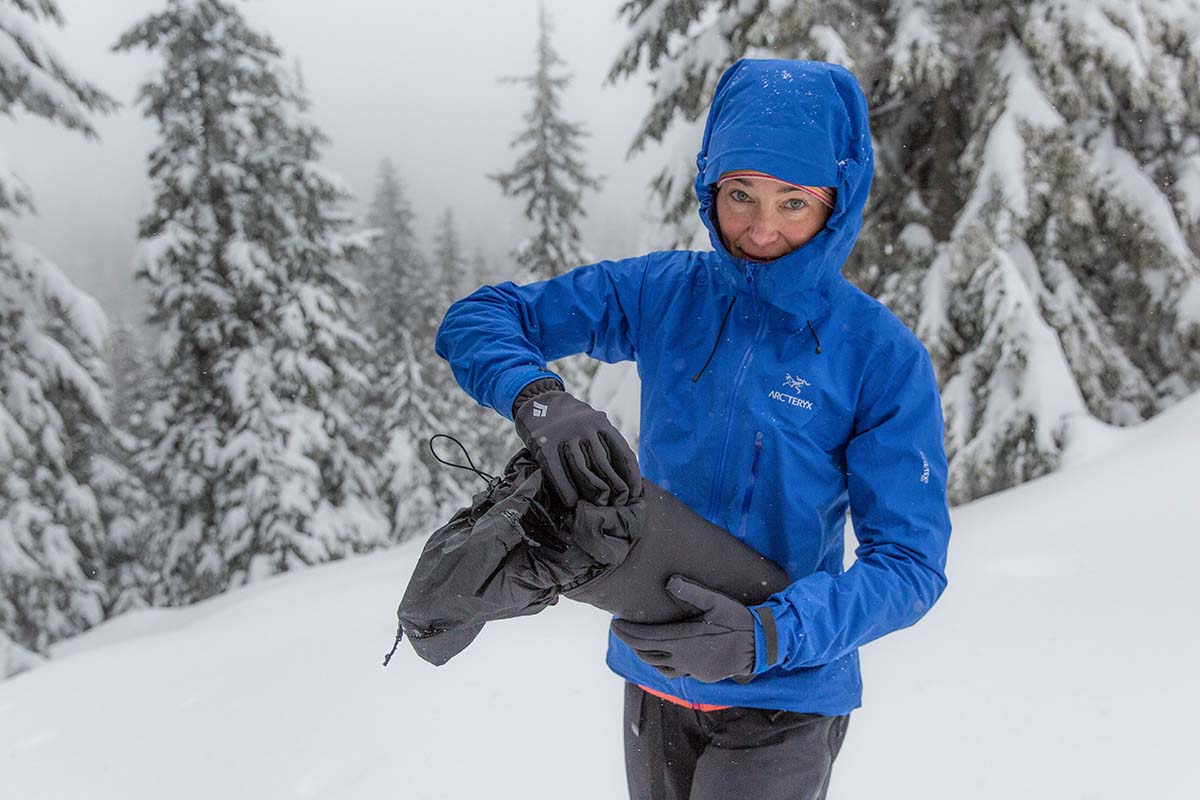 The bottom line is that Firebee AR isn't just a cozy basecamp jacket. Being so lightweight and easy to pack, it can tag along on summit attempts, multi-day traverses, and cold-weather days of ski touring. In fact, I have started bringing the parka on just about every backcountry ski trip, putting it on as soon as we stop for anything more than a quick transition.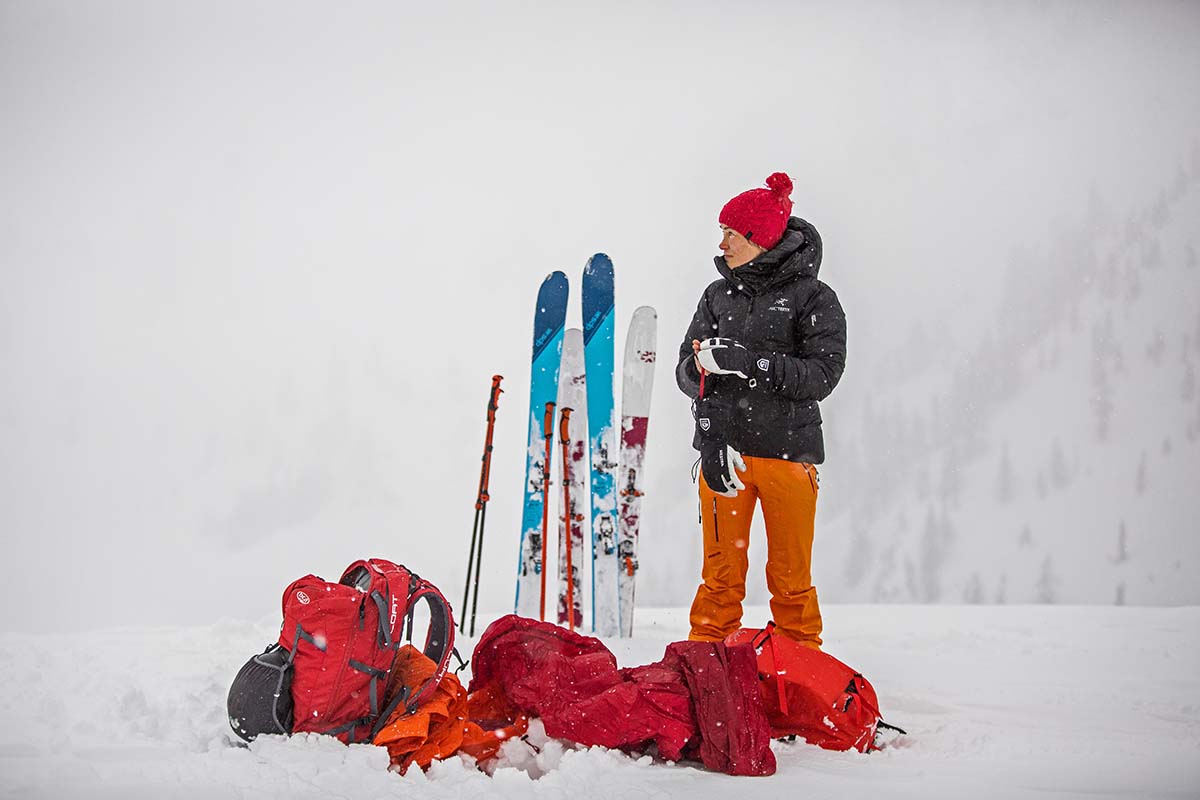 Key Features
Hood
We've always been partial to Arc'teryx hoods: they're large, adjustable, well-fitting, and comfortable. The Firebee AR sports the revered StormHood, which truly is helmet-compatible and provides substantial coverage. With or without a helmet, it cinches down to allow full visibility without compromising protection. The drawcords at the base of the neck and back of the head are simple to adjust (even with mittens on), making it easy to customize the fit of the neck, brim, and opening. And unlike most Arc'teryx jackets with StormHoods, this one is accompanied by a lofty insulated collar that lines the neck to keep drafts out even when you don't have the hood on.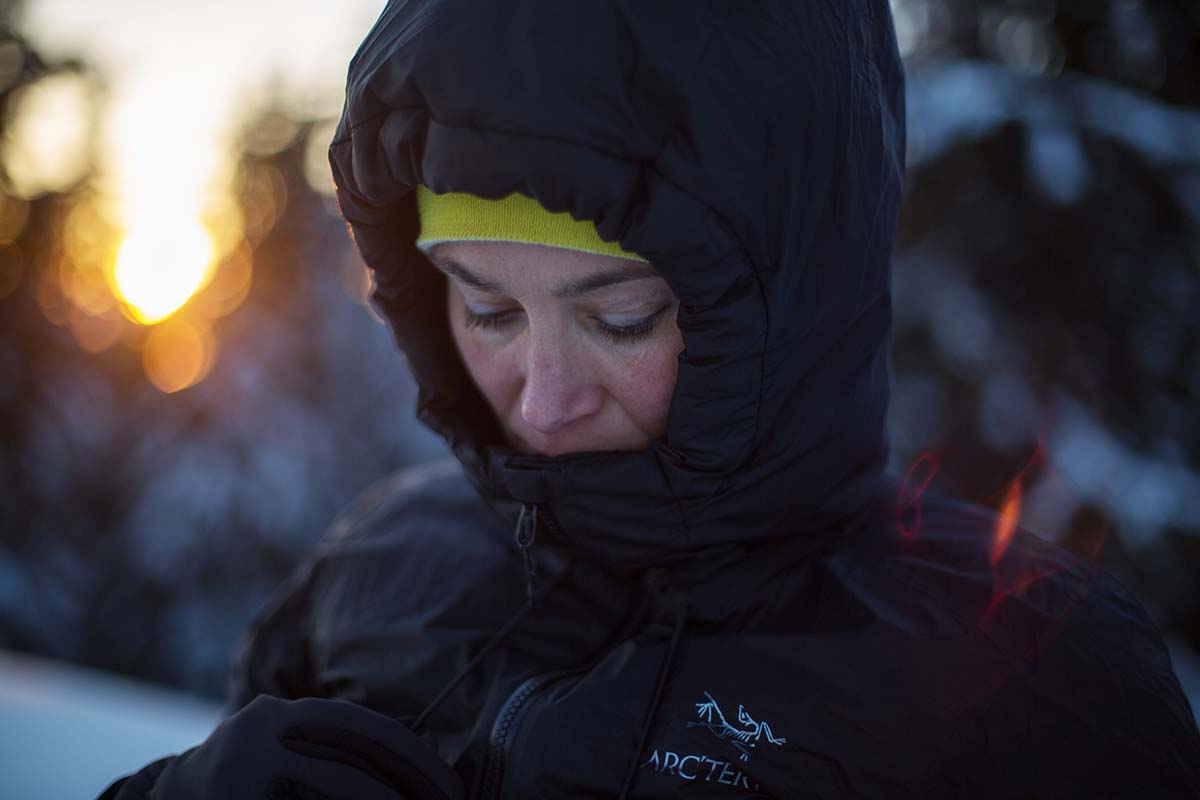 Storage (Pockets)
In terms of storage, the Firebee AR's pockets are all generous in size. I can shove my gloved hands into the zippered hand-warmer pockets without issue, and the inside dump pocket easily fits goggles and a map. Importantly, my hands immediately become warm when I put them into the insulated pockets, and I cannot stress enough how remarkable this is for someone with chronically cold fingers. There's also a zippered internal chest pocket for a phone, keys, and other valuable small items. The ultralight stuff sack is attached (but removable) in the internal pocket, which is a big selling point for those of us who often misplace these.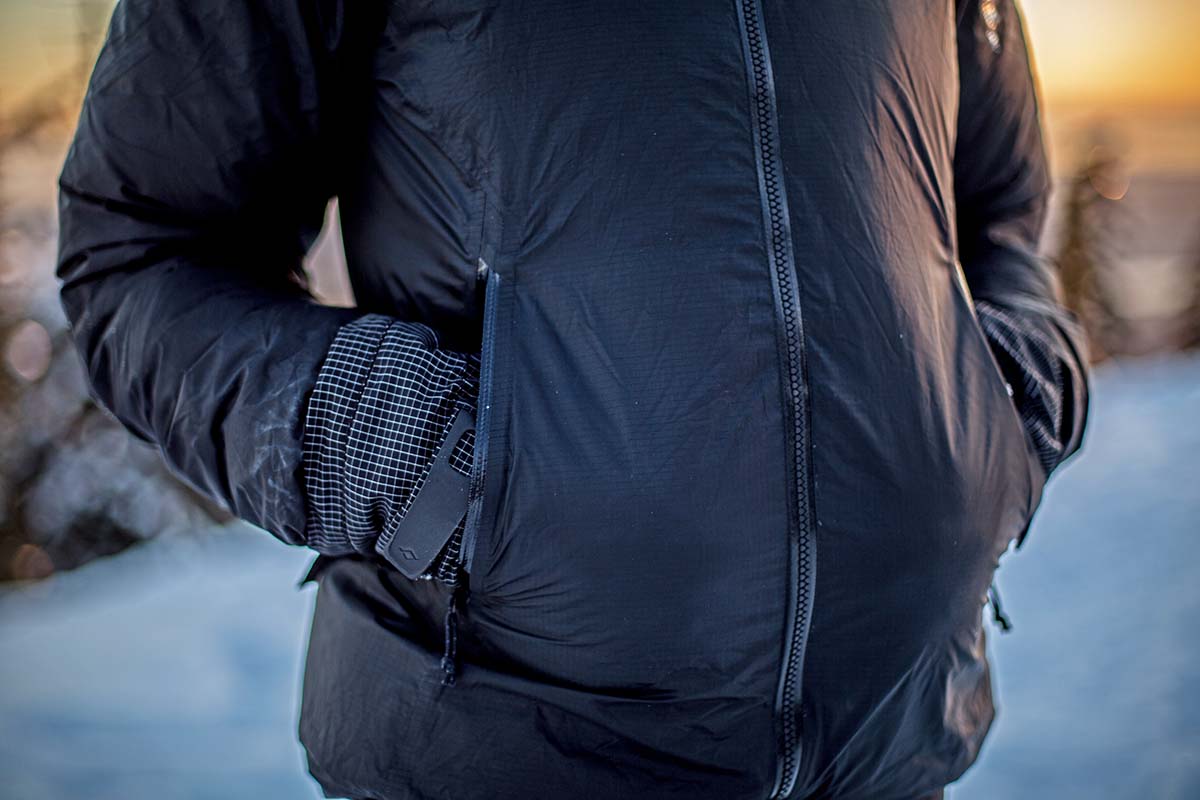 Zippers
The external zippers on the Firebee AR feature Arc'teryx's "WaterTight" design. While the company specifies that they are water resistant rather than waterproof, I find that they effectively kept out just about all precipitation. In addition, the two-way front zipper makes it easy to fiddle with a harness, backpack waist belt, or belay device. It can be finicky at the very bottom when lining up the teeth, but I encountered the same thing with my Alpha FL jacket—it must be something about the angle.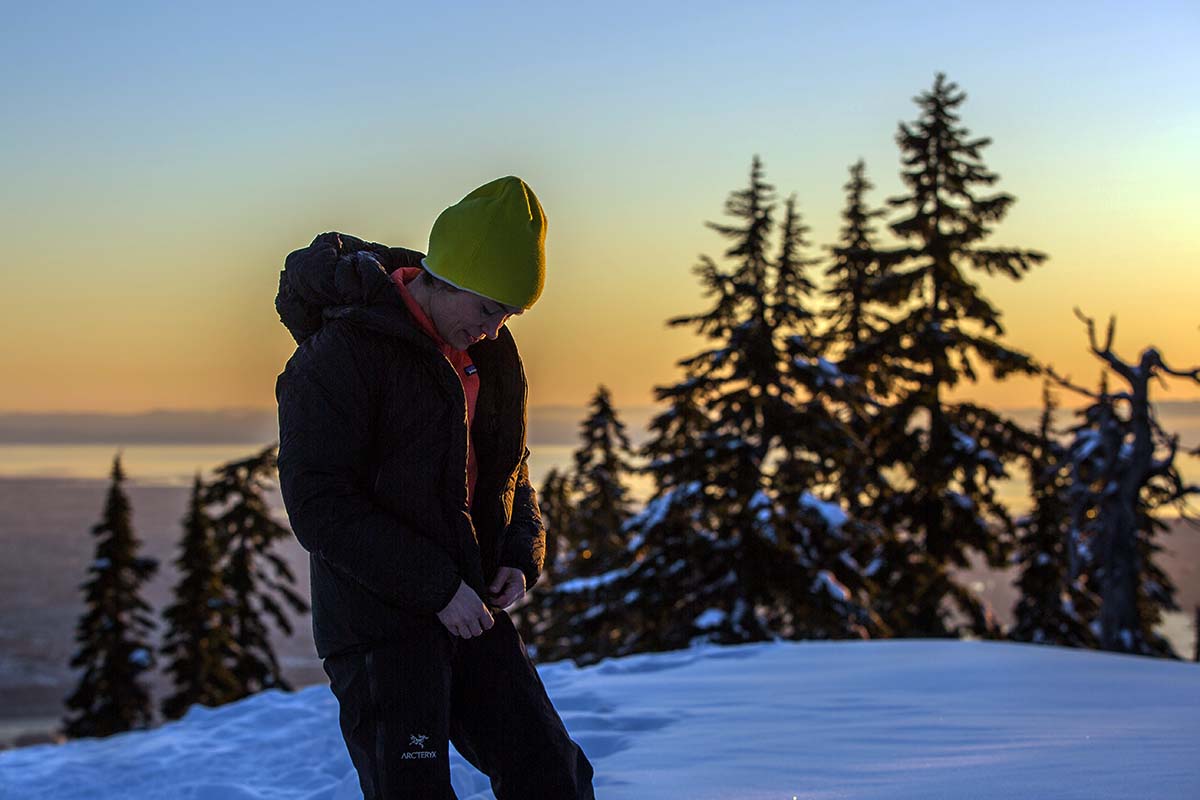 Durability and Build Quality
It feels a bit repetitious to sing Arc'teryx's praises when it comes to materials and design, but the company has it dialed in. The outer 30D ripstop nylon on the Firebee AR is lightweight yet durable, and felt seemingly impervious to snagging and tearing. And since the Firebee is basically two jackets in one with the inner down being fully encased and independent of the shell, I haven't had any issues with the jacket bleeding feathers yet.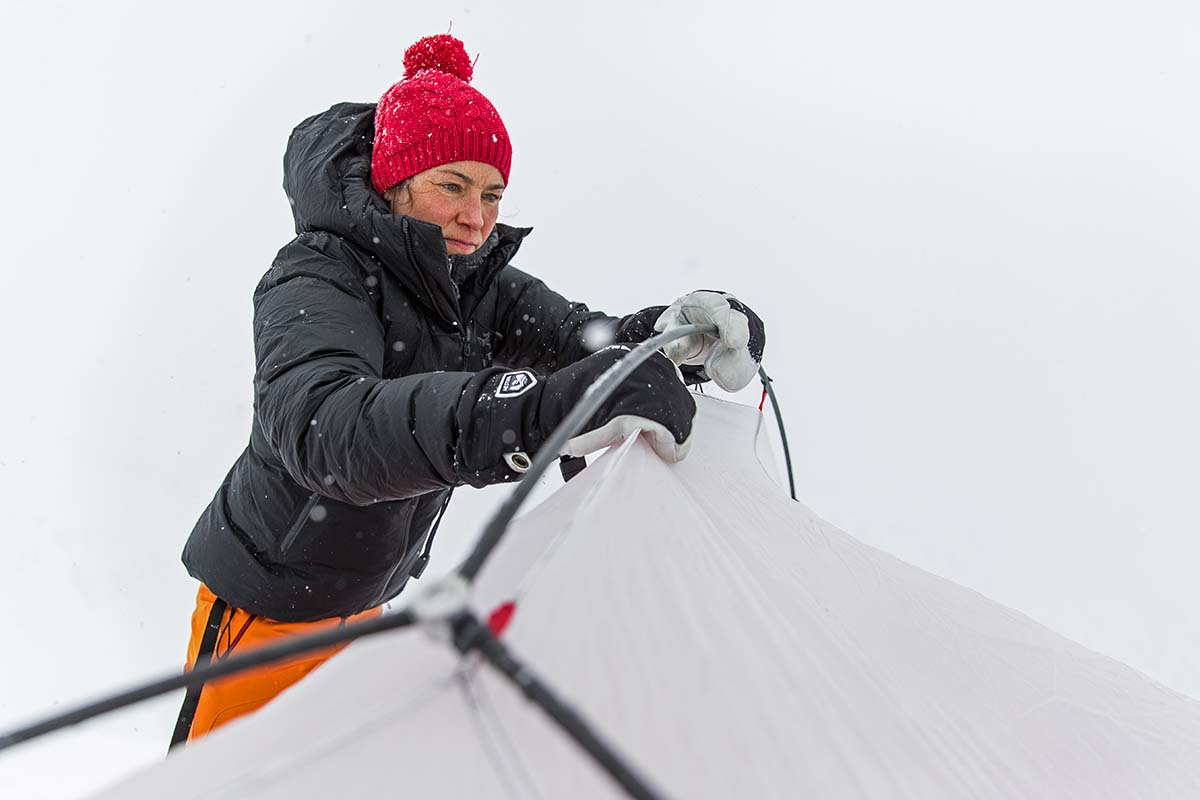 Durability always seems to be an issue with down jackets—we're constantly patching and repairing holes in most of our puffies. That said, I brought the Firebee along on all my cold-weather adventures this past winter, stuffing it in my pack alongside skins, a shovel and probe, and crampons. Along with exposure to howling winds, relentless snow, and freezing rain, it still looks like the day I got it. But this shouldn't come as a total surprise: you often get what you pay for with outdoor gear, and this jacket runs nearly $1,000. It clearly uses superior materials but is more expensive that than almost all other winter jackets on the market.  
 
Fit and Comfort
Arc'teryx describes the fit of the Firebee AR as "trim," and I agree. Depending on layering and fit, I usually wear either a small or extra small in Arc'teryx jackets. Knowing I would throw this parka over all sorts of midlayers and baselayers, I opted for the small. In addition, the internal baffles caused the jacket to conform to my body regardless of what was underneath, and the waist drawcord gave it more of a form-fitting feel. When choosing a size, keep in mind that since the Firebee is designed to be your last layer of defense (no outer shell needed), it doesn't have to feel overly snug. In terms of comfort, I'll just say that I've been tempted to turn off the heat in my house just so I can wear the Firebee indoors too.

What We Like
The Firebee AR offers very impressive warmth and weather protection with minimal weight and bulk. 
The attention to detail is impeccable, from the materials, to mesh venting at the hem and under the arms, to the hood and zippers. 
Much more durable than most down jackets we've tested.

What We Don't
Arc'teryx products never come cheap, and the Firebee AR is among the most expensive winter jackets on the market at nearly $1,000. 
Similar to burly expedition parkas, the jacket is overkill for many mild winter conditions.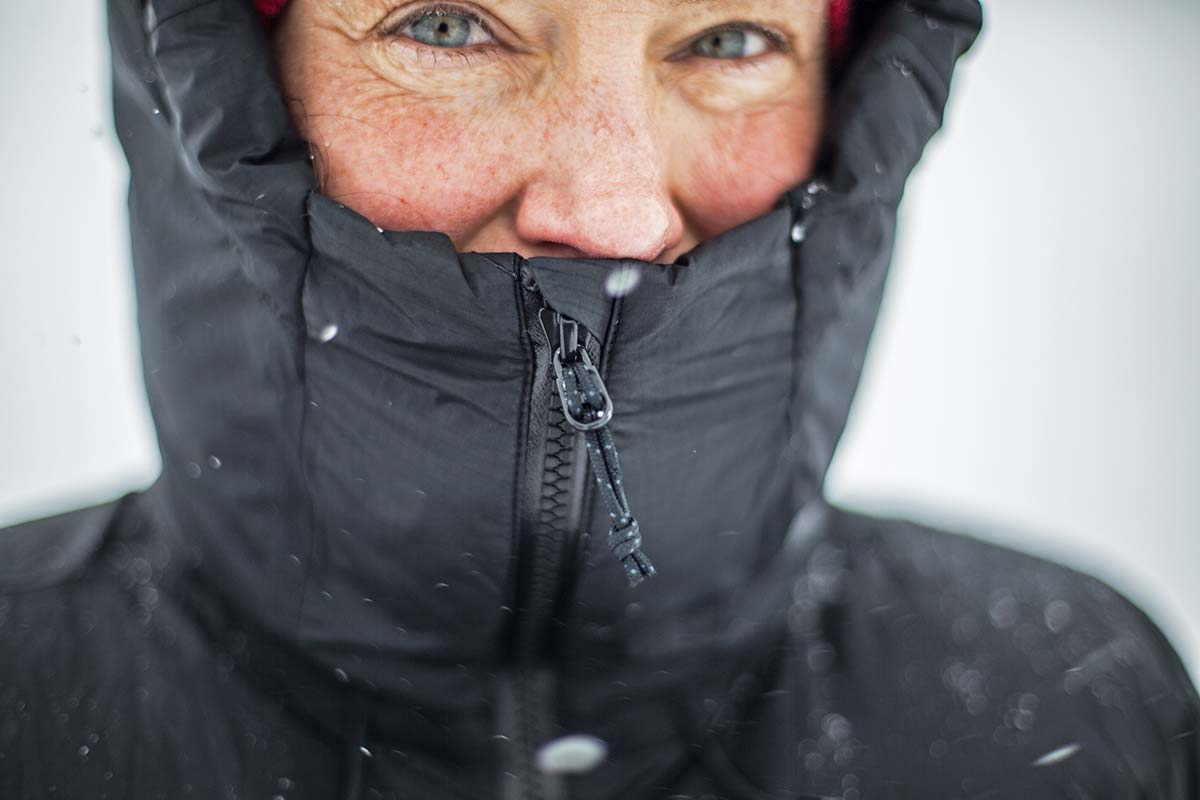 Comparison Table

The Competition
Nobody does serious jackets as well as Arc'teryx, so it's little surprise that one of the Firebee's strongest competitors is the North Vancouver brand's own Ceres SV. The Ceres technically is their warmest winter parka, although it's not currently available in a women's version (it was last year, but there are no signs of a 2018-2019 version yet). With 8.5 ounces of 850-fill power down compared to the Firebee AR's 7.9 ounces, plus some synthetic insulation in areas most prone to getting wet, you do get a small upgrade in warmth. That said, the Ceres weighs almost 10 ounces more and doesn't pack down nearly as small, making it a heavier and much bulkier layer. For serious backcountry use when weight and space are at a premium, the Firebee is as good of a winter parka as you'll find. But the Ceres is $100 cheaper, very warm in its own right, and a fine option for more casual outdoor use and everyday wear in cold-weather climates.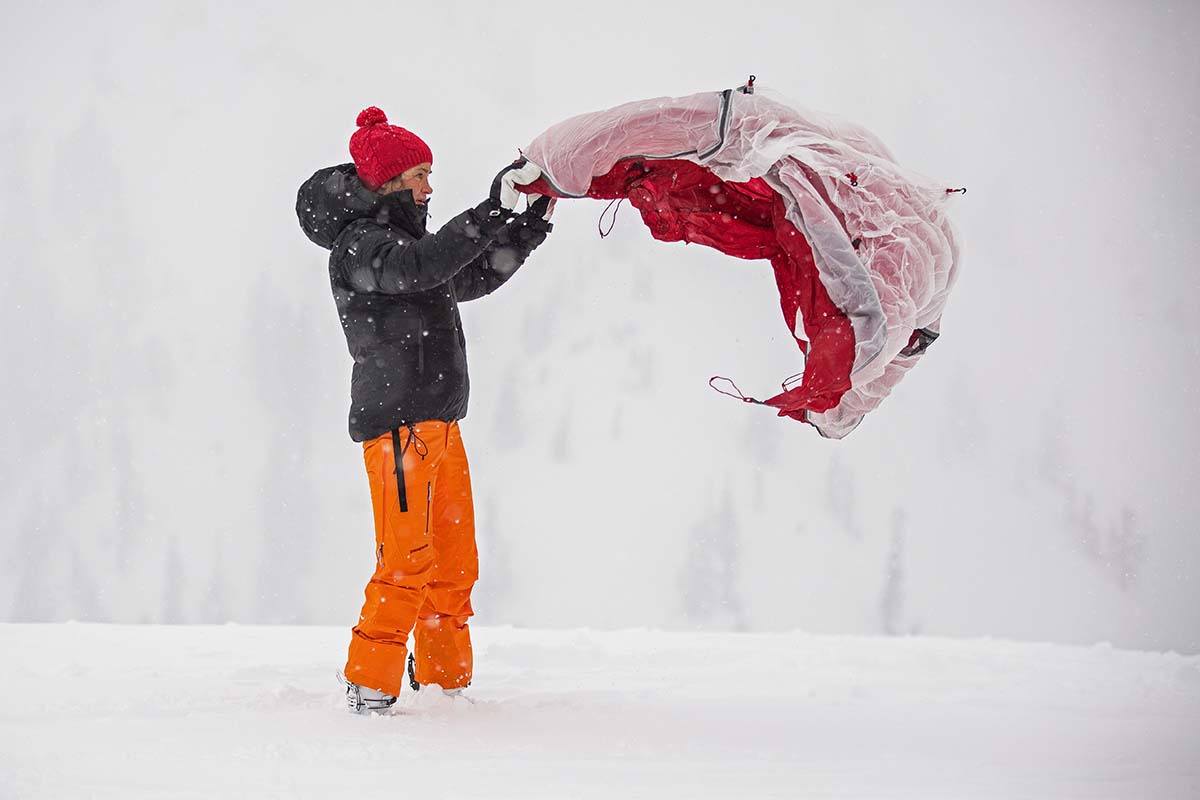 Rab's Neutrino Pro has replaced the popular Neutrino Endurance for winter 2018-2019, and is a high-quality technical piece. Similar to the Firebee, it's warm, weather resistant, durable, and offers impressive packability. And at just $375, we can understand anyone's desire to save here. The women-specific Neutrino's 7 ounces of 800-fill down and Pertex Quantum Pro shell keep you quite warm (although not quite as cozy as the Arc'teryx), but its stitch-through construction doesn't heat you as efficiently and is more prone to letting wind seep through. Rab's build quality also isn't up to the standards of Arc'teryx—few companies can compete—but at just 18.7 ounces and a whopping $574 less the Firebee, the Neutrino Pro makes a lot of sense for winter performance use. And for even more warmth, try the Rab Positron (9.7 ounces of 800-fill down and a total weight of 23 ounces). 
Patagonia's warmest winter option is their Fitz Roy Parka, which weighs 18.9 ounces and has 6.4 ounces of 800-fill down. To be sure, both Patagonia and Arc'teryx win out in styling: you'll look good wearing a parka like the Fitz Roy both on your winter commute and on a remote mountain summit. In terms of alpine prowess, the Firebee is considerably warmer with more down, a higher fill power, a more durable shell fabric (the Patagonia is only 20D), no baffles for better wind resistance, and better wet weather protection overall. Having said that, the Fitz Roy Parka is only $449 (less than half the price of the Firebee), built well, and perfectly suitable for many cold-weather adventures. Whether the extra cost and warmth are worth it is up to you.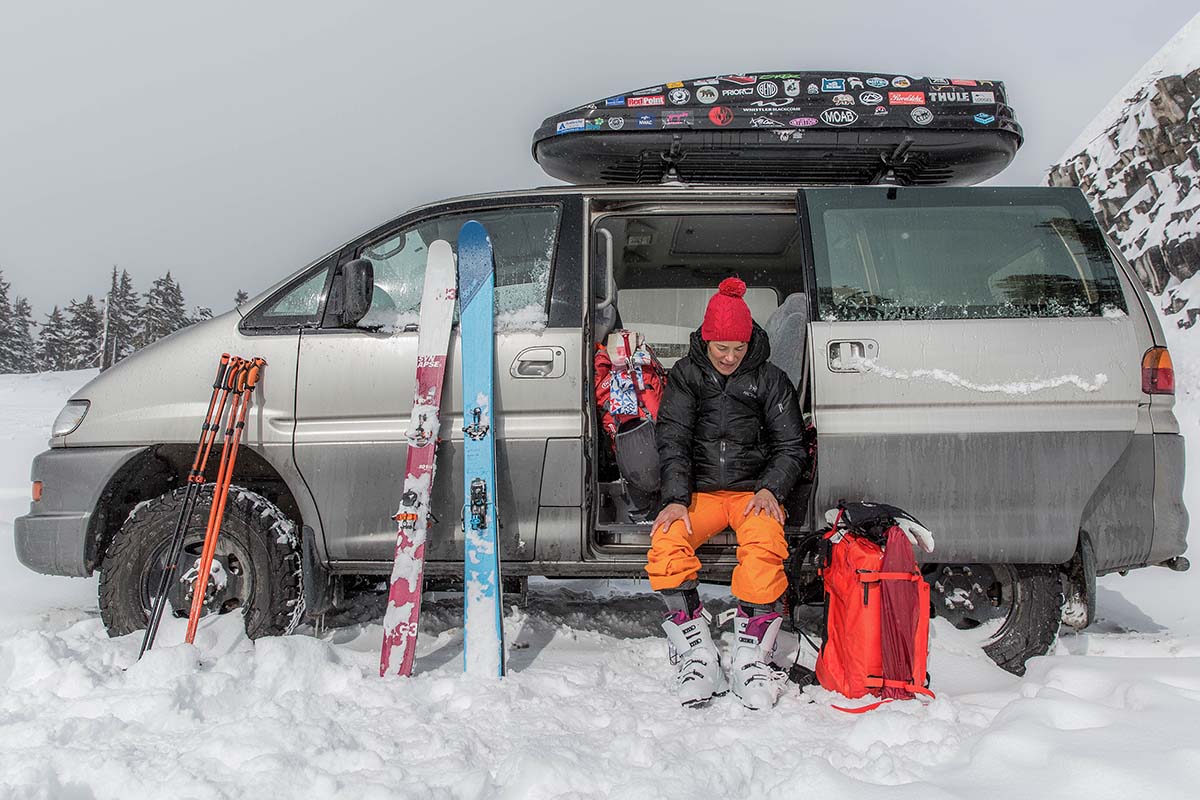 Moving toward the more technical end of the spectrum, Feathered Friends' Khumbu Parka is about as warm as it gets. With 13.3 ounces of 900-fill down and a price tag of $599, it's a clear winner in terms of bang for your buck. However, the mountaineering looks makes the Khumbu a less attractive casual option than the Firebee, and it's too warm for all but the harshest of conditions. In addition, the Khumbu has a fully-waterproof Pertex Shield shell, which can be great for the alpine but does add bulk and weight (the Khumbu weighs just over two pounds depending on the size and only comes in a men's/unisex version that runs down to extra small). At the end of the day, the Khumbu Parka wins on warmth and down fill, but the Firebee AR has a cleaner look and wider appeal. 
If you're thinking about buying gear that we've reviewed on Switchback Travel, you can help support us in the process. Just click on any of the seller links above, and if you make a purchase, we receive a small percentage of the transaction. The cost of the product is the same to you but this helps us continue to test and write about outdoor gear. Thanks and we appreciate your support!
Depending on the seller, most products ship free in the United States on orders of $50 or more. International shipping availability and rates vary by seller. The pricing information on this page is updated hourly but we are not responsible for inaccuracies.
Read More From Switchback Travel