Combining a 3-layer construction with stretchy fabrics for mobility, Outdoor Research's Skyward II is one of the most well-rounded ski pants we've tested to date. After a full season of skiing in conditions ranging from heavy, wet spring snow to temperatures well below 0, we came away with a major appreciation for the pants' temperature-regulating abilities and solid overall weather protection. In short, the Skyward II is a great match for both on- and off-piste use. Below we break down the pants' overall performance. To see how the Skyward II stacks up, see our articles on the best ski pants and best snowboard pants.
 
---
Table of Contents
---

Performance
Weather Protection
Featuring a 3-layer, in-house AscentShell build, the Outdoor Research Skyward II Pants have kept me well-protected and comfortable in a wide range of winter weather. I brought the pants to Hokkaido and Hakuba, Japan, where temperatures dipped well below 0 Fahrenheit. I've also worn them in British Columbia's Coast Range, where spring skiing conditions are notoriously warm and wet. Although I was initially concerned that OR's proprietary AscentShell membrane wouldn't stack up to the bombproof protection of Gore-Tex, I was pleasantly surprised at how dry and cozy it kept me. To be sure, the air-permeable construction and thinner 50-denier fabrics are a step down in wind resistance compared to thicker Gore-Tex builds, but I had no notable issues with gusts seeping through. In fact, the Skyward II have become my go-to ski pants because of the added stretch (more on this below) that doesn't compromise on protection.
The rest of the design is equally adept at sealing out the elements. The water-resistant zippers have proven effective with no leakage issues, the DWR coating has deftly repelled snow, rain, and sleet (even when it has accumulated on the pants), and the stretch-mesh internal gaiters provided a nice seal over my boots—the Salomon MTN Lab and since-discontinued Arc'teryx Procline AR—both in ski and walk modes. After many laps at British Columbia's Manning Park in coastal, wet conditions and Japan's Furano and Hakuba resorts in frigid temperatures, I never once had issues with snow or wind making their way inside.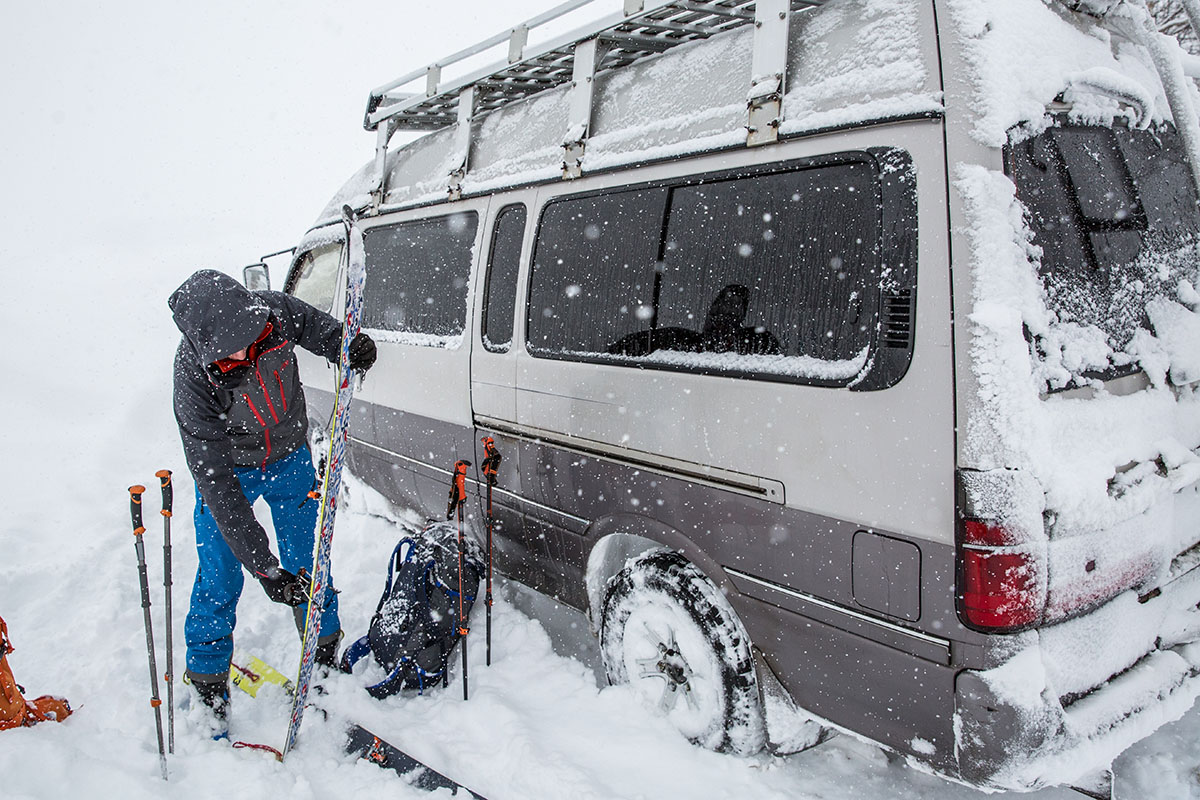 Breathability
Throughout testing, I consistently found myself not thinking about how warm my legs were, which says a lot about the pants' temperature-regulating abilities. As mentioned above, the AscentShell fabric is air-permeable, which delivers impressive breathability. On spring skiing outings at the Sea-to-Sky Area with morning temps hovering around 25 degrees and quickly warming up in the afternoon, the air-permeable Skyward was able to effortlessly transition between the various microclimates. And on especially mild outings, I was able to utilize the generously sized vents to cool off even quicker (more on these in "Key Features" below).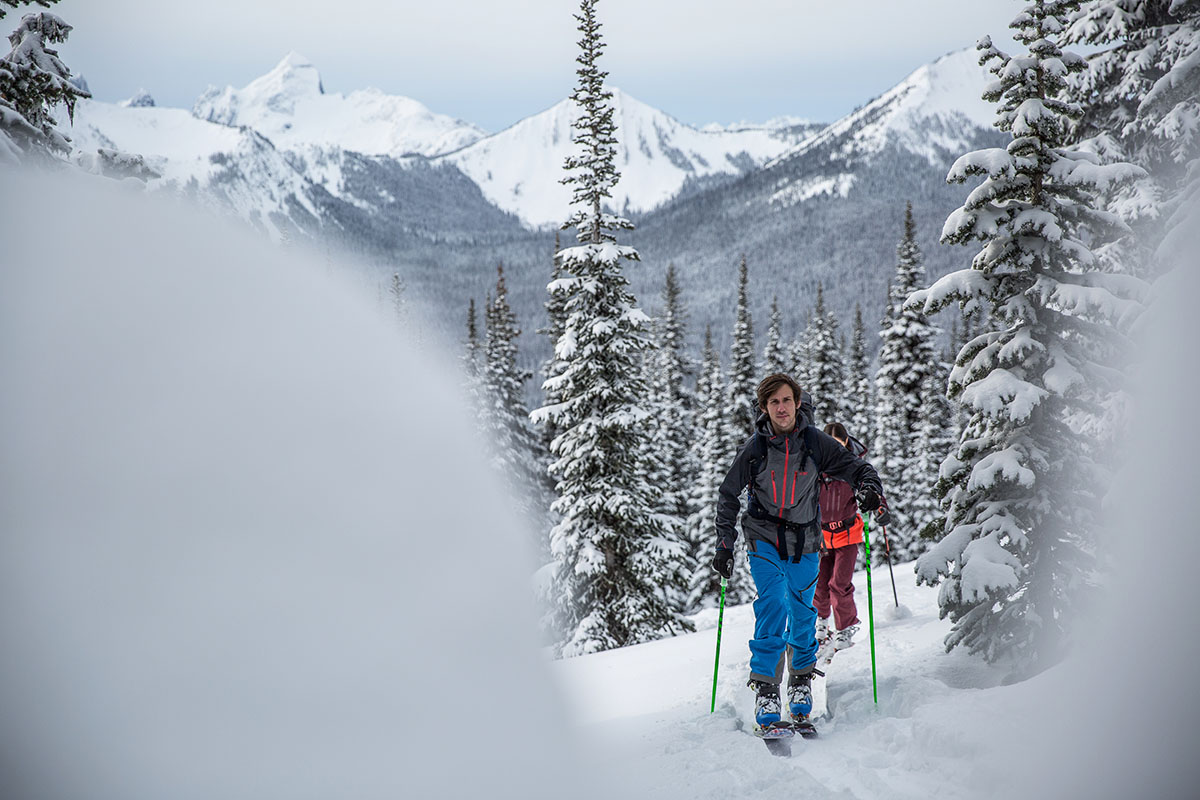 Comfort 
By adding 12-percent spandex into the design, OR created an impressively mobile and comfortable ski pant that moves up and down the slopes with ease. I've never once felt restricted, even on the notoriously steep skin tracks in Japan, while traversing glaciers in a harness, or when bootpacking up Mt. Baker. In addition, the tricot-lined waistband offered good next-to-skin comfort whenever my baselayer top rode up, the knit backer is quite supple, and the AscentShell material is much quieter and less crinkly than typical hardshells. That said, if you run cold or are skiing in temperatures below around -5 degrees Fahrenheit, I would recommend adding a second baselayer (or a thick one to begin with), as my legs grew chilled even while moving quickly. For activities like winter camping, I would even consider an option like the insulated Mountain Hardwear Stretchdown or Eddie Bauer EverTherm Down pants.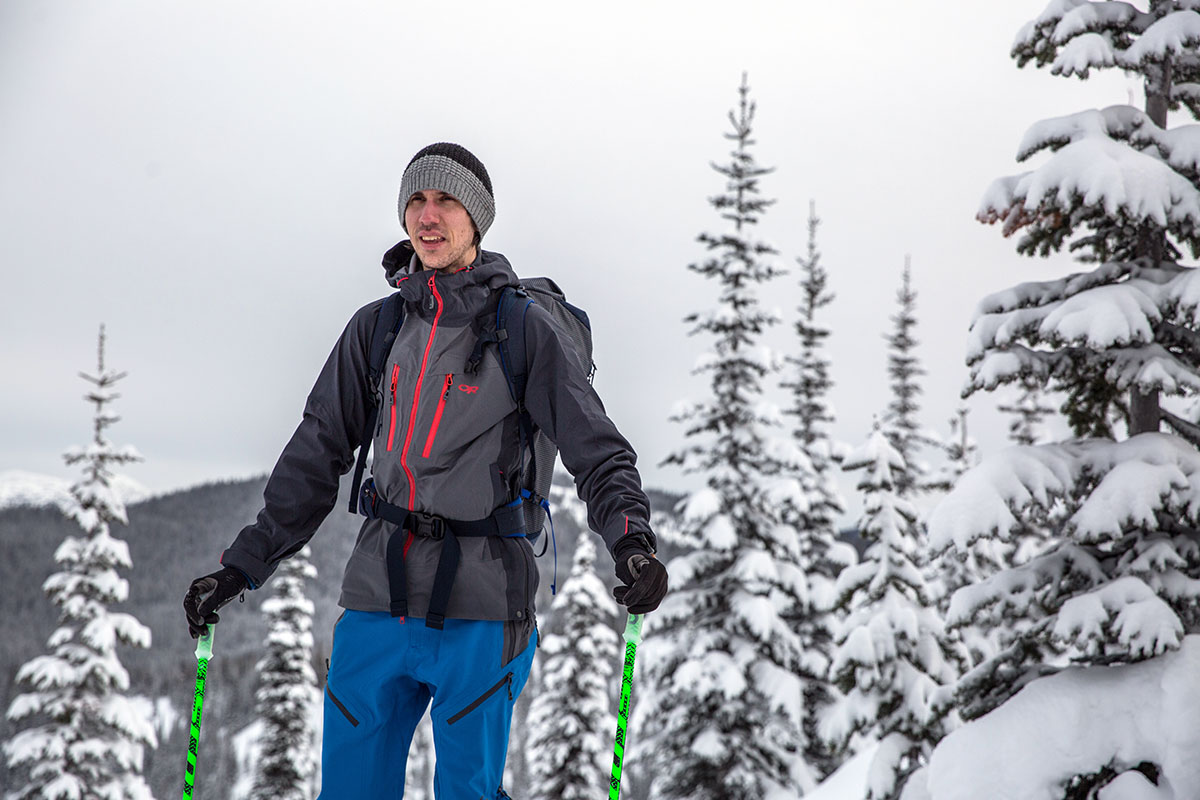 Build Quality and Durability
I was initially concerned that the Skyward's stretchy face fabric would succumb easily to demanding backcountry use, but I've been very impressed thus far. The 50-denier shell shows little wear after typical West Coast ski approaches involving alder bushwacking and navigating over and under trees. Additionally, all zippers are operating smoothly, the Velcro waist adjustments stick as well as they did on day one, all seams look fresh, and the DWR coating has withstood around 250 miles of skiing with no sign of letting up. The only noticeable damage is minor slices and scrapes around the scuff guards, but these have been subjected to a lot of bootpacking, crampon use, technical descents, and of course, the occasional crash. And to be fair, OR did reinforce these areas with tougher 420-denier oxford fabric, which helps stave off premature wear.

Weight
At 1 pound 6.8 ounces for the men's version, the OR Skyward II Pants fall about mid-pack when stacked up to other non-insulated designs. For comparison, the similarly stretchy OR SkyTour Bibs and Patagonia SnowDrifter Bibs come in at 1 pound 11.1 ounces and 1 pound 4.6 ounces respectively (and the bib designs provide more coverage), and OR's own Trailbreaker II Pants check in at 1 pound 9 ounces, although these come with a big compromise in weather protection with waterproofing only along the lower legs. At the premium end of Outdoor Research's lineup, the Hemispheres Bibs are similarly mobile and comfortable, with a more premium Gore-Tex construction in a lighter 1-pound-4.8-ounce package. But in the end, I have no complaints about the Skyward II's weight—as I touched on previously, they have become my dedicated touring pants.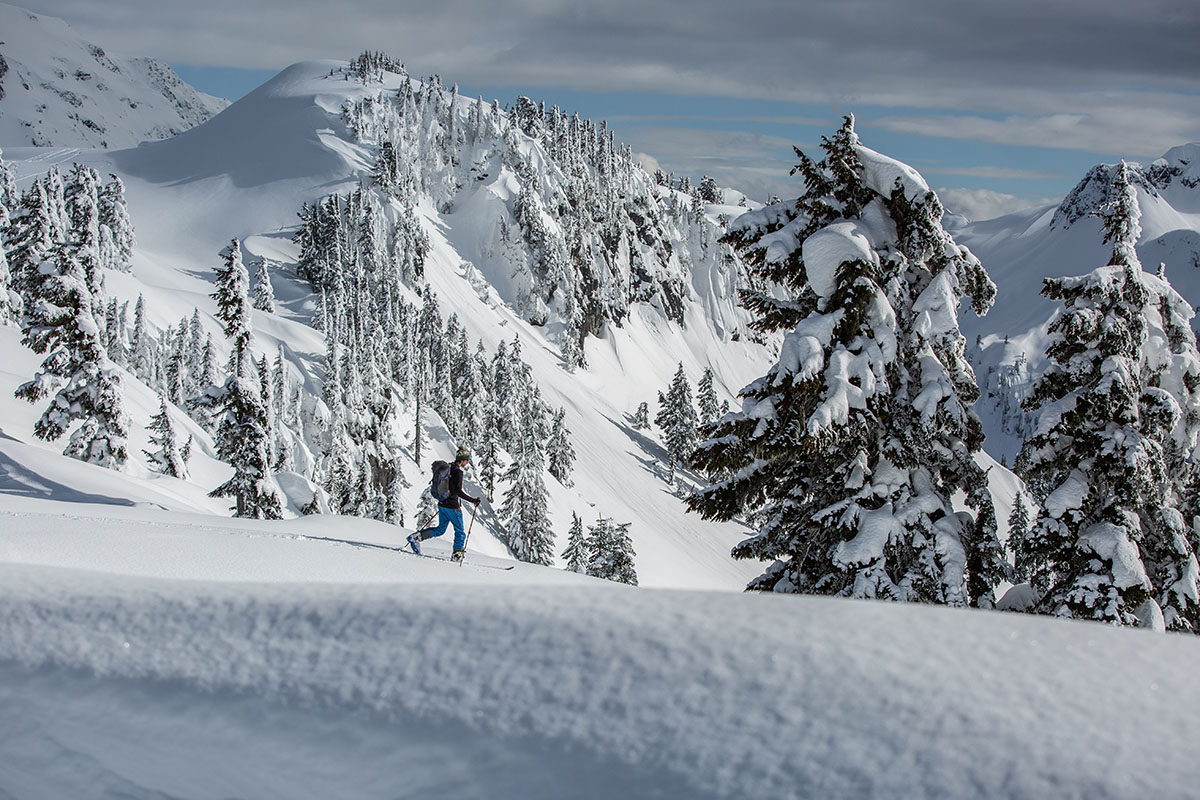 Key Features
Vents
The Outdoor Research Skyward II features a relatively large (14-inch) zippered outer vent at each thigh, which dumped heat quickly in warm weather. In fact, I ended up using these more often than my jacket's vents simply because they were so easily accessible and effective at cooling me down. Further, I was able to grip them while wearing bulky gloves thanks to the long pull tabs. That said, if you run particularly warm or are used to a bib or pant design with longer side venting, it might be worth looking at an option like OR's own Hemispheres Bibs, which sports a 27-inch vent on the right leg and 20.25-inch vent on the left.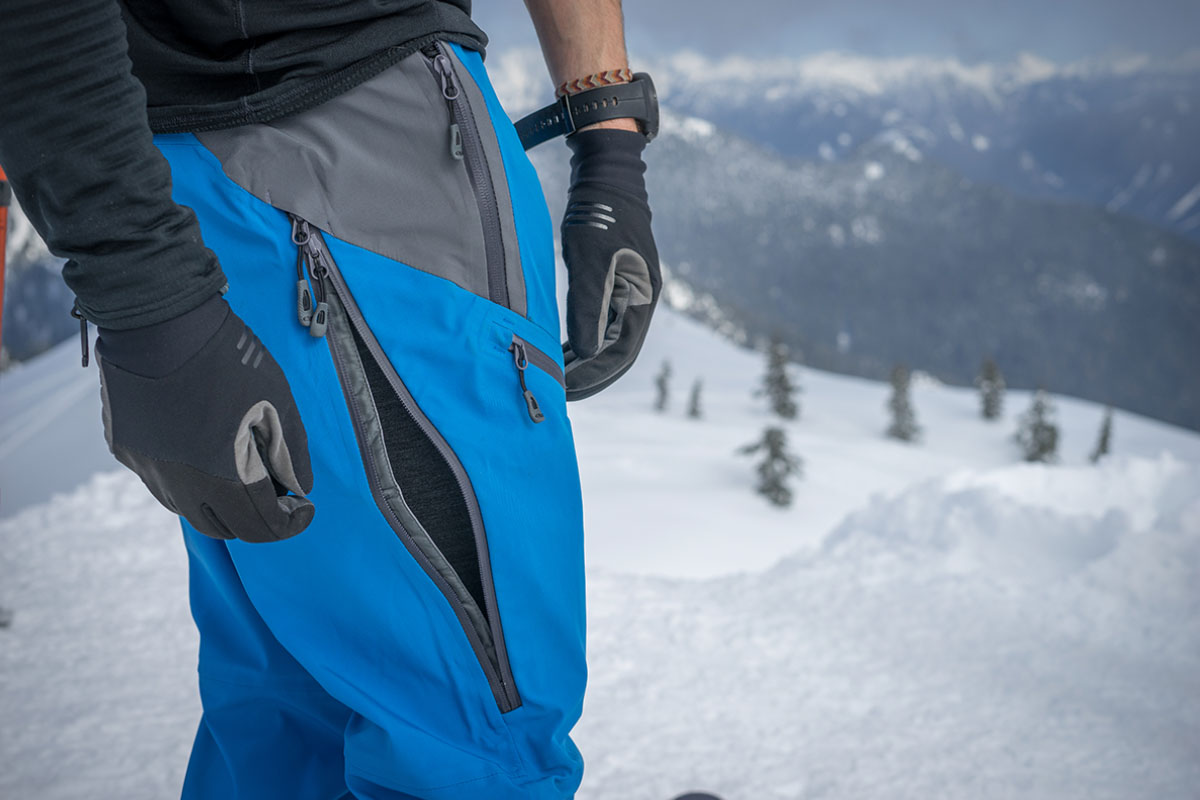 Storage: Pockets
Outdoor Research outfitted the Skyward II Pants with five total pockets: two hand pockets, two thigh pockets, and a dedicated pocket for an avalanche beacon. The hand pockets are generously sized and perfect for stowing items like my phone or snacks close to my body (but keep in mind that these have mesh backers, meaning electronics and valuables can get wet from snow or perspiration). The right hand pocket is also where you'll find the built-in avalanche beacon compartment with a sewn-in clip for properly securing it. However, while I like the idea of having this dedicated area to store a beacon, I often needed two hands to stuff it back inside. In the end, I prefer using my chest harness so that mobility isn't restricted. Finally, the two lower thigh pockets are slightly deeper than the hand pockets and have solid backers (rather than mesh), which are better able to seal out snow and moisture. Here, I like to stow items like ski straps, maps, or extra ski gloves.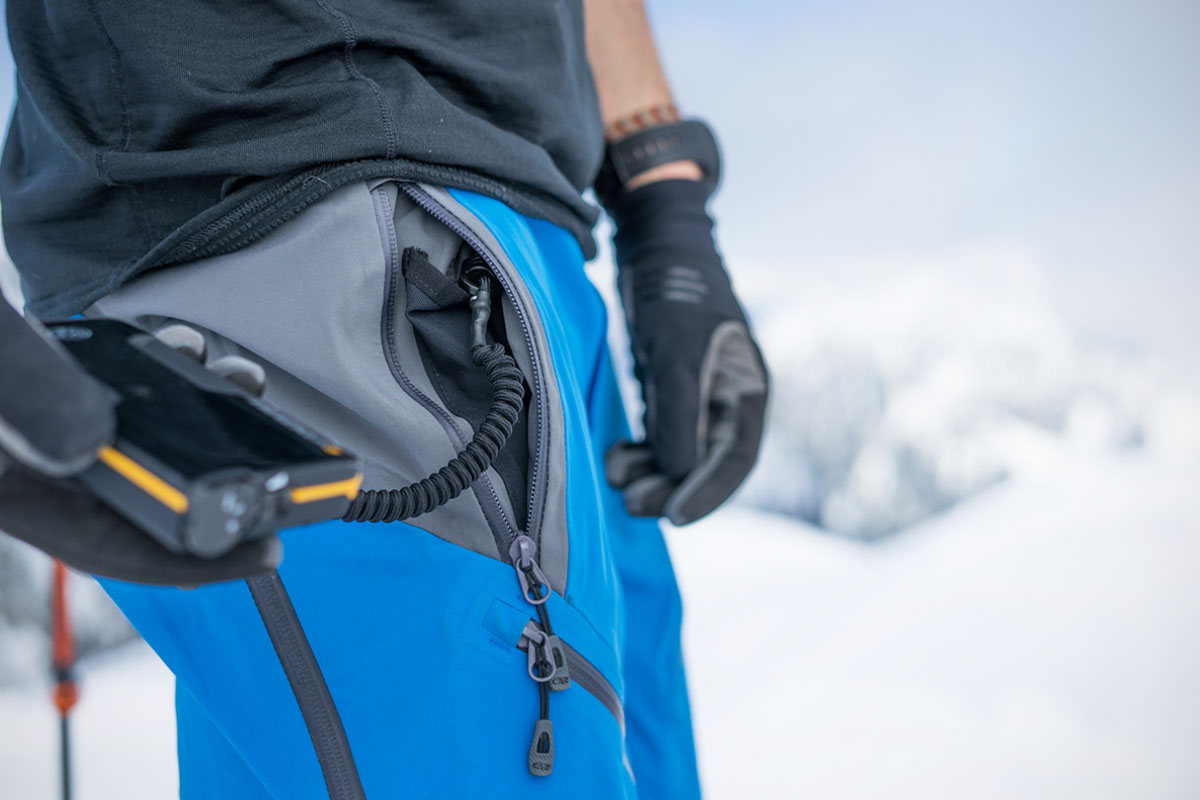 Internal Gaiters
Like OR's premium Hemispheres Bibs, the Skyward II Pants feature internal gaiters with integrated power strap slots. In theory, the idea is a good one: the slot allows you to slide your boot's power strap through so that you can adjust fit without removing the entire gaiter. But in reality, the system wasn't as functional as I had hoped. After trying to use the power strap slot in a variety of conditions, it proved to be too finicky and time-consuming. But the good news is that the gaiters themselves are well-designed with great all-around grip, and the elastic has enough tension to stay put whether I'm skinning, bootpacking, or skiing.

Fit and Sizing
I generally wear a medium, and that size in the Outdoor Research Skyward II was a great overall fit for me (for reference, I'm 6'1" and 160 pounds). There's ample adjustment at the waist with easy-to-use Velcro tabs, and the 32.5-inch inseam length provided good mobility. Further, the bottom cuffs are an ideal length and width while skinning or skiing—they don't flare out, nor are they overly tight around my boots. The rest of the pant is nicely streamlined without feeling bulky or restrictive in any areas—there's extra fabric in sections where you need added range of motion and just enough material elsewhere. The only fit-related feature that I haven't used is the belt loops, and that's simply because I'm able to effectively dial in fit with the aforementioned Velcro tabs.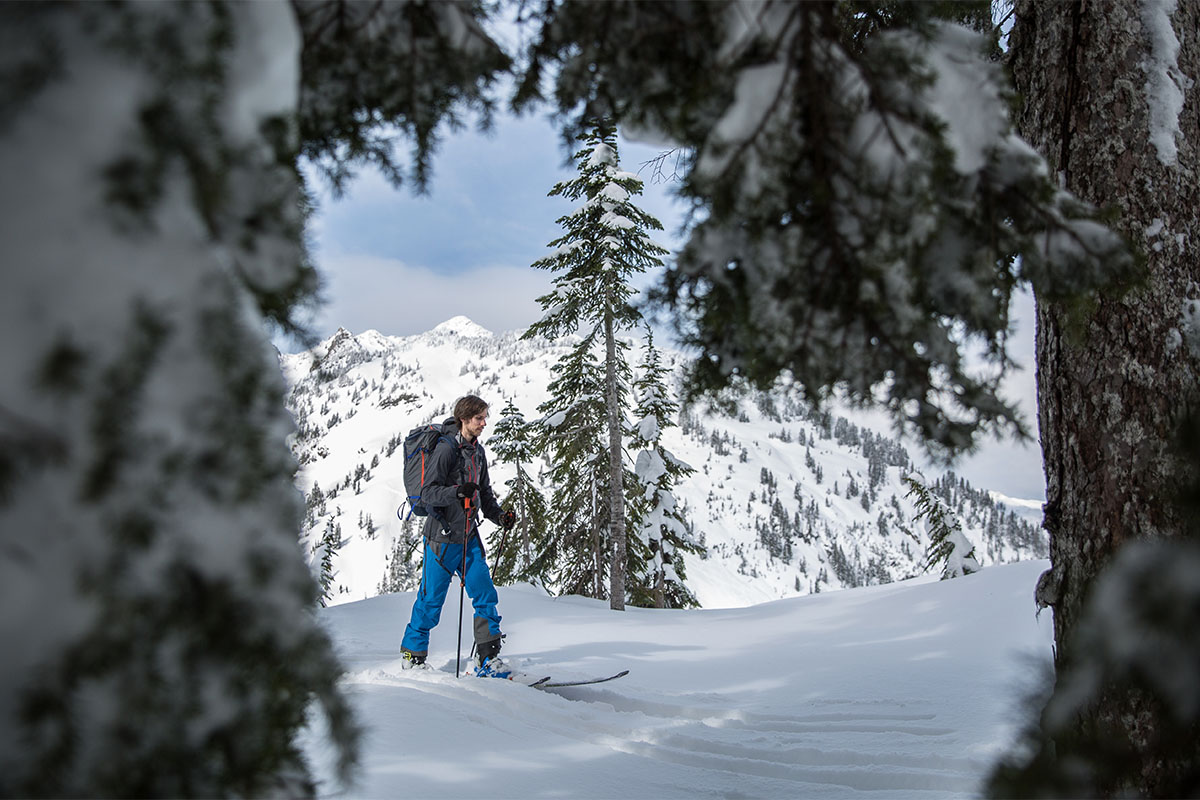 Other Versions of the Outdoor Research Skyward II
We tested the men's version of the Skyward II Pants, and Outdoor Research also makes them in a women's-specific model. The women's Skyward II Pants also retail for $299 and feature the same overall construction including a 3-layer AscentShell build, identical pocket layout, and nicely sized side vents. However, the women's pants are lighter at 1 pound 4.9 ounces and come in different colorways. If you're in the market for a ski jacket to complete your outfit, OR recently replaced the Skyward Jacket with the similarly equipped SkyTour, which comes in both men's and women's variations, utilizes the same AscentShell membrane (but with lighter fabrics), and retails for $349. It's also sold in a bib design for the same price, with the main benefits being added coverage and protection around the torso.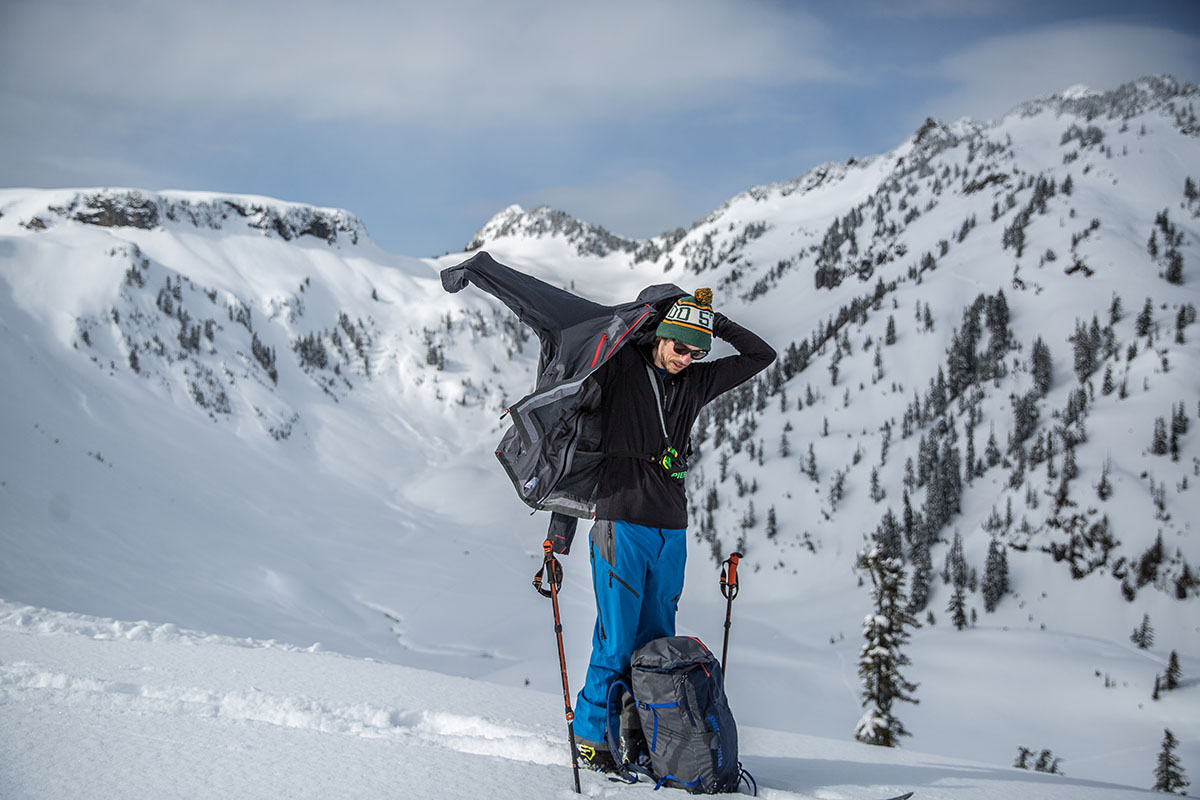 What We Like
Stretchy face fabric and a great fit provide exceptional comfort and range of movement for activities like skinning and bootpacking.
AscentShell fabric offers solid protection against the elements while outperforming Gore-Tex in breathability.
Versatile for both resort and backcountry use.

What We Don't
Thin, air-permeable fabric isn't as impervious to wind as thicker Gore-Tex designs, but we didn't have any notable issues with cold gusts seeping through.
Power strap slot is too time-consuming and finicky to be functional.
The original Skyward had a bib design, and we miss the added coverage (although the newer pants are arguably more versatile).


Comparison Table
| Pant | Price | Best for | Type | Waterproofing | Weight |
| --- | --- | --- | --- | --- | --- |
| OR Skyward II | $299 | Backcountry/resort | Hardshell w/ stretch | 3L AscentShell | 1 lb. 6.8 oz. |
| Patagonia SnowDrifter Bib | $349 | Backcountry/resort | Hardshell w/ stretch | 3L H2No | 1 lb. 4.6 oz. |
| OR Trailbreaker II | $225 | Backcountry | Soft & hardshell | 3L Pertex Shield | 1 lb. 9 oz. |
| Strafe Cham | $469 | Backcountry | Hardshell w/ stretch | 3L Aerobrane | 1 lb. |
| Arc'teryx Beta AR | $499 | Backcountry | Hardshell | 3L Gore-Tex Pro | 1 lb. |

The Competition
Effectively balancing mobility, breathability, and weather protection is a tall order, but Outdoor Research's Skyward II Pants pull it off better than most. Another ski pant option with similar intentions is Patagonia's SnowDrifter Bibs. Other than the added protection that you get with the bib design, the SnowDrifter is lighter at 1 pound 4.6 ounces, pricier at $349, and more robust with a 75-denier fabric (the Skyward uses 50D), which translates to better wind-blocking ability. This makes the SnowDrifter the more capable resort option, although the Skyward wins out in both breathability and stretchiness.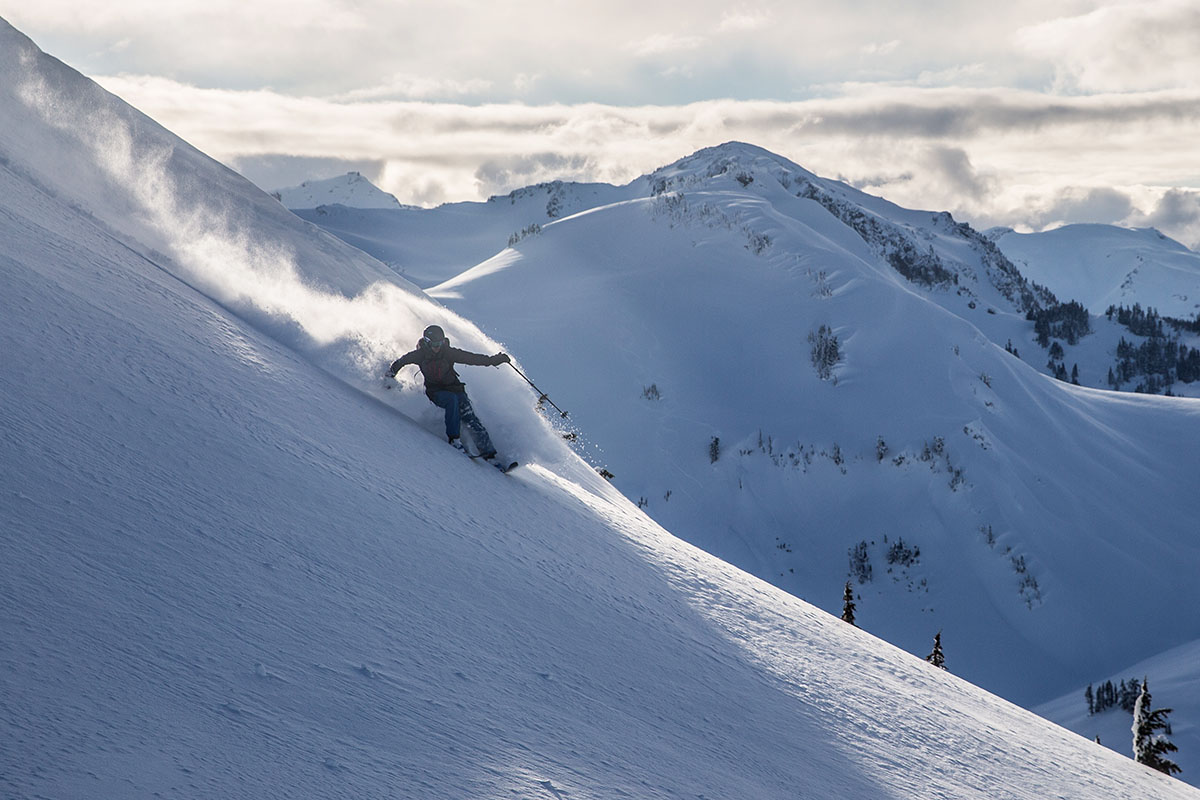 At the mid-range end of OR's lineup, the Trailbreaker II is a long-time standout for use in the backcountry. Rather than full waterproofing, the Trailbreaker features strategically placed 3-layer Pertex Shield only at the lower legs (the upper legs are only water-resistant), which means added stretch and breathability up top at the sacrifice of weather protection. The Trailbreaker pants are also a solid value at $225 and more durable than the Skyward with a 90-denier fabric at the upper legs and 200-denier on the lower half. All that said, the Skyward II Pants are much more versatile for season-long use, which we think is well worth the extra $74 in the long run.
Strafe might not have the name recognition of Outdoor Research or Patagonia, but their Cham Pant is another one of our favorite designs for the backcountry. Like the Skyward II, the Cham is a hybrid hard/softshell design that offers great breathability, mobility, and comfort. However, the Strafe's Schoeller Aerobrane waterproofing doesn't block out snow or wind as well as more premium Gore-Tex, and OR's AscentShell gets the slight edge here for its better overall performance in the wet. In the end, both designs are very similar, but we like the OR's tough construction and $170-cheaper price tag.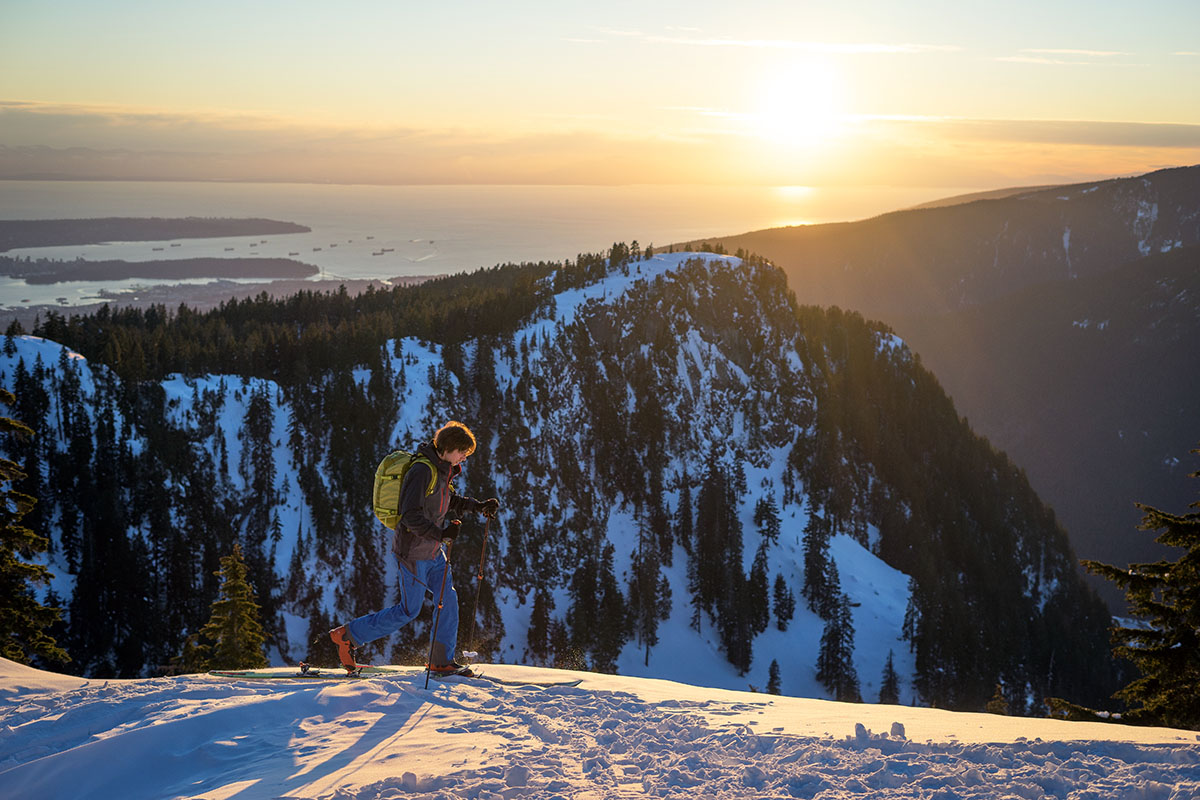 A final option to consider is Arc'teryx's Beta AR Pant. While not stretchy like the Skyward, SnowDrifter, or Cham, the Beta AR is incredibly tough and weather-worthy with a premium, 3-layer Gore-Tex Pro fabric (recently upgraded with their "Most Rugged" technology). In short, the Arc'teryx pants are built for truly gnarly conditions and extended backcountry missions where added protection is key. That said, the Arc'teryx is less ski-specific than the Skyward II with only a single zippered pocket, and it's also much pricier at $499. For weight-conscious alpinists and backcountry-goers, it's hard to beat the 1-pound Beta AR. But for mixed resort and off-piste use, the cheaper Skyward II is our preferred choice. 
If you're thinking about buying gear that we've reviewed on Switchback Travel, you can help support us in the process. Just click on any of the seller links above, and if you make a purchase, we receive a small percentage of the transaction. The cost of the product is the same to you but this helps us continue to test and write about outdoor gear. Thanks and we appreciate your support!
Depending on the seller, most products ship free in the United States on orders of $50 or more. International shipping availability and rates vary by seller. The pricing information on this page is updated hourly but we are not responsible for inaccuracies.
Learn More About Ski Gear