One of the biggest names in packs, Gregory is well known for their comfortable and feature-rich designs, built to carry everything but the kitchen sink. But less is often more, especially for moving quickly and covering long distances on the trail. The new Facet (and men's Focal) takes this vision to heart, with a simplified, ultralight design that gets the job done while checking in at almost half the weight of many overnight packs. I tested the Facet 55 while trekking in Southern Patagonia, and was impressed with its well-rounded support and comfort, ventilation, and organization despite the pared-down design. Below I break down my experiences with Gregory's new ultralight pack. To see how it stacks up to the competition, see our articles on the best backpacking backpacks, women's backpacking packs, and ultralight backpacks.
 
---
Table of Contents
---

Performance
Carrying Comfort
Despite its minimalist design, I found the Gregory Facet 55 to offer an extremely comfortable carrying experience. Gregory lists the 55-liter version's load limit at 35 pounds (the 45L's is 30 lbs.), which I all but maxed out during our team's trek into the Rio Eléctrico Valley. Loaded down with a tent, sleeping bag and pad, stove and fuel, layers, and food for four days, the Facet did an impressive job distributing weight, thanks to the aluminum frame and fiberglass cross-stay. Many ultralight packs shave weight by streamlining their metal frames—or opting instead for a rigid plastic or foam backpanel—but in my opinion, the Facet's added support is well worth the additional ounces.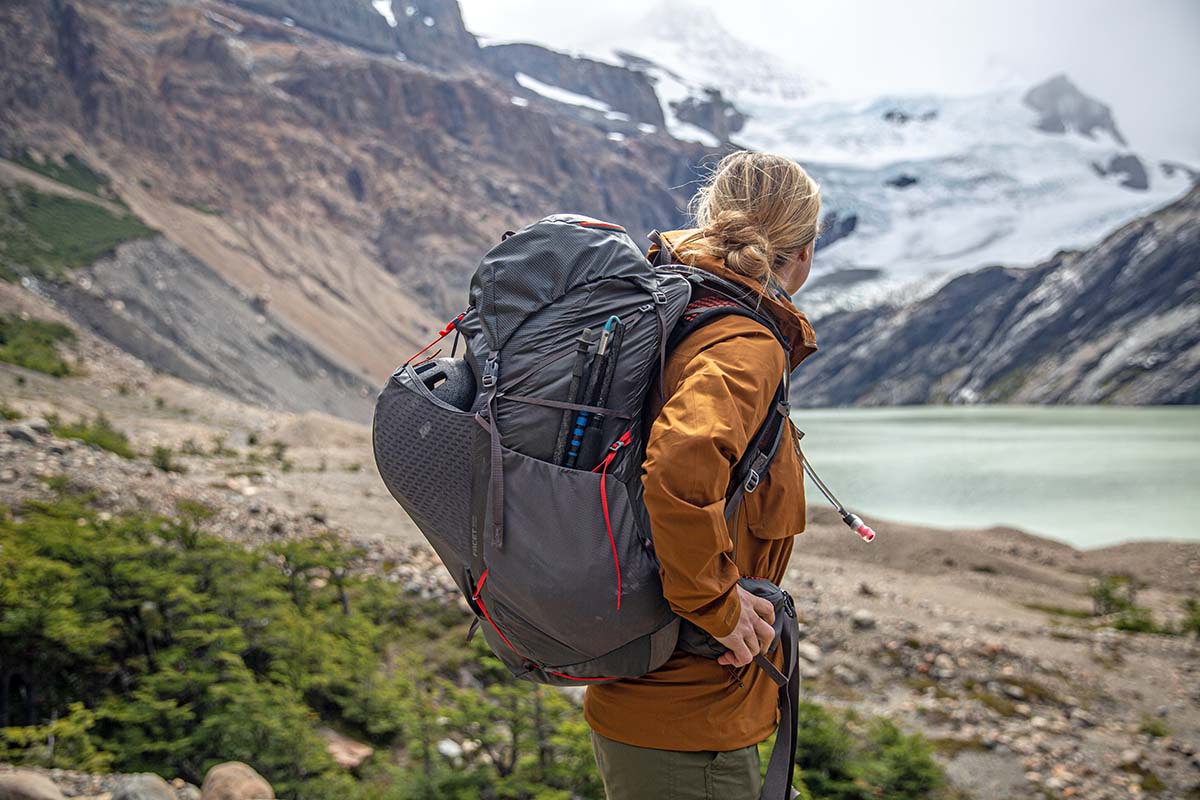 I also found the Facet's suspension, hipbelt, and shoulder straps to be very comfortable for an ultralight pack. The suspended mesh backpanel (Gregory terms it "FreeFloat") was soft and forgiving against my back, and the ComfortCradle hipbelt conformed to my midsection with no hotspots or pressure points. Interestingly, I've had the opposite experience with a past version of the fully-featured Osprey Aura AG: The Aura's hipbelt is wider and more rigid (and arguably more supportive), but it fit my body poorly and dug into my stomach. In the end, this is an example of less being more, and I have no gripes when it comes to the Facet 55's carrying comfort.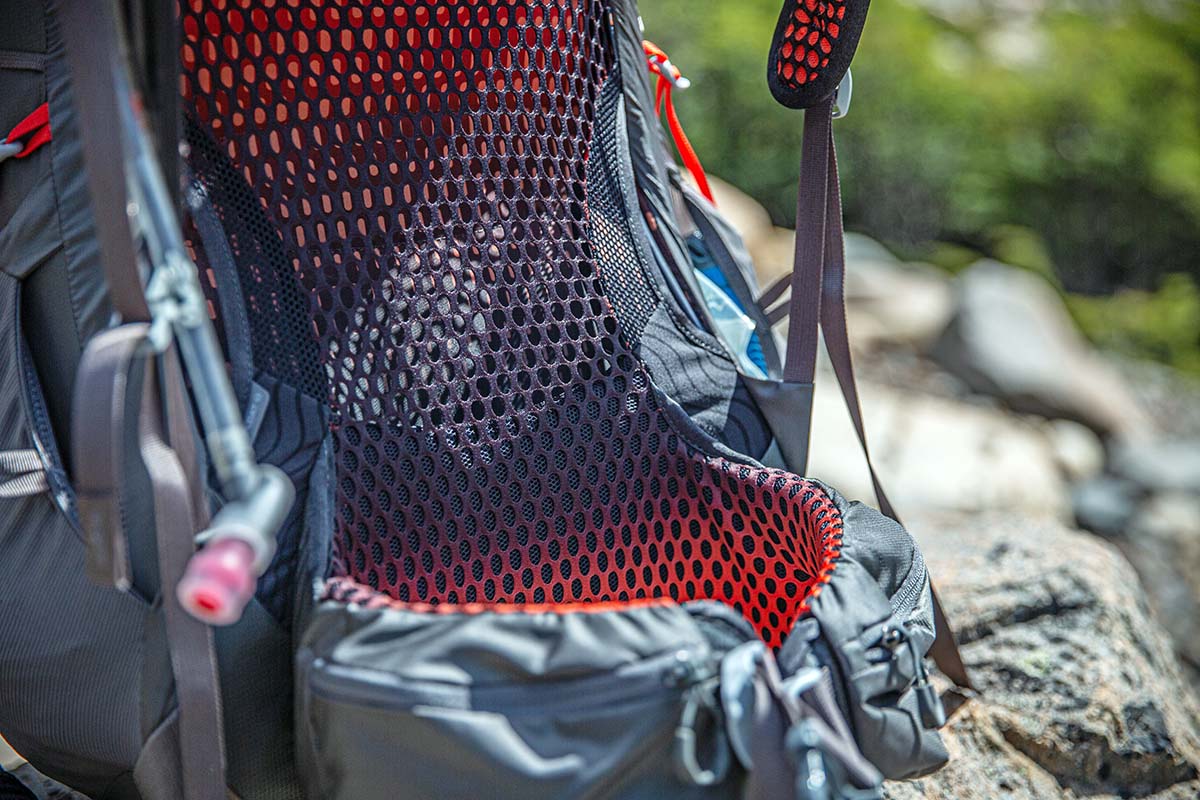 Weight
Pack weight is a tricky subject: On one hand, extra ounces on your pack mean extra ounces on your back, which most ultralighters try to keep to a minimum. On the other hand, extra pack weight generally translates to increased support and carrying comfort. In other words, 30 pounds in a supportive rig might feel less onerous than 20 pounds in an ultralight pack. Where you land on the spectrum will come down to personal preference and experience level—strong and well-conditioned hikers can often get away with a minimalist pack (especially for light loads), while most backpackers will benefit from a more supportive (read: heavier) design.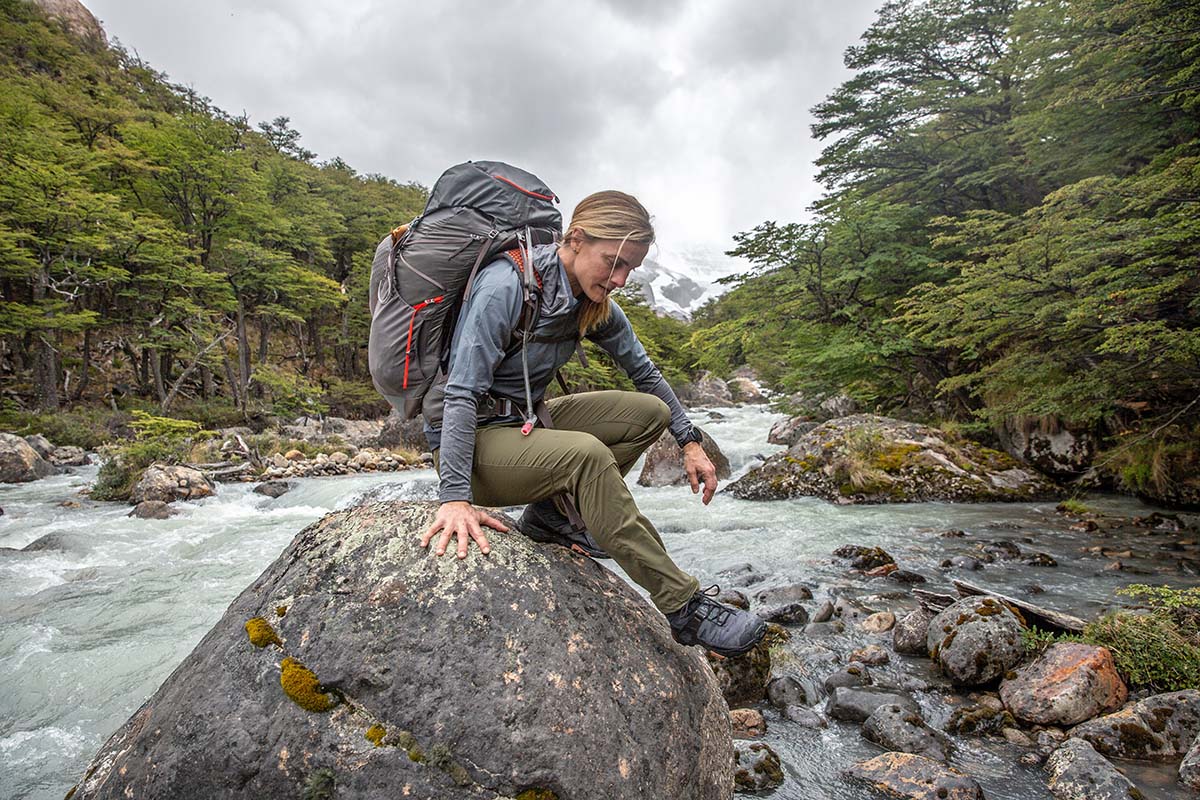 Checking in at 2 pounds 8.8 ounces for the women's size small, the Gregory Facet 55 is a really nice middle ground in the weight equation. It's significantly lighter than most standard overnight packs: Gregory's top-of-the-line Deva 60, for example, tips the scales at 4 pounds 10.2 ounces for the size small, while the aforementioned Osprey Aura AG weighs 4 pounds 5.4 ounces. On the other hand, you can go a lot lighter with packs like the Hyperlite Mountain Gear Southwest 3400 (1 lb. 15.7 oz) or Gossamer Gear Mariposa (1 lb. 13.4 oz. for the size small). At around 2.5 pounds, the Facet 55 joins the ranks of other middle-road ultralight packs, including the REI Flash 55 (2 lbs. 10 oz.) and Osprey Eja 58 (2 lbs. 11.5 oz.).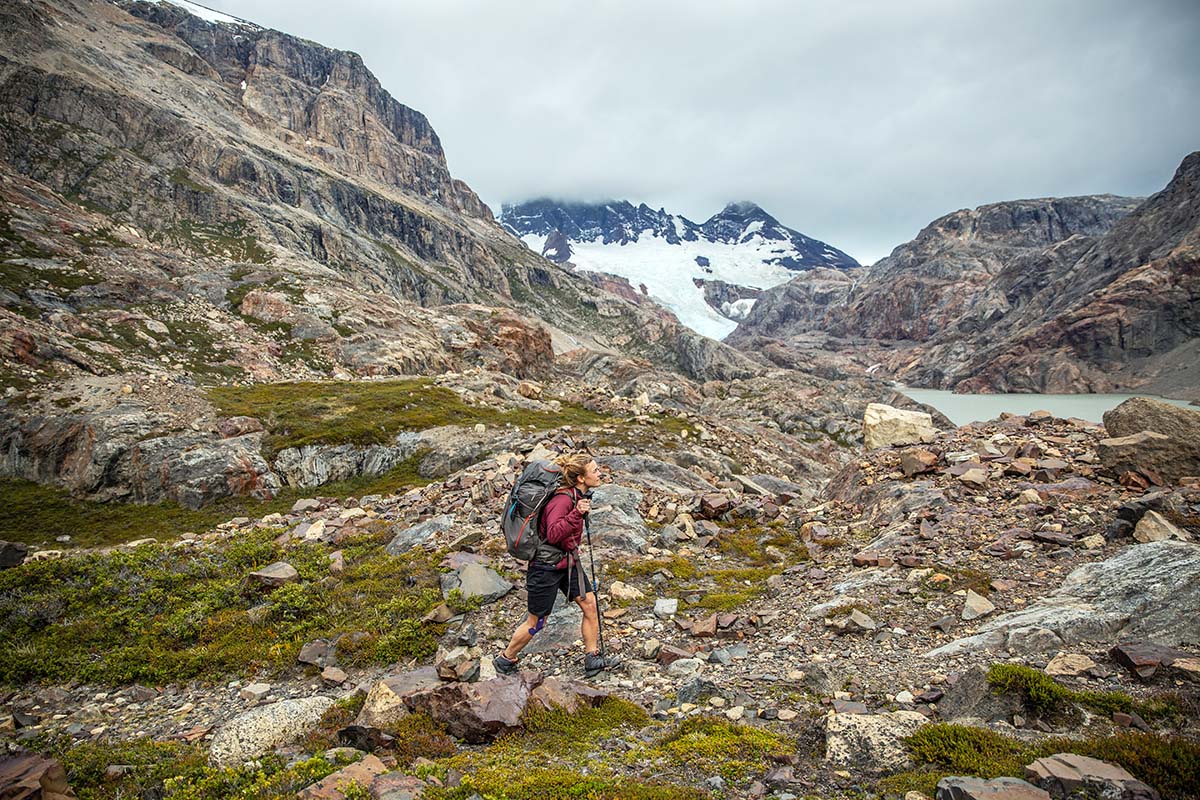 Organization
Like its weight, the Gregory Facet 55's organizational design hits a nice middle ground between fully-featured packs and stripped-down ultralight haulers. You get one access point to the main compartment (via the top) and six external pockets, including a lid, two hipbelt pockets and three external dump pockets. For the 20- to 35-pound load that the Facet is designed to carry, this is all you need. I was able to find a home for all of my supplies without feeling lost in a sea of zippers, sleeves, or compartments, which is a common experience I have with more featured packs. On the other hand, I appreciated the lid (a common omission in ultralight packs) for storing items like my phone, camera, satellite messenger, and hygiene kit. Of note: The Facet also comes with a hydration pocket and hanger, but most of the time I just pack my reservoir at the very top of the main compartment for easy access when it comes time to refill.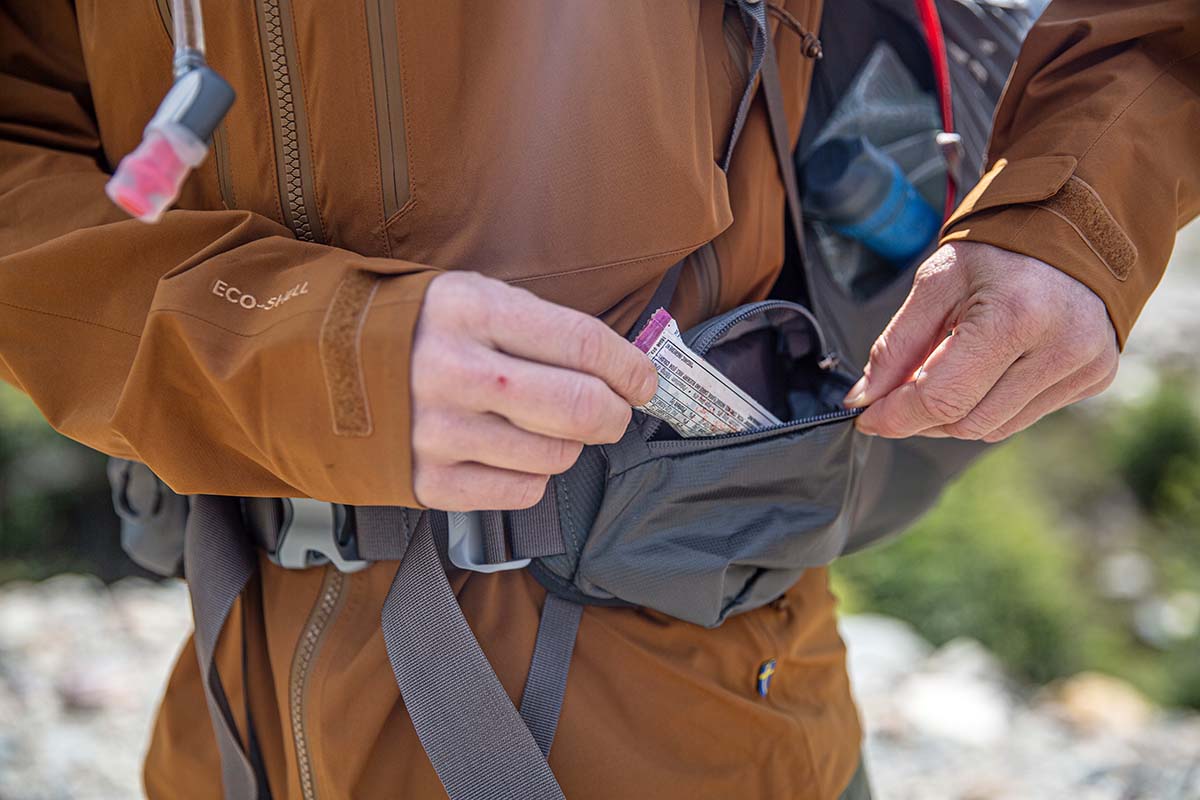 These days, the vast majority of backpacking packs feature hipbelt pockets, and the Facet 55 is no exception. These pockets are invaluable for on-the-go access to essentials, but unfortunately the Facet's were just a little too small to easily accommodate my iPhone 11 (with case). This is a common complaint I have with most hipbelt pockets, and one that could be easily remedied by pack manufacturers (on the other hand, phones could surely stand to get smaller). But the pack does feature three nicely sized stretch-mesh pockets, convenient for stashing or retrieving layers, snacks, a water filter, and more. Finally, the Facet graciously omits a sleeping bag compartment, a design decision that I fully support. In my opinion, sleeping bag compartments only serve to add bulk and lead to a poorly packed pack.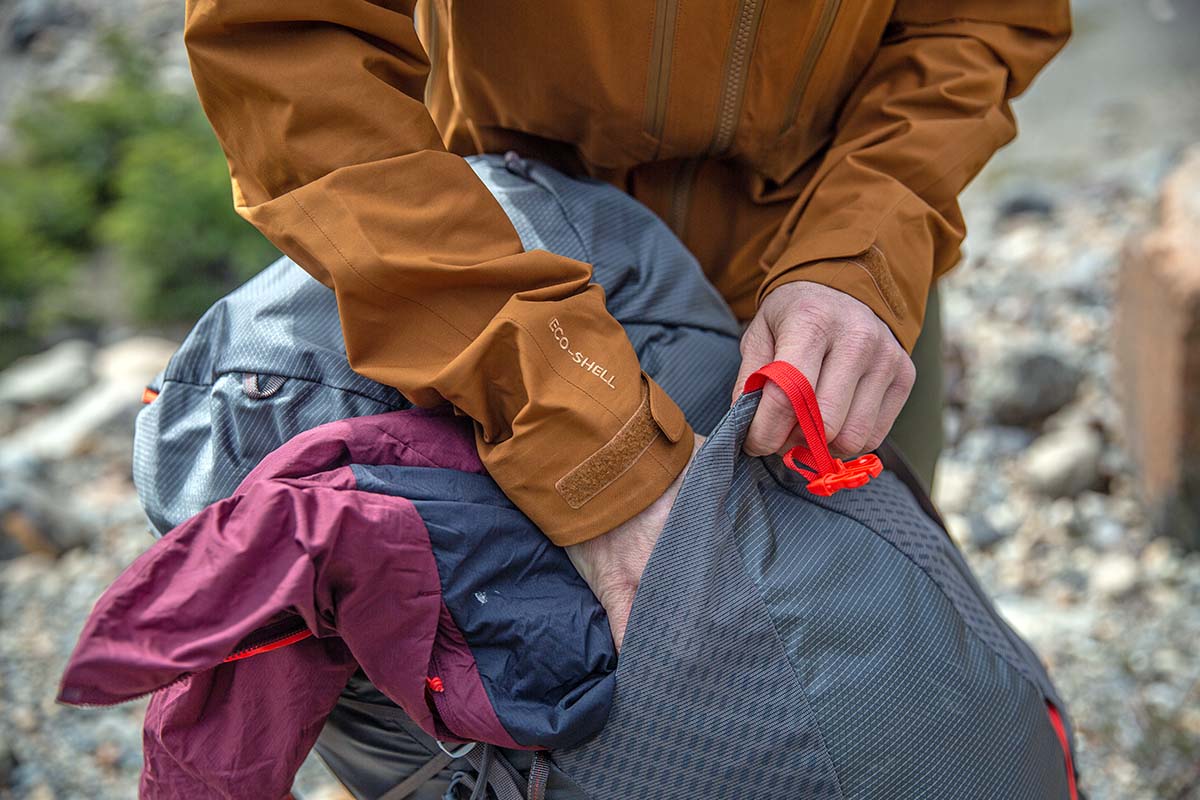 Ventilation
If there's one area where the Facet 55 especially excels over other ultralight packs, it's ventilation. Using their FreeFloat suspended mesh backpanel, Gregory has designed the Facet to leave a channel for air to pass between the pack and the body. This is a common design in standard backpacking packs, but one of the first things to go when weight-savings is prioritized (as in the case of the Hyperlite Southwest, which features solid Dyneema at the back). Further, the backpanel is made with a fabric that resists bacterial growth, cutting down on odors over time. For summer backpacking or those who tend to sweat a lot, the Facet (and men's Focal) is one of the best-venting ultralight packs.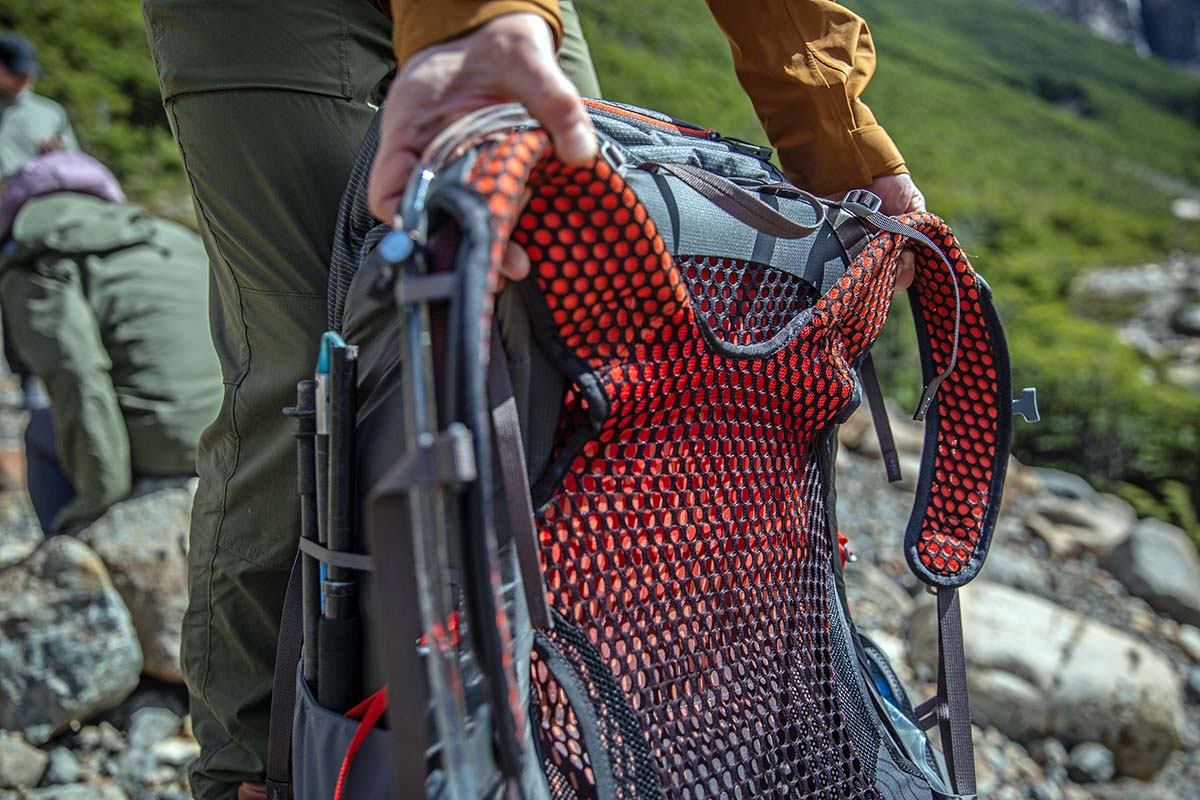 Weather Protection
I tested the Gregory Facet 55 in Southern Patagonia, a mountainous area known for some of the world's worst weather. And while Southern Patagonia delivered, the Facet 55 put up a solid defense, keeping my gear dry despite blowing rain and waist-deep river crossings. All of the pack's materials—from the body and base to the inner lining—are treated with a durable water repellent finish, which causes water to bead up and roll off rather than soak through. Further, our pack came with an included rain cover and detachable weather flap, which covers the top drawstring when you go sans lid (ultralighters will commonly save weight by leaving the lid at home).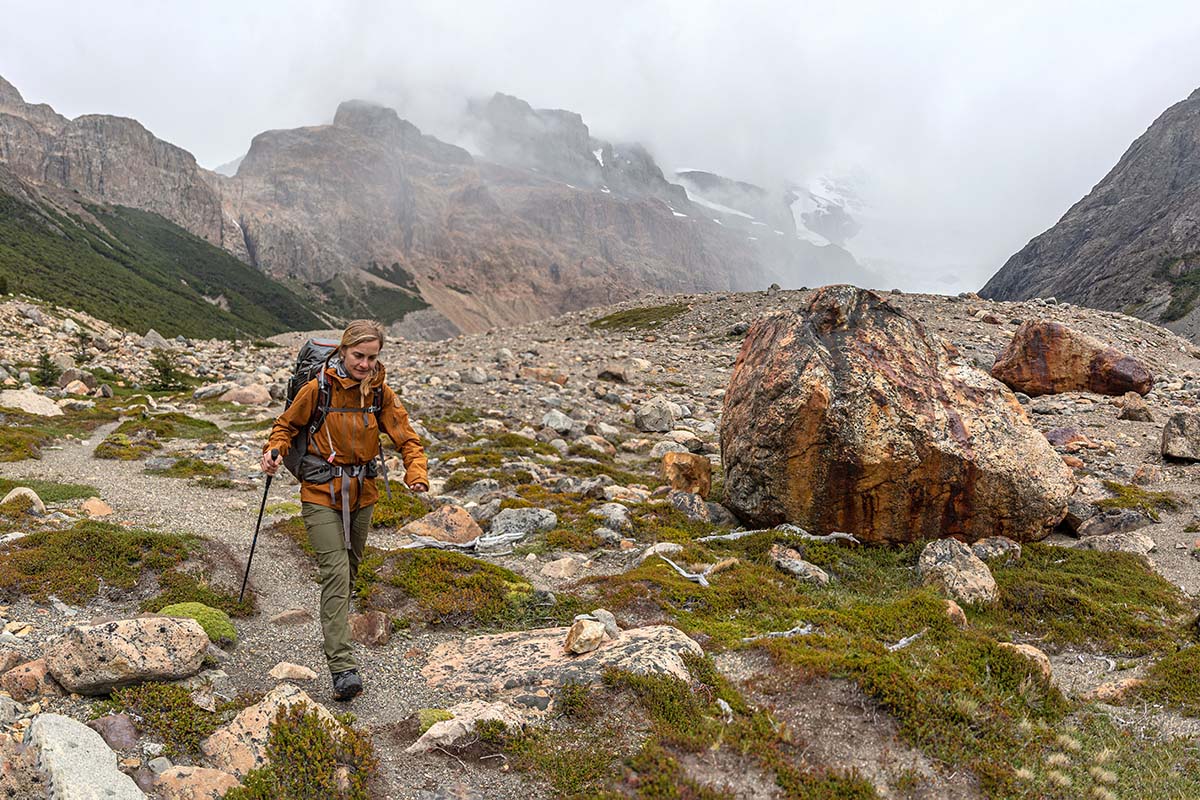 While I experienced no issues with the Facet's weather protection, you'll want to take greater measures if you plan to head out in particularly wet conditions. Perhaps the cheapest option is to line your pack with a durable trash compactor bag, which will protect your gear from any moisture that might make it past the DWR-treated fabric. On the other hand, you can easily add a waterproof rain cover—our pack came with one, but they're also available for separate purchase if you want to add flair with a snazzy color or design. Finally, waterproofing is one reason why ultralighters love Dyneema: A pack like the Hyperlite Southwest will keep moisture out without the additional weight of a trash bag or rain cover, and the roll-top closure offers additional assurance.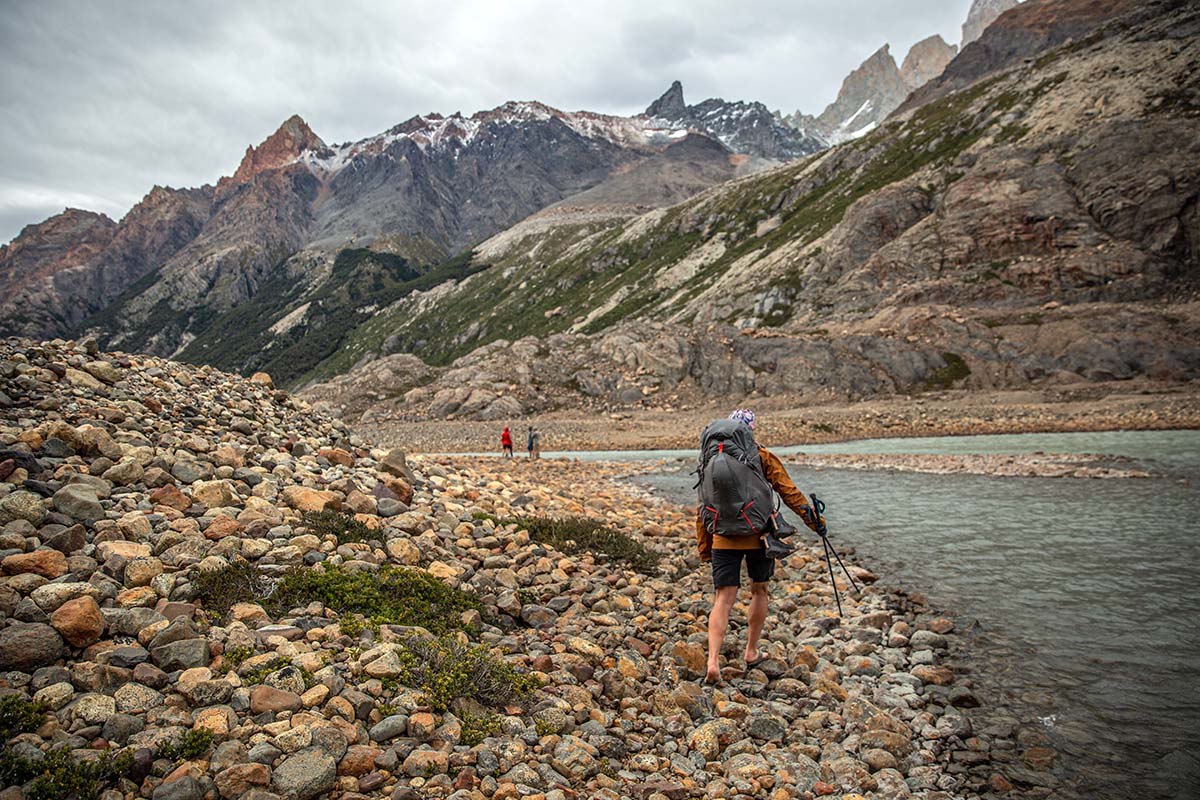 Build Quality and Durability
The density of a fabric is often measured in terms of denier, which most commonly correlates with durability and weight. In other words, the higher the denier, the thicker, heavier, and longer-lasting the fabric. Staying true to its ultralight focus, the Facet features fairly thin materials: 100-denier high-density nylon in the pack body and 210-denier in the base. By contrast, Gregory's top-of-the-line Deva is built with a mix of 210- and 420-denier nylon in the body and 630-denier in the base. It doesn't take a mathematician to see that you give up quite a bit of durability in exchange for the ultralight design.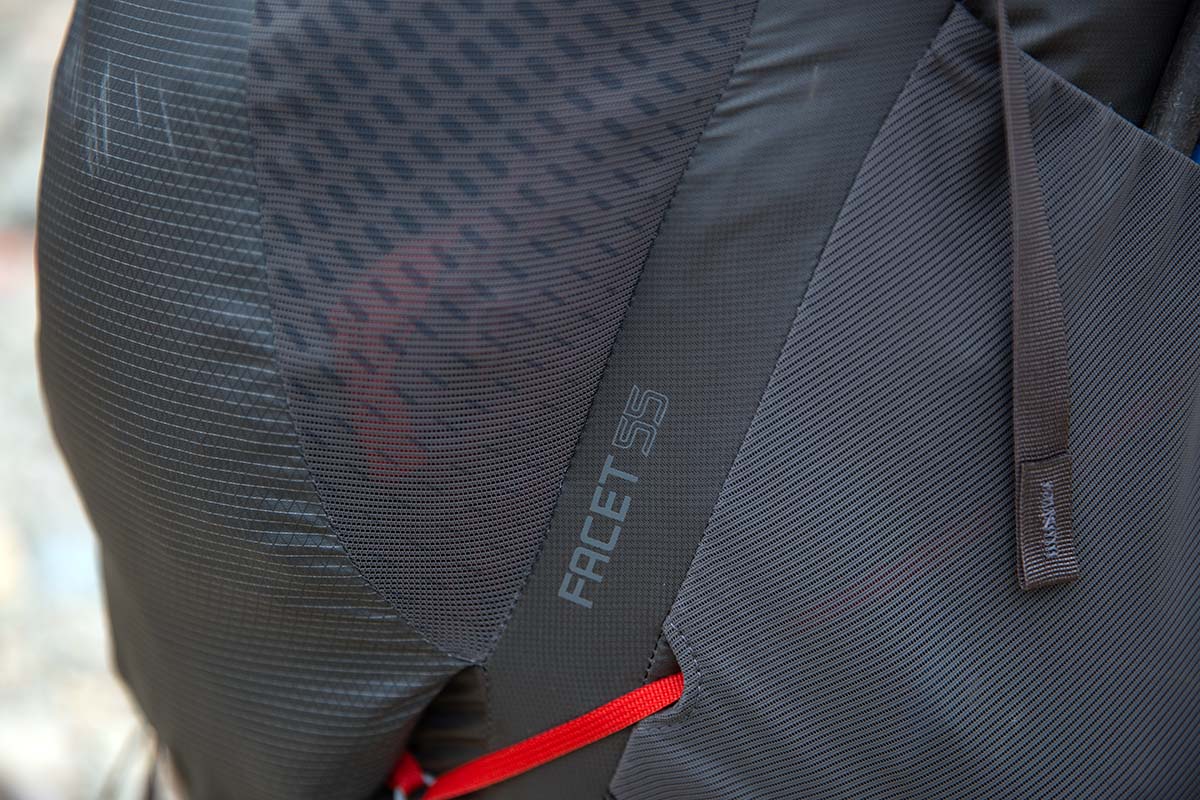 But among ultralight packs in its price range, the Facet's materials are fairly par for the course. The REI Co-op Flash ($199) uses 100 and 420-denier nylon, while the Osprey Eja 58 ($240) uses 100-denier nylon in the body and bottom, with 400-denier nylon patterned throughout. If you're willing to step up your investment, Dyneema is known for its extremely high strength-to-weight ratio, and is commonly used in high-end ultralight packs (such as the aforementioned Southwest and Zpacks Arc Blast). If you're a dedicated weekend warrior or plan to embark on a multi-week thru hike, a strong case can be made for a Dyneema pack. But for casual backpackers or those who only get out a few times a year, the Gregory Facet should get the job done. Despite logging dozens of trail miles and hundreds of camp hours—including contact with abrasive rock and sharp branches—our Facet has yet to sustain a single hole.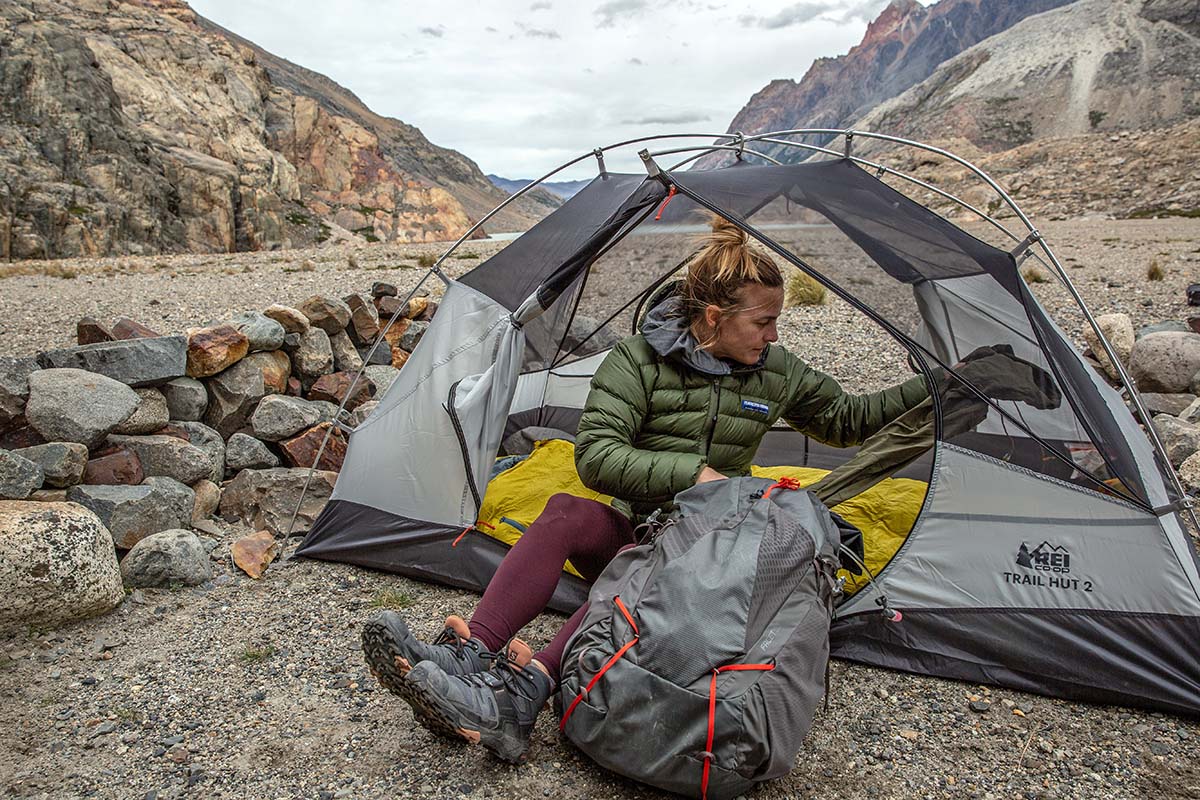 Sustainability
Like many outdoor companies in 2022, Gregory has taken a clear turn towards prioritizing sustainable materials and design. The Facet features a durable water repellent finish made without the use of harmful chemicals (otherwise known as PFC-free DWR), which also has a long lifespan that doesn't require maintenance or reapplication. Further, the pack's fabrics are 45-percent recycled. By taking these steps, Gregory claims to have reduced the Focal and Facet's overall footprint by about 29 percent, including lowering carbon emissions, water pollution, smog formation, and energy use. In our opinion, the best thing you can do for the planet is limit your consumption (do you really need another backpack?) or buy used. But if you're going to make a purchase, we strongly support buying from companies who are making an effort towards a healthy planet.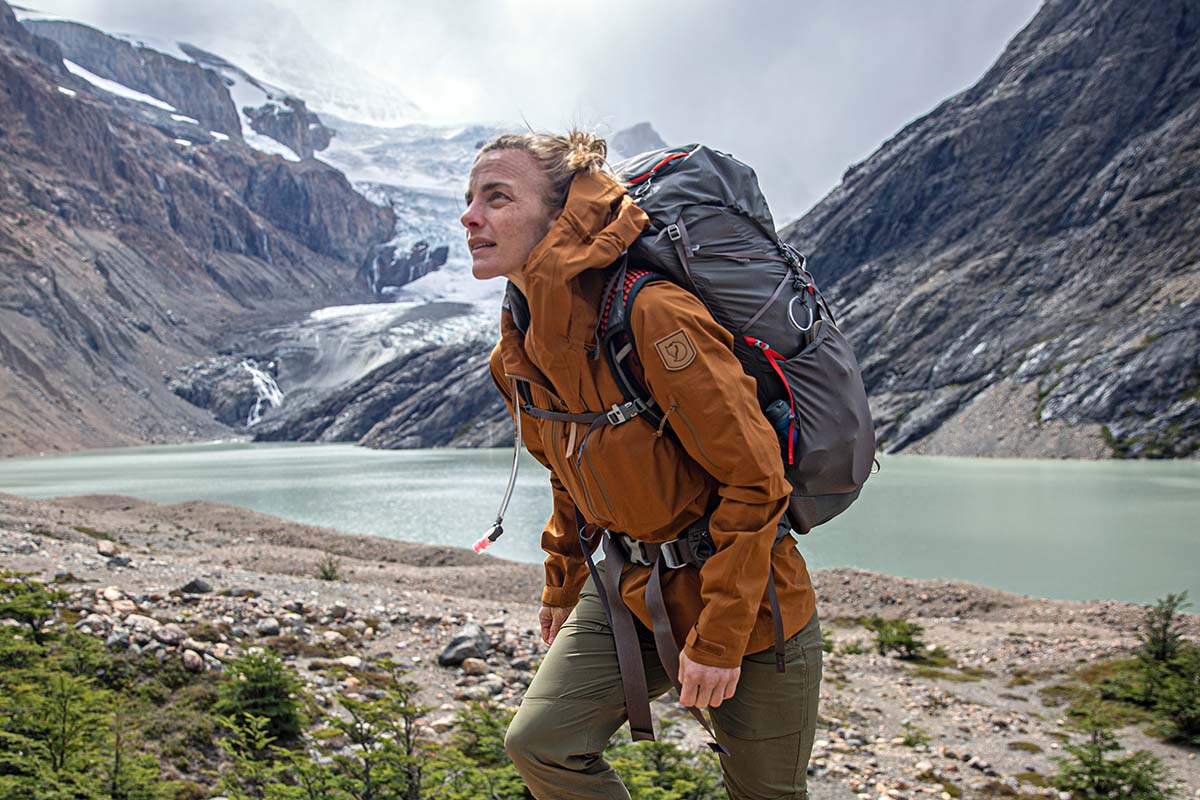 Fit and Sizing
The women's Gregory Facet comes in three sizes: extra small, small, and medium. I opted for a small (my standard size in packs and clothing) and the pack offered a great all-around fit. Unlike more featured designs, the Facet does not feature an adjustable torso length or hipbelt, but this did not result in any issues for me—I could still tweak the fit using the shoulder strap adjustments and load lifters, and the sternum strap slides easily along a track. While Gregory claims that the three sizes of Facet span a full range of body types (from 26-48 in. at the hip and 14-20 in. at the torso), it is worth noting that you can get a lot more adjustability from designs like their Deva and Maven. Further, most ultralight packs from smaller manufacturers like Gossamer Gear and ULA offer a great range of fit options, including the ability to customize both your hipbelt and torso sizes.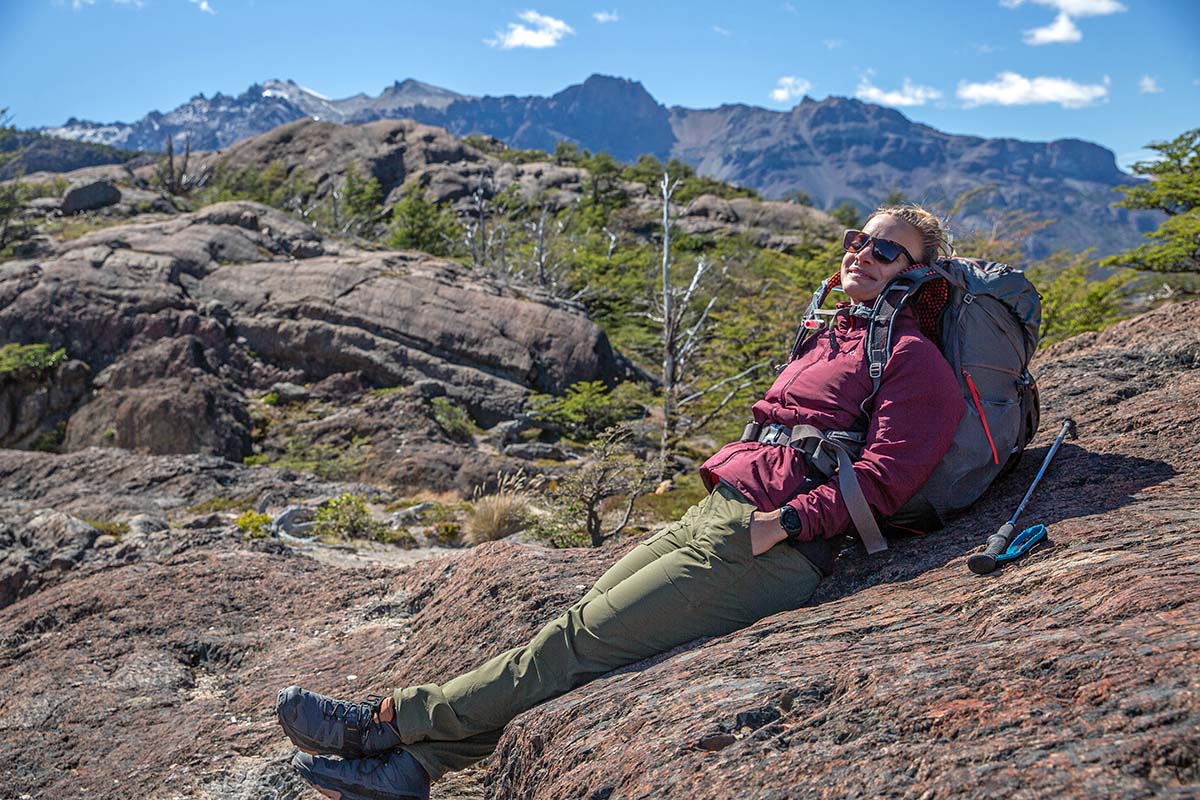 Men's Gregory Focal 48 and 58
For this review, we tested the women's Facet 55, but Gregory also offers a similar design for men in their Focal (which comes in 48 and 58L versions). The Gregory Focal 58 offers three liters more capacity, weighs slightly more (2 lbs. 9.3 oz. for the size small), is available in three men's specific sizes, and features a blue colorway rather than the Facet's red. But the overall design is the same—including the 35-pound load limit—and price is identical at $240.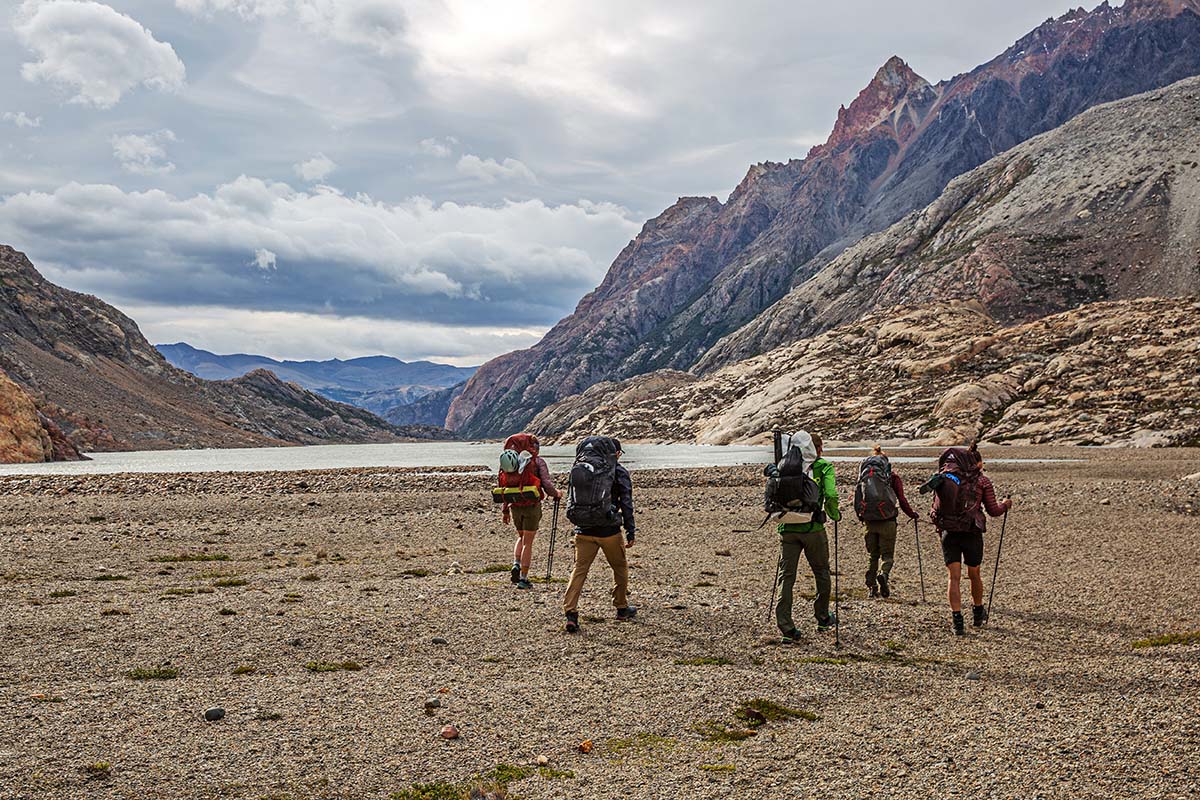 What We Like
A great balance of carrying comfort and organizational features for a decently low weight.
Incredible comfort for loads under 35 pounds, thanks to the just-right (not too overbuilt, not too streamlined) suspension system, backpanel, hipbelt, and shoulder straps.
Suspended mesh backpanel offers significantly more ventilation than most ultralight packs, making it a great choice for warm-weather hiking.
Just the right amount of organization, including two hipbelt pockets, three stretch-mesh dump pockets, and a removable lid with internal and external zippered pockets.

What We Don't
Thin nylon (100 & 200D) won't hold up to wear and tear as well as thicker nylon or Dyneema.
Hipbelt pockets did not accommodate our iPhone 11 (with case). We could squeeze it in with some effort, but would appreciate a slightly larger design.
With a 35-pound load limit, this isn't a great pack for those who like to carry everything but the kitchen sink.
You can trim weight even more with sub-2-pound packs like the Hyperlite Southwest 3400 and Zpacks Arc Blast.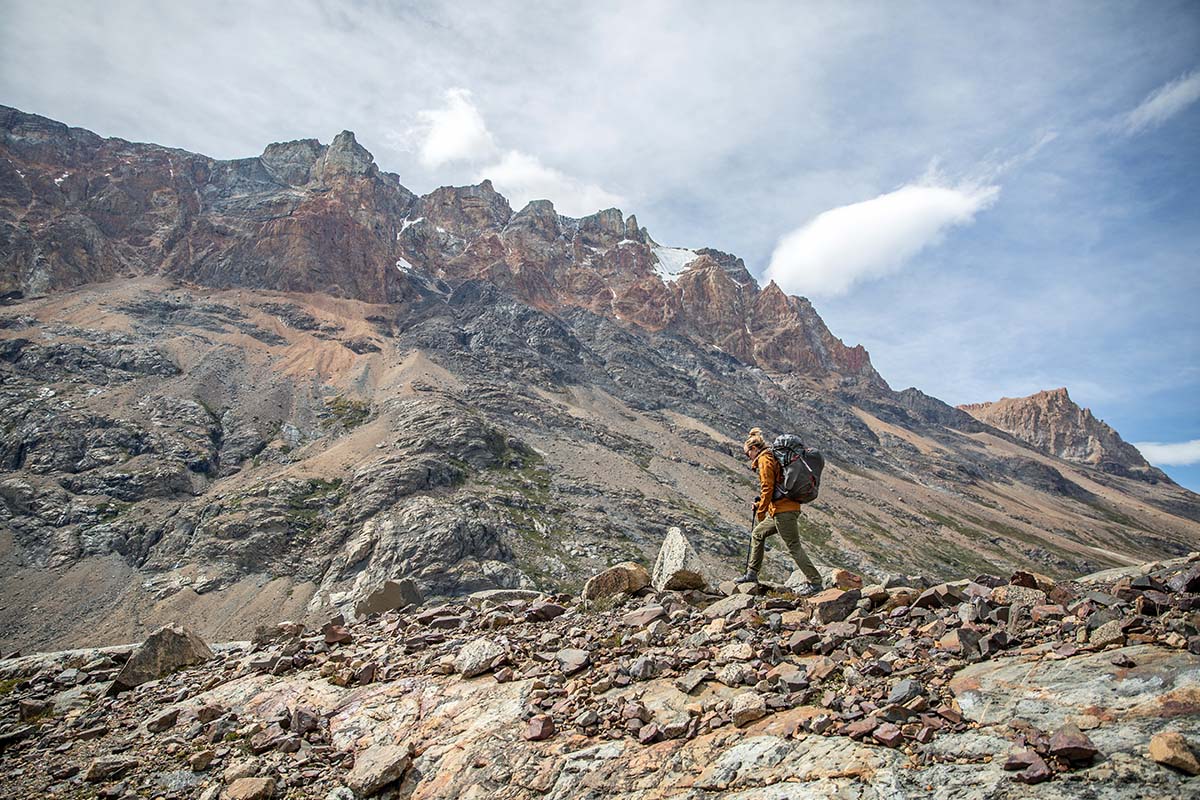 Comparison Table
| Pack | Price | Weight | Fabric | Capacities | Access | Pockets |
| --- | --- | --- | --- | --- | --- | --- |
| Gregory Facet 55 | $240 | 2 lbs. 8.8 oz. | Nylon (100D & 210D) | 45, 55L | Top | 6 exterior |
| Osprey Eja 58 | $240 | 2 lbs. 11 oz. | Nylon (100D & 400D) | 38, 48, 58L | Top | 6 exterior |
| Hyperlite Southwest 3400 | $355 | 1 lb. 15.7 oz. | Dyneema (50D x 100D) | 40, 55, 70L | Top | 3 exterior |
| ULA Circuit | $280 | 2 lbs. 5.3 oz. | Robic nylon (400D) | 68L | Top | 5 exterior |
| REI Co-op Flash 55 | $199 | 2 lbs. 10 oz. | Nylon (100D & 420D) | 55L | Top | 9 exterior |
| Gregory Maven 55 | $250 | 3 lbs. 5 oz. | Nylon (100D & 420D) | 45, 55, 65L | Top, front | 6 exterior |

The Competition
The two most well-known pack specialists, Gregory and Osprey often go head to head with their designs. The Osprey Eja 58 is the most direct competitor to the Gregory Facet 55, with a very similar feature set (including suspended mesh backpanel) and load limit (35 lbs.), along with an identical price point ($240). But the two packs stand apart from each other in a few ways. First off, the Eja 58 is slightly heavier and larger than the Facet 55 (to the tune of 3 oz. and 3L) and uses a more durable 400-denier accent material (however, the base is less durable at just 100D). Notably, the Osprey only comes in two sizes but allows four inches of adjustability in the torso, which could be helpful for particularly short or tall hikers. And unlike the Facet, it's also offered in a 38-liter version, which is an ideal size for short overnights or gear-intensive day hikes. We haven't yet tested the updated Eja, but it's a very attractive design and certainly gives the Facet a run for its money. In the end, it's hard to go wrong with either, but your final decision might come down to availability: At the time of publishing, both packs are relatively difficult to find in stock.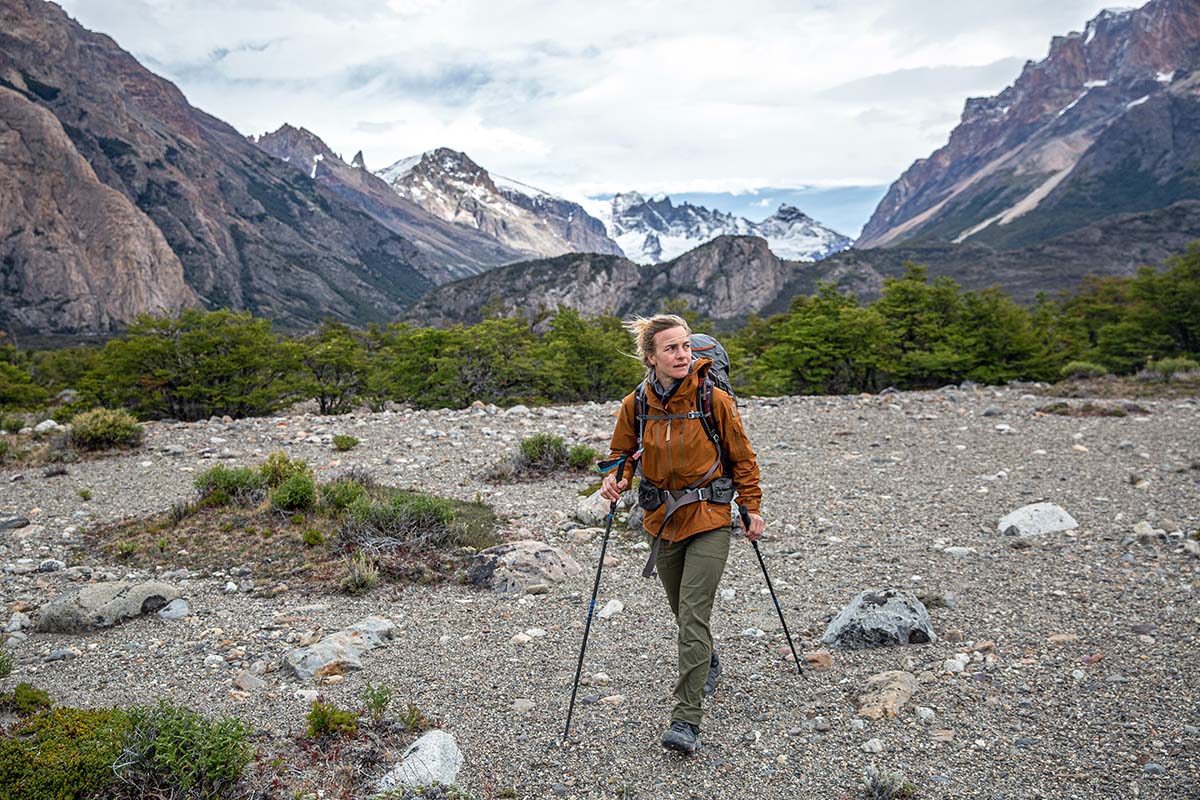 The Facet 55 is relatively lightweight at 2 pounds 8.8 ounces, but if you're truly counting ounces, chances are you'll opt for a pack like the Hyperlite Mountain Gear Southwest 3400. At just 1 pound 15.7 ounces for the white model, the Southwest 3400 shaves a lot of weight with premium Dyneema fabric, a simplified suspension and backpanel, and lidless design. It's truly hard to beat the durability and waterproofing of Dyneema, making the $355 Southwest a reasonable choice if you're planning on thru-hiking for months at a time or want your pack to last season after season of hard use. However, you do give up a significant amount of ventilation with the solid Dyneema backpanel (which pales in comparison to the Gregory's suspended mesh), and we prefer the Facet's more functional organization.  
In between the Hyperlite Southwest and Gregory Facet is a design like the ULA Circuit. The Circuit is one of the most popular packs on the Pacific Crest Trail and for good reason: For just $40 more than the Facet, it features highly durable (400D) and water-resistant fabrics throughout, offers 68 liters of capacity (although we think this is a bit of an exaggeration), and checks in at just 2 pounds 5.3 ounces. Despite its low weight, the ULA also prioritizes comfort, with weight distribution via a suspension hoop, foam frame, and aluminum stay. But the Circuit's archaic padded backpanel can't match the ventilation you get with the Facet, and organization suffers a bit with the lidless design. The ULA is a remarkably hard-wearing and comfortable companion for serious thru hikers, but the Gregory is undeniably more modern and will appeal more to the recreational or weekend-warrior crowd.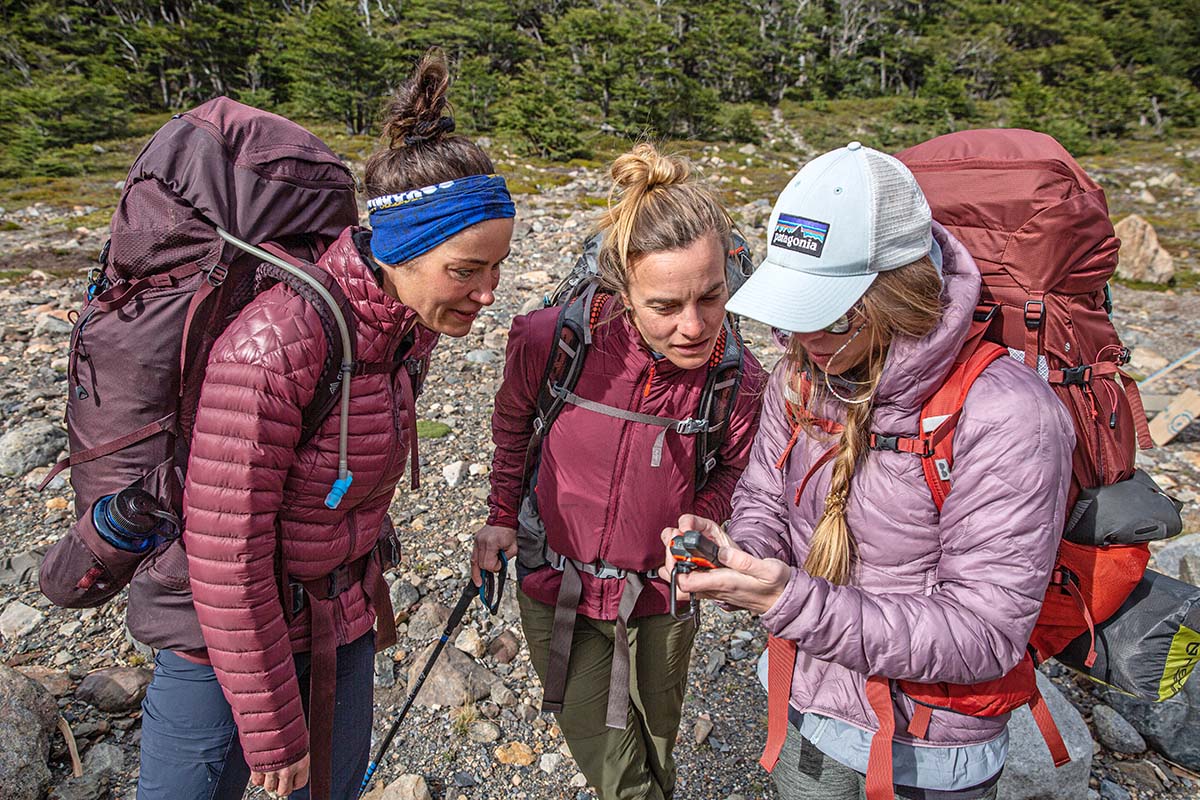 REI Co-op's in-house brand is a great one-stop shop for value, and their Flash 55 is no exception. For just $199, the REI Co-op Flash 55 is a comfortable and nicely featured ultralight pack that checks in just a little over an ounce heavier than the Facet (2 lbs. 10 oz.). Like the Gregory, it comes in three sizes and carries up to 30 pounds, but it swaps the suspended-mesh backpanel for padded foam, which offers a more plush feel but falls short in ventilation. The Flash 55 also features a unique Packmod system, allowing the user to tweak straps and pockets to customize or streamline their load (removing all accessories amounts to a 7-oz. weight savings). In the end, the Flash is a great value and a fun pack for those who like fiddling with gear, but REI is no match for pack-specialist Gregory in terms of quality and carrying comfort.
Last but not least is Gregory's Maven 55 ($250), which offers a big step up in comfort and features for just over a half-pound more than the Facet. Available in 45, 55, and 65-liter capacities, the Maven's additions include a more durable bottom (420D vs. the Facet's 210D), integrated rain cover, secondary side-zipper access to the main storage, adjustable torso length, and a sleeping bag compartment with removable divider. You also get a 50-pound load limit, which is a significant increase from the Facet (35 lbs.). With that laundry list of praise, it's hard to deny the value and prowess of the Maven. However, as we mention above, less is often more, and you'll have to ask yourself if you'll use the additional features. In the end, one of our favorite aspects of the Facet was its simplicity.
If you're thinking about buying gear that we've reviewed on Switchback Travel, you can help support us in the process. Just click on any of the seller links above, and if you make a purchase, we receive a small percentage of the transaction. The cost of the product is the same to you but this helps us continue to test and write about outdoor gear. Thanks and we appreciate your support!
Depending on the seller, most products ship free in the United States on orders of $50 or more. International shipping availability and rates vary by seller. The pricing information on this page is updated hourly but we are not responsible for inaccuracies.
Read More From Switchback Travel