Thule Helium Platform 2
Price: $800
Number of bikes: 2
Weight: 43 lbs.
What we like: High-end look and feel, extremely user-friendly, and reasonably light.
What we don't: Pricey considering its low maximum weight capacity.
See the Thule Helium Platform
We've been a fan of Thule bike racks for years—their T2 Pro XTR is currently our top-rated hitch model—so we were pretty excited by the release of the premium Helium Platform. This euro-cool design puts an emphasis on everyday simplicity with easy-to-secure arms, a compact and lightweight shape, and multi-vehicle compatibility that works with both 1.25- and 2-inch receivers. While it does come with limitations in terms of wheel size and tire width compatibility, the well-built rack impressed us with no-fuss performance throughout the six-month test period. Below are our experiences with the Helium Platform. To see how it stacks up to the competition, check out our article on the best hitch bike racks.
 
---
Table of Contents
---

Performance and Ease of Use
The Thule Helium Platform 2-Bike Rack's main calling card is its ease of use. With two arms on each end that swing over your bike tires to secure, the on and off process is incredibly fast and streamlined. For loading, you simply set the bike on the tray and push the two sides evenly until it's secure (the arms will "click" as they lock into place). Releasing the arms is also quite fast: Squeeze the levers at the top of the arms—it's best to push into the rack while squeezing the lever—and then slide them off. In practice, it's a 10-second process (and less if you're really moving) and something I came to really appreciate throughout testing. There's no fiddling with straps or any excess—just place the bike on there, secure, and go.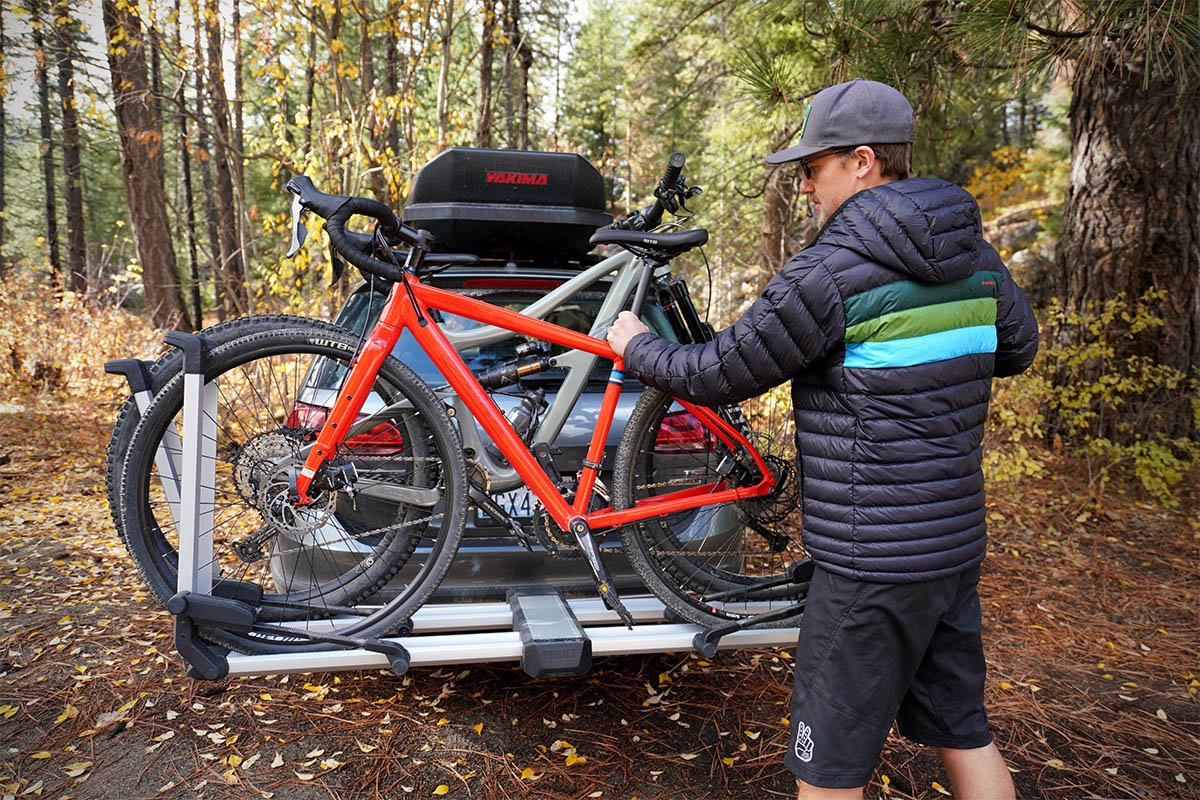 Set up and Installation
Hitch racks can be unwieldy and difficult to install, but I found the Helium falls on the simpler end of the spectrum. In the box, the rack is separated into five main parts: the center platform that connects the rack to the vehicle and the four pieces that connect to create the two trays. Instructions are included (here's a link to the PDF), and while I would've appreciated words to go along with drawings, it's a pretty straightforward process that didn't take more than 30 minutes to do. One tip: As with our experience with other racks, it's worth adding a dab of Loctite Threadlocker Blue 242 on the threads of the screws to ensure they don't loosen over time.
For connecting the rack to the vehicle, the Thule Helium Platform's relatively modest weight and compact shape help a lot. It's a process most will be able to do solo, and once you slide it into the hitch receiver, the SnugTite stinger does exactly what it's intended to do: keep the rack very solidly in place with minimal wobbling and movement. Removing is equally fast and convenient, which is a big positive for those that plan to store their rack for stretches of time.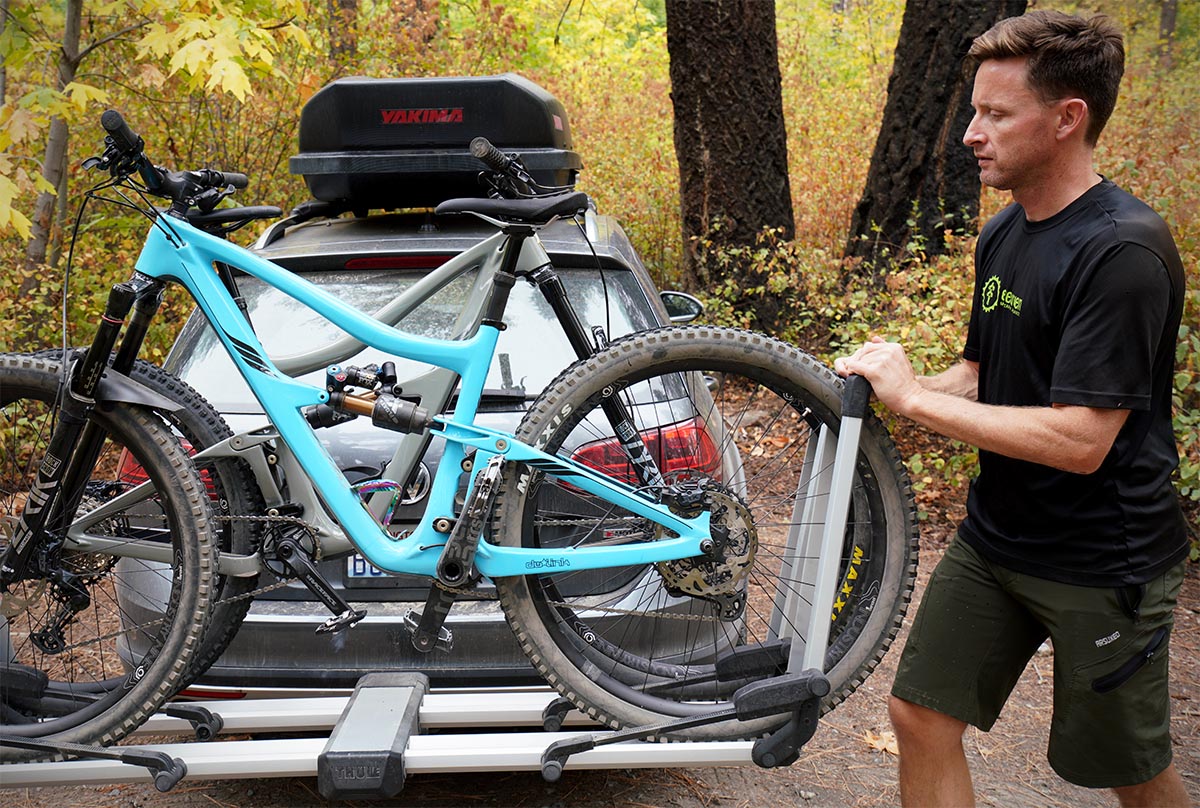 Bike Capacity and Wheel Sizes
Arguably the biggest compromise with the Helium is its relative lack of diversity in bike capacity and wheel sizes. To start, the rack I tested is the two-bike model (a one-bike Helium is also available for $500), and there are no optional add-ons to expand that capacity (unlike the brand's T2 Pro XTR, which can carry as many as four bikes). Further, the wheel sizes are limited to adult models ranging from 26 to 29 inches, so kids' bikes won't work. And finally, the max tire width is only 3 inches, which means fat bikes are out of the equation. For many mountain bikers, road cyclists, and gravel adventurers, these limitations won't be a problem. But if you want the ability to carry a wide variety of bike styles, Thule's T2 Pro XTR (which can accommodate wheels between 20 and 29 in. with tires up to 5 in. wide) is the better choice.

Weight Capacity
Like the bike capacity and wheel size compatibility outlined above, the Helium isn't a standout in terms of weight capacity. Per bike, the rack is rated at 37.5 pounds (75 lbs. is its total max capacity for two bikes), which means e-bikes—many of which push 50 pounds—and a lot of downhill mountain bikes are incompatible. The good news is that most trail and enduro mountain bikes will work just fine, as they often check in somewhere between the high 20s and low 30s. And again, for road and gravel cyclists, this limitation shouldn't be a deal-breaker. 
It's worth noting that I did push the weight limit on a couple occasions hauling a friend's burly enduro bike (roughly 40 lbs. with gear attached) without consequence. Perhaps this was helped by the fact that the heavier bike was loaded closer to the vehicle, and the collective total didn't exceed the 75 pounds, but the rack felt rock solid even on forest service roads and capable of hauling more than its listed weight. Nevertheless, I wouldn't recommend pushing that limit, especially over rougher roads.

Build Quality and Durability
Lightweight hitch bike racks often sacrifice in durability—and our experiences with Yakima's Dr.Tray and Kuat's Sherpa confirmed this—but thus far, the Helium Platform has performed flawlessly for us. The primary material is aluminum, which has held up extremely well despite remaining on my vehicle for six months straight, which included lots of dusty trails, rain, and some snow. The same can be said of the plastic pieces, which are all in great shape. The ratcheting arms did get sticky on a couple of occasions due to significant dirt and dust building up during the dry summer months, but a good washing got them back to their smooth-operating ways.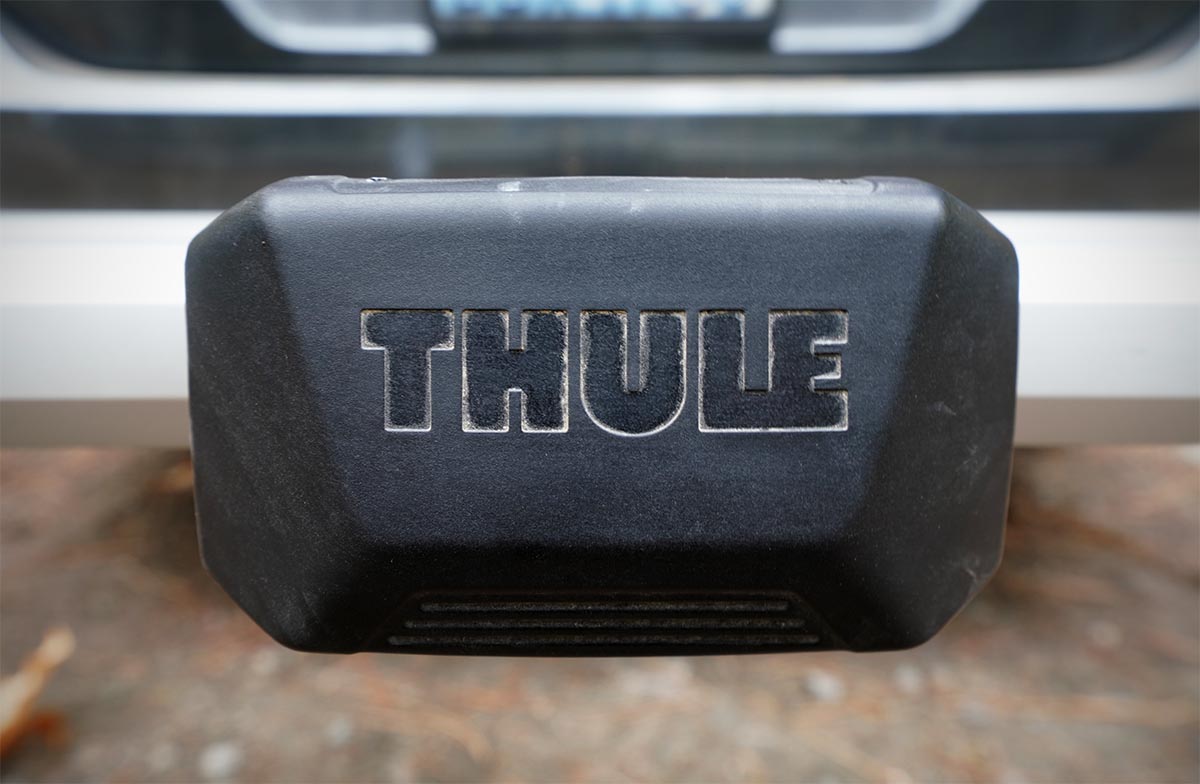 Over the long haul, I still expect the burlier and heavier T2 Pro XTR to outlast the Helium. I have a T2 Pro XT that's still going strong after four years, and the same can be said of 1Up's all-alloy Heavy Duty Double. But thus far, I have no issues to report, and the Helium strikes me as reasonably well-built and hardwearing considering its compact shape and lower weight. 

Weight
At just over 43 pounds, the two-bike Helium rack is on the lightweight end of the spectrum. Among tray-style models, it undercuts burly designs like Thule's T2 Pro XTR (52 lbs.), Kuat's NV 2.0 (52 lbs.), and even 1Up's aluminum Heavy Duty Double (46 lbs.). You can go lighter with an alternative like the Yakima Dr.Tray (34 lbs.), but you give up the solid feel of the Helium (our Dr.Tray wobbled excessively on rough roads, and its thin locking arms didn't inspire a lot of confidence). And we had similar complaints with the 32-pound Kuat Sherpa. All told, the Helium's weight hits a nice sweet spot: It's manageable for those that need to remove it from their vehicle on occasion, but overall build quality and bike security are still quite good.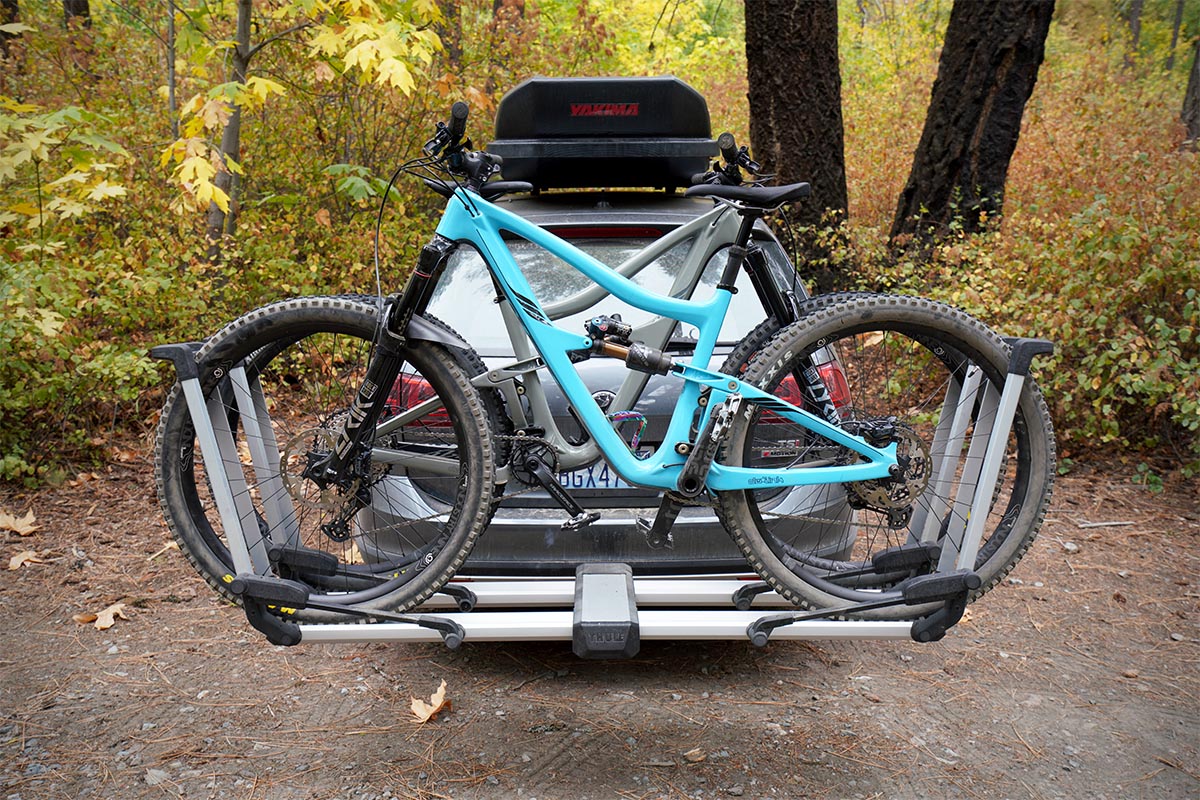 Key Features
Tilt Lever: HitchSwitch
Thule's tilt system, which they call the HitchSwitch lever, is well-placed for up and down adjustments. The lever is located in the center of the rack, away from the car and bikes, and it's one of the few that we've been able to reach with ease when the bikes are loaded. What impressed us most, however, was how effortless it was to tilt the rack and bikes up and down once the lever was disengaged. We're not sure what kind of design magic (or simple physics) went into this feature, but somehow, Thule managed to find a pivot point that made lifting and lowering the bikes simpler than any other system we've tested (this matches our experience with the brand's T2 Pro XTR as well). For comparison, the tilt lever on the 1Up Heavy Duty Double is much harder to reach (1Up actually sells a tilt lever extender for an extra $70), as is the lever on the Kuat NV 2.0.
As with many tray-style tilt designs, lowering the Helium Platform rack allowed for access into my vehicle's rear hatch (a Volkswagen Golf Alltrack), even when bikes were loaded. And I had the same experience when using the rack with a 2017 Jeep Grand Cherokee. That said, I did have some issues when folding the rack up with my VW Golf. Due to the placement of the hitch receiver, which is set into the bumper and sits higher than average, the rack partially blocked my vehicle's brake and turn signals. Most won't have this problem—and I ended up just leaving the rack folded down to play it safe—but it is a consideration as I didn't have the same problem with my Thule T2 Pro.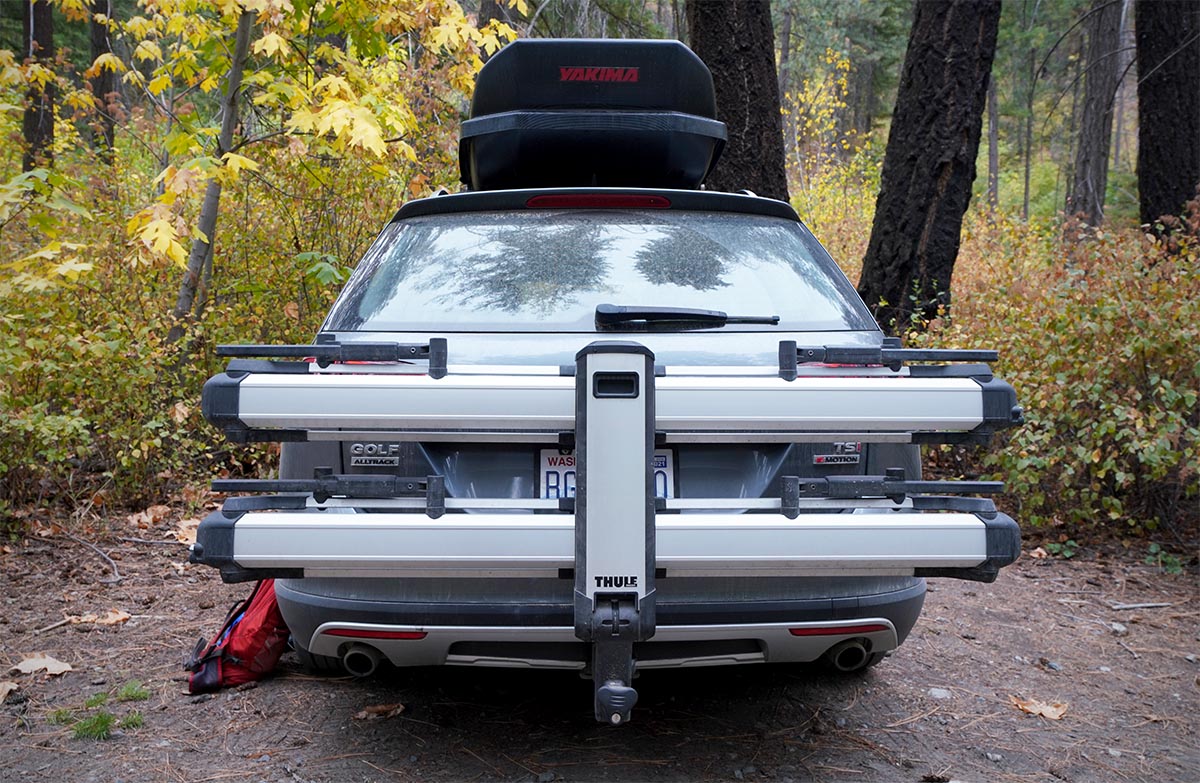 Locks
The Thule Helium Platform comes with a couple forms of locks. The most important is the lock incorporated into the SnugTite stinger, which locks the rack to your vehicle's receiver. Keys are included, and it's a no-brainer to keep that locked whenever you have your rack connected. Thule also incorporated two cable locks to secure your bikes to the rack itself. To be clear, these are merely theft deterrents—a quick snip from a bolt cutter would slice right through the cables—but it does give some modest peace of mind. That said, if you plan to leave your bikes on the back of your vehicle, we highly recommend adding a sturdier backup.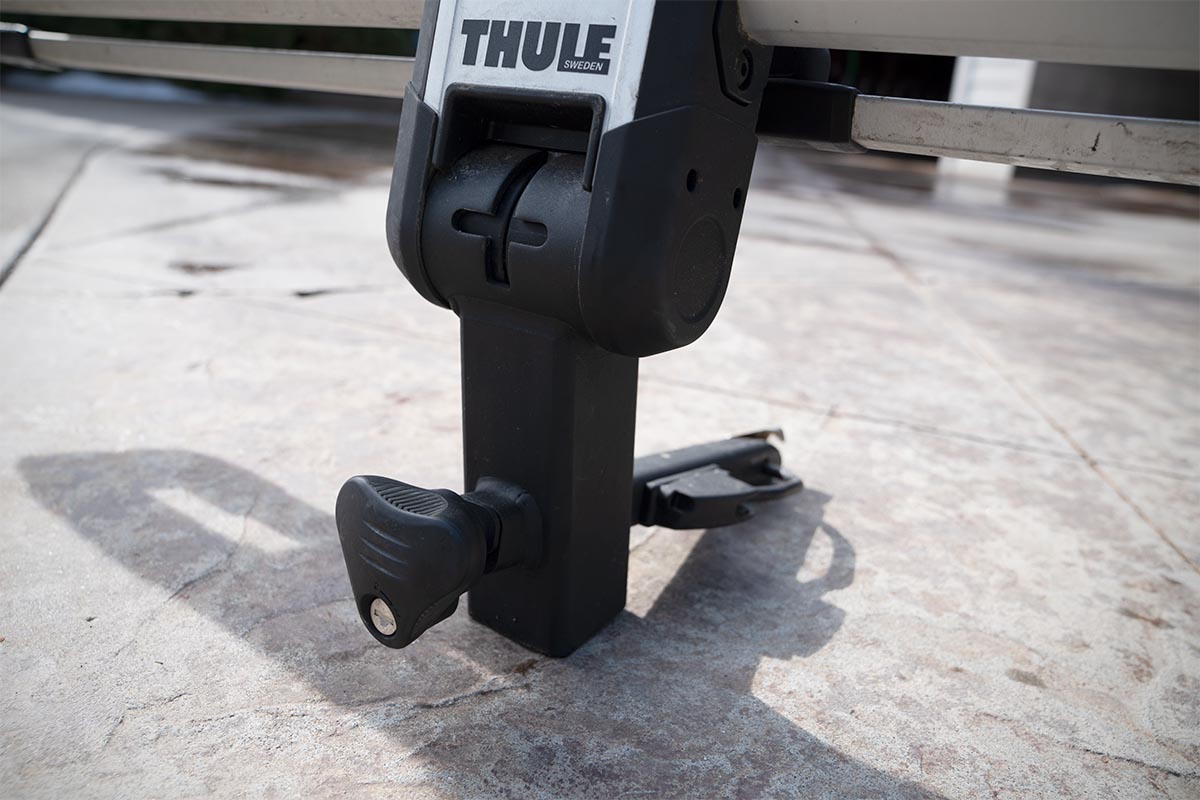 Other Versions of the Thule Helium
We tested the 2-bike version of the Thule Helium Platform rack for this review, and it's also sold in a 1-bike model for $500. Within the wider Helium collection, Thule also offers the hanging-style Helium Pro in 2- and 3-bike variations, which retail for $480 and $500 respectively. Compared to the platform design tested here, the two Pro offerings weigh less (19 lbs. for the 2-bike version and 20 lbs. for the 3-bike model) and have a slightly more compact shape, but there's less distance between bikes when loaded, and they're more prone to swaying and coming into contact with each other while driving. And a final downside to the hanging-style designs is that the straps wrap around your bike's frame, which can lead to scuffing and scraping over time. If security and bike-to-bike contact are top priorities for you, we'd recommend sticking with the tried-and-true platform options.

What We Like
Incredibly easy and quick to load and unload: Just place your bike on the rack, secure the two arms that click to lock in place, and go.
Simpler to install than much of the competition, and the modest weight and compact shape make it easy to connect to your vehicle (even solo).
At just over 43 pounds, the Helium is impressively light while still offering solid build quality and bike security.
Noticeable more hardwearing and durable than most other options in this weight class.
HitchSwitch tilt lever is well-placed for up and down adjustments and very easy to reach when bikes are loaded (not always the case with platform racks).
Compatible with both both 1.25- and 2-inch hitch receivers.

What We Don't
Weight capacity maxes out at 37.5 pounds per bike, which means e-bikes and a lot of downhill mountain bikes won't work.
Limited wheel size and tire width compatibility, and there are no optional add-ons to carry more bikes.
The rack partially blocked the brake and turn signals on my Volkswagen Alltrack.


Comparison Table
*Editor's Note: "Capacity" refers to weight capacity per bike.

The Competition
Thule's Helium Platform stands out among the hitch rack competition for its user-friendliness and high-end look and feel in a reasonably light package. However, our favorite design for multiple seasons running is Thule's more premium T2 Pro XTR. In parsing out the differences, the Helium is lighter, faster to load and unload, and includes zero bike-wheel contact, while the T2 has a strap over the rear wheel. Both models retail for $800, but the T2 is noticeably burlier and likely longer-lasting, compatible with wider tires (up to 5 in. vs. a 3-in. max for the Helium) and smaller wheels (down to 20 in.), and can carry more bikes (up to four with the add-on). In the end, the added compatibility and durability make the T2 the better all-rounder, but the Helium Platform certainly has its merits, namely in weight and ease of use.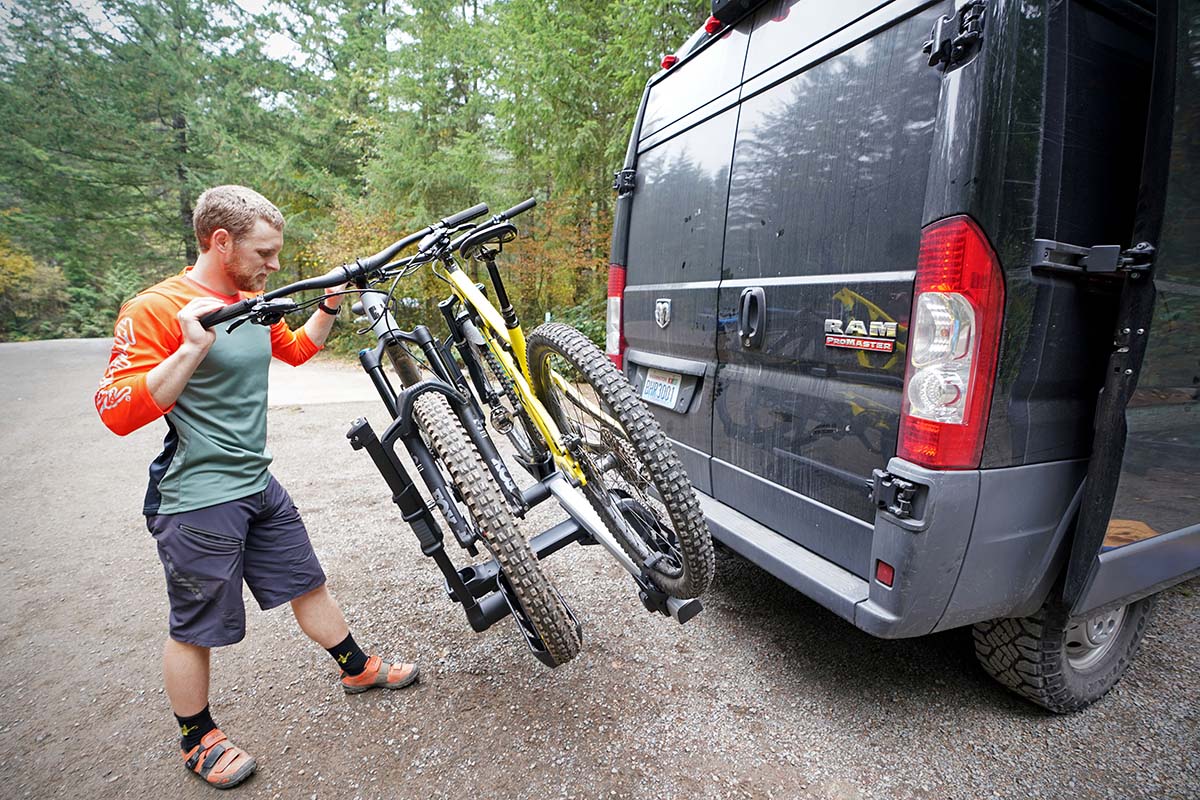 If you like the compact nature of the Helium Platform, Kuat's Sherpa 2.0 is an even lighter alternative. The Kuat rack clocks in at a scant 32 pounds, which makes it incredibly easy to install and remove from your vehicle. In shaving weight, however, you do sacrifice some long-term durability, and we experienced a few significant issues during testing, including the tire ratcheting system failing, rust accumulation, and stickiness along the sliding arm mechanism and spring in the pivot. And neither rack is a standout in wheel size and tire width compatibility or weight capacity. In the end, the Helium Platform strikes us as the more hardwearing and long-lasting option overall, and we think the added heft is a reasonable tradeoff for the boost in longevity (especially for year-round riders).
Like the Kuat Sherpa 2.0, Yakima's Dr.Tray is another leader in the lightweight hitch rack category. The Dr.Tray checks in around 10 pounds lighter than the Helium Platform at 34 pounds, and we really like the EZ+1 extension, which allows you to expand its carrying capacity to three bikes with only a 9-pound weight penalty for an additional $259 (something you can't do with the Thule). However, as we found with the Kuat, the Dr.Tray isn't the most confidence-inspiring option: The thin arms that secure the front wheels feel flimsy and cheap and don't lock the bikes as solidly in place as the Helium, and we noticed they're more prone to wobbling while driving. You do save a considerable $200 with the Yakima (and it can accommodate tires up to 5 in.), but we prefer the more robust and premium feel of the Thule.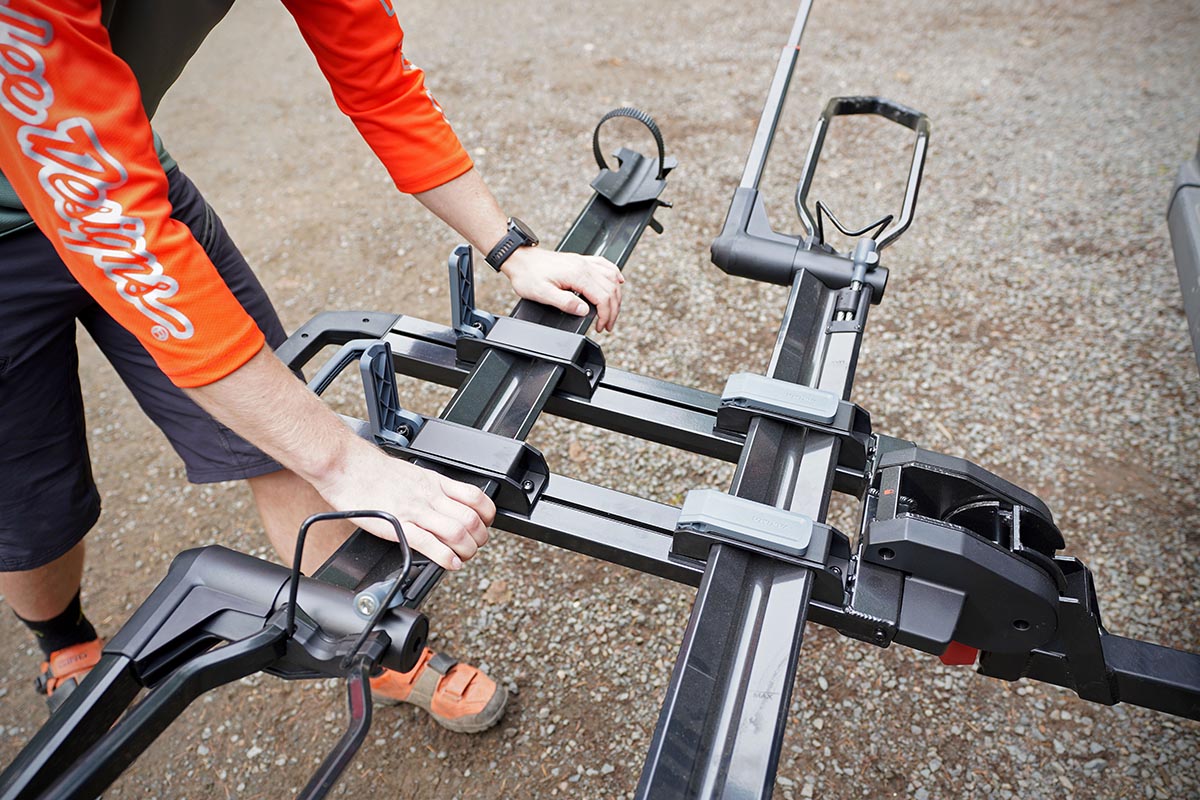 A final alternative to have on your radar is 1Up USA's Heavy Duty Double. As its name suggests, the 1Up is impressively robust with a sleek aluminum build and noticeably high-end look and feel. In terms of compatibility, the Heavy Duty Double wins out against the Helium with the ability to accommodate wheels ranging from 16 to 29 inches, can haul more weight (50 lbs. per bike), and comes with the option to tack on an additional add-on to shuttle up to four bikes. However, cable locks are not included with the rack (you do get a hitch bar lock), and the tilt feature is hidden under the rack and hard to reach with bikes loaded on. But all in all, it's an expertly crafted and undeniably premium design and gets the edge over the Helium in most categories.
If you're thinking about buying gear that we've reviewed on Switchback Travel, you can help support us in the process. Just click on any of the seller links above, and if you make a purchase, we receive a small percentage of the transaction. The cost of the product is the same to you but this helps us continue to test and write about outdoor gear. Thanks and we appreciate your support!
Depending on the seller, most products ship free in the United States on orders of $50 or more. International shipping availability and rates vary by seller. The pricing information on this page is updated hourly but we are not responsible for inaccuracies.
Read More From Switchback Travel