Mountain biking can be a very expensive sport: there are hundreds of excellent bikes available for $4,000 to $6,000 and those aren't even at the highest end of the price spectrum. Fortunately for those not ready to drop that kind of coin on something without a motor, there are plenty of great bikes available for under or around $2,000, and much of the technology that has pushed the sport year over year has trickled down into this category. If mountain biking is a new sport or you don't anticipate getting out more than a handful of times a season, this is a great place to start looking. For background information, check out our buying advice found below the picks. Or, read on to see our favorite mountain bikes under $2,000 for 2016.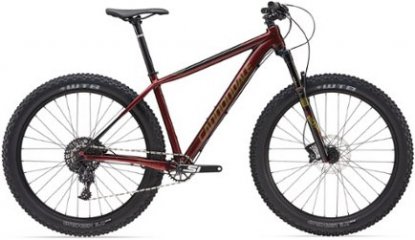 Type: 27.5-plus hardtail
Tires: 27.5 x 3 in.
Front travel: 120mm
Gears: 1 x 11
What we like: The latest tech; playful handling.
What we don't: Some may wish for a rear shock.
Most sub-$2k bikes inherit the latest designs a few years after their release, but the Cannondale Beast of the East is brimming with brand new tech. Starting with the 27.5 Plus wheelset and tires: the mid-fat 3-inch tires and 50mm rims are tubeless ready and the extra width offers a tangible improvement in traction and stability. Perhaps most impressive is the 11-speed rear cassette. Most value-oriented bikes are still languishing in the olden days of 9-speeds, with the occasional 10-speed, but 11? Impressive. The wide gear range also means Cannondale can go without a front derailleur for reduced maintenance and weight.
As a trail bike, the quality RockShox front fork, 15mm thru-axle and Shimano hydraulic brakes are all standouts. More, the geometry is just right for longer XC rides, but provides a comfortable cockpit for the downhill. Put simply, in our eyes, as long as you don't need a full suspension, this is the best option on the market.
See the Cannondale Beast of the East 2
2. Santa Cruz Superlight D ($1,999)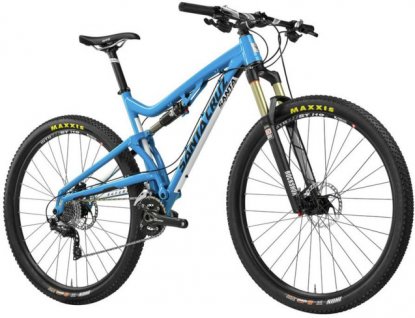 Type: Full suspension
Tires: 27.5 x 2.1 in. (s/m); 29 x 2.1 in. (l/xl)
Front/rear travel: 120mm/100mm
Gears: 2 x 10
What we like: Great blend of proven and new technology.
What we don't: Middling components.
One of our all-time favorite mountain biking brands, Santa Cruz simply never disappoints. The Superlight is their entry-level full-suspension bike, and is as fast and trail capable of a bike as you will find in this price range. And the componentry isn't half bad either. You get a user-friendly Fox rear shock that can be adjusted on the fly between modes (climb, trail, and descend) and a 2x10 crankset that's equally adept at long climbs or rolling XC trails. There's nothing breakthrough in the design, and the derailleurs and shifters are a slight step down compared with some others on this list, but it's a proven build that's good, honest fun.
To tune the fit and performance characteristics for nearly every size and style of rider, there's a full buffet of wheels size choices. Large and extra large frames come with the correspondingly large 29-inch wheels, and the small and medium frames get the nimbler 27.5. In any guise, the Superlight is a fast-mover and a heckuva a deal squeezing in under $2k.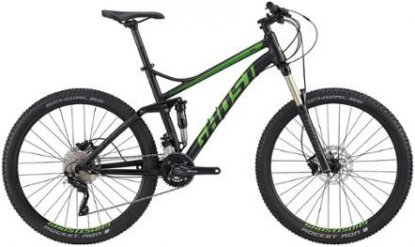 Type: Full suspension
Tires: 27.5 x 2.25 in.
Front/rear travel: 130mm/130mm
Gears: 2 x 10
What we like: Affordable price; fun and nimble on the trail.
What we don't: Quick-release hub needs to go.
Women's: Ghost Lanao FS 4
Ghost is a German bike company that is only just getting its feet wet in the US market, and we're happy to have them, thanks to a great bang for the buck. Case in point: the 2016 Kato FS 3 27.5. For a very reasonable $1,799 you get a nearly perfect first-timers full suspension setup. With stout Shimano brakes, reliable components and enough suspension travel to tackle all but the most technical stuff out there it's the real deal.
Outside of the 27.5-inch wheelset, there isn't anything particularly groundbreaking about the design, but it all works well and has folks raving about its light and nimble feel. And getting a quality Shimano XT rear derailleur at the price is a real steal, not to mention a 10-speed rear cassette when many full-suspension bikes at this price point are 9-speed. Our only real complaint is the quick release front skewer. Compared with 15mm thru axles, which are well on their way to becoming the industry standard, the quick-release setups aren't as stiff—something you can feel when riding aggressively over rough terrain. But considering the price, this is an expected compromise and does little to temper our enthusiasm for an excellent budget full-suspension bike.
See the Ghost Kato FS 3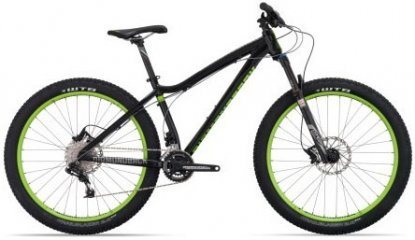 Type: 27.5-plus hardtail
Tires: 27.5 x 2.9 in.
Front travel: 120mm
Gears: 2 x 10
What we like: Big-time performance on the descents; wide and grippy tires.
What we don't: Not as adept on the uphill.
Proving that a hardtail doesn't have to be demoted to easy rolling singletrack, the Diamondback Mason is built with big-time descents in mind. With a slack geometry and big 27.5-inch plus wheels, the Mason is a supremely confident handler. Bolstering its year-round performance are 2.9-inch Schwalbe Nobby Nic tires, which, while a bit heavier than traditional 2 to 2.3-inch rubber, offer a wide contact patch for improved grip. Mid-range shifters are solid performers, and although the Avid disc brakes aren't our favorite—we prefer Shimano hydraulics—they still have a consistently good bite.
One thing to keep in mind is that the laid back geometry does make the Mason a bit of a grinder on long climbs, but once everything turns downhill, it's easy to forgive and forget. We loved the previous Mason, which ran on big 29er wheels, and the switch to 27.5+ should only up its fun factor. A price that slips in under $1,700 sure doesn't hurt.
See the Diamondback Mason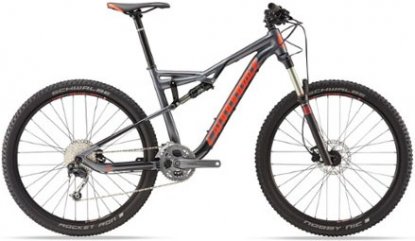 Type: Full suspension
Tires: 27.5 x 2.25 in.
Front/rear travel: 120mm/120mm
Gears: 3 x 9
What we like: Shares a design with its high-end brethren.
What we don't: Cost cutting in the front hub and components.
If you're sick of being bucked around local trails on your old 26-inch hardtail, the Cannondale Habit Alloy 6 is a supremely user-friendly way to upgrade to a dual suspension steed. With the most affordable componentry in the Habit lineup (which reaches the stratospheric $12,000 Habit Hi-Mod Black), you get all benefits of the high-end all-mountain screamers—trail-ready geometry, short stem and wide bars—at a very approachable price. It may not have Cannondale's innovative Lefty fork, but 120mm of travel at the front and rear is plenty to smooth out rockiest and rooty-est trails.
As with the Ghost Kato, the biggest sacrifice in opting for the base model is it still features a 9mm front hub, which lacks the stiffness and control you get with a modern 15mm thru axle. The suspension and shifters are as expected for the price, although we'd prefer a 10 speed rear cog as opposed to the included 9. But the Habit Alloy leverages a lot of excellent design work from Cannondale's proven line of trail bikes, and is a great option for those making their first big-time bike investment.
See the Cannondale Habit Alloy 6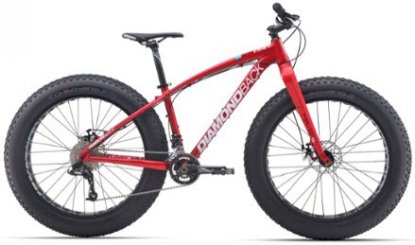 Type: Fat bike
Tires: 26 x 4.9 in.
Front/rear travel: None
Gears: 2 x 10
What we like: Fat bike fun.
What we don't: Ponderous handling.
Fat bikes took the industry by storm with their phenomenal grip and cartoonish looks. The 5-inch wide tires take you comfortably over and through previously unheard of trail obstacles, floating over sand, snow and rocks with relative ease. Diamondback's El Oso Grande is a nicely appointed fat bike that's built to thrive in rough Midwestern winters and still be fun when things thaw out. The frame has been stiffened for trail (ab)use and capable 160mm disc brakes front and rear are confidence inspiring.
Let's be clear, however, as your daily driver mountain bike, fat bikes aren't for everyone. While the roll-over-anything personality is its own kind of fun, it's not as huck-able or playful as a traditional mountain bike. And the tires still aren't a complete replacement for a quality suspension that deftly absorbs techy trail sections. But if you aren't out to set a PR and just want to have a good time in the sand, snow and muck the El Oso Grande is a winner.
See the Diamondback El Oso Grande
Type: Full suspension
Tires: 27.5 x 2.25 in.
Front/rear travel: 120mm/120mm
Gears: 2 x 10
What we like: Light and nimble.
What we don't: Early frame issues.
In 2015, Giant released their budget all-mountain Stance lineup to some fanfare. It was billed as a detuned version of the popular Trance all-mountain rig, but simplified with a single link rear suspension and an xc-friendly setup. And while there were some growing pains—some reported frame failure issue with early models—it seems that has been cleared up and the Stance is quickly amassing a strong following. It has the suspension goods: 120mm of supple RockShox travel front and back (the Trance has 140mm), which is dead on what most weekend riders need on maintained singletrack. Weight is always a challenge with full suspension bikes at this price point, but the Stance isn't as much of a drag on the uphill as the others, including the Kodiak below. Given Giant's strong history of quality bikes, we fully expect the Stance to overcome its early missteps and prove to be a winner in this category.
See the Giant Stance 1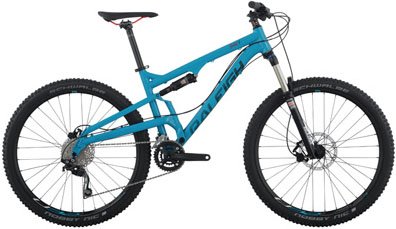 Type: Full suspension
Tires: 27.5 x 2.25 in.
Front/rear travel: 120mm/120mm
Gears: 2 x 10
What we like: 15mm front hub for extra stiffness.
What we don't: Busy design, downgraded components.
We rarely recommend a full suspension bike that comes in around $1,500—they're typically too compromised in design—but the Kodiak 2 earns a spot on this list as a surprisingly modern and capable rig. Outfitted with mid-range RockShox at the front and rear, the Kodiak is smooth on the trail, further aided by strong Tektro hydraulic brakes. The rear linkage is a little busy, overly complex and heavy in our opinion, particularly when contrasted to the clean and very effective Santa Cruz Superlight. As one would expect at the price, the component group is a step down, but they remain decent Shimano stuff. Notably, the Kodiak comes with thru-axles at the front and rear hubs, which bumps its trail cred. There is an even cheaper Kodiak (the Kodiak 1), but we prefer the "2" as the base model compromises too much in terms of gearing, shifters and suspension.
See the Raleigh Kodiak 2
Mountain Bikes Comparison Table


Mountain Bikes Under $2k Buying Advice
Full Suspension or Hardtail?
In the $1,000 to $2,000 range, you'll find yourself weighing a number of options, and the most significant may be rear suspension. Thus the question: is the extra cushion worth the added weight and complexity? A big consideration is where you typically ride. Rear suspension isn't that necessary when your trails aren't particularly rough, and a lightweight hardtail can actually be more fun and flickable on well-groomed trails. But in places like the rock and root-filled Pacific Northwest, full suspension can be the difference between a fun ride and an emergency root canal.

Features
The extra costs involved in designing and building a rear suspension, along with the extra shock all add up to added costs that a similarly priced hardtail doesn't have to account for. As a result, you'll see significant upgrades in terms of components—particularly shifters and brakes. These higher-end components are typically smoother operating and longer-lasting. You just get more bike for the money if you can do without a rear shock.

Wet-Weather Maintenance
Another factor to consider is long-term maintenance. Many folks will pick up a hardtail as a wet weather or winter bike because the rear linkage of a full suspension bike is just one more thing to take care of. The additional pivots, bearings and bushings require cleaning, re-greasing and general love to keep from seizing up or rusting out. When you come off the hill with bike and body completely covered in mud, it's sometimes nice to simplify the cleanup. That's when a bike like the Diamondback Mason or the Cannondale Beast of the East really comes in handy. Those hardtails are plenty capable of keeping up with full suspension models on rough downhill sections.
Wheel Size: 27.5-inch vs. 29er
A number of factors will decide how a bike behaves on the trail, such as its geometry, but there are a few general truths we can point out in differentiating the two wheel standards. And in the sub-$2,000 price range, you'll see the characteristics further exaggerated. As an example, an $8,000 carbon 29er will probably feel plenty nimble and fast, but at a more affordable $2k price with a heavier aluminum frame, components, and wheels and tires, it'll often feel a bit more sluggish than its 27.5-inch sibling. The pros and cons listed below are a great starting point to narrow your search:

27.5 (or 650b)
Opt for the smaller wheel size if you're looking for a bike that responds eagerly to quick inputs. It's often a less isolating ride and you feel more control in the tighter sections than a comparable 29er. The downside is a step down in grip, and, while the larger wheel is better at taming technical single track than the old 26-inch wheel, it isn't as huck-able as those older bikes. The industry has determined, however, that those pros outweigh the compromises made in the change. 27.5 also is a great choice for smaller riders, when a 29er can feel unwieldy and gives the impression you're a kid borrowing your parents bike for the day.

29er
You'll hear the term "rollover" used a lot in describing a 29er, and it's a fair point. The taller wheels have a more favorable attack angle so they aren't as affected by rocks and roots or other trail roughage as a smaller wheel, which lends to a more stable feel. This comes at the sacrifice of some quickness and playfulness in the tight stuff as well as some extra weight. Wheelsets are heavier in this more entry/mid level category, and a 29ers greater wheel estate (get it?) translates to extra heft to drag up a long climb. A $2,000 29er is less of a grin maker than a comparable 27.5 bike (or the old 26-inch), but is a stable companion that often makes a hardtail or a XC full suspension outperform expectations when the going gets rough.
27.5 Plus / 29 Plus (Mid-Fat) and Fat Bikes
First there was the 29er, then came the 27.5, and for 2016 we have the 27.5 Plus and 29 Plus. The first two refer simply to wheel diameter, while the final two tack on an indicator of tire width. The "plus" tires are referred to as mid-fat or a plus bike, and fall in-between the standard 2 to 2.3-inch mountain bike tires and the true 5 inchers that you find on a fat bike. The benefits of a wider tire include increased stability, greater trail comfort and traction. Obviously with more rubber comes more weight, and mid-range bikes that are already a little heavy can feel even more ponderous. Done right, like the hardtail Diamondback Mason and Cannondale Beast of the East, these wide tires do wonders for grip with few negatives.
Unlike plus bikes, a fat bike will probably not become your everyday mountain steed. They're undoubtedly fun, but remain a niche model best used in specific environments: snow, sand and backcountry travel. The super wide width won't set any speed records—it's all about grip and rollover abilities here.
Weight
Weight is an unfortunate area of sacrifice at this price point. All of the fancy technology and materials that drive mountain bike weights lower and lower have a significantly higher cost of entry. For casual riders, it's less of an issue, but if your rides involve extended climbs up fire roads or single track, the excess weight can be a factor. If weight is one of your top priorities and you're trying to stick to a budget, a hardtail might be your best choice. These bikes consistently do better in managing their heft, with most weighing around or under 30 pounds, simply because there's more leftover cash in the design budget when you don't have to include a pricey rear shock and linkage.
One way to trim weight from your bike is transitioning to a tubeless setup. Removing the tubes cuts away that all-important rotational weight, and can be done really cheaply. More, you can run at a lower PSI, which increases traction. Many of the bikes on this list have tubeless ready tires, but you'll also need to verify the rims are compatible. It's possible to set up a standard rim tubeless, but the process can be a little arduous the first few times (trust us).
How Many Gears is Best?
At first glance, it may appear that having more gears is a good thing—27 is better than 20, right? But that 27-gear (3 x 9 crankset) ride is actually a real pain to use. On the trail you need crisp changes to react to rapid ascents and descents, and swapping from the big to small chain ring in the front is a real time killer—not to mention a lot of excess weight and complexity. As manufacturers have found, a 2 x 10 (20-speed) drivetrain is the current sweet spot at this price with a wide enough but manageable range to handle the ups and downs (literally) of mountain biking. We fully expect this to change in the upcoming years as 11-speed cassettes continue to come down in price, but for now, 2 x 10 is a perfectly suitable choice.
A 1X drivetrain is nice for keeping things simple—there's no need to worry about adjusting or keeping a front derailleur clean. But if you need a true granny gear—and most of us do on a steep incline with a heavier ride—getting a bike with a wider gear range is a plus. Only the Cannondale Beat of the East on this list forgoes the front derailleur, but it's an anomaly because you get a high-end 11-speed rear cassette. As the industry continues to adopt larger rear cassettes (SRAM recently announced a 12-speed), look for the front derailleur to become a rarity even for bikes under $2,000.
Back to Our Top Mountain Bike Picks Back to Our Mountain Bike Comparison Table
Learn More About Outdoor Gear