Not everyone needs a high-end mountain bike that breaks the bank. If you are new to the sport or don't plan to ride that often, it's a good idea to buy a relatively inexpensive bike and upgrade down the road if you are enjoying yourself. Or perhaps your riding consists of easier trails with few major obstacles—in this case cheaper bikes offer more than enough performance for many riders. Following a significant industry shift in wheel sizes from 26 inch to 29 and then to 27.5, most budget bikes share a common formula: 27.5-inch or 29-inch wheels, suspension up front, and aluminum frame. We cover the remaining important considerations in our comparison table and buying advice. There are plenty of suitable options in the sub-$1,000 price range, and below are our favorites for 2018.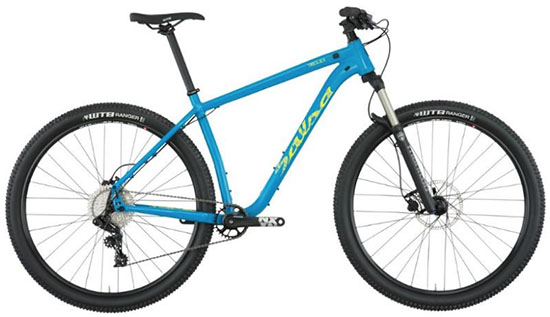 Suspension: 120mm (front)
Tires: 29 x 2.25 in.
Gears: 1 x 11
What we like: Quality components and a fun ride.
What we don't: Not everyone will appreciate the bikepacking-specific features.
Salsa has built its reputation on adventure riding, but their growing mountain bike collection continues to impress. For 2018, the Timberjack NX1 is about as good as it gets in the under $1,000 category. You get a modern setup with a 1x11 SRAM drivetrain, meaty 29-inch wheels and 2.25-inch tires, and Salsa's well-known rugged construction. The bike has a responsive feel and a nice stance for longer XC days, but it's slack enough for steep descents. Equipped with a 120mm front fork, the Timberjack has all the ingredients for a fun and fast hardtail.
Owing to Salsa's roots in bikepacking, the Timberjack can be modified in a number of ways. There are attachment points for a rear rack, it's easy to add a dropper post, and the frame can accommodate tires as wide as 3.0 inches with 27.5-inch wheels (2.6 inches if you stick with the 29er). You can even add a front derailleur if you need a wider gear ratio for backcountry riding. These extras may be overkill for the average trail rider, but the good news is that they don't impact the everyday capabilities that come with this impressive sub-$1,000 rig.
See the Salsa Timberjack NX1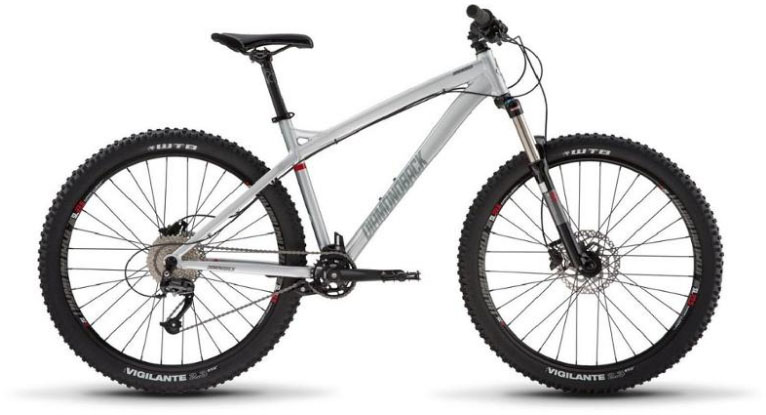 Suspension: 120mm (front)
Tires: 27.5 x 2.3 in.
Gears: 1 x 9
What we like: Capable on the downhills; great price.
What we don't: Low on gears.
The Diamondback Line 27.5 is spec'd to impress, with a modern, low-slung geometry that's very comfortable in the steeps. To start, the Line sports a burly 15mm thru-axle at a very budget-friendly price of $750. Thru-axles have become a standard on mid and high-end mountain bikes for their improved stiffness and better handling, so to get one on a bike this affordable is big win. Tack on a 120mm fork and hydraulic brakes from Shimano, and the Line has a strong appeal for aspiring aggressive riders on a budget.
What kept the Line off the top of our list? In creating this modern but wallet-friendly machine, Diamondback omitted the front derailleur. While this is becoming commonplace for lightweight and expensive bikes, we think it's a bit of a stretch here: the 1 x 9 drivetrain requires decent fitness and is a little too widespread. As an all-around trail bike or for cross-country use, we still give the edge to the Salsa Timberjack NX1. But the Diamondback Line has serious performance potential with its modern, tough build.
See the Diamondback Line 27.5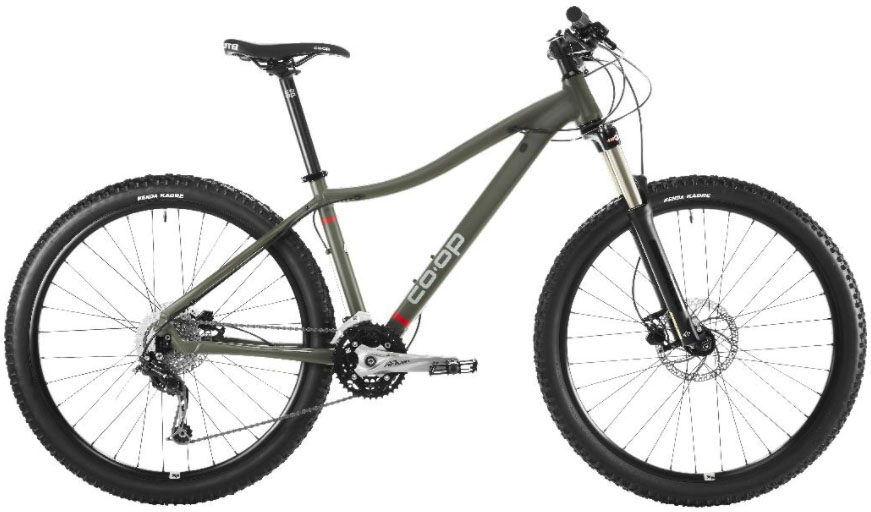 Suspension: 120mm (front)
Tires: 27.5 x 2.2 in.
Gears: 3 x 9
What we like: Great price and decent all-around performance.
What we don't: Lower quality components than the top pick.
REI's Novara brand is now Co-op Cycles, and they did a full revamp of their lineup last year. What hasn't changed is the budget-friendly prices and good feature sets. Unfortunately for the sake of our list, there isn't a Co-op Cycles mountain bike option just under $1,000 (the DRT 1.3 is $1,099), but their mid-range $799 DRT 1.2 is still a good choice. With 27.5-inch wheels and a solid 120mm front suspension from SR Suntour, the bike is plenty capable on moderate-level trails. The DRT 1.2 also has modern geometry and internal cable routing, which give it a comfortable fit and clean look.
At over 31 pounds and with a 3 x 9 drivetrain, this isn't as nimble or as capable of a bike as the Diamondback or Salsa above. And the majority of the components are a step down in quality, although you are saving a little money compared to our top pick. As a first "real" mountain bike, the DRT 1.2 certainly does the trick and comes with the security of REI's excellent warranty. If you're willing to stretch your budget just a little, we highly recommend the aforementioned DRT 1.3, which is noticeably lighter and more capable on the trail.
See the Co-op Cycles DRT 1.2  See the Women's Co-op Cycles DRT 1.2W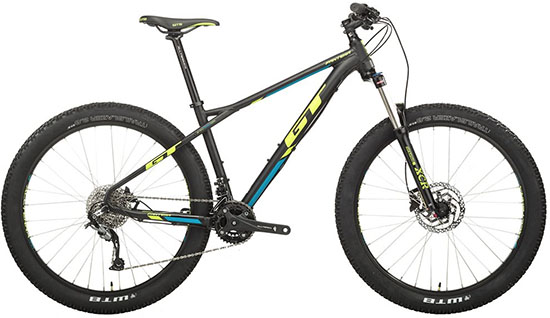 Suspension: 120mm (front)
Tires: 27.5 x 2.8 in.
Gears: 2 x 9
What we like: Plus bike stability on a budget.
What we don't: Wide tires add weight and aren't as nimble.
Wheel and tire size has arguably been the fastest changing mountain bike technology in recent years, and the newest design is the plus-sized tire. Approximately 3 inches in width, they split the difference between a standard mountain bike tire (typically between 2 and 2.5 inches) and a 4 to 5-inch fat bike tire. Most plus bikes will run you well over $1,000, but GT's Panterra Comp is an all-new budget-friendly option at $825.
The biggest question in looking at the Panterra Comp is whether or not the plus-sized tires are a benefit to you. The biggest upsides of the design are that the bike feels more stable and is easier to handle over rough terrain, as the wide tires absorb impacts and roll over difficult obstacles better than a traditional mountain bike. On the other hand, plus bikes—particularly an affordable option like the Comp—are heavier and not as fun on the trail as a typical XC hardtail. If stability outweighs playfulness for you, however, the Panterra Comp is worth a look.
See the GT Panterra Comp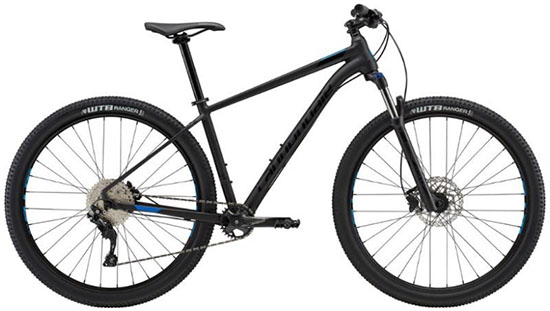 Suspension: 100mm (front)
Tires: 27.5/29 x 2.25 in. (varies based on frame size)
Gears: 1 x 10 
What we like: Very good update to the popular Trail line.
What we don't: The Salsa above is a better bike overall.
Cannondale bikes haven't been known for their value in the past, but we like what we see with the 2018 Trail. The new mid-range 5 comes in at $950 (we've seen it for $100 less at REI), and has been thoroughly modernized with a longer and slacker geometry. Tack on the 1x10 Shimano Deore shifters and derailleur, trusty Shimano M315 hydraulic disc brakes, and sharp looks, and you have a strong all-around machine.
At its full $950 MSRP, however, the Trail 5 falls a little short of the Salsa NX1 above. We think the NX1's upgraded SRAM 1x11 drivetrain, extra 20mm of front-end travel, and versatile, bikepacking-ready design is worth the extra $49. But Cannondale has made big strides in appealing to a wider audience with the new Trail 5, earning it a spot on our list for 2018.
See the Cannondale Trail 5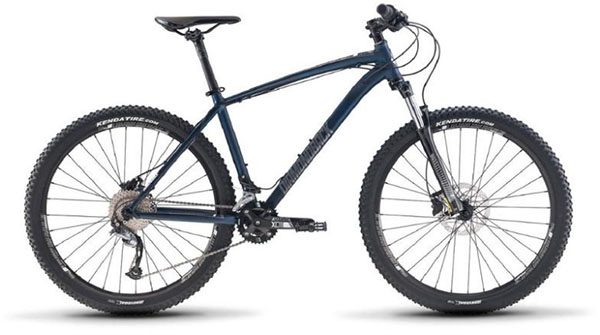 Suspension: 100mm (front)
Tires: 27.5 x 2.35 in.
Gears: 2 x 9
What we like: Excellent value.
What we don't: Dated components and geometry.
Diamondback's Overdrive has topped this roundup in the past, but some reshuffling to the lineup means there's no longer a well-equipped model just under $1,000. That being said, the standard Overdrive 2 27.5 is still a very good deal. For $699, you get a sturdy and proven aluminum frame, Shimano M315 hydraulic brakes, and grippy 2.35-inch wide Kenda Nevegal tires at the front and rear. All told, you'll be hard-pressed to find a better trail rig than the Overdrive at this price point.
What do you give up with the budget-friendly Diamondback Overdrive 2? The bike is showing its age with a geometry that isn't as laid back as DB's Line above, and you also miss out on the Line's burly 15mm thru-axle. Additionally, the Overdrive is on the heavy side for a XC-oriented hardtail at over 32 pounds. On the plus side, the 2x9 drivetrain is pretty versatile for hilly rides, and it's a proven steed overall with a long track record.
See the Diamondback Overdrive 2 27.5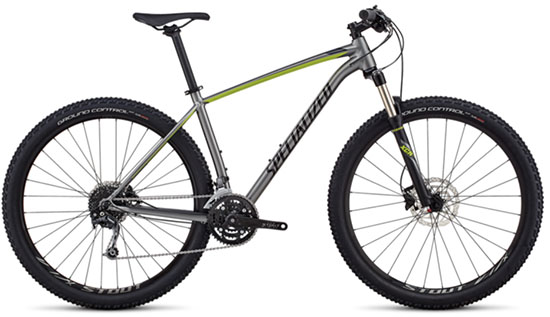 Suspension: 80 or 100mm (front)
Tires: 29 x 2.1 in.
Gears: 3 x 9
What we like: Good build quality and brand reputation.
What we don't: Not a great value.
Specialized has a stellar reputation in the biking world, with a full catalog of high-end downhill, enduro, and race-oriented XC models. Their Rockhopper line of hardtail bikes ranges from $550 to $1,150, and at the middle is the $925 Rockhopper Expert. This bike has the high-level build quality and well-executed design that we expect from Specialized, with clean lines and a comfortable geometry. Its 80 or 100mm of travel (depending on the frame size) and 2.1-inch rear tire are tuned for moderate XC trails, but the Rockhopper is still a lot of fun on the downhill.
From a value perspective, the Rockhopper Expert does fall a little short of our top picks. Its $925 full retail price is a near match to the Cannondale Trail 5 and Salsa Timberjack, but the components are a step down almost across the board. In particularly, the 3 x 9 gearing isn't up to the standards of either the Cannondale or Salsa. Realistically, there are plenty of people willing to pay a little extra for the security that comes with the Specialized name, but we think the Trail 5 or Timberjack are the better overall options.
See the Specialized Rockhopper Expert 29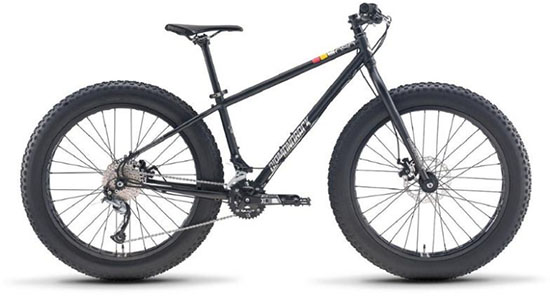 Suspension: None
Tires: 26 x 4 in.
Gears: 2 x 9
What we like: Amazing traction and rolls over just about anything.
What we don't: Heavy and slow to respond.
If you've never ridden a fat bike, we can't recommend it enough. They're a wholly unique mountain biking experience, with their float-over-everything personality. At $750, the Diamondback El Oso Uno falls in the mid-range of price for these beasts, although it's the base model of the El Oso line. And unlike the El Oso that made our under $2,000 list, the Uno swaps out the aluminum frame and fork for steel. The benefit is a smooth, less rigid ride, but weight is negatively impacted.
The Uno also uses budget-friendly Shimano Acera components, but they're plenty competent for the casual riding most folks will be doing. As fat bikes go, the 4-inch tires are on the narrow end, but they remain an excellent choice for snow, mud, and rough trails. As an affordable way to get into the fun of fat biking, we highly recommend the El Oso Uno.
See the Diamondback El Oso Uno
Mountain Bike Comparison Table
Mountain Bike Buying Advice
Suspension
Most bikes under $1,000 are not designed to tackle really technical and rough terrain, so they don't have all that much suspension travel (the amount the suspension fork can compress). As such, differences between models are relatively small: most often it's a front suspension-only design with travel that ranges from 80mm to 120mm. A 120mm fork is the more capable option in the bumps and off of small drops. Having less suspension travel helps keep weight down, which reflects these bike's cross-country focus.
SR Suntour is the largest selling bike suspension brand in the world, and their budget-friendly designs are featured heavily on this list. Manitou and Rockshox make a few mid-range models that you'll find here, including the XC30 on the Cannondale Trail 5, but most are a little too pricey. If you come down in price closer to $500, expect an off-brand or more basic Suntour design along with less travel.
If you're thinking about a full-suspension bike, we recommend giving it some serious thought—or consider upping your budget. There are significant compromises with adding a rear shock at this price point, including extra weight and downgraded brakes and shifters. For the rear shock itself, the options at this price are very basic, with relatively poor rebound control and sluggish pedaling response. 
 
Tires and Wheel Size
The old mountain bike standard, the 26-inch wheel and tire combo, has gone from being commonplace to a rarity in only a few short years. For budget bikes, the transition started with the large 29-inch wheels and has since moved to 27.5-inch. This wholesale shift in the industry can be traced to the improvement in rollover, traction, and stability that these larger tires provide.
For 2018, we seem to have stabilized with a mix of 29, 27.5, and the new 27.5+ options. Our list for this year includes three 29ers, three 27.5s, one 27.5+, and one 26-inch fat bike. Far and away, the most popular choices are the 29 and 27.5-inch bikes, which are a good set-up for uphill and downhill fun. The 29er remains a dirt dominating option when you can keep the weight in check (like our top pick, the Salsa Timberjack NX1). And the same bike with 27.5-inch wheels will be a little easier to turn quickly without giving up too much in terms of rollover ability. Smaller bikers may prefer the geometry of the 27.5-inch design, and the opposite goes for tall folks on a 29er. As long as you get a proper size, we think both styles are a great match at this $1,000 price point. 
 
Weight
If you're wanting a nimble and lightweight bike for under $1,000, we recommend keeping it simple: an aluminum frame, front suspension fork, and 27.5-inch or 29-inch wheels. The closer you get to $1,000 with this setup, the lighter weight and more responsive the bike will be. On average, these aluminum hardtails will hover around the 30-pound mark. As long as your expectations are reasonable (don't expect a twitchy, feathery light carbon race bike experience), you can have a whole lot of fun with a mid-range hardtail.
If you're trying to pin down an exact weight to compare bikes like-for-like, we're here to warn you it can be a challenge. Some manufacturers don't list the information at all, while others will provide a weight but few other details—such as what frame size is being weighed or whether or not pedals are on the bike. REI does provide a median weight for some bikes in their online specs, but it's still not consistently reported to really use as a basis for comparison. It's important to understand that within a narrow price range like $900 to $1,000, bikes with similar frame designs, suspension and components will not vary by more than a couple pounds.
As the price goes down, the weight of the bike inevitably will go up. Everything from the crankset and drivetrain to handlebar and seat post gets heavier. And if you elect for a full-suspension bike at this price point, you can expect a pretty hefty bike. While it will undoubtedly be lighter than a bike made 5 to 10 years ago, the rear shock and linkage all add precious pounds to the bottom line.
 
How Many Gears is Best?
At first glance, it may appear that having more gears is a good thing—27 is better than 20, right? But that 27-gear (3 in the front, 9 in the rear) ride is actually far less intuitive to use. On the trail you need crisp changes to react to ascents and descents, and swapping from the big to small chain ring in the front is a real time killer—not to mention a lot of excess weight and complexity. If you can find a 1 x 11 or 1 x 10 bike for under $1,000, that's a great fit for all-mountain riding, which is why we're so excited about the Salsa Timberjack NX1 and Cannondale Trail 5.
The occasional budget bike will have a 1X drivetrain with 8 or 9 gears, which is certainly functional for a lot of uses. But that few gears, even with a decently large spread, won't cut it for longer rides with reasonably steep climbs and descents. In those cases, we prefer a 2 x 9 for more versatility. Eventually, we may kiss the front derailleur goodbye (high-end bikes with 11 and 12-speed drivetrains have the past few years), but we predict that technology will take a while to completely takeover the sub-$1,000 bike market.
 
What About Fat Bikes?
When they were released to the mass market, few could have predicted the rise of the super wide tire bike. At a time when your typical mountain bike tire was around 2 inches wide, these 4 to 5-inch wide balloons looked downright hilarious. What was even more surprising was how fun the bikes were on the trail. The large tires had seemingly endless amounts of grip and absorbed rough trails with ease. Further, they opened up snowy paths for year-round fun, which has made them extremely popular throughout the country, and in the Midwest in particular.
If you're looking for a casual mountain bike to ride around on occasion and aren't interested in the absolute fastest thing around, a fat bike like the Diamondback El Oso Uno is a fun option. But as our only mountain bike, we're less inclined to say it's the be-all and end-all answer. The large tires are heavy and dampen some of the enjoyment we get when charging down a stretch of singletrack on a more nimble bike, and it's the same story lugging a fat bike up a long climb. But fat bikes are unmatched whenever extra flotation or grip is the priority, and particularly when the terrain isn't too steep.
 
What Do You Get by Spending More?
As a first bike or if you're unsure about how committed you are to the sport, a bike under $1,000 makes a whole lot of sense. But if you're thinking about making a long-term purchase or live in an area that is low on smooth and easy trails—such as the rocky, muddy and root-filled Seattle area—it may be worth stretching the budget a little to get a more capable steed.
As we cover in our mountain bikes under $2,000 review, spending that extra $500 to $1,000 does bring a good bump in quality and performance. For one, you get a much wider selection of full-suspension bikes, which are great for tackling technical terrain at speed. Additionally, weight is less of an issue, although you still aren't seeing anything made with lightweight carbon fiber just yet. And finally, all components are of a higher quality, which translates to not just increased trail performance but also durability and lifespan. 
Back to Our Top Mountain Bike Picks  Back to Our Mountain Bike Comparison Table
Learn More About Outdoor Gear