Not everyone needs a high-end mountain bike that breaks the bank. If you are new to the sport, ride infrequently, or prefer easier trails with few major obstacles, cheaper bikes offer more than enough performance for many people. Following a significant industry shift in wheel sizes, most budget bikes share a common formula: 27.5-inch or 29-inch wheels, suspension up front, and an aluminum frame. The good news is that there are plenty of suitable options in the sub-$1,000 price range, and below are our favorites for 2020. For more background information, see our comparison table and buying advice below the picks.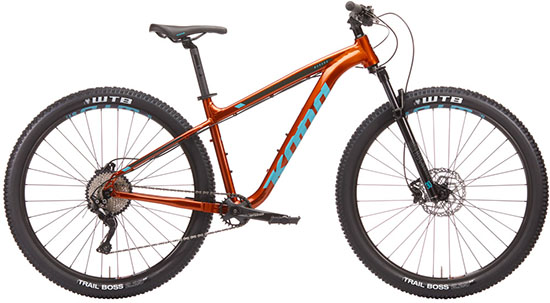 Suspension: 100mm (front)
Tires: 29 x 2.25 in.
Gears: 1 x 10
What we like: Quality components and a fun ride.
What we don't: Some may wish for a wider gear range.
Kona has built its reputation on bikes that are fun to ride and have smart component choices, all while hitting acceptable price points. For 2020, their Mahuna is about as good as it gets in the under-$1,000 category. You get a fairly modern 1 x 10 Shimano drivetrain, meaty 29-inch wheels and 2.25-inch WTB tires, and a grin-inducing geometry. Its relatively relaxed head tube angle (68 degrees) inspires confidence when the trail points down, but is not so slack that low-speed trails become a chore. Top it all off with a 100-millimeter RockShox air fork, and the Mahuna has all the ingredients for a fun and fast hardtail.
One of the great things about the Kona Mahuna is that it will grow with you as your riding improves. Hydraulic brakes are a nice touch for superior and more reliable stopping power on steeper and longer descents, and the aforementioned air-sprung fork is a boon in more technical terrain. Kona also includes a lifetime frame warranty with all their bikes, which increases confidence for the $999 investment. All in all, if you're looking for a singletrack-worthy mountain bike at a reasonable cost, it's hard to beat the Kona Mahuna.
See the Kona Mahuna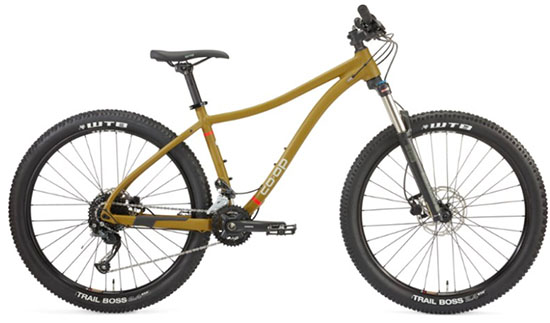 Suspension: 120mm (front)
Tires: 27.5 x 2.4 in.
Gears: 2 x 9
What we like: Great price and convenient REI warranty.
What we don't: Not as capable on the trail as the Kona Mahuna.
REI's Co-op Cycles (formerly Novara) offers a pretty complete lineup of hardtail mountain bikes with wallet-friendly prices and good feature sets. The upgraded DRT 2.2 makes our under $2,000 article, while the DRT 1.2 is our favorite model under $1,000. The bike's maneuverable 27.5-inch wheels and solid 120 millimeters of front suspension (20mm more than most options on this list) easily navigate over and around small roots and rocks that litter the trail, making this a great option for beginner- and intermediate-level riders. And for those that spend time on smooth gravel roads or bike paths, a lockout on the fork is a nice touch. Adding to the value equation, the DRT 1.2 includes premium features like internal cable routing for a clean look, and it's set up to accommodate a dropper post (not included, but you can add one later on).
At over 32 pounds and with a 2 x 9 drivetrain, the DRT 1.2 isn't as nimble or as capable of a bike as the Kona above. Plus, the majority of the components are a step down in quality, for a relatively small difference in price. If you're on the hunt for your first "real" mountain bike, the DRT 1.2 certainly does the trick and also comes with the security of REI's excellent warranty (and for a truly entry-level option, see their $549 DRT 1.1). But if you're willing to stretch your budget a little, we highly recommend the Kona Mahuna above, which is more capable on the trail.
See the Co-op Cycles DRT 1.2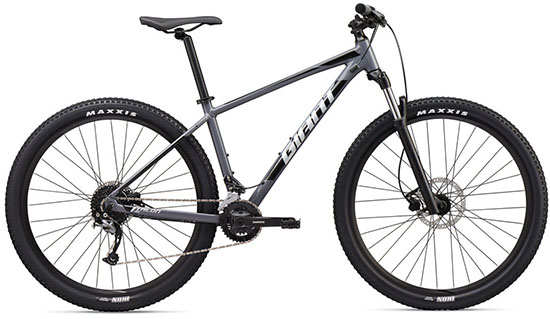 Suspension: 100mm (front)
Tires: 29 x 2.2 in.
Gears: 2 x 9
What we like: Great value and impressive components.
What we don't: Slightly outdated geometry; limited suspension.
As with Kona above, we've found that Giant consistently produces quality bikes at very competitive prices, and their Talon 29 2 is a standout example. To start, the Talon features a Shimano 2 x 9—something few bikes are able to accomplish at a $750 price point. And finding quality tires on such an affordable bike is a struggle, but the Talon features the very popular, durable, and versatile Maxxis Ikons. Tack on the 100-millimeter travel fork and hydraulic disc brakes from Tektro, and the Giant Talon 29 2 has a strong appeal for aspiring XC riders on a budget.
Why do we rank the Talon 29 below the Mahuna? Simply put, the Kona is a more modern hardtail with higher-quality components. The current trend for mountain bikes has been to get longer and slacker, and the Mahuna follows suit while the Talon is a bit dated with a shorter reach. Further, the Mahuna features a RockShox air fork, which offers almost infinite adjustability for all sizes of riders, while the Talon features a less adjustable coil spring that takes a "one size fits most" approach. We give the edge to the Kona as an all-around singletrack-ready bike, but for $249 less, the Giant is a great option for more XC-oriented riders.
See the Giant Talon 29 2  See the Women's Liv Tempt 2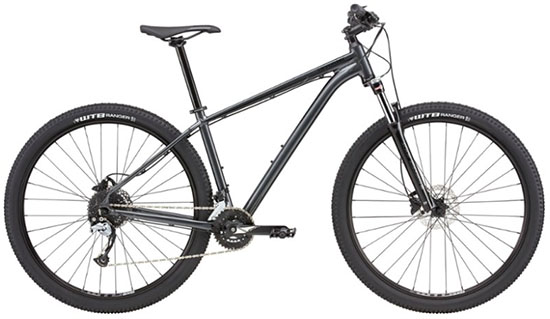 Suspension: 100mm (front)
Tires: 29 x 2.25 in.
Gears: 2 x 9
What we like: Fairly modern geometry and mixed wheel sizes for smaller riders.
What we don't: Comes up just a little short of the Giant above.
The big news from Cannondale for 2020 is their growing e-bike collection, but there's a lot to like with their budget-friendly Trail line. The mid-range "5" comes in at $780 and has been recently modernized with a longer and slacker geometry. Outfitted with a 2 x 9 Shimano Acera drivetrain, trusty Shimano MT200 hydraulic disc brakes, and sharp looks, and you have a strong all-around machine. Additionally, the size small frame comes with 27.5-inch wheels rather than 29-inch wheels, making the Trail 5 a viable option for shorter riders. It's not as planted as the Mahuna or DRT 1.2 above, but the Trail 5 is a good option for recreational riders or those just starting out.
At its full $780 MSRP, the Trail 5 is a direct competitor to the Giant Talon above. Both pack extremely similar component groups and aren't too far off from a geometry perspective either (the Trail is a bit longer and slacker but they're similar). It's a very close call between the two, but the Giant's superior Maxxis tires, internal cable routing, and $30 savings give it the advantage to us. But realistically, both are solid values and fine options at this price point... Read in-depth review
See the Cannondale Trail 5  See the Women's Cannondale Trail Tango 3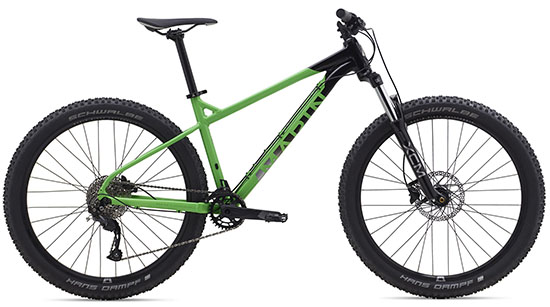 Suspension: 120mm (front)
Tires: 27.5 x 2.3 in.
Gears: 1 x 9
What we like: Aggressive design at a great price.
What we don't: More limited gear range compared with our top picks.
Most mountain bikes under $1,000 have pretty conservative designs that are primarily focused on mixed on- and off-road use. But Marin's San Quentin breaks from the mold with an aggressive build and geometry that's reminiscent of a bike costing two or three times as much. The standout feature is its very slack 65-degree head angle, which makes it easily the most comfortable bike on this list for descending steep trails. Combined with meaty Schwalbe tires, wide handlebars that improve control, and a front suspension fork with 120 millimeters of squish, and you have the blueprint for a capable yet affordable hardtail.
What's pushed the San Quentin to a midpack finish in our rankings? The primary culprit is its 1 x 9 drivetrain that has a limited gear range. Compared with our top-rated Kona or Co-op Cycle's DRT above, the Marin lacks a "granny gear" to help with pedaling up a steep incline (you'll find yourself needing to occasionally hop off and push). This hurts its versatility, and in this price-sensitive category, we prefer to avoid a bike that may need an upgrade straight away. But if you're looking for a longer-term investment that won't hold you back on rowdy terrain, the San Quentin is well worth a look.
See the Marin San Quentin 1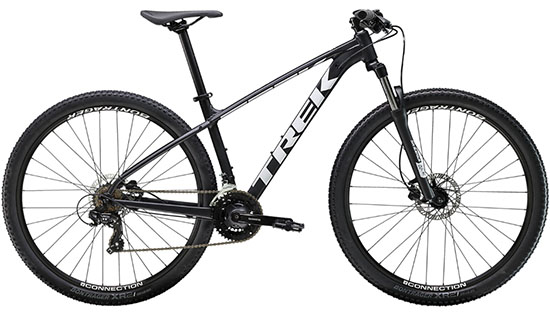 Suspension: 100mm (front)
Tires: 29 x 2.2 in.
Gears: 3 x 7
What we like: Versatile feature set for XC riding, bike paths, and commuting.
What we don't: Heavy and budget components.
With its sleek-looking frame and clean internal cable routing, we think Trek's Marlin 5 is one of the better-looking cheap bikes here. And while appearances can only get you so far, Trek backed up the bike's good looks with a number of worthy features. If you use your rig for commuting or touring, the Marlin 5 features rear rack mounts—an uncommon sight among mountain bikes. And while the Shimano 3 x 7 drivetrain isn't very modern, it will reliably get you from point A to B without issues. Add it all up, and the Trek Marlin 5 makes for a great mixed-use trail bike or burly commuter.
What do you give up with the budget-friendly Marlin 5? Despite its simple and XC-race-inspired design, the hefty 32-pound weight ensures you won't be getting to the top of the hill all too quickly. Additionally, its cheap component mix is outdated, and the 3 x 7 drivetrain has a relatively small gear range. All told, the Marlin 5 is great for gravel paths and adventurous commutes, but you'll need to stretch the budget a little more to get something truly trail-worthy.
See the Trek Marlin 5  See the Women's Trek Marlin 5
Suspension: 120mm (front)
Tires: 27.5 x 2.3 in.
Gears: 1 x 9
What we like: Tough build and comfortable, wide handlebars.
What we don't: We miss the old version, which had a more aggressive design.
The Diamondback Line 27.5 is spec'd to impress, with a modern, low-slung geometry that's comfortable in the steeps. We particularly like the bike's sturdy aluminum frame that's built to take a beating, and the inclusion of wide, 750-millimeter bars help get you into a comfortable position for both climbing and descending. Tack on a 120-millimeter Suntour fork and hydraulic brakes from Shimano, and the Line has a strong appeal for aspiring aggressive riders on a budget.
The Line recently took a drop in our rankings, however, because of a couple significant downgrades to the build. For one, Diamondback ditched the stiff thru-axle that we loved on the old version and replaced it with less burly, quick-release hubs. Further, the Vee brand tires can't match the overall quality and grip from the aggressive WTB rubber on the previous bike. Finally, while the omission of a front derailleur is commonplace for lightweight and expensive designs, we think it's a bit of a stretch here: the 1 x 9 drivetrain requires decent fitness and its gear ratio is too small. As an all-around trail bike or for cross-country use, we still give the edge to the Kona Mahuna above, but the Diamondback Line offers a compelling mix of toughness and price.
See the Diamondback Line 27.5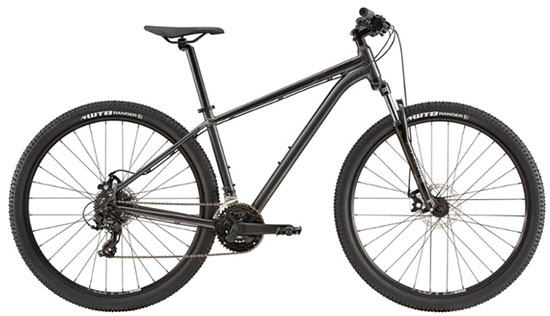 Suspension: 75mm (front)
Tires: 29 x 2.25 in.
Gears: 3 x 7
What we like: Surprisingly good build for the price.
What we don't: Heavy and ponderous on the trail.
Stepping down in price and performance from the Trail 5 above is Cannondale's entry-level Trail 8. This simple bike is nicely tuned for gravel paths and light trail work with a 3 x 7 Shimano drivetrain, mechanical disc brakes, and a Suntour front fork. The components are a notable downgrade from our top picks, but the bike has a sturdier feel overall that you don't expect for the price. And nice touches like matching the wheel size with frame dimensions (size "S" gets 27.5, while bigger "M" and "L" frames have 29-inch wheels) to improve the fit, and Cannondale's lifetime frame warranty make the Trail 8 our favorite mountain bike under $500.
Considering the cost, it's not surprising there are a fair number of compromises with the Trail. First off, you get the least amount of suspension travel on our list at 75 millimeters (excluding the rigid Diamondback below), and the Suntour coil fork isn't very adjustable or refined in general. Another thing that sticks out is the sheer heft of the bike—cheap components are very heavy, and they contribute to a sluggish personality on the trail. That said, the Trail 8 checks the right boxes for casual riders that want a dependable bike from an established brand.
See the Cannondale Trail 8  See the Women's Cannondale Trail Tango 6
Suspension: 80, 90, or 100mm (front)
Tires: 29 x 2.3 in.
Gears: 1 x 9
What we like: Versatile and reasonably lightweight.
What we don't: Not a great value.
Specialized has a stellar reputation in the biking world, with a full catalog of high-end downhill, enduro, and race-oriented XC models. Their legendary Rockhopper line of hardtail bikes ranges from $550 to over $1,000, and at the mid-range is the $730 Comp 1X. This bike has the high-level build quality and well-executed design that we expect from Specialized, with clean lines and a comfortable geometry. Its 80, 90, or 100 millimeters of travel (depending on the frame size) and fast-rolling 2.3-inch tires are tuned for moderate XC trails, but the Rockhopper is still a lot of fun when moving at a good clip.
From a value perspective, the Rockhopper Sport does fall short of our top picks. Its $730 full retail price is a near match to the Giant Talon 29 2 and Cannondale Trail 5, but the components are a step down across the board. In particular, the 1 x 9 microSHIFT drivetrain isn't up to the standards of either the Talon or Trail. Realistically, there are plenty of people willing to pay a little extra for the security that comes with the Specialized name, but there are better deals to be had.
See the Specialized Rockhopper Comp 1X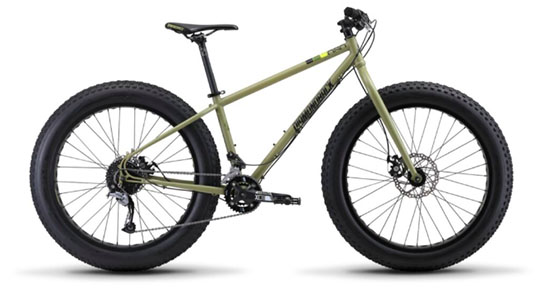 Suspension: None
Tires: 26 x 4 in.
Gears: 2 x 9
What we like: Amazing traction and rolls over just about anything.
What we don't: Heavy and slow to respond.
If you've never ridden a fat bike, we can't recommend it enough. They're a wholly unique mountain biking experience, with their float-over-everything personality. At $750, the Diamondback El Oso Uno falls in the mid-range of price for these beasts, although it's the base model of the El Oso line. And unlike the upgraded El Oso Dos, the Uno swaps out the aluminum frame and fork for steel. The benefit is a smooth, less rigid ride, but weight is negatively impacted.
In addition to its heavy frame, the Uno uses budget-friendly Shimano Acera components, but they're plenty competent for the casual riding most folks will be doing. As fat bikes go, the 4-inch tires are on the narrow end, but they remain a solid choice for hardpack snow, mud, and bumpy trails. Overall, the El Oso isn't a standout in terms of performance, but it serves as a quality and affordable way to get into the fun of fat biking.
See the Diamondback El Oso Uno
Mountain Bike Comparison Table
Mountain Bike Buying Advice
Mountain Bike Frame Materials
In the sub-$1,000 price range, there isn't a lot of variety in frame materials, which isn't necessarily a bad thing. All but one of the bikes on our list use aluminum, and the reasons are pretty simple: it's lightweight, affordable, and fairly easy to manufacture. From a performance standpoint, a well-made aluminum bike like the Co-op Cycles DRT 1.2 is stiff enough to withstand rough trails and plenty durable to avoid significant damage in an average crash. Compromises in aluminum include ride quality—that stiffness comes with a slightly harsher feel and less bump absorption—and longevity. The welds required to put together an aluminum frame can crack over time, and the material itself fatigues faster than alternatives like steel and carbon fiber (although many aluminum frames last a decade or more).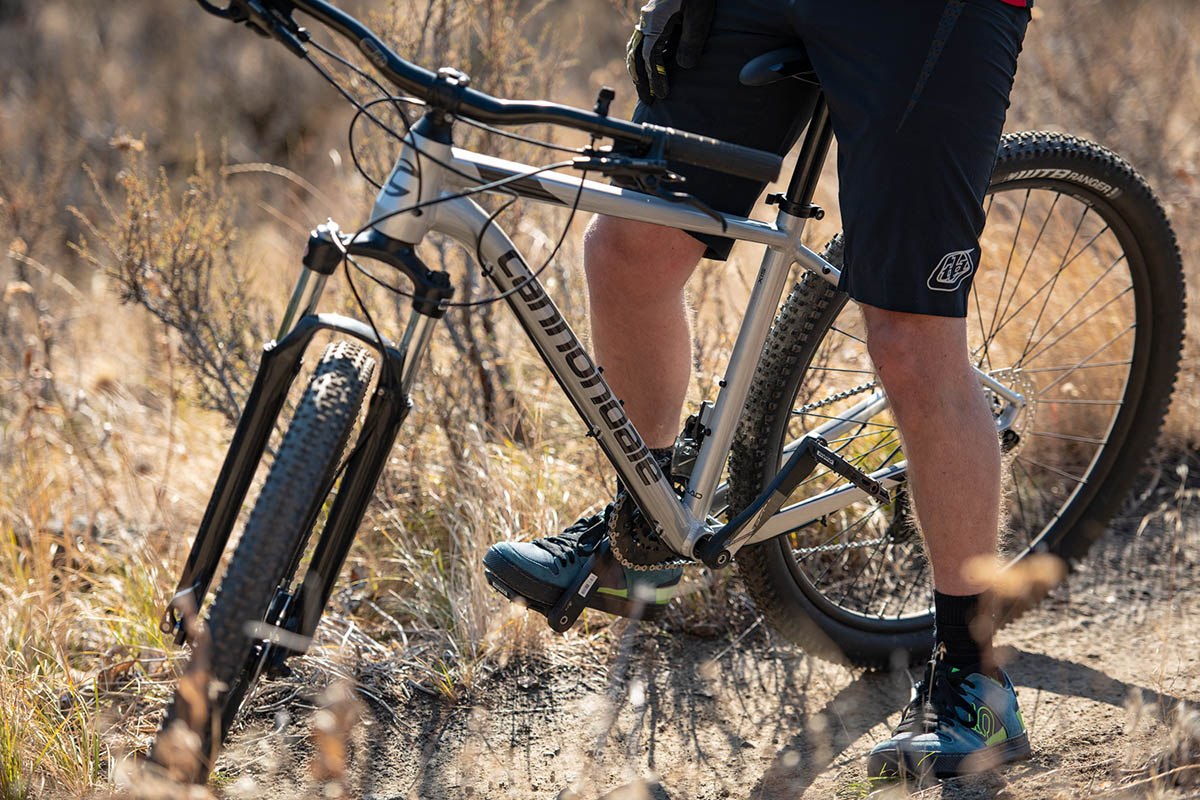 Steel is another reasonably affordable frame material that's well-known for its strength and toughness. Compared with aluminum, steel bikes like the Diamondback El Oso Uno are even longer-lasting and better-equipped to withstand years of rough use. But it comes with a weight penalty and less of a playful and nimble feel, which is why you rarely see it on a budget-oriented mountain bike. Finally, carbon fiber is a common choice among premium bikes and comes with benefits like less weight—typically about a pound less than an equivalent aluminum frame—a cleaner look with no welds, and smoother ride quality. That said, it's substantially more expensive to manufacture, so you won't find any options at this low price point (expect to pay $4,000 or more for carbon).

Mountain Bike Suspension
The vast majority of mountain bikes under $1,000 are intended for smooth trails and cross-country-style riding. As a result, their suspension layouts are very similar, with a front fork that offers between 75 and 120 millimeters of travel (a measurement of how much the shock absorbers can compress). These designs are known as "hardtails," because they only have a front suspension and no cushioning at the rear. In general, you'll get less travel with a cheaper model, including the $480 Cannondale Trail 8 (75mm), while spending up to the $900 Marin San Quentin 1 gets you more capabilities with its 120-millimeter fork. It's worth noting that none of the bikes on our list will be comfortable on a technical or rock-filled descent, but if you plan to explore some moderate singletrack, we advise choosing a bike with at least 100 millimeters of travel.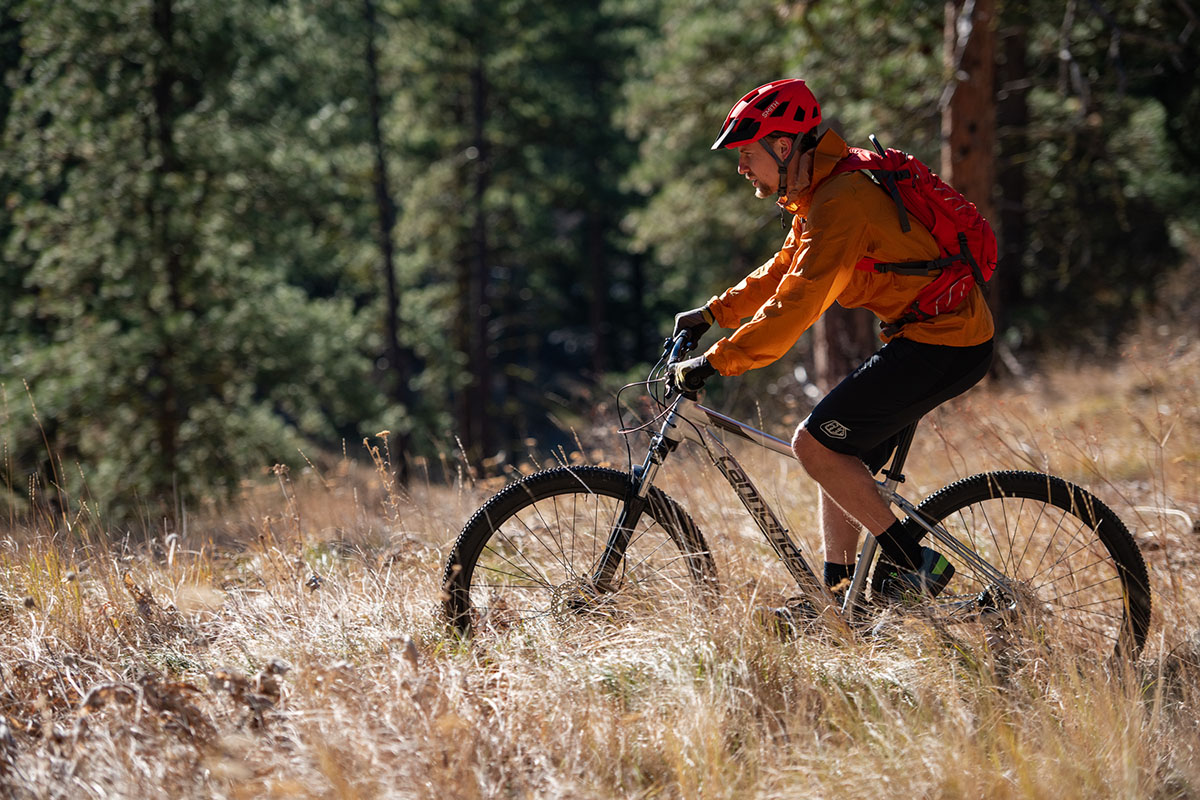 If you're eyeing a model under $1,000 that includes with a rear shock (known as a "full-suspension" bike), we recommend giving it some serious thought—or consider upping your budget. There are significant compromises with adding a rear suspension at this price point, including extra weight and downgraded brakes and shifters. For the rear shock itself, the options will be limited to off-brand designs that will disappoint from a performance perspective, with relatively poor rebound control and sluggish pedaling response (not to mention concerns about longevity). As a result, we don't include any full-suspension bikes in this article (we do, however, in our breakdown of the best mountain bikes under $2,000).

Wheel Size: 27.5 vs. 29er
The old mountain bike standard, the 26-inch wheel and tire combo, has gone from being commonplace to a rarity in only a few short years. For budget bikes, the transition started with the large 29-inch wheels and has since moved to 27.5-inch. This wholesale shift in the industry can be traced to the improvement in rollover, traction, and stability that these larger tires provide (for more, see our article on 27.5 vs. 29er mountain bikes).
For 2020, we seem to have stabilized with a mix of 29, 27.5, and newer 27.5+ options. Our list for this year includes six 29ers, three 27.5s, and one 26-inch fat bike. Far and away, the most popular choices are the 29 and 27.5-inch bikes, which are a good set-up for uphill and downhill fun. The 29er will offer slightly better performance, although you'll want to be sure to keep weight in check (like our top pick, the Kona Mahuna). And the same bike with 27.5-inch wheels will be a little easier to turn quickly without giving up too much in terms of rollover ability. Smaller riders may prefer the fit of the 27.5-inch design, and the opposite goes for tall folks on a 29er. As long as you get a proper size, we think both styles are a great match at this $1,000 price point.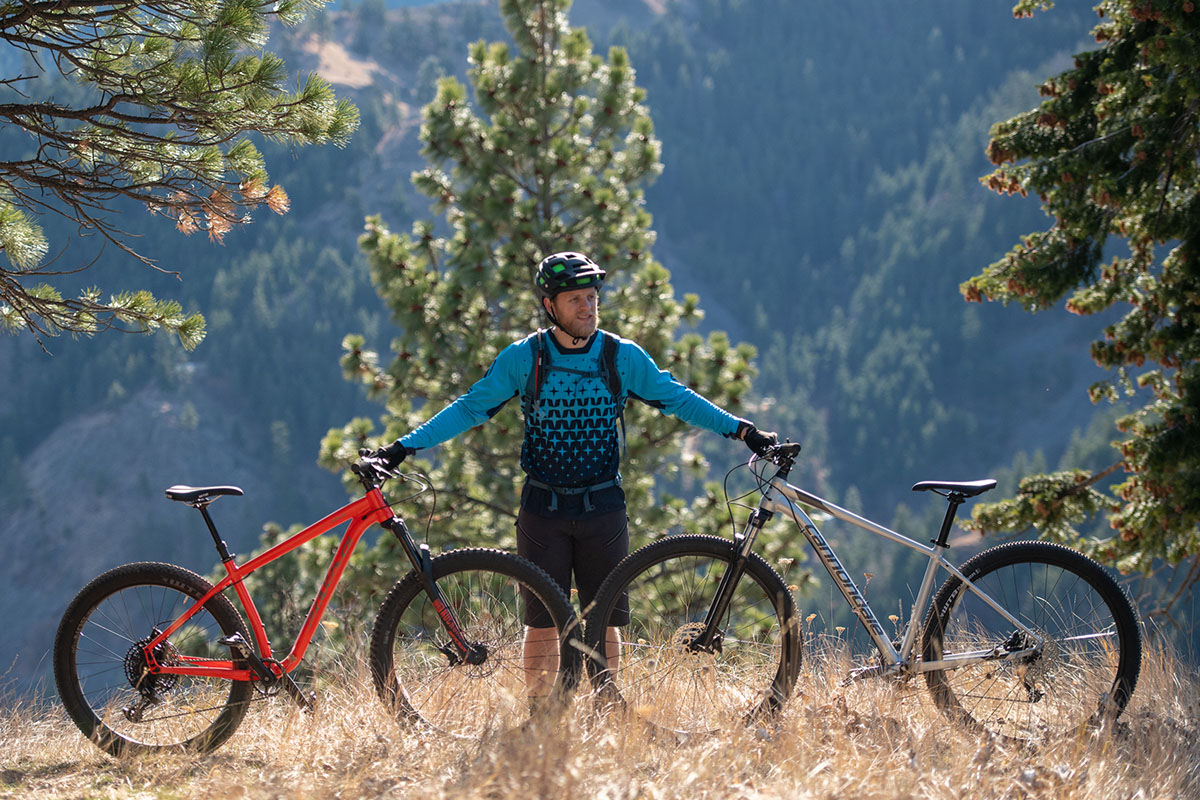 Weight
If you're wanting a nimble and lightweight bike for under $1,000, we recommend keeping it simple: an aluminum frame, front suspension fork, and 27.5-inch or 29-inch wheels. The closer you get to $1,000 with this setup, the lighter weight and more responsive the bike will be. On average, these aluminum hardtails will hover around the 30-pound mark. As long as your expectations are reasonable (don't expect a twitchy, feathery light carbon race bike experience), you can have a whole lot of fun with a mid-range hardtail.
If you're trying to pin down an exact weight to compare bikes like-for-like, we're here to warn you it can be a challenge. Some manufacturers don't list the information at all, while others will provide a weight but few other details—such as what frame size is being weighed or whether or not pedals are on the bike. REI Co-op does provide a median weight for some bikes in their online specs, but it's still not consistently reported to really use as a basis for comparison. It's important to understand that within a narrow price range like $800 to $1,000, bikes with similar frame designs, suspension, and components will not vary by more than a couple pounds.
As the price goes down, the weight of the bike inevitably will go up. Everything from the crankset and drivetrain to handlebar and seat post gets heavier. And if you elect for a full-suspension bike at this price point, you can expect a pretty hefty bike. While it will undoubtedly be lighter than a bike made 5 to 10 years ago, the rear shock and linkage all add precious pounds to the bottom line (yet another reason we don't include any full-suspension designs on this list).
 
Drivetrain and Gears
At first glance, it may appear that having more gears is a good thing—27 is better than 20, right? But that 27-gear (3 in the front, 9 in the rear) ride is actually far less intuitive to use. On the trail, you need crisp shifts to react to ascents and descents, and swapping from the big to small chain ring in the front is a real time killer—not to mention a lot of excess weight and complexity. If you can find a 1 x 11 or 1 x 10 bike for under $1,000, that's a great fit for all-mountain riding, which is why we're so excited about the Kona Mahuna.
The occasional budget bike will have a 1X drivetrain with 8 or 9 gears, which is certainly functional for a lot of uses. But that few gears, even with a decently large spread, won't cut it for longer rides with reasonably steep climbs and descents. In those cases, we prefer a 2 x 9 for more versatility. Eventually, we will kiss the front derailleur goodbye (like we already have at the mid- and high-ends of the market), but we predict that technology is still a ways off to completely takeover the sub-$1,000 bike market.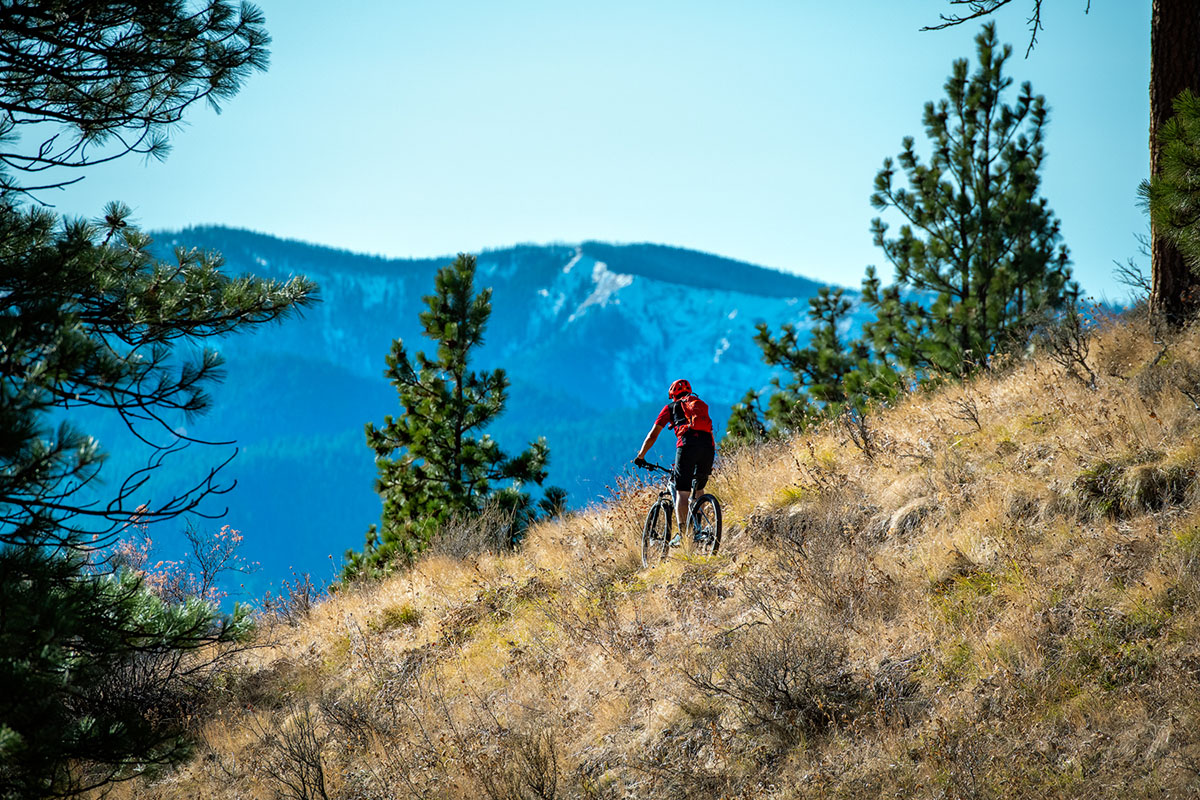 Brakes
One of the most notable improvements for bikes in the sub-$1,000 price range in recent years is the inclusion of disc brakes. As technology has trickled down from more high-level products and manufacturing processes have been simplified, mechanically-operated rim brakes are becoming a thing of the past. Disc brakes offer considerably more stopping power, which is especially important when riding in muddy and wet conditions. There's nothing worse than grabbing a handful of brake on technical singletrack only to find yourself squealing to a slow stop. But this isn't just handy for those "oh crap" situations—in general, disc brakes require less effort to use, allowing riders to focus on the trail ahead instead of the brakes themselves. You'll still find rim brakes on some cheap hardtails, but Cannondale's $485 Trail 8 proves decent quality disc brakes can come standard on even the most budget models.
 
Unisex vs. Women's-Specific Mountain Bikes
Most budget-oriented mountain bikes are made in a unisex style, while some include a women's-specific variation (from our list above, four out of the ten picks offer a women's model). Common changes include a tweaked frame design with a lower standover height, which makes it easier for those with shorter inseams to mount and dismount. In addition, you'll find women's-specific saddles, narrower bars, and sometimes smaller-diameter grips. And finally, colorways will differ, and the frame size options will typically be on the small end of the spectrum. From a performance standpoint, they'll share all the major components and general on-trail feel with the unisex version—at much higher price points you'll find more advanced changes like retuned suspensions—but the tweaks to the fit and geometry can be a benefit for some female riders.
 
What About Fat Bikes?
When they were released to the mass market, few could have predicted the rise of the super wide tire bike. At a time when your typical mountain bike tire was around 2 inches wide, these 4 to 5-inch wide balloons looked downright hilarious. What was even more surprising was how fun the bikes were on the trail. The large tires had seemingly endless amounts of grip and absorbed rough trails with ease. Further, they opened up snowy paths for year-round fun, which has made them extremely popular throughout the country, and in the Midwest in particular.
If you're looking for a casual mountain bike to ride around on occasion and aren't interested in the absolute fastest thing around, a fat bike like the Diamondback El Oso Uno is a fun option. But as our only mountain bike, we're less inclined to say it's the be-all and end-all answer. The large tires are heavy and dampen some of the enjoyment we get when charging down a stretch of singletrack on a more nimble bike, and it's the same story lugging a fat bike up a long climb. But fat bikes are unmatched whenever extra flotation or grip is the priority, and particularly when the terrain isn't too steep.

What Do You Get by Spending More?
As a first bike or if you're unsure about how committed you are to the sport, an option under $1,000 makes a whole lot of sense. But if you're thinking about making a long-term purchase or live in an area that is low on smooth and easy trails—such as the rocky, muddy, and root-filled Pacific Northwest—it may be worth stretching the budget a little to get a more capable steed.
As we cover in our mountain bikes under $2,000 review, spending that extra $500 to $1,000 does bring a good bump in quality and performance. For one, you get a much wider selection of full-suspension bikes, which are great for tackling technical terrain at speed. Additionally, weight is less of an issue, although you still aren't seeing anything made with lightweight carbon fiber just yet. And finally, all components are of a higher quality, which translates to not just increased trail performance but also durability and lifespan. For a wider look at the market, see our article on how much to spend on a mountain bike.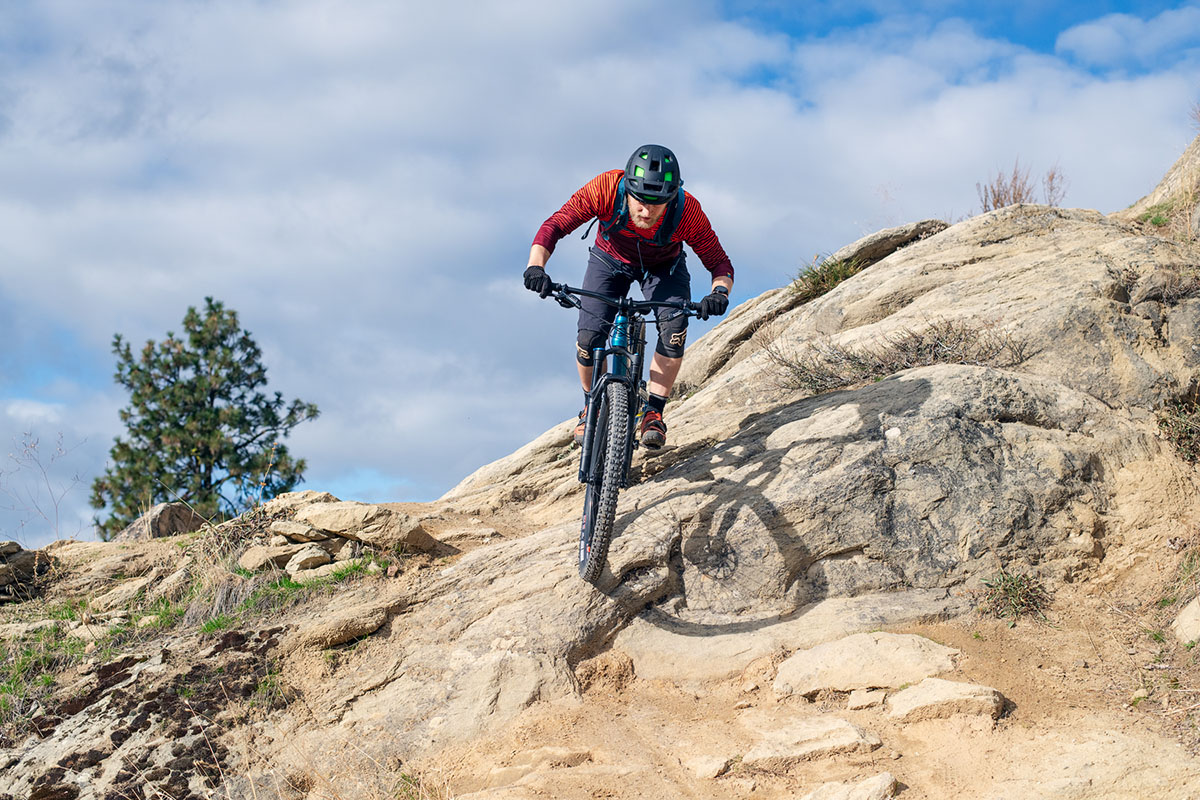 Buying a Mountain Bike Online
If you've been paying attention to the bike industry for the last couple of years, you'll have noticed a shift in how bikes are being sold. Many big mountain bike brands like Diamondback, Trek, and Giant now offer online checkout options, and large retailers like REI and Backcountry provide similar services for myriad other brands. While we love the idea of buying a bike online for its low-pressure atmosphere and convenience, we think it's important to consider a number of factors first. For example: does the bike come assembled? Will I have to pay an oversize shipping fee? What happens if something is broken? And most importantly: how do I know if the bike fits me?
One of the first hurdles to buying online is getting the correct size. While nothing beats throwing a leg over a bike in person, companies almost always provide a size chart online that can be pretty reliable for nailing the right fit. Competitive Cyclist takes it one step further with their online fit calculator, which can be an invaluable resource. And if you currently own a bike, take note of how it fits and use that information for your next purchase. All told, the resources are there for you to get a well-sized bike without "trying it on."
Once you receive the bike on your doorstep, it will require some assembly out of the box. The majority of companies include a few basic tools, but you still need a fair bit of skill and knowledge to safely put your new toy together. If DIY isn't your forté, many bike shops offer build services, and online programs like Diamondback's Ready Ride provide stellar customer service and tutorials. And at the other end of the spectrum are companies like REI, which allow you to purchase online and pick up in-store—this may be the best of both worlds as you can ensure a proper fit before taking the bike home. All in all, buying online is not as nerve-wracking as it might seem—just make sure you take the time to do the research, find the right fit, and finally, hedge your bets by purchasing from a reputable retailer with a good return policy.

Are Used Mountain Bikes Worth It?
During the research process, there's a very good chance you'll consider and possibly start looking into purchasing a used bike. The benefits are fairly clear: like a car, bikes start losing their value almost immediately, so you can save a good amount of money going this route (or get better components for the same price as new). In addition, shopping used cuts down on waste, and there are a number of ways to safeguard your purchase. The simplest is buying a former rental fleet model from a local shop. This gets you the assurance that the bike has been professionally maintained and serviced, and you'll have a good idea of its history. It's true rental bikes can be subjected to rough treatment, but you'll often get a warranty with your purchase, as well as the comfort in knowing you can go back into the shop if questions or issues come up.
If you're searching online marketplaces like Craigslist, Pinkbike's BuySell, or Facebook, there are some important things to consider. First, we advise choosing a relatively new bike to maximize lifespan (aluminum frames fatigue over time) and ensure you get modern components like disc brakes and updated geometry. In addition, it's best to look at the bike in-person to avoid purchasing an unmaintained money pit. If you're mechanically inclined and familiar with bikes, you can check the frame for cracks and verify the condition of components like the drivetrain, suspension, brakes, and tires. These are very important to inspect as a cracked frame will make the bike unrideable, and replacing items like a front suspension fork can cost hundreds of dollars. If you're uncomfortable giving this final check, most repair shops will take a look for a nominal fee. In the end, buying used involves a number of extra considerations, but if you're willing to put in the effort and take on some risk, it's a nice way to save.
Back to Our Top Mountain Bike Picks  Back to Our Mountain Bike Comparison Table
Learn More About Outdoor Gear