Cotopaxi is a brand on the rise. With their distinctive and vibrant colorways, sustainable business practices, and skillful collaborations with other brands, they've quickly established themselves as a serious player in the outdoor market. The Fuego Down Jacket is arguably their best-known product, and we gave it a test while summer backpacking and into the chilly fall season. The verdict: While the jacket checks the right boxes in terms of warmth, fit, sustainability, and styling, the relatively cheap-feeling lining and non-adjustable hood keep it from being a class leader. Below we outline our experiences with the Fuego. To see how it stacks up to the competition, see our article on the best down jackets.
 
---
Table of Contents
---

Performance
Warmth
Patagonia's Down Sweater has been a dominating force in the lightweight down jacket market for years, and it's pretty clear that Cotopaxi had that model in their sights with the Fuego Hooded Down Jacket. Featuring a classic down sweater baffled look, premium 800-fill-power down certified to the Responsible Down Standard (RDS), and a lightweight and wind-resistant shell, the jacket excels as a 3-season (non-winter) option. It was a great match for wearing around camp in the mornings and evenings while backpacking in Colorado's San Juan Mountains—the hood worn over a beanie was a big help here—and it's been equally suitable for fall days with temperatures in the mid to low 40s Fahrenheit. This level of warmth is a sweet spot for many, and I've found myself grabbing the Fuego nearly every day in the shoulder season.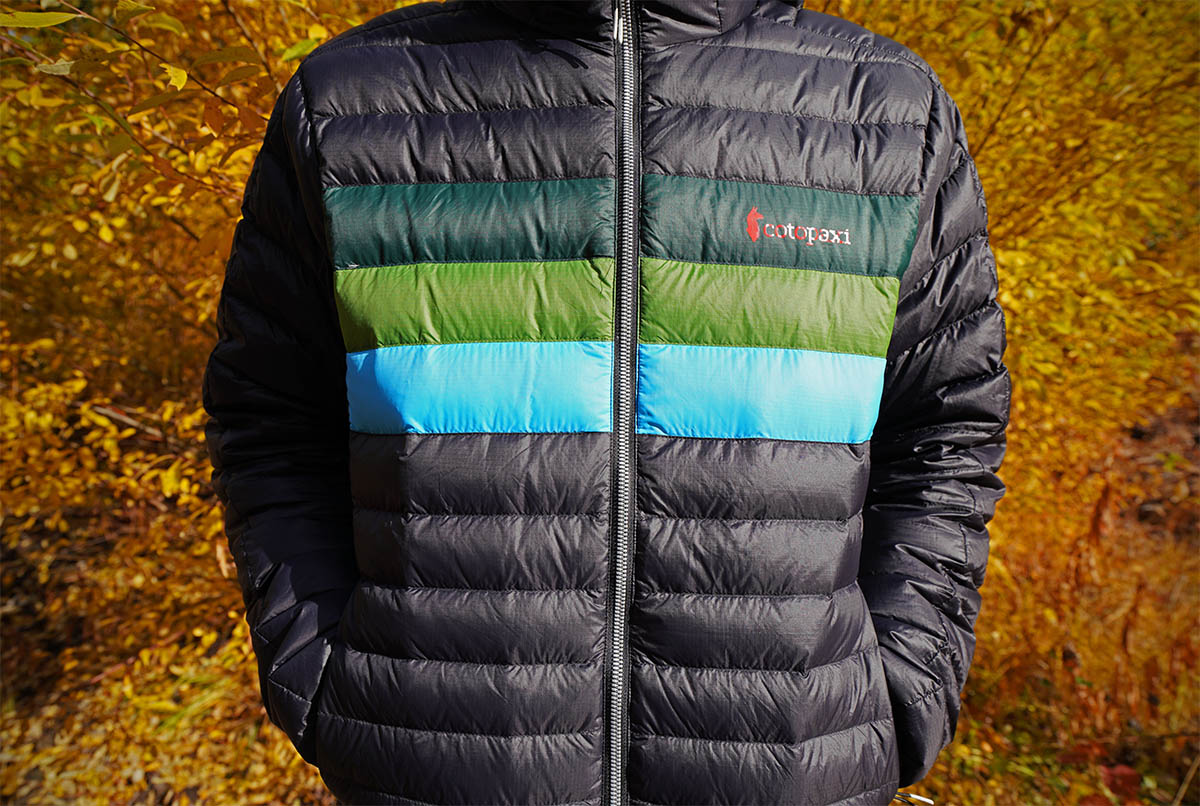 It's worth noting that Cotopaxi does not provide a fill weight for the jacket, which was a bit surprising for a company with outdoor apparel and some technical aspirations. That said, the warmth felt very similar to our Patagonia Down Sweater Hoody, which boasts 5.3 ounces of the same 800-fill down. For serious backcountry enthusiasts, you can get comparable insulation for less weight (and with a more packable construction) with an option like Arc'teryx's Cerium Hoody or Feathered Friends Eos. And for true winter temps, we'd turn to a heavier-duty option like the Rab Neutrino Pro (7.5 oz. of 800-fill down). But for most light outdoor activities like hiking, backpacking, and hanging around the crag—plus wearing around town on the days in between—the Fuego has a lot of appeal.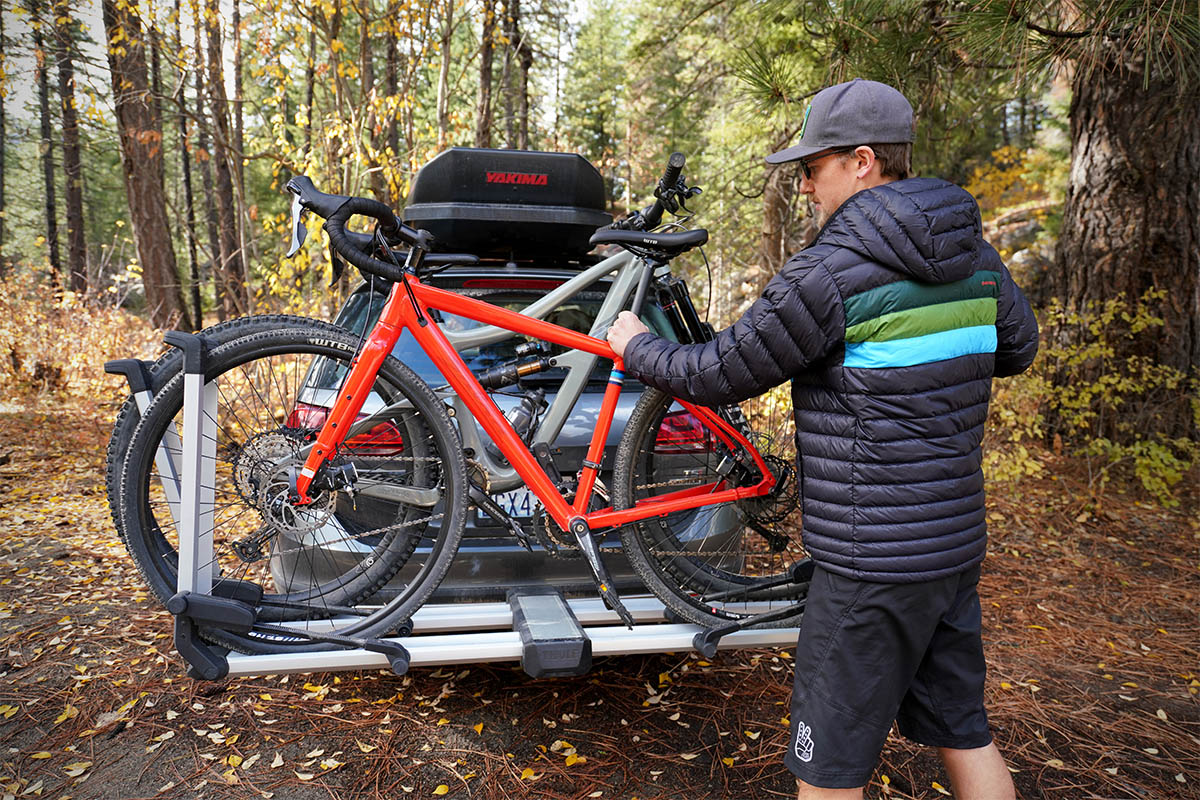 Weight and Packability
We rarely have products undercut their listed weight, but my men's medium Fuego Hooded checked in at 13.2 ounces on my scale (under the 14 oz. spec Cotopaxi provides). This puts it in a competitive spot in the lightweight down jacket category. For reference, Patagonia's Down Sweater Hoody (14.8 oz.) and REI's Down Hoodie 2.0 (13 oz.) are similar, while some slightly warmer options like the Rab Microlight Alpine (1 lb. 0.5 oz.) and Cubit Stretch Down Hoody (1 lb. 3.9 oz.) clock in heavier. You can go lighter with more technical pieces like the Mountain Hardwear Ghost Whisperer/2 (8.8 oz.), Arc'teryx Cerium Hoody (11.8 oz.), and Feathered Friends Eos (10.8 oz.), but those jackets are more specialized designs with thinner fabrics and less everyday appeal. All told, the Fuego feels undeniably light when wearing it, and few will find complaints from that perspective.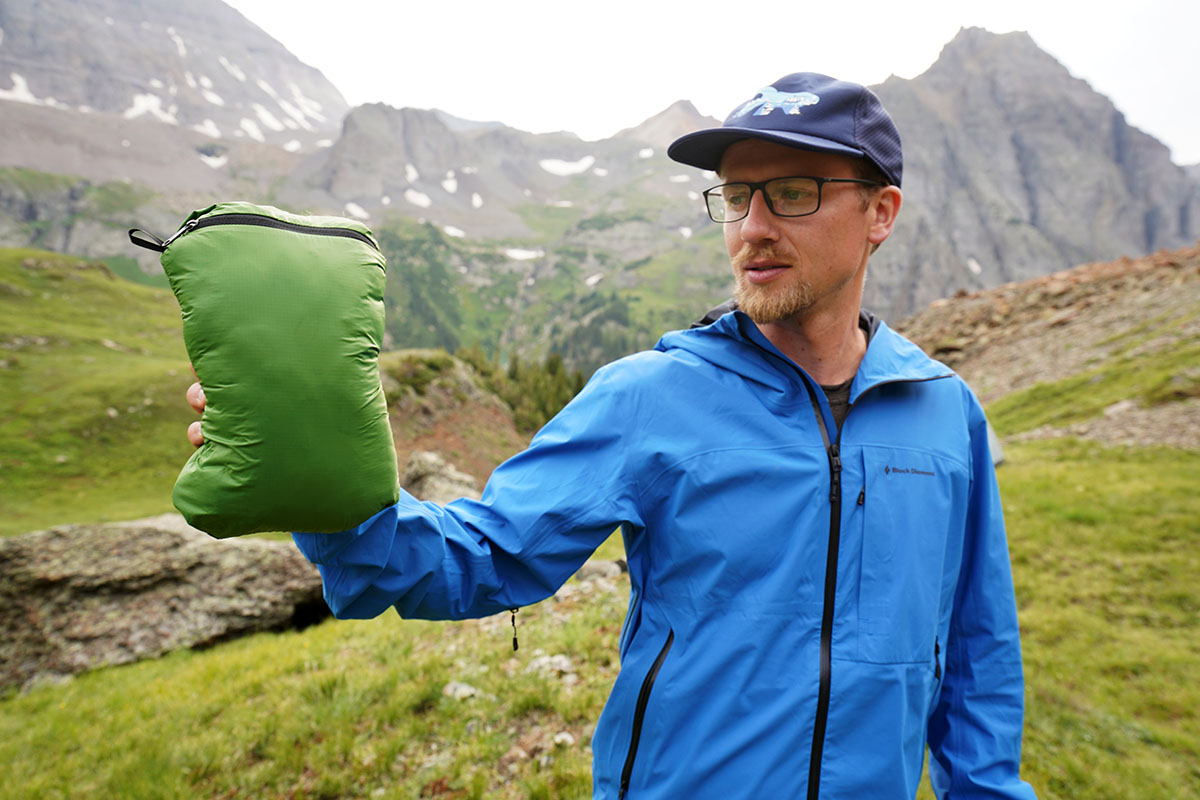 Packability is a similar story: It's easy to stuff the Fuego Down Jacket into its interior zippered pocket. Size-wise, it's a rectangle that measures roughly 10 x 6 x 3.5 inches (LxWxH), which makes it a bit larger than a 1-liter Nalgene. I found it easy to stow away into a pack or suitcase, and there's an included fabric loop for securing it to a carabiner (although the packed size is a bit large for serious climbing adventures). And if space is at a real premium, you could toss the Fuego into a compression stuff sack and squeeze it down even further.

Comfort
In general, we think Cotopaxi nailed the warmth, fit, weight, and styling parts of the equation, but comfort was a surprising letdown. Traditional nylon-shelled down jackets aren't exactly known for their high levels of comfort—the fabrics can feel a little slippery and lacking in coziness—but both the Fuego's outer shell and inner lining still come up noticeably short. For reference, we tested the Cotopaxi alongside Fjallraven's Expedition Pack, and the differences were stark: Whereas the Fjallraven felt supple and appropriately cozy given its $275 MSRP, the Cotopaxi was more reminiscent of some of the sub-$200 down layers we've tested over the years (for more, see our in-depth review of the Expedition Pack). There's a plasticky feel both inside and out, and this held true comparing it to key competitors like the Patagonia Down Sweater and Outdoor Research Helium Down. Even the budget-oriented REI 650 Down Hoodie 2.0 had a more premium and cozier hand feel.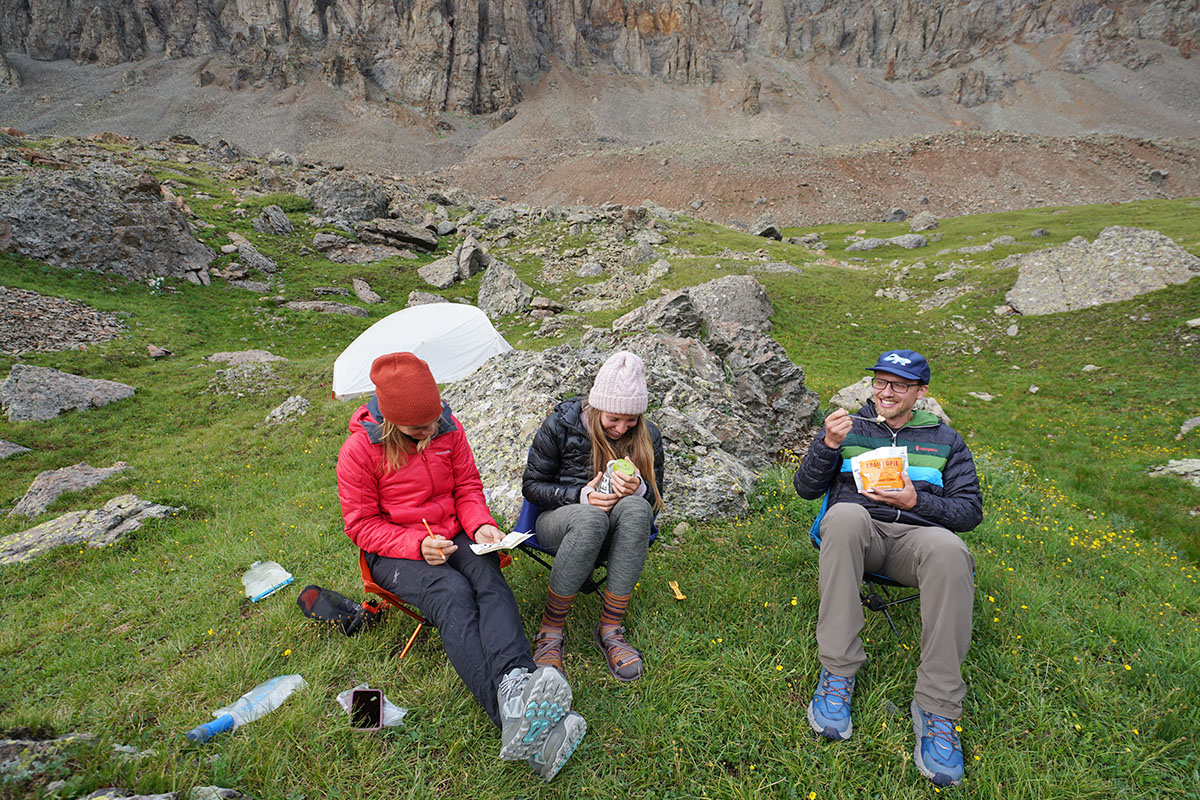 To be fair, the Fuego isn't necessarily uncomfortable—this is comparing it to some top-selling down jackets—and the interior lining won't be touching bare skin all that often. Additionally, other important pieces are nicely sorted: The fit is spot-on (more on this below), I didn't have any issues with pinch points or feeling restricted in any area, and the stretchy cuffs secure nicely around the wrists. All told, if Cotopaxi can improve the shell and lining material, this jacket could easily become one of my favorites.

Weather Resistance
Down sweaters, and especially those of the crossover casual variety, aren't built to handle wet and super rough conditions. That said, the Cotopaxi is reasonably well equipped should you get caught in a surprise storm. The shell fabric has a durable water repellent (DWR) finish for shedding light rain and snow, and the down fill also has a water-resistant coating to keep it from clumping up quickly (although sustained moisture will do just that). And I've found the shell does a decent job with moderate wind too. It's not backcountry-ready enough to be used as an outer layer should some real gusts hit—you'll want a waterproof hardshell jacket for that—but the Fuego will be plenty protective for most.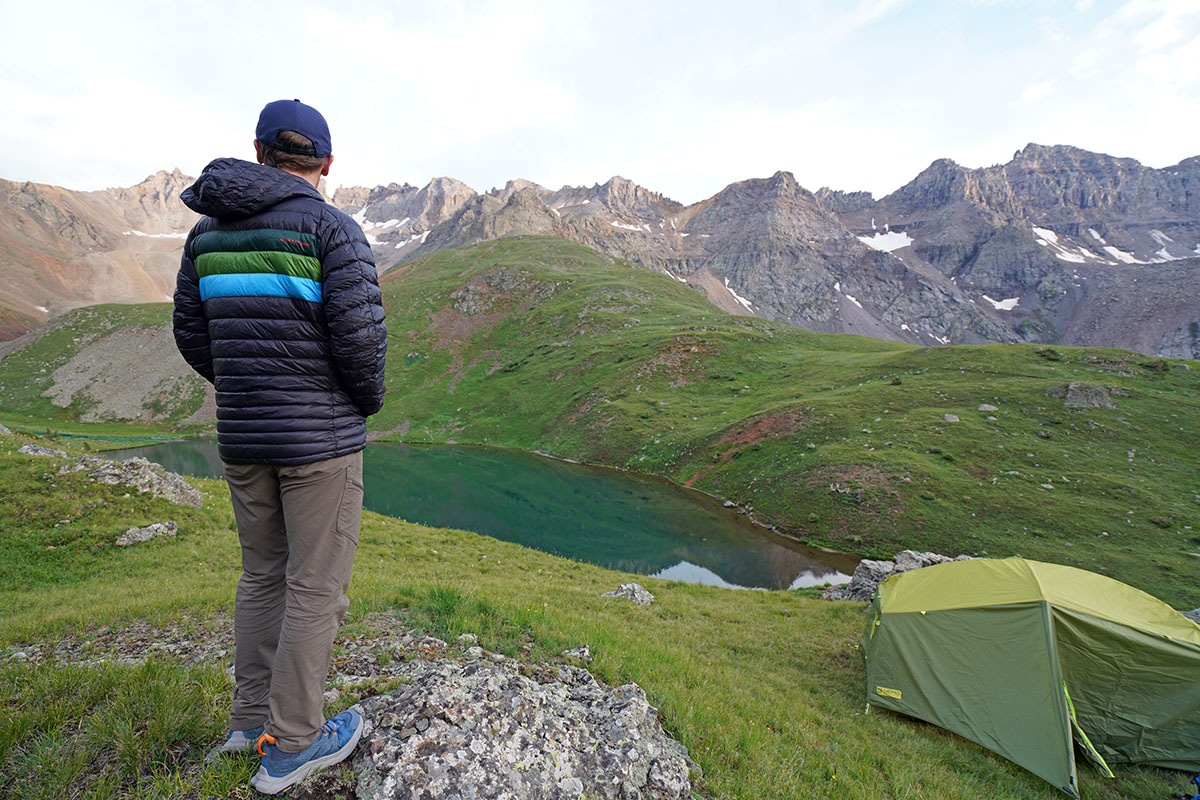 Construction and Durability
We cover our issues with the material quality of the shell and lining in the "Comfort" section above, but beyond that complaint, the Fuego feels deserving of its $275 price tag. You get high-end 800-fill-power down that's lofty and compressible, the zippers all operate smoothly, and the jacket gets almost universal approval from a styling standpoint (especially in striped, tri-color form). Additionally, the 20-denier (D) ripstop nylon shell is moderately tough for the category (it's identical in thickness to Patagonia's leading Down Sweater Hoody) and should hold up to most everyday and outdoor use provided you take care around sharp equipment (we have the same recommendation for nearly all lightweight down jackets). And importantly, the jacket hasn't shown a tendency to shed down—only a couple feathers have popped out during testing, and I've been able to work them back through the fabric and into the interior.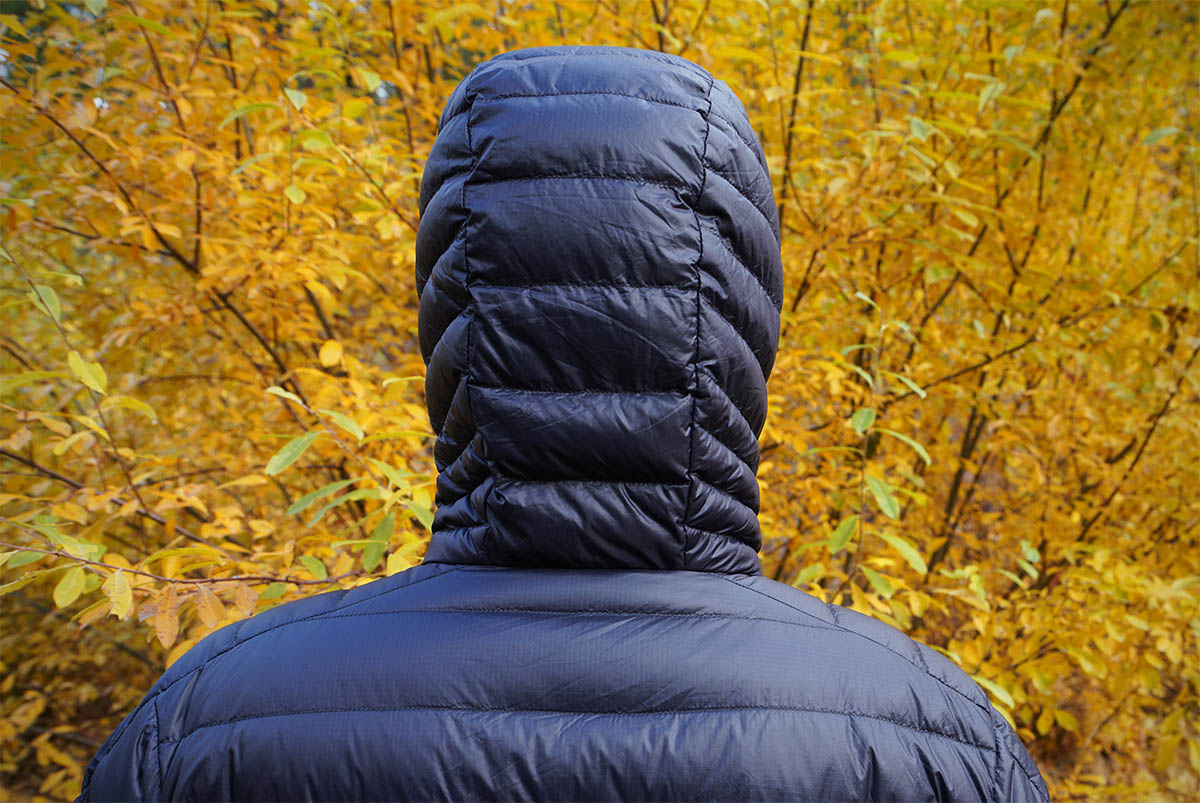 Key Features
Storage: Pockets
Cotopaxi kept things simple with exterior storage, including two standard zippered hand pockets. There's nothing special here, but they're a functional size and do the trick for protecting your hands from the cold. The interior, on the other hand, is a bit unique: On the lower left side, you get an open drop-in-style pocket, which is nice for a bulkier item like winter gloves. There's also a zippered pocket in that same spot, which is quite large (it's tall enough to fit my hand and wrists) and boasts a two-sided zipper to double as the stuff sack. Taken together, it's a very practical layout.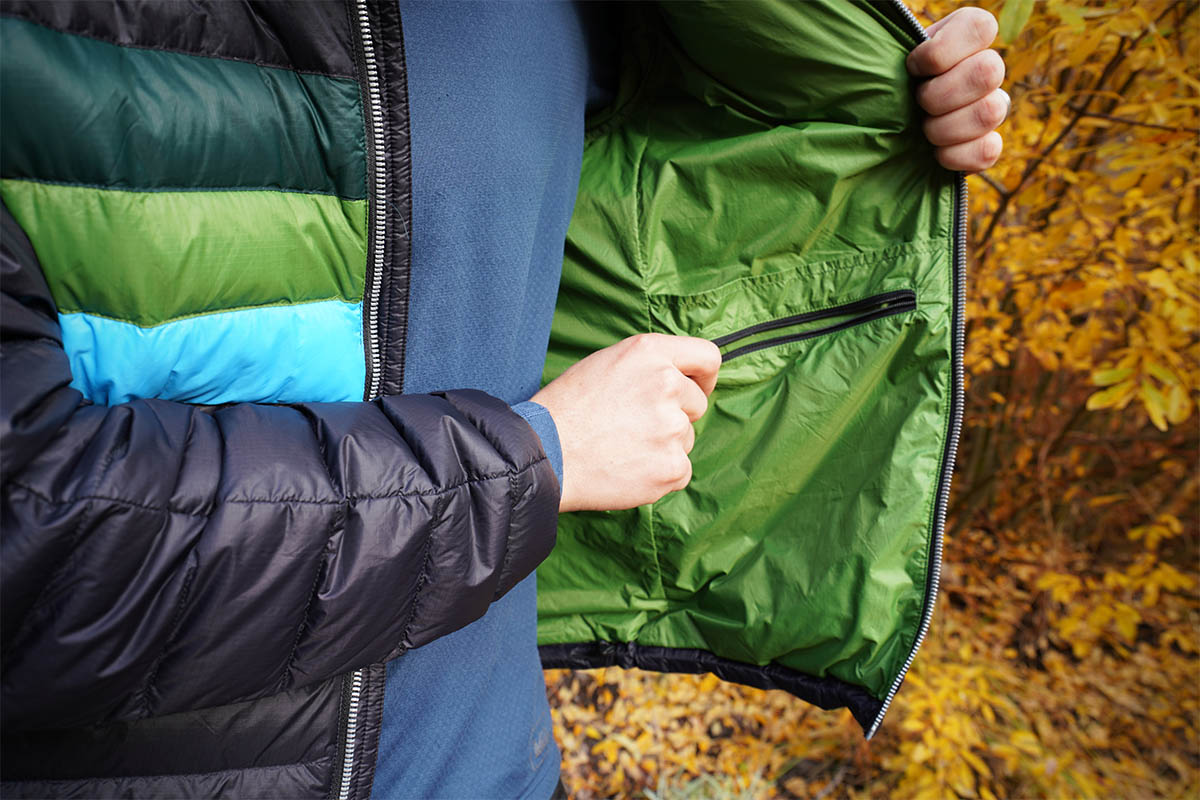 Hood
Cotopaxi makes the Fuego both with and without a hood, and we opted for the hoody for the boost in warmth and versatility for outdoor activities like backpacking. In terms of design, the hood is a simple scuba style with elastic along the front to help it stretch to fit over a beanie or hat. However, the lack of adjustment proved to be a problem both around town and in the backcountry. The hood was a little large on me, so it didn't seal well around my head and could get blown back in a strong gust. And the inability to snug it down meant it didn't insulate as effectively as it could. Finally, it doesn't move with you when you turn your head, which I found to be pretty bothersome. I'm not sure if this was to cut weight or costs—or some other factor altogether—but adding a cinch at the back should absolutely be a top priority for Cotopaxi.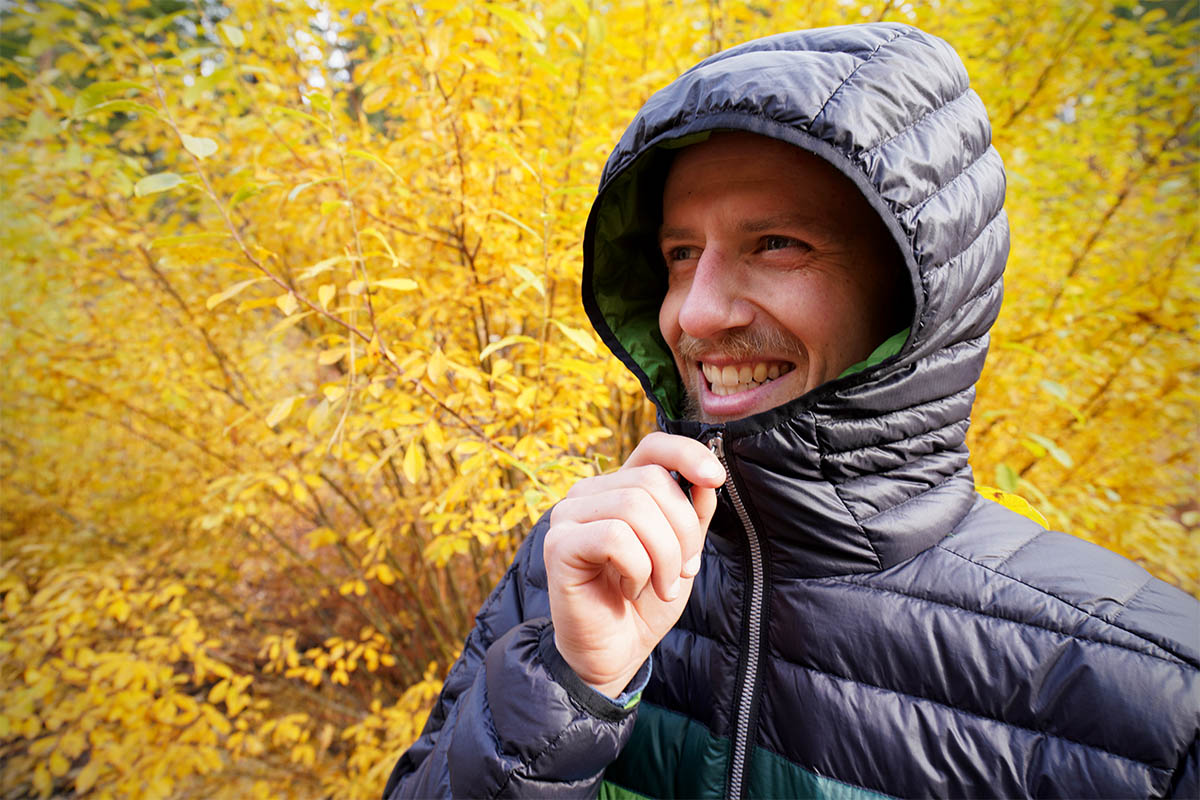 Fit and Sizing
I ordered my standard men's medium in the Fuego and found the fit to be just about perfect as an everyday and occasional backcountry piece. I would describe it as a "regular" cut: It's not snug like Arc'teryx's Cerium, nor is it boxy and overly roomy like some of the older Patagonia Down Sweaters we've tried (the current model fits more like the Cotopaxi). In practice, it was easy to wear just a t-shirt or baselayer (or two) underneath, but it's also not too bulky to use as a midlayer under a shell. And the back length, which I measured at 26 inches, also hit a nice middle ground for me (for reference, I'm 5'9") for wearing either as a standalone piece or under another outer layer.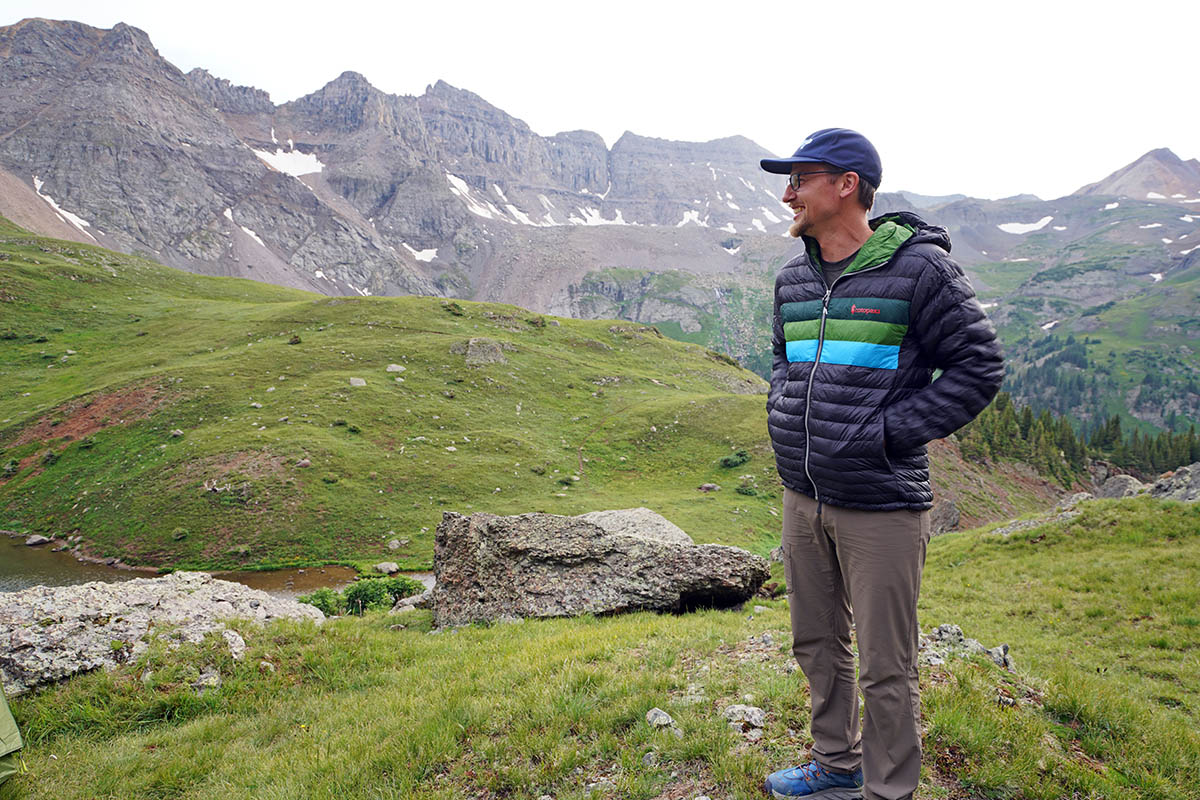 Sustainability
Cotopaxi is known for their focus on sustainable practices and social stewardship, and the Fuego Down Jacket is a clear reflection of their efforts. As we touched on above, the jacket uses ethically sourced down that's certified to the Responsible Down Standard, ensuring that the geese were not force fed or live plucked. Cotopaxi also allocates 1% of their annual earnings to nonprofits aimed at reducing global poverty, and their status as a Certified B Corp means they have met rigorous performance requirements related to environmental practices, treatment of workers, and more. We really appreciate when companies go the extra mile, and we think these efforts only boost the Fuego's all-around appeal.

Other Versions of the Cotopaxi Fuego
I tested the Fuego Hooded Down Jacket for this review, and the collection also includes a non-hooded jacket, vest, pullover, and women's-specific parka. As I mentioned previously, I prefer a hooded option for the boost in warmth and coverage, but those who don't need it can save $30 with the standard Fuego Down Jacket. For mild shoulder-season temps, the Fuego Down Vest shares the same key design components as the hoody tested here but in a lighter (8 oz.) and more affordable ($165) package. All of these options are also available in women's models, with the women's Fuego Down Hoody boasting an identical construction to the men's variation we tested but in slightly different colorways. And for around-town wear, the women's Fuego Down Parka ($295) has a mid-thigh cut and drop tail hem for crucial cold-weather coverage. Finally, Cotopaxi offers two pullover variations: the men's non-hooded Fuego Down Pullover and women's Fuego Down Hooded Pullover (both $275).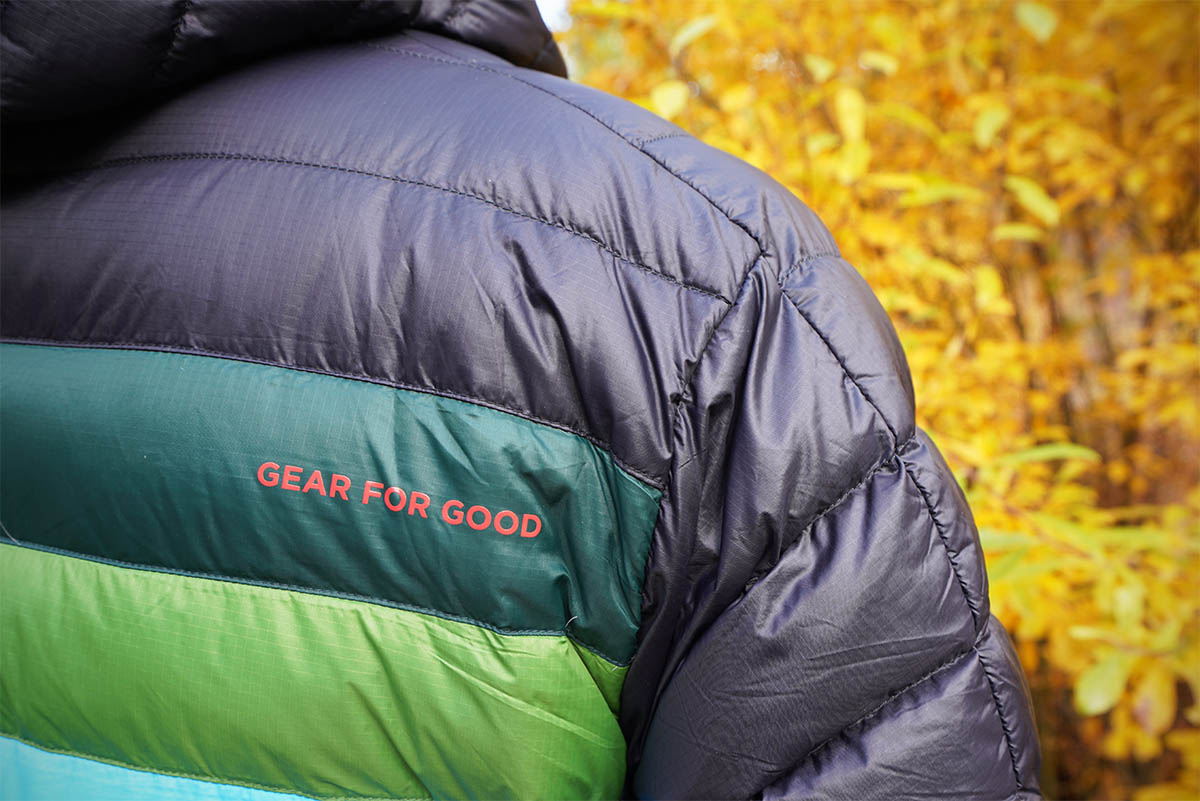 What We Like
The Fuego excels as a shoulder-season piece with premium and lofty 800-fill down, a wind-resistant shell, and a competitive 14-ounce weight.
Great fit for both everyday and occasional backcountry use: trim enough to be worn over just a baselayer but not too bulky to wear under a shell.
Apart from the cheap-feeling shell and liner, the Fuego is well made with a reasonably tough face fabric, smooth zippers, quality insulation, and attractive styling (we especially like the striped, multi-toned colorways).
Interior drop-in and zippered pockets are very functional and convenient.
Cotopaxi is one of the most eco-conscious outdoor brands we know of, and the Fuego is made with a strong focus on sustainability.

What We Don't
Comfort was a surprising disappointment. The Fuego's outer shell and inner lining feel plasticky and noticeably less soft and premium than the competition.
Scuba-style hood lacks adjustment and didn't' seal well around my head, which reduced warmth and overall comfort.
At $275, the Fuego is a little pricey considering the plasticky feel, although all the other details are nicely sorted.

Comparison Table

The Competition
Cotopaxi's Fuego has garnered serious popularity over the past couple of years for its well-balanced build, excellent fit, and fun styling. That said, our favorite down jacket on the market for years running has been Patagonia's legendary Down Sweater, which still gets our vote over the Fuego for a few key reasons. Most importantly, the Patagonia has a noticeably cozier and softer feel both inside and out, and the single adjustment point at the hood helps considerably with both warmth and coverage. You pay slight weight and price penalties (14.8 oz. and $329 respectively), but those are small concessions for the significant upgrades in overall comfort and build quality.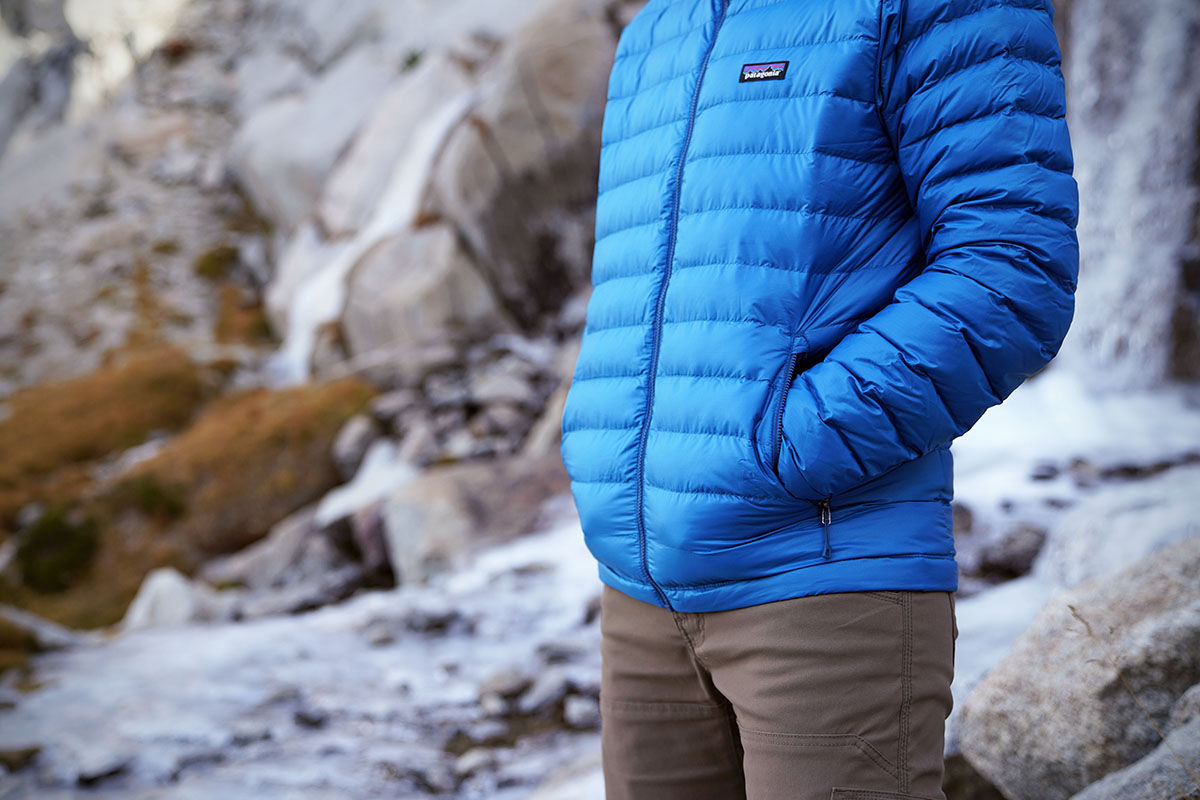 Moving toward the more technical end of the spectrum, Outdoor Research's Helium Down Hoodie is a viable alternative for those who get into the backcountry regularly. With the OR, you get a trimmer cut and waterproof materials at the shoulders and hood that give it a functional performance slant, and the hood can also be cinched to seal out wind and cold. On the flip side, the Helium's materials are crinkly, and the Cotopaxi wins out in the style department with a sleeker and less utilitarian look. In other words, as a crossover and light outdoor piece, the Fuego gets the edge.
Next up is Arc'teryx's venerable Cerium Hoody (formerly the Cerium LT), which is one of the most well-made and good-looking down jackets on the market. Right away, we'll note that you do pay a steep premium for Arc'teryx products, and the Cerium costs a whopping $400. But for the price, you get a lightweight (11.8 oz.) and impressively built piece, including lofty and compressible 850-fill down, a silky interior and exterior, clean and attractive styling, and the addition of synthetic insulation in areas prone to getting wet. Given its more technical intentions, the Cerium has a thinner shell fabric (15D vs. the Cotopaxi's 20D) and a more athletic fit, but those tradeoffs are par for the course for committed backcountry-goers. If you're just looking for a down jacket to wear around town or casually, the Cotopaxi will get the job done for a lot less.
Staying within the performance category, Seattle-based Feathered Friends makes another competitive option in their Eos Down Jacket. Like Arc'teryx, Feathered Friends is known for their premium build quality, and the Eos boasts the highest-fill-power down of any option here at 900 (and a healthy amount of it at 4 oz.). Other advantages include a lighter weight (10.8 oz.) and more weather-resistant Pertex Quantum shell. However, the Eos is expensive at $409, has a less durable 12x20D exterior, and isn't as appealing for daily wear. Again, if your priorities include weight and packability for long outings in the backcountry, the Eos has a lot of appeal. But for the average user that values cost and styling over performance chops, the Fuego wins out.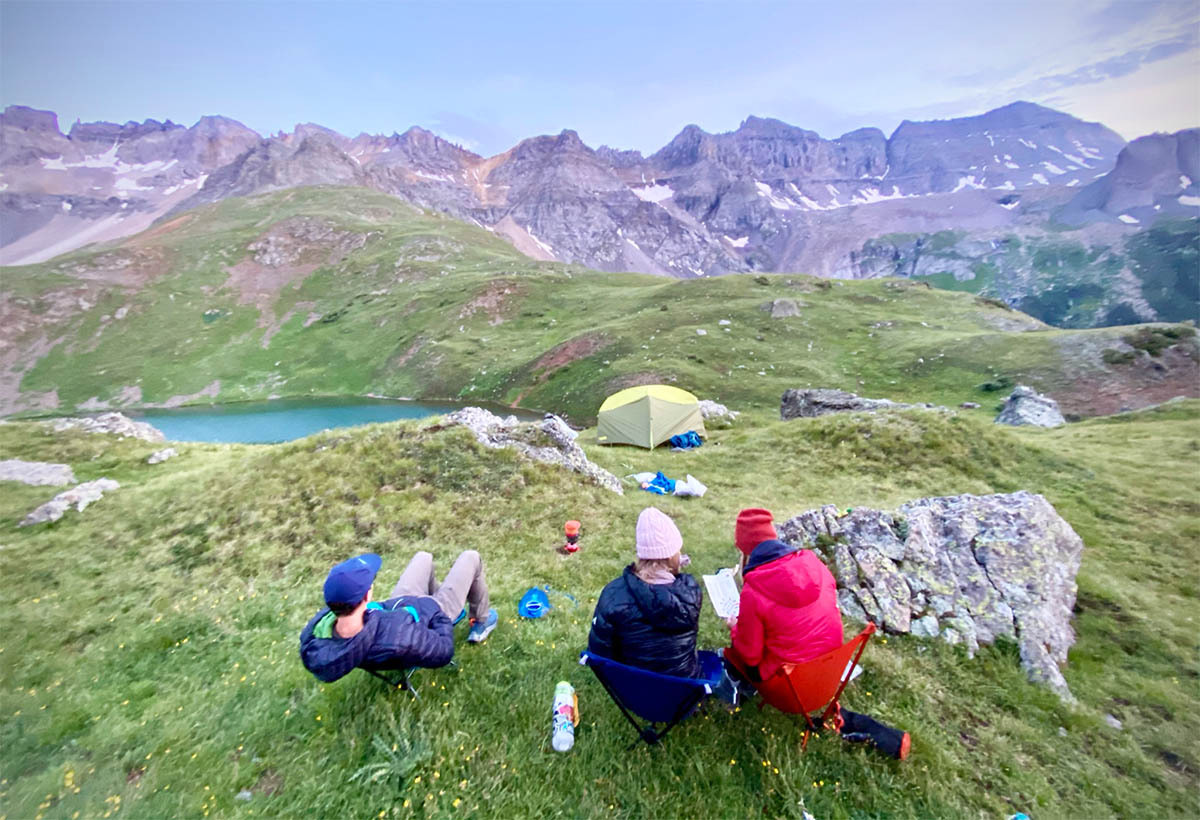 Last but not least is a budget-friendly alternative to the Cotopaxi: REI Co-op's 650 Down Hoodie 2.0. Like many REI products, the Down Hoodie is an excellent value at just $119, but you do make some notable compromises by spending less. These include lower-fill-power down (650-fill) that's not as compressible or warm for its weight as the Fuego's 800-fill, as well as a step down in warmth. The REI is arguably the more comfortable option with a softer lining, although we prefer the fit of the Cotopaxi, which is more flattering and less boxy than the Down Hoodie. But the value is hard to beat, and we think the REI checks all the right boxes for most casual users.
If you're thinking about buying gear that we've reviewed on Switchback Travel, you can help support us in the process. Just click on any of the seller links above, and if you make a purchase, we receive a small percentage of the transaction. The cost of the product is the same to you but this helps us continue to test and write about outdoor gear. Thanks and we appreciate your support!
Depending on the seller, most products ship free in the United States on orders of $50 or more. International shipping availability and rates vary by seller. The pricing information on this page is updated hourly but we are not responsible for inaccuracies.
Read More From Switchback Travel