Swedish brand Fjallraven is known for their attractive styles that straddle the line between performance and looks, but they generally come at a steep cost. Their Expedition Pack Down Hoodie, however, marries style and function in a package that delivers solid warmth and comfort at a pretty reasonable price point (for Fjallraven gear, that is). It isn't the lightest or most backcountry-ready option on the market, but it's a durable, high-quality choice for more casual outdoor adventures and everyday use. Below I break down my experiences with the Expedition Pack Down Hoodie. To see how it stacks up to the competition, see our article on the best down jackets.
 
---
Table of Contents
---
Performance
Warmth
The Fjallraven Expedition Pack Down Hoodie combines down and synthetic insulation inside a tough outer shell, resulting in a jacket that's quite warm for its weight. With 3.9 oz. of 700-fill-power down and synthetic fill for added wet-weather assurance at the shoulders, it stacks up pretty favorably to Arc'teryx's legendary Cerium LT Hoody (3.6 oz. of 850-fill-power down with synthetic in key areas). In testing, the Fjallraven felt a little warmer than the Cerium to me, which may be because of its more robust face fabric. Fjallraven does not provide a denier spec (a measure of fabric thickness), but the outer shell feels noticeably more substantial than the 10-denier Cerium—more in line with the thicker Patagonia Down Sweater (20D x 30D). I would estimate it to be around 20 denier. 
In a range of conditions all the way down to freezing and below in Colorado, I've been able to wear the Expedition Pack without extra layering underneath. And despite its athletic cut, the sizing runs a bit large, which allowed me to easily add more layers when the temperatures dropped even lower. Also, the waist can be cinched in the front to seal out drafts. Overall, it might not be warm enough for frigid winters in places like the Midwest or the Northeast, but it can handle most moderate winter and shoulder-season conditions with ease.

Weather Resistance
Down jackets generally put up limited defense in moderate to heavy precipitation, but the Fjallraven Expedition Pack is perfectly suitable for fending off light moisture. The shell is coated with a durable water repellent (DWR) finish, which helps water bead up and roll off the outer fabric. The relatively thick shell material also adds a sizable boost in wind resistance and helps the jacket retain warmth better than much of the competition. However, once the DWR wets out, moisture will start to work its way into the insulation and cause it to clump up (down coated with a hydrophobic treatment would perform better in this regard). If you need stalwart protection in truly wet and rowdy conditions, it may be worth stepping up to a fully waterproof option like the REI Co-op Stormhenge Down Hybrid, which provides similar warmth but boasts a 2-layer shell with sealed seams.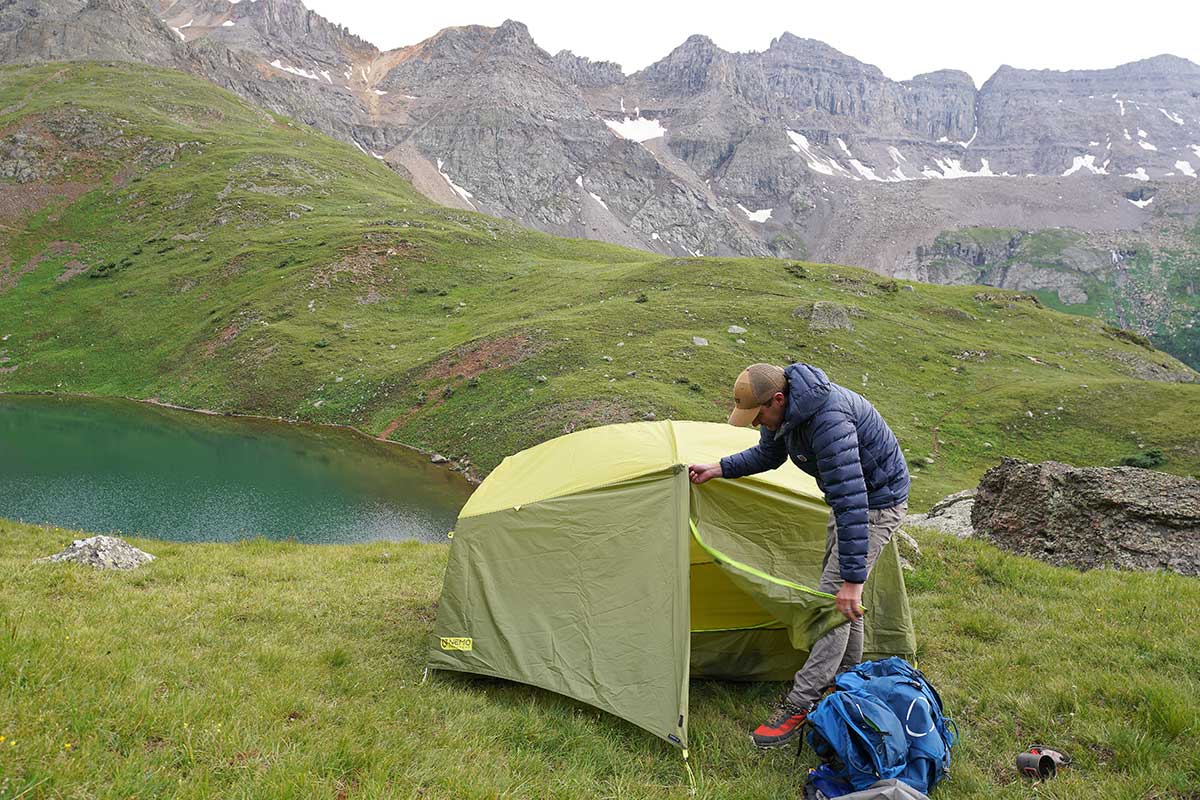 Aside from its shell, a few other features take the Fjallraven Expedition Pack up a notch in terms of protection. The collar is one of the highest of any down jacket we've tested, providing excellent coverage for your neck and face from wind and cold (plus it has fleece on the inside for comfort). Further, the synthetic insulation at the shoulders helps resist moisture in areas that are most prone to wetting out. The polyester variety isn't as breathable, nor its placement as comprehensive, as Arc'teryx's Coreloft found in their Cerium series (including the aforementioned Cerium LT), but it does add a noticeable boost in all-around warmth and protection. Again, the Fjallraven wouldn't be our first choice in truly inclement weather, but it will stand up to most light to moderate moisture just fine.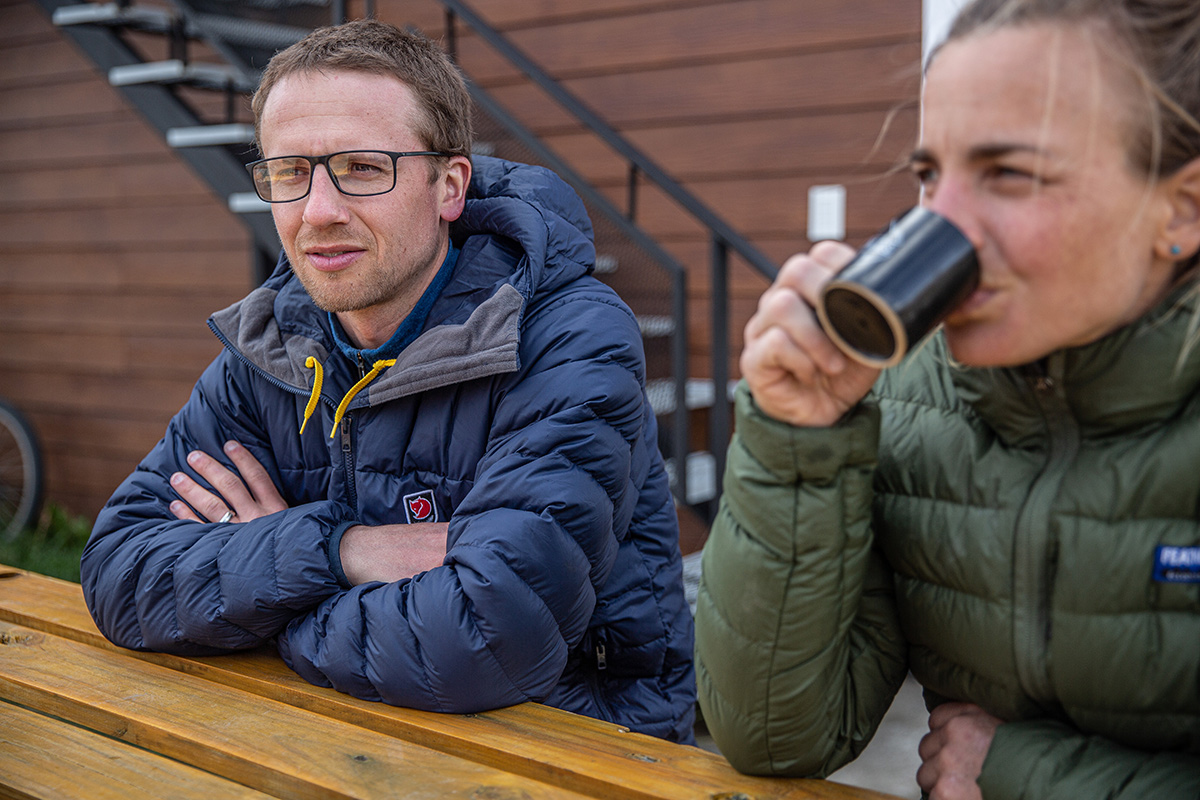 Weight and Packability
At 1 pound 1.3 ounces, the Fjallraven Expedition Pack Down Hoodie isn't a standout in the weight department, but it's perfectly reasonable for more casual adventures. For reference, the 700-fill power down isn't as warm for its weight or compressible as the higher-quality down found in ultralight competitors like the 850-fill Arc'teryx Cerium LT Hoody (11 oz.) or 800-fill Mountain Hardwear Ghost Whisperer/2 (8.8 oz.). The thicker shell fabric likely also plays a role, although many will appreciate the added durability compared to the ultra-thin materials on the Cerium and Ghost Whisperer. And to be fair, the Fjallraven starts to look more favorable when compared to the more casual competition. For reference, Patagonia's Down Sweater Hoody checks in at 13.1 ounces, while the slightly warmer Outdoor Research Coldfront is 1 pound 4.7 ounces. And in terms of packability, the Fjallraven stuffs down into its internal chest pocket and can easily be stowed away in a duffel or pack for travel or day hikes.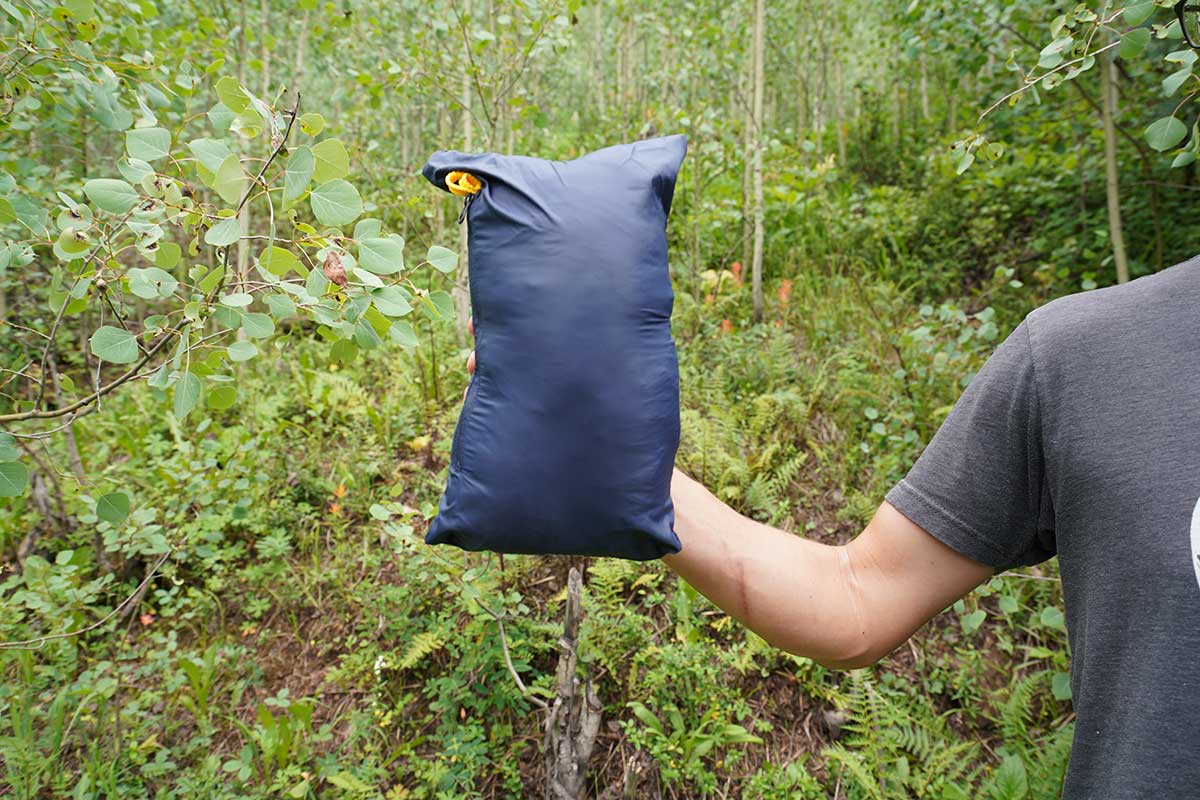 Construction and Durability
Fjallraven products generally don't come cheap, but we've usually found that the quality is on par with the price. True to form, the Expedition Pack Down Hoodie is extremely well-built and has deftly withstood regular use and abuse. I've taken it from the summit of 14ers in Colorado to the frigid ski hills of Winter Park, all without paying much mind to protecting it. And after many months of use, the jacket is barely showing signs of wear. Unlike jackets from Feathered Friends, which tend to show dirt very easily, its dark blue color looks like new, the jacket has no rips, the zippers feel high-quality and continue to function smoothly, and all the details are well-sorted. In fact, I'd give the nod to this jacket over the uber-popular Patagonia Down Sweater in terms of overall build quality—and the hoody version of that jacket costs $4 more.
Fjallraven is one of a few brands that does not provide denier (D) specs—the measurement of a fabric's thickness—for their products. But based on our experience, we estimate the shell of the Expedition Pack Hoodie to be around 20D or slightly thicker. As I mentioned, that keeps it from qualifying as an ultralight performance option but places it competitively with the super popular Patagonia Down Sweater (20D x 30D). The added thickness is helpful for everyday use, and it also adds a noticeable boost in wind resistance. The only downside is that it adds a little weight and bulk, but many will find that tradeoff worth it (ourselves included).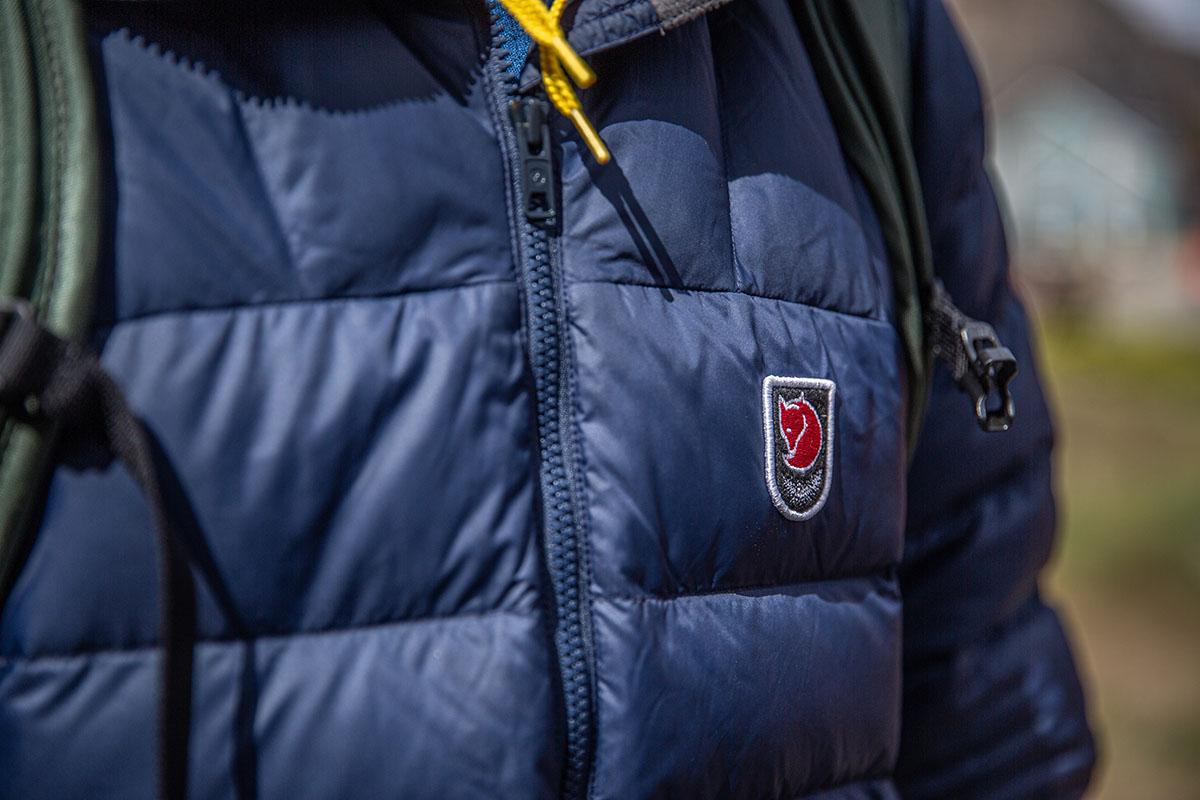 Key Features
Hood
The hood on the Expedition Pack Hoodie is generously sized and cinchable, though it's not listed as being helmet-compatible and wouldn't quite fit over a low-profile climbing helmet. This won't be a deal-breaker for casual use, but it's clearly not a backcountry-focused piece. On the bright side, the collar on the hood is exceptionally high, which makes it easy to batten down the hatches in cold and wind. The fleece lining on the inside of the hood is another nice touch and gives the jacket a supremely soft and cozy feel.

Storage: Pockets
The Fjallraven Expedition Pack Hoodie comes with a fairly standard but functional storage layout, including two handwarmer pockets and one internal chest pocket. The hand pockets are generously sized and can easily swallow larger items like a map or GPS device, and as I mentioned above, the internal pocket doubles as the jacket's stuff sack. This pocket isn't large enough for stashing bulkier items like skins or climbing shoes, but it easily accommodates smaller valuables like a wallet, keys, and even a plus-sized iPhone.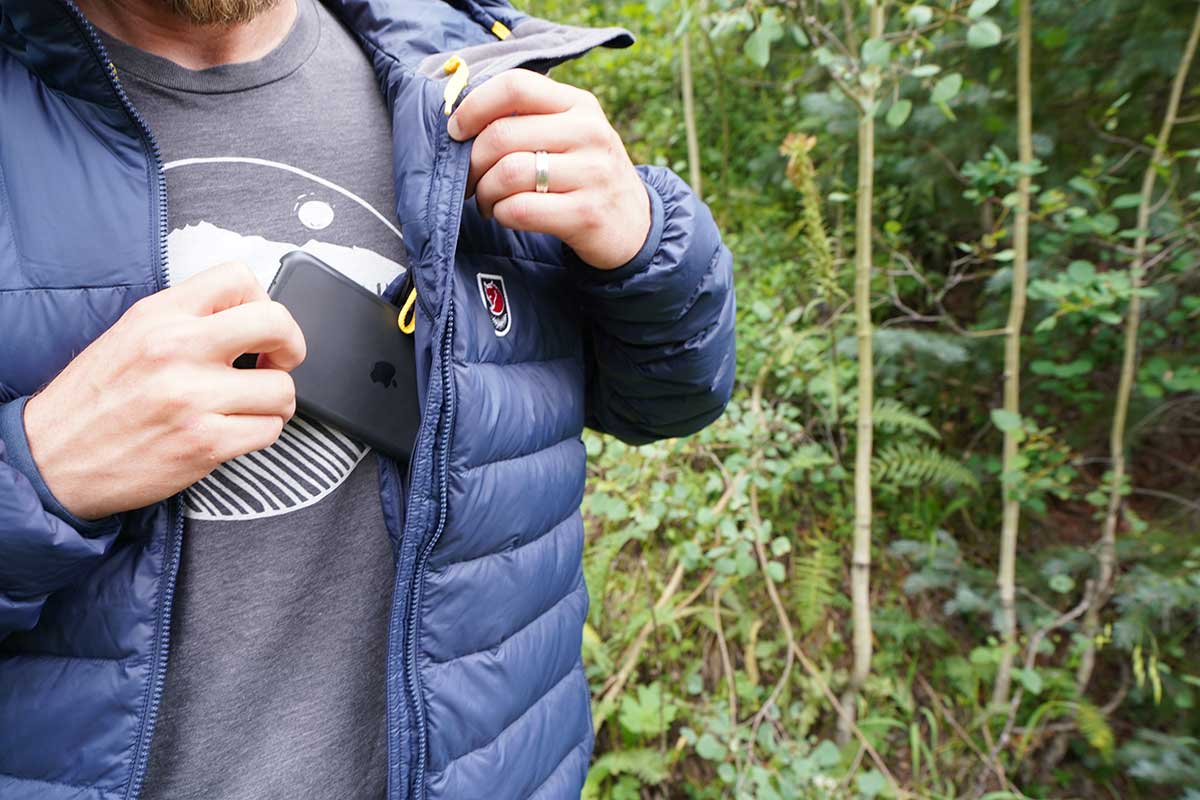 Fit and Sizing
I found the sizing of the Expedition Pack Hoodie to be unique, and while I liked it myself, it might not be for everyone. Overall, the jacket has an athletic cut that's not overly baggy in the torso, but the sizing does run large. I'm just over 6 feet tall and 175 pounds with a lanky build (long arms), and a size medium fit me just about perfectly. Comparatively, many Arc'teryx jackets are a bit short (though I love their athletic fit), and Patagonia jackets typically run longer but often are baggier than I prefer. In the end, for those who are often on the verge of sizing up, your normal size in the Expedition Pack Hoodie should be an excellent fit.

Sustainability
Like many brands in the outdoor space, Fjallraven is making moves toward more environmentally and socially responsible production. As a company, they belong to the Sustainable Apparel Coalition and Fair Labor Association, organizations aimed at reducing environmental impacts and improving conditions for workers globally. In addition, the Expedition Pack's down fill is traceable and ethically sourced (all the down Fjallraven uses has been traceable since 2014), and the shell is made from recycled material that's fluorocarbon-free. Taken together, it's a solid all-around effort from the brand, and we applaud them for their ongoing sustainability efforts and initiatives.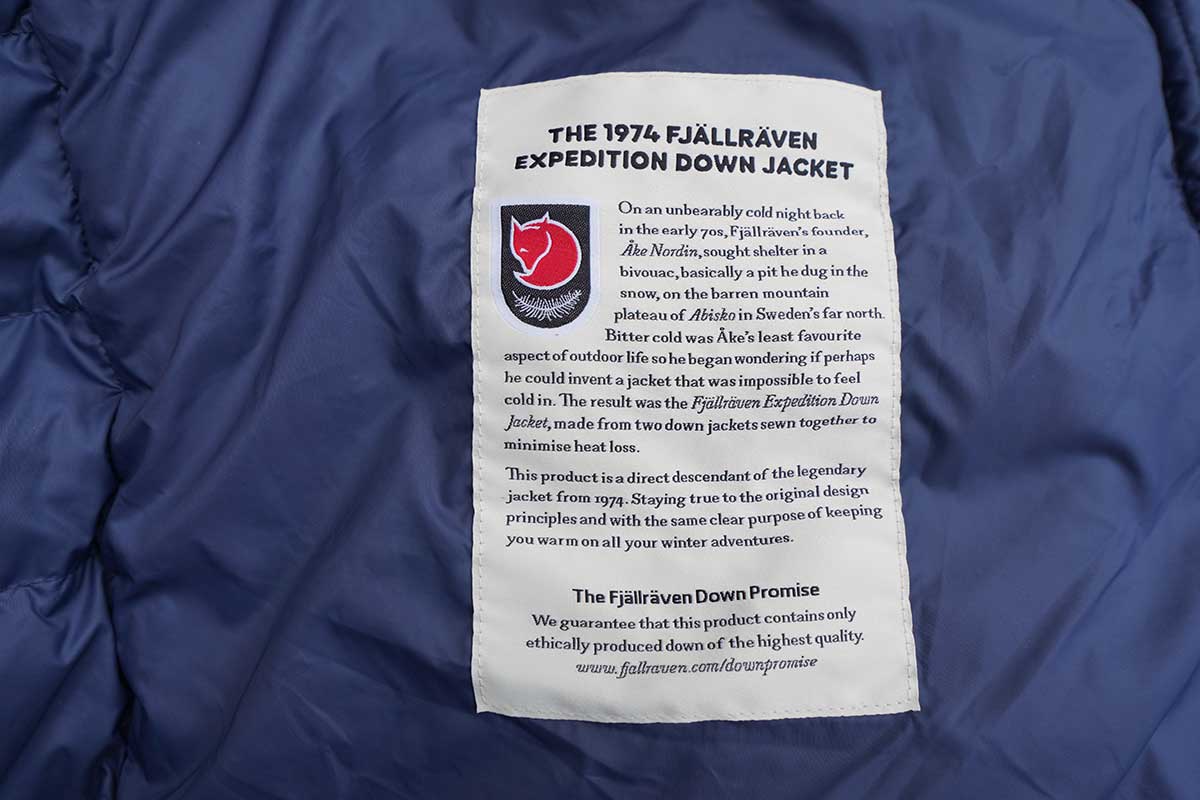 Other Versions of the Fjallraven Expedition Pack Down
I tested the men's hooded version of this jacket for this review, and Fjallraven also makes a women's version for the same price, as well as a hoodless option for men and women for $25 less. The hoodless versions shave off 2.7 and 2.8 ounces respectively. The women's and men's variations of the Expedition Pack Down Hoodies and Jackets are very similar in terms of overall build and construction, with the only major distinctions being slightly different cuts and colorway options. Zooming out, Fjallraven's Expedition collection also includes several other similarly styled offerings, from longer-length parkas to vests and lighter synthetic layers.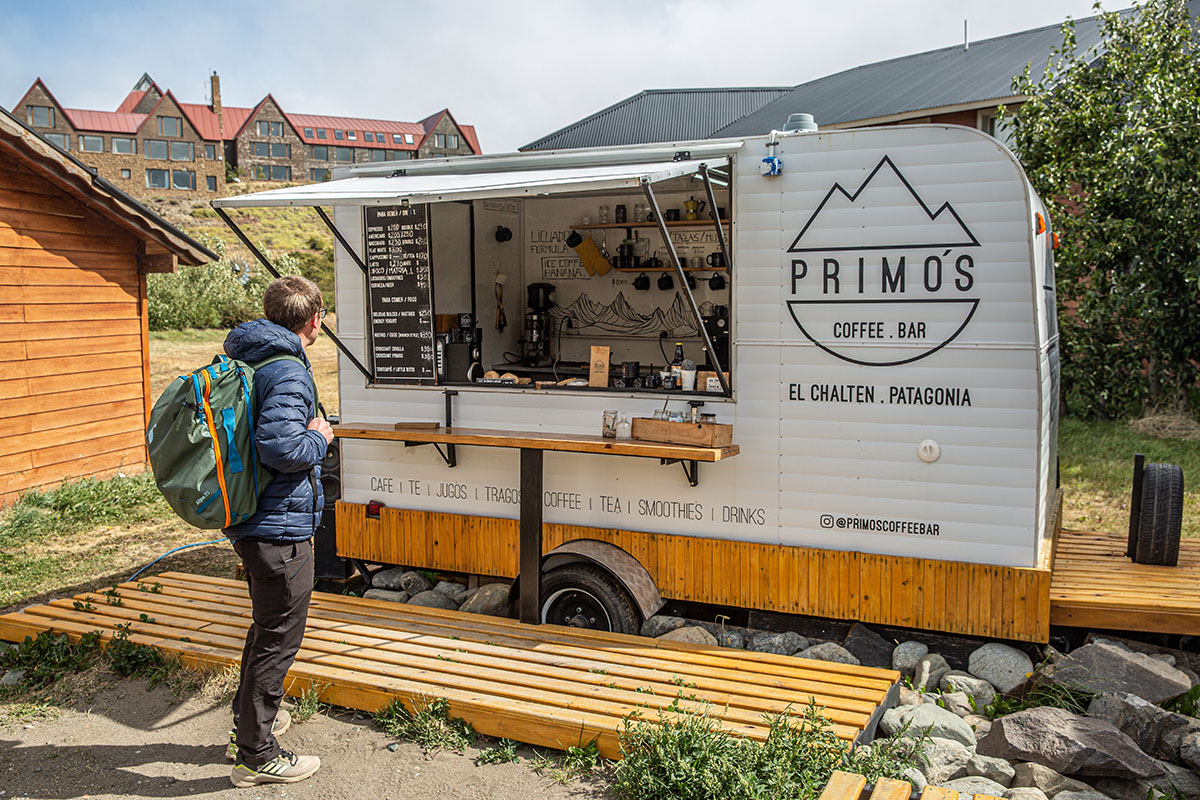 What We Like
Solid warmth and comfort with a thicker shell than most other lightweight down jackets, which adds a sizable boost in durability and wind resistance.
Classy and attractive styling that's noticeably sleeker than much of the competition.
The high collar is great for protecting your face from the cold and wind.
Use of synthetic insulation at the shoulders adds a nice dose of wet-weather assurance.
At $275, the Expedition Pack is more reasonably priced than many other Fjallraven offerings.

What We Don't
At 1 pound 1.3 ounces, the Expedition Pack is heavy for backcountry use.
700-fill-power down is fairly middling and doesn't have the impressive warmth-to-weight ratio as loftier and more premium varieties.
We like the athletic fit, but the sizing runs a bit large (it may be best to try on before buying).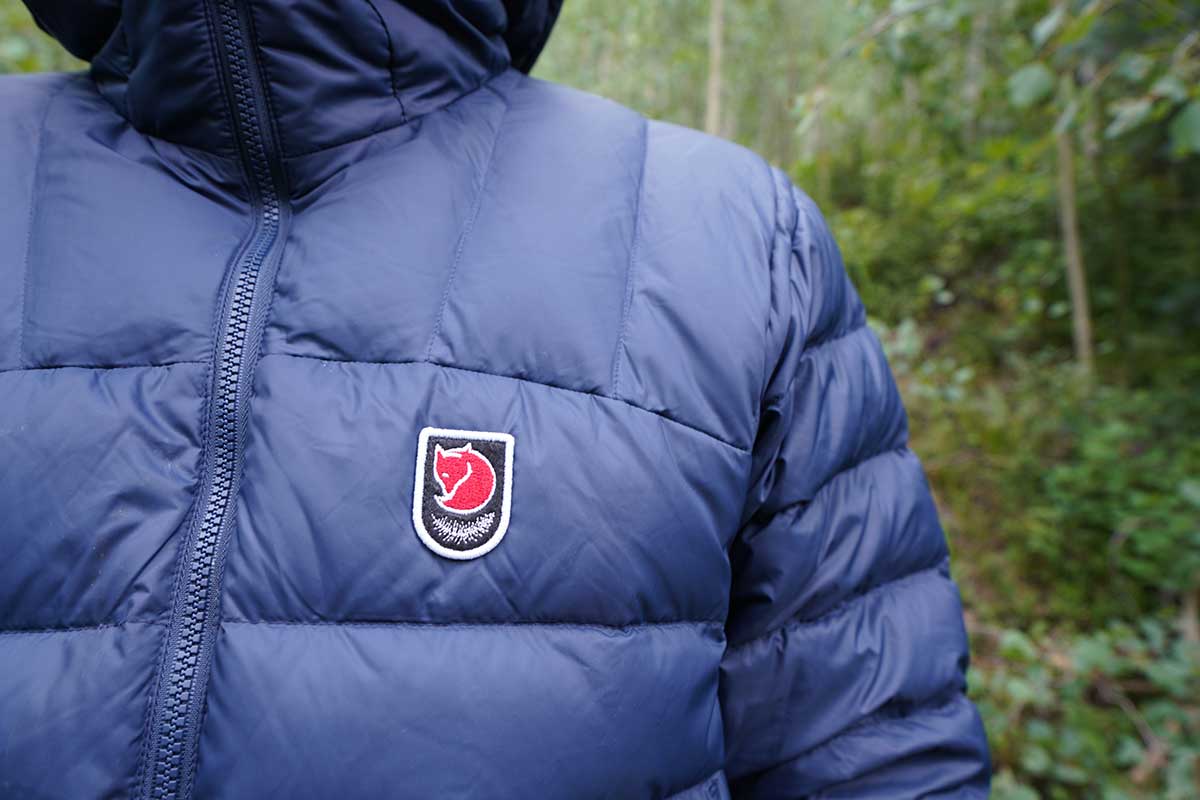 Comparison Table

The Competition
Fjallraven's Expedition Pack Down Hoodie stands out among the down jacket competition for its solid warmth and comfort in a very attractive and premium-feeling package. That said, Patagonia's Down Sweater Hoody is the standard bearer in this category and stacks up very competitively in the weight and features departments. For just $4 more than the Fjallraven, the Patagonia shaves off about 4 ounces of weight and uses slightly higher-quality 800-fill down, though a bit less of it. We've also found Patagonia jackets to have a bit more baggy fit in general, and the Down Sweater has a more traditional puffy jacket-like style and appearance. Whether or not the Fjallraven's more athletic and tailored fit are worth the added investment is up to you, but the Down Sweater's balance of weight, versatility, and good looks remain a winning combination for many.
 
For a lighter and more backcountry-friendly option, the Arc'teryx Cerium LT Hoody is one of the most well-rounded performance designs on the market. In terms of construction, the Cerium trades the Fjallraven's tougher shell for a noticeably thinner face fabric (10D) that shaves considerable weight (11 oz.) but makes it far less durable for day-to-day use. The Cerium also has a considerably trimmer and shorter cut, which is great for backcountry missions but makes it harder to layer underneath. Finally, the Cerium uses higher-quality 850-fill down that's more compressible and warmer for its weight and also adds Coreloft synthetic insulation in areas vulnerable to getting wet, although you'll pay a steep premium for the specialized build at a whopping $379. Unless you're looking for a targeted piece to bring deep into the backcountry, the Expedition Pack will get the job done for most casual uses at over $100 less.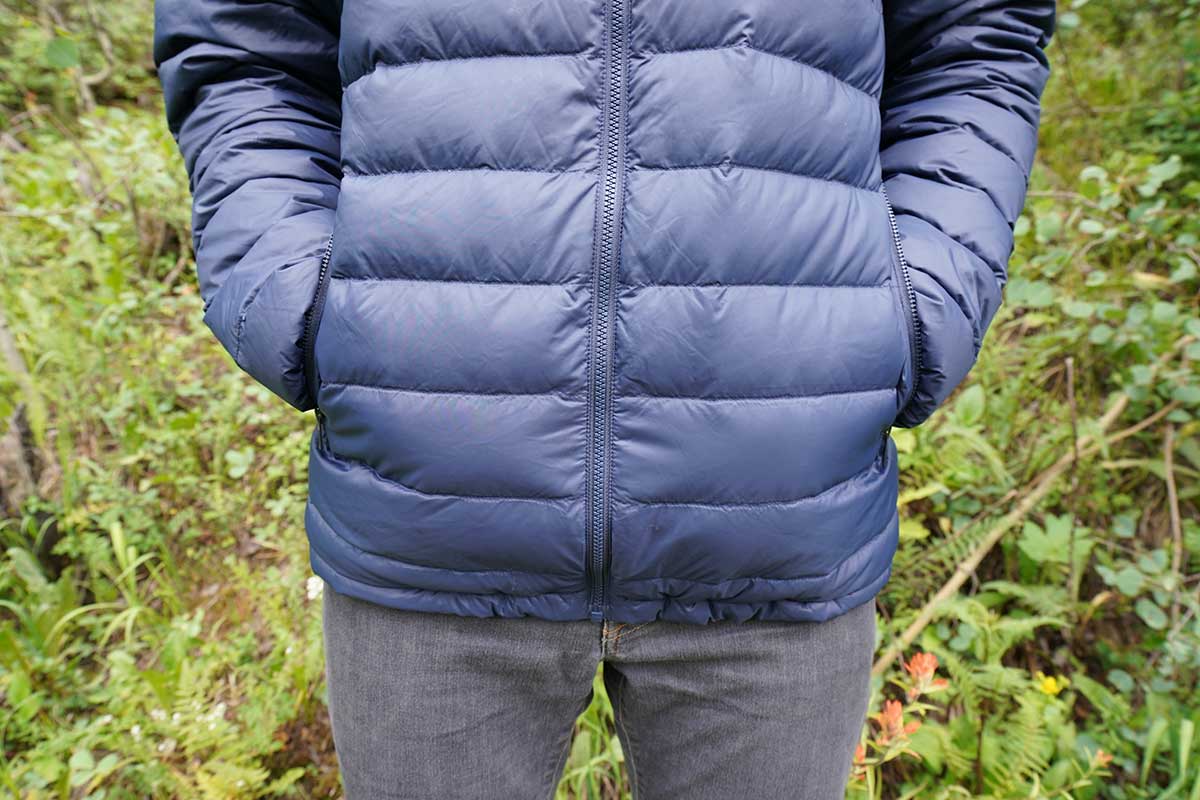 Another more performance-ready choice similar to the Cerium is the Feathered Friends Eos. With 3.7 ounces of 900-fill-power down, the Eos is slightly warmer than the Fjallraven and weighs around 6 ounces less, which is a very competitive combination for long and weight-conscious missions into the mountains. That said, the Eos is a step down in protection with no synthetic insulation in moisture-prone areas and has a decidedly more technical look than the around-town-friendly Expedition Pack. You do get a water-resistant Pertex Quantum shell for fending off light moisture, but neither jacket will stand up to truly inclement weather. And at $389, the Eos is on the pricey end of the spectrum, although Feathered Friends is known for their high-quality down products and premium styling. For exclusively casual use, however, the heavier and cheaper Expedition Pack is our preferred option.
Outdoor Research has made a name for themselves by producing quality gear at a reasonable price. It might not always be top-of-the-line, but it's often a reliable choice for a bit less than the competition. Their new Coldfront Down Hoodie is a shining example. It won't be confused with more performance-focused pieces like the Cerium or Eos above at a pretty hefty 1 pound 4.7 ounces, but the generous 5.3 ounces of 700-fill down and synthetic VerticalX ECO insulation (150g) in moisture-prone areas translate to solid all-around warmth and protection for winter adventures. And at $229, it undercuts the Expedition Pack by a significant $46 while providing more insulation and weather resistance. It may not be as sleek or premium as the Fjallraven, but its rugged 30-denier face fabric and warmth-trapping details make for a solid and well-priced everyday alternative. 
If you're thinking about buying gear that we've reviewed on Switchback Travel, you can help support us in the process. Just click on any of the seller links above, and if you make a purchase, we receive a small percentage of the transaction. The cost of the product is the same to you but this helps us continue to test and write about outdoor gear. Thanks and we appreciate your support!
Depending on the seller, most products ship free in the United States on orders of $50 or more. International shipping availability and rates vary by seller. The pricing information on this page is updated hourly but we are not responsible for inaccuracies.
Read More From Switchback Travel