Fjallraven Keb Eco-Shell Jacket
Price: $500
Weight: 1 lb. 0.6 oz. (women's small)
Waterproofing: 3L Eco-Shell
Denier: 60D
What we like: Stylish without compromising on performance; excellent durability and premium fit and finish.
What we don't: Heavy, no hand pockets, and core vents are less weather-ready than pit zips.
See the Women's Fjallraven Keb Eco-Shell  See the Men's Fjallraven Keb Eco-Shell
Based in Sweden, Fjallraven is gaining popularity this side of the Atlantic with classy and well-built outdoor gear that transitions nicely between the mountains and urban environments. The Keb Eco-Shell is their premium hardshell offering and stands out with its thick and stretchy fabric, tasteful colorways, and stylish design features. It also offers a high degree of protection from the elements. I tested the women's version of the Keb Eco-Shell throughout a winter in central Washington and while backpacking in Patagonia and loved the premium feel, although it wouldn't be my first pick for serious and committing backcountry endeavors. Below I break down my experiences with the Keb Eco-Shell Jacket. To see how it stacks up to the competition, check out our article on the best hardshell jackets.
 
---
Table of Contents
---

Performance
Weather Protection
Fjallraven's Keb Eco-Shell is a hardshell jacket built to deliver top-notch weather protection no matter the conditions. Many premium hardshells use a Gore-Tex membrane to keep moisture out, but Fjallraven instead turned to their in-house Eco-Shell, which performed very well during my testing in both rain and snow. The burly, 60-denier (D) polyester shell and water-repellent finish serve as an effective first line of defense, and taped seams and a storm flap behind the Aquaguard zipper keep leaks at bay. Tack on a generous hood (that's also helmet-compatible), Velcro cuffs, a tall collar, and an adjustable drop-tail hem (27.6 in. for the women's small), and you get solid and reliable protection against whatever Mother Nature might have in store.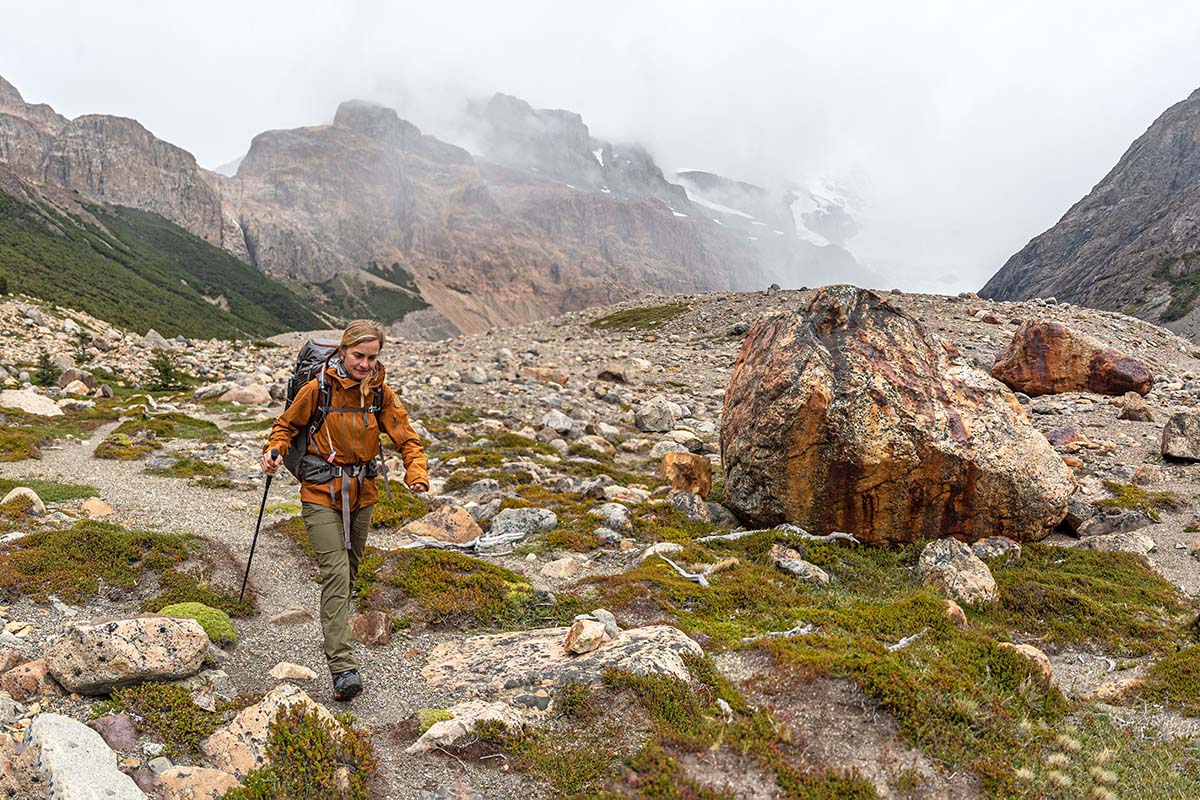 One of my first days testing the Keb Eco-Shell was during the storm of a decade in central Washington, when it snowed over four feet in 24 hours. While shoveling my driveway in the blizzard, the Fjallraven was an ideal companion: The thick shell inspired confidence, the hood stayed put on my head, and the drop-tail hem kept me covered when bending over. What's more, the stretchy fabric with articulated patterning offered great freedom of movement. The following month, I took the Keb Eco-Shell to Patagonia, where I wore it in blowing wind and rain during an overnight trek. Again, it delivered top-notch protection and mobility—so much so that I looked forward to putting it on each time. I did have some concern that the thick polyester fabric would absorb moisture in sustained rain (it's a bit softshell-like in nature), but the water-repellent finish hasn't let me down yet.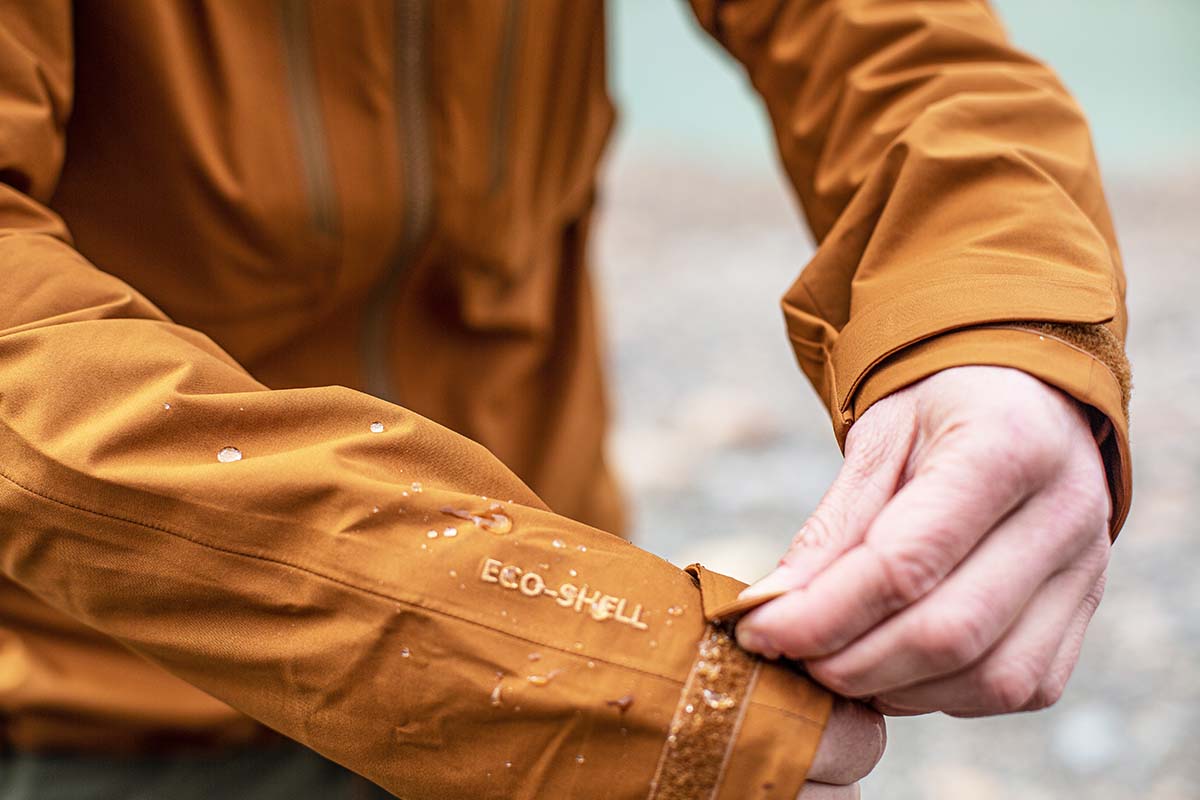 Breathability
If you're planning on working up a sweat in your hardshell (while backpacking, backcountry skiing, or shoveling your driveway, for example), it's nice to have a breathable design. I was impressed with the Eco-Shell membrane, which seemed to perform on par with—or even better than—Gore-Tex in terms of temperature regulation. This is largely thanks to its unique construction: Unlike Gore-Tex, which simply transports water vapor from one side to the other, Eco-Shell is a hydrophilic membrane, meaning it actively draws water away from the skin. The added stretch also helps to make the jacket more air-permeable and less clammy overall, more akin to a softshell than a hardshell in terms of breathability. However, with thick, 60-denier fabric, the Keb Eco-Shell has a bit of built-in warmth, and is not the best choice for particularly warm weather.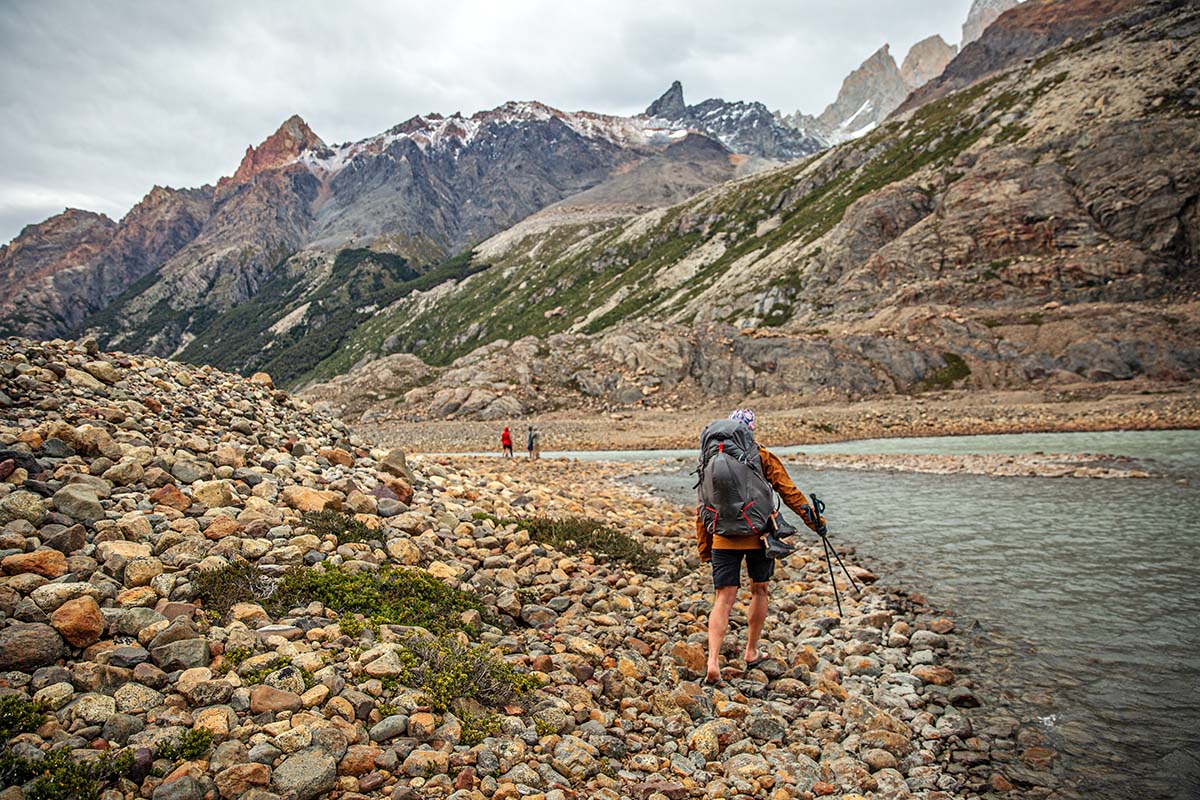 Core Vents
Uniquely, the Keb Eco-Shell subs in core vents for pit zips, which are situated where most jackets would have handwarmer pockets. This placement puts them of the way of your arms and backpack shoulder straps, ensuring that they're fully exposed to airflow. It's a functional decision by Fjallraven, but is accompanied by a few downsides. First off, I didn't like opening the vents in rain and snow, as they're far less sheltered than standard pit zips (leaving my midlayer vulnerable to the elements). Second, they take the place of handwarmer pockets, meaning that the Keb's only functional pockets are at the chest (although the core vents do allow you to access your midlayer's hand pockets). It's an interesting and efficient design that saves a bit of weight, but it certainly took me some getting used to.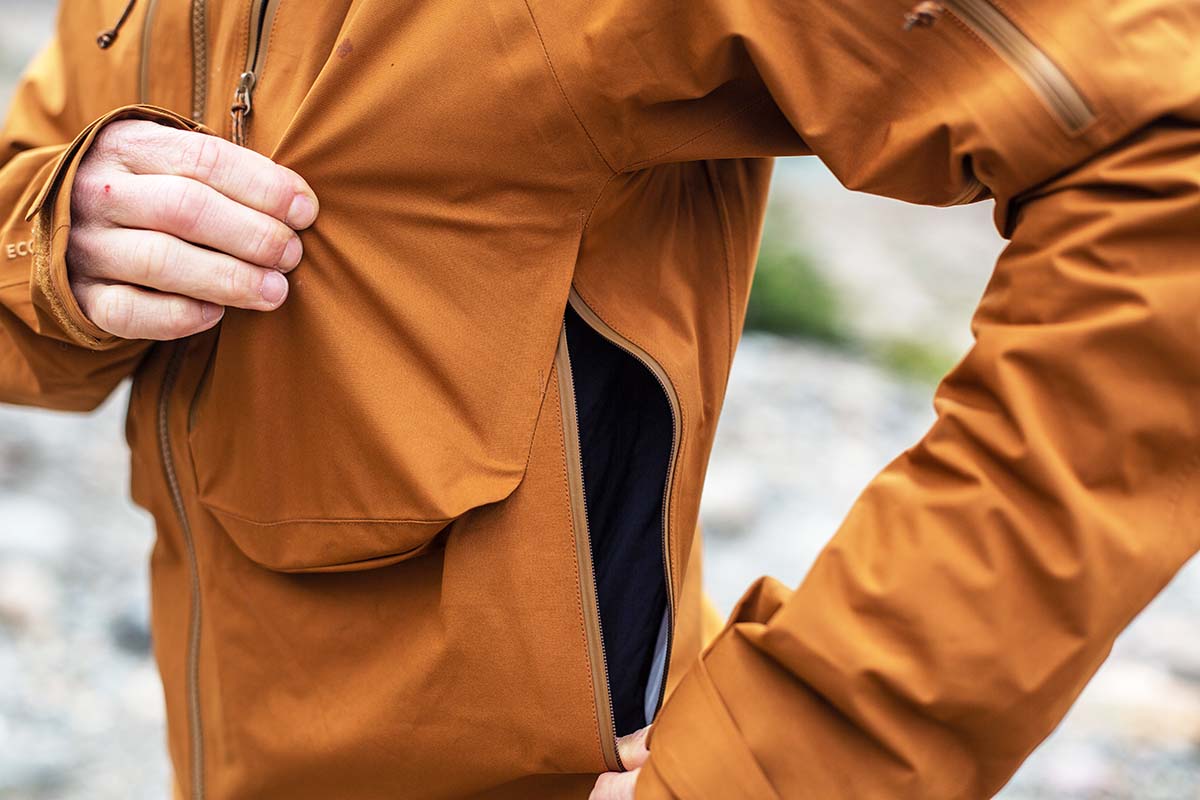 Comfort
Fjallraven's Keb Eco-Shell offers great performance in inclement weather, but it's no slouch in the style department with a classy look that wears really well around town. One of the most important features we look for in a daily driver is comfort, and the Keb measures up well in this regard. I've grown to love putting this jacket on: It slides on nicely over both technical midlayers and sweaters, and the soft liner and stretchy polyester shell offer great freedom of movement and all-day comfort—it's a far cry from a rigid and crinkly nylon hardshell. Additionally, Fjallraven added patches of fleece at the back of the neck and the chin, and the high collar serves as a great place to bury my face in a squall. To be sure, this is still a hardshell jacket—it still makes a little noise when I move, and the rigid front zip sometimes digs into my stomach when I bend over—but overall comfort is better than most of the competition.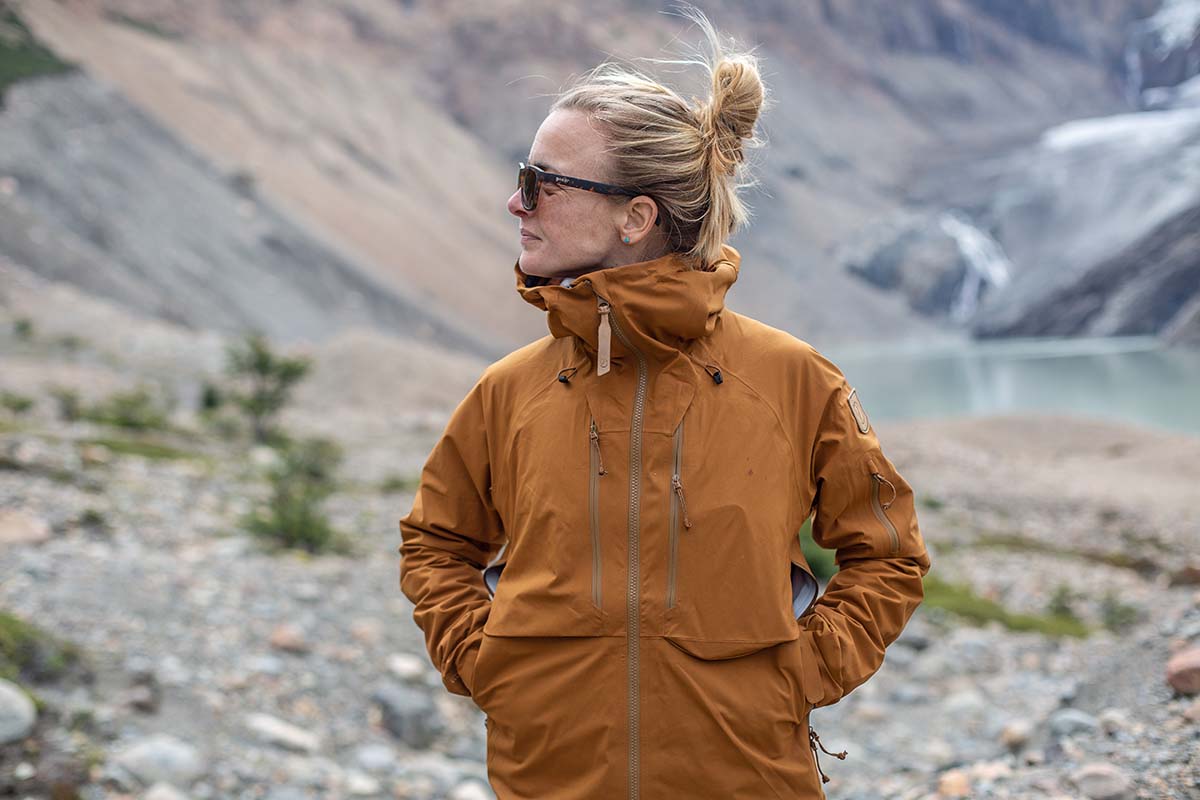 Build Quality and Durability
Fjallraven is known for exceptionally well-made clothing and gear, and the Keb Eco-Shell is no exception. This jacket exudes quality, from the premium fabric to the taped seams, classy colorways, and articulated patterning. Not a stitch is out of place, and despite chairlift rides, being stuffed into the corner of my backpacking pack, and multiple days with an overnight pack rubbing against the shoulders and back, the Keb still looks like new. I've been really impressed by the durability of the stretchy, 60D polyester shell: When scouting for a campsite in Patagonia, I tunneled through a small cave, and the jacket caught on a large granite crystal, making a loud popping noise when it let loose. I was sure I'd torn it, but the fabric was completely unscathed. All told, the Keb Eco-Shell's build quality is hard to beat. The $500 price tag is undeniably steep, but it's clearly built to withstand the rigors of backcountry life.

Weight and Packability
The Fjallraven Keb Eco-Shell is relatively heavy for a hardshell jacket at 1 pound 0.6 ounces for a women's small, which is largely due to its burly, stretch-infused fabric. You can shave weight with more performance-oriented designs like the Arc'teryx Beta AR (14.5 oz.) and Norrøna Trollveggen Gore-Tex Pro Light (14.9 oz.), which utilize thinner 40D builds with reinforcements in high-wear areas. Minimalist designs like the Patagonia Storm10 (7.4 oz.) or Outdoor Research Helium AscentShell (10.5 oz.) check in even lighter, but expect slightly compromised weather protection and durability.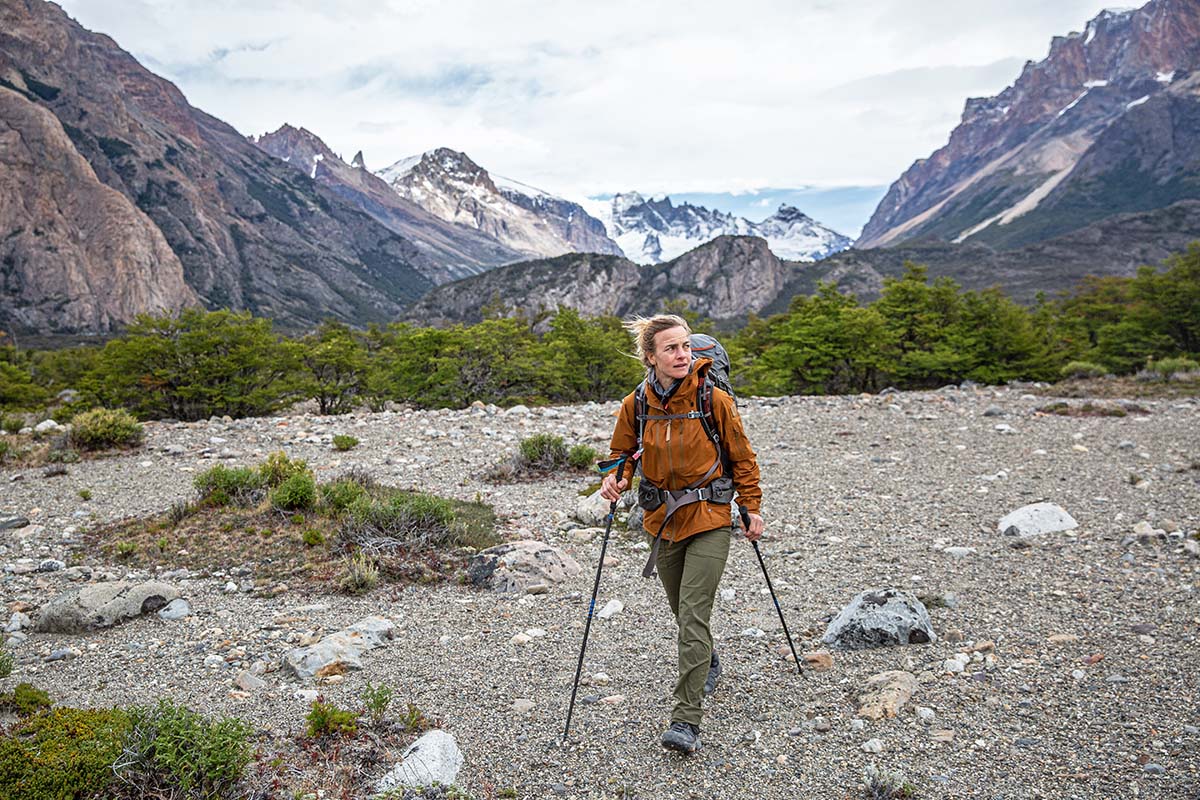 Packability-wise, it should come as little surprise that the Keb Eco-Shell does not stuff down as small as most nylon hardshells. In short, if I hadn't been testing the Fjallraven, it would not have been my first choice for our four-day trek in Patagonia. But for more casual activities like resort skiing, day hikes, and around-town wear, the extra weight and bulk adds a nice confidence-inspiring feel to the design.

Key Features
Hood
The Keb Eco-Shell features a helmet-compatible hood that adjusts both at the back and at the sides. For reference, the hood fits over my climbing helmet with ease but is a bit more maxed out over my Giro Envi ski helmet. However, the adjustments are both easy to use and effective: When cinched down over my bare head, the hood offers great coverage and visibility without feeling oversized. It also features a generous visor that does a great job shielding my face from drips. My only gripe is the large loops of drawcord that hang in front from the side adjustments (some jackets cleanly route these inside), but this complaint is more of a style preference than anything.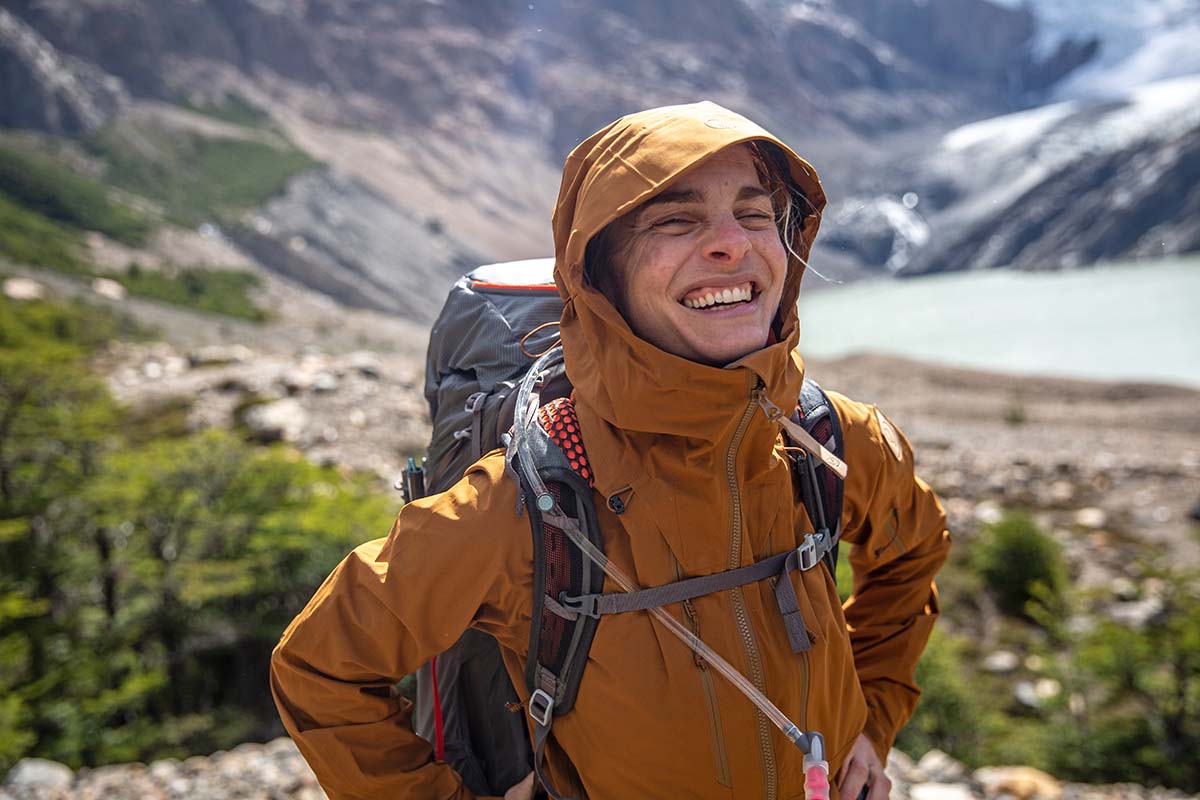 Storage: Pockets
One of the most polarizing parts of the Keb Eco-Shell's design is its pockets. The jacket features two external chest pockets, one small pocket on the left sleeve, and an interior zip pocket (read: no hand pockets). I've found the chest pockets to be difficult to use for primary storage: With vertical zippers, items inside are at risk of falling out when they're open, and the chest feels like an unsightly place to store bulky gear (the pockets even expand with additional fabric at the base). What's more, these pockets don't serve as a great place to warm my hands. In the end, I've found the core vents to be a nice workaround: Most of the time, I'll open the vents and stick my hands and essential items in the hand pockets of my midlayer. I believe this was Fjallraven's intention in putting the core vents where they are—in the end, it saves weight to merge the vents and pockets into one feature, and the functionality is great (assuming you're wearing a midlayer).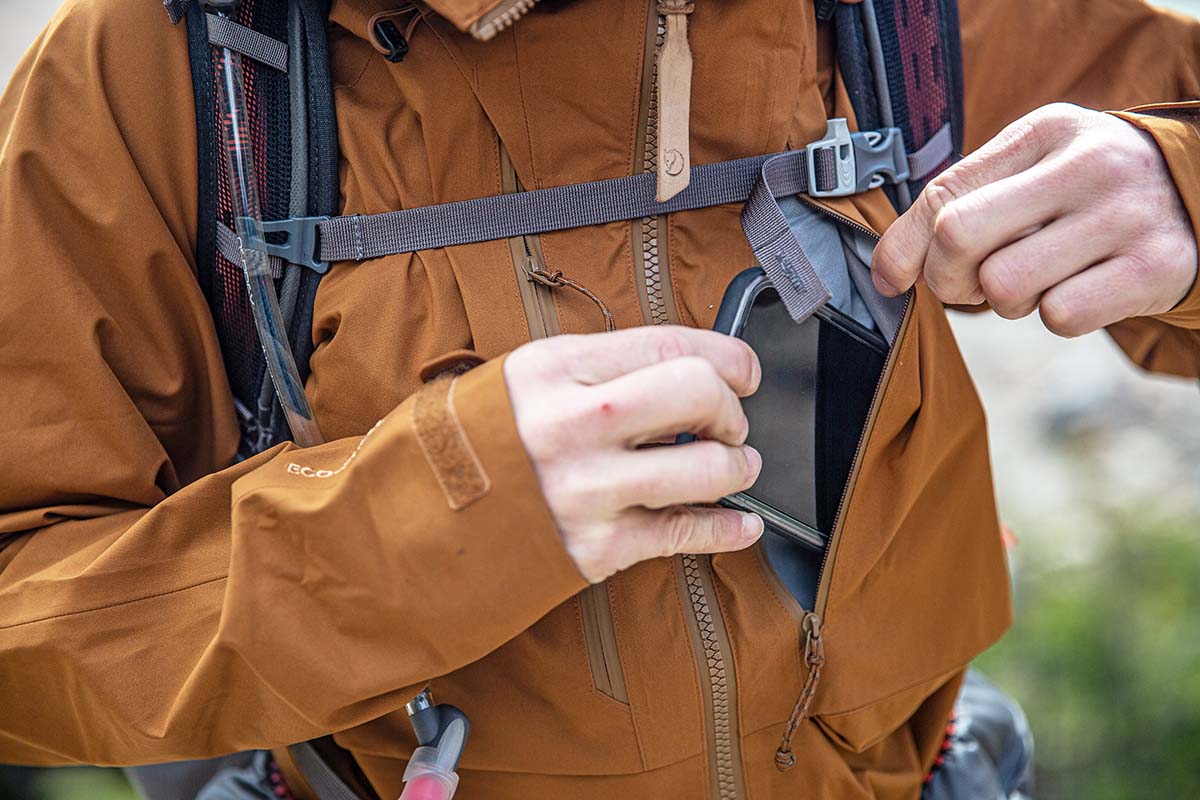 Fit and Sizing
Fit is one of the main strengths of the Keb Eco-Shell. With premium patterning and a high attention to detail, the jacket both looks and feels great. The slight drop-tail hem (27.6 in. center back length) offers great coverage down the back (perfect for shoveling the driveway or bending over to adjust my ski boots), and I can reach high overhead without the jacket rising above my hips. I opted for the women's size small, which fits true to size, and Fjallraven offers the women's Keb Eco-Shell in seven different sizes from XXS to XXL.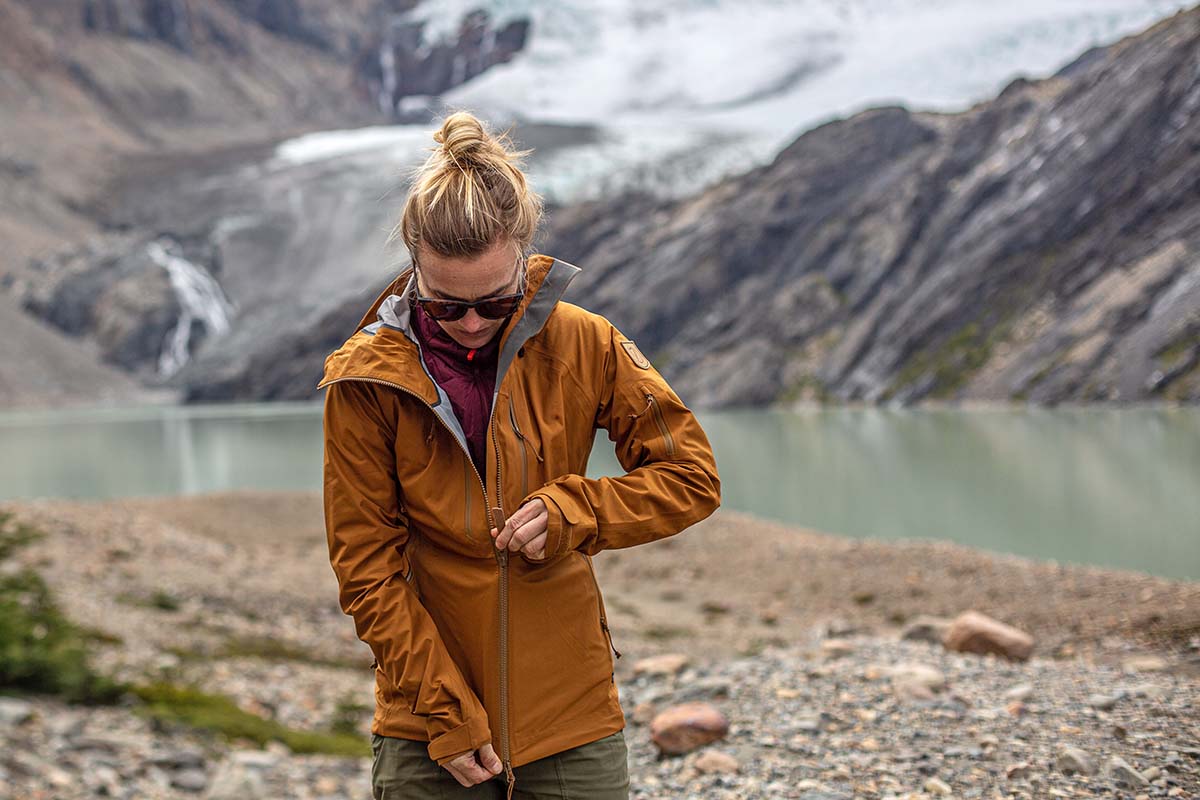 Sustainability
In 2022, more and more manufacturers are shifting their operations to prioritize environmentally and socially friendly practices. Fjallraven is an industry leader in this regard, as evidenced by their Eco-Shell fabric. While Gore-Tex membranes are largely impossible to recycle (given their complex makeup of multiple different textiles), Eco-Shell is fully recyclable. What's more, it's built with partially recycled polyester to begin with and contains no materials that are harmful to the environment (notably, it uses a fluorocarbon-free water-repellent finish). Fjallraven also offsets all of their emissions (known as climate compensation) and is committed to the fair treatment of workers. Finally, more than most outdoor companies, they're focused on building highly durable products that should stand the test of time (you won't find any fragile, ultralight jackets here). As the saying goes, reduce first—then reuse and recycle.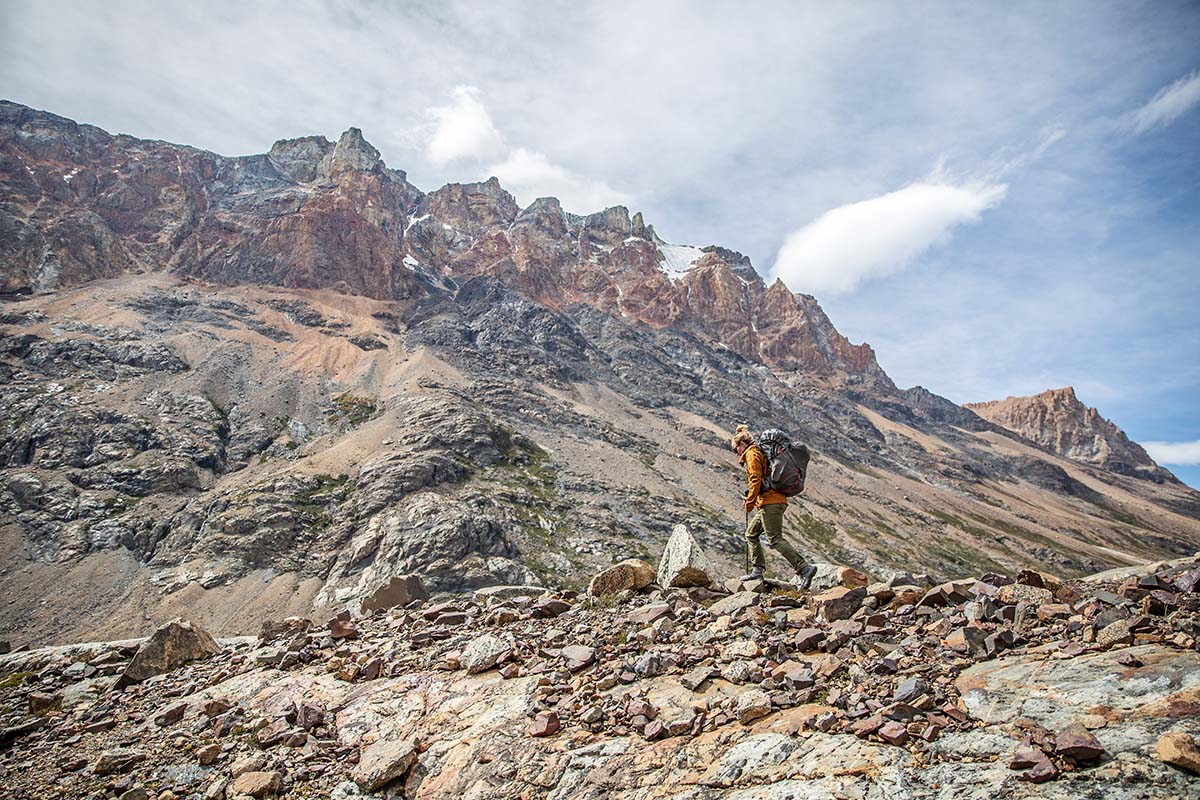 Other Versions of the Fjallraven Keb Eco-Shell
We tested the women's version of the Keb Eco-Shell for this review, and the jacket also comes in a men's version. The men's Keb Eco-Shell features an identical design and price ($500), is available in four colorways (compared to the women's three), and is offered in seven sizes from XS to XXXL. Rounding out the lineup, Fjallraven offers a mne's parka-length version of the jacket with a faux fur-brimmed hood, as well as Keb Eco-Shell pants for men and women that utilize the same proprietary waterproofing tech.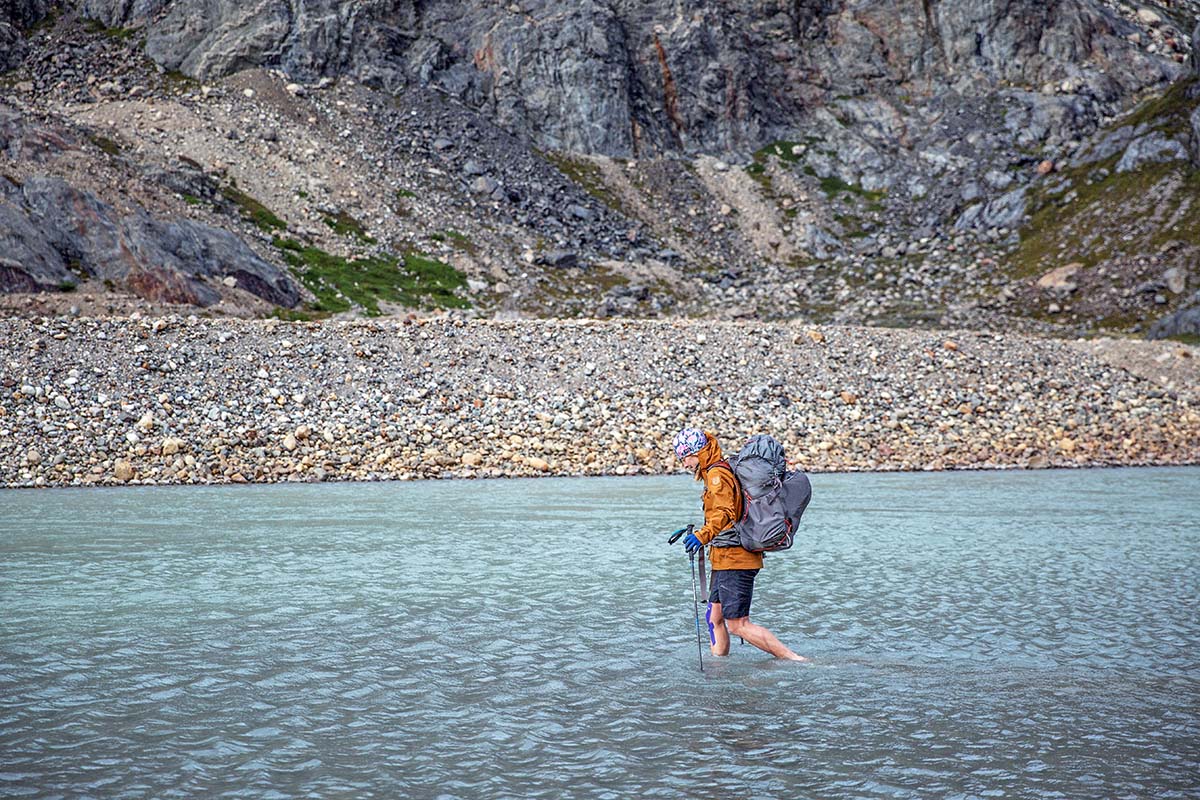 What We Like
Fit is excellent thanks to stretchy materials, articulated patterning, and a drop-tail hem.
The Eco-Shell fabric is incredibly hardwearing and breathable while still delivering excellent weather protection.
Several premium finishes—including classy colorways, a Fjallraven badge on the left shoulder, and a Swedish flag at the left hip—make this a stylish piece for around-town use.
The Eco-Shell is fully recyclable (unlike Gore-Tex), made from partially recycled materials, and features a fluorocarbon-free water-repellent finish.

What We Don't
Heavier and bulkier than most high-performance hardshell jackets.
The design lacks hand pockets, and the two large chest pockets aren't particularly practical for storing bulky items.
Vents are placed low on the torso, making them more vulnerable to the elements than standard pit zips.
Hood is too small to accommodate a ski helmet.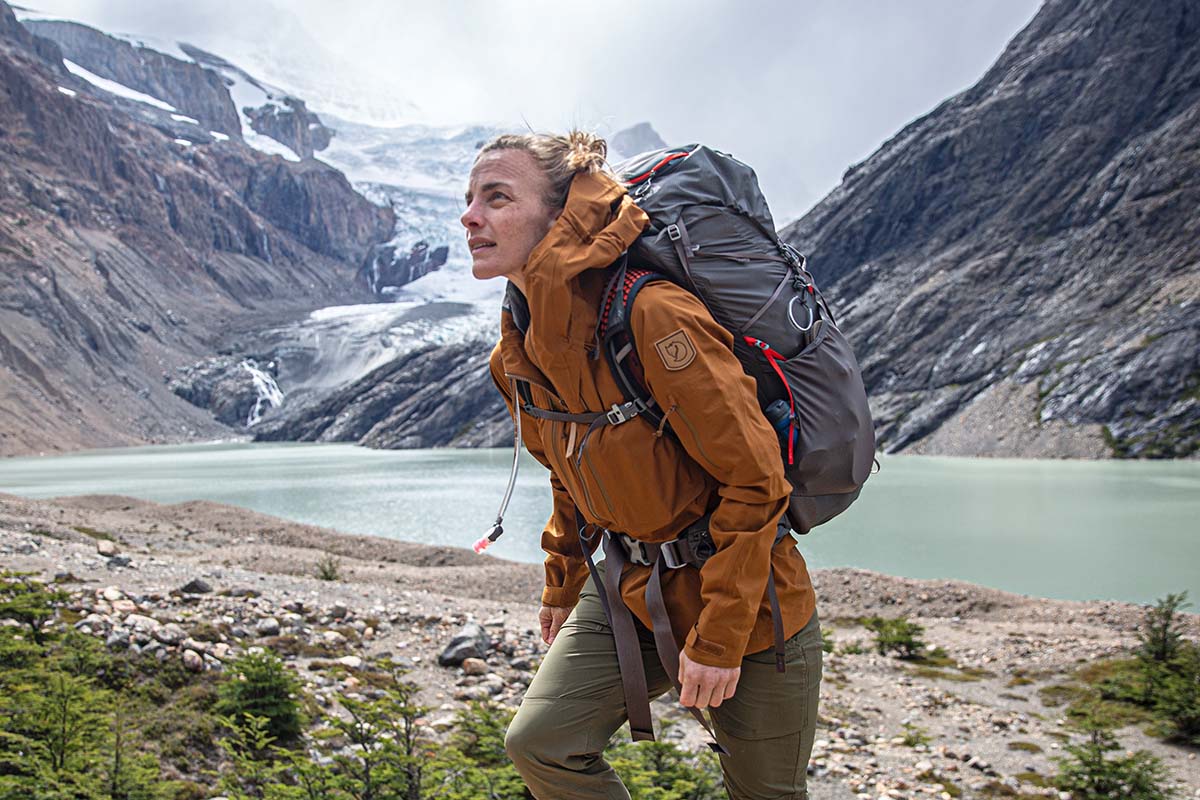 Comparison Table

The Competition
The Keb Eco-Shell is a sophisticated hardshell jacket with Fjallraven's trademark aesthetic, offering a unique combination of style and weather protection. But the competition is stacked in 2022, and a number of jackets beat out the Keb in terms of technical performance. Arc'teryx's Beta AR is our favorite all-rounder: You get high-end Gore-Tex Pro waterproofing with 40 and 80D nylon thoughtfully patterned to deliver durability and protection while keeping breathability high and weight low. Unlike the Eco-Shell's stretchy polyester, the Beta AR's nylon has no give, but as a result, it's lighter (14.5 oz.), more packable, and less likely to wet out in sustained precipitation. With Arc'teryx's premium fit, freedom of movement is also great despite the more rigid fabric. We also appreciate the two hand pockets, and standard pit zips allow you to dump heat without being too exposed to the elements. In the end, serious backcountry-goers may find these upgrades worth the $100 jump in price, but the Fjallraven wins out in comfort and style.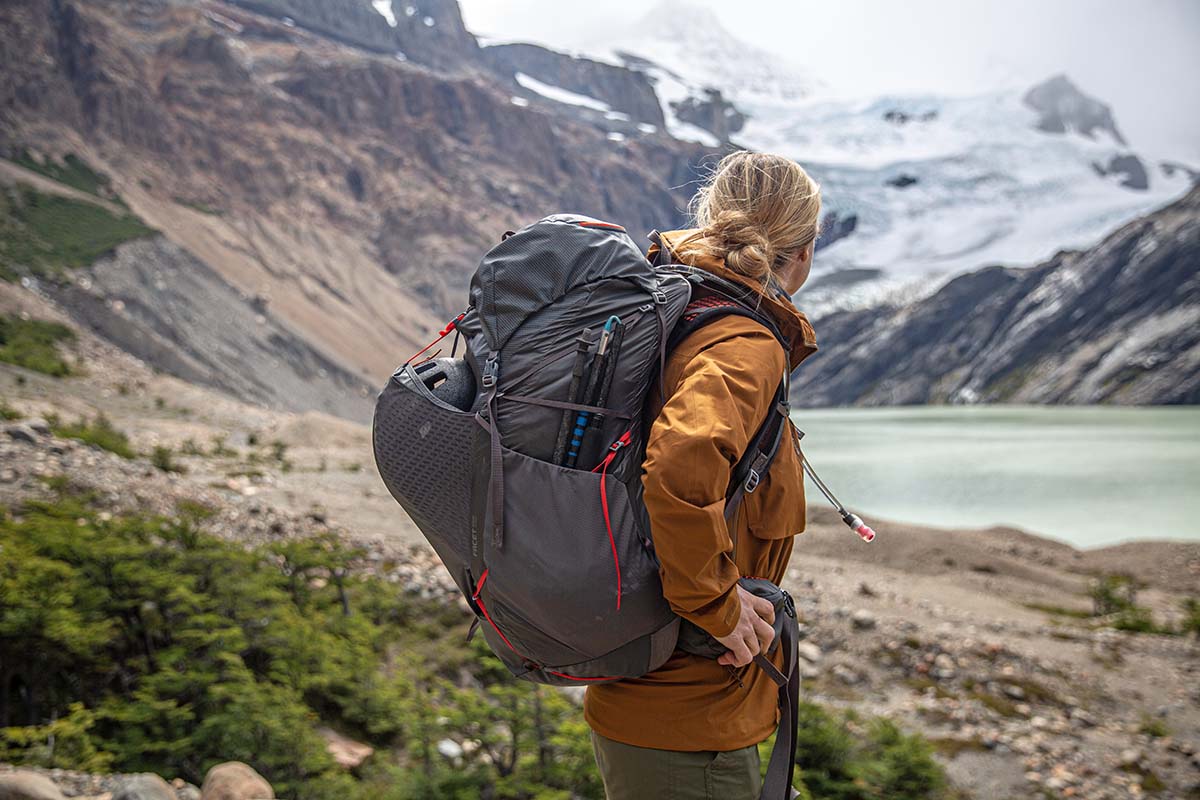 Hailing from Norway, Norrøna is one of Fjallraven's Scandinavian competitors. Like Fjallraven, Norrøna offers high-performance outerwear for harsh conditions, but—similar to Arc'teryx—their technically savvy designs prioritize all-out protection over style. The Trollveggen Gore-Tex Pro Light is Norrøna's all-around hardshell that goes head-to-head with the Beta AR above. For the same price, the jacket features Gore-Tex Pro waterproofing with a 40D nylon face fabric and burly 70D reinforcements. Differences include two chest pockets (in place of the Beta's hand pockets) and a longer center back length (29.1 in. vs 27.6 in. for the Fjallraven and 27.2 in. for the Arc'teryx). In terms of weight, the Trolveggen checks in at 14.9 ounces, and its nylon build is more packable than the Keb Eco-Shell. All told, if you like the Scandinavian vibes of Fjallraven but are looking for a more serious and performance-ready option, Norrøna is a good place to start.
Transitioning to slightly more affordable designs, we really like the Patagonia Triolet Jacket. The $399 Triolet is built with standard Gore-Tex rather than Gore-Tex Pro and uses durable 75D nylon throughout. It's slightly heavier than any of the aforementioned jackets at 1 pound 1.2 ounces but has a well-rounded feature set including two hand pockets, two chest pockets, an interior dump pocket, and pit zips. Like the Keb Eco-Shell, the Triolet offers all the performance you need for most activities, but its thick shell can't match the breathability of thinner alternatives or more advanced waterproof membranes (like the Arc'teryx and Norrøna above). Further, the Triolet's nylon offers no stretch, and you don't get stylish extras like we see on the Fjallraven. But with classy colorways and Patagonia's sought-after fit and finish, it's a nice (and more affordable) alternative.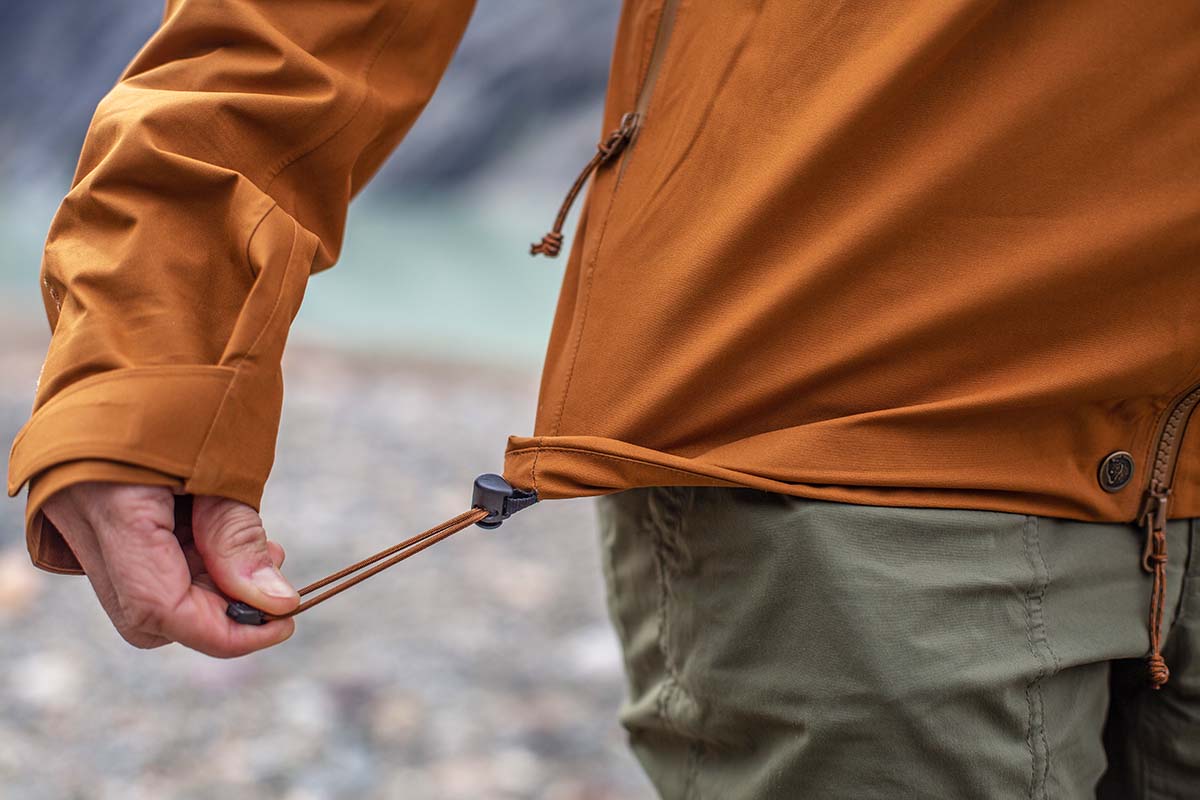 For both weight- and cost-savings, Outdoor Research's Helium AscentShell ($399) is well worth a look. This jacket offers a different take on a hardshell, with a thin 30D construction (with a 7D backer) and low, 10.5-ounce weight for the women's version. You don't get any of the style points of the Fjallraven—in fact, the OR looks more like a utilitarian rain jacket, and its boxy fit is far from stylish—but the AscentShell fabric is similarly stretchy, offering a high degree of mobility and breathability. And compared to most minimalist hardshells, storage is excellent, including internal dump pockets, massive hand pockets, and interior and exterior chest pockets. The Helium AscentShell certainly won't appeal to the urban crowd, but it's a nice option to have on your radar if you're looking for a lightweight, stretchy, and breathable hardshell.
As we've seen here, no other brand can compete with Fjallraven's combination of urban style and mountain-ready performance. With that in mind, one of the Keb Eco-Shell's closest competitors comes from the brand's own lineup: the Bergtagen Eco-Shell Jacket. For $75 more than the Keb, the Bergtagen is a more serious design with glove-friendly zipper pulls, a higher collar and larger hood, ripstop fabric and reinforced elbows, and a RECCO reflector that helps identify you during a search. These additions do add a little weight (1 lb. 2 oz.), but winter adventurers and committed backcountry enthusiasts may prefer the tougher and more featured design. That said, for over 3 ounces less and with better-executed constructions and details, we'd still opt for the Norrøna or Arc'teryx above.
If you're thinking about buying gear that we've reviewed on Switchback Travel, you can help support us in the process. Just click on any of the seller links above, and if you make a purchase, we receive a small percentage of the transaction. The cost of the product is the same to you but this helps us continue to test and write about outdoor gear. Thanks and we appreciate your support!
Depending on the seller, most products ship free in the United States on orders of $50 or more. International shipping availability and rates vary by seller. The pricing information on this page is updated hourly but we are not responsible for inaccuracies.
Read More From Switchback Travel