Norrøna may not be as popular in the U.S. as brands like Arc'teryx or Patagonia, but serious backcountry-goers take note: They offer an extensive lineup of quality hardshells that are purpose-built for big mountain objectives. One example is the Trollveggen Gore-Tex Pro Light Jacket, which I recently tested while skiing in B.C. and backpacking in Patagonia. In sum, it's highly water- and windproof, impressively durable, and thoughtfully built with functional features and protective details—all while checking in at just around 1 pound. Below I break down my experiences with the Trollveggen Gore-Tex Pro Light. To see how it stacks up to the competition, see our article on the best hardshell jackets.
 
Editor's note: Norrøna has updated the Trollveggen Gore-Tex Pro Light Jacket since our test, but changes were relatively modest: The latest model trades the past-generation's fabric flaps over the chest pockets for water-resistant YKK zippers, adds an interior chest pocket, and boasts thick reinforcements in high-wear areas like the shoulders, elbows, and hood. We've noted these differences when applicable in our review below.
 
---
Table of Contents
---

Performance
Weather Protection
With a proven 3-layer Gore-Tex Pro build and nice assortment of protective features, the Norrøna Trollveggen Gore-Tex Pro Light Jacket is a seriously capable barrier in inclement weather. I was initially concerned that the thinner 40-denier (D) face fabric might falter in more severe conditions, but the jacket performed admirably while hiking and backpacking in relentless Patagonian winds and held up equally well along the wet coast of British Columbia. Combined with a quality durable water repellent (DWR) finish, the Trollveggen has confidently repelled everything from light rain to heavy snow. Importantly, the newer version that was released after our test also boasts 70D reinforcements in high-wear areas, which should only add to that already-impervious feel.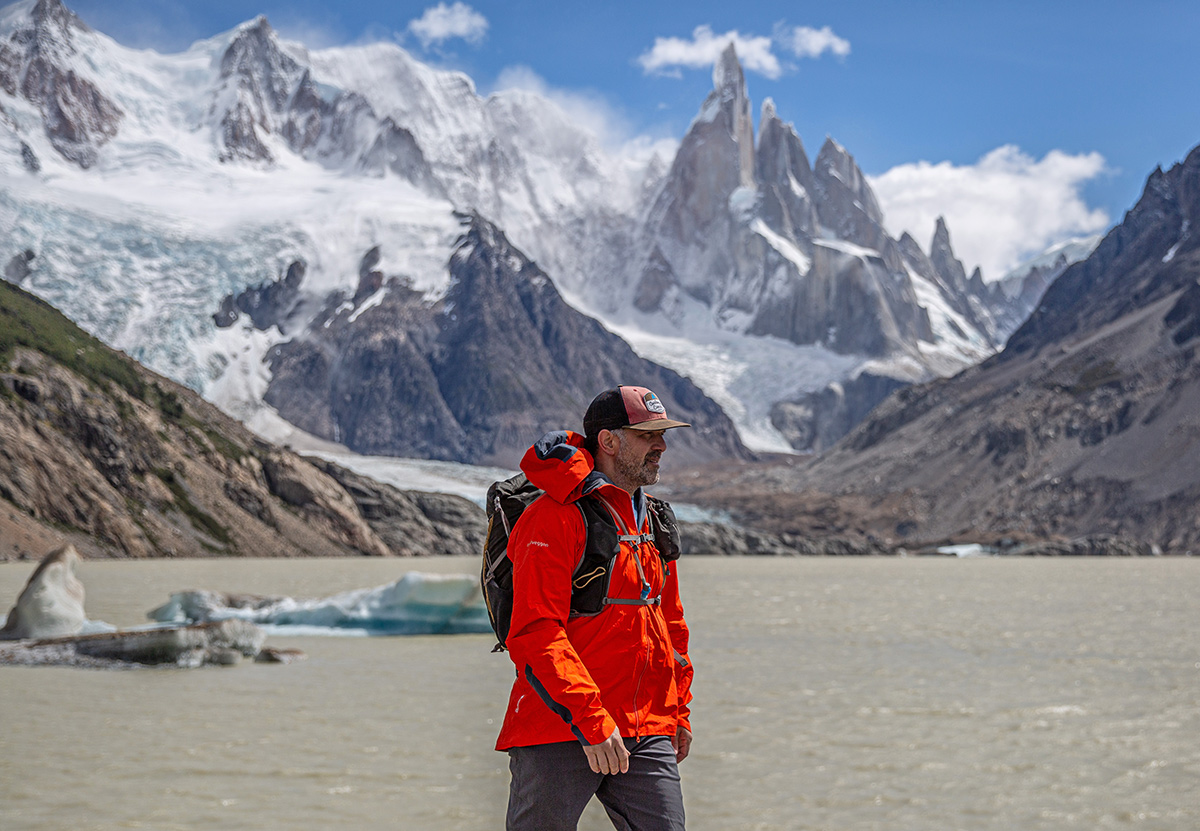 In addition to the top-end waterproofing and DWR coating, the Trollveggen Gore-Tex Pro Light Jacket comes with a host of thoughtful features for fending off rough weather. These include taped seams, Velcro-equipped asymmetric cuffs that work well over any type of gloves, and water-resistant YKK zippers on the exterior pockets, main zipper, and pit zips. The chest pockets on the prior-generation model that I tested also had substantial fabric flaps hiding the zippers, but the new design is sleeker and more protective. Finally, I love the hood: It's large, easy to cinch over a beanie or helmet, and leaves very little skin exposed. Even with the hood down, the collar is tall enough to seal out moisture around my neck and chin, although it is a little restrictive when zipped all the way up (I cover this more in the "Key Design Features" section below).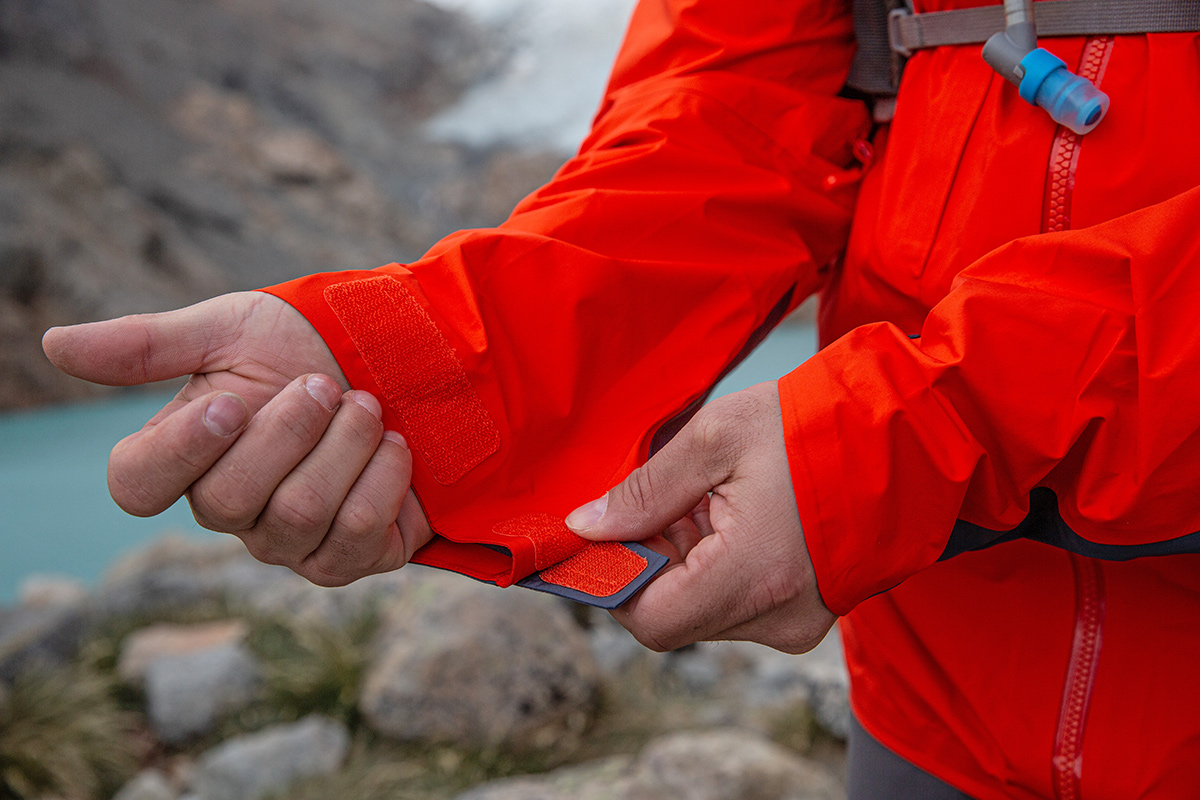 Breathability
I run very warm, especially during exertion, so it came as little surprise that I overheated quickly in the Trollveggen Gore-Tex Pro Light when working hard. That said, the jacket does boast a few features that helped considerably with breathability. First are the massive pit zips, which run around 18 inches down each side with double zippers for customizing the amount of airflow. In practice, these provided a noticeable boost in ventilation during short yo-yo laps at my local ski hill and while backpacking in poor weather. The two-way main zipper is another good way to dump heat, allowing you to unzip either the top or bottom without completely opening up the front. For reference, I often leave my shell in my pack when it's not raining or snowing, but I found myself keeping the Trollveggen on longer than expected to fend off the cool winds while hiking in Patagonia. I did have to take it off on steep ascents or when the gusts died down, but I was pleasantly surprised that I was able to stay comfortable for much of our trip.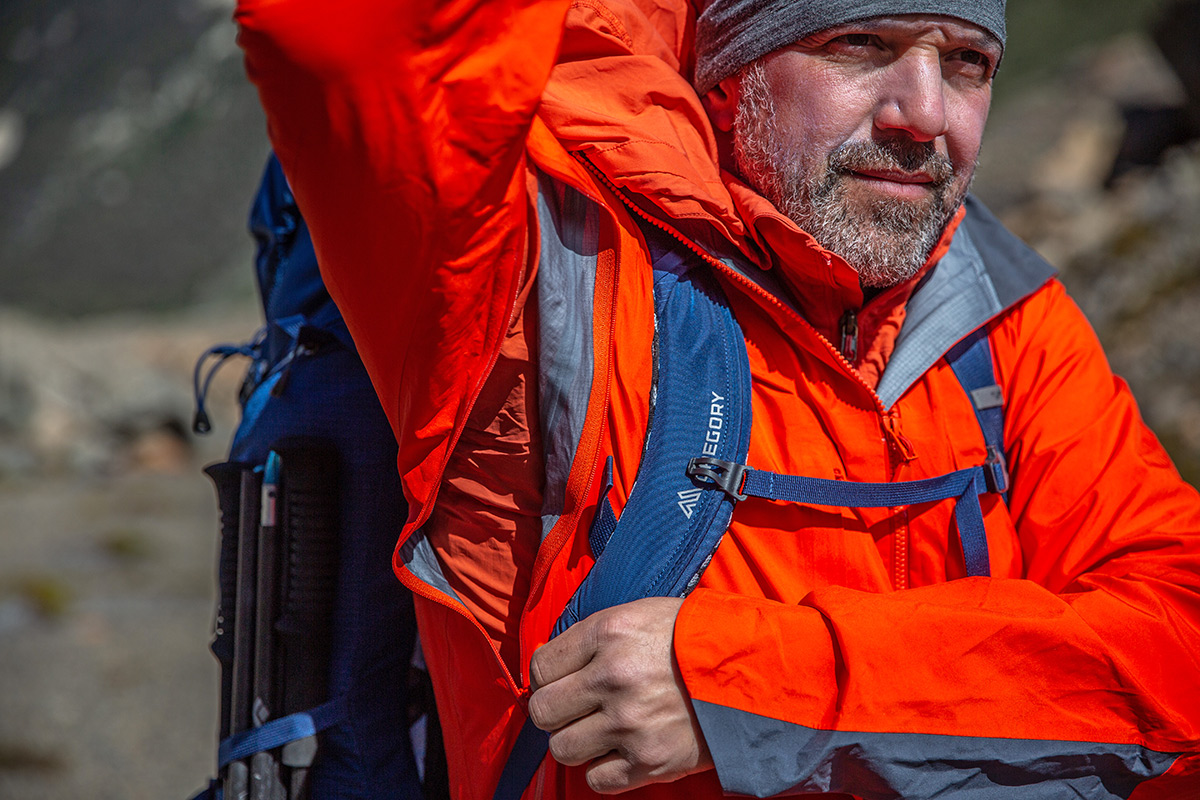 Weight and Packability
At 1 pound 0.3 ounces on my scale for a men's size extra large (exactly an ounce less than its listed weight), the Trollveggen Gore-Tex Pro Light Jacket is competitively light for its level of protection. For comparison, it stacks up very well to other leading Gore-Tex Pro-equipped hardshells, including Arc'teryx's Beta AR (1 lb. 0.2 oz.), Beta SV (1 lb. 1.5 oz.), and Alpha AR (15.2 oz.) jackets. You can get more durability with thicker designs like Arc'teryx's Alpha SV or Norrøna's own Trollveggen Gore-Tex Pro (no "Light"), but both of those pieces add a little weight at 1 pound 2 ounces and 1 pound 6.9 ounces, respectively.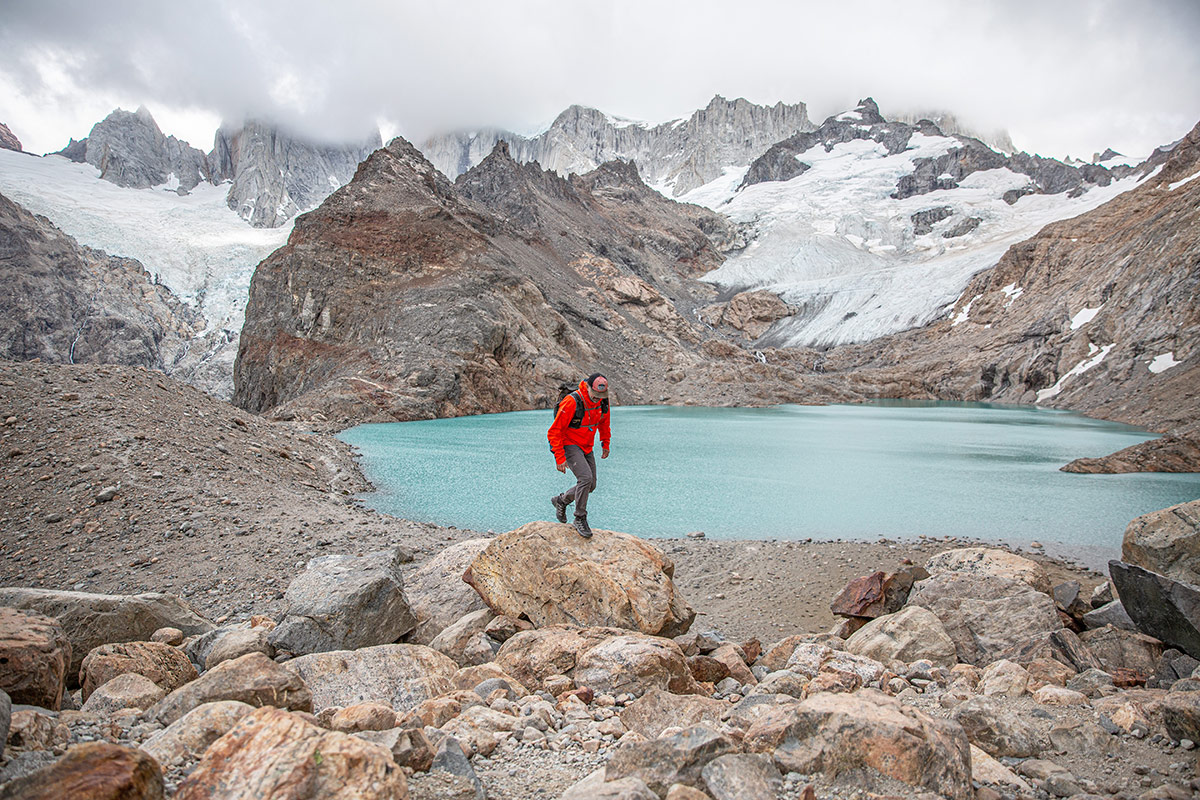 Like most hardshell jackets, the Trollveggen Gore-Tex Pro Light doesn't have a dedicated stuff pocket, but it's easy to roll and pack into the hood. When compressed, my size XL ends up being about the size of a 32-ounce Nalgene bottle, which is very impressive. And since it occupies such little space inside my pack, I have no qualms about taking the Trollveggen on long, multi-day outings into the backcountry.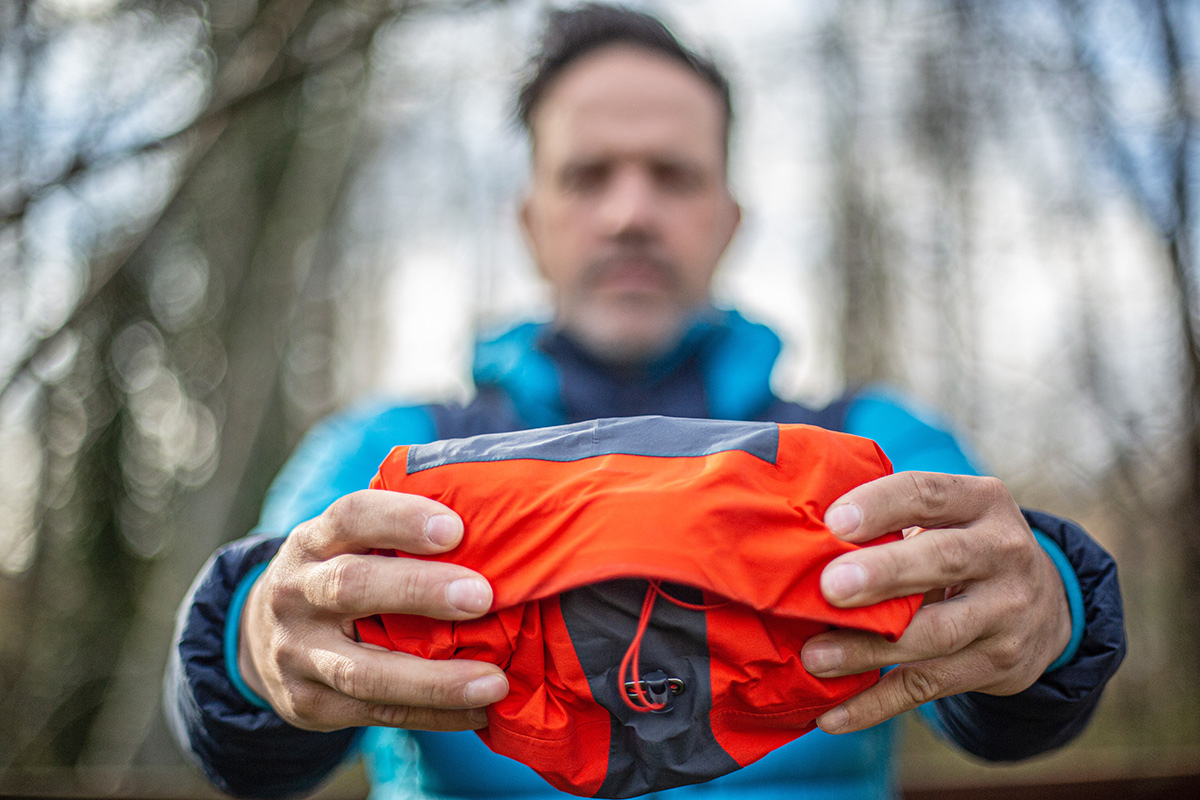 Build Quality and Durability
Both my wife and I have been very impressed by all of the Norrøna gear we've tested thus far, and their hardshell jackets are particularly well made with excellent attention to detail. The Trollveggen Gore-Tex Pro Light Jacket is no exception: While thinner than some competitors, the Trollveggen's 40D shell is confidence-inspiring and highly tear-resistant, and the newest model has thicker 70D reinforcements in high-wear areas like the elbows, shoulders, and hood. All of the features are well executed too, from the water-resistant exterior zippers to the large hood, generous cut, and functional adjustment points.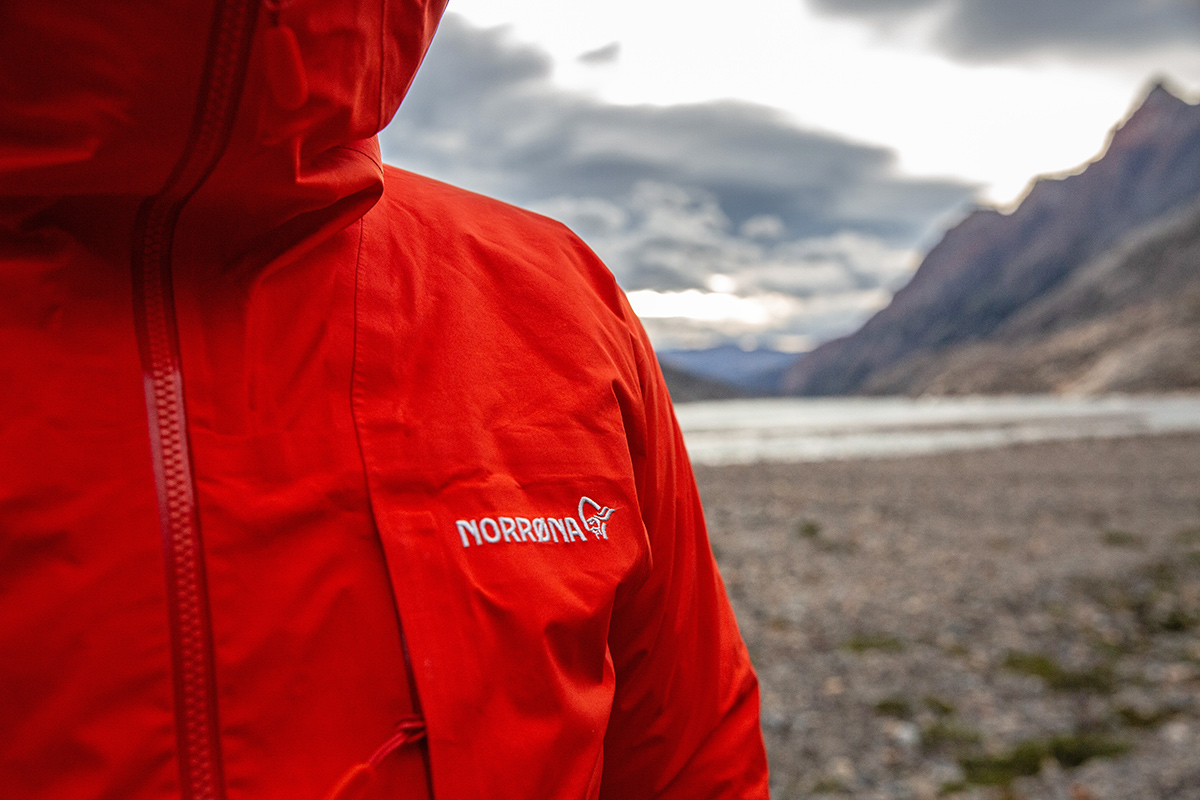 I'm certainly not easy on my gear, but even after shuttling a heavy pack for multiple days in a row and stuffing the jacket inside with sharp ski and backpacking equipment, my Trollveggen looks pretty much like new. It's still completely water- and windproof, all zippers and seams are intact, and the outer fabric is free of snags. My only complaint is that the two-way main zipper can be a little finicky and difficult to operate, but that's a pretty common issue with water-resistant designs (and a very small one at that).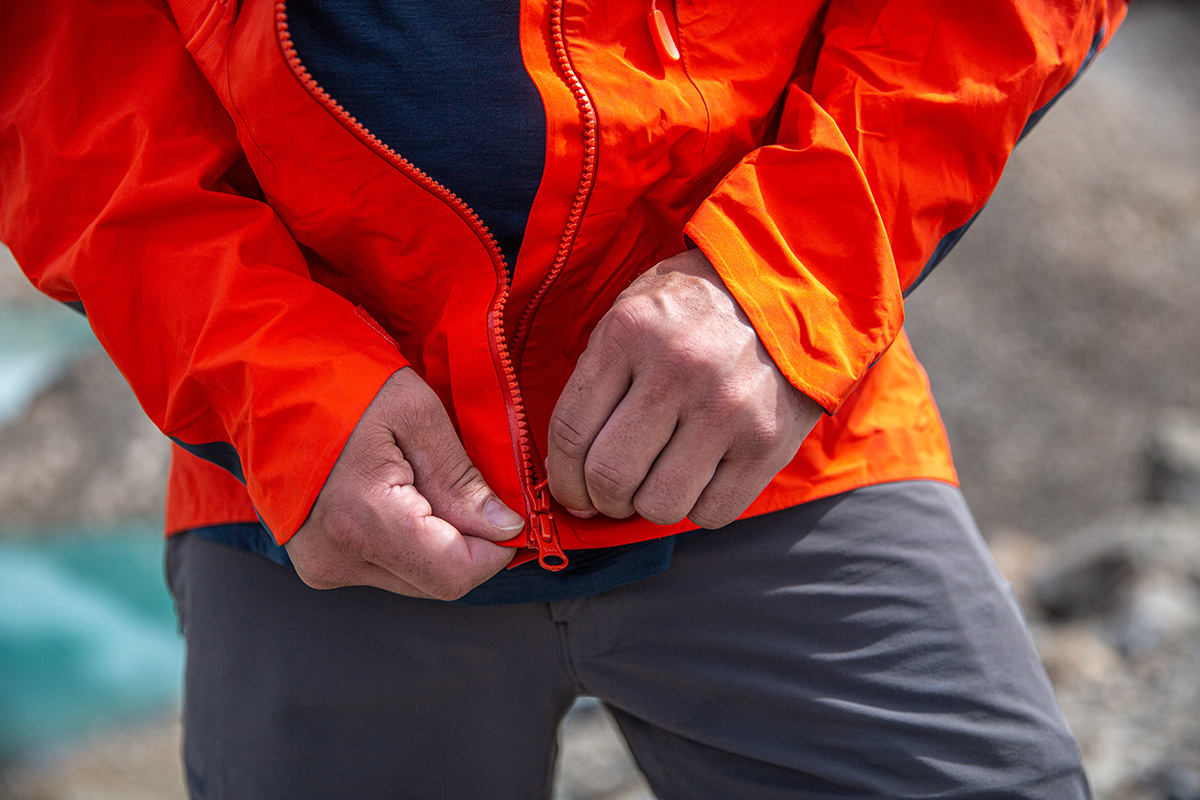 Key Design Features
Storm Hood
Arc'teryx's StormHood found on their more technical offerings is our favorite on the market, but Norrøna's design isn't far behind. The large hood on the Trollveggen Gore-Tex Pro Light easily fits over a climbing helmet or bulkier ski lid like my large Smith Quantum MIPS with no restrictions to side-to-side movement. And despite the generous size, the single drawcord at the back is very effective at cinching things down. While in Patagonia, the winds frequently caught the hood and caused it to hit me in the face, but I was easily able to snug it down to prevent the flapping. The soft chin protector near the top of the collar is another nice touch for minimizing chafing and prevents my facial hair from getting caught in the main zipper. My only gripe is that the aperture around the neck and chin is fairly small and can feel a little prohibitive with the hood down and jacket fully zipped. On the bright side, it leaves very little skin exposed, and there's still enough give to look down at your footing or up at your next hold without any tugging at the hood or collar.

Storage: Pockets
Some alpine-focused hardshells forego hand pockets to keep weight low and maintain harness compatibility, and the Trollveggen Gore-Tex Pro Light follows suit with just two napoleon-style chest pockets and one internal chest pocket. To be fair, the external chest pockets are deep and comfortably fit larger items like a smartphone, satellite radio, or Garmin inReach device. They can also accommodate gloved hands, although you'll have to cross your arms, which isn't a very natural position but will work in a pinch to warm cold fingers. Although I don't love this configuration for daily use, the upside is that they're easy to access when wearing a pack or harness. As I touched on above, these also now have water-resistant YKK zippers rather than fabric flaps, which adds a nice boost in protection and contributes to the streamlined look. Finally, the interior zippered pocket is a new addition to the latest model and a very helpful one at that, as I found storage to be pretty limited on my past-generation jacket.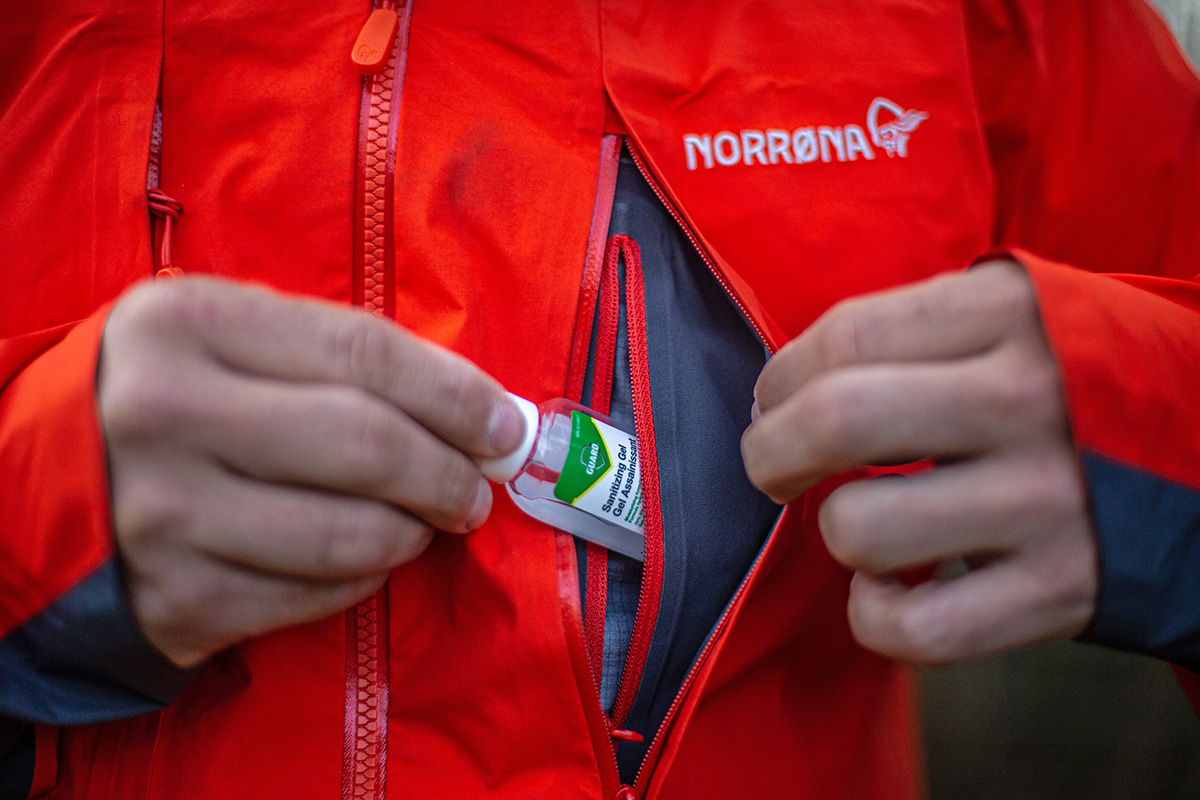 Two-Way Main Zipper
A final feature worth highlighting is the Trollveggen Gore-Tex Pro Light's two-way main zipper, which makes it easy to access a climbing harness while belaying or reach down to adjust ski boots. As I touched on above, I did find it to be a little finicky and difficult to start, but I appreciate the versatility and protection from the YKK design. It also helps with airflow, allowing you to dump heat from the top or bottom without unzipping the jacket entirely.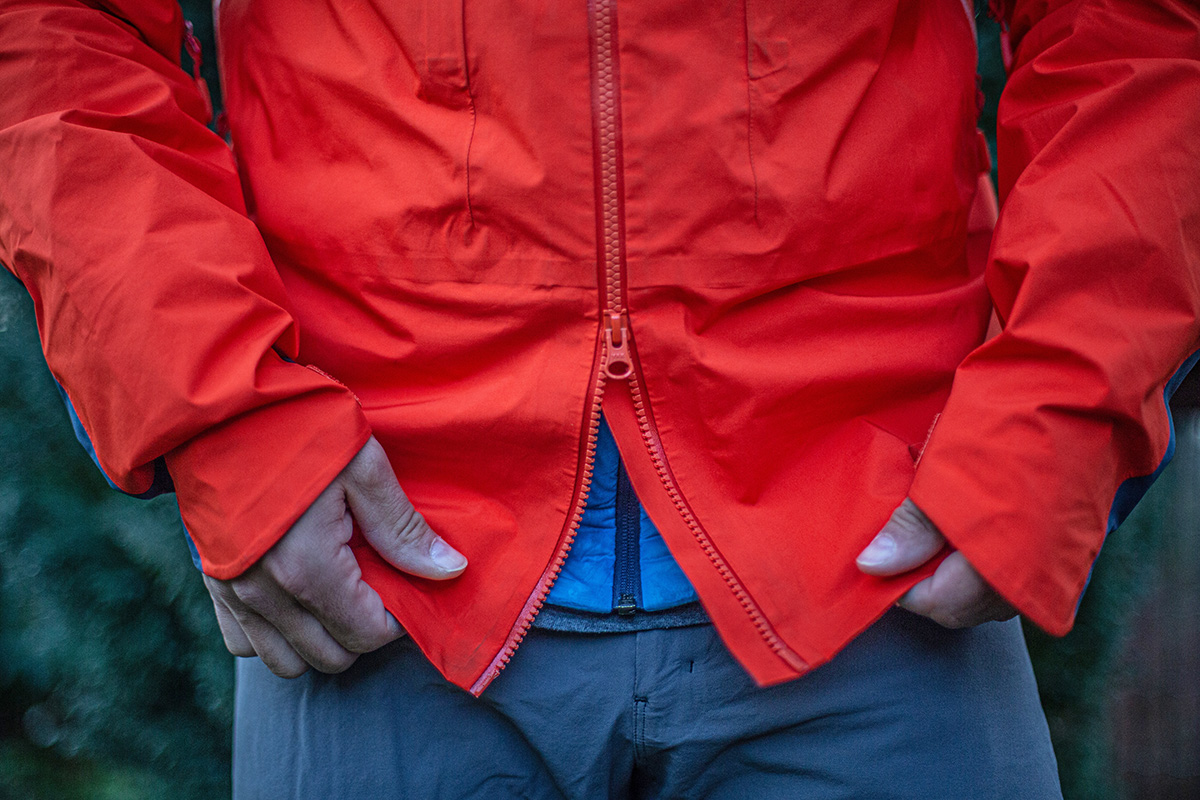 Fit and Sizing
I've found that jackets from Norwegian brands like Norrøna tend to fit long and narrow, and the same holds true with the Trollveggen Gore-Tex Pro Light. Specifically, it's longer at the back and arms but slightly trimmer at the shoulders and waist compared to similar models from brands like Arc'teryx and Patagonia. Norrøna labels it a "technical" fit, which is the second-tightest designation in their lineup, and I went with a men's extra large to account for the slimmer shape (I'm 6 ft. tall, weigh 225 lbs,. and almost always wear a large). But once I nailed the sizing, the overall fit was great. There's ample room to layer underneath—I often paired it with my Arc'teryx Cerium SL Hoody or Norrøna Falketind Down750 Jacket—and plenty of "give" at the arms and shoulders for scrambling, reaching overhead, or transitioning in the backcountry.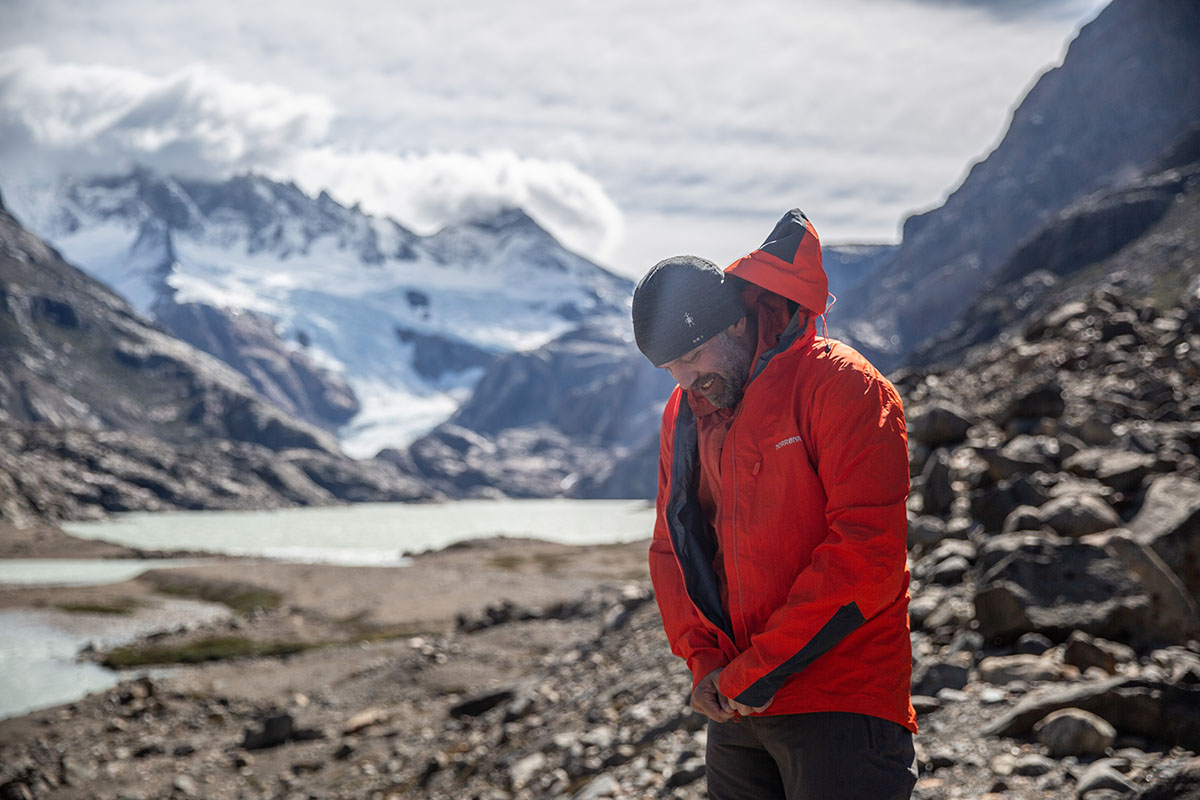 A final fit-related highlight is the Trollveggen's relatively long and asymmetric length, which is listed at 33.5 inches down the back. This leaves plenty of room to accommodate a hipbelt without the jacket riding up and bunching underneath. It's also been great at sealing out wind and snow and provides adequate coverage when sitting down on cold and wet surfaces. This extra length stacks up well in the wider hardshell market, with options like Arc'teryx's Beta AR (30.4 in.) or Alpha AR (31.25 in.) measuring a couple inches shorter.

Sustainability
Norrøna's attention to detail is hard to beat, and the same holds true when it comes to their production practices. They employed several sustainability measures with the Trollveggen Gore-Tex Pro Light Jacket, including the use of recycled materials (more than 50% of the synthetic fibers are recycled) and bluesign-approved fabrics that have been deemed safe for the environment, workers, and consumers. It's also been certified by Oeko-Tex, an independent testing organization that ensures the chemicals meet or exceed national and international safety standards. Finally, we appreciate that Norrøna is transparent about the production process: They provide an open factory list on their website so you can see where their products are made, and each factory is inspected by a third party to ensure they're operating safely and responsibly.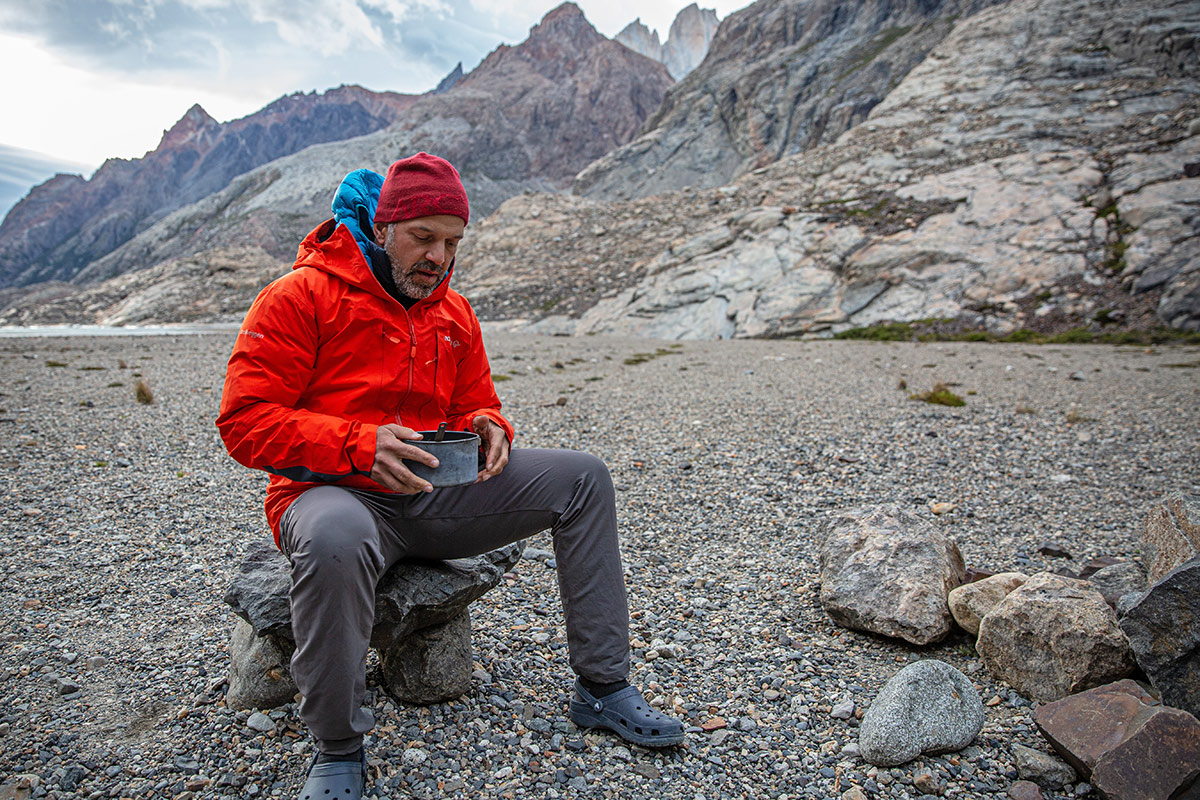 Other Versions of the Norrøna Trollveggen Gore-Tex Pro Light
I tested the men's Trollveggen Gore-Tex Pro Light Jacket for this review, and Norrøna also sells it in a women's version for the same price. Stacked up against the men's model, the women's jacket is a little lighter at 14.9 ounces and sold in different colorways but retains an identical feature set and overall construction, including Gore-Tex Pro waterproofing, three total pockets, and the same protective details. Rounding out the collection are men's and women's Gore-Tex Pro Light Pants, which retail for $499 and come with the namesake waterproofing, 3/4-length side zips for ventilation, thick reinforcements at the inside of the ankles, and two thigh pockets.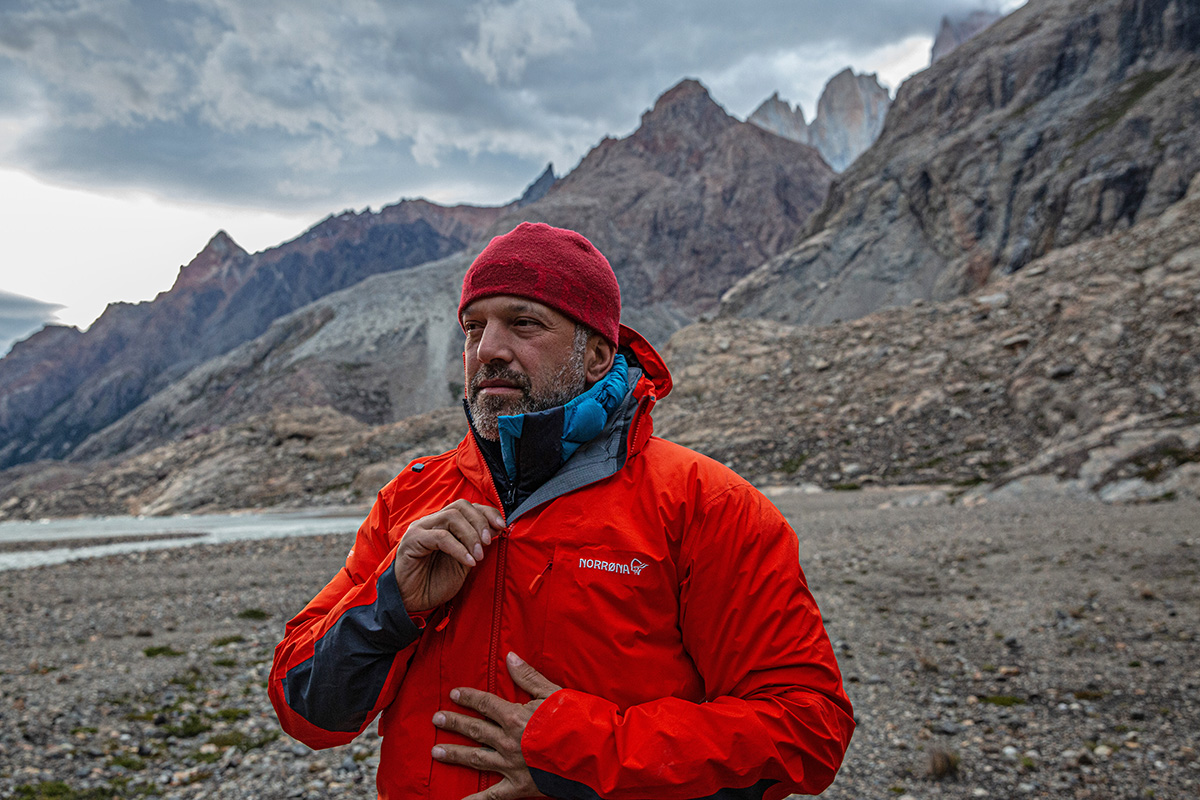 What We Like
Competitively light at just over 1 pound while still offering top-notch waterproofing and wind protection.
We love the hood design: It's large, helmet-compatible, easy to adjust, and offers excellent all-around coverage.
Large pit zips and two-way main zipper make it easy to customize airflow and boost ventilation during activity.
Relatively long and asymmetric cut provides a nice balance of coverage and mobility.
We appreciate Norrøna's ongoing sustainability focus, including eco-friendly materials and transparency about production practices.

What We Don't
Alpine-focused build foregoes hand pockets, which may be a deal-breaker for more casual users like hikers and backpackers.
You pay a steep premium for Norrøna's exceptional build quality at $599.
The jacket fits long and narrow, and I had to size up to account for the slimmer shape.
Opening around the neck is fairly small and can feel restrictive with the hood down and jacket fully zipped.


Comparison Table

The Competition
Norrøna's Trollveggen Gore-Tex Pro Light Jacket is competitively light while offering serious protection in inclement weather, making it one of our favorite hardshell jackets this year. That said, Arc'teryx's Beta AR Jacket is our top-rated pick this season and a little more well rounded than the Trollveggen. For the same price and around an ounce less, the Beta AR is similarly durable with a 40D construction and 80D panels in high-wear areas and also uses proven Gore-Tex Pro waterproofing. However, it trades the Trollveggen's chest pockets for more convenient hand pockets, which are situated high enough to access under a hipbelt or harness. The two-piece DropHood does leave a small opening between the collar and hood where snow can build up, but the tradeoff is that it's not as restrictive with the hood down and jacket fully zipped. All told, both are exceptionally built and highly protective shells, but the Beta AR's more functional storage layout will be the deciding factor for many.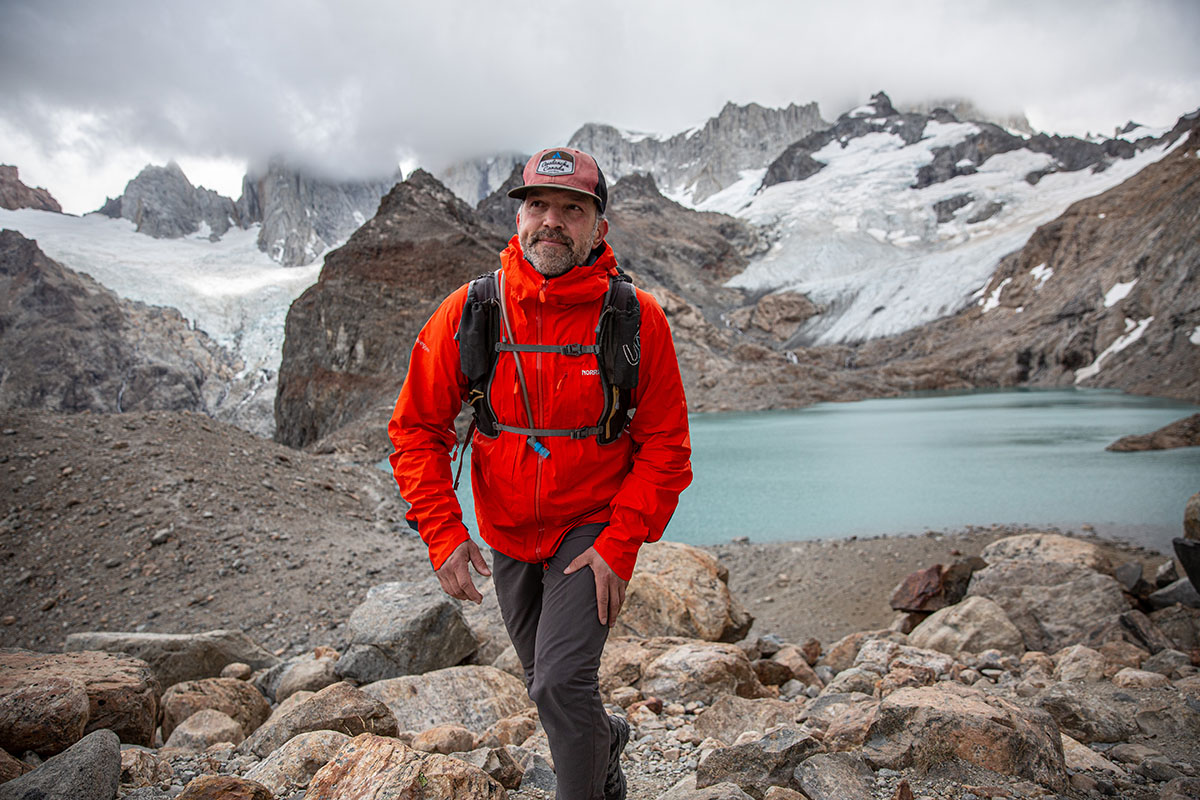 Next up is Arc'teryx's Alpha AR Jacket, which is a bit more specialized and alpine-focused than the Beta AR above. Like the Trollveggen, the Alpha AR foregoes hand pockets for chest pockets, which aren't as convenient for everyday use but eliminate any compatibility issues with a waistbelt or harness. Other similarities include a 40D construction with thicker (80D) reinforcements in areas prone to abrasion, WaterTight zippers, generous pit zips for venting, and a soft chin guard for added comfort. In parsing out the differences, the Alpha is a little lighter at 15.2 ounces, shorter at 31.25 inches down the back, and more accommodating with a "regular" fit that allows more room for layering underneath. Finally, it comes with Arc'teryx's helmet-compatible StormHood, which is similar in size and adjustability to the Trollveggen's but doesn't restrict movement at the neck when the jacket is zipped up. Given these advantages and identical price, the Alpha AR strikes us as the slightly better-built design.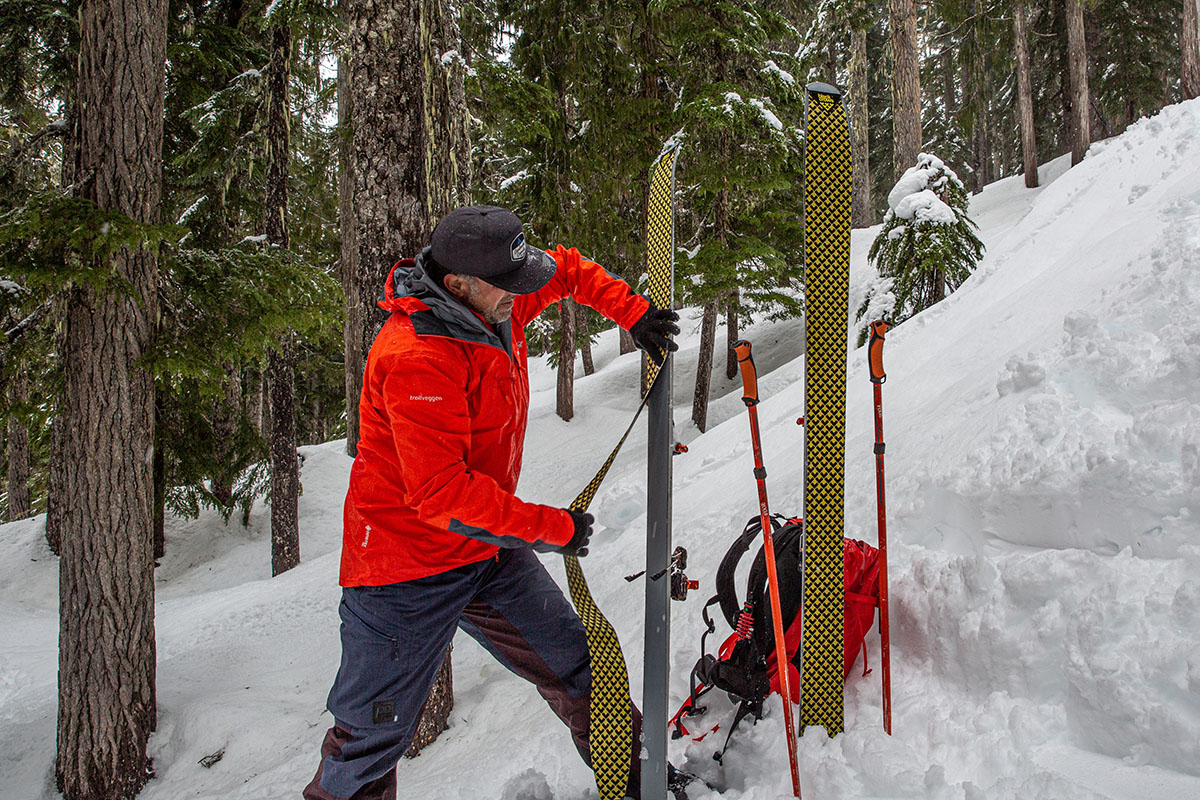 From within Norrøna's own lineup, the Trollveggen Gore-Tex Pro (no "Light") offers a step up in durability and storage for an additional $150. In this case, you get a thicker 70D build and four large exterior pockets, including two chest pockets and two handwarmer pockets (although no interior pockets). You do pay a weight penalty for the additions at 1 pound 6.9 ounces, and I found the neck opening to be similarly restrictive with the hood down and jacket fully zipped. But if you don't mind the added investment or jump in weight, the top-end Trollveggen Gore-Tex Pro retains everything we love about the Light version here but in a more complete and less compromised design.
 
Another alpine-ready option to have on your radar is Rab's Muztag Gore-Tex Pro Jacket, which provides similar performance for $100 less than the Trollveggen Gore-Tex Pro Light. Durability is a step down with 30D in the body and 40D reinforcements in key areas, but tradeoffs include a lower weight (1 lb. 1.5 oz.) and better breathability from the thinner fabrics and addition of Gore's Most Breathable technology. Like the Norrøna, the mountain-focused Muztag comes with chest rather than hand pockets, but we appreciate the inclusion of an additional mesh pocket inside (along with a zippered pocket) for stashing items like skins, gloves, or a hat. Finally, the Rab's hood offers more adjustability with three drawcords for better customizing fit. Unless you plan to spend a lot of time bushwhacking or exploring harsh alpine terrain, the Muztag is a perfectly viable alternative to the Trollveggen at a lower weight and price point.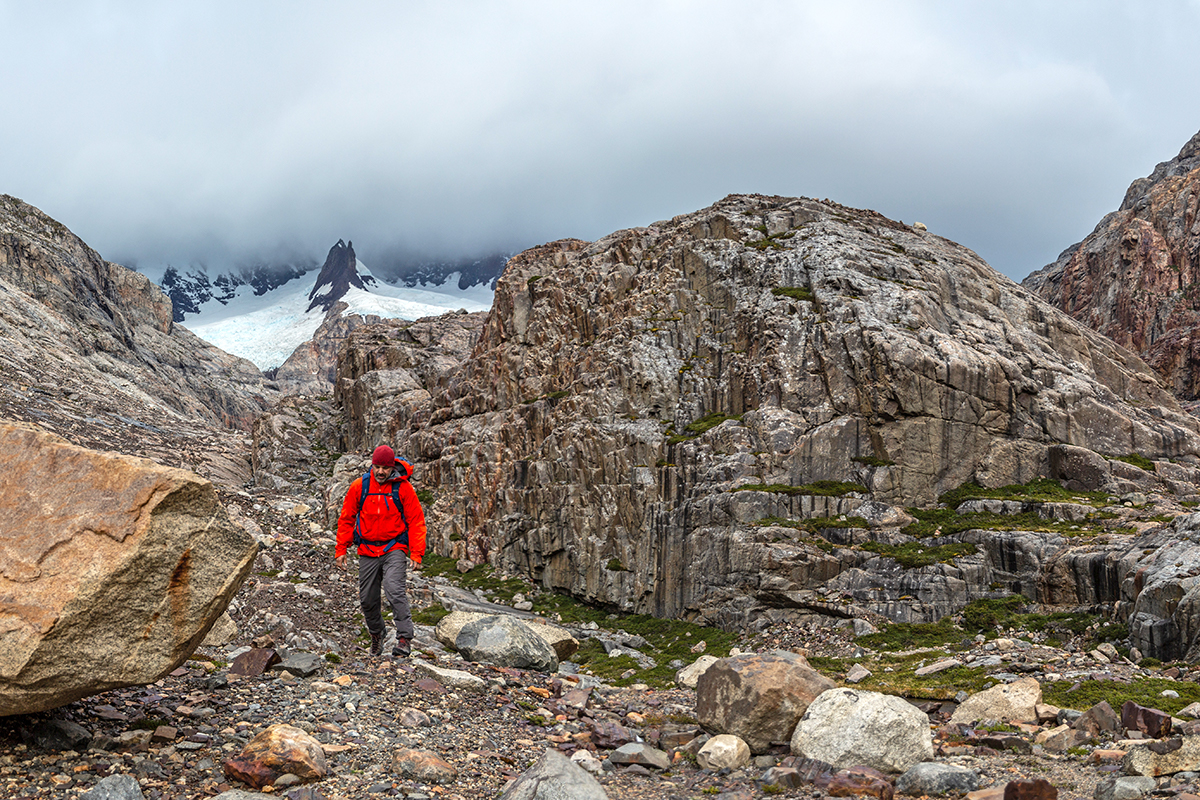 Last but not least is Arc'teryx's Alpha SL Anorak, which is a decidedly minimalist piece built for ounce-counters and those focused on moving fast and light. In testing the Alpha SL, we were especially impressed by how durable the jacket was despite its thin 20D construction, which is largely due to the tightly gridded and abrasion-resistant Hadron fabric. Weight and packability are two other hallmarks: The Alpha SL checks in at a scant 7.4 ounces and was easy to compress into a tiny, 600-milliliter camping mug. In terms of downsides, the Alpha's standard Gore-Tex construction is a little less impervious-feeling than the Trollveggen's Pro membrane (although protection still is top-notch), features are limited with a single pocket and no pit zips, and the anorak style isn't as versatile and is harder to get on and off. Finally, the $375 price tag is steep for such a niche design. But for alpine climbers and mountain runners who want to shave weight without too many performance concessions, it's a surprisingly well-rounded piece.
If you're thinking about buying gear that we've reviewed on Switchback Travel, you can help support us in the process. Just click on any of the seller links above, and if you make a purchase, we receive a small percentage of the transaction. The cost of the product is the same to you but this helps us continue to test and write about outdoor gear. Thanks and we appreciate your support!
Depending on the seller, most products ship free in the United States on orders of $50 or more. International shipping availability and rates vary by seller. The pricing information on this page is updated hourly but we are not responsible for inaccuracies.
Read More From Switchback Travel