Norrøna Trollveggen Gore-Tex Pro Jacket
Price: $649
Weight: 1 lb. 7 oz. (men's extra-large)
Waterproofing: 3L Gore-Tex Pro
What we like: Bombproof protection, full feature set, and burly build.
What we don't: One of the heaviest hardshells on the market.
See the Men's Norrøna Trollveggen Gore-Tex Pro
Norway-based Norrøna isn't a household name in the U.S. like Arc'teryx or Patagonia, but they offer a quality lineup of serious hardshells built for demanding backcountry pursuits. We brought the mountaineering-focused Trollveggen into the mountains of British Columbia and came away with high praise. Despite weighing more than much of the competition, this is one of the most protective, fully featured, and durable hardshells we've tested to date. Below we break down the Trollveggen's weather protection, breathability, durability, weight and packability, fit and sizing, and more. To see how it stacks up, see our article on the best hardshell jackets.

Performance
Weather Protection
Sporting a 3-layer Gore-Tex Pro build and plenty of protective features, the Norrøna Trollveggen is an exceptionally capable barrier against the elements. With record rainfall in the Pacific Northwest in the heart of this past winter, I've had ample opportunities to put the shell to the test and am happy to report that it's performed admirably overall. In fact, the burly, 70-denier construction (more on this in "Durability" below) and top-of-the-line waterproofing have confidently repelled the wet, heavy snow typical of this area as well as any other hardshell I've tested.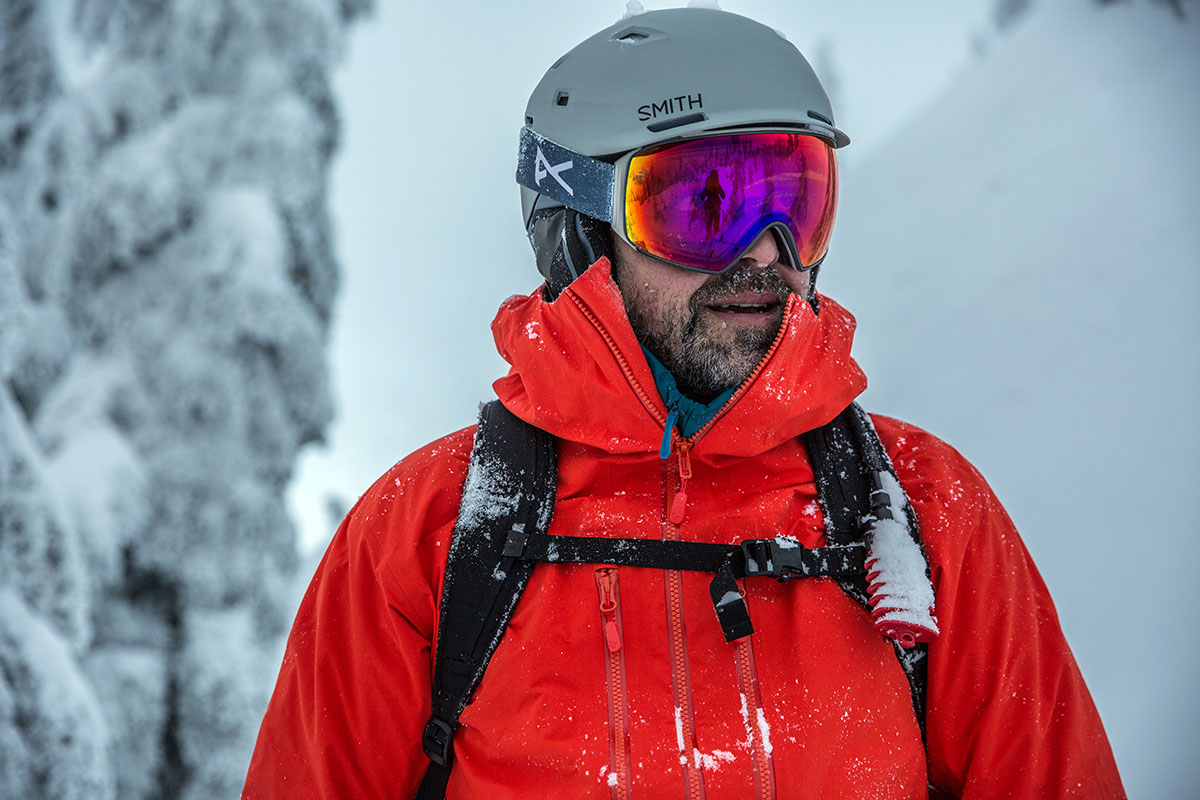 In terms of features, the Trollveggen comes well-equipped to seal out wind and moisture. For starters, the shell has taped seams and sports YKK zippers along the front and chest pockets, which have kept my electronics and valuables dry and secure (these are water-resistant rather than fully waterproof, but I trust them enough to stow my essentials). I'm also a big fan of the asymmetric cuffs with Velcro adjustments—I tend to switch between having them snug under my gauntlet-style Arc'teryx Alpha SV mitts or loose enough to cover my undercuff Black Diamond Dirt Bag Gloves. Finally, the helmet-compatible hood and tall collar provide the best coverage I've found in a hardshell to date. When combined with my ski goggles, there's very little skin exposed to the elements. The only downside is that the collar can feel slightly restrictive when the hood is down and the jacket is zipped due to the small aperture at the neck, but this is a reasonable tradeoff for the comprehensive coverage.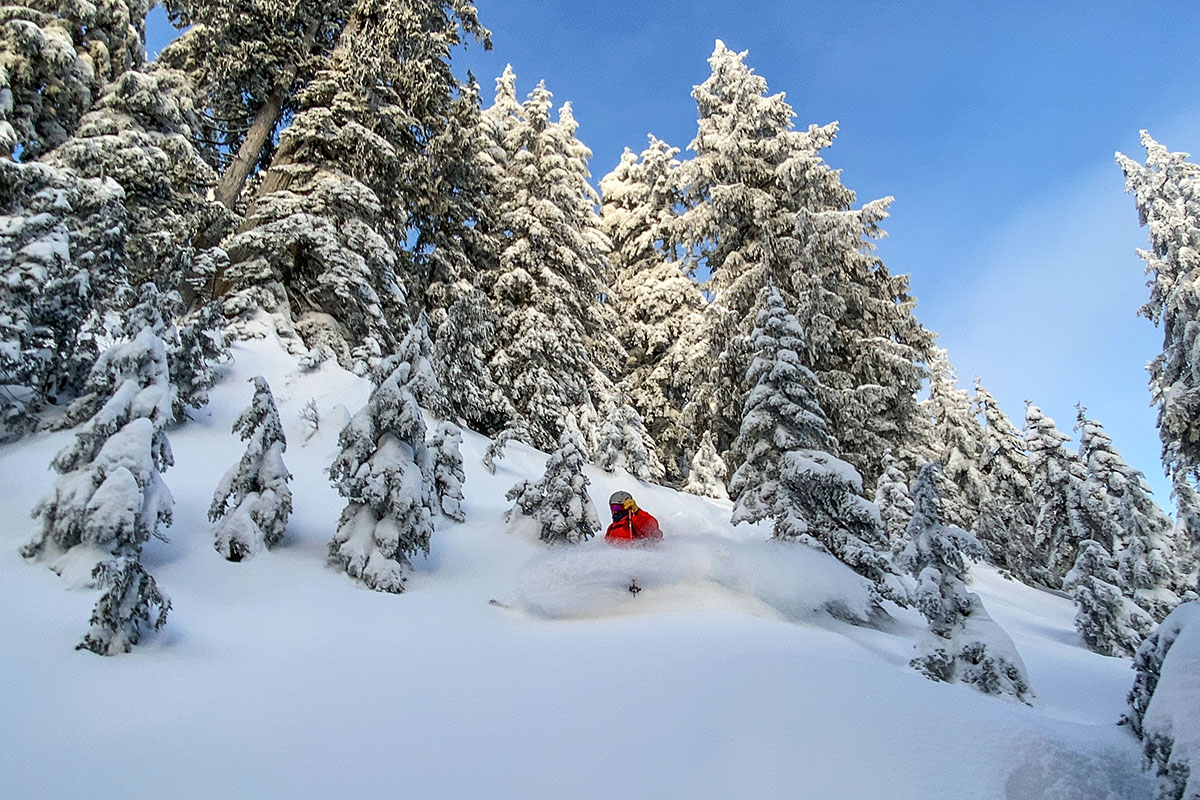 Breathability
I'll start off by admitting that I sweat a lot during heavy exertion, so I don't typically wear my shell during aerobic activities like skinning unless it's exceptionally cold (under around 18 degrees Fahrenheit). The Trollveggen is no different, and I overheat quickly when I'm working hard. That said, the jacket does sport a couple features that help immensely with breathability. First, the Trollveggen boasts generously sized, 20-inch pit zips for dumping heat quickly—if I leave the shell on for short yo-yo laps at my local powder stash, these provide a noticeable boost in airflow. Norrøna also added a unique secondary main zipper (more on this below), which allows heat to exit the shell through a small mesh vent that connects the two. I do find that the interior liner can feel cold and clammy against wet skin, but it's not often that I wear just a t-shirt under my shell (and the tradeoff in protection is worth it, in my opinion).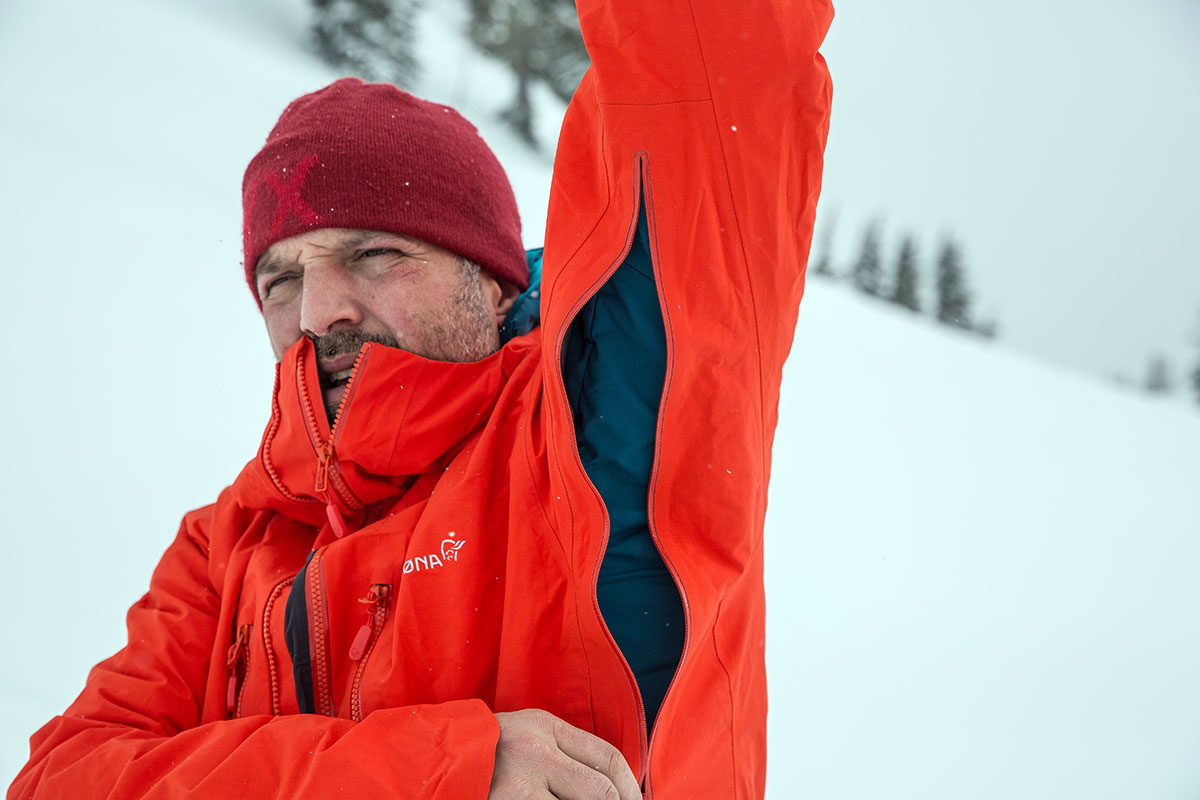 Build Quality and Durability
Simply put, the Trollveggen is one of the most hardwearing and well-built shells I've ever worn. As I touched on above, it uses a premium 70-denier (D), 3-layer Gore-Tex Pro construction and includes all the features you would expect at this price point, including ample storage, hood and hem adjustments, and excellent coverage. I should note that I'm pretty tough on my gear: because I run warm and don't wear my shell while exerting, the Trollveggen spends a lot of time stuffed at the bottom of my avalanche bag with skins and sharp equipment like crampons, a shovel, probe, snow saw, etc. But despite the abuse—plus months of exposure to regular precipitation and harsh winter snow and wind—the Trollveggen is still completely water- and windproof, all zippers and seams are intact, and the outer fabric shows no signs of wear. My Arc'teryx Alpha SV technically is thicker at 100D, but the Trollveggen stacks up well, and I'm confident it will continue to shrug off anything I (or Mother Nature) throw its way.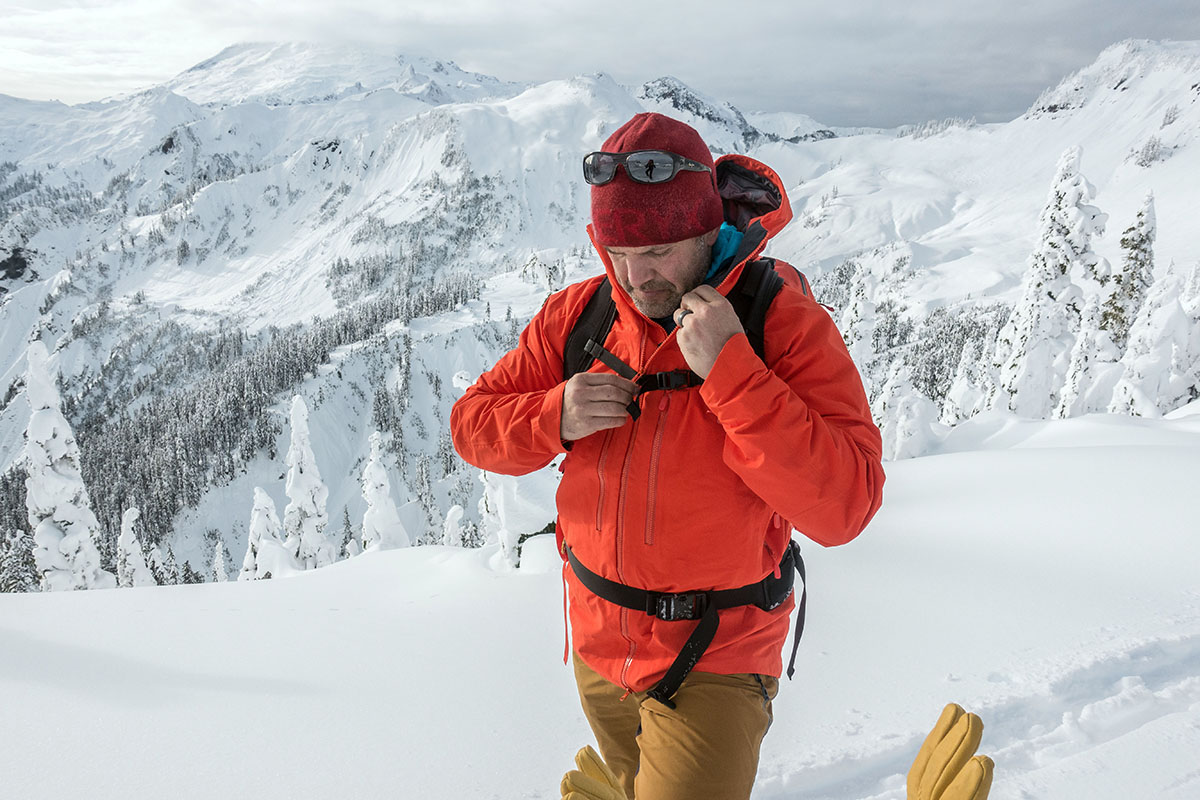 Weight and Packability
At 1 pound 7 ounces for a men's size extra-large (almost identical to the listed weight of 1 lb. 6.9 oz.), the Trollveggen is not intended for fast-and-light missions. In fact, it's the heaviest model to make our hardshell round-up. That said, the weight is perfectly reasonable in my opinion: the shell has a quality look and feel and comes equipped with more features than most of its competition. For reference, alpine shells like the Mammut Nordwand Advanced (15.5 oz.) and Mountain Equipment Lhotse (1 lb. 2.2 oz.) come in notably lighter, although neither can match the robust feel or feature set of the Trollveggen. Arc'teryx's venerable Alpha SV also shaves significant weight at 1 pound 1.3 ounces and is one of the few models to beat the Trollveggen in durability with a stout, 100D build, although it lacks hand pockets. All in all, while it's easy to go lighter in this category, I happily shoulder the extra ounces for the added durability and protection that the Trollveggen offers when I'm headed into harsh mountain conditions.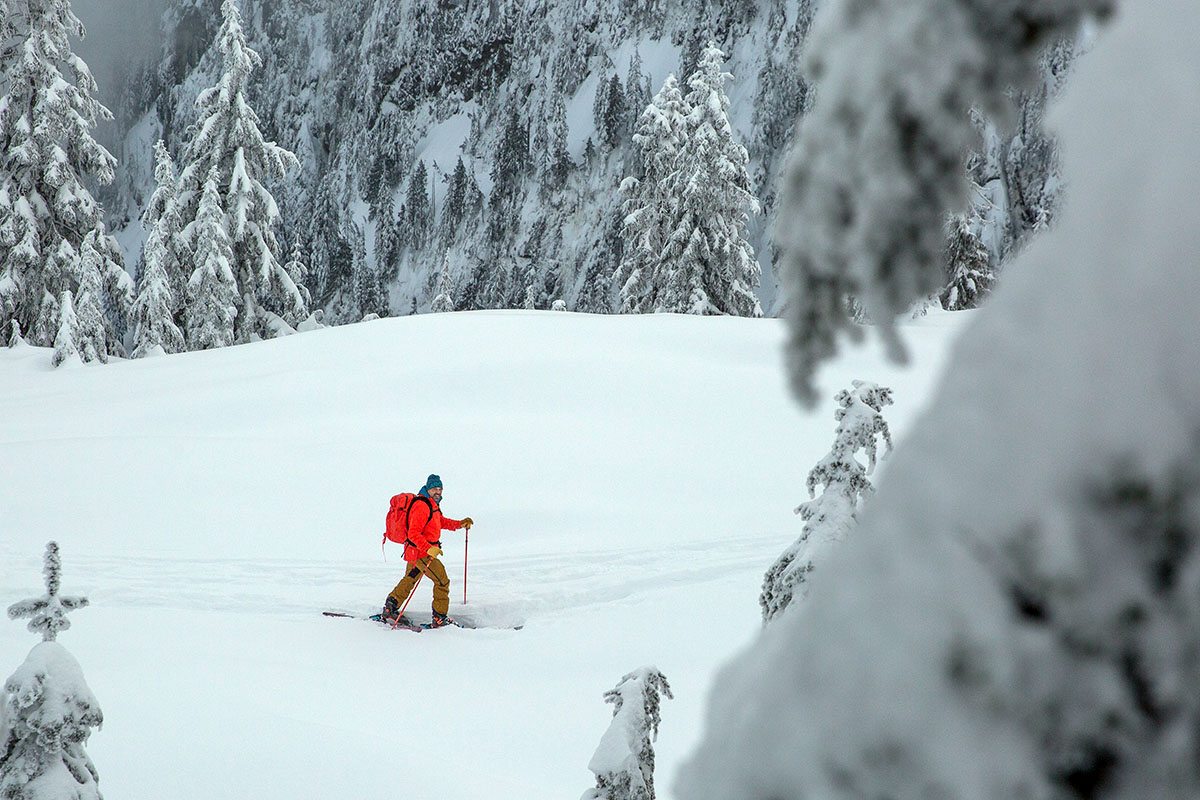 As far as packability goes, the Trollveggen doesn't stuff down into a dedicated pocket, but I've found that packing it into its own hood gets the job done. I'm then able to use the hood's single drawcord closure to compress it even further—when stuffed away, it can be reduced to about the size of a 32-ounce Nalgene bottle, which is fairly impressive for such a sturdy shell. As I mentioned above, the Trollveggen spends a lot of time at the bottom of my avalanche pack, and I have no complaints about the amount of space it takes up.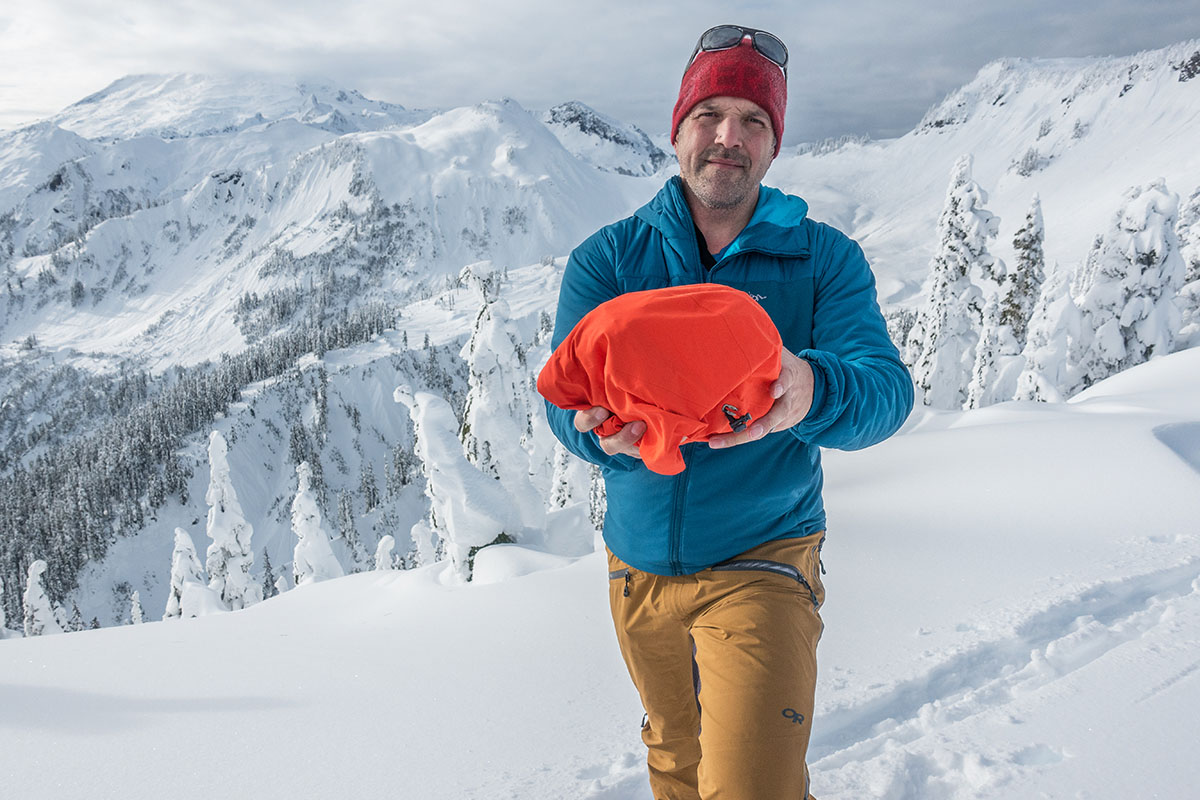 Key Features
Pockets
The Trollveggen Gore-Tex Pro comes well-appointed in the storage department with four large exterior pockets, including two chest pockets and two handwarmer pockets. The latter are large enough to fit my gloved hands, and they also allow access to an adjustment cord that cinches the waist to help seal out the elements. The two chest pockets (one includes an internal pocket) are designed for belaying, meaning that entry is across the body. Impressively, these are also nicely sized (chest pockets tend to run small) and are able to fit my gloved hands without issue. I also like to stow my Garmin inReach GPS device or radio in these pockets for easy access while on the go. My only complaint is that there is no interior storage on the Trollveggen (I prefer to stow a pair of ski goggles on the inside of my shell, which I'm able to do with Arc'teryx's Sidewinder).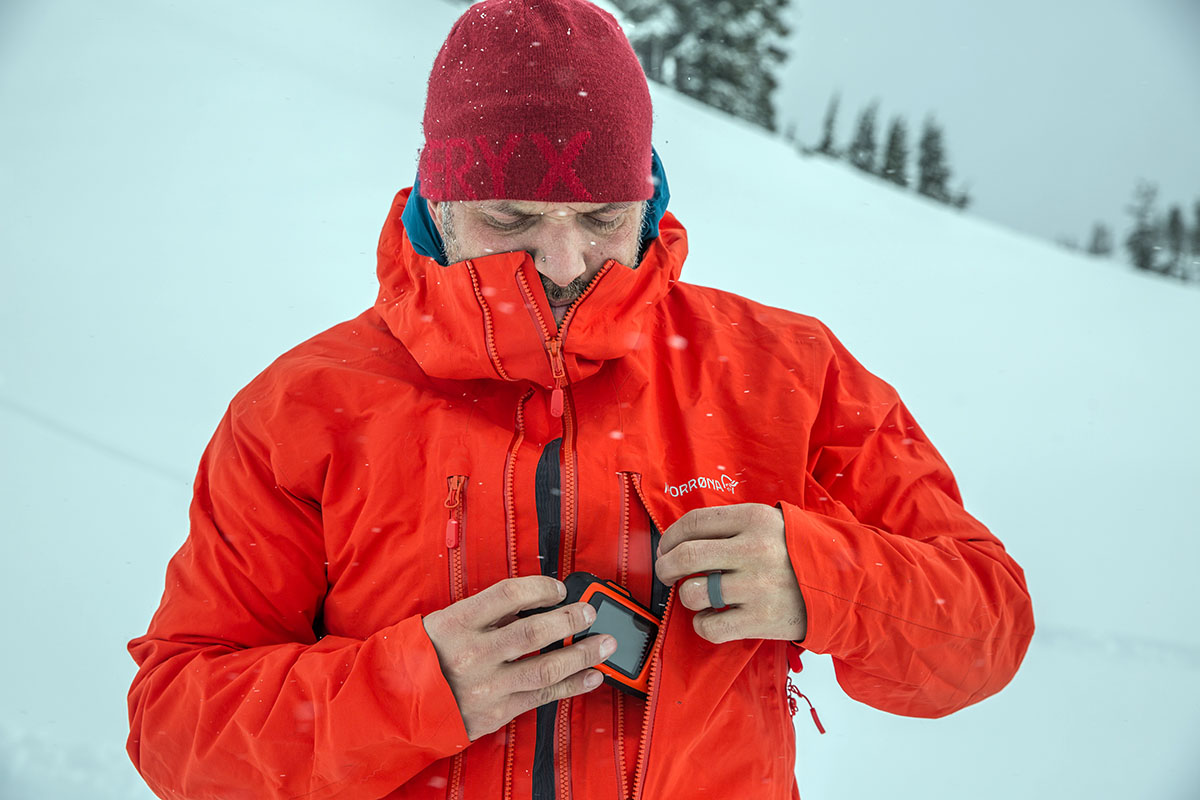 Hood
The Trollveggen is designed for serious backcountry missions, so it comes as no surprise that the hood is very generous and fits a range of climbing and ski helmets (I wear it over my large Smith Quantum MIPS). All in all, there's no constraint with side-to-side movement, and there's ample room in the collar area to shoulder check and lean over to adjust my boots or skins. As I mentioned above, the aperture is relatively small and can feel restrictive with the hood down and jacket zipped up, but it does help with all-around coverage in nasty conditions. When fully cinched, the hood opening leaves nothing exposed but my goggles and nose. For dialing in fit, the hood also comes with a single drawcord that cinches the brim, which is wired and effectively keeps precipitation out of my face. Finally, the soft chin protector is a nice, subtle touch that reduces chafing and prevents my facial hair from getting caught in the main zipper.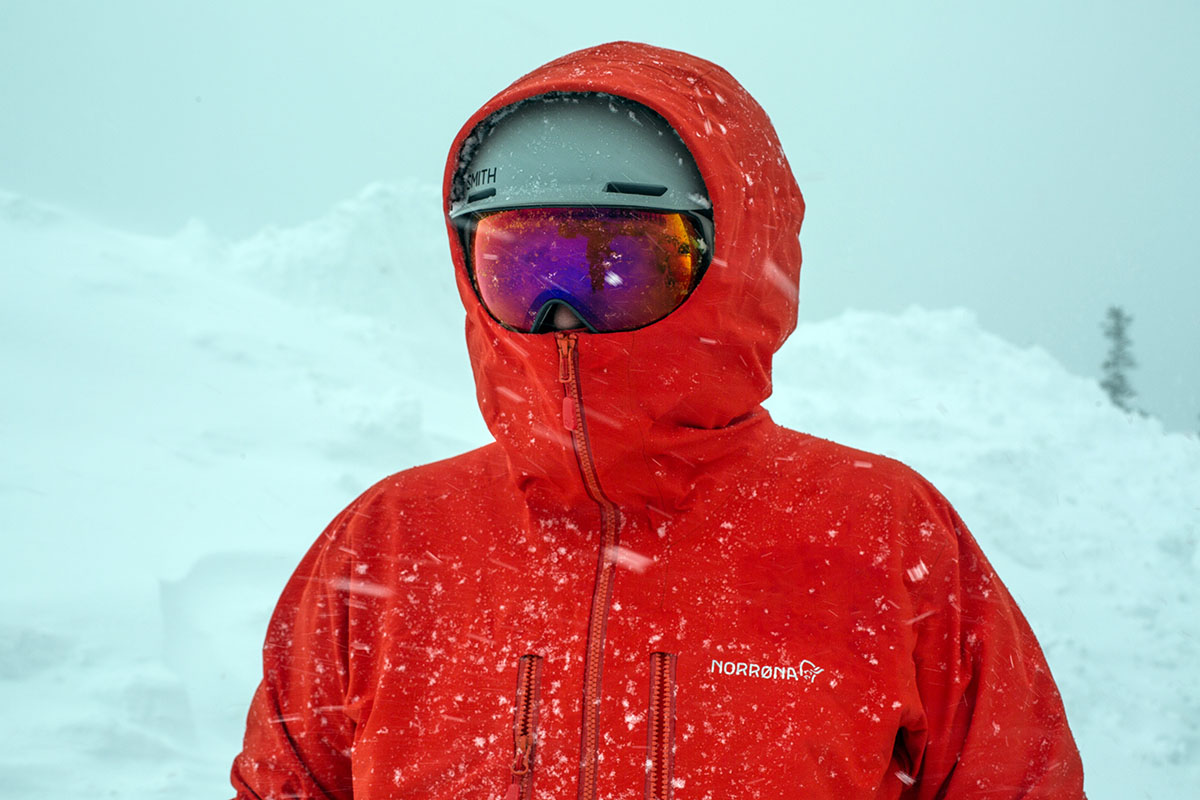 Secondary Main Zipper
As I touched on above, Norrøna outfitted the Trollveggen Gore-Tex Pro with a unique secondary main zipper located on the inside of the shell that widens the fit by around 1.5 inches, creating extra room around the torso for layering underneath. Further, a good portion of the fabric that connects the two zippers is mesh, which is a good way to increase airflow and almost feels like having the jacket fully unzipped. And one final bonus: when using the second zipper, the collar/hood aperture is a bit larger and doesn't feel as restrictive. The downside is that this feature adds weight to the already hefty shell, but I love the smart and simple solution to layering.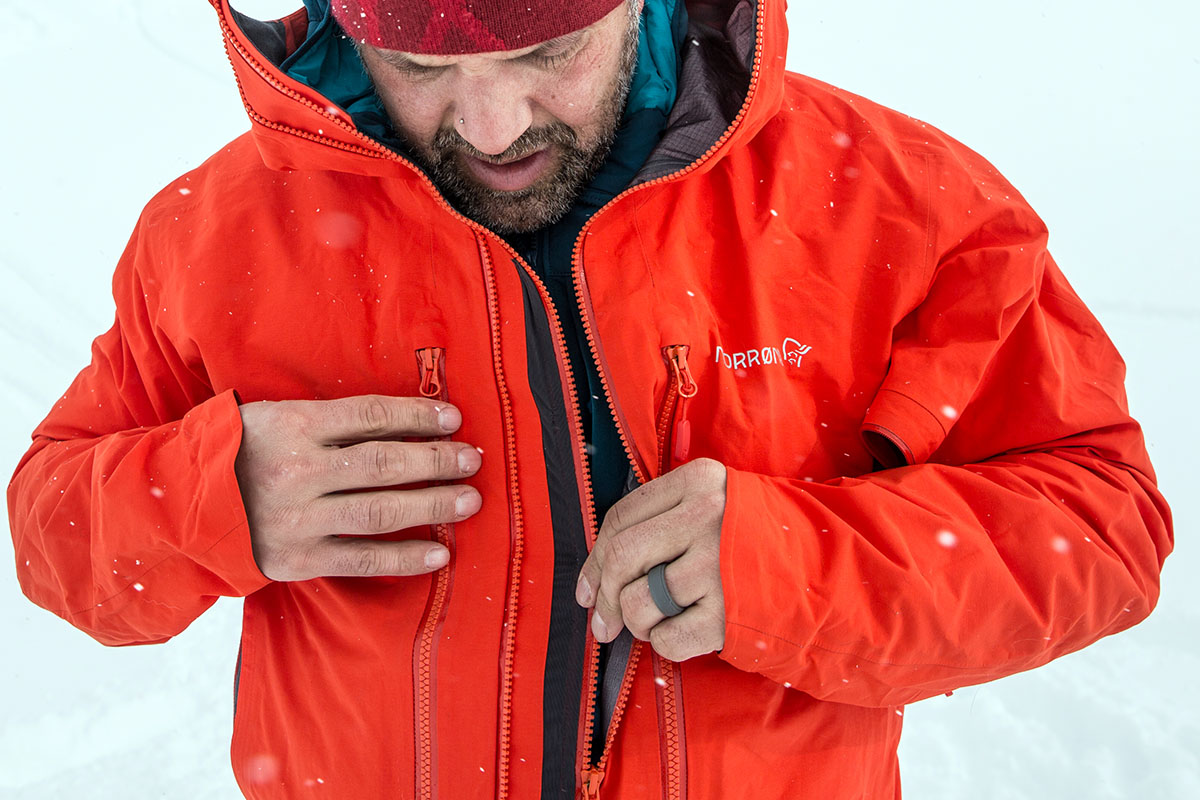 Fit and Sizing
I typically wear a men's large, but I tried that size on in Norrøna's Lofoten shell (one of their freeride jackets) and found it to be a bit snug and narrow in the shoulders and waist. When I ordered the Trollveggen, I opted to size up to an extra-large (I recommend doing this if you have broad shoulders like me). In the end, I was glad I did: the "technical" fit allows ample room for layering without feeling overly big or bulky. I usually opt for either my Mountain Hardwear Ghost Whisperer down jacket or Arc'teryx Proton LT Hoody underneath depending on weather. Although it hasn't been cold enough yet, even Arc'teryx's thick Firebee AR Parka fits under this shell if I use the secondary main zipper mentioned above to widen the front. It does run long in the waist and sleeves, but I appreciate the added coverage in deep snow.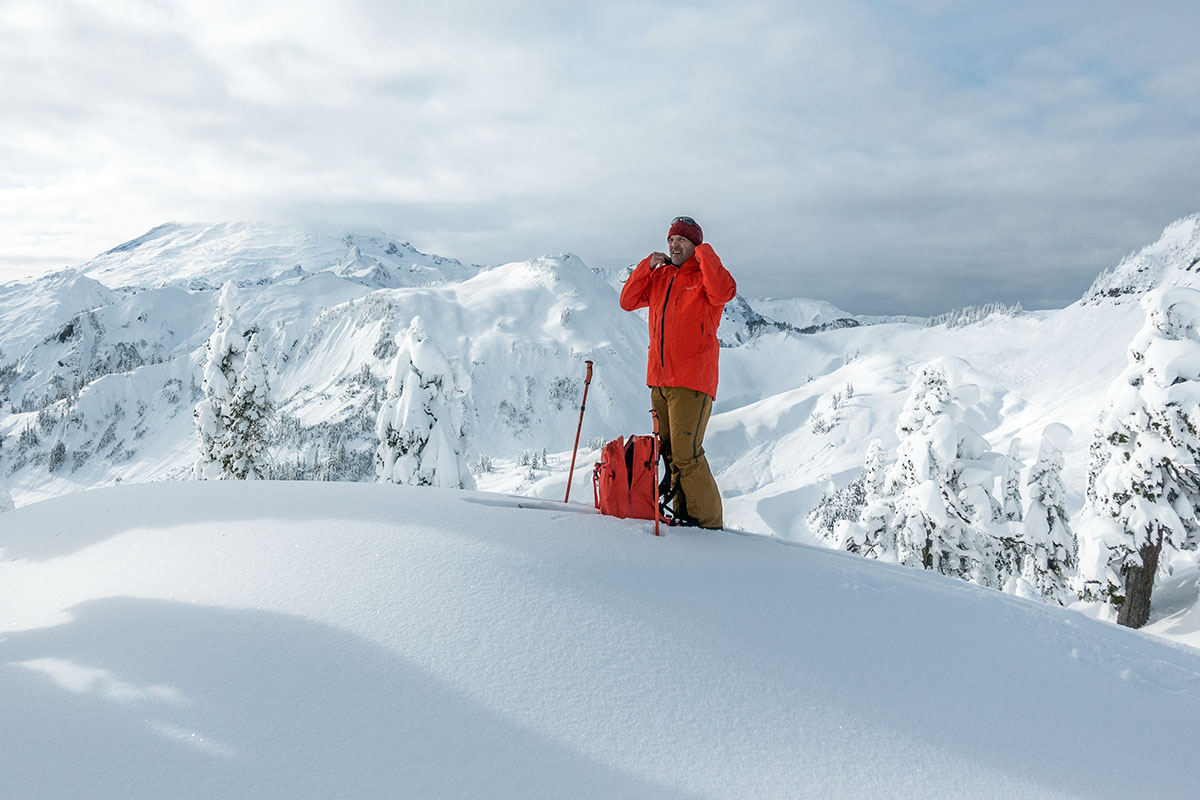 In terms of fit, the articulated elbows allow for unrestricted movement when transitioning, loading gear into my van, and lifting my arms above my head. The jacket also doesn't bunch up above the hipbelt of my pack (a major pet peeve of mine), and the two-way main zipper allows me to sit down or access my harness without having to awkwardly zip and unzip fully each time. Finally, one of my favorite features on the Trollveggen is its longer, asymmetric length along the back (approximately 85-90 cm), which reduces the possibility of wind and snow creeping up under the shell during storms or when bailing in powder. By comparison, Arc'teryx's Alpha SV runs 78 centimeters down the back, the Outdoor Research Hemispheres is 83 centimeters, and the Arc'teryx Sidewinder is 75. All in all, from a fit perspective, I think Norrøna really nailed the styling, length, and features on the Trollveggen.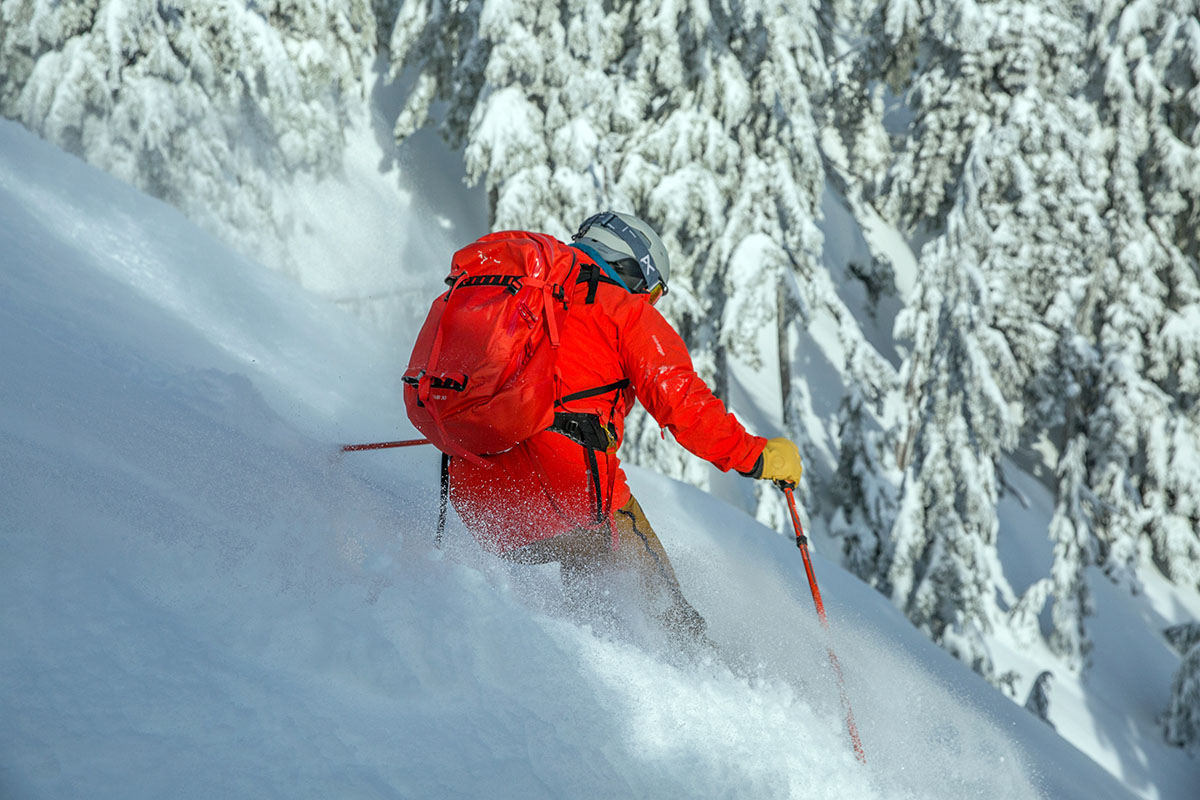 Sustainability
The Trollveggen Gore-Tex Pro is a well-built hardshell through and through, and it's a major plus that Norrøna put a big focus on sustainability with the jacket's design. For starters, over half of the materials used are recycled, and the fabrics are bluesign-approved, which means that Norrøna took extra measures to ensure that the chemicals and materials used during production are safe for workers, consumers, and the environment. The Trollveggen also went through independent testing and certification (Oeko-Tex) to make sure that the chemicals meet international standards. Finally, we really appreciate that Norrøna provides a list of factories on their website and that these are inspected by third-party companies so that all sustainable practices are being followed. All in all, these additions only contribute to the jacket's overall quality and appeal.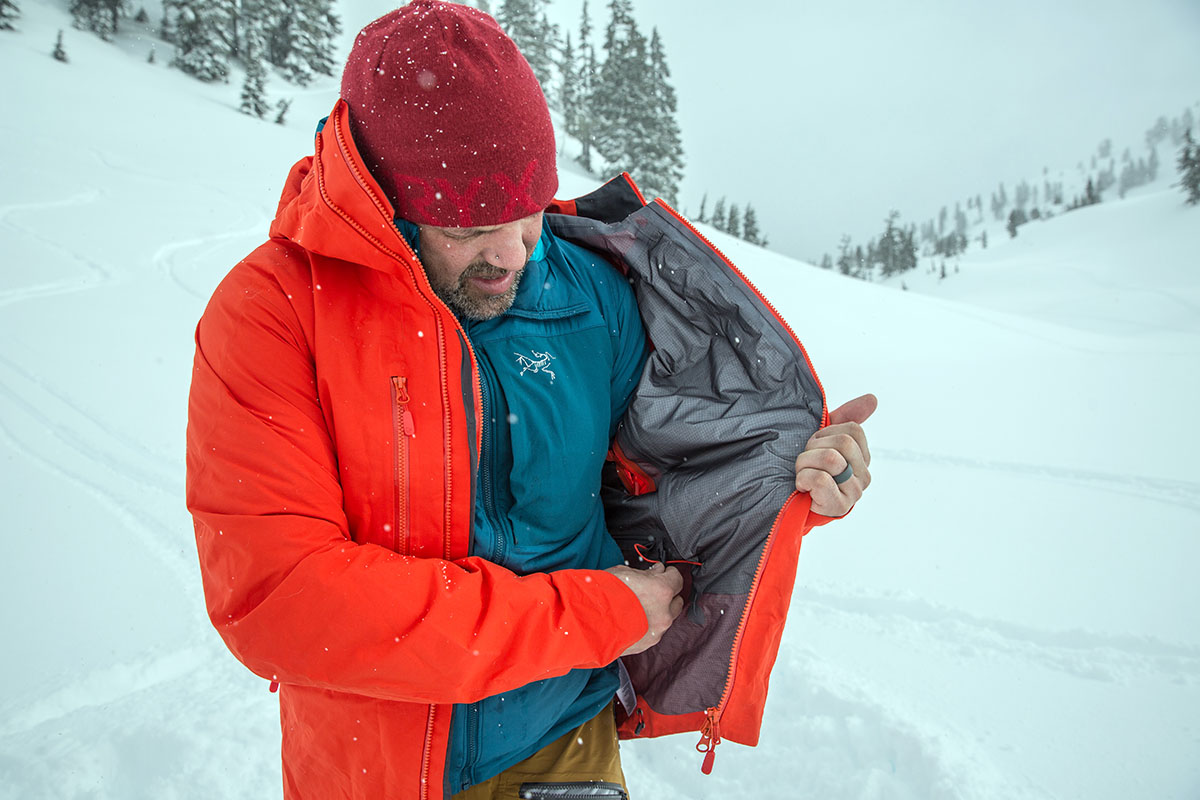 Other Versions of the Norrøna Trollveggen
We tested the men's Trollveggen Gore-Tex Pro jacket, and Norrøna makes a number of other variations in the lineup. Unfortunately, there's no women's-specific version of the jacket tested here, but Norrøna does sell a Gore-Tex Pro Light model for both men and women. The Trollveggen Gore-Tex Pro Light retails for $579 and weighs 15.9 ounces for the men's version but includes fewer pockets and a less durable 40-denier face fabric (read our in-depth review here). A decision between the two will largely come down to preferences on weight vs. durability. To round out the Trollveggen lineup, Norrøna also offers a number of down jackets and waterproof pants, as well as accessories like Gore-Tex gaiters, gloves and mittens, and heavyweight merino socks.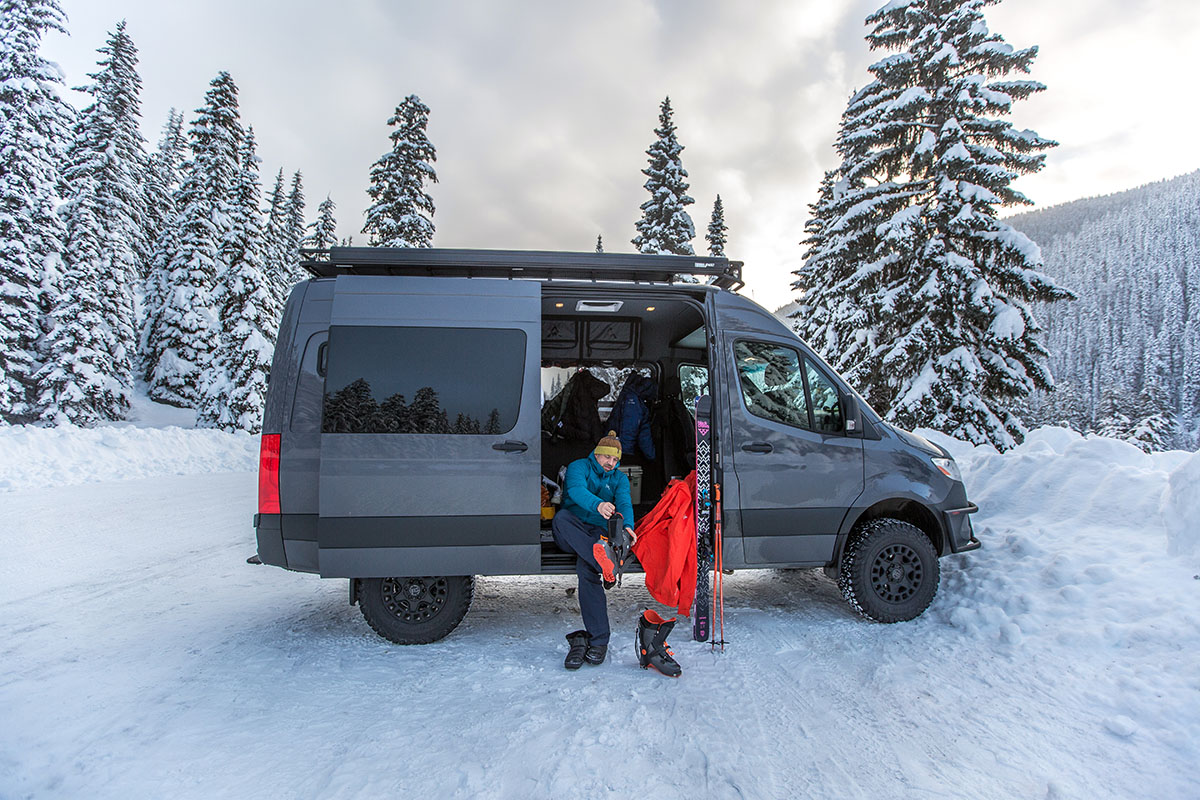 What We Like
3-layer Gore-Tex Pro construction is rugged, durable, and provides top-notch weather protection.
Hood and tall collar offer excellent coverage from the elements. With the hood up and my ski goggles on, I have very little skin exposed.
Long hem length is great for keeping snow off your back and out of your ski pants.
Ample storage with four large exterior pockets (all of them can fit gloved hands).
Secondary main zipper is very functional—it both increases room for layering and allows more space for air to flow.

What We Don't
One of the heaviest hardshells on the market at 1 pound 6.9 ounces (although you do get a major bump in durability and protection).
Neck opening is fairly small and restrictive when the hood is down and jacket is zipped.
No interior storage.


Comparison Table

The Competition
Norrøna's Trollveggen is one of the most capable and fully featured alpine hardshells we've ever tested. In this category, Arc'teryx's Alpha SV is the standard bearer. Stacked up against the Trollveggen, the Alpha SV is $150 pricier at $799 but weighs considerably less at 1 pound 1.3 ounces and uses a more robust 100-denier face fabric (the Norrøna is 70D). That said, the Trollveggen is the more feature-rich option with extras like the second main zipper and hand pockets. It also has a longer back length for sealing out snow. In the end, we're not ready to dethrone the proven Alpha SV as our favorite shell for extreme conditions, but the Norrøna offers similar performance for less money.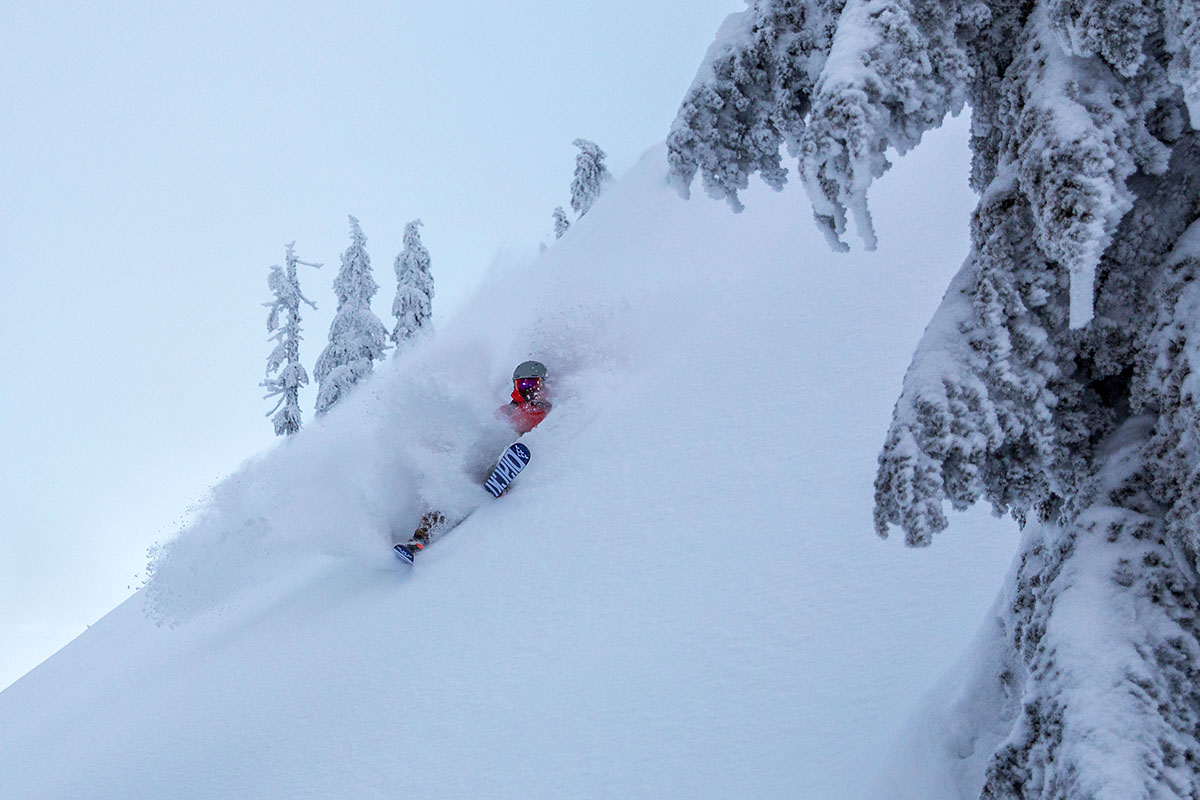 Mammut's Nordwand Advanced HS is another premium, mountain-ready shell to consider. Like the Trollveggen, the Nordwand uses a highly protective 3-layer Gore-Tex Pro build, comes with pit zips for dumping heat quickly, features harness-compatible pockets for easy access on the go (although it has one fewer pocket than the Trollveggen), and comes with ample adjustments for sealing out the elements. The Mammut has the advantage in weight at 15.5 ounces, but it can't match the Trollveggen's burly build (it's 44 x 44D compared to the Norrøna's 70D construction). And although we like the body-mapping cut for enhancing range of movement, we think the more durable Trollveggen is the better value for just $24 more.
U.K.-based Mountain Equipment is another technical specialist to have on your radar, and their Lhotse jacket is a close competitor to the Trollveggen both in weather protection and all-around build quality. Like the Trollveggen, the Lhotse uses Gore-Tex Pro fabric for waterproofing and comes with a host of mountain-ready features including a helmet-compatible hood, pit zips, and longer cut that accommodates a harness and seals out weather. The Lhotse is lighter at 1 pound 2.2 ounces, but the 40-denier build (with 80D in high-wear areas) falls short of the Norrøna's burly construction for alpine use. In the end, the Lhotse is a nice option for activities like backcountry skiing and winter trekking (and saves you around $50), while the Trollveggen is the more purpose-built shell for serious mountaineering and alpine adventures. 
For a step down in price and performance from the venerable Alpha SV above, Arc'teryx also offers their Alpha AR ("all round"). For around $50 less than the Trollveggen, the Alpha AR clocks in at a lightweight 14.1 ounces (a considerable 8.8 oz. less than the Norrøna) and includes many of the same features including a helmet-compatible StormHood, pit zips, crossover chest pockets, 3-layer Gore-Tex Pro build, and a tall collar and laminated chin guard. That said, the Trollveggen gets the edge in overall protection with a more robust face fabric (the Arc'teryx uses a mostly 40D build with 80D reinforcements), as well as a longer center back length (the Arc'teryx measures 78 cm down the back). If the goal is traveling fast and light, it's hard to beat the Alpha AR's combination of protection and weight. But for the most demanding mountain pursuits and harshest alpine conditions, the Trollveggen gets the clear edge.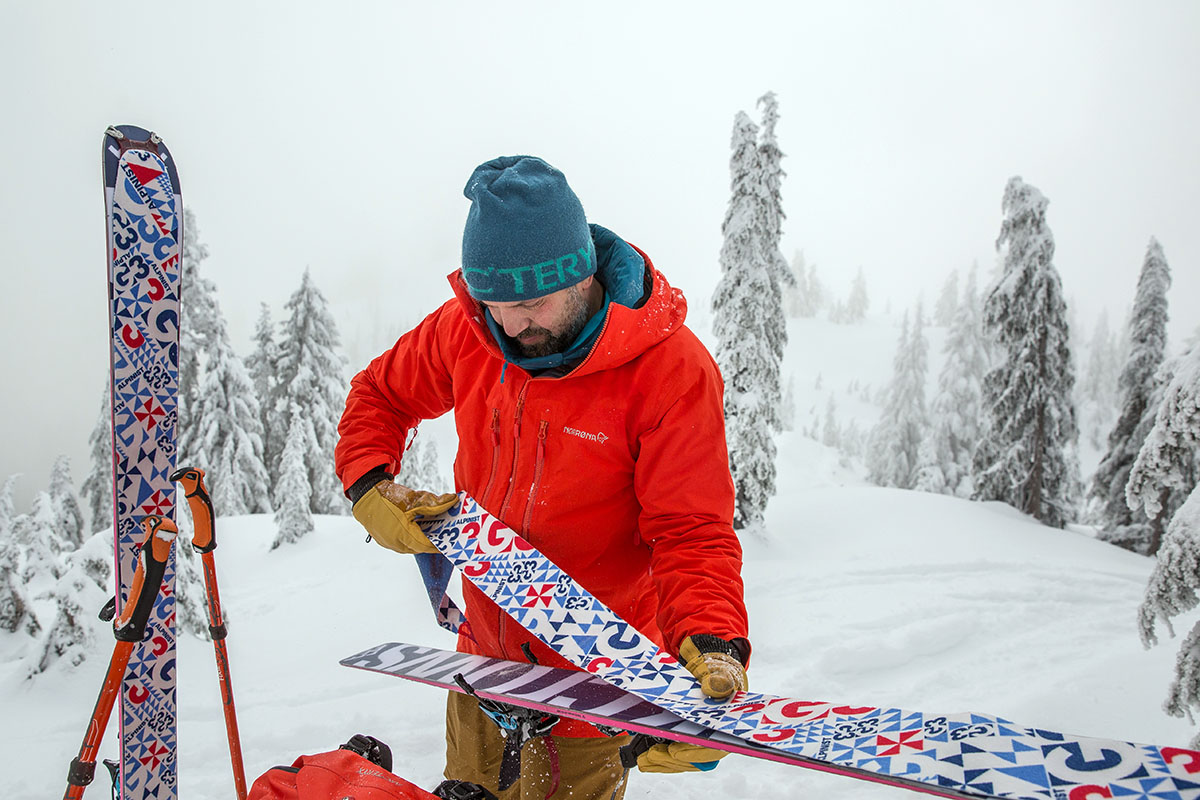 Last but not least is Arc'teryx's Beta AR, which shares many of the same features as the Alpha AR above. Both jackets use 3-layer Gore-Tex Pro constructions with a mix of 40- and 80-denier face fabrics. However, the Beta AR uses Arc'teryx's DropHood design rather than their more protective StormHood, weighs slightly more at 1 pound even (it's still 6.9 oz. less than the Trollveggen), has a more versatile pocket layout (the Alpha's harness-friendly chest pockets have their limitations when not climbing), and features a shorter cut at 75.5 centimeters, which is a downside for skiing. In the end, the Beta AR is incredibly well-rounded for backcountry use and our favorite overall hardshell this year, but the $50-pricier Trollveggen is the more hardwearing and alpine-focused design.
Read More From Switchback Travel