As the weather cools down each year, the great down-versus-synthetic insulation debate heats up. Goose and duck down fill are among the premier insulators on earth, trapping air and creating pockets of warmth around your body with very little weight. On the other hand, synthetic insulation breathes better and retains most of its ability to insulate when wet, which can be a major plus for serious outdoor use. Below we outline down and synthetic insulation and break down their warmth-to-weight, compressibility, comfort, durability, cost, and more. We hope it's helpful in choosing your next down jacket or sleeping bag.

Types of Insulation
Goose and Duck Down
Down insulation is an all-natural fill comprised of goose or duck plumage (contrary to popular belief, plumage is the soft material underneath the feathers, not the feathers themselves). The lofty nature of the plumage allows it to trap air between its filaments, which is then heated by your body's warmth. Down is extremely light, compressible, warm, and known for having a long lifespan. But it's not quite a miracle insulator: Down is not super breathable and loses its loft when wet, which means it no longer is able to keep you warm. Advances in technology have led to hydrophobic down—which we discuss more in-depth below—but we still don't recommend down products for use in wet environments.
Both duck and goose downs are classified by fill power, which is a measure (in cubic inches) of how much space is filled by one ounce of down. Fill power can vary from around 450 to over 900, with most high-quality down products featuring a fill power of 800 or above. The second measurement you'll come across is fill weight, which is the weight (in ounces or grams) of the amount of down in a product. For example, the popular Mountain Hardwear Ghost Whisperer/2 Hoody has 3 ounces of 800-fill down, and the REI Co-op Magma 15 sleeping bag features 15.9 ounces of 850-fill-power down. Fill weight sometimes can be difficult to track down as gear manufacturers are more keen to market fill power, but in the end, both are necessary to get an accurate idea of how warm a given down product is.
Duck and goose plumage aren't always ethically sourced, but more and more manufacturers are starting to use fill certified by the Responsible Down Standard (RDS). The RDS is a global certification given to down products and indicates that the birds were treated humanely and not subjected to unnecessary harm, such as force-feeding or live-plucking. In addition to RDS, some companies have developed their own standards and means of communicating their sourcing, including Patagonia's Traceable Down Standard and Mountain Equipment's Down Codex. In the end, many consumers (ourselves included) appreciate the added transparency.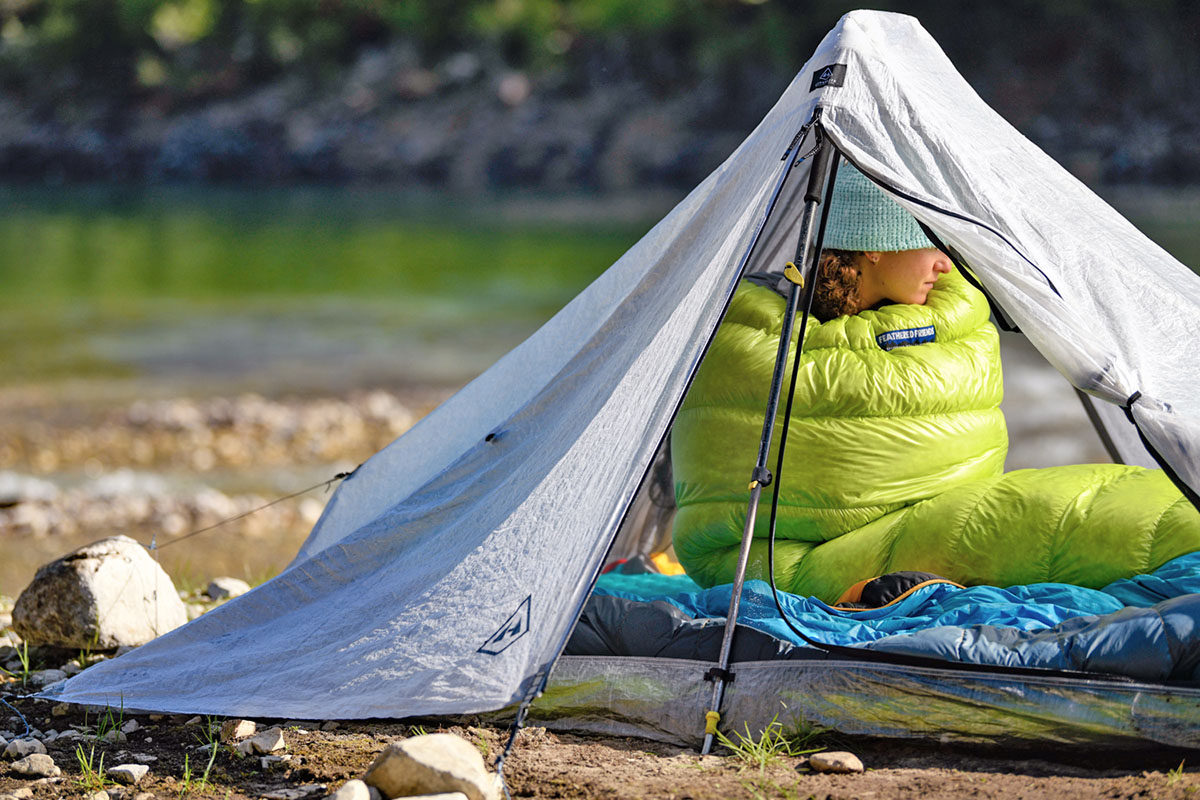 Synthetic Insulation
Synthetic insulation is a popular man-made alternative to down and is most often comprised of sheets of polyester fibers that aim to mimic down's air-trapping abilities. Although it works in the same way as down—body heat gets trapped by the fibers' loft—synthetic insulation in general is less warm, heavier, and less compressible than down. Further, over time, it gets packed out and loses its ability to loft, resulting in a shorter lifespan than down. But the largest benefit to choosing synthetic over down—and why we'll always recommend it for certain environments—is the added wet-weather assurance. Synthetic fill does not lose its loft when wet, continues to insulate even when soaked, and dries out quickly. In addition, it's more breathable than down and often cheaper.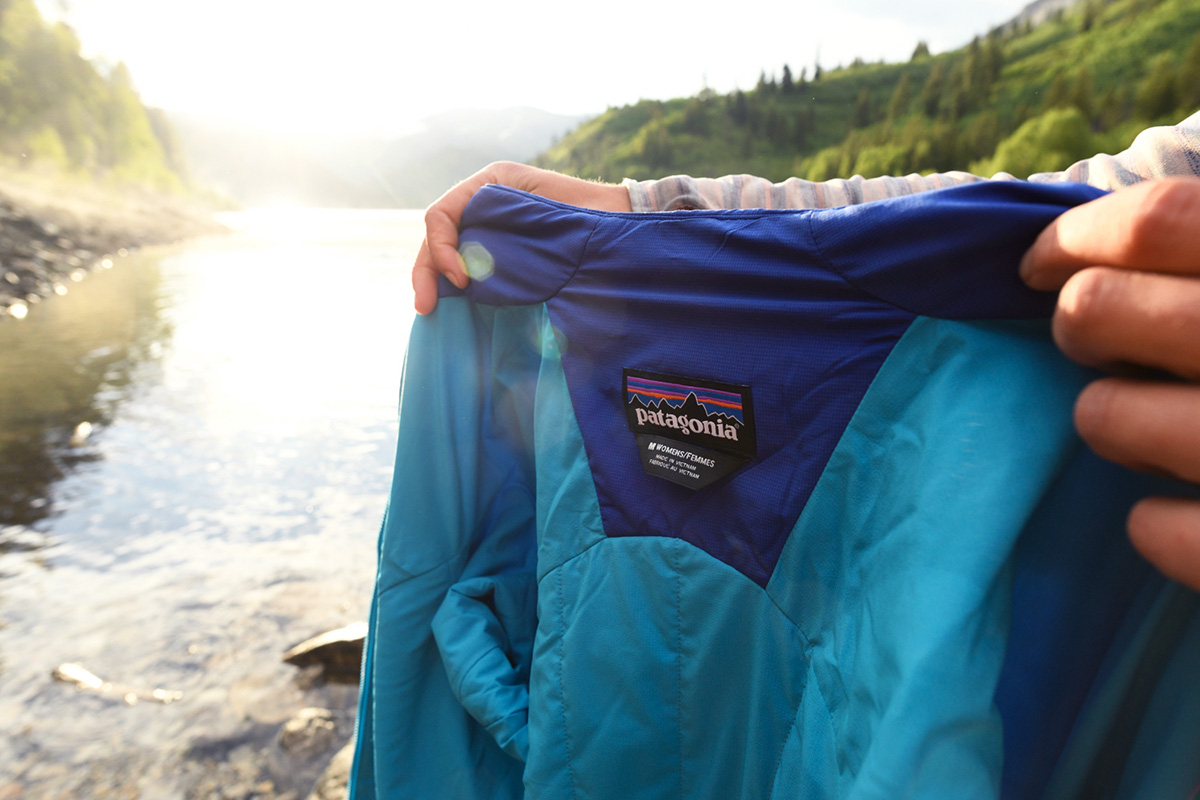 Synthetic insulation is less uniform than down: Market leader Primaloft makes a number of different versions, but you also have FullRange and PlumaFill (Patagonia), Thermoball and Ventrix, (The North Face), Coreloft (Arc'teryx), etc. Regardless of the type, warmth is measured in grams per square meter (gsm); importantly, this is not the total amount of insulation in a product (unfortunately, synthetics aren't measured the same way as down). In technical synthetic outerwear, we most often see insulations between 50 and 130 gsm (generally expressed as 50-gram or 50g), with most performance-oriented jackets hovering around 60 gsm. Sometimes, manufacturers will place lighter insulation in the arms and side panels of a jacket and heavier fill in the body. And of course, all else being equal, a higher number translates to a warmer and heavier product.
In recent years, advancements in technology have resulted in synthetic insulation that comes closer and closer to matching the packability and warmth-to-weight ratio of down. These include Patagonia's PlumaFill, The North Face's ThermoBall, and Outdoor Research's VerticalX SuperStrand. Patagonia's Micro Puff Jacket (with synthetic PlumaFill insulation) is even advertised as having the "best warmth for weight of any jacket" in the company's lineup. Throughout testing, we found that the Micro Puff was impressive overall but still not as warm as a down jacket of a similar price and weight. In the end, no synthetic insulation yet matches the loftiness or warmth-to-weight ratio of down.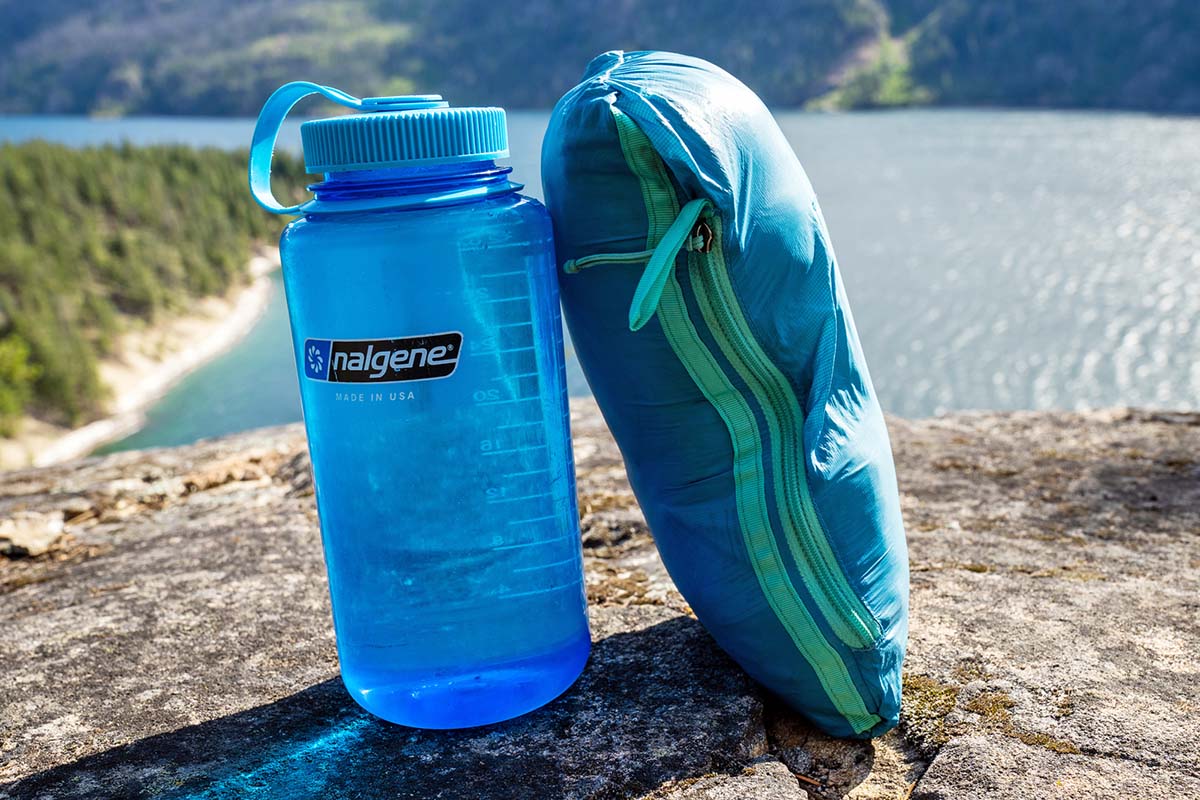 Hybrid Insulation
Most sleeping bags are exclusively down or synthetic, but not all jackets fall neatly into one category or the other: Keep an eye out for down/synthetic hybrids. Arc'teryx does this with its Down Composite Mapping, a system where they use down around the core of the body and synthetics in areas (cuffs, underarms, etc.) that are most prone to collecting moisture. Fjallraven's Expedition series is another example that boasts synthetic insulation at the shoulders for extra weather resistance and toughness. All in all, we think it's a great way to maximize the performance benefits of both types of insulation, including warmth where it matters most with added assurance against rain and snow.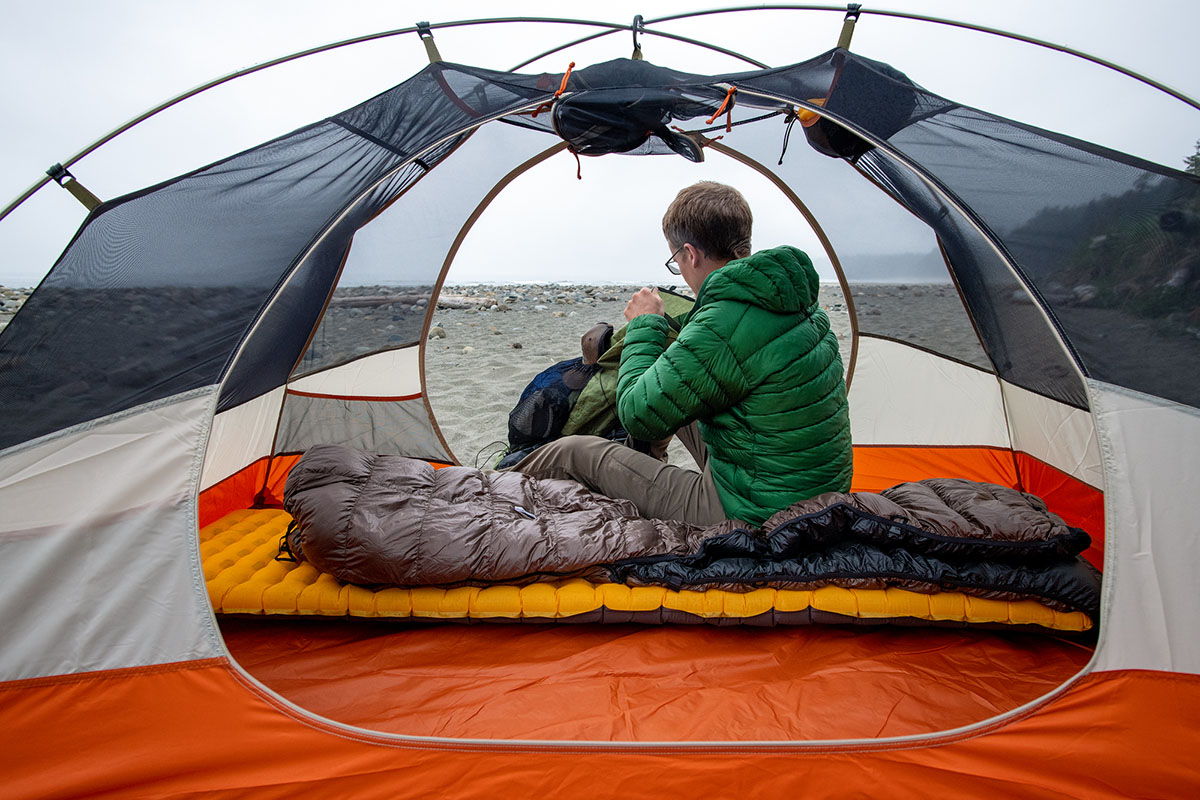 Performance Considerations
1. Warmth-to-Weight Advantage: Down
Without a doubt, down holds the warmth-to-weight crown. Down fill, and particularly premium goose down at 800-fill power and above, offers the ultimate in lightweight warmth. Simply put, you need more synthetic insulation to achieve the same warmth, resulting in more weight. Synthetics are making good efforts to catch up in this regard, including high-end insulations like Patagonia's PlumaFill and The North Face's ThermoBall Eco, but overall, the warmth gap remains. For example, consider the synthetic Mountain Hardwear Shasta 15 and down REI Co-op Magma 15 sleeping bags. The Magna is not only slightly warmer, but it's considerably lighter, clocking in at 1 pound 12.2 ounces compared to the Mountain Hardwear's 3-pound-3.7-ounce weight.
2. Compressibility Advantage: Down
Like warmth, down is also known for its compressibility. You can stuff a lightweight down jacket to about the size of a water bottle, and much more tightly than a comparable synthetic. Keep in mind that the quality of down (and therefore its loftiness) matters in this equation: the higher the fill power, the more the down will compress. Compared to low- and medium-quality down (ranging from about 450- to 650-flll power), high-end synthetics aren't that far behind—especially highly compressible insulations such as Patagonia's PlumaFill and The North Face's ThermoBall Eco.
One thing to keep in mind when stuffing your down jacket or sleeping bag is that leaving it stuffed can cause permanent damage. Compression sacks can pack a down sleeping bag into an incredibly small package, but you should use the much larger cotton or nylon sacks to let them expand when they are in storage. If you fail to take your gear out of its compression bag or stuff sack, you can damage the down and it may never regain its original loft.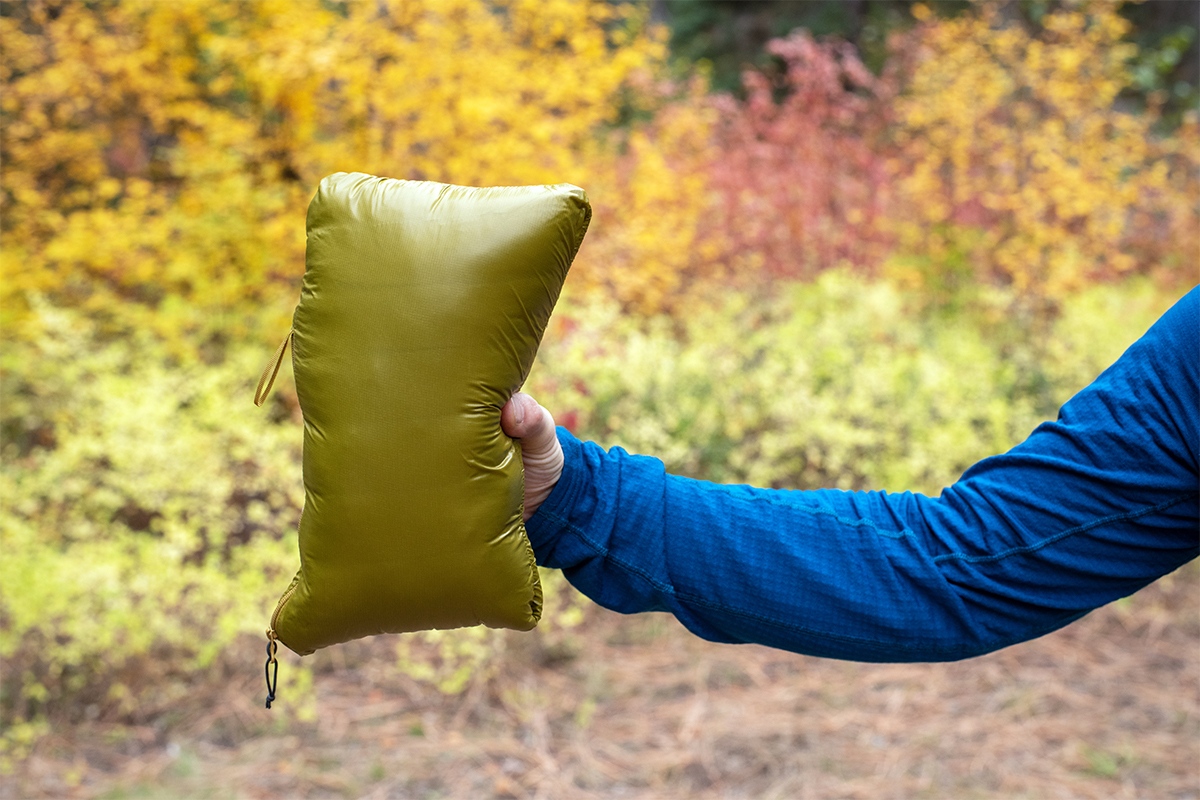 3. Water Resistance Advantage: Synthetic
Perhaps the single biggest selling point of synthetic insulation is its ability to insulate when wet. Down soaks up water, clumps together, and loses its loft, thereby losing its insulating properties. Synthetic insulation, on the other hand, maintains its loft (and therefore, its insulating abilities) when wet. This means that synthetics have the clear advantage in damp climates or when there's a chance of rain or wet snow.
That said, we'd be remiss not to mention hydrophobic down here. Hydrophobic down, or plumage that has been treated with a water-repellent coating, is able to resist moisture much better than untreated down and can maintain much of its loft and insulating abilities when wet. Further, many down jackets or sleeping bags will have an additional DWR treatment or waterproof membrane built into the shell. These weatherproofing techniques resist water to a reasonable degree and are in many ways superior to non-treated shell fabrics or down. However, they by no means create an impenetrable barrier, and will not stand up to truly inclement conditions like sustained rain or snow. In the end, synthetic still wins out.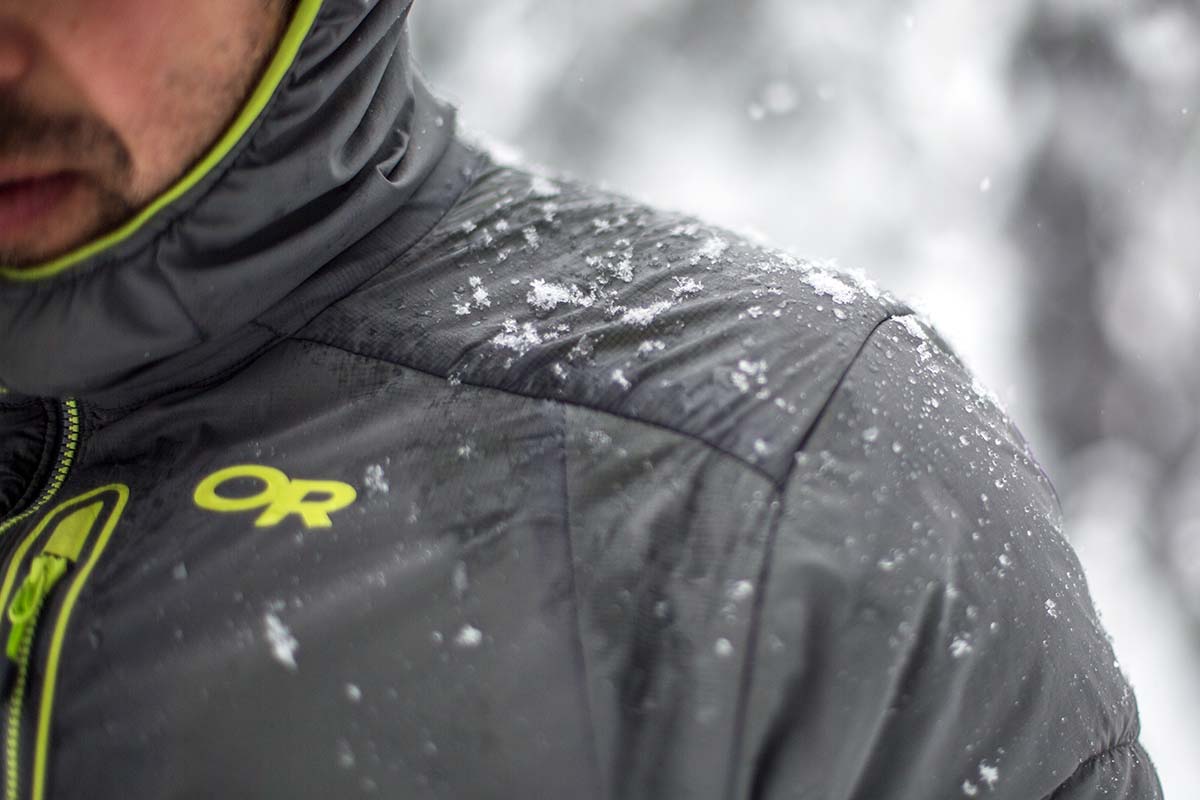 4. Breathability Advantage: Synthetic
Down is such an effective insulator because it traps your body heat and keeps it there. Synthetics, on the other hand, aren't as good at trapping heat and therefore breathe much more effectively. You'll really notice the difference during high-exertion activities: Synthetic insulation has a way of regulating your body temperature so that you don't get too hot or cold. If you were to wear a down jacket when hiking or cross-country-skiing, however, you would overheat rather quickly. In short, a good synthetic can keep you warm while still allowing enough air to escape. For these reasons, synthetic jackets are ideal for activities like climbing, biking, and ski touring (but keep in mind that less insulation results in more breathability). And you always can throw on a breathable softshell jacket on top for added protection. 
 
5. Comfort Advantage: Tie
In terms of pure coziness, down wins out in most cases. It's super warm and light at the same time, giving you that pillowy feeling that you just won't get with synthetics. For sleeping bags, it's not even close: The loft of down puts it head and shoulders above synthetic fill in terms of comfort. However, for daily use and with jackets in particular, we often opt for synthetics instead. Most down jackets are too warm to wear indoors, and outside of the summer, we frequently keep our synthetic jacket on all day. The lower warmth and better breathability help indoors, and that makes them the more versatile piece for daily wear. Further, synthetic jackets will often have a more sweatshirt-like shell (the Patagonia Nano-Air, for example), rather than the shiny, "swishy" nature of most down shells.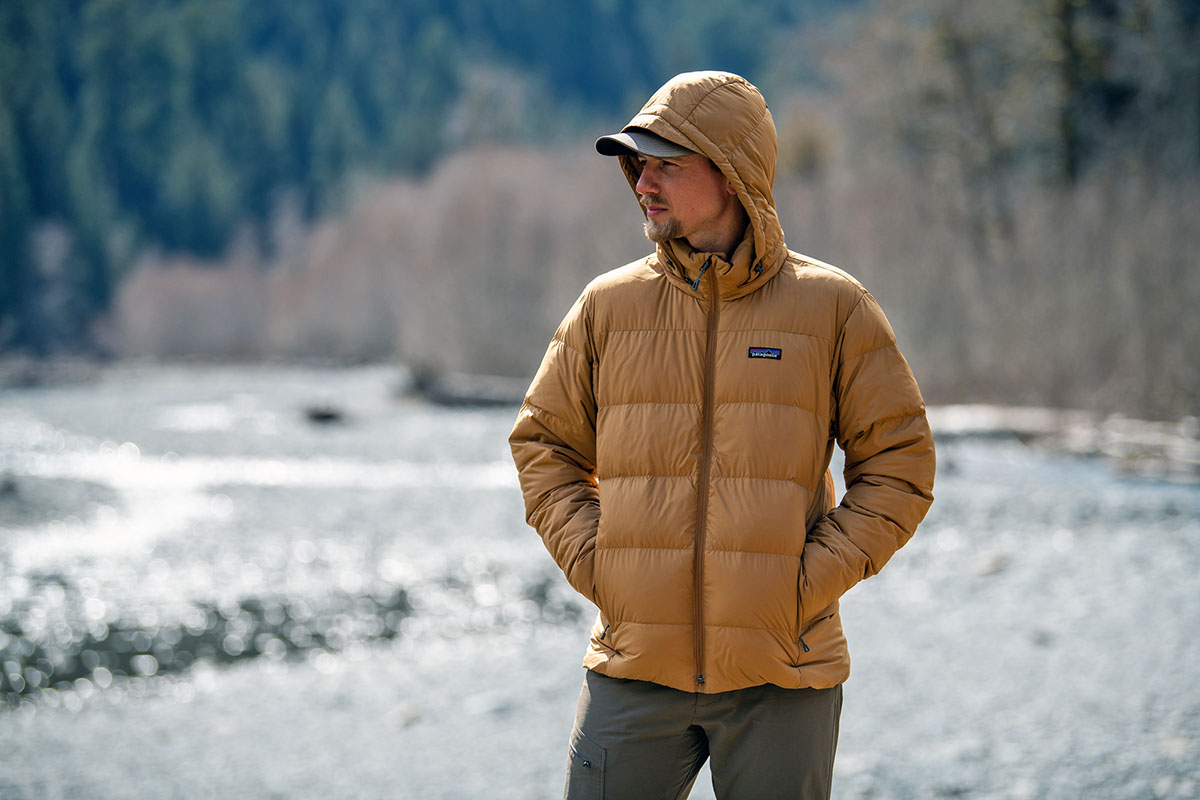 6. Durability Advantage: Tie
This is an interesting topic: Down plumage is inherently durable, but down products tend to leak over time and therefore slowly lose warmth (if you see a feather protruding, massage it back in rather than pulling it out). Further, you can rip the relatively thin shell fabric of these jackets and lose a lot of down quickly, and you can also damage the loft of your down if you leave it compressed for too long. Synthetics, on the other hand, lack the natural durability of down. They tend to slowly lose their form and the fibers break down over time, particularly if you are compressing them frequently. However, the shell fabric found on synthetic jackets is often burlier and more abrasion-resistant, meant to take a beating on rock, when packed with sharp ski equipment, and around town.
We consider durability to be a tie, with each insulation having their advantages and disadvantages. You won't want to wear your down jacket around rock or sharp branches, but it's likely too warm (and not breathable enough) to have it on during activity anyways. Treated well, down products should have a very long life (we're still using our dad's sleeping bag from the 70s). Conversely, synthetic products have a limited lifespan from the start, but most can take a beating much better than down. And with either type of insulation, it's key to treat it well. Proper storage is essential, including keeping your jacket or sleeping bag unstuffed in your gear closet. Cleaning the item on occasion can help remove oils and dirt. For sleeping bags in particular, it's not a bad idea to use a simple silk liner to prevent your body oils from being in constant contact with the fibers throughout the night.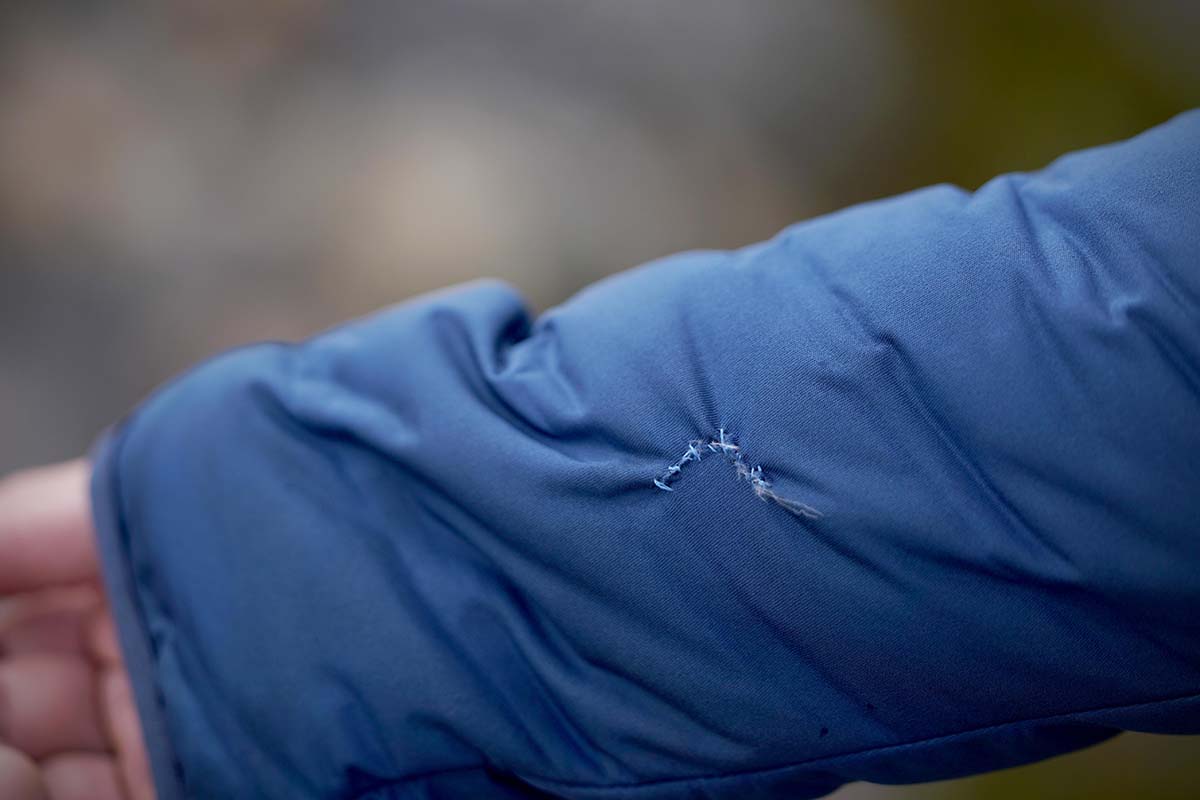 7. Price Advantage: Synthetic
Without a doubt, synthetic insulation is cheaper than down. The cost of down continues to rise—supply is low and demand is high—and it's just not easy to get that super-soft goose plumage in the quantities that outdoor gear manufacturers need. Synthetic insulation can also be pricey, and particularly newer high-end products designed to mimic down, but it's still the cheaper option. For example, Arc'teryx's leading lightweight down jacket, the Cerium LT Hoody, is $379. Their leading lightweight synthetic jacket, the Atom LT Hoody, costs $259. And from our sleeping bag example above, the Mountain Hardwear Shasta 15 costs $170 compared to $399 for the REI Co-op Magma 15. Depending on the product, you can expect to save one-third or more by going with a comparable synthetic piece.

8. Sustainability Advantage: Neither
When it comes to the sustainability debate, neither down nor synthetic escape without blame. It's easy to point the finger at down: we're probably all familiar with the ethical concerns involved with sourcing feathers, which include ducks and geese suffering live plucking and force feeding. Thankfully, programs like the Responsible Down Standard and Patagonia's Traceable Down Standard certify responsibly sourced down, making it possible for the consumer to shop ethically. And to add to the pro-down argument, keep in mind that feathers have a much longer lifespan than synthetic insulation—down products can offer great performance and warmth for literally decades.
While synthetic fills have been less scrutinized, they have their own set of issues. For one, most are petroleum based, which results in greenhouse gas emissions and potentially unsafe work environments. Many manufacturers have attempted to make their production more sustainable by using recycled materials, which is a great start. That said, some synthetic fills can release micro pieces of plastic into the water during each wash, an issue that is becoming more and more of a global problem. In the end, the most sustainable solution is to buy nothing at all and do what you can to extend the life of what you already own. And if you do make a purchase, we encourage you to be a responsible consumer and choose products with RDS-certified down or recycled synthetic fill.
 
Our Favorite Down and Synthetic Gear
After all of the discussion on down vs. synthetic insulation, there are important gear decisions to be made. We've tested a lot of outdoor gear and picked our favorites, including the best down jackets, synthetic jackets, and backpacking sleeping bags. For even more categories, check out our ski gear reviews and hiking gear reviews, both of which cover almost everything you need to get outdoors this year. 
Learn More About Outdoor Gear