Arc'teryx's Alpha series is designed for demanding climbing and alpine use, and their latest Alpha SL Anorak is yet another well-made technical piece. Short for "superlight," the Alpha SL slots in as the brand's lightest climbing hardshell, combining a protective 3-layer Gore-Tex construction, surprisingly good durability, and a sub-7-ounce build (for the women's version). The anorak-style jacket is decidedly streamlined and doesn't have many bells and whistles, but the combination of weight and performance are hard to beat for those who like to travel fast and light in the mountains. Below we break down our experiences with the Alpha SL Anorak. To see how it stacks up to the competition, see our article on the best hardshell jackets.
 
---
Table of Contents
---

Performance
Weather Protection
Despite its remarkably low weight and thin build, the Arc'teryx Alpha SL Anorak's proven 3-layer Gore-Tex construction ensures it doesn't compromise on protection. It's worth noting that previous versions of the SL used 2.5-layer Gore-Tex in order to shave weight, but the step up to 3 layers has done a lot to improve overall weatherproofing and breathability (more on the latter below). The jacket's most demanding test came during a multi-day backpacking trip along the Juan de Fuca Trail, where we spent a night camping on the west coast of Vancouver Island—an area notorious for being one of the wettest places in North America. Despite being caught in a severe rainstorm with temperatures barely above freezing, the Alpha SL Anorak kept me dry and protected from the harsh rain and winds, leaving none of my midlayer (the Arc'teryx Cerium SV Hoody) exposed to the elements.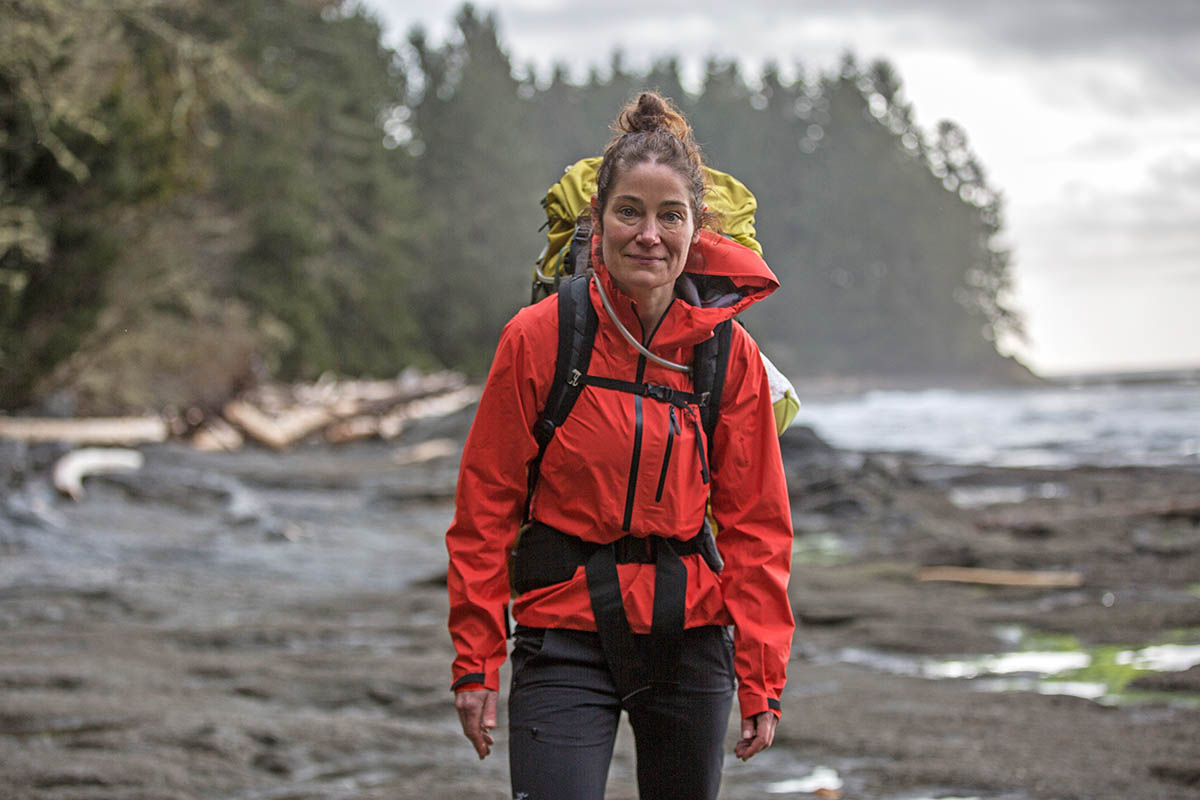 Given the jacket's ultralight intentions, it doesn't come with many extra bells and whistles, but all the essential protective features are there. Despite its trim fit, the shell offers surprisingly good coverage with a generous hem and sleeve length (it's listed at 27.5 in. down the back), even while reaching overhead. Additionally, the StormHood can easily be cinched with a single adjuster that tightens both the halo and aperture, which secures it snugly over a climbing helmet, beanie, ballcap, or the hood of a down or synthetic jacket. Finally, the sleeves have a Velcro tab for cinching at the wrists, and the hem can be tightened with a single toggle at the waist. Combined with the quality waterproofing, these features proved to be very effective at sealing out wind and rain, and I've had no issues with wetting out or moisture making its way through the shell.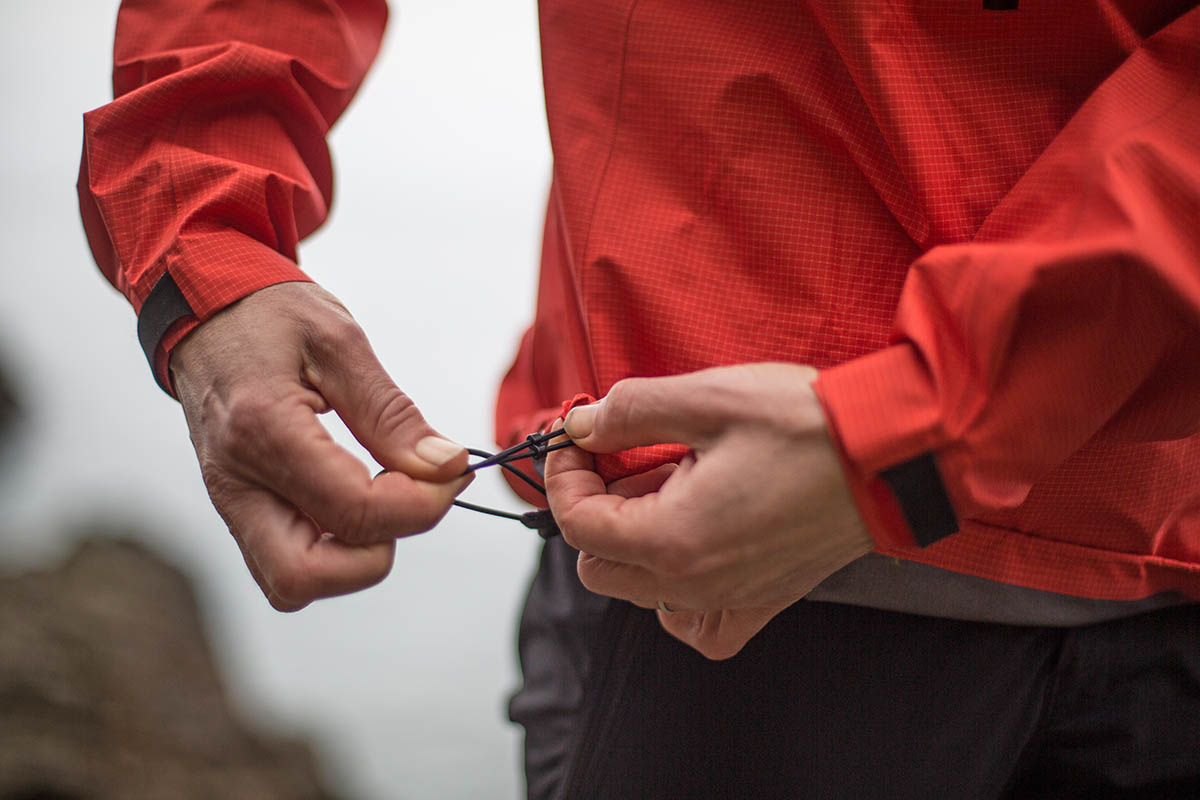 Breathability
I've worn the Alpha SL Anorak on a number of hilly North Shore runs and have been impressed by the level of breathability. On our follow-up outing along Vancouver Island's Juan de Fuca Trail, which has a good number of technical sections and a surprising amount of elevation gain (for a coastal hike, that is), I managed to stay dry and comfortable despite very effortful hiking. This is largely due to the jacket's 3-layer construction, which breathes much better than my Arc'teryx Beta SL Hybrid, for example, which uses a combination of 2-layer Gore-Tex in most areas with 3-layer in high-wear spots. And despite the lack of pit zips or other means of venting, I found that if needed, the Alpha SL Anorak's partial-length zipper can be opened enough to effectively cool off. Those adventuring in true summertime temperatures will likely overheat, but it's a nice match for cooler conditions typical at higher elevations.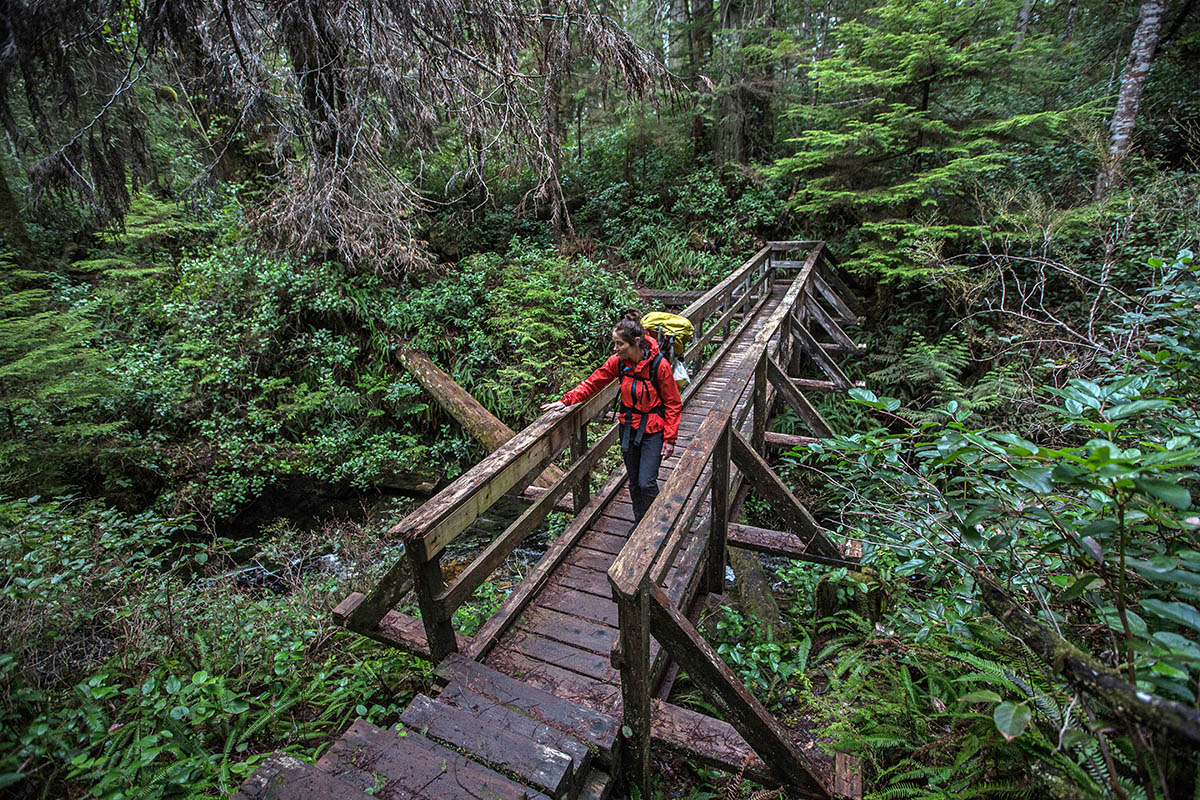 Weight and Packability
The "SL" in the Alpha SL Anorak's name is short for "superlight," and at a mere 6.3 ounces (for a women's small), we consider that a very appropriate designation. In fact, taking to account the generous coverage, reasonably durable build, and full waterproofing, it's truly remarkable and a real standout in the hardshell market. The only other jackets that come close are what we would define as "emergency" rain shells, including Outdoor Research's Helium (5.6 oz.), which falls notably short of the Arc'teryx in both protection and breathability with a less premium 2.5-layer construction. Montbell's specialized Versalite also slightly undercuts the Alpha SL at 5.8 ounces, but it's thinner, technically only water-resistant, and lacks the overall fit and finish of the Arc'teryx. Other alpine-focused 3-layer options, including Patagonia's Storm10 and Black Diamond's Highline Stretch, clock in heavier at 7.4 and 10.7 ounces respectively.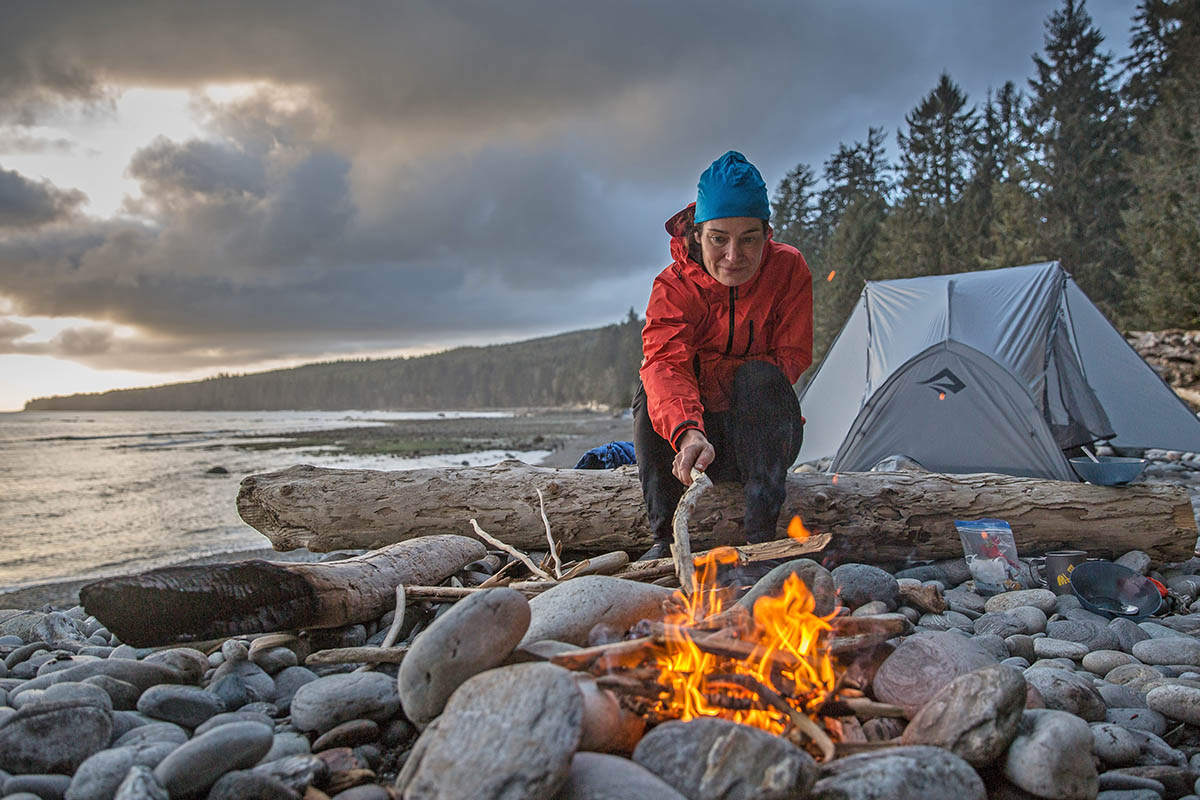 Weight and packability almost always go hand in hand, so it came as no surprise that the Alpha SL Anorak packs down remarkably small. For reference, the jacket does not have a stuff sack or dedicated stuff pocket, but it can easily be cinched into its hood and stowed in my 600mL camping mug or any tiny crevice in my pack. And given the diminutive size and quality waterproofing, I have no qualms about stuffing it in my hydration vest and bringing it along on long runs when the forecast is questionable.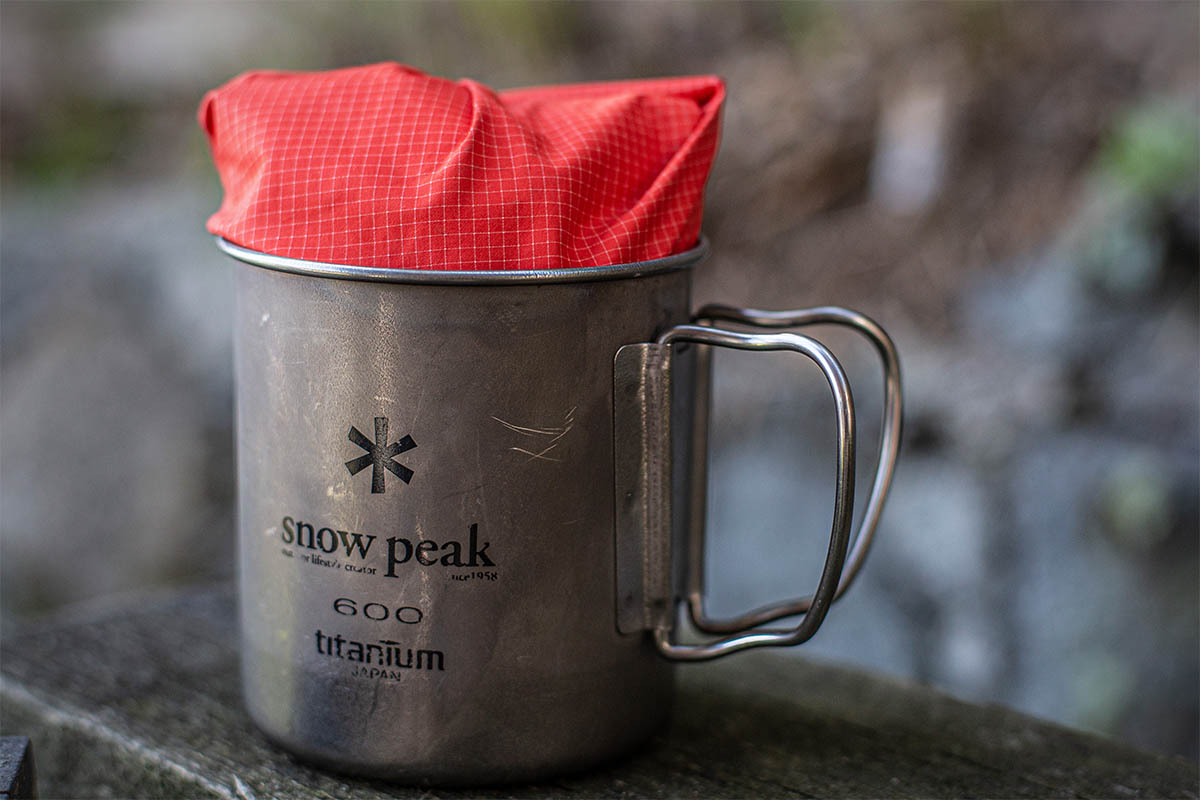 Build Quality and Durability
Arc'teryx's Alpha series is designed for demanding alpine use, which often includes sharp equipment and rugged terrain, and the Alpha SL Anorak is up to the task. Typically, UL designs boast more delicate shell fabrics to cut weight, but Arc'teryx came up with a unique solution in their liquid crystal polymer ripstop called Hadron. First debuted in their Alpha packs a couple years ago, the tightly gridded material offers impressive strength and resistance against tears and abrasion. This means that while the face fabric is listed at a fairly thin 20-denier (D), the Alpha SL has proven to be surprisingly hardwearing and robust.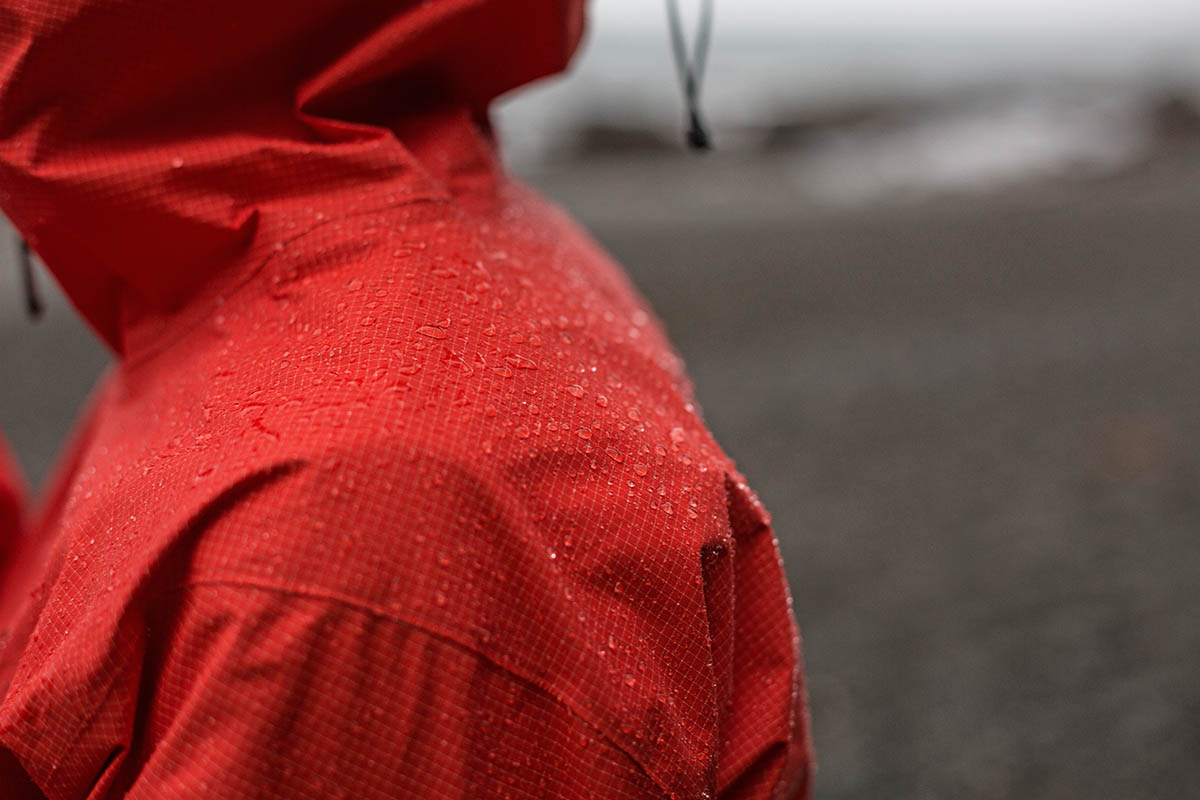 We used the early season to explore new-to-us trails in the North Shore Mountains, which are fairly unforgiving with rain, sleet, and wind this time of year, but the Alpha SL deftly brushed off everything Mother Nature threw our way. After these excursions, I had enough confidence in the jacket to bring it along as my sole outer layer for our multi-day backpack, where it performed well under the weight of a full, 62-liter backpacking pack with no signs of wear from the straps or my many falls on slick roots and rocks. Additionally, there are no loose threads or seams out of place, and all zippers are intact and operating smoothly. Again, 20D is on the thin end, so don't expect any miracles if you're climbing sharp rock or constantly brushing up against branches or other abrasive objects, but the Alpha SL doesn't feel overly compromised like many of its ultralight competitors.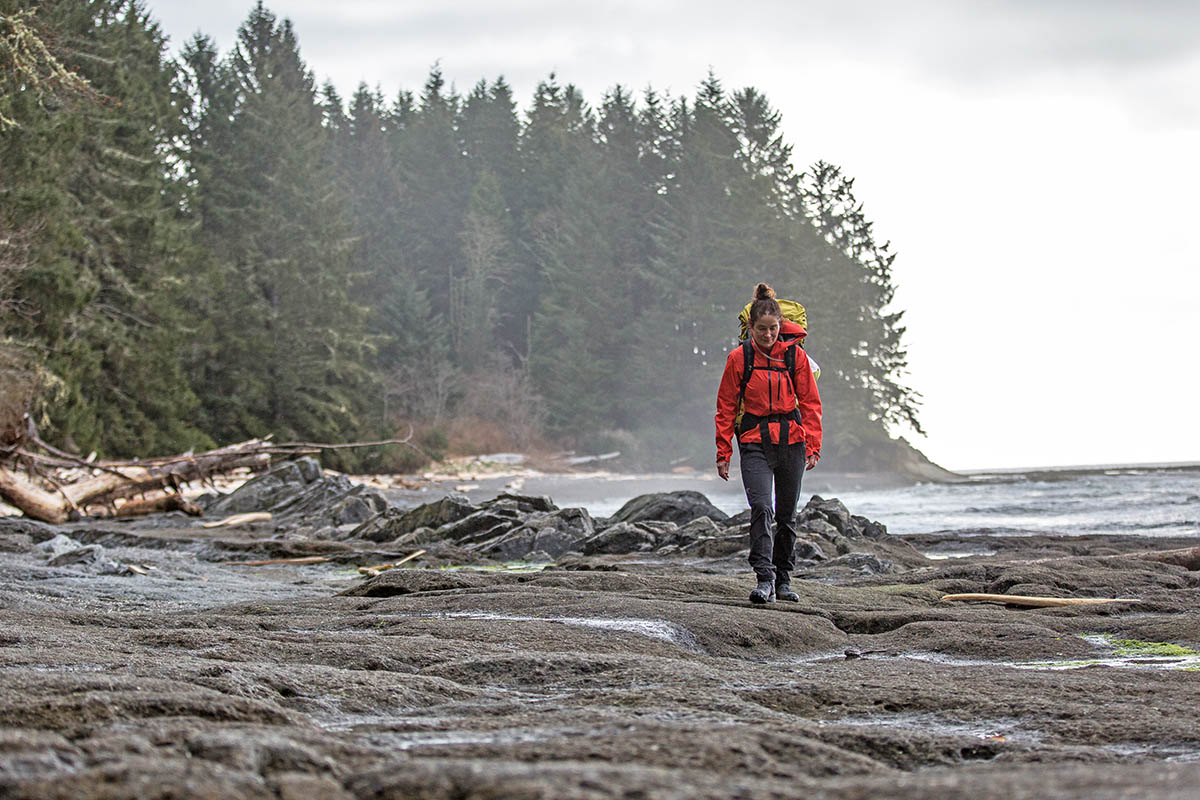 Key Features
StormHood
We've been big fans of Arc'teryx's protective StormHood design for years, and the Alpha SL Anorak is yet another excellent execution. The hood is large enough to easily fit over a climbing helmet, and the single adjuster effectively cinches the hood securely to seal out wind and precipitation. As I mentioned previously, I was able to tighten it over the hood of my Cerium SV Hoody without leaving any of the Cerium exposed—a pretty remarkable feat given that jacket's lofty down fill. And with the hood cinched, the brim is effective at keeping rain out of my eyes without obscuring peripheral vision.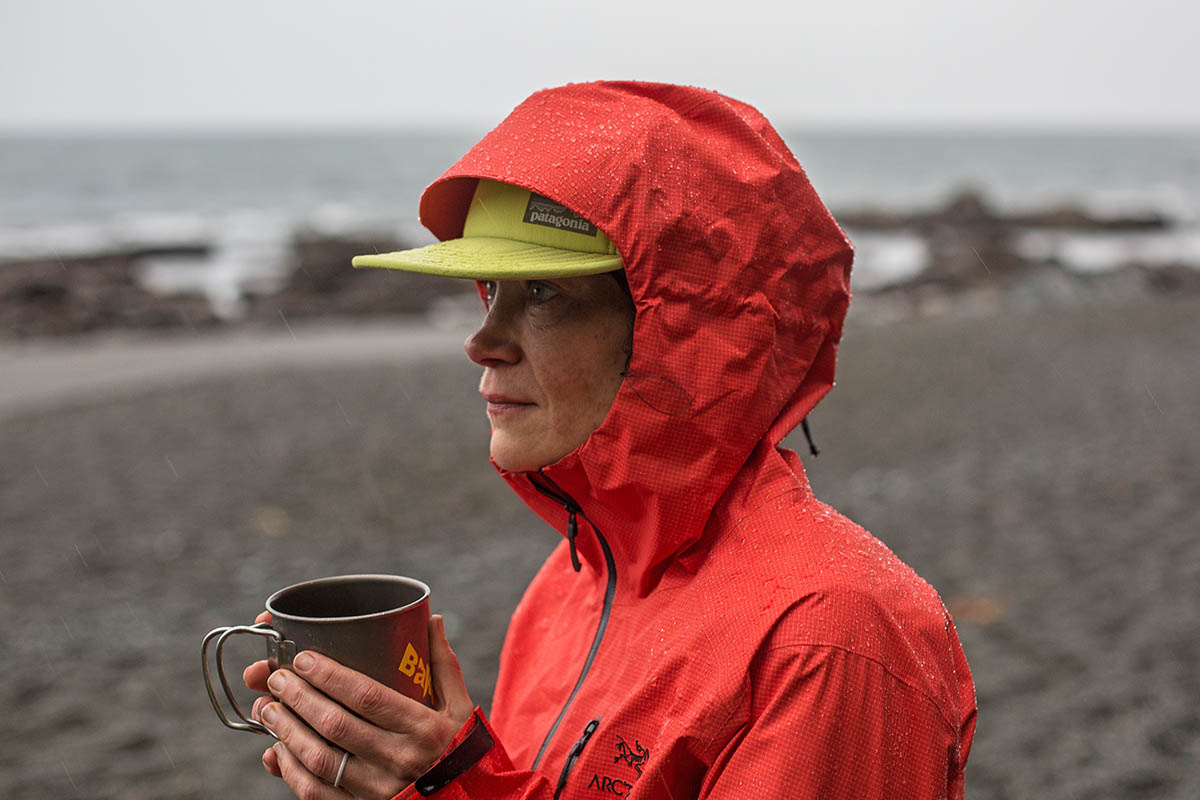 Storage: Pockets
One of the most obvious giveaways to the Alpha SL Anorak's ultralight focus is its minimalist storage layout, which includes just a single chest pocket. The pocket is large enough to easily stow my large phone or Garmin inReach device, but I did find myself wishing for hand pockets or another spot for essentials on more than one occasion. Adding additional storage would come with a weight penalty, but in my opinion, it would be a worthwhile addition.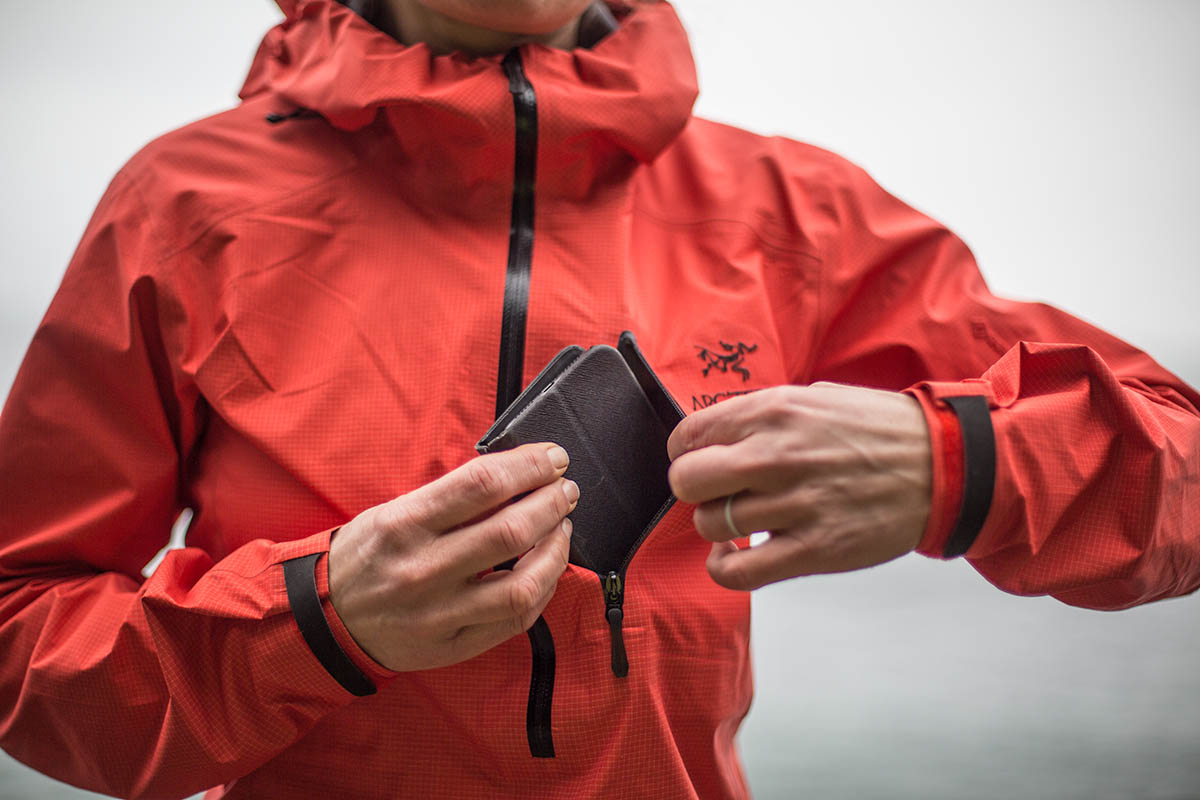 Fit and Sizing
The Alpha SL Anorak is listed as having a "trim" fit, and I agree with that labeling. In my usual women's size small, I found the jacket to be fairly fitted and able to be layered under another insulative piece for warmth but still roomy enough to accommodate a down jacket (like my Arc'teryx Cerium SV) underneath if needed. Additionally, the hem is long enough to sit snugly below my butt (it's listed at 27.5 in. down the back), and the sleeves allow me to reach overhead without exposing my wrists. I'm even able to tuck my hands into them while walking. Some might prefer a bit more stretch in the fabric for mobility-dependent activities (Black Diamond's Highline Stretch is a nice option), but I have never felt limited or restricted in any way.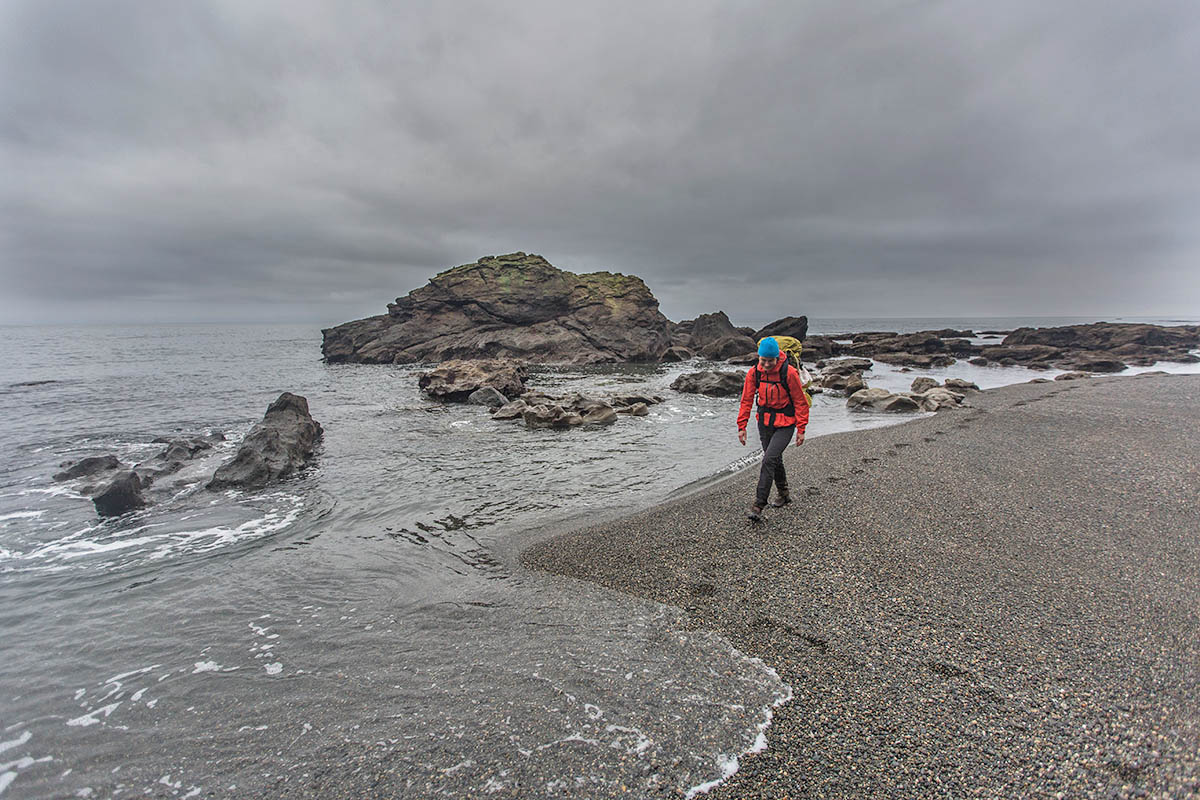 All that said, the anorak style isn't for everyone, and the on/off process in particular can be a bit cumbersome. My narrow build helps, but I expect those with wider frames will struggle to take the jacket off (sizing up could be a good idea if you have broader shoulders in particular). In the end, it's not a deal-breaker for me, but it does detract from overall convenience. For example, when we were caught in a rainstorm and making a beeline for our tent, I struggled to remove the jacket while crawling inside and ended up dripping water on my dry gear and sleeping bag.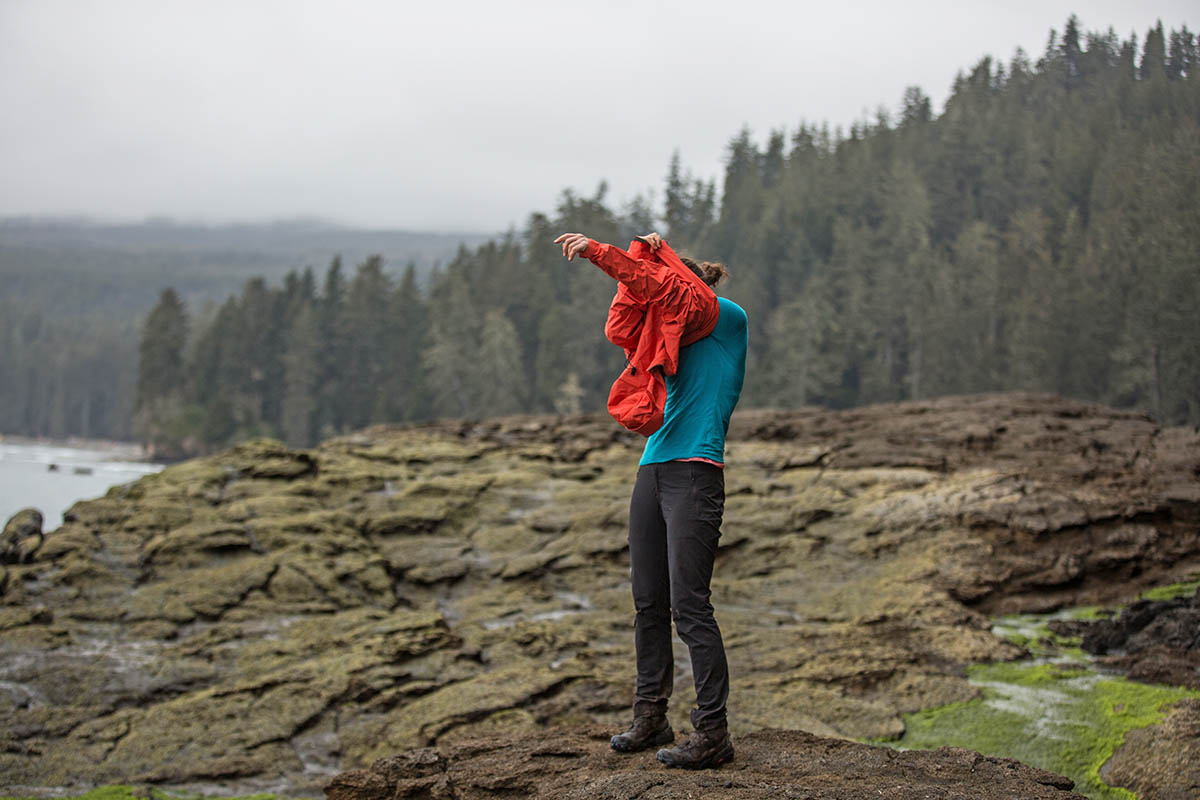 Men's Arc'teryx Alpha SL Anorak
In addition to the women's Alpha SL Anorak tested here, Arc'teryx also makes the shell in a men's version for the same price. The men's Alpha SL Anorak weighs around an ounce more at 7.4 ounces but retains an identical feature set and overall construction, including the use of 3-layer Gore-Tex for waterproofing, a single chest pocket, and a helmet-compatible StormHood. Colorways are also very similar, with both designs available in the same bright Dynasty option.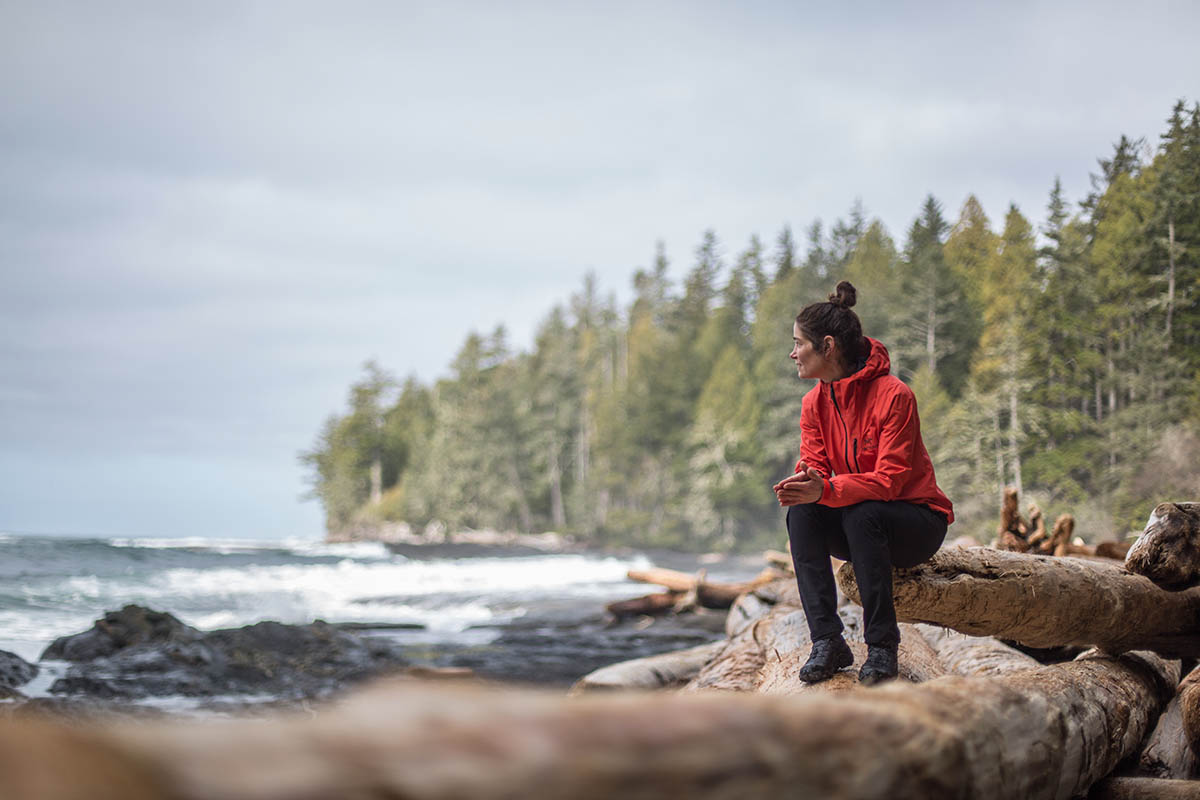 What We Like
The Alpha SL Anorak is exceptionally light and packable while still offering great durability and abrasion resistance.
3-layer Gore-Tex build is highly protective and easily fended off the harsh conditions on Vancouver Island.
Despite the jacket's trim fit, it can be layered over or under another jacket, and the hem and sleeve lengths provide great coverage when bending over or reaching overhead.
StormHood design is easily adjustable, has an accommodating shape, and offers great all-around coverage.

What We Don't
Only sold in an anorak style, which has some limitations (including a more involved on/off process).
Barebones feature set including a single pocket and no pit zips.
Pretty pricey at $375 considering the very streamlined and targeted build.
Some might prefer a stretchier face fabric for mobility-dependent activities.


Comparison Table
The Competition
Arc'teryx's Alpha SL Anorak is a remarkably light and packable piece that's purpose-built for alpine missions, making it a fairly targeted option within the larger hardshell jacket market. In this niche category, Patagonia's new Storm10 Jacket has similar intentions. Like the Alpha SL, the Storm10 is a minimalist 3-layer shell, but in this case, Patagonia opted for their in-house H2No waterproofing, which translates to a step down in all-out protection from the Arc'teryx's Gore-Tex build. That said, the Patagonia adds helpful features like hand pockets, a full zipper for easier on and off, and a self-stuffing build. The Storm10 is heavier by around an ounce, but it's still an impressively light piece and undercuts the Alpha SL by a considerable $76. Unless you anticipate encountering truly nasty conditions and extended bouts of heavy rain, the Storm10 strikes us as the more well-rounded option (for more see our in-depth Storm10 review).
Another lightweight alpine shell to have on your radar is Black Diamond's Highline Stretch. Like the Storm10, the Highline uses BD's in-house waterproofing membrane rather than more premium Gore-Tex. This translates to a less bombproof feel in inclement weather, although we do love the slight stretch and boost in mobility. Like the Alpha SL, the Highline also boasts a climbing helmet-compatible hood but adds in pit zips and hand pockets. As a result, weight jumps to 10.7 ounces, and we found the Highline's construction to be thin and less confidence-inspiring than the Alpha SL (unfortunately, BD doesn't list the fabric denier). In the end, a final decision will likely come down to budget (the Highline costs $300) and preferences on protection versus comfort and features.
From within Arc'teryx's own lineup, their Beta FL and LT are two high-quality hardshell alternatives. Starting with the Beta FL short for "fast and light"), you get Gore's top-of-the-line Pro waterproofing, a more robust 40D build, and a functional feature set for 4-season use including three total pockets and ample adjustability for sealing out the elements. And impressively, Arc'teryx managed to keep weight pretty low at 11.1 ounces for the women's version, which is around 5 ounces heavier than the Alpha SL Anorak (although the Beta is still plenty packable for fast and light trips). All in all, given the Alpha SL's standard Gore-Tex build and half-zip pullover style, we consider it the more compromised design and less of an all-rounder than the Beta FL.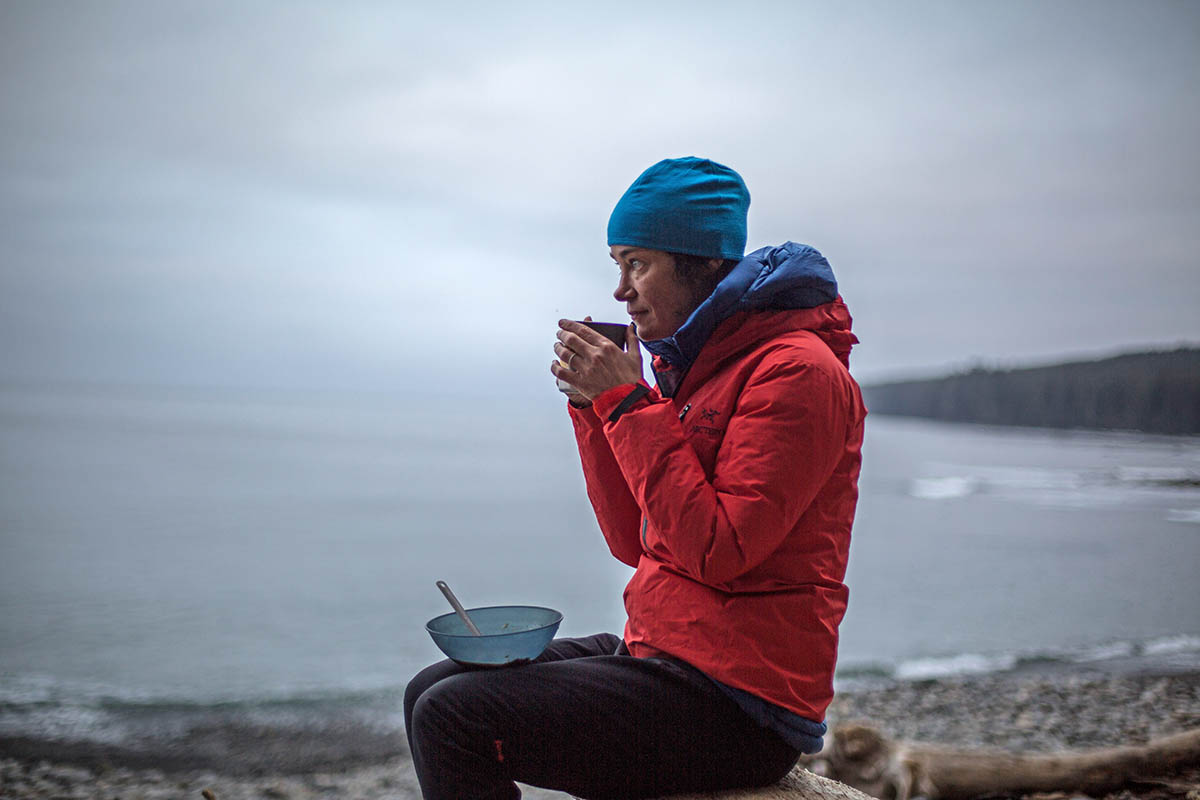 Last but not least is Arc'teryx's aforementioned Beta LT, which uses a similar 3-layer Gore-Tex construction as the Alpha SL Anorak. It also boasts an adjustable and helmet-compatible StormHood, two hand pockets (but no chest pocket), pit zips for dumping heat quickly, dual hem adjustments, and a thicker 40D build (the Alpha SL is 20D). But again, these additions do come with a weight penalty, with the women's Beta LT checking in at 12.3 ounces (the heaviest option among this grouping). Dedicated alpine climbers will likely prefer the Alpha SL Anorak's lower weight and smaller packed size, but the Beta LT is undeniably the less targeted and more well-rounded piece for most hikers and backpackers, and it even crosses over well for daily use.
Editor's note: We usually provide a live price comparison table below our outdoor gear reviews, but the Alpha SL Anorak is sold exclusively by Arc'teryx. You can see the Alpha SL Anorak page here and support us in the process. Thanks!
Read More From Switchback Travel