Arc'teryx's Beta collection includes many of our favorite hardshell jackets. The latest Beta LT Hadron slots in as the lightest offering but doesn't suffer the standard ultralight pitfalls thanks to its innovative Hadron fabric, which boosts strength and tear resistance. The women's version was an excellent match for my recent month-long trip to Peru, which included an extended backpacking trip in the unpredictable—and often harsh—mountain conditions of the Cordillera Huayhuash. The lack of internal storage and pit zips may be a downside for some, but I came away highly impressed by the balance of protection, durability, and weight. Below I outline my experiences with the Beta LT Hadron Jacket. To see how it stacks up to the competition, see our article on the best hardshell jackets.
 
---
Table of Contents
---

Performance
Weather Protection
Lightweight gear was critical on our trip to Peru, but I also wanted my rain shell to be durable enough to wear with a pack and protective enough to fend off harsh mountain weather. Arc'teryx's Beta LT Hadron Jacket fit the bill perfectly, combining a trustworthy 3-layer Gore-Tex construction and ample protective features in a feathery package. In addition to the quality waterproofing, the Beta LT's durable water repellent (DWR) finish and taped seams did an excellent job sealing out rain and snow flurries in the Andes. Wind protection was excellent, too: While thin, the shell did an admirable job blocking the frigid glacial gusts that we encountered for 19 total days while backpacking over high (15,000-16,000 ft.) mountain passes.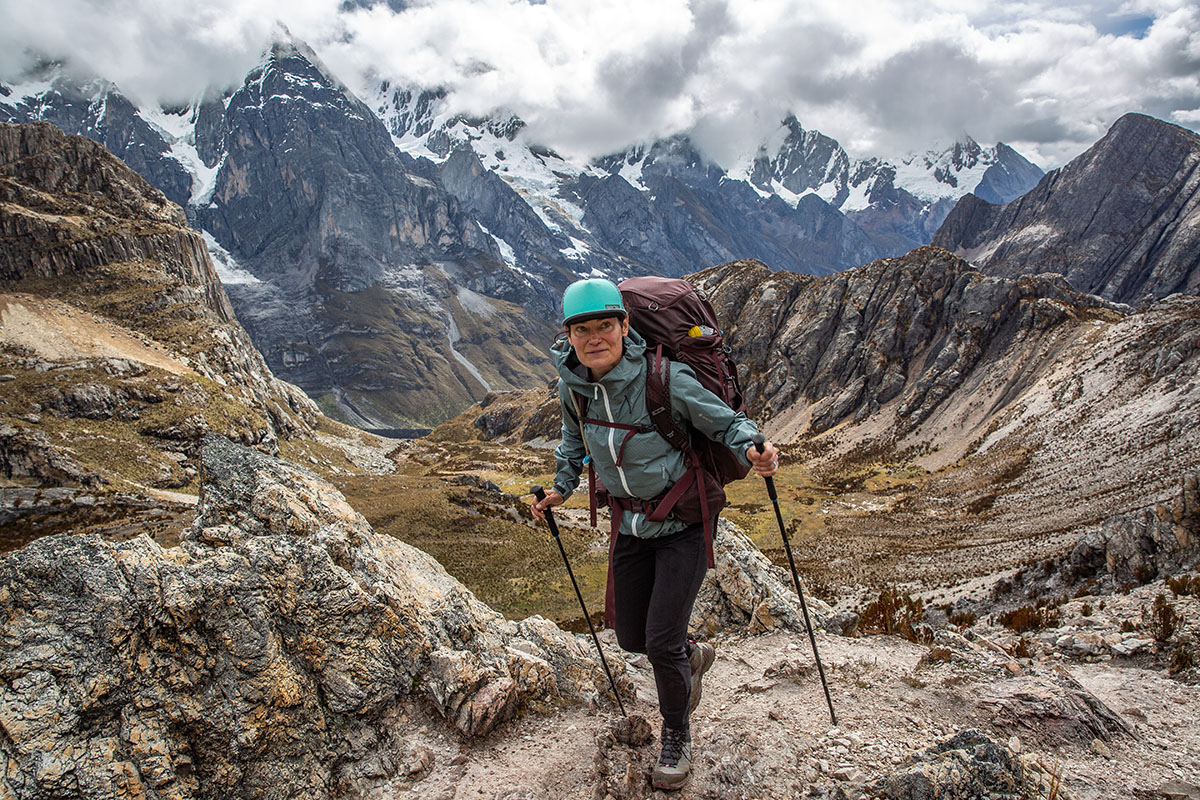 As part of Arc'teryx's all-rounder Beta collection, the Beta LT Hadron comes with a healthy assortment of protective details. The StormHood was large enough to slide over a beanie and the hood of my Arc'teryx Cerium SV down jacket but still easy to cinch down when the weather turned. It also boasts a laminated brim that extends far enough to prevent rain from pelting my face, although I did need to add a brimmed ball cap in horizontal rain and sleet. Like the hood, the pockets are also well equipped for sealing out moisture with WaterTight zippers, which are technically labeled as water-resistant (rather than waterproof) but kept my valuables perfectly dry. Additionally, the cuffs have handy Velcro fasteners that create an effective seal at the wrists, even when tightened over undercuff gloves. Finally, the dual adjusters at the hem allow me to tuck in my midlayer and snug things down to prevent it from getting wet. Added up, the Beta LT Hadron has a very battened-down feel that belies its ultralight build (more on this below).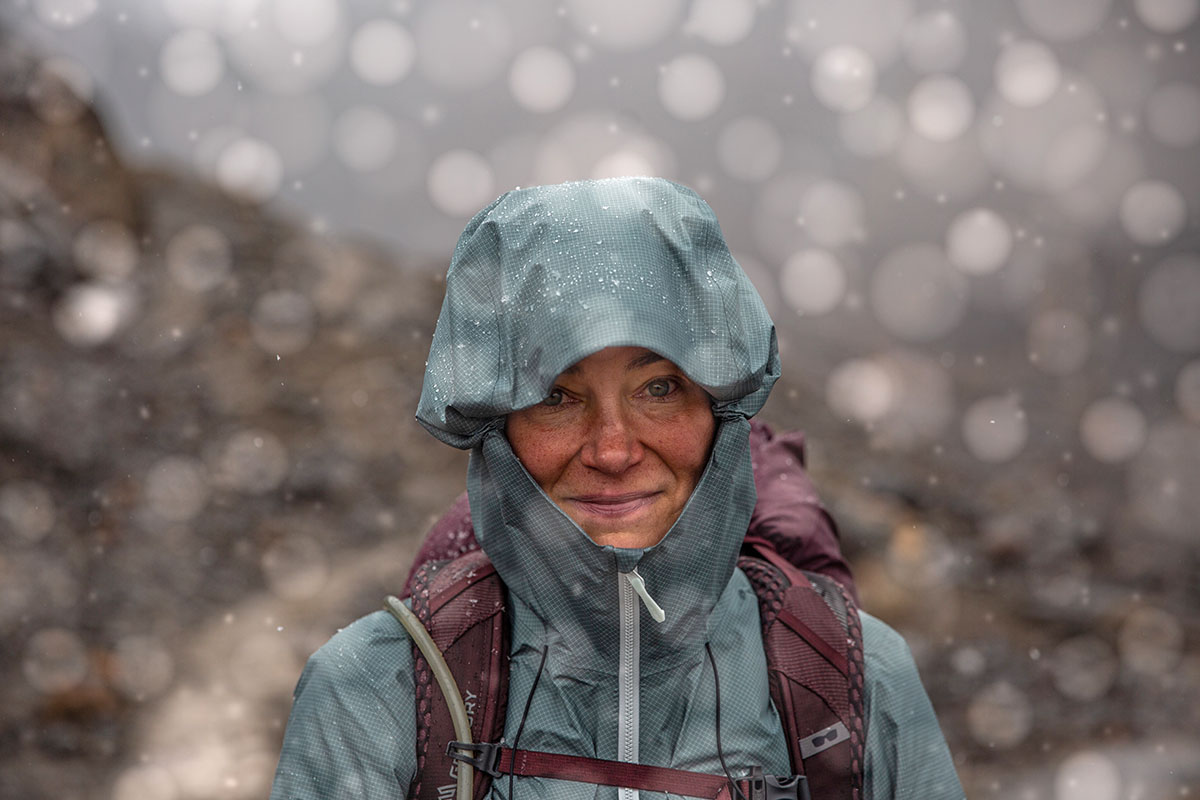 Breathability
Waterproofing and breathability are inherently at odds, but the Beta LT Hadron's minimalist build gives it an impressively light and airy feel. Peru was an excellent place to evaluate the jacket's breathability, with sudden and dramatic temperature swings throughout the day: As soon as the sun rose above the mountains, the valley heated up seemingly instantaneously; most afternoons, rain would start and stop as clouds rolled in and out, cooling things down temporarily. I often kept the Beta on throughout these ups and downs and never grew overly hot and sweaty even when hiking in full sun. In fact, whenever I started to warm up, I opted to remove a midlayer rather than the shell since it breathed well enough while offering much better assurance for the shifting conditions. Again, all waterproof hardshells are going to sacrifice some breathability, and the Beta LT doesn't have pit zips for dumping heat quickly, but opening up the main zipper allowed enough airflow on our high-altitude Peru adventures.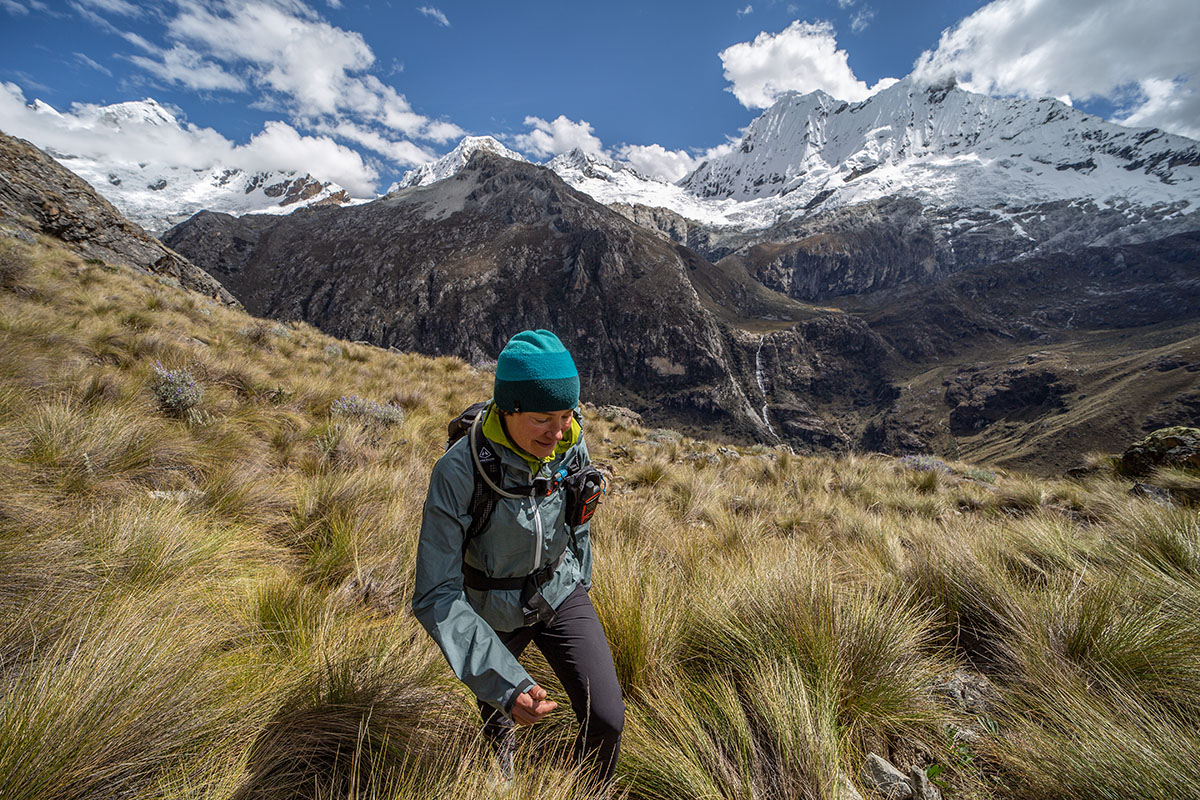 Weight and Packability
Ultralight without being ultra-compromised, we think the Beta LT Hadron hits a real sweet spot in the hardshell market. For reference, my women's small weighs a scant 8.1 ounces and packs down to about the size of a baseball. There's no stuff sack or dedicated pocket for compressing the jacket, but the hood is a decent substitute, and I was able to easily stash the compressed package into the side pouch of both my backpacking pack (the Gregory Deva 70) and daypack (Hyperlite Mountain Gear Daybreak).
To be sure, there are lighter options on the market, including Arc'teryx own Alpha SL Anorak (6.3 oz.), but that jacket lacks a full-length zipper, hand pockets, and adjustability at the hood. In my opinion, the Beta's added features are unquestionably worth the sub-2-ounce weight penalty. I'm still inclined to throw the Alpha SL in my running vest as an emergency layer on long backcountry runs, but for hiking and everyday use, the Beta LT Hadron is plenty light and packable.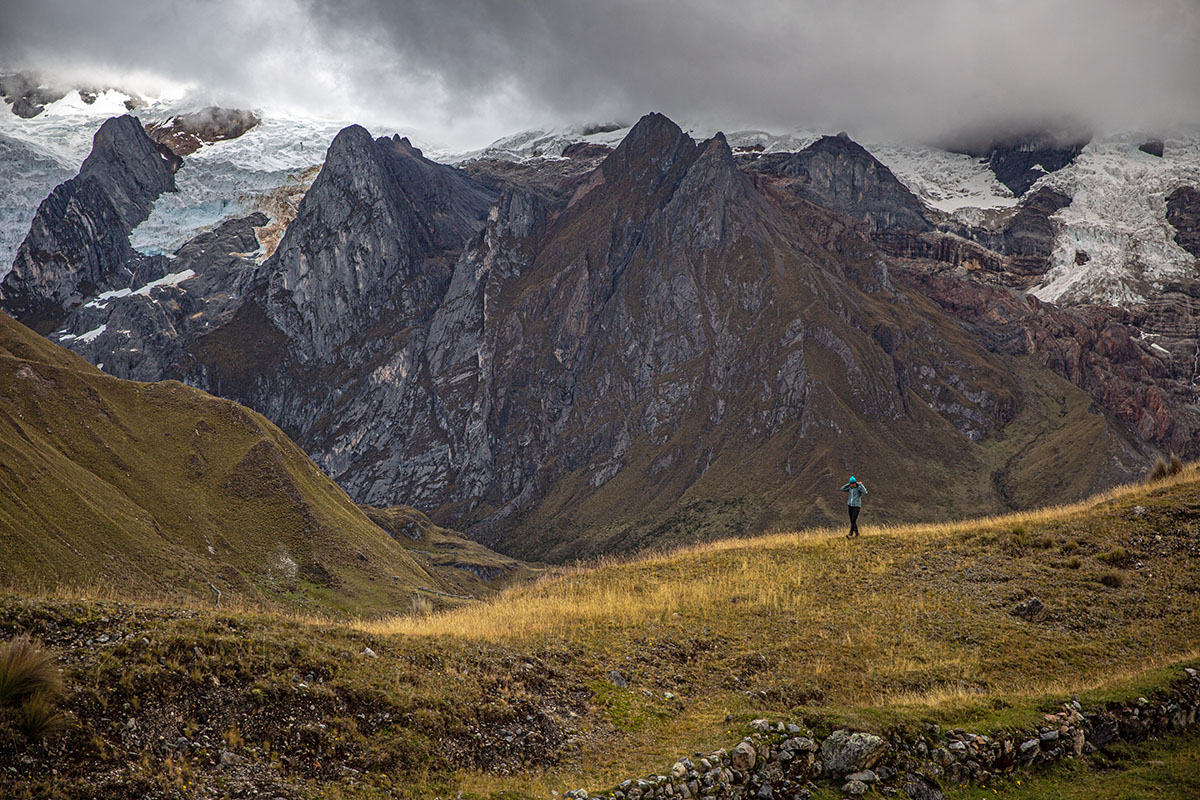 Build Quality and Durability
The Beta LT Hadron Jacket is fairly unique from a durability perspective: While the face fabric is relatively thin at 20 denier (D), Arc'teryx boosted strength and tear resistance significantly with their innovative Hadron material. First debuted in their Alpha packs a few years ago, the liquid crystal polymer fabric is tightly gridded and gives the jacket a surprisingly tough and robust feel. It does add a fairly technical look—which was especially apparent in the lighter colorway that I tested—although the current blue and black options are a little less polarizing. And importantly, the fabric is quiet and comfortable against the skin, which isn't always the case with 3-layer Gore-Tex shells.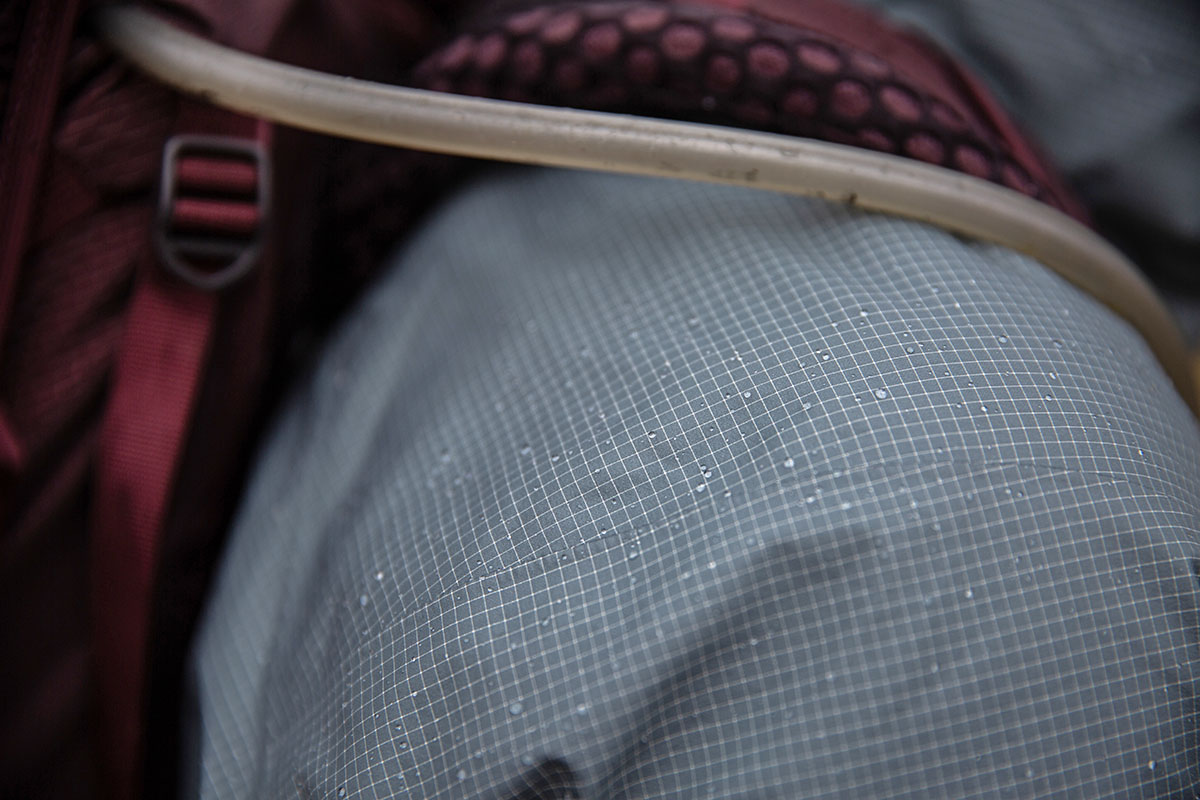 Similar to my experience with Arc'teryx's Alpha SL Anorak (which also uses Hadron), the Beta LT Hadron was confidence-inspiring enough to wear almost daily with a fully loaded backpacking pack in Peru's temperamental weather. Despite the abuse, my jacket still looks like new with no signs of abrasion on the shoulders or other high-wear areas, and all of the smaller components (like the hem/hood adjusters and zippers) are operating flawlessly. To be sure, the 20D fabric is still thin and susceptible to snags on sharp rock and other abrasive surfaces, but the Beta LT Hadron is much more hardwearing than its weight and thickness would suggest.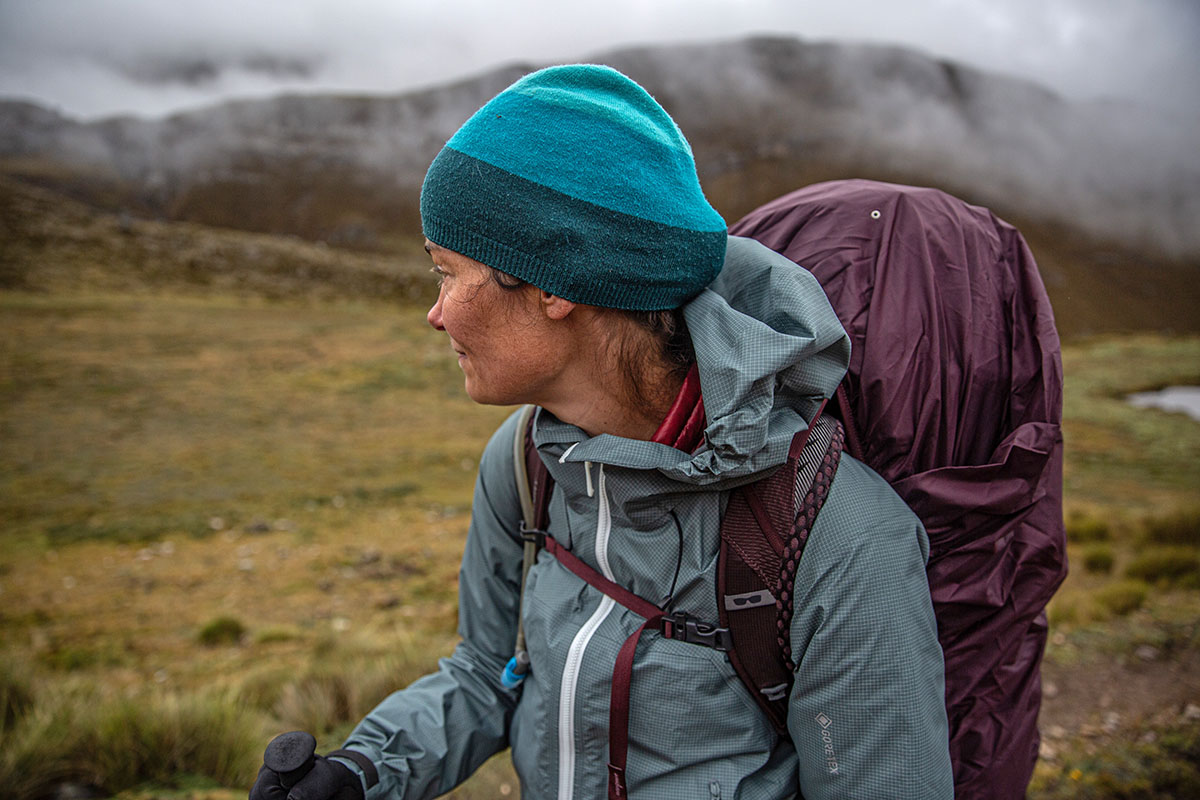 Key Design Features
StormHood
If you've read any of my reviews of Arc'teryx hardshells over the years, you probably know that I'm a sucker for their StormHood. I can't sing the design's praises enough: It's sufficiently large to easily fit over a climbing helmet but snugs down nicely over just a beanie with adjustment points at the back and collar to cinch the halo and aperture, respectively. Importantly, the toggles are easy to manipulate even when wearing gloves (simply pull to tighten and pinch the button to release). As I mentioned above, I was able to stretch the Beta LT's StormHood over the hood of my Cerium SV puffy without any impact on visibility or range of motion, and the laminated brim has held its shape despite consistently being shoved unceremoniously into my pack. A final highlight is the tall collar, which provides coverage up to my nose and includes a soft microsuede chin guard for added comfort when sheltering from the weather.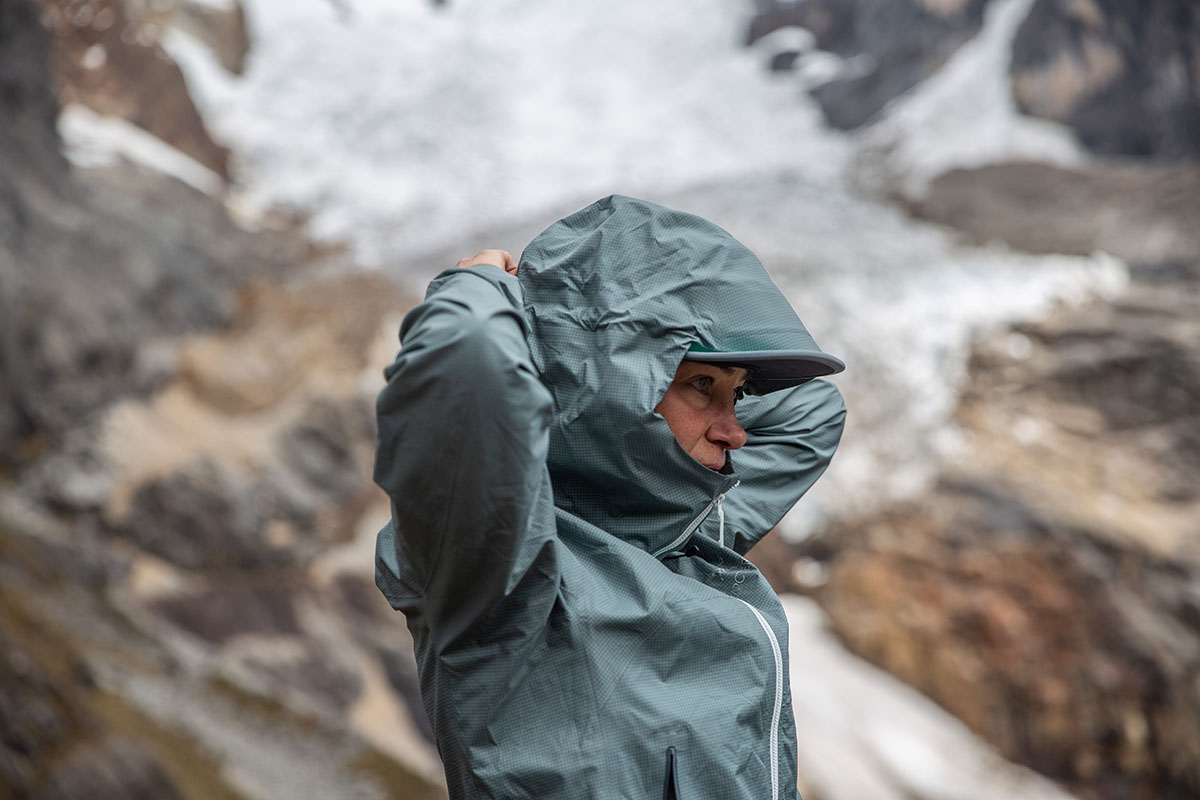 Storage: Pockets
Ultralight designs often skimp on features to keep weight low, and the Beta LT Hadron is no exception with two zippered hand pockets and no interior storage. To be fair, this is a noticeable step up from the Alpha SL Anorak (which includes just a single chest pocket) and other specialized alpine and running shells, but it does limit the Beta's all-around appeal. On the bright side, the hand pockets are situated high enough that I'm able to stuff my hands in them while wearing a pack, which I did frequently while trekking in Peru (I used one trekking pole so that I could keep one hand warm and protected). However, that prevented me from using the pockets for storage. In my opinion, adding a single internal pocket to stash small valuables would be worth the small weight penalty.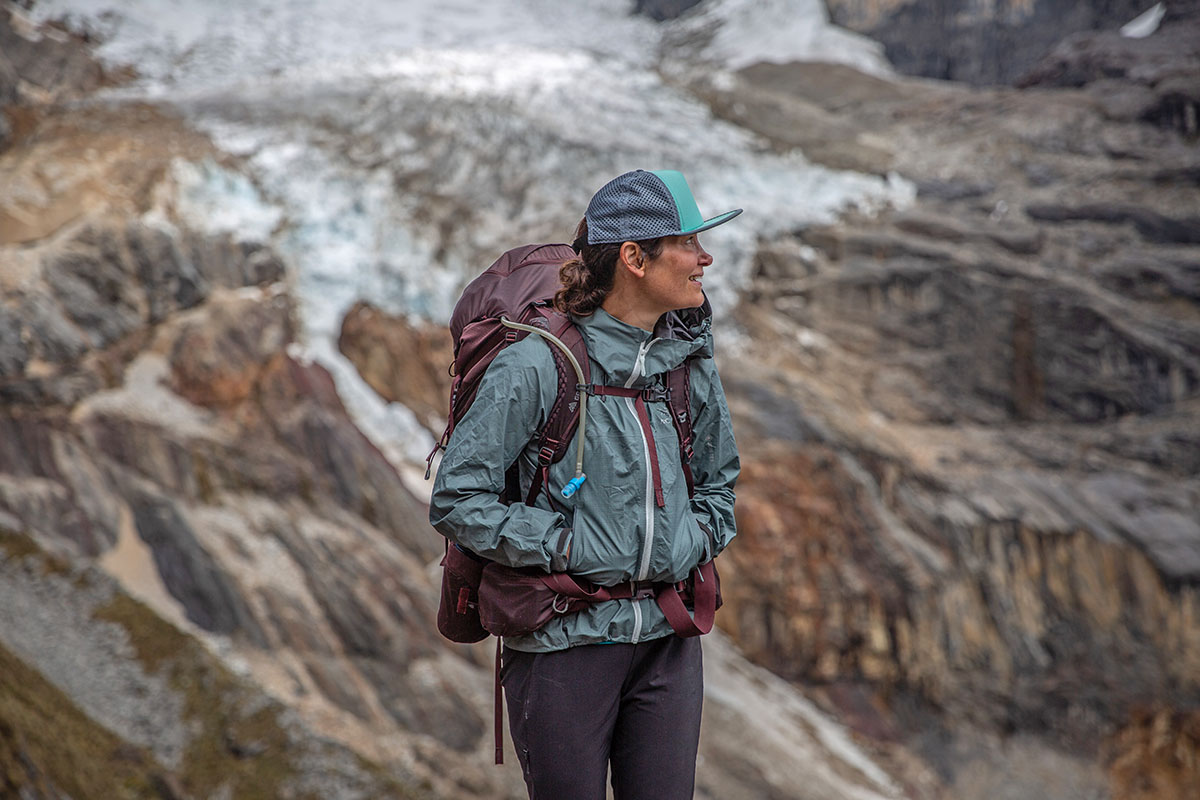 RS (Rain Shield) Zipper Sliders
In addition to being WaterTight, the Arc'teryx Beta LT Hadron's two exterior pockets feature the brand's innovative RS zipper sliders. Short for "Rain Shield," the design foregoes the fabric "garage" typically found above the top of the zipper to prevent water from entering the pocket. Again, Arc'teryx technically labels the pockets as water-resistant rather than fully waterproof, but I've never had any issue with valuables getting wet in RS-equipped shells. I wouldn't advise pushing the zippers' limits in a deluge, but the low-profile sliders do a nice job of sealing out the elements while keeping bulk to a minimum.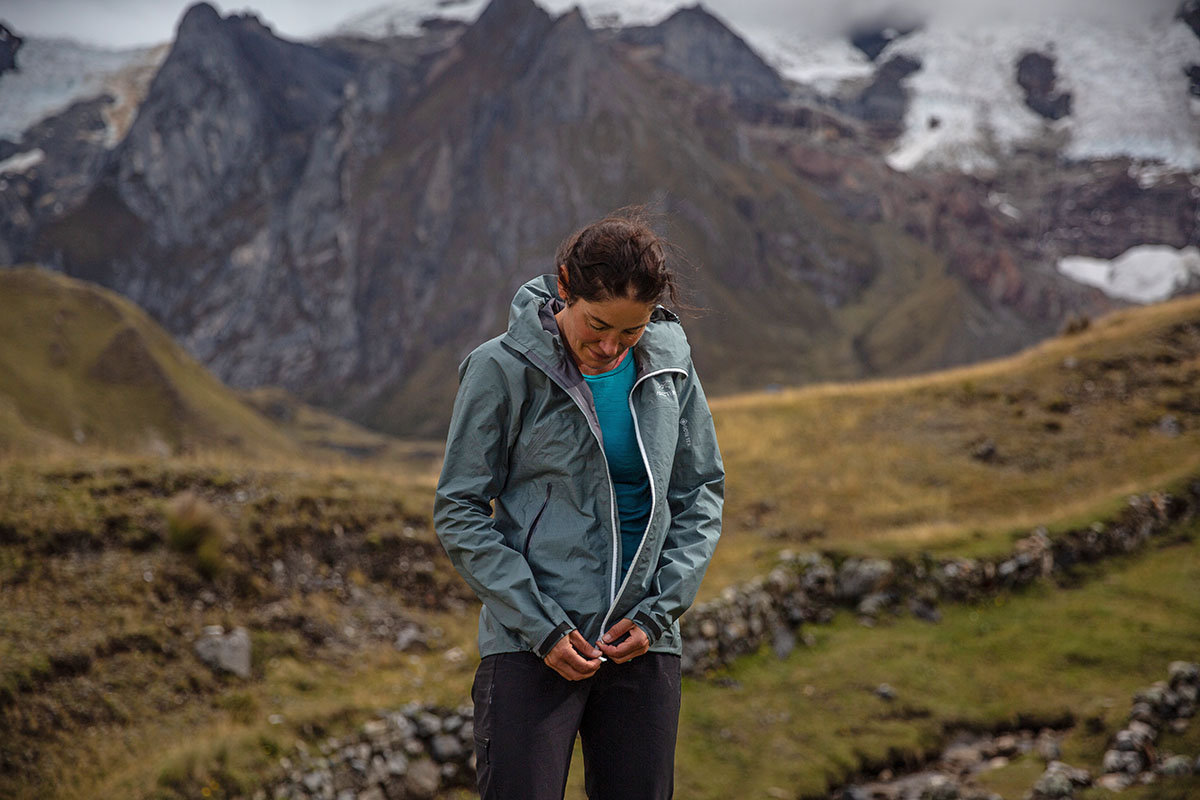 Fit and Sizing
I typically wear a women's small in Arc'teryx shells, and the Beta LT Hadron was no exception. Labeled as a "fitted" fit, the jacket has a low-profile and flattering shape but offers ample room for layering underneath, which I really appreciated on our trip to Peru. For reference, I was able to layer the Beta over two baselayers (an Icebreaker wool T-shirt and long sleeve), a lightweight down jacket (Norrøna Trollveggen Superlight Down850), and my heavyweight Cerium SV Hoody without any noticeable impact on mobility or range of motion. Some might prefer a bit more stretch in the fabric for mobility-dependent activities (Black Diamond's Highline Stretch is a nice option), but I've never felt limited or restricted in any way. And while subtle, the slight drop hem is a very helpful addition: It's long enough that I can tuck my midlayers in before cinching the hem, allowing me to shield them from moisture.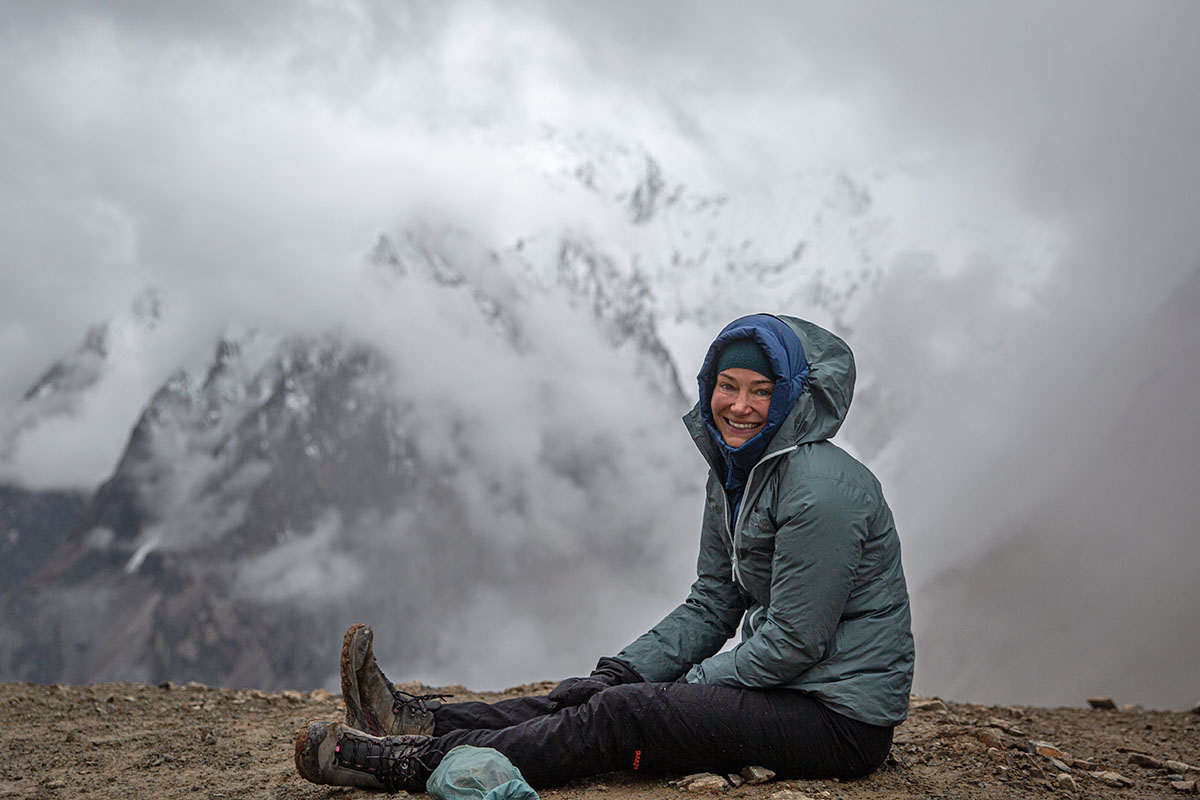 Sustainability
Over the past several years, many outdoor brands have rapidly increased the use of eco-friendly materials in production, and Arc'teryx is no exception. In this case, the Beta LT Hadron Jacket uses bluesign-approved materials that are free of hazardous chemicals and have been deemed safe for consumers, workers, and the environment. The jacket is also dope dyed—a process that requires considerably less water and energy use than standard dyeing practices. There's certainly still room for improvement—many competitors use recycled fabrics and PFC-free DWRs—but we nevertheless appreciate Arc'teryx's recent sustainability push.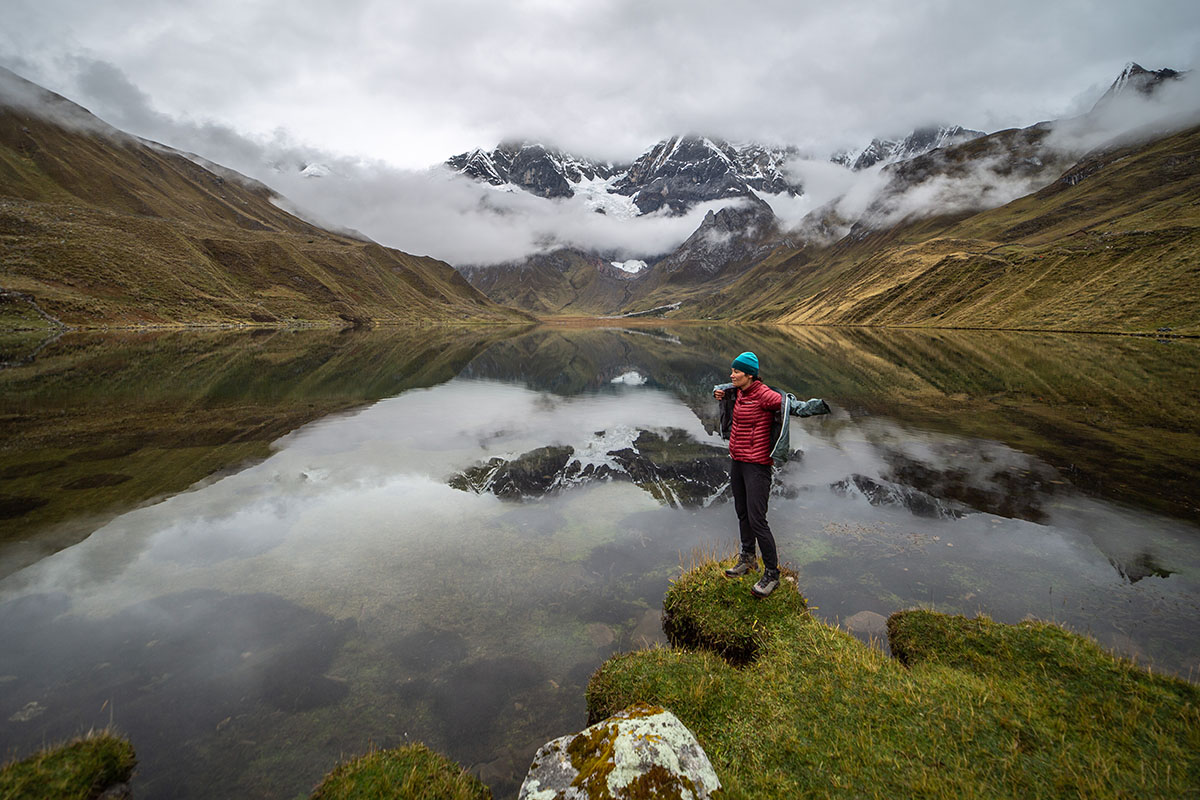 Other Versions of the Arc'teryx Beta LT Hadron
I brought the women's Arc'teryx Beta LT Hadron Jacket to Peru for testing, and it's also available in a men's version for the same price. Stacked up against the women's model, the men's Beta LT Hadron Jacket is a little heavier at 9 ounces, comes in an additional colorway, and runs a little longer (30 in. at the back compared to 27.5 for the women's version), but the two are otherwise identical in terms of overall construction and features. Rounding out the collection, Arc'teryx also offers Beta LT Hadron pants for men and women, which retail for $350 and use a similar 3-layer Gore-Tex build with the innovative Hadron fabric for added strength and tear resistance.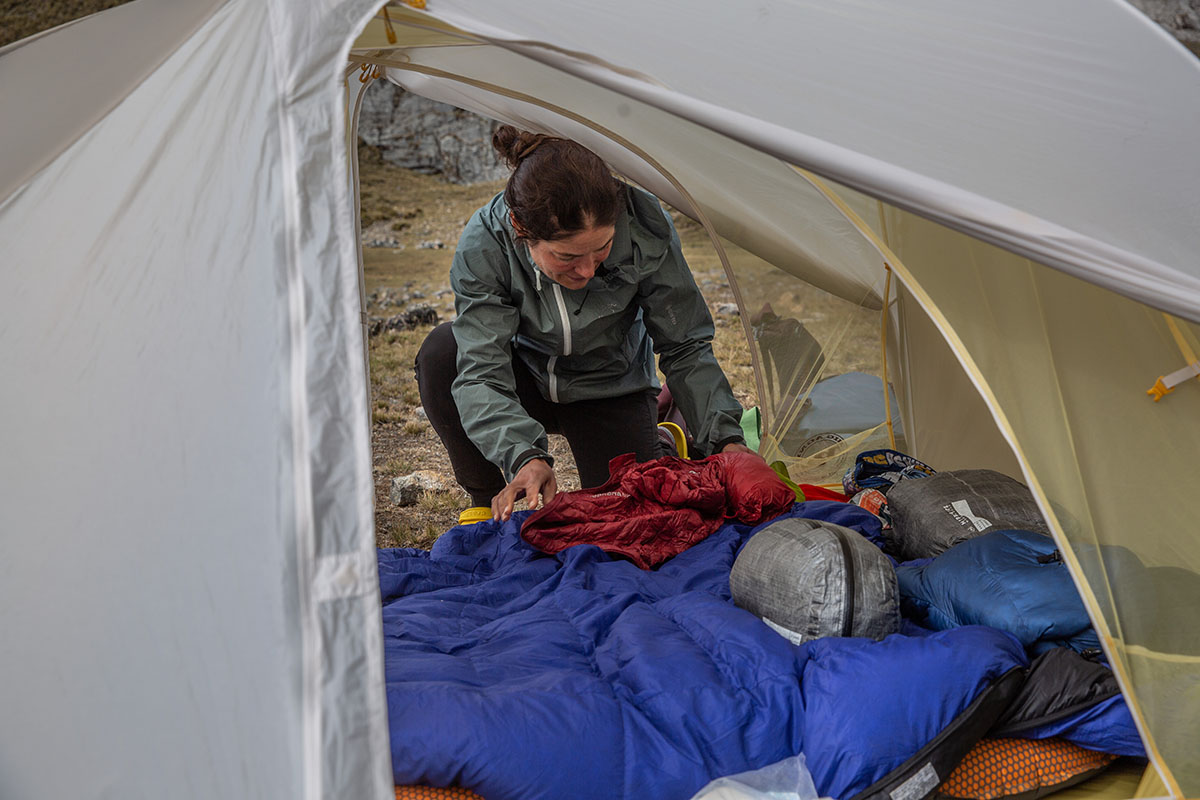 What We Like
Trustworthy Gore-Tex protection and good durability in a sub-9-ounce package.
While thin, the shell's gridded Hadron fabric adds a sizeable boost in strength and abrasion resistance—I've experienced no snags or tears to date despite extended, rough use.
Well-sorted feature set—including adjustability at the hood and hem, WaterTight zippers, and slight drop hem—makes it easy to batten down the hatches in inclement weather.
Good breathability for a 3-layer Gore-Tex shell.

What We Don't
No internal storage. In my opinion, one small interior pocket for valuables would be worth the small weight penalty.
Expensive at $450, especially considering the minimal storage and thin build (which makes it less winter-ready).
Ultralight build foregoes pit zips, which aren't critical for most but help with dumping heat quickly.
Hadron fabric gives the jacket a fairly technical look, making it less around-town-friendly than many alternatives.


Comparison Table

The Competition
Arc'teryx's Beta LT Hadron Jacket is impressively protective and durable for its weight, making it a standout in the hardshell jacket market for fast-and-light backcountry enthusiasts. However, the $450 price tag is undeniably steep, and those willing to compromise a little on weight can save with Arc'teryx's own Beta LT or Beta Jacket. Starting with the Beta LT, you get similar 3-layer Gore-Tex protection and comparable feature set—including a helmet-compatible StormHood and WaterTight zippers—for $50 less than the Hadron-equipped version. It's a little heavier at 12.3 ounces, although the addition of pit zips and thicker face fabric (40D) do help justify the weight penalty. In the end, both are high-quality and mountain-ready hardshells, and a final decision will likely come down to how your prioritize weight versus durability and features.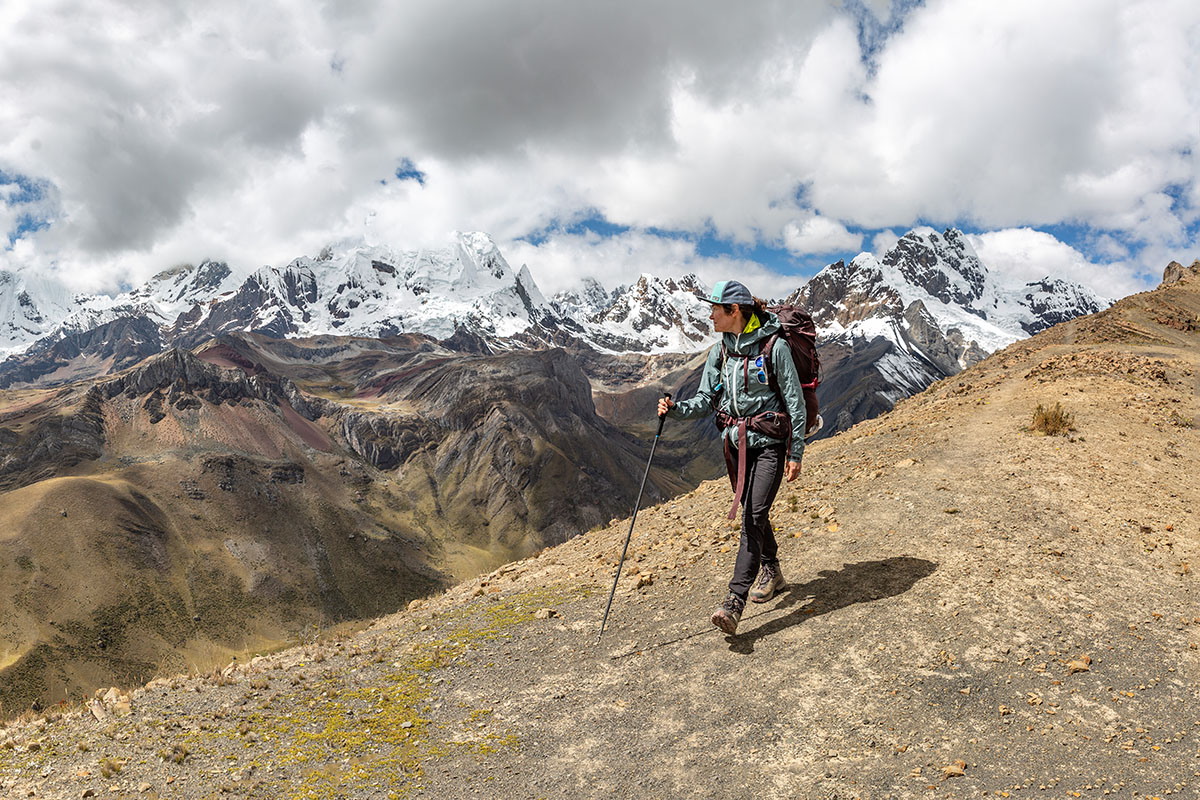 A more recent addition to the all-rounder Beta lineup, Arc'teryx's Beta Jacket is an even closer competitor to the Beta LT Hadron at 9.5 ounces and tacks on an internal pocket and Gore's C-Knit backer for added next-to-skin comfort. However, the Beta trades the beloved StormHood for a lower-profile design with a single toggle for adjustment and has a "regular" fit that's roomier but less performance-focused than the Beta LT Hadron's "fitted" designation. This makes the Beta LT Hadron the better match for more technical objectives like climbing and light mountaineering, although more casual backcountry-goers will likely prefer to save with the Beta Jacket.
A final Arc'teryx alternative to have on your radar is the Alpha SL Anorak, which boasts a very similar construction to the Beta LT Hadron. Like the jacket tested here, the Alpha SL uses a 20D, 3-layer Gore-Tex construction with Arc'teryx's gridded Hadron fabric for added strength and tear resistance. It's also exceptionally light at just 6.3 ounces and cheaper at $375, although the anorak style makes it harder to get on and off and is less versatile and around town-friendly than the Beta LT's full-zip design. The feature set is also decidedly barebones, including just a single pocket and no pit zips. To be sure, the Alpha SL Anorak is a great specialized piece for alpine missions (here's a link to our Alpha SL Anorak review), but the Beta LT Hadron is the more complete and approachable option for most.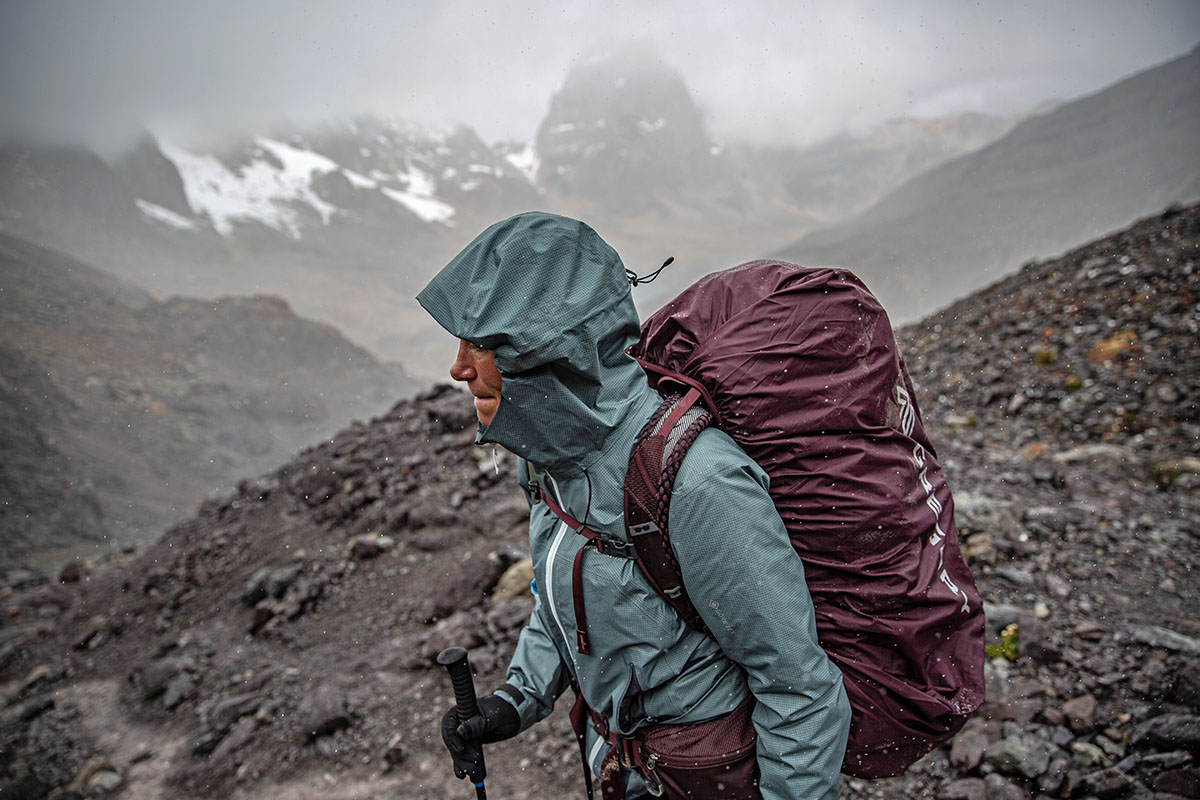 Moving away from Arc'teryx's collection, Patagonia's Storm10 Jacket has similar intentions as a light and packable hardshell for mountain objectives. Like the Beta LT Hadron, the Storm10 is a minimalist 3-layer shell but swaps the Gore-Tex membrane and innovative face fabric for Patagonia's own H2No waterproofing and a standard nylon ripstop exterior. The hood is also a little smaller, although it's still climbing helmet-compatible. On the flip side, the Storm10 does get the edge in weight at 7.4 ounces while tacking on a handy external chest pocket for stashing small valuables. And the clincher for many will be price: At $329, the Patagonia undercuts the Beta LT Hadron by around $120 without any major performance concessions. It's hard to beat Arc'teryx's top-notch build quality and waterproofing, but the Storm10 strikes us as the more well-rounded option.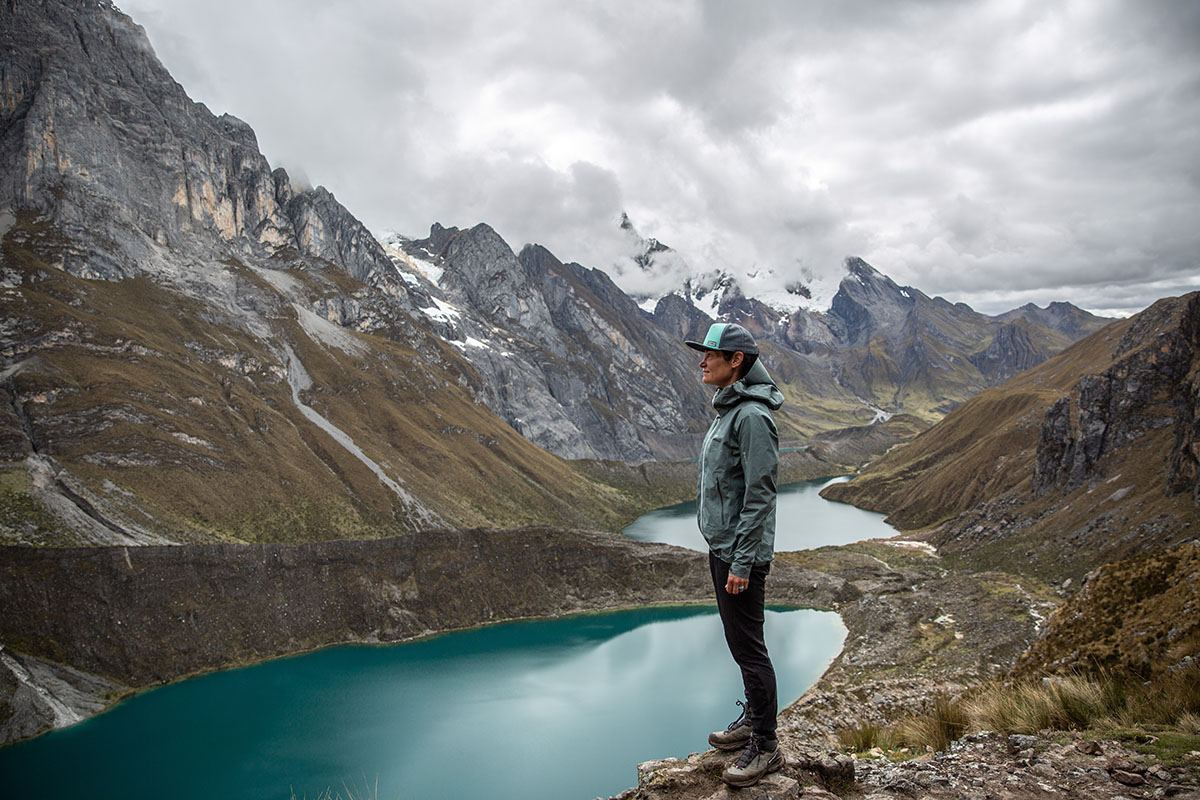 Last but not least is Black Diamond's Highline Stretch Shell, which is another lightweight alpine piece for mountain-goers looking to keep weight and bulk to a minimum. Like the Storm10, the Highline uses BD's in-house waterproofing membrane (BD.dry) rather than more premium Gore-Tex, which translates to a less bombproof feel in inclement weather. That said, the stretch in the fabric adds a nice boost in comfort and mobility, and you also get convenient features like pit zips and an external chest pocket—all for a reasonable 10.7 ounces. We did find the Highline's construction to be thin and less confidence-inspiring than the Beta LT Hadron (unfortunately, BD doesn't list the fabric denier), but the fuller feature set and $150-cheaper price tag are undeniably enticing. If you spend a lot of time in the backcountry and are hard on your gear, however, it may be worth spending up for the more durable and protective Beta LT Hadron.
Editor's note: We usually provide a live price comparison table below our outdoor gear reviews, but the Beta LT Hadron is sold exclusively by Arc'teryx. You can see the Beta LT Hadron Jacket page here and support us in the process. Thanks!
Read More From Switchback Travel