Arc'teryx Rush IS
Price: $799
Waterproofing: 2L Gore-Tex
Insulation: Octa Loft
What we like: A capable two-in-one option (shell plus midlayer) for resort days and frigid ski tours. 
What we don't: Heavier and bulkier than uninsulated options; too warm for touring in mild conditions.
See the Men's Arc'teryx Rush IS  See the Women's Arc'teryx Shashka IS
Ski tourers require high levels of weather protection, breathability, and comfort for spending long days in the mountains. Arc'teryx's Rush IS checks all of these boxes but adds light insulation for the coldest of days on the skin track. The jacket is heavier and bulkier than uninsulated options, but the boost in warmth is great on particularly frigid tours and cool resort days. Below we break down our experiences with the Rush IS. To see how it stacks up to the competition, see our article on the best ski jackets.
 
---
Table of Contents
---

Performance
Weather Protection
As we've come to expect from their ski shells, the Arc'teryx Rush IS offers top-notch protection against the elements. The 2-layer Gore-Tex build has handily withstood everything from wet, heavy snow typical of the Pacific Northwest to the dry, bitterly cold winds in B.C.'s Cascade Mountains. With record rainfall last year in the PNW, the shell has seen and successfully combatted more than its fair share of precipitation. Additionally, the jacket's thick face fabric (70D) does an excellent job cutting harsh winds, and the durable water repellent (DWR) finish helps moisture bead up and roll off the jacket rather than soaking through. As a final measure of defense, the Rush IS is fully seam-taped, which adds a nice dose of assurance in truly harsh mountain environments.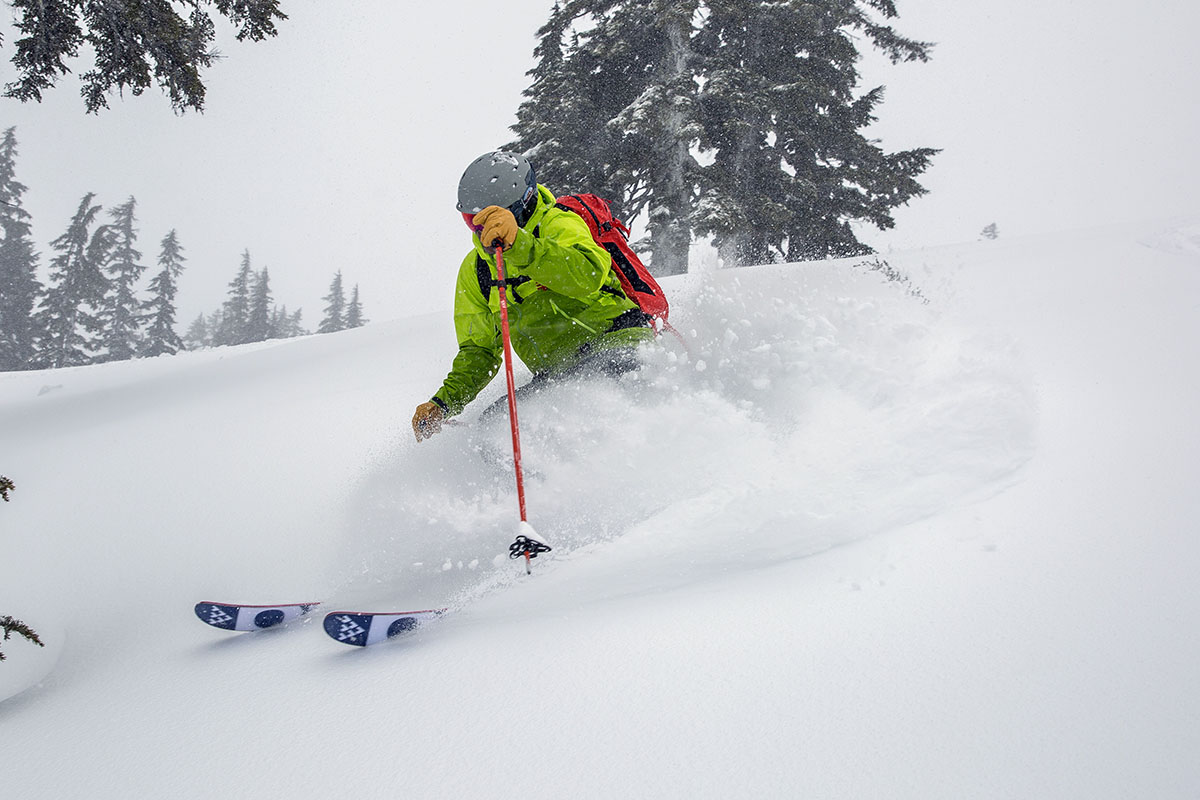 In terms of protective features, the Rush IS comes well-equipped. First and foremost, the jacket uses Arc'teryx's proven StormHood, which is helmet-compatible, easily adjustable, and offers a great all-around fit. Further, the tall collar effectively blocks precipitation and wind from reaching my face, and the hood's brim prevents snow and rain from accumulating on my forehead and goggles. I'm also a big fan of the Velcro cuff adjustments—I'm able to fit the sleeves under my gauntlet-style mittens (the Arc'teryx Alpha SV) or over my under-cuff gloves (the Black Diamond Dirt Bag). Additionally, it drives me crazy when a shell bunches above the hipbelt, but the Rush IS falls just below the hips and stays put even when wearing a pack (more in "Fit and Sizing" below). Lastly, the watertight zippers have kept my valuables dry with no leakage. Despite only being water-resistant and not fully waterproof, I trust them enough to keep my essentials safe.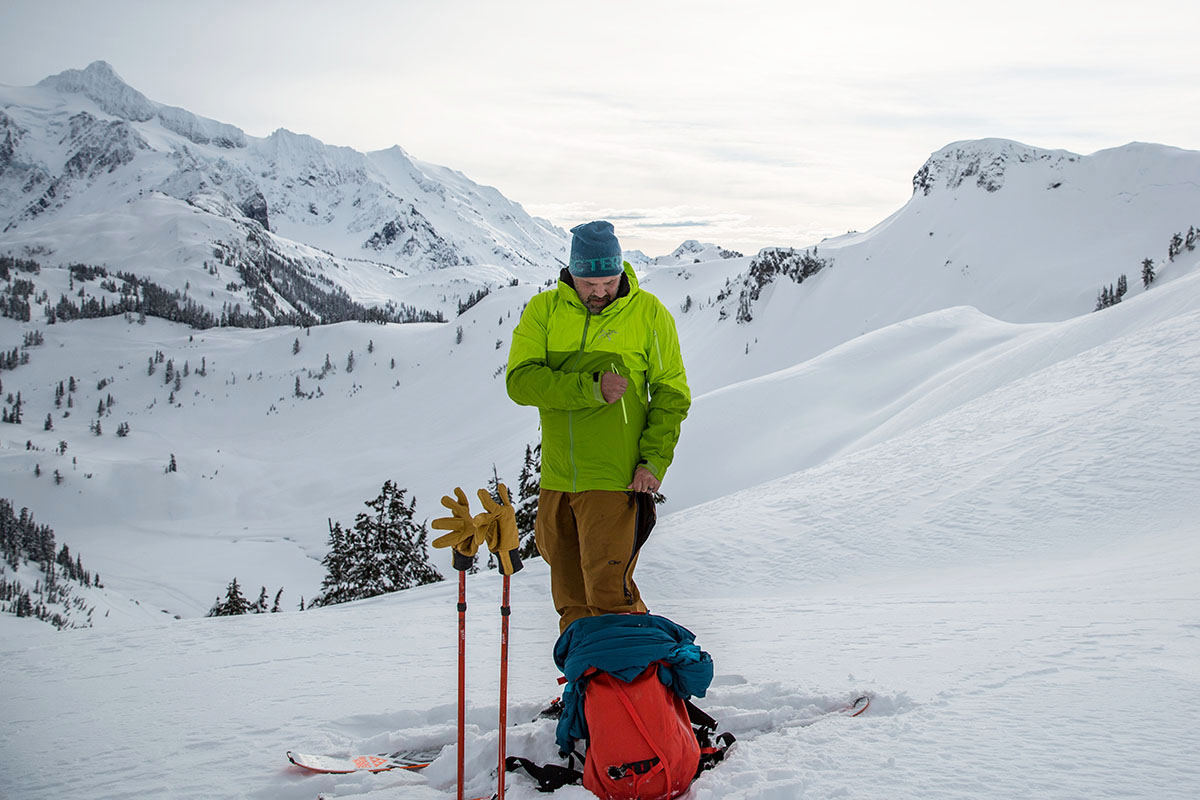 Warmth
The Rush IS lines its interior with a light dose of Octa Loft insulation, which is breathable but does a great job of trapping warmth without causing me to overheat. For reference, I run very warm and only wear a hardshell on the descents, during transitions, or in extremely poor weather. The Rush IS is no different: I use the jacket as a two-in-one shell and insulation layer on particularly nasty days, leaving my typical midlayers behind. In practice, it has provided ample warmth for me while setting up camp, sitting around a campfire, and on blustery alpine transitions. It has also offered that just-right amount of insulation for me to comfortably wear while lift skiing even on cold, windy days with just a light merino baselayer underneath. For backcountry-goers or resort skiers that run cold, I can't recommend the Rush IS enough.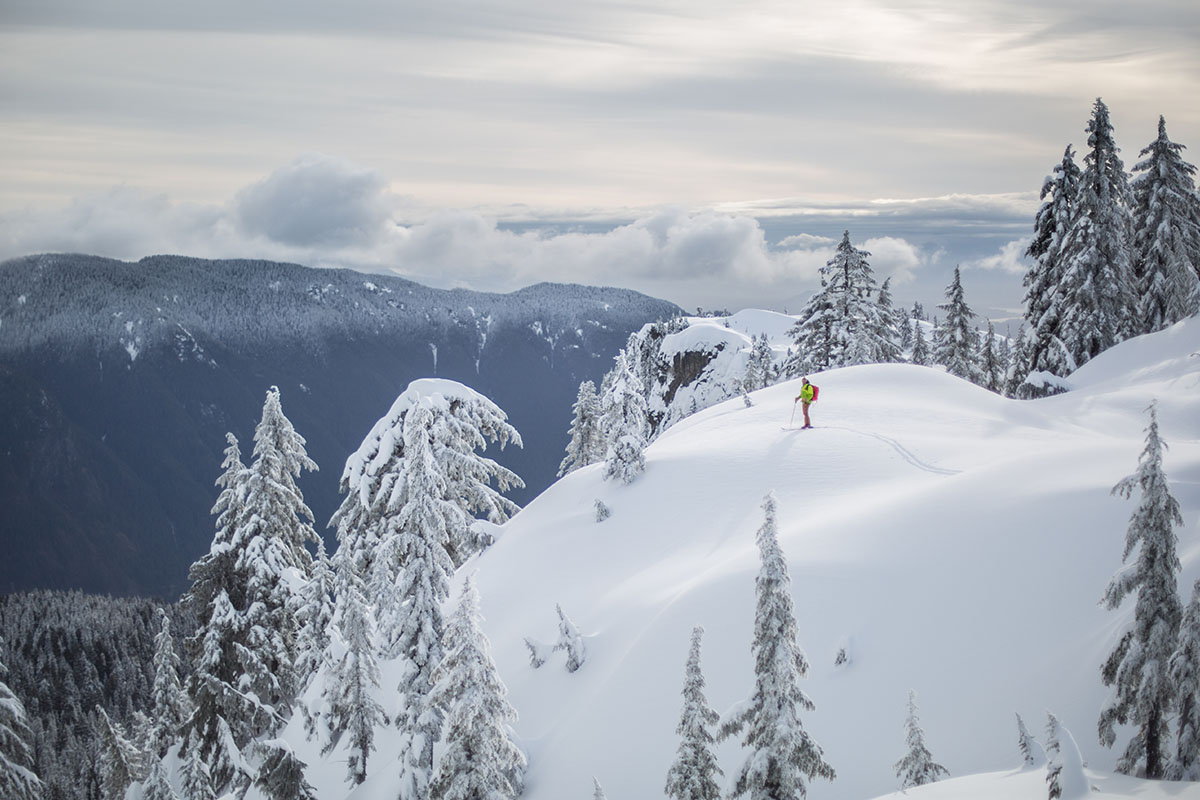 Breathability
The Rush IS's insulation is breathable enough that I'm able to stay comfortable on short bootpacks, but I overheat quickly on longer and more sustained climbs. This isn't too surprising for an insulated piece—not to mention, I tend to sweat a lot when exercising. In fact, I have yet to find a hardshell jacket (even an uninsulated one) in which I don't overheat while exerting. All in all, the Rush IS vents similarly to most Gore-Tex-equipped shells I've worn, which is rather impressive given the addition of Octa Loft in the build. For reference, this blend is also used in Arc'teryx's climbing-focused Proton FL Hoody, which says a lot about its ability to release heat.
As I touched on above, I tend to wear my shell only for descending and downtimes, and I'm able to stay comfortable in the Rush IS for shorter bouts of exertion in temperatures below around 15 degrees Fahrenheit. To help with venting, the jacket comes equipped with generous 14-inch pit zips, which I use often for dumping heat quickly. Further, the Octa Loft insulation is quite thin and separate from the Gore-Tex shell, allowing space for air to flow. I've also never had an issue with the jacket growing wet inside—the insulation is soft and wicks moisture quite well, leaving my skin dry even when I'm sweating. Finally, it's worth noting that the StormHood is lined but uninsulated, which helps reduce heat build-up.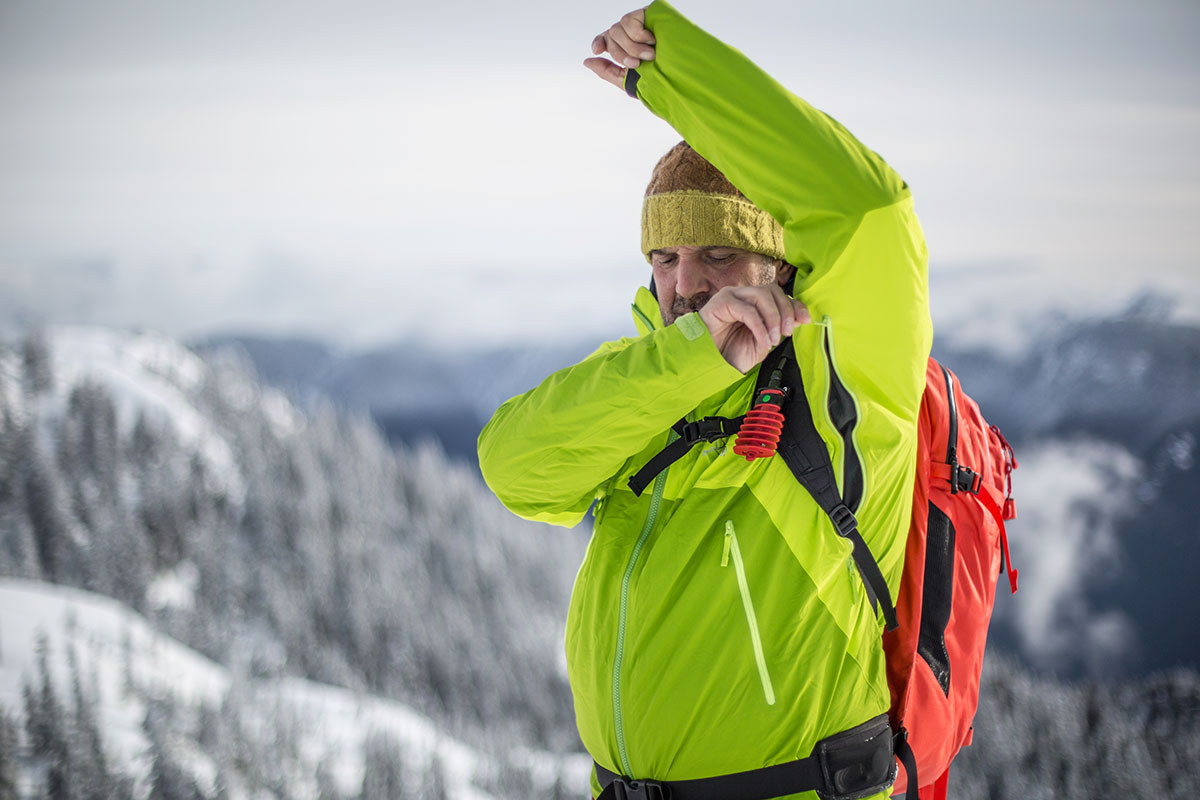 Build Quality and Durability
Simply put, the Rush IS Jacket is exactly what you'd expect from Arc'teryx (and at this price point). The rugged 70-denier (D) face fabric is incredibly tear- and abrasion-resistant, and along with the taped seams and watertight zippers, seals out weather very effectively. After months of exposure to harsh winter conditions, the shell is still completely waterproof and windproof, and all zippers and seams are intact. As with most of my gear, the Rush IS has spent much of its time stuffed in my pack, thrown into the back of my van, and intertwined with sharp backcountry ski gear like crampons, a shovel, probe, snow saw, etc. The jacket has effectively shrugged off all the abuse with no fading, loose threads, or other concerning signs of wear to date. Further, the Octa Loft insulation hasn't pilled and continues to insulate just as well as it did on day one. All in all, this is one backcountry-ready jacket that I expect to last for years to come.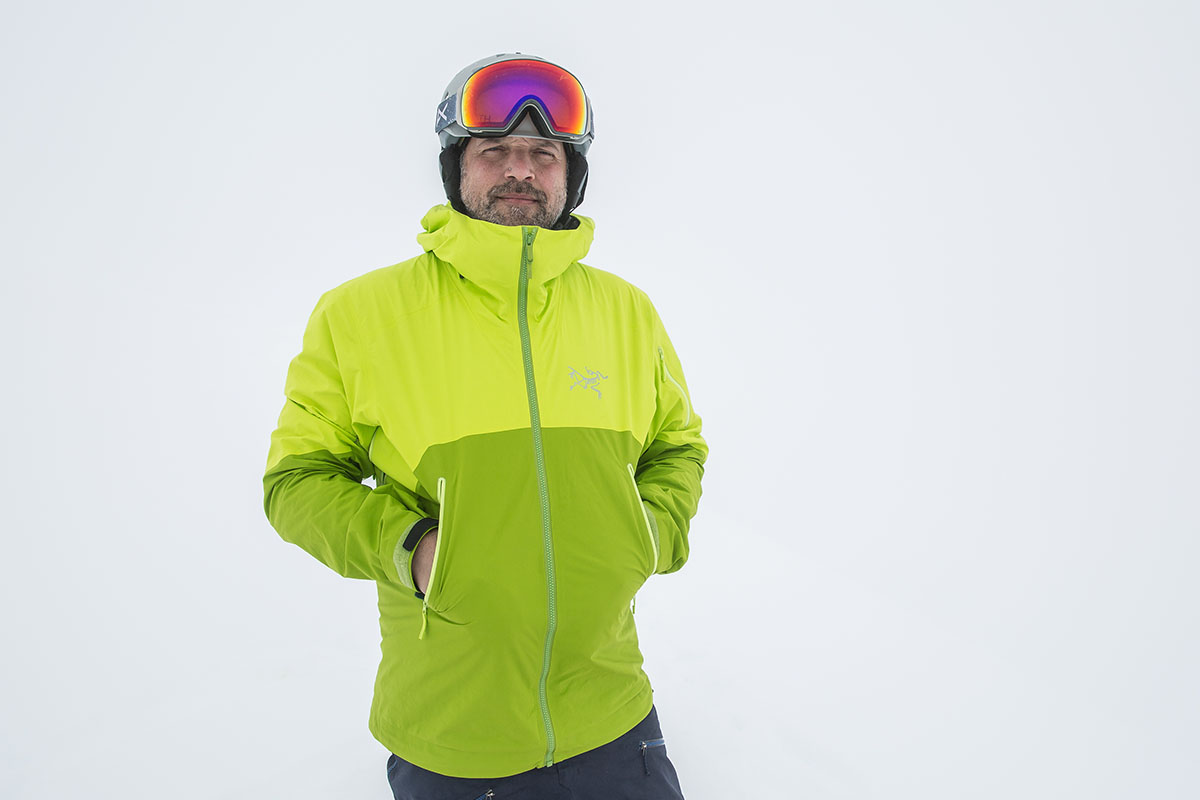 Weight and Packability
The Rush IS isn't your typical lightweight backcountry jacket, but weight is reasonable considering the levels of warmth and durability. At 1 pound 9.4 ounces, it's the lightest insulated ski jacket offered by Arc'teryx, undercutting the Macai (2 lbs. 4 oz.) and Fission SV (1 lb. 15.4 oz.) considerably. And stacked up against other popular (but uninsulated) backcountry shells, the Rush IS still fares quite well. For reference, the Outdoor Research Hemispheres clocks in at 1 pound 4.7 ounces, the Norrøna Trollveggen Gore-Tex Pro is 1 pound 7 ounces, Arc'teryx's own uninsulated Rush weighs 1 pound 4.8 ounces, and Patagonia's PowSlayer is 1 pound 3.3 ounces. All in all, considering the Rush IS eliminates the need for a midlayer in many instances, this is actually quite impressive.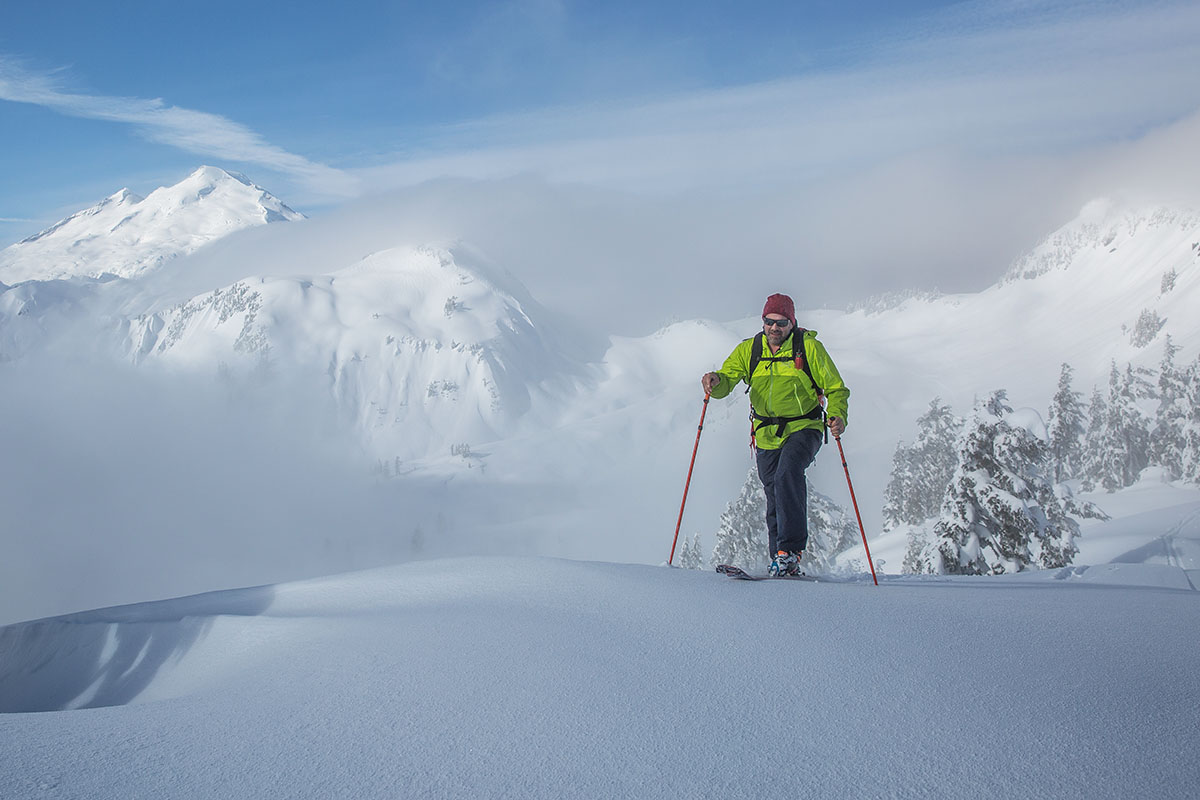 In terms of packability, I'm able to stuff the jacket into its own hood and tighten both adjustable drawcords to reduce its size. Snugged down, it fits nicely in my avalanche pack, but when I'm in a hurry, I have no issue simply stuffing the jacket into empty spaces lower in the bag. Even with the added insulation, the jacket compresses surprisingly well and takes up only a bit more space than a standard, non-insulated hardshell. And because the Rush IS effectively replaces my midlayer, there's already more space in my pack anyways. 

Key Features
StormHood
As I mentioned above, I'm a huge fan of Arc'teryx's StormHood design. As expected with this ski-specific build, the hood comfortably fits over my Smith Quantum helmet (size large) with no impact on side-to-side movement. Further, there's ample room in the hood/collar area to lean over and adjust boots or skins without feeling restricted. In terms of adjustability, the hood comes with four drawcords to customize fit at the neck, aperture, and brim. I rarely use the lower neck adjuster, but the brim and aperture toggles have come in handy any time the weather takes a turn. I do find these require a fair bit of dexterity to loosen, but they're easy to snug down. When fully cinched, the hood leaves only goggles, nose, and some of my helmet exposed, and the laminated brim helps retain shape and keep precipitation from dripping into my face.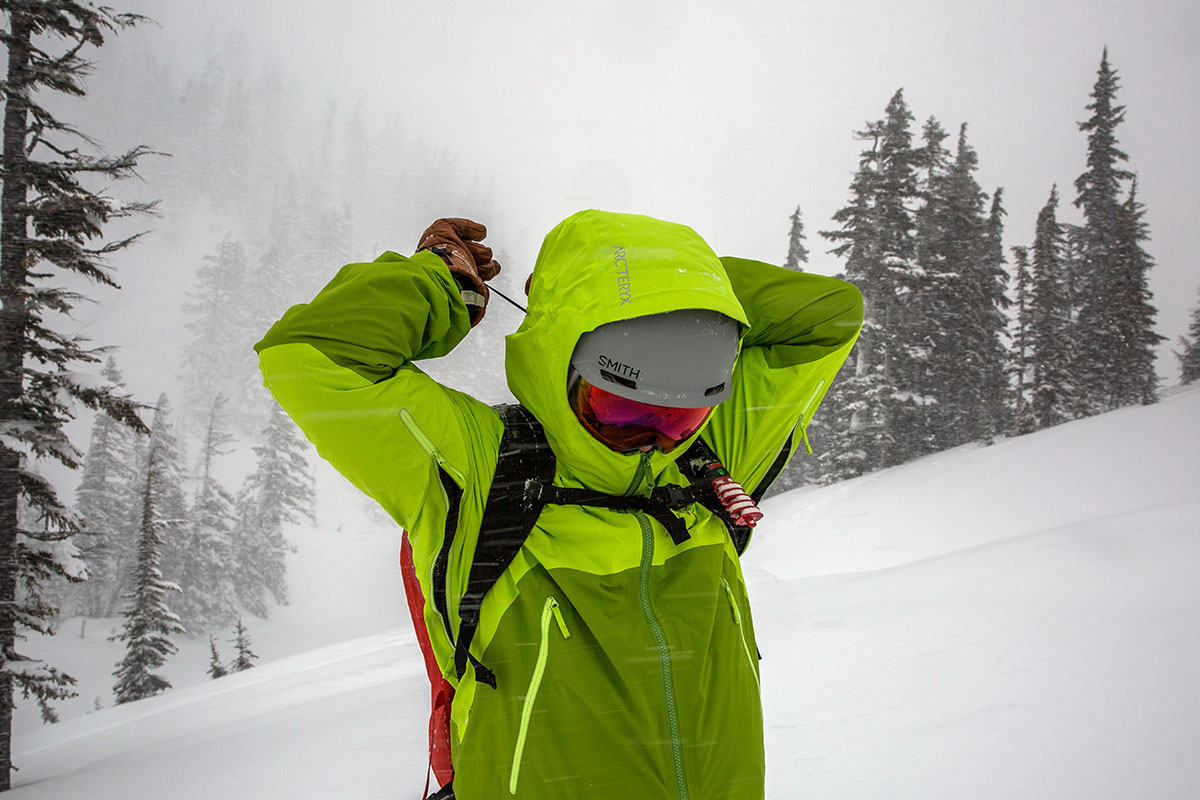 Storage: Pockets
In terms of storage, the Rush IS comes well-appointed with five pockets. The two hand pockets are great for warming hands and conveniently are large enough to fit small camera lenses if need be. They're also situated high enough on the waist to allow access while wearing a pack or harness. The internal mesh dump pocket is great for stowing goggles or a set of climbing skins for quick transitions, and the sleeve pocket is perfect for a ski pass or a credit card and license. Finally, rounding out the storage is a small laminated internal pocket that I've found helpful for keeping important items like car keys.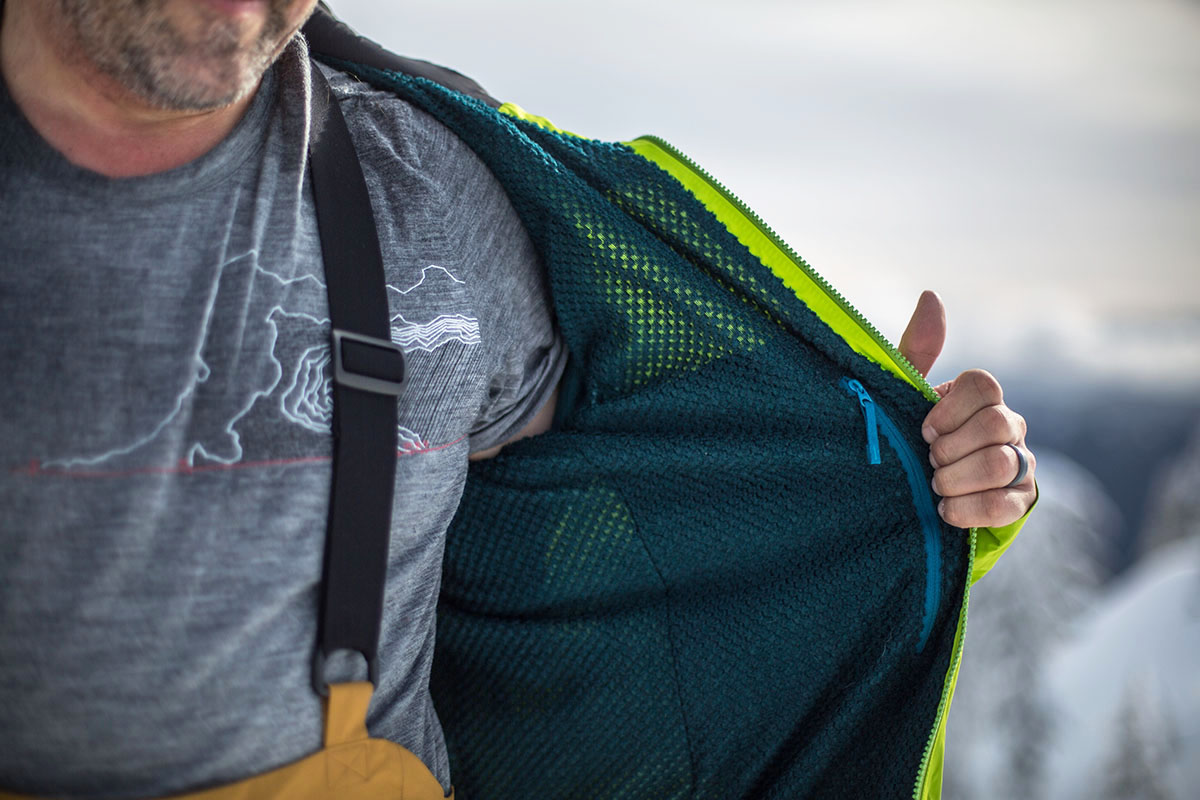 Powder Skirt
The Arc'teryx Rush IS's stretch panel powder skirt has come in handy on numerous outings while skiing deep, light snow. In practice, it has effectively kept moisture from sneaking up under the shell in deep powder or after a good bail. I haven't used the Slide 'n Loc feature to secure the skirt to ski pants since it's only compatible with Arc'teryx models, but the skirt still creates a nice, snug seal. All told, it's another premium and thoughtful design touch.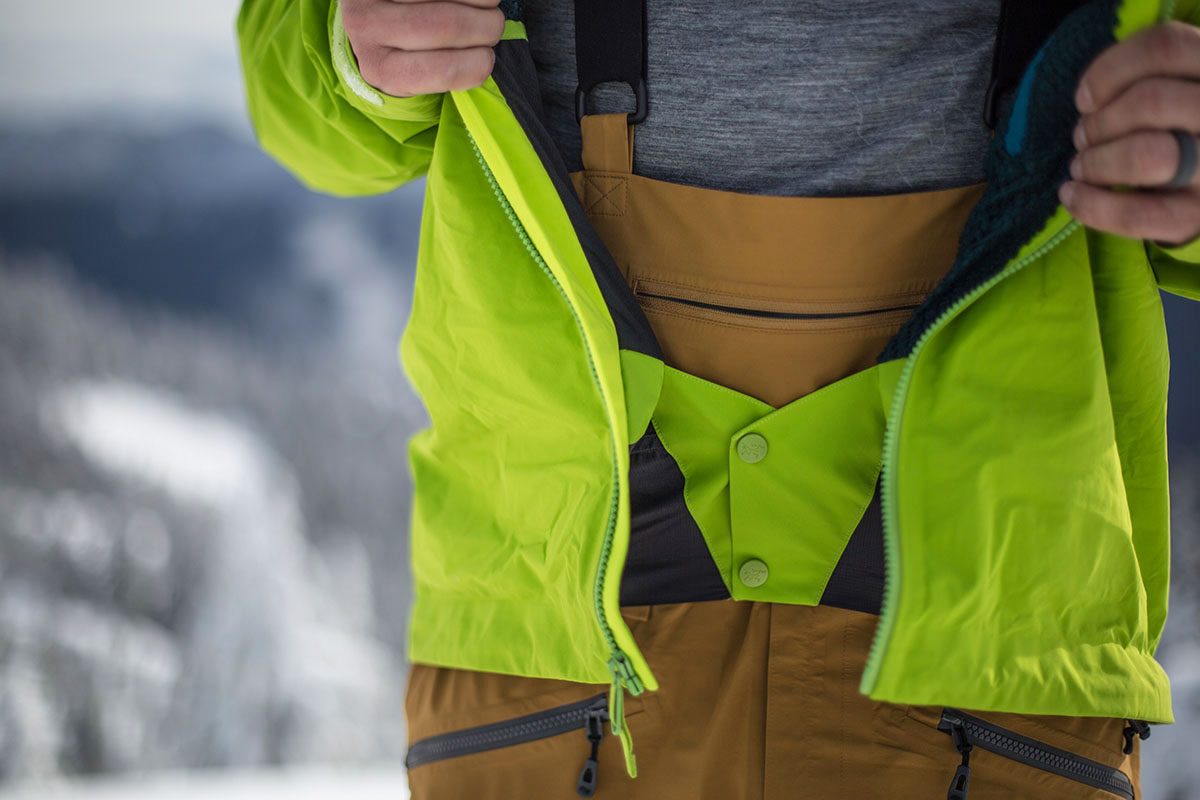 Fit, Sizing, and Comfort
The Arc'teryx Rush IS has a "regular" fit that I found to be true to size. For reference, I usually wear a large in Arc'teryx jackets, and the Rush IS was no different. Because of the added insulation, I haven't needed to wear a midlayer underneath, but there's room to comfortably fit my Arc'teryx Proton LT or Mountain Hardwear Ghost Whisperer down jacket if the mercury really drops. Additionally, the elbows are articulated and allow for unrestricted movement when transitioning or loading gear in and out of my van. It's also worth noting that the jacket's hem falls at a respectable 31 inches down the back, which is great for sealing snow out and keeping my butt warm when sitting on cold chairlifts or icy rocks. By comparison, the Outdoor Research Hemispheres measures 32.75 inches, and Arc'teryx's own Sabre AR and Rush come in at 31 and 31.25 inches respectively.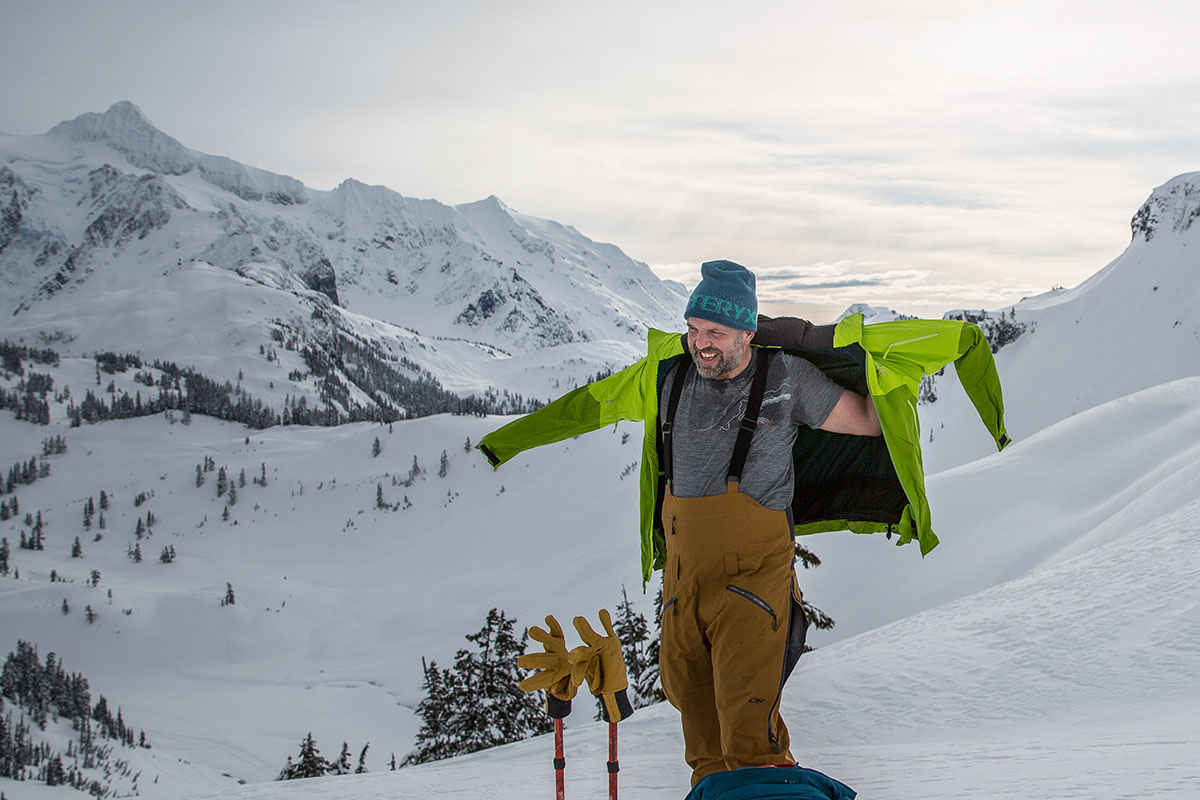 Finally, from a comfort perspective, the Rush IS's Octa Loft insulation is noticeably softer against my skin than Gore-Tex Pro. In fact, it even wins out against the interior liners on most of my midlayers, including the aforementioned Proton LT. As I touched on above, even when I'm sweating, the insulation still feels supple and comfortable against my bare skin, which makes a big difference on long days in the mountains.

Other Versions of the Arc'teryx Rush
We tested the men's Rush IS for this review, which is currently the only version of the jacket that Arc'teryx makes. In terms of women's models, the closest option is the Shashka IS, which also retails for $799, comes in two-tone colorways, uses Octa Loft insulation for added warmth, and features a 2-layer Gore-Tex build. However, the Shashka has a less durable 40-denier shell and comes in slightly lighter at 1 pound 4.6 ounces. The backcountry-ready Rush collection also includes the standard, uninsulated Rush Jacket for men ($749), which uses a premium, uninsulated 3-layer Gore-Tex Pro build and clocks in at 1 pound 4.8 ounces (more on this below).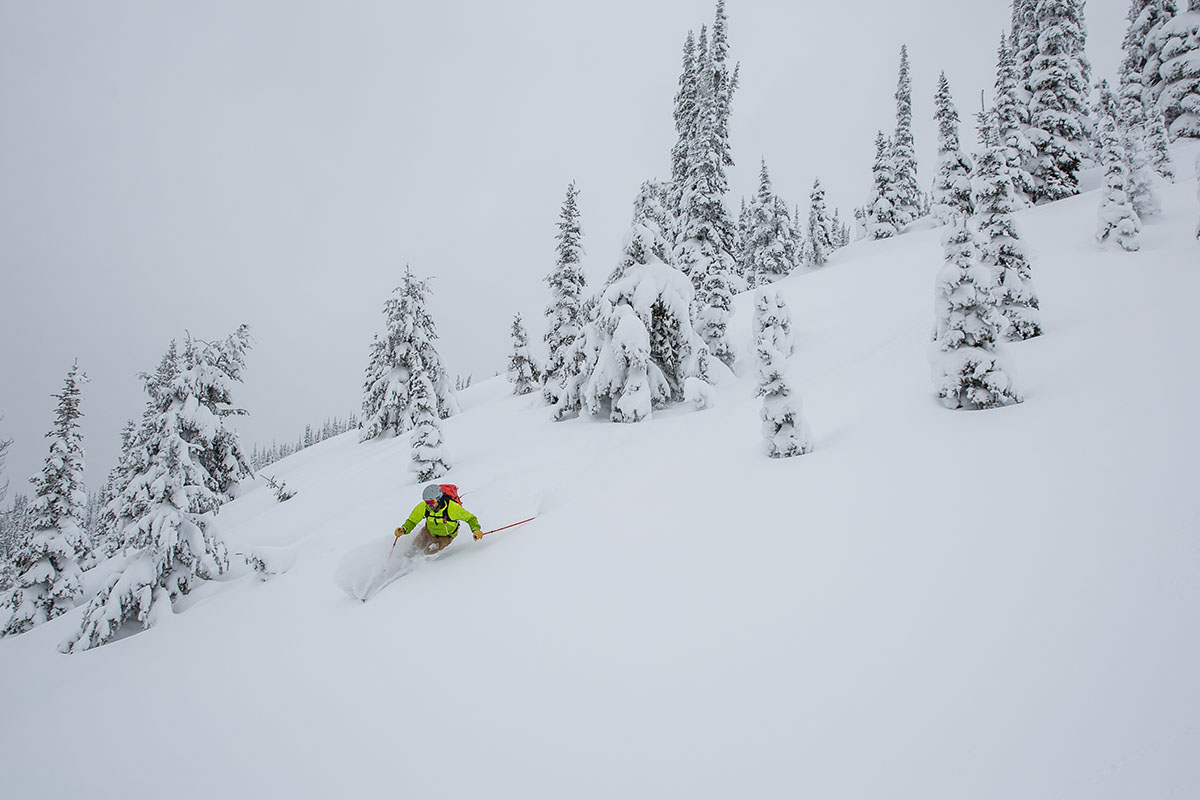 What We Like
Exactly what we've come to expect from Arc'teryx at this price point: the Rush IS is incredibly durable, well-made, and highly protective.
Excellent two-in-one option (shell plus midlayer) for resort days and cold, foul-weather tours. 
Octa Loft insulation is very comfortable against the skin.
Two-tone colorways are stylish and fun. 

What We Don't
Heavier and packs down larger than its uninsulated ski shell competition (however, you can leave your midlayer behind).
Very pricey at $799.
As expected, breathability is good but not great. I overheated quickly in moderate temperatures and on longer, sustained climbs.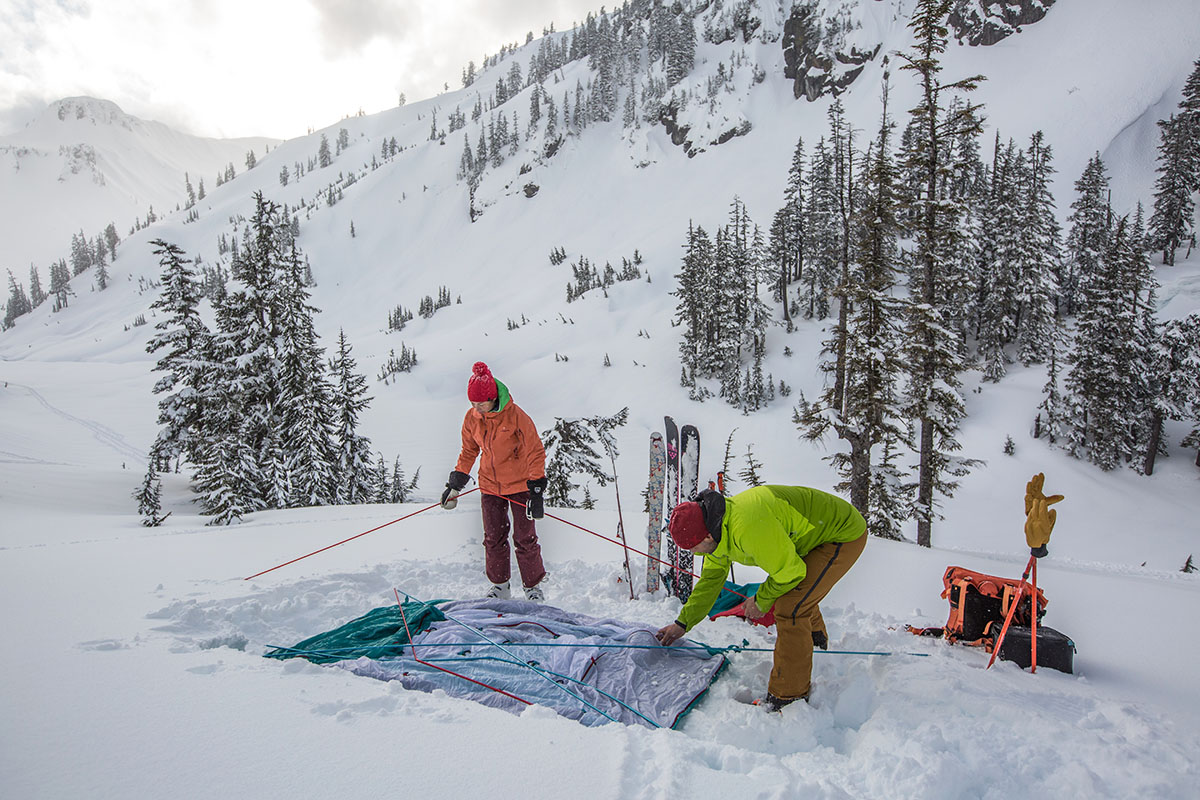 Comparison Table
| Jacket | Price | Best For | Insulated | Type | Weight | Length |
| --- | --- | --- | --- | --- | --- | --- |
| Arc'teryx Rush IS | $799 | Backcountry/resort | Yes | Hardshell | 1 lb. 9.4 oz. | 31 in. |
| Patagonia Powder Bowl | $479 | Resort | Yes | Hardshell | 2 lb. 6.2 oz. | 31 in. |
| Arc'teryx Sabre AR | $675 | Resort/backcountry | No (flannel backer) | Hardshell | 1 lb. 8.7 oz. | 31 in. |
| Arc'teryx Rush | $749 | Backcountry/resort | No | Hardshell | 1 lb. 4.8 oz. | 31.25 in. |
| OR Hemispheres | $599 | Backcountry/resort | No | Hardshell | 1 lb. 4.7 oz. | 32.75 in. |

The Competition
Arc'teryx's Rush IS is a highly capable insulated ski shell for cold tours and resort days. Another insulated design to consider is Patagonia's Insulated Powder Bowl. Like the Rush IS, the Powder Bowl features a 2-layer Gore-Tex build and has ample snow-specific features including a powder skirt, pit zips to dump heat quickly, and an adjustable, helmet-compatible hood. However, rather than Octa Loft, Patagonia uses more traditional synthetic insulation (a mix of 60g and 100g), which we found to be warmer and well-suited for most resort skiing days. That said, it's noticeably heavier than the Arc'teryx at 2 pounds 6.2 ounces and its regular fit lacks the mobility of the Rush IS for backcountry use. In the end, the Rush IS the superior touring piece (we wouldn't do any more than sidecountry hikes with the Powder Bowl), while the Patagonia is more affordable at $479 and a better dedicated resort jacket.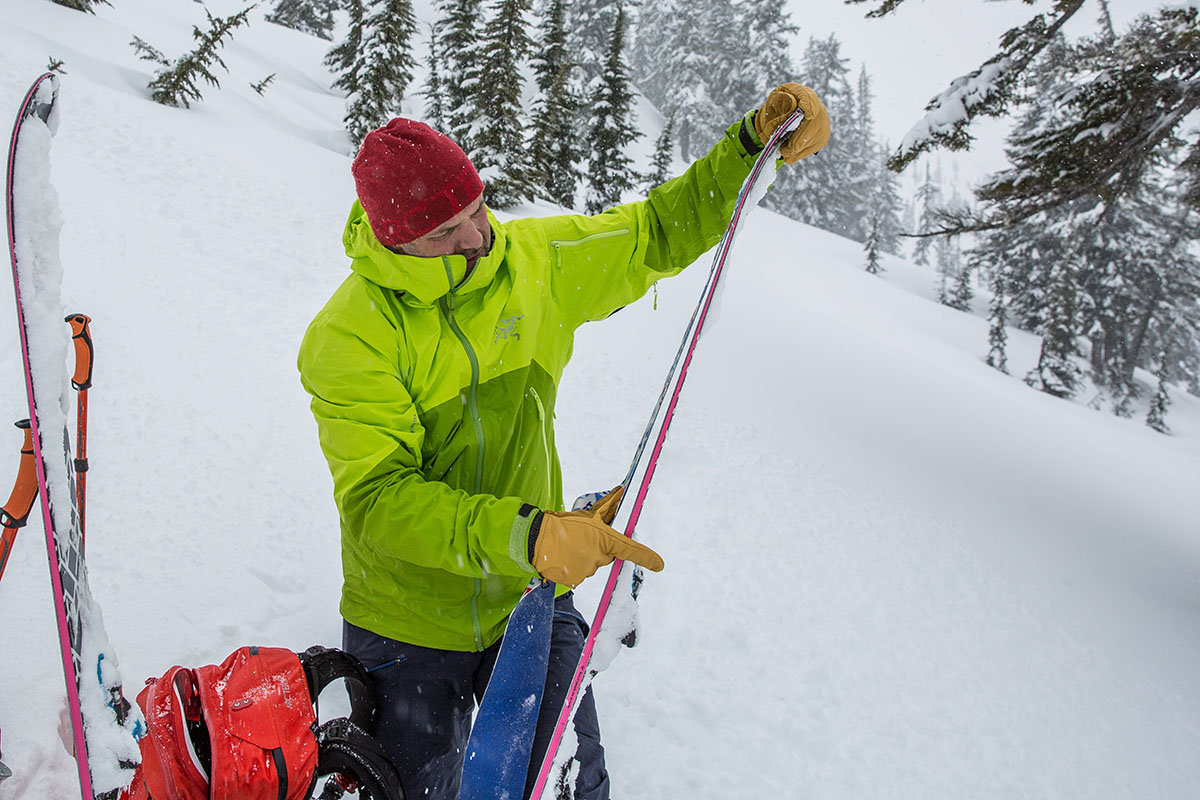 Many of the Rush IS's direct competitors come from within Arc'teryx's own lineup, including the venerable Sabre AR. Like the Rush IS, the Sabre AR is lightly insulated (even lighter in the Sabre's case) with a thin flannel backer, making it a great option for those who ski both in and out of bounds. It also includes a premium 3-layer Gore-Tex construction (also 70D), which is durable and provides top-notch weather protection. And they share features like pit zips, a helmet-compatible StormHood, five total pockets, and even weigh about the same. Where they differ is the Octa Loft insulation making the Rush warmer and softer along the interior. All told, both jackets are fairly heavy for throwing in a pack, and neither option is ideal for long tours in mild conditions. We prefer the more adaptable, less insulated, and $124-cheaper Sabre, but you truly can't go wrong with either shell.
The Rush IS has a similar fit and style to another one of our favorites from Arc'teryx: the standard Rush Jacket. The Rush is uninsulated and features a 3-layer Gore-Tex Pro build, but otherwise the two models are very similar. The Rush costs around the same as the Rush IS at $749, is hardwearing with an 80-denier shell fabric (the yoke includes even tougher 100D), and includes all the premium features we've come to expect at this price point, including a powder skirt, ample storage with 5 total pockets, and Arc'teryx's helmet-compatible StormHood (for more, see our in-depth Rush review). The Rush is a bit lighter at 1 pound 4.8 ounces and more breathable, but it's still a close call between the two. For those who spend most of their time off-piste, we'd go for the lighter and more versatile shell version. For those prone to running cold, wanting an insulated design for resort days, or planning to tour consistently in frigid temperatures, we like the IS.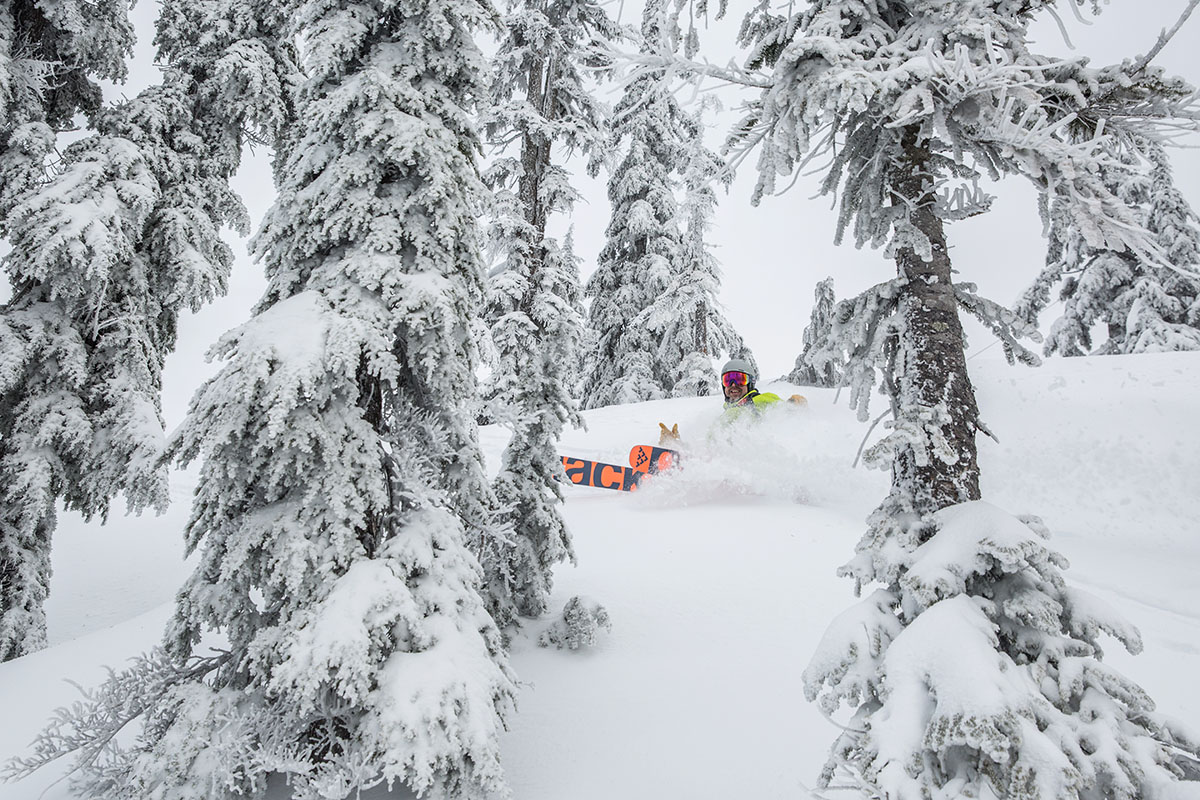 A final option to consider is Outdoor Research's Hemispheres. Like the Rush IS, the Hemispheres is a nice crossover option for front- and backcountry use. It's not insulated like the Rush IS, but it features stretch panels at the back of the shoulders, hood, and under the arms for a major boost in mobility. You also get Gore's soft C-Knit backer along the interior, as well as hem-to-bicep pit zips for dumping heat quickly. Finally, we like the two-way front zipper, which makes it easier to sit and hunch over without the shell bunching up or tightening around the waist (the Rush IS's main zip is one-way). We found the fit to be a little narrow in the shoulders and waist, but for $100 less than the Arc'teryx, it's a great overall value and a standout among the competition.
If you're thinking about buying gear that we've reviewed on Switchback Travel, you can help support us in the process. Just click on any of the seller links above, and if you make a purchase, we receive a small percentage of the transaction. The cost of the product is the same to you but this helps us continue to test and write about outdoor gear. Thanks and we appreciate your support!
Depending on the seller, most products ship free in the United States on orders of $50 or more. International shipping availability and rates vary by seller. The pricing information on this page is updated hourly but we are not responsible for inaccuracies.
Read More From Switchback Travel