Patagonia PowSlayer
Price: $699
Weight: 1 lb. 1.8 oz. (women's small)
Waterproofing: 3L Gore-Tex Pro
What we like: Highly protective, impressively breathable, and premium construction.
What we don't: Gore-Tex Pro is crinkly and stiff; overkill and not very comfortable on resort days.
See the Women's Patagonia PowSlayer  See the Men's Patagonia PowSlayer
At the top of Patagonia's ski touring collection is their PowSlayer: a highly protective and breathable shell built for serious backcountry use. This jacket is about as premium as it gets with Gore's top-end Pro construction, a thoughtfully designed feature set, and an all-in weight of just 1 pound 1.8 ounces. We put the women's PowSlayer to the test and found it to be an incredibly capable option for demanding mountain conditions, although you do sacrifice some versatility with the stiff, bombproof build. Below we break down the PowSlayer's weather protection, comfort, breathability, build quality and durability, features, fit and sizing, and more. To see how it stacks up to the competition, see our articles on the best ski jackets and best women's ski jackets.

Performance
Weather Protection
Using Gore's top-of-the-line 3-layer Pro construction, full seam taping, and a quality durable water repellent (DWR) finish, the Patagonia PowSlayer Jacket is a stalwart in rough and rowdy conditions. I've subjected the jacket to a wide mix of coastal weather in the Pacific Northwest and have stayed dry and protected throughout. On a recent trip into the backcountry, blue skies were suddenly replaced by a heavy whiteout with very little visibility. With no points of reference, we hunkered down for nearly an hour to discuss our next move, and I was grateful to have the PowSlayer to fend off the chill from standing still. Even when snow accumulated on the shoulders and hood, the jacket refused to wet out.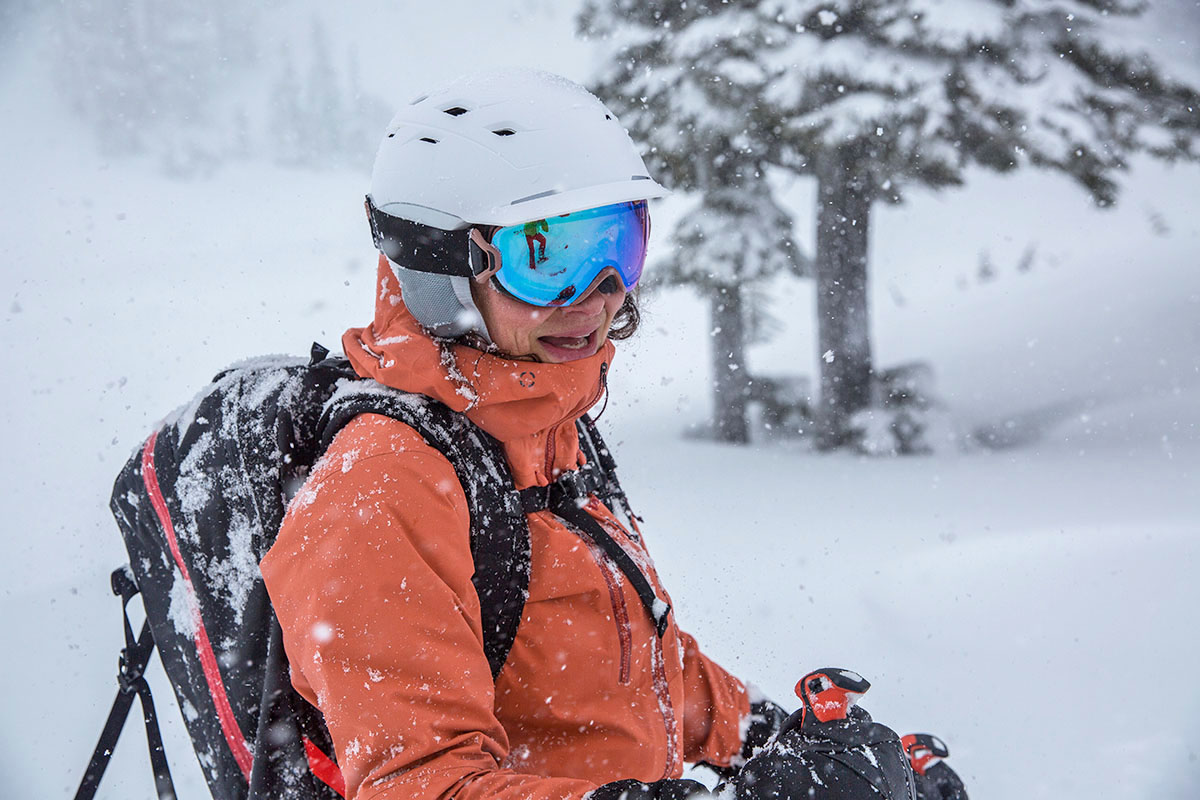 As far as protective features go, the PowSlayer comes nicely appointed for sealing out the cold and wet. All external zippers are watertight, and I've experienced no leakage even when snow has built up along the outside of the jacket. Additionally, the PowSlayer comes equipped with a powder skirt that can be attached to compatible Patagonia ski pants or snapped closed and tightened with a drawcord. Surprisingly, I didn't even realize the jacket had a skirt at first because it tucks away so neatly when not in use. And finally, the PowSlayer's cuffs are adjustable and can be tightened to fit under gauntlet-style gloves (my preference) or left open to accommodate undercuff gloves. However, I found the latter hasn't worked quite as well because the glove and stiff cuff compete for space, allowing cold air to creep through the gaps.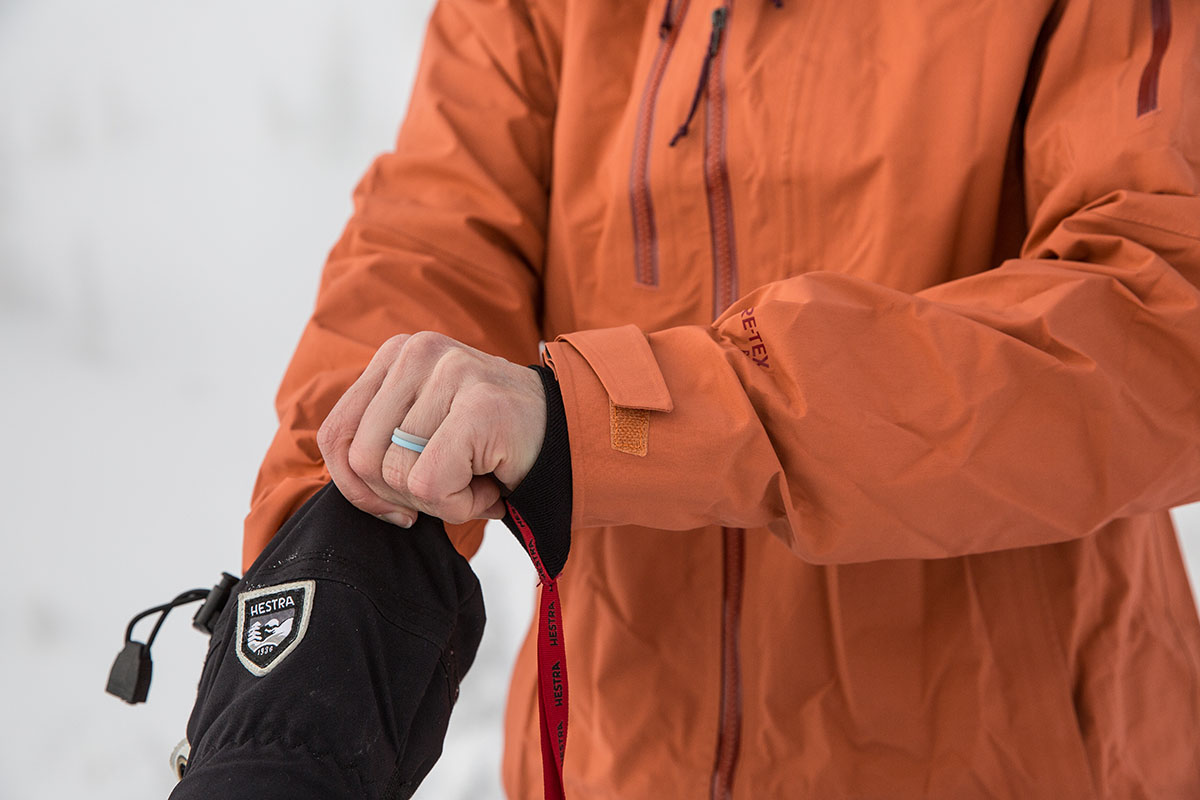 Comfort
Gore-Tex Pro isn't typically lauded for its comfort, and the PowSlayer predictably felt crinkly and stiff. That said, it's important to consider the tradeoffs: while the construction is highly protective and adept at sealing out the elements, you don't get the same next-to-skin feel of a softshell or even a stretchy hardshell build. For example, Outdoor Research's Skyward II uses in-house AscentShell with a noticeable amount of stretch in the shell and lining, which offer a major boost in overall comfort but doesn't have the same bombproof feel (although moisture never made its way fully through). Patagonia's own Untracked utilizes Gore-Tex's stretch technology with eight percent spandex in the design, but again, it lacks the batten-down-the-hatches feel of the PowSlayer. In the end, it comes down to priorities: if you need the utmost assurance in harsh conditions, the step down in softness is perfectly reasonable.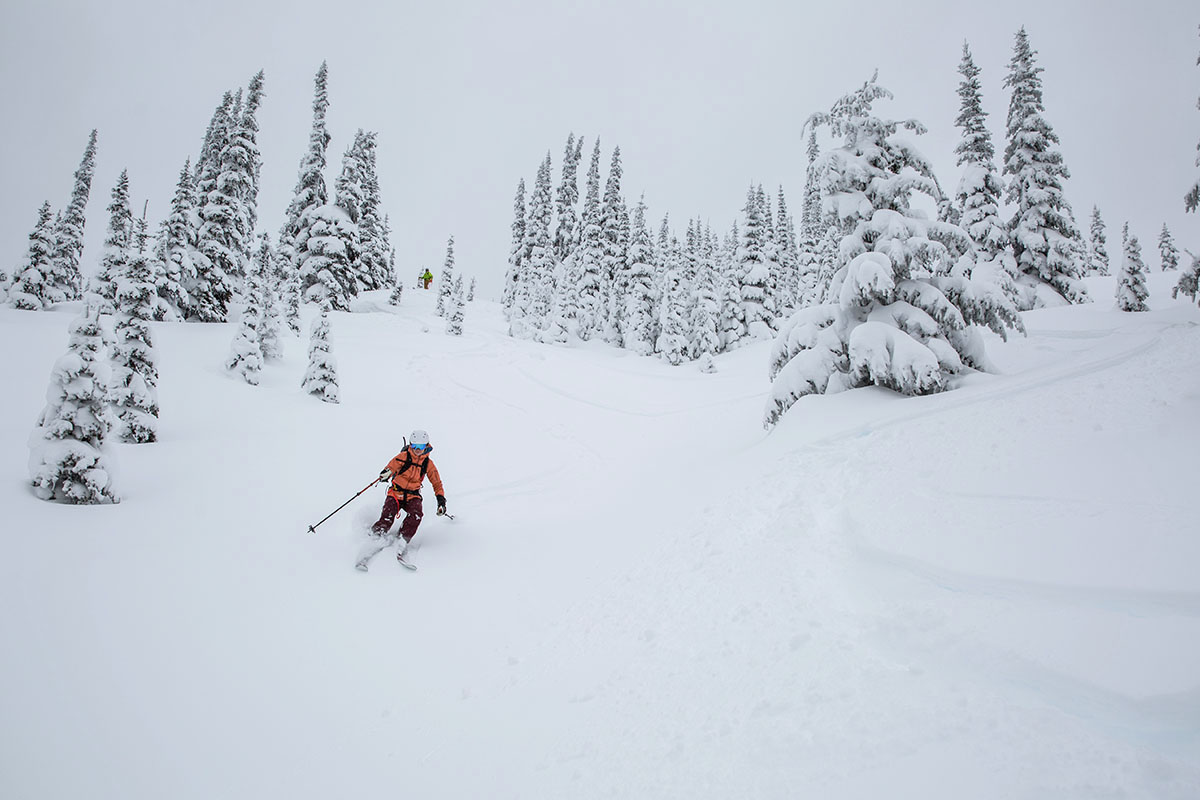 Breathability
In addition to weatherproofing, one of the biggest draws of Gore-Tex Pro is its breathability (relative to other waterproof designs). In short, the PowSlayer is remarkably capable at regulating temperature. I often start our ascents wearing the jacket over either just a light baselayer or with a thin insulated layer overtop (typically my Mountain Hardwear Ghost Whisperer down jacket), and unless the sun is beating down, I haven't experienced any overheating. The jacket also comes equipped with sizable pit zips (they measure around 13 in.), which I open as soon as I start to warm up. Combined with the thinner 40-denier face fabric and 15-denier lining (more on this below), I'm able to dump heat remarkably quickly and efficiently. My only complaint is that the zippers pulls are relatively small and almost impossible to toggle with gloves or mittens on, but we found that's a fairly common issue.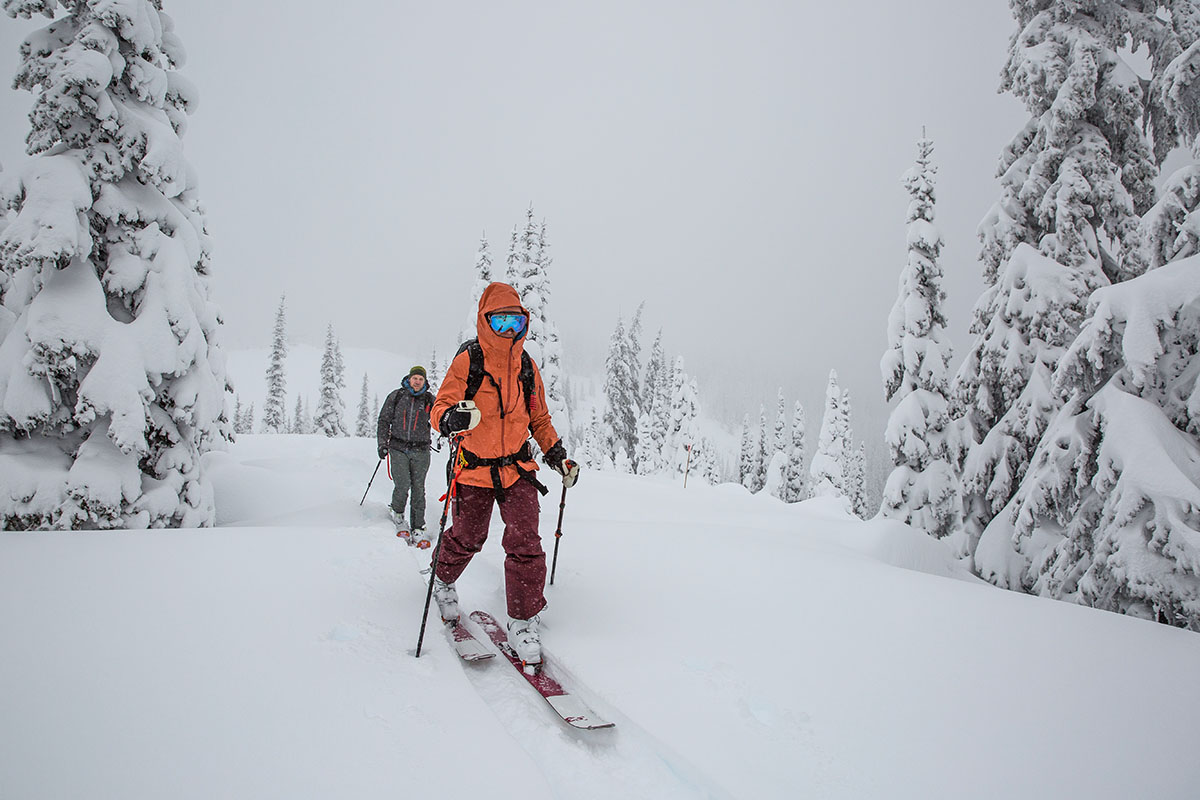 Build Quality and Durability
The Patagonia PowSlayer Jacket feels much more robust than its 40-denier (D) face fabric would suggest. For reference, much of the backcountry-focused competition is in the 50D to 75D range, but the PowSlayer has proven to be remarkably hardwearing. Despite being stuffed tightly in my avalanche pack with a shovel, probe, helmet, and often-wet climbing skins, the jacket shows no signs of wear after months of consistent use. Additionally, all zippers, Velcro, and seams are intact and functioning like new, and all of the features and adjustments continue to work well. I did find the main zip to be slightly finicky—it tended to stick frequently and was hard to close with bulkier mittens on—but this wasn't a huge concern. Overall, Patagonia rarely disappoints in the quality department, and I suspect the PowSlayer will outlive many other jackets in my quiver. 

Weight and Packability
Given its robust feature set, the PowSlayer is impressively light at 1 pound 1.8 ounces for a women's size small (the listed weight is 1 lb. 2.4 oz.). For reference, it's 1.5 ounces lighter than my Arc'teryx Sentinel LT, although that shell is longer and has a thicker face fabric. Other competitors including the Patagonia SnowDrifter (1 lb. 2 oz.) and Outdoor Research's Hemispheres (1 lb. 1.8 oz.) clock in around the same, while Black Diamond's Mission comes in a bit heavier at 1 pound 6.4 ounces and adds a brushed backer for added comfort. All in all, I consider the PowSlayer's weight entirely reasonable, even for demanding backcountry pursuits. And when it comes time to pack it down, the jacket rolls into its hood and stuffs easily in a pack.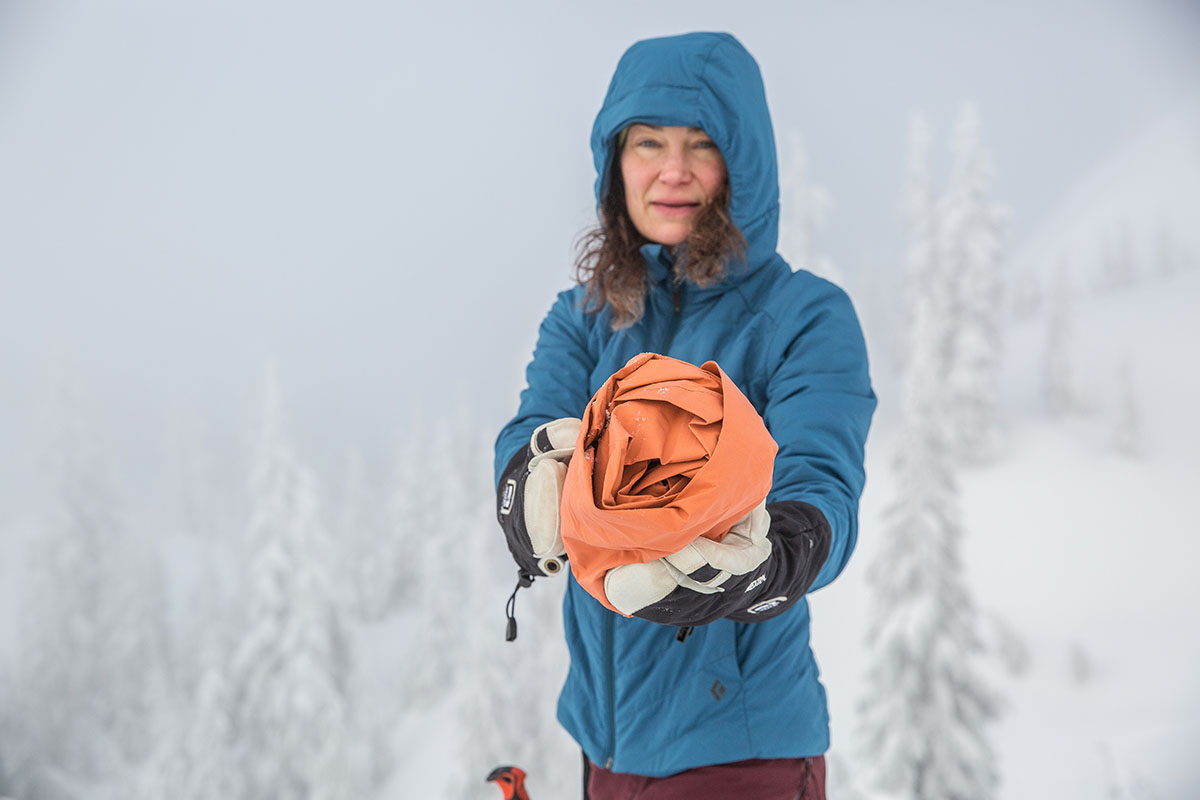 Key Features
Hood
Patagonia hoods are consistently some of our favorites on the market, and the PowSlayer's is no exception. First and foremost, it's helmet-compatible with two planes of adjustment: one at the the aperture and one at the halo. The halo toggle is particularly easy to use—I can even adjust it while wearing bulky ski gloves, which is a rarity. Further, when worn over a beanie or midlayer hood, the laminated visor is large enough to deflect precipitation from dripping onto my face. That said, when stretched over a helmet and with the collar zipped to the top, I've found it's a little difficult to look around and move my head freely (a fairly common problem with ski shells). And because the collar doesn't have a soft chin guard, the main zipper can feel quite abrasive against my face and nose. To be sure, these are relatively small gripes, but they do keep me from wanting to zip the jacket all the way shut and dampen its appeal for resort use.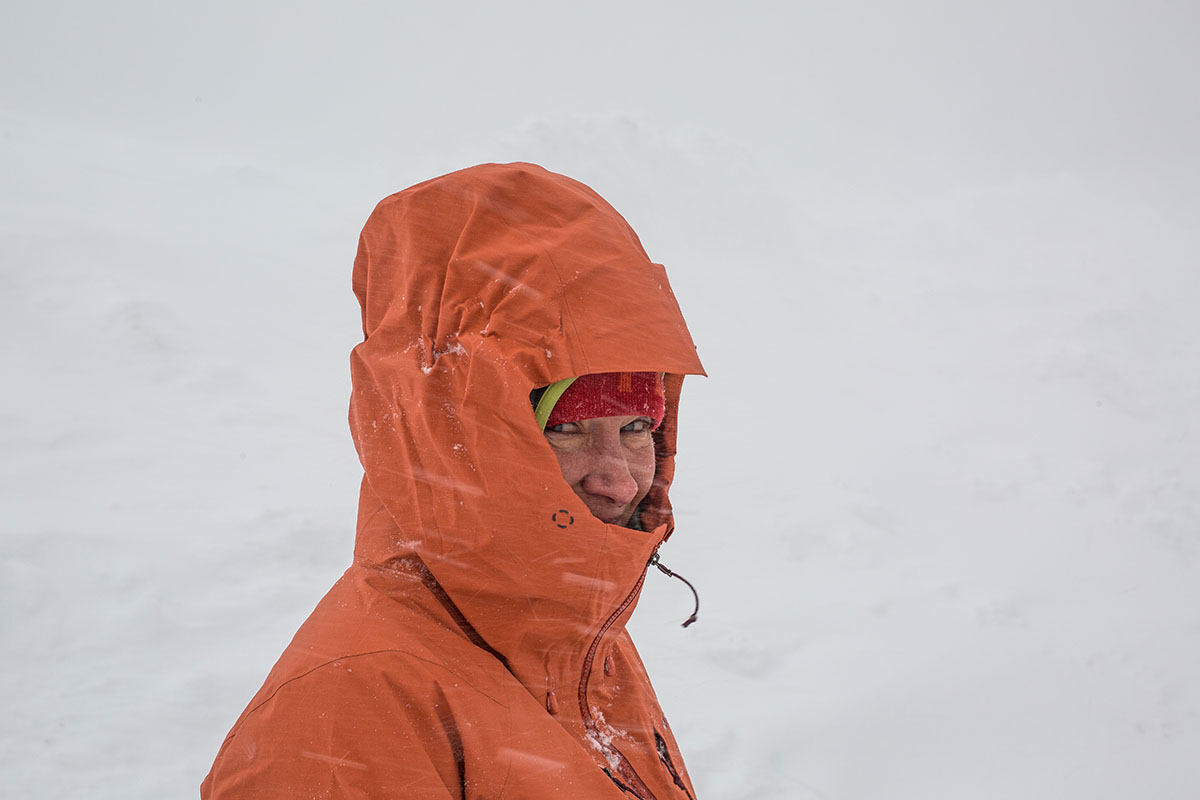 Storage: Pockets
Put simply, the PowSlayer has no shortage of storage with eight total pockets. For starters, you get two chest pockets, one of which has a rain flap covering the opening for added protection (all exterior pockets are watertight) and features a secondary compartment that opens from the interior. The jacket also sports two nicely sized handwarmer pockets, which are able to fit gloved hands without issue. These could be cozier—they don't have fleece or any other soft lining inside—but I've found them to be highly protective and great at sealing out moisture. Rounding out the organization, there's a dedicated pass pocket on the arm, an internal stash pocket, and an internal drop-in-style pocket that's great for stashing ski goggles with a soft fabric that doesn't scratch the lenses.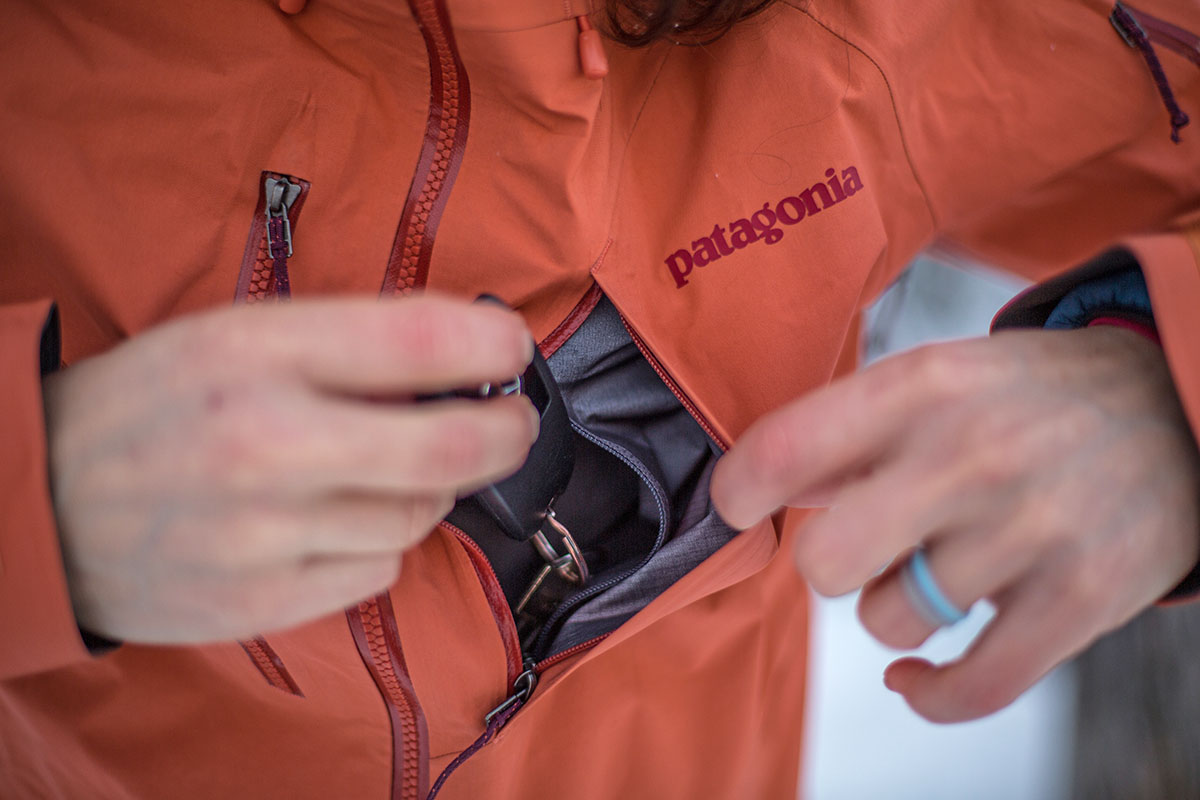 Powder Skirt
As I touched on above, the Patagonia PowSlayer Jacket comes with a low-profile powder skirt to help seal out snow at the waist. The skirt features a webbing loop at the back that connects to any Patagonia snow pants to keep it from riding up. And unlike much of the competition, the skirt also has a unique system that allows it to be tucked away when not in use. In practice, it's proven extremely effective and allowed me to secure it out of the way without having to worry about interference with my other layers.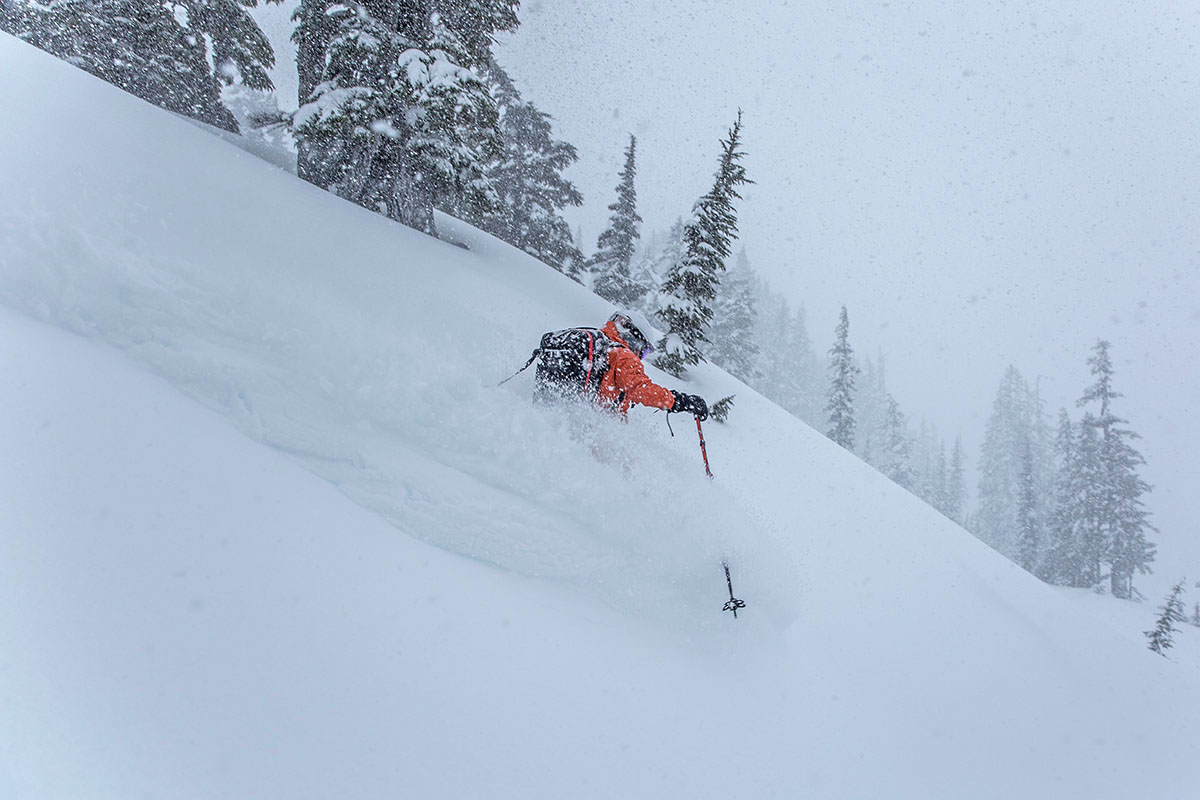 Fit and Sizing
Patagonia describes the PowSlayer's fit as "regular," but I found it to be on the generous side. My standard women's small fits more loosely than I'm used to, but the upside is that it allows for added comfort and range of motion, even with multiple layers underneath. In fact, I've been able to wear any of my midlayers, from my thin Patagonia Micro Puff to my Mountain Hardwear Ghost Whisperer down jacket, Arc'teryx Nuclei FL, Black Diamond First Light Stretch Hoody, and even my midweight Arc'teryx Thorium AR. None of these pairings felt overly bulky, and the PowSlayer's hood even had enough space to accommodate a midlayer hood underneath. In the end, some might prefer a trimmer and more athletic cut for touring, but I appreciated the versatility that the roominess allowed. If you're concerned about bagginess, I recommend sizing down. And one final note on fit: the 28-inch center back length proved to be effective at sealing out snow (for reference, this length is fairly standard among the competition).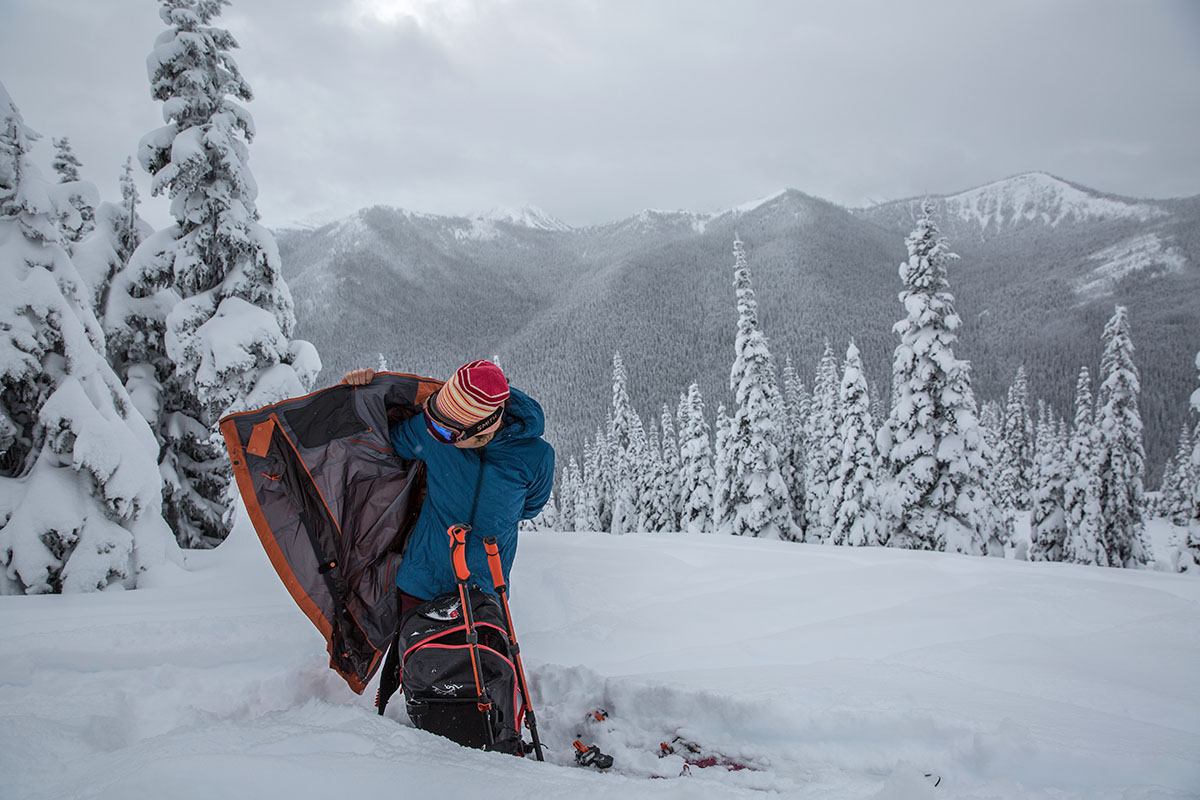 Sustainability: Recycled Fabrics and Fair Trade Certification
Patagonia leads the charge when it comes to sustainable practices within the outdoor industry, and the PowSlayer Jacket is case in point. Like many of their shells, the jacket uses recycled fabrics (in this case, 100-percent-recycled nylon) and is Fair Trade Certified Sewn. This designation means that Patagonia put extra money into production to ensure that factory workers are being compensated fairly and have a safe working environment. The program also allocates money to community projects for workers, including healthcare and childcare services. In the end, the PowSlayer is undeniably pricey at $699, but these extra measures and the high-end materials do help justify the steep cost.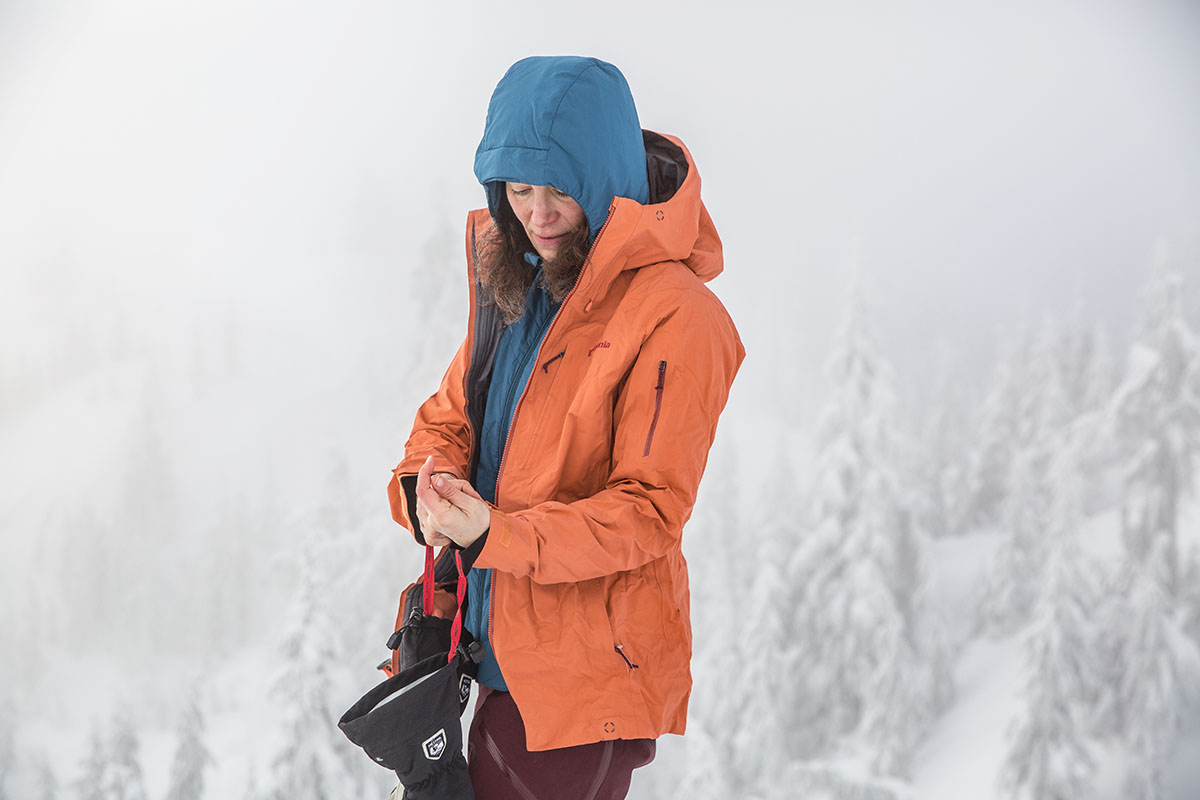 Other Versions of the Patagonia PowSlayer
We put the women's PowSlayer to the test for this review, and Patagonia also makes the jacket in a men's version for the same price. In parsing out the differences, the men's PowSlayer Jacket is slightly heavier at 1 pound 3.3 ounces and comes in different colorways but sports a very similar build and feature set, including a 3-layer Gore-Tex Pro construction, pit zips for dumping heat, adjustable powder skirt, and eight total pockets. Rounding out the PowSlayer lineup, Patagonia makes pants ($549) and bibs ($599) for both men and women that share the same 3-layer Gore-Tex Pro waterproofing and are compatible with the jackets' powder skirts.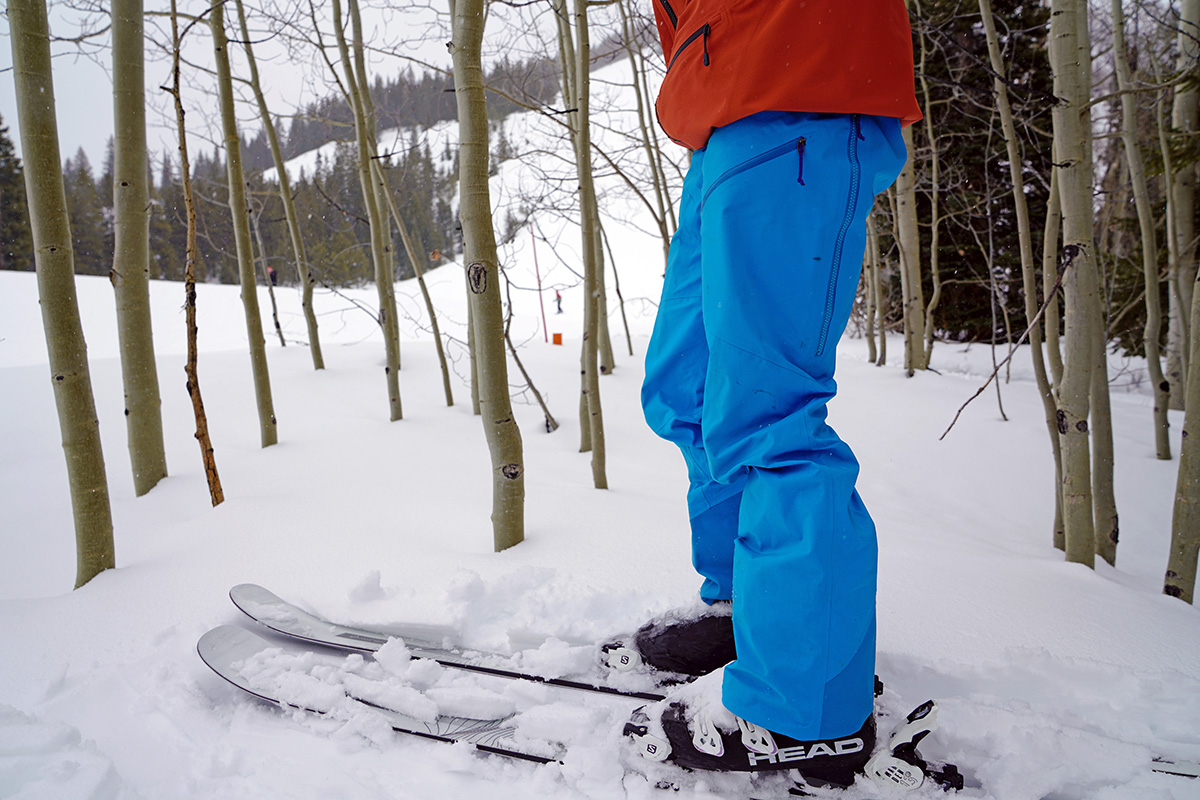 What We Like 
Premium Gore-Tex Pro construction makes the PowSlayer an impressively capable barrier against harsh weather and a great overall breather.
Powder skirt can be effectively tucked away when not in use.
Plenty of functional storage for stowing the essentials.
We appreciate the emphasis on sustainability, including the use of recycled fabrics and Fair Trade Certification.
Clean styling and attractive colorways.

What We Don't
Pricey at $699 and overkill for resort use. If you're looking for an all-rounder, there are cheaper and more comfortable alternatives.
Gore-Tex Pro protects incredibly well but feels noticeably crinkly and stiff. 
With a helmet on and the jacket fully zipped, movement is restricted at the neck, and the lack of chin guard can make the zipper feel abrasive against the chin and face.
Main zipper tends to stick and was hard to close while wearing bulkier mittens.


Comparison Table

The Competition
Patagonia's PowSlayer is a strong offering in the ski jacket market for its impressive weather protection, breathability, and high-quality construction. Arc'teryx is another brand that excels in the backcountry, and the Sentinel (and men's Sabre) lineup is a real standout. The Sentinel AR ("all round") and LT ("lightweight") are both great options for touring with 3-layer Gore-Tex constructions, burly builds (the LT is 80D and the AR is 70D), and premium feature sets. The AR is the more resort-friendly design with a light flannel liner for improved comfort and a touch of warmth, and the LT subs in Gore's soft C-Knit backer in a lighter-weight and more backcountry-friendly package. Both are also slightly longer than the PowSlayer, with the Sentinel AR measuring 28.5 inches down the back and the LT at 29 inches. All in all, the PowSlayer is lighter and a bit more breathable, but the Sentinel options win out in comfort and versatility.
Black Diamond sells another intriguing alternative to the PowSlayer in their Mission Ski Shell. Compared to the PowSlayer, the Mission is $100 cheaper at $599 and uses a slightly less premium 3-layer Gore-Tex (no "Pro") construction but retains many of the same features, including pit zips, a helmet-compatible hood, and ample storage. However, the Mission is better suited to the resort with a more substantial 70-denier face fabric, and it adds a brushed backer for added comfort and less rigidity (at a moderate weight penalty). In the end, we'd break it down as follows: for aggressive resort skiers that sometimes explore out of bounds, the Mission is a well-made and nicely appointed design; for frequent off-piste use, the lighter, more packable, and more breathable PowSlayer gets the edge.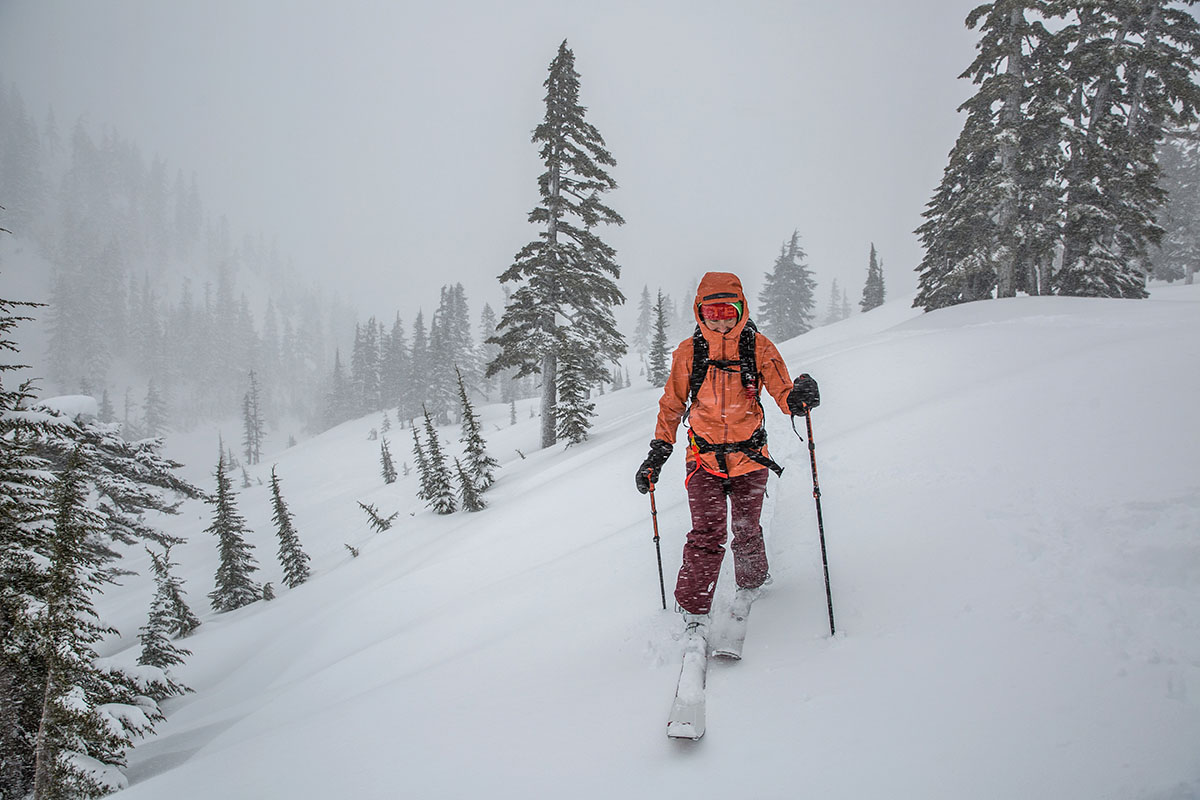 Outdoor Research's Skyward II is our favorite dedicated backcountry ski shell this year for its reasonable price tag ($350) and solid overall performance. Rather than Gore-Tex, the jacket uses OR's in-house AscentShell membrane, which we've found to be impressively weather-worthy, stretchy, and highly breathable. We also like the unique TorsoFlo venting system: the pit zips open from the hem all the way to the bicep to dump heat when you're working hard. At this price point, you don't get the PowSlayer's bombproof feel or top-end attention to detail, but we haven't experienced any performance issues thus far. And the clincher for us is price: at a whopping $349 less than the PowSlayer, the Skyward is an incredible value.
For a step down in both price and performance within Patagonia's own line, they offer the backcountry-focused SnowDrifter Jacket ($399). Rather than Gore-Tex Pro, the SnowDrifter uses Patagonia's 3-layer H2No construction, which is less of a standout in all-around protection. That said, like the Skyward above, the jacket features a stretchy face fabric that's less rigid and crinkly than the PowSlayer's Gore-Tex, which also translates to a major bump in both mobility and comfort. Both are capable ski shells, and a final decision will come down to intended use: for high-output tours, the SnowDrifter is hard to beat; for mixed on- and off-piste use or places with extremely rough conditions, we'd go with the PowSlayer.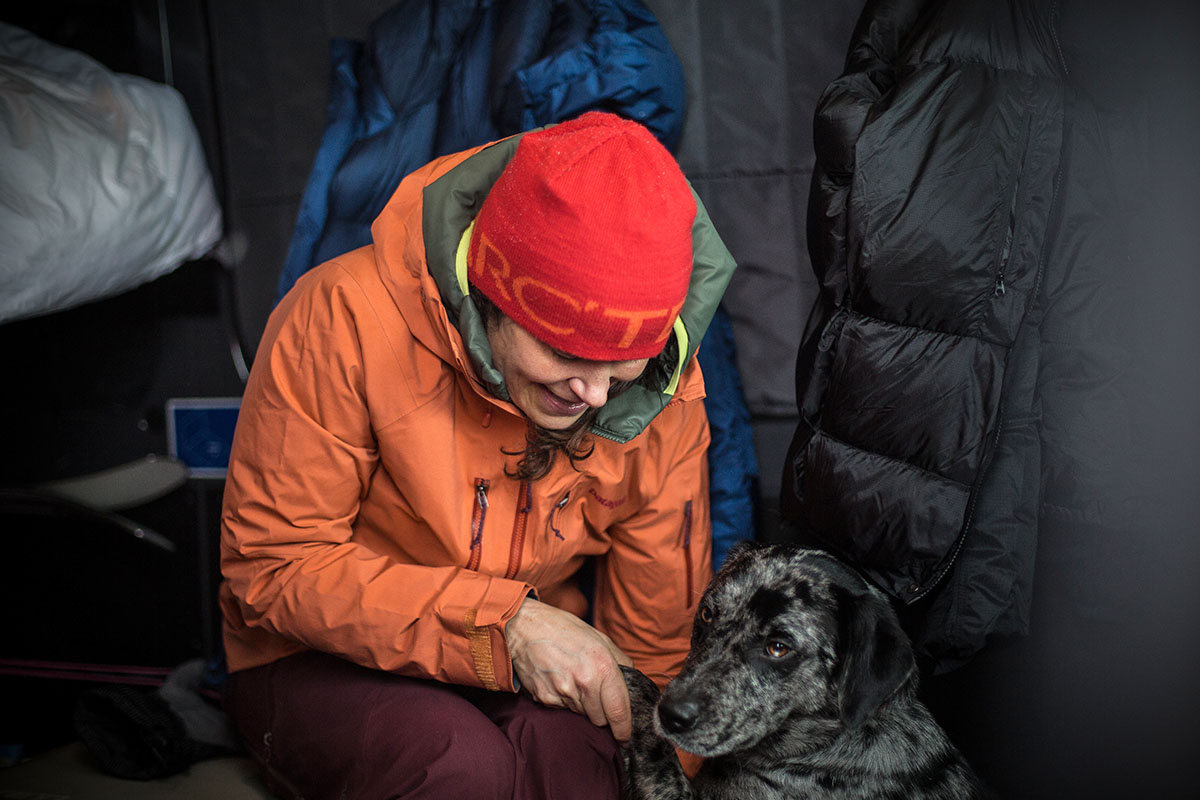 A final competitor to consider is Patagonia's Untracked, which is their closest ski shell in price to the PowSlayer at $649. Right off the bat, we'll note that the two are made very differently: while the PowSlayer uses a crinkly Gore-Tex Pro construction, the Untracked sports Gore-Tex's latest stretch technology, which incorporates eight percent spandex for a major boost in mobility. Inside, you also get a brushed flannel backer for a light dose of warmth and improved comfort. Overall, we've found the Untracked to be just as comfortable as the SnowDrifter above but with a noticeable bump in weather protection. All that said, the PowSlayer is the more backcountry-friendly design with its lower weight (the Untracked is 1 lb. 7.1 oz.) and uninsulated build. But for resort skiers who frequently explore the sidecountry, the Untracked is a nice match.
If you're thinking about buying gear that we've reviewed on Switchback Travel, you can help support us in the process. Just click on any of the seller links above, and if you make a purchase, we receive a small percentage of the transaction. The cost of the product is the same to you but this helps us continue to test and write about outdoor gear. Thanks and we appreciate your support!
Depending on the seller, most products ship free in the United States on orders of $50 or more. International shipping availability and rates vary by seller. The pricing information on this page is updated hourly but we are not responsible for inaccuracies.
Learn More About Ski Gear